Belarus has no immediate plans to adopt Russian currency, its strongman leader Lukashenko says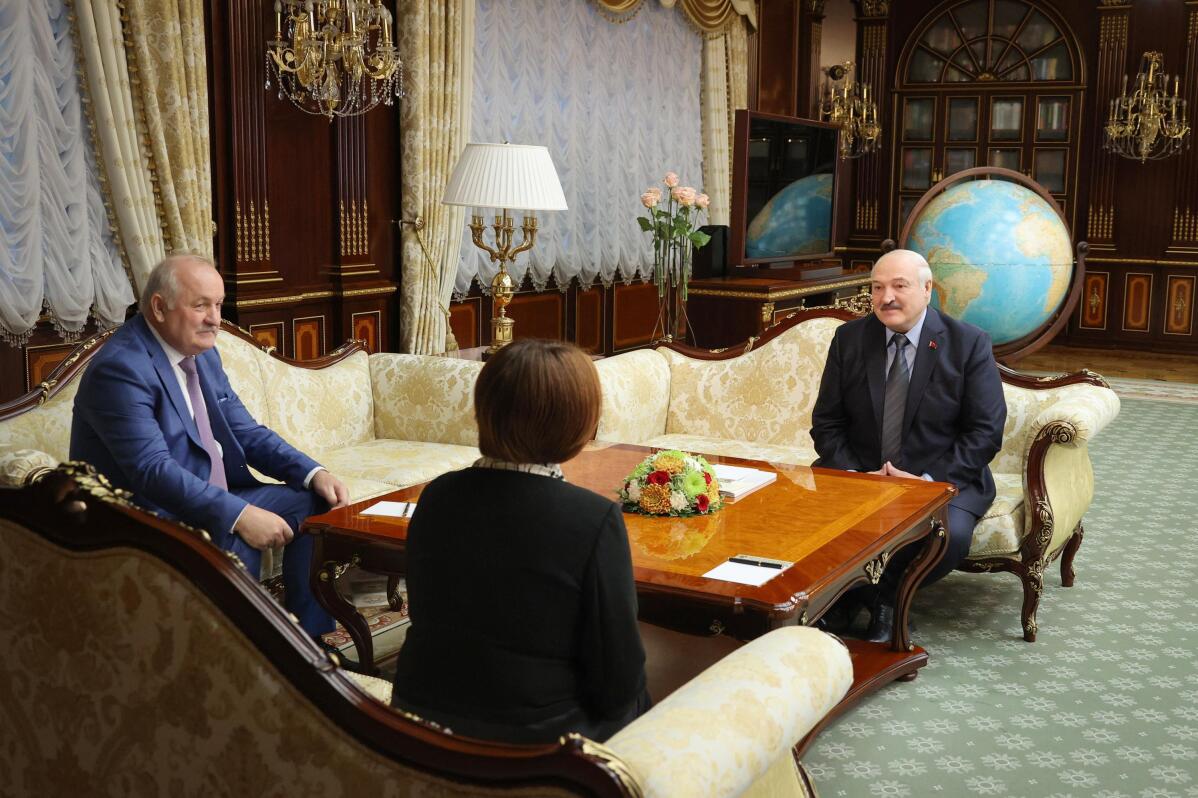 1 of 2

|
In this handout photo released by Belarusian Presidential Press Office, Belarusian President Alexander Lukashenko, right, speaks with the head of Russia's Central Bank Elvira Nabiullina, centre, in Minsk, Belarus, Monday, May 29, 2023. At left is Pavel Kallaur, chairman of the National Bank of the Republic of Belarus. (Belarusian Presidential Press Office via AP)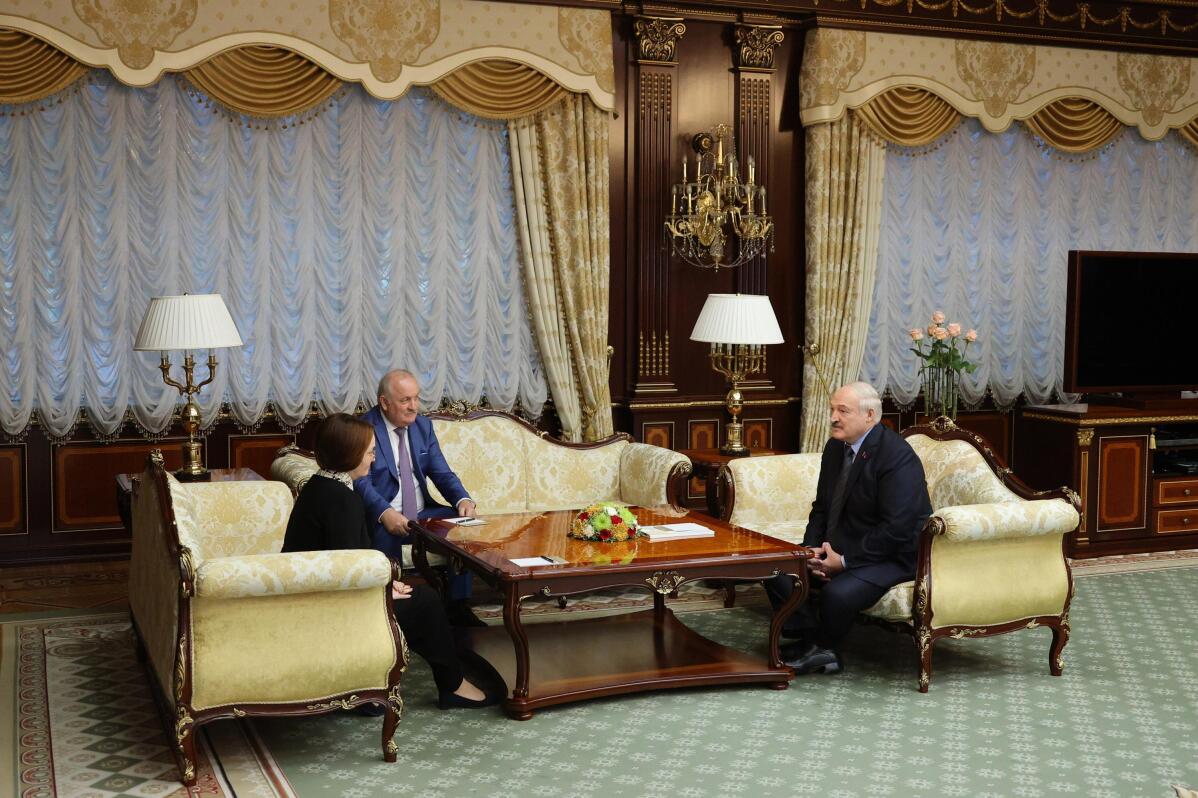 2 of 2

|
In this handout photo released by Belarusian Presidential Press Office, Belarusian President Alexander Lukashenko, right, speaks with the head of Russia's Central Bank Elvira Nabiullina, left, in Minsk, Belarus, Monday, May 29, 2023. Second left is Pavel Kallaur, chairman of the National Bank of the Republic of Belarus. (Belarusian Presidential Press Office via AP)
Belarus has no immediate plans to adopt Russian currency, its strongman leader Lukashenko says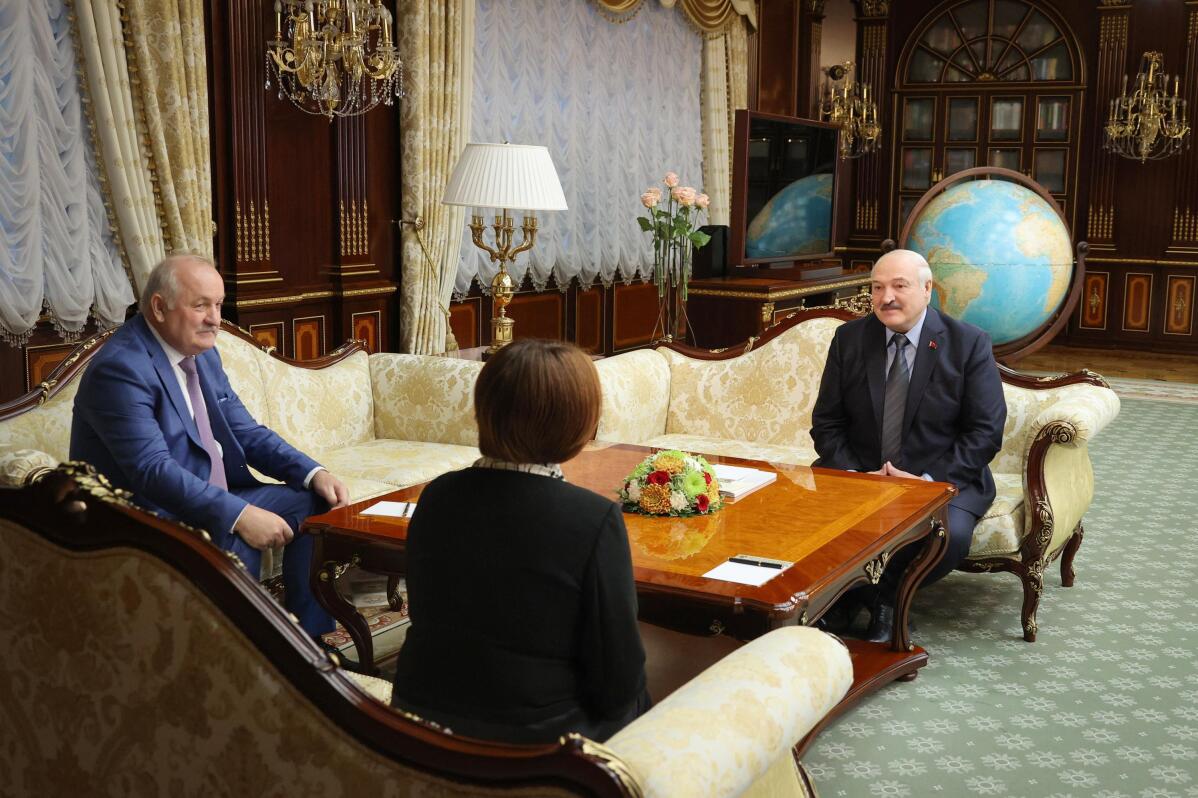 1 of 2

|
In this handout photo released by Belarusian Presidential Press Office, Belarusian President Alexander Lukashenko, right, speaks with the head of Russia's Central Bank Elvira Nabiullina, centre, in Minsk, Belarus, Monday, May 29, 2023. At left is Pavel Kallaur, chairman of the National Bank of the Republic of Belarus. (Belarusian Presidential Press Office via AP)
1 of 2
In this handout photo released by Belarusian Presidential Press Office, Belarusian President Alexander Lukashenko, right, speaks with the head of Russia's Central Bank Elvira Nabiullina, centre, in Minsk, Belarus, Monday, May 29, 2023. At left is Pavel Kallaur, chairman of the National Bank of the Republic of Belarus. (Belarusian Presidential Press Office via AP)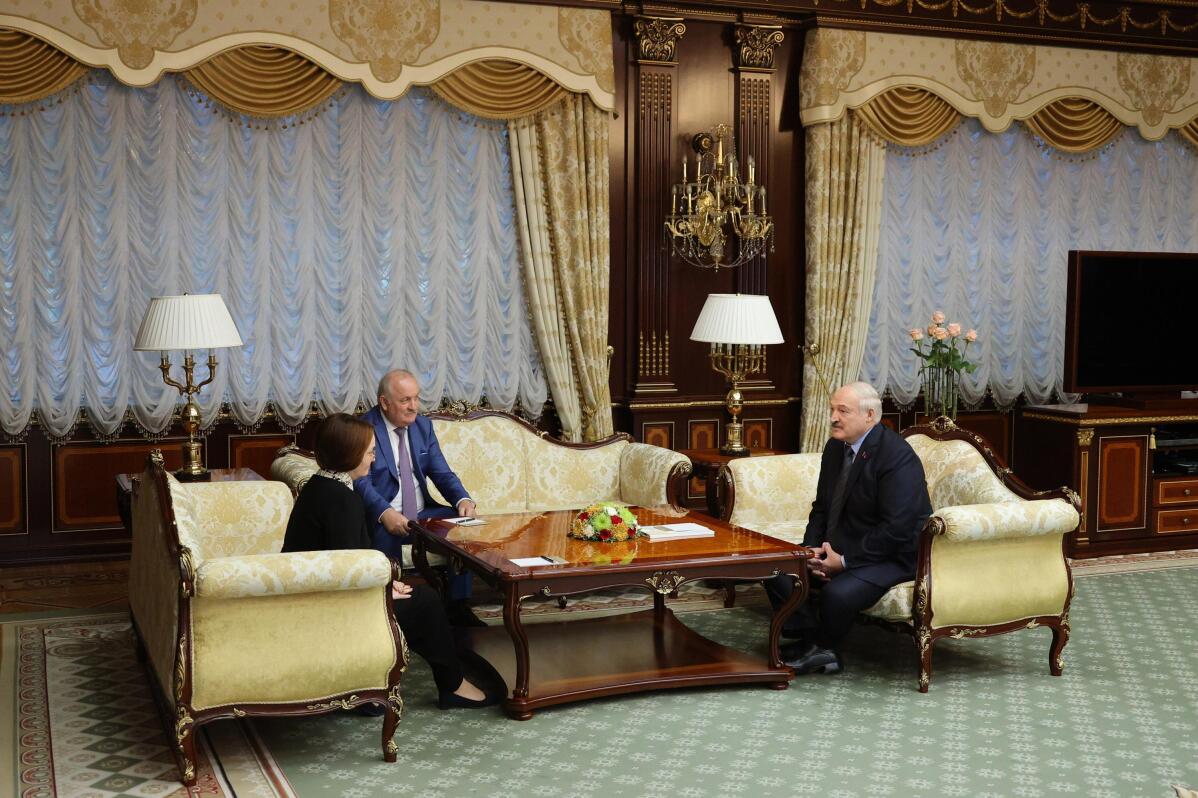 2 of 2

|
In this handout photo released by Belarusian Presidential Press Office, Belarusian President Alexander Lukashenko, right, speaks with the head of Russia's Central Bank Elvira Nabiullina, left, in Minsk, Belarus, Monday, May 29, 2023. Second left is Pavel Kallaur, chairman of the National Bank of the Republic of Belarus. (Belarusian Presidential Press Office via AP)
2 of 2
In this handout photo released by Belarusian Presidential Press Office, Belarusian President Alexander Lukashenko, right, speaks with the head of Russia's Central Bank Elvira Nabiullina, left, in Minsk, Belarus, Monday, May 29, 2023. Second left is Pavel Kallaur, chairman of the National Bank of the Republic of Belarus. (Belarusian Presidential Press Office via AP)
TALLINN, Estonia (AP) — Belarus and Russia have no plans to adopt a joint currency in the near future, Belarus' strongman leader announced on Monday.
Speaking at a meeting with the head of Russia's central bank, Alexander Lukashenko said that introducing the Russian ruble in Belarus would not be "an easy process," and that the authorities in Minsk had no intentions so far of doing so.
"When it comes to creating a single currency and so on, this is not an easy process and, probably, not (one) for today," Lukashenko said on Monday during talks with bank governor Elvira Nabiullina.
Lukashenko has for decades relied on subsidies from Moscow to keep Belarus' Soviet-style economy afloat. The two countries signed agreements on the creation of a defense, monetary and customs union as early as in the mid-1990s, though differences have persisted between Moscow and Minsk regarding their implementation.
Russian support also helped the autocratic leader survive months of mass protests following the 2020 election that handed him a sixth term in office. The opposition and the West said the vote was rigged.
Last year, Moscow used Belarusian territory as a springboard to send troops and missiles into Ukraine.
On Monday, Lukashenko said that Belarus' economy was hit hard by the ensuing Western sanctions, but Russian bailouts and policies adopted by Russia's central bank have softened the blow.
"Even our enemies admit that Elvira Nabiullina very quickly dealt with economic issues in Russia and with currency issues, especially in the context of sanctions," he said.
On Monday, an independent Belarusian analyst told AP that Lukashenko's remarks marked an attempt to preserve "the remnants of (Belarusian) sovereignty and protect himself from growing pressure from the Kremlin."
Valery Karbalevich said that it was important for Lukashenko to "show that he is in control of the situation," given the recent and growing speculation about his deteriorating health.
"Lukashenko is not happy with being a complete vassal to the Kremlin, and he strives to ease Russian pressure (on Minsk), in order to leave room for negotiations with the West and China," Karbalevich said in a phone interview.