Inter wins 2-0 at Benfica in Champions League quarterfinals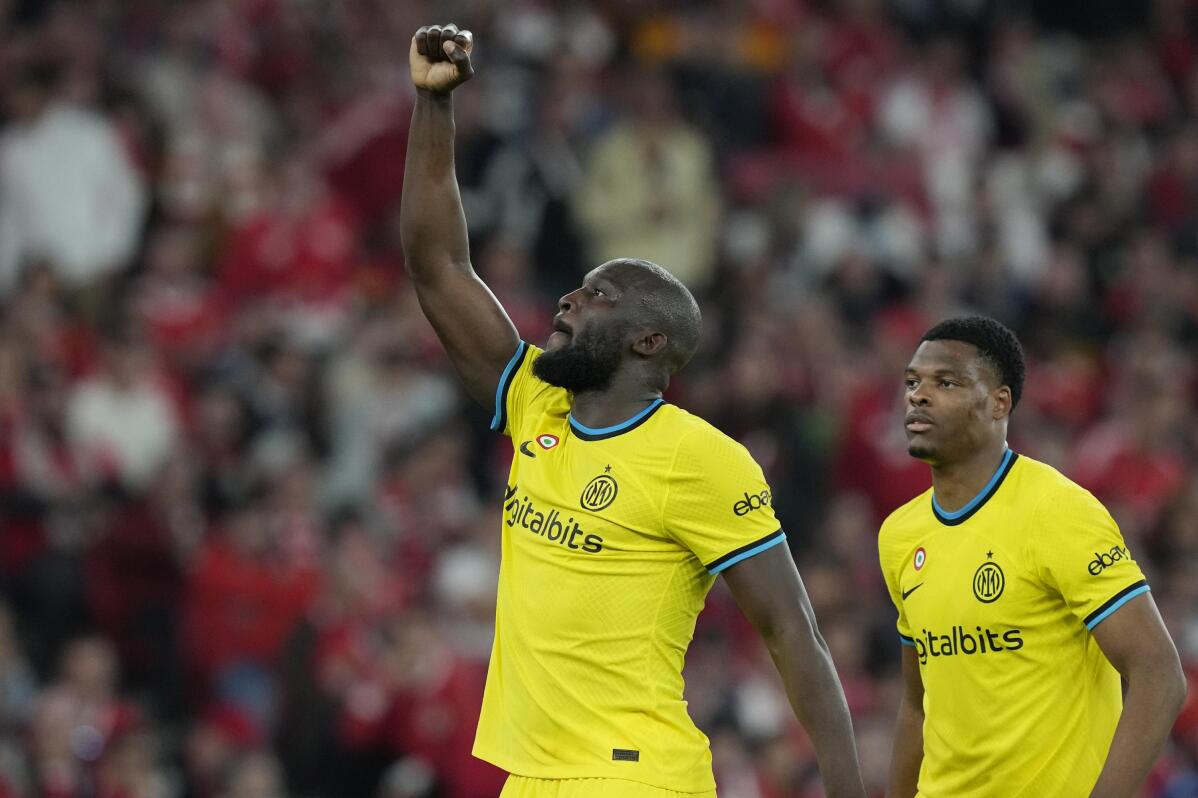 1 of 11

|
Inter Milan's Romelu Lukaku, left, celebrates after scoring his side's second goal during the Champions League quarter final first leg soccer match between Benfica and Inter Milan at Luz stadium in Lisbon, Tuesday, April 11, 2023. (AP Photo/Armando Franca)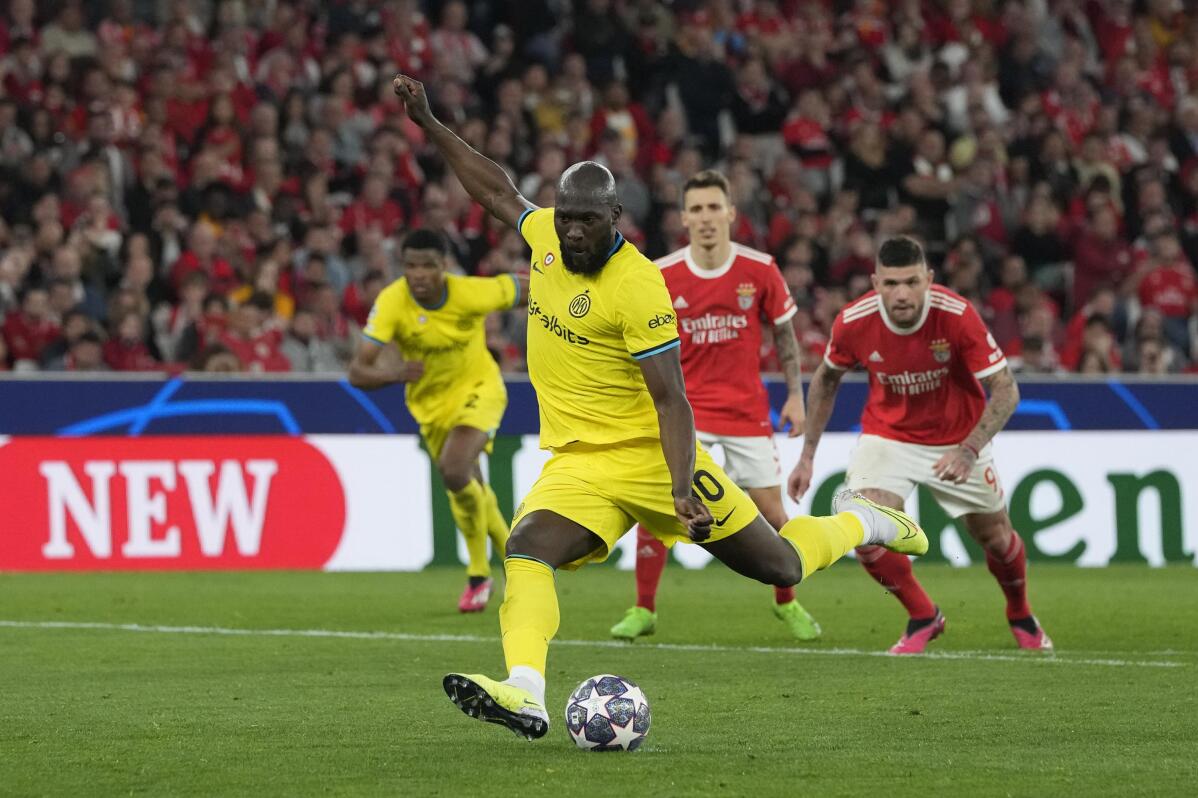 2 of 11

|
Inter Milan's Romelu Lukaku shoots a penalty kick to score his side's second goal during the Champions League quarter final first leg soccer match between Benfica and Inter Milan at Luz stadium in Lisbon, Tuesday, April 11, 2023. (AP Photo/Armando Franca)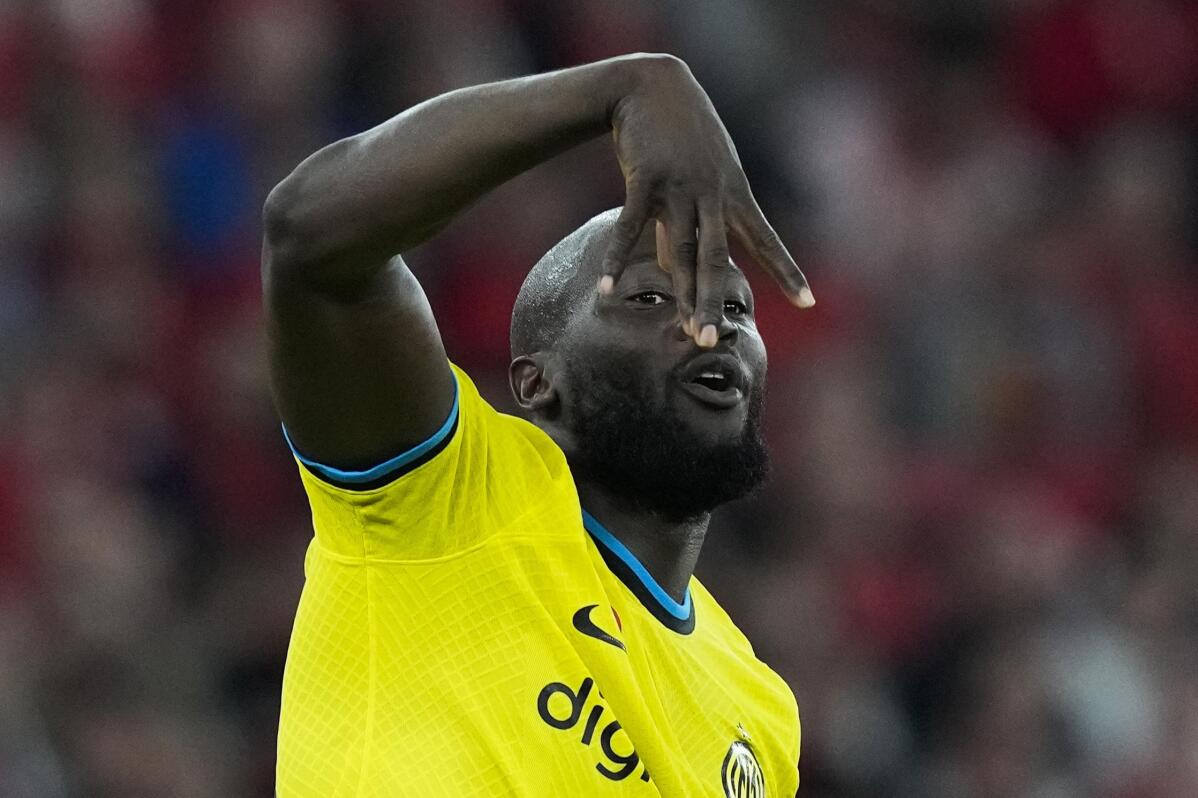 3 of 11

|
Inter Milan's Romelu Lukaku celebrates after scoring his side's second goal during the Champions League quarter final first leg soccer match between Benfica and Inter Milan at Luz stadium in Lisbon, Tuesday, April 11, 2023. (AP Photo/Armando Franca)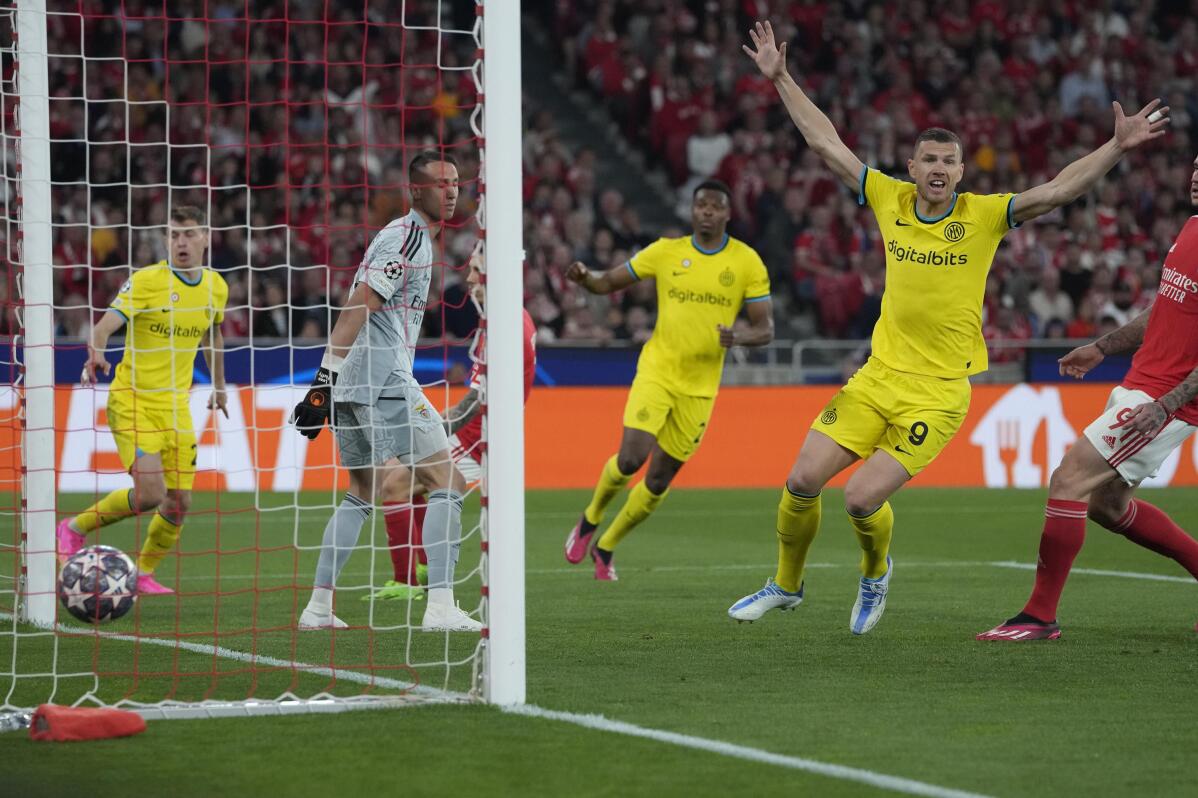 4 of 11

|
Inter Milan's Edin Dzeko, right, celebrates after teammate Nicolo Barella, background left, scored the opening goal during the Champions League quarter final first leg soccer match between Benfica and Inter Milan at Luz stadium in Lisbon, Tuesday, April 11, 2023. (AP Photo/Armando Franca)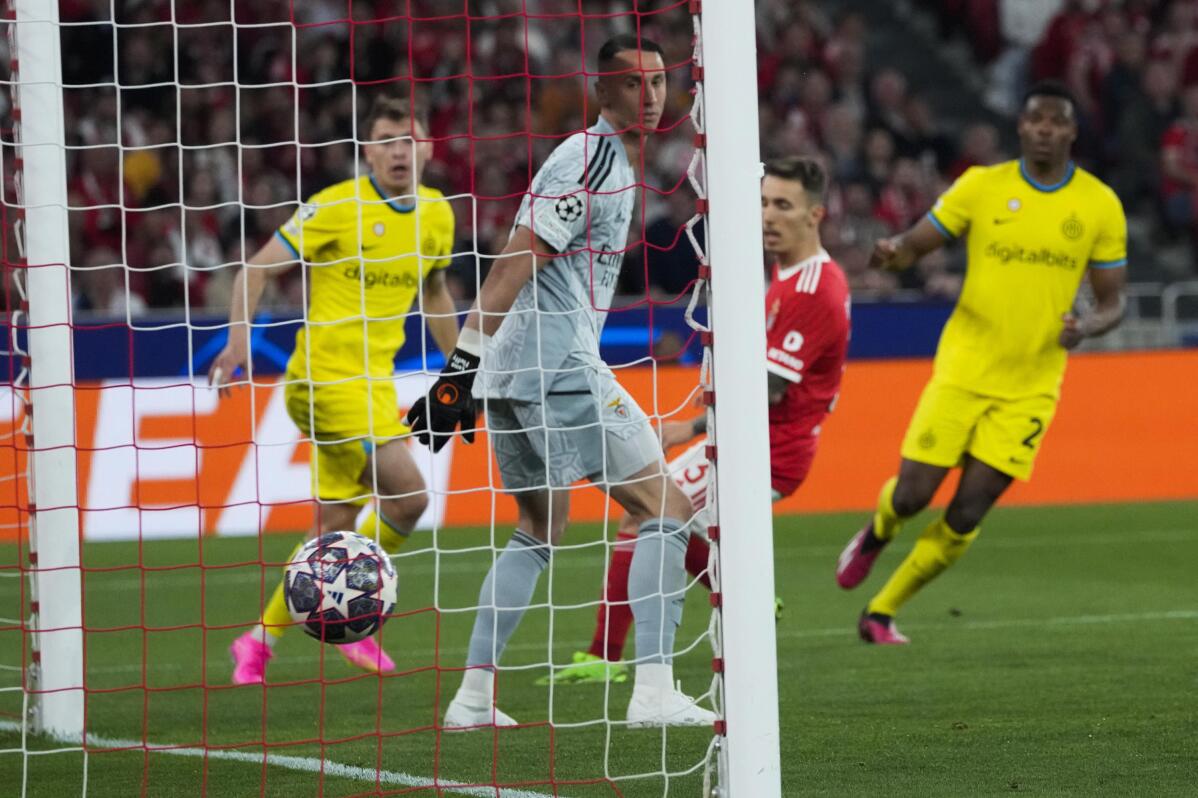 5 of 11

|
Benfica's goalkeeper Odysseas Vlachodimos, center, looks at the ball after Inter Milan's Nicolo Barella, background left, scored the opening goal during the Champions League quarter final first leg soccer match between Benfica and Inter Milan at Luz stadium in Lisbon, Tuesday, April 11, 2023. (AP Photo/Armando Franca)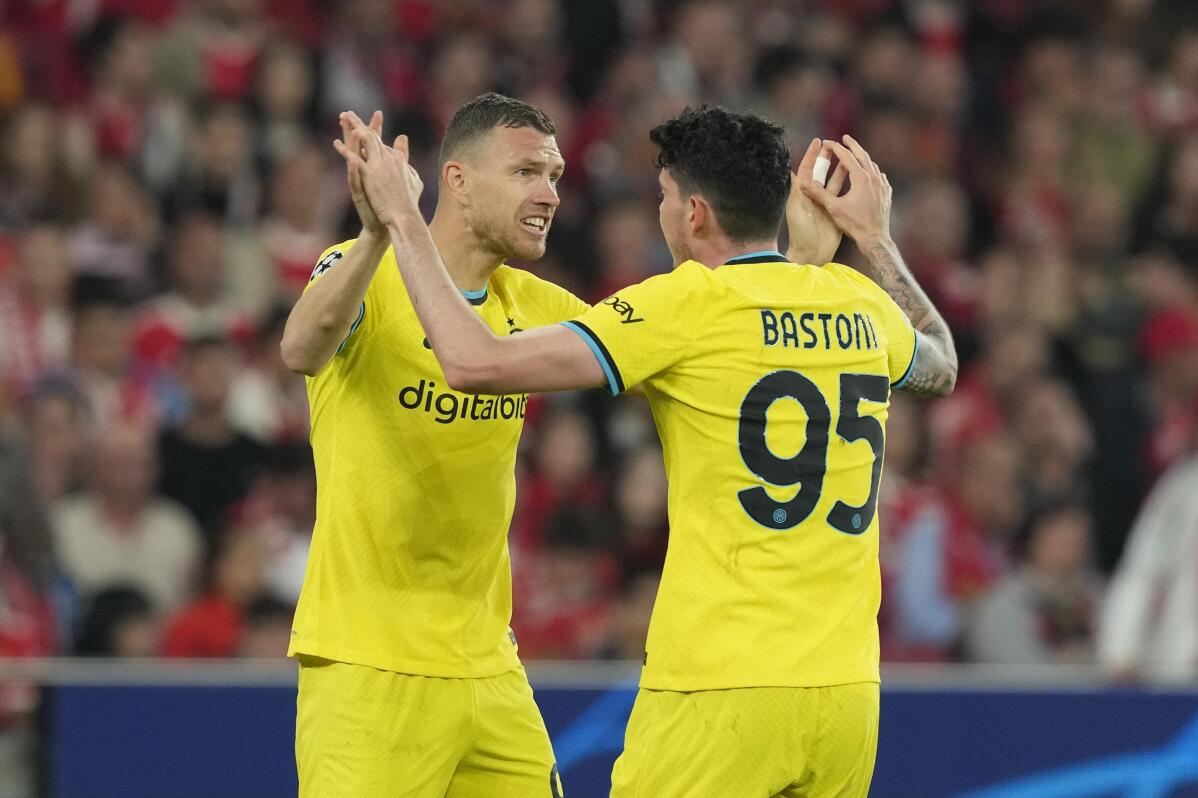 6 of 11

|
Inter Milan's Edin Dzeko, left, celebrates with Inter Milan's Alessandro Bastoni after teammate Nicolo Barella scored the opening goal during the Champions League quarter final first leg soccer match between Benfica and Inter Milan at Luz stadium in Lisbon, Tuesday, April 11, 2023. (AP Photo/Armando Franca)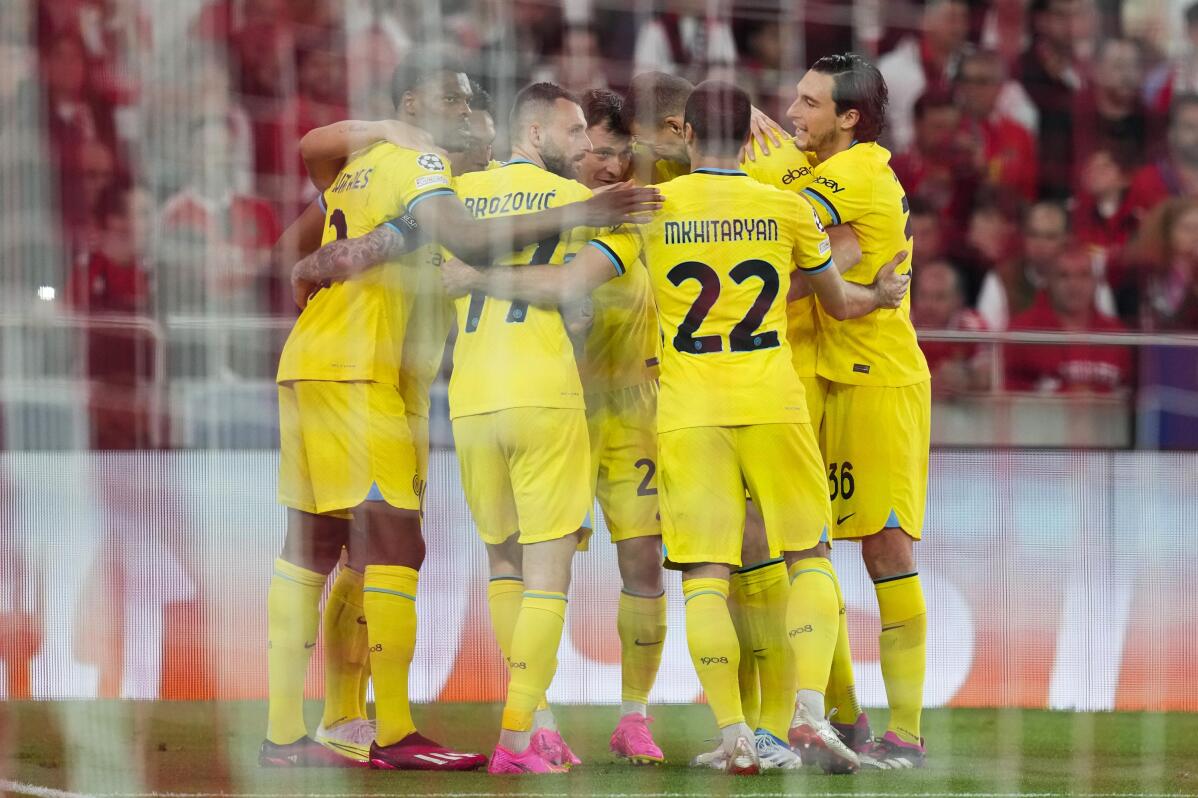 7 of 11

|
Inter Milan's Nicolo Barella, center, celebrates with teammates after scoring the opening goal during the Champions League quarter final first leg soccer match between Benfica and Inter Milan at Luz stadium in Lisbon, Tuesday, April 11, 2023. (AP Photo/Armando Franca)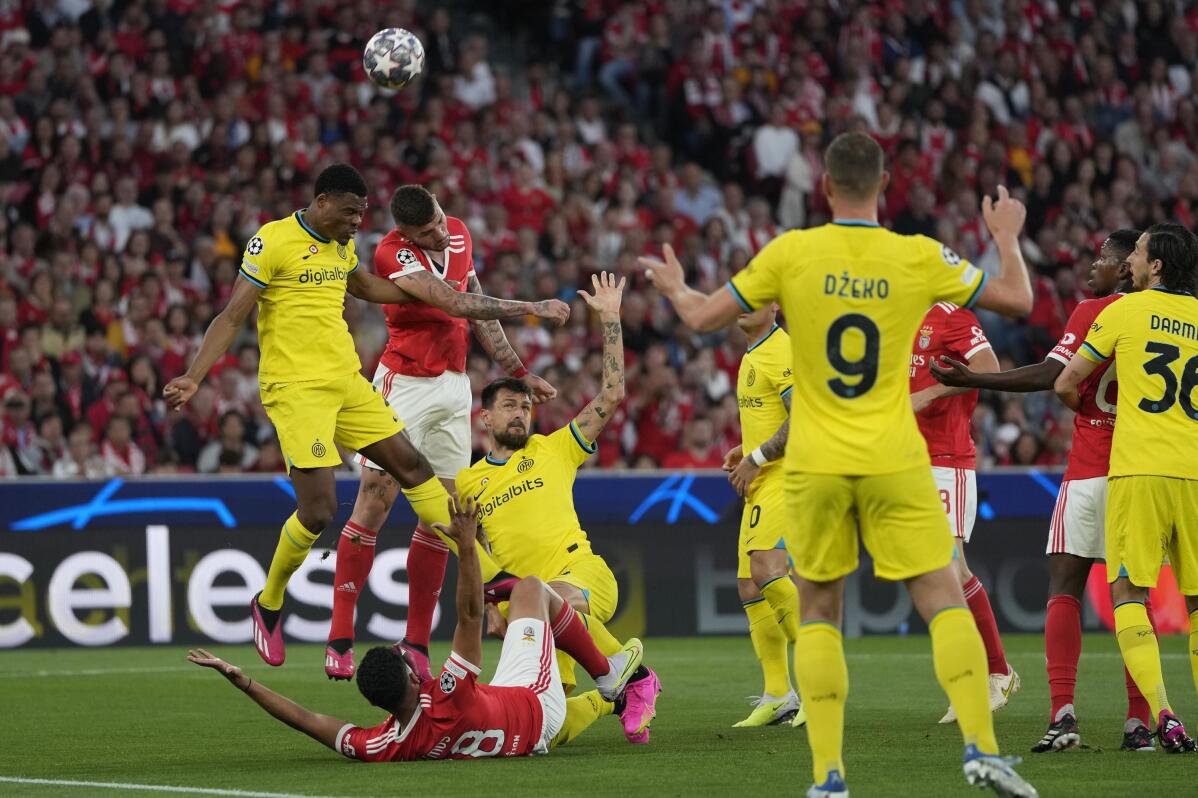 8 of 11

|
Benfica's Goncalo Ramos, bottom, falls as he fights for a high ball with Inter Milan's Denzel Dumfries, top left, during the Champions League quarter final first leg soccer match between Benfica and Inter Milan at Luz stadium in Lisbon, Tuesday, April 11, 2023. (AP Photo/Armando Franca)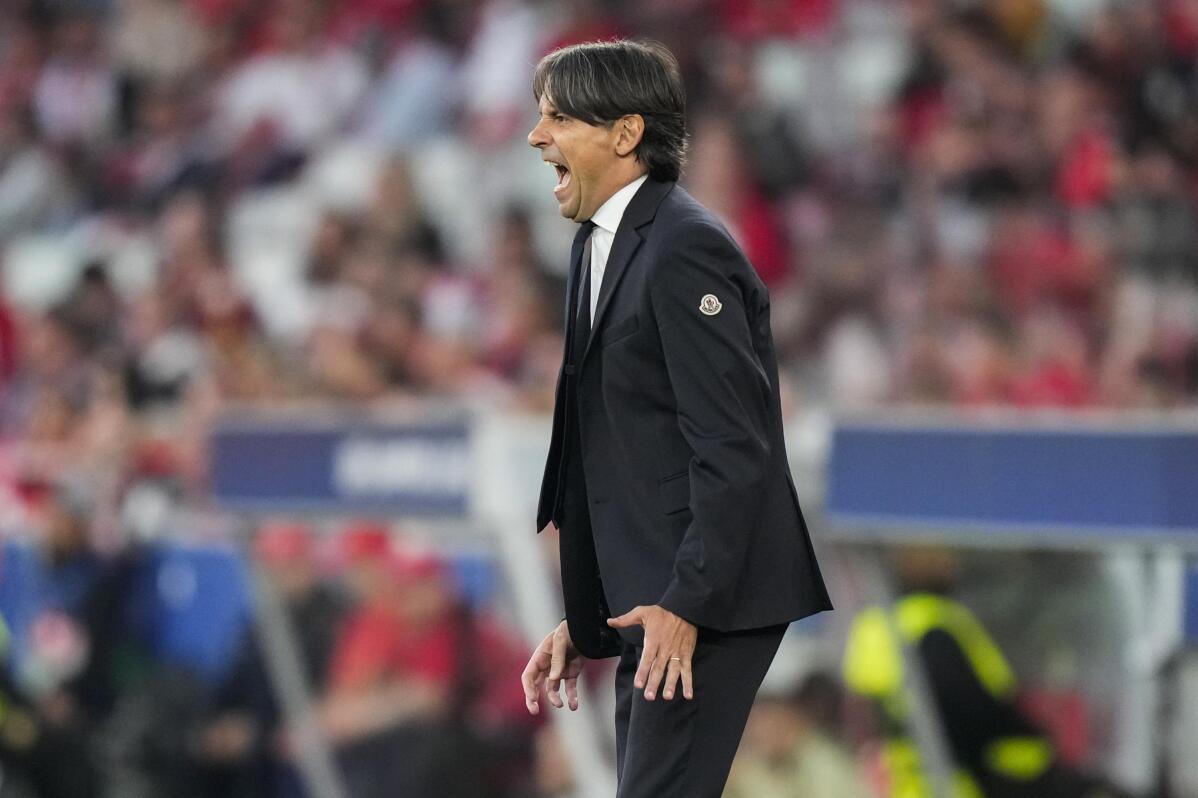 9 of 11

|
Inter Milan's head coach Simone Inzaghi gives instructions during the Champions League quarter final first leg soccer match between Benfica and Inter Milan at Luz stadium in Lisbon, Tuesday, April 11, 2023. (AP Photo/Armando Franca)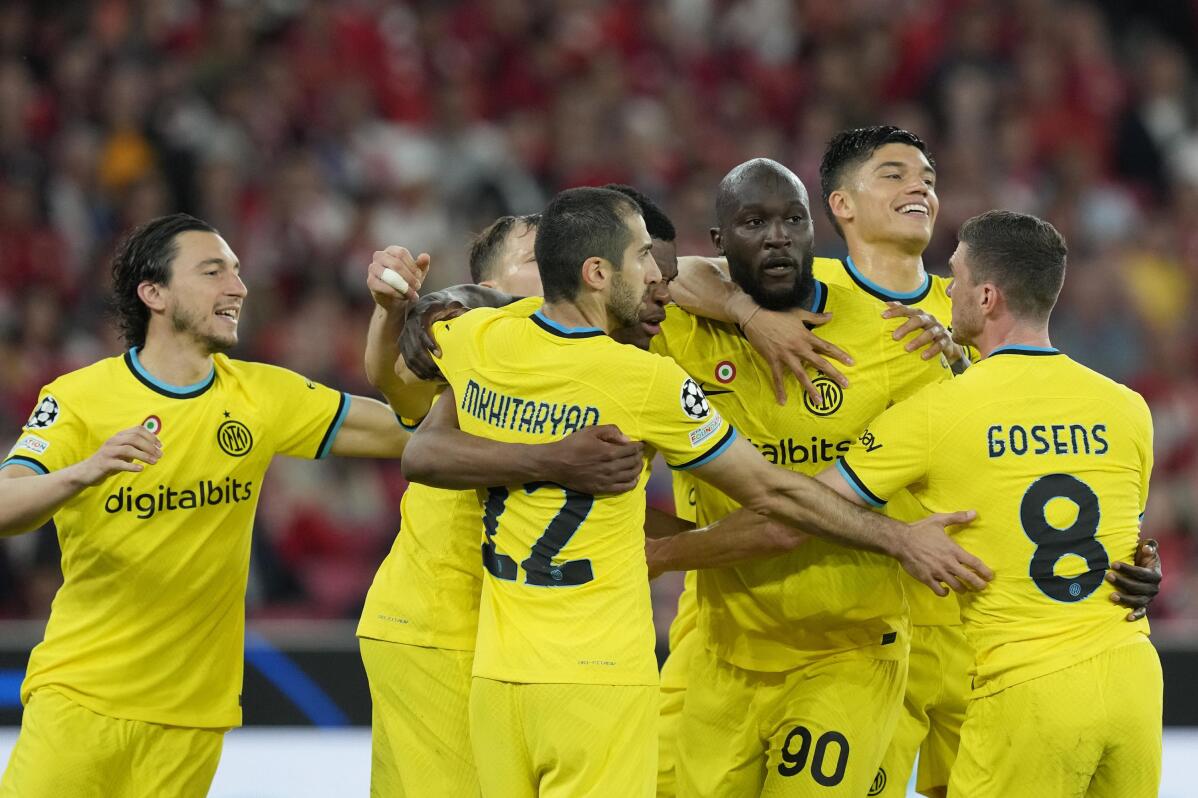 10 of 11

|
Inter Milan's Romelu Lukaku, third right, celebrates with teammates after scoring his side's second goal during the Champions League quarter final first leg soccer match between Benfica and Inter Milan at Luz stadium in Lisbon, Tuesday, April 11, 2023. (AP Photo/Armando Franca)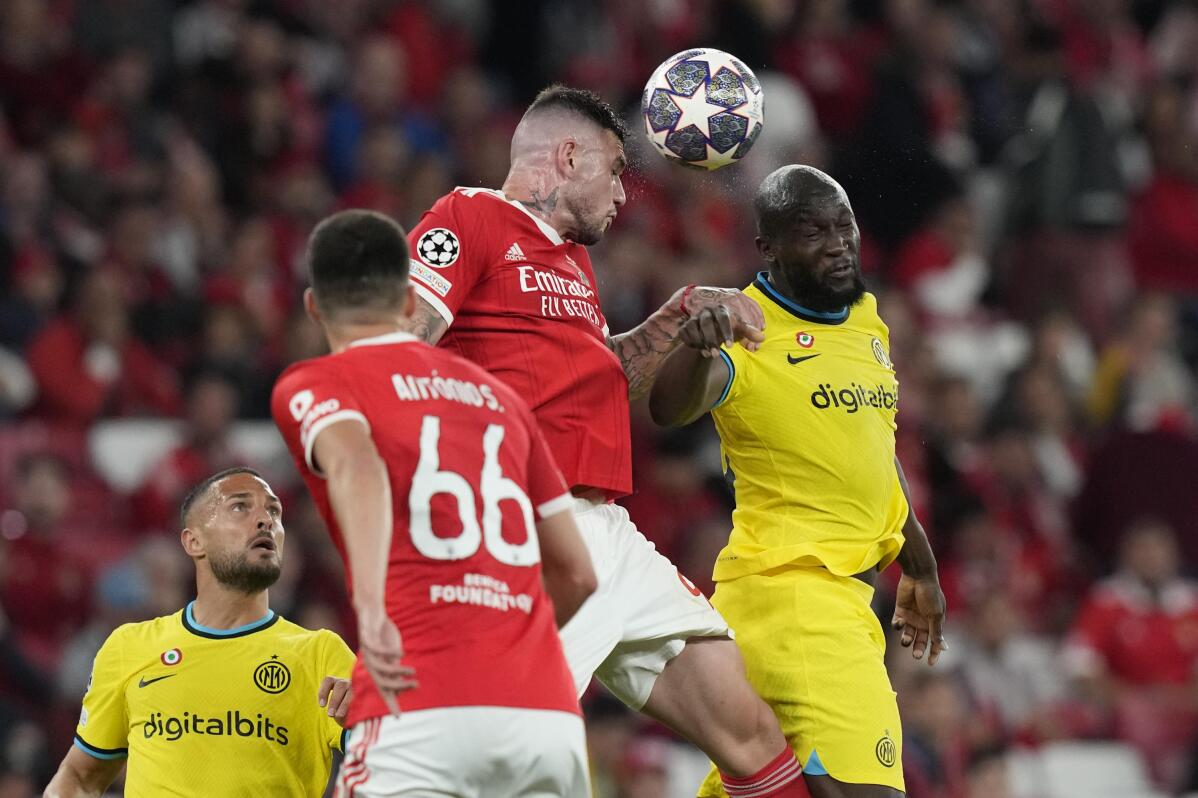 11 of 11

|
Inter Milan's Romelu Lukaku, top right, goes for a header with Benfica's Morato during the Champions League quarter final first leg soccer match between Benfica and Inter Milan at Luz stadium in Lisbon, Tuesday, April 11, 2023. Inter Milan won 2-0. (AP Photo/Armando Franca)
Inter wins 2-0 at Benfica in Champions League quarterfinals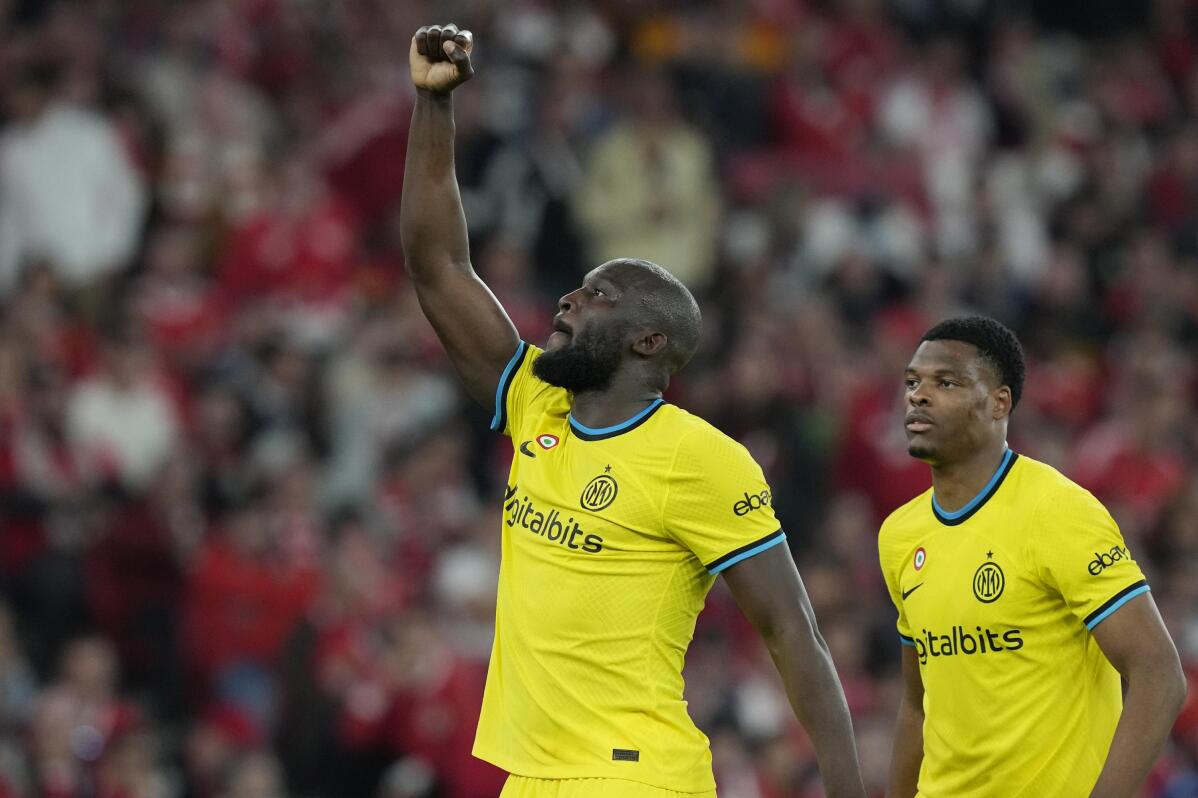 1 of 11

|
Inter Milan's Romelu Lukaku, left, celebrates after scoring his side's second goal during the Champions League quarter final first leg soccer match between Benfica and Inter Milan at Luz stadium in Lisbon, Tuesday, April 11, 2023. (AP Photo/Armando Franca)
1 of 11
Inter Milan's Romelu Lukaku, left, celebrates after scoring his side's second goal during the Champions League quarter final first leg soccer match between Benfica and Inter Milan at Luz stadium in Lisbon, Tuesday, April 11, 2023. (AP Photo/Armando Franca)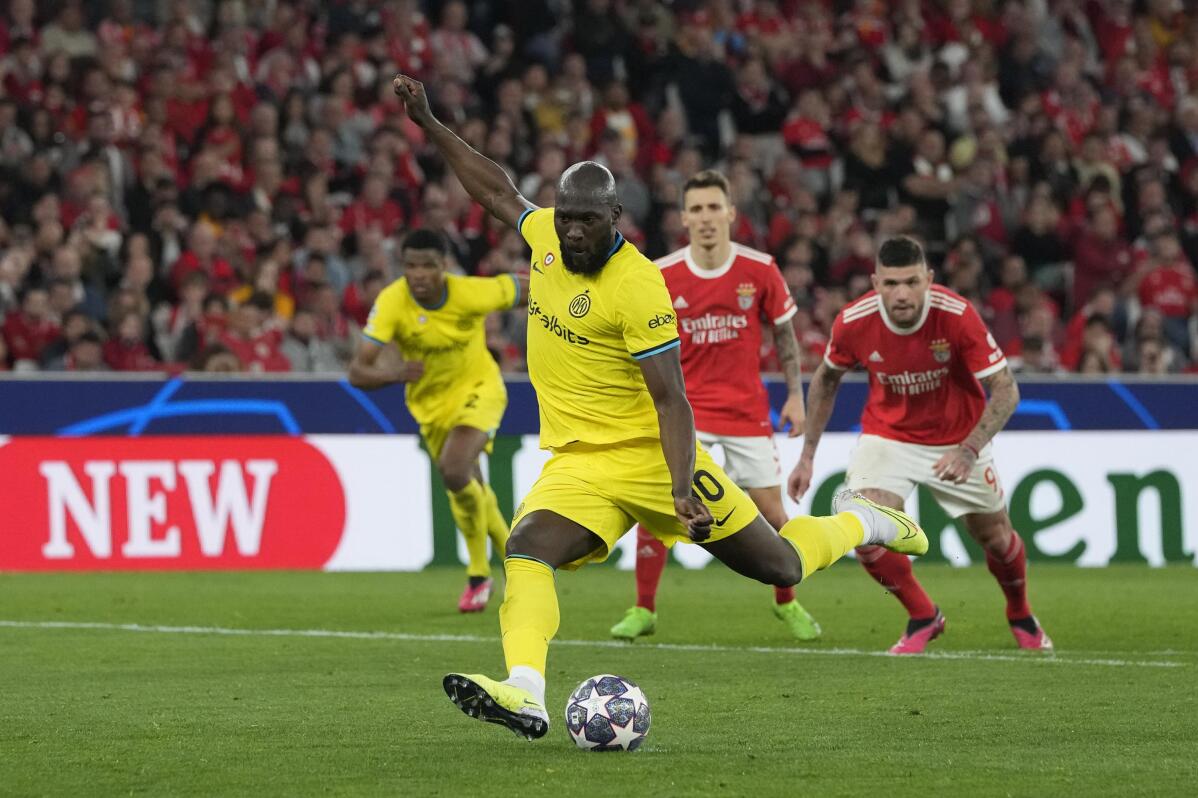 2 of 11

|
Inter Milan's Romelu Lukaku shoots a penalty kick to score his side's second goal during the Champions League quarter final first leg soccer match between Benfica and Inter Milan at Luz stadium in Lisbon, Tuesday, April 11, 2023. (AP Photo/Armando Franca)
2 of 11
Inter Milan's Romelu Lukaku shoots a penalty kick to score his side's second goal during the Champions League quarter final first leg soccer match between Benfica and Inter Milan at Luz stadium in Lisbon, Tuesday, April 11, 2023. (AP Photo/Armando Franca)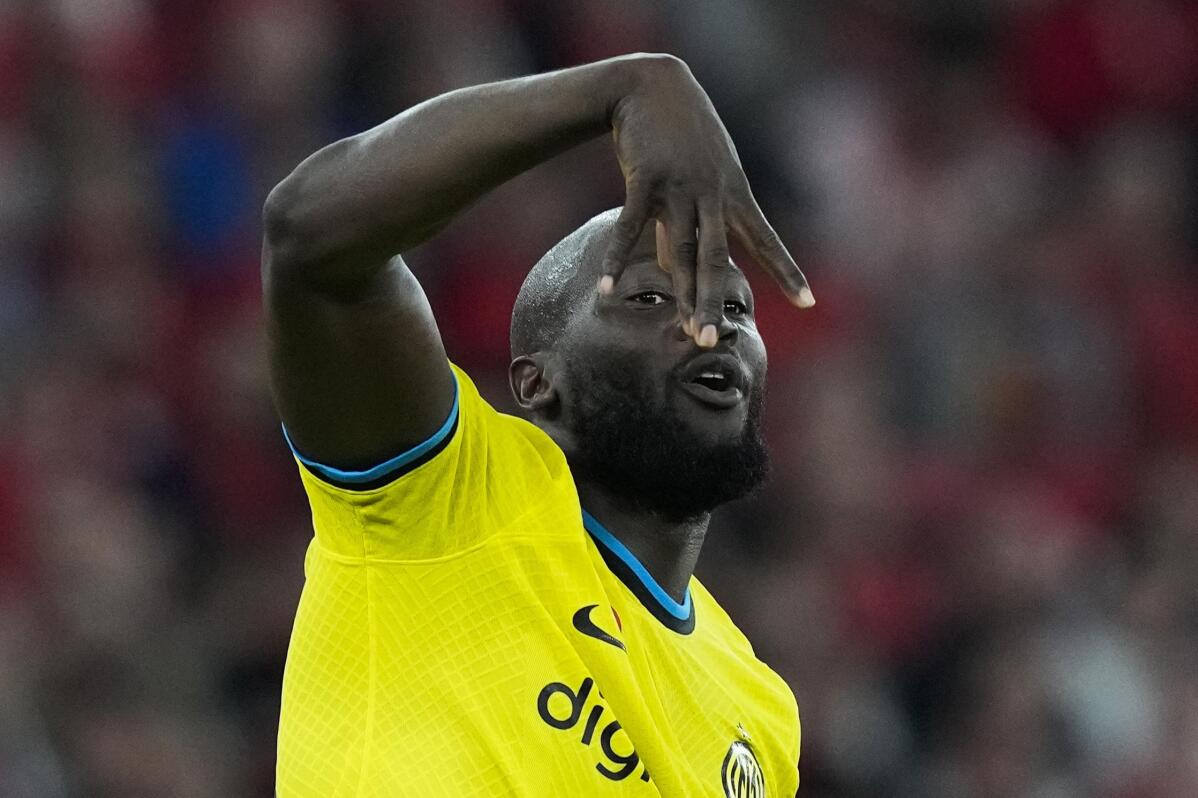 3 of 11

|
Inter Milan's Romelu Lukaku celebrates after scoring his side's second goal during the Champions League quarter final first leg soccer match between Benfica and Inter Milan at Luz stadium in Lisbon, Tuesday, April 11, 2023. (AP Photo/Armando Franca)
3 of 11
Inter Milan's Romelu Lukaku celebrates after scoring his side's second goal during the Champions League quarter final first leg soccer match between Benfica and Inter Milan at Luz stadium in Lisbon, Tuesday, April 11, 2023. (AP Photo/Armando Franca)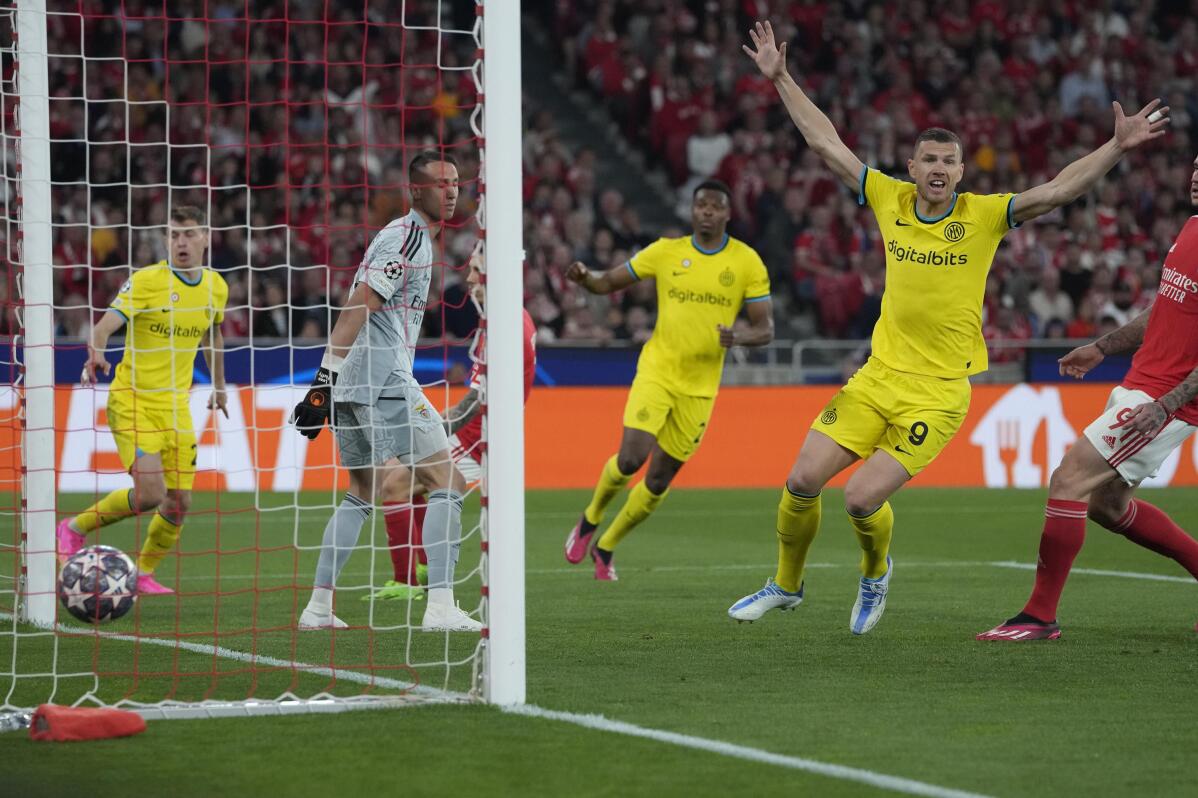 4 of 11

|
Inter Milan's Edin Dzeko, right, celebrates after teammate Nicolo Barella, background left, scored the opening goal during the Champions League quarter final first leg soccer match between Benfica and Inter Milan at Luz stadium in Lisbon, Tuesday, April 11, 2023. (AP Photo/Armando Franca)
4 of 11
Inter Milan's Edin Dzeko, right, celebrates after teammate Nicolo Barella, background left, scored the opening goal during the Champions League quarter final first leg soccer match between Benfica and Inter Milan at Luz stadium in Lisbon, Tuesday, April 11, 2023. (AP Photo/Armando Franca)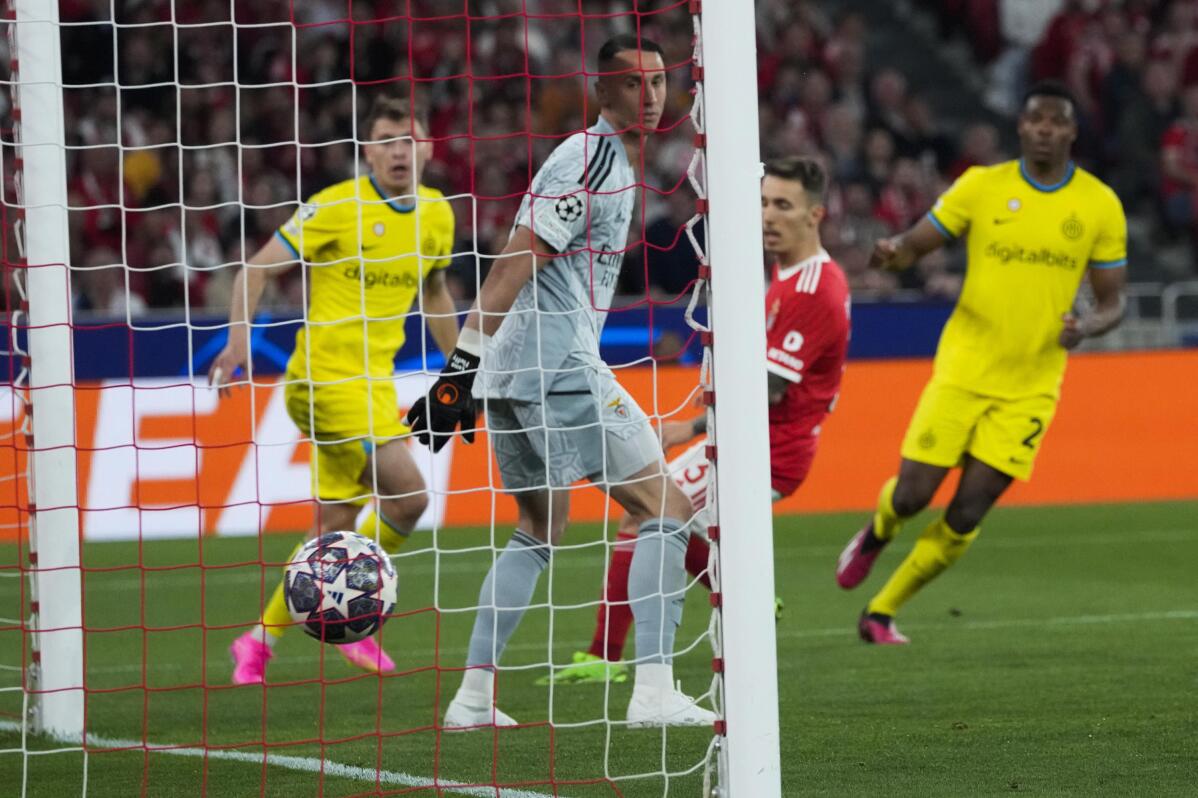 5 of 11

|
Benfica's goalkeeper Odysseas Vlachodimos, center, looks at the ball after Inter Milan's Nicolo Barella, background left, scored the opening goal during the Champions League quarter final first leg soccer match between Benfica and Inter Milan at Luz stadium in Lisbon, Tuesday, April 11, 2023. (AP Photo/Armando Franca)
5 of 11
Benfica's goalkeeper Odysseas Vlachodimos, center, looks at the ball after Inter Milan's Nicolo Barella, background left, scored the opening goal during the Champions League quarter final first leg soccer match between Benfica and Inter Milan at Luz stadium in Lisbon, Tuesday, April 11, 2023. (AP Photo/Armando Franca)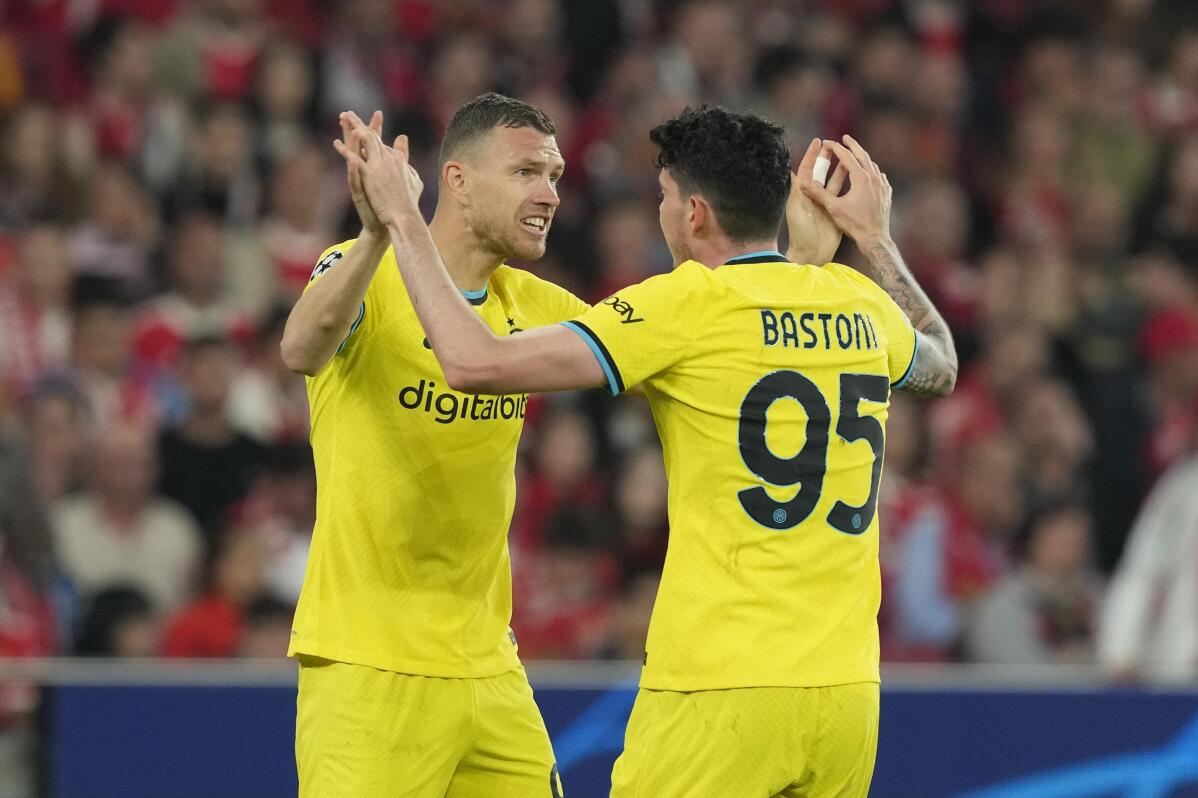 6 of 11

|
Inter Milan's Edin Dzeko, left, celebrates with Inter Milan's Alessandro Bastoni after teammate Nicolo Barella scored the opening goal during the Champions League quarter final first leg soccer match between Benfica and Inter Milan at Luz stadium in Lisbon, Tuesday, April 11, 2023. (AP Photo/Armando Franca)
6 of 11
Inter Milan's Edin Dzeko, left, celebrates with Inter Milan's Alessandro Bastoni after teammate Nicolo Barella scored the opening goal during the Champions League quarter final first leg soccer match between Benfica and Inter Milan at Luz stadium in Lisbon, Tuesday, April 11, 2023. (AP Photo/Armando Franca)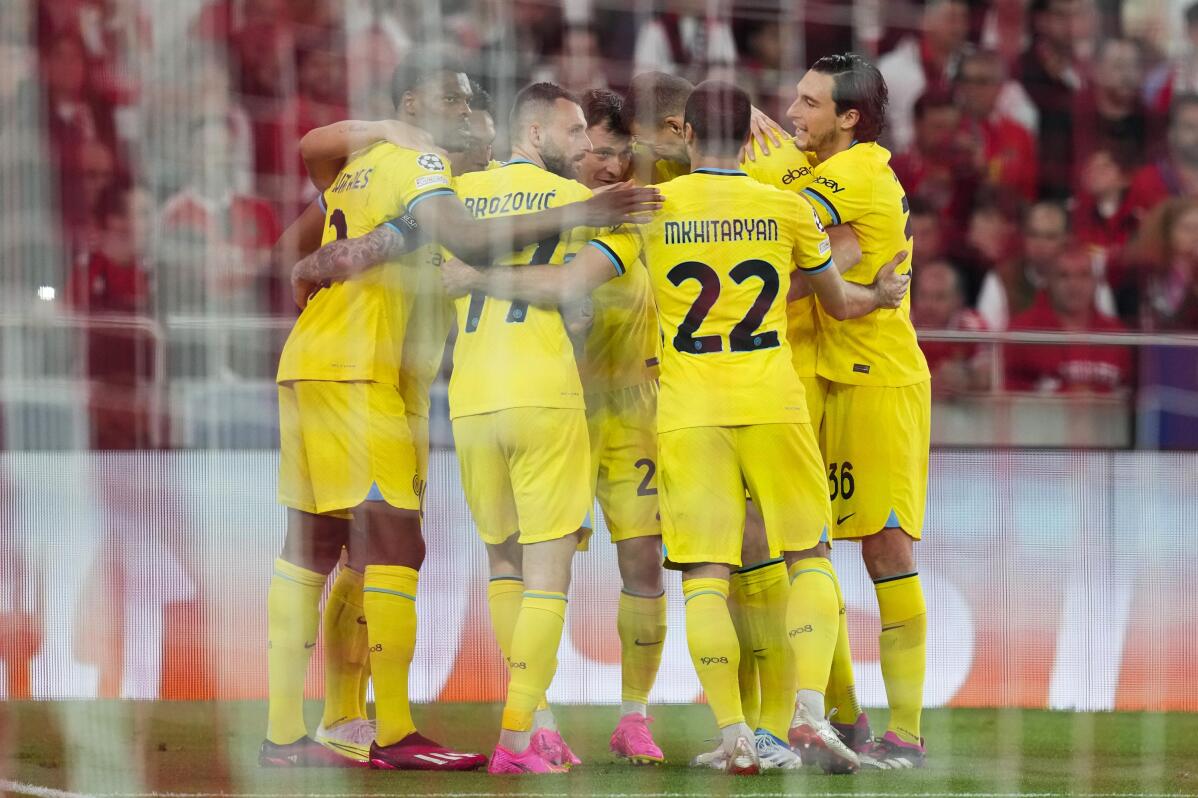 7 of 11

|
Inter Milan's Nicolo Barella, center, celebrates with teammates after scoring the opening goal during the Champions League quarter final first leg soccer match between Benfica and Inter Milan at Luz stadium in Lisbon, Tuesday, April 11, 2023. (AP Photo/Armando Franca)
7 of 11
Inter Milan's Nicolo Barella, center, celebrates with teammates after scoring the opening goal during the Champions League quarter final first leg soccer match between Benfica and Inter Milan at Luz stadium in Lisbon, Tuesday, April 11, 2023. (AP Photo/Armando Franca)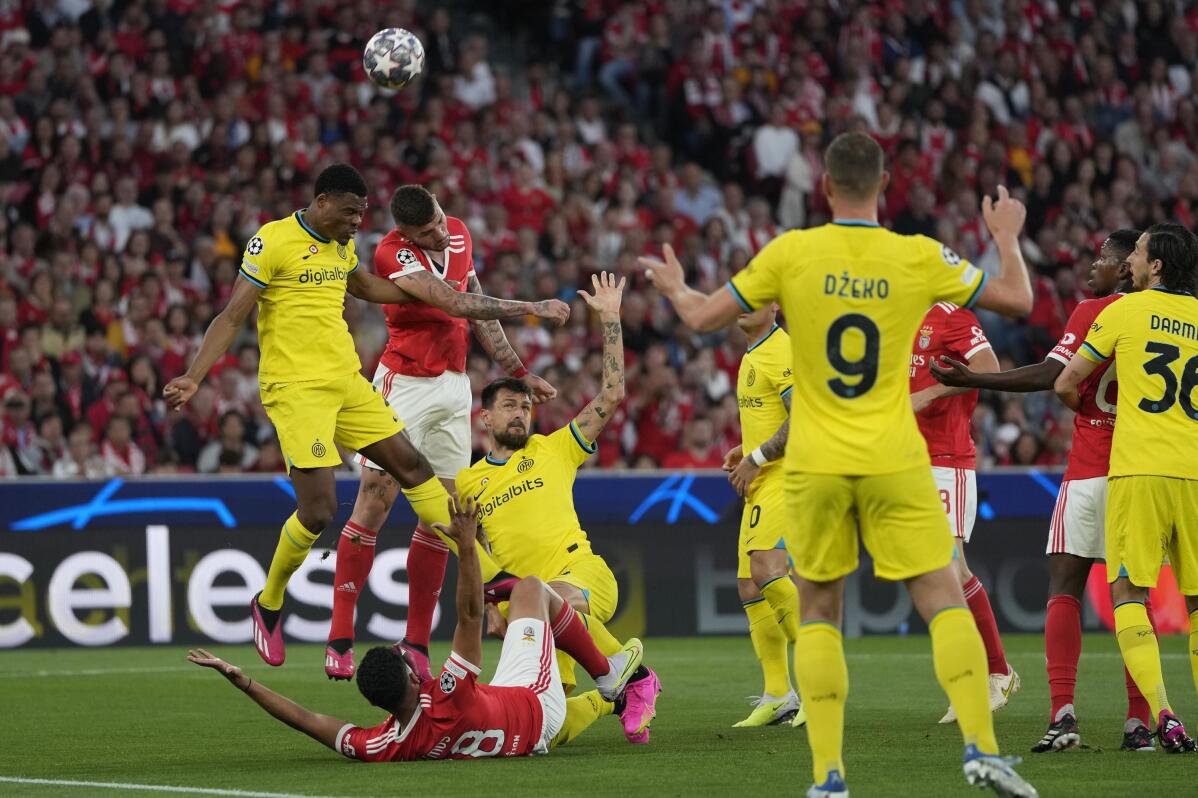 8 of 11

|
Benfica's Goncalo Ramos, bottom, falls as he fights for a high ball with Inter Milan's Denzel Dumfries, top left, during the Champions League quarter final first leg soccer match between Benfica and Inter Milan at Luz stadium in Lisbon, Tuesday, April 11, 2023. (AP Photo/Armando Franca)
8 of 11
Benfica's Goncalo Ramos, bottom, falls as he fights for a high ball with Inter Milan's Denzel Dumfries, top left, during the Champions League quarter final first leg soccer match between Benfica and Inter Milan at Luz stadium in Lisbon, Tuesday, April 11, 2023. (AP Photo/Armando Franca)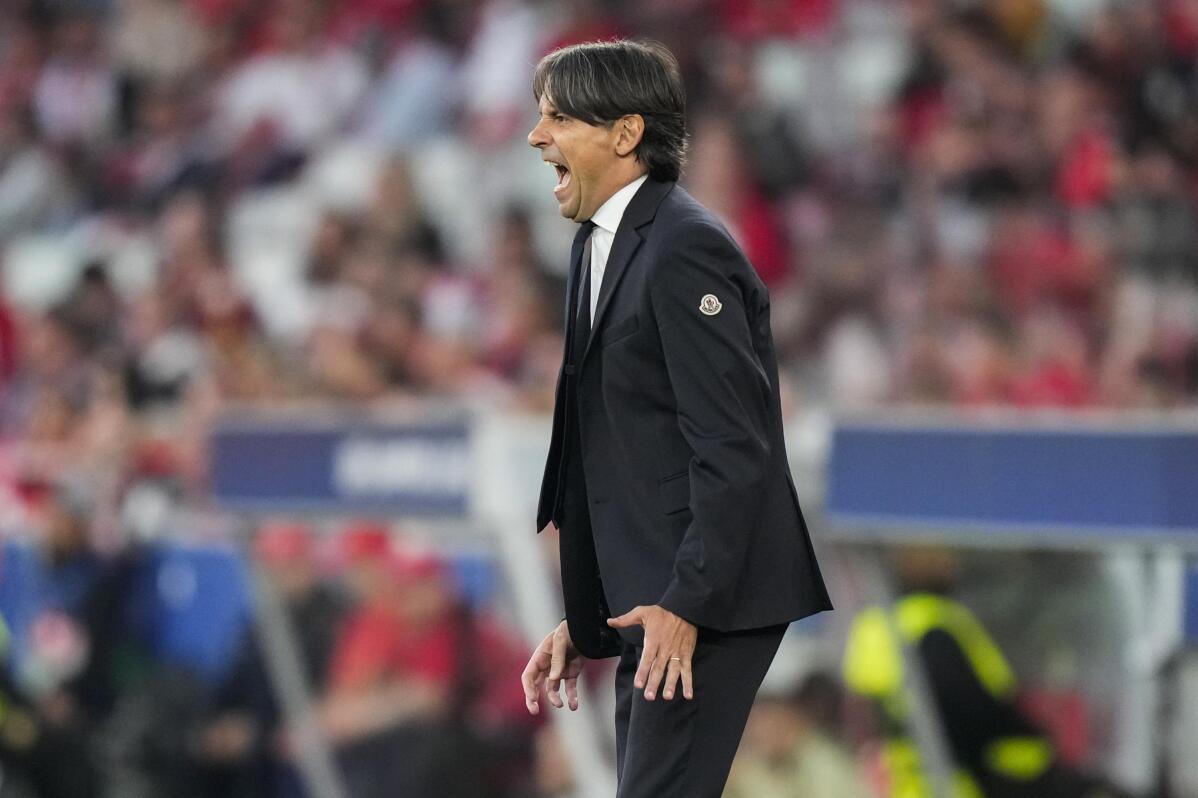 9 of 11

|
Inter Milan's head coach Simone Inzaghi gives instructions during the Champions League quarter final first leg soccer match between Benfica and Inter Milan at Luz stadium in Lisbon, Tuesday, April 11, 2023. (AP Photo/Armando Franca)
9 of 11
Inter Milan's head coach Simone Inzaghi gives instructions during the Champions League quarter final first leg soccer match between Benfica and Inter Milan at Luz stadium in Lisbon, Tuesday, April 11, 2023. (AP Photo/Armando Franca)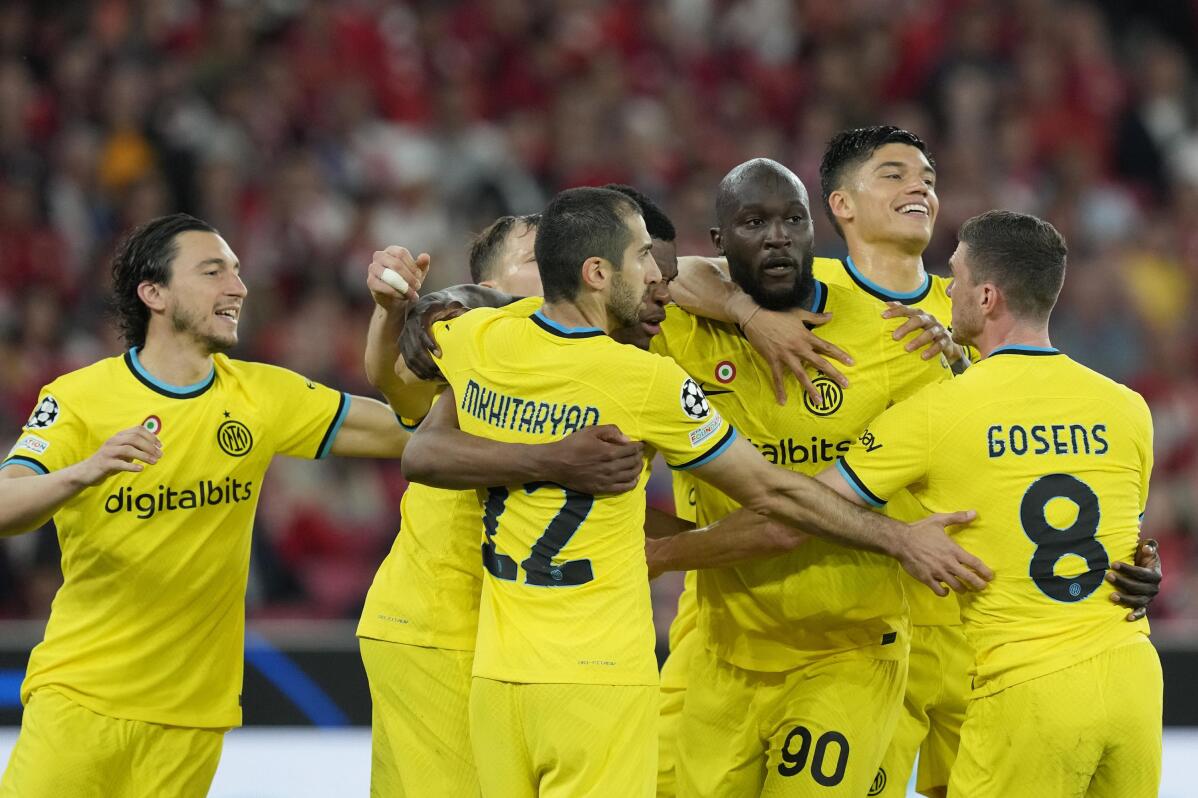 10 of 11

|
Inter Milan's Romelu Lukaku, third right, celebrates with teammates after scoring his side's second goal during the Champions League quarter final first leg soccer match between Benfica and Inter Milan at Luz stadium in Lisbon, Tuesday, April 11, 2023. (AP Photo/Armando Franca)
10 of 11
Inter Milan's Romelu Lukaku, third right, celebrates with teammates after scoring his side's second goal during the Champions League quarter final first leg soccer match between Benfica and Inter Milan at Luz stadium in Lisbon, Tuesday, April 11, 2023. (AP Photo/Armando Franca)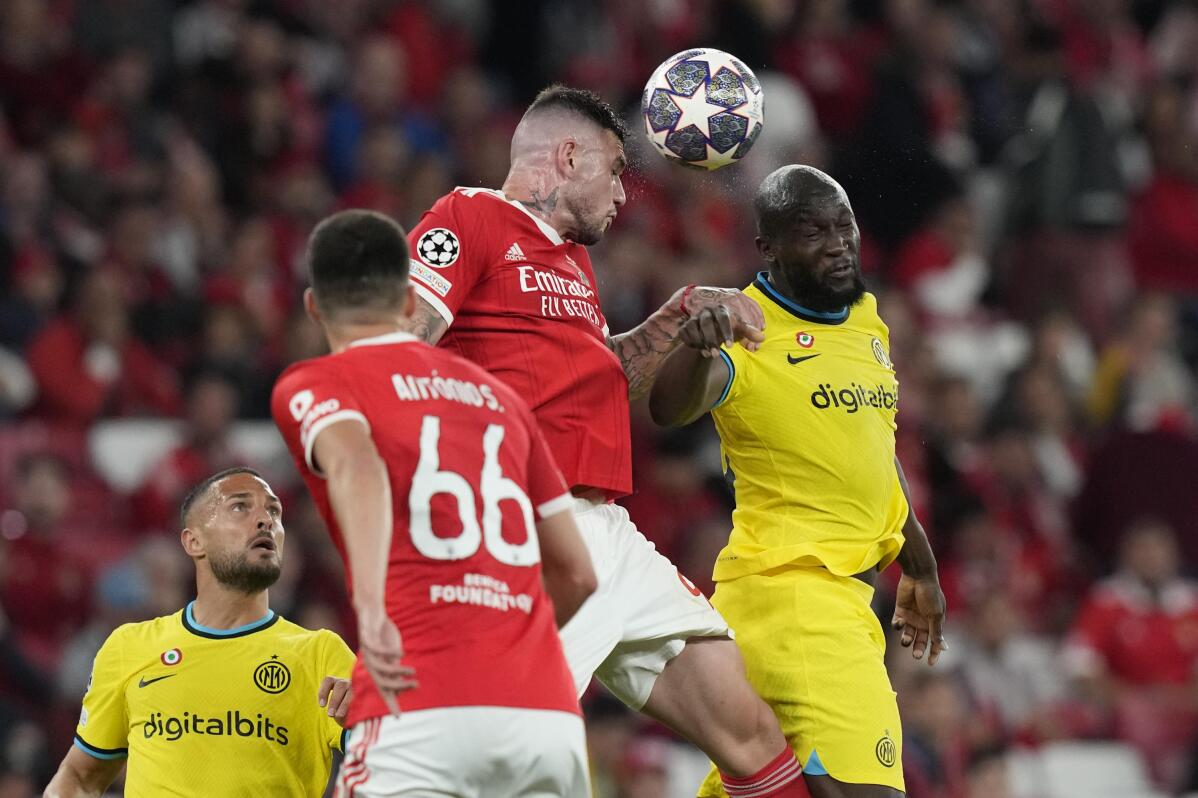 11 of 11

|
Inter Milan's Romelu Lukaku, top right, goes for a header with Benfica's Morato during the Champions League quarter final first leg soccer match between Benfica and Inter Milan at Luz stadium in Lisbon, Tuesday, April 11, 2023. Inter Milan won 2-0. (AP Photo/Armando Franca)
11 of 11
Inter Milan's Romelu Lukaku, top right, goes for a header with Benfica's Morato during the Champions League quarter final first leg soccer match between Benfica and Inter Milan at Luz stadium in Lisbon, Tuesday, April 11, 2023. Inter Milan won 2-0. (AP Photo/Armando Franca)
LISBON, Portugal (AP) — Inter Milan got back to winning when it mattered the most. Benfica's poor run came at the worst time.
Inter ended its six-match winless streak with a 2-0 win at Benfica in the first leg of the Champions League quarterfinals on Tuesday, moving into good position to reach the last four of the European competition for the first time in more than a decade.
It was Inter's first win in more than a month and Benfica's second loss in a row after an unbeaten run that included 13 wins in 15 matches in all competitions. Benfica was coming off a loss to archrival Porto in the Portuguese league at the weekend.
Nicolo Barella and Romelu Lukaku scored second-half goals for Inter at the Stadium of Light.
"I had hopes ahead of the game because the team played well and always created plenty of chances recently, even when we were not winning games," Inter coach Simone Inzaghi said. "The lads played a great game against a very strong side and in a difficult stadium with a great atmosphere. We know that this is just the first round because Benfica showed that they can play great games everywhere this season. We will need another great performance to reach the semifinals."
The second leg will be next week in Milan. Manchester City defeated Bayern Munich 3-0 at home in the first leg of the other quarterfinal on Tuesday.
"It's never good to lose 2-0 at home but it's not over yet," Benfica coach Roger Schmidt said. "We have to lift our heads and believe in ourselves. We obviously can reverse this result in Milan."
It was Benfica's first Champions League loss in 13 matches this season. It started the competition in the third qualifying round and was one of the surprises of the competition so far after going on an unbeaten run to win a difficult group that included Paris Saint-Germain and Juventus.
"Benfica are a great side but I knew and I said that we had to come here and play without fear because we could win," Inter goalkeeper André Onana said. "We did just that. But we cannot think that we are already in the semifinal because we are not. We still need another great game like today's next week."
Inter was winless since a victory against Lecce in the Italian league in March. It is trying to reach the last four for the first time since it won the title in 2010. It is playing in the last eight for the first time in 12 years.
Trying to win five consecutive Champions League games for the first time since 1990, the hosts controlled the pace but it was Inter that struck with a header by Barella off a long cross by Alessandro Bastoni into the area in the 51st minute.
Substitute Lukaku added to Inter's lead by converting an 82nd-minute penalty kick that was determined by video review for a handball by former Inter player João Mário inside the area.
Benfica tried to press forward but struggled to create many significant scoring opportunities. Forward Gonçalo Ramos nearly found the net in stoppage time but he was denied by a great save by Onana.
The Portuguese team entered the match having scored 23 goals, second only to Napoli, while no quarterfinalist had scored fewer than the 11 netted by Inter. It was the first time Benfica failed to score at home in 23 matches in all competitions this season.
Benfica was winless in the other three meetings between the clubs in European competitions, with two losses and a draw.
The European champion in 1961 and 1962, Benfica is hoping to make it past the quarterfinals for the first time since losing the final to AC Milan in 1990. It was eliminated by eventual runner-up Liverpool in last year's quarterfinals.
Schmidt had to make changes to the defense as right back Alexander Bah was injured and Nicolás Otamendi was suspended.
The winner of the series between Inter and Benfica will face AC Milan or Napoli in the semifinals.
___
More AP soccer: https://apnews.com/hub/soccer and https://twitter.com/AP_Sports