Benzema scoring as Madrid eyes trophies in Spain and Europe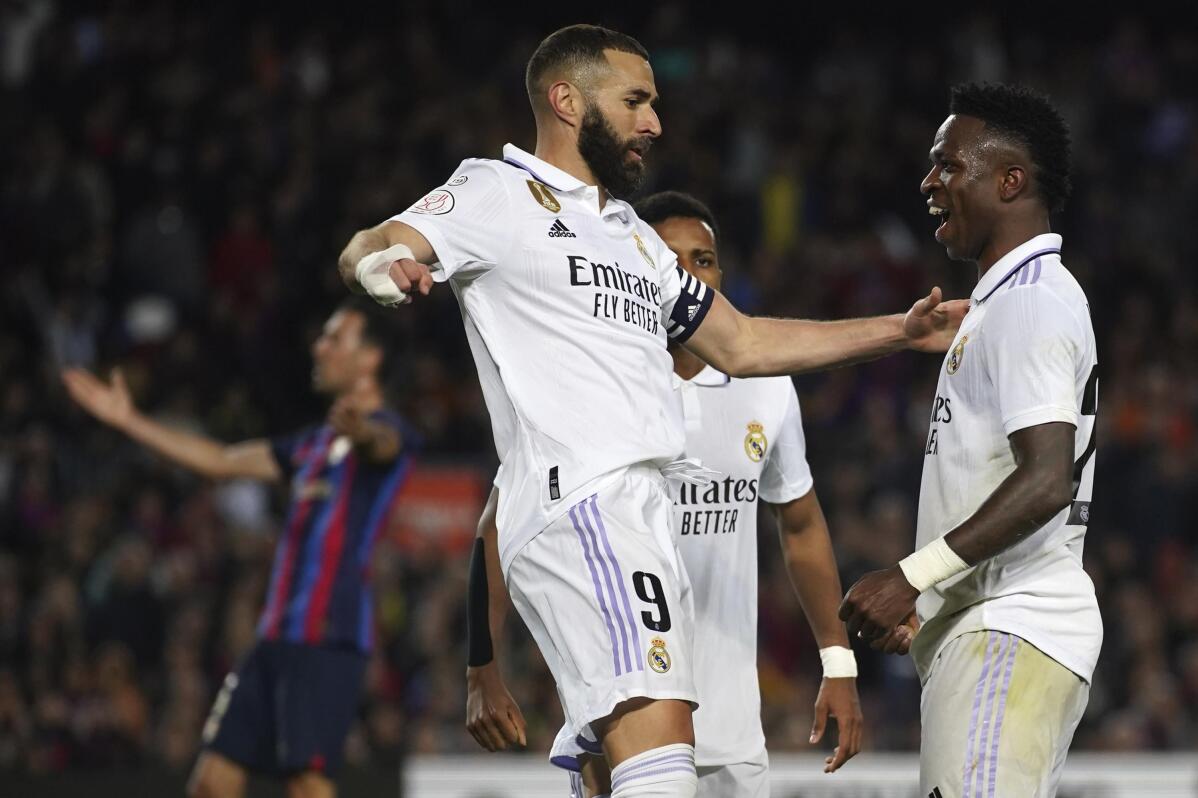 1 of 2

|
Real Madrid's Vinicius Junior, right, celebrates with Real Madrid's Karim Benzema after scoring his sides first goal during the Spanish Copa del Rey semifinal, second leg soccer match between Barcelona and Real Madrid at the Camp Nou stadium in Barcelona, Spain, Wednesday, April 5, 2023. (AP Photo/Joan Mateu Parra)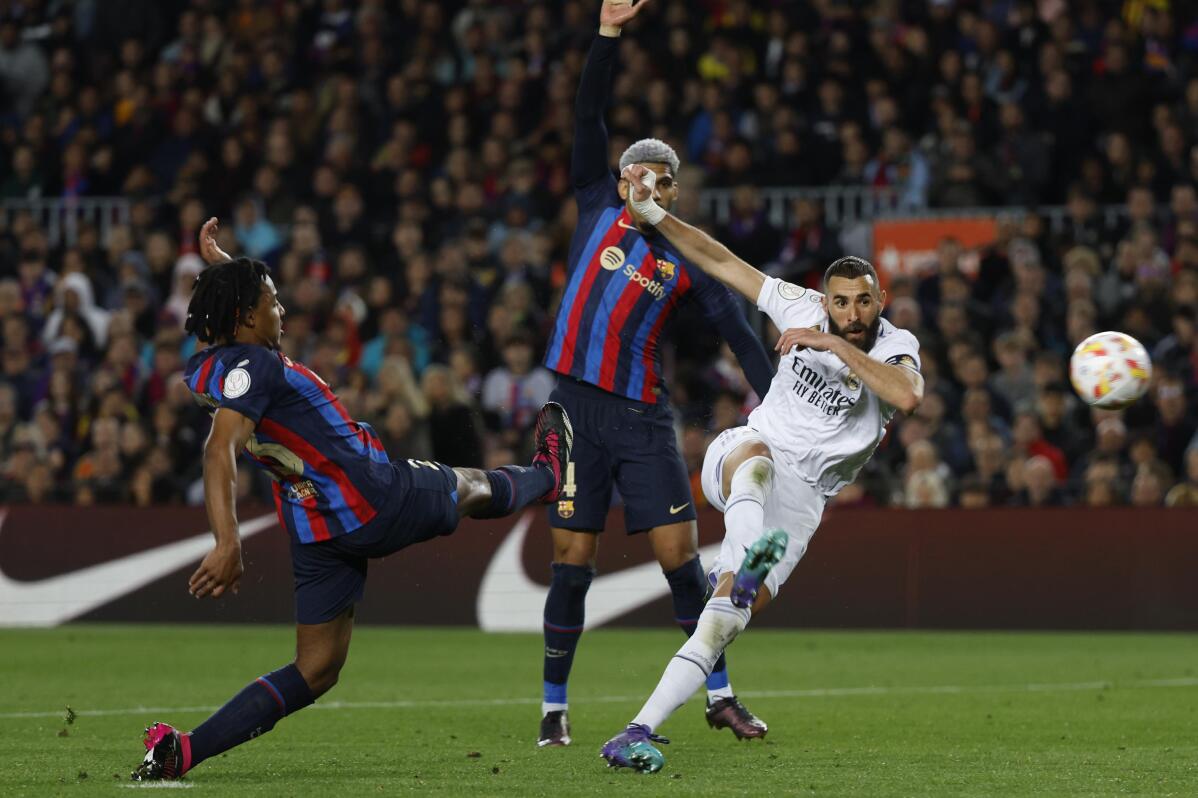 2 of 2

|
Real Madrid's Karim Benzema, right, attempts a shot at goal and misses past Barcelona's Jules Kounde, left, during the Spanish Copa del Rey semifinal, second leg soccer match between Barcelona and Real Madrid at the Camp Nou stadium in Barcelona, Spain, Wednesday, April 5, 2023. (AP Photo/Joan Monfort)
Benzema scoring as Madrid eyes trophies in Spain and Europe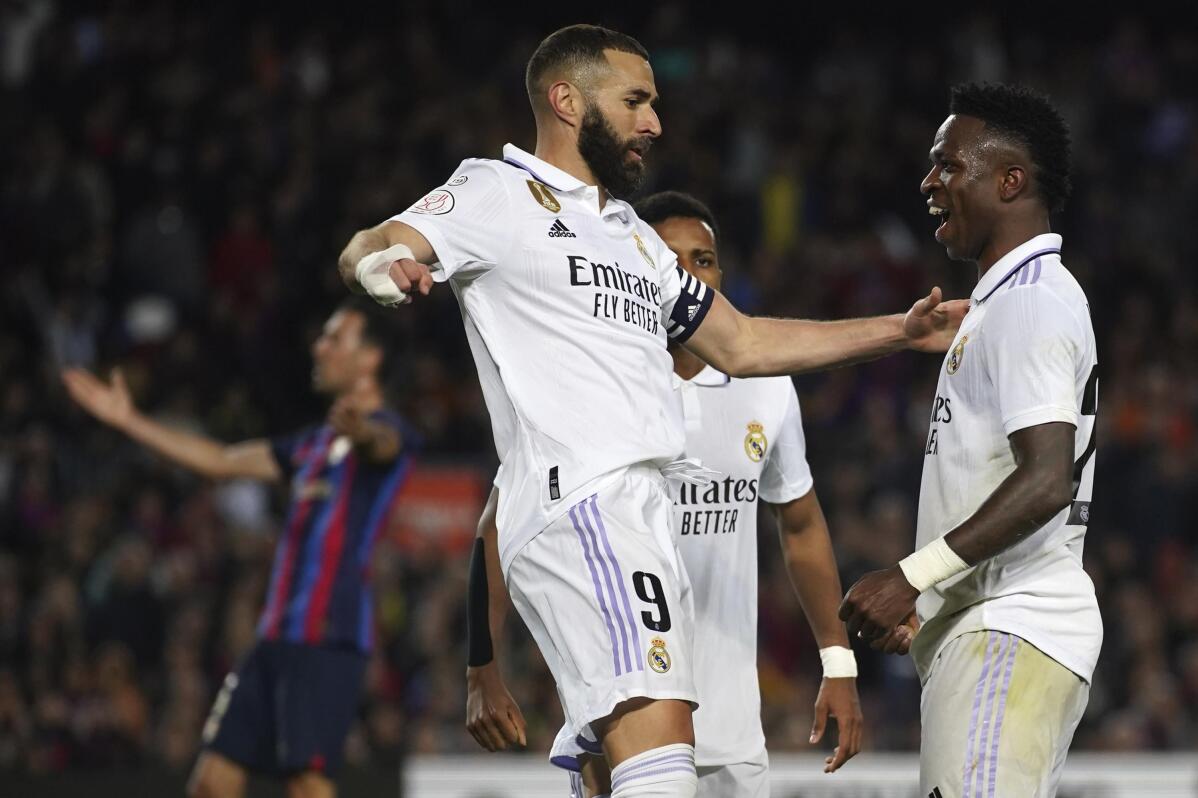 1 of 2

|
Real Madrid's Vinicius Junior, right, celebrates with Real Madrid's Karim Benzema after scoring his sides first goal during the Spanish Copa del Rey semifinal, second leg soccer match between Barcelona and Real Madrid at the Camp Nou stadium in Barcelona, Spain, Wednesday, April 5, 2023. (AP Photo/Joan Mateu Parra)
1 of 2
Real Madrid's Vinicius Junior, right, celebrates with Real Madrid's Karim Benzema after scoring his sides first goal during the Spanish Copa del Rey semifinal, second leg soccer match between Barcelona and Real Madrid at the Camp Nou stadium in Barcelona, Spain, Wednesday, April 5, 2023. (AP Photo/Joan Mateu Parra)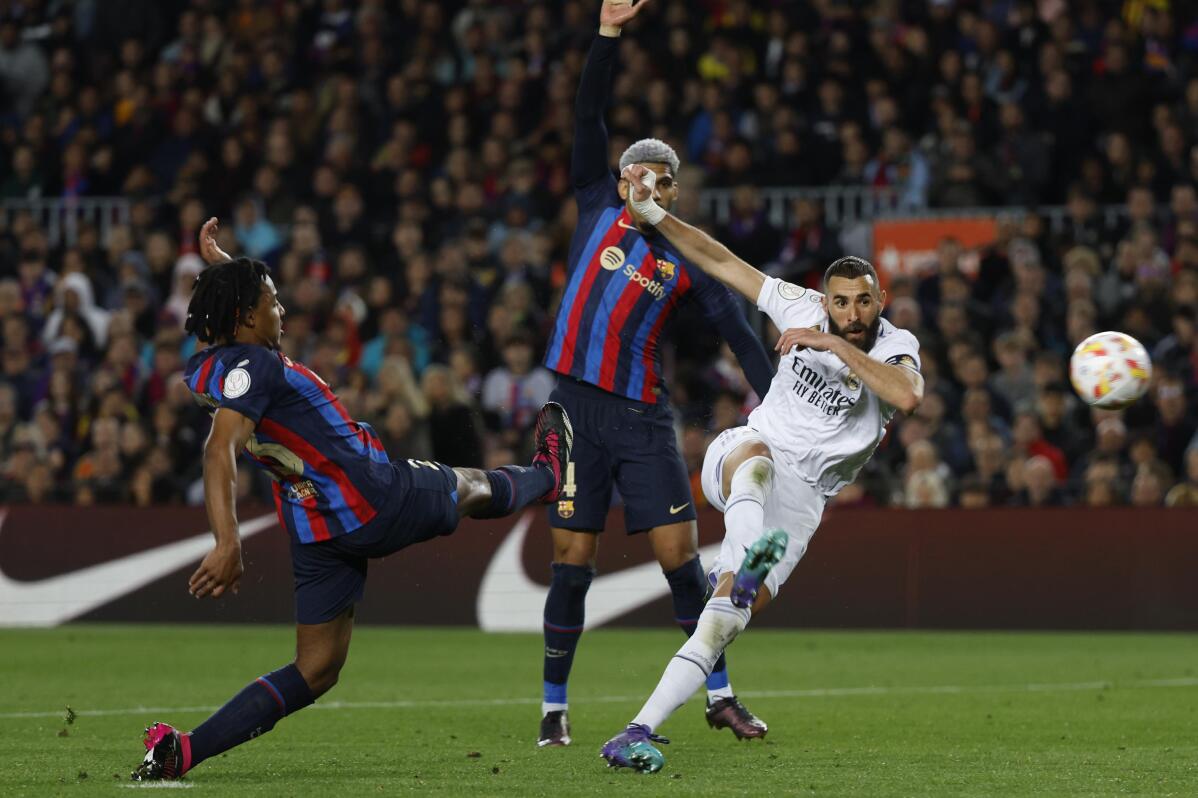 2 of 2

|
Real Madrid's Karim Benzema, right, attempts a shot at goal and misses past Barcelona's Jules Kounde, left, during the Spanish Copa del Rey semifinal, second leg soccer match between Barcelona and Real Madrid at the Camp Nou stadium in Barcelona, Spain, Wednesday, April 5, 2023. (AP Photo/Joan Monfort)
2 of 2
Real Madrid's Karim Benzema, right, attempts a shot at goal and misses past Barcelona's Jules Kounde, left, during the Spanish Copa del Rey semifinal, second leg soccer match between Barcelona and Real Madrid at the Camp Nou stadium in Barcelona, Spain, Wednesday, April 5, 2023. (AP Photo/Joan Monfort)
BARCELONA, Spain (AP) — Karim Benzema is hitting his stride just when Real Madrid needs it the most.
The Ballon d'Or winner has been hampered by a series of minor injuries this season, including one that kept him from playing for France during its run to the World Cup final in Qatar. But the 35-year-old striker is once again playing like one of the best players in Europe as Madrid eyes two major titles.
Benzema scored a second-half hat trick to lead Madrid over Barcelona 4-0 on Wednesday, putting his team into the Copa del Rey final for the first time since 2014.
Madrid is also set to face Chelsea next week in the Champions League quarterfinals as it tries to defend its title and win what would be a record-extending 15th European Cup.
Benzema, who was named soccer's best male player for his exceptional 2021-22 campaign, has only played 31 of Madrid's 45 games in all competitions this season because of minor injuries. But he has been effective as ever when healthy, and especially so in key matches in the Champions League and Copa del Rey.
He scored three times in Madrid's 6-2 aggregate win over Liverpool in the round of 16 of the Champions League. After being left off France's squad for recent European Championship qualifying matches, he scored back-to-back hat tricks for Madrid. He had three goals in a span of seven minutes in a 6-0 rout of Valladolid in the Spanish league three days before his hat trick at Camp Nou.
"The work during the (international) break has certainly helped him," Madrid coach Carlo Ancelotti said. "He's found his best condition and with the quality he has, he makes a difference for sure. He's still one of the best players in the world at the moment and when he's in good shape he makes a difference."
Ancelotti may be tempted to rest Benzema or other regular starters on Saturday when Madrid hosts Villarreal in the Spanish league with Chelsea coming to town on Wednesday.
Ancelotti got the better of Barcelona counterpart Xavi Hernández by playing an attack-minded starting 11 with Benzema joined by Brazilian forwards Vinícius Júnior and Rodrygo. The Italian coach also opted to play without a stopper in midfield, preferring the passing of Luka Modric and Toni Kroos with the speed of Federico Valverde.
Xavi had fewer options available with Pedri, Ousmane Dembélé, Frenkie de Jong and Andreas Christensen out injured.
The result was Madrid's biggest victory at Barcelona's home stadium since a 5-1 win in 1963.
"His numbers say it all," Madrid defender Dani Carvajal said about Benzema. "He was hugely important for us again and we're thrilled to have him in this vein of form at this stage of the season because he can give us lots to smile about."
Madrid will be favored in the Copa del Rey final against Osasuna in Seville on May 6.
In the meantime, Madrid will focus on the Champions League with Barcelona 12 points ahead at the top of the Spanish league standings.
Xavi led Barcelona to a 4-0 win at Madrid last season. Barcelona had also savored big wins at the Santiago Bernabeu in recent years, including a 4-0 win in 2015 and a 6-2 thrashing in 2009.
Barcelona, which squandered a chance to beat Madrid for a fourth straight time, will try to rebound against Girona in the league on Monday.
"We played against a great Real Madrid team," Xavi said. "This was a tough night that will take us time to recover from, but we have to be positive and think about Girona and the league."
___
More AP soccer: https://apnews.com/hub/Soccer and https://twitter.com/AP_Sports