Court tosses Berkeley gas ban, but wider impact is unclear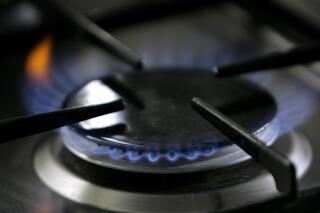 SAN FRANCISCO (AP) — The politically liberal enclave of Berkeley, California became the first U.S. city to adopt a ban on natural gas in new homes and buildings in 2019, which started a climate change-driven effort in dozens of other cities and counties that's morphed into a heated debate about the future of gas stoves.
On Monday, the Ninth U.S. Circuit Court of Appeals in San Francisco sided with the California Restaurant Association to halt the city's effort, saying it violates federal law that gives the U.S. government the authority to set energy-efficiency standards for appliances.
The ruling has drawn criticism from Berkeley officials and environmentalists, although it's unclear what kind of impact the decision will have on climate advocates' fight to go electric, given its narrow scope and the possibility of an appeal to a broader panel of judges. Berkeley banned the installation of natural gas piping in new construction, which the judges said turned the energy use of an appliance to a quantity of zero.
Berkeley City Councilmember Kate Harrison, who authored the 2019 ordinance, said she doesn't know how the city council will respond, but noted that a ban on natural gas or effort to curtail the use of natural gas has spread to 70 communities in California, and even to Seattle and New York City.
"This is a movement that can't be stopped," she said. "They've conflated a 1970s regulation about the efficiency of appliances with what kind of materials can come into our house. We did not change appliances, we changed the source of fuel that can come into new buildings."
Gas stoves are in the spotlight in America's culture wars, as more Democrat-controlled cities move to limit their use, citing indoor pollution concerns and climate policies that aim to phase out fossil fuels in favor of carbon-free electricity.
In January, comments from the federal Consumer Product Safety Commission that "any option is on the table" to regulate gas stoves sparked outrage from conservatives who said it amounted to government intrusion in people's homes. The White House has said that President Joe Biden doesn't support a ban on gas stoves.
The ruling in Berkeley Monday does not affect the majority of cities and counties that have already banned or curtailed natural gas through building codes that meet certain federal requirements and are allowed by the decision, environmental groups said. Other municipal policies to regulate gas distribution and air emissions are not impacted either.
About two dozen cities may be at risk because they are constructed similar to Berkeley, according to the Building Decarbonization Coalition, a nonprofit aimed at eliminating fossil fuels. They include San Francisco, Los Angeles and Oakland.
But not all agreed the ruling negated their city's ordinance.
"San Francisco's ordinance differs from Berkeley's and remains in effect," said Jen Kwart, spokesperson for the office of City Attorney David Chiu.
Judge Patrick Bumatay wrote in the 3-0 Ninth Circuit ruling that a local ordinance that bans appliances such as gas stoves "impacts the quantity of energy" they consume, which is under federal regulation. The ruling overturned the decision of a judge in a lower court in 2021, dismissing the case because city officials were not trying to regulate energy efficiency for appliances but only the fuel they used.
One likely next step is to seek a rehearing with a larger panel of 11 judges on the appellate court that might lean more liberal, said Josh Blackman, a professor at South Texas College of Law Houston.
The three judges in Monday's 3-0 ruling were selected at random, and include Bumatay and Judge M. Miller Baker, who is visiting from the U.S. Court of International Trade. Both are appointees of former President Donald Trump, and the third, Judge Diarmuid O'Scannlain, was appointed by former President Ronald Reagan.
The panel was "a very strange trifecta, that's just a matter of statistics," Blackman said.
The Ninth U.S. Circuit Court of Appeals includes California, Washington state and seven other states in the western region, and helps set legal precedent on some of the country's biggest issues, including gun control and labor. Trump made gains in adding more conservative judges to the historically liberal court, although it still has more judges appointed by Democratic presidents.
Last year, the California Air Resources Board voted to ban sales of new gas furnaces and water heaters in 2030. Last month, the Bay Area Air Quality Management District adopted rules to phase out and eventually ban the sale of gas water heaters and furnaces.
Kristine Roselius, a spokesperson for the air quality management district, said attorneys are reviewing the ruling but it has regulated air pollution for decades and that its rule is different from that of Berkeley.