Holgorsen again part of Big 12 change, UH among 4 new teams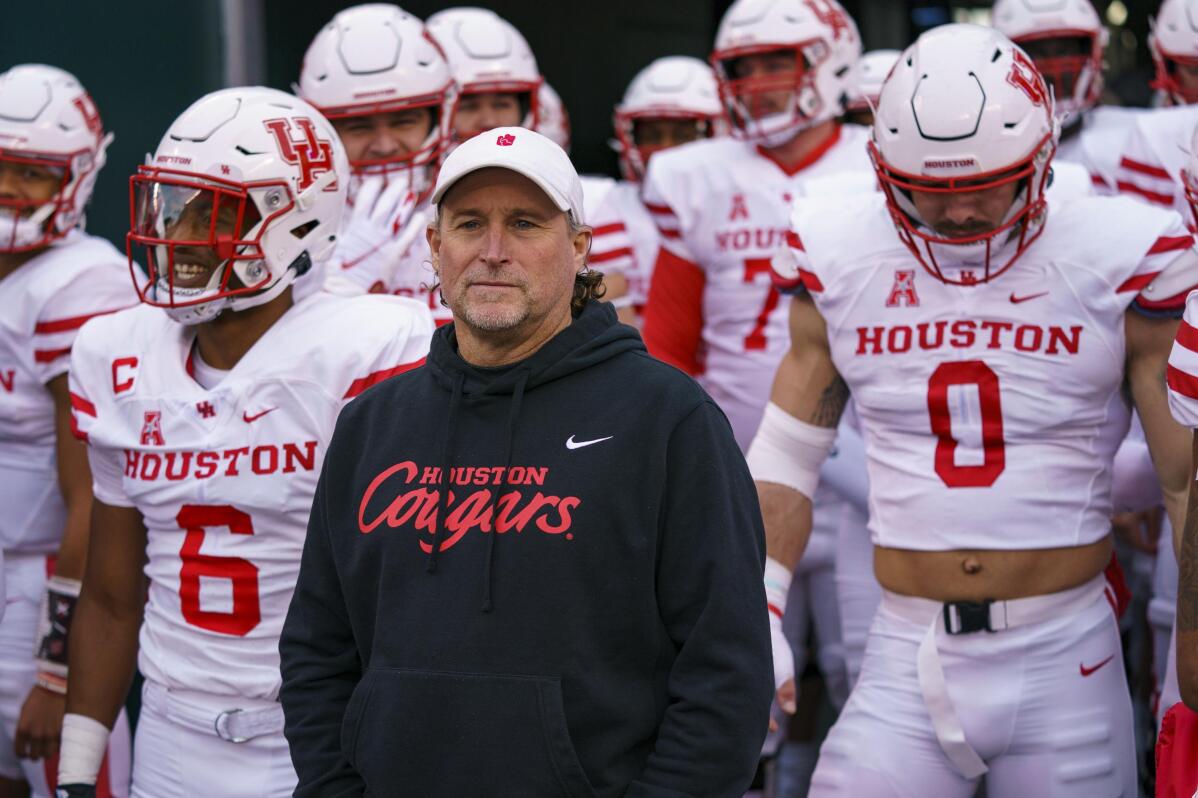 1 of 4

|
FILE - Houston head coach Dana Holgorsen waits to lead his team onto the field before an NCAA college football against Temple, Saturday, Nov. 13, 2021, in Philadelphia. Before Holgerson got to Houston, one of four schools that will officially become new Big 12 members on July 1, 2023, he was West Virginia's coach when the Mountaineers were part of the conference's last composition change in 2012. (AP Photo/Chris Szagola, File)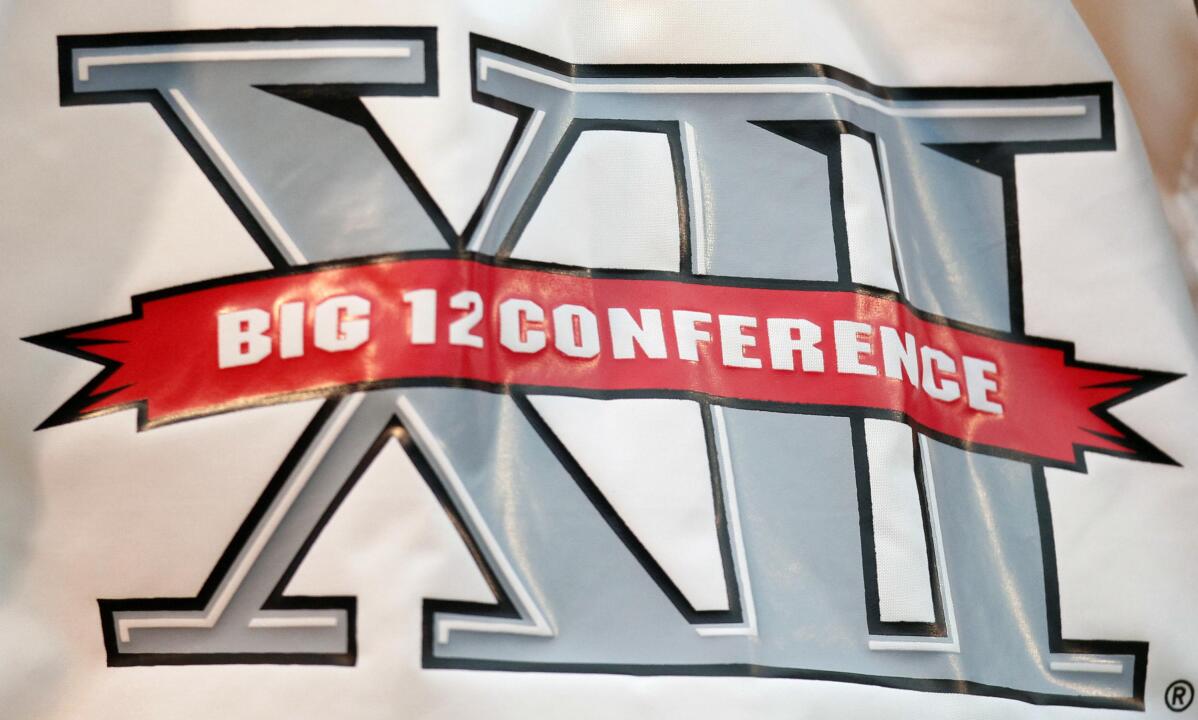 2 of 4

|
FILE - The Big 12 Conference logo is seen during the first quarter of an NCAA college football game between Missouri and the Western Illinois, Saturday, Sept. 17, 2011, in Columbia, Mo. The Big 12 will have 14 teams this fall, with BYU, Cincinnati, Houston and UCF coming in a year before Oklahoma and Texas, the league's only current members with national titles, make their move to the Southeastern Conference. (AP Photo/Jeff Roberson, File)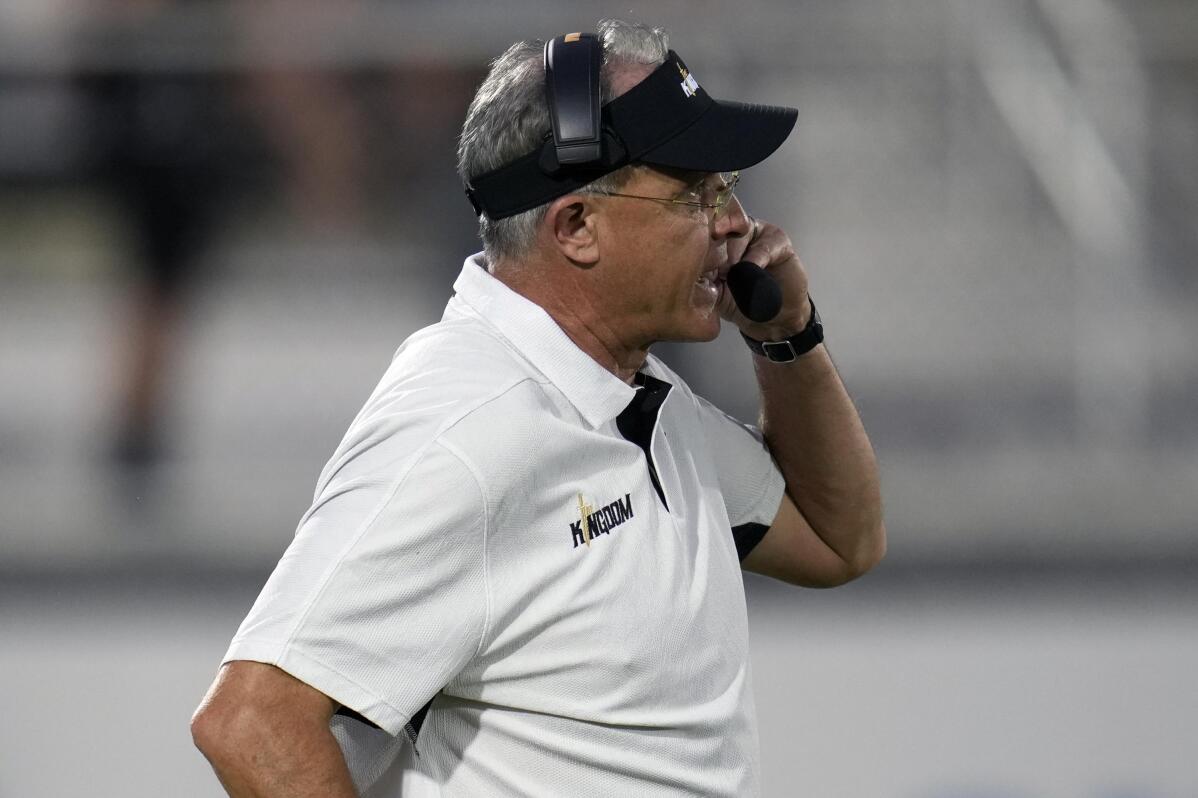 3 of 4

|
Central Florida head coach Gus Malzahn directs play on the field during the first half of the NCAA college football team's annual spring game, Friday, April 14, 2023, in Orlando, Fla. (AP Photo/John Raoux)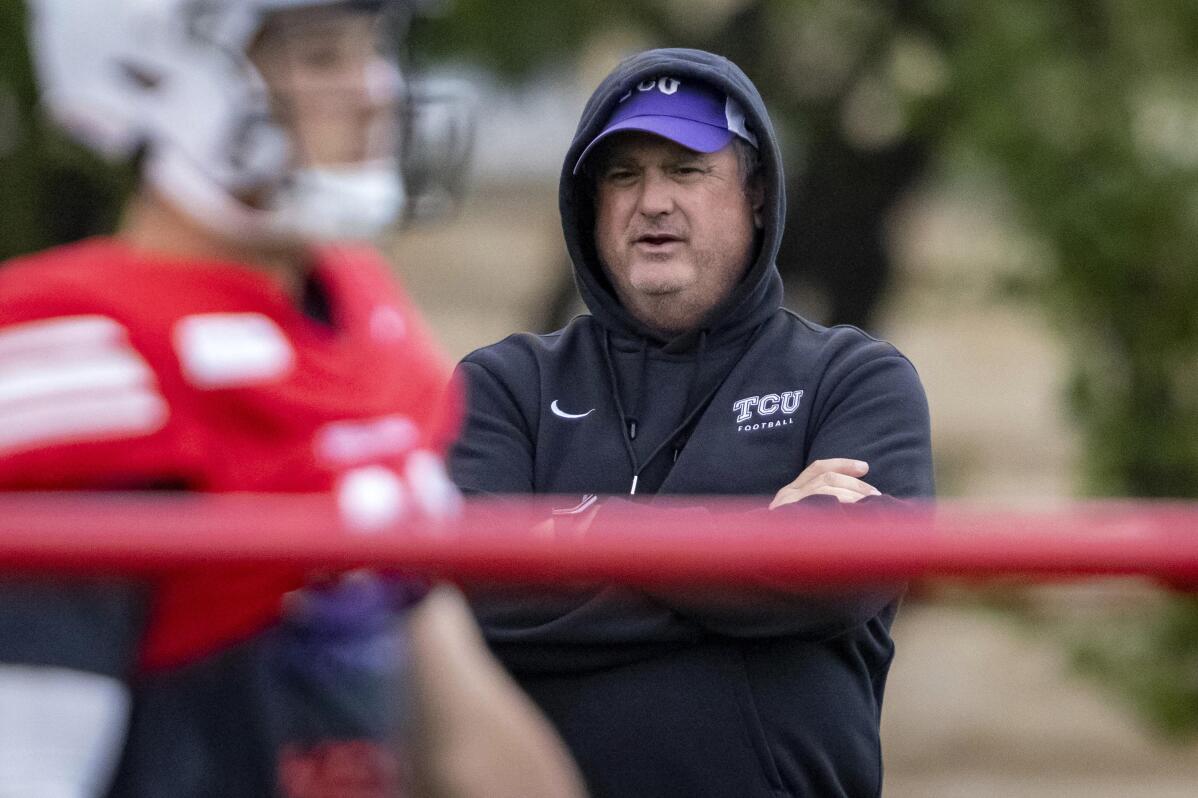 4 of 4

|
TCU coach Sonny Dykes watches the NCAA college football team's spring practice in Fort Worth, Texas, Wednesday, March 29, 2023. (Madeleine Cook/Star-Telegram via AP)
Holgorsen again part of Big 12 change, UH among 4 new teams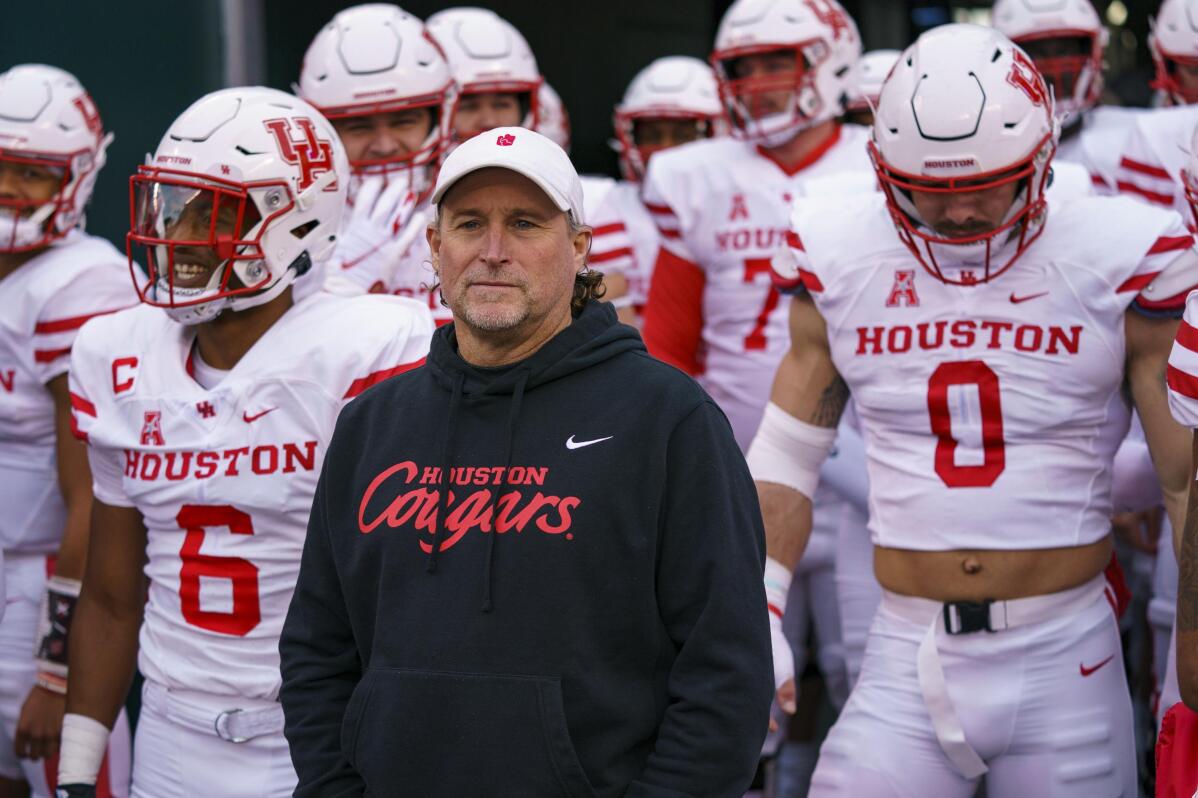 1 of 4

|
FILE - Houston head coach Dana Holgorsen waits to lead his team onto the field before an NCAA college football against Temple, Saturday, Nov. 13, 2021, in Philadelphia. Before Holgerson got to Houston, one of four schools that will officially become new Big 12 members on July 1, 2023, he was West Virginia's coach when the Mountaineers were part of the conference's last composition change in 2012. (AP Photo/Chris Szagola, File)
1 of 4
FILE - Houston head coach Dana Holgorsen waits to lead his team onto the field before an NCAA college football against Temple, Saturday, Nov. 13, 2021, in Philadelphia. Before Holgerson got to Houston, one of four schools that will officially become new Big 12 members on July 1, 2023, he was West Virginia's coach when the Mountaineers were part of the conference's last composition change in 2012. (AP Photo/Chris Szagola, File)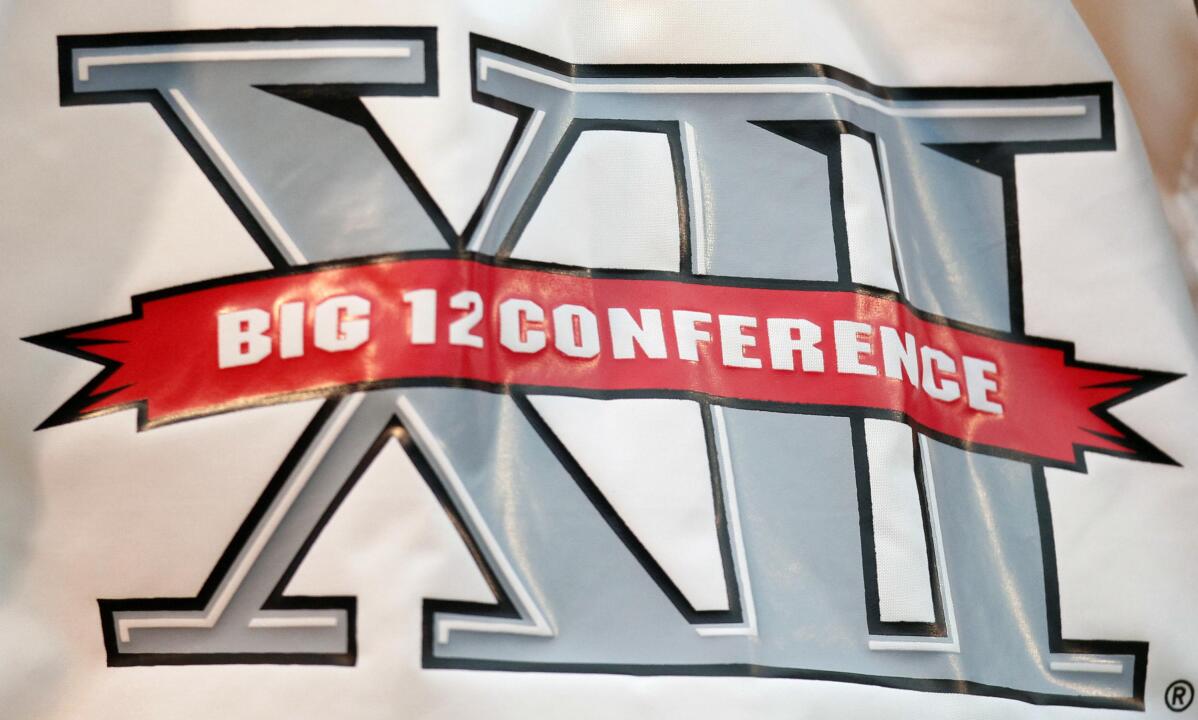 2 of 4

|
FILE - The Big 12 Conference logo is seen during the first quarter of an NCAA college football game between Missouri and the Western Illinois, Saturday, Sept. 17, 2011, in Columbia, Mo. The Big 12 will have 14 teams this fall, with BYU, Cincinnati, Houston and UCF coming in a year before Oklahoma and Texas, the league's only current members with national titles, make their move to the Southeastern Conference. (AP Photo/Jeff Roberson, File)
2 of 4
FILE - The Big 12 Conference logo is seen during the first quarter of an NCAA college football game between Missouri and the Western Illinois, Saturday, Sept. 17, 2011, in Columbia, Mo. The Big 12 will have 14 teams this fall, with BYU, Cincinnati, Houston and UCF coming in a year before Oklahoma and Texas, the league's only current members with national titles, make their move to the Southeastern Conference. (AP Photo/Jeff Roberson, File)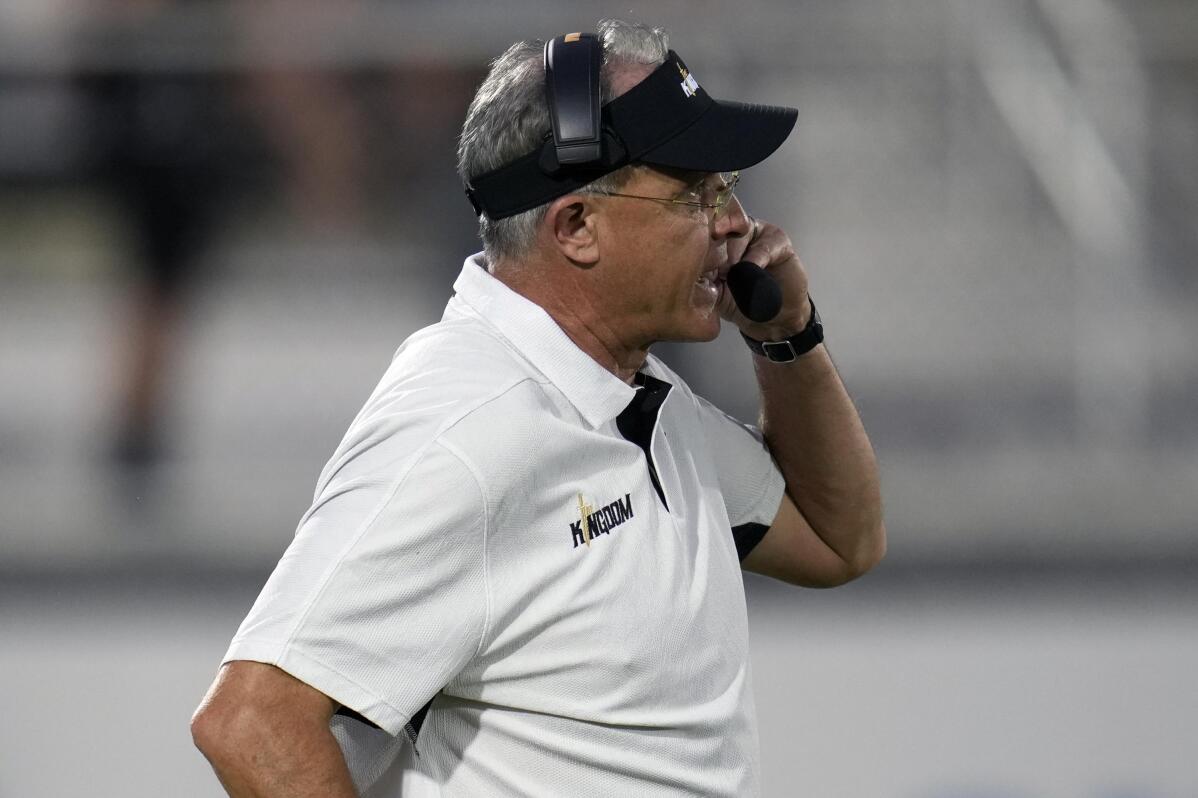 3 of 4

|
Central Florida head coach Gus Malzahn directs play on the field during the first half of the NCAA college football team's annual spring game, Friday, April 14, 2023, in Orlando, Fla. (AP Photo/John Raoux)
3 of 4
Central Florida head coach Gus Malzahn directs play on the field during the first half of the NCAA college football team's annual spring game, Friday, April 14, 2023, in Orlando, Fla. (AP Photo/John Raoux)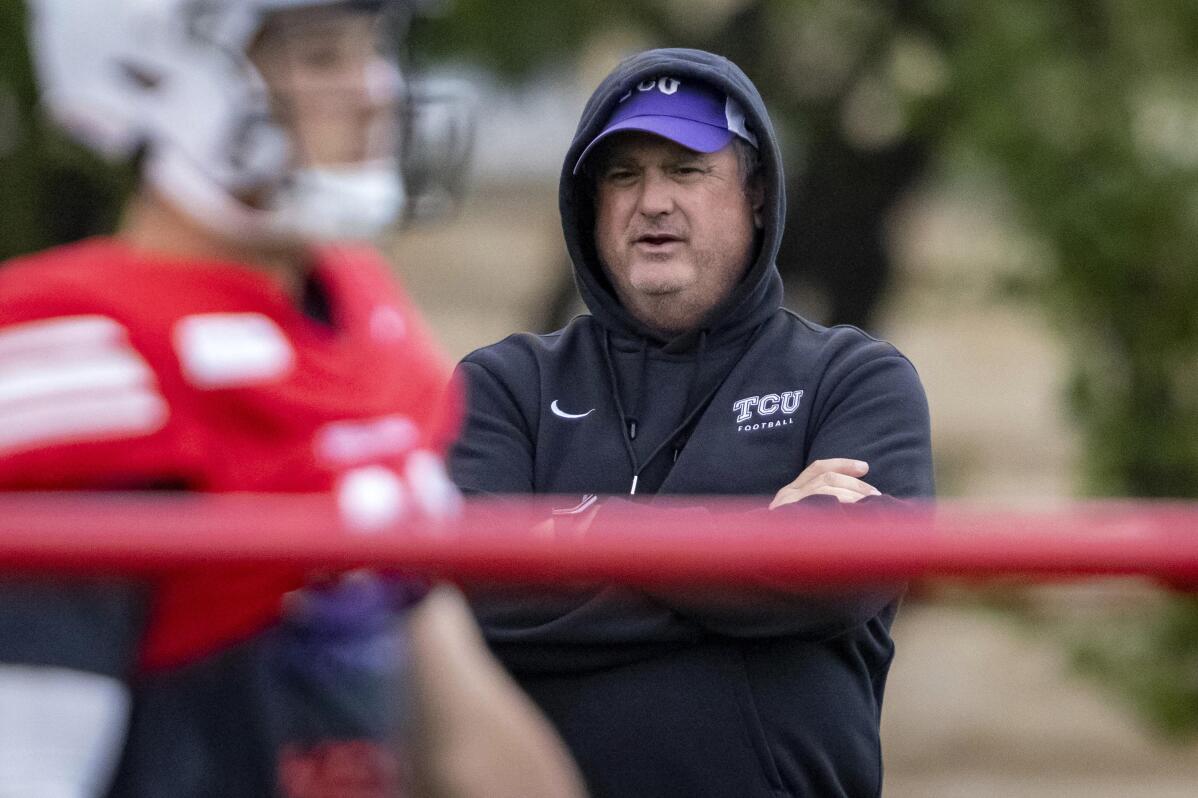 4 of 4

|
TCU coach Sonny Dykes watches the NCAA college football team's spring practice in Fort Worth, Texas, Wednesday, March 29, 2023. (Madeleine Cook/Star-Telegram via AP)
4 of 4
TCU coach Sonny Dykes watches the NCAA college football team's spring practice in Fort Worth, Texas, Wednesday, March 29, 2023. (Madeleine Cook/Star-Telegram via AP)
Houston coach Dana Holgorsen has been in the Big 12 before, and again is preparing a team for its debut season in the conference.
Before Holgorsen went to Houston — one of four schools that will officially become new Big 12 members on July 1 — he was West Virginia's coach when the Mountaineers were part of the conference's last composition change in 2012. WVU and TCU then joined a Big 12 slimmed to 10 teams after Colorado, Missouri, Nebraska and Texas A&M all departed over a two-year period.
The Big 12 will have 14 teams this fall, with BYU, Cincinnati, Houston and UCF coming in a year before Oklahoma and Texas, the league's only current members with national titles, make their move to the Southeastern Conference.
"We all need to coach better, we all need to coach harder, we need to recruit harder. We need to get better players in here," Holgorsen said after the end of spring practice, when he said Houston had only a portion of the roster it will take into the Big 12.
Holgorsen, who's going into his fifth year with Houston, has already added transfers from other Big 12 schools. Edge rusher David Ugwoegbu played in 51 games at Oklahoma the past four seasons, and former Texas Tech quarterback Donovan Smith could be their starter this fall.
UCF coach Gus Malzahn and new Cincinnati coach Scott Satterfield were previously Power Five head coaches at other schools, and BYU's Kalani Sitake was a Pac-12 assistant before taking over at his alma mater in 2016. Houston, Cincinnati and UCF are leaving the American Athletic Conference, and BYU is giving up its football independence.
Malzahn took Auburn to the 2013 national championship game. He also has several assistants who worked in P5 programs, which he thinks will help UCF's transition to the Big 12 in a been-there, done-that kind of way.
"The great thing about this place is they've been playing really good football against whoever the opponent has been for a long time," said Malzahn, going into his third season with the Knights. "So, it won't be a shock to these guys' system."
NOT SEC YET
Texas won the Big 12's last national championship in the 2005 season, five years after Oklahoma got one. Both have one more Big 12 season before joining the SEC, which has 13 of the last 17 titles.
"I don't hear anything about the SEC from our players. They're focused on winning a Big 12 championship," Texas coach Steve Sarkisian said. "We'll deal with the SEC and those challenges when that time comes."
Oklahoma has 14 conference titles in the 27 Big 12 seasons, but is coming off its first losing record since 1998.
"We need to get better to compete in this league before we worry about the SEC," said Sooners coach Brent Venables, 6-7 in his debut last year.
TCU TURNAROUND
TCU made it to the national championship game in coach Sonny Dykes' first season, even without winning the Big 12 title. The Horned Frogs had an undefeated regular season and still made the four-team College Football Playoff after an overtime loss to Kansas State in the Big 12 championship game.
"I knew that there was a good base of football players here. ... They were here because they were hungry to win," Dykes said. "It wasn't a rebuild. It was just kind of a retune. But having that kind of start certainly helps because now the players are like, OK, there's a trust and a belief that your methods are going to be successful."
Heisman Trophy finalist quarterback Max Duggan, receiver Quentin Johnston and running back Kendre Miller are all gone after the 13-2 season. TCU, 23-24 combined the previous four seasons, matched the school record for wins set by the undefeated 2010 team that won the Rose Bowl.
POINTING OUT FROGS
West Virginia coach Neal Brown enters a make-or-break season with plenty of questions as he tries to keep his job. New athletic director Wren Baker retained Brown in late November despite his 22-25 record, the worst four-year stretch for WVU in more than four decades.
The Mountaineers will need wholesale improvements after a 5-7 season when finishing near the bottom both in total offense and defense. But Brown points to TCU, which was 5-7 two years ago.
"We've talked about it with our team, is (the Frogs) were a significantly better football team with not a significantly different roster," Brown said. "I think the lesson to be learned from TCU is how much better the guys on their roster got from the end of fall 2021 until playing in a national championship game. ... We use that."
___
AP Sports Writers Mark Anderson, Fred Goodall and John Raby contributed.
___
AP college football: https://apnews.com/hub/college-football and https://twitter.com/ap_top25