Wisconsin spends spring practice adapting to new offense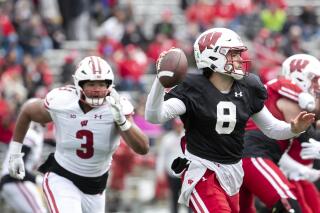 MADISON, Wis. (AP) — Perhaps no scheme change across the country carries more intrigue than the one taking place at Wisconsin.
A program that traditionally has prided itself on smashmouth football will have a different look with the arrival of Phil Longo, an Air Raid disciple who joined new coach Luke Fickell's staff as offensive coordinator after spending the last four seasons in the same position at North Carolina.
That's led to questions regarding how long it will take Wisconsin to adapt and just how much this offense will depart from the Badgers' usual formula.
As the Badgers exit spring practice this week, the answers to both remain unclear.
Longo, who had great success running this offense at Division II Sam Houston State, Ole Miss and North Carolina, sees reasons for optimism.
"Looking back at where we were in Texas (at Sam Houston State), where we were at Ole Miss and where we were at North Carolina, we are ahead of the curve right now," Longo said midway through spring practice.
The change in offense forced the Badgers to find more guys who could throw or catch the football.
Tanner Mordecai, who threw a school-record 72 career touchdown passes at SMU, heads a list of three quarterback transfers on Wisconsin's roster. Wide receivers Quincy Burroughs and Will Pauling followed Fickell from Cincinnati to Wisconsin, and the Badgers added a couple of other pass catchers in C.J. Williams (formerly at Southern California) and Bryson Green (Oklahoma State).
Mordecai says he's impressed with the way Wisconsin's holdovers have adjusted to the new offense and its faster tempo.
"Under Coach Longo's lead, I don't think there is a ceiling for this offense," Mordecai said.
Yet Saturday's open practice suggested this could be a work in progress. Mordecai threw four interceptions as the defense dominated.
Wisconsin traditionally has leaned heavily on its defense and running game, a formula that made the Badgers consistent winners but had diminishing returns lately. Wisconsin went 20-13 over the last three seasons and finished one game above .500 two of the last three years.
Longo has emphasized that his Air Raid background doesn't mean the Badgers will stop focusing on the run. Wisconsin still features Braelon Allen, who has rushed for over 1,200 yards each of the last two seasons. The Badgers also have Chez Mellusi, who ran for 815 yards in 2021 and 473 in 2022.
Although Longo is perhaps best known for his development of quarterbacks Sam Howell and Drake Maye at North Carolina, his offenses also featured productive running backs.
Mellusi was at Clemson in 2019 when the Tigers faced a North Carolina team that had Michael Carter rush for 1,003 yards and Javonte Williams run for 933 yards while playing in Longo's offense.
"I kind of got to see that first-hand, what it was like, that up-tempo, two backs being very dominant, the offensive as a whole being pretty dominant quarterback-wise, receiver-wise," Mellusi said. "I'm super excited to kind of compare that to ourselves because I think we have the personnel for all of that."
Even Wisconsin's receivers understand the Badgers will continue to rely heavily on their running backs.
"I think we're still going to run the football," Williams said. "We've got two very good running backs in Braelon and Chez. If you're not giving the ball to them 15 times a game each, what are you doing?"
Of course, the Badgers figure to throw the ball to their backs more than they have in the past. Wisconsin's faster tempo should create more overall plays from scrimmage, meaning the Badgers could pass on a higher percentage of snaps than before while still running the ball often.
Now it's just a matter of adjusting.
While this offense is new to Wisconsin's returning offensive players, they're accustomed to adapting. Longo is Wisconsin's fourth offensive coordinator in as many years. Joe Rudolph held the title in 2020, former head coach Paul Chryst served as his own coordinator in 2021 and Bobby Engram had the role last season.
While this shift is a bit more drastic than the others, the Badgers welcome the opportunity and can't wait to see the results.
"That's kind of one of the beautiful things about coach Longo's offense," offensive lineman Michael Furtney said. "On the outside looking in, you look at it and there's a lot of moving parts and it truly is a complicated offense, but when you break it down to each individual person or group, once you kind of get that like quick memory, it's almost like a flash card. You flip it, you see it and instantly think of what your answer is. Once you have that, it's something that allows you to really cut loose and play."
___
AP college football: https://apnews.com/hub/college-football and https://twitter.com/ap_top25 Sign up for the AP Top 25 newsletter here: https://link.apnews.com/join/6nr/morning-wire-newsletter-footer-internal-ads