Jenner's OT goal lifts Blue Jackets over Islanders 5-4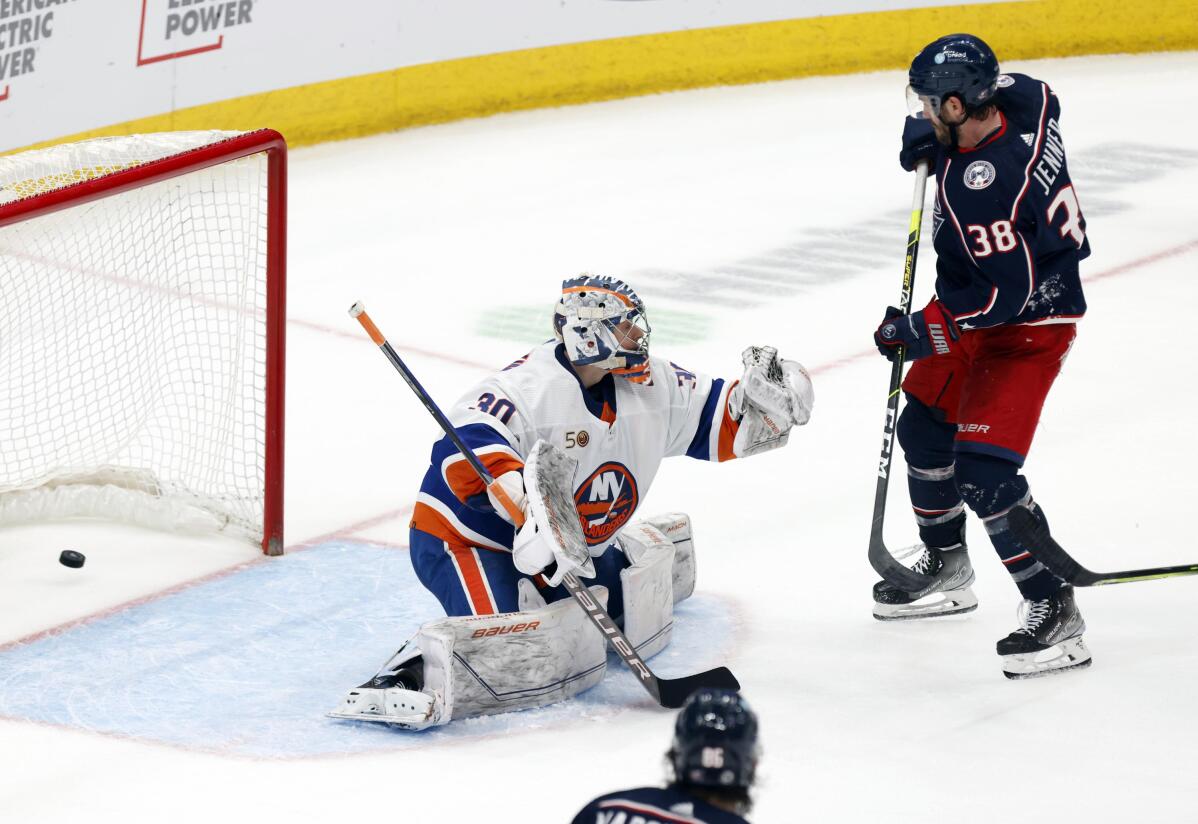 1 of 12

|
Columbus Blue Jackets forward Boone Jenner, right, scores past New York Islanders goalie Ilya Sorokin during overtime in an NHL hockey game in Columbus, Ohio, Friday, March 24, 2023. The Blue Jackets won 5-4. (AP Photo/Paul Vernon)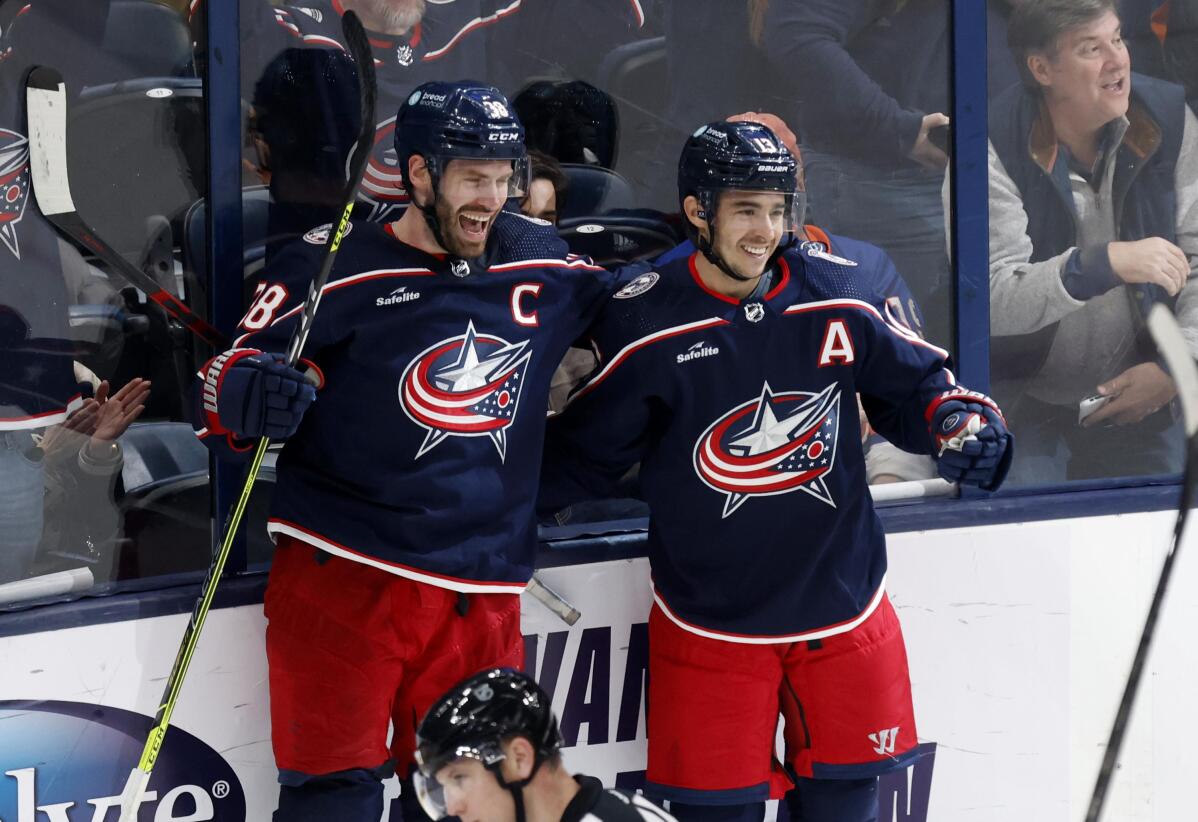 2 of 12

|
Columbus Blue Jackets forward Boone Jenner, left, celebrates his overtime goal against the New York Islanders with forward Johnny Gaudreau during an NHL hockey game in Columbus, Ohio, Friday, March 24, 2023. (AP Photo/Paul Vernon)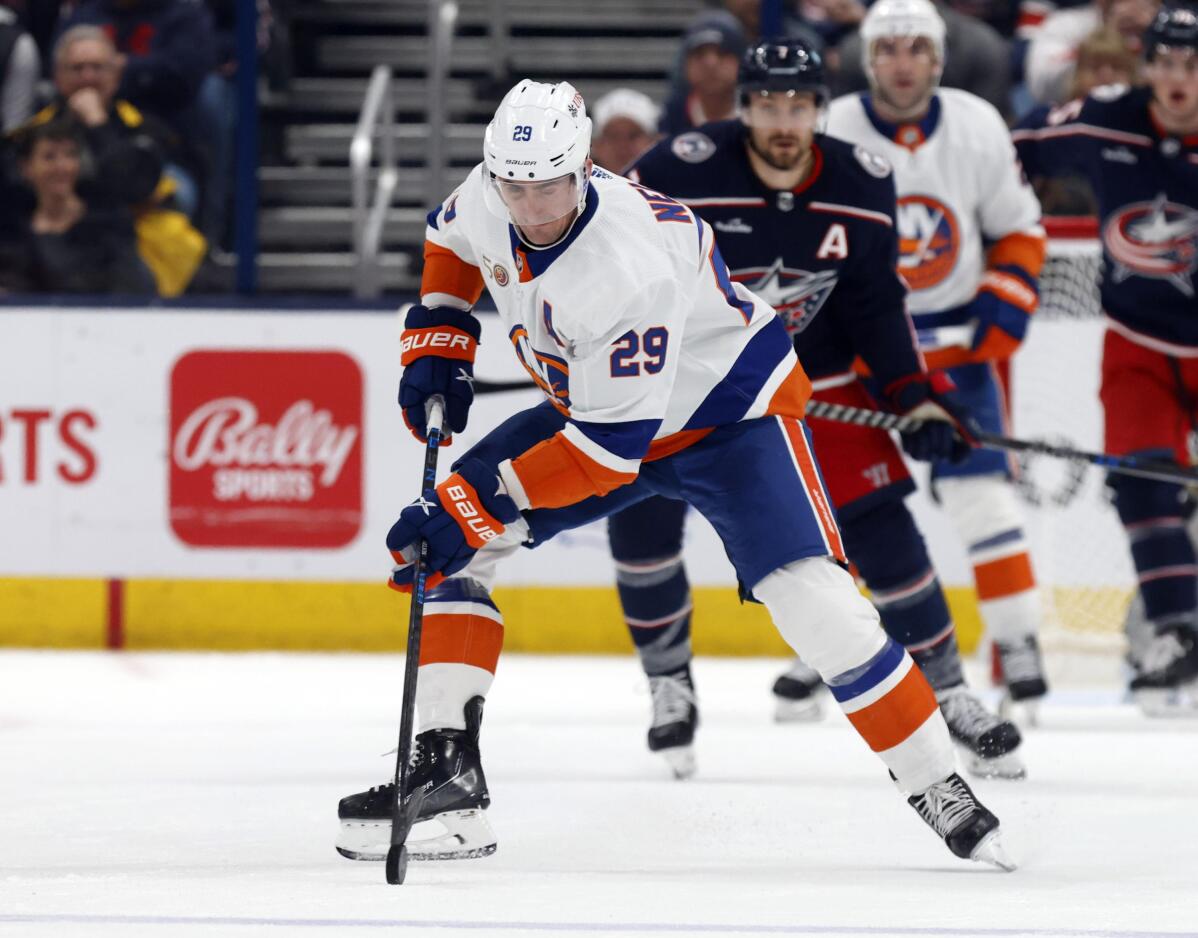 3 of 12

|
New York Islanders forward Brock Nelson, left, controls the puck in front of Columbus Blue Jackets forward Sean Kuraly during the second period an NHL hockey game in Columbus, Ohio, Friday, March 24, 2023. (AP Photo/Paul Vernon)
4 of 12

|
New York Islanders goalie Ilya Sorokin, left, makes a stop in front of Columbus Blue Jackets forward Johnny Gaudreau during the second period an NHL hockey game in Columbus, Ohio, Friday, March 24, 2023. (AP Photo/Paul Vernon)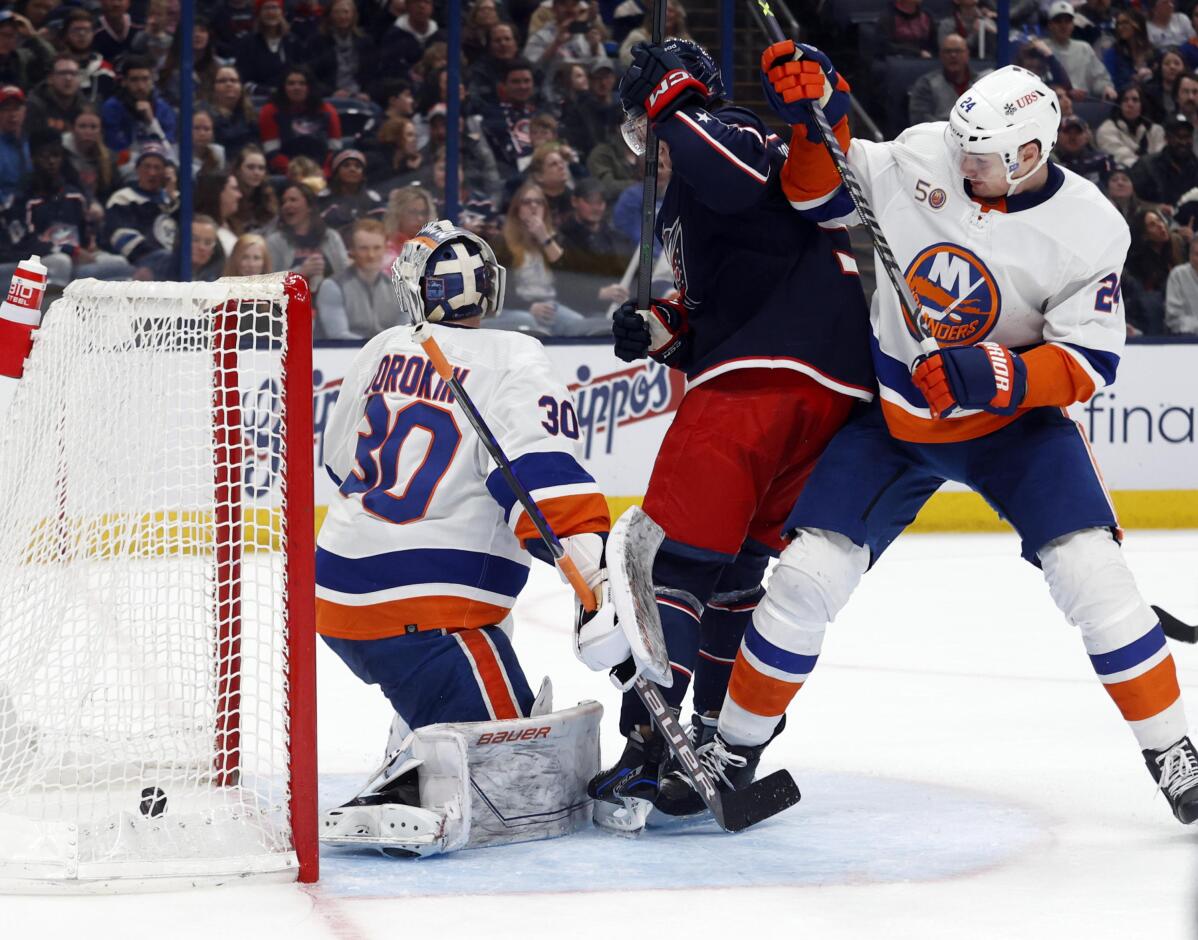 5 of 12

|
Columbus Blue Jackets forward Eric Robinson, center, scores a goal from between New York Islanders goalie Ilya Sorokin, left, and defenseman Scott Mayfield during the second period an NHL hockey game in Columbus, Ohio, Friday, March 24, 2023. (AP Photo/Paul Vernon)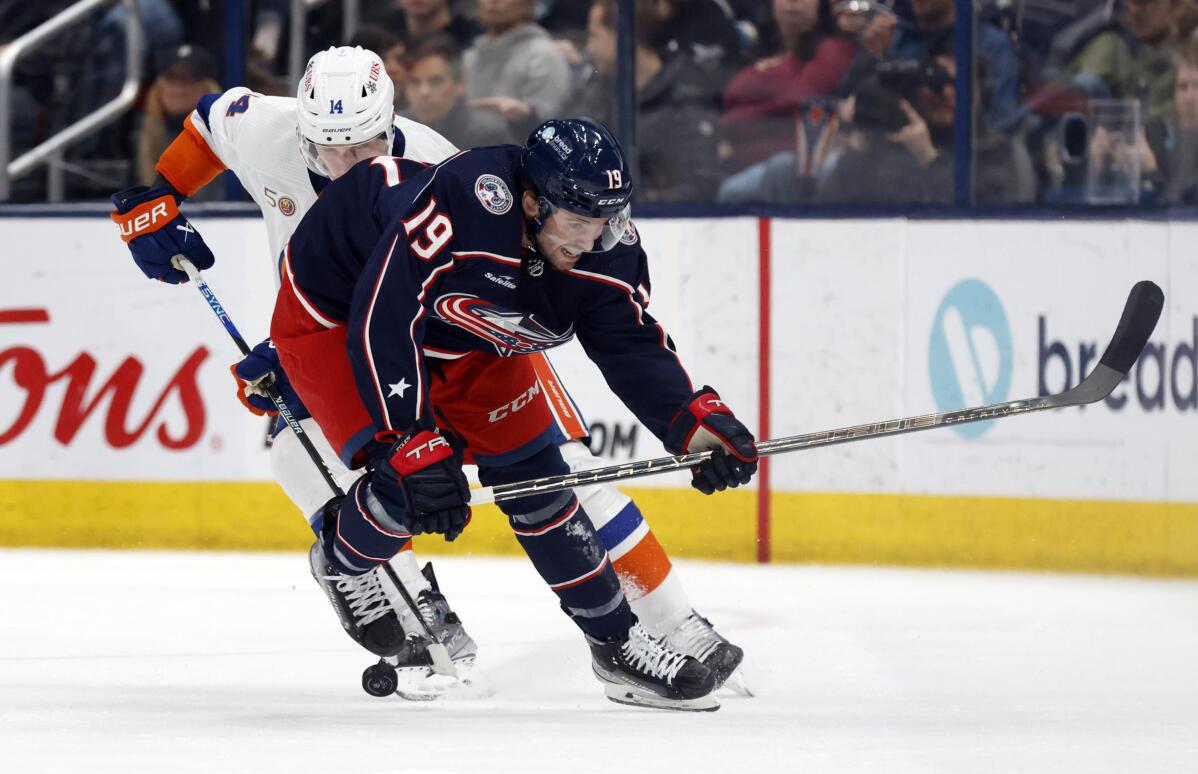 6 of 12

|
Columbus Blue Jackets forward Liam Foudy, right, chases the puck in front of New York Islanders forward Bo Horvat during the second period an NHL hockey game in Columbus, Ohio, Friday, March 24, 2023. (AP Photo/Paul Vernon)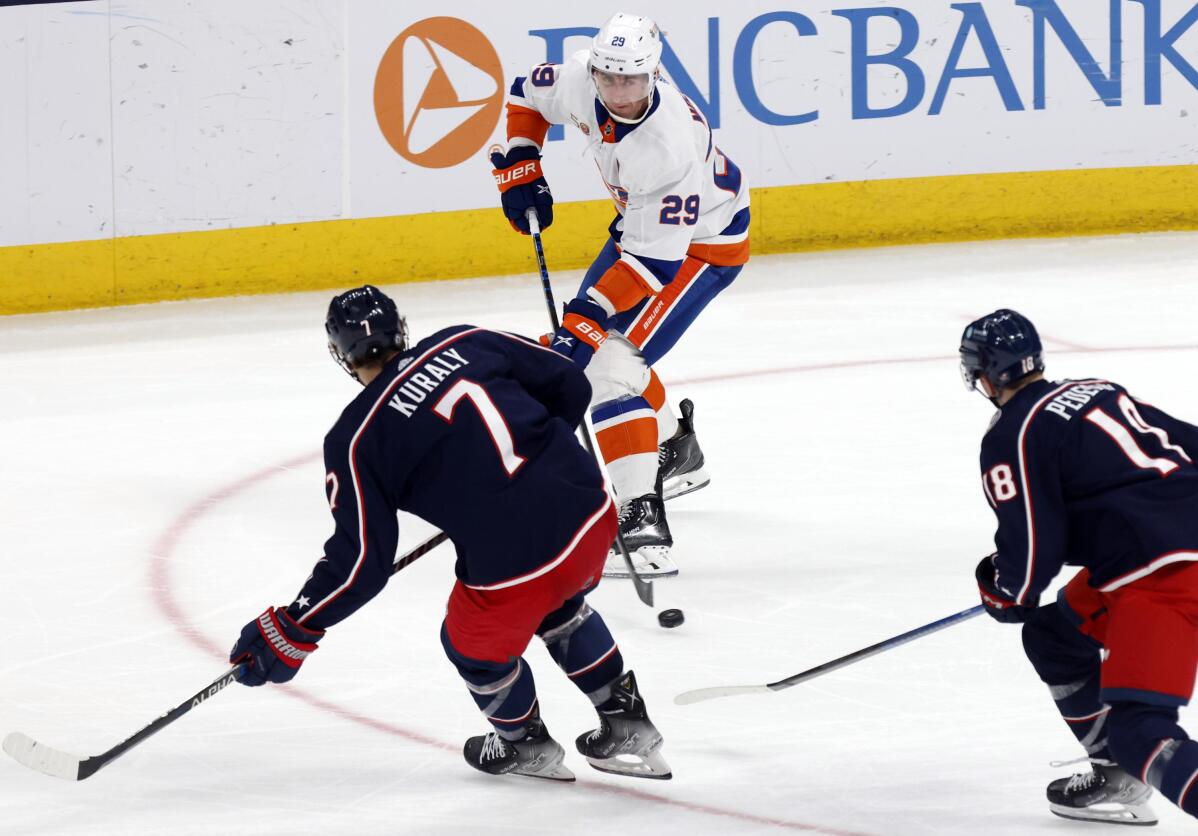 7 of 12

|
New York Islanders forward Brock Nelson, center, passes the puck between Columbus Blue Jackets forward Sean Kuraly, left, and forward Lane Pederson during the third period an NHL hockey game in Columbus, Ohio, Friday, March 24, 2023. (AP Photo/Paul Vernon)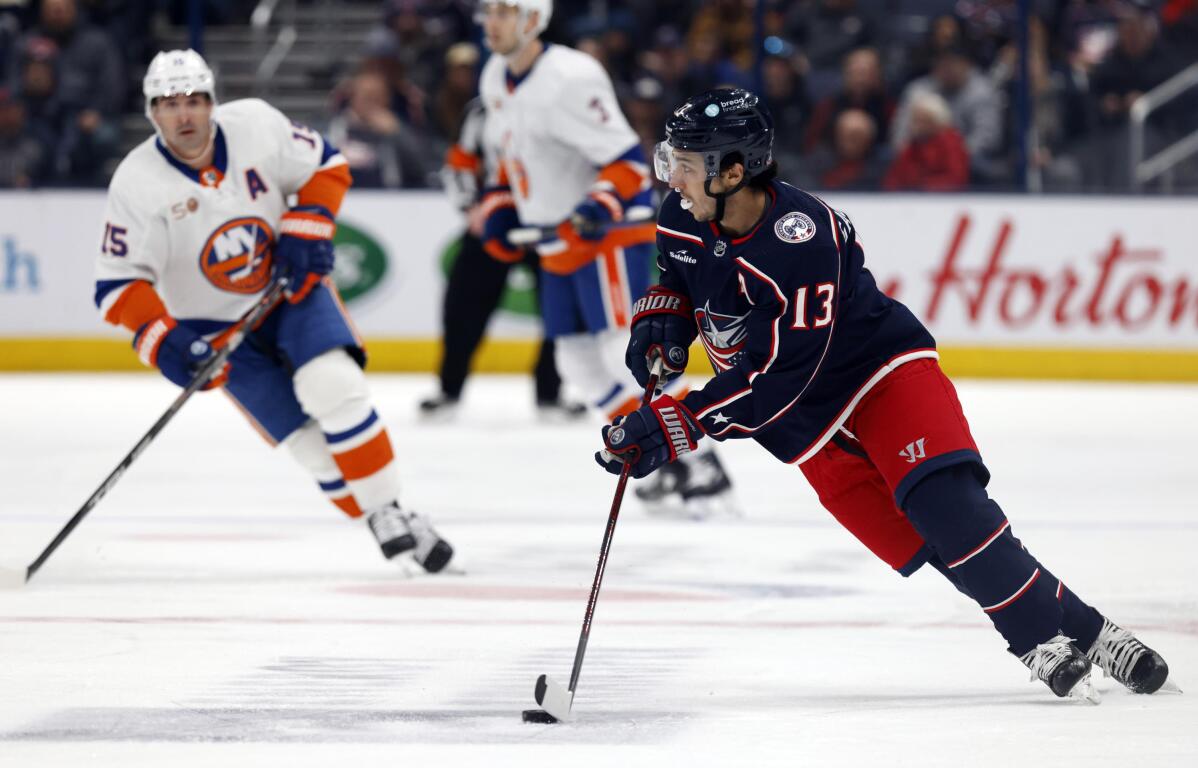 8 of 12

|
Columbus Blue Jackets forward Johnny Gaudreau, right, controls the puck in front of New York Islanders forward Cal Clutterbuck during the first period an NHL hockey game in Columbus, Ohio, Friday, March 24, 2023. (AP Photo/Paul Vernon)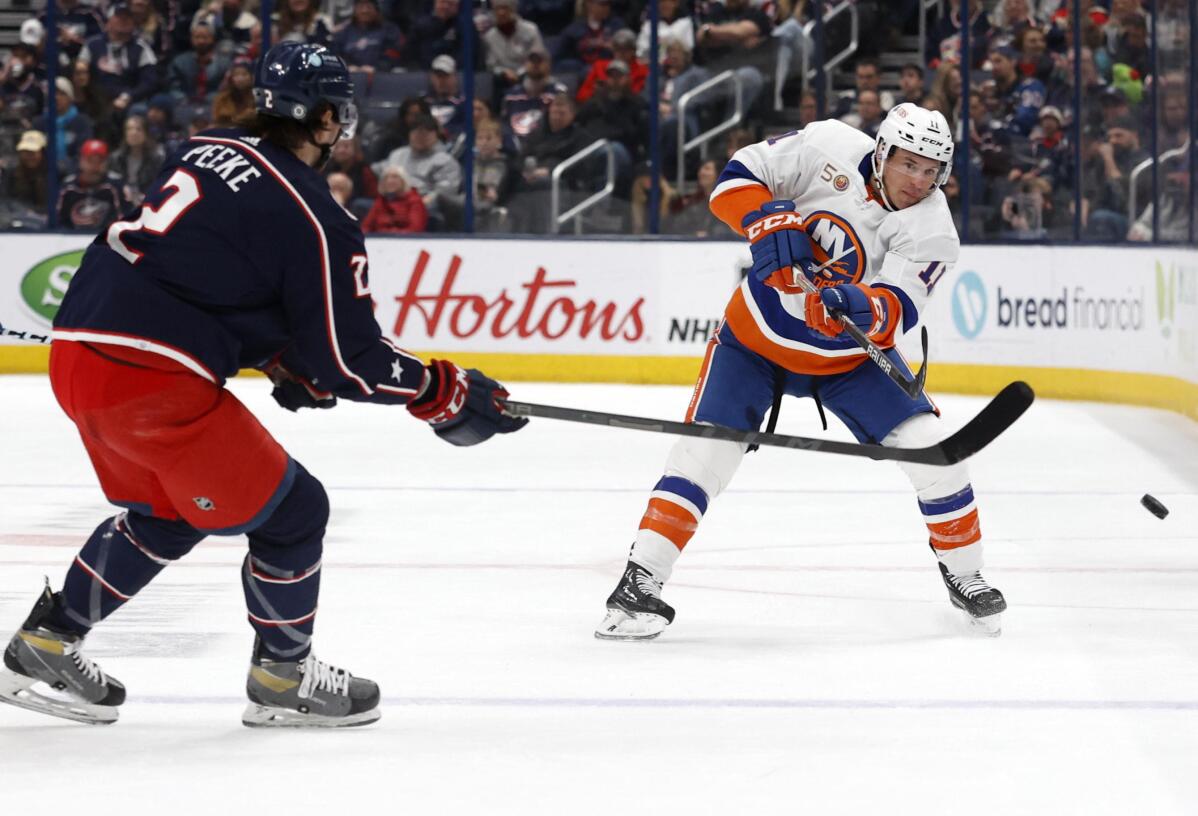 9 of 12

|
New York Islanders forward Zach Parise, right, passes the puck in front of Columbus Blue Jackets defenseman Andrew Peeke during the first period an NHL hockey game in Columbus, Ohio, Friday, March 24, 2023. (AP Photo/Paul Vernon)
10 of 12

|
Columbus Blue Jackets goalie Michael Hutchinson (31) stops a shot in front of New York Islanders forward Brock Nelson (29) and Blue Jackets defensemen Adam Boqvist (27) and Erik Gudbranson (44) during the first period an NHL hockey game in Columbus, Ohio, Friday, March 24, 2023. (AP Photo/Paul Vernon)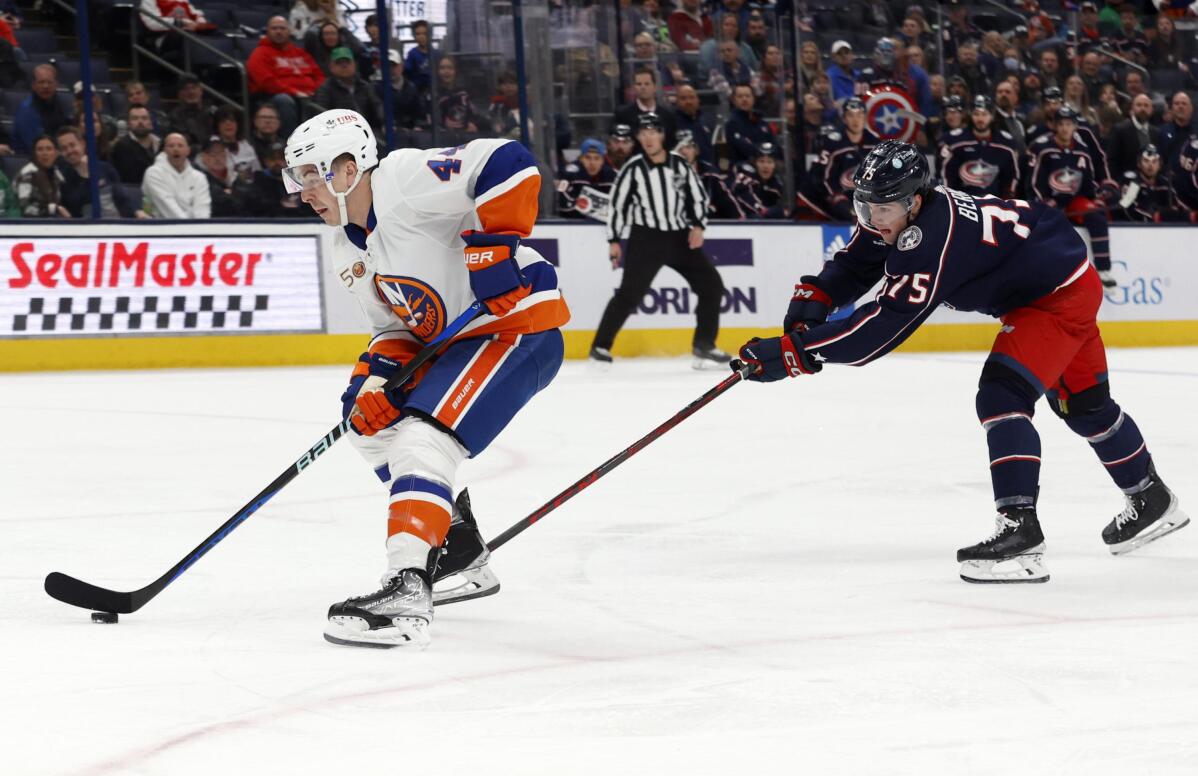 11 of 12

|
New York Islanders forward Jean-Gabriel Pageau, left, controls the puck in front of Columbus Blue Jackets defenseman Tim Berni during the first period an NHL hockey game in Columbus, Ohio, Friday, March 24, 2023. (AP Photo/Paul Vernon)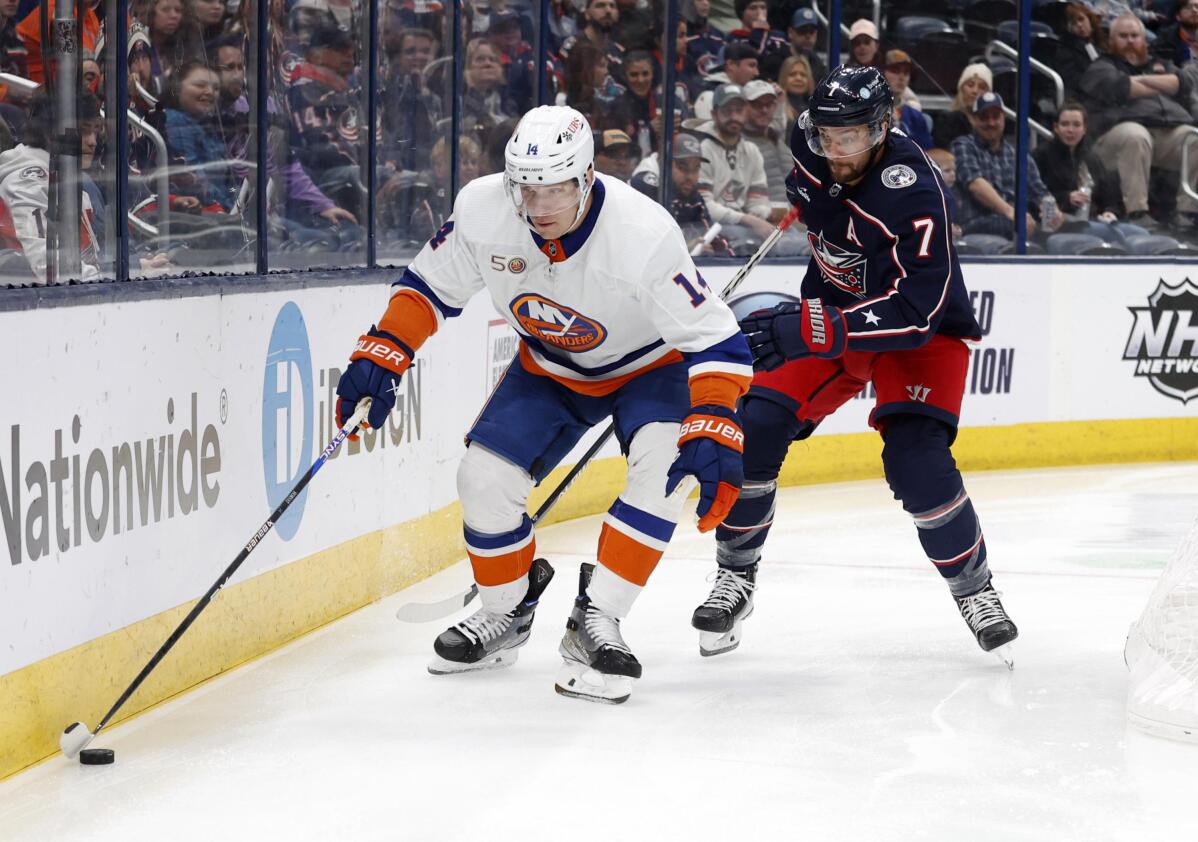 12 of 12

|
New York Islanders forward Bo Horvat, left, controls the puck in front of Columbus Blue Jackets forward Sean Kuraly during the first period an NHL hockey game in Columbus, Ohio, Friday, March 24, 2023. (AP Photo/Paul Vernon)
Jenner's OT goal lifts Blue Jackets over Islanders 5-4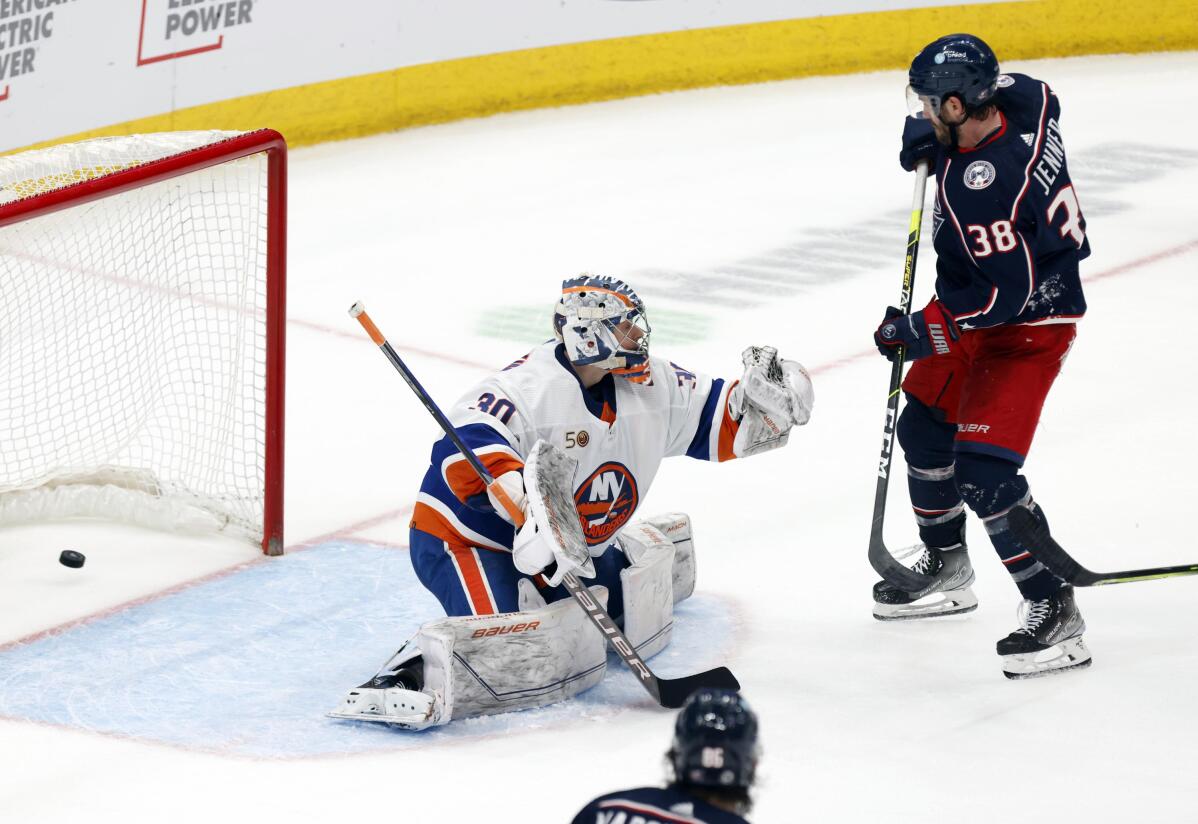 1 of 12

|
Columbus Blue Jackets forward Boone Jenner, right, scores past New York Islanders goalie Ilya Sorokin during overtime in an NHL hockey game in Columbus, Ohio, Friday, March 24, 2023. The Blue Jackets won 5-4. (AP Photo/Paul Vernon)
1 of 12
Columbus Blue Jackets forward Boone Jenner, right, scores past New York Islanders goalie Ilya Sorokin during overtime in an NHL hockey game in Columbus, Ohio, Friday, March 24, 2023. The Blue Jackets won 5-4. (AP Photo/Paul Vernon)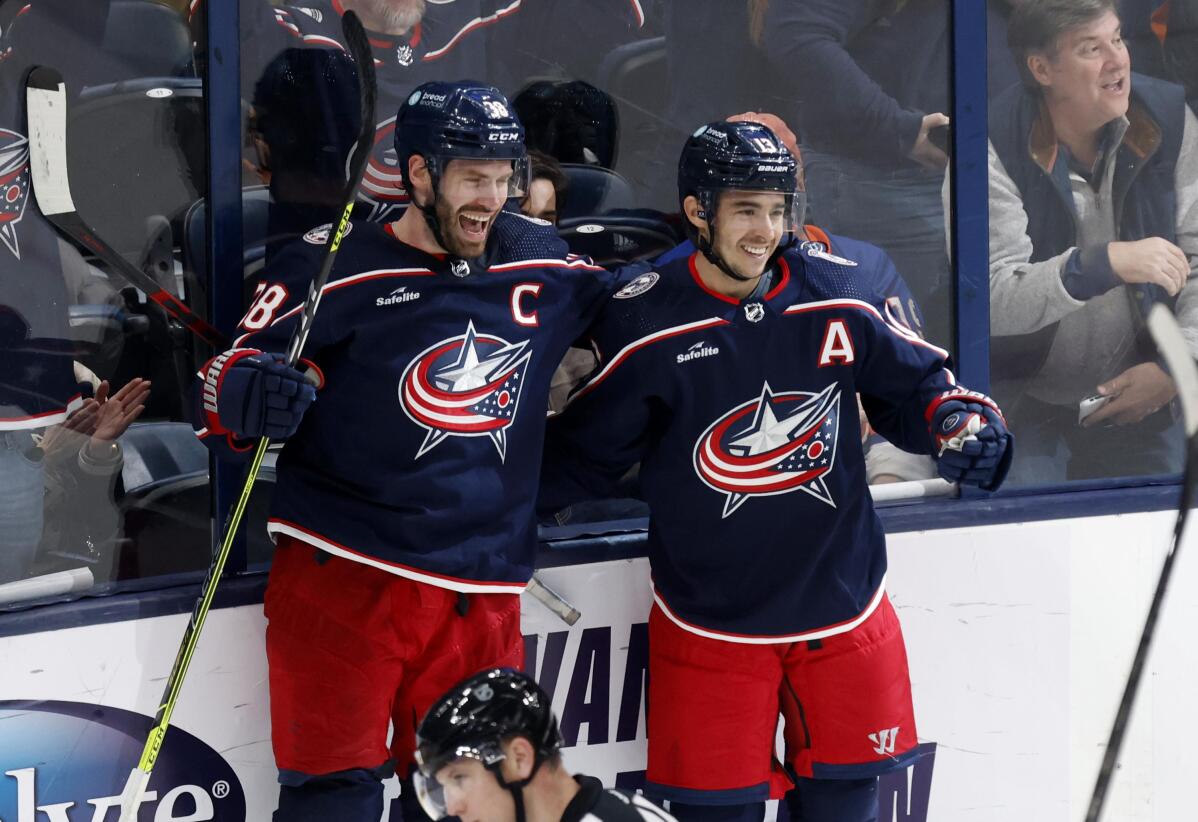 2 of 12

|
Columbus Blue Jackets forward Boone Jenner, left, celebrates his overtime goal against the New York Islanders with forward Johnny Gaudreau during an NHL hockey game in Columbus, Ohio, Friday, March 24, 2023. (AP Photo/Paul Vernon)
2 of 12
Columbus Blue Jackets forward Boone Jenner, left, celebrates his overtime goal against the New York Islanders with forward Johnny Gaudreau during an NHL hockey game in Columbus, Ohio, Friday, March 24, 2023. (AP Photo/Paul Vernon)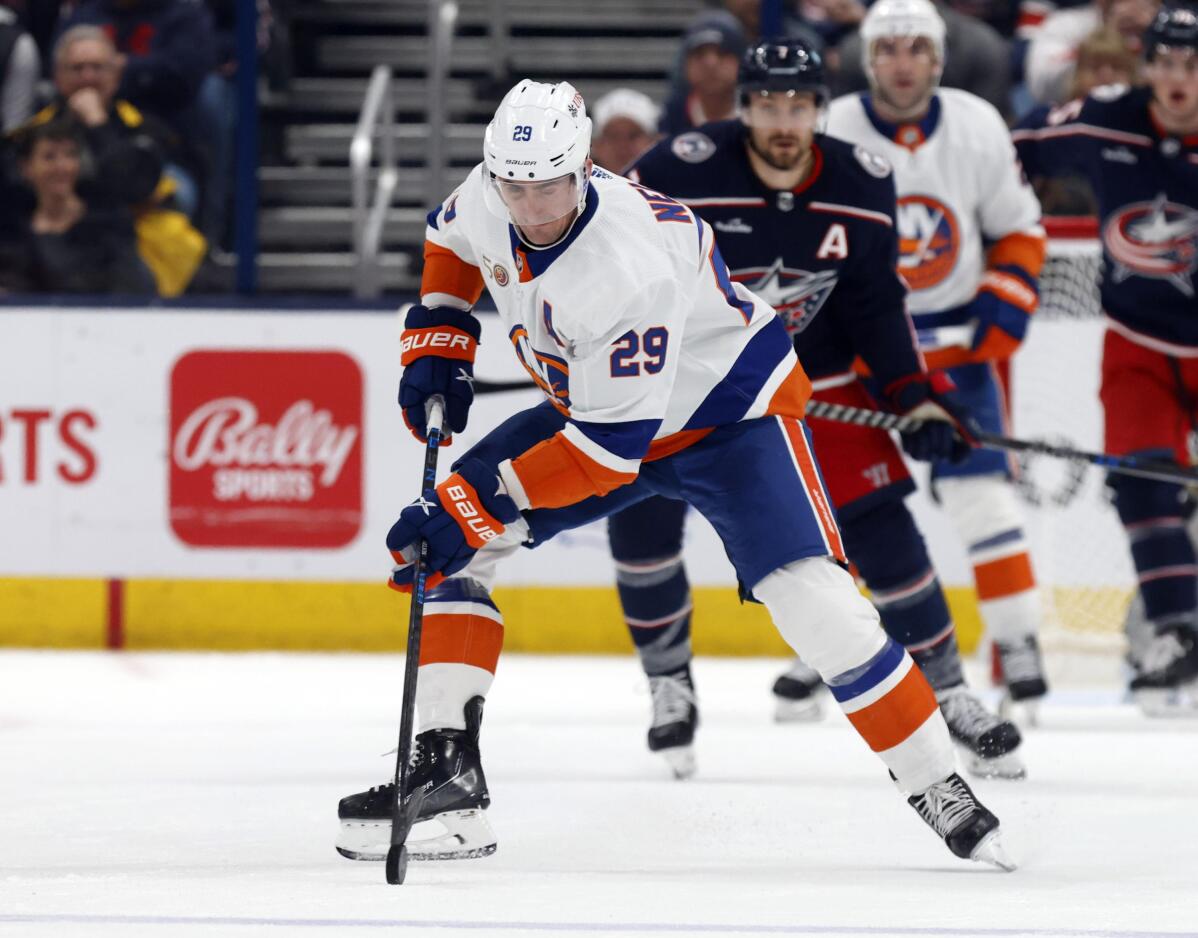 3 of 12

|
New York Islanders forward Brock Nelson, left, controls the puck in front of Columbus Blue Jackets forward Sean Kuraly during the second period an NHL hockey game in Columbus, Ohio, Friday, March 24, 2023. (AP Photo/Paul Vernon)
3 of 12
New York Islanders forward Brock Nelson, left, controls the puck in front of Columbus Blue Jackets forward Sean Kuraly during the second period an NHL hockey game in Columbus, Ohio, Friday, March 24, 2023. (AP Photo/Paul Vernon)
4 of 12

|
New York Islanders goalie Ilya Sorokin, left, makes a stop in front of Columbus Blue Jackets forward Johnny Gaudreau during the second period an NHL hockey game in Columbus, Ohio, Friday, March 24, 2023. (AP Photo/Paul Vernon)
4 of 12
New York Islanders goalie Ilya Sorokin, left, makes a stop in front of Columbus Blue Jackets forward Johnny Gaudreau during the second period an NHL hockey game in Columbus, Ohio, Friday, March 24, 2023. (AP Photo/Paul Vernon)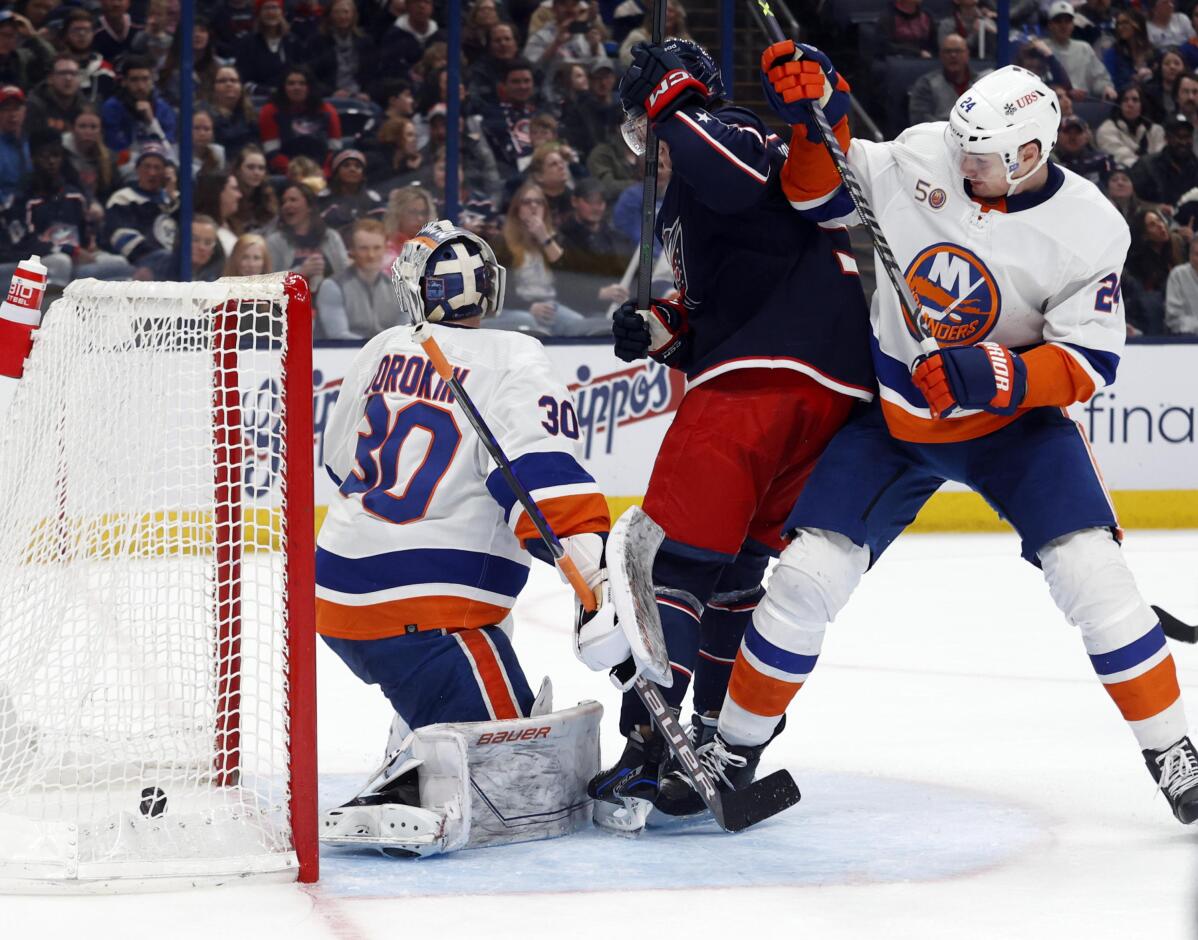 5 of 12

|
Columbus Blue Jackets forward Eric Robinson, center, scores a goal from between New York Islanders goalie Ilya Sorokin, left, and defenseman Scott Mayfield during the second period an NHL hockey game in Columbus, Ohio, Friday, March 24, 2023. (AP Photo/Paul Vernon)
5 of 12
Columbus Blue Jackets forward Eric Robinson, center, scores a goal from between New York Islanders goalie Ilya Sorokin, left, and defenseman Scott Mayfield during the second period an NHL hockey game in Columbus, Ohio, Friday, March 24, 2023. (AP Photo/Paul Vernon)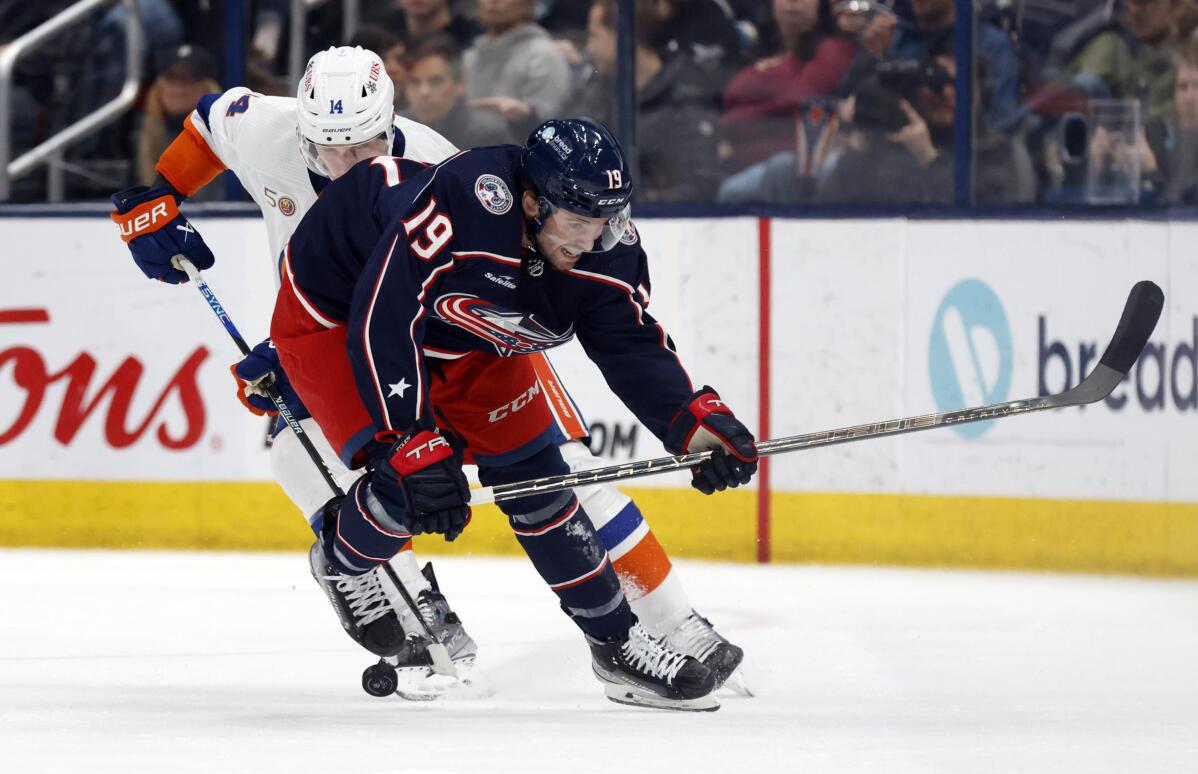 6 of 12

|
Columbus Blue Jackets forward Liam Foudy, right, chases the puck in front of New York Islanders forward Bo Horvat during the second period an NHL hockey game in Columbus, Ohio, Friday, March 24, 2023. (AP Photo/Paul Vernon)
6 of 12
Columbus Blue Jackets forward Liam Foudy, right, chases the puck in front of New York Islanders forward Bo Horvat during the second period an NHL hockey game in Columbus, Ohio, Friday, March 24, 2023. (AP Photo/Paul Vernon)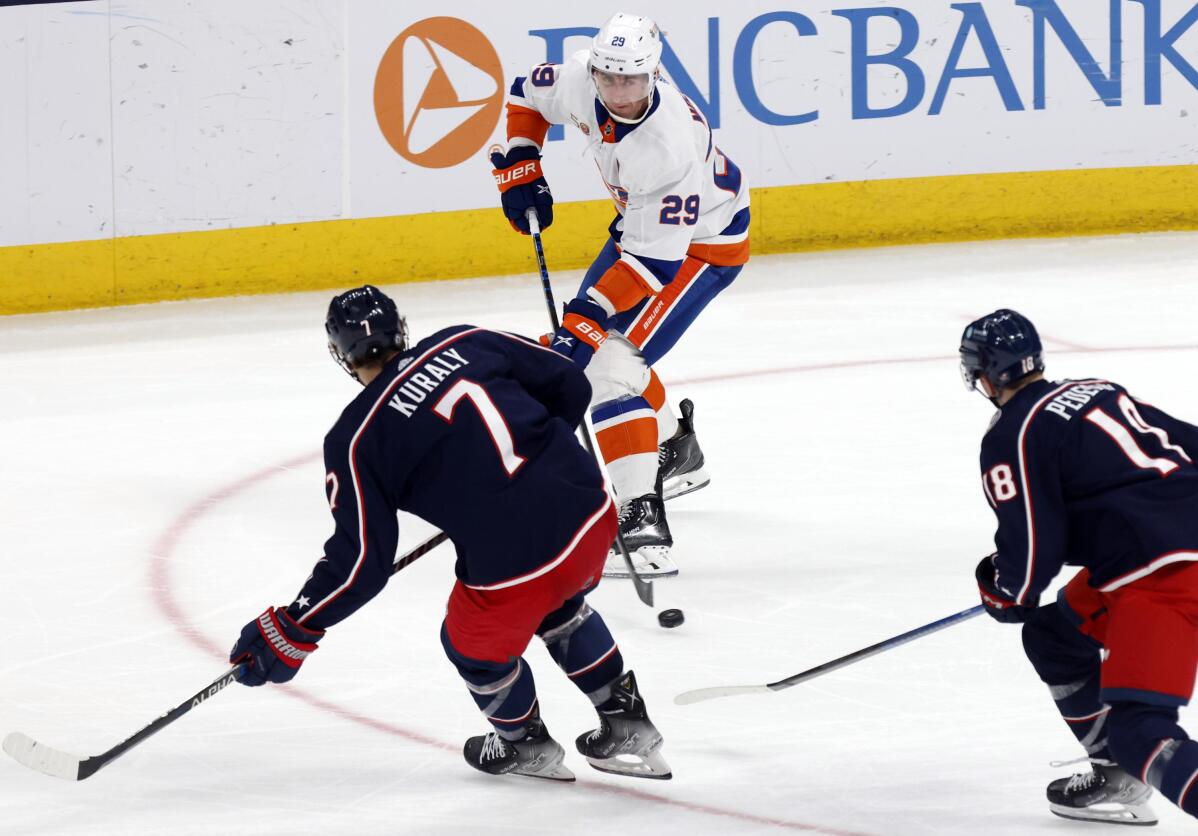 7 of 12

|
New York Islanders forward Brock Nelson, center, passes the puck between Columbus Blue Jackets forward Sean Kuraly, left, and forward Lane Pederson during the third period an NHL hockey game in Columbus, Ohio, Friday, March 24, 2023. (AP Photo/Paul Vernon)
7 of 12
New York Islanders forward Brock Nelson, center, passes the puck between Columbus Blue Jackets forward Sean Kuraly, left, and forward Lane Pederson during the third period an NHL hockey game in Columbus, Ohio, Friday, March 24, 2023. (AP Photo/Paul Vernon)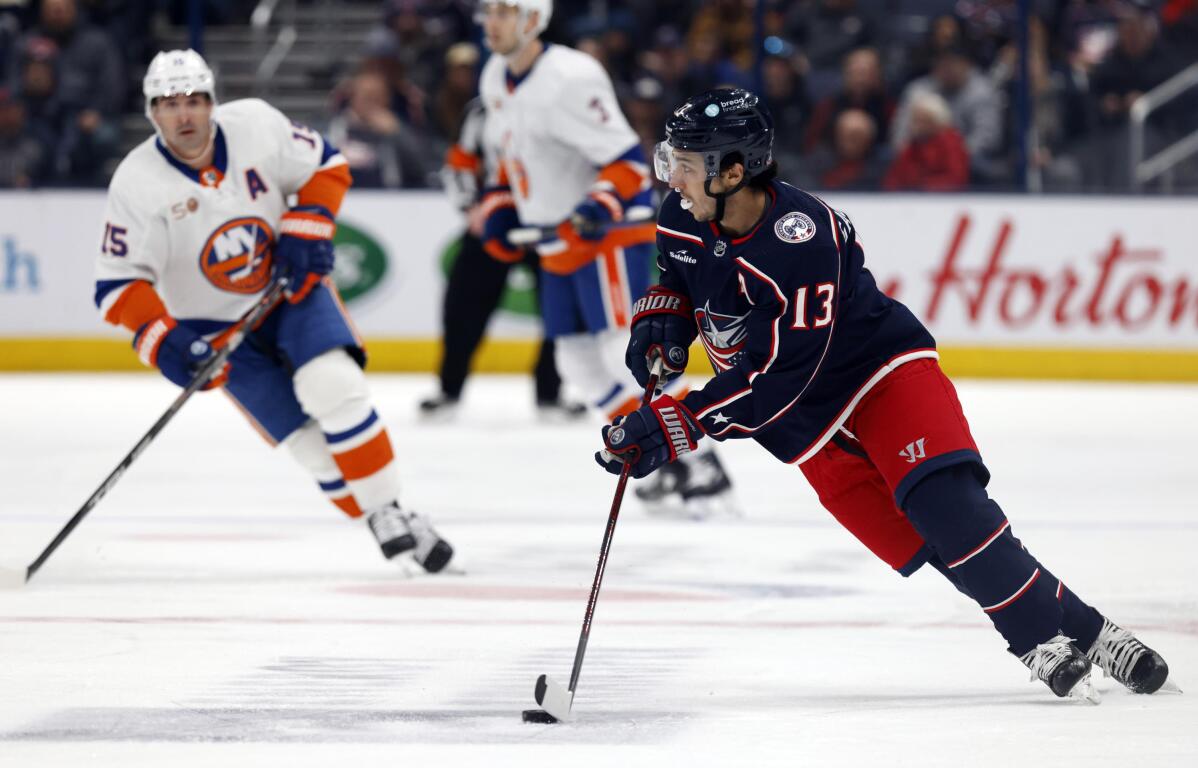 8 of 12

|
Columbus Blue Jackets forward Johnny Gaudreau, right, controls the puck in front of New York Islanders forward Cal Clutterbuck during the first period an NHL hockey game in Columbus, Ohio, Friday, March 24, 2023. (AP Photo/Paul Vernon)
8 of 12
Columbus Blue Jackets forward Johnny Gaudreau, right, controls the puck in front of New York Islanders forward Cal Clutterbuck during the first period an NHL hockey game in Columbus, Ohio, Friday, March 24, 2023. (AP Photo/Paul Vernon)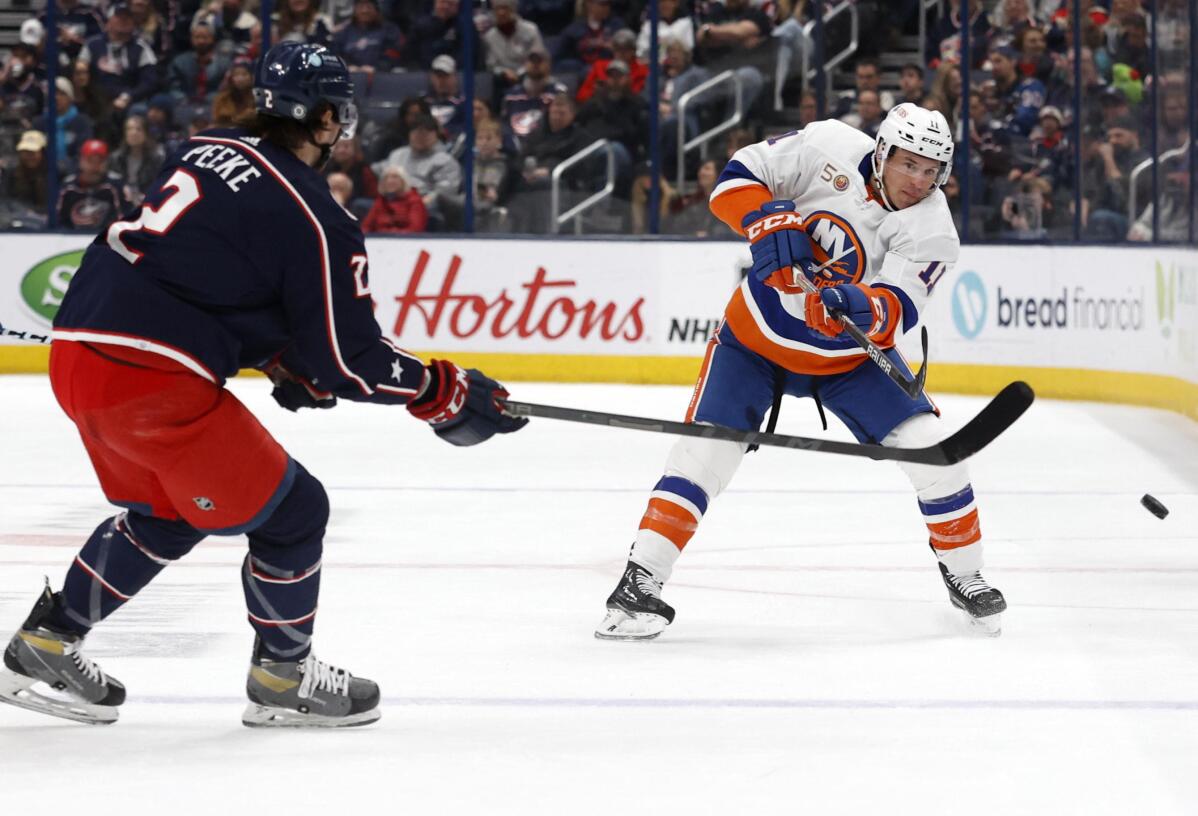 9 of 12

|
New York Islanders forward Zach Parise, right, passes the puck in front of Columbus Blue Jackets defenseman Andrew Peeke during the first period an NHL hockey game in Columbus, Ohio, Friday, March 24, 2023. (AP Photo/Paul Vernon)
9 of 12
New York Islanders forward Zach Parise, right, passes the puck in front of Columbus Blue Jackets defenseman Andrew Peeke during the first period an NHL hockey game in Columbus, Ohio, Friday, March 24, 2023. (AP Photo/Paul Vernon)
10 of 12

|
Columbus Blue Jackets goalie Michael Hutchinson (31) stops a shot in front of New York Islanders forward Brock Nelson (29) and Blue Jackets defensemen Adam Boqvist (27) and Erik Gudbranson (44) during the first period an NHL hockey game in Columbus, Ohio, Friday, March 24, 2023. (AP Photo/Paul Vernon)
10 of 12
Columbus Blue Jackets goalie Michael Hutchinson (31) stops a shot in front of New York Islanders forward Brock Nelson (29) and Blue Jackets defensemen Adam Boqvist (27) and Erik Gudbranson (44) during the first period an NHL hockey game in Columbus, Ohio, Friday, March 24, 2023. (AP Photo/Paul Vernon)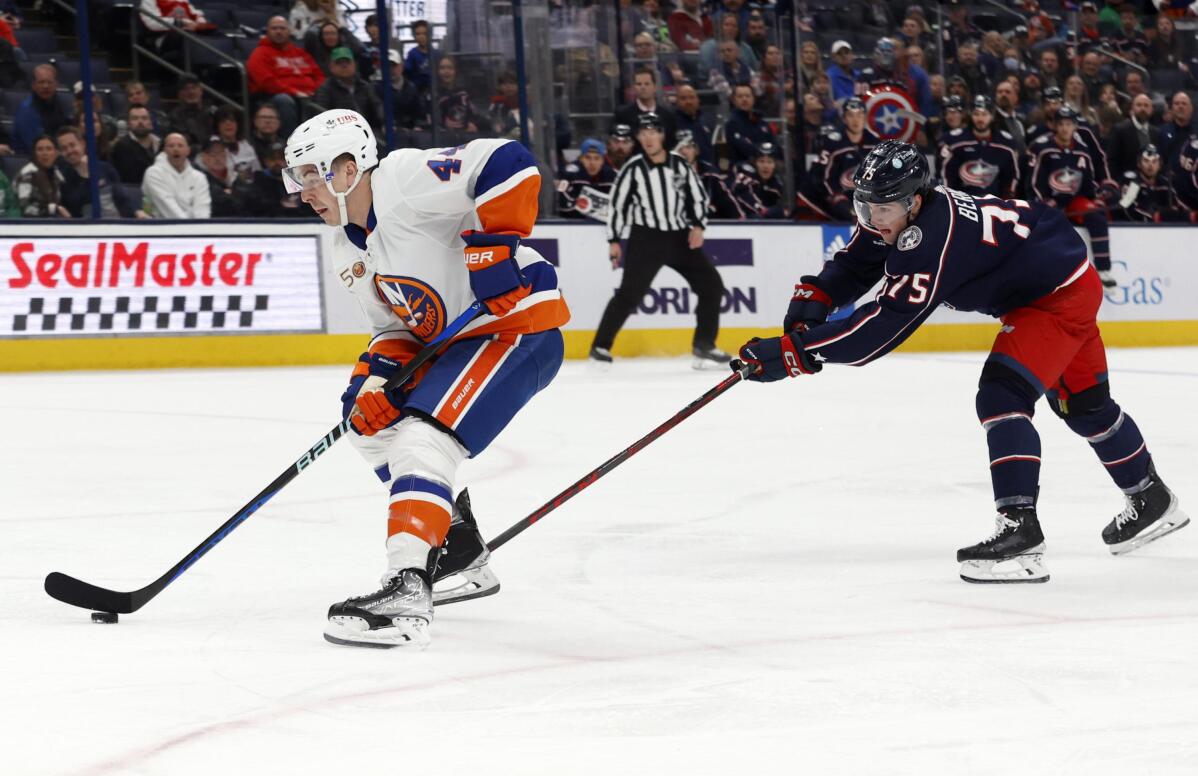 11 of 12

|
New York Islanders forward Jean-Gabriel Pageau, left, controls the puck in front of Columbus Blue Jackets defenseman Tim Berni during the first period an NHL hockey game in Columbus, Ohio, Friday, March 24, 2023. (AP Photo/Paul Vernon)
11 of 12
New York Islanders forward Jean-Gabriel Pageau, left, controls the puck in front of Columbus Blue Jackets defenseman Tim Berni during the first period an NHL hockey game in Columbus, Ohio, Friday, March 24, 2023. (AP Photo/Paul Vernon)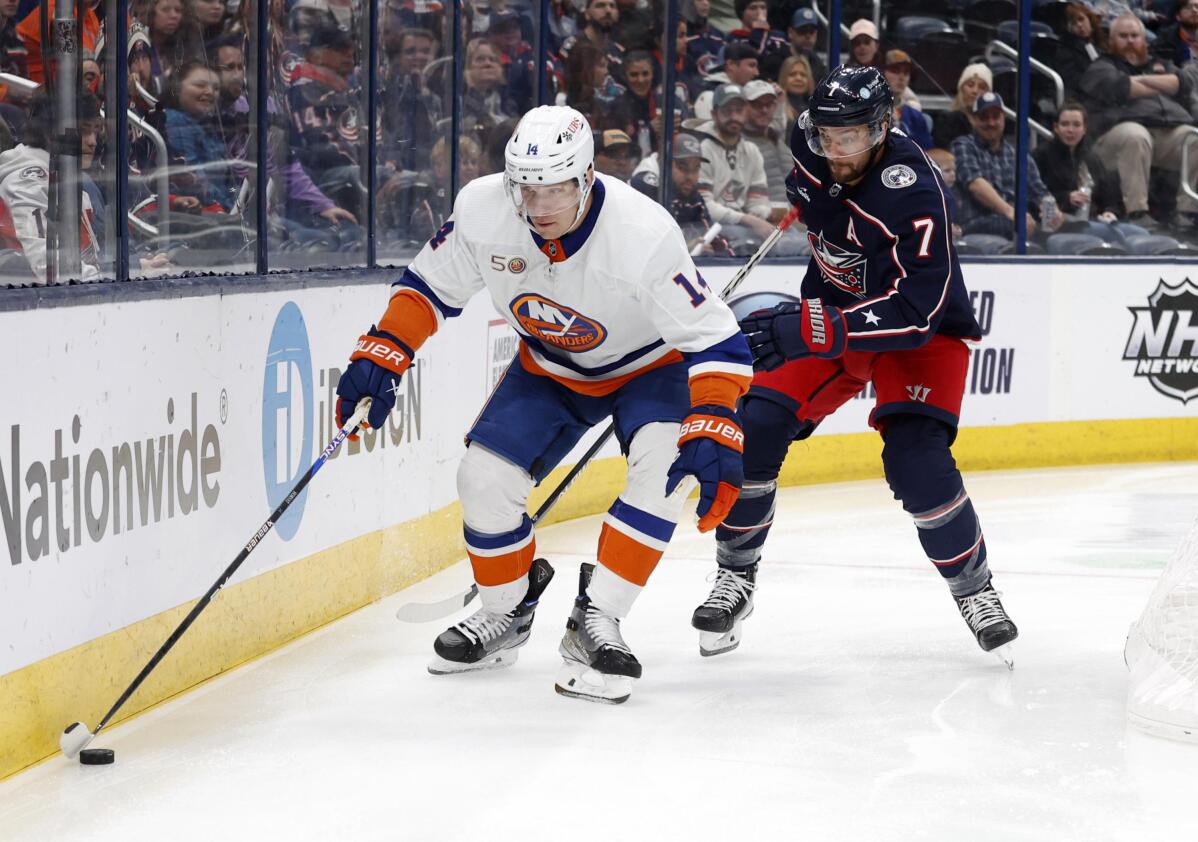 12 of 12

|
New York Islanders forward Bo Horvat, left, controls the puck in front of Columbus Blue Jackets forward Sean Kuraly during the first period an NHL hockey game in Columbus, Ohio, Friday, March 24, 2023. (AP Photo/Paul Vernon)
12 of 12
New York Islanders forward Bo Horvat, left, controls the puck in front of Columbus Blue Jackets forward Sean Kuraly during the first period an NHL hockey game in Columbus, Ohio, Friday, March 24, 2023. (AP Photo/Paul Vernon)
COLUMBUS, Ohio (AP) — Boone Jenner scored 40 seconds into overtime and the Columbus Blue Jackets rallied to beat the New York Islanders 5-4 Friday night for their second straight win.
Johnny Gaudreau, Liam Foudy, Kent Johnson and Eric Robinson also scored, and Jack Roslovic added two assists for Columbus, which is tied with San Jose for the worst record in the NHL. Michael Hutchinson stopped 34 shots in his first win with the Blue Jackets.
"It shows our character, being able to stick in there and get a win," Foudy said. "It was big for us."
Brock Nelson had two goals, Kyle Palmieri had a goal and an assist, and Zach Parise also scored for the Islanders who moved three points ahead of Pittsburgh for the Eastern Conference's first wild card. Ilya Sorokin stopped 22 shots.
Parise gave the Islanders the lead at 13:37 of the first before Gaudreau pulled Columbus even with a power-play score at 4:58 of the second. Nelson put the Islanders back on top 31 seconds later.
"(The Islanders) are in a dogfight for points and the importance of this game for them — it forces you to get engaged," Blue Jackets coach Brad Larsen said. "You can't dip your toe in. I thought we had a real good start to this game. I really loved how we started. Even though we came out down, there were some real good things in that period."
After that, Columbus got three straight goals from Foudy, Johnson and Robinson to take a 4-2 lead into the second intermission.
Johnson's goal had particular flair, skating from the right circle along the boards and behind the net, then picking up the puck on his stick and tossing it past Sorokin's right shoulder for a "Michigan" goal.
New York, however, dominated the third period, Palmieri scored at 3:34 and Nelson's second of the night at the 8-minute mark, on the power play, forced overtime.
"It took us too long to get to our game," Islanders coach Lane Lambert said. "I do give our guys credit. They found a way to scratch and claw.
"Considering we were going in the third period down two, this is a big point to get."
LIKE FATHER, LIKE SON
With his goal, Parise and his father, J.P. Parise, became the fourth father-son duo to have a 20-goal season with the same franchise, joining Ken and Ken Hodge Jr. (with Boston), Peter and Paul Stastny (with Quebec/Colorado) and Greg and Ryan Malone (with Pittsburgh). "I'm more than happy to share something like that with him," Parise said. "It's special." Parise now has a four-game goal streak and added to his franchise record for goals by a player aged 38 or older.
IN AND OUT
Sean Kuraly returned to the lineup after missing nine games with a strained oblique, but Columbus was without Patrik Laine who is expected to miss two to four weeks with a triceps strain. Matthew Olivier left the game with a lower-body injury after playing 35 seconds and Erik Gudbranson left the game after suffering an upper-body injury in the second period. Coach Brad Larsen returned behind the bench after missing two games due to a death in his family. WELCOME TO THE NHL
Hunter McKown made his NHL debut and notched his first point with his assist on Robinson's goal.
ON A STREAK
Hudson Fasching's assist on Parise's goal extended his point streak to four games.
UP NEXT
Islanders: Host Buffalo on Saturday night.
Blue Jackets: At Montreal on Saturday night.
___
AP NHL: https://www.apnews.com/hub/NHL and https://www.twitter.com/AP_Sports