Family of man fatally struck by Boeheim agrees to settlement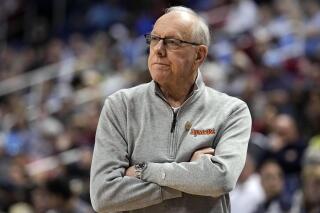 NEW YORK (AP) — The family of a man who was fatally struck by a vehicle driven by former Syracuse University basketball coach Jim Boeheim in 2019 has agreed to settle a lawsuit against Boeheim and the university, according to court documents.
Boeheim and the survivors of Jorge Jimenez, who died in the Feb. 20, 2019 crash on an icy highway in Syracuse, have agreed to settle and have requested that terms of the settlement remain sealed, "recognizing their mutual privacy interests and the desirability of avoiding publicity about their personal lives," according to a March 24 affidavit filed in state Supreme Court by Abigail Dean, an attorney for Jimenez's estate.
John Pfeifer, an attorney for Boeheim and the university, echoed the request for confidentiality in an April 14 affidavit. "The specific private resolution of the matter is of no public import," Pfeifer said.
Jimenez, 51, was a passenger in a car that that skidded on Interstate 690 and hit a guardrail. Boeheim was driving home after a game when he swerved to avoid the car and hit Jimenez, who was later pronounced dead at a hospital.
A police report said Boeheim was not driving recklessly, and no charges were filed.
Jimenez's family filed a lawsuit in 2020 alleging that Boeheim's actions were "negligent, reckless and wanton." The lawsuit was filed in Onondaga County Supreme Court and sought an unspecified amount of money.
It was not clear whether the court has approved settlement. Calls placed Wednesday to Dean and Pfeifer were not immediately returned.
Jimenez was an immigrant from Cuba and the father of two young sons. He had hoped to become a U.S. citizen, his friend Alberto Brinones, who was driving the car that hit the guardrail, told the Post-Standard of Syracuse.
Boeheim, 78, retired last month after serving as head basketball coach at Syracuse since 1976. Syracuse made 34 NCAA tournament appearances under his leadership and won the championship in 2003. He was inducted into the Basketball Hall of Fame in 2005.