Boris Johnson reached the top but was felled by his flaws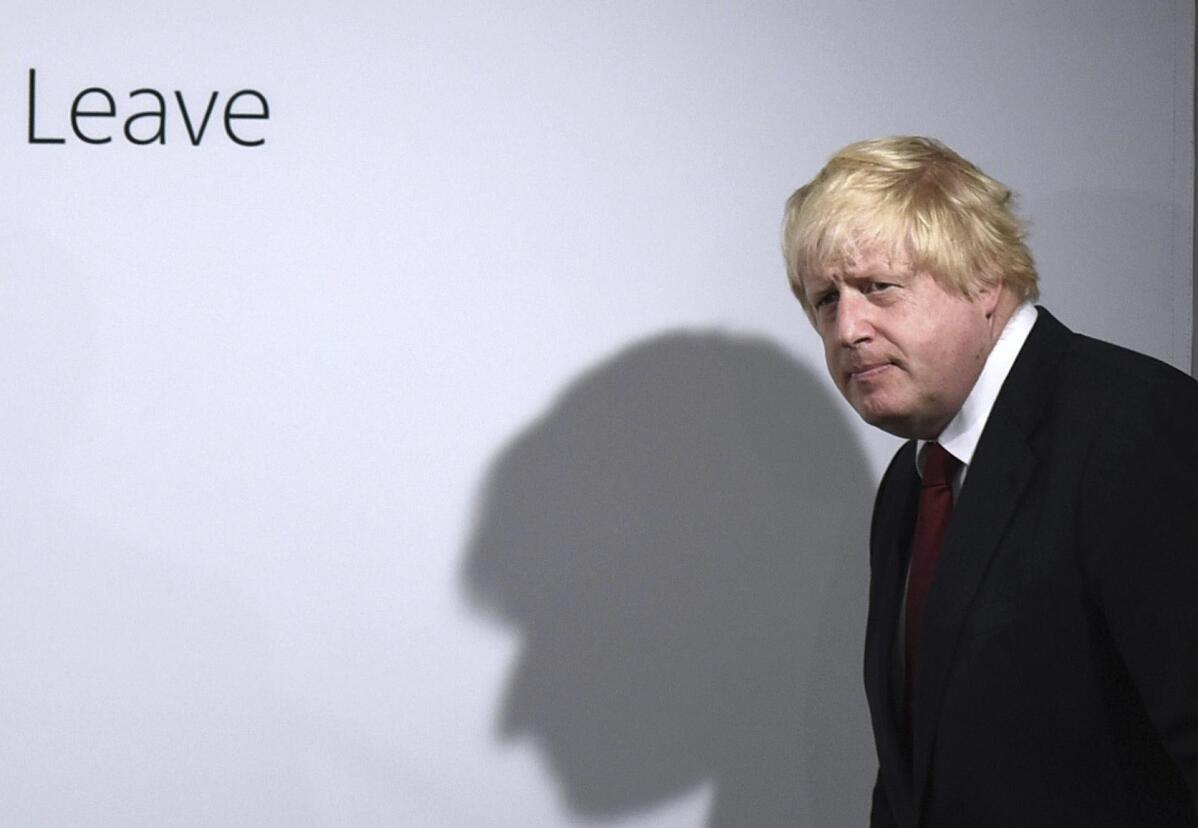 1 of 39

|
FILE - Vote Leave campaigner Boris Johnson arrives for a press conference at Vote Leave headquarters in London Friday, June 24, 2016. British media say Prime Minister Boris Johnson has agreed to resign on Thursday, July 7 2022, ending an unprecedented political crisis over his future. (Mary Turner/Pool via AP, File)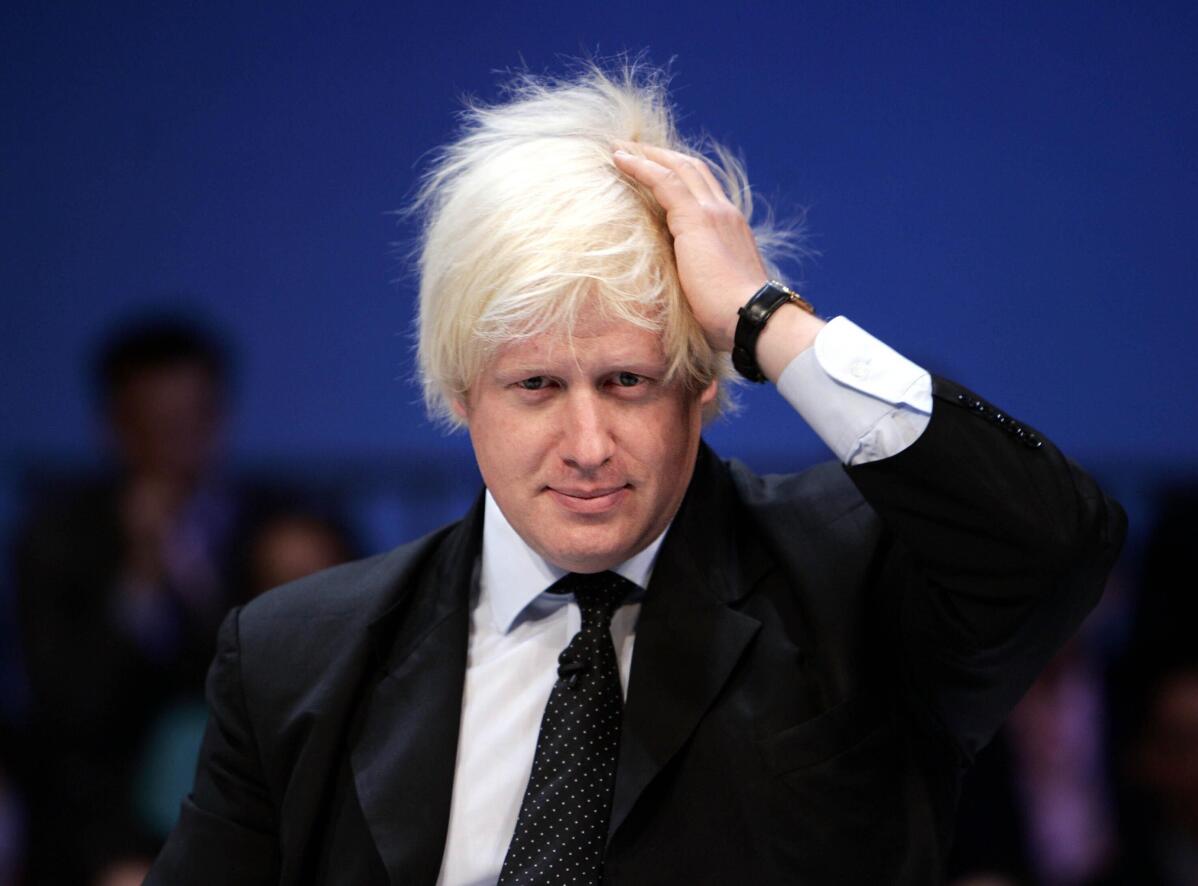 2 of 39

|
FILE - Boris Johnson, Britain's Conservative party spokesman for Higher Education, reacts as he listens to a delegate's question during a debate at the party's conference in Bournemouth, south England, Wednesday Oct. 4, 2006. British media say Prime Minister Boris Johnson has agreed to resign on Thursday, July 7 2022, ending an unprecedented political crisis over his future. (AP Photo/Lefteris Pitarakis, file)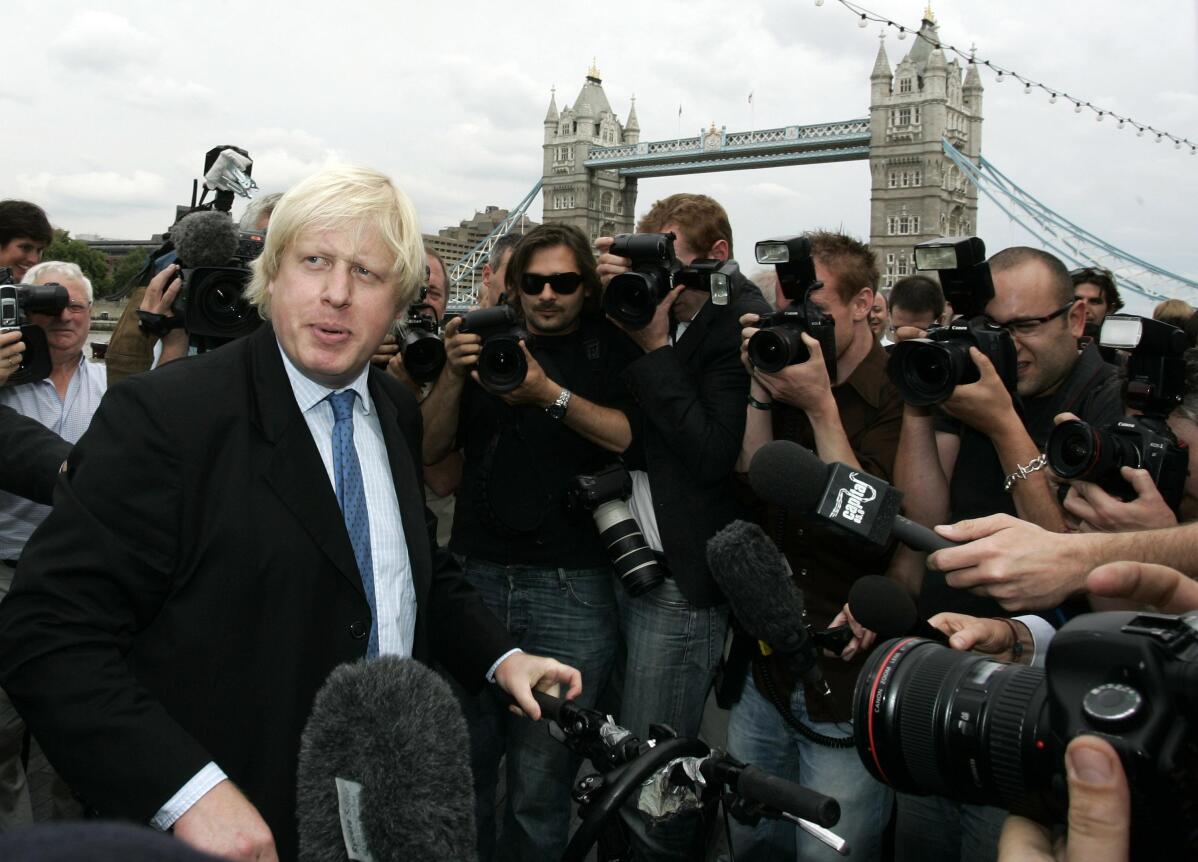 3 of 39

|
FILE - Britain Conservative Party MP, Boris Johnson, left, speaks to the media to launch his campaign as a candidate to be the Mayor of London, outside City Hall in central London, Monday, July 16, 2007. British media say Prime Minister Boris Johnson has agreed to resign on Thursday, July 7 2022, ending an unprecedented political crisis over his future. (AP Photo/Sang Tan, File)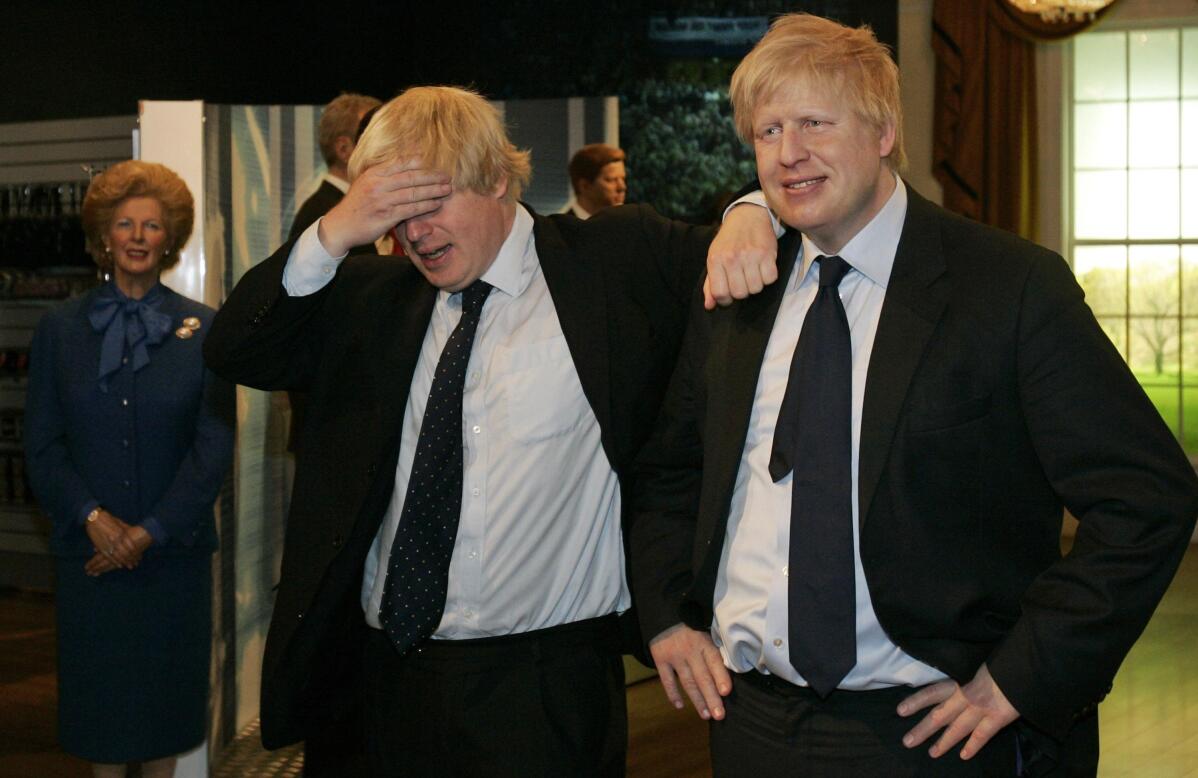 4 of 39

|
FILE - Mayor of London Boris Johnson, left, poses with a wax figure of himself at Madame Tussauds wax museum in London Tuesday, May 5, 2009, after being introduced to his new wax figure. British media say Prime Minister Boris Johnson has agreed to resign on Thursday, July 7 2022, ending an unprecedented political crisis over his future. (AP Photo/Sang Tan, File)
5 of 39

|
FILE - Boris Johnson, Mayor of London waves to the media as he helps launch a new cycle hire scheme in London Friday, July 30, 2010. British media say Prime Minister Boris Johnson has agreed to resign on Thursday, July 7 2022, ending an unprecedented political crisis over his future. (AP Photo/Alastair Grant, File)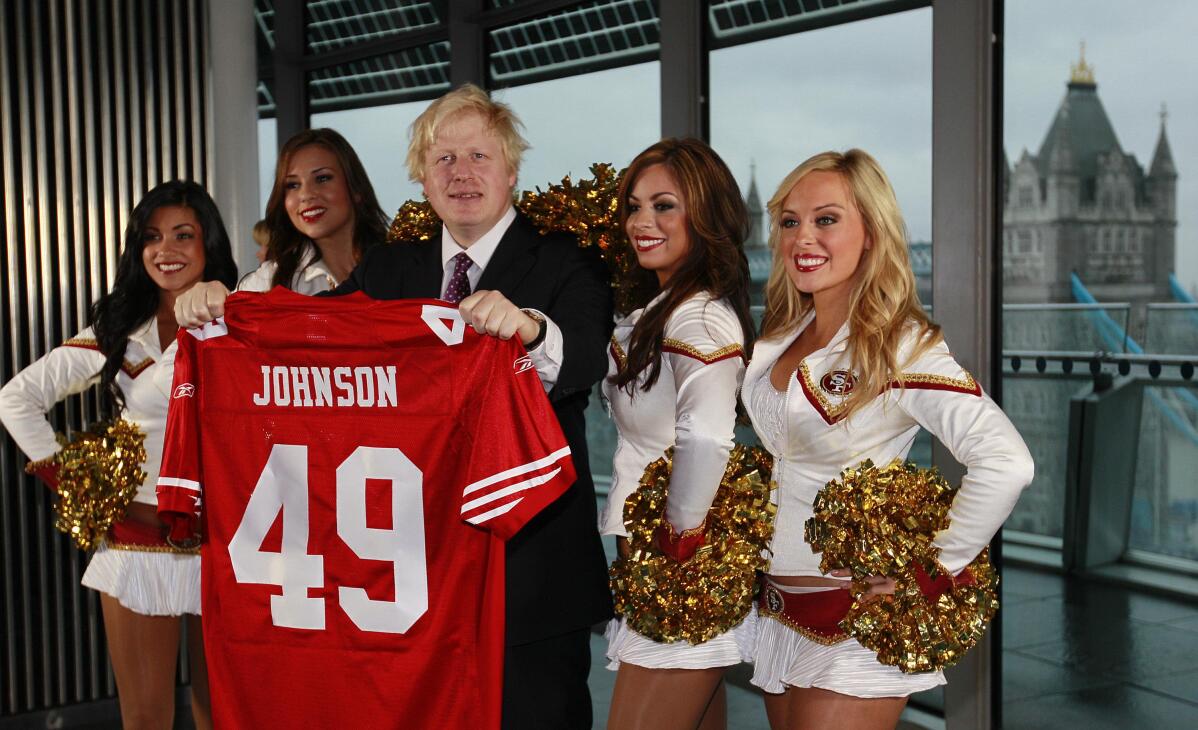 6 of 39

|
FILE - Boris Johnson, then Mayor of London center, and four of the 49ers cheerleaders Deanna Ortega, left, Morgan McLeod, Alexis Kofoed and Lauren Riccaboni, right, pose for the media as the Mayor holds a team shirt with his name on at City Hall in London Tuesday, Oct., 26, 2010. British media say Prime Minister Boris Johnson has agreed to resign on Thursday, July 7 2022, ending an unprecedented political crisis over his future. (AP Photo/Alastair Grant, File)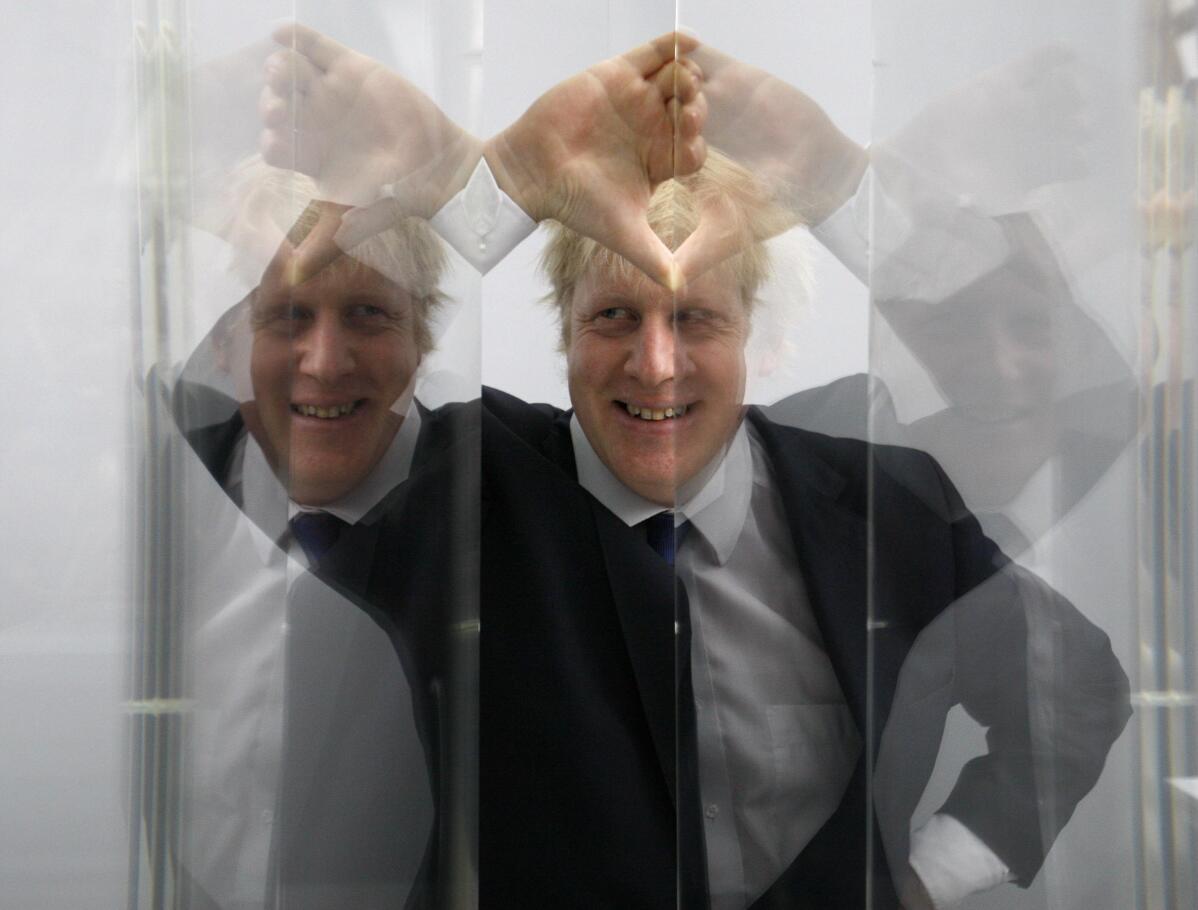 7 of 39

|
FILE - Boris Johnson, then Mayor of London in seen looking through perspex as models of the next two commissions that will appear on the fourth plinth in Trafalgar Square in London, Friday, Jan. 14, 2011. British media say Prime Minister Boris Johnson has agreed to resign on Thursday, July 7 2022, ending an unprecedented political crisis over his future. (AP Photo/Kirsty Wigglesworth, File)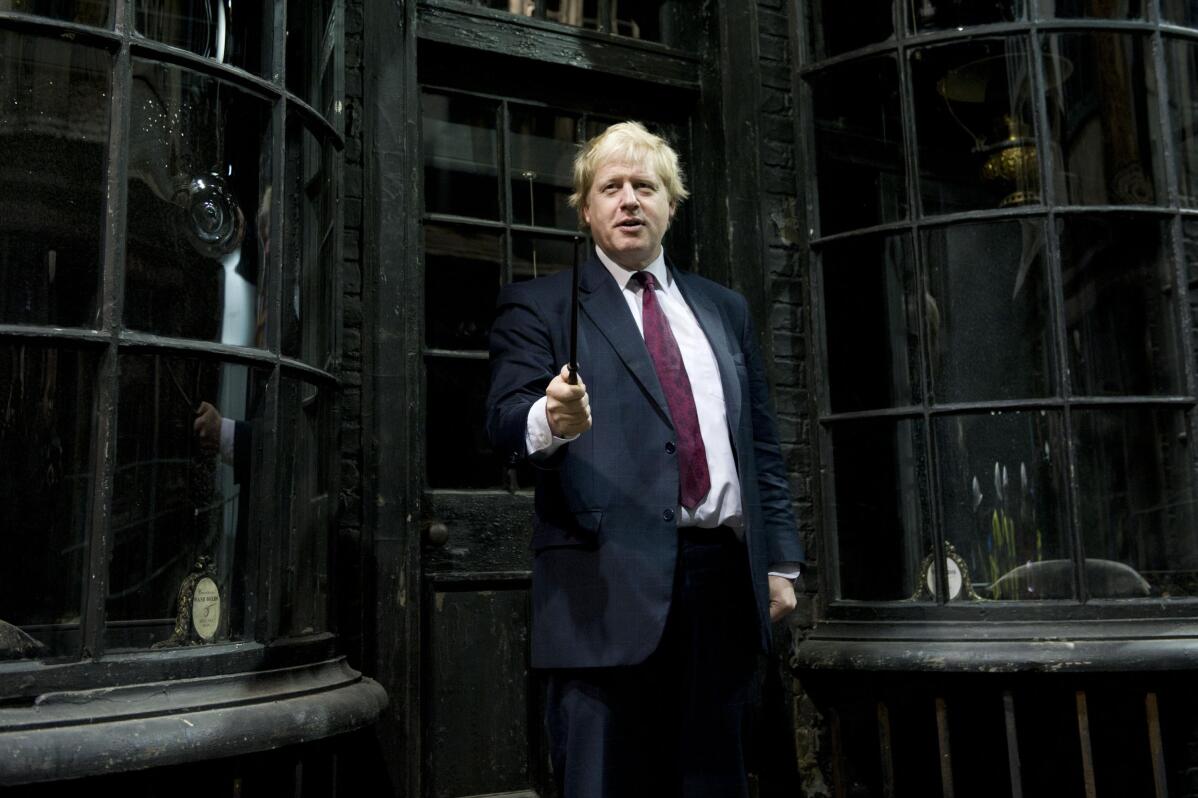 8 of 39

|
FILE - London Mayor Boris Johnson, gestures with a wand whilst attending a Harry Potter studio tour of Diagon Alley, at the Warner Brother Studios, London, Monday, Dec. 19, 2011. British media say Prime Minister Boris Johnson has agreed to resign on Thursday, July 7 2022, ending an unprecedented political crisis over his future. (AP Photo/Jonathan Short, File)
9 of 39

|
FILE - Madame Tussauds London mark Boris Johnson's victory in the London mayoral election by giving him a post-party makeover Friday, May 4, 2012. British media say Prime Minister Boris Johnson has agreed to resign on Thursday, July 7 2022, ending an unprecedented political crisis over his future. (AP Photo/Jonathan Short, File)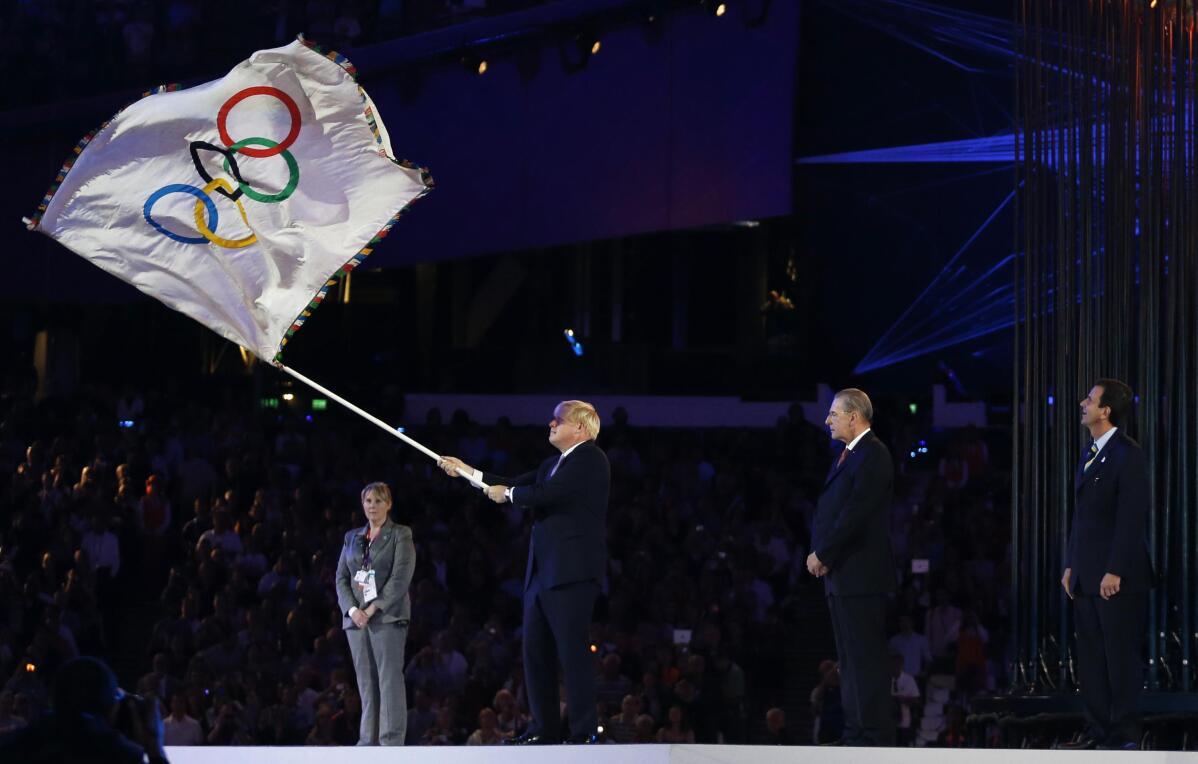 10 of 39

|
FILE - London mayor Boris Johnson, second from left, waves the Olympic flag as President of the International Olympic Committee Jacques Rogge, center, and Eduardo Paes, mayor of Rio de Janeiro look on during the Closing Ceremony at the 2012 Summer Olympics, Sunday, Aug. 12, 2012, in London. British media say Prime Minister Boris Johnson has agreed to resign on Thursday, July 7 2022, ending an unprecedented political crisis over his future. (AP Photo/Matt Dunham, File)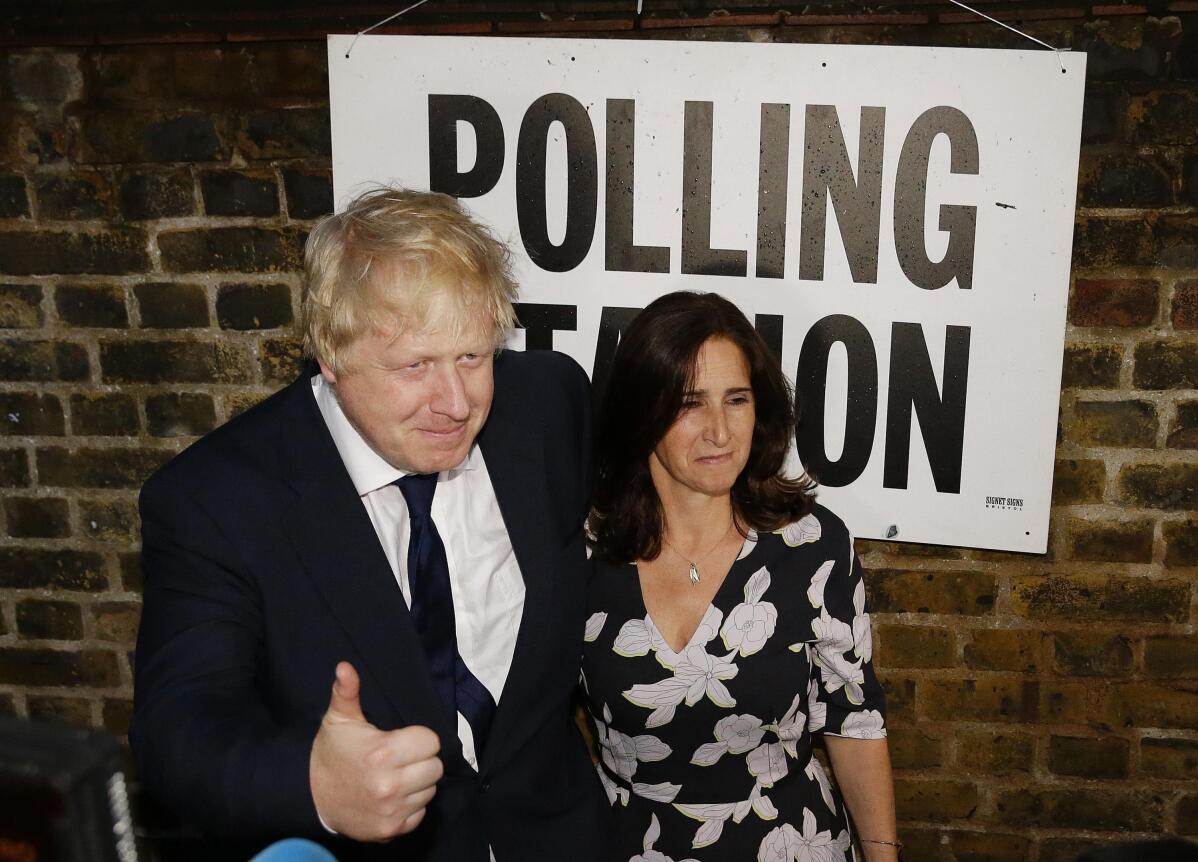 11 of 39

|
FILE - British MP Boris Johnson and his wife Marina are photographed as they leave after voting in the EU referendum in London, Thursday, June 23, 2016. British media say Prime Minister Boris Johnson has agreed to resign on Thursday, July 7 2022, ending an unprecedented political crisis over his future. (AP Photo/Matt Dunham, File)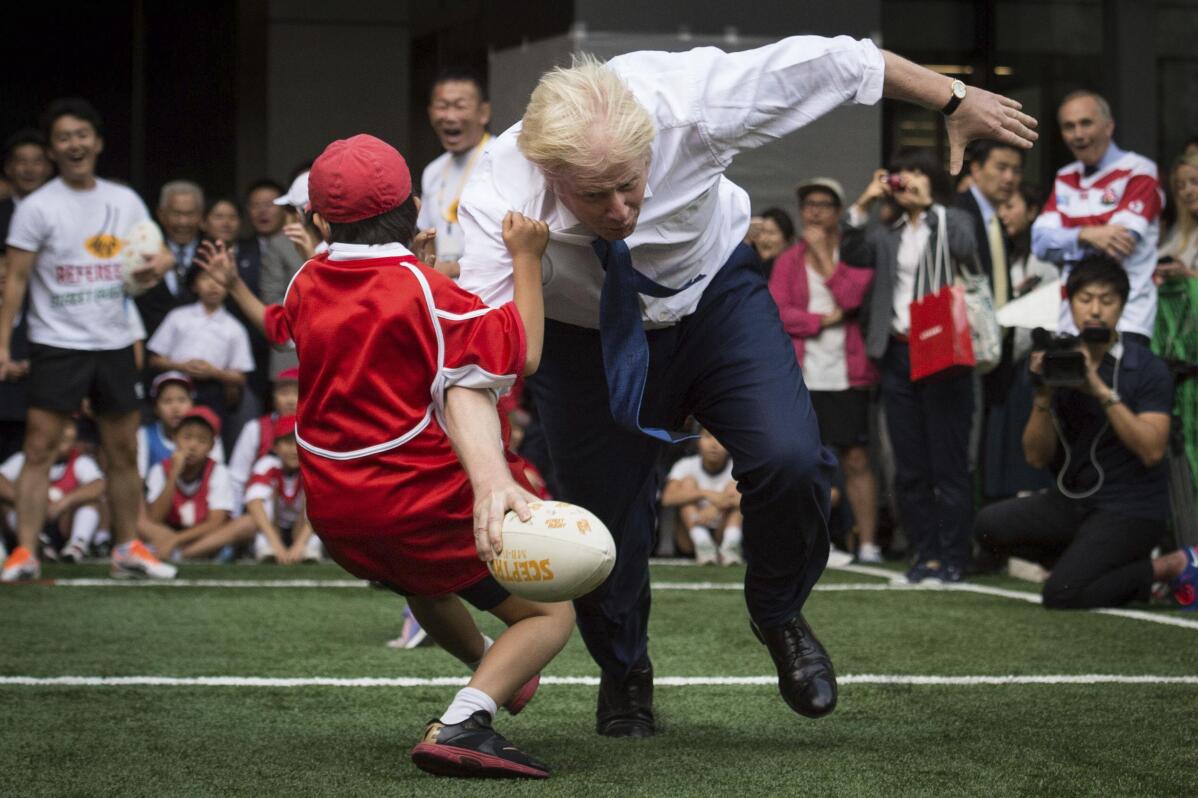 12 of 39

|
FILE - Boris Johnson takes part in a Street Rugby tournament in a Tokyo street Oct. 15, 2015. British media say Prime Minister Boris Johnson has agreed to resign on Thursday, July 7 2022, ending an unprecedented political crisis over his future. (Stefan Rousseau/PA via AP, File)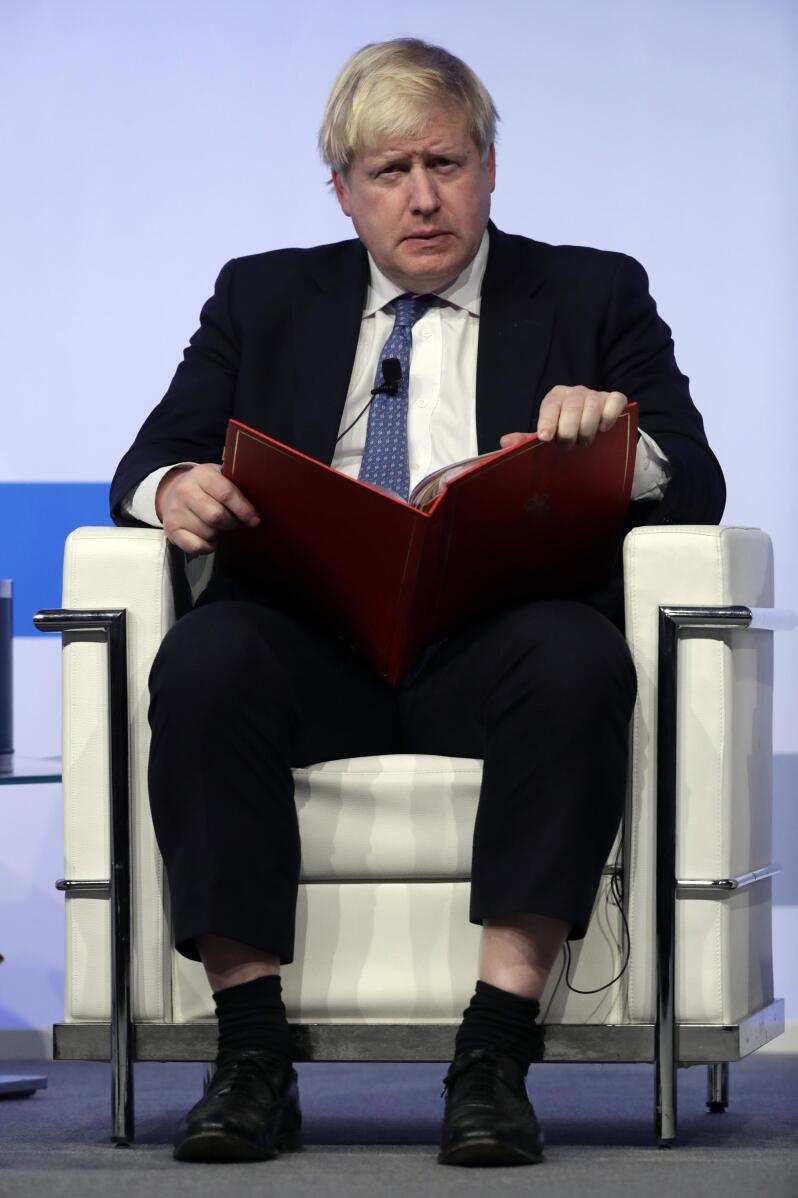 13 of 39

|
FILE - British Foreign Secretary Boris Johnson attends a Mediterranean Dialogues Summit in Rome Thursday, Dec. 1, 2016. British media say Prime Minister Boris Johnson has agreed to resign on Thursday, July 7 2022, ending an unprecedented political crisis over his future. (AP Photo/Gregorio Borgia, File)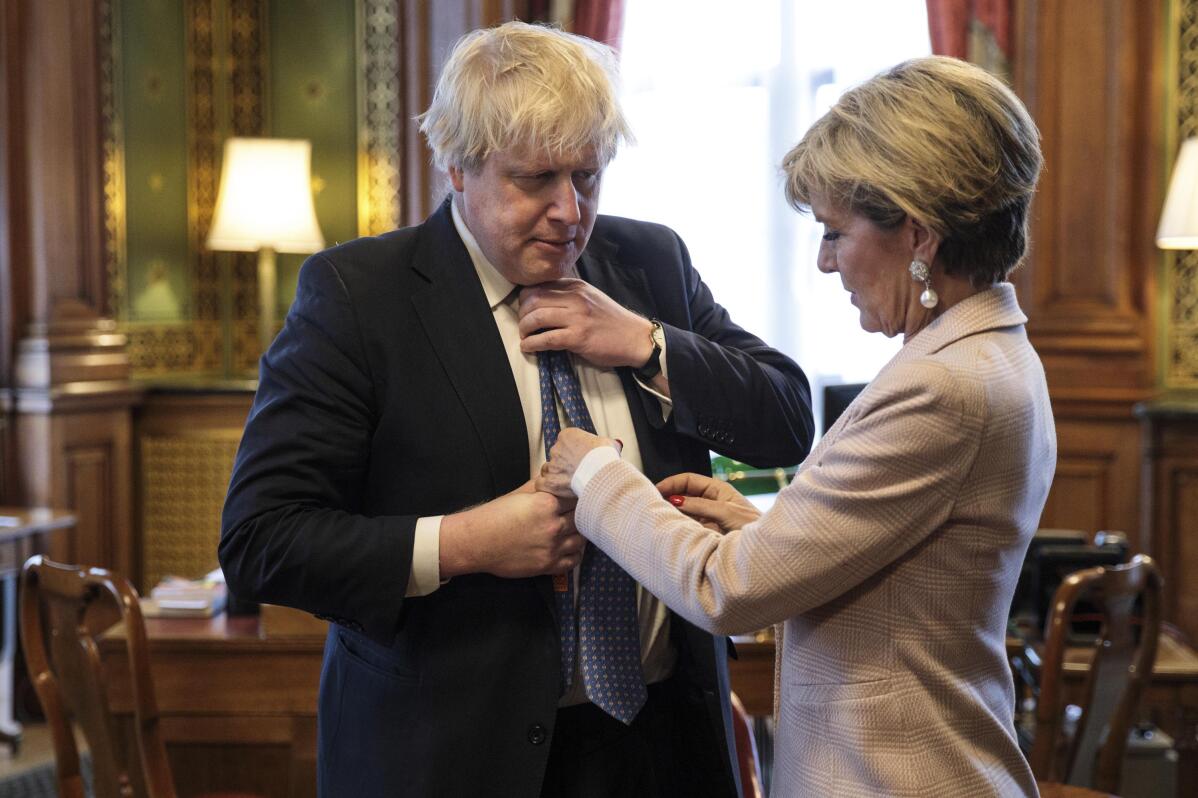 14 of 39

|
FILE - British Foreign Secretary Boris Johnson has his tie straightened by his Australian counterpart Foreign Minister Julie Bishop in his office at the Foreign and Commonwealth Office in London, Thursday, Feb. 23, 2017. British media say Prime Minister Boris Johnson has agreed to resign on Thursday, July 7 2022, ending an unprecedented political crisis over his future. (Jack Taylor/Pool Photo via AP, File)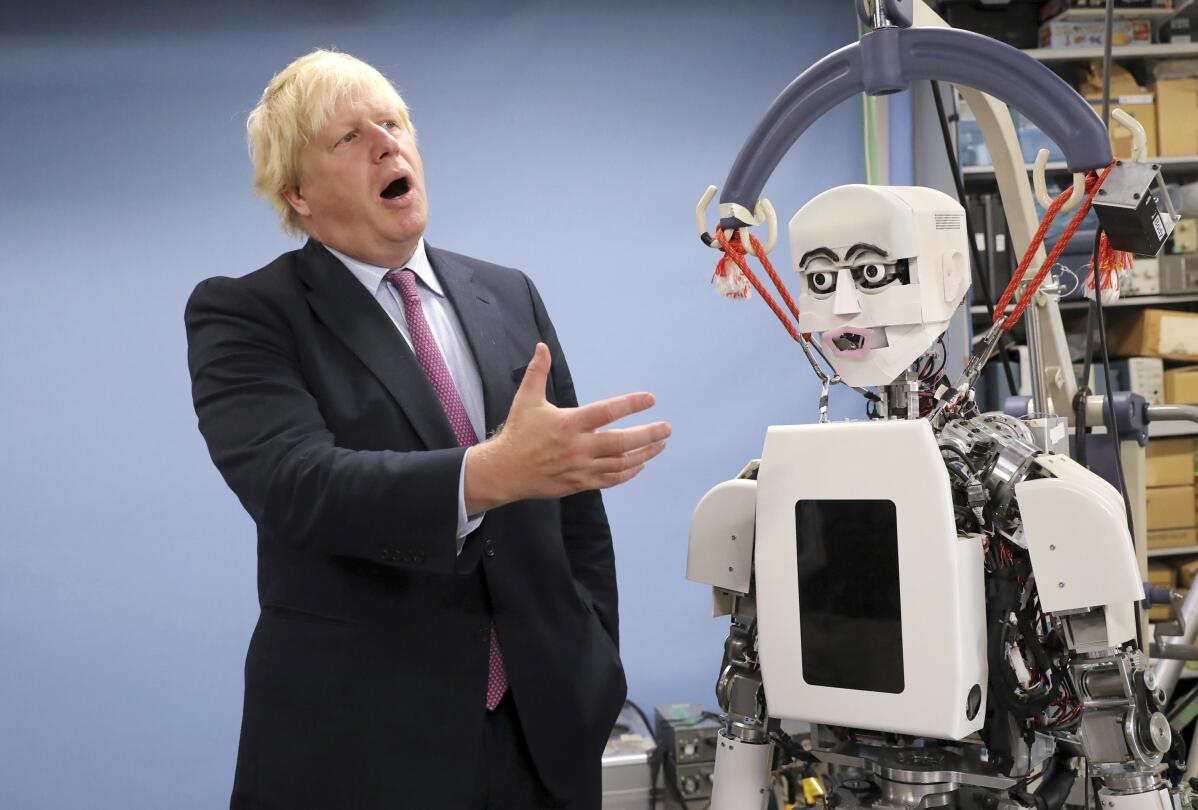 15 of 39

|
FILE - Britain's Foreign Secretary Boris Johnson gestures as he looks at a humanoid robot at Research Institute for Science and Engineering at Waseda University's campus in Tokyo Thursday, July 20, 2017. British media say Prime Minister Boris Johnson has agreed to resign on Thursday, July 7 2022, ending an unprecedented political crisis over his future. (AP Photo/Eugene Hoshiko, file)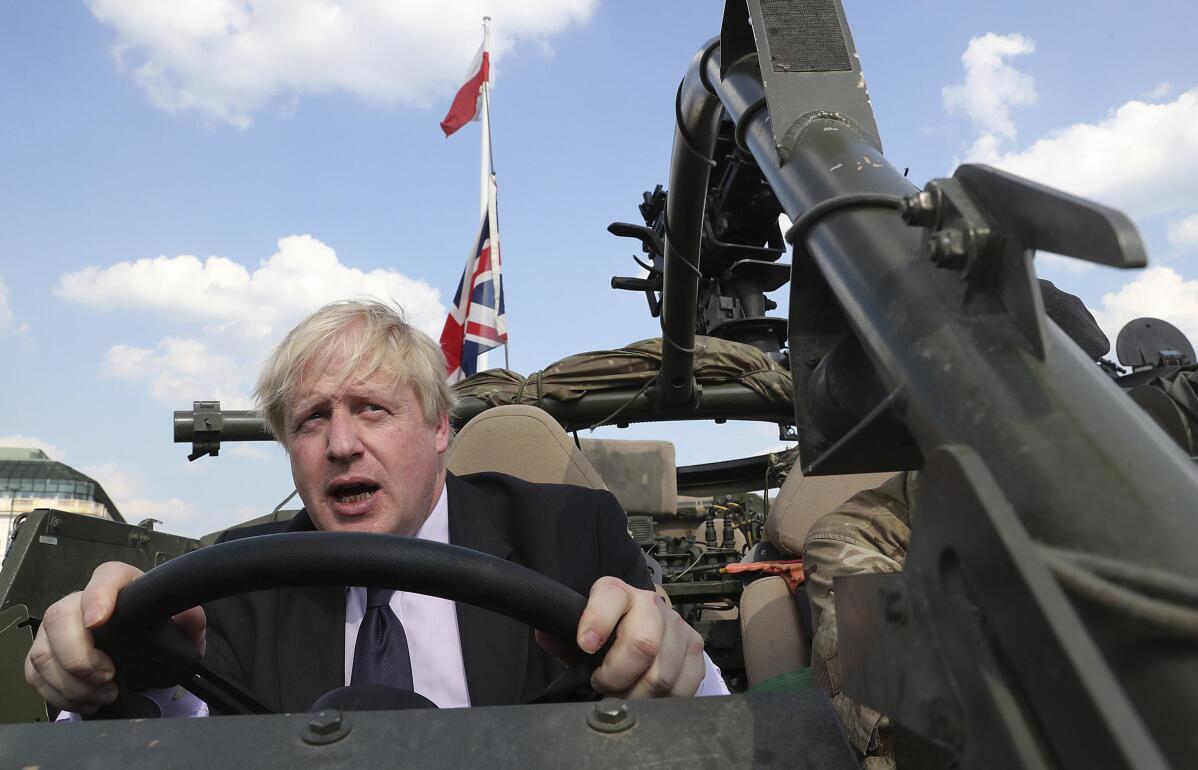 16 of 39

|
FILE - Britain's Foreign Secretary Boris Johnson talks to a British armed forces serviceman based in Orzysz, in northeastern Poland, during a ceremony at the Tomb of the Unknown Soldier and following talks on security with his Polish counterpart Jacek Czaputowicz in Warsaw, Poland, Thursday, June 21, 2018. British media say Prime Minister Boris Johnson has agreed to resign on Thursday, July 7 2022, ending an unprecedented political crisis over his future. (AP Photo/Czarek Sokolowski, File)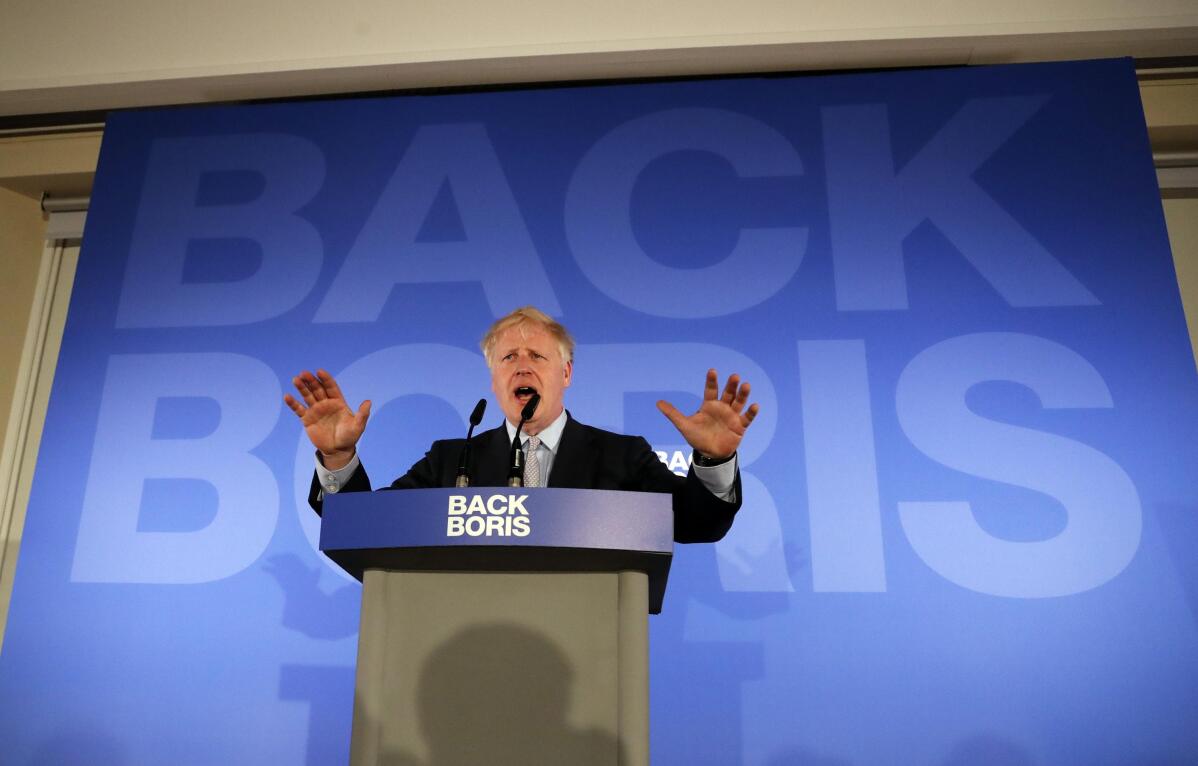 17 of 39

|
FILE - Britain's Conservative Party lawmaker Boris Johnson gestures as he speaks during the official launch of his leadership campaign, in London, Wednesday June 12, 2019. British media say Prime Minister Boris Johnson has agreed to resign on Thursday, July 7 2022, ending an unprecedented political crisis over his future. (AP Photo/Frank Augstein, File)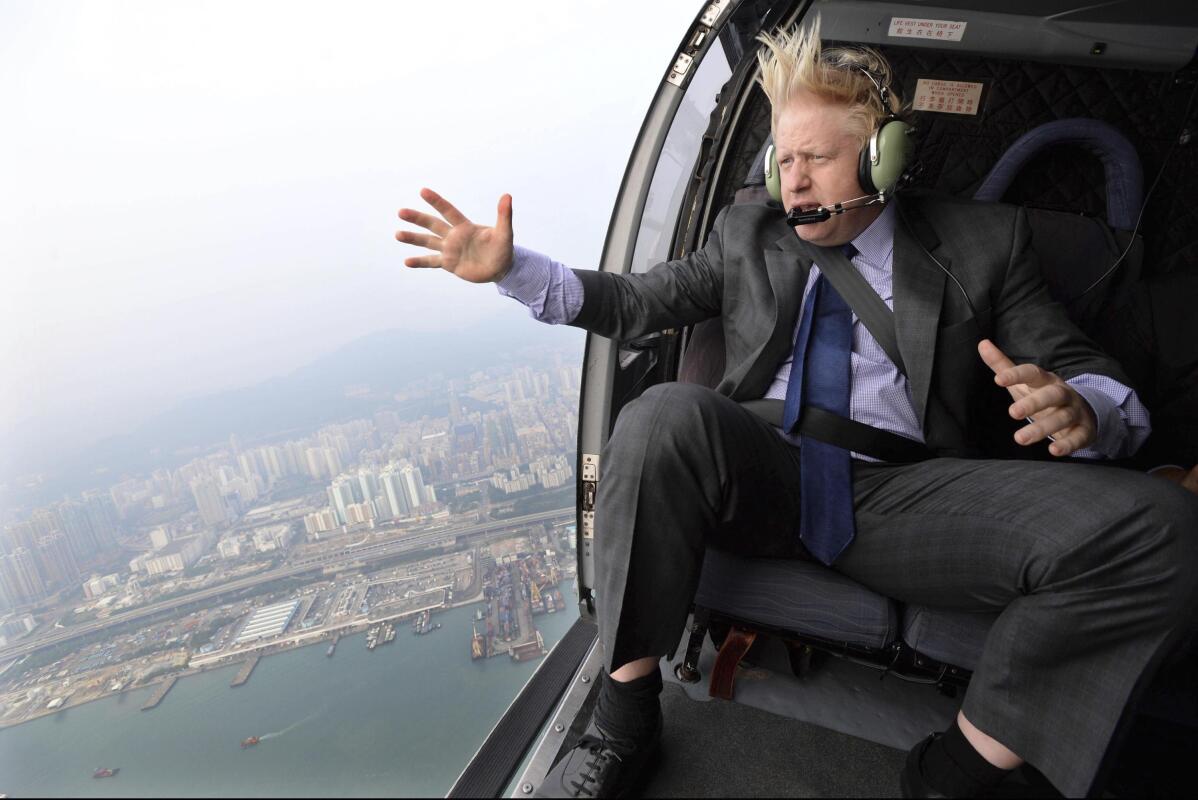 18 of 39

|
FILE - Mayor of London Boris Johnson looks at the skyline during helicopter ride over Hong Kong, Thursday Oct. 17, 2013. British media say Prime Minister Boris Johnson has agreed to resign on Thursday, July 7 2022, ending an unprecedented political crisis over his future. (AP Photo/Andrew Parsons/Pool, File)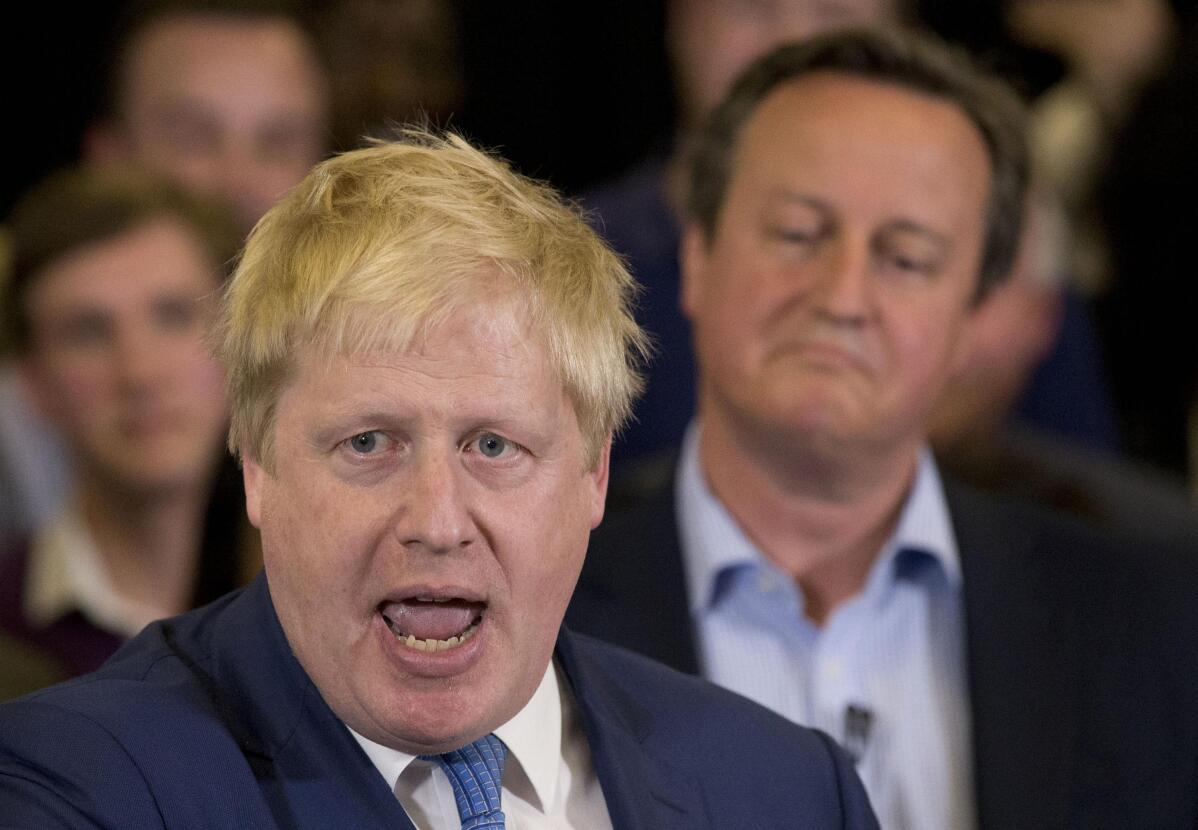 19 of 39

|
FILE - Britain's Prime Minister David Cameron, right, listens as then Mayor of London Boris Johnson speaks at a mayoral election campaign rally for Britain's Conservative party candidate for Mayor of London Zac Goldsmith at a school in Ham, a suburb in south west London, Tuesday, May 3, 2016. British media say Prime Minister Boris Johnson has agreed to resign on Thursday, July 7 2022, ending an unprecedented political crisis over his future. (AP Photo/Matt Dunham, File)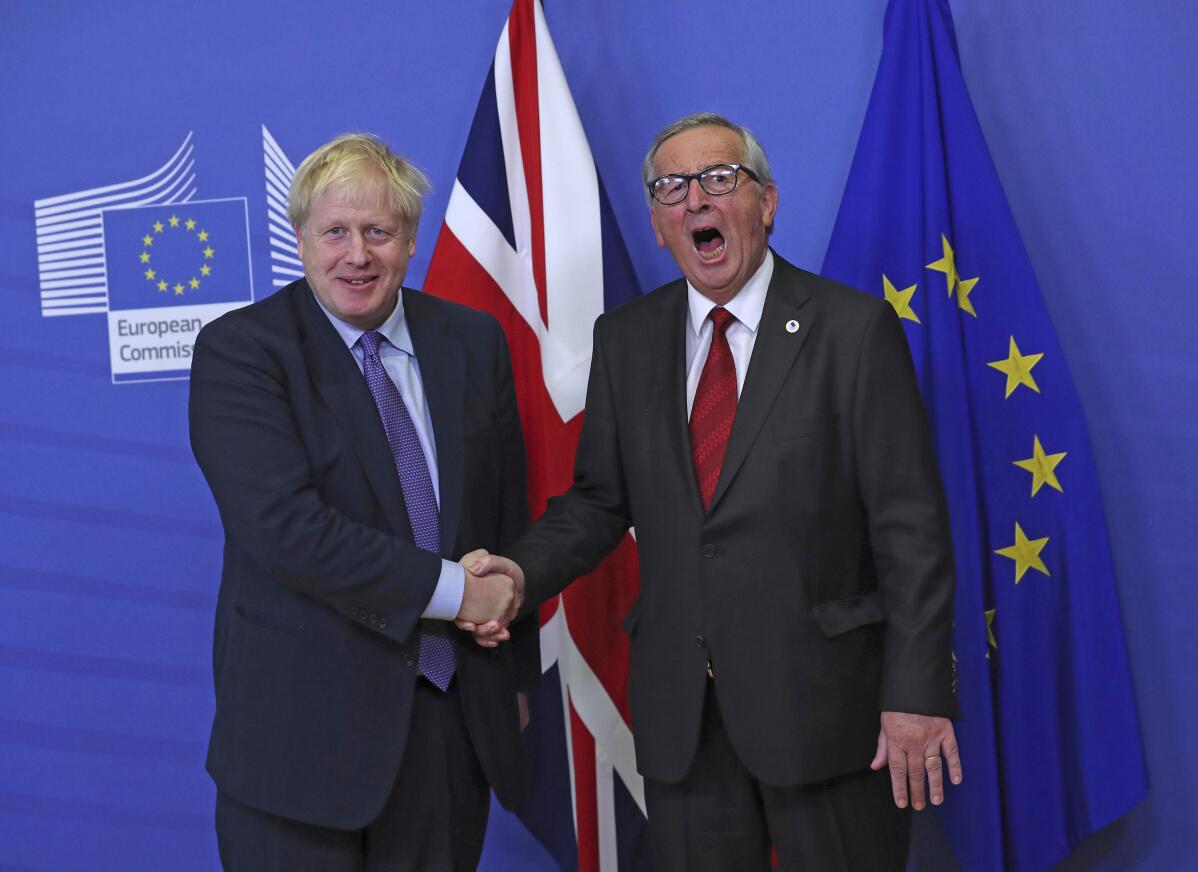 20 of 39

|
FILE - British Prime Minister Boris Johnson shakes hands with European Commission President Jean-Claude Juncker during a press point at EU headquarters in Brussels, Thursday, Oct. 17, 2019. British media say Prime Minister Boris Johnson has agreed to resign on Thursday, July 7 2022, ending an unprecedented political crisis over his future. (AP Photo/Francisco Seco, File)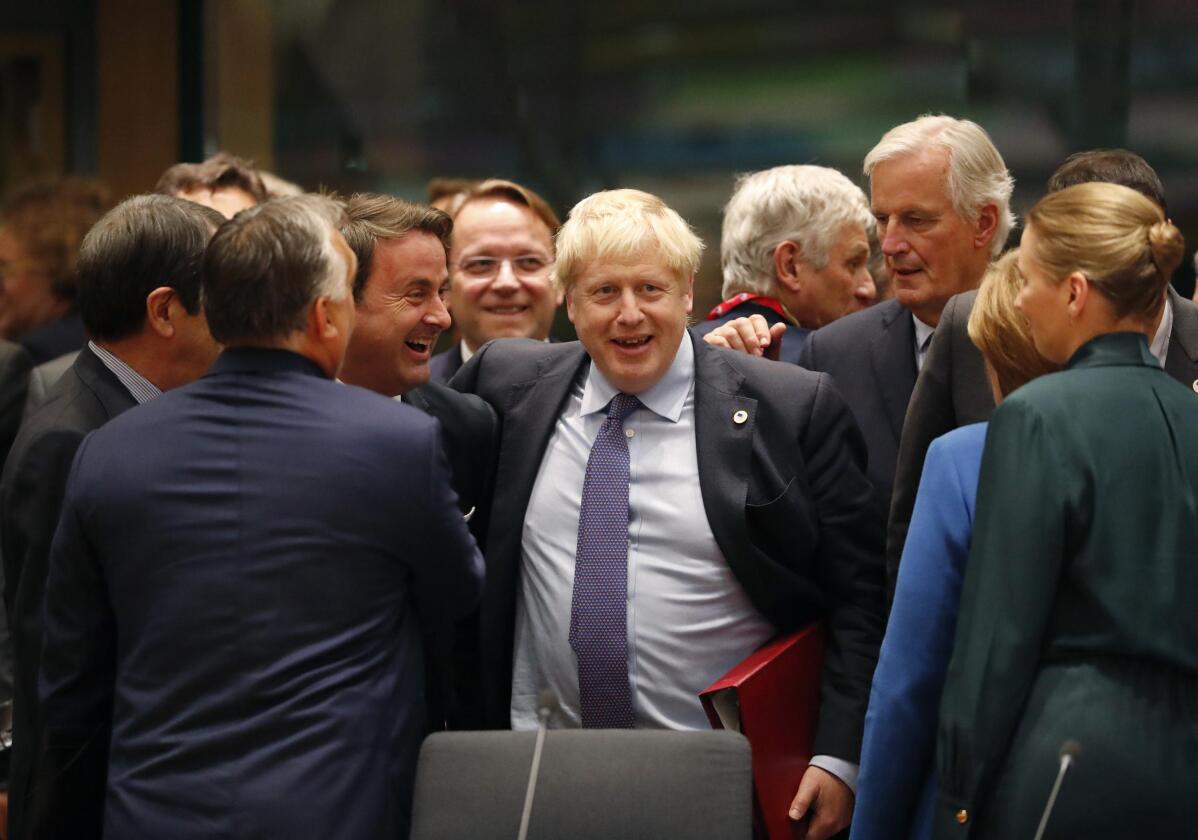 21 of 39

|
FILE - British Prime Minister Boris Johnson, center, is greeted by Luxembourg's Prime Minister Xavier Bettel, center left, during a round table meeting at an EU summit in Brussels Thursday, Oct. 17, 2019. British media say Prime Minister Boris Johnson has agreed to resign on Thursday, July 7 2022, ending an unprecedented political crisis over his future. (AP Photo/Frank Augstein, File)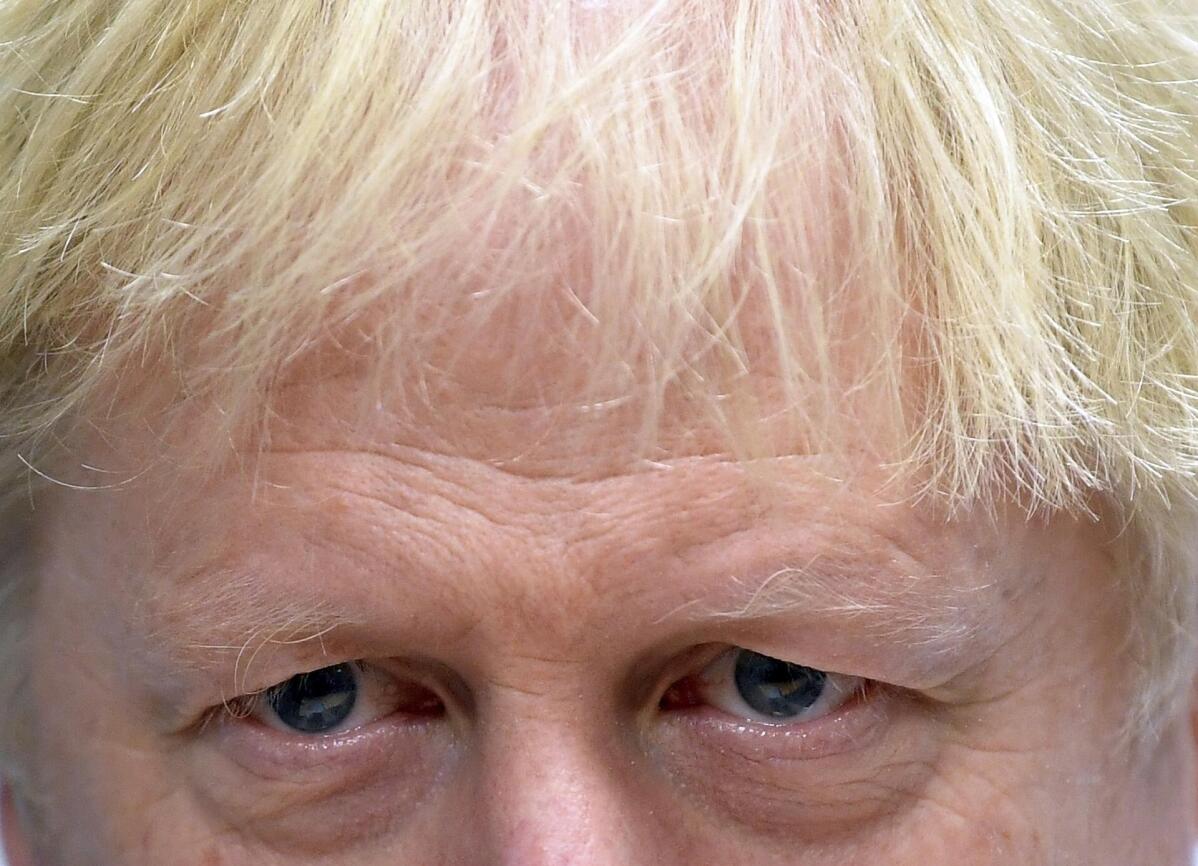 22 of 39

|
FILE - Britain's Prime Minister Boris Johnson speaks to staff in the children's ward as he visits Milton Keynes University Hospital in Milton Keynes, England, Friday Oct. 25, 2019. British media say Prime Minister Boris Johnson has agreed to resign on Thursday, July 7 2022, ending an unprecedented political crisis over his future. (Toby Melville/Pool via AP, File)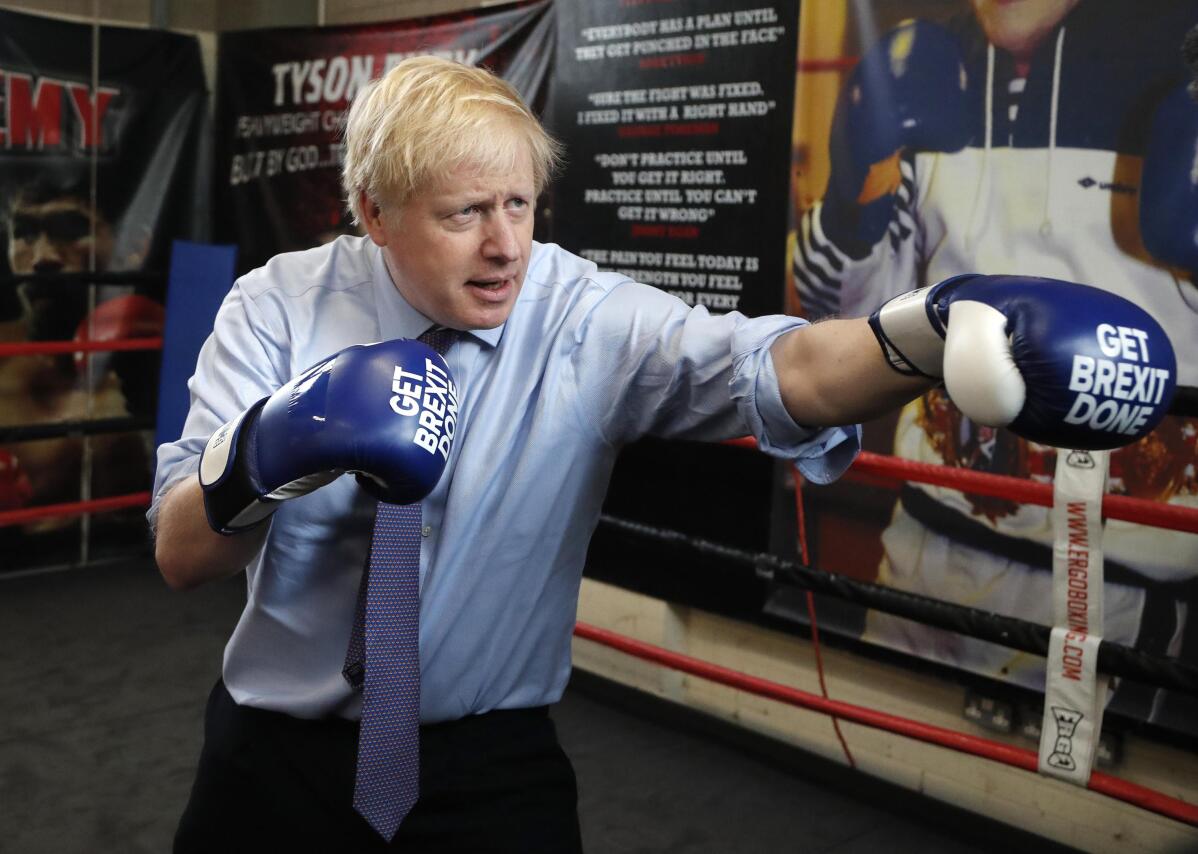 23 of 39

|
FILE - Britain's Prime Minister Boris Johnson poses for a photo wearing boxing gloves during a stop in his General Election Campaign trail at Jimmy Egan's Boxing Academy in Manchester, England,Tuesday, Nov. 19, 2019. British media say Prime Minister Boris Johnson has agreed to resign on Thursday, July 7 2022, ending an unprecedented political crisis over his future. (AP Photo/Frank Augstein, File)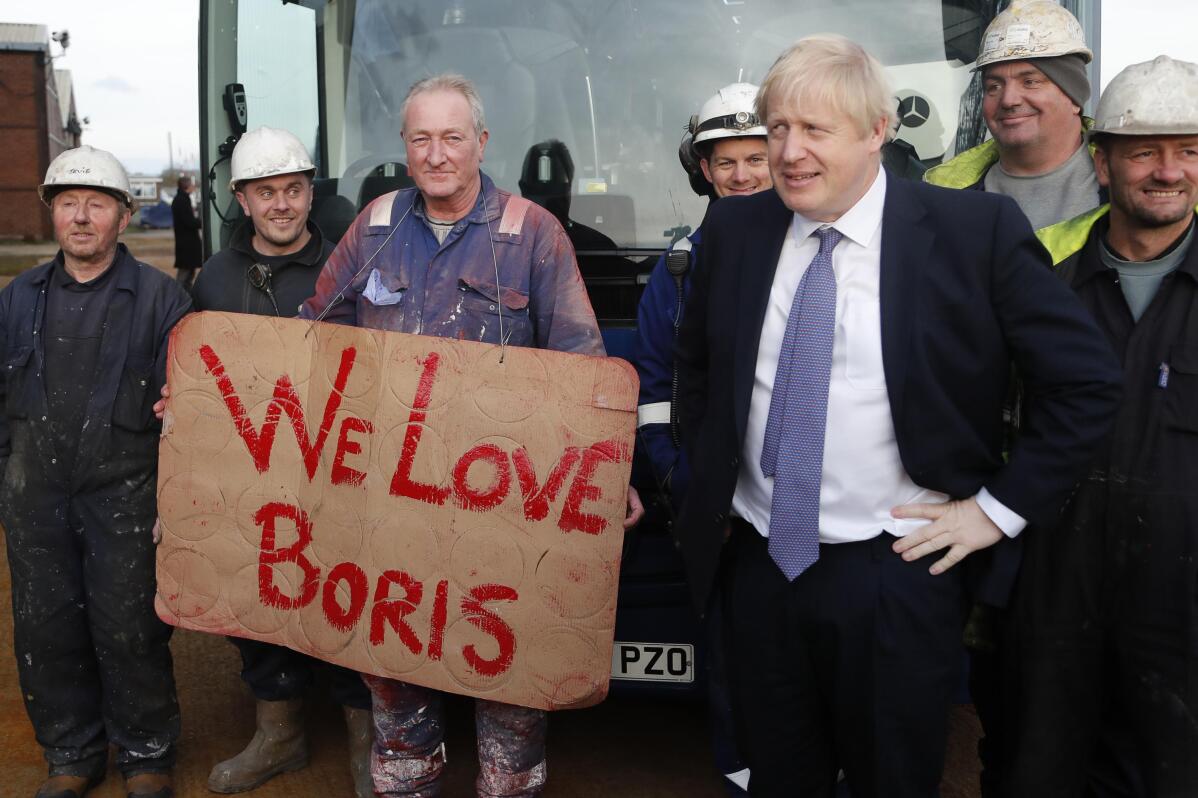 24 of 39

|
FILE - Britain's Prime Minister Boris Johnson poses with workers during a visit to Wilton Engineering Services, part of a General Election campaign trail stop in Middlesbrough, England, Wednesday, Nov. 20, 2019. British media say Prime Minister Boris Johnson has agreed to resign on Thursday, July 7 2022, ending an unprecedented political crisis over his future. (AP Photo/Frank Augstein, File)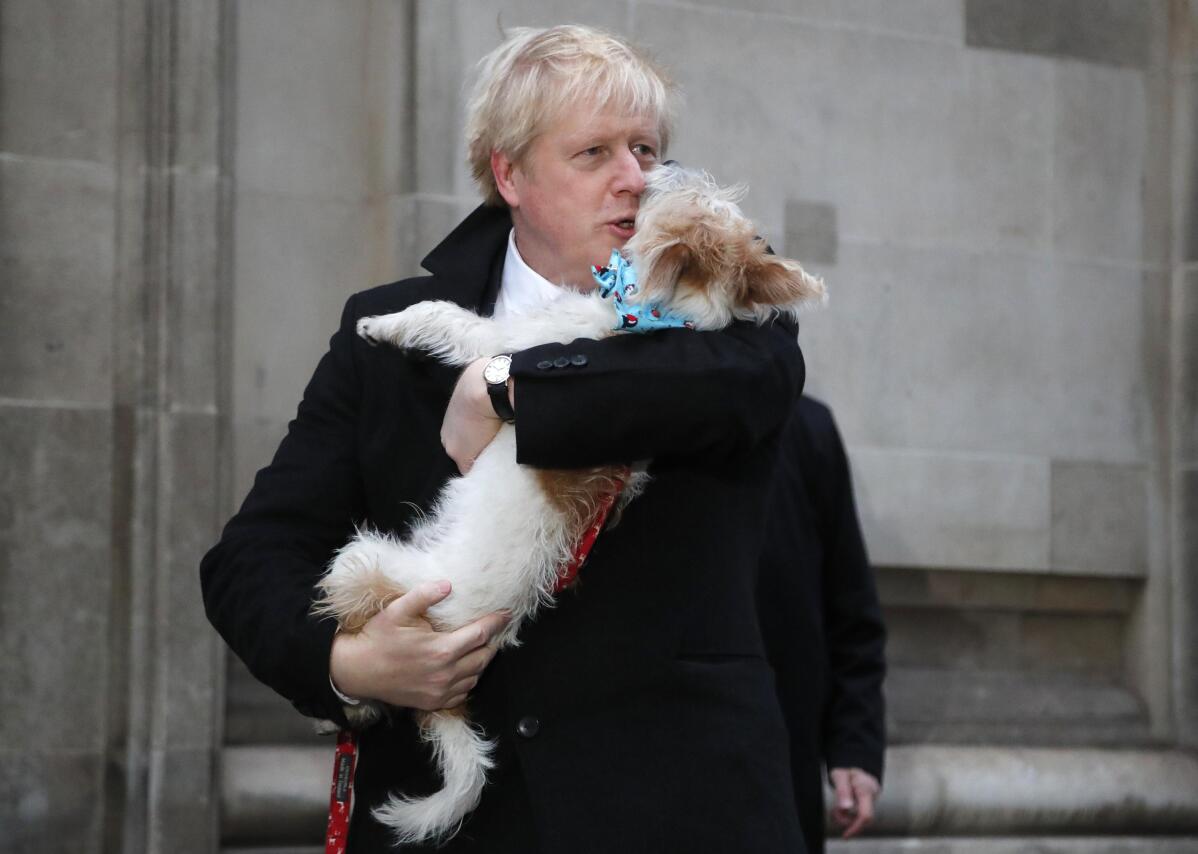 25 of 39

|
FILE - Britain's Prime Minister and Conservative Party leader Boris Johnson holds his dog Dilyn as he leaves after voting in the general election at Methodist Central Hall, Westminster, London, Thursday, Dec. 12, 2019. British media say Prime Minister Boris Johnson has agreed to resign on Thursday, July 7 2022, ending an unprecedented political crisis over his future. (AP Photo/Frank Augstein, File)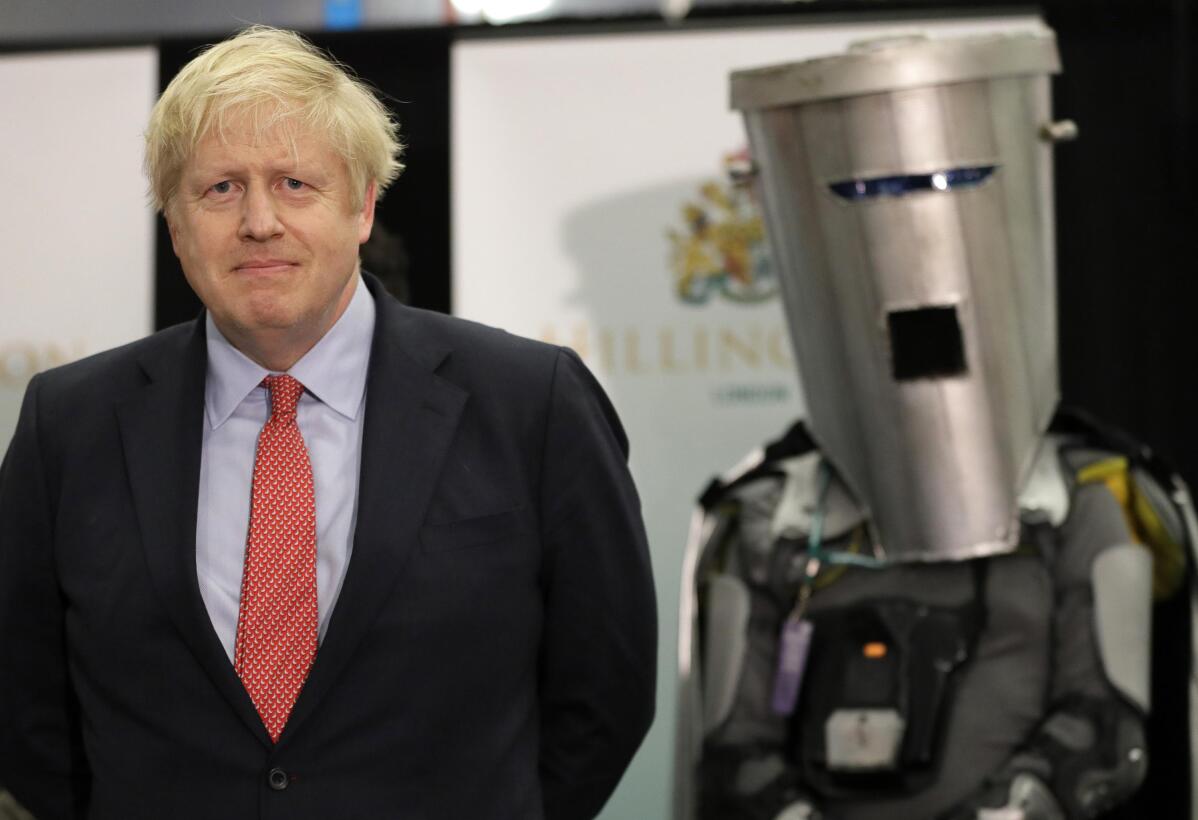 26 of 39

|
FILE - Independent candidate Count Binface stands with Britain's Prime Minister and Conservative Party leader Boris Johnson as they wait for the Uxbridge and South Ruislip constituency count declaration at Brunel University in Uxbridge, London, Friday, Dec. 13, 2019. British media say Prime Minister Boris Johnson has agreed to resign on Thursday, July 7 2022, ending an unprecedented political crisis over his future. (AP Photo/Kirsty Wigglesworth, File)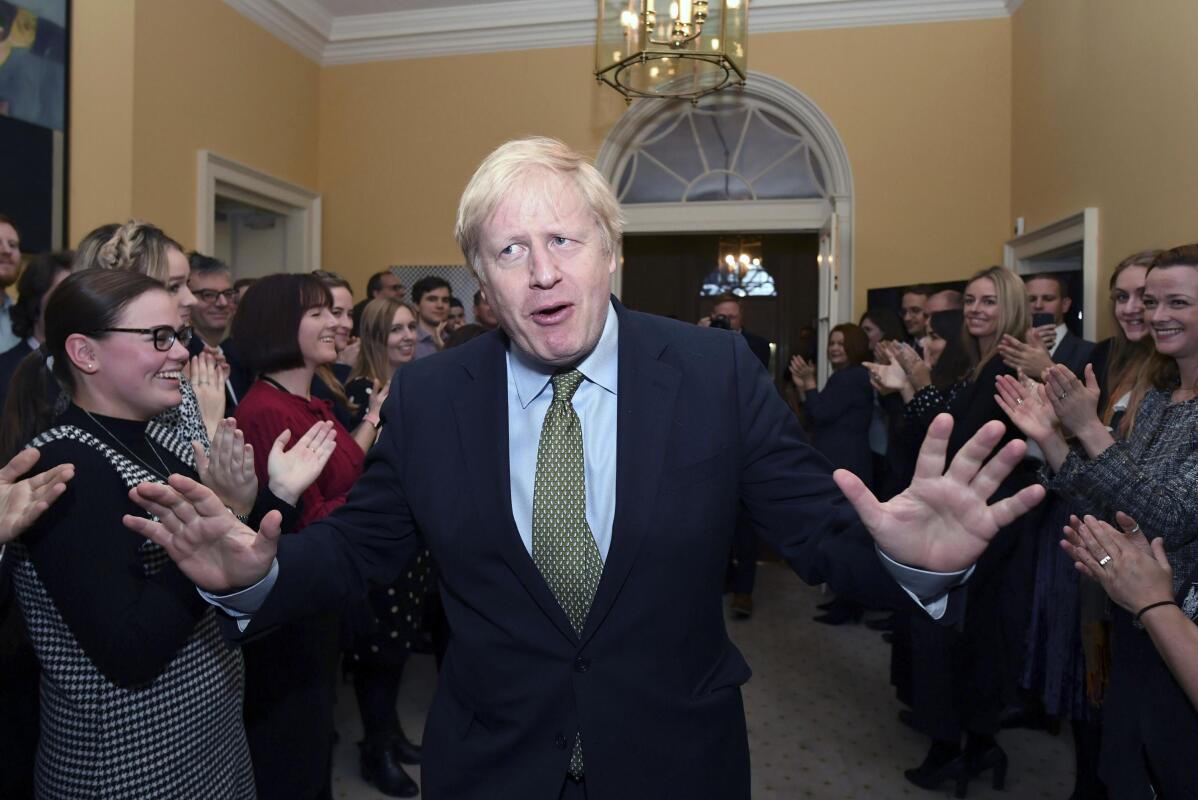 27 of 39

|
FILE - Britain's Prime Minister Boris Johnson is greeted by staff as he returns to 10 Downing Street, London, after meeting Queen Elizabeth II at Buckingham Palace and accepting her invitation to form a new government Friday Dec. 13, 2019. British media say Prime Minister Boris Johnson has agreed to resign on Thursday, July 7 2022, ending an unprecedented political crisis over his future. (Stefan Rousseau/PA via AP, File)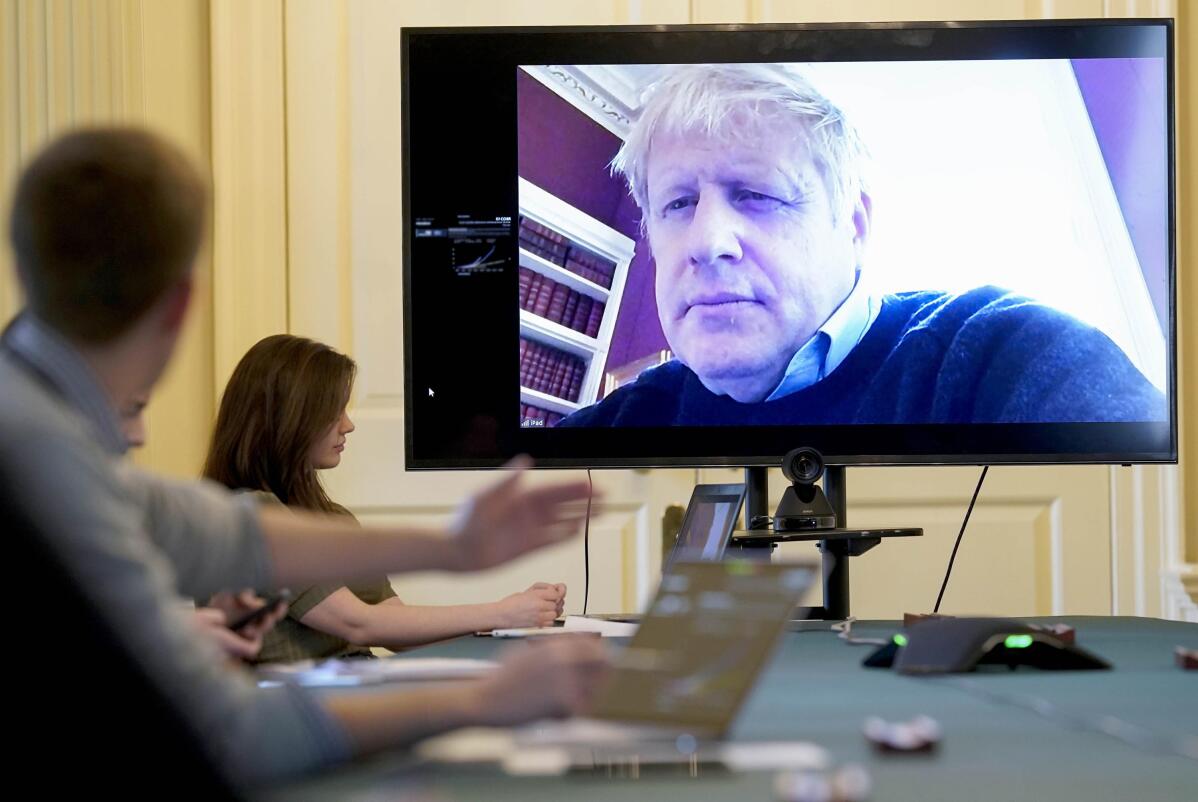 28 of 39

|
FILE - In this Saturday, March 28, 2020 handout photo provided by Number 10 Downing Street, Britain's Prime Minister Boris Johnson chairs the morning Covid-19 Meeting remotely after self isolating after testing positive for the coronavirus, at 10 Downing Street, London. British media say Prime Minister Boris Johnson has agreed to resign on Thursday, July 7 2022, ending an unprecedented political crisis over his future. (Andrew Parsons/10 Downing Street via AP, File)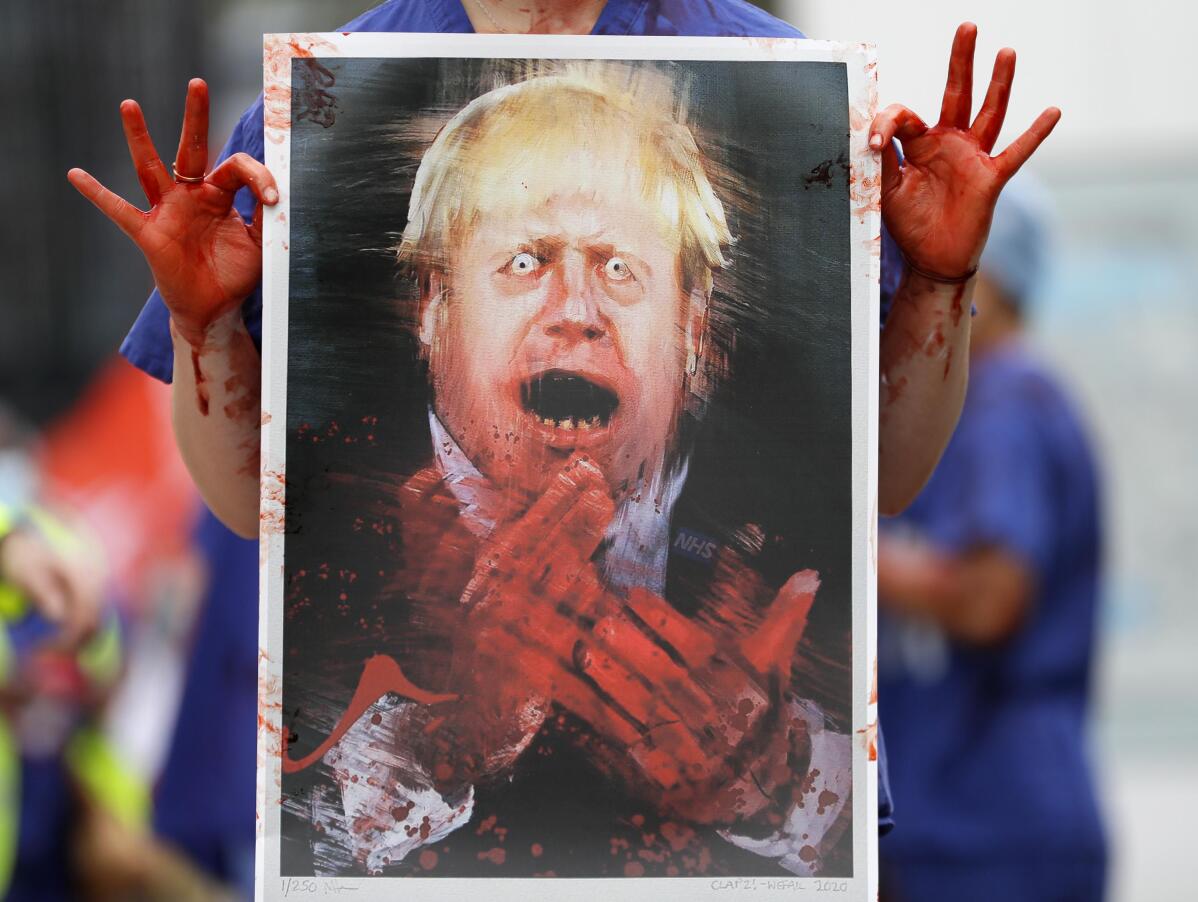 29 of 39

|
FILE - A nurse holds a painting of Prime Minister Boris Johnson clapping with blood on his hands as part of a demonstration of NHS workers at hospitals across London to demand a 15 per cent pay rise by the government in London, Wednesday, Aug. 26, 2020. British media say Prime Minister Boris Johnson has agreed to resign on Thursday, July 7 2022, ending an unprecedented political crisis over his future. (AP Photo/Kirsty Wigglesworth, File)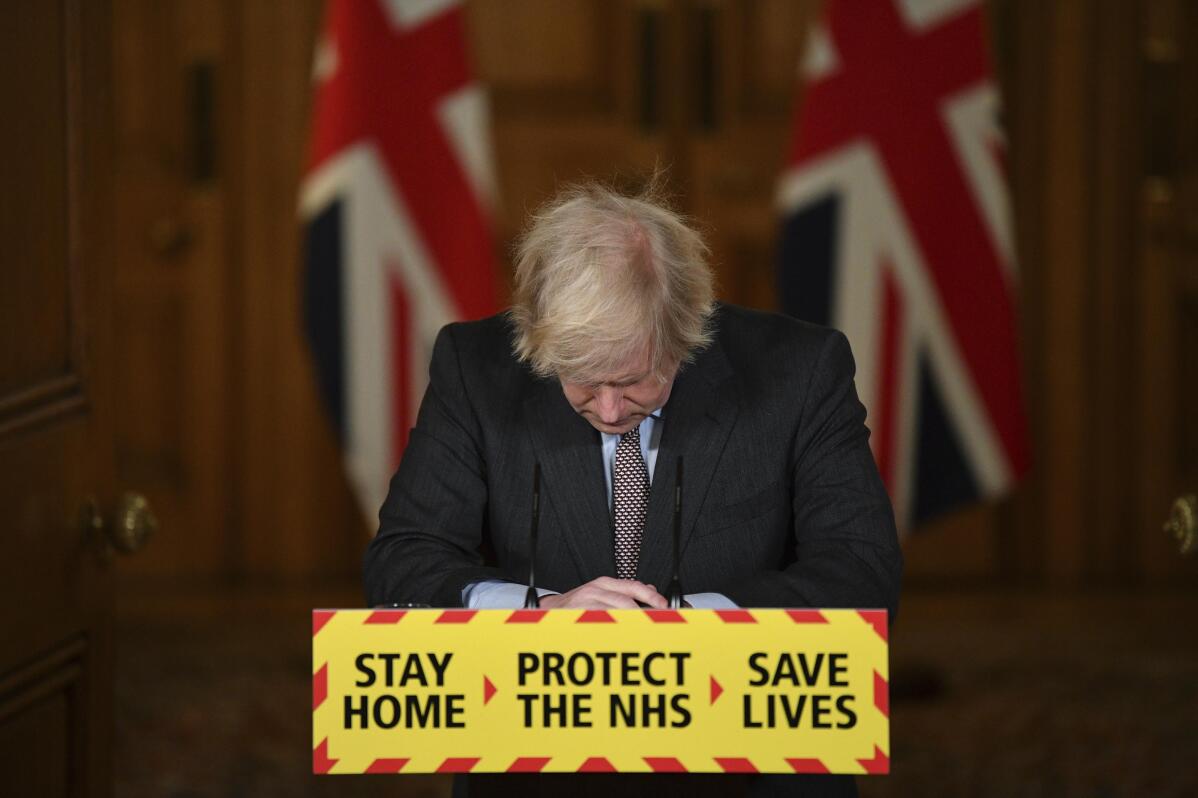 30 of 39

|
FILE - Britain's Prime Minister Boris Johnson reacts while leading a virtual press conference on the Covid-19 pandemic, inside 10 Downing Street in central London Tuesday Jan. 26, 2021. British media say Prime Minister Boris Johnson has agreed to resign on Thursday, July 7 2022, ending an unprecedented political crisis over his future. (Justin Tallis / Pool via AP, File)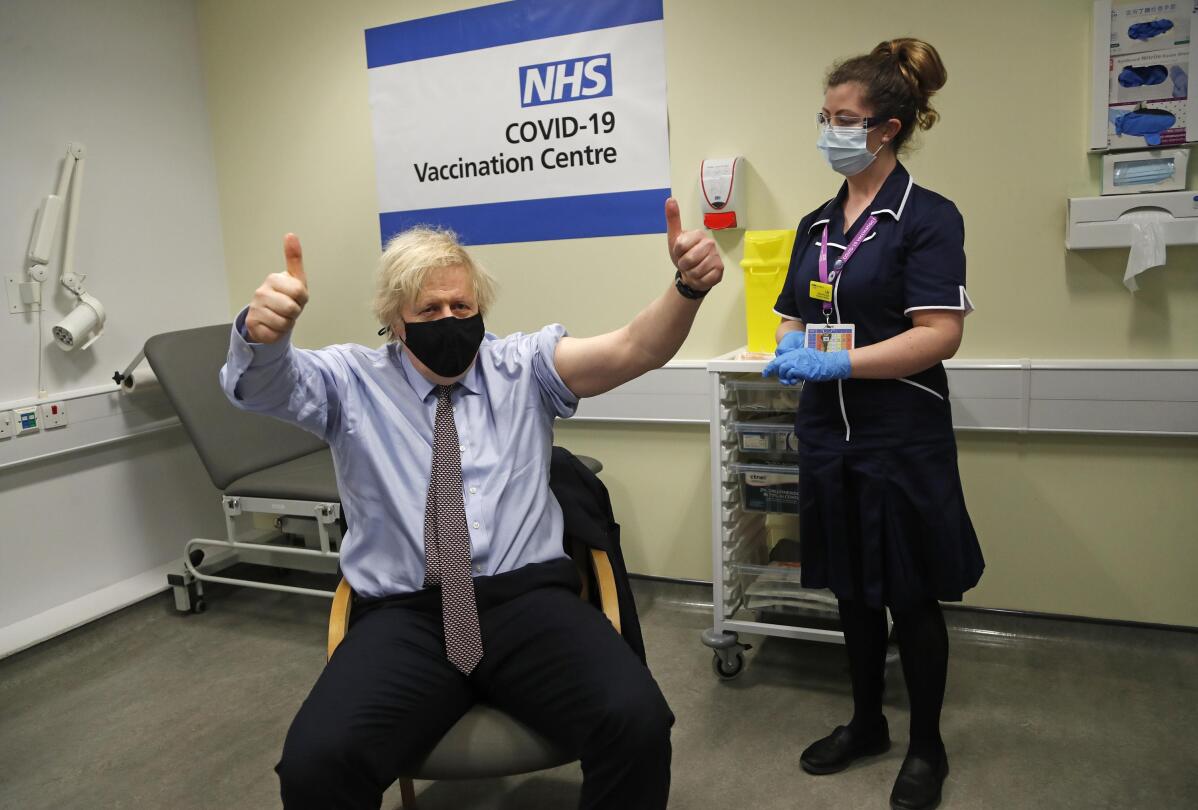 31 of 39

|
FILE - Britain's Prime Minister Boris Johnson gestures after receiving the first dose of the AstraZeneca vaccine administered by nurse and Clinical Pod Lead, Lily Harrington at St.Thomas' Hospital in London, Friday, March 19, 2021. British media say Prime Minister Boris Johnson has agreed to resign on Thursday, July 7 2022, ending an unprecedented political crisis over his future. (AP Photo/Frank Augstein, File)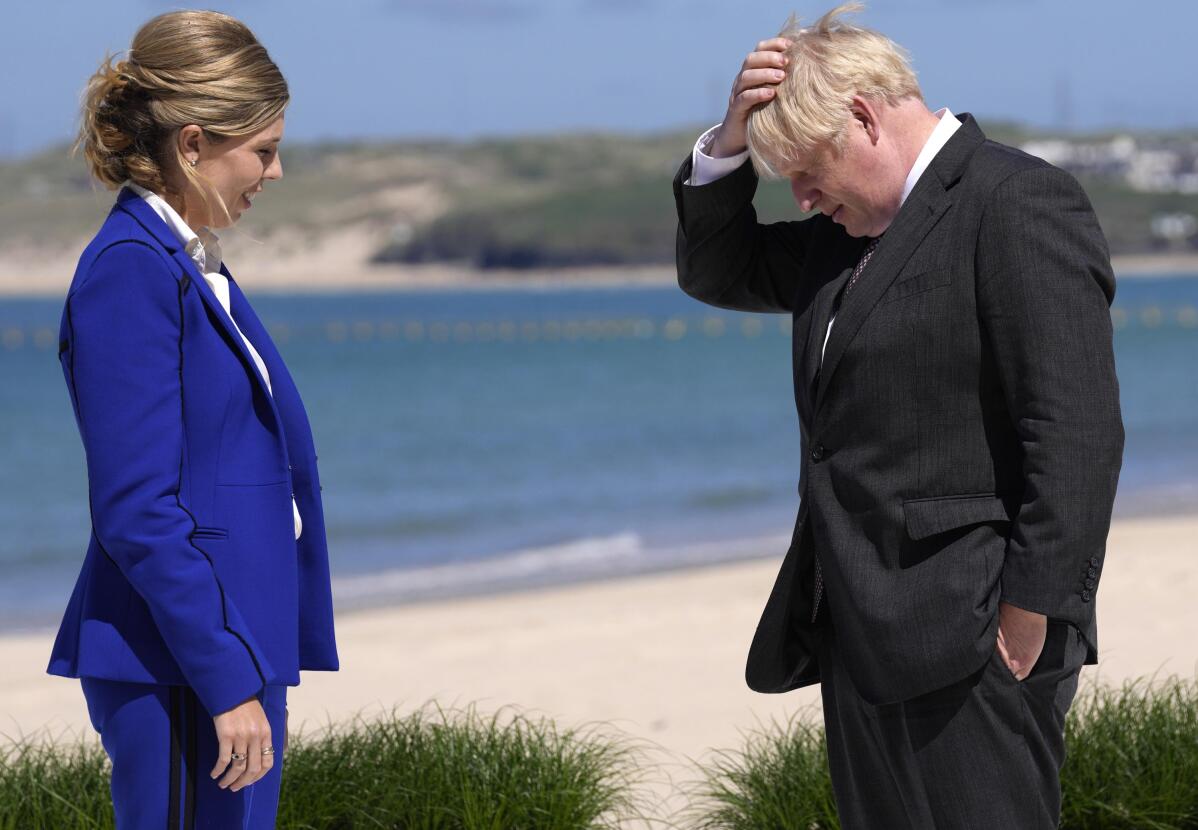 32 of 39

|
FILE - British Prime Minister Boris Johnson speaks with his wife Carrie during arrivals for the G7 meeting at the Carbis Bay Hotel in Carbis Bay, St. Ives, Cornwall, England, Saturday, June 12, 2021. British media say Prime Minister Boris Johnson has agreed to resign on Thursday, July 7 2022, ending an unprecedented political crisis over his future. (AP Photo/Kirsty Wigglesworth, File)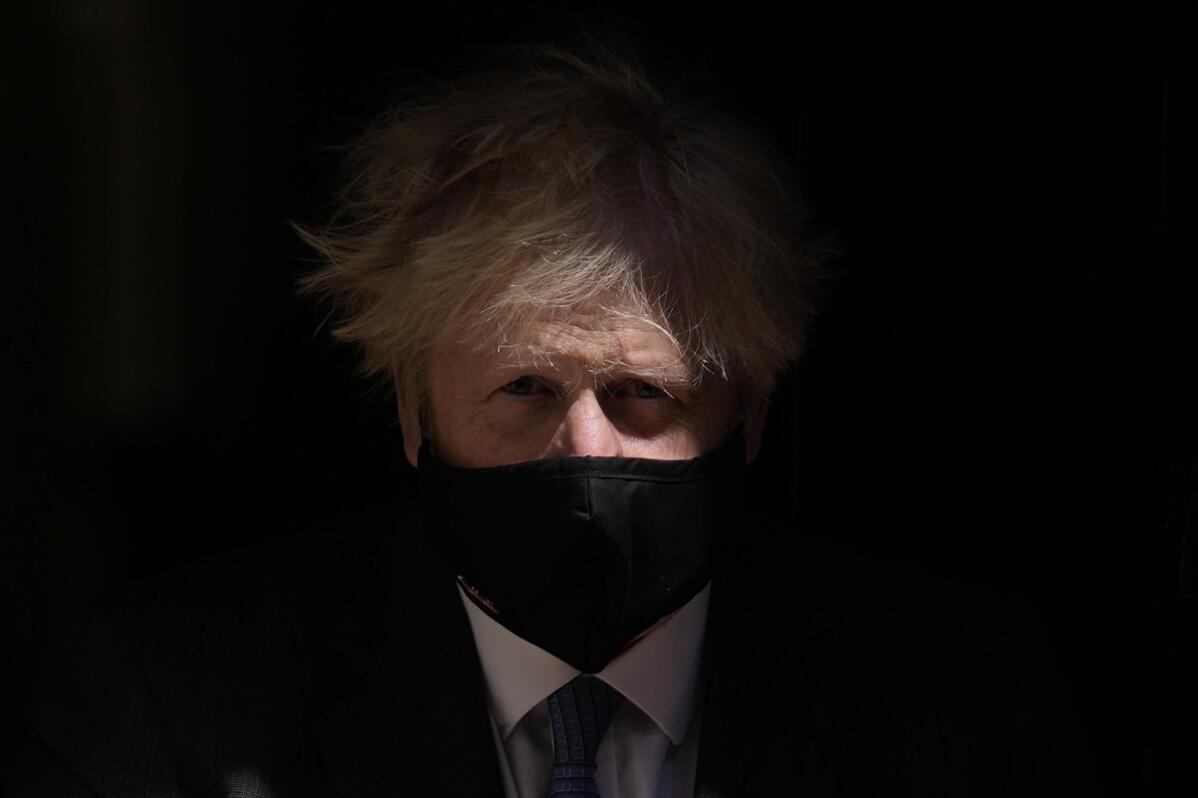 33 of 39

|
FILE - British Prime Minister Boris Johnson leaves 10 Downing Street to attend the weekly Prime Minister's Questions at the Houses of Parliament, in London, Wednesday, June 23, 2021. British media say Prime Minister Boris Johnson has agreed to resign on Thursday, July 7 2022, ending an unprecedented political crisis over his future. (AP Photo/Matt Dunham, File)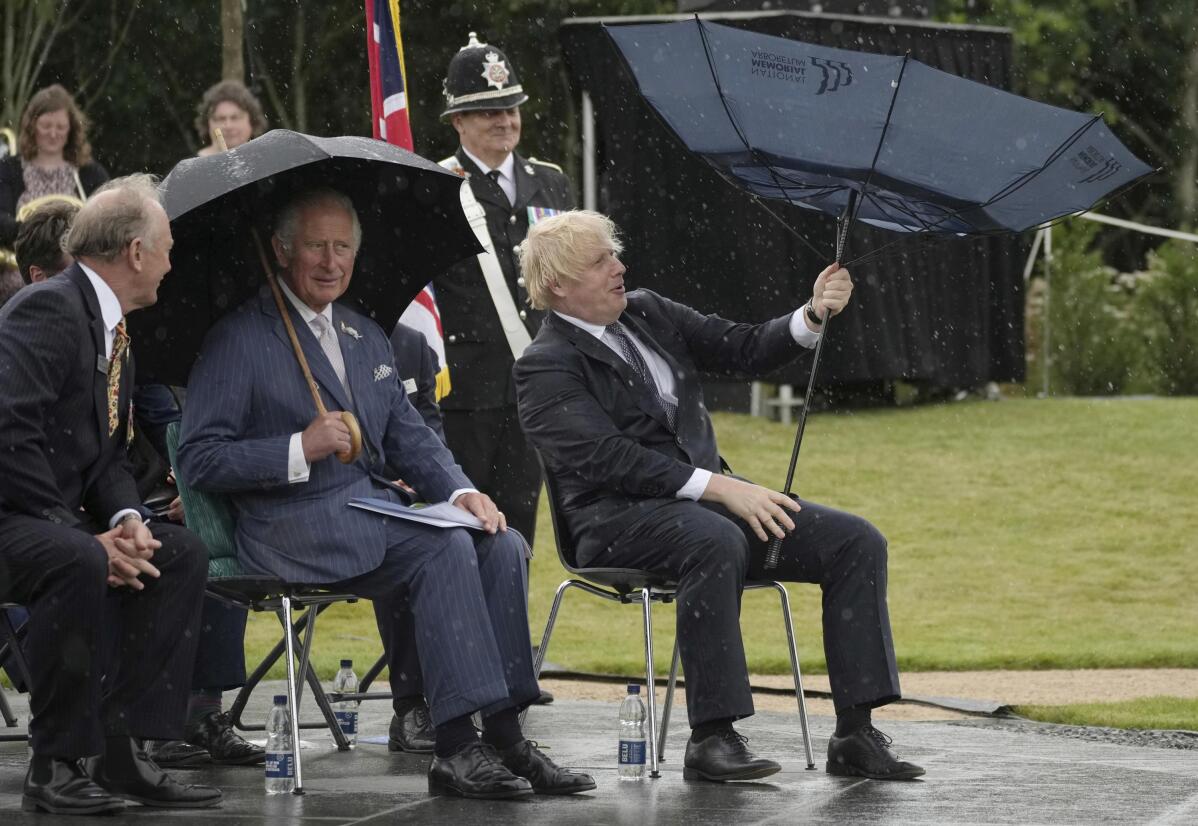 34 of 39

|
FILE - Britain's Prince Charles, centre, and Prime Minister Boris Johnson, right, shelter from rain during the unveiling of the UK Police Memorial at the National Memorial Arboretum at Alrewas, England, Wednesday July 28, 2021. British media say Prime Minister Boris Johnson has agreed to resign on Thursday, July 7 2022, ending an unprecedented political crisis over his future. (Christopher Furlong/Pool via AP, File)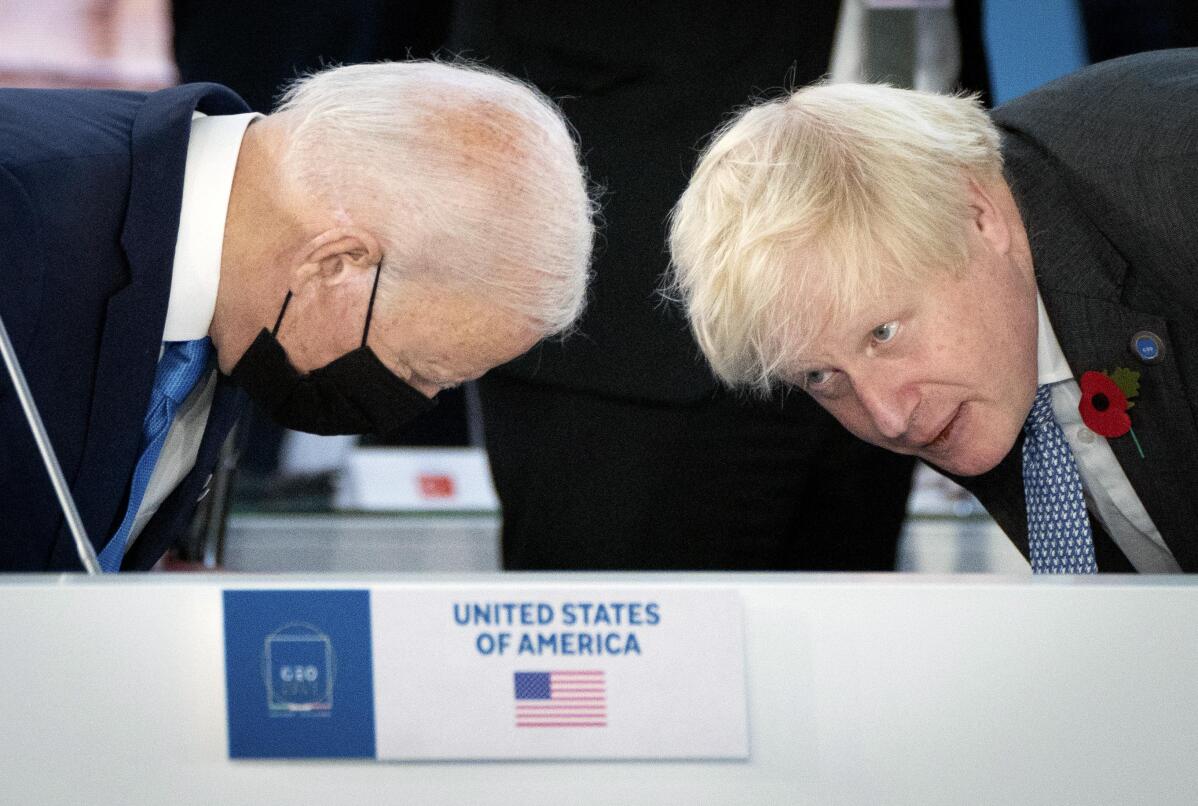 35 of 39

|
FILE - US President Joe Biden, left, and British Prime Minister Boris Johnson attend the opening session of the G20 summit at the La Nuvola conference center, in Rome, Saturday, Oct. 30, 2021. British media say Prime Minister Boris Johnson has agreed to resign on Thursday, July 7 2022, ending an unprecedented political crisis over his future. (Stefan Rousseau/Pool Photo via AP, File)
36 of 39

|
FILE - Britain's Prime Minister Boris Johnson jogs in central London, early Monday, Jan. 24, 2022. British media say Prime Minister Boris Johnson has agreed to resign on Thursday, July 7 2022, ending an unprecedented political crisis over his future. (Aaron Chown/PA via AP, File)
37 of 39

|
FILE - Britain's Prime Minister Boris Johnson, center, poses with Sadhus, or Hindu holy men, in front of the Swaminarayan Akshardham temple, in Gandhinagar, part of his two-day trip to India, Thursday, April 21, 2022. British media say Prime Minister Boris Johnson has agreed to resign on Thursday, July 7 2022, ending an unprecedented political crisis over his future. (Ben Stansall/Pool Photo via AP)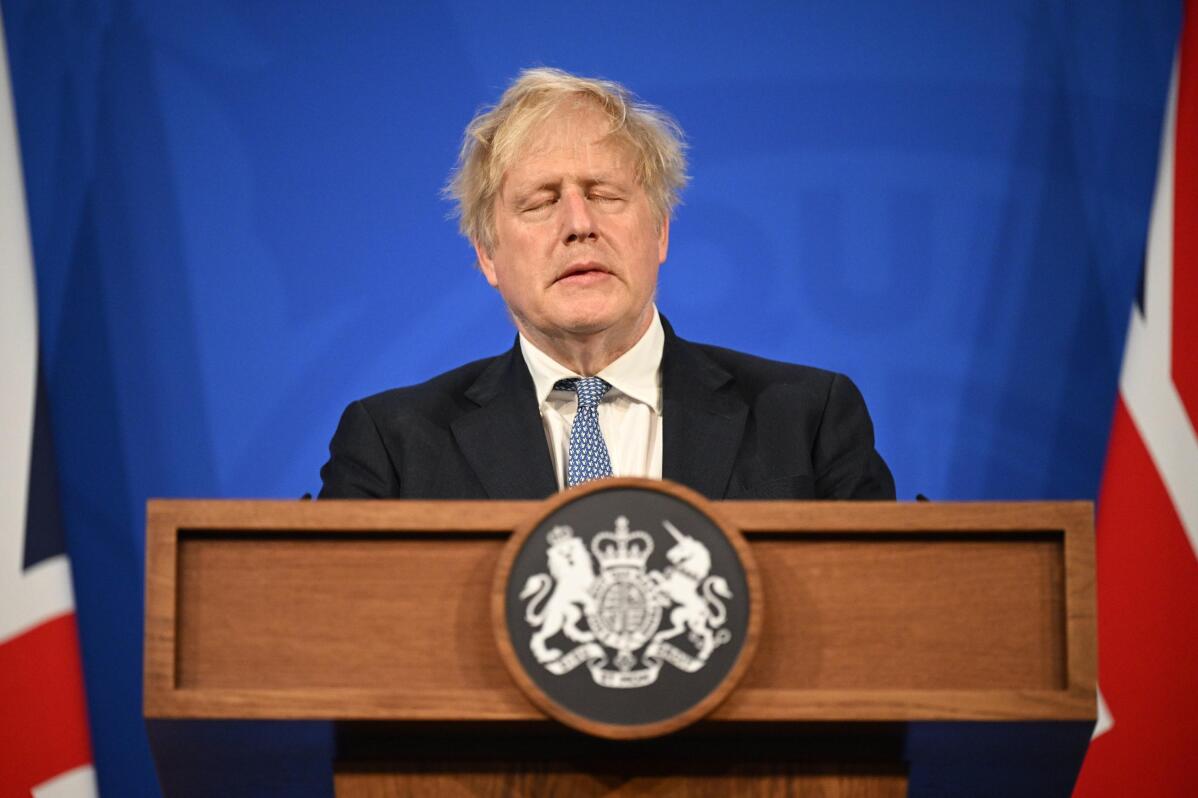 38 of 39

|
FILE - Britain's Prime Minister Boris Johnson speaks during a press conference in Downing Street, London, Wednesday, May 25 2022, following the publication of Sue Gray's report into Downing Street parties in Whitehall. British media say Prime Minister Boris Johnson has agreed to resign on Thursday, July 7 2022, ending an unprecedented political crisis over his future. (Leon Neal/Pool Photo via AP, File)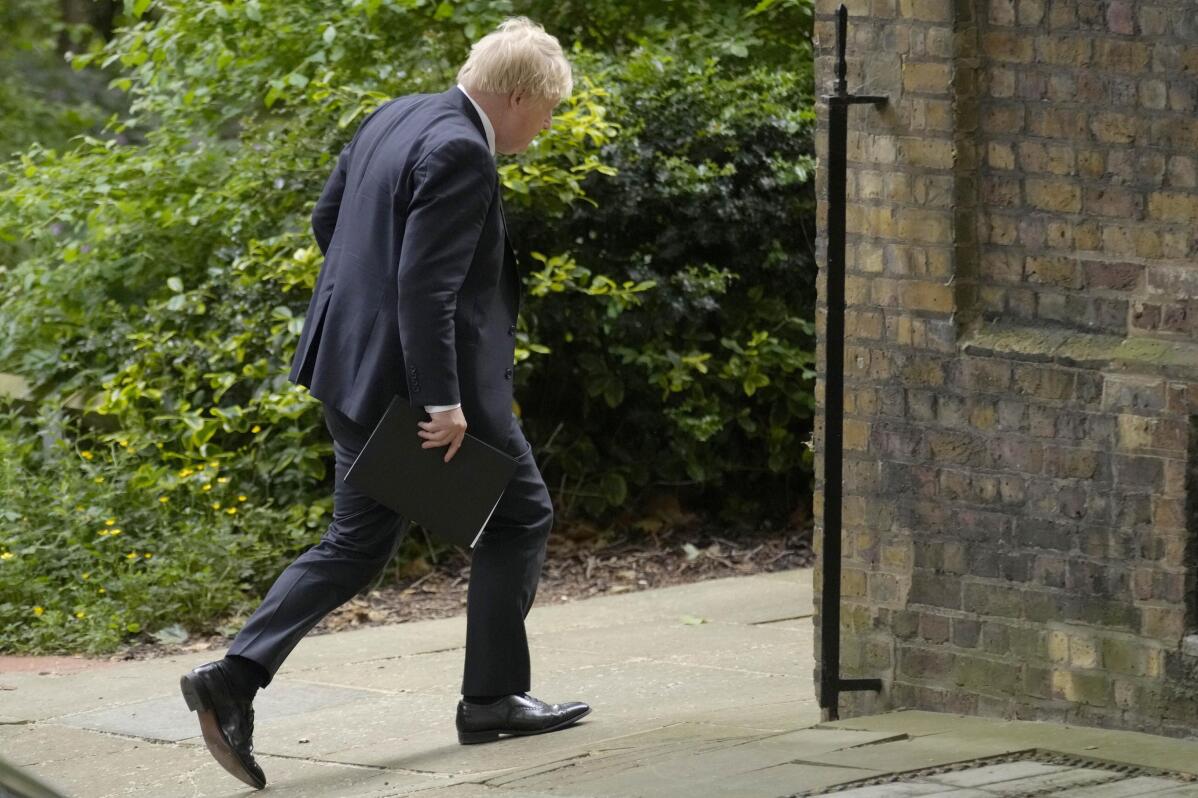 39 of 39

|
FILE - Britain's Prime Minister Bortis Johnson walks in Downing Street to a press conference in London, Wednesday, May 25, 2022. British media say Prime Minister Boris Johnson has agreed to resign on Thursday, July 7 2022, ending an unprecedented political crisis over his future. (AP Photo/Kirsty Wigglesworth, File)
Boris Johnson reached the top but was felled by his flaws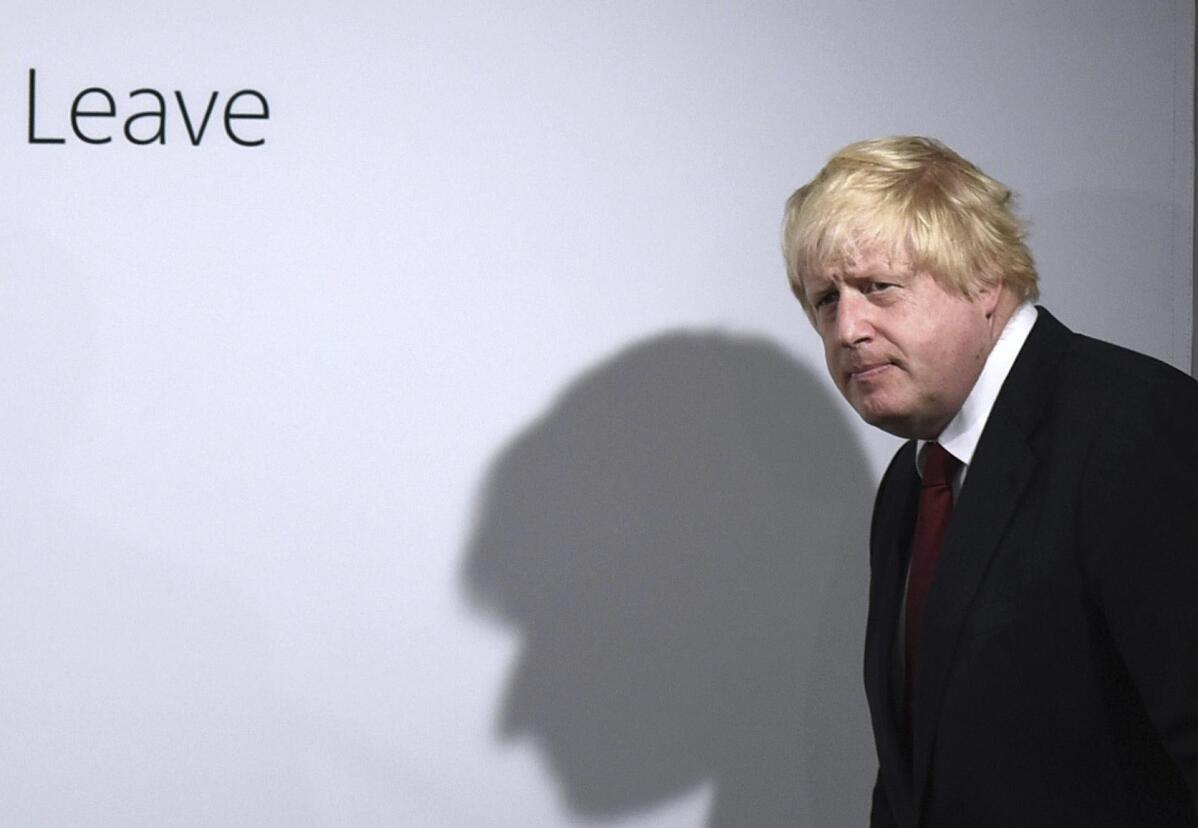 1 of 39

|
FILE - Vote Leave campaigner Boris Johnson arrives for a press conference at Vote Leave headquarters in London Friday, June 24, 2016. British media say Prime Minister Boris Johnson has agreed to resign on Thursday, July 7 2022, ending an unprecedented political crisis over his future. (Mary Turner/Pool via AP, File)
1 of 39
FILE - Vote Leave campaigner Boris Johnson arrives for a press conference at Vote Leave headquarters in London Friday, June 24, 2016. British media say Prime Minister Boris Johnson has agreed to resign on Thursday, July 7 2022, ending an unprecedented political crisis over his future. (Mary Turner/Pool via AP, File)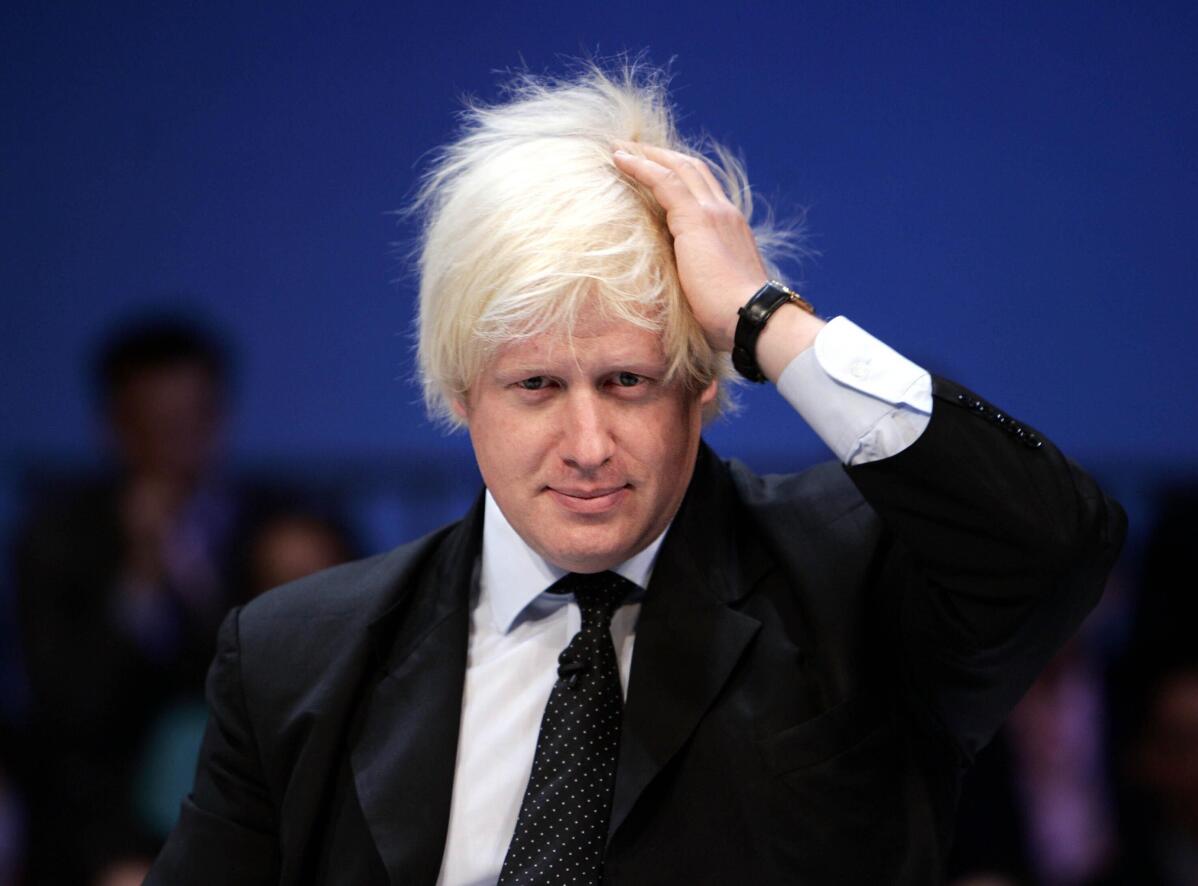 2 of 39

|
FILE - Boris Johnson, Britain's Conservative party spokesman for Higher Education, reacts as he listens to a delegate's question during a debate at the party's conference in Bournemouth, south England, Wednesday Oct. 4, 2006. British media say Prime Minister Boris Johnson has agreed to resign on Thursday, July 7 2022, ending an unprecedented political crisis over his future. (AP Photo/Lefteris Pitarakis, file)
2 of 39
FILE - Boris Johnson, Britain's Conservative party spokesman for Higher Education, reacts as he listens to a delegate's question during a debate at the party's conference in Bournemouth, south England, Wednesday Oct. 4, 2006. British media say Prime Minister Boris Johnson has agreed to resign on Thursday, July 7 2022, ending an unprecedented political crisis over his future. (AP Photo/Lefteris Pitarakis, file)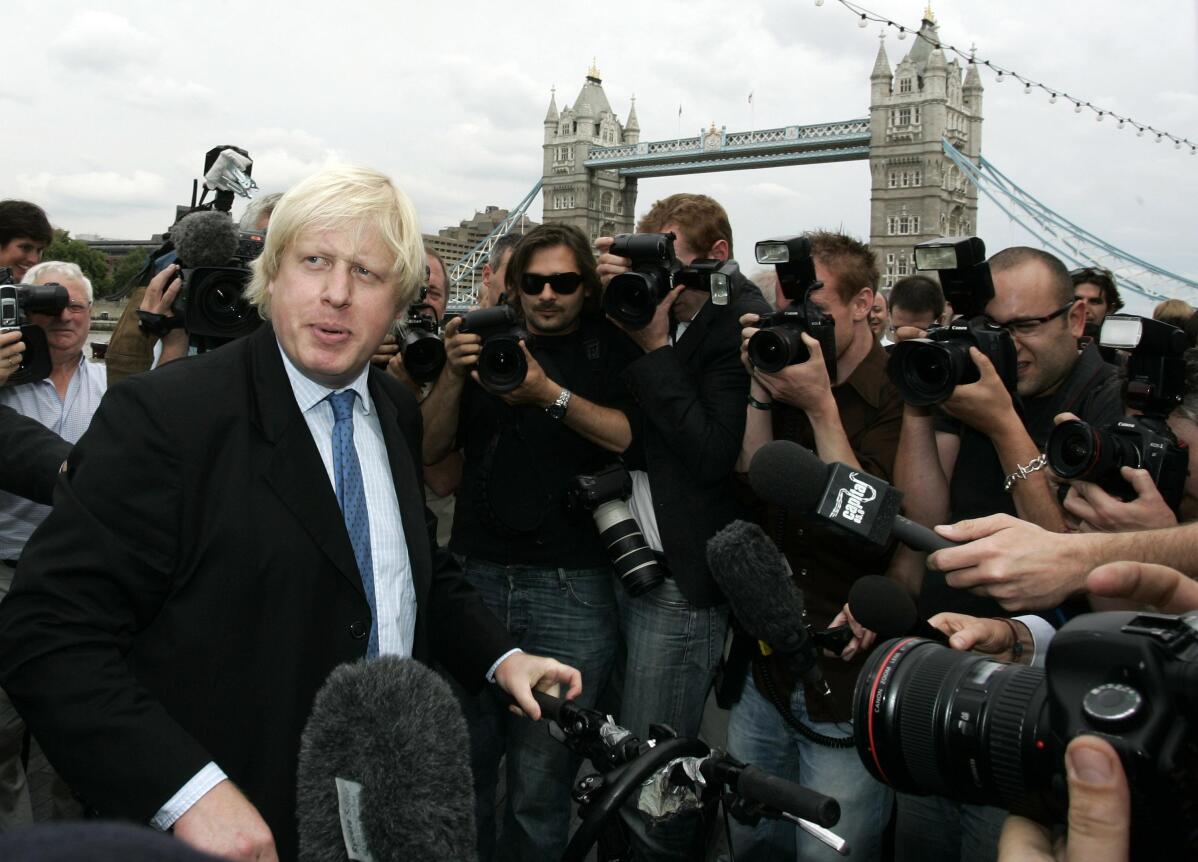 3 of 39

|
FILE - Britain Conservative Party MP, Boris Johnson, left, speaks to the media to launch his campaign as a candidate to be the Mayor of London, outside City Hall in central London, Monday, July 16, 2007. British media say Prime Minister Boris Johnson has agreed to resign on Thursday, July 7 2022, ending an unprecedented political crisis over his future. (AP Photo/Sang Tan, File)
3 of 39
FILE - Britain Conservative Party MP, Boris Johnson, left, speaks to the media to launch his campaign as a candidate to be the Mayor of London, outside City Hall in central London, Monday, July 16, 2007. British media say Prime Minister Boris Johnson has agreed to resign on Thursday, July 7 2022, ending an unprecedented political crisis over his future. (AP Photo/Sang Tan, File)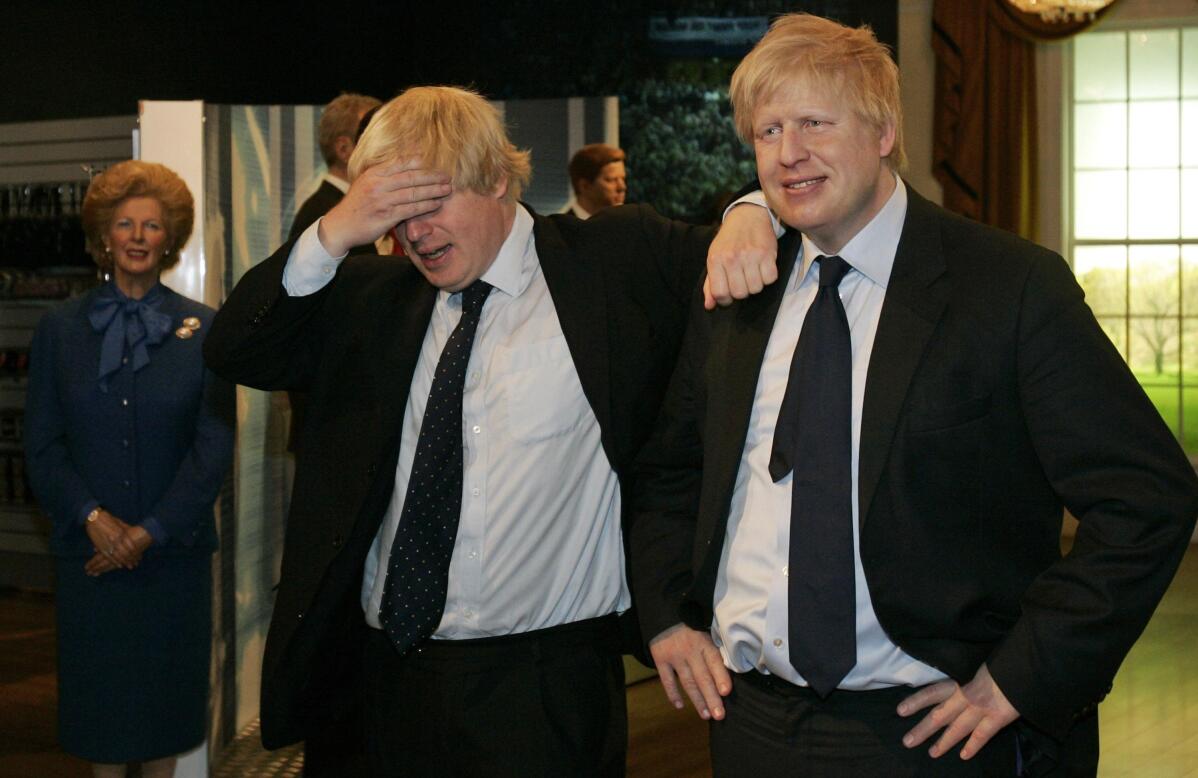 4 of 39

|
FILE - Mayor of London Boris Johnson, left, poses with a wax figure of himself at Madame Tussauds wax museum in London Tuesday, May 5, 2009, after being introduced to his new wax figure. British media say Prime Minister Boris Johnson has agreed to resign on Thursday, July 7 2022, ending an unprecedented political crisis over his future. (AP Photo/Sang Tan, File)
4 of 39
FILE - Mayor of London Boris Johnson, left, poses with a wax figure of himself at Madame Tussauds wax museum in London Tuesday, May 5, 2009, after being introduced to his new wax figure. British media say Prime Minister Boris Johnson has agreed to resign on Thursday, July 7 2022, ending an unprecedented political crisis over his future. (AP Photo/Sang Tan, File)
5 of 39

|
FILE - Boris Johnson, Mayor of London waves to the media as he helps launch a new cycle hire scheme in London Friday, July 30, 2010. British media say Prime Minister Boris Johnson has agreed to resign on Thursday, July 7 2022, ending an unprecedented political crisis over his future. (AP Photo/Alastair Grant, File)
5 of 39
FILE - Boris Johnson, Mayor of London waves to the media as he helps launch a new cycle hire scheme in London Friday, July 30, 2010. British media say Prime Minister Boris Johnson has agreed to resign on Thursday, July 7 2022, ending an unprecedented political crisis over his future. (AP Photo/Alastair Grant, File)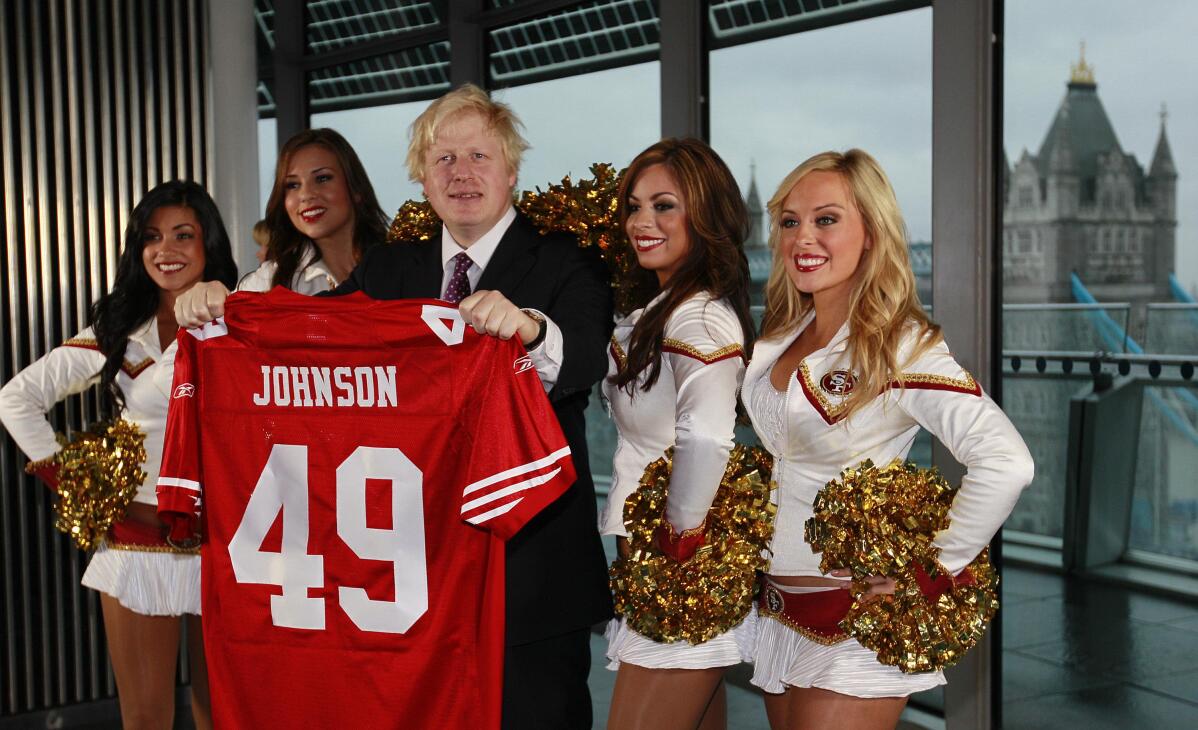 6 of 39

|
FILE - Boris Johnson, then Mayor of London center, and four of the 49ers cheerleaders Deanna Ortega, left, Morgan McLeod, Alexis Kofoed and Lauren Riccaboni, right, pose for the media as the Mayor holds a team shirt with his name on at City Hall in London Tuesday, Oct., 26, 2010. British media say Prime Minister Boris Johnson has agreed to resign on Thursday, July 7 2022, ending an unprecedented political crisis over his future. (AP Photo/Alastair Grant, File)
6 of 39
FILE - Boris Johnson, then Mayor of London center, and four of the 49ers cheerleaders Deanna Ortega, left, Morgan McLeod, Alexis Kofoed and Lauren Riccaboni, right, pose for the media as the Mayor holds a team shirt with his name on at City Hall in London Tuesday, Oct., 26, 2010. British media say Prime Minister Boris Johnson has agreed to resign on Thursday, July 7 2022, ending an unprecedented political crisis over his future. (AP Photo/Alastair Grant, File)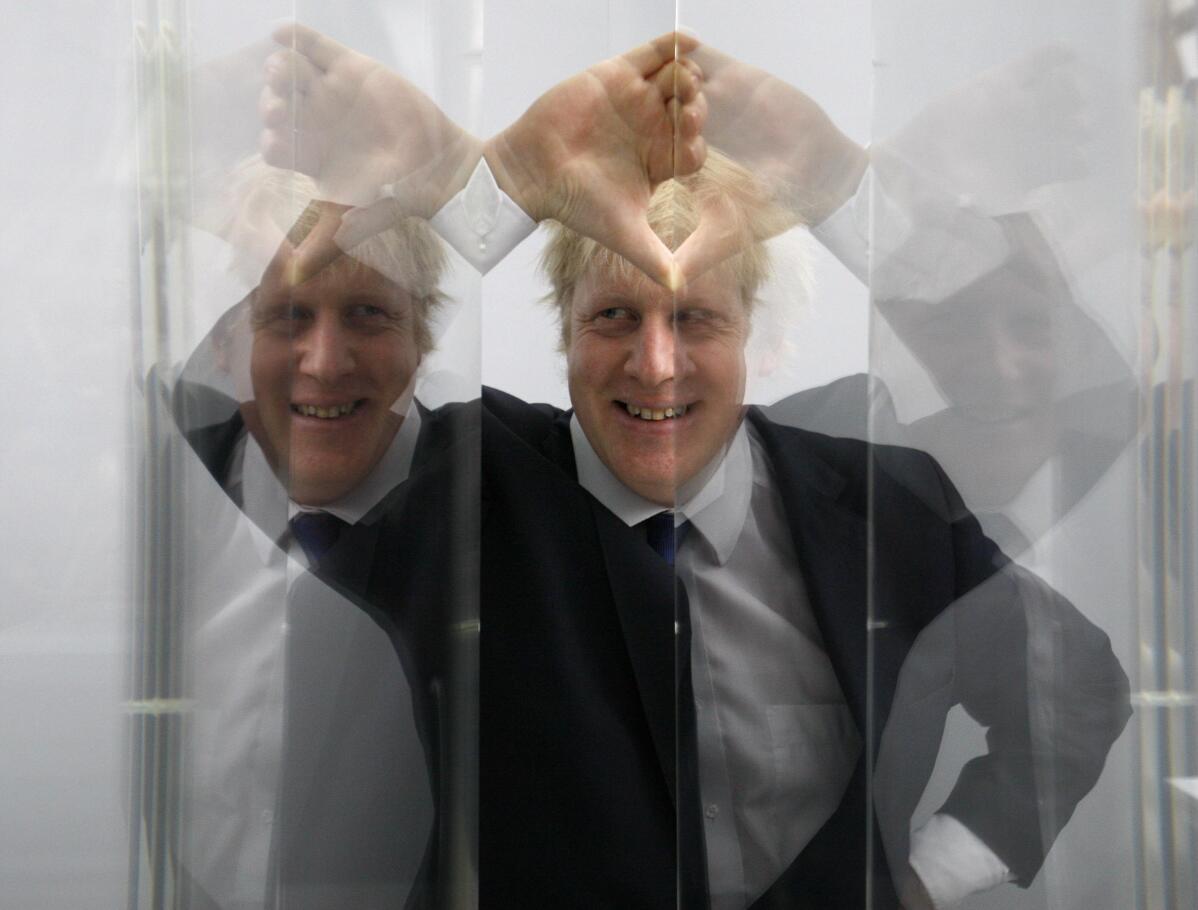 7 of 39

|
FILE - Boris Johnson, then Mayor of London in seen looking through perspex as models of the next two commissions that will appear on the fourth plinth in Trafalgar Square in London, Friday, Jan. 14, 2011. British media say Prime Minister Boris Johnson has agreed to resign on Thursday, July 7 2022, ending an unprecedented political crisis over his future. (AP Photo/Kirsty Wigglesworth, File)
7 of 39
FILE - Boris Johnson, then Mayor of London in seen looking through perspex as models of the next two commissions that will appear on the fourth plinth in Trafalgar Square in London, Friday, Jan. 14, 2011. British media say Prime Minister Boris Johnson has agreed to resign on Thursday, July 7 2022, ending an unprecedented political crisis over his future. (AP Photo/Kirsty Wigglesworth, File)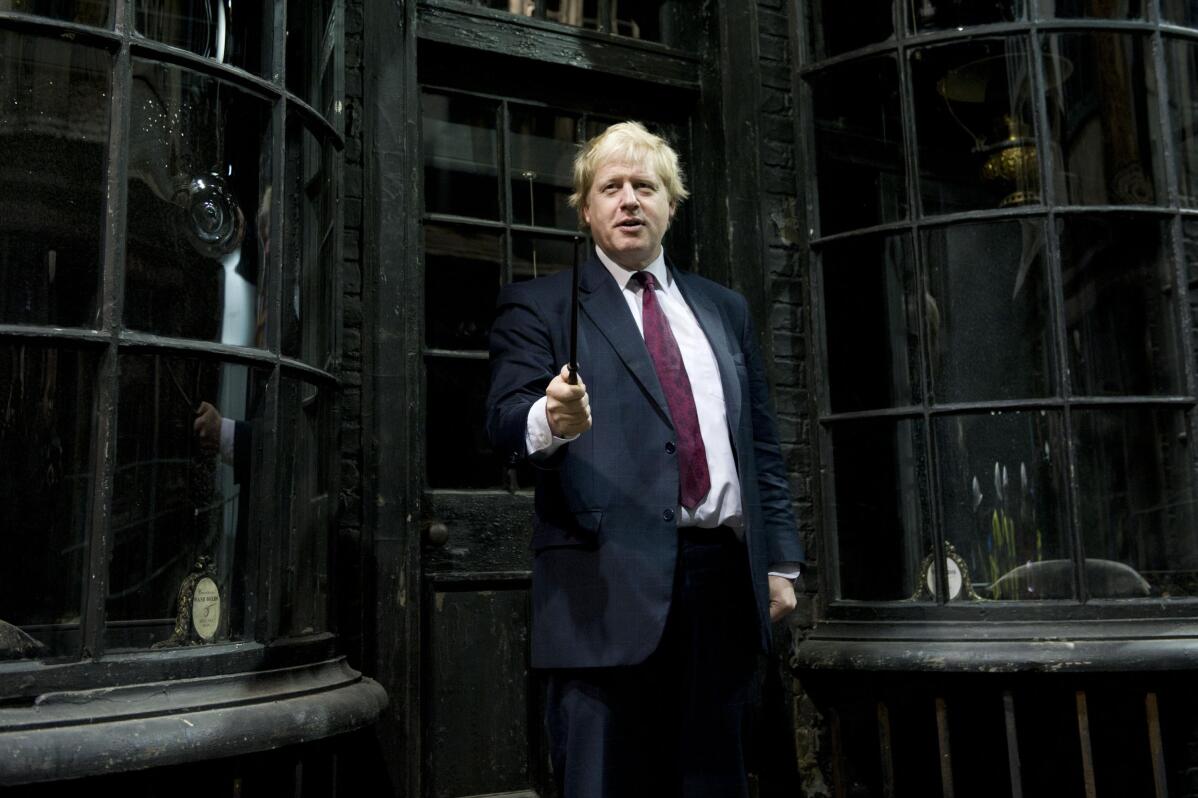 8 of 39

|
FILE - London Mayor Boris Johnson, gestures with a wand whilst attending a Harry Potter studio tour of Diagon Alley, at the Warner Brother Studios, London, Monday, Dec. 19, 2011. British media say Prime Minister Boris Johnson has agreed to resign on Thursday, July 7 2022, ending an unprecedented political crisis over his future. (AP Photo/Jonathan Short, File)
8 of 39
FILE - London Mayor Boris Johnson, gestures with a wand whilst attending a Harry Potter studio tour of Diagon Alley, at the Warner Brother Studios, London, Monday, Dec. 19, 2011. British media say Prime Minister Boris Johnson has agreed to resign on Thursday, July 7 2022, ending an unprecedented political crisis over his future. (AP Photo/Jonathan Short, File)
9 of 39

|
FILE - Madame Tussauds London mark Boris Johnson's victory in the London mayoral election by giving him a post-party makeover Friday, May 4, 2012. British media say Prime Minister Boris Johnson has agreed to resign on Thursday, July 7 2022, ending an unprecedented political crisis over his future. (AP Photo/Jonathan Short, File)
9 of 39
FILE - Madame Tussauds London mark Boris Johnson's victory in the London mayoral election by giving him a post-party makeover Friday, May 4, 2012. British media say Prime Minister Boris Johnson has agreed to resign on Thursday, July 7 2022, ending an unprecedented political crisis over his future. (AP Photo/Jonathan Short, File)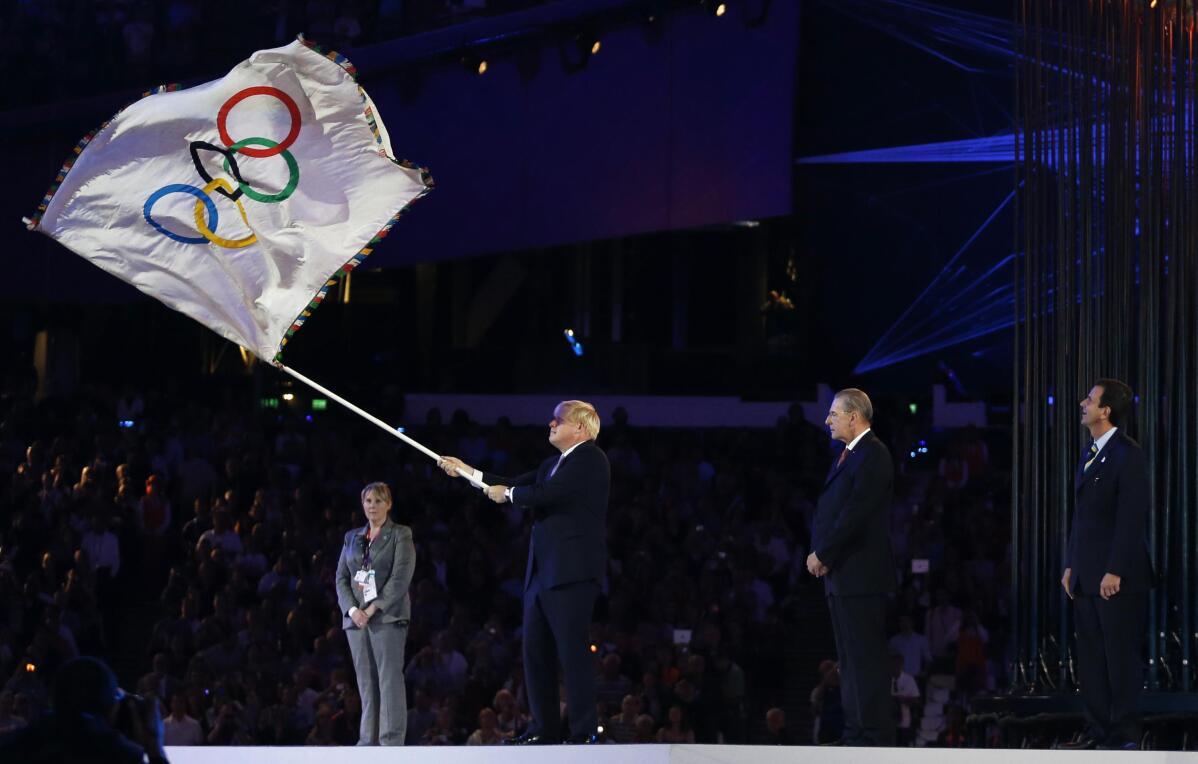 10 of 39

|
FILE - London mayor Boris Johnson, second from left, waves the Olympic flag as President of the International Olympic Committee Jacques Rogge, center, and Eduardo Paes, mayor of Rio de Janeiro look on during the Closing Ceremony at the 2012 Summer Olympics, Sunday, Aug. 12, 2012, in London. British media say Prime Minister Boris Johnson has agreed to resign on Thursday, July 7 2022, ending an unprecedented political crisis over his future. (AP Photo/Matt Dunham, File)
10 of 39
FILE - London mayor Boris Johnson, second from left, waves the Olympic flag as President of the International Olympic Committee Jacques Rogge, center, and Eduardo Paes, mayor of Rio de Janeiro look on during the Closing Ceremony at the 2012 Summer Olympics, Sunday, Aug. 12, 2012, in London. British media say Prime Minister Boris Johnson has agreed to resign on Thursday, July 7 2022, ending an unprecedented political crisis over his future. (AP Photo/Matt Dunham, File)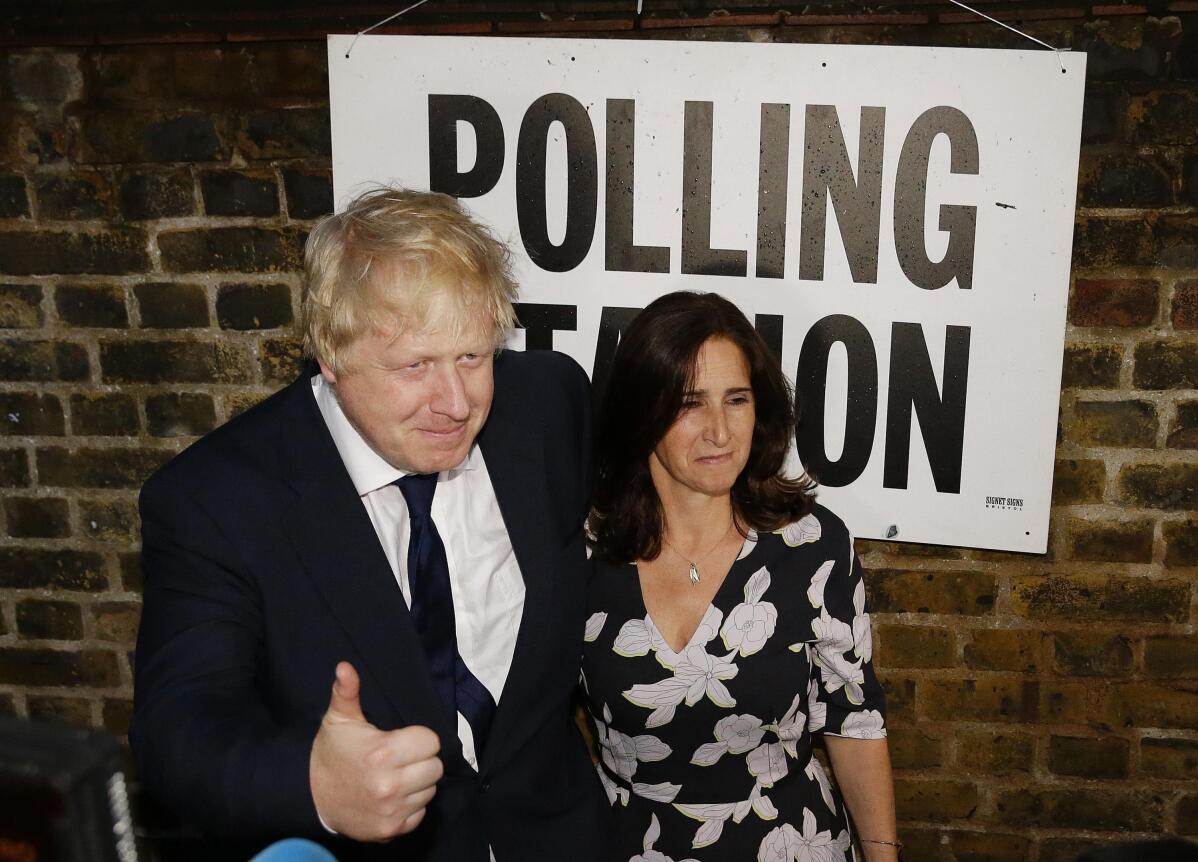 11 of 39

|
FILE - British MP Boris Johnson and his wife Marina are photographed as they leave after voting in the EU referendum in London, Thursday, June 23, 2016. British media say Prime Minister Boris Johnson has agreed to resign on Thursday, July 7 2022, ending an unprecedented political crisis over his future. (AP Photo/Matt Dunham, File)
11 of 39
FILE - British MP Boris Johnson and his wife Marina are photographed as they leave after voting in the EU referendum in London, Thursday, June 23, 2016. British media say Prime Minister Boris Johnson has agreed to resign on Thursday, July 7 2022, ending an unprecedented political crisis over his future. (AP Photo/Matt Dunham, File)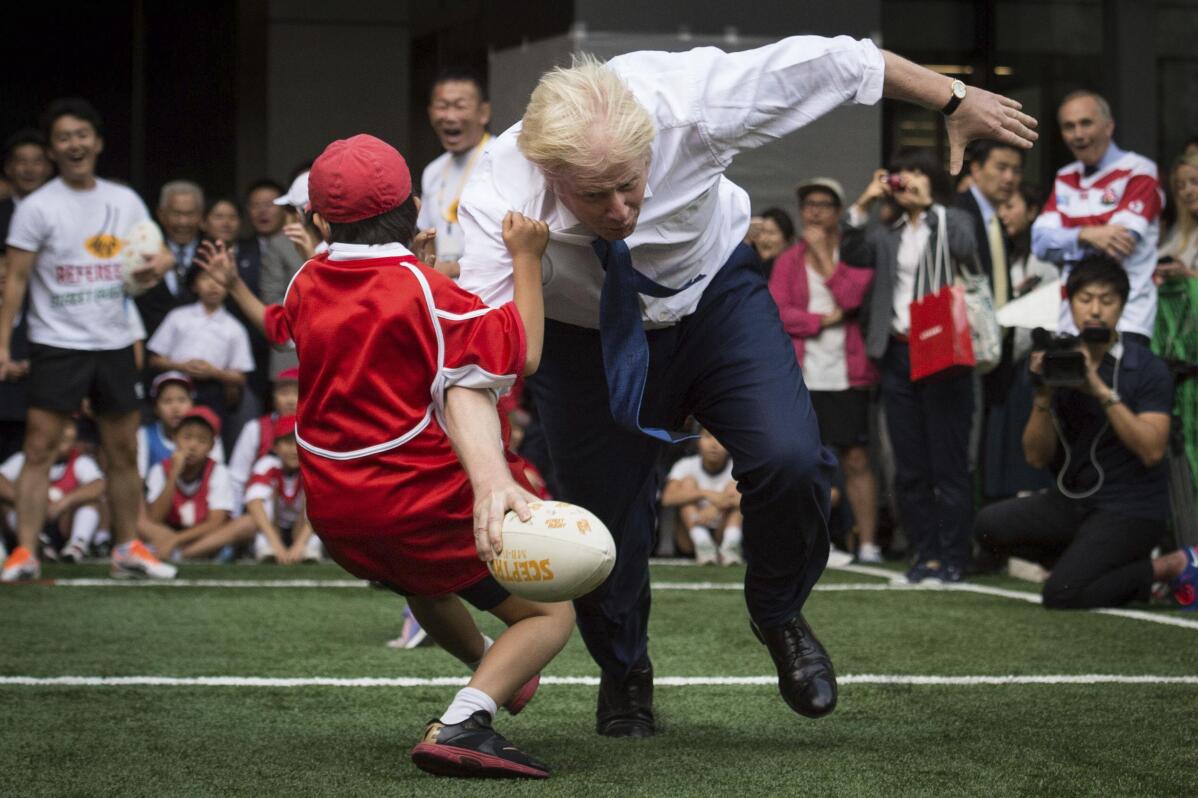 12 of 39

|
FILE - Boris Johnson takes part in a Street Rugby tournament in a Tokyo street Oct. 15, 2015. British media say Prime Minister Boris Johnson has agreed to resign on Thursday, July 7 2022, ending an unprecedented political crisis over his future. (Stefan Rousseau/PA via AP, File)
12 of 39
FILE - Boris Johnson takes part in a Street Rugby tournament in a Tokyo street Oct. 15, 2015. British media say Prime Minister Boris Johnson has agreed to resign on Thursday, July 7 2022, ending an unprecedented political crisis over his future. (Stefan Rousseau/PA via AP, File)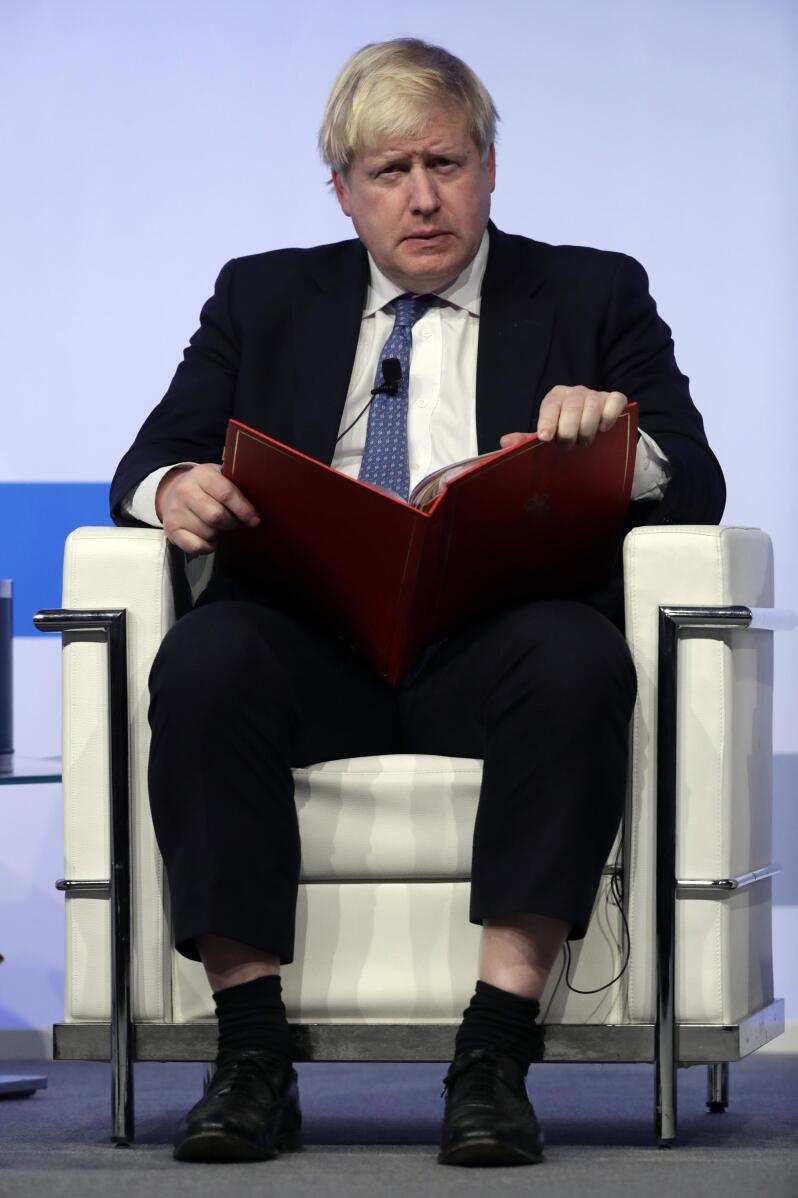 13 of 39

|
FILE - British Foreign Secretary Boris Johnson attends a Mediterranean Dialogues Summit in Rome Thursday, Dec. 1, 2016. British media say Prime Minister Boris Johnson has agreed to resign on Thursday, July 7 2022, ending an unprecedented political crisis over his future. (AP Photo/Gregorio Borgia, File)
13 of 39
FILE - British Foreign Secretary Boris Johnson attends a Mediterranean Dialogues Summit in Rome Thursday, Dec. 1, 2016. British media say Prime Minister Boris Johnson has agreed to resign on Thursday, July 7 2022, ending an unprecedented political crisis over his future. (AP Photo/Gregorio Borgia, File)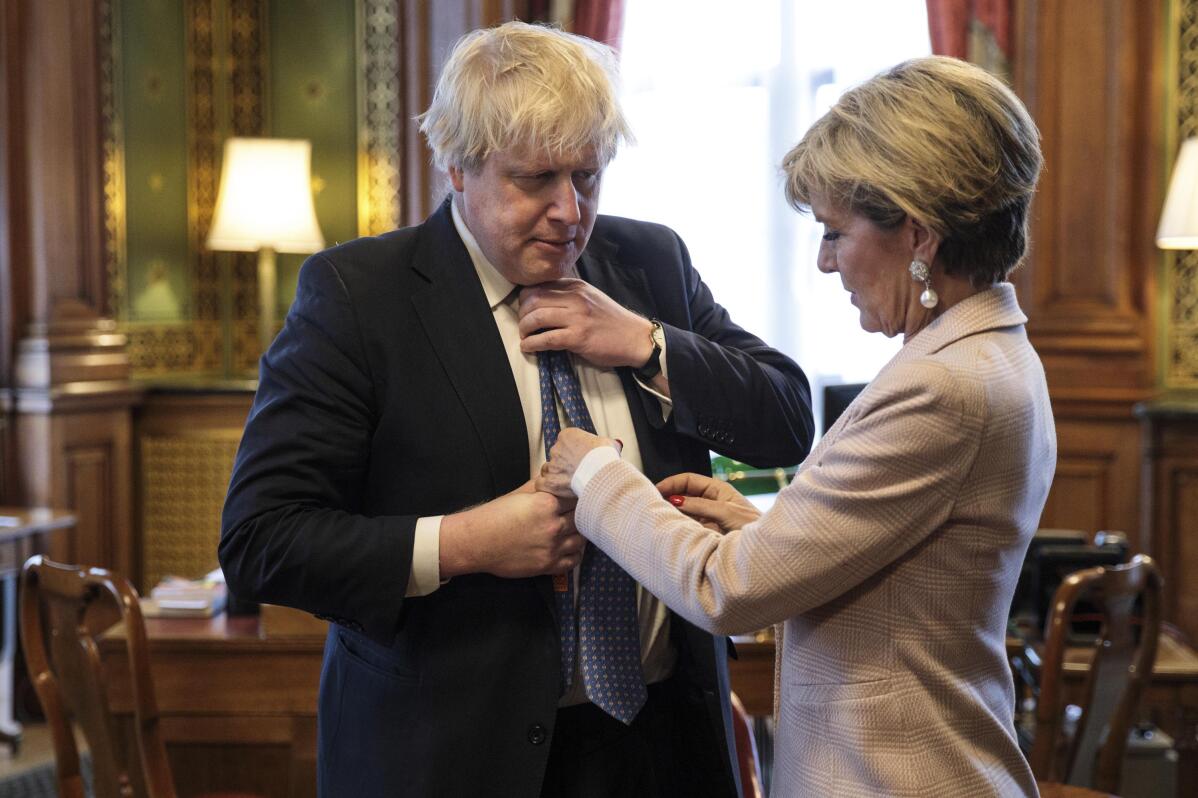 14 of 39

|
FILE - British Foreign Secretary Boris Johnson has his tie straightened by his Australian counterpart Foreign Minister Julie Bishop in his office at the Foreign and Commonwealth Office in London, Thursday, Feb. 23, 2017. British media say Prime Minister Boris Johnson has agreed to resign on Thursday, July 7 2022, ending an unprecedented political crisis over his future. (Jack Taylor/Pool Photo via AP, File)
14 of 39
FILE - British Foreign Secretary Boris Johnson has his tie straightened by his Australian counterpart Foreign Minister Julie Bishop in his office at the Foreign and Commonwealth Office in London, Thursday, Feb. 23, 2017. British media say Prime Minister Boris Johnson has agreed to resign on Thursday, July 7 2022, ending an unprecedented political crisis over his future. (Jack Taylor/Pool Photo via AP, File)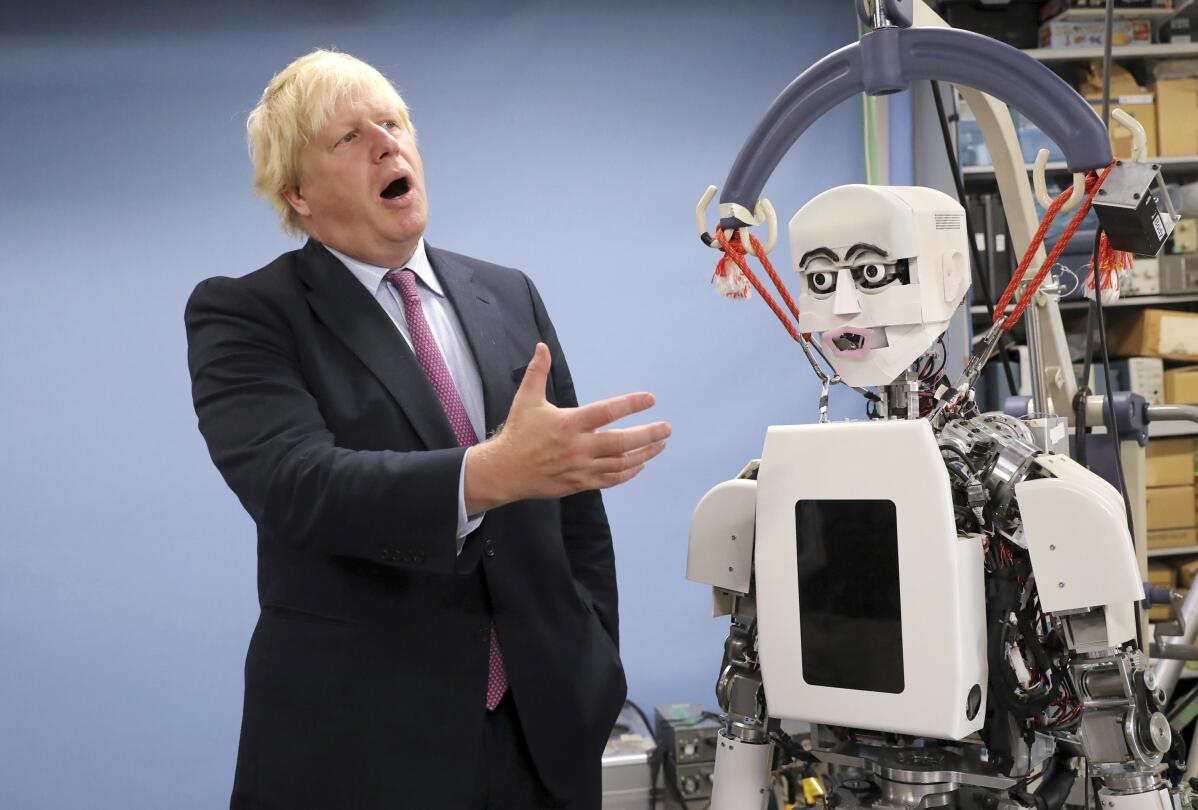 15 of 39

|
FILE - Britain's Foreign Secretary Boris Johnson gestures as he looks at a humanoid robot at Research Institute for Science and Engineering at Waseda University's campus in Tokyo Thursday, July 20, 2017. British media say Prime Minister Boris Johnson has agreed to resign on Thursday, July 7 2022, ending an unprecedented political crisis over his future. (AP Photo/Eugene Hoshiko, file)
15 of 39
FILE - Britain's Foreign Secretary Boris Johnson gestures as he looks at a humanoid robot at Research Institute for Science and Engineering at Waseda University's campus in Tokyo Thursday, July 20, 2017. British media say Prime Minister Boris Johnson has agreed to resign on Thursday, July 7 2022, ending an unprecedented political crisis over his future. (AP Photo/Eugene Hoshiko, file)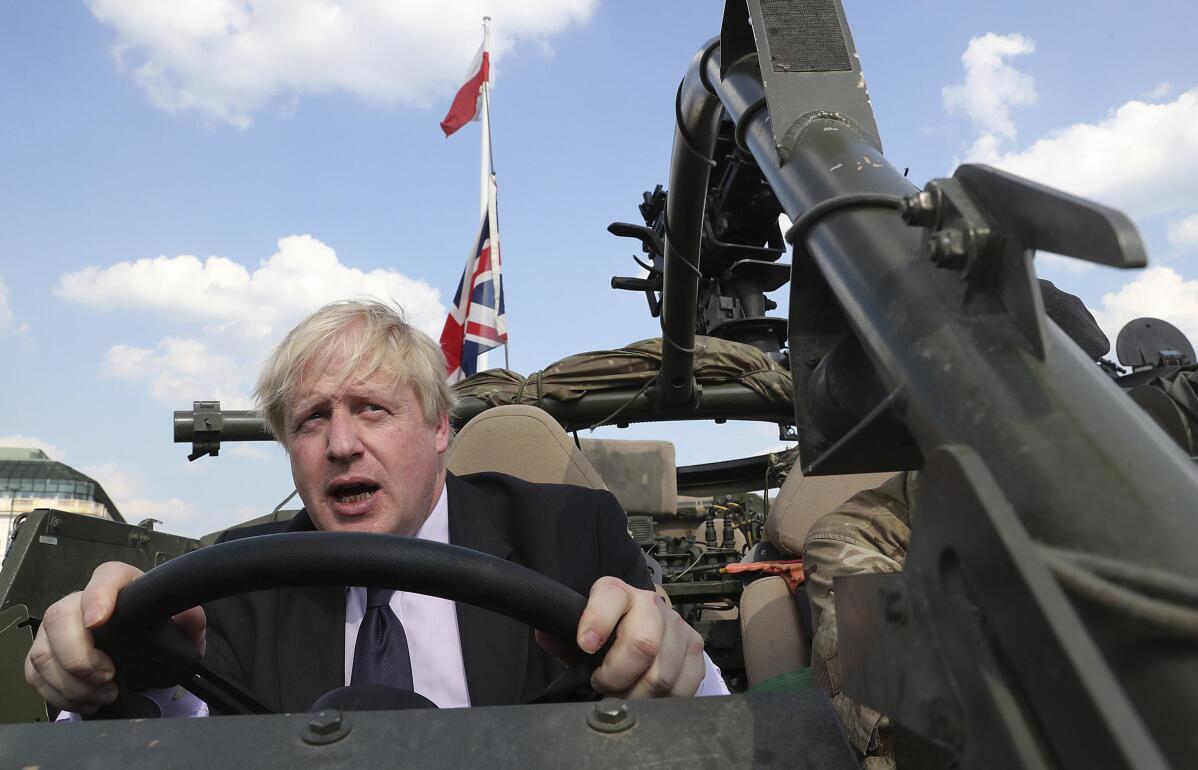 16 of 39

|
FILE - Britain's Foreign Secretary Boris Johnson talks to a British armed forces serviceman based in Orzysz, in northeastern Poland, during a ceremony at the Tomb of the Unknown Soldier and following talks on security with his Polish counterpart Jacek Czaputowicz in Warsaw, Poland, Thursday, June 21, 2018. British media say Prime Minister Boris Johnson has agreed to resign on Thursday, July 7 2022, ending an unprecedented political crisis over his future. (AP Photo/Czarek Sokolowski, File)
16 of 39
FILE - Britain's Foreign Secretary Boris Johnson talks to a British armed forces serviceman based in Orzysz, in northeastern Poland, during a ceremony at the Tomb of the Unknown Soldier and following talks on security with his Polish counterpart Jacek Czaputowicz in Warsaw, Poland, Thursday, June 21, 2018. British media say Prime Minister Boris Johnson has agreed to resign on Thursday, July 7 2022, ending an unprecedented political crisis over his future. (AP Photo/Czarek Sokolowski, File)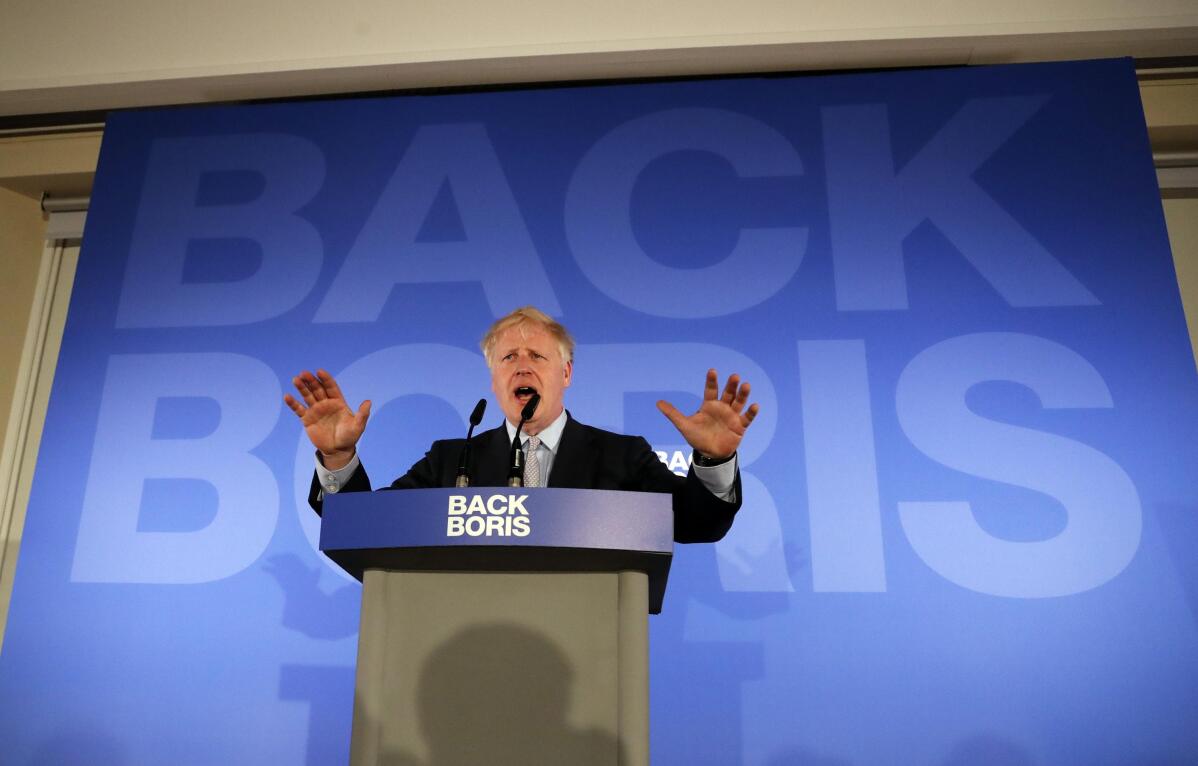 17 of 39

|
FILE - Britain's Conservative Party lawmaker Boris Johnson gestures as he speaks during the official launch of his leadership campaign, in London, Wednesday June 12, 2019. British media say Prime Minister Boris Johnson has agreed to resign on Thursday, July 7 2022, ending an unprecedented political crisis over his future. (AP Photo/Frank Augstein, File)
17 of 39
FILE - Britain's Conservative Party lawmaker Boris Johnson gestures as he speaks during the official launch of his leadership campaign, in London, Wednesday June 12, 2019. British media say Prime Minister Boris Johnson has agreed to resign on Thursday, July 7 2022, ending an unprecedented political crisis over his future. (AP Photo/Frank Augstein, File)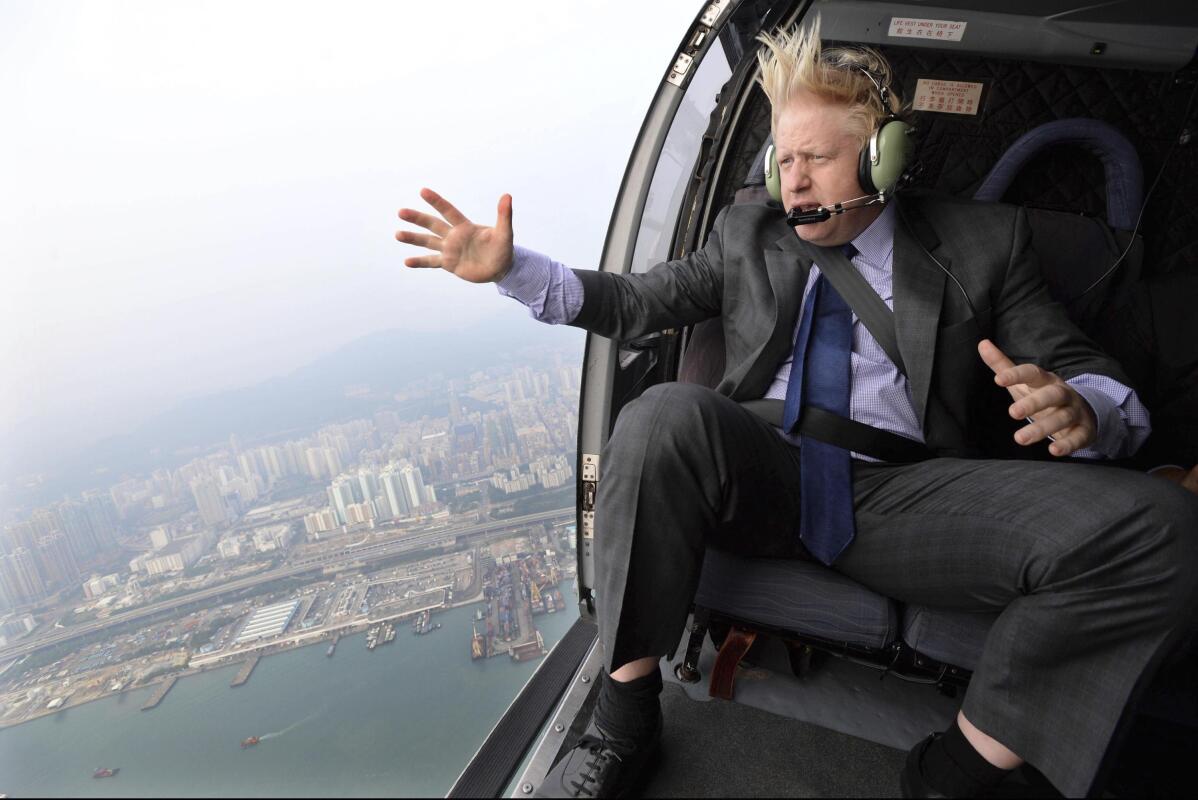 18 of 39

|
FILE - Mayor of London Boris Johnson looks at the skyline during helicopter ride over Hong Kong, Thursday Oct. 17, 2013. British media say Prime Minister Boris Johnson has agreed to resign on Thursday, July 7 2022, ending an unprecedented political crisis over his future. (AP Photo/Andrew Parsons/Pool, File)
18 of 39
FILE - Mayor of London Boris Johnson looks at the skyline during helicopter ride over Hong Kong, Thursday Oct. 17, 2013. British media say Prime Minister Boris Johnson has agreed to resign on Thursday, July 7 2022, ending an unprecedented political crisis over his future. (AP Photo/Andrew Parsons/Pool, File)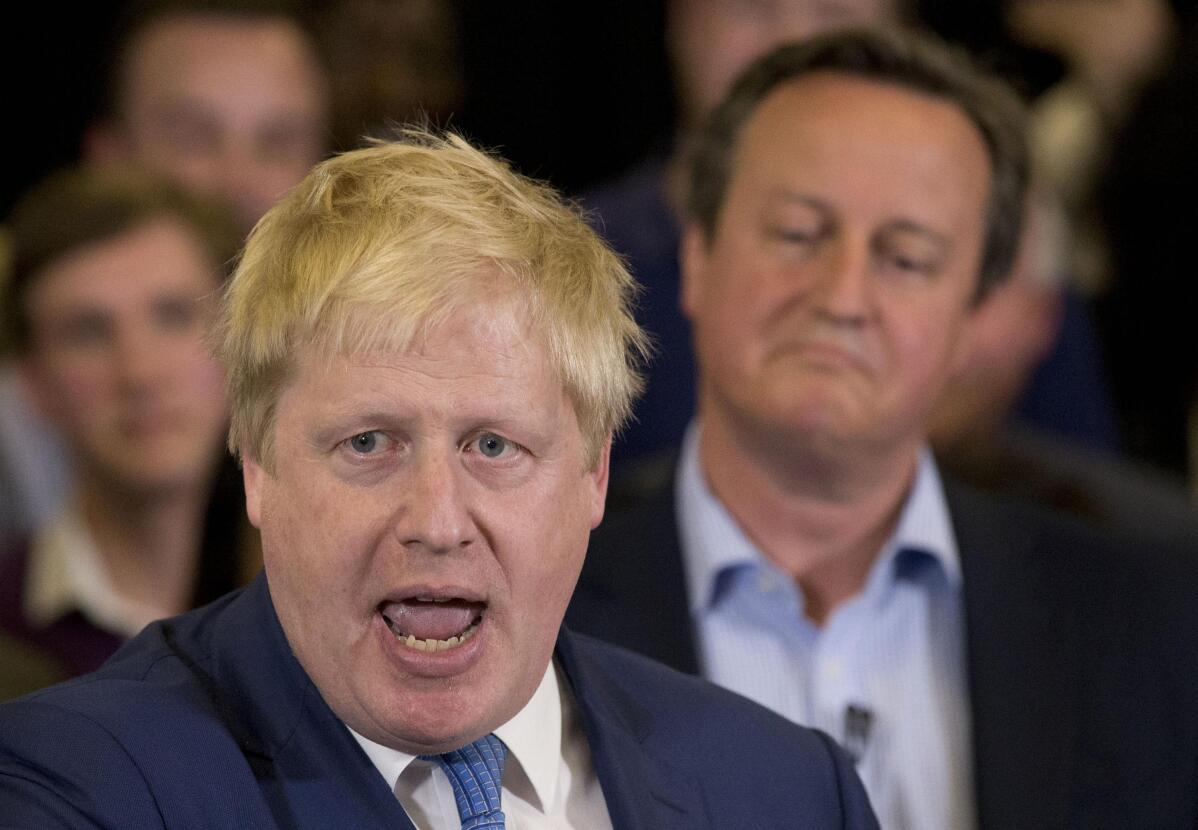 19 of 39

|
FILE - Britain's Prime Minister David Cameron, right, listens as then Mayor of London Boris Johnson speaks at a mayoral election campaign rally for Britain's Conservative party candidate for Mayor of London Zac Goldsmith at a school in Ham, a suburb in south west London, Tuesday, May 3, 2016. British media say Prime Minister Boris Johnson has agreed to resign on Thursday, July 7 2022, ending an unprecedented political crisis over his future. (AP Photo/Matt Dunham, File)
19 of 39
FILE - Britain's Prime Minister David Cameron, right, listens as then Mayor of London Boris Johnson speaks at a mayoral election campaign rally for Britain's Conservative party candidate for Mayor of London Zac Goldsmith at a school in Ham, a suburb in south west London, Tuesday, May 3, 2016. British media say Prime Minister Boris Johnson has agreed to resign on Thursday, July 7 2022, ending an unprecedented political crisis over his future. (AP Photo/Matt Dunham, File)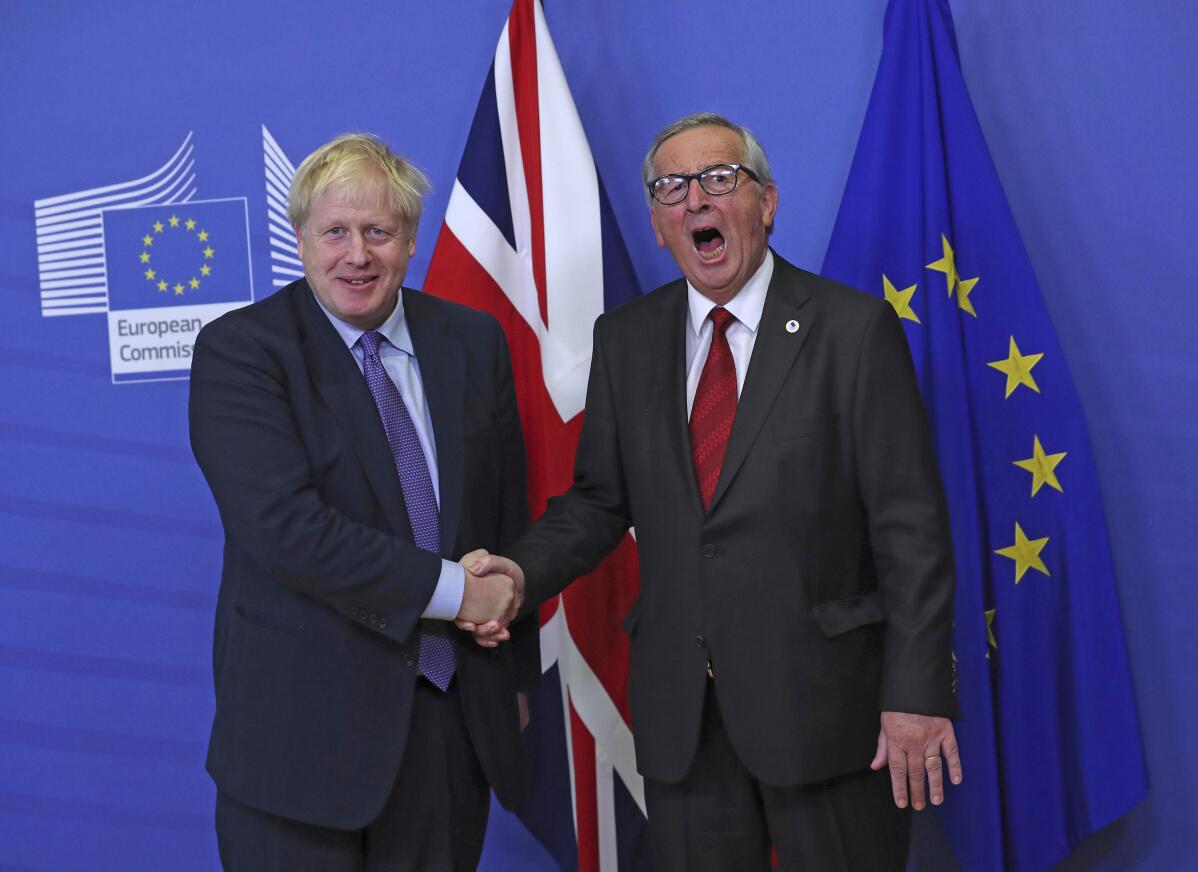 20 of 39

|
FILE - British Prime Minister Boris Johnson shakes hands with European Commission President Jean-Claude Juncker during a press point at EU headquarters in Brussels, Thursday, Oct. 17, 2019. British media say Prime Minister Boris Johnson has agreed to resign on Thursday, July 7 2022, ending an unprecedented political crisis over his future. (AP Photo/Francisco Seco, File)
20 of 39
FILE - British Prime Minister Boris Johnson shakes hands with European Commission President Jean-Claude Juncker during a press point at EU headquarters in Brussels, Thursday, Oct. 17, 2019. British media say Prime Minister Boris Johnson has agreed to resign on Thursday, July 7 2022, ending an unprecedented political crisis over his future. (AP Photo/Francisco Seco, File)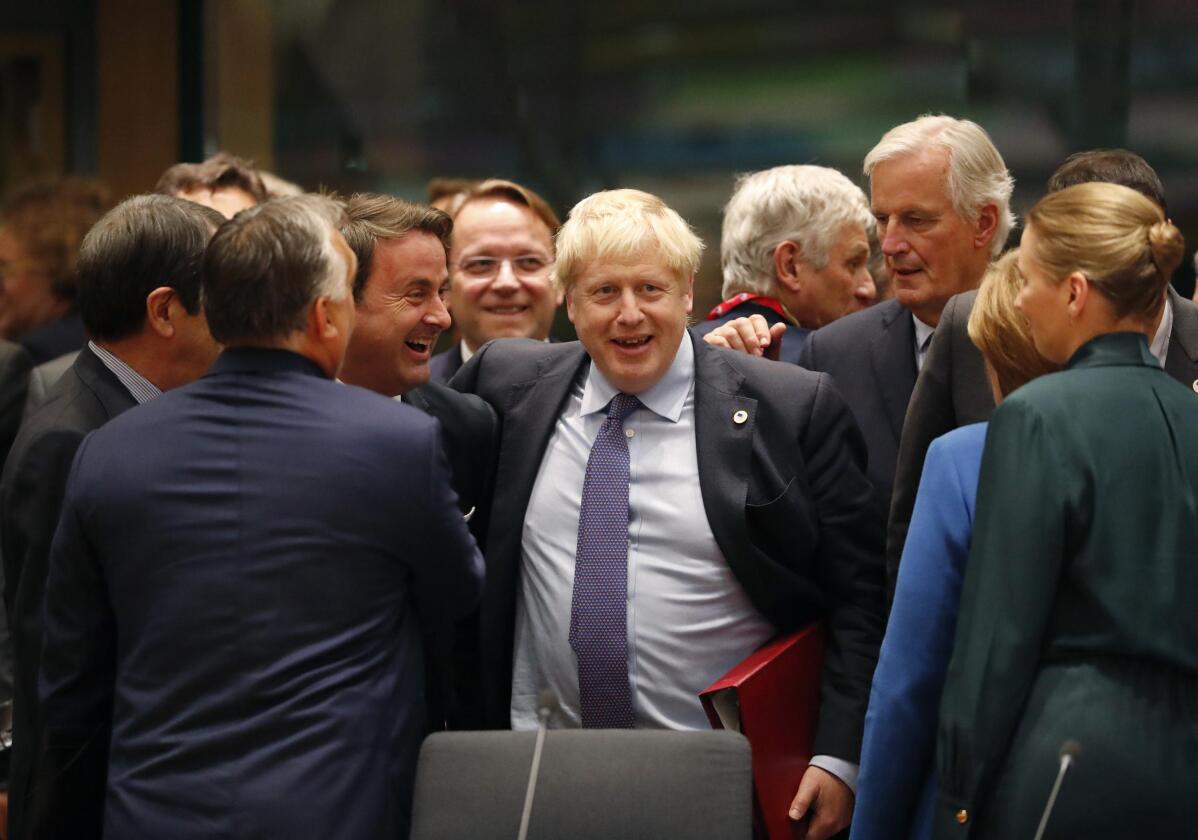 21 of 39

|
FILE - British Prime Minister Boris Johnson, center, is greeted by Luxembourg's Prime Minister Xavier Bettel, center left, during a round table meeting at an EU summit in Brussels Thursday, Oct. 17, 2019. British media say Prime Minister Boris Johnson has agreed to resign on Thursday, July 7 2022, ending an unprecedented political crisis over his future. (AP Photo/Frank Augstein, File)
21 of 39
FILE - British Prime Minister Boris Johnson, center, is greeted by Luxembourg's Prime Minister Xavier Bettel, center left, during a round table meeting at an EU summit in Brussels Thursday, Oct. 17, 2019. British media say Prime Minister Boris Johnson has agreed to resign on Thursday, July 7 2022, ending an unprecedented political crisis over his future. (AP Photo/Frank Augstein, File)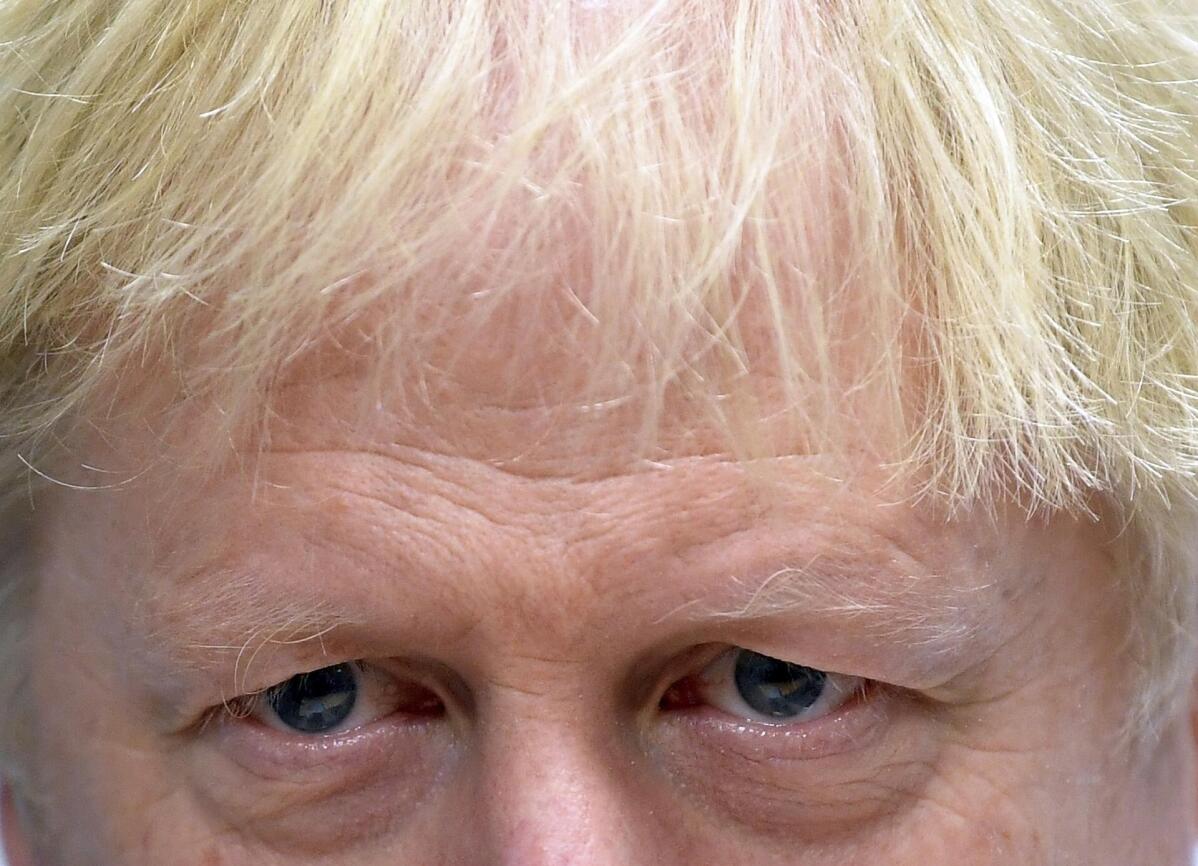 22 of 39

|
FILE - Britain's Prime Minister Boris Johnson speaks to staff in the children's ward as he visits Milton Keynes University Hospital in Milton Keynes, England, Friday Oct. 25, 2019. British media say Prime Minister Boris Johnson has agreed to resign on Thursday, July 7 2022, ending an unprecedented political crisis over his future. (Toby Melville/Pool via AP, File)
22 of 39
FILE - Britain's Prime Minister Boris Johnson speaks to staff in the children's ward as he visits Milton Keynes University Hospital in Milton Keynes, England, Friday Oct. 25, 2019. British media say Prime Minister Boris Johnson has agreed to resign on Thursday, July 7 2022, ending an unprecedented political crisis over his future. (Toby Melville/Pool via AP, File)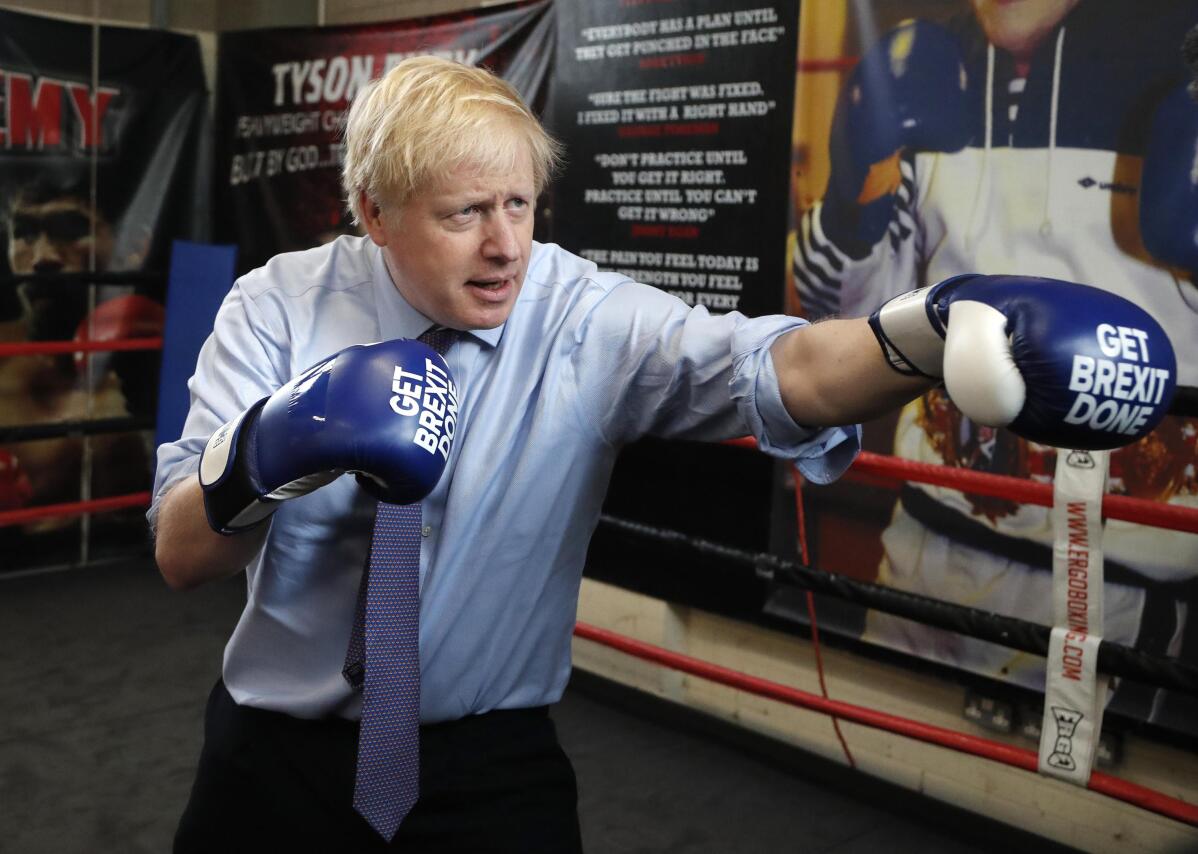 23 of 39

|
FILE - Britain's Prime Minister Boris Johnson poses for a photo wearing boxing gloves during a stop in his General Election Campaign trail at Jimmy Egan's Boxing Academy in Manchester, England,Tuesday, Nov. 19, 2019. British media say Prime Minister Boris Johnson has agreed to resign on Thursday, July 7 2022, ending an unprecedented political crisis over his future. (AP Photo/Frank Augstein, File)
23 of 39
FILE - Britain's Prime Minister Boris Johnson poses for a photo wearing boxing gloves during a stop in his General Election Campaign trail at Jimmy Egan's Boxing Academy in Manchester, England,Tuesday, Nov. 19, 2019. British media say Prime Minister Boris Johnson has agreed to resign on Thursday, July 7 2022, ending an unprecedented political crisis over his future. (AP Photo/Frank Augstein, File)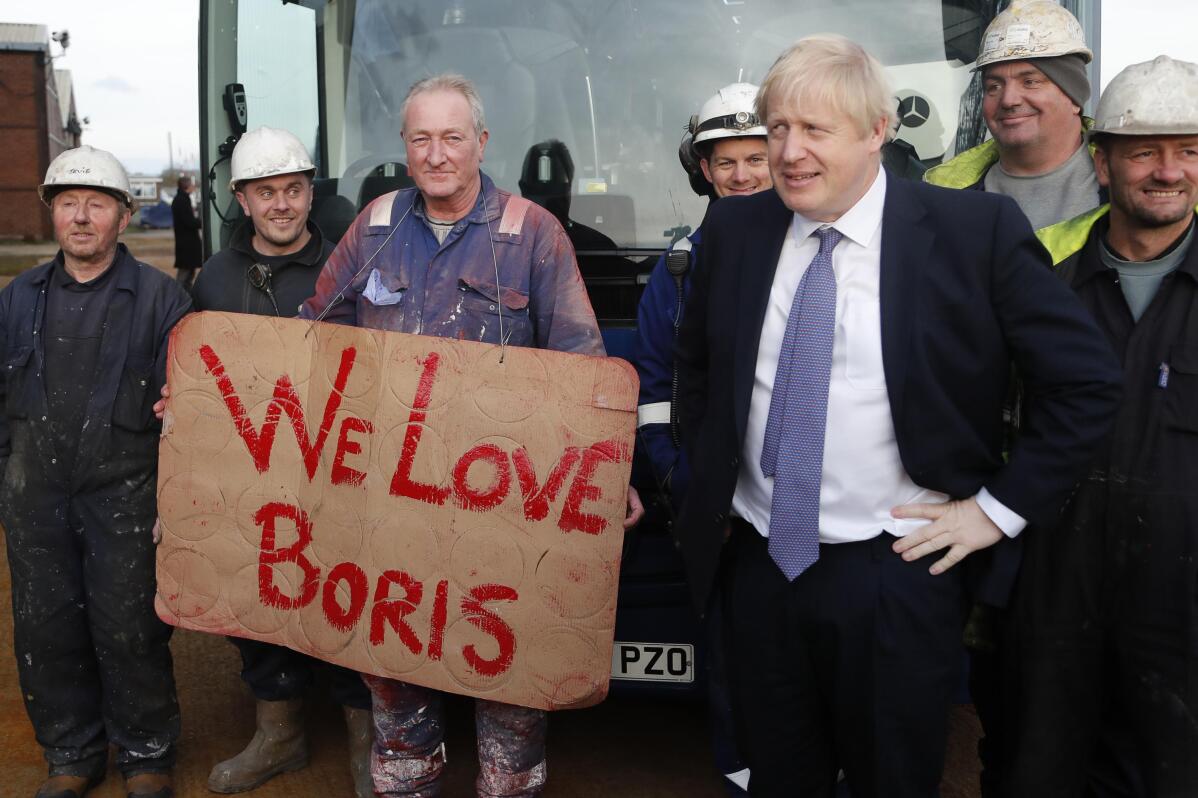 24 of 39

|
FILE - Britain's Prime Minister Boris Johnson poses with workers during a visit to Wilton Engineering Services, part of a General Election campaign trail stop in Middlesbrough, England, Wednesday, Nov. 20, 2019. British media say Prime Minister Boris Johnson has agreed to resign on Thursday, July 7 2022, ending an unprecedented political crisis over his future. (AP Photo/Frank Augstein, File)
24 of 39
FILE - Britain's Prime Minister Boris Johnson poses with workers during a visit to Wilton Engineering Services, part of a General Election campaign trail stop in Middlesbrough, England, Wednesday, Nov. 20, 2019. British media say Prime Minister Boris Johnson has agreed to resign on Thursday, July 7 2022, ending an unprecedented political crisis over his future. (AP Photo/Frank Augstein, File)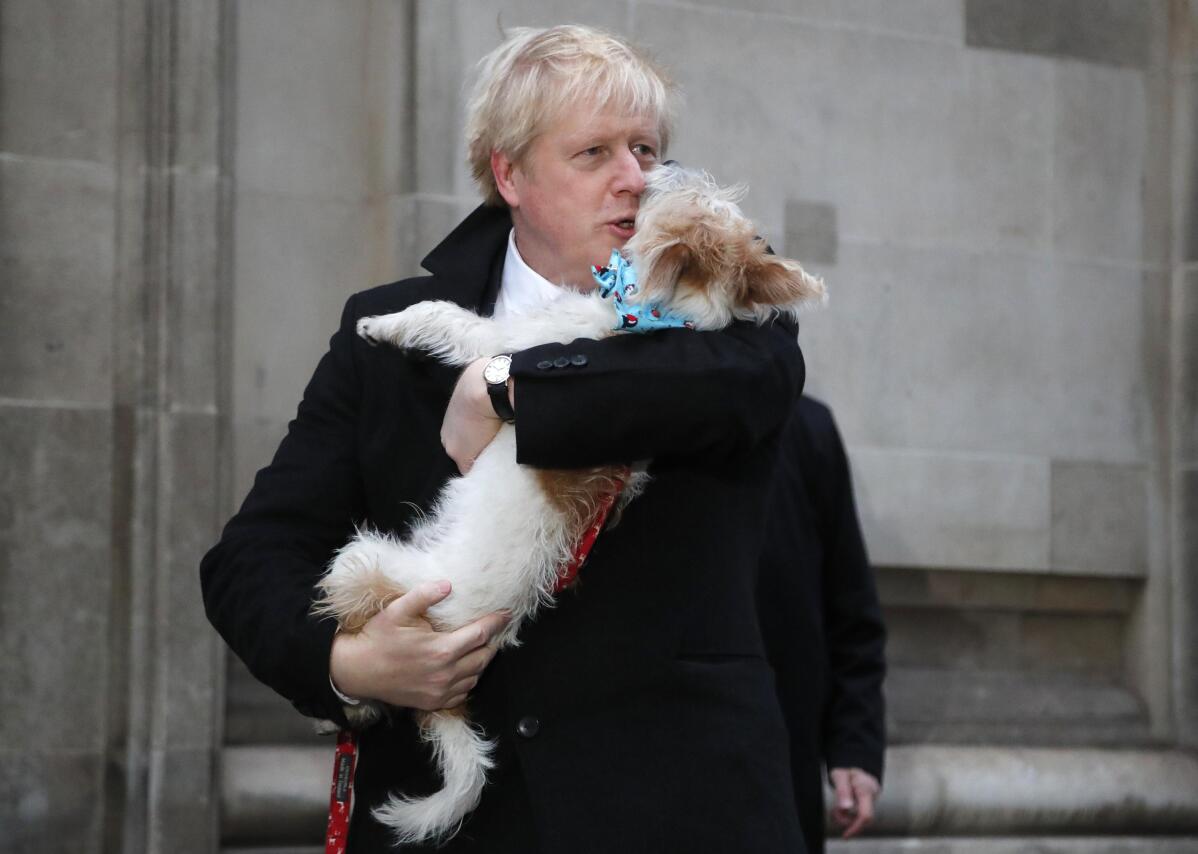 25 of 39

|
FILE - Britain's Prime Minister and Conservative Party leader Boris Johnson holds his dog Dilyn as he leaves after voting in the general election at Methodist Central Hall, Westminster, London, Thursday, Dec. 12, 2019. British media say Prime Minister Boris Johnson has agreed to resign on Thursday, July 7 2022, ending an unprecedented political crisis over his future. (AP Photo/Frank Augstein, File)
25 of 39
FILE - Britain's Prime Minister and Conservative Party leader Boris Johnson holds his dog Dilyn as he leaves after voting in the general election at Methodist Central Hall, Westminster, London, Thursday, Dec. 12, 2019. British media say Prime Minister Boris Johnson has agreed to resign on Thursday, July 7 2022, ending an unprecedented political crisis over his future. (AP Photo/Frank Augstein, File)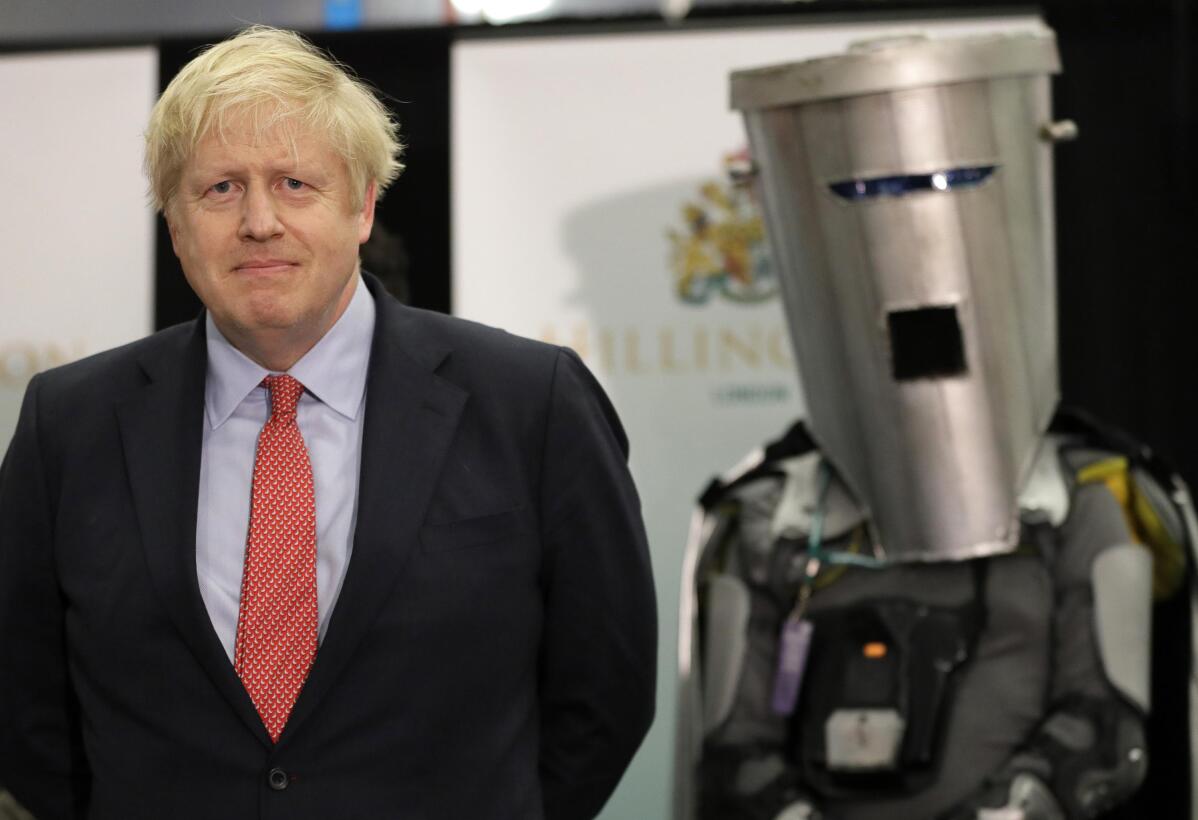 26 of 39

|
FILE - Independent candidate Count Binface stands with Britain's Prime Minister and Conservative Party leader Boris Johnson as they wait for the Uxbridge and South Ruislip constituency count declaration at Brunel University in Uxbridge, London, Friday, Dec. 13, 2019. British media say Prime Minister Boris Johnson has agreed to resign on Thursday, July 7 2022, ending an unprecedented political crisis over his future. (AP Photo/Kirsty Wigglesworth, File)
26 of 39
FILE - Independent candidate Count Binface stands with Britain's Prime Minister and Conservative Party leader Boris Johnson as they wait for the Uxbridge and South Ruislip constituency count declaration at Brunel University in Uxbridge, London, Friday, Dec. 13, 2019. British media say Prime Minister Boris Johnson has agreed to resign on Thursday, July 7 2022, ending an unprecedented political crisis over his future. (AP Photo/Kirsty Wigglesworth, File)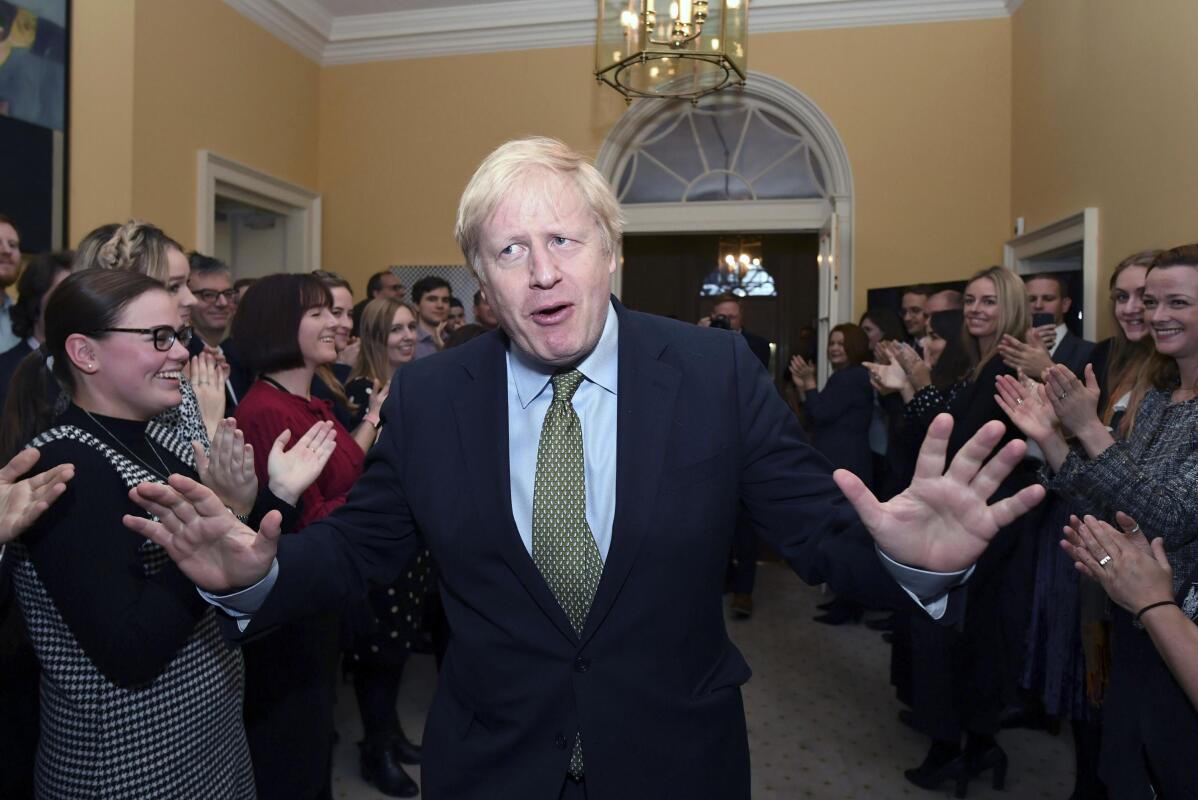 27 of 39

|
FILE - Britain's Prime Minister Boris Johnson is greeted by staff as he returns to 10 Downing Street, London, after meeting Queen Elizabeth II at Buckingham Palace and accepting her invitation to form a new government Friday Dec. 13, 2019. British media say Prime Minister Boris Johnson has agreed to resign on Thursday, July 7 2022, ending an unprecedented political crisis over his future. (Stefan Rousseau/PA via AP, File)
27 of 39
FILE - Britain's Prime Minister Boris Johnson is greeted by staff as he returns to 10 Downing Street, London, after meeting Queen Elizabeth II at Buckingham Palace and accepting her invitation to form a new government Friday Dec. 13, 2019. British media say Prime Minister Boris Johnson has agreed to resign on Thursday, July 7 2022, ending an unprecedented political crisis over his future. (Stefan Rousseau/PA via AP, File)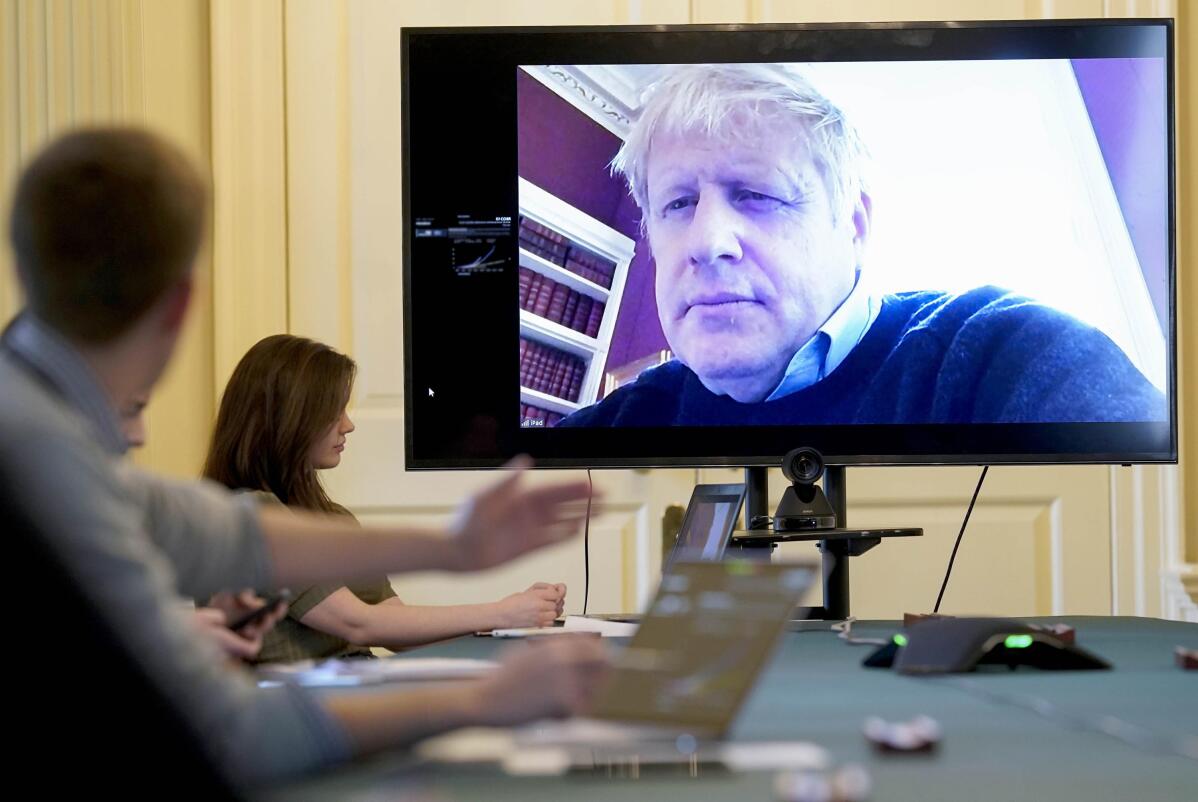 28 of 39

|
FILE - In this Saturday, March 28, 2020 handout photo provided by Number 10 Downing Street, Britain's Prime Minister Boris Johnson chairs the morning Covid-19 Meeting remotely after self isolating after testing positive for the coronavirus, at 10 Downing Street, London. British media say Prime Minister Boris Johnson has agreed to resign on Thursday, July 7 2022, ending an unprecedented political crisis over his future. (Andrew Parsons/10 Downing Street via AP, File)
28 of 39
FILE - In this Saturday, March 28, 2020 handout photo provided by Number 10 Downing Street, Britain's Prime Minister Boris Johnson chairs the morning Covid-19 Meeting remotely after self isolating after testing positive for the coronavirus, at 10 Downing Street, London. British media say Prime Minister Boris Johnson has agreed to resign on Thursday, July 7 2022, ending an unprecedented political crisis over his future. (Andrew Parsons/10 Downing Street via AP, File)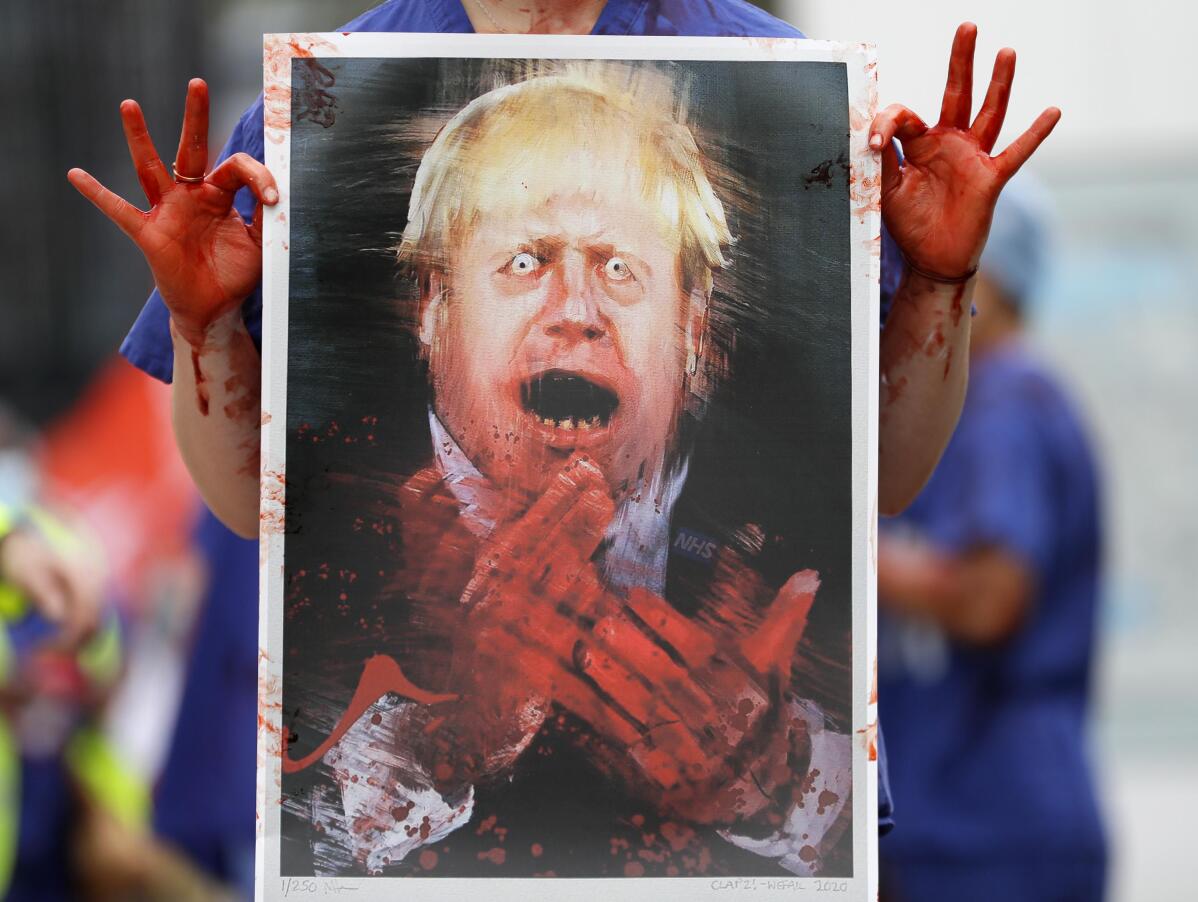 29 of 39

|
FILE - A nurse holds a painting of Prime Minister Boris Johnson clapping with blood on his hands as part of a demonstration of NHS workers at hospitals across London to demand a 15 per cent pay rise by the government in London, Wednesday, Aug. 26, 2020. British media say Prime Minister Boris Johnson has agreed to resign on Thursday, July 7 2022, ending an unprecedented political crisis over his future. (AP Photo/Kirsty Wigglesworth, File)
29 of 39
FILE - A nurse holds a painting of Prime Minister Boris Johnson clapping with blood on his hands as part of a demonstration of NHS workers at hospitals across London to demand a 15 per cent pay rise by the government in London, Wednesday, Aug. 26, 2020. British media say Prime Minister Boris Johnson has agreed to resign on Thursday, July 7 2022, ending an unprecedented political crisis over his future. (AP Photo/Kirsty Wigglesworth, File)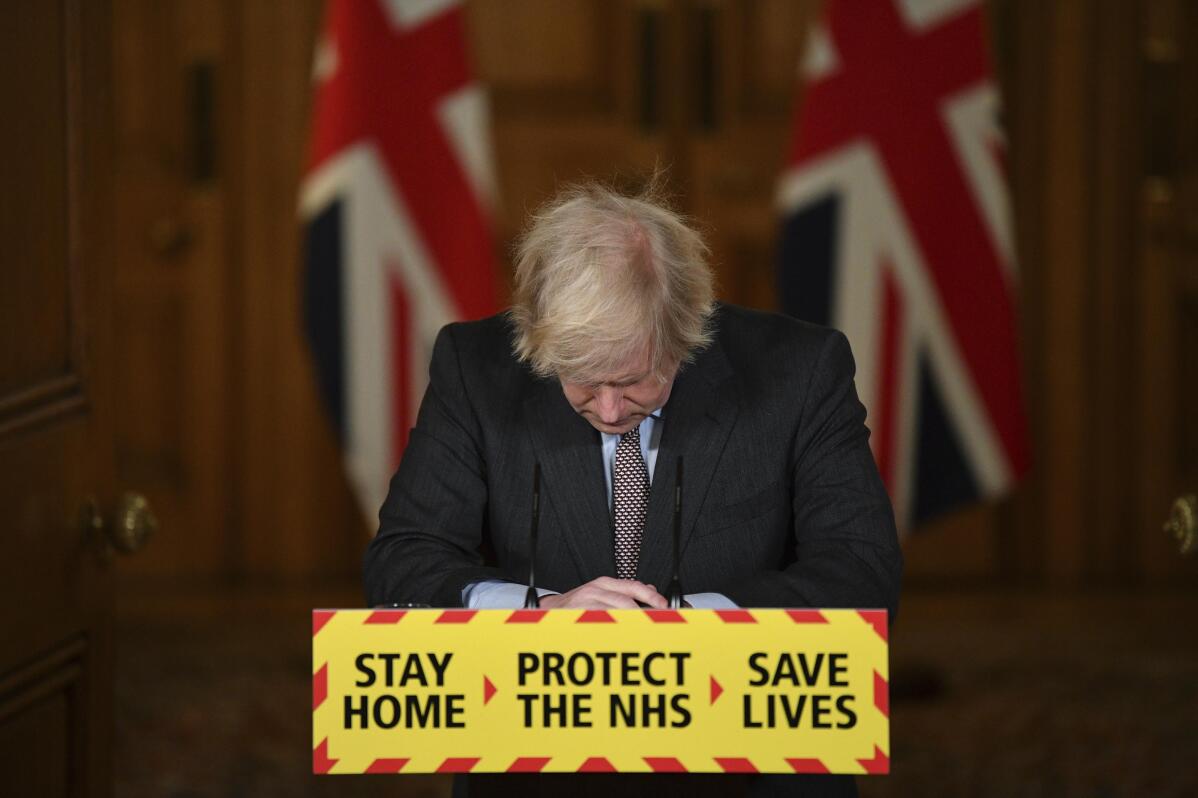 30 of 39

|
FILE - Britain's Prime Minister Boris Johnson reacts while leading a virtual press conference on the Covid-19 pandemic, inside 10 Downing Street in central London Tuesday Jan. 26, 2021. British media say Prime Minister Boris Johnson has agreed to resign on Thursday, July 7 2022, ending an unprecedented political crisis over his future. (Justin Tallis / Pool via AP, File)
30 of 39
FILE - Britain's Prime Minister Boris Johnson reacts while leading a virtual press conference on the Covid-19 pandemic, inside 10 Downing Street in central London Tuesday Jan. 26, 2021. British media say Prime Minister Boris Johnson has agreed to resign on Thursday, July 7 2022, ending an unprecedented political crisis over his future. (Justin Tallis / Pool via AP, File)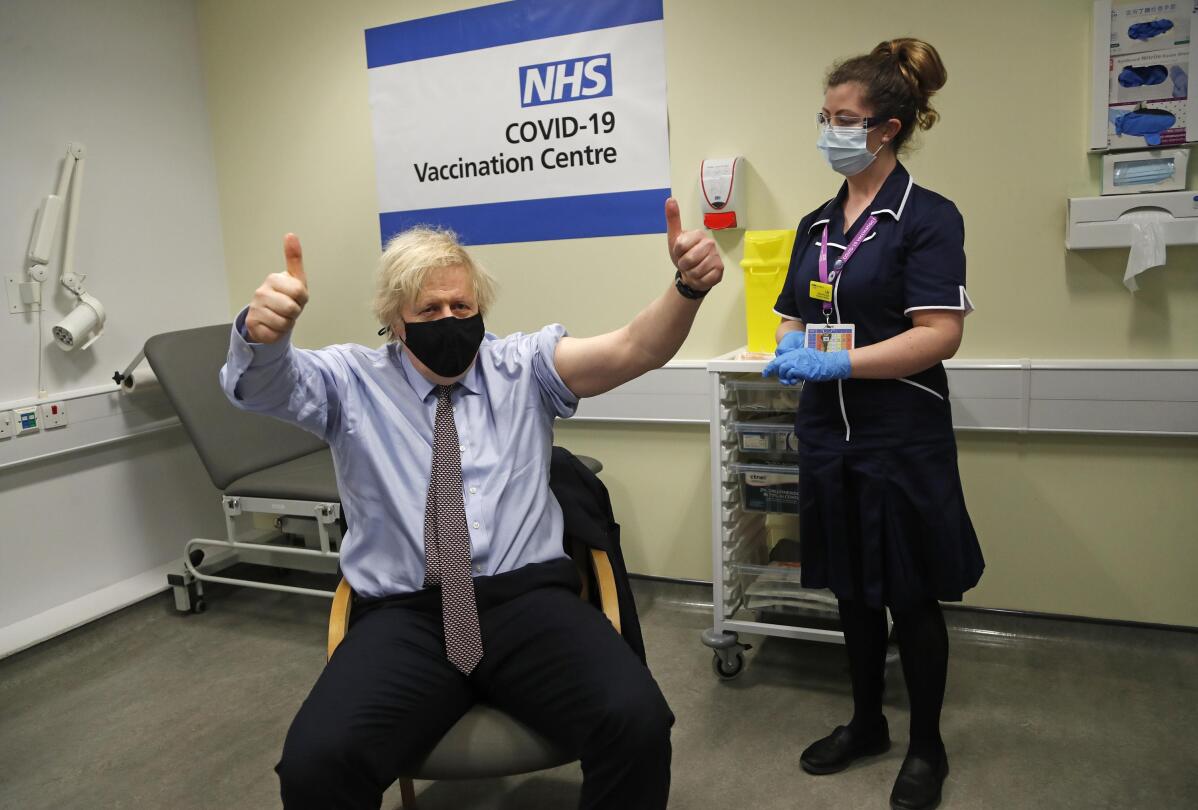 31 of 39

|
FILE - Britain's Prime Minister Boris Johnson gestures after receiving the first dose of the AstraZeneca vaccine administered by nurse and Clinical Pod Lead, Lily Harrington at St.Thomas' Hospital in London, Friday, March 19, 2021. British media say Prime Minister Boris Johnson has agreed to resign on Thursday, July 7 2022, ending an unprecedented political crisis over his future. (AP Photo/Frank Augstein, File)
31 of 39
FILE - Britain's Prime Minister Boris Johnson gestures after receiving the first dose of the AstraZeneca vaccine administered by nurse and Clinical Pod Lead, Lily Harrington at St.Thomas' Hospital in London, Friday, March 19, 2021. British media say Prime Minister Boris Johnson has agreed to resign on Thursday, July 7 2022, ending an unprecedented political crisis over his future. (AP Photo/Frank Augstein, File)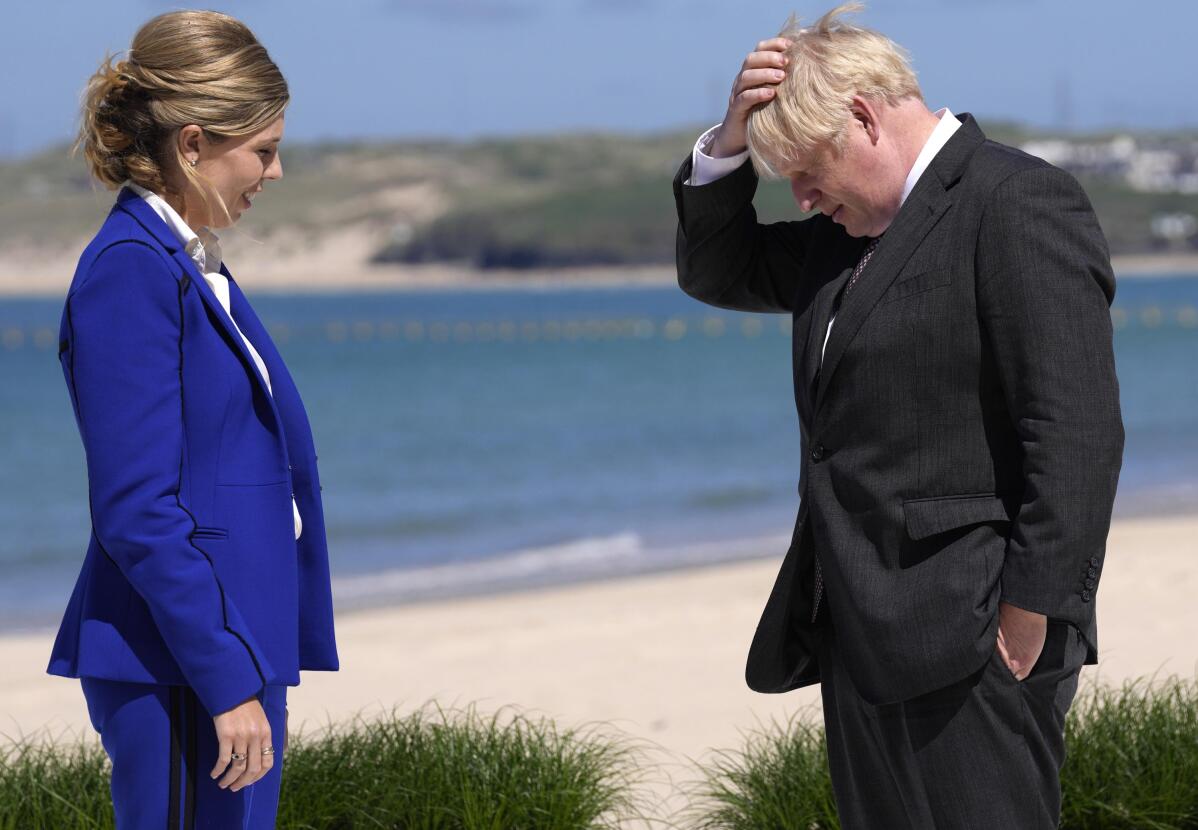 32 of 39

|
FILE - British Prime Minister Boris Johnson speaks with his wife Carrie during arrivals for the G7 meeting at the Carbis Bay Hotel in Carbis Bay, St. Ives, Cornwall, England, Saturday, June 12, 2021. British media say Prime Minister Boris Johnson has agreed to resign on Thursday, July 7 2022, ending an unprecedented political crisis over his future. (AP Photo/Kirsty Wigglesworth, File)
32 of 39
FILE - British Prime Minister Boris Johnson speaks with his wife Carrie during arrivals for the G7 meeting at the Carbis Bay Hotel in Carbis Bay, St. Ives, Cornwall, England, Saturday, June 12, 2021. British media say Prime Minister Boris Johnson has agreed to resign on Thursday, July 7 2022, ending an unprecedented political crisis over his future. (AP Photo/Kirsty Wigglesworth, File)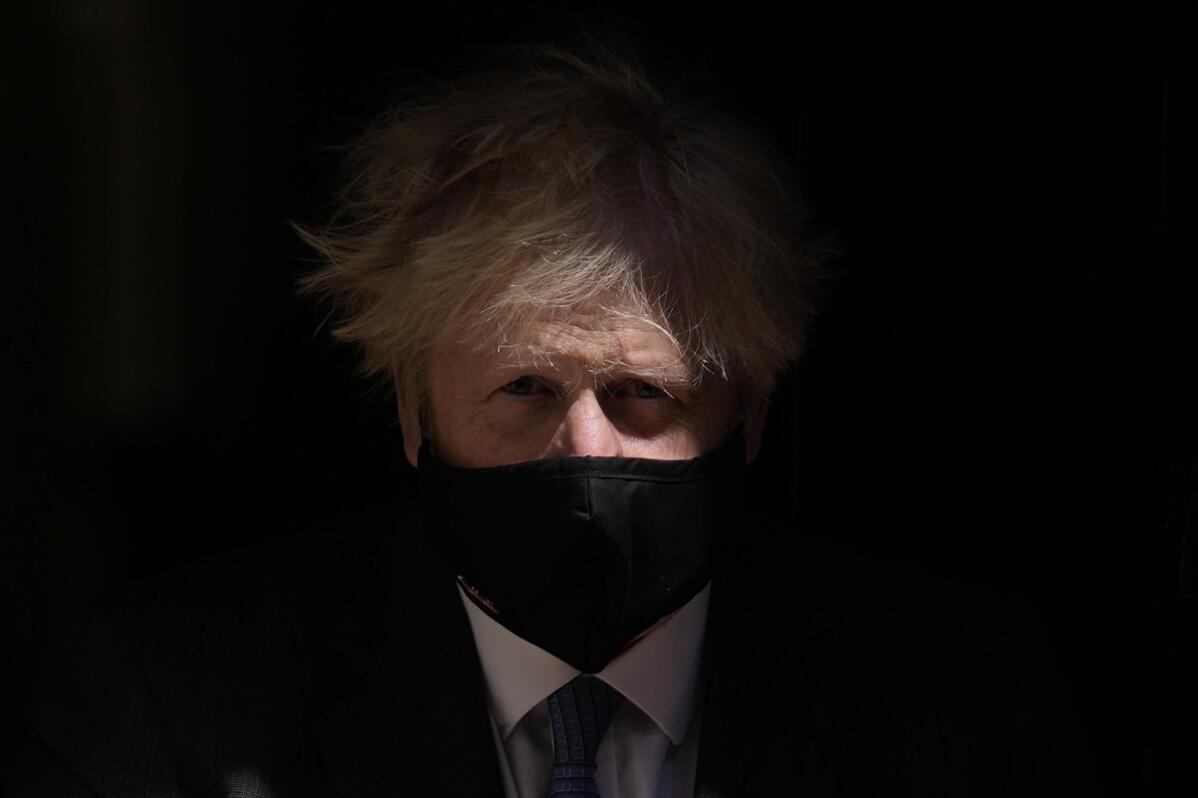 33 of 39

|
FILE - British Prime Minister Boris Johnson leaves 10 Downing Street to attend the weekly Prime Minister's Questions at the Houses of Parliament, in London, Wednesday, June 23, 2021. British media say Prime Minister Boris Johnson has agreed to resign on Thursday, July 7 2022, ending an unprecedented political crisis over his future. (AP Photo/Matt Dunham, File)
33 of 39
FILE - British Prime Minister Boris Johnson leaves 10 Downing Street to attend the weekly Prime Minister's Questions at the Houses of Parliament, in London, Wednesday, June 23, 2021. British media say Prime Minister Boris Johnson has agreed to resign on Thursday, July 7 2022, ending an unprecedented political crisis over his future. (AP Photo/Matt Dunham, File)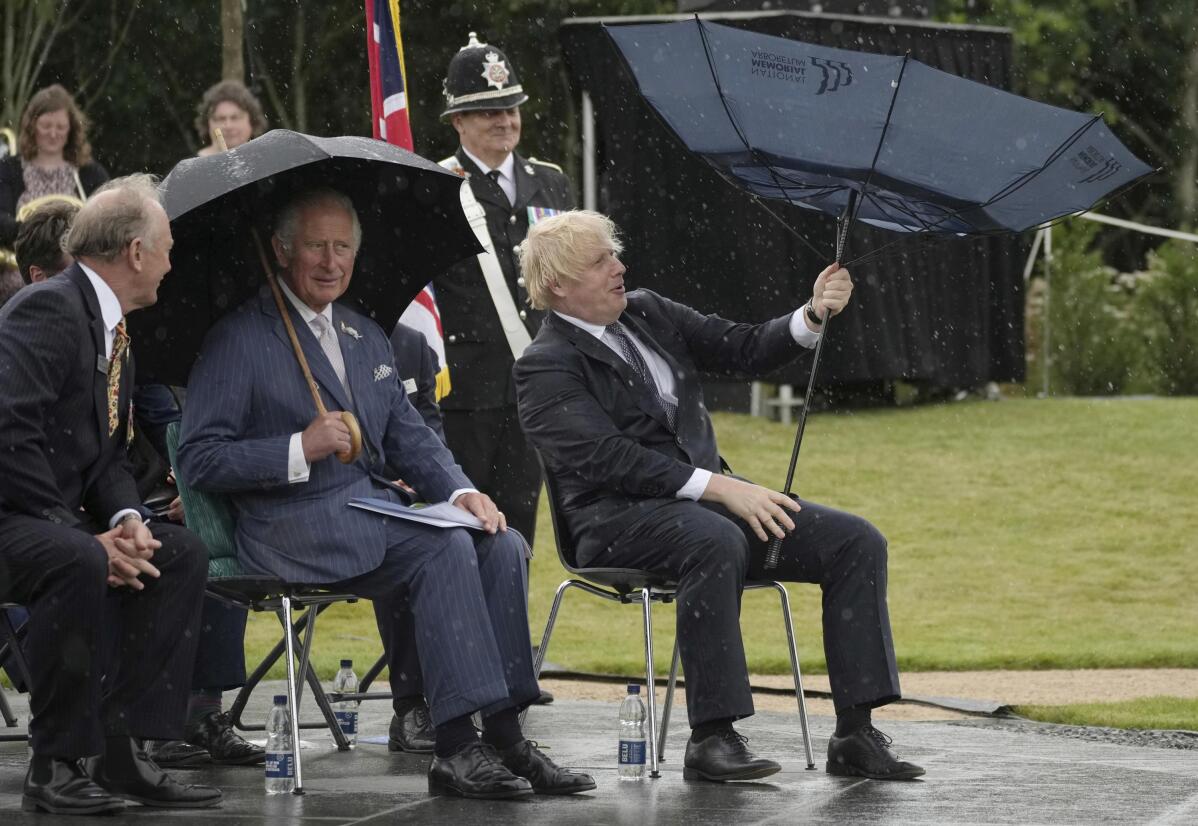 34 of 39

|
FILE - Britain's Prince Charles, centre, and Prime Minister Boris Johnson, right, shelter from rain during the unveiling of the UK Police Memorial at the National Memorial Arboretum at Alrewas, England, Wednesday July 28, 2021. British media say Prime Minister Boris Johnson has agreed to resign on Thursday, July 7 2022, ending an unprecedented political crisis over his future. (Christopher Furlong/Pool via AP, File)
34 of 39
FILE - Britain's Prince Charles, centre, and Prime Minister Boris Johnson, right, shelter from rain during the unveiling of the UK Police Memorial at the National Memorial Arboretum at Alrewas, England, Wednesday July 28, 2021. British media say Prime Minister Boris Johnson has agreed to resign on Thursday, July 7 2022, ending an unprecedented political crisis over his future. (Christopher Furlong/Pool via AP, File)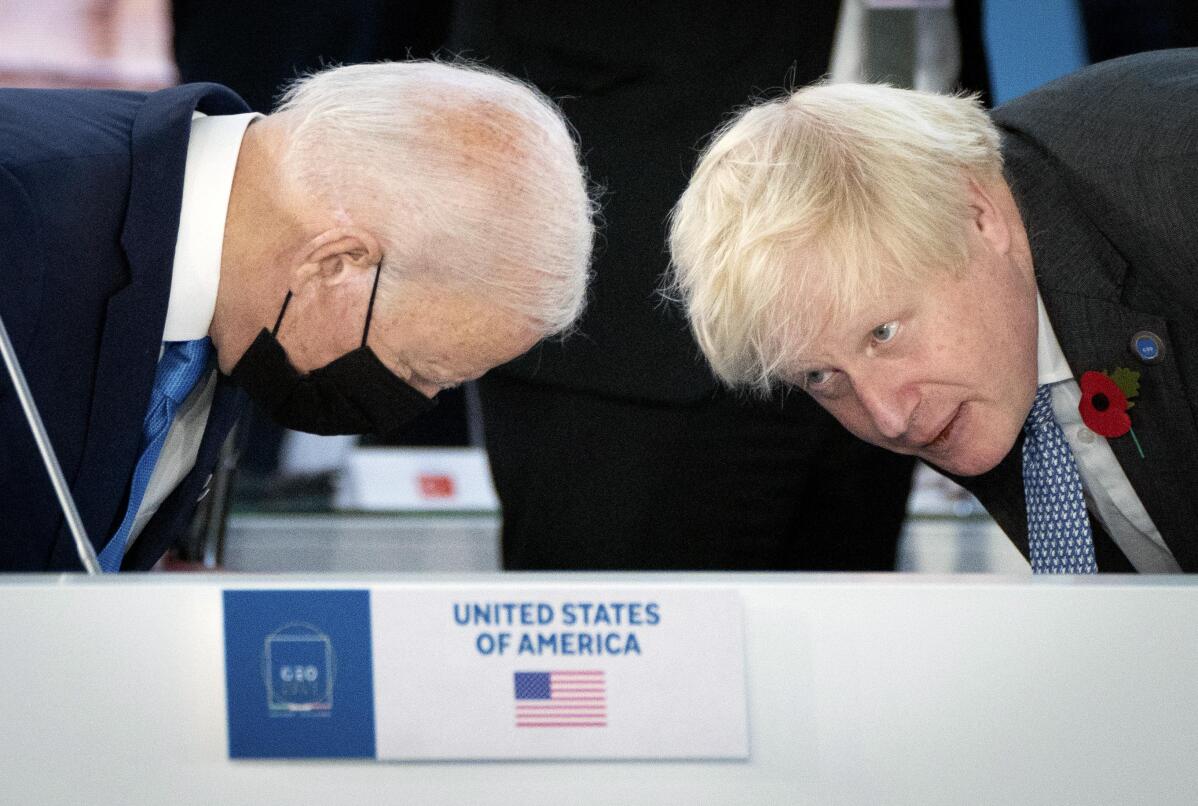 35 of 39

|
FILE - US President Joe Biden, left, and British Prime Minister Boris Johnson attend the opening session of the G20 summit at the La Nuvola conference center, in Rome, Saturday, Oct. 30, 2021. British media say Prime Minister Boris Johnson has agreed to resign on Thursday, July 7 2022, ending an unprecedented political crisis over his future. (Stefan Rousseau/Pool Photo via AP, File)
35 of 39
FILE - US President Joe Biden, left, and British Prime Minister Boris Johnson attend the opening session of the G20 summit at the La Nuvola conference center, in Rome, Saturday, Oct. 30, 2021. British media say Prime Minister Boris Johnson has agreed to resign on Thursday, July 7 2022, ending an unprecedented political crisis over his future. (Stefan Rousseau/Pool Photo via AP, File)
36 of 39

|
FILE - Britain's Prime Minister Boris Johnson jogs in central London, early Monday, Jan. 24, 2022. British media say Prime Minister Boris Johnson has agreed to resign on Thursday, July 7 2022, ending an unprecedented political crisis over his future. (Aaron Chown/PA via AP, File)
36 of 39
FILE - Britain's Prime Minister Boris Johnson jogs in central London, early Monday, Jan. 24, 2022. British media say Prime Minister Boris Johnson has agreed to resign on Thursday, July 7 2022, ending an unprecedented political crisis over his future. (Aaron Chown/PA via AP, File)
37 of 39

|
FILE - Britain's Prime Minister Boris Johnson, center, poses with Sadhus, or Hindu holy men, in front of the Swaminarayan Akshardham temple, in Gandhinagar, part of his two-day trip to India, Thursday, April 21, 2022. British media say Prime Minister Boris Johnson has agreed to resign on Thursday, July 7 2022, ending an unprecedented political crisis over his future. (Ben Stansall/Pool Photo via AP)
37 of 39
FILE - Britain's Prime Minister Boris Johnson, center, poses with Sadhus, or Hindu holy men, in front of the Swaminarayan Akshardham temple, in Gandhinagar, part of his two-day trip to India, Thursday, April 21, 2022. British media say Prime Minister Boris Johnson has agreed to resign on Thursday, July 7 2022, ending an unprecedented political crisis over his future. (Ben Stansall/Pool Photo via AP)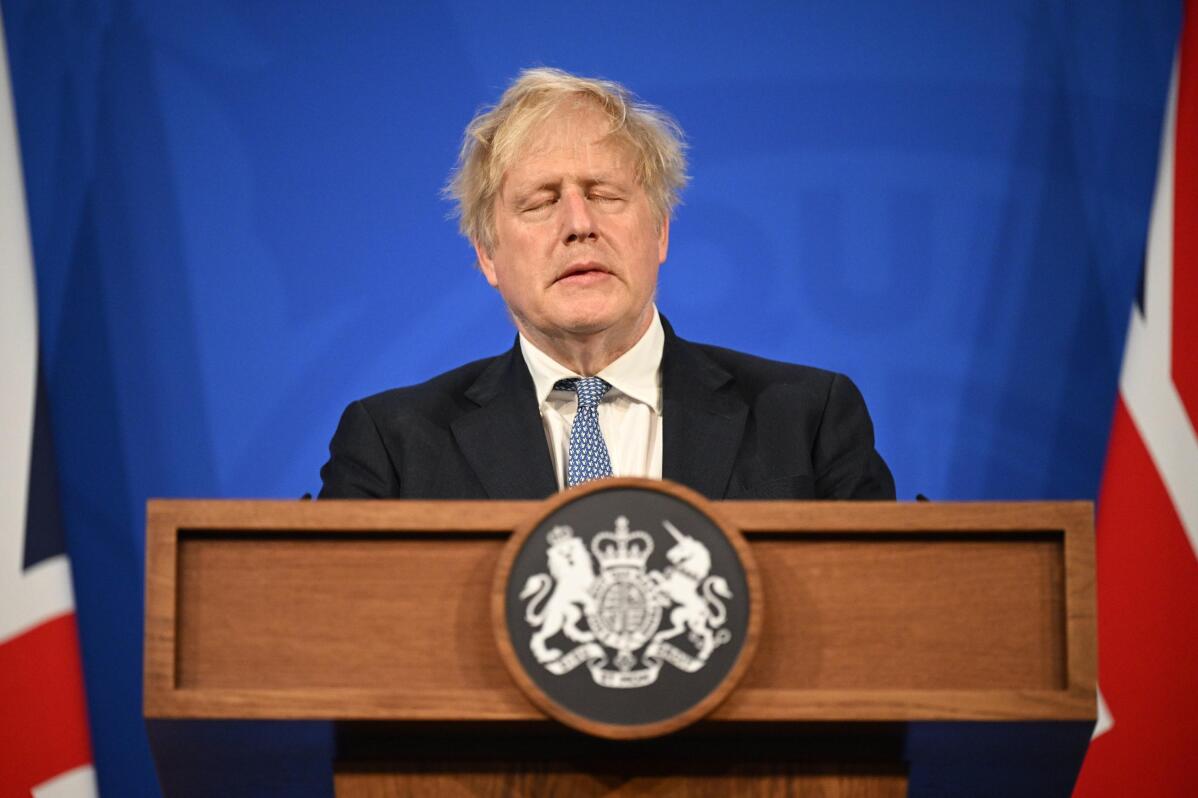 38 of 39

|
FILE - Britain's Prime Minister Boris Johnson speaks during a press conference in Downing Street, London, Wednesday, May 25 2022, following the publication of Sue Gray's report into Downing Street parties in Whitehall. British media say Prime Minister Boris Johnson has agreed to resign on Thursday, July 7 2022, ending an unprecedented political crisis over his future. (Leon Neal/Pool Photo via AP, File)
38 of 39
FILE - Britain's Prime Minister Boris Johnson speaks during a press conference in Downing Street, London, Wednesday, May 25 2022, following the publication of Sue Gray's report into Downing Street parties in Whitehall. British media say Prime Minister Boris Johnson has agreed to resign on Thursday, July 7 2022, ending an unprecedented political crisis over his future. (Leon Neal/Pool Photo via AP, File)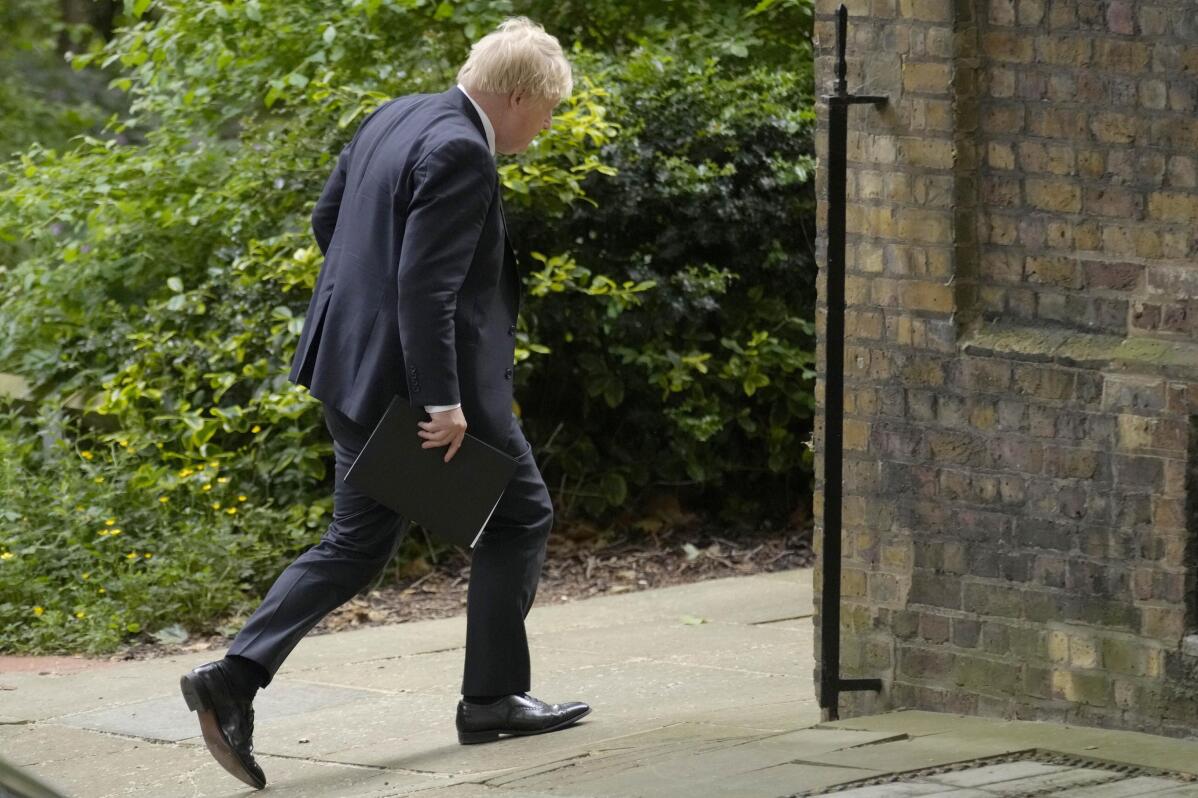 39 of 39

|
FILE - Britain's Prime Minister Bortis Johnson walks in Downing Street to a press conference in London, Wednesday, May 25, 2022. British media say Prime Minister Boris Johnson has agreed to resign on Thursday, July 7 2022, ending an unprecedented political crisis over his future. (AP Photo/Kirsty Wigglesworth, File)
39 of 39
FILE - Britain's Prime Minister Bortis Johnson walks in Downing Street to a press conference in London, Wednesday, May 25, 2022. British media say Prime Minister Boris Johnson has agreed to resign on Thursday, July 7 2022, ending an unprecedented political crisis over his future. (AP Photo/Kirsty Wigglesworth, File)
LONDON (AP) — Boris Johnson wanted to be like his hero Winston Churchill: a larger-than-life character who led Britain through a time of crisis. He was felled by crises of his own making, as a trickle of ethics allegations became a flood that engulfed his government and turned his own party against him.
Johnson resigned Thursday after the chorus of disapproval from within his own party became too much for him to withstand.
The move came after months of scandal that saw Johnson fined by police and criticized by an investigator's report for allowing rule-breaking parties in his office while Britain was in lockdown during the coronavirus pandemic.
Johnson urged his party and country to "move on" and focus on the U.K.'s struggling economy and Russia's war in Ukraine. But two thumping special election defeats for Johnson's Conservative Party and allegations of sexual misconduct against a senior party official sealed the fate of a politician whose ability to survive scandals was legendary.