Haller fires Dortmund to the top of the Bundesliga, just 1 round left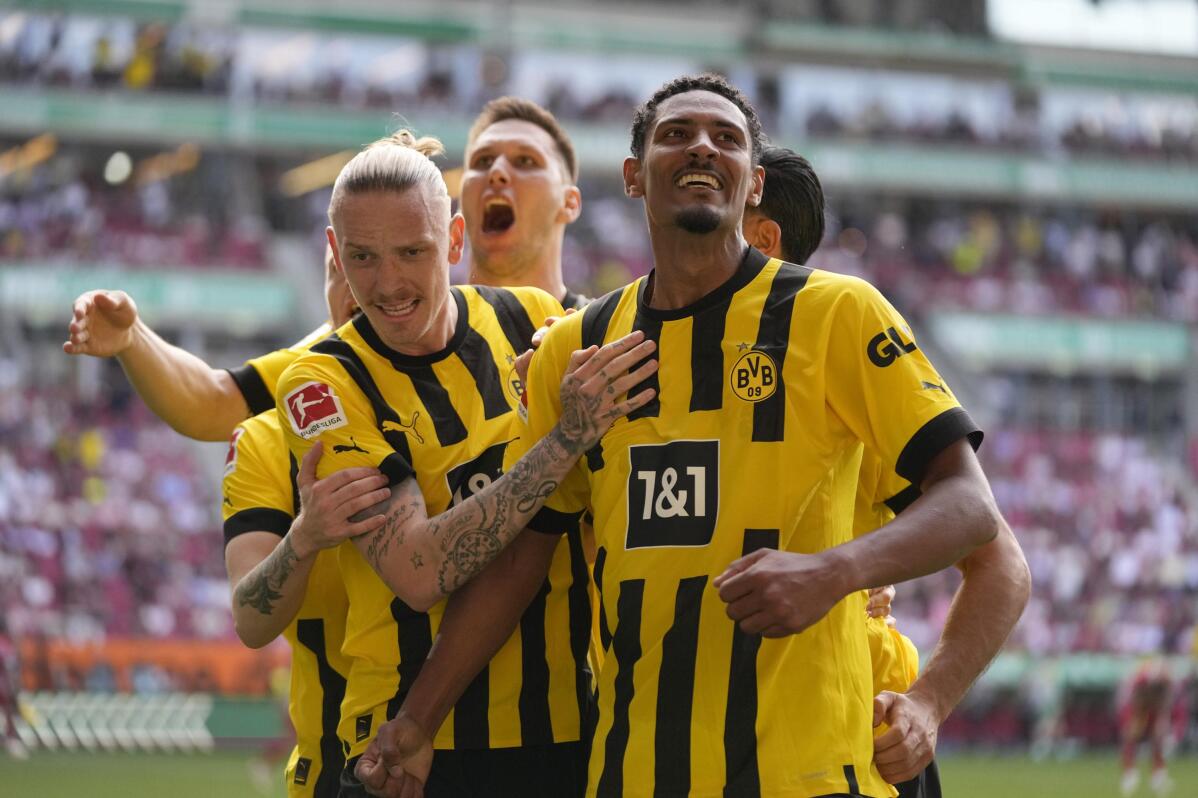 1 of 11

|
Borussia Dortmund players celebrate after Dortmund's Sebastien Haller, right, scored his side's second goal during the German Bundesliga soccer match between FC Augsburg and Borussia Dortmund at the WWK Arena in Augsburg, Germany, Sunday, May 21, 2023. (AP Photo/Matthias Schrader)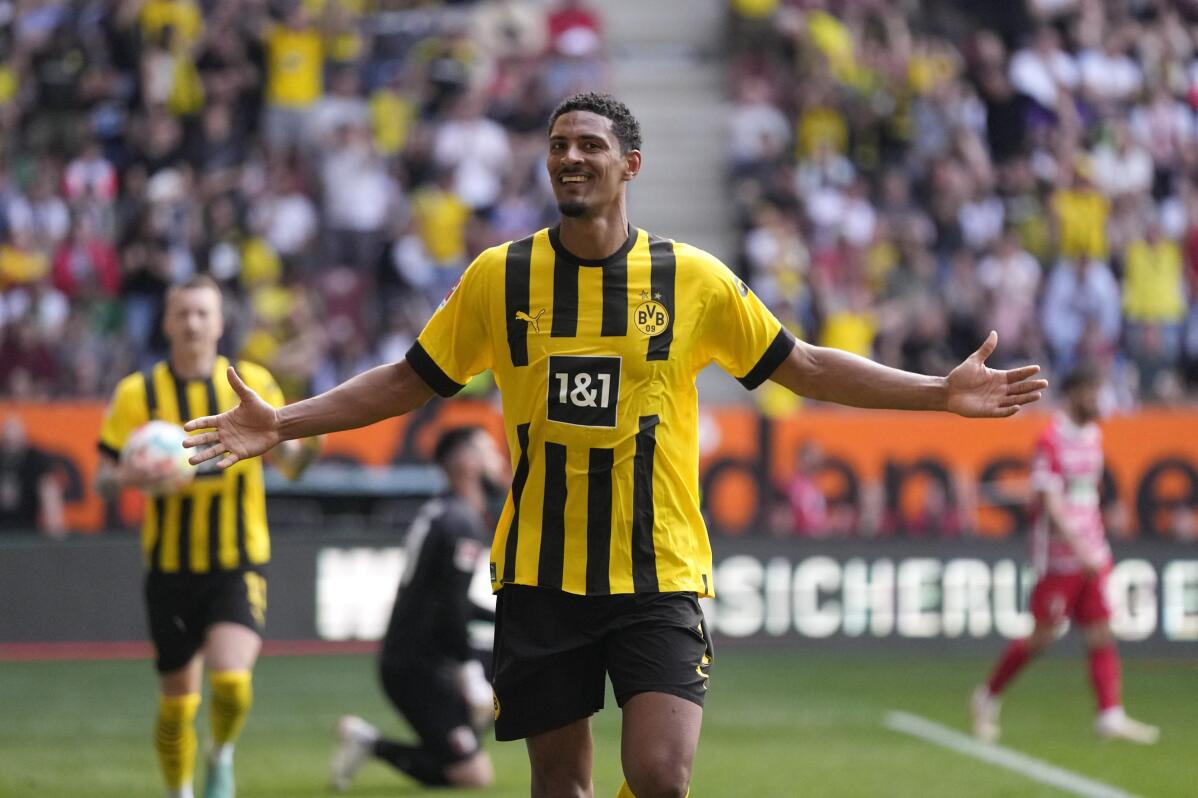 2 of 11

|
Dortmund's Sebastien Haller celebrates after scoring his side's second goal during the German Bundesliga soccer match between FC Augsburg and Borussia Dortmund at the WWK Arena in Augsburg, Germany, Sunday, May 21, 2023. (AP Photo/Matthias Schrader)
3 of 11

|
Borussia Dortmund players celebrate after Dortmund's Sebastien Haller, right, scored his side's second goal during the German Bundesliga soccer match between FC Augsburg and Borussia Dortmund at the WWK Arena in Augsburg, Germany, Sunday, May 21, 2023. (AP Photo/Matthias Schrader)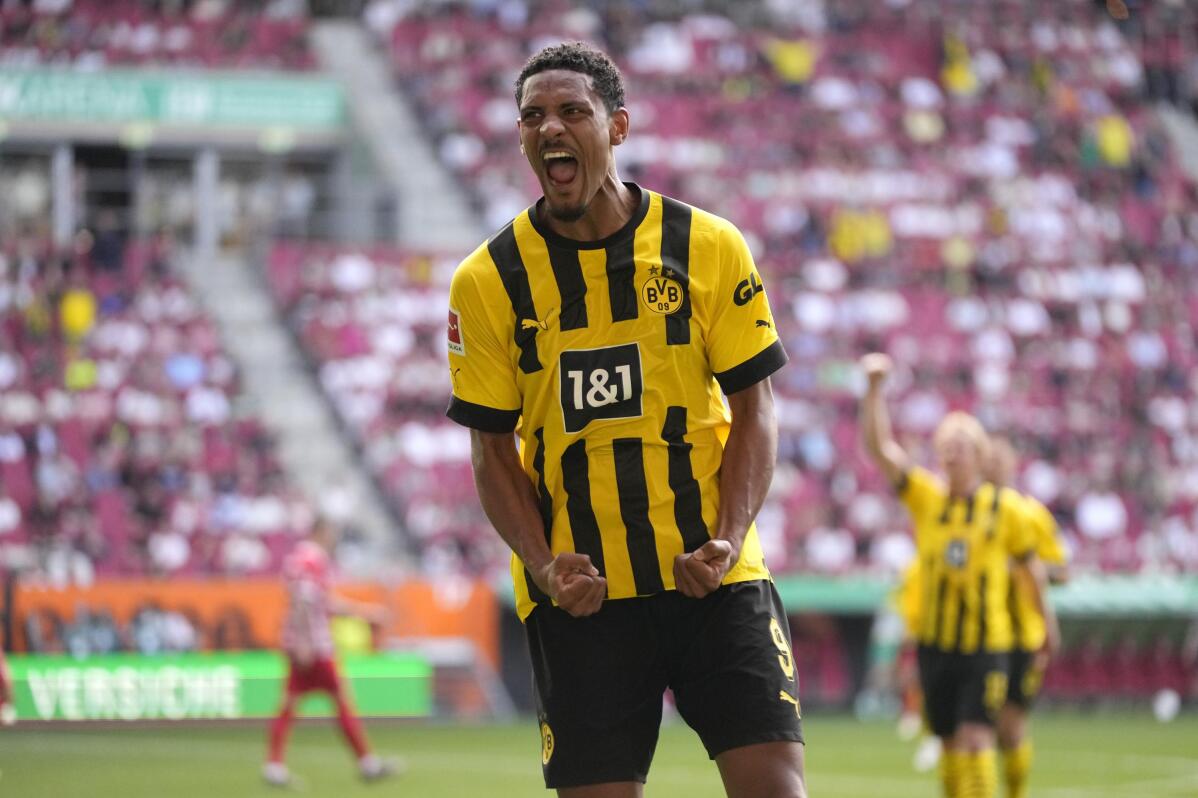 4 of 11

|
Dortmund's Sebastien Haller celebrates after scoring his side's second goal during the German Bundesliga soccer match between FC Augsburg and Borussia Dortmund at the WWK Arena in Augsburg, Germany, Sunday, May 21, 2023. (AP Photo/Matthias Schrader)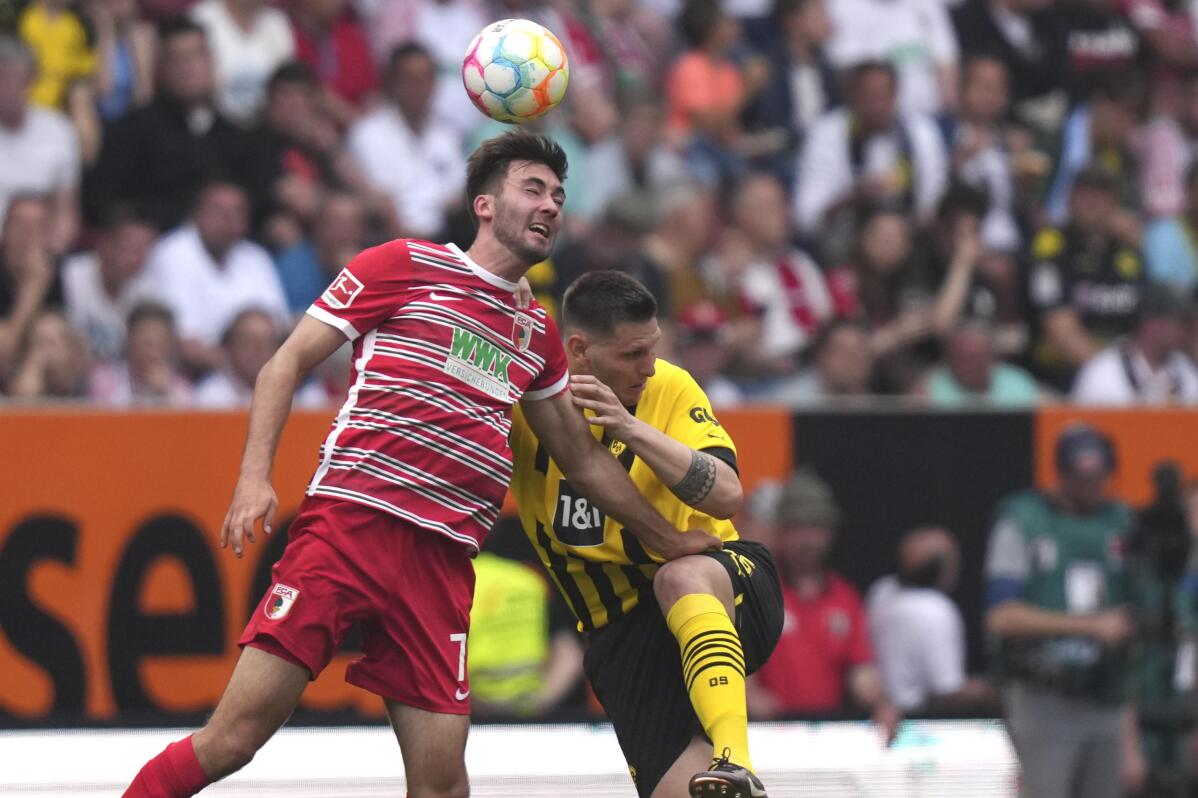 5 of 11

|
Dortmund's Niklas Suele, right, challenges for the ball with Augsburg's Dion Drena Beljo during the German Bundesliga soccer match between FC Augsburg and Borussia Dortmund at the WWK Arena in Augsburg, Germany, Sunday, May 21, 2023. (AP Photo/Matthias Schrader)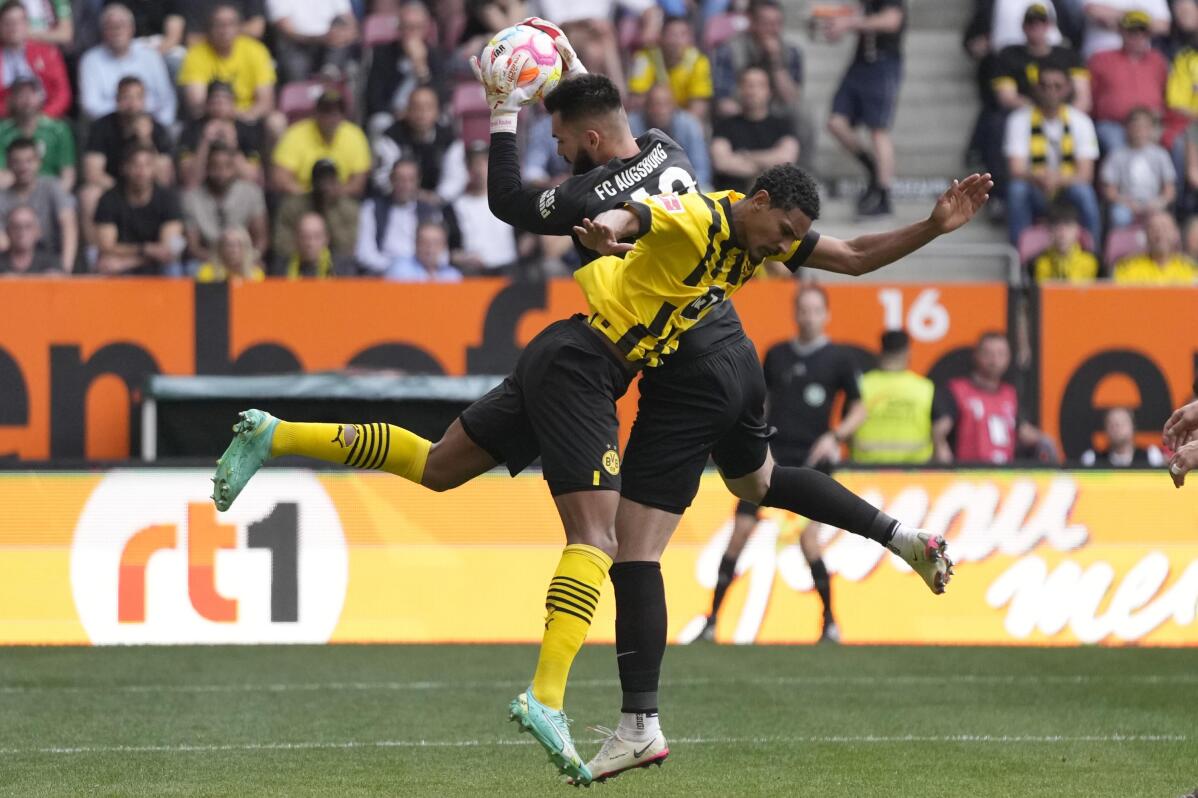 6 of 11

|
Augsburg's goalkeeper Tomas Koubek makes a save ahead Dortmund's Sebastien Haller during the German Bundesliga soccer match between FC Augsburg and Borussia Dortmund at the WWK Arena in Augsburg, Germany, Sunday, May 21, 2023. (AP Photo/Matthias Schrader)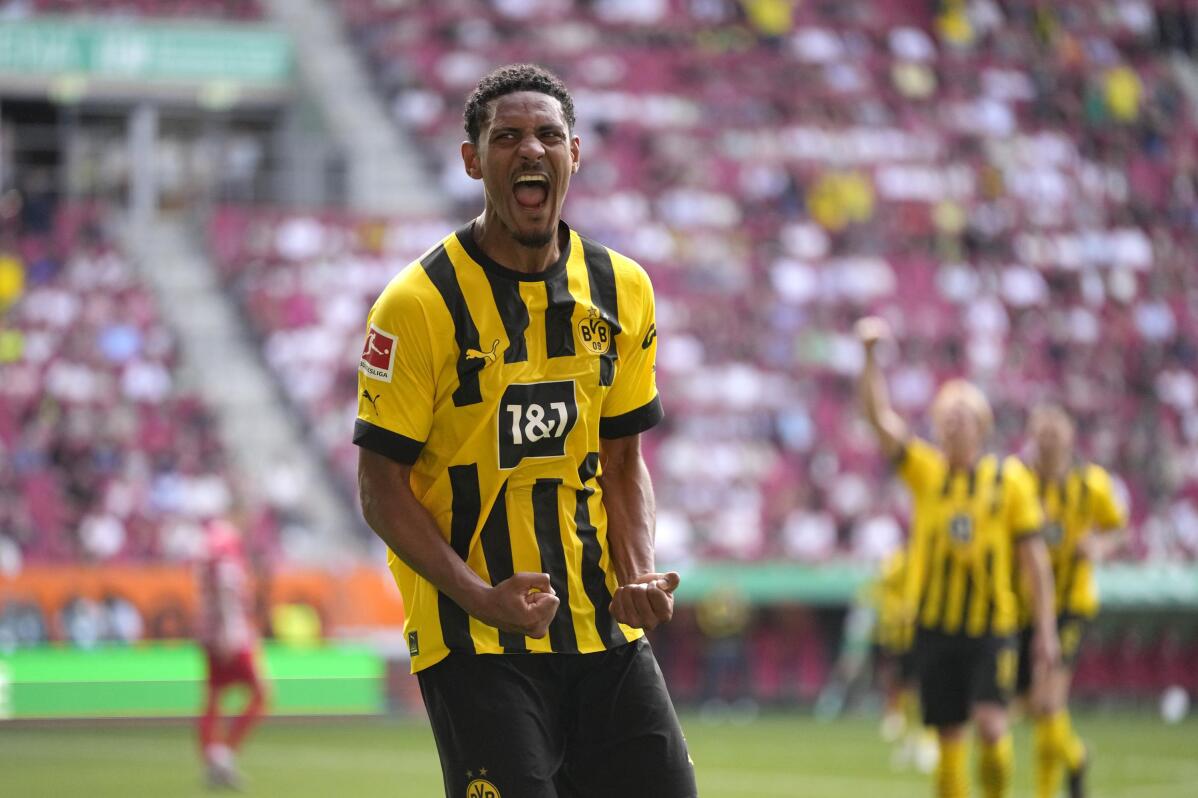 7 of 11

|
Dortmund's Sebastien Haller celebrates after scoring his side's second goal during the German Bundesliga soccer match between FC Augsburg and Borussia Dortmund at the WWK Arena in Augsburg, Germany, Sunday, May 21, 2023. (AP Photo/Matthias Schrader)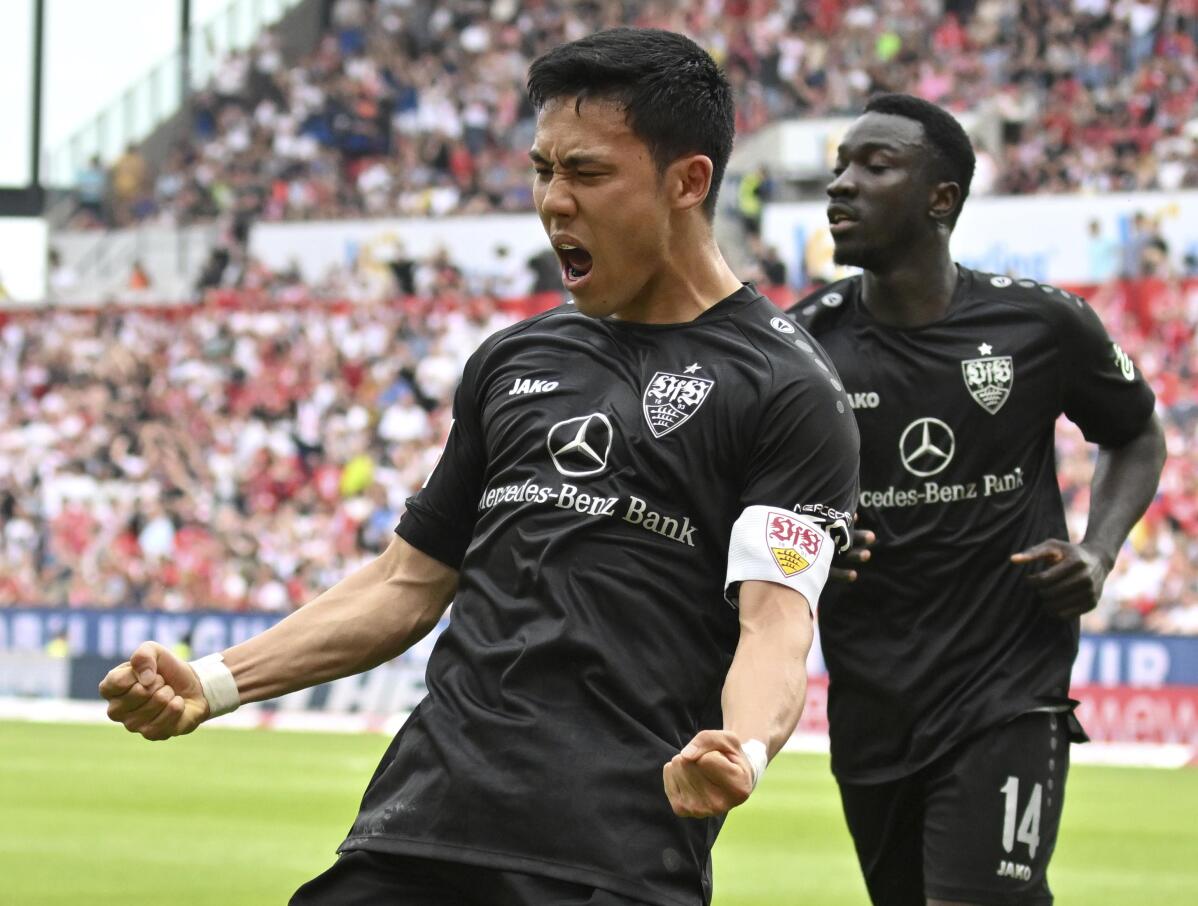 8 of 11

|
Stuttgart's Wataru Endo celebrates scoring during the Bundesliga soccer match between FSV Mainz 05 - VfB Stuttgart at Mewa Arena, in Mainz, Germany, Sunday May 21, 2023. (Torsten Silz/dpa via AP)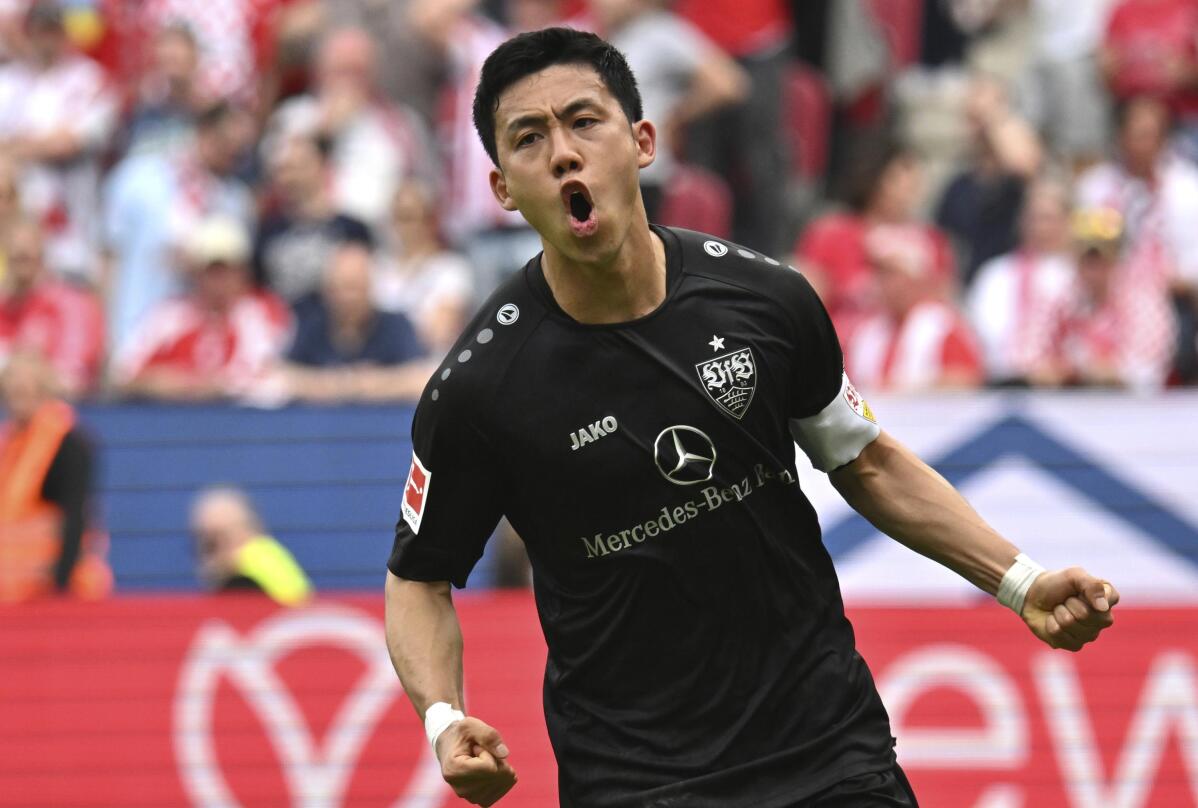 9 of 11

|
Stuttgart's Wataru Endo celebrates scoring during the Bundesliga soccer match between FSV Mainz 05 - VfB Stuttgart at Mewa Arena, in Mainz, Germany, Sunday May 21, 2023. (Torsten Silz/dpa via AP)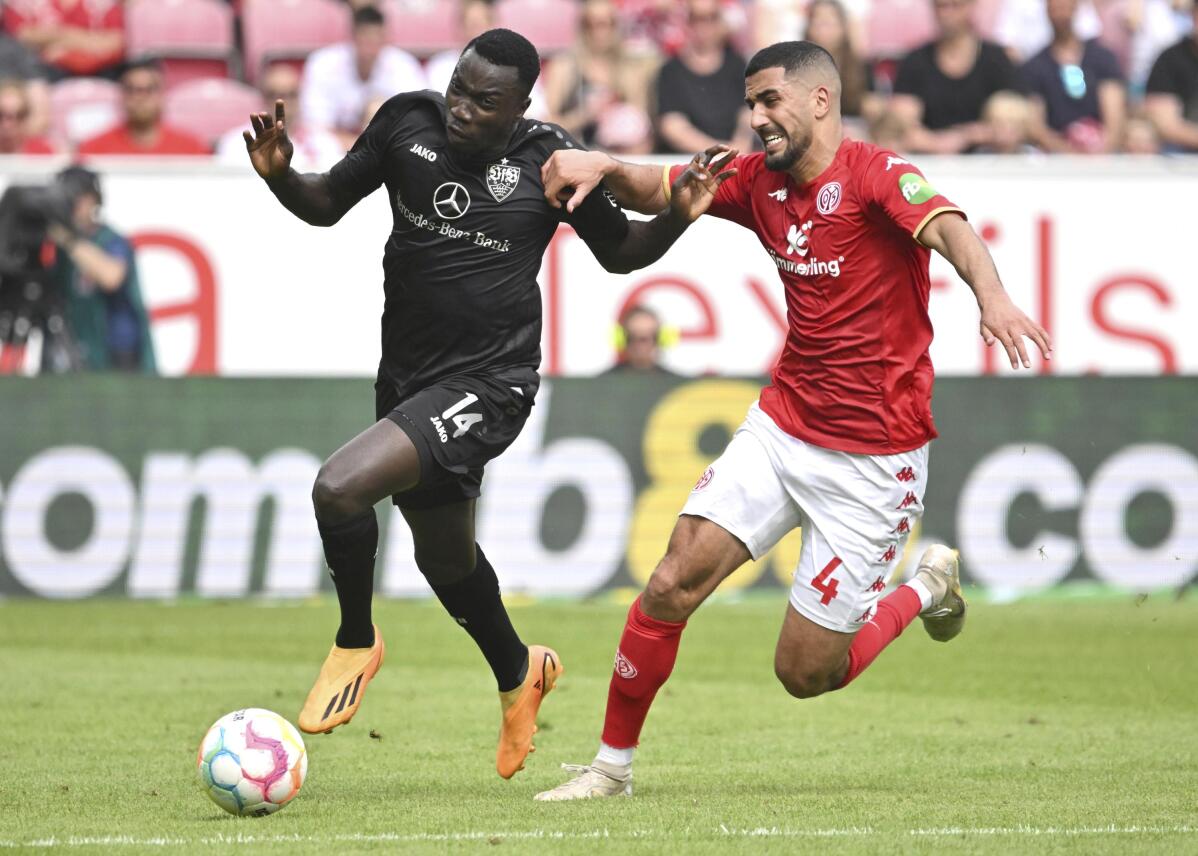 10 of 11

|
Mainz's Aymen Barko, right, and Stuttgart's Silas Katompa Mvumpa battle for the ball during the Bundesliga soccer match between FSV Mainz 05 - VfB Stuttgart at Mewa Arena, in Mainz, Germany, Sunday May 21, 2023. (Torsten Silz/dpa via AP)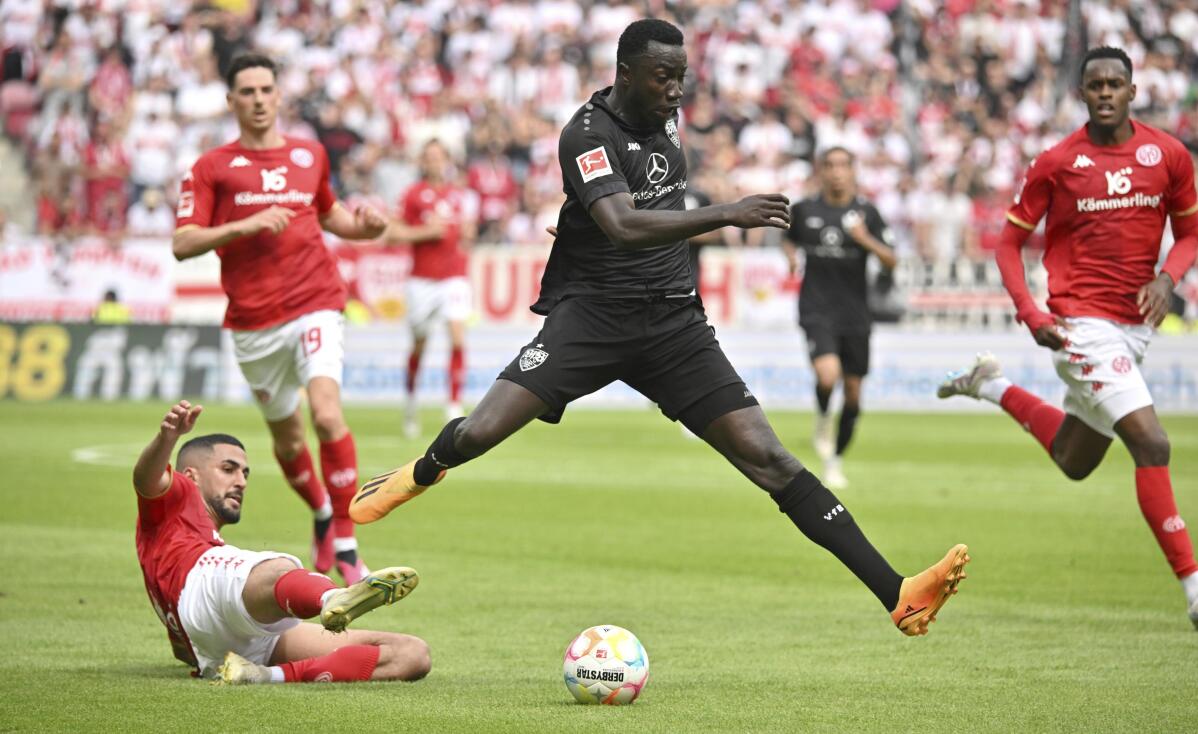 11 of 11

|
Mainz's Aymen Barkok, left, and Stuttgart's Silas Katompa Mvumpa battle for the ball during the Bundesliga soccer match between FSV Mainz 05 - VfB Stuttgart at Mewa Arena, in Mainz, Germany, Sunday May 21, 2023. (Torsten Silz/dpa via AP)
Haller fires Dortmund to the top of the Bundesliga, just 1 round left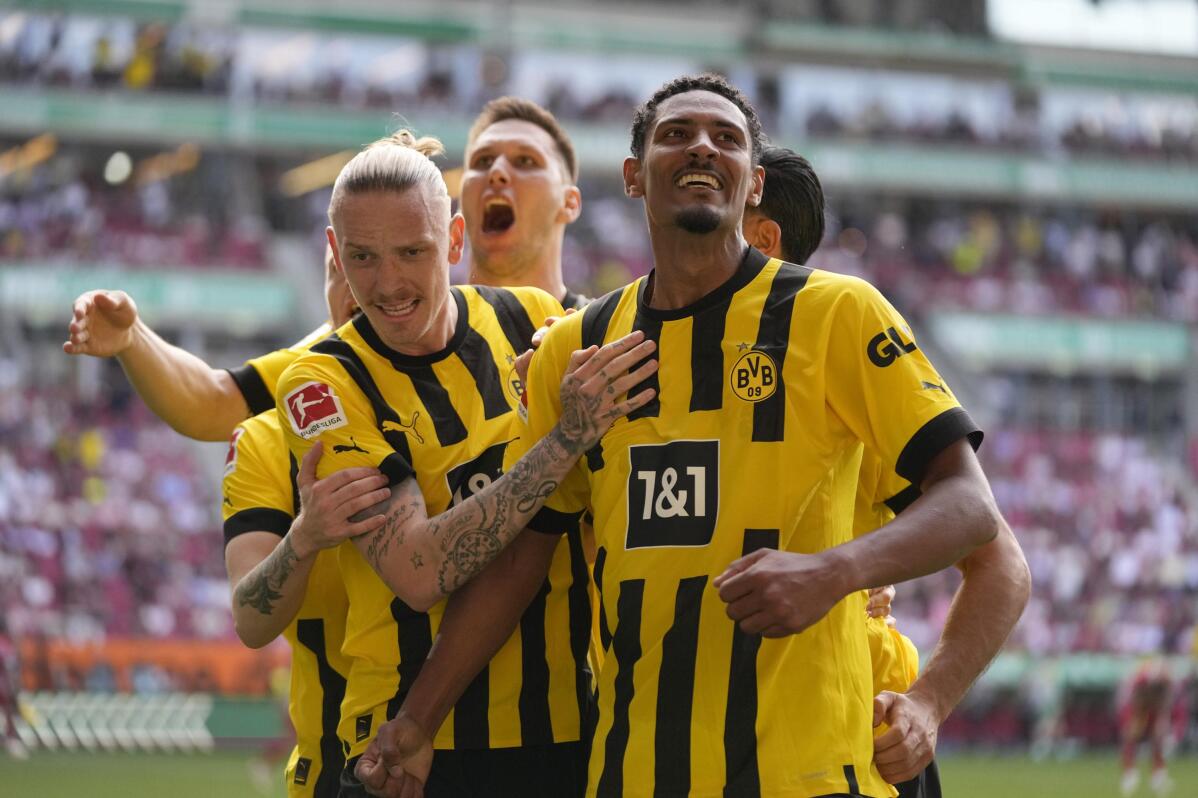 1 of 11

|
Borussia Dortmund players celebrate after Dortmund's Sebastien Haller, right, scored his side's second goal during the German Bundesliga soccer match between FC Augsburg and Borussia Dortmund at the WWK Arena in Augsburg, Germany, Sunday, May 21, 2023. (AP Photo/Matthias Schrader)
1 of 11
Borussia Dortmund players celebrate after Dortmund's Sebastien Haller, right, scored his side's second goal during the German Bundesliga soccer match between FC Augsburg and Borussia Dortmund at the WWK Arena in Augsburg, Germany, Sunday, May 21, 2023. (AP Photo/Matthias Schrader)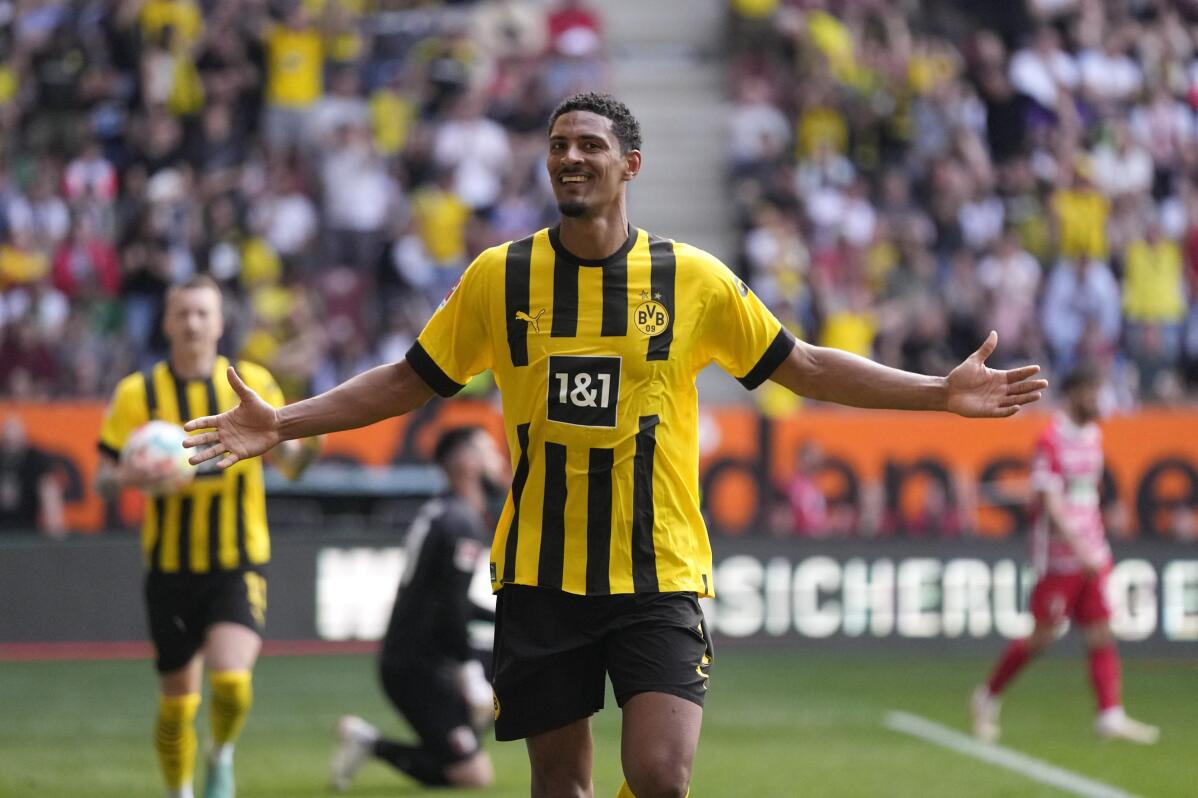 2 of 11

|
Dortmund's Sebastien Haller celebrates after scoring his side's second goal during the German Bundesliga soccer match between FC Augsburg and Borussia Dortmund at the WWK Arena in Augsburg, Germany, Sunday, May 21, 2023. (AP Photo/Matthias Schrader)
2 of 11
Dortmund's Sebastien Haller celebrates after scoring his side's second goal during the German Bundesliga soccer match between FC Augsburg and Borussia Dortmund at the WWK Arena in Augsburg, Germany, Sunday, May 21, 2023. (AP Photo/Matthias Schrader)
3 of 11

|
Borussia Dortmund players celebrate after Dortmund's Sebastien Haller, right, scored his side's second goal during the German Bundesliga soccer match between FC Augsburg and Borussia Dortmund at the WWK Arena in Augsburg, Germany, Sunday, May 21, 2023. (AP Photo/Matthias Schrader)
3 of 11
Borussia Dortmund players celebrate after Dortmund's Sebastien Haller, right, scored his side's second goal during the German Bundesliga soccer match between FC Augsburg and Borussia Dortmund at the WWK Arena in Augsburg, Germany, Sunday, May 21, 2023. (AP Photo/Matthias Schrader)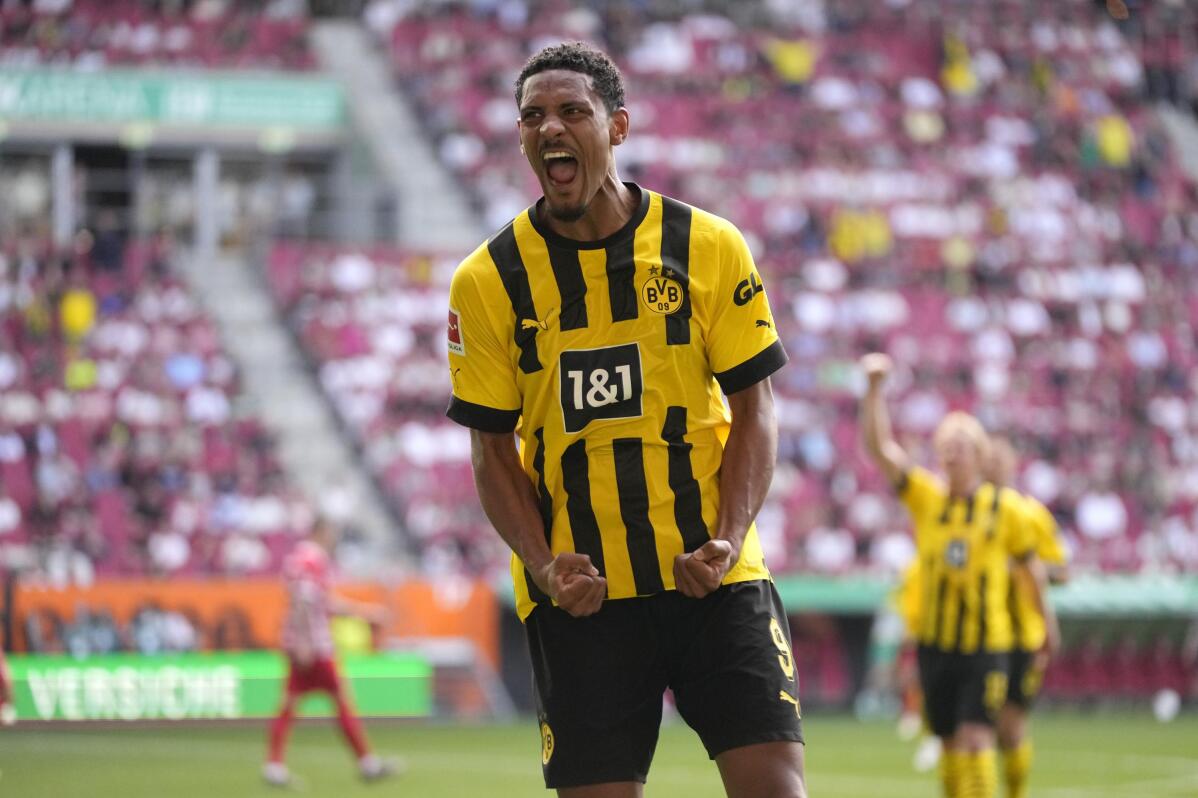 4 of 11

|
Dortmund's Sebastien Haller celebrates after scoring his side's second goal during the German Bundesliga soccer match between FC Augsburg and Borussia Dortmund at the WWK Arena in Augsburg, Germany, Sunday, May 21, 2023. (AP Photo/Matthias Schrader)
4 of 11
Dortmund's Sebastien Haller celebrates after scoring his side's second goal during the German Bundesliga soccer match between FC Augsburg and Borussia Dortmund at the WWK Arena in Augsburg, Germany, Sunday, May 21, 2023. (AP Photo/Matthias Schrader)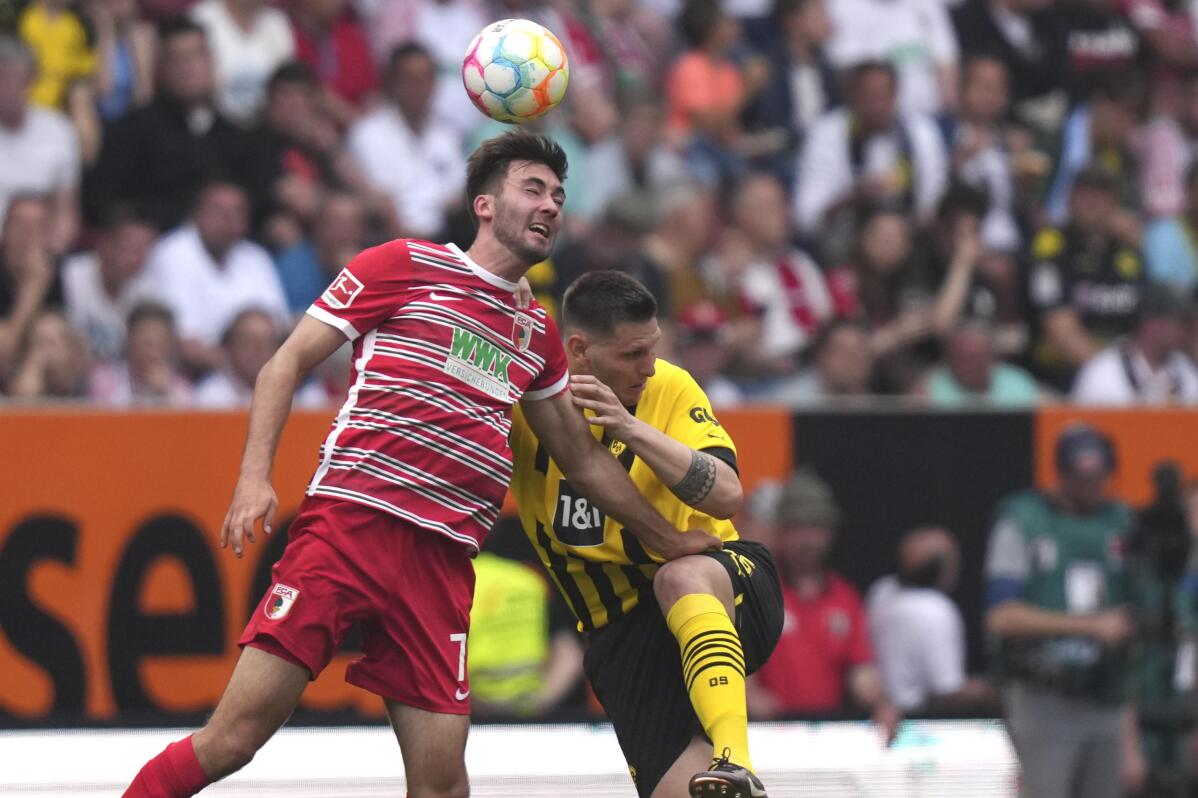 5 of 11

|
Dortmund's Niklas Suele, right, challenges for the ball with Augsburg's Dion Drena Beljo during the German Bundesliga soccer match between FC Augsburg and Borussia Dortmund at the WWK Arena in Augsburg, Germany, Sunday, May 21, 2023. (AP Photo/Matthias Schrader)
5 of 11
Dortmund's Niklas Suele, right, challenges for the ball with Augsburg's Dion Drena Beljo during the German Bundesliga soccer match between FC Augsburg and Borussia Dortmund at the WWK Arena in Augsburg, Germany, Sunday, May 21, 2023. (AP Photo/Matthias Schrader)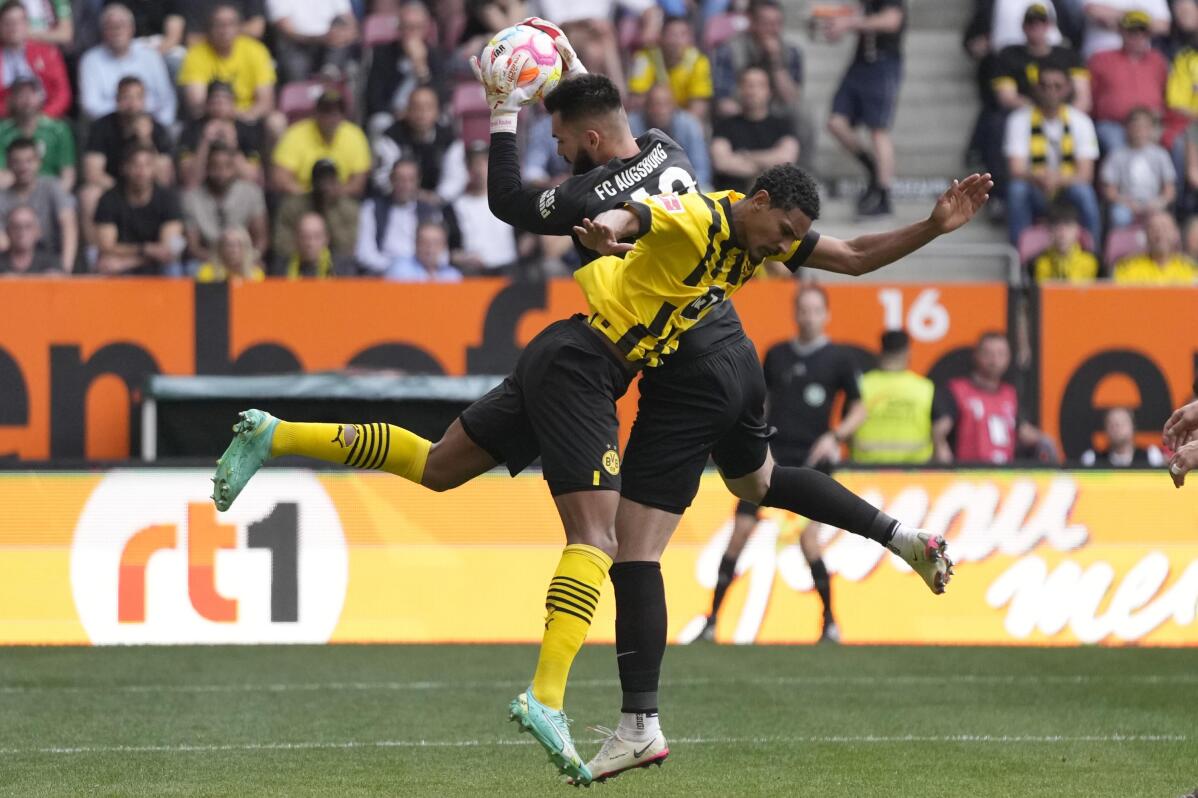 6 of 11

|
Augsburg's goalkeeper Tomas Koubek makes a save ahead Dortmund's Sebastien Haller during the German Bundesliga soccer match between FC Augsburg and Borussia Dortmund at the WWK Arena in Augsburg, Germany, Sunday, May 21, 2023. (AP Photo/Matthias Schrader)
6 of 11
Augsburg's goalkeeper Tomas Koubek makes a save ahead Dortmund's Sebastien Haller during the German Bundesliga soccer match between FC Augsburg and Borussia Dortmund at the WWK Arena in Augsburg, Germany, Sunday, May 21, 2023. (AP Photo/Matthias Schrader)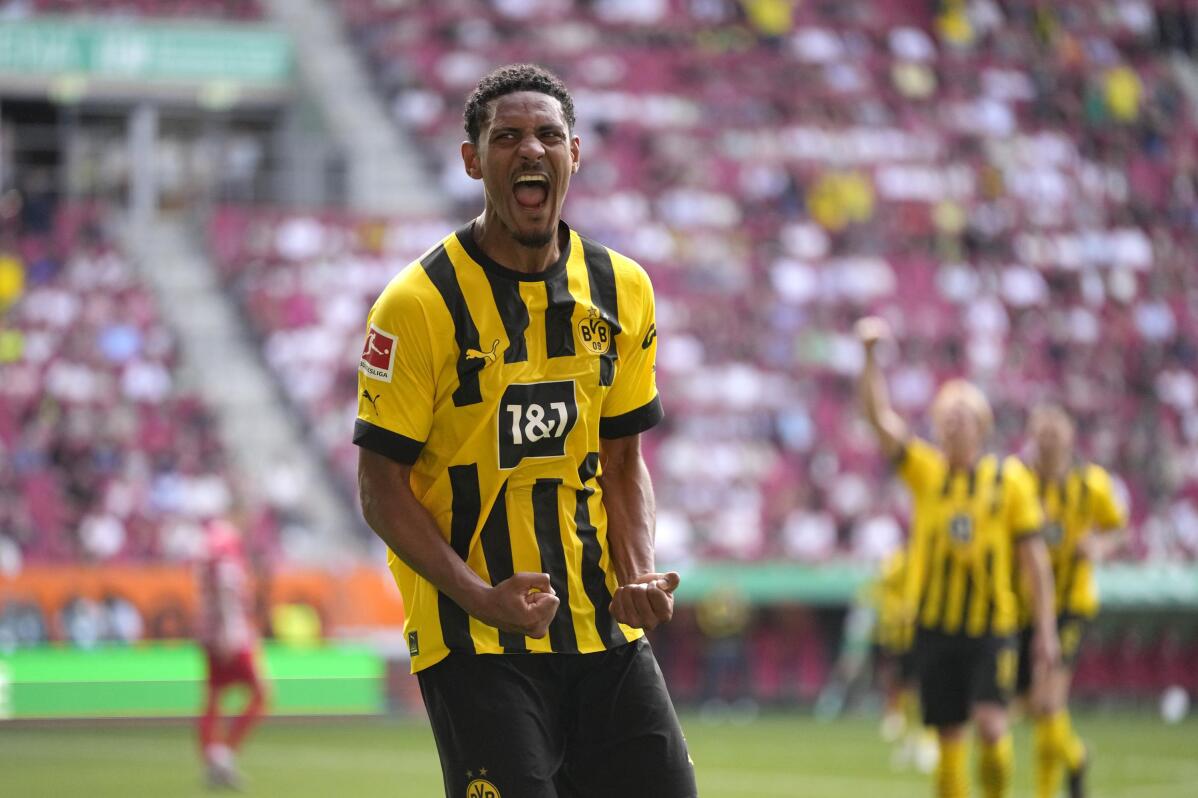 7 of 11

|
Dortmund's Sebastien Haller celebrates after scoring his side's second goal during the German Bundesliga soccer match between FC Augsburg and Borussia Dortmund at the WWK Arena in Augsburg, Germany, Sunday, May 21, 2023. (AP Photo/Matthias Schrader)
7 of 11
Dortmund's Sebastien Haller celebrates after scoring his side's second goal during the German Bundesliga soccer match between FC Augsburg and Borussia Dortmund at the WWK Arena in Augsburg, Germany, Sunday, May 21, 2023. (AP Photo/Matthias Schrader)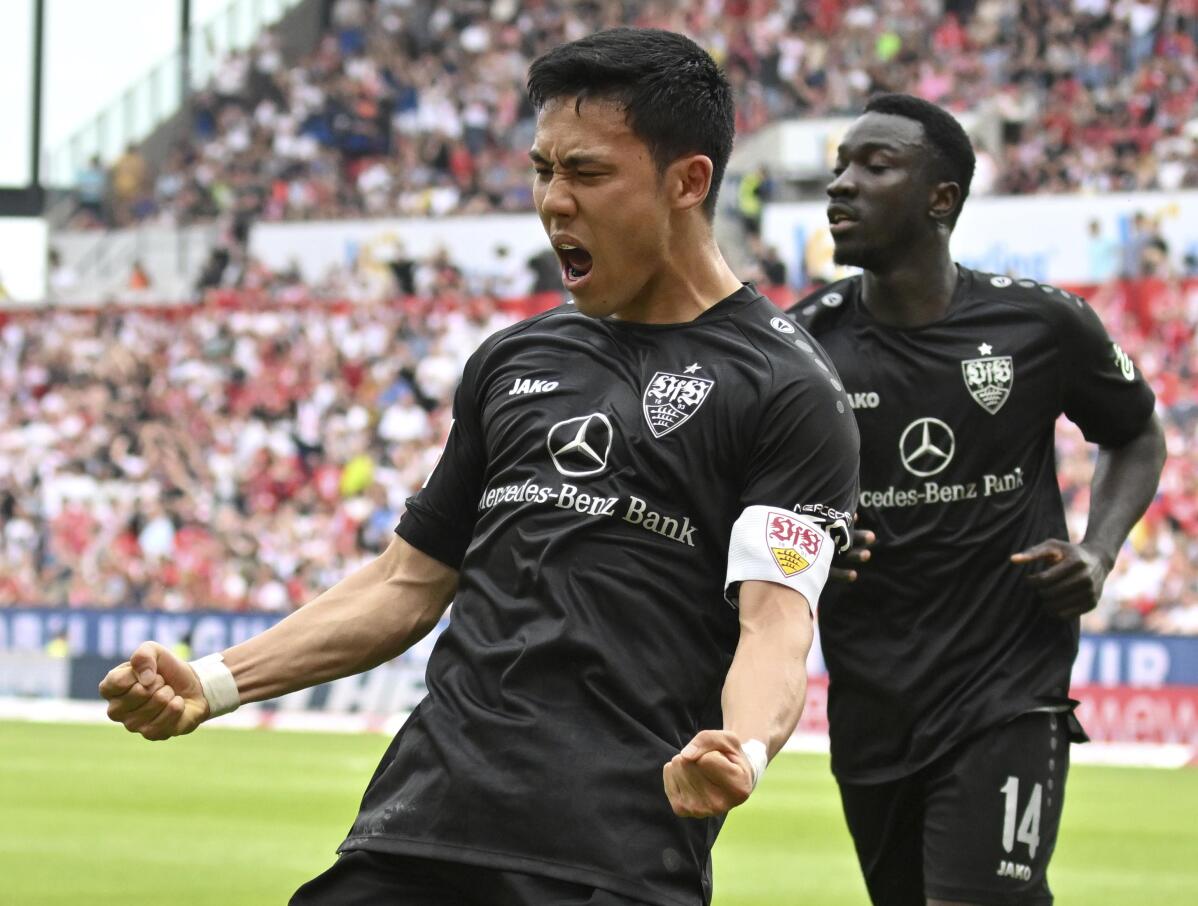 8 of 11

|
Stuttgart's Wataru Endo celebrates scoring during the Bundesliga soccer match between FSV Mainz 05 - VfB Stuttgart at Mewa Arena, in Mainz, Germany, Sunday May 21, 2023. (Torsten Silz/dpa via AP)
8 of 11
Stuttgart's Wataru Endo celebrates scoring during the Bundesliga soccer match between FSV Mainz 05 - VfB Stuttgart at Mewa Arena, in Mainz, Germany, Sunday May 21, 2023. (Torsten Silz/dpa via AP)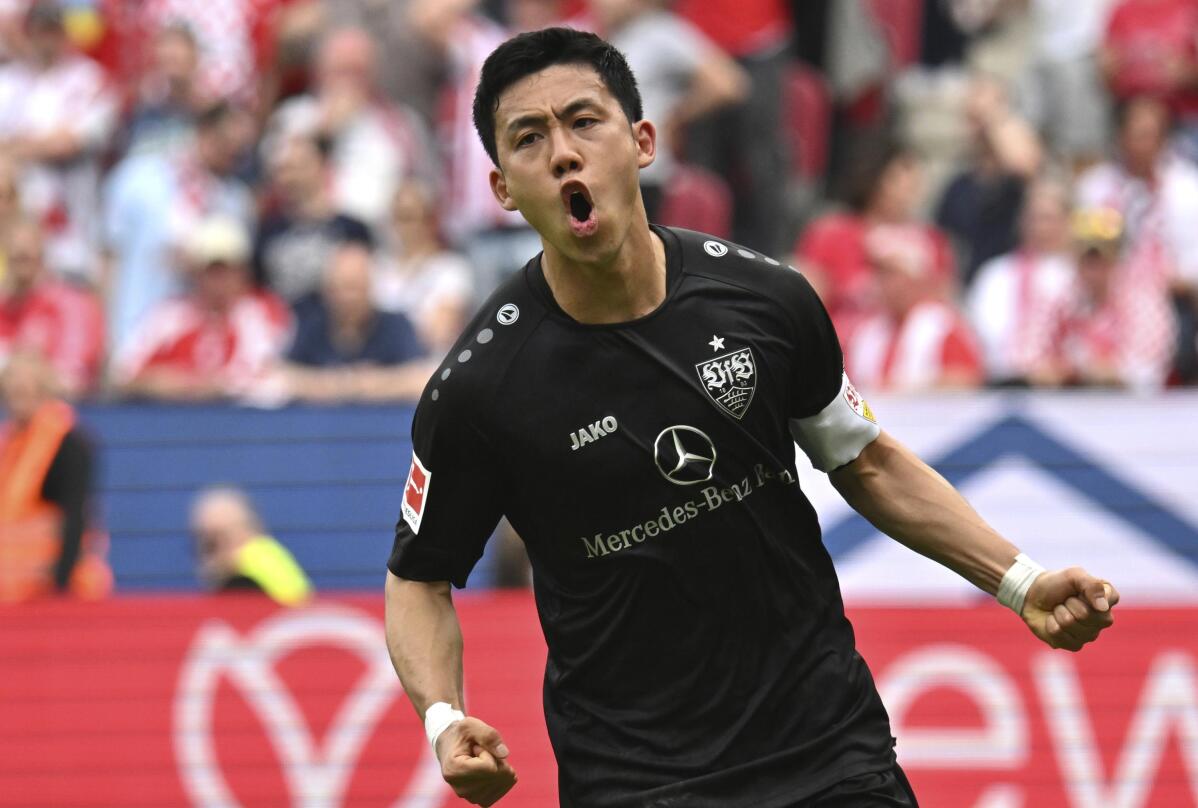 9 of 11

|
Stuttgart's Wataru Endo celebrates scoring during the Bundesliga soccer match between FSV Mainz 05 - VfB Stuttgart at Mewa Arena, in Mainz, Germany, Sunday May 21, 2023. (Torsten Silz/dpa via AP)
9 of 11
Stuttgart's Wataru Endo celebrates scoring during the Bundesliga soccer match between FSV Mainz 05 - VfB Stuttgart at Mewa Arena, in Mainz, Germany, Sunday May 21, 2023. (Torsten Silz/dpa via AP)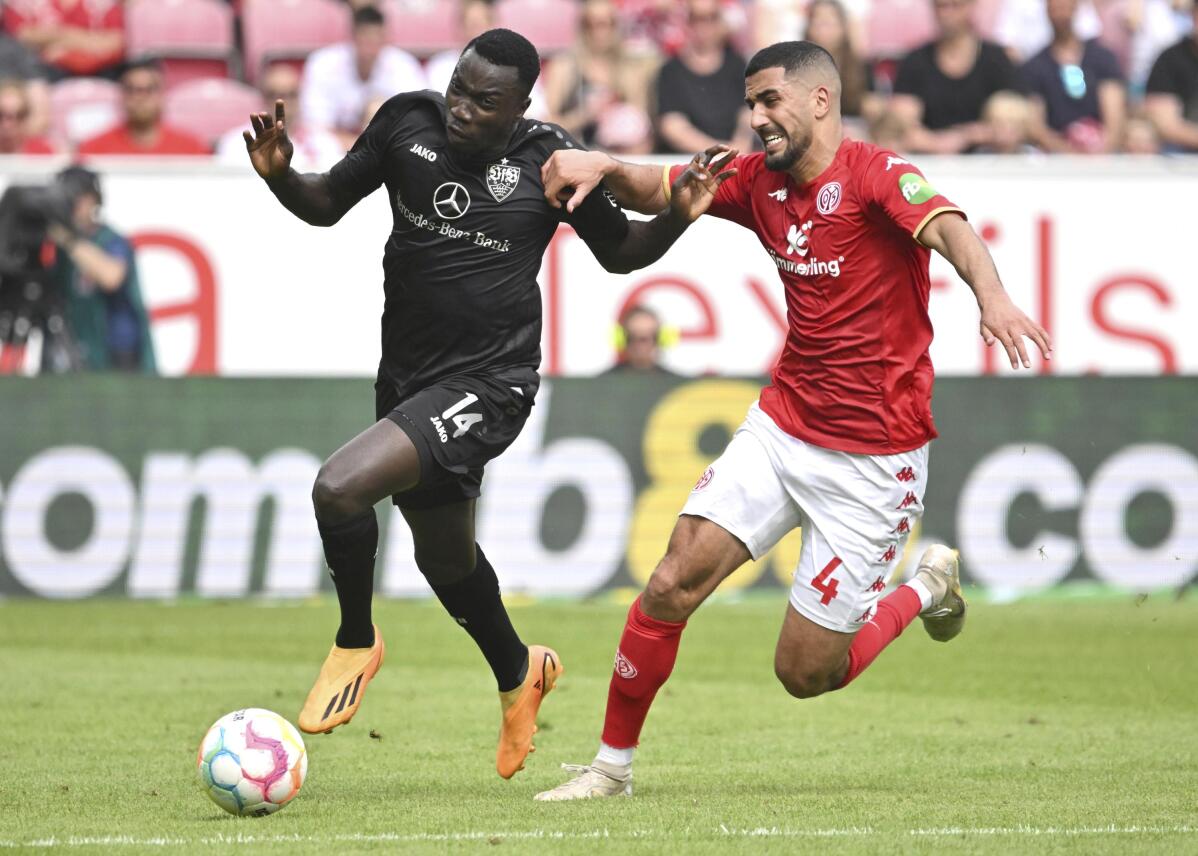 10 of 11

|
Mainz's Aymen Barko, right, and Stuttgart's Silas Katompa Mvumpa battle for the ball during the Bundesliga soccer match between FSV Mainz 05 - VfB Stuttgart at Mewa Arena, in Mainz, Germany, Sunday May 21, 2023. (Torsten Silz/dpa via AP)
10 of 11
Mainz's Aymen Barko, right, and Stuttgart's Silas Katompa Mvumpa battle for the ball during the Bundesliga soccer match between FSV Mainz 05 - VfB Stuttgart at Mewa Arena, in Mainz, Germany, Sunday May 21, 2023. (Torsten Silz/dpa via AP)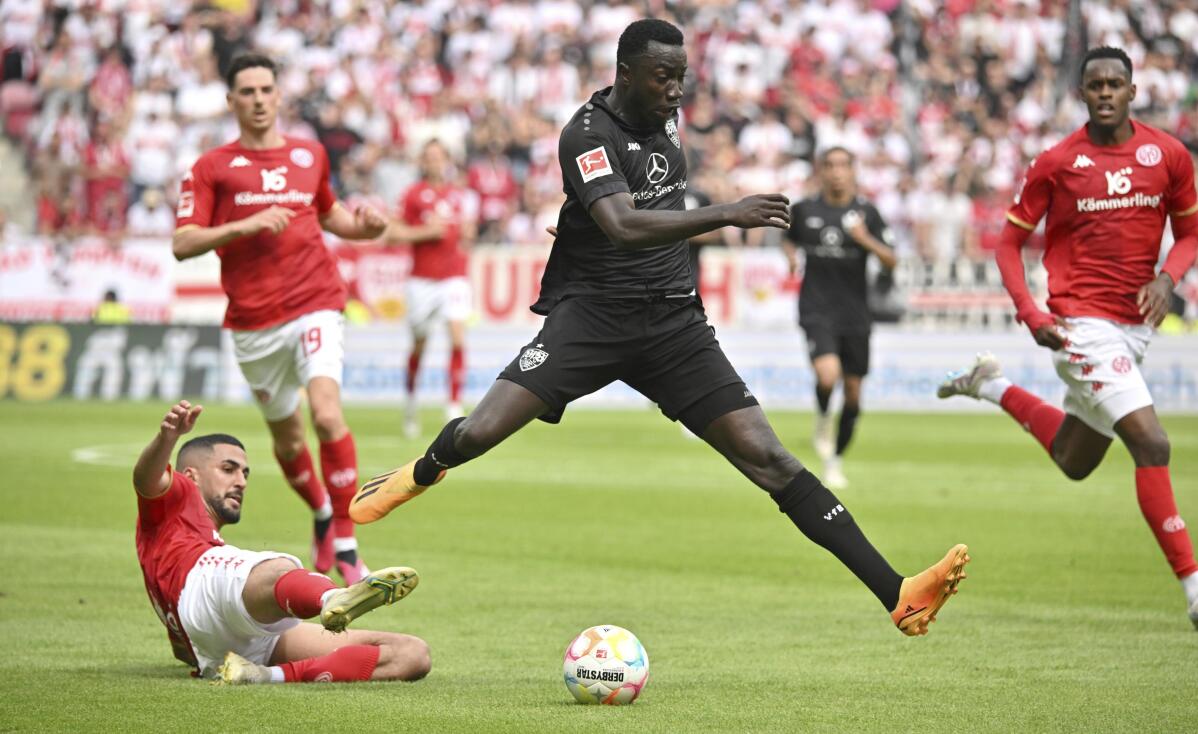 11 of 11

|
Mainz's Aymen Barkok, left, and Stuttgart's Silas Katompa Mvumpa battle for the ball during the Bundesliga soccer match between FSV Mainz 05 - VfB Stuttgart at Mewa Arena, in Mainz, Germany, Sunday May 21, 2023. (Torsten Silz/dpa via AP)
11 of 11
Mainz's Aymen Barkok, left, and Stuttgart's Silas Katompa Mvumpa battle for the ball during the Bundesliga soccer match between FSV Mainz 05 - VfB Stuttgart at Mewa Arena, in Mainz, Germany, Sunday May 21, 2023. (Torsten Silz/dpa via AP)
BERLIN (AP) — Sébastien Haller fired Borussia Dortmund to the top of the Bundesliga with one round remaining by scoring two goals in a 3-0 win at 10-man Augsburg on Sunday.
The Ivory Coast striker made the breakthrough against the home team's stubborn defense in the 59th minute and sealed the win in the 84th. Julian Brandt got Dortmund's third in injury time.
It lifted Dortmund two points clear of 10-time defending champion Bayern Munich going into the final round. Bayern's defeat the previous day to Leipzig handed the initiative to Dortmund.
"Now we have to sleep six times, and be awake once," said Dortmund coach Edin Terzić, whose team hosts Mainz for its final game on Saturday. Bayern visits Cologne for its last game at the same time.
Dortmund, which was without star player Jude Bellingham because of a knee injury, pressured from the start and caused several alarms in the tightly packed Augsburg defense.
Augsburg goalkeeper Tomáš Koubek deflected Haller's shot over in the best early chance.
Dortmund's frustration appeared to be growing until Felix Uduokhai was sent off in the 39th with a direct red card after a VAR review for stopping Donyell Malen when the Dortmund winger would have been through on goal.
If anything, however, it ensured the home team was even more defensive. Enrico Maaßen's side had one shot at goal in the first half, compared to 17 from the visitors.
Haller made the breakthrough when Maximilian Bauer cut out Malen's cross but let the ball fall for Haller, who needed no second invitation to turn and shoot inside the far post.
Gregor Kobel needed to be alert to prevent Irvin Cardona from equalizing before Karim Adeyemi missed another good chance for Dortmund at the other end.
Terzić brought on Marco Reus in the 81st and the captain had an immediate impact, drawing a good save from Koubek three minutes later. Haller was there to seal the result from the rebound.
The visiting fans responded by singing "German champion will only be BVB."
"If someone had told me six months ago that I'd be in this position, I wouldn't have believed it," said Haller, who missed the preparation and opening half of the season while undergoing chemotherapy treatment for testicular cancer.
STUTTGART HOPE
Japan midfielder Wataru Endo scored one goal and set up another as Stuttgart moved out of the relegation zone with a 4-1 win in Mainz.
Stuttgart, previously second from bottom, moved ahead of Bochum (32 points) on goal difference and one point above Schalke with one round of the league remaining. Hertha Berlin, last on 26 points, was relegated Saturday.
Stuttgart had to recover after conceding in the 23rd minute.
Endo equalized on a counterattack in the 41st, when Silas Katompa Mvumpa raced clear before crossing for Serhou Guirassy. Mainz defender Edimilson Fernandes cut out the cross, but Endo stopped the ball with his left boot and volleyed it in with his right.
Chris Führich came on as a substitute in the 62nd, set up Guirassy for Stuttgart's second goal in the 64th, then scored himself in the 78th, after being set up by Endo.
Führich wasn't done yet, setting up Tanguy Coulibaly to complete the scoring in injury time.
LEVERKUSEN'S LAPSES
A tired-looking Bayer Leverkusen team squandered a two-goal lead to draw with Borussia Mönchengladbach 2-2.
"It feels like a defeat," Leverkusen Kerem Demirbay said after two major mistakes led to the visitors' goals.
It's Leverkusen's sixth game in a row without a win, including two Europa League semifinal games against Roma. Its 14-game unbeaten run was ended by Cologne in the Rhine derby on May 5 and Xabi Alonso's team hasn't recovered.
___
More AP soccer: https://apnews.com/hub/soccer and https://twitter.com/AP_Sports