Jews and Muslims come together at Srebrenica anniversary of Europe's only post-World War II genocide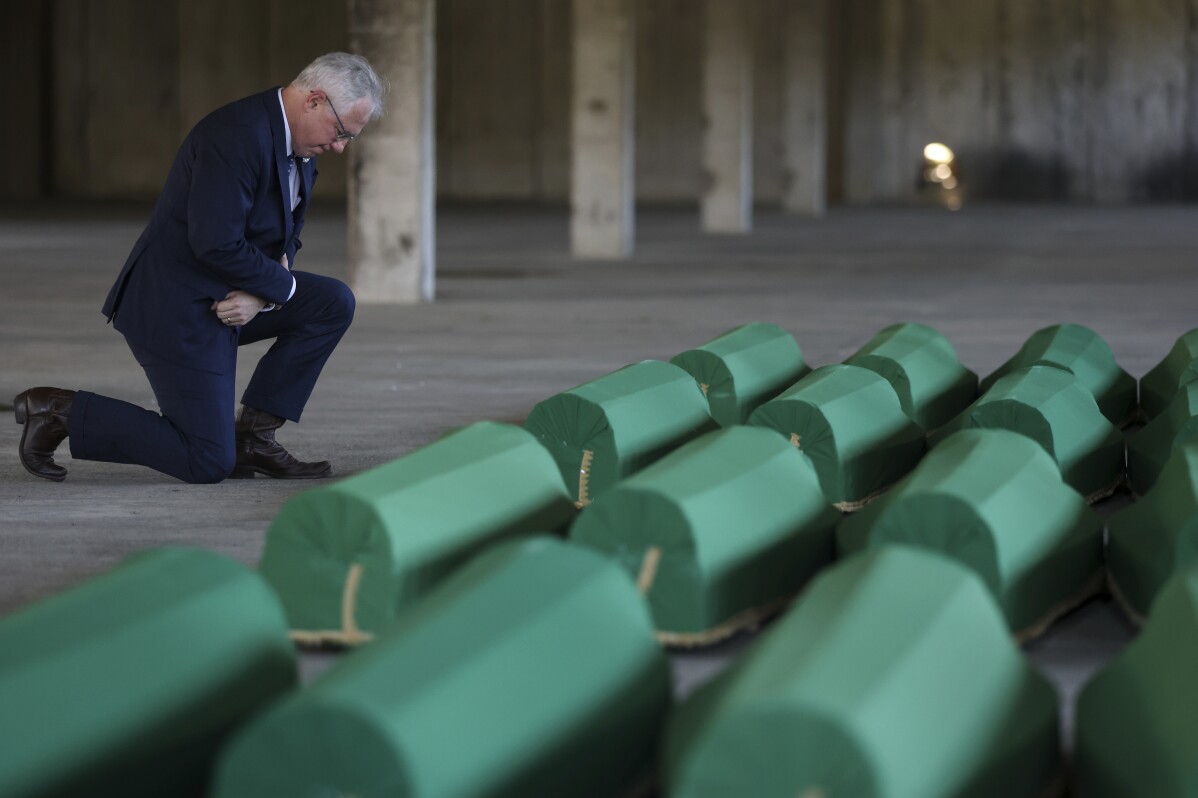 1 of 8

|
United States Ambassador to Bosnia and Herzegovina Michael J. Murphy kneels next to the coffins containing remains of 30 newly identified victims of the Srebrenica Genocide in Potocari, Bosnia, Monday, July 10, 2023. The remains of 30 recently identified victims of the Srebrenica genocide, Europe's only acknowledged genocide since World War II, arrived at the Memorial center in Potocari where they will be buried on July 11. (AP Photo/Armin Durgut)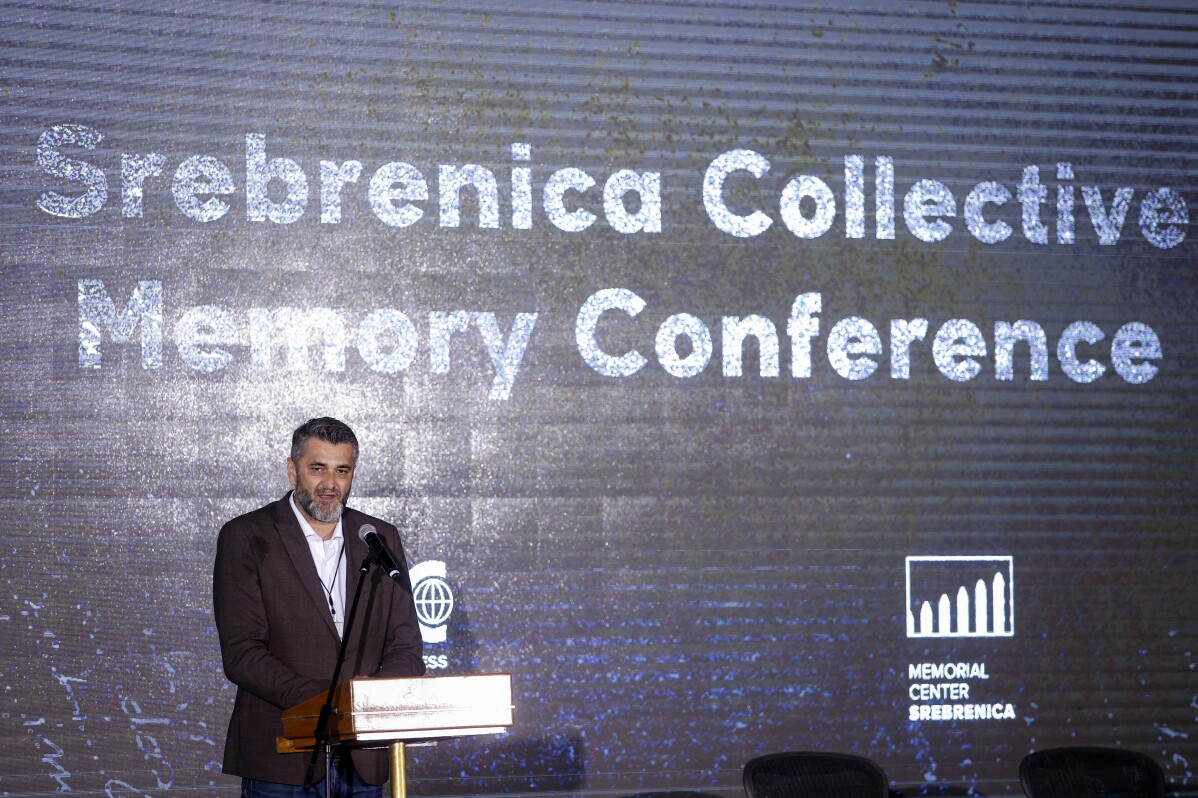 2 of 8

|
Director of the Srebrenica Genocide Memorial Emir Suljagic speaks at the opening of Srebrenica Collective Memory Conference, in Potocari, Bosnia, Monday, July 10, 2023. (AP Photo/Armin Durgut)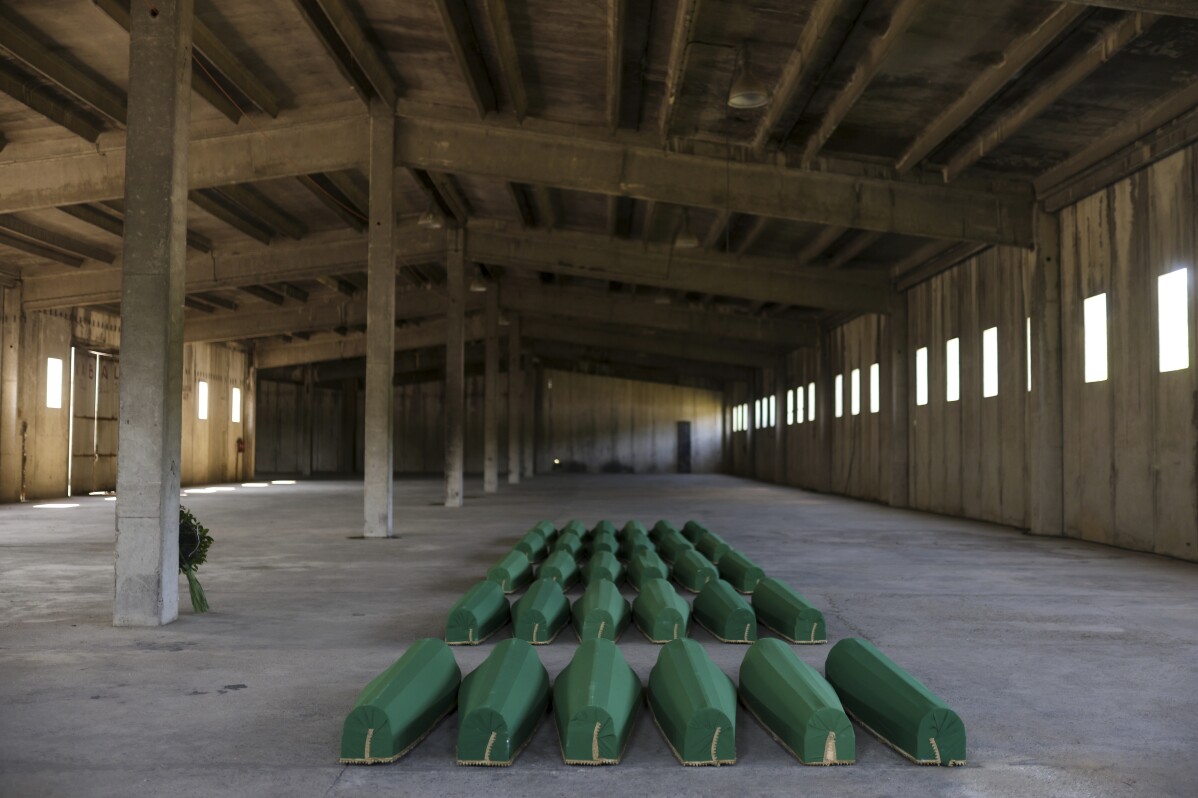 3 of 8

|
Coffins containing remains of 30 newly identified victims of the Srebrenica Genocide are lined up inside a hall in Potocari, Bosnia, Monday, July 10, 2023. The remains of 30 recently identified victims of the Srebrenica genocide, Europe's only acknowledged genocide since World War II, arrived at the Memorial center in Potocari where they will be buried on July 11. (AP Photo/Armin Durgut)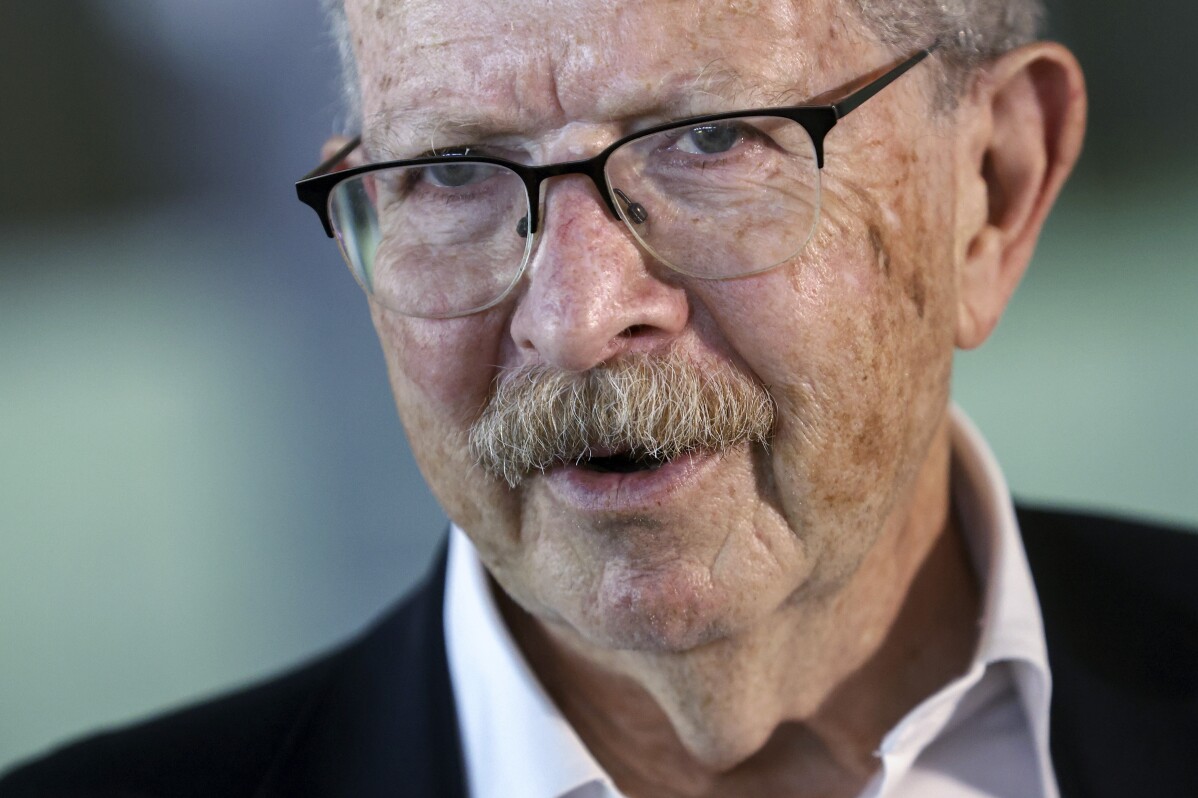 4 of 8

|
Associate Vice President of the World Jewish Congress Menachem Rosensaft talks during an interview with The Associated Press, in Potocari, Bosnia, Monday, July 10, 2023. (AP Photo/Armin Durgut)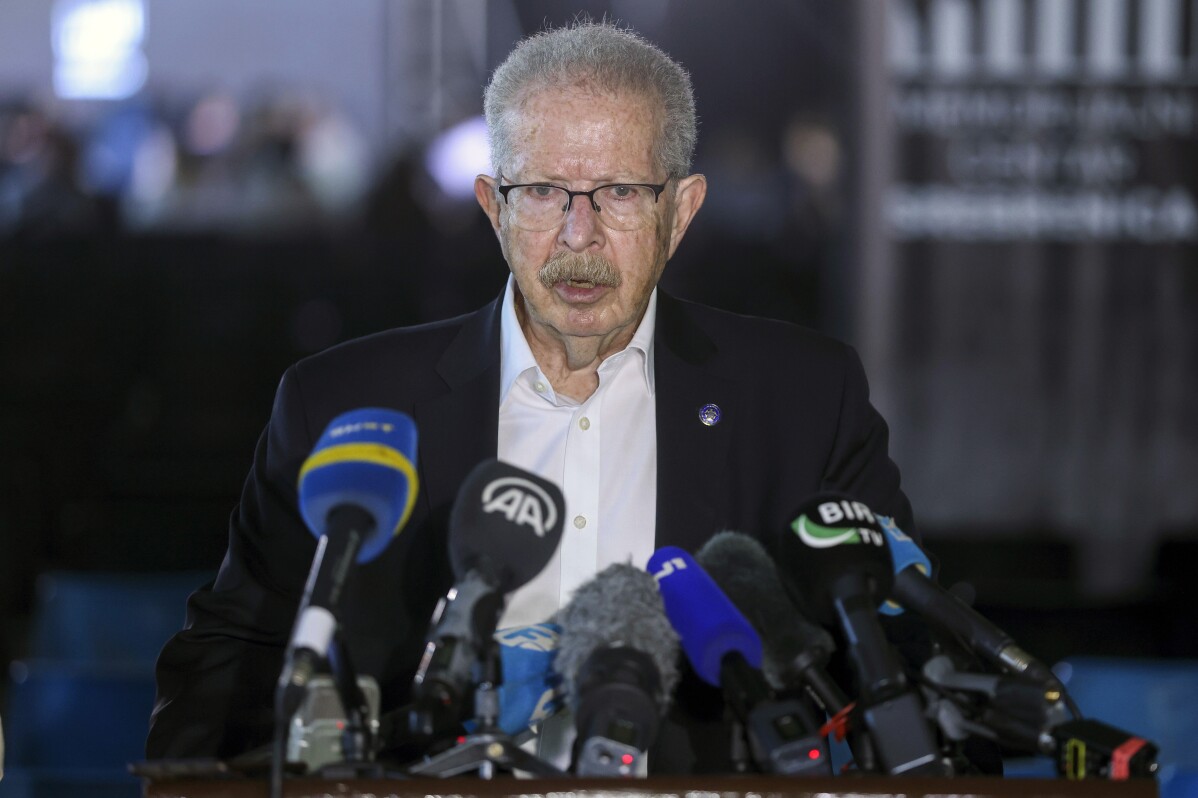 5 of 8

|
Associate VP of World Jewish Congress Menachem Rosensaft speaks to the media prior to the Srebrenica Collective Memory Conference, in Potocari, Bosnia, Monday, July 10, 2023. (AP Photo/Armin Durgut)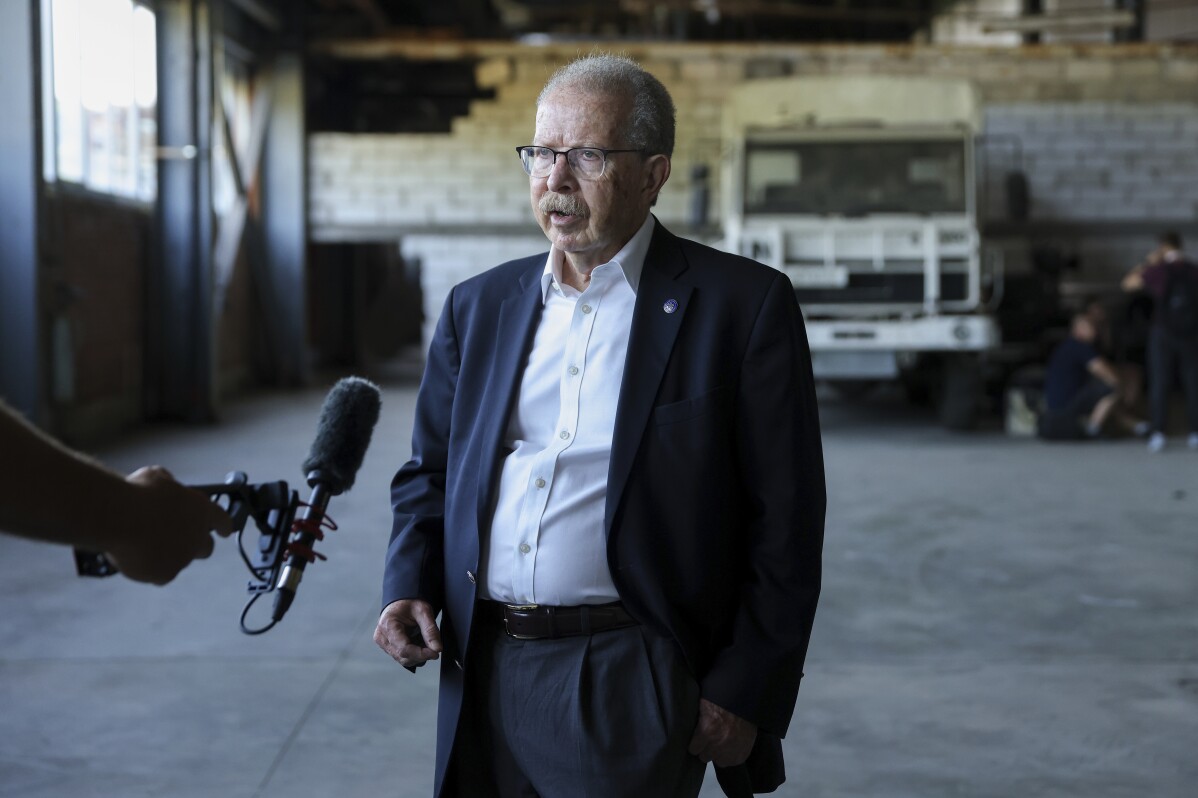 6 of 8

|
Associate VP of World Jewish Congress Menachem Rosensaft talks during an interview with the Associated Press, in Potocari, Bosnia, Monday, July 10, 2023. (AP Photo/Armin Durgut)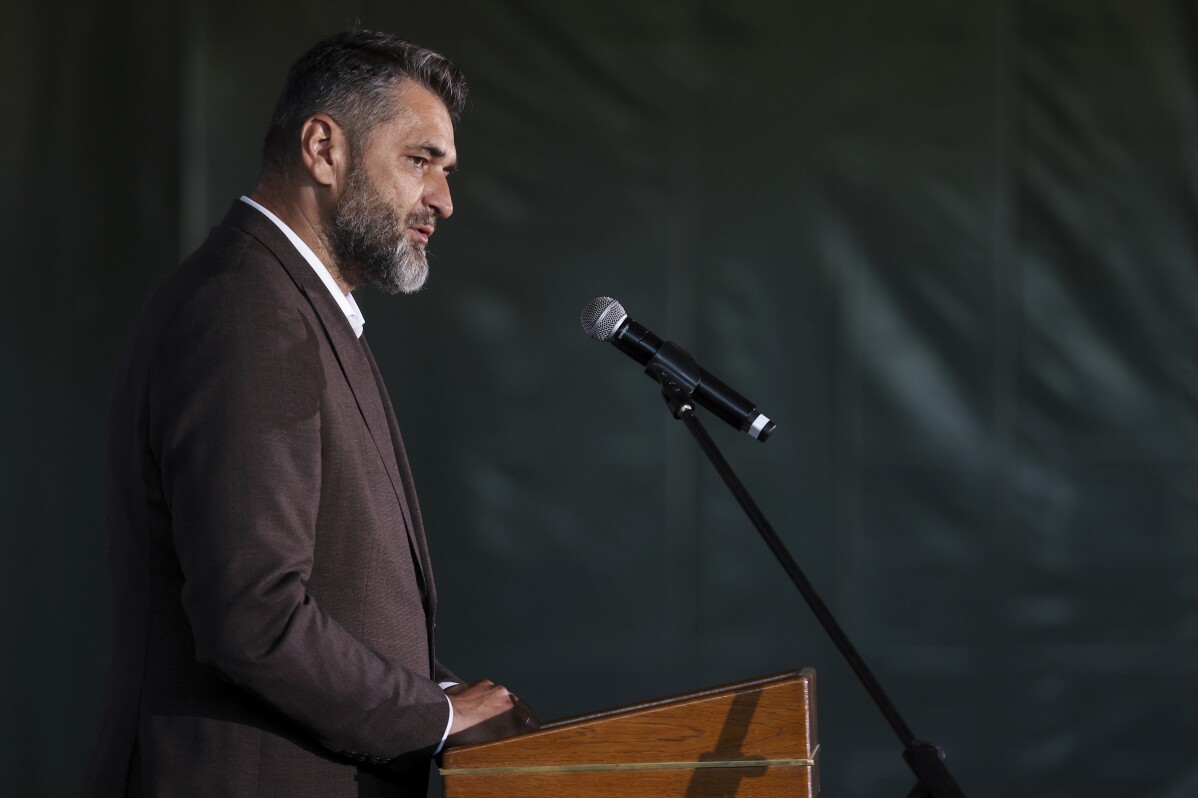 7 of 8

|
Director of the Srebrenica Genocide Memorial Emir Suljagic speaks at the opening of Srebrenica Collective Memory Conference, in Potocari, Bosnia, Monday, July 10, 2023. (AP Photo/Armin Durgut)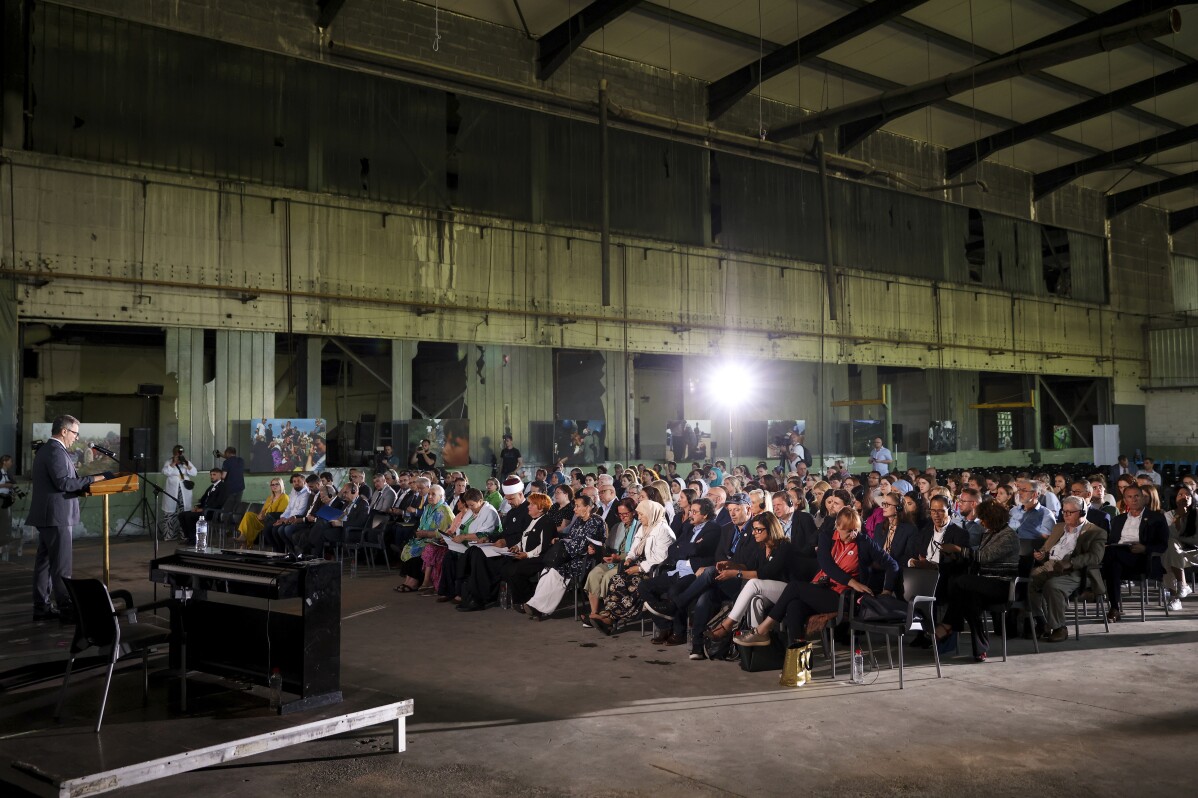 8 of 8

|
People attend the Srebrenica Collective Memory Conference, in Potocari, Bosnia, Monday, July 10, 2023. (AP Photo/Armin Durgut)
Jews and Muslims come together at Srebrenica anniversary of Europe's only post-World War II genocide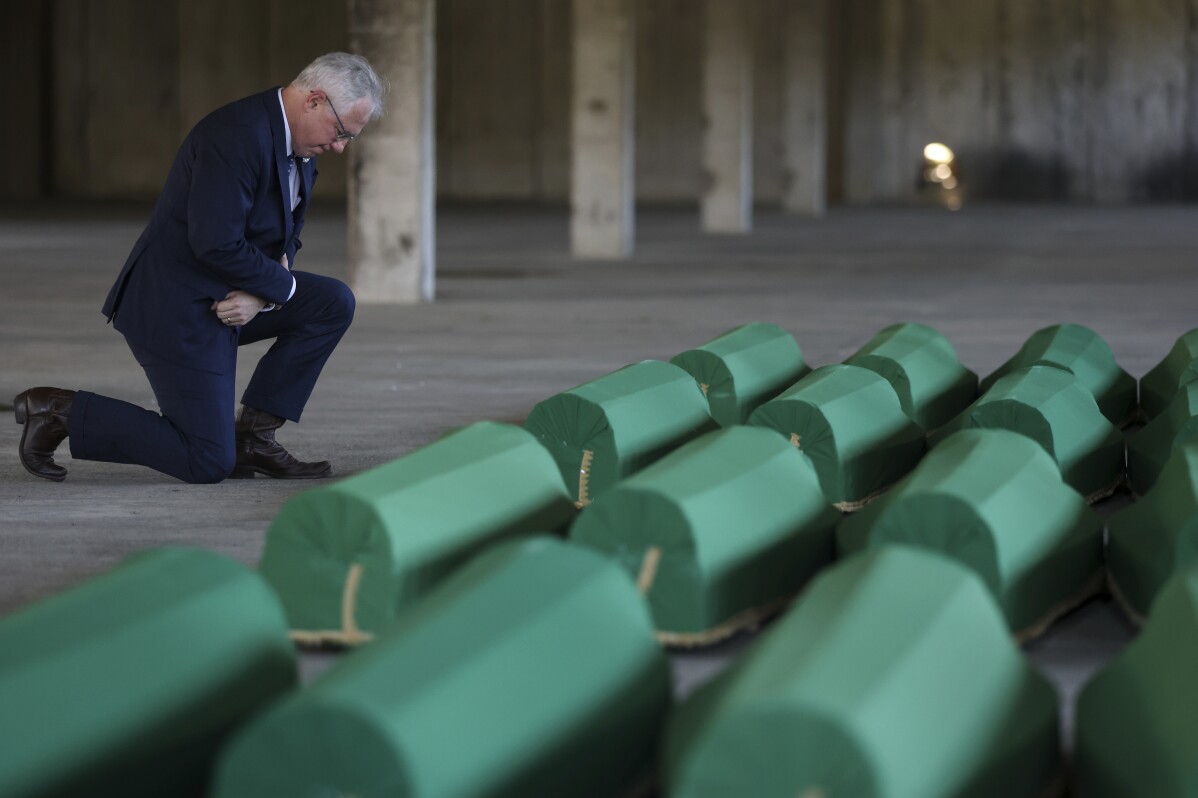 1 of 8

|
United States Ambassador to Bosnia and Herzegovina Michael J. Murphy kneels next to the coffins containing remains of 30 newly identified victims of the Srebrenica Genocide in Potocari, Bosnia, Monday, July 10, 2023. The remains of 30 recently identified victims of the Srebrenica genocide, Europe's only acknowledged genocide since World War II, arrived at the Memorial center in Potocari where they will be buried on July 11. (AP Photo/Armin Durgut)
1 of 8
United States Ambassador to Bosnia and Herzegovina Michael J. Murphy kneels next to the coffins containing remains of 30 newly identified victims of the Srebrenica Genocide in Potocari, Bosnia, Monday, July 10, 2023. The remains of 30 recently identified victims of the Srebrenica genocide, Europe's only acknowledged genocide since World War II, arrived at the Memorial center in Potocari where they will be buried on July 11. (AP Photo/Armin Durgut)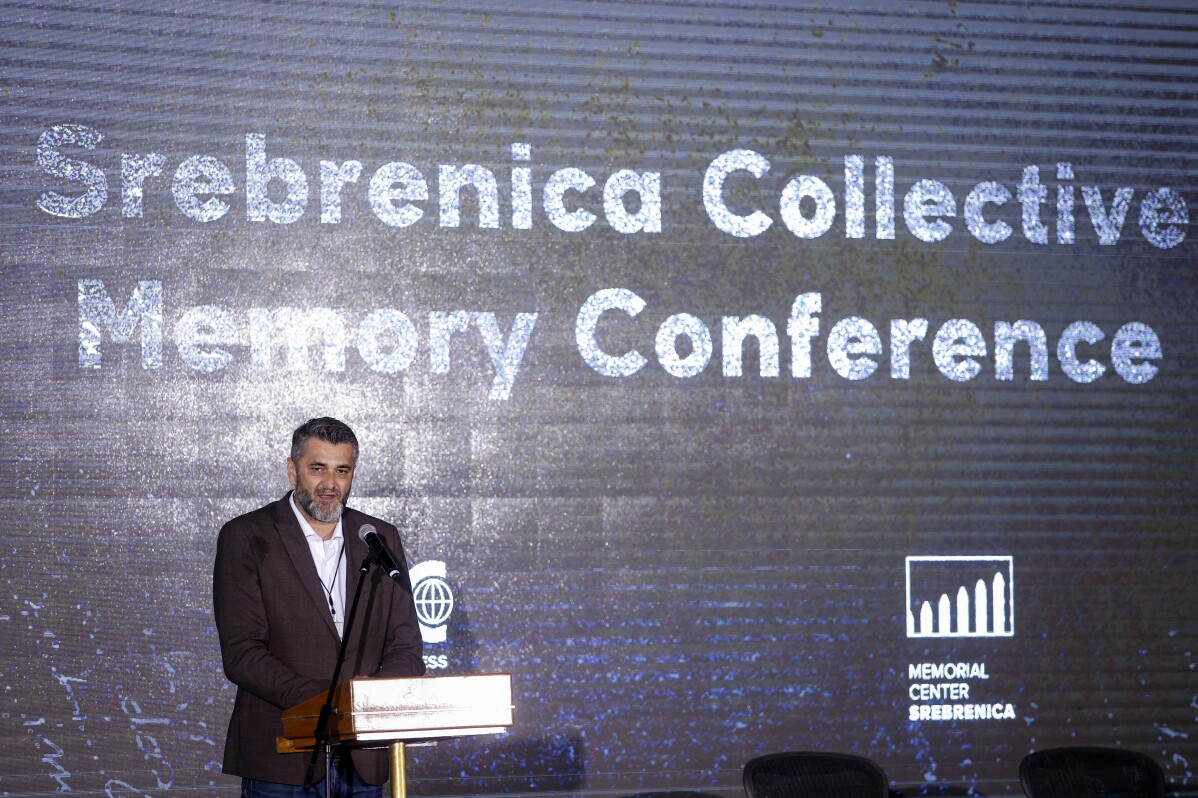 2 of 8

|
Director of the Srebrenica Genocide Memorial Emir Suljagic speaks at the opening of Srebrenica Collective Memory Conference, in Potocari, Bosnia, Monday, July 10, 2023. (AP Photo/Armin Durgut)
2 of 8
Director of the Srebrenica Genocide Memorial Emir Suljagic speaks at the opening of Srebrenica Collective Memory Conference, in Potocari, Bosnia, Monday, July 10, 2023. (AP Photo/Armin Durgut)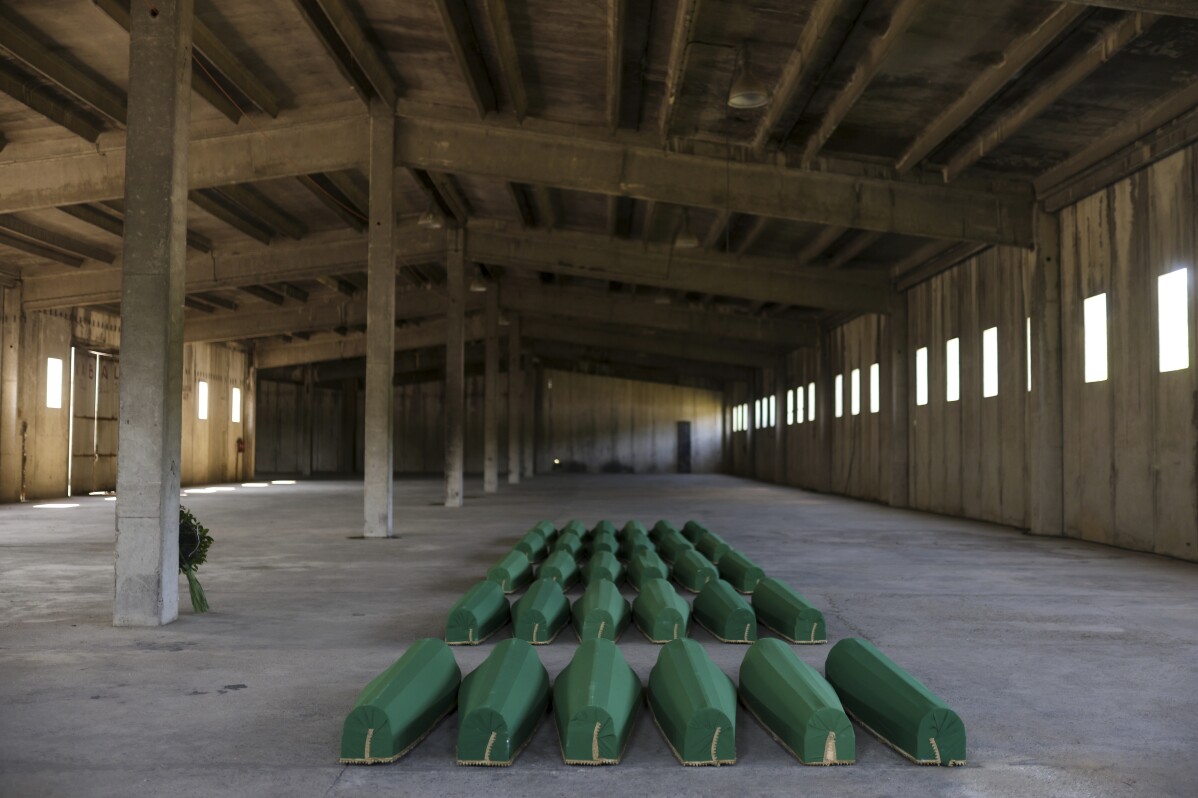 3 of 8

|
Coffins containing remains of 30 newly identified victims of the Srebrenica Genocide are lined up inside a hall in Potocari, Bosnia, Monday, July 10, 2023. The remains of 30 recently identified victims of the Srebrenica genocide, Europe's only acknowledged genocide since World War II, arrived at the Memorial center in Potocari where they will be buried on July 11. (AP Photo/Armin Durgut)
3 of 8
Coffins containing remains of 30 newly identified victims of the Srebrenica Genocide are lined up inside a hall in Potocari, Bosnia, Monday, July 10, 2023. The remains of 30 recently identified victims of the Srebrenica genocide, Europe's only acknowledged genocide since World War II, arrived at the Memorial center in Potocari where they will be buried on July 11. (AP Photo/Armin Durgut)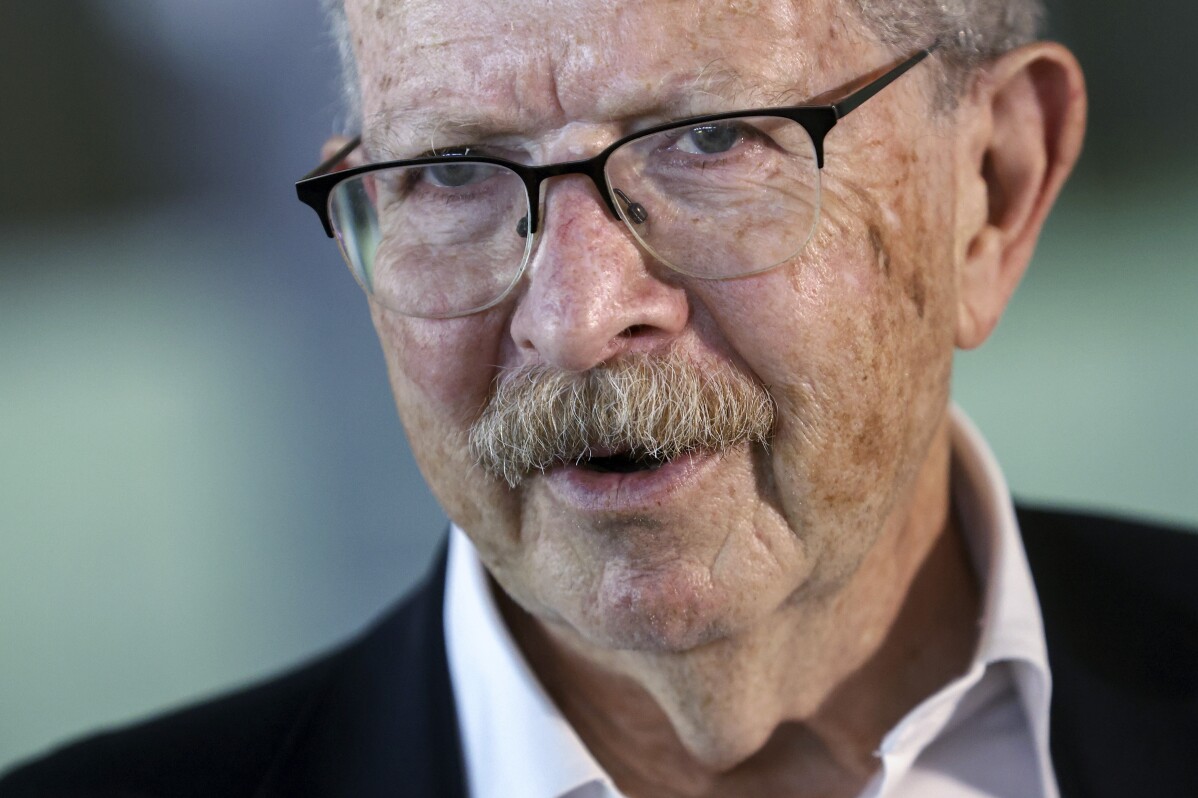 4 of 8

|
Associate Vice President of the World Jewish Congress Menachem Rosensaft talks during an interview with The Associated Press, in Potocari, Bosnia, Monday, July 10, 2023. (AP Photo/Armin Durgut)
4 of 8
Associate Vice President of the World Jewish Congress Menachem Rosensaft talks during an interview with The Associated Press, in Potocari, Bosnia, Monday, July 10, 2023. (AP Photo/Armin Durgut)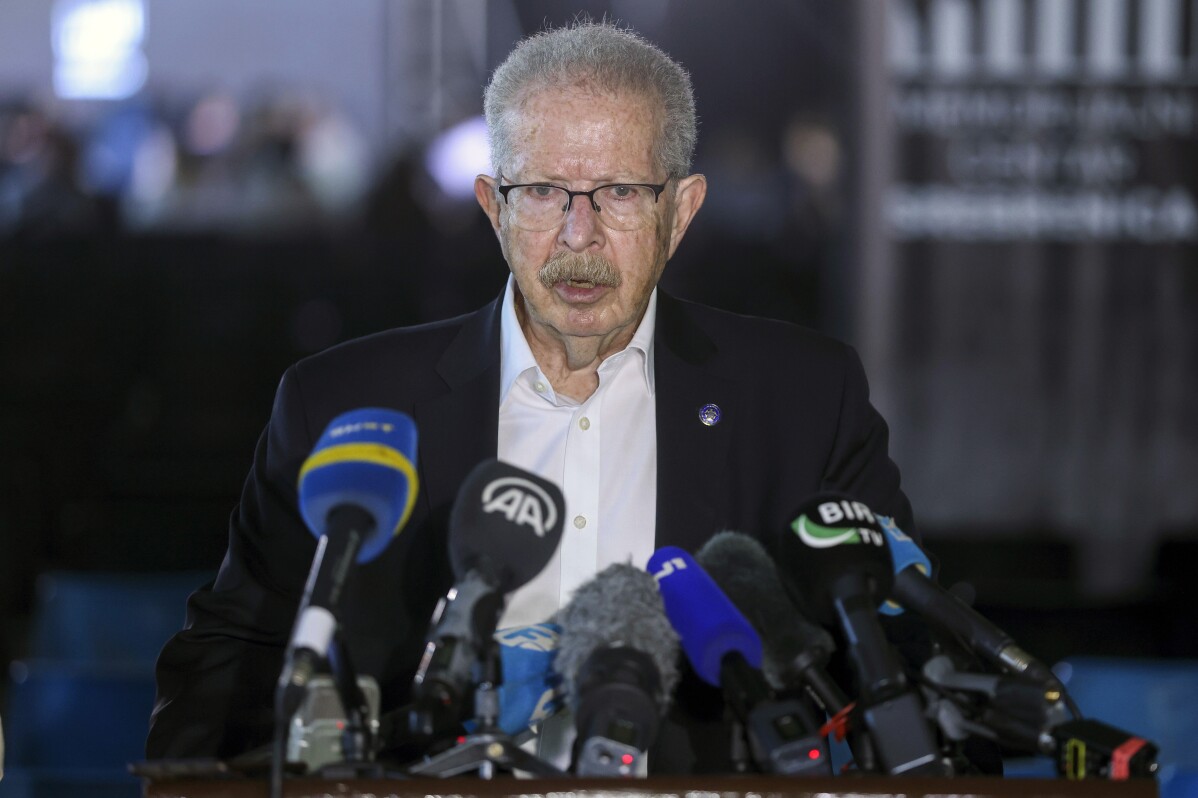 5 of 8

|
Associate VP of World Jewish Congress Menachem Rosensaft speaks to the media prior to the Srebrenica Collective Memory Conference, in Potocari, Bosnia, Monday, July 10, 2023. (AP Photo/Armin Durgut)
5 of 8
Associate VP of World Jewish Congress Menachem Rosensaft speaks to the media prior to the Srebrenica Collective Memory Conference, in Potocari, Bosnia, Monday, July 10, 2023. (AP Photo/Armin Durgut)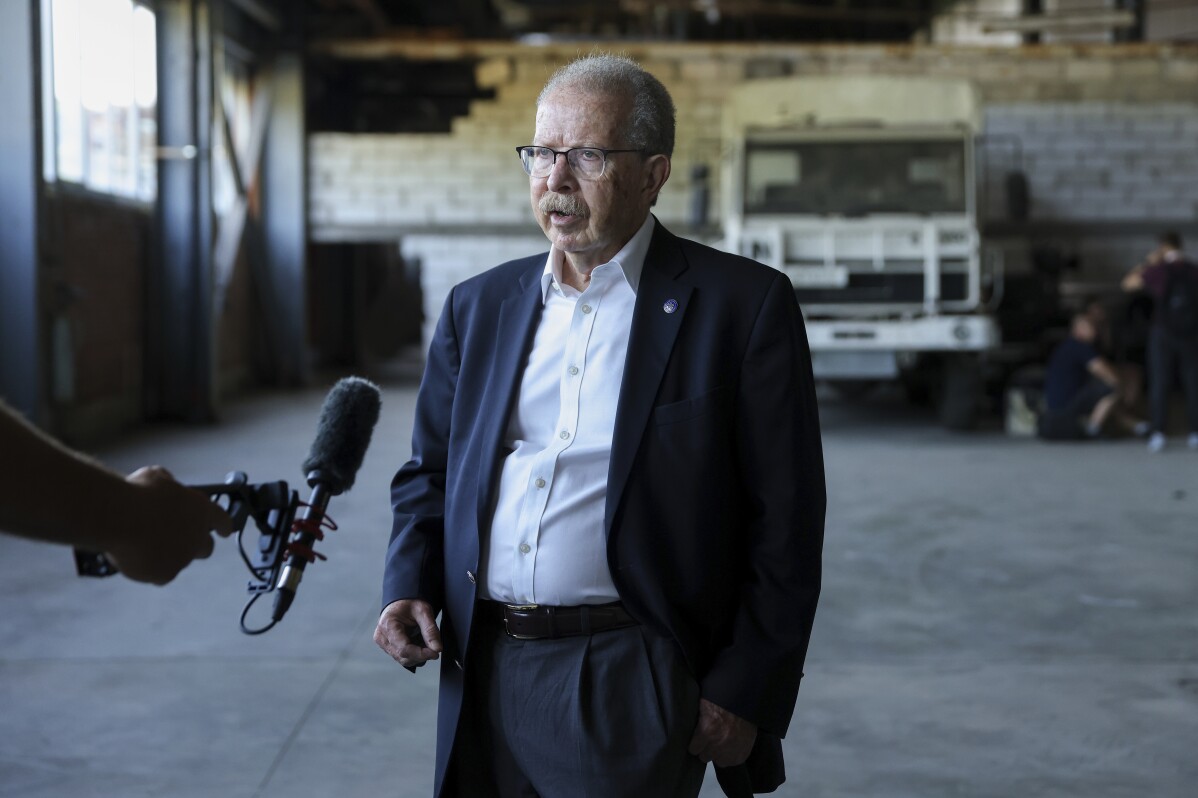 6 of 8

|
Associate VP of World Jewish Congress Menachem Rosensaft talks during an interview with the Associated Press, in Potocari, Bosnia, Monday, July 10, 2023. (AP Photo/Armin Durgut)
6 of 8
Associate VP of World Jewish Congress Menachem Rosensaft talks during an interview with the Associated Press, in Potocari, Bosnia, Monday, July 10, 2023. (AP Photo/Armin Durgut)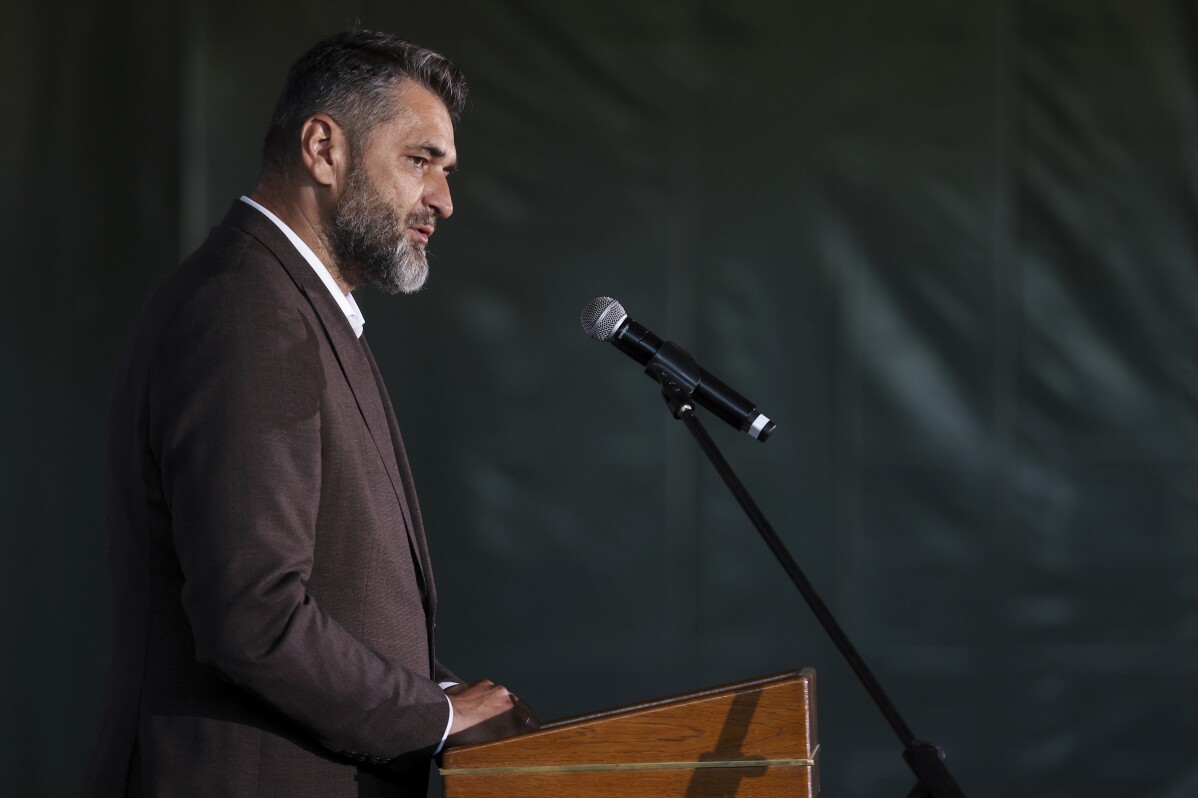 7 of 8

|
Director of the Srebrenica Genocide Memorial Emir Suljagic speaks at the opening of Srebrenica Collective Memory Conference, in Potocari, Bosnia, Monday, July 10, 2023. (AP Photo/Armin Durgut)
7 of 8
Director of the Srebrenica Genocide Memorial Emir Suljagic speaks at the opening of Srebrenica Collective Memory Conference, in Potocari, Bosnia, Monday, July 10, 2023. (AP Photo/Armin Durgut)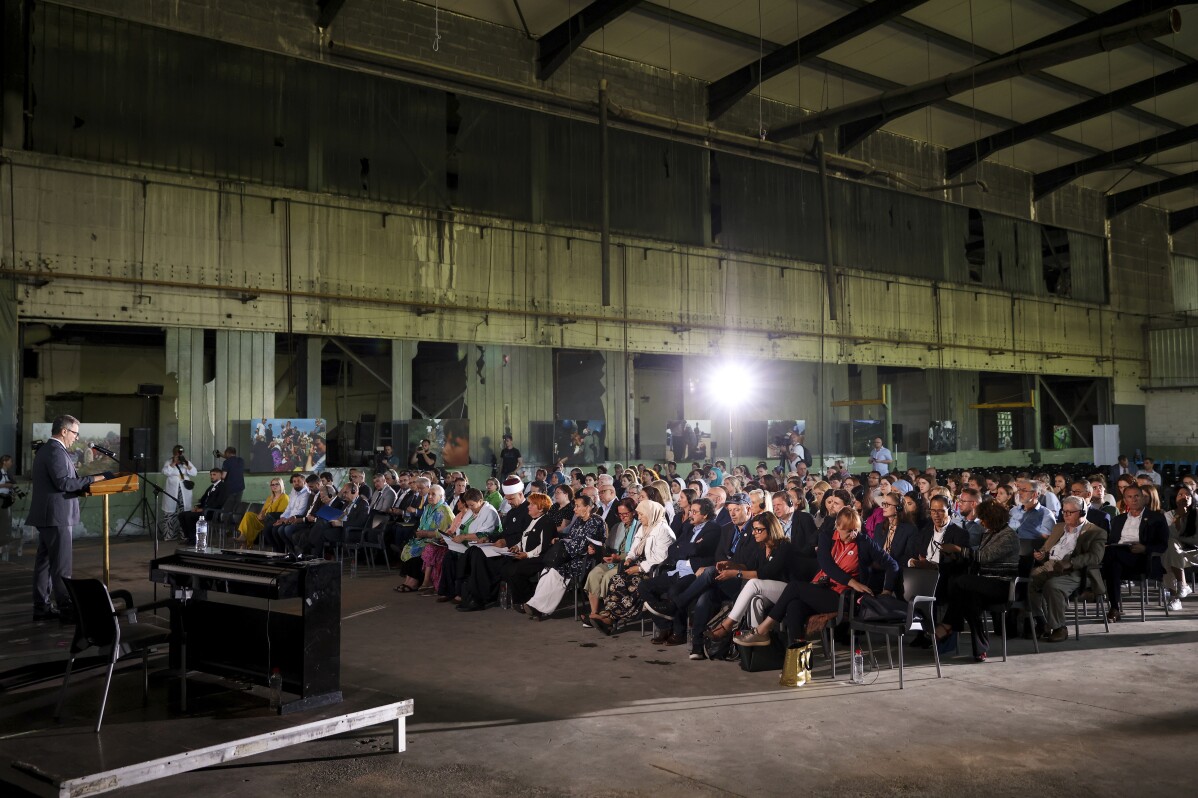 8 of 8

|
People attend the Srebrenica Collective Memory Conference, in Potocari, Bosnia, Monday, July 10, 2023. (AP Photo/Armin Durgut)
8 of 8
People attend the Srebrenica Collective Memory Conference, in Potocari, Bosnia, Monday, July 10, 2023. (AP Photo/Armin Durgut)
SREBRENICA, Bosnia-Herzegovina (AP) — Jews and Muslims came together on Monday in Bosnia on the eve of the 28th anniversary of the Srebrenica massacre, Europe's only acknowledged genocide since the Holocaust, to talk about ways of using their shared pain to help rid the world of hate and bigotry.
More than 8,000 Bosniak — mainly Muslim — men and boys were killed in July 1995 in Srebrenica, after Bosnian Serb troops took hold of the eastern town. The carnage has been declared a genocide by two U.N. courts.
"It is absolutely critical for the future of both the Jewish people and the (Muslim) Bosniak people, for us to join forces in remembrance in order to make sure that these type of atrocities not be allowed to occur in the future," Menachem Rosensaft, the general counsel of the World Jewish Congress, told The Associated Press.
Founded in 1936, the World Jewish Congress, or WJC, is the leading international organization connecting and protecting Jewish communities globally, in more than 100 countries.
Rosensaft was leading a delegation of Jewish scholars and young diplomats attending a conference co-organized by the WJC and the Srebrenica Memorial Center on preserving the collective memory of genocide victims and confronting Holocaust and genocide denial.
The day-long conference, held in Srebrenica as part of this year's commemoration ceremonies, served as a forum for the two communities to talk about living with the pain of being the victims of the ultimate crime of bigotry.
"If we as Jews and as Muslims understand that we are also joined by that pain, we can build on that constructively to also forge the world beyond suffering in which (genocide) becomes unimaginable," said Rosensaft, who is the son of two Jewish survivors of Auschwitz and Bergen-Belsen Nazi concentration camps.
The Srebrenica massacre was the bloody crescendo of Bosnia's 1992-95 war, which came after the breakup of Yugoslavia unleashed nationalistic passions and territorial ambitions that set Bosnian Serbs against the country's two other main ethnic populations — Croats and Bosniaks.
In July 1995, Bosnian Serbs overran a U.N.-protected safe haven in Srebrenica. They separated Muslim Bosniak men and boys from their wives, mothers and sisters, chased them through woods around the ill-fated town, and slaughtered them.
The perpetrators then plowed their victims' bodies into hastily made mass graves, which they later dug up with bulldozers, scattering the remains among other burial sites to hide the evidence of their war crimes.
Serb leaders in Bosnia and neighboring Serbia continue to deny genocide happened in Srebrenica — even as remains of the massacre victims are still being unearthed from mass graves and identified through DNA analysis.
Newly identified victims are reburied annually on July 11, the day the killing began in 1995, at a vast memorial cemetery outside the eastern town. On Tuesday, the remains of 30 more people will be laid to rest.
___
Sabina Niksic contributed to this report.