With Boston Marathon win, Kipchoge would cap running resume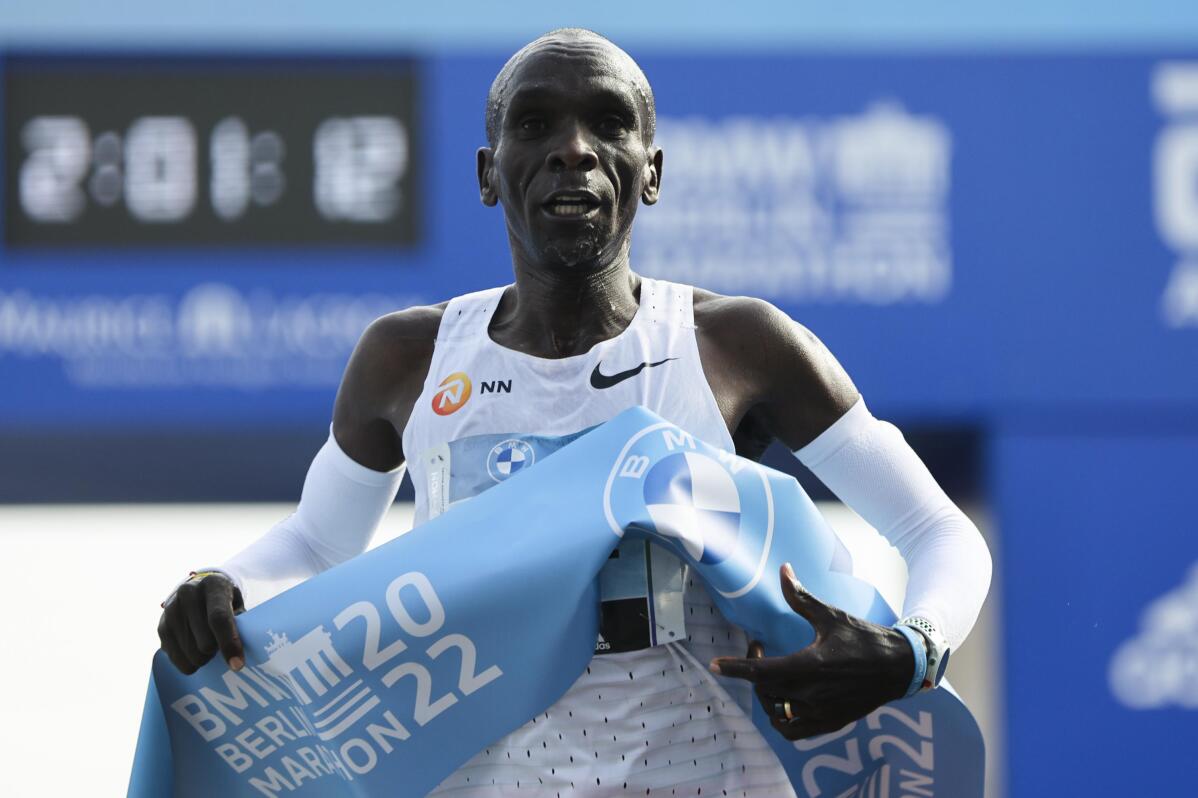 1 of 3

|
FILE - Kenya's Eliud Kipchoge crosses the line to win the Berlin Marathon in Berlin, Germany, Sept. 25, 2022. A 38-year-old who has been collecting marathon victories since 2013, Kipchoge will make his Boston Marathon debut on Monday, April 17, 2023, in the 127th edition of the world's longest-running long run. A victory would give him wins in an unprecedented five of the six major marathons. (AP Photo/Christoph Soeder, File)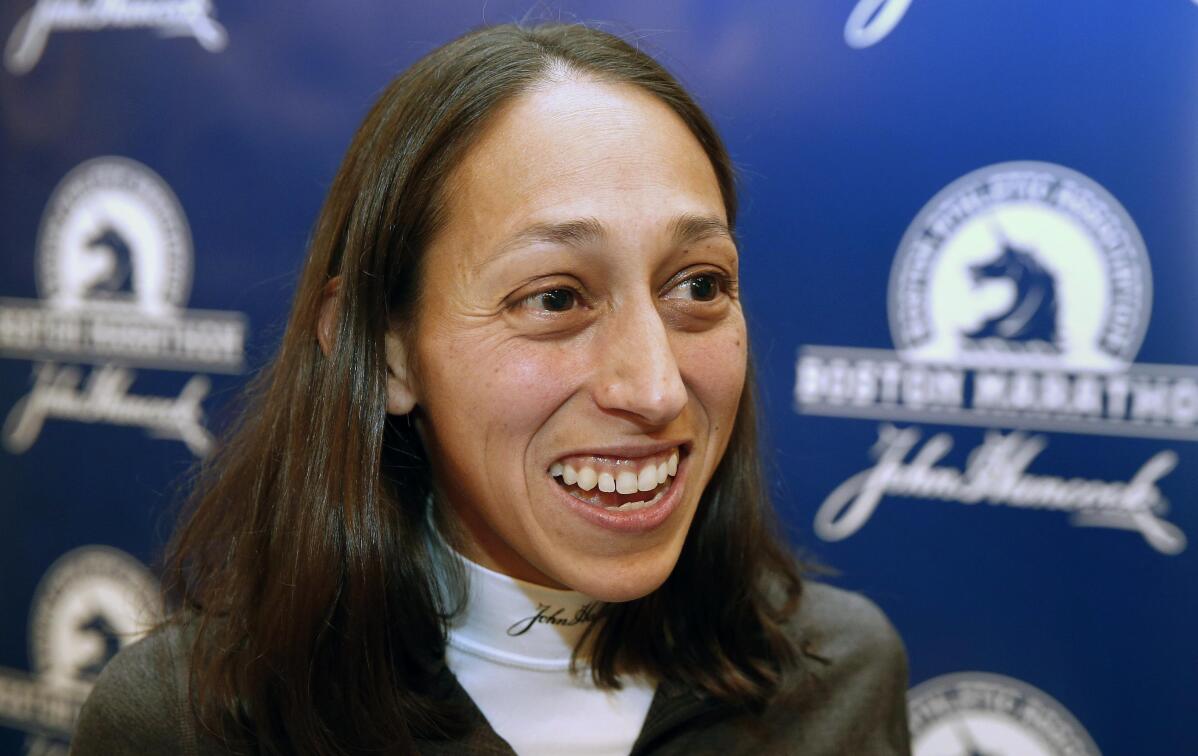 2 of 3

|
FILE - Des Linden speaks with a reporter during a media availability prior to the 120th running of the Boston Marathon in Boston, April 15, 2016. A 38-year-old Kenyan who has been collecting marathon victories since 2013, Eliud Kipchoge will make his Boston Marathon debut on Monday, April 17, 2023, in the 127th edition of the world's longest-running long run. "I think he can be very content. But there would always be that question mark: How would he do on this course? And could he get it done and win here?" said Linden, a two-time Olympian and the 2018 Boston champion. "So it's great that he's coming out to get that answer." (AP Photo/Michael Dwyer, File)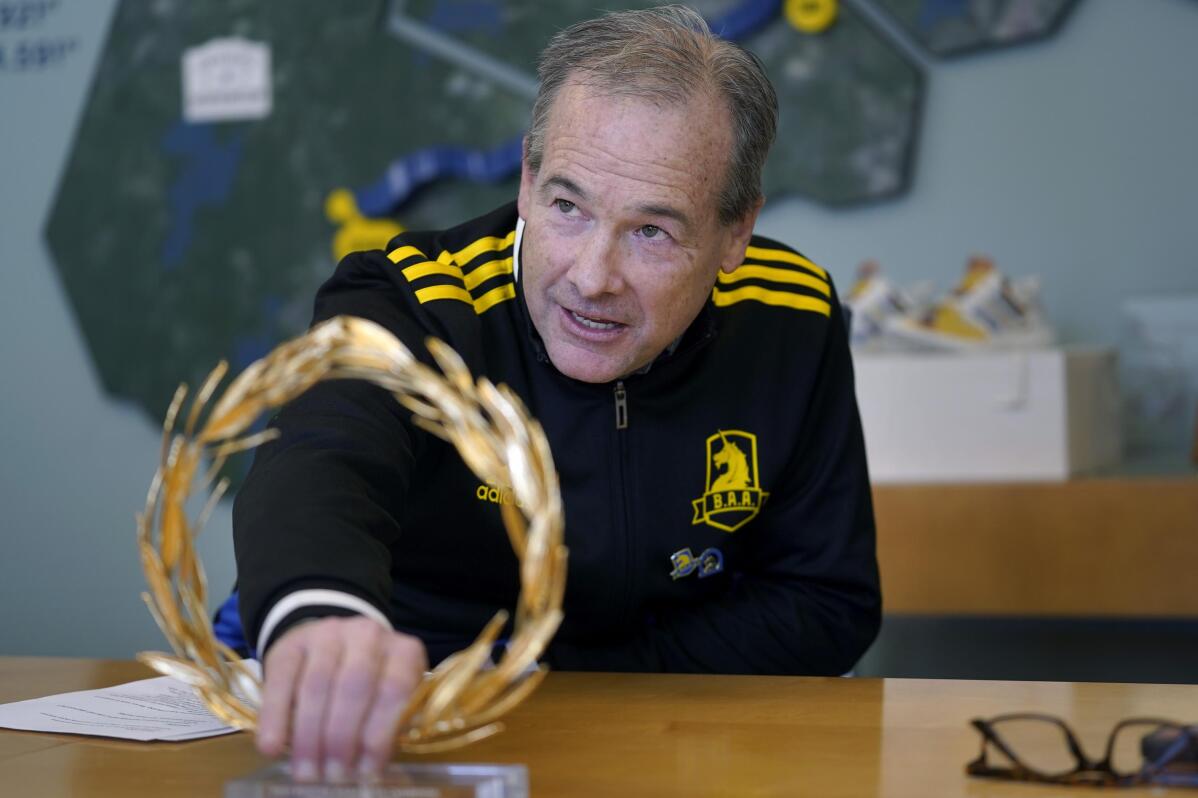 3 of 3

|
Boston Athletic Association President and CEO Jack Fleming displays a marathon trophy while speaking with reporters Wednesday, March 22, 2023, in Boston. In all, about 30,000 people head to Hopkinton, Mass., on the third Monday in April. Since the bombings, the field has included many who were not marathoners, or even runners, but were compelled to enter as part of the healing process. "The course is the same," said Fleming, who runs the organization that runs the marathon. "The journeys are very different." (AP Photo/Steven Senne)
With Boston Marathon win, Kipchoge would cap running resume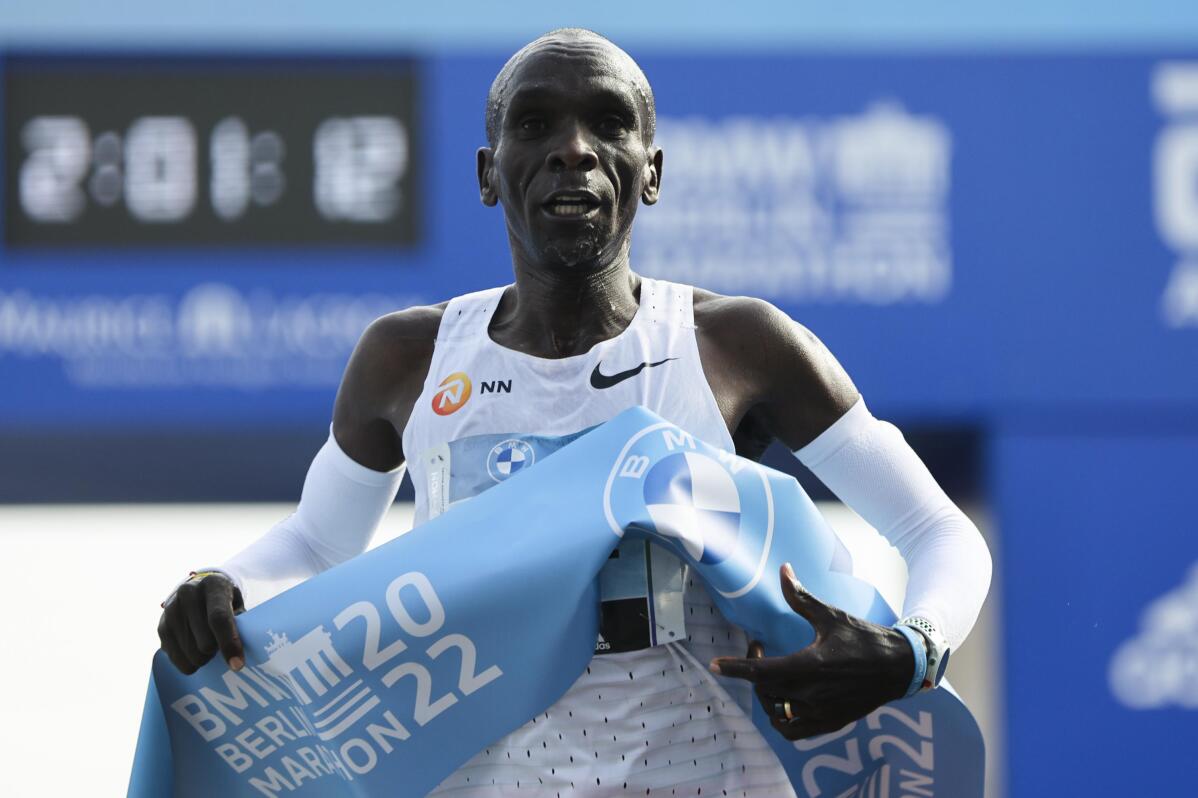 1 of 3

|
FILE - Kenya's Eliud Kipchoge crosses the line to win the Berlin Marathon in Berlin, Germany, Sept. 25, 2022. A 38-year-old who has been collecting marathon victories since 2013, Kipchoge will make his Boston Marathon debut on Monday, April 17, 2023, in the 127th edition of the world's longest-running long run. A victory would give him wins in an unprecedented five of the six major marathons. (AP Photo/Christoph Soeder, File)
1 of 3
FILE - Kenya's Eliud Kipchoge crosses the line to win the Berlin Marathon in Berlin, Germany, Sept. 25, 2022. A 38-year-old who has been collecting marathon victories since 2013, Kipchoge will make his Boston Marathon debut on Monday, April 17, 2023, in the 127th edition of the world's longest-running long run. A victory would give him wins in an unprecedented five of the six major marathons. (AP Photo/Christoph Soeder, File)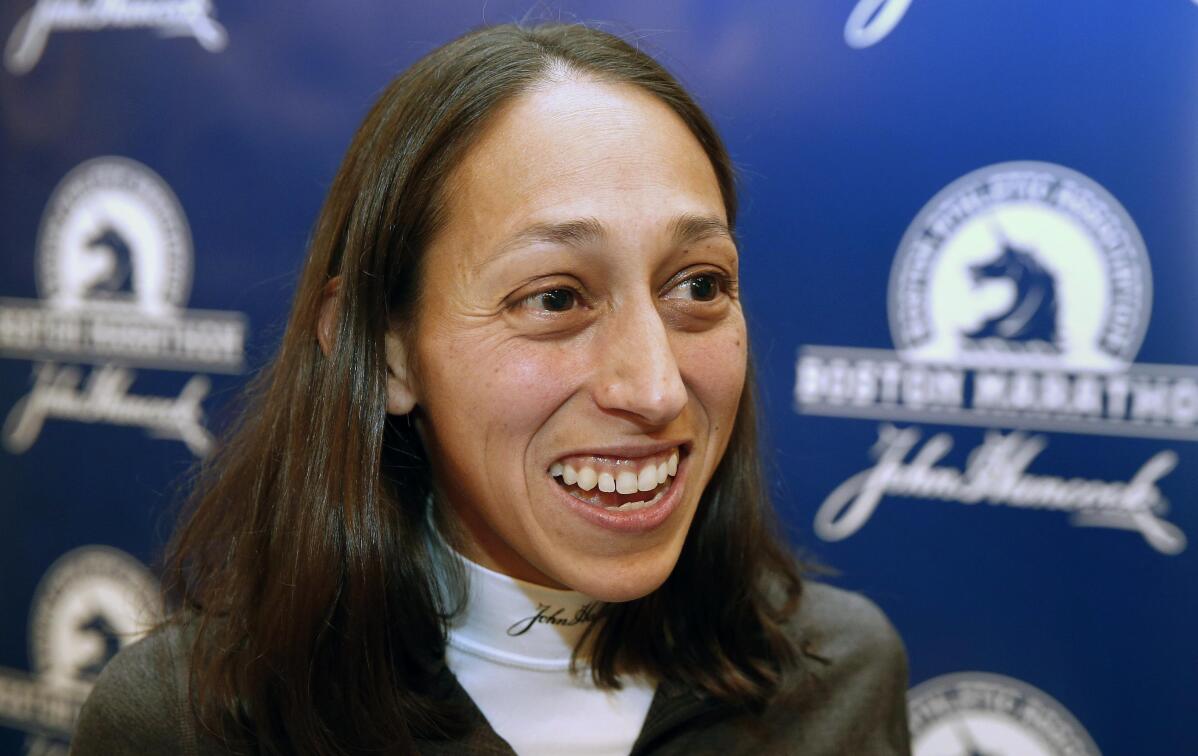 2 of 3

|
FILE - Des Linden speaks with a reporter during a media availability prior to the 120th running of the Boston Marathon in Boston, April 15, 2016. A 38-year-old Kenyan who has been collecting marathon victories since 2013, Eliud Kipchoge will make his Boston Marathon debut on Monday, April 17, 2023, in the 127th edition of the world's longest-running long run. "I think he can be very content. But there would always be that question mark: How would he do on this course? And could he get it done and win here?" said Linden, a two-time Olympian and the 2018 Boston champion. "So it's great that he's coming out to get that answer." (AP Photo/Michael Dwyer, File)
2 of 3
FILE - Des Linden speaks with a reporter during a media availability prior to the 120th running of the Boston Marathon in Boston, April 15, 2016. A 38-year-old Kenyan who has been collecting marathon victories since 2013, Eliud Kipchoge will make his Boston Marathon debut on Monday, April 17, 2023, in the 127th edition of the world's longest-running long run. "I think he can be very content. But there would always be that question mark: How would he do on this course? And could he get it done and win here?" said Linden, a two-time Olympian and the 2018 Boston champion. "So it's great that he's coming out to get that answer." (AP Photo/Michael Dwyer, File)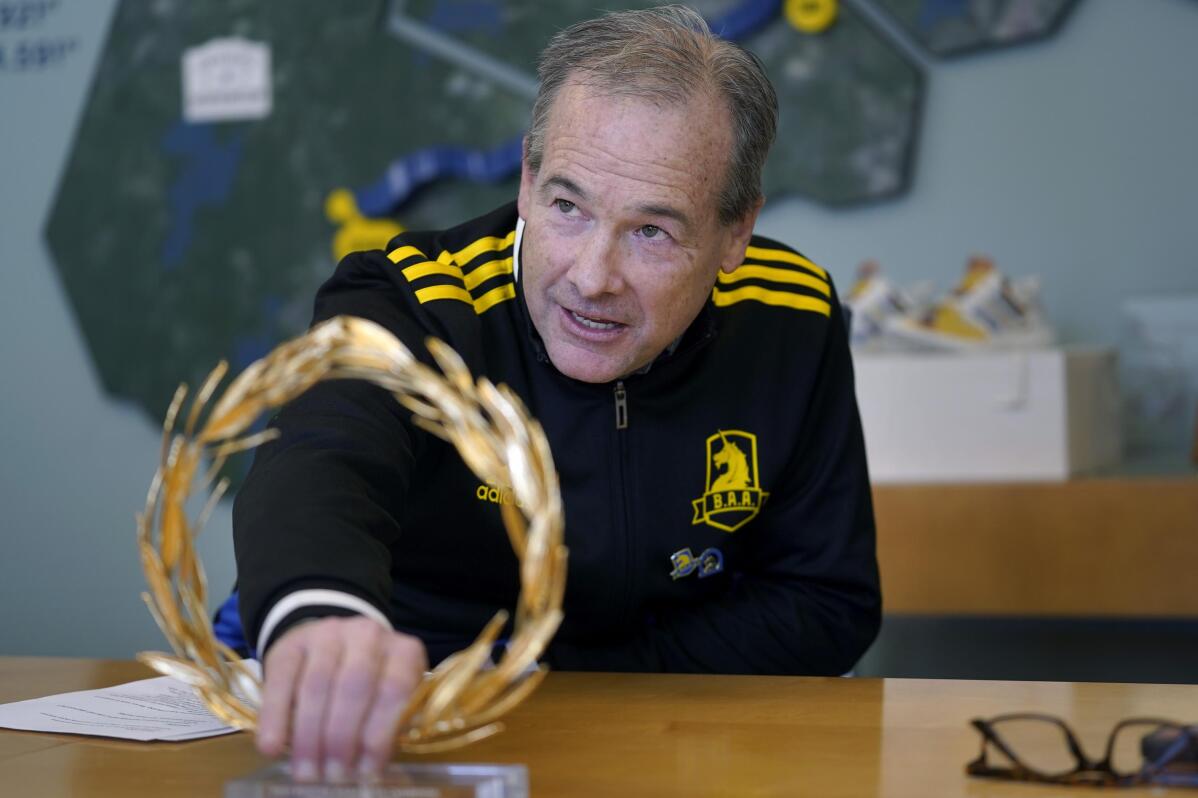 3 of 3

|
Boston Athletic Association President and CEO Jack Fleming displays a marathon trophy while speaking with reporters Wednesday, March 22, 2023, in Boston. In all, about 30,000 people head to Hopkinton, Mass., on the third Monday in April. Since the bombings, the field has included many who were not marathoners, or even runners, but were compelled to enter as part of the healing process. "The course is the same," said Fleming, who runs the organization that runs the marathon. "The journeys are very different." (AP Photo/Steven Senne)
3 of 3
Boston Athletic Association President and CEO Jack Fleming displays a marathon trophy while speaking with reporters Wednesday, March 22, 2023, in Boston. In all, about 30,000 people head to Hopkinton, Mass., on the third Monday in April. Since the bombings, the field has included many who were not marathoners, or even runners, but were compelled to enter as part of the healing process. "The course is the same," said Fleming, who runs the organization that runs the marathon. "The journeys are very different." (AP Photo/Steven Senne)
BOSTON (AP) — Two-time Olympic gold medalist. Twelve-time major marathon winner. World record-holder.
And still, Eliud Kipchoge has something to prove.
"I think Boston is a game-changer for me," the world's greatest marathoner said as he prepared for his debut in the world's most prestigious road race. "Boston is the oldest marathon ever, and I think actually any serious marathoner should put his or her own feet once — if not a lot in his life — in the Boston streets."
A 38-year-old Kenyan who has been collecting marathon victories since 2013, Kipchoge will make his Boston Marathon debut on Monday in the 127th edition of the world's longest-running long run. A victory would give him wins in an unprecedented five of the six major marathons.
Kipchoge also has run the two fastest marathons ever — and four of the top six — breaking his own world record in September at Berlin with a time of 2 hours, 1 minute, 9 seconds. He also owns the course records in London and Tokyo.
That doesn't even count the 1:59:40 he ran in 2019 in an exhibition in a Vienna park — the only runner ever to break 2 hours at the 26.2-mile distance. The time does not qualify for a world record because it was run with pace-setters and other assistance that would not be allowed in an actual competition.
Even so, there has always been a sentiment among runners that no marathoner's resume is complete without at least facing the hills and headwinds in Boston.
"I think he can be very content. But there would always be that question mark: How would he do on this course? And could he get it done and win here?" said Des Linden, a two-time Olympian and the 2018 Boston champion. "So it's great that he's coming out to get that answer."
Kipchoge has four victories each in Berlin and London, and one each in Chicago and Tokyo — all flat courses. He has also never run the New York Marathon, but said winning all six major marathons is his goal.
Having never even been to Boston before this week, one of his first missions was to scout out the course, which begins with a quad-crunching descent, slaps runners with the trademark Heartbreak Hill around the 20-mile mark, and then drops down to sea level again in the Back Bay.
He said he knows it is not a course that lends itself to fast times, and he would be quite satisfied to win a slower and more tactical race.
"I don't mind about time," he said, "but I will try to win."
And Boston is excited to see him try.
During a training run along the Charles River this week, gawkers were shocked to see a world-class athlete in their midst. Kipchoge also had his own news conference on Friday after the traditional pre-race scrum where the other elite athletes were distributed around tables in a hotel ballroom.
"Eliud's arrival in Boston is beyond much-anticipated," said Jack Fleming, the president of the Boston Athletic Association, which pursued Kipchoge for years before he committed last year with a handshake and the word: "Finally."
Even the other competitors are looking forward to lining up against him, knowing that a win with Kipchoge in the field would be especially meaningful. C.J. Albertson, who was one of the top Americans in each of the last two years, said it's just like other sports where the best team gets everyone else's best effort.
"Everyone's excited to play the best, excited to run against the best," he said. "You definitely feel a buzz just around him. Even if you're not thinking about it, the whole city is — the whole world is really. … And hopefully just being with the best can bring the best out of me."
But that only goes so far.
"It's not like I had a picture of him on my wall as a target or anything like that," said Scott Fauble, who has twice been the top American finisher in Boston, including last year. "Once the race starts — as great as he is, as amazing as he is — he's a body out there, just like everyone else.
"I'm sure he'll run great. But I'm not going to take any time to kiss his feet or anything like that. He's a competitor, just like I am," Fauble said. "I don't mean to diminish him in any way. But I'm not here to be like a spectator for the Eliud Show."
___
AP sports: https://apnews.com/hub/sports and https://twitter.com/AP_Sports