Braves-Mets game postponed by rain, Scherzer pushed back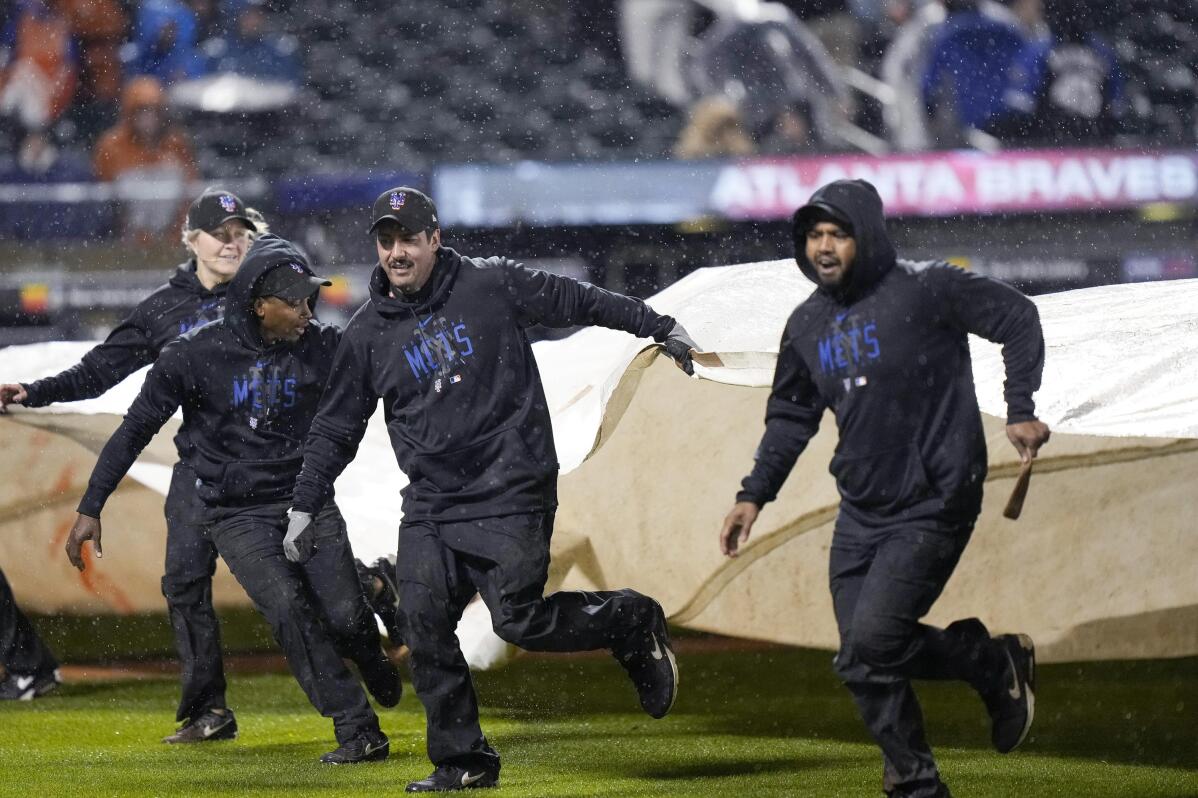 1 of 3

|
Members of the grounds crew cover the field with the tarp during a rain delay after the fifth inning of a baseball game between the New York Mets and the Atlanta Braves, Friday, April 28, 2023, in New York. (AP Photo/Bryan Woolston)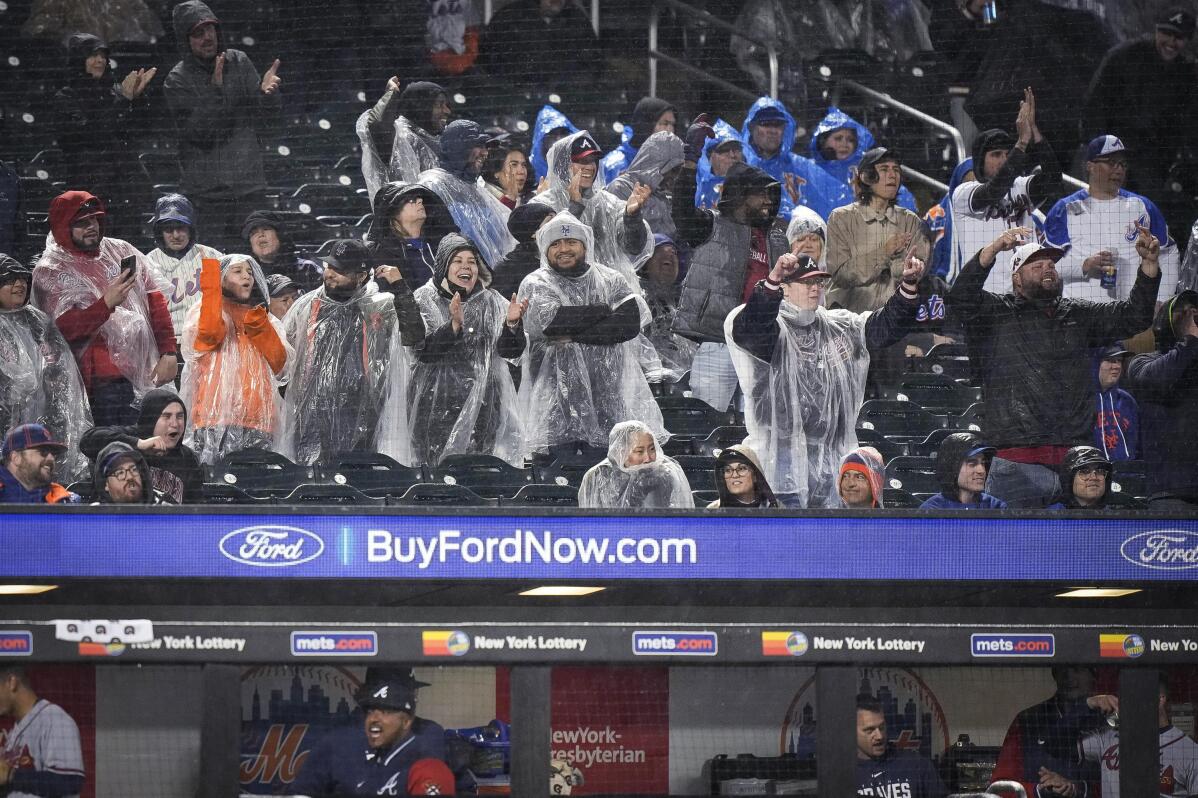 2 of 3

|
Atlanta Braves fans celebrate after Matt Olson hit a home run during the fifth inning of the team's baseball game against the New York Mets, Friday, April 28, 2023, in New York. (AP Photo/Bryan Woolston)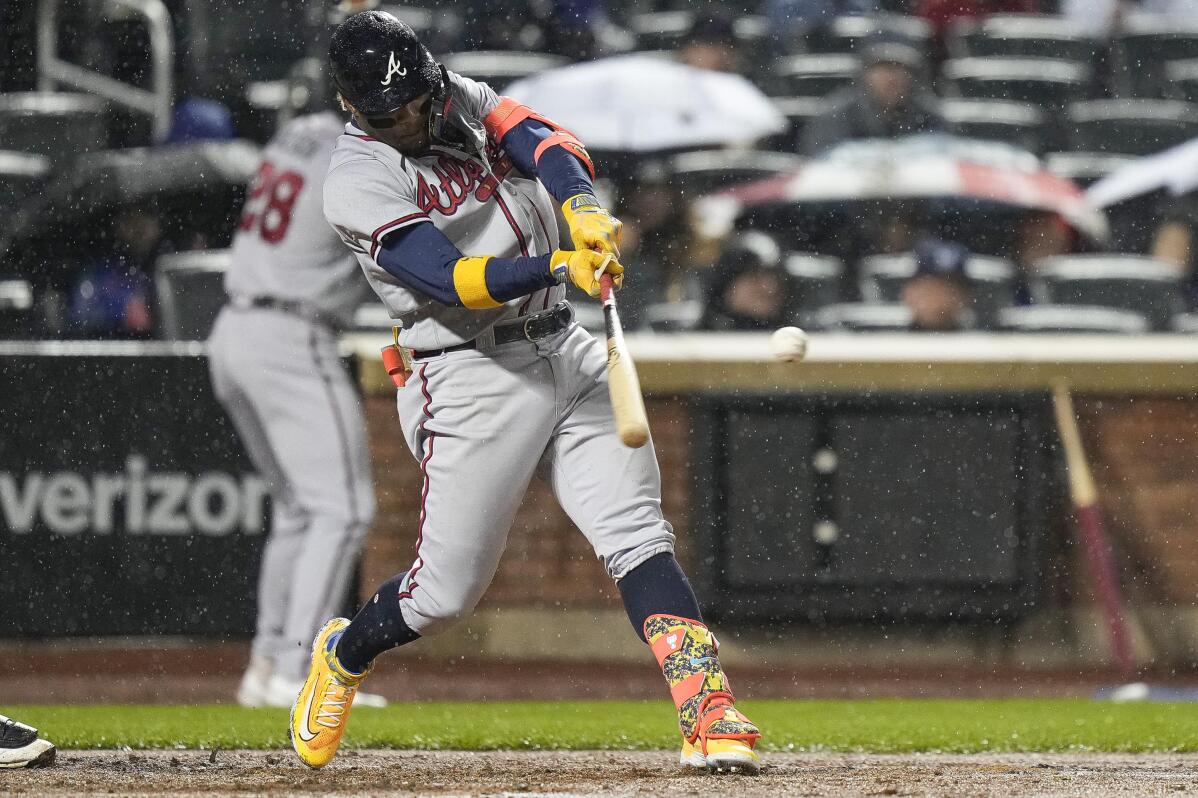 3 of 3

|
Atlanta Braves' Ronald Acuna Jr. hits an RBI Single during the fifth inning of the team's baseball game against the Atlanta Braves, Friday, April 28, 2023, in New York. (AP Photo/Bryan Woolston)
Braves-Mets game postponed by rain, Scherzer pushed back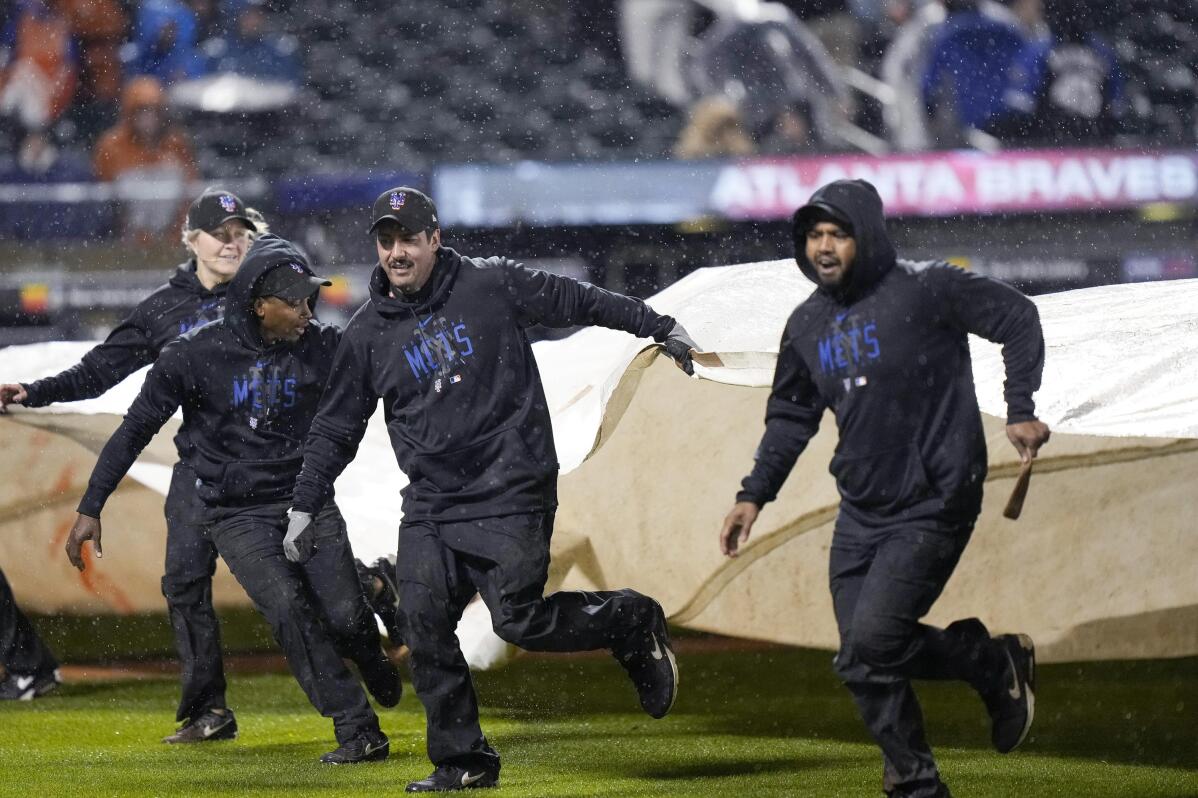 1 of 3

|
Members of the grounds crew cover the field with the tarp during a rain delay after the fifth inning of a baseball game between the New York Mets and the Atlanta Braves, Friday, April 28, 2023, in New York. (AP Photo/Bryan Woolston)
1 of 3
Members of the grounds crew cover the field with the tarp during a rain delay after the fifth inning of a baseball game between the New York Mets and the Atlanta Braves, Friday, April 28, 2023, in New York. (AP Photo/Bryan Woolston)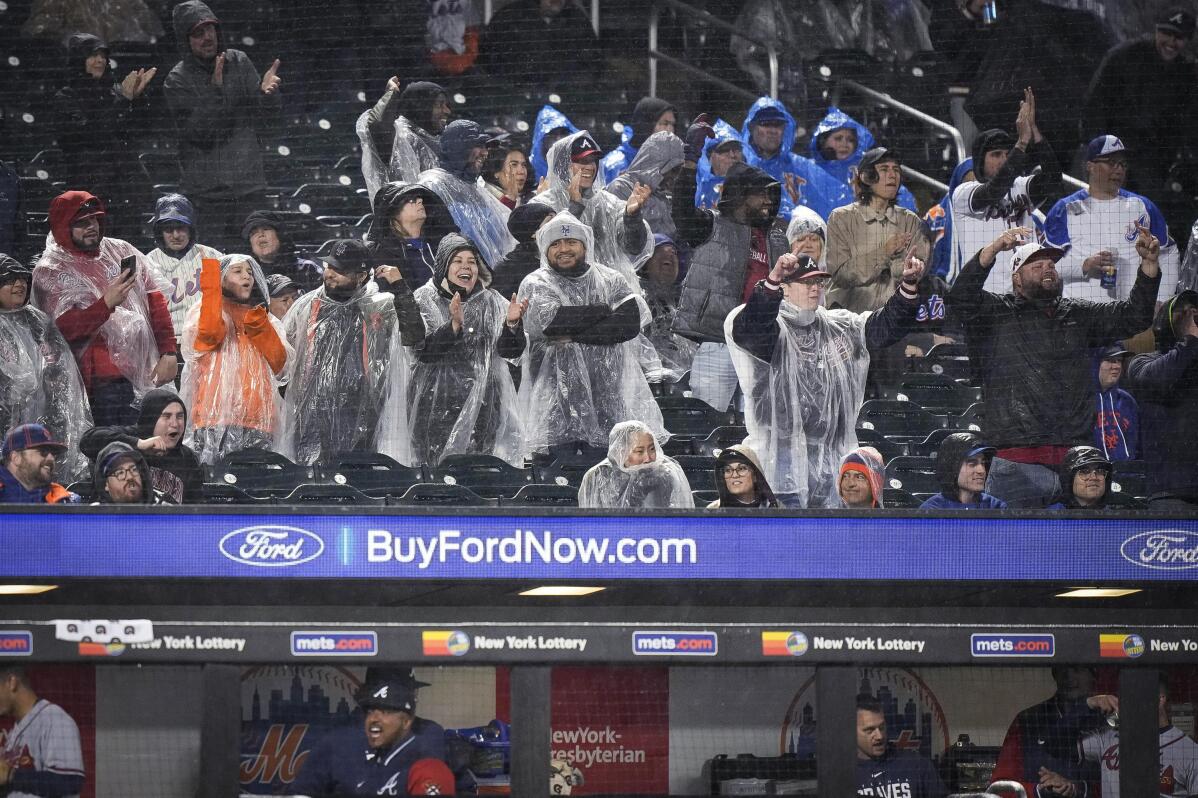 2 of 3

|
Atlanta Braves fans celebrate after Matt Olson hit a home run during the fifth inning of the team's baseball game against the New York Mets, Friday, April 28, 2023, in New York. (AP Photo/Bryan Woolston)
2 of 3
Atlanta Braves fans celebrate after Matt Olson hit a home run during the fifth inning of the team's baseball game against the New York Mets, Friday, April 28, 2023, in New York. (AP Photo/Bryan Woolston)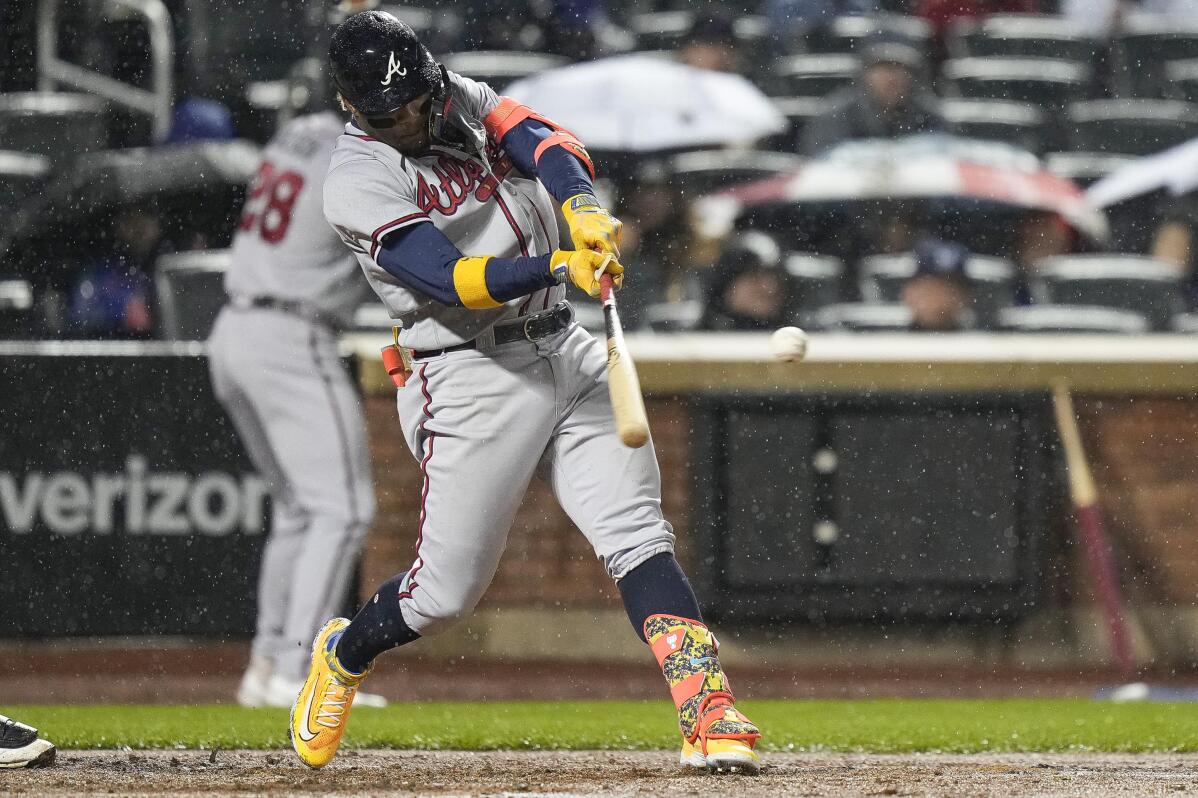 3 of 3

|
Atlanta Braves' Ronald Acuna Jr. hits an RBI Single during the fifth inning of the team's baseball game against the Atlanta Braves, Friday, April 28, 2023, in New York. (AP Photo/Bryan Woolston)
3 of 3
Atlanta Braves' Ronald Acuna Jr. hits an RBI Single during the fifth inning of the team's baseball game against the Atlanta Braves, Friday, April 28, 2023, in New York. (AP Photo/Bryan Woolston)
NEW YORK (AP) — The game between the Atlanta Braves and New York Mets scheduled for Saturday has been postponed because of rain.
It will be made up Aug. 12 as part of a split-admission doubleheader at Citi Field, with the opener starting at 1:10 p.m. and the nightcap at 7:15 p.m.
The postponement until August means Mets ace Max Scherzer won't be eligible to pitch in this series against the NL East rival Braves. The three-time Cy Young Award winner is serving a 10-game suspension imposed by Major League Baseball following his ejection for having a foreign substance on his hand while pitching in an April 19 game at Dodger Stadium.
Scherzer's penalty had been due to end Sunday and he was scheduled to start the series finale Monday against Atlanta. But with the rainout, Monday now would mark his 10th game sitting out, and he won't be permitted back on the mound until at least Tuesday night in Detroit.
Tylor Megill (3-1, 3.96 ERA) was slated to pitch Saturday for the Mets in a 4:05 p.m. start, but the game was postponed nearly four hours before it was supposed to begin. Atlanta won the series opener 4-0 on Friday in steady showers in a game called after five innings because of the rain.
Afterward, the Mets announced that anyone holding a ticket to Friday's game would receive a voucher for a ticket to another Monday-Thursday home game during the 2023 regular season besides the Subway Series in June against the Yankees, subject to availability.
Rain continued overnight and into Saturday, with the forecast calling for precipitation all day and again much of Sunday, when the teams are scheduled to play at 1:40 p.m.
Spencer Strider (3-0, 1.80) had been lined up to start for the NL East-leading Braves. Runner-up to teammate Michael Harris II for NL Rookie of the Year last season, the hard-throwing Strider took a no-hitter into the eighth inning and struck out 13 against Miami on Monday.
The slumping Mets have lost five of six. The Braves have won seven of the past eight meetings between the teams dating to last year, including a pivotal three-game sweep in Atlanta near the end of last season that sent them to their fifth straight division title.
___
AP MLB: https://apnews.com/hub/mlb and https://twitter.com/AP_Sports