Acuña, Olson back-to-back; Strider Ks 9, Braves top Nats 7-1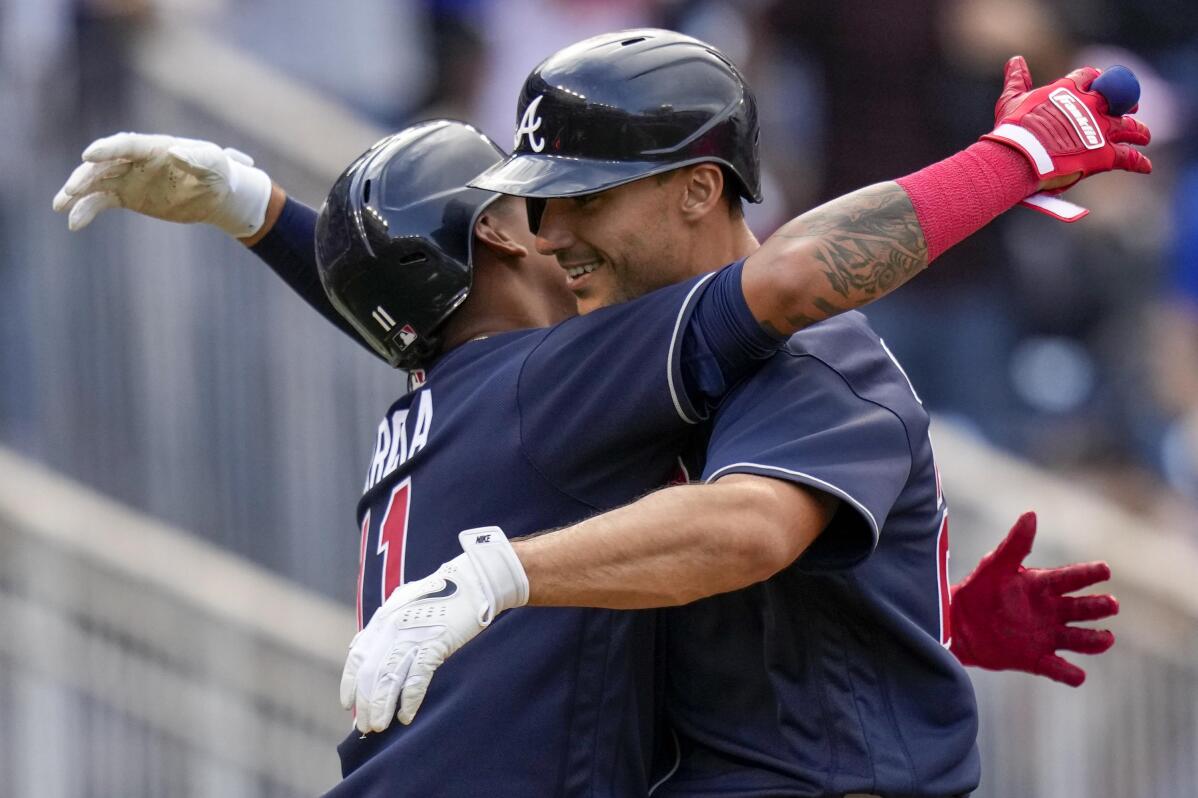 1 of 8

|
Atlanta Braves' Orlando Arcia, left, celebrates with Matt Olson after they scored on Olson's two-run home run during the seventh inning of a baseball game against the Washington Nationals at Nationals Park, Saturday, April 1, 2023, in Washington. (AP Photo/Alex Brandon)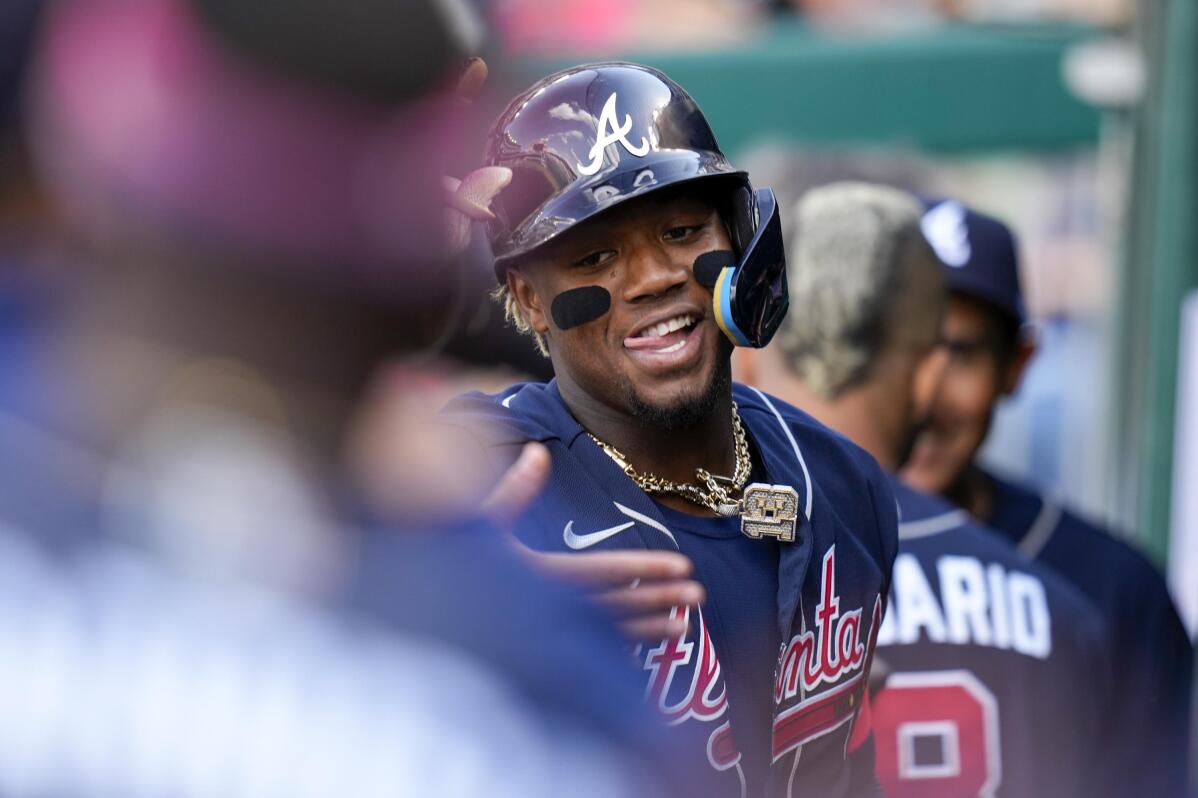 2 of 8

|
Atlanta Braves' Ronald Acuna Jr., celebrates after his solo home run during the first inning of a baseball game against the Washington Nationals at Nationals Park, Saturday, April 1, 2023, in Washington. (AP Photo/Alex Brandon)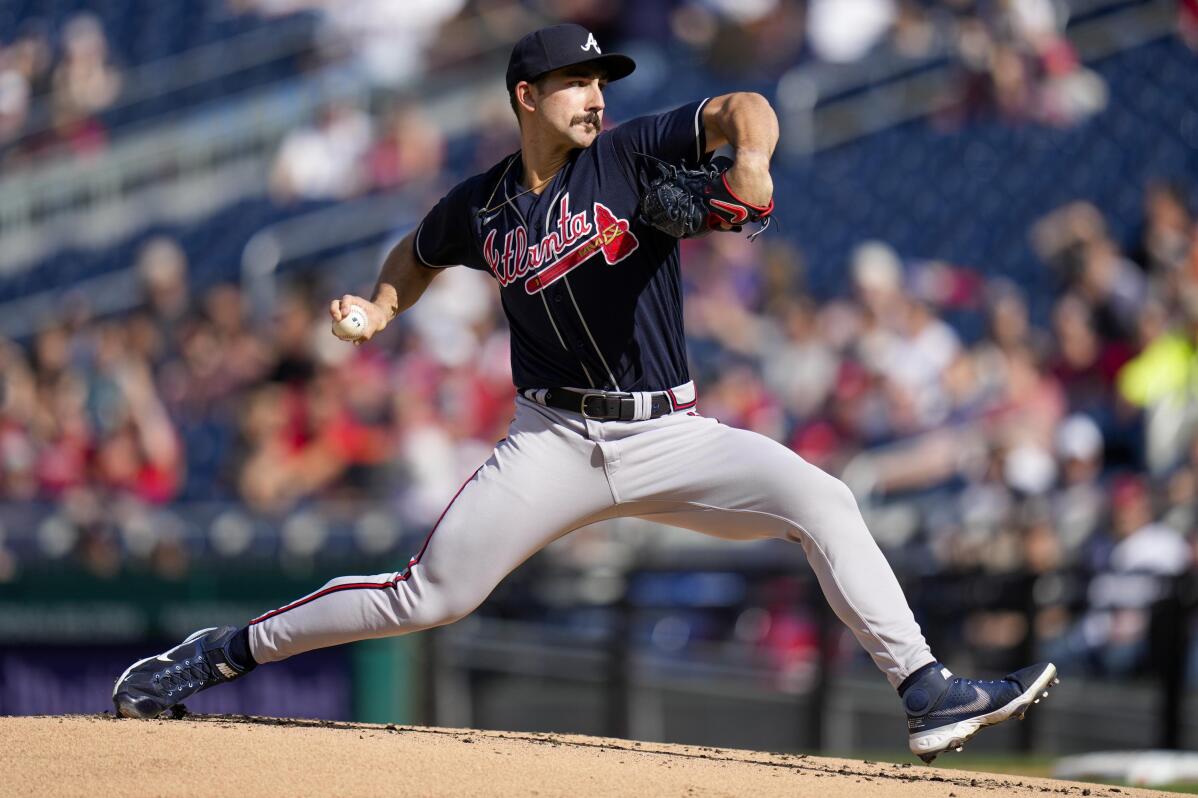 3 of 8

|
Atlanta Braves starting pitcher Spencer Strider throws during the first inning of a baseball game against the Washington Nationals at Nationals Park, Saturday, April 1, 2023, in Washington. (AP Photo/Alex Brandon)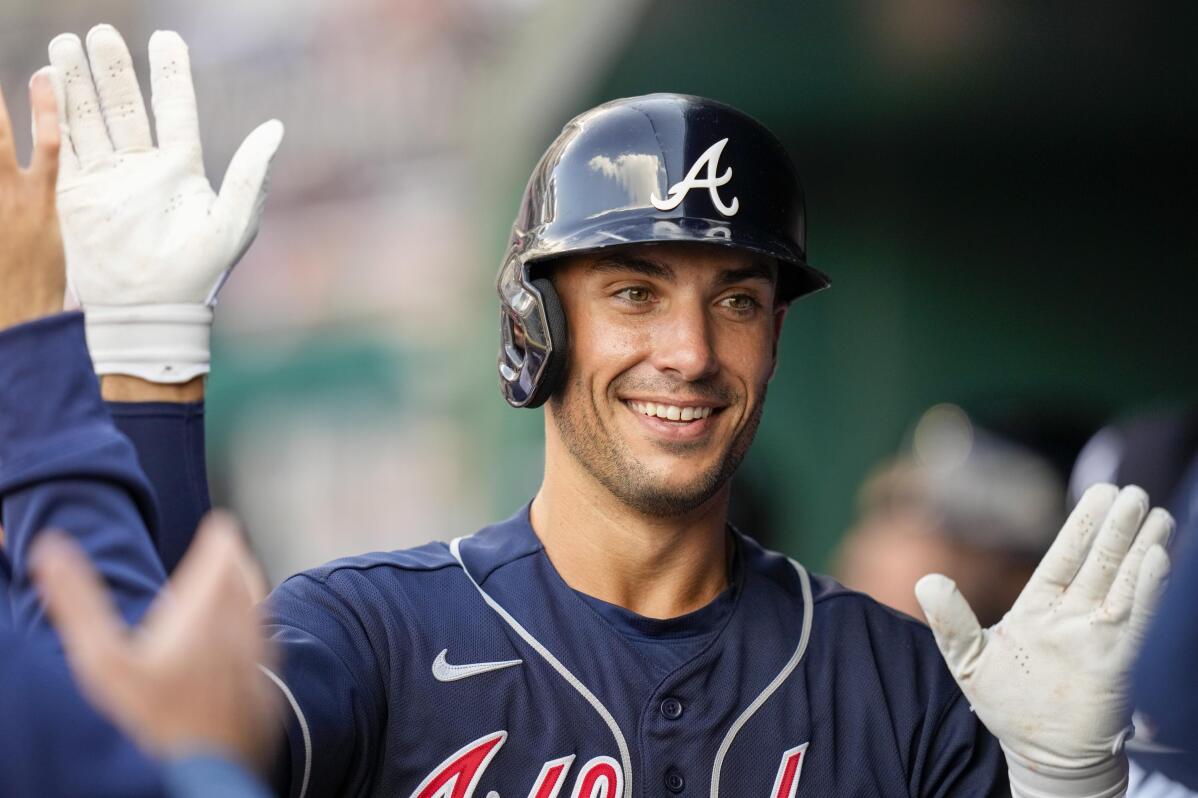 4 of 8

|
Atlanta Braves' Matt Olson celebrates after his solo home run during the first inning of a baseball game against the Washington Nationals at Nationals Park, Saturday, April 1, 2023, in Washington. (AP Photo/Alex Brandon)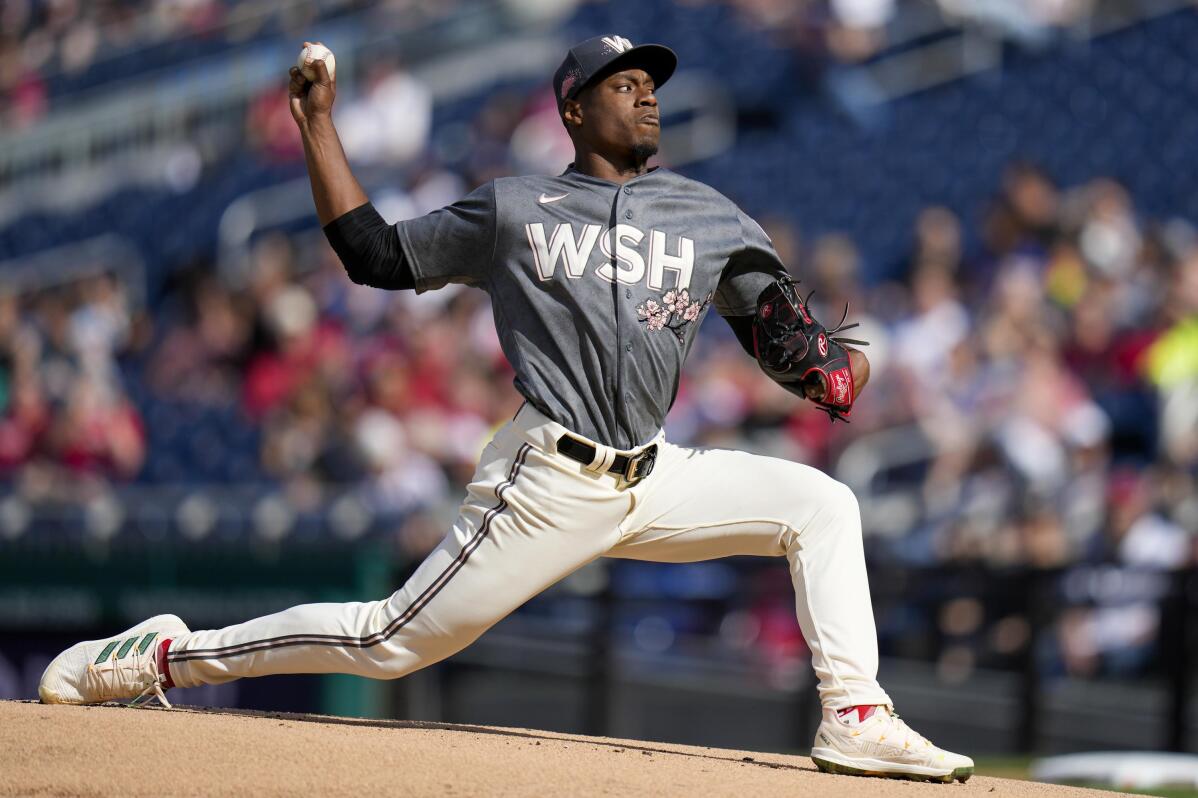 5 of 8

|
Washington Nationals starting pitcher Josiah Gray throws during the first inning of a baseball game against the Atlanta Braves at Nationals Park, Saturday, April 1, 2023, in Washington. (AP Photo/Alex Brandon)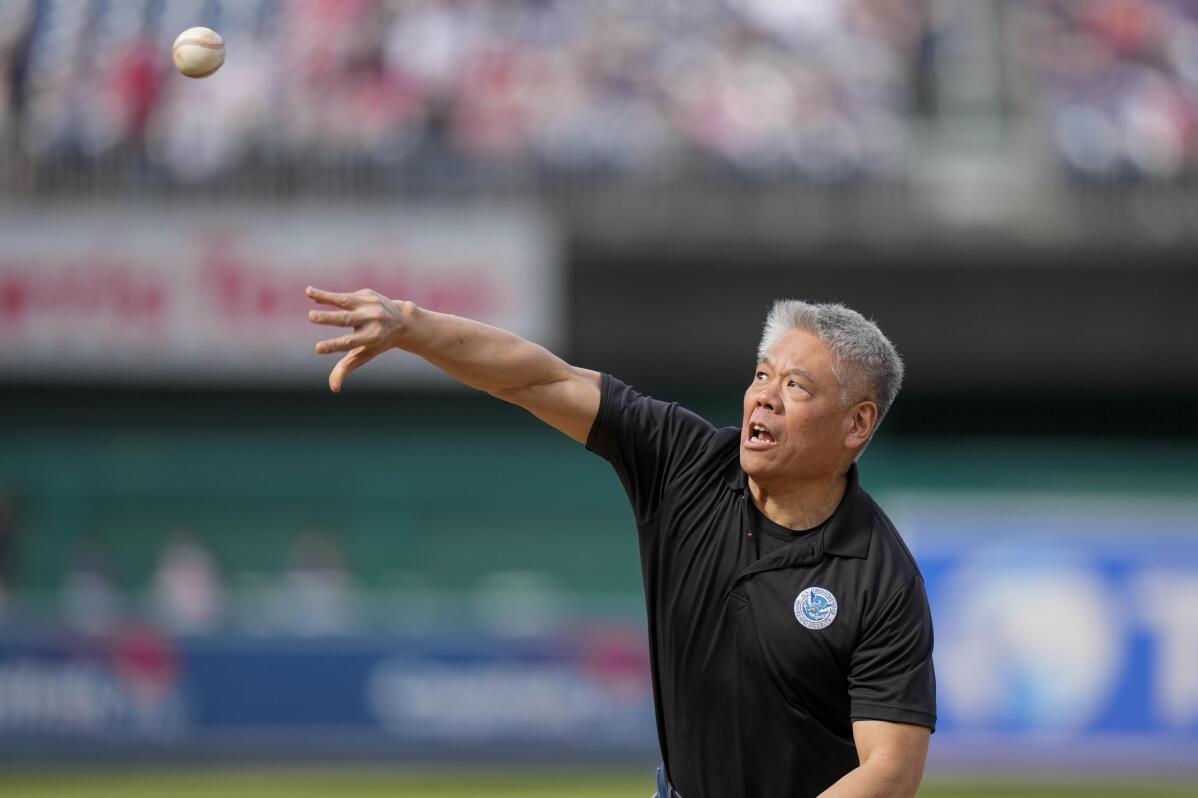 6 of 8

|
Deputy Secretary of Homeland Security John Tien throws out a ceremonial first pitch before a baseball game between the Washington Nationals and the Atlanta Braves at Nationals Park, Saturday, April 1, 2023, in Washington. (AP Photo/Alex Brandon)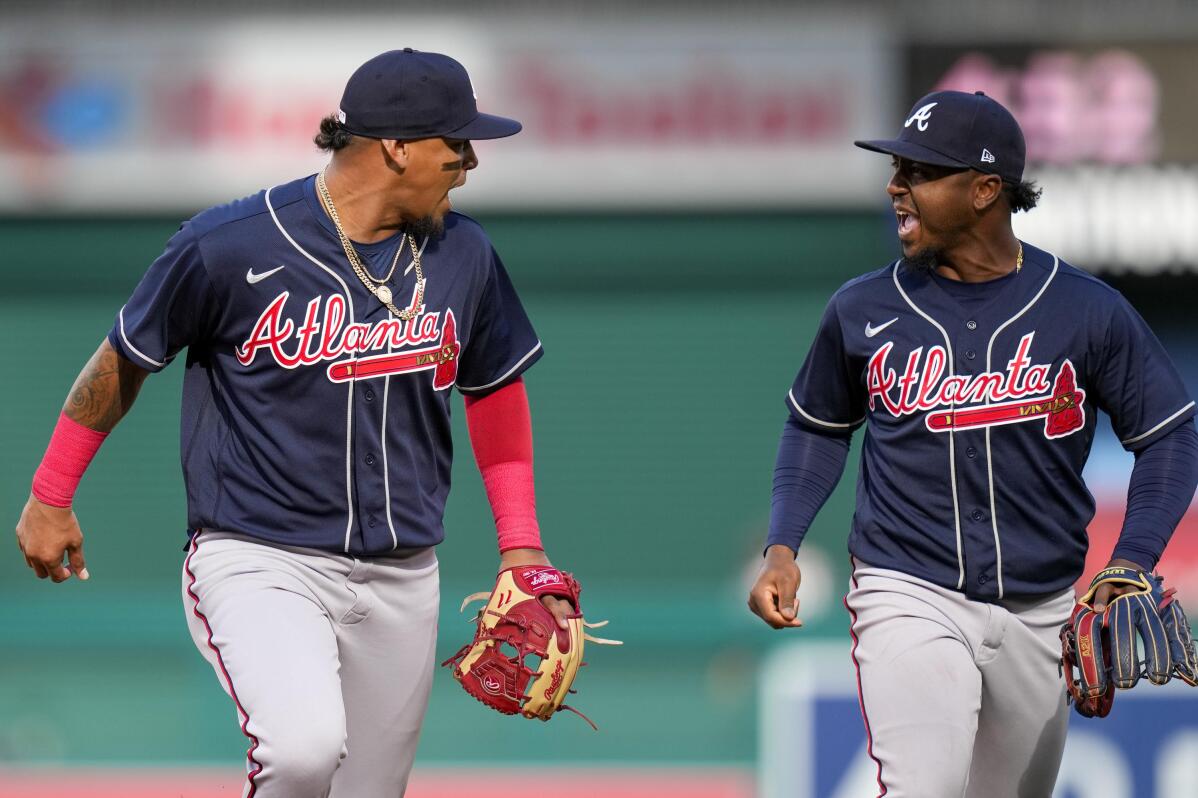 7 of 8

|
Atlanta Braves' Orlando Arcia, left, and Ozzie Albies react as the run to the dugout during the third inning of a baseball game against the Washington Nationals at Nationals Park, Saturday, April 1, 2023, in Washington. (AP Photo/Alex Brandon)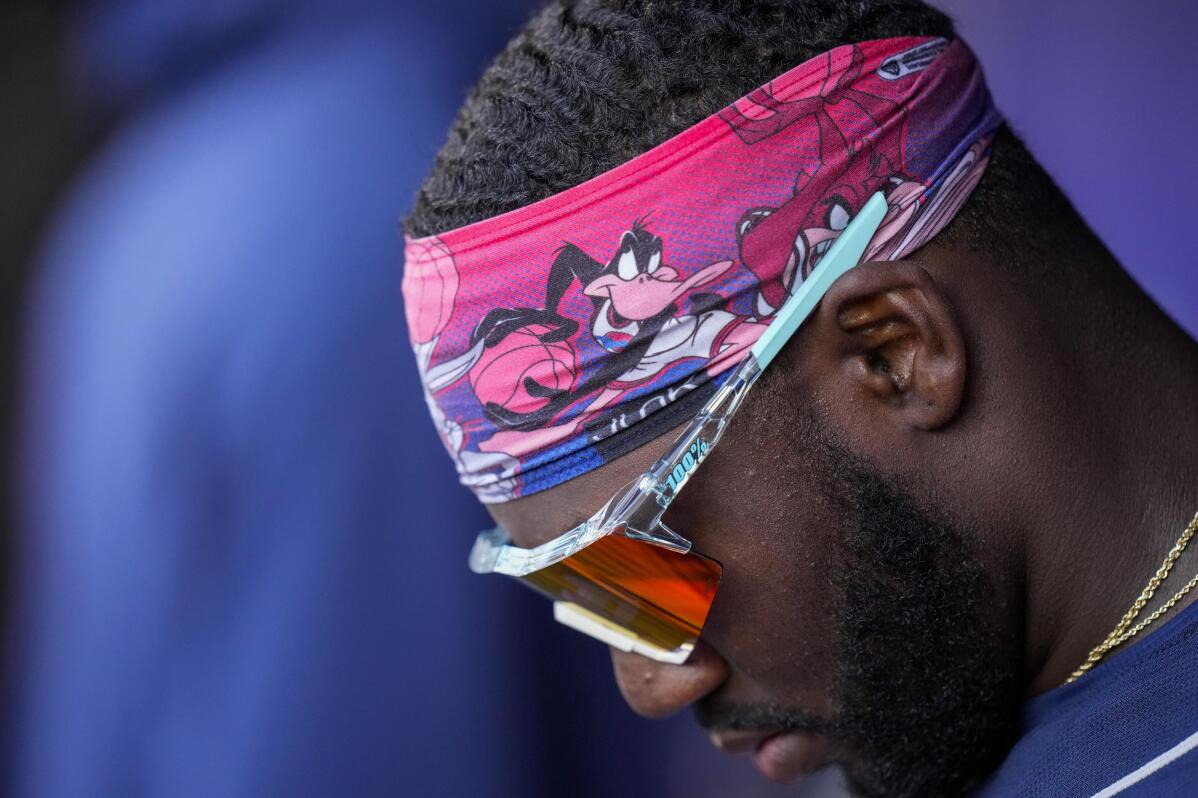 8 of 8

|
Atlanta Braves center fielder Michael Harris II looks at tablet in the dugout during the fourth inning of the team's baseball game against the Washington Nationals at Nationals Park, Saturday, April 1, 2023, in Washington. (AP Photo/Alex Brandon)
Acuña, Olson back-to-back; Strider Ks 9, Braves top Nats 7-1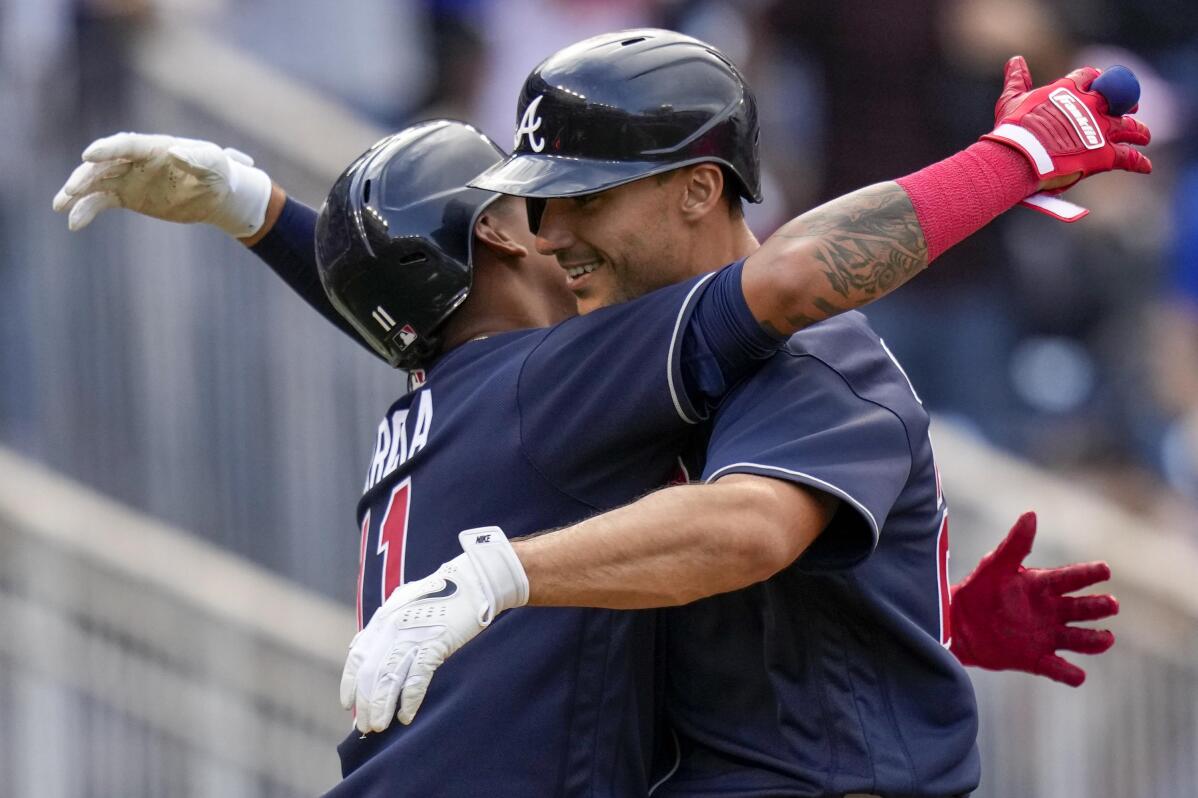 1 of 8

|
Atlanta Braves' Orlando Arcia, left, celebrates with Matt Olson after they scored on Olson's two-run home run during the seventh inning of a baseball game against the Washington Nationals at Nationals Park, Saturday, April 1, 2023, in Washington. (AP Photo/Alex Brandon)
1 of 8
Atlanta Braves' Orlando Arcia, left, celebrates with Matt Olson after they scored on Olson's two-run home run during the seventh inning of a baseball game against the Washington Nationals at Nationals Park, Saturday, April 1, 2023, in Washington. (AP Photo/Alex Brandon)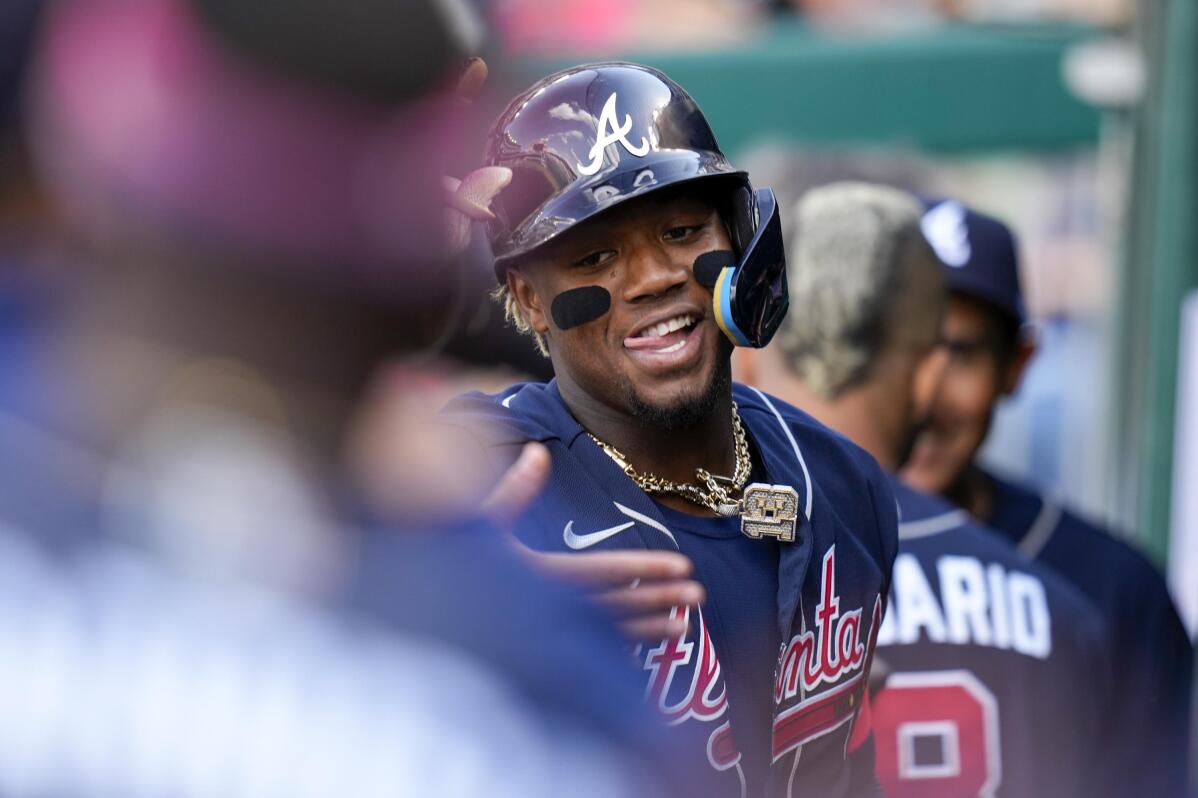 2 of 8

|
Atlanta Braves' Ronald Acuna Jr., celebrates after his solo home run during the first inning of a baseball game against the Washington Nationals at Nationals Park, Saturday, April 1, 2023, in Washington. (AP Photo/Alex Brandon)
2 of 8
Atlanta Braves' Ronald Acuna Jr., celebrates after his solo home run during the first inning of a baseball game against the Washington Nationals at Nationals Park, Saturday, April 1, 2023, in Washington. (AP Photo/Alex Brandon)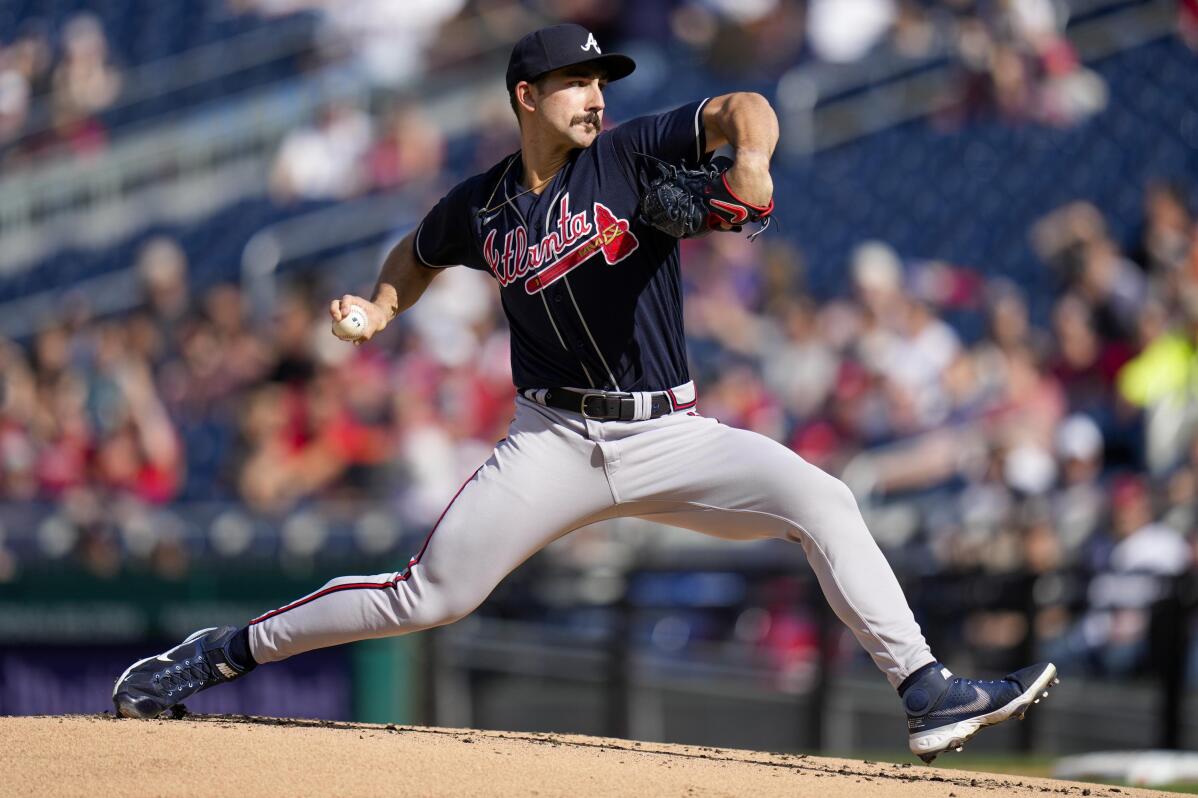 3 of 8

|
Atlanta Braves starting pitcher Spencer Strider throws during the first inning of a baseball game against the Washington Nationals at Nationals Park, Saturday, April 1, 2023, in Washington. (AP Photo/Alex Brandon)
3 of 8
Atlanta Braves starting pitcher Spencer Strider throws during the first inning of a baseball game against the Washington Nationals at Nationals Park, Saturday, April 1, 2023, in Washington. (AP Photo/Alex Brandon)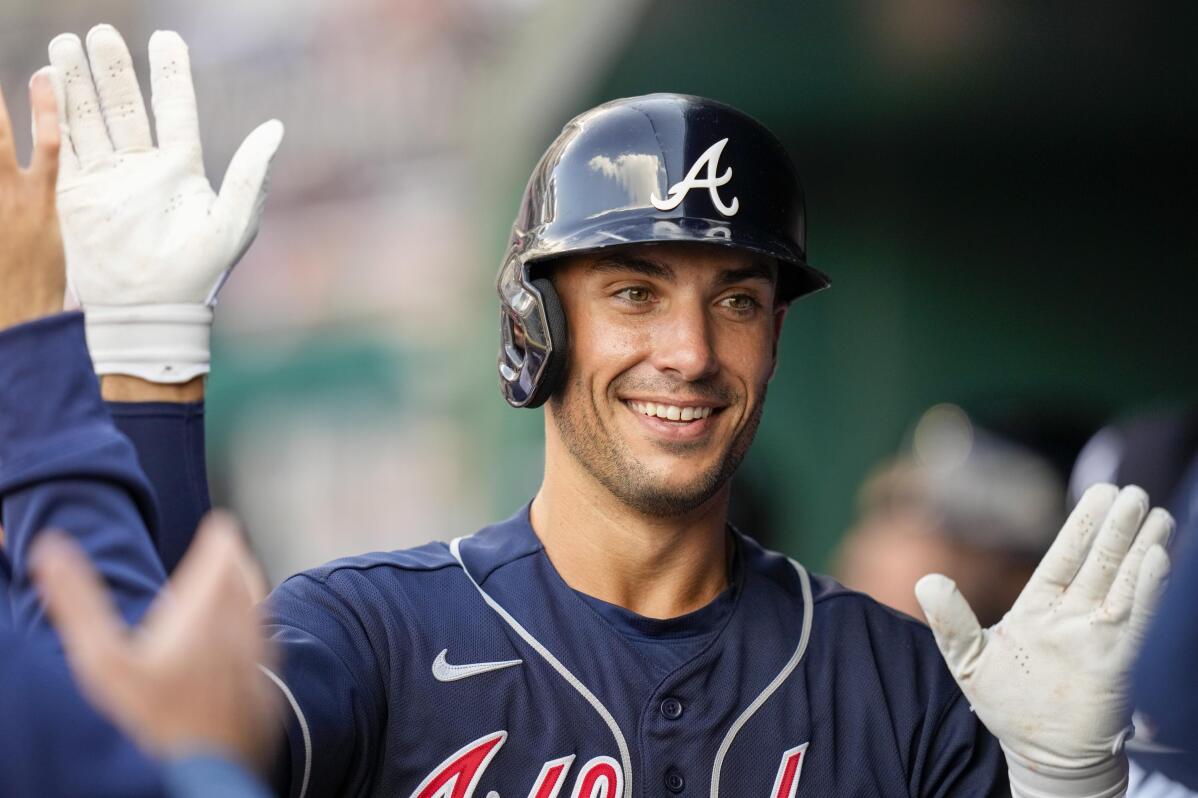 4 of 8

|
Atlanta Braves' Matt Olson celebrates after his solo home run during the first inning of a baseball game against the Washington Nationals at Nationals Park, Saturday, April 1, 2023, in Washington. (AP Photo/Alex Brandon)
4 of 8
Atlanta Braves' Matt Olson celebrates after his solo home run during the first inning of a baseball game against the Washington Nationals at Nationals Park, Saturday, April 1, 2023, in Washington. (AP Photo/Alex Brandon)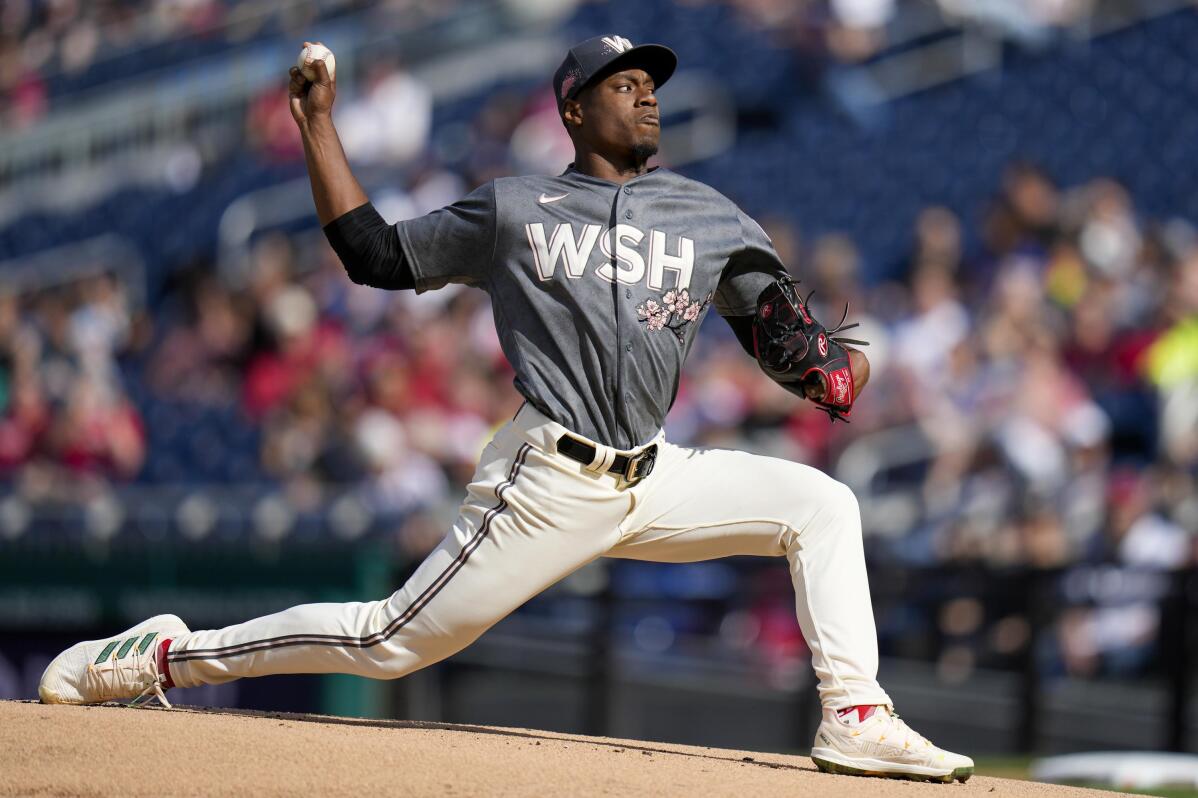 5 of 8

|
Washington Nationals starting pitcher Josiah Gray throws during the first inning of a baseball game against the Atlanta Braves at Nationals Park, Saturday, April 1, 2023, in Washington. (AP Photo/Alex Brandon)
5 of 8
Washington Nationals starting pitcher Josiah Gray throws during the first inning of a baseball game against the Atlanta Braves at Nationals Park, Saturday, April 1, 2023, in Washington. (AP Photo/Alex Brandon)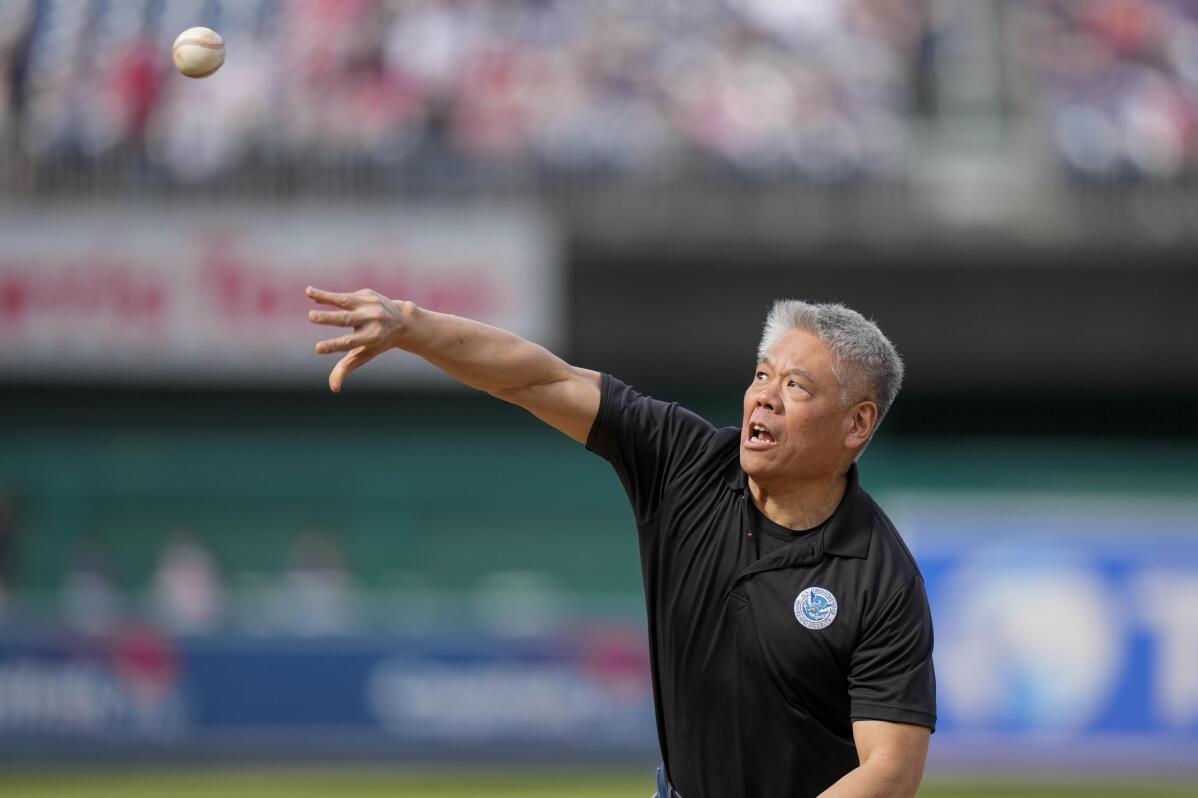 6 of 8

|
Deputy Secretary of Homeland Security John Tien throws out a ceremonial first pitch before a baseball game between the Washington Nationals and the Atlanta Braves at Nationals Park, Saturday, April 1, 2023, in Washington. (AP Photo/Alex Brandon)
6 of 8
Deputy Secretary of Homeland Security John Tien throws out a ceremonial first pitch before a baseball game between the Washington Nationals and the Atlanta Braves at Nationals Park, Saturday, April 1, 2023, in Washington. (AP Photo/Alex Brandon)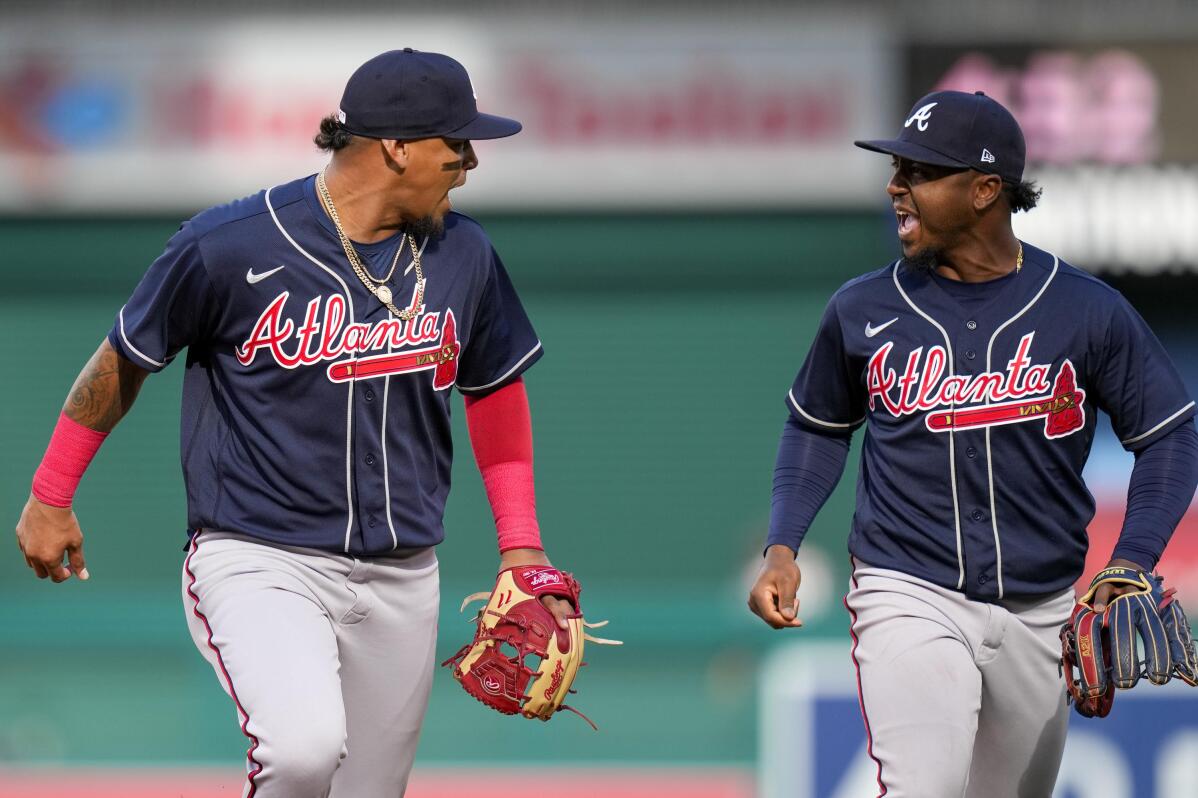 7 of 8

|
Atlanta Braves' Orlando Arcia, left, and Ozzie Albies react as the run to the dugout during the third inning of a baseball game against the Washington Nationals at Nationals Park, Saturday, April 1, 2023, in Washington. (AP Photo/Alex Brandon)
7 of 8
Atlanta Braves' Orlando Arcia, left, and Ozzie Albies react as the run to the dugout during the third inning of a baseball game against the Washington Nationals at Nationals Park, Saturday, April 1, 2023, in Washington. (AP Photo/Alex Brandon)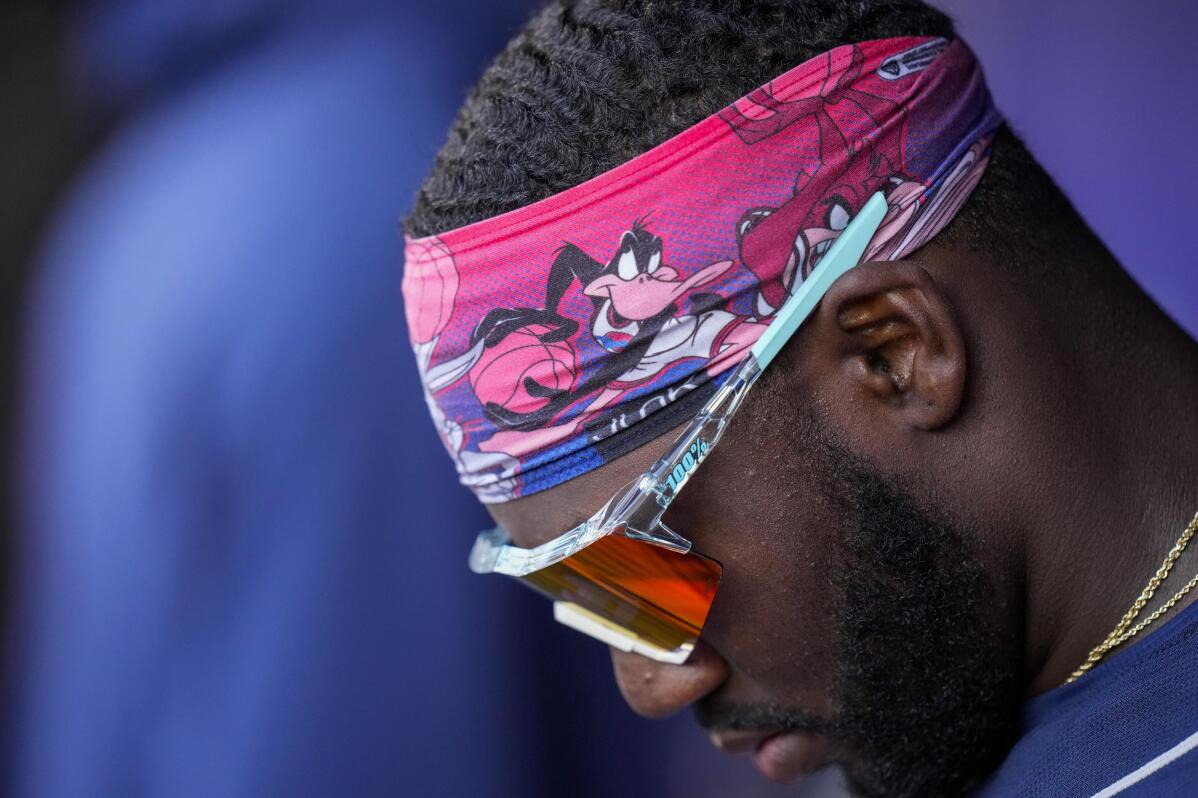 8 of 8

|
Atlanta Braves center fielder Michael Harris II looks at tablet in the dugout during the fourth inning of the team's baseball game against the Washington Nationals at Nationals Park, Saturday, April 1, 2023, in Washington. (AP Photo/Alex Brandon)
8 of 8
Atlanta Braves center fielder Michael Harris II looks at tablet in the dugout during the fourth inning of the team's baseball game against the Washington Nationals at Nationals Park, Saturday, April 1, 2023, in Washington. (AP Photo/Alex Brandon)
WASHINGTON (AP) — Ronald Acuña Jr. claimed teammate Orlando Arcia predicted the Atlanta Braves would hit back-to-back homers on Saturday.
Acuña offered that tidbit to reporters after he and Matt Olson did just that right off the bat in what became a 7-1 victory for the Braves over the Washington Nationals. Olson, who ended up with two of Atlanta's four long balls, wasn't so sure about the veracity of the anecdote.
"Just so you all know: We called it in BP," Acuña said through a wide smile. "Arcia was the one who said, 'I think today we're going to get our first back-to-back home runs.'"
When that was relayed to Olson, who produced 34 homers and 103 RBIs for NL East champion Atlanta in 2022 and added a two-run shot in the seventh Saturday, he smirked and said: "He might have made that up."
Either way, the two sluggers at the top of the lineup provided more than enough run support for Spencer Strider (1-0), who struck out nine batters in six scoreless innings, while consistently reaching 99 mph. Washington managed just three hits off Strider, who looked very much like the pitcher who was the runner-up to teammate Michael Harris II for NL Rookie of the Year honors last season, when he accumulated 202 strikeouts in just 131 2/3 innings.
"From the second he started throwing," Olson said, "you could tell that he had his good stuff. ... When he has his 'A' stuff, it's tough sledding for the other side."
Josiah Gray (0-1), meanwhile, allowed five runs in five innings, also looking quite a bit like the guy he was in 2022, when he gave up a majors-worst 38 homers and issued an NL-worst 66 walks. The 25-year-old right-hander has been viewed as one of the building blocks for Washington since arriving from the Dodgers in the 2021 trade deadline deal that sent Max Scherzer and Trea Turner to L.A.
"Just a matter of poor location there early in the game. I've just got to be better there," Gray said. "I probably got away with pitches in spring training I might not get away with now."
He began the day with a pair of strikes before Acuña lined a slider over the wall in left for his 27th career leadoff homer, extending his franchise record. Olson then launched a 92 mph fastball on a 2-0 count for a high-arcing drive to right.
"Sometimes I get a little nervous before the game, and then I look at our lineup and then I feel a lot better," Strider said. "No offense to anybody else, but we've got a lineup I don't want to face."
SCUFFLING AND SHUFFLING
Washington, coming off three last-place finishes since its 2019 World Series title, has been outscored 14-3 through two games. Keibert Ruiz homered off Kirby Yates in the ninth as strong winds scattered napkins from the stands onto the field. ... DH Joey Meneses was the only player in the same spot in manager Dave Martinez's starting lineup for Games 1 and 2.
TRAINER'S ROOM
Braves: Max Fried is going to need to go on the injured list with a strained left hamstring, Snitker confirmed, although he didn't say when the move actually would be made, how long the left-hander is expected to be out or who would replace him in the rotation.
Nationals: OF Corey Dickerson exited after his left calf tightened up. He will have tests Sunday.
UP NEXT
The Braves will try for a season-opening three-game sweep Sunday, when LHP Jared Shuster makes his major league debut against Nationals LHP MacKenzie Gore, who will making his first appearance with Washington.
___
AP MLB: https://apnews.com/hub/mlb and https://twitter.com/AP_Sports