Brazil police foil gang plot targeting Carwash judge Moro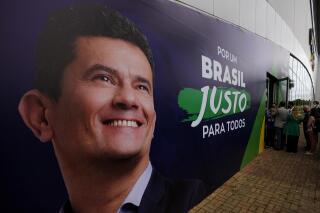 SAO PAULO (AP) — Federal police raided locations in several states Wednesday to crack down on a gang accused of plotting assassinations and kidnappings of public officials including a former judge who presided over Brazil's biggest corruption case.
One of the suspects' targets was Sen. Sérgio Moro, who as a judge presided over the Carwash bribery and money laundering investigation that began in 2014, Justice Minister Flávio Dino told reporters in Sao Paulo. The suspects had rented out houses near Moro's home and office in Parana's capital, Curitiba, and had erected walls to create rooms that could be used for stowing hostages, he said.
Dino told reporters that authorities are investigating whether the criminals intended to kill or kidnap Moro. The operation was launched Wednesday because investigators determined the suspects were already setting up teams to execute their plans, he added.
Moro said on Twitter he had been targeted for retaliation by one of Brazil's most notorious drug trafficking gangs, known as the First Capital Command. He thanked the police forces and said he would issue a statement later Wednesday.
From 2014 to 2018, Moro was the lead judge in the Carwash trials, which led to the arrest of prominent politicians including then former President Luiz Inácio Lula da Silva, who spent over a year in jail. Lula's conviction was later annulled. In 2019, Moro became former President Jair Bolsonaro's Justice Minister, and quickly oversaw the transfer of the First Capital Command's leader and almost two dozen gang members to federal prison.
Moro left the government in April 2020 and secured a Senate seat in last year's general elections. Lula was also elected president.
Federal police last year investigated a plan by the First Capital Command to kidnap federal public servants, aiming to exchange them for the release of Marco Willians Camacho, the gang's imprisoned leader, according to a report from online media UOL.
Federal Police said in their statement Wednesday that the criminals aimed to use their kidnapped hostages for extortion.
Wednesday's police operation entailed 120 agents carrying out 24 search and seizure warrants and 11 arrest warrants in the states of Sao Paulo, Parana, Mato Grosso do Sul and Rondonia, police said in a statement, which did not name the suspects nor their intended targets.
Dino told reporters that another target was a public prosecutor in Sao Paulo state's organized crime unit.