Charles wins hearts in Germany as soft power pays off
1 of 21

|
FILE - Britain's King Charles III waves from a balcony of the city hall in Hamburg, Germany, Friday, March 31, 2023. King Charles III won plenty of hearts during his three-day visit to Germany, his first foreign trip since becoming king following the death of his mother, Elizabeth II, last year. (AP Photo/Gregor Fischer, File)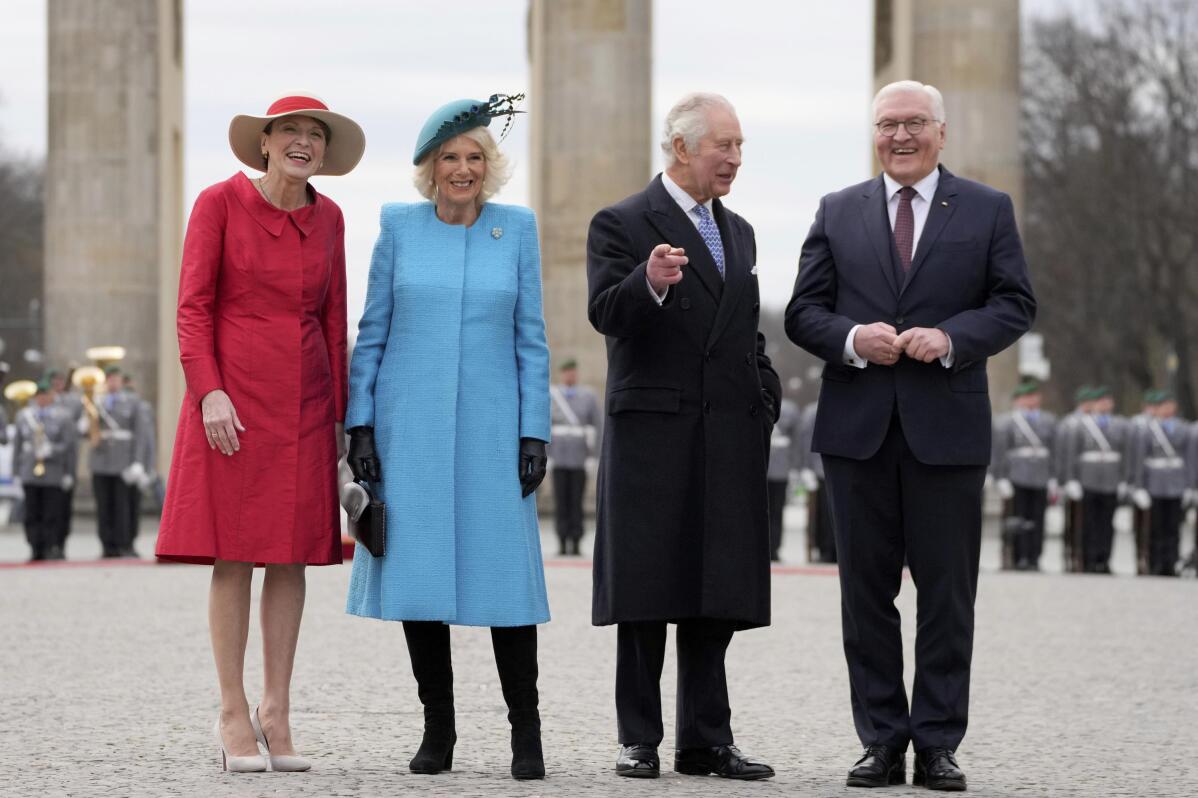 2 of 21

|
FILE - German President Frank-Walter Steinmeier, right, and his wife Elke Buedenbender, left, welcome Britain's King Charles III and Camilla, the Queen Consort, in front of the Brandenburg Gate in Berlin, Wednesday, March 29, 2023. King Charles III won plenty of hearts during his three-day visit to Germany, his first foreign trip since becoming king following the death of his mother, Elizabeth II, last year. (AP Photo/Matthias Schrader, File)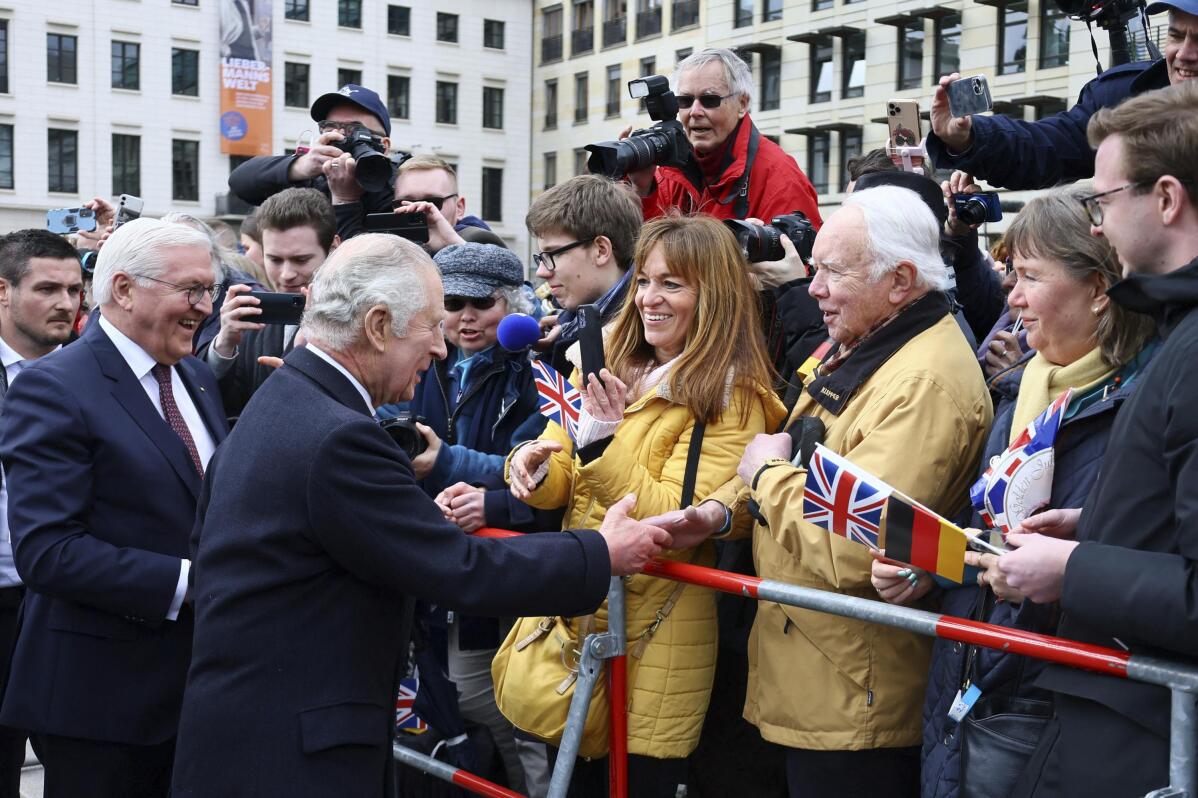 3 of 21

|
FILE - Britain's King Charles III and German President Frank-Walter Steinmeier greet members of the public in Berlin, Germany, March 29, 2023. King Charles III won plenty of hearts during his three-day visit to Germany, his first foreign trip since becoming king following the death of his mother, Elizabeth II, last year. (Wolfgang Rattay/Pool via AP, File)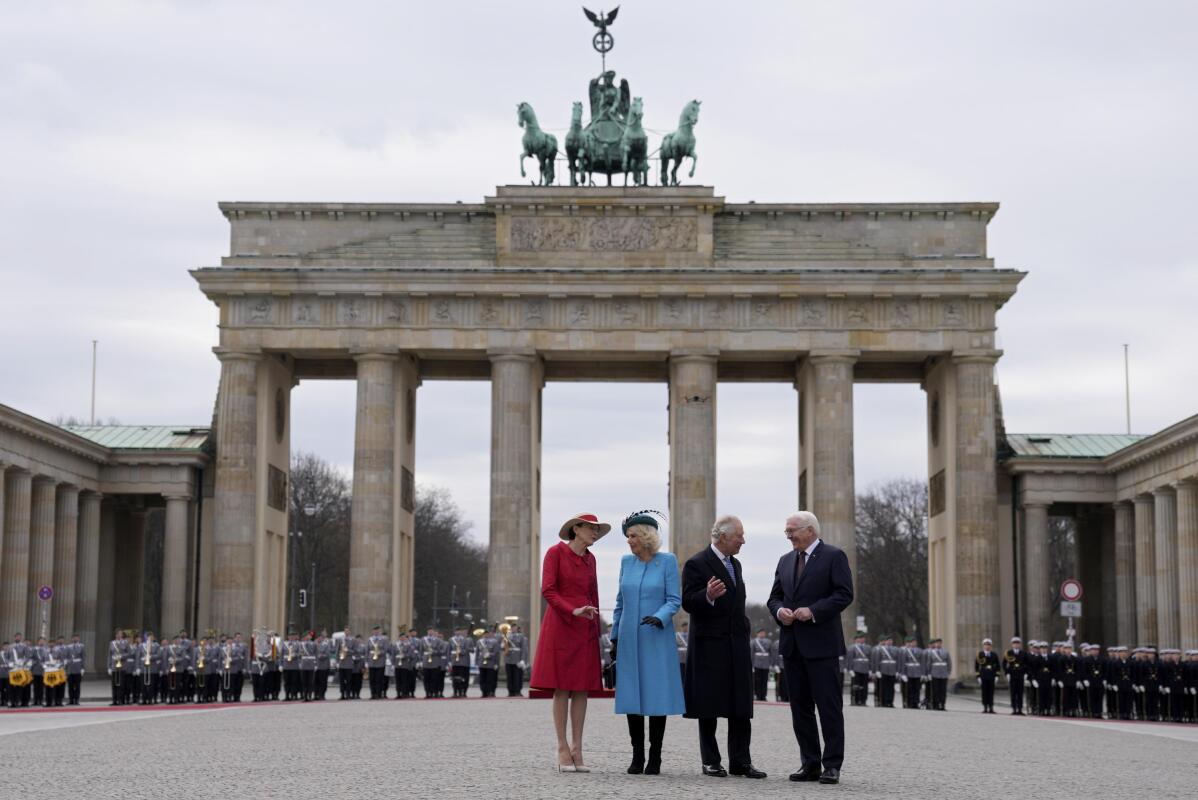 4 of 21

|
FILE - German President Frank-Walter Steinmeier, right, and his wife Elke Buedenbender, left, welcome Britain's King Charles III and Camilla, the Queen Consort, in front of the Brandenburg Gate in Berlin, Wednesday, March 29, 2023. King Charles III won plenty of hearts during his three-day visit to Germany, his first foreign trip since becoming king following the death of his mother, Elizabeth II, last year. (AP Photo/Matthias Schrader, File)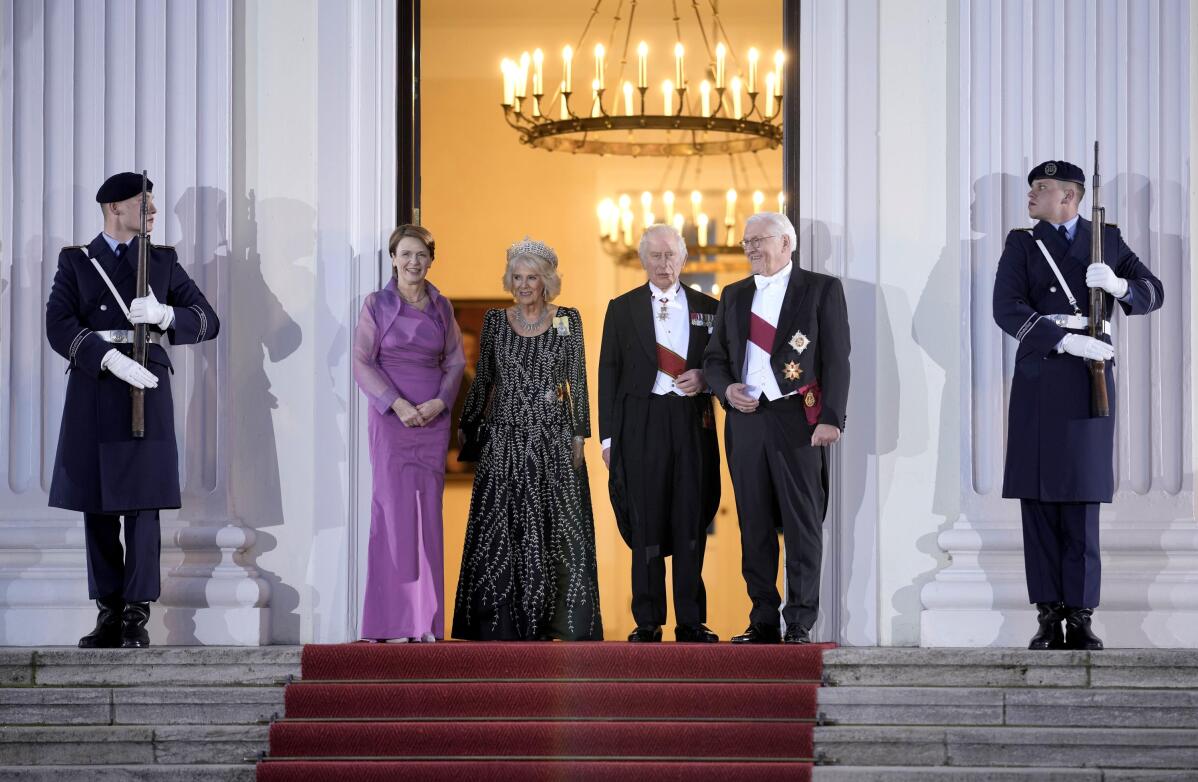 5 of 21

|
FILE - German President Frank-Walter Steinmeier, right, his wife Elke Buedenbender, left, Britain's King Charles III, 2nd right, and Camilla, the Queen Consort, stand in front of the Bellevue Palace in Berlin, Wednesday, March 29, 2023. King Charles III won plenty of hearts during his three-day visit to Germany, his first foreign trip since becoming king following the death of his mother, Elizabeth II, last year. (AP Photo/Markus Schreiber, File)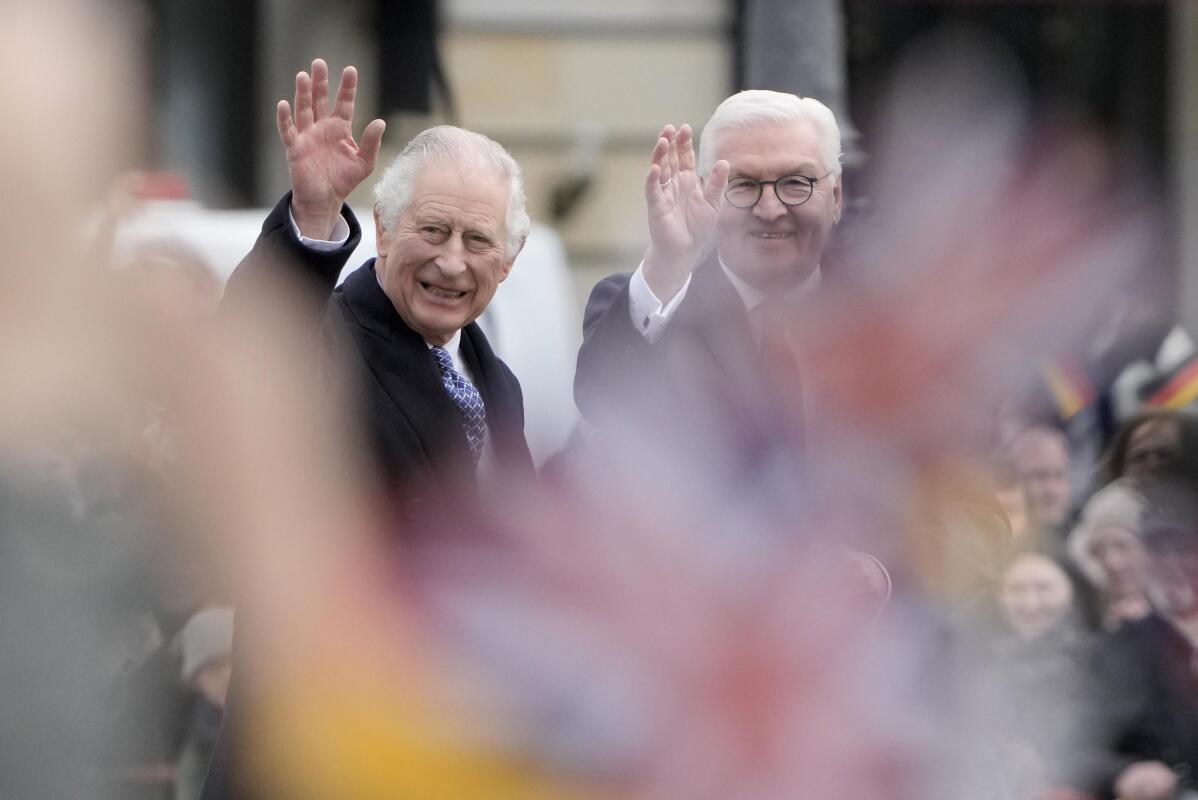 6 of 21

|
FILE - German President Frank-Walter Steinmeier, right, and Britain's King Charles III wave to well-wishers during a welcome ceremony in front of the Brandenburg Gate in Berlin, Tuesday, March 29, 2022. King Charles III won plenty of hearts during his three-day visit to Germany, his first foreign trip since becoming king following the death of his mother, Elizabeth II, last year. (AP Photo/Markus Schreiber, File)
7 of 21

|
FILE - Britain's King Charles III, with Camilla, the Queen Consort board a train on their way to Hamburg from a train station in Berlin, Friday, March 31, 2023. King Charles III won plenty of hearts during his three-day visit to Germany, his first foreign trip since becoming king following the death of his mother, Elizabeth II, last year. (AP Photo/Markus Schreiber, Pool, File)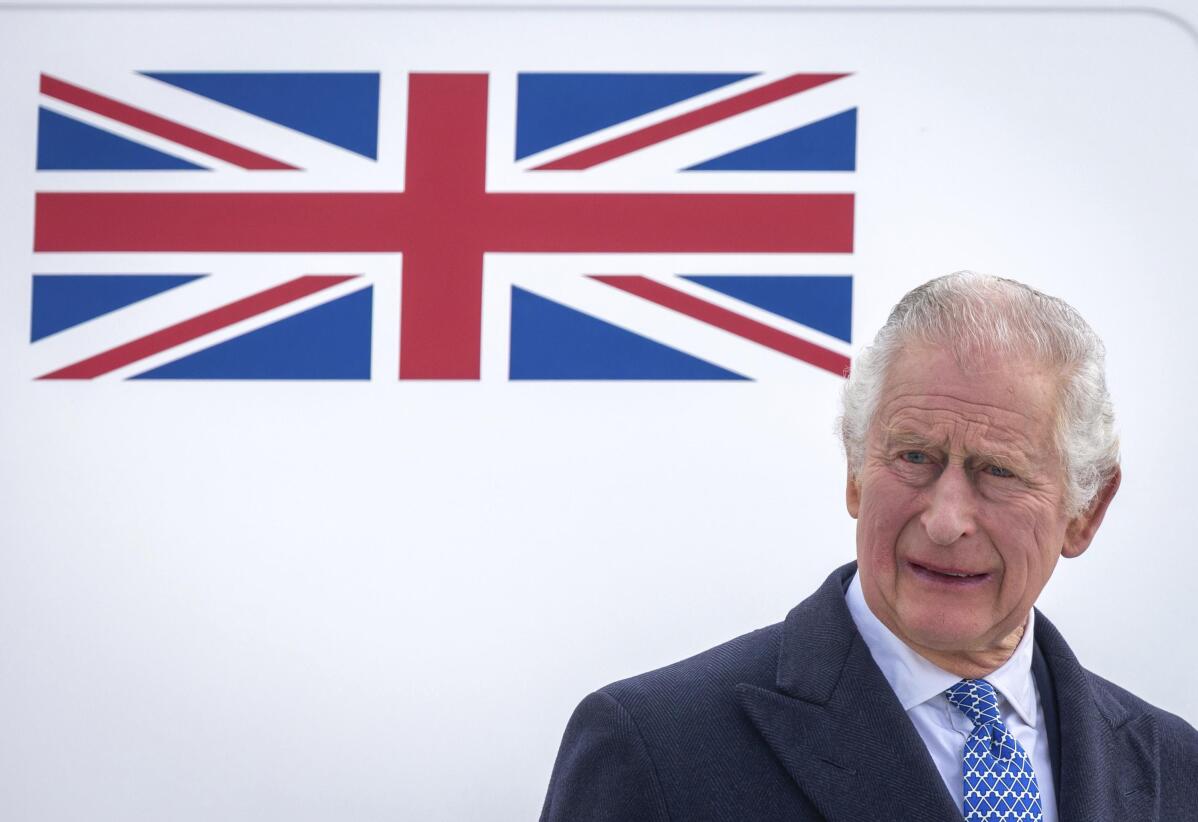 8 of 21

|
FILE - Britain's King Charles III stands in front of the plane after arriving at Berlin Airport in Berlin, Germany, Wednesday, March 29, 2023. King Charles III won plenty of hearts during his three-day visit to Germany, his first foreign trip since becoming king following the death of his mother, Elizabeth II, last year. (Britta Pedersen/dpa via AP, File)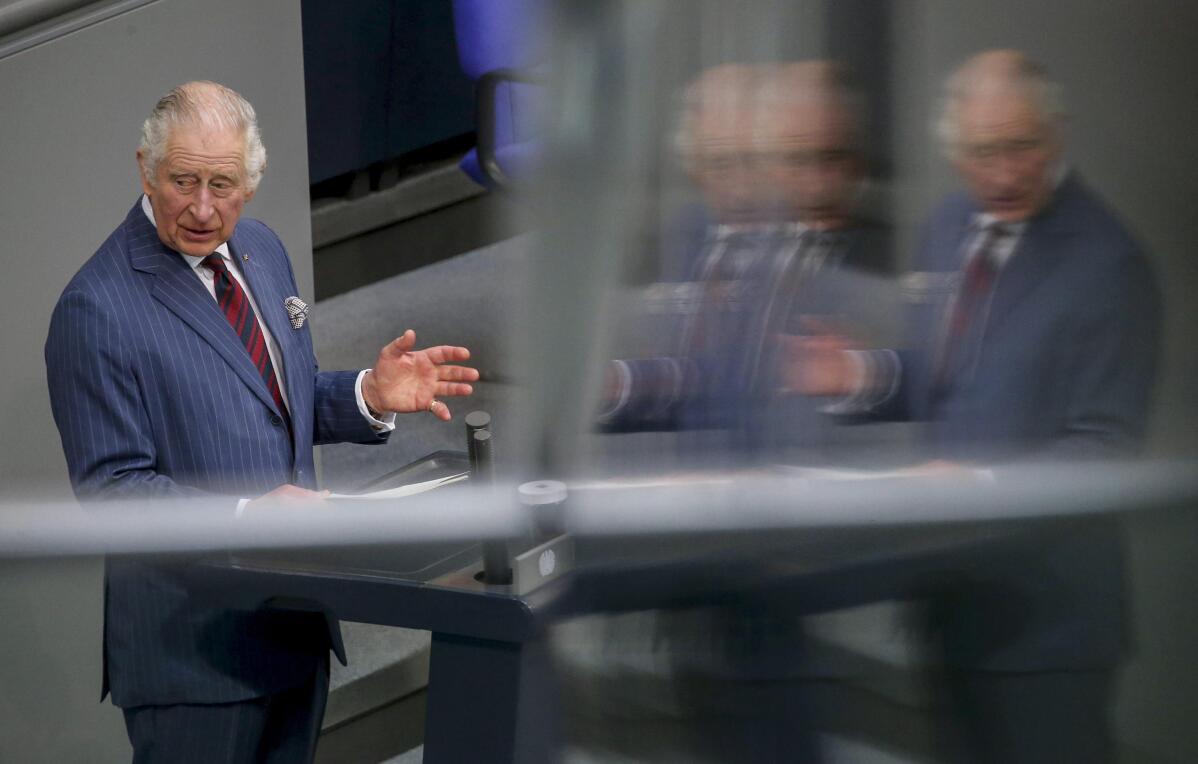 9 of 21

|
FILE - Britain's King Charles III speaks in the German parliament Bundestag on the second day of his trip to Germany in Berlin, Thursday, March 30, 2023. King Charles III won plenty of hearts during his three-day visit to Germany, his first foreign trip since becoming king following the death of his mother, Elizabeth II, last year. (Wolfgang Kumm/dpa via AP, File)
10 of 21

|
FILE - German President Frank-Walter Steinmeier's wife Elke Buedenbender, left, and Camilla, the Queen Consort, talk in front of the Bellevue Palace in Berlin, Wednesday, March 29, 2023. King Charles III won plenty of hearts during his three-day visit to Germany, his first foreign trip since becoming king following the death of his mother, Elizabeth II, last year. (AP Photo/Markus Schreiber, File)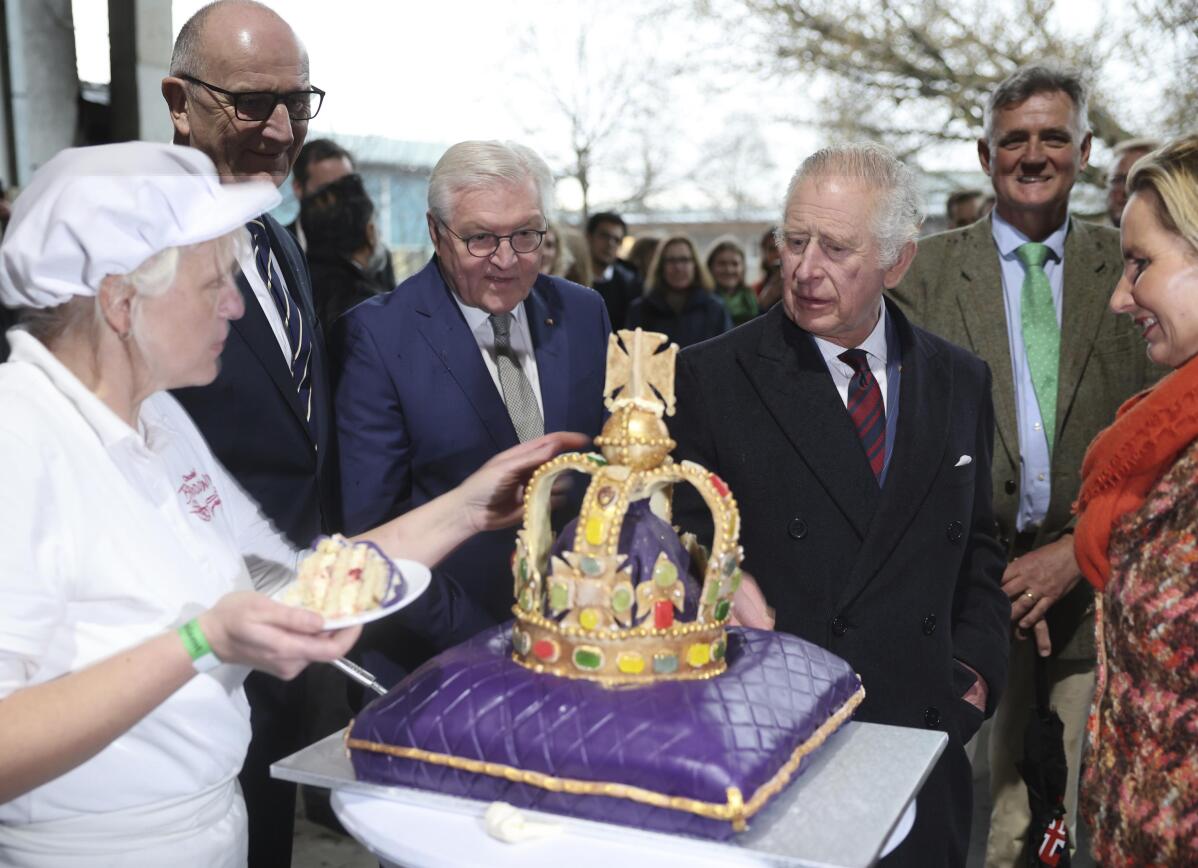 11 of 21

|
FILE - Britain's King Charles III, right, looks at a cake made especially for his visit in the Brodowin eco-village Germany, Thursday, March 30, 2023. King Charles III won plenty of hearts during his three-day visit to Germany, his first foreign trip since becoming king following the death of his mother, Elizabeth II, last year. (Jens Buettner/DPA via AP, Pool, File)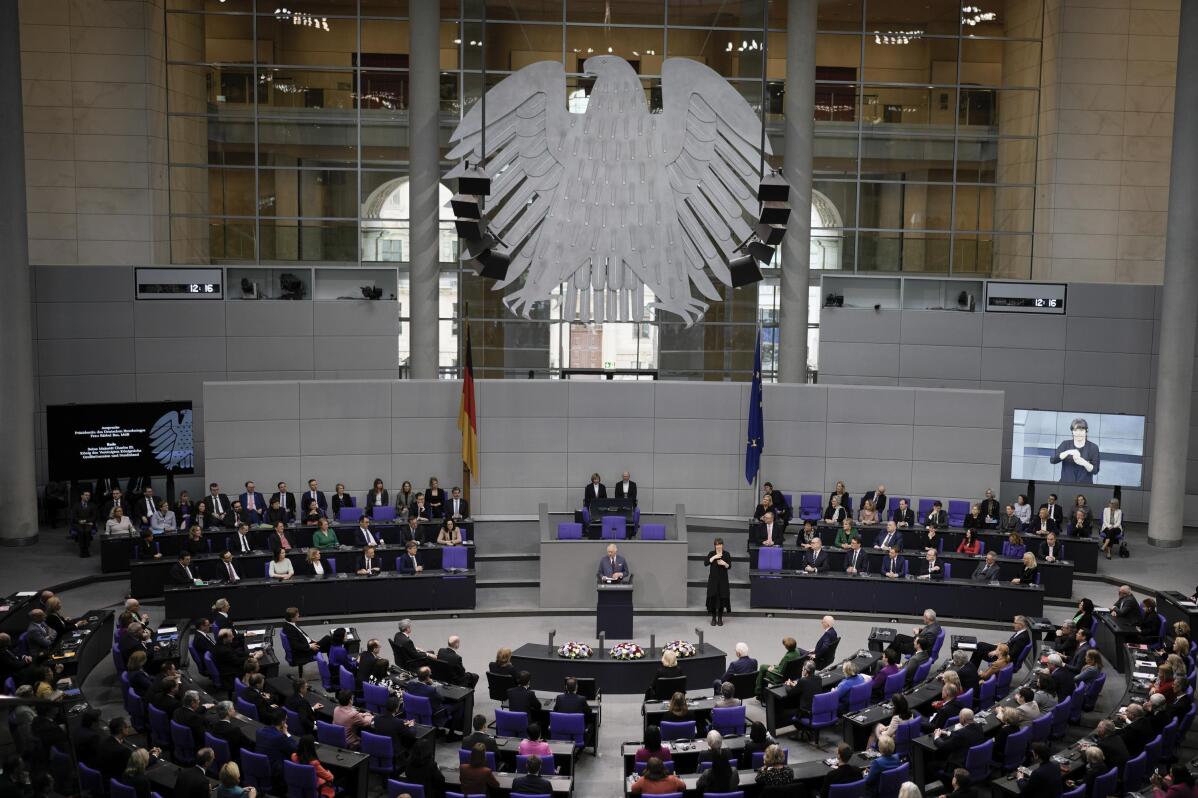 12 of 21

|
FILE - Britain's King Charles III, center, addresses the Bundestag, Germany's Parliament, in Berlin, Thursday, March 30, 2023. King Charles III won plenty of hearts during his three-day visit to Germany, his first foreign trip since becoming king following the death of his mother, Elizabeth II, last year. (AP Photo/Markus Schreiber, File)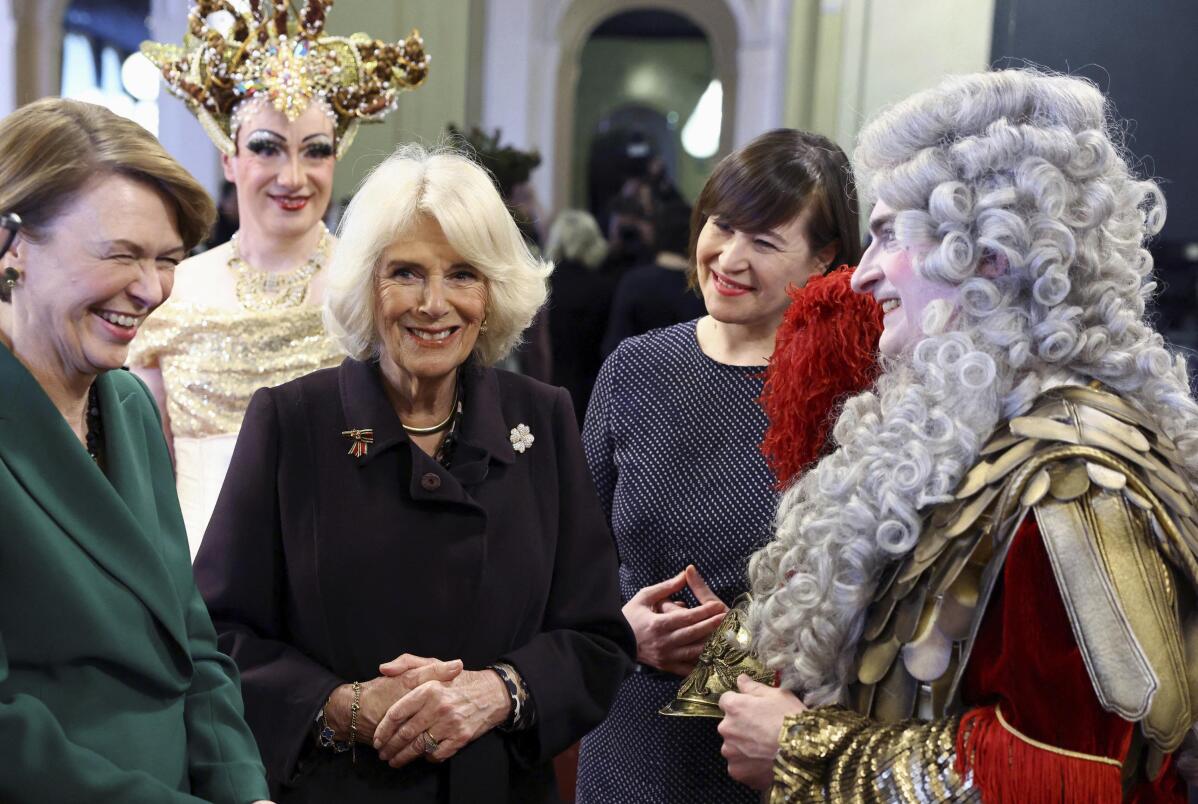 13 of 21

|
FILE - Camilla, Queen Consort and Germany's first lady Elke Buedenbender react as they talk with a Komische Oper Berlin performer, next to Managing Director Susanne Moser, during a tour of the opera house in Berlin, Germany, March 30, 2023. King Charles III won plenty of hearts during his three-day visit to Germany, his first foreign trip since becoming king following the death of his mother, Elizabeth II, last year. (Christian Mang/Pool Photo via AP, File)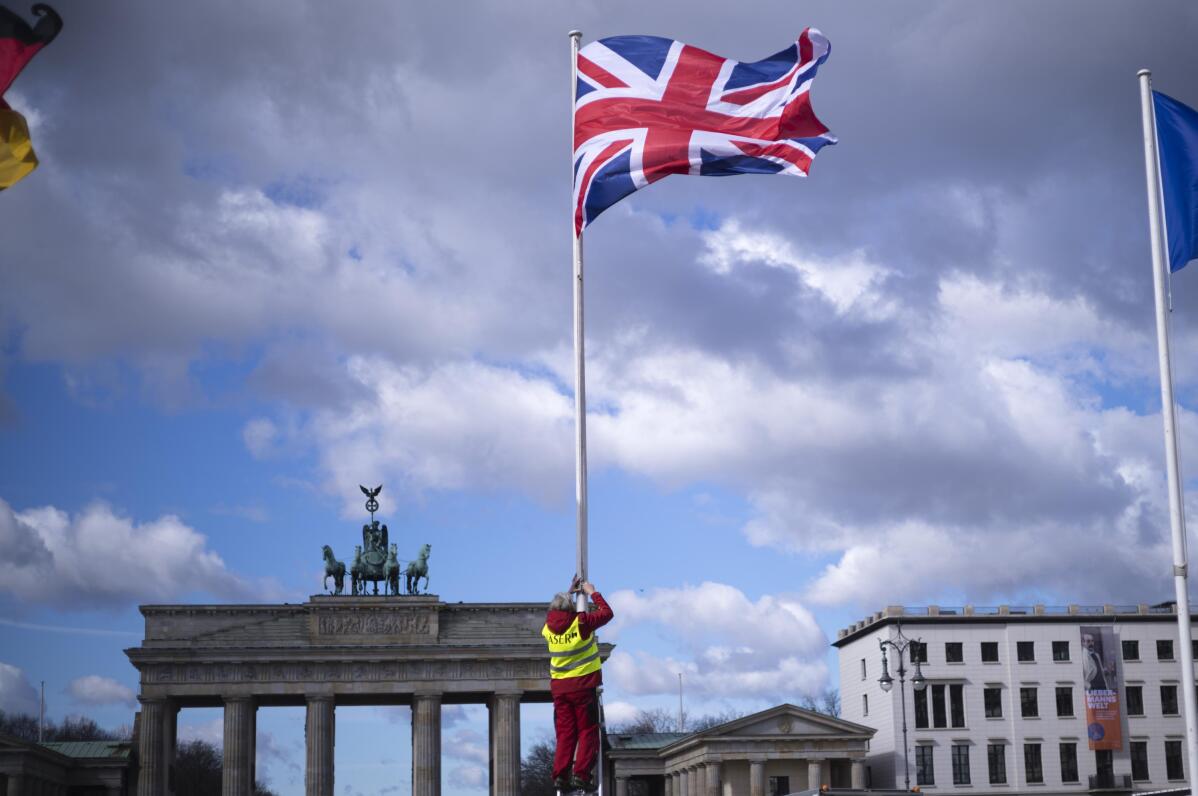 14 of 21

|
FILE - A person raises the Union Jack flag in front of the Brandenburg Gate at the eve of the visit of King Charles III at the German capital, in Berlin, Tuesday, March 28, 2023. King Charles III won plenty of hearts during his three-day visit to Germany, his first foreign trip since becoming king following the death of his mother, Elizabeth II, last year. (AP Photo/Markus Schreiber, File)
15 of 21

|
FILE - Britain's King Charles III, 2nd right, talks with soldiers during his visit at the 130th German-British Pioneer Bridge Battalion military unit in Finowfurt, eastern Germany, on Thursday, March 30, 2023. King Charles III won plenty of hearts during his three-day visit to Germany, his first foreign trip since becoming king following the death of his mother, Elizabeth II, last year. (Jens Schlueter /Pool Photo via AP, File)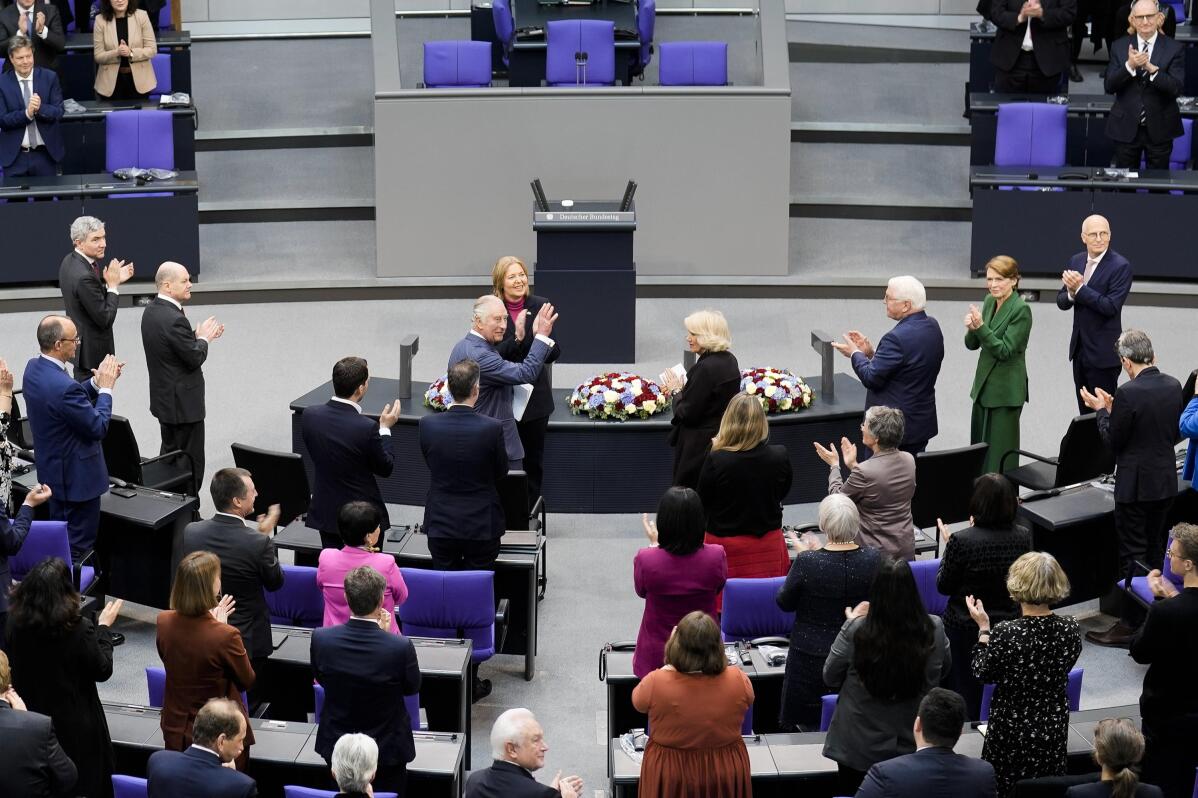 16 of 21

|
FILE - Britain's King Charles III, center left, waves as he receives a standing ovation after his speech in the German Bundestag in Berlin, Thursday, March 30, 2023. King Charles III won plenty of hearts during his three-day visit to Germany, his first foreign trip since becoming king following the death of his mother, Elizabeth II, last year. (AP Photo/Markus Schreiber, File)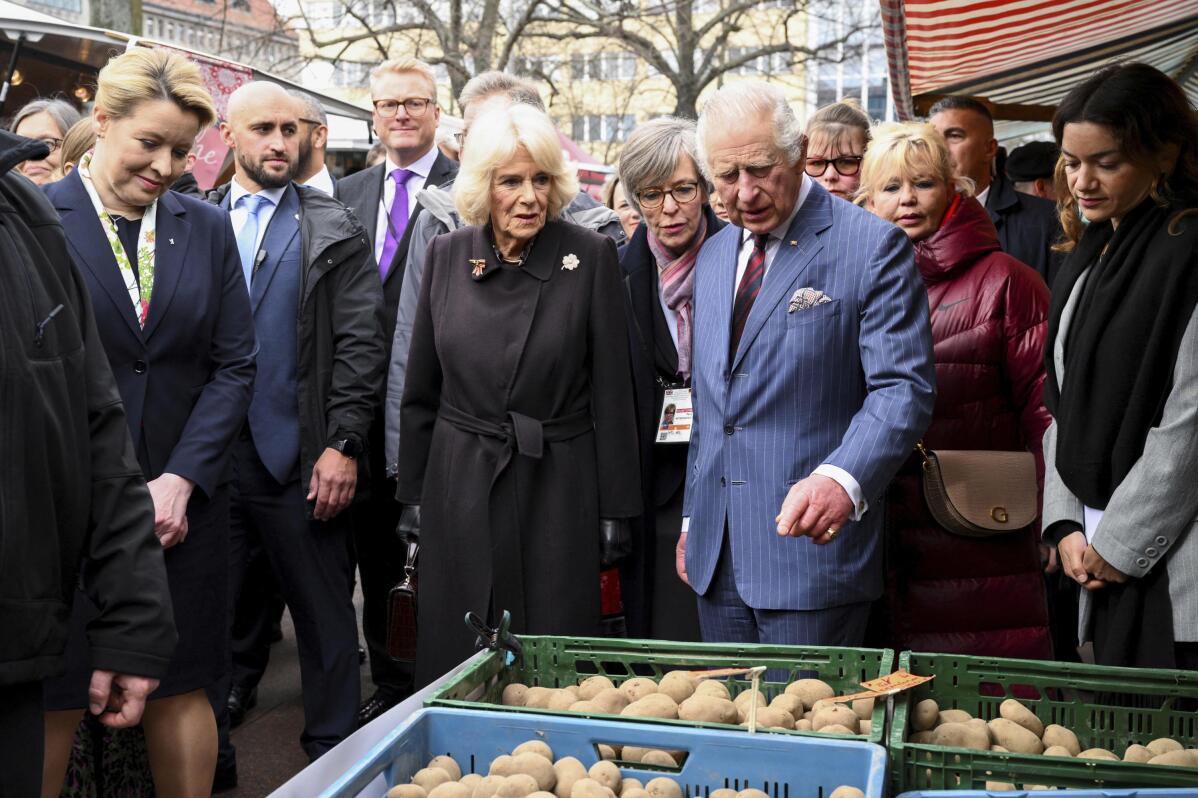 17 of 21

|
FILE - Berlin's Mayor Franziska Giffey, Britain's King Charles and Camilla the Queen Consort visit a farmer's market on Wittenbergplatz square, in Berlin, Germany, Thursday, March 30, 2023. King Charles III won plenty of hearts during his three-day visit to Germany, his first foreign trip since becoming king following the death of his mother, Elizabeth II, last year. (Annegret Hilse//Pool Photo via AP, File)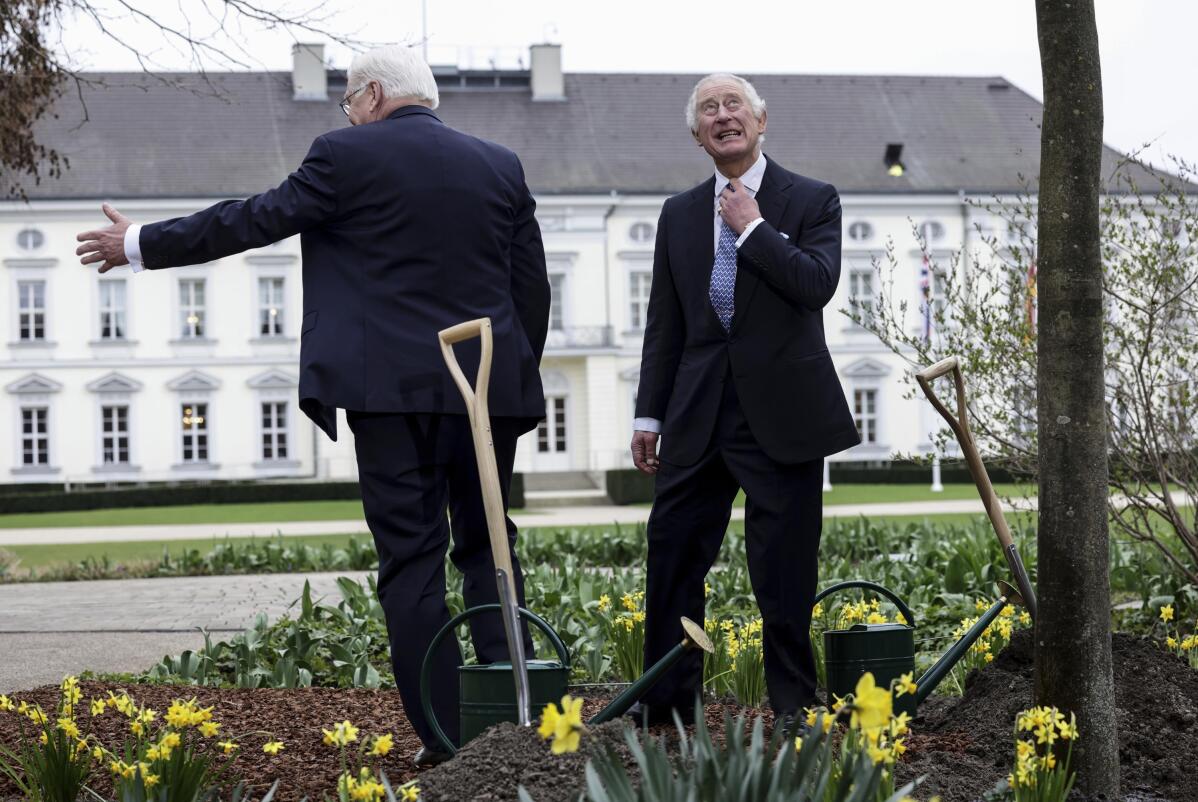 18 of 21

|
FILE - Britain's King Charles III, right, reacts beside German President Frank-Walter Steinmeier after the planted a tree in the garden of the presidential Bellevue Palace in Berlin, on March 29, 2023. King Charles III won plenty of hearts during his three-day visit to Germany, his first foreign trip since becoming king following the death of his mother, Elizabeth II, last year. (Jens Schlueter/Pool via AP, File)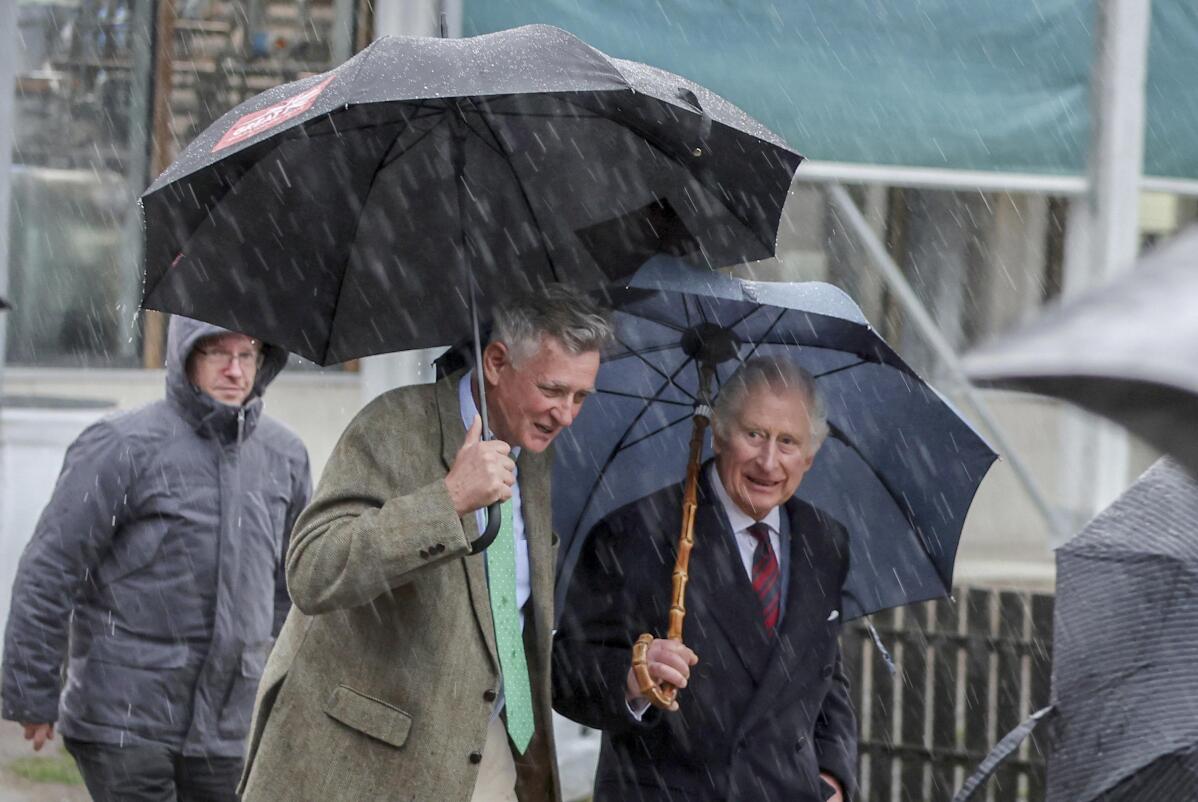 19 of 21

|
FILE - King Charles III of Great Britain, right, leaves the Brodowin ecovillage in the rain, Germany, Thursday, March 30, 2023. King Charles III won plenty of hearts during his three-day visit to Germany, his first foreign trip since becoming king following the death of his mother, Elizabeth II, last year. (Jens Buettner/DPA via AP, Pool, File)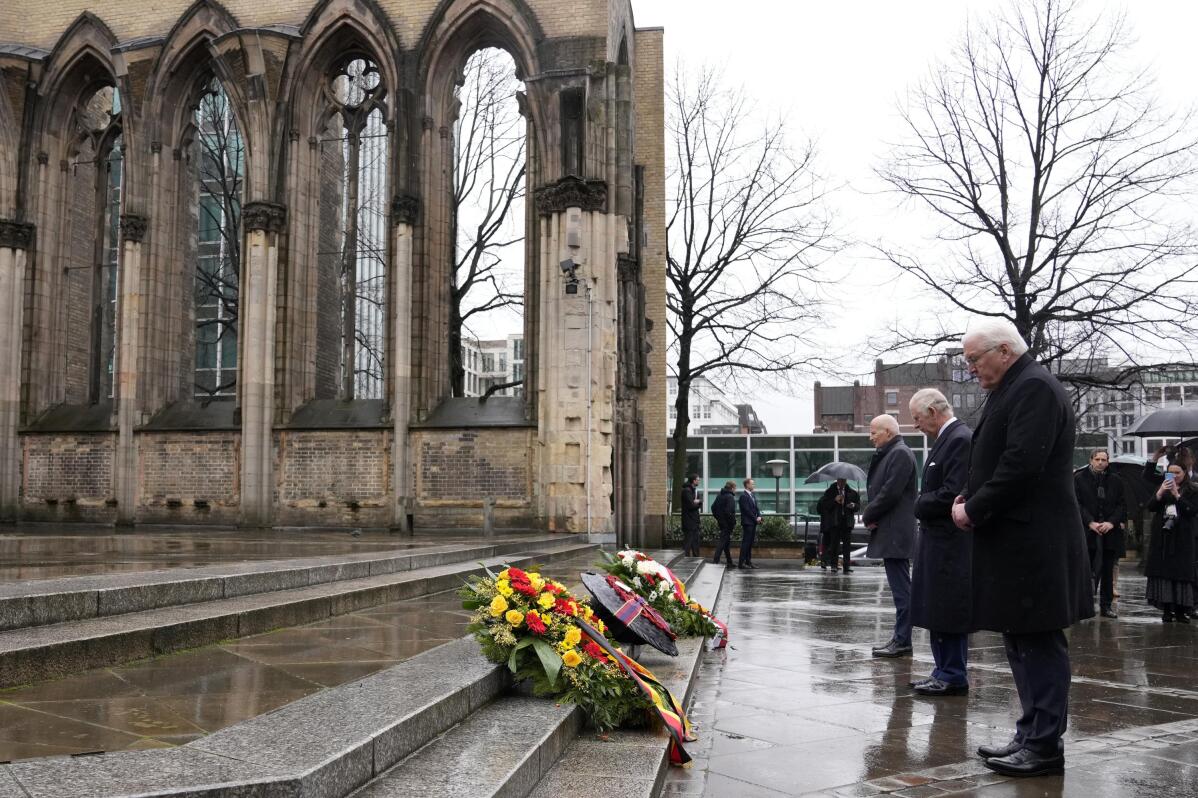 20 of 21

|
FILE - Britain's King Charles III, center, and German President Frank-Walter Steinmeier lay a wreath of flowers at St. Nikolai Memorial in Hamburg, Germany, Friday, March 31, 2023. King Charles III won plenty of hearts during his three-day visit to Germany, his first foreign trip since becoming king following the death of his mother, Elizabeth II, last year. (AP Photo/Matthias Schrader, File)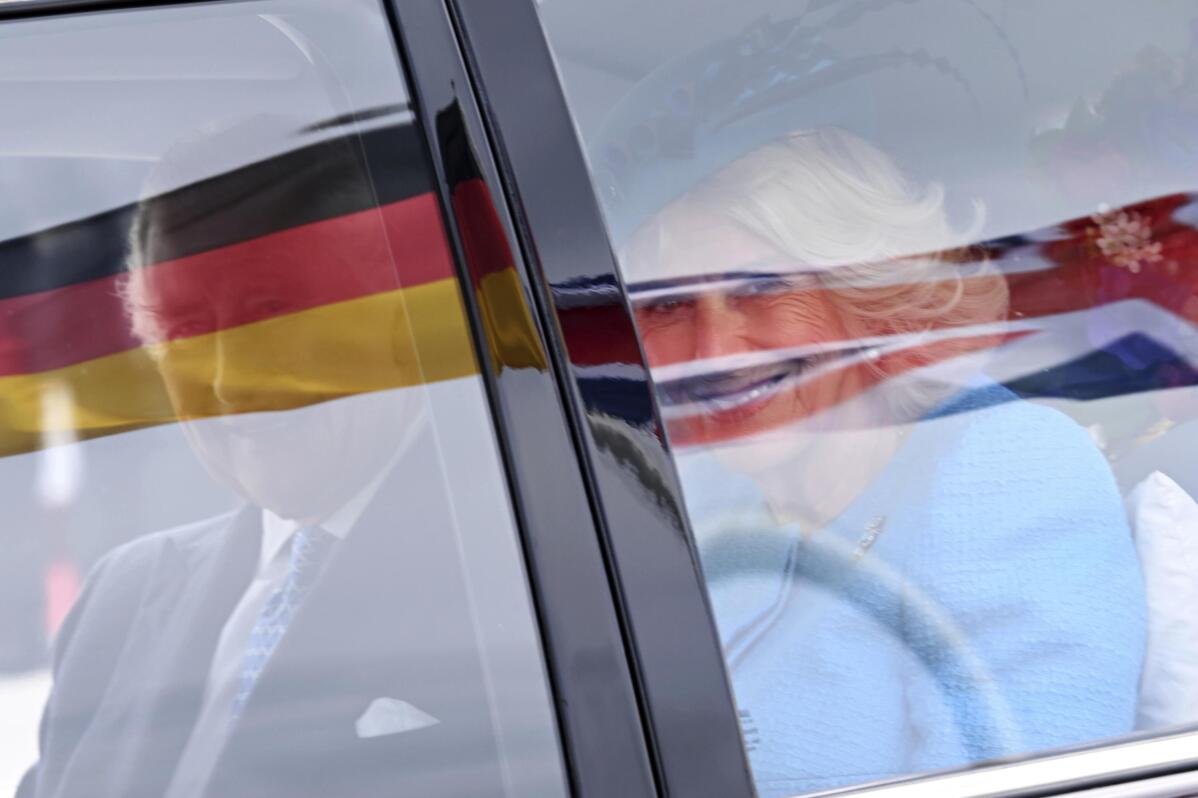 21 of 21

|
FILE - Britain's King Charles III, left, and Camilla, the Queen Consort drive in a car after they arrived at the airport in Berlin, Wednesday, March 29, 2023. King Charles III won plenty of hearts during his three-day visit to Germany, his first foreign trip since becoming king following the death of his mother, Elizabeth II, last year. (Britta Pedersen/dpa via AP, File)
Charles wins hearts in Germany as soft power pays off
1 of 21

|
FILE - Britain's King Charles III waves from a balcony of the city hall in Hamburg, Germany, Friday, March 31, 2023. King Charles III won plenty of hearts during his three-day visit to Germany, his first foreign trip since becoming king following the death of his mother, Elizabeth II, last year. (AP Photo/Gregor Fischer, File)
1 of 21
FILE - Britain's King Charles III waves from a balcony of the city hall in Hamburg, Germany, Friday, March 31, 2023. King Charles III won plenty of hearts during his three-day visit to Germany, his first foreign trip since becoming king following the death of his mother, Elizabeth II, last year. (AP Photo/Gregor Fischer, File)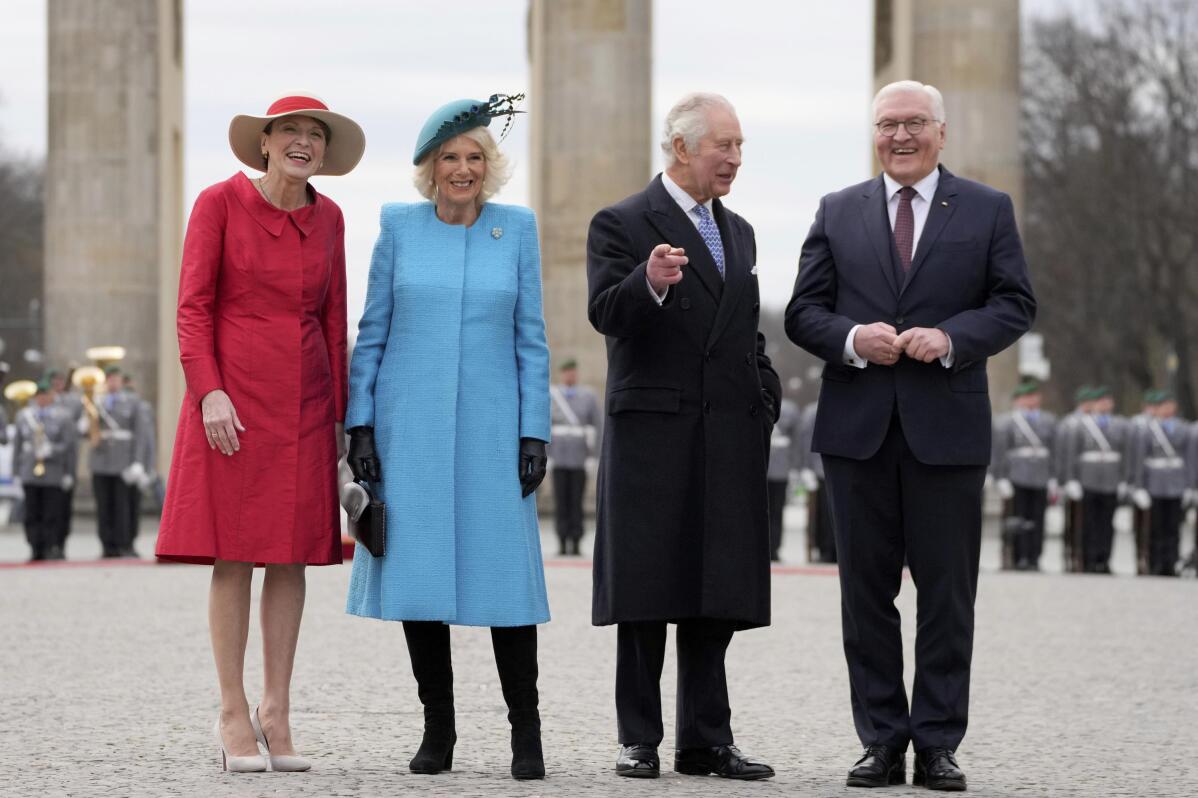 2 of 21

|
FILE - German President Frank-Walter Steinmeier, right, and his wife Elke Buedenbender, left, welcome Britain's King Charles III and Camilla, the Queen Consort, in front of the Brandenburg Gate in Berlin, Wednesday, March 29, 2023. King Charles III won plenty of hearts during his three-day visit to Germany, his first foreign trip since becoming king following the death of his mother, Elizabeth II, last year. (AP Photo/Matthias Schrader, File)
2 of 21
FILE - German President Frank-Walter Steinmeier, right, and his wife Elke Buedenbender, left, welcome Britain's King Charles III and Camilla, the Queen Consort, in front of the Brandenburg Gate in Berlin, Wednesday, March 29, 2023. King Charles III won plenty of hearts during his three-day visit to Germany, his first foreign trip since becoming king following the death of his mother, Elizabeth II, last year. (AP Photo/Matthias Schrader, File)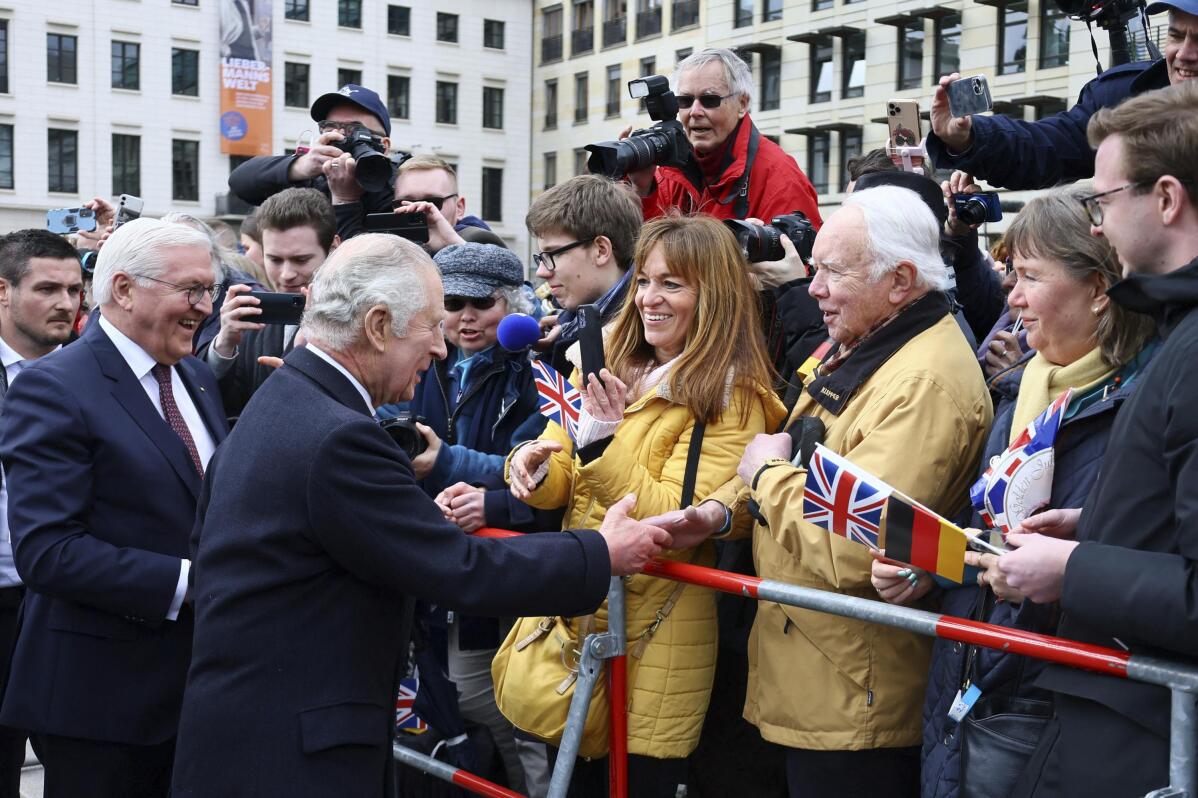 3 of 21

|
FILE - Britain's King Charles III and German President Frank-Walter Steinmeier greet members of the public in Berlin, Germany, March 29, 2023. King Charles III won plenty of hearts during his three-day visit to Germany, his first foreign trip since becoming king following the death of his mother, Elizabeth II, last year. (Wolfgang Rattay/Pool via AP, File)
3 of 21
FILE - Britain's King Charles III and German President Frank-Walter Steinmeier greet members of the public in Berlin, Germany, March 29, 2023. King Charles III won plenty of hearts during his three-day visit to Germany, his first foreign trip since becoming king following the death of his mother, Elizabeth II, last year. (Wolfgang Rattay/Pool via AP, File)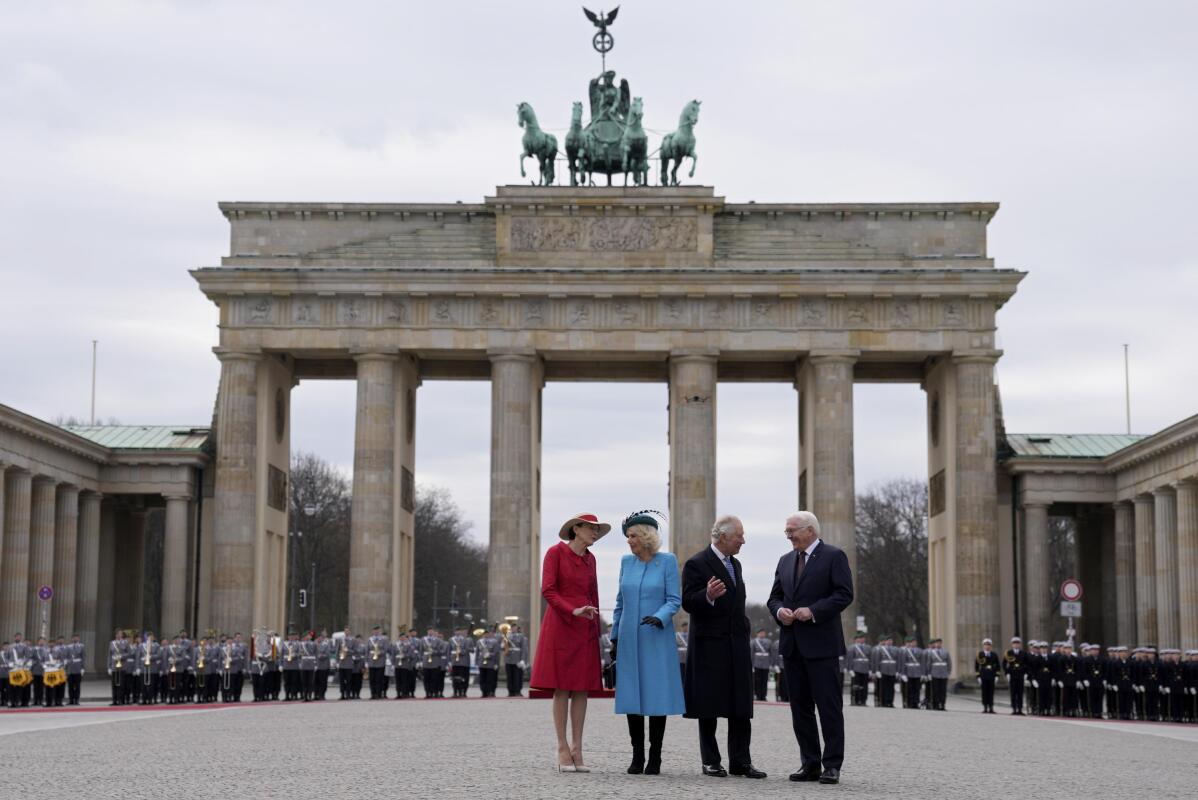 4 of 21

|
FILE - German President Frank-Walter Steinmeier, right, and his wife Elke Buedenbender, left, welcome Britain's King Charles III and Camilla, the Queen Consort, in front of the Brandenburg Gate in Berlin, Wednesday, March 29, 2023. King Charles III won plenty of hearts during his three-day visit to Germany, his first foreign trip since becoming king following the death of his mother, Elizabeth II, last year. (AP Photo/Matthias Schrader, File)
4 of 21
FILE - German President Frank-Walter Steinmeier, right, and his wife Elke Buedenbender, left, welcome Britain's King Charles III and Camilla, the Queen Consort, in front of the Brandenburg Gate in Berlin, Wednesday, March 29, 2023. King Charles III won plenty of hearts during his three-day visit to Germany, his first foreign trip since becoming king following the death of his mother, Elizabeth II, last year. (AP Photo/Matthias Schrader, File)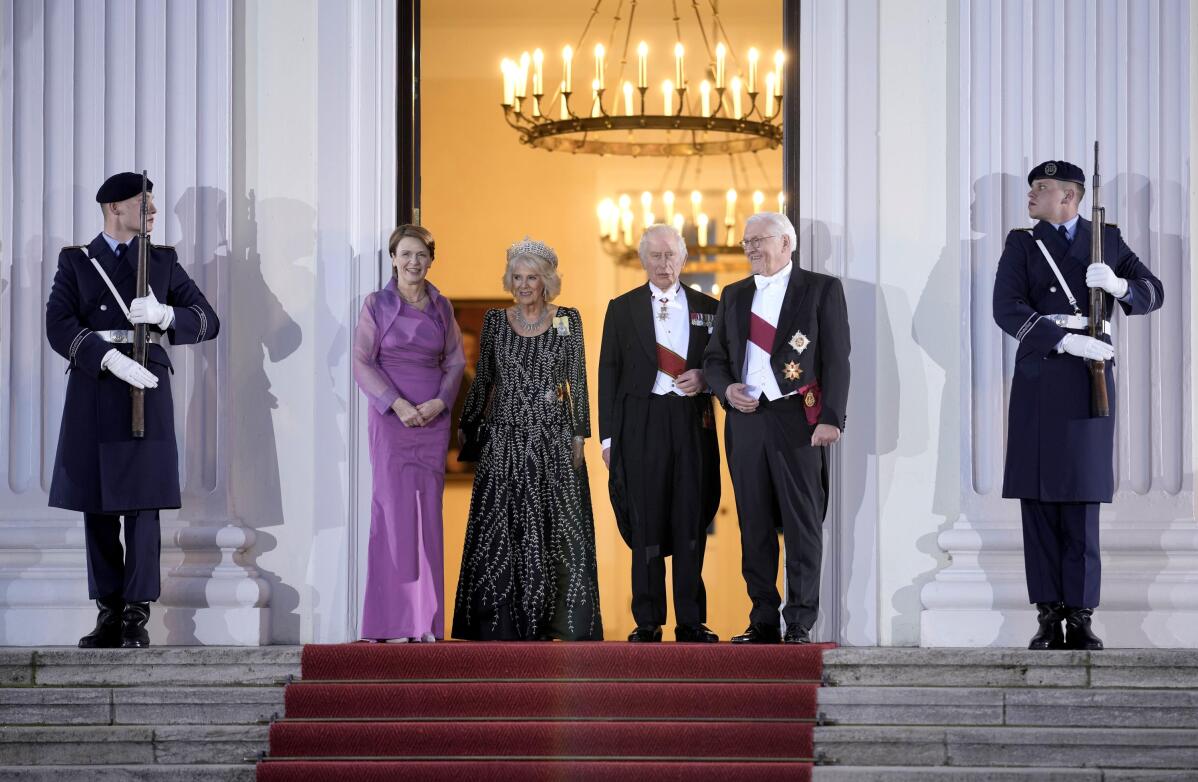 5 of 21

|
FILE - German President Frank-Walter Steinmeier, right, his wife Elke Buedenbender, left, Britain's King Charles III, 2nd right, and Camilla, the Queen Consort, stand in front of the Bellevue Palace in Berlin, Wednesday, March 29, 2023. King Charles III won plenty of hearts during his three-day visit to Germany, his first foreign trip since becoming king following the death of his mother, Elizabeth II, last year. (AP Photo/Markus Schreiber, File)
5 of 21
FILE - German President Frank-Walter Steinmeier, right, his wife Elke Buedenbender, left, Britain's King Charles III, 2nd right, and Camilla, the Queen Consort, stand in front of the Bellevue Palace in Berlin, Wednesday, March 29, 2023. King Charles III won plenty of hearts during his three-day visit to Germany, his first foreign trip since becoming king following the death of his mother, Elizabeth II, last year. (AP Photo/Markus Schreiber, File)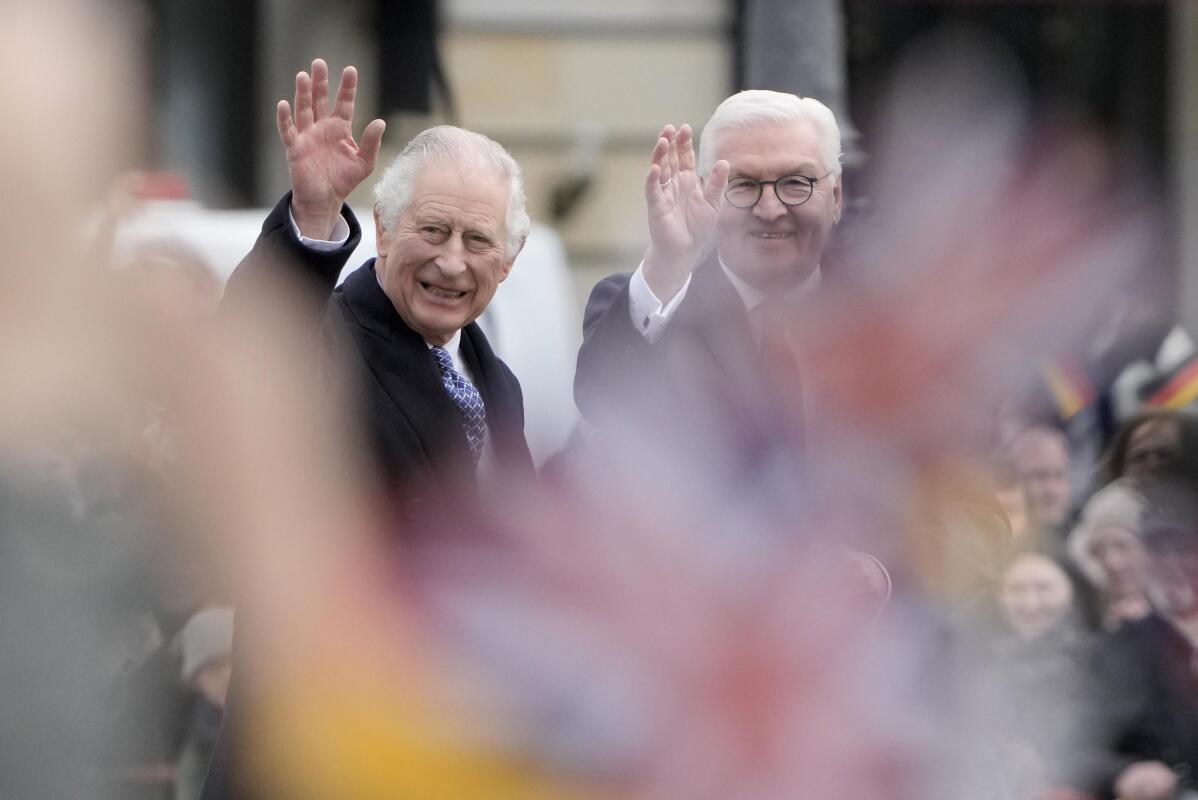 6 of 21

|
FILE - German President Frank-Walter Steinmeier, right, and Britain's King Charles III wave to well-wishers during a welcome ceremony in front of the Brandenburg Gate in Berlin, Tuesday, March 29, 2022. King Charles III won plenty of hearts during his three-day visit to Germany, his first foreign trip since becoming king following the death of his mother, Elizabeth II, last year. (AP Photo/Markus Schreiber, File)
6 of 21
FILE - German President Frank-Walter Steinmeier, right, and Britain's King Charles III wave to well-wishers during a welcome ceremony in front of the Brandenburg Gate in Berlin, Tuesday, March 29, 2022. King Charles III won plenty of hearts during his three-day visit to Germany, his first foreign trip since becoming king following the death of his mother, Elizabeth II, last year. (AP Photo/Markus Schreiber, File)
7 of 21

|
FILE - Britain's King Charles III, with Camilla, the Queen Consort board a train on their way to Hamburg from a train station in Berlin, Friday, March 31, 2023. King Charles III won plenty of hearts during his three-day visit to Germany, his first foreign trip since becoming king following the death of his mother, Elizabeth II, last year. (AP Photo/Markus Schreiber, Pool, File)
7 of 21
FILE - Britain's King Charles III, with Camilla, the Queen Consort board a train on their way to Hamburg from a train station in Berlin, Friday, March 31, 2023. King Charles III won plenty of hearts during his three-day visit to Germany, his first foreign trip since becoming king following the death of his mother, Elizabeth II, last year. (AP Photo/Markus Schreiber, Pool, File)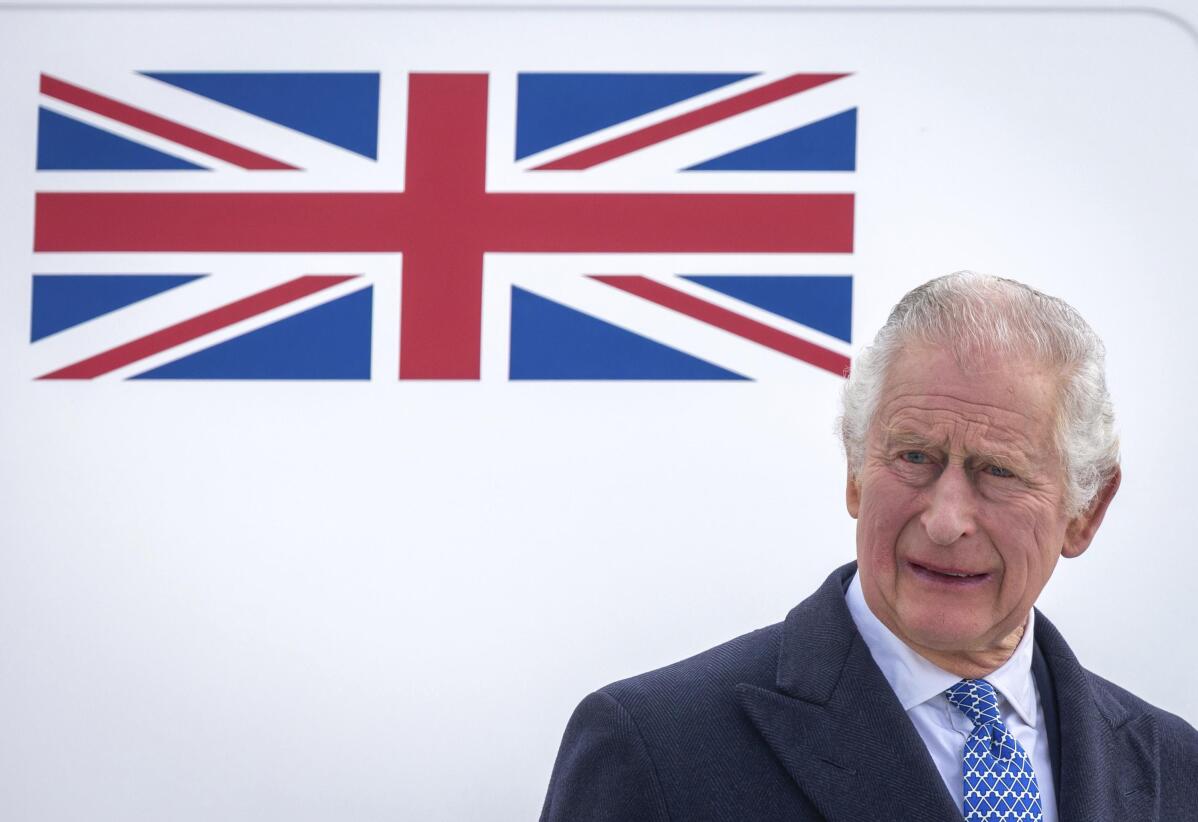 8 of 21

|
FILE - Britain's King Charles III stands in front of the plane after arriving at Berlin Airport in Berlin, Germany, Wednesday, March 29, 2023. King Charles III won plenty of hearts during his three-day visit to Germany, his first foreign trip since becoming king following the death of his mother, Elizabeth II, last year. (Britta Pedersen/dpa via AP, File)
8 of 21
FILE - Britain's King Charles III stands in front of the plane after arriving at Berlin Airport in Berlin, Germany, Wednesday, March 29, 2023. King Charles III won plenty of hearts during his three-day visit to Germany, his first foreign trip since becoming king following the death of his mother, Elizabeth II, last year. (Britta Pedersen/dpa via AP, File)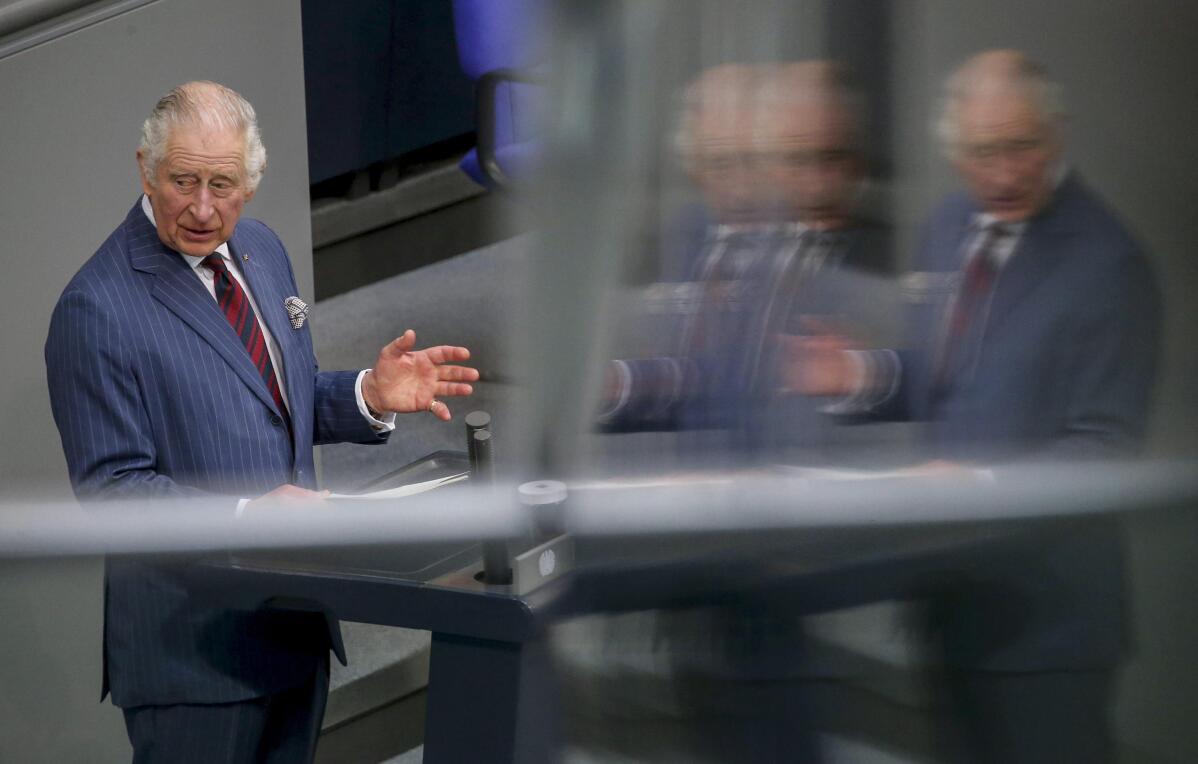 9 of 21

|
FILE - Britain's King Charles III speaks in the German parliament Bundestag on the second day of his trip to Germany in Berlin, Thursday, March 30, 2023. King Charles III won plenty of hearts during his three-day visit to Germany, his first foreign trip since becoming king following the death of his mother, Elizabeth II, last year. (Wolfgang Kumm/dpa via AP, File)
9 of 21
FILE - Britain's King Charles III speaks in the German parliament Bundestag on the second day of his trip to Germany in Berlin, Thursday, March 30, 2023. King Charles III won plenty of hearts during his three-day visit to Germany, his first foreign trip since becoming king following the death of his mother, Elizabeth II, last year. (Wolfgang Kumm/dpa via AP, File)
10 of 21

|
FILE - German President Frank-Walter Steinmeier's wife Elke Buedenbender, left, and Camilla, the Queen Consort, talk in front of the Bellevue Palace in Berlin, Wednesday, March 29, 2023. King Charles III won plenty of hearts during his three-day visit to Germany, his first foreign trip since becoming king following the death of his mother, Elizabeth II, last year. (AP Photo/Markus Schreiber, File)
10 of 21
FILE - German President Frank-Walter Steinmeier's wife Elke Buedenbender, left, and Camilla, the Queen Consort, talk in front of the Bellevue Palace in Berlin, Wednesday, March 29, 2023. King Charles III won plenty of hearts during his three-day visit to Germany, his first foreign trip since becoming king following the death of his mother, Elizabeth II, last year. (AP Photo/Markus Schreiber, File)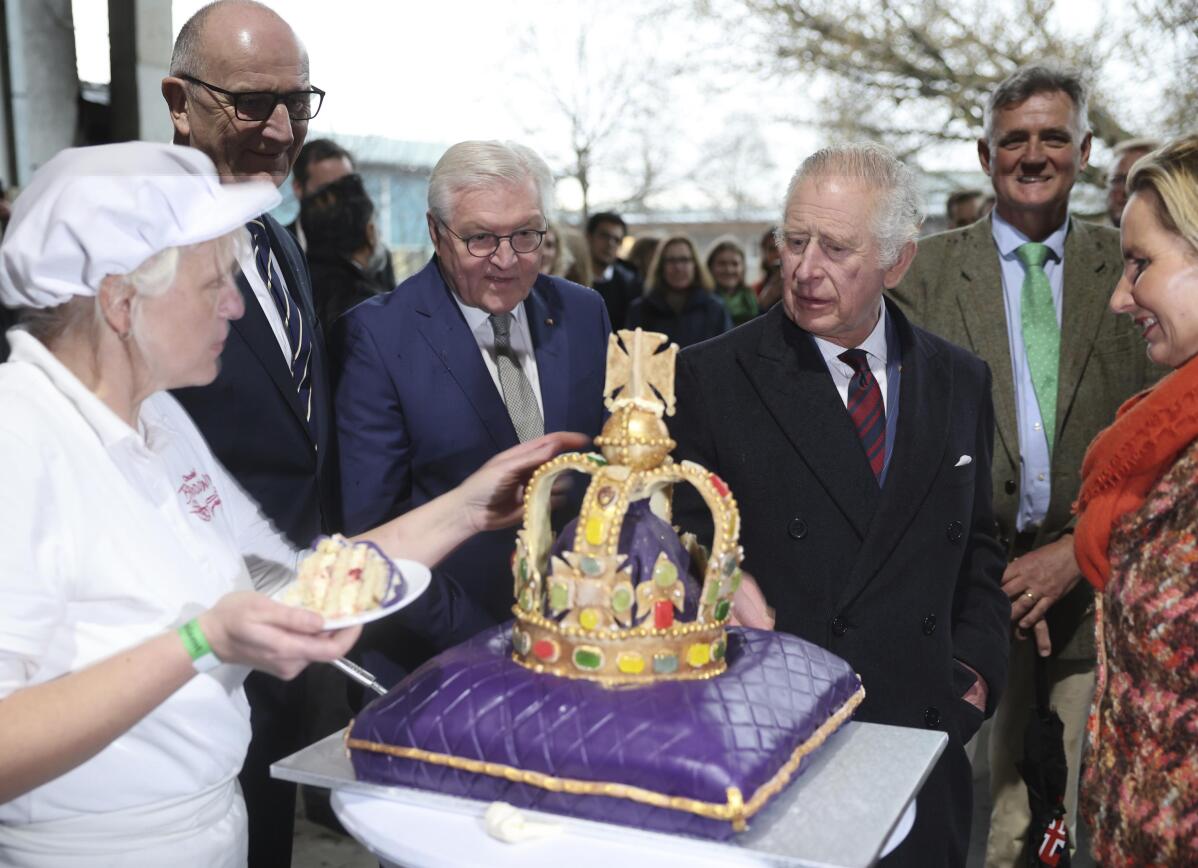 11 of 21

|
FILE - Britain's King Charles III, right, looks at a cake made especially for his visit in the Brodowin eco-village Germany, Thursday, March 30, 2023. King Charles III won plenty of hearts during his three-day visit to Germany, his first foreign trip since becoming king following the death of his mother, Elizabeth II, last year. (Jens Buettner/DPA via AP, Pool, File)
11 of 21
FILE - Britain's King Charles III, right, looks at a cake made especially for his visit in the Brodowin eco-village Germany, Thursday, March 30, 2023. King Charles III won plenty of hearts during his three-day visit to Germany, his first foreign trip since becoming king following the death of his mother, Elizabeth II, last year. (Jens Buettner/DPA via AP, Pool, File)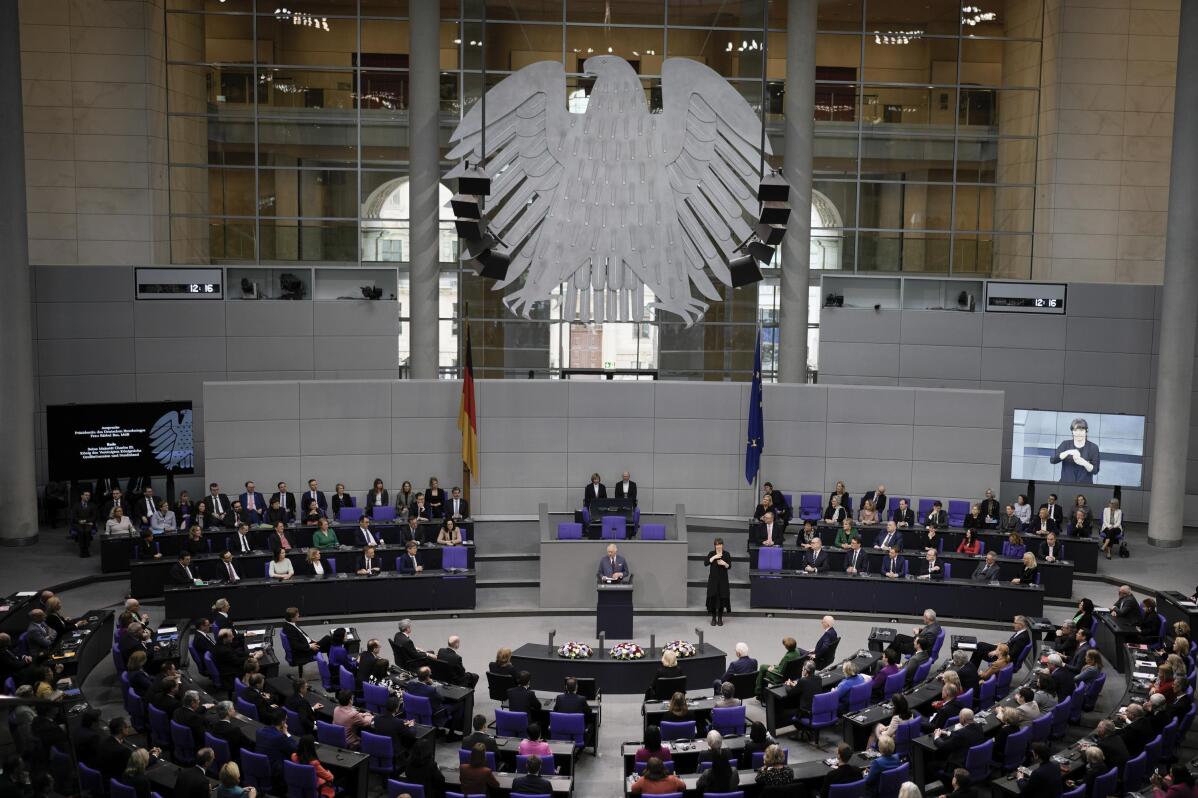 12 of 21

|
FILE - Britain's King Charles III, center, addresses the Bundestag, Germany's Parliament, in Berlin, Thursday, March 30, 2023. King Charles III won plenty of hearts during his three-day visit to Germany, his first foreign trip since becoming king following the death of his mother, Elizabeth II, last year. (AP Photo/Markus Schreiber, File)
12 of 21
FILE - Britain's King Charles III, center, addresses the Bundestag, Germany's Parliament, in Berlin, Thursday, March 30, 2023. King Charles III won plenty of hearts during his three-day visit to Germany, his first foreign trip since becoming king following the death of his mother, Elizabeth II, last year. (AP Photo/Markus Schreiber, File)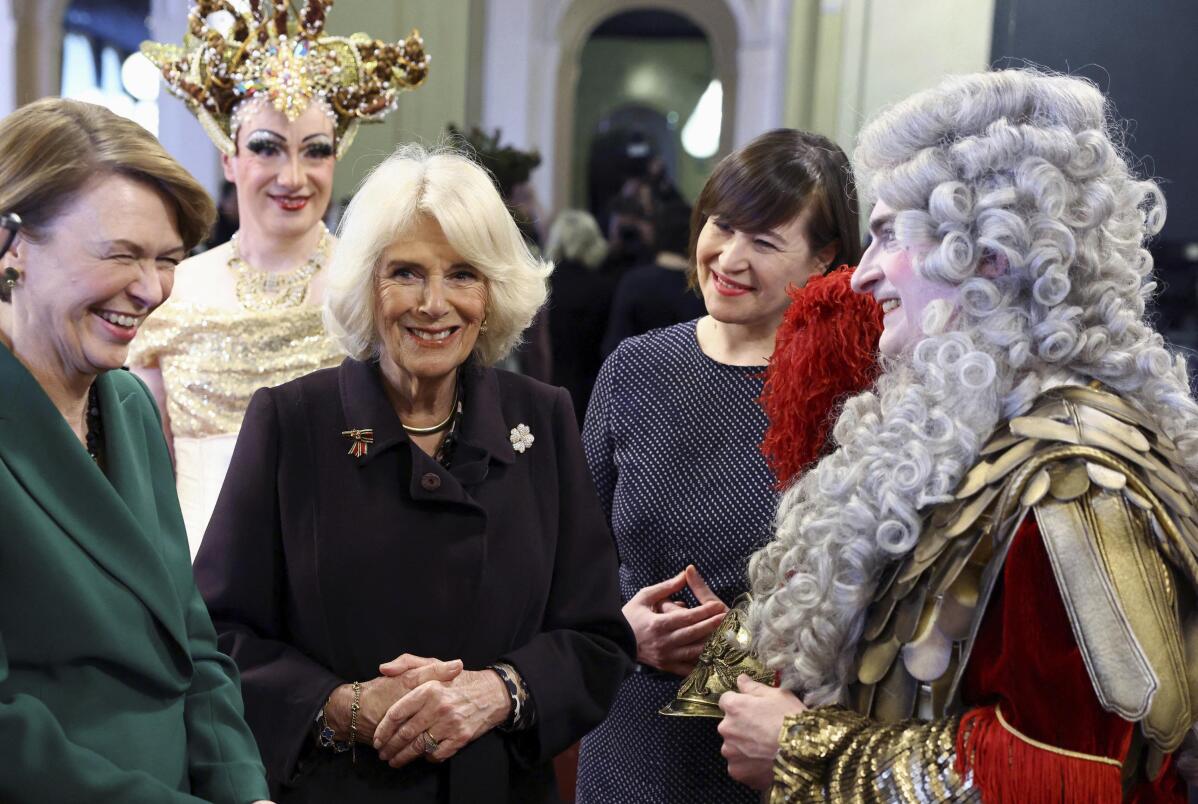 13 of 21

|
FILE - Camilla, Queen Consort and Germany's first lady Elke Buedenbender react as they talk with a Komische Oper Berlin performer, next to Managing Director Susanne Moser, during a tour of the opera house in Berlin, Germany, March 30, 2023. King Charles III won plenty of hearts during his three-day visit to Germany, his first foreign trip since becoming king following the death of his mother, Elizabeth II, last year. (Christian Mang/Pool Photo via AP, File)
13 of 21
FILE - Camilla, Queen Consort and Germany's first lady Elke Buedenbender react as they talk with a Komische Oper Berlin performer, next to Managing Director Susanne Moser, during a tour of the opera house in Berlin, Germany, March 30, 2023. King Charles III won plenty of hearts during his three-day visit to Germany, his first foreign trip since becoming king following the death of his mother, Elizabeth II, last year. (Christian Mang/Pool Photo via AP, File)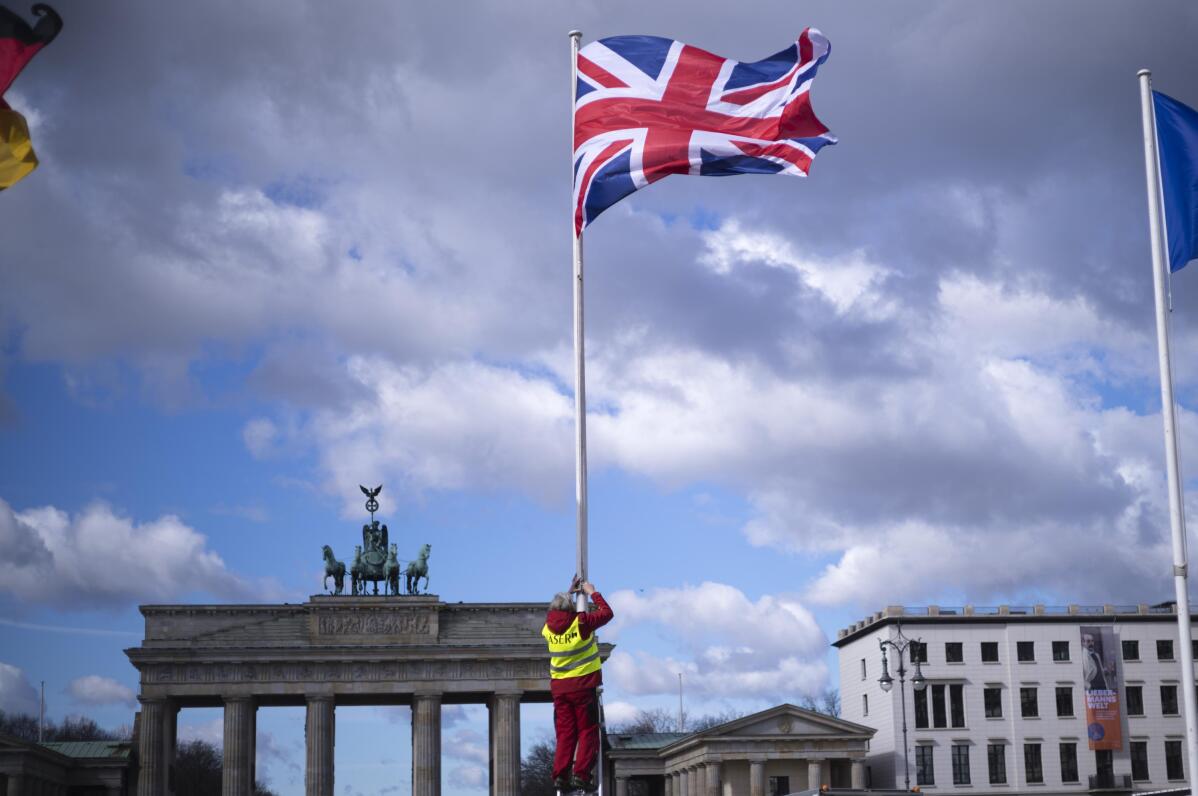 14 of 21

|
FILE - A person raises the Union Jack flag in front of the Brandenburg Gate at the eve of the visit of King Charles III at the German capital, in Berlin, Tuesday, March 28, 2023. King Charles III won plenty of hearts during his three-day visit to Germany, his first foreign trip since becoming king following the death of his mother, Elizabeth II, last year. (AP Photo/Markus Schreiber, File)
14 of 21
FILE - A person raises the Union Jack flag in front of the Brandenburg Gate at the eve of the visit of King Charles III at the German capital, in Berlin, Tuesday, March 28, 2023. King Charles III won plenty of hearts during his three-day visit to Germany, his first foreign trip since becoming king following the death of his mother, Elizabeth II, last year. (AP Photo/Markus Schreiber, File)
15 of 21

|
FILE - Britain's King Charles III, 2nd right, talks with soldiers during his visit at the 130th German-British Pioneer Bridge Battalion military unit in Finowfurt, eastern Germany, on Thursday, March 30, 2023. King Charles III won plenty of hearts during his three-day visit to Germany, his first foreign trip since becoming king following the death of his mother, Elizabeth II, last year. (Jens Schlueter /Pool Photo via AP, File)
15 of 21
FILE - Britain's King Charles III, 2nd right, talks with soldiers during his visit at the 130th German-British Pioneer Bridge Battalion military unit in Finowfurt, eastern Germany, on Thursday, March 30, 2023. King Charles III won plenty of hearts during his three-day visit to Germany, his first foreign trip since becoming king following the death of his mother, Elizabeth II, last year. (Jens Schlueter /Pool Photo via AP, File)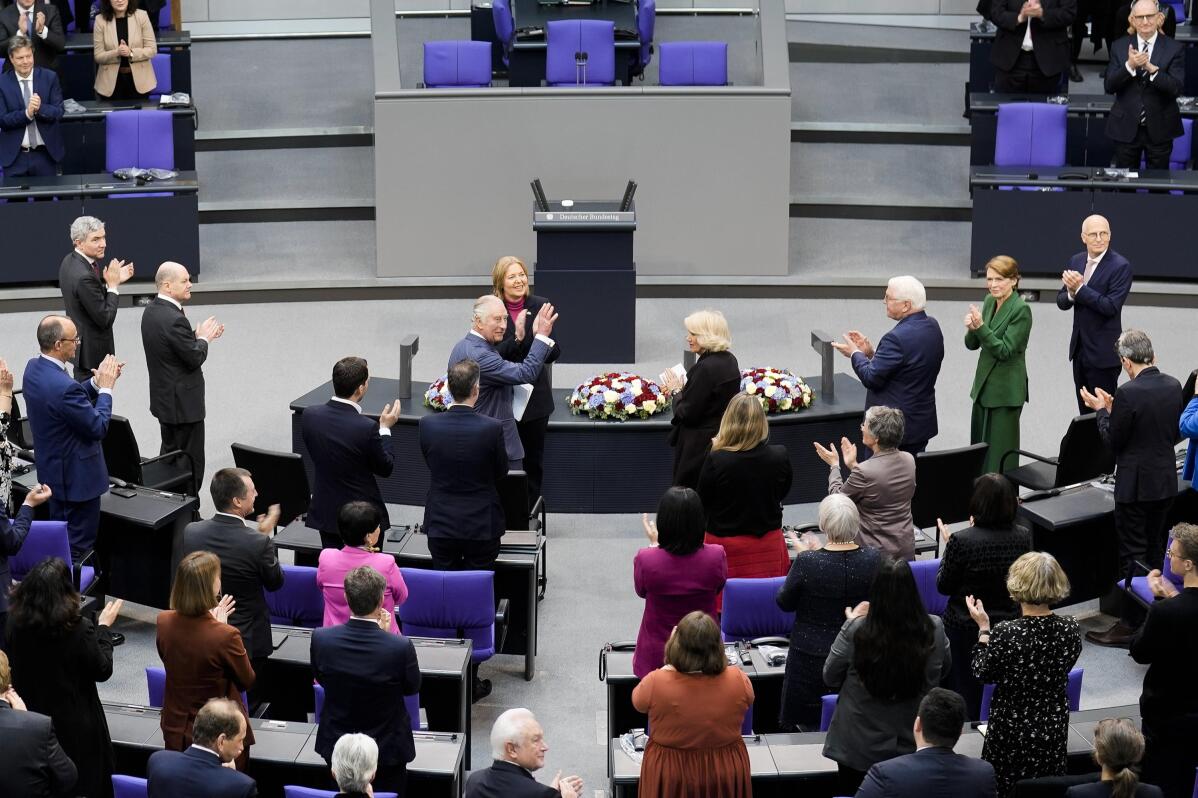 16 of 21

|
FILE - Britain's King Charles III, center left, waves as he receives a standing ovation after his speech in the German Bundestag in Berlin, Thursday, March 30, 2023. King Charles III won plenty of hearts during his three-day visit to Germany, his first foreign trip since becoming king following the death of his mother, Elizabeth II, last year. (AP Photo/Markus Schreiber, File)
16 of 21
FILE - Britain's King Charles III, center left, waves as he receives a standing ovation after his speech in the German Bundestag in Berlin, Thursday, March 30, 2023. King Charles III won plenty of hearts during his three-day visit to Germany, his first foreign trip since becoming king following the death of his mother, Elizabeth II, last year. (AP Photo/Markus Schreiber, File)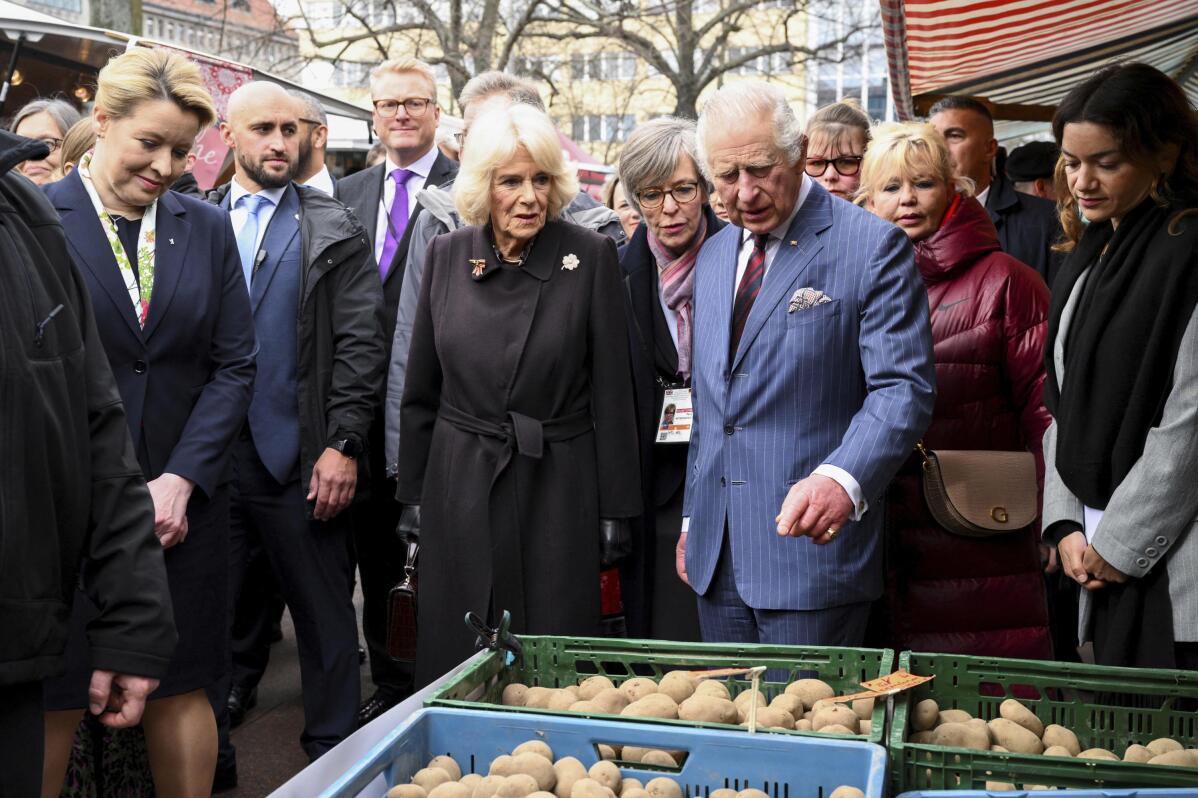 17 of 21

|
FILE - Berlin's Mayor Franziska Giffey, Britain's King Charles and Camilla the Queen Consort visit a farmer's market on Wittenbergplatz square, in Berlin, Germany, Thursday, March 30, 2023. King Charles III won plenty of hearts during his three-day visit to Germany, his first foreign trip since becoming king following the death of his mother, Elizabeth II, last year. (Annegret Hilse//Pool Photo via AP, File)
17 of 21
FILE - Berlin's Mayor Franziska Giffey, Britain's King Charles and Camilla the Queen Consort visit a farmer's market on Wittenbergplatz square, in Berlin, Germany, Thursday, March 30, 2023. King Charles III won plenty of hearts during his three-day visit to Germany, his first foreign trip since becoming king following the death of his mother, Elizabeth II, last year. (Annegret Hilse//Pool Photo via AP, File)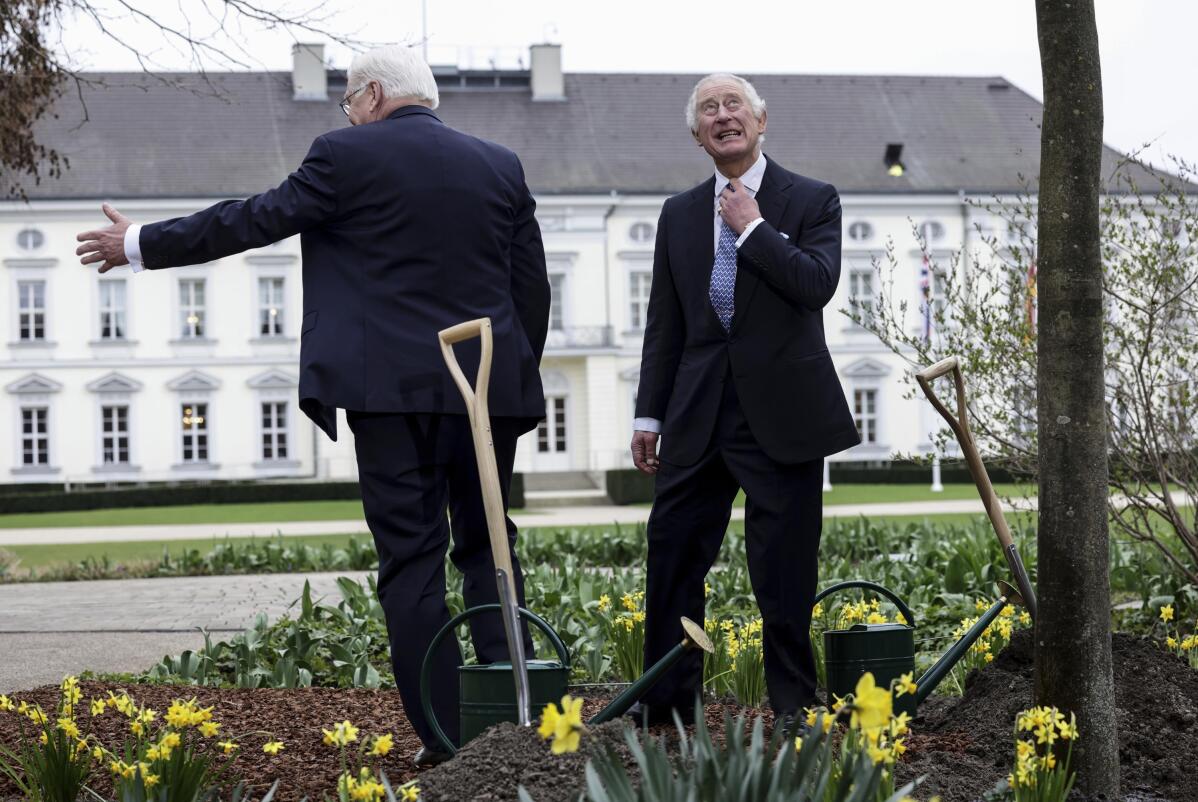 18 of 21

|
FILE - Britain's King Charles III, right, reacts beside German President Frank-Walter Steinmeier after the planted a tree in the garden of the presidential Bellevue Palace in Berlin, on March 29, 2023. King Charles III won plenty of hearts during his three-day visit to Germany, his first foreign trip since becoming king following the death of his mother, Elizabeth II, last year. (Jens Schlueter/Pool via AP, File)
18 of 21
FILE - Britain's King Charles III, right, reacts beside German President Frank-Walter Steinmeier after the planted a tree in the garden of the presidential Bellevue Palace in Berlin, on March 29, 2023. King Charles III won plenty of hearts during his three-day visit to Germany, his first foreign trip since becoming king following the death of his mother, Elizabeth II, last year. (Jens Schlueter/Pool via AP, File)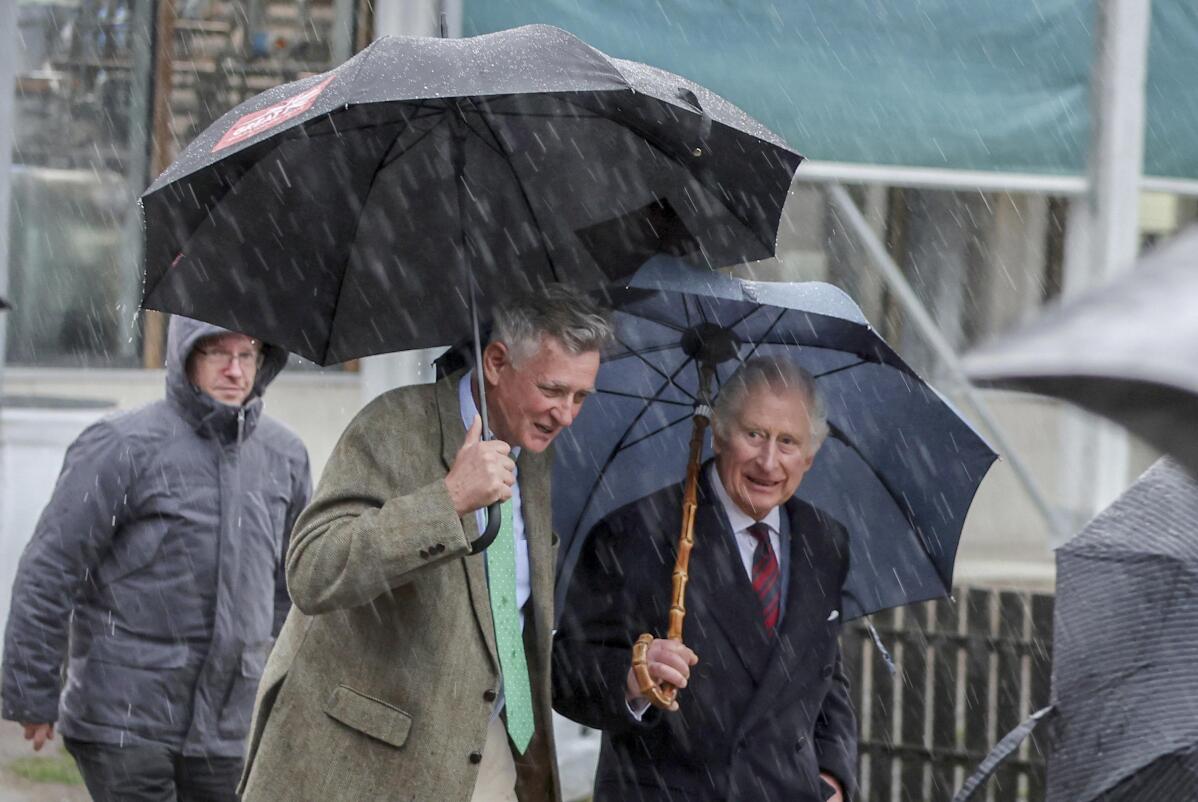 19 of 21

|
FILE - King Charles III of Great Britain, right, leaves the Brodowin ecovillage in the rain, Germany, Thursday, March 30, 2023. King Charles III won plenty of hearts during his three-day visit to Germany, his first foreign trip since becoming king following the death of his mother, Elizabeth II, last year. (Jens Buettner/DPA via AP, Pool, File)
19 of 21
FILE - King Charles III of Great Britain, right, leaves the Brodowin ecovillage in the rain, Germany, Thursday, March 30, 2023. King Charles III won plenty of hearts during his three-day visit to Germany, his first foreign trip since becoming king following the death of his mother, Elizabeth II, last year. (Jens Buettner/DPA via AP, Pool, File)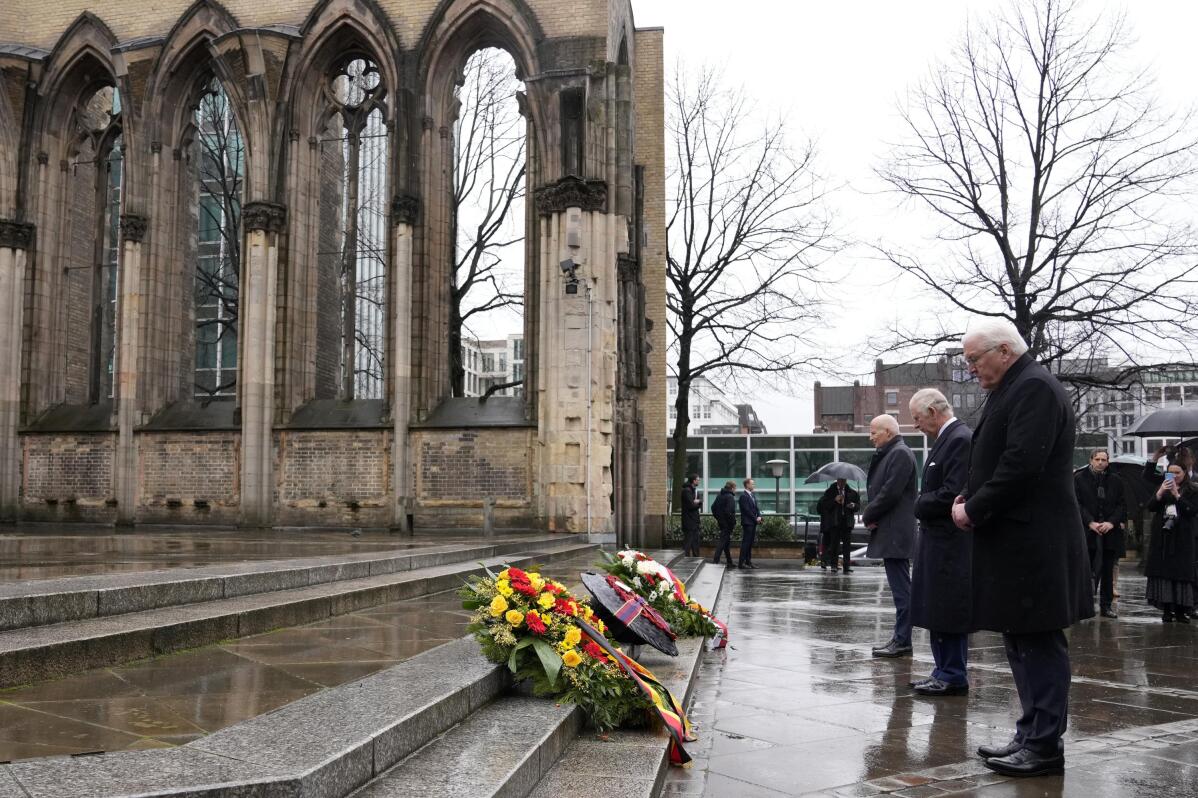 20 of 21

|
FILE - Britain's King Charles III, center, and German President Frank-Walter Steinmeier lay a wreath of flowers at St. Nikolai Memorial in Hamburg, Germany, Friday, March 31, 2023. King Charles III won plenty of hearts during his three-day visit to Germany, his first foreign trip since becoming king following the death of his mother, Elizabeth II, last year. (AP Photo/Matthias Schrader, File)
20 of 21
FILE - Britain's King Charles III, center, and German President Frank-Walter Steinmeier lay a wreath of flowers at St. Nikolai Memorial in Hamburg, Germany, Friday, March 31, 2023. King Charles III won plenty of hearts during his three-day visit to Germany, his first foreign trip since becoming king following the death of his mother, Elizabeth II, last year. (AP Photo/Matthias Schrader, File)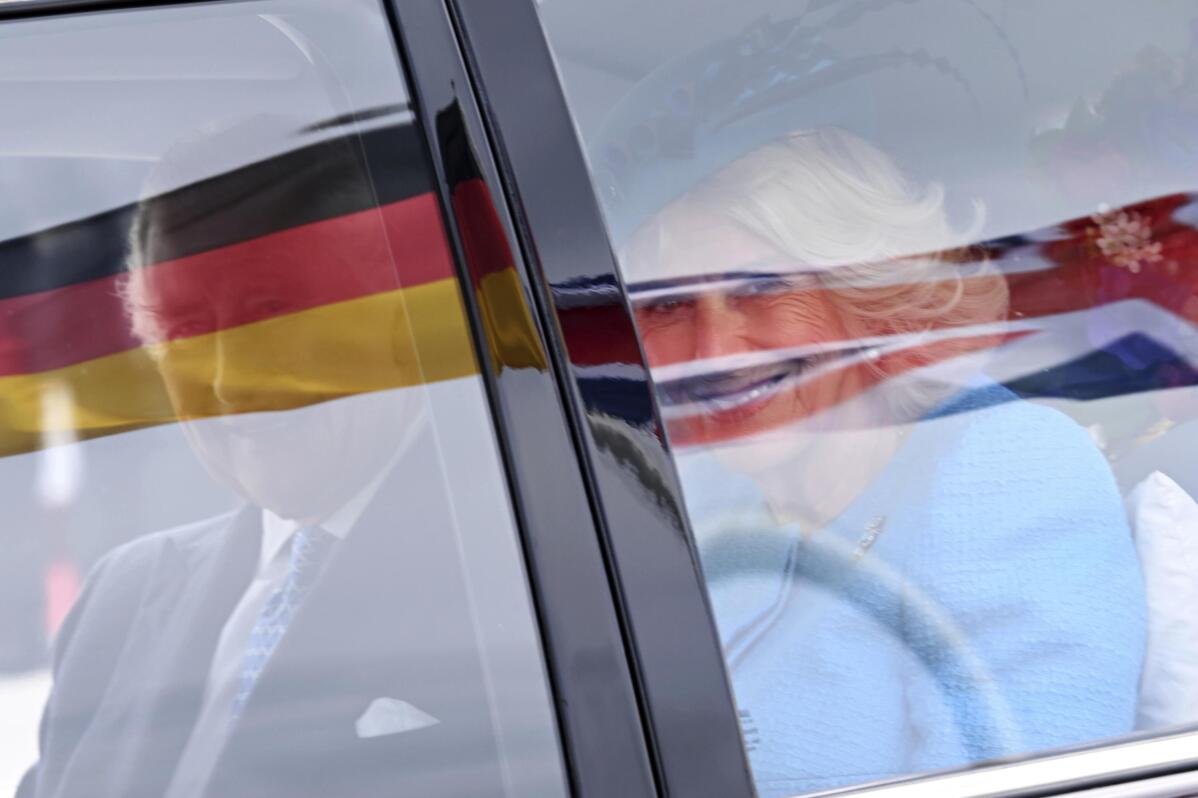 21 of 21

|
FILE - Britain's King Charles III, left, and Camilla, the Queen Consort drive in a car after they arrived at the airport in Berlin, Wednesday, March 29, 2023. King Charles III won plenty of hearts during his three-day visit to Germany, his first foreign trip since becoming king following the death of his mother, Elizabeth II, last year. (Britta Pedersen/dpa via AP, File)
21 of 21
FILE - Britain's King Charles III, left, and Camilla, the Queen Consort drive in a car after they arrived at the airport in Berlin, Wednesday, March 29, 2023. King Charles III won plenty of hearts during his three-day visit to Germany, his first foreign trip since becoming king following the death of his mother, Elizabeth II, last year. (Britta Pedersen/dpa via AP, File)
BERLIN (AP) — King Charles III won plenty of hearts during his three-day visit to Germany, his first foreign trip since ascending to the throne following the death of his mother, Elizabeth II, last year.
Charles' tour saw a number of firsts that show the importance both countries placed on it — at a time when London and Berlin are trying to rebuild relations frayed by Britain's departure from the European Union.
German President Frank-Walter Steinmeier took the unprecedented step of welcoming Charles and Camilla, the queen consort, at the Brandenburg Gate with military honors Wednesday. A day later, Charles became the first monarch to address the Bundestag, the German parliament, stressing the long-standing close ties between both countries and the importance of future cooperation.
Observers in both Germany and the U.K. said the trip sent a strong signal about the enduring strength of British-German relations.
Jens Zimmermann, a lawmaker from Germany's center-left Social Democrats, said Charles sent a "clear message" by speaking to parliament partially in German.
"The speech in the Bundestag was very well-received," Zimmermann told The Associated Press. "It was much more political than you might have expected. It was very connecting — I think that was very good."
In the speech, Charles emphasized that London and Berlin have provided considerable aid to Ukraine in its efforts to fend off Russia's invasion — praise that will have been gratifying to a German government more used to claims it's not doing enough to help Kyiv. Zimmermann said Charles thanking Germans for taking in so many Ukrainians seeking shelter from the war might also be seen as a roundabout criticism of the British government's recent anti-refugee policies.
Although King Charles cannot pass legislation or directly impact British policy, the "soft power" of his visit should not be underestimated, Zimmermann said.
Others said that after the pandemic's long-distance diplomacy, in-person visits like Charles' can help deepen and renew relationships between leaders.
"I think as coronavirus has faded, we've been reminded of the value of face-to-face meetings," said Bronwen Maddox, chief executive of the Chatham House think tank.
"And it just does add something to relationships, particularly between heads of state, who are very insulated," she said. "I think it has been received very well."
Charles originally planned to visit France first, but anti-government protests there led both governments to postpone that part of his trip. The new itinerary put the focus on Germany, where Charles has family roots and the royals have long been the subject of keen interest.
That fascination was on display among the German public at Charles' appearances. Despite the wet and cold spring weather, well-wishers waited patiently to greet Charles and Camilla at their stops in Berlin and Hamburg, a city that sees itself as having a particularly close connection to Britain due to its long seafaring and trading ties.
Charles and Camilla also laid a wreath at the remains of St. Nikolai church to commemorate the more than 30,000 people, mostly German civilians, who were killed in Operation Gomorrah, the Allied bombing of Hamburg in July 1943. A boat trip and a farewell reception involving musical performances, including by a Beatles cover band and a sea shanty group, rounded off the king's visit on Friday.
Michael Kruse, a lawmaker with the pro-business Free Democrats who like Zimmermann is a member of the German-British parliamentary group, said the two countries continue to have many common economic interests despite Britain's divorce from the EU.
"The channel has widened due to Brexit," he said. "That's why the visit by Britain's head of state was all the more important."
Kruse voiced a hope shared by many in Germany, that London will find its way back into the 27-nation bloc.
"My hope is still that the British will someday recognize Brexit was a mistake and return to the EU," he said. "The door should always be open for this. Until then, we say: see you again, King Charles III."
___
Danica Kirka in London contributed.