Kevin Durant makes Suns debut in victory over Hornets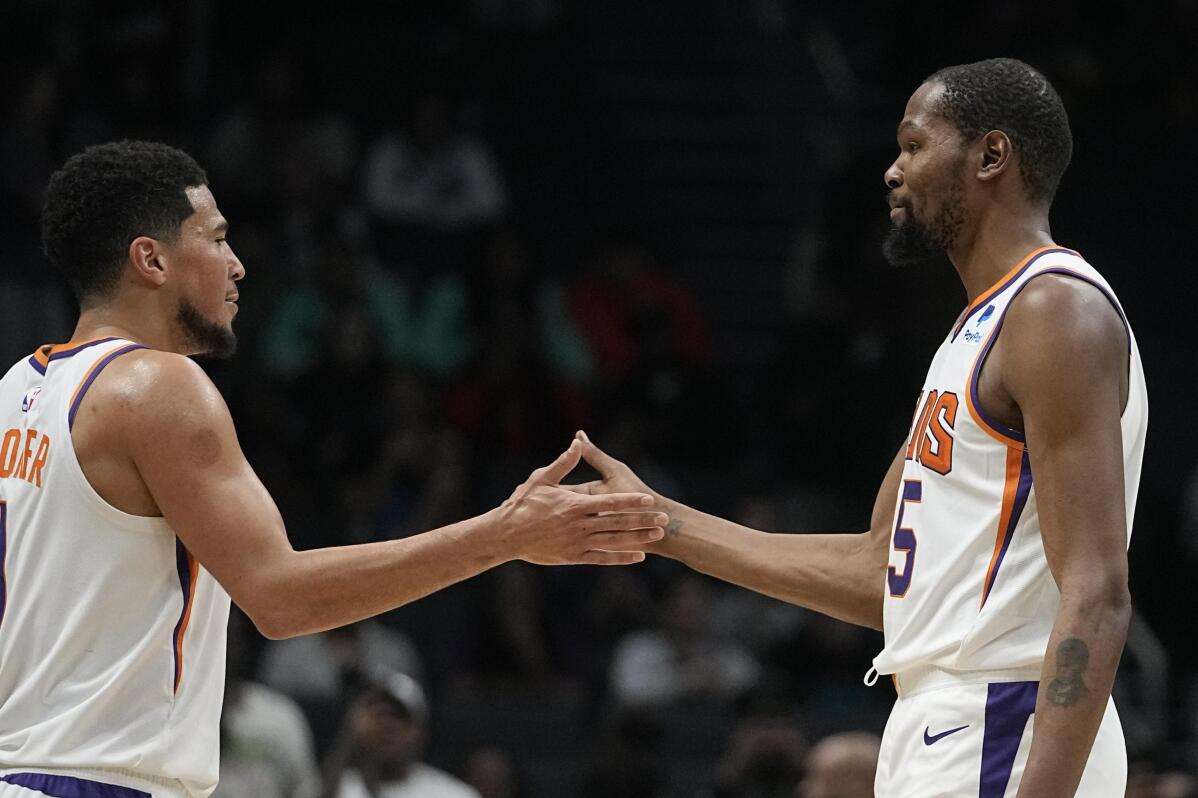 1 of 4

|
Phoenix Suns forward Kevin Durant celebrates after their win against the Charlotte Hornets with guard Devin Booker in an NBA basketball game on Wednesday, March 1, 2023, in Charlotte, N.C. (AP Photo/Chris Carlson)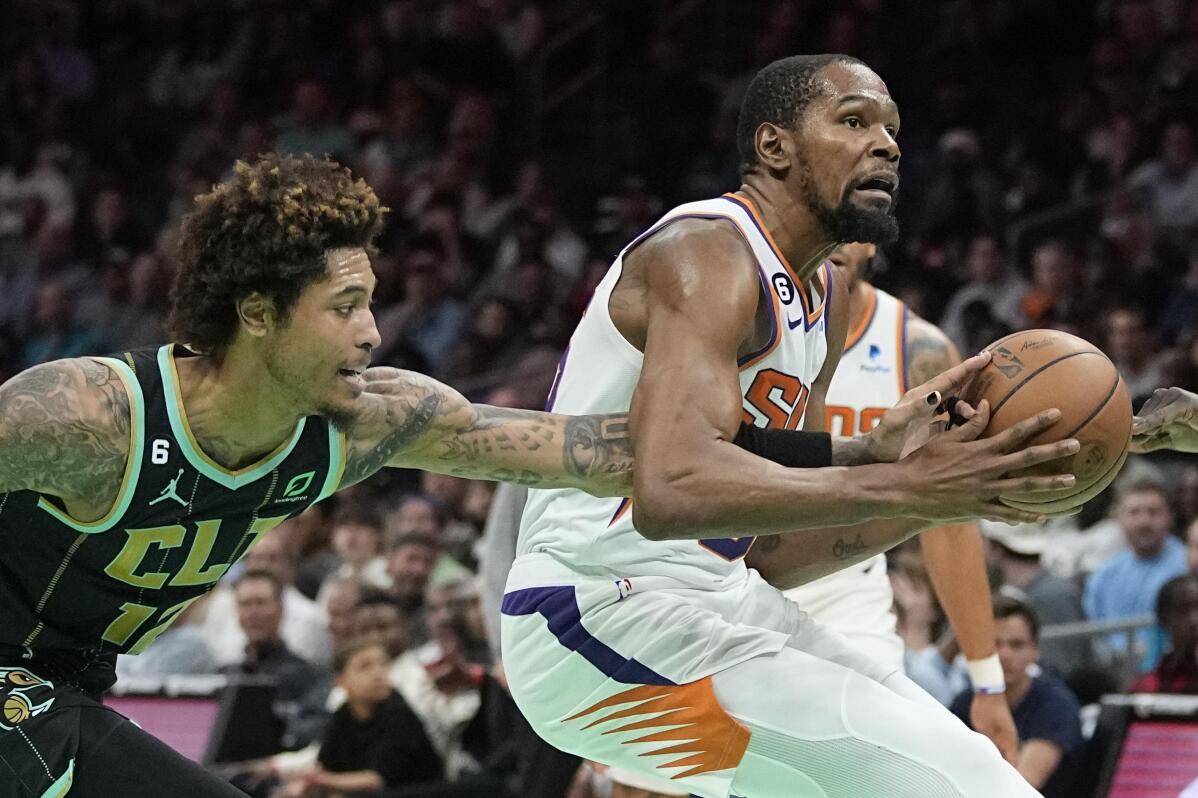 2 of 4

|
Phoenix Suns forward Kevin Durant drives to the basket past Charlotte Hornets guard Kelly Oubre Jr. during the second half of an NBA basketball game on Wednesday, March 1, 2023, in Charlotte, N.C. (AP Photo/Chris Carlson)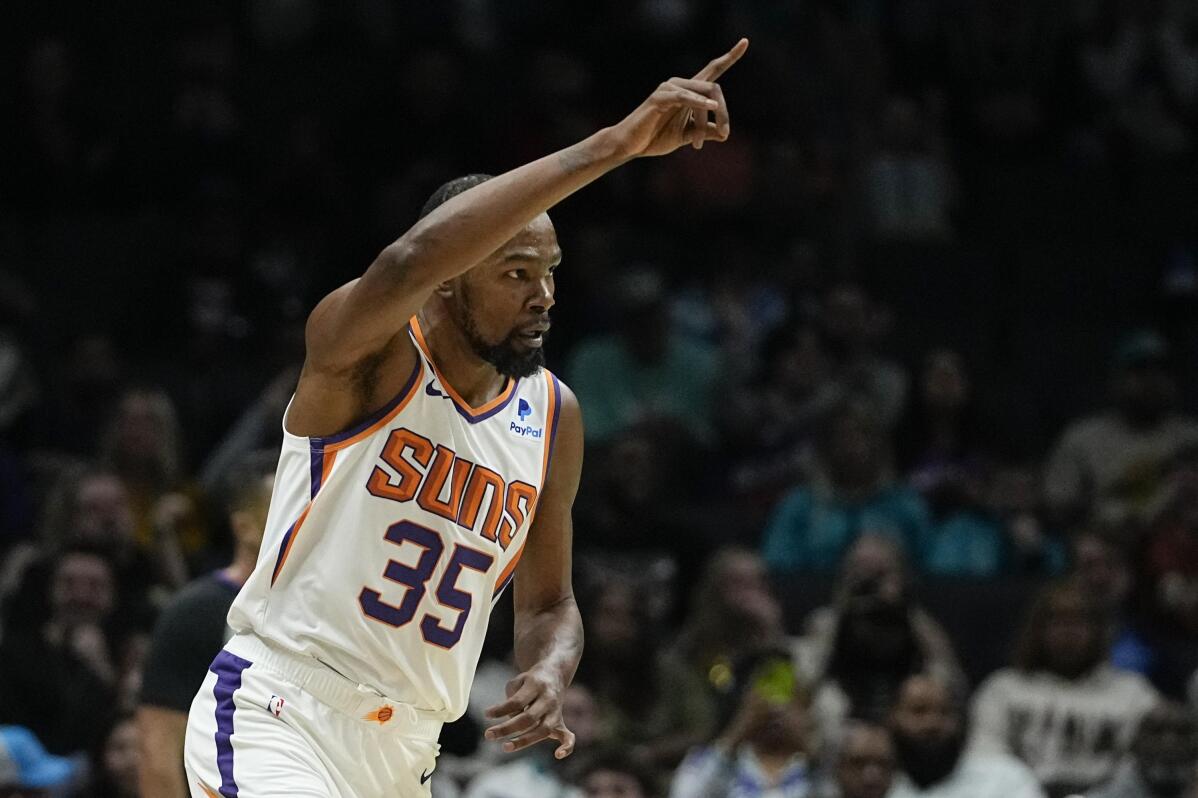 3 of 4

|
Phoenix Suns forward Kevin Durant celebrates after scoring during the first half of an NBA basketball game against the Charlotte Hornets on Wednesday, March 1, 2023, in Charlotte, N.C. (AP Photo/Chris Carlson)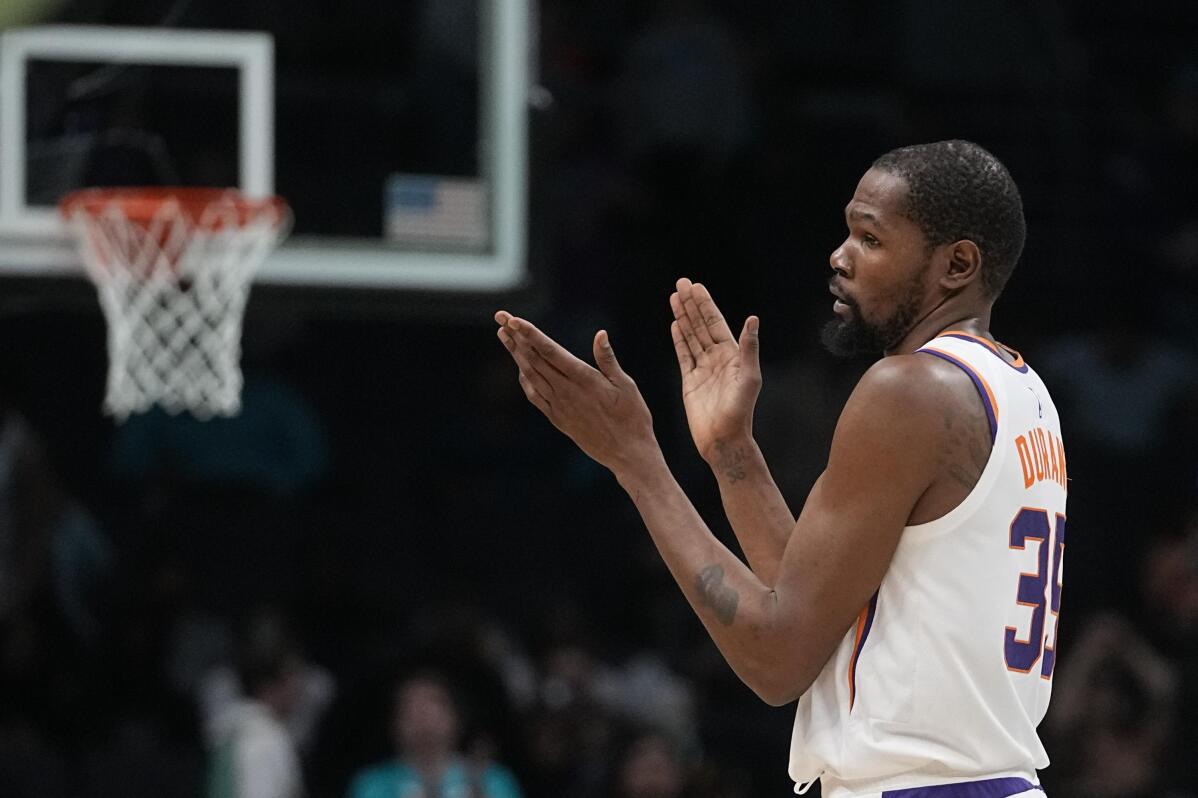 4 of 4

|
Phoenix Suns forward Kevin Durant celebrates after their win against the Charlotte Hornets in an NBA basketball game on Wednesday, March 1, 2023, in Charlotte, N.C. (AP Photo/Chris Carlson)
Kevin Durant makes Suns debut in victory over Hornets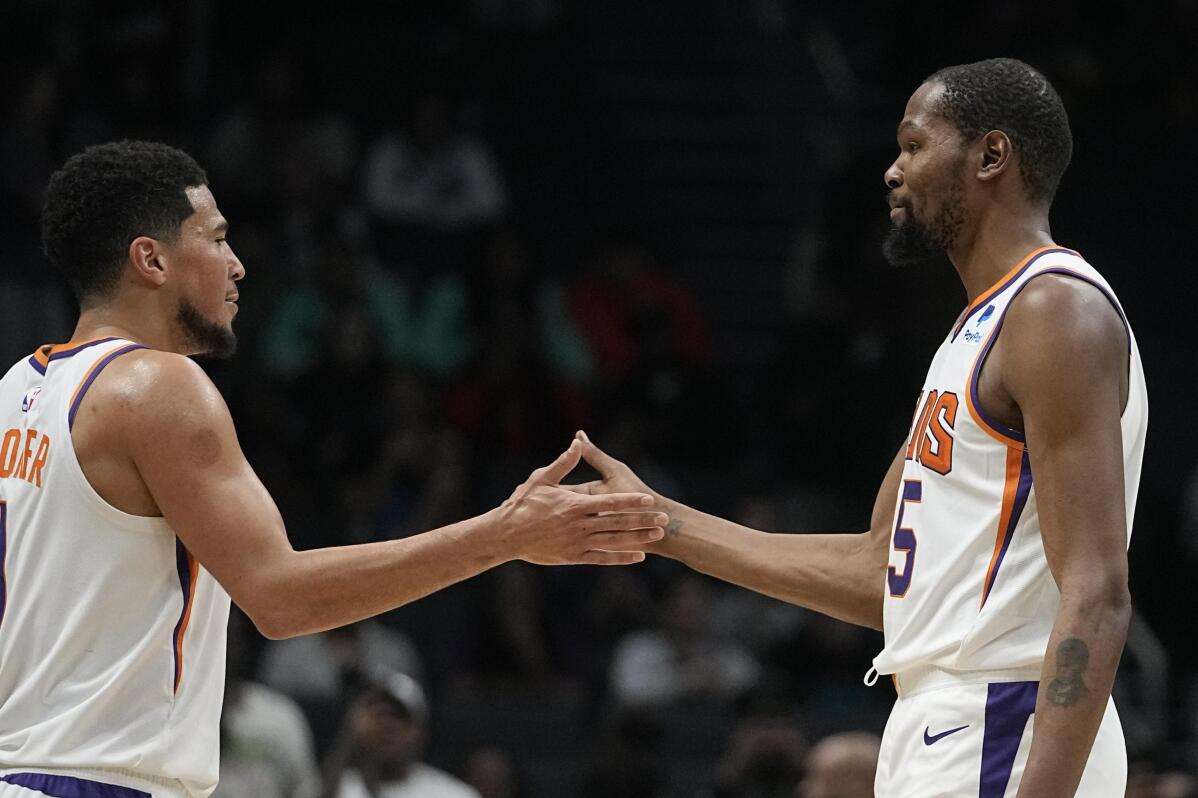 1 of 4

|
Phoenix Suns forward Kevin Durant celebrates after their win against the Charlotte Hornets with guard Devin Booker in an NBA basketball game on Wednesday, March 1, 2023, in Charlotte, N.C. (AP Photo/Chris Carlson)
1 of 4
Phoenix Suns forward Kevin Durant celebrates after their win against the Charlotte Hornets with guard Devin Booker in an NBA basketball game on Wednesday, March 1, 2023, in Charlotte, N.C. (AP Photo/Chris Carlson)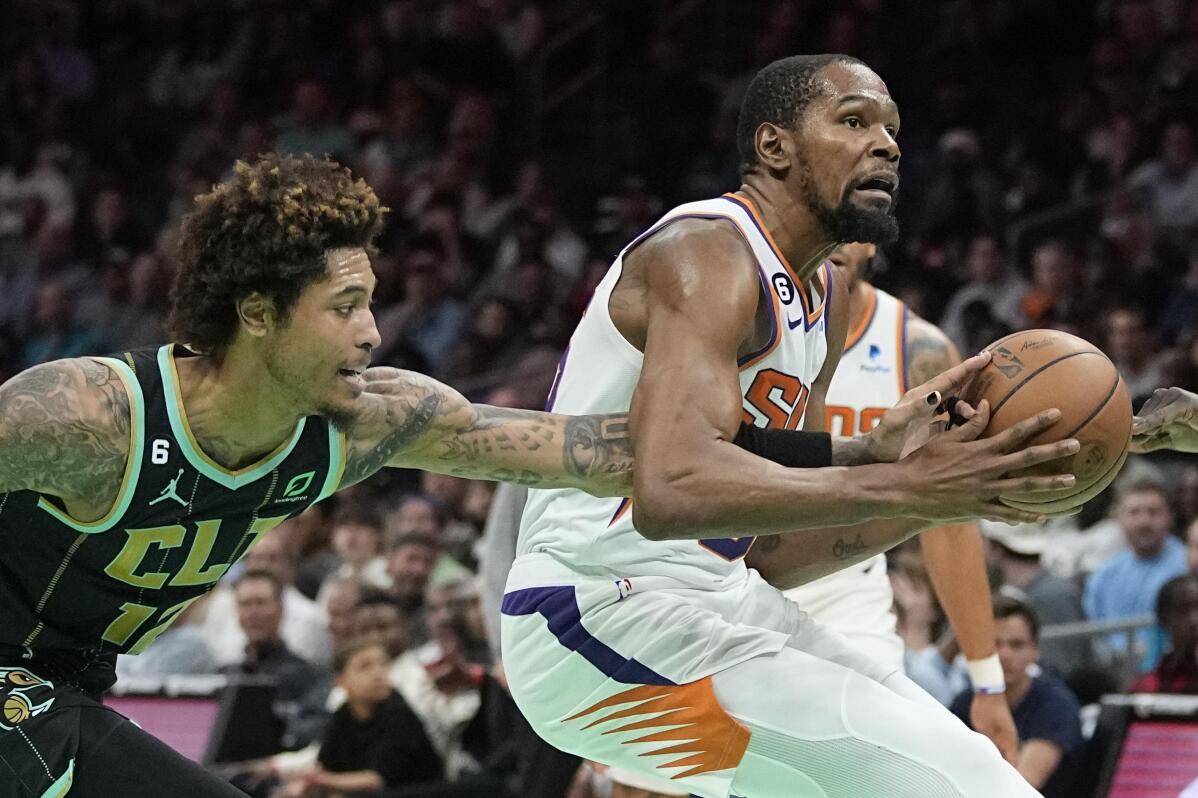 2 of 4

|
Phoenix Suns forward Kevin Durant drives to the basket past Charlotte Hornets guard Kelly Oubre Jr. during the second half of an NBA basketball game on Wednesday, March 1, 2023, in Charlotte, N.C. (AP Photo/Chris Carlson)
2 of 4
Phoenix Suns forward Kevin Durant drives to the basket past Charlotte Hornets guard Kelly Oubre Jr. during the second half of an NBA basketball game on Wednesday, March 1, 2023, in Charlotte, N.C. (AP Photo/Chris Carlson)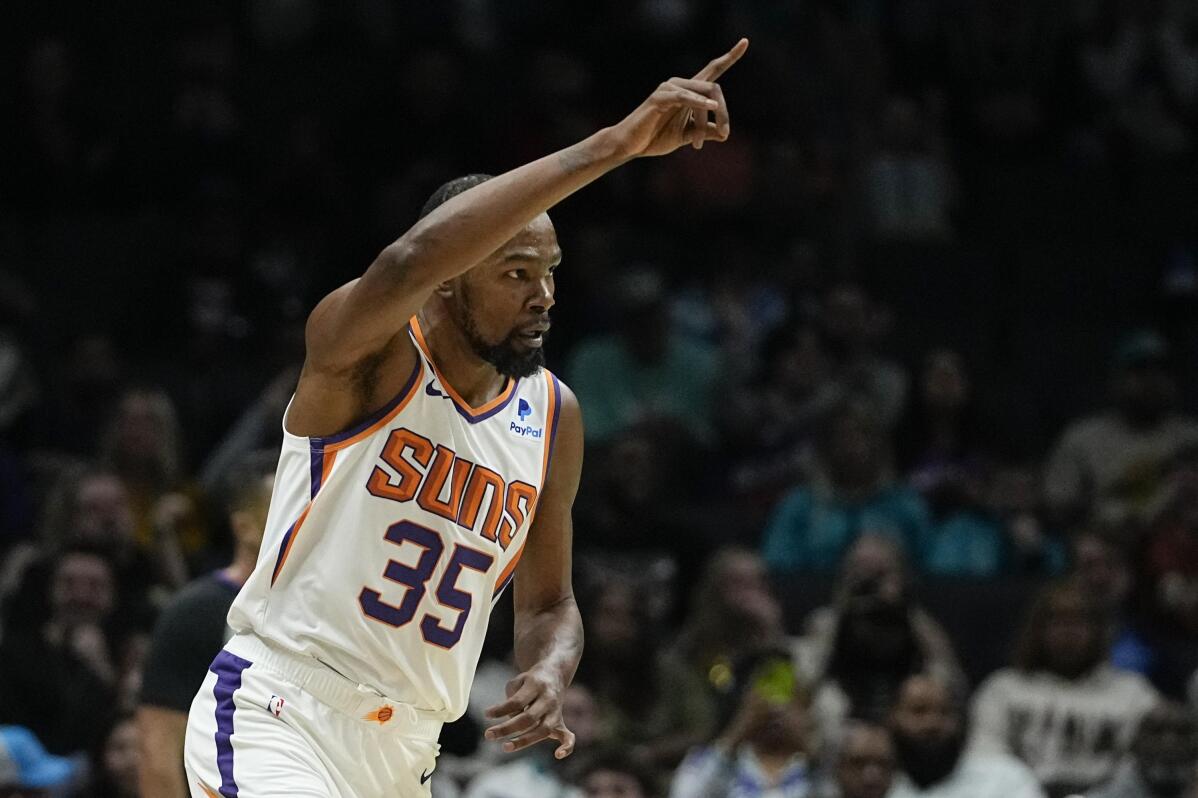 3 of 4

|
Phoenix Suns forward Kevin Durant celebrates after scoring during the first half of an NBA basketball game against the Charlotte Hornets on Wednesday, March 1, 2023, in Charlotte, N.C. (AP Photo/Chris Carlson)
3 of 4
Phoenix Suns forward Kevin Durant celebrates after scoring during the first half of an NBA basketball game against the Charlotte Hornets on Wednesday, March 1, 2023, in Charlotte, N.C. (AP Photo/Chris Carlson)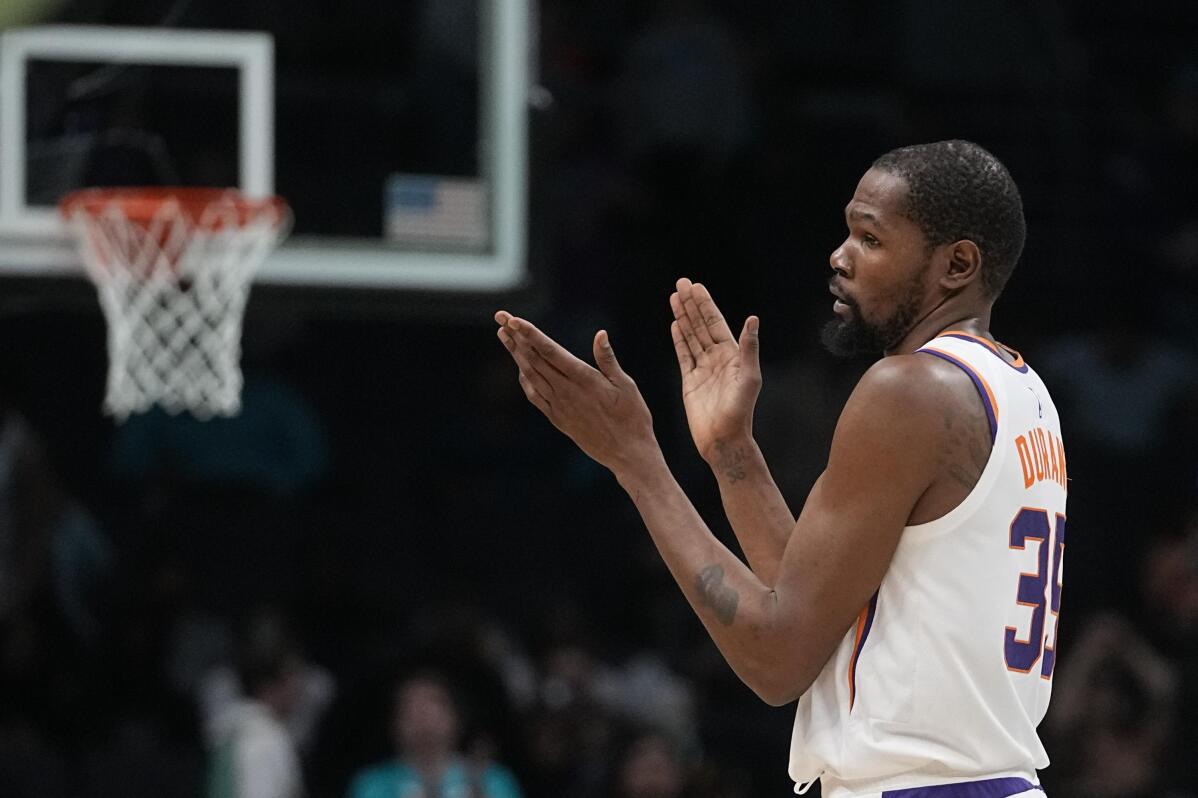 4 of 4

|
Phoenix Suns forward Kevin Durant celebrates after their win against the Charlotte Hornets in an NBA basketball game on Wednesday, March 1, 2023, in Charlotte, N.C. (AP Photo/Chris Carlson)
4 of 4
Phoenix Suns forward Kevin Durant celebrates after their win against the Charlotte Hornets in an NBA basketball game on Wednesday, March 1, 2023, in Charlotte, N.C. (AP Photo/Chris Carlson)
CHARLOTTE, N.C. (AP) — Kevin Durant scored 23 points on 10-of-15 shooting in his Suns debut, helping Phoenix snap the Charlotte Hornets' five-game winning streak with a wire-to-wire 105-91 victory Wednesday night.
Devin Booker scored 37 points and Deandre Ayton had 16 points and 16 rebounds in the Suns' seventh victory in 10 games. Chris Paul added 11 assists.
Durant, acquired in blockbuster trade with the Brooklyn Nets on Feb. 9, showed no lingering effects from a sprained right knee that kept him out of action for more than seven weeks.
The 34-year-old star fit in seamlessly with his new club, also grabbing six rebounds and blocking two shots in 27 minutes.
Durant made two 3s, a flurry of mid-range jumpers and showed he still has the burst to get to the hole on a driving left-handed layup for his first basket with the Suns. He also provided a boost on defense, blocking Hornets rookie center Mark Williams twice in the opening five minutes.
The Hornets played without LaMelo Ball, who underwent season-ending surgery Wednesday to repair a fracture in his right ankle. Kelly Oubre Jr. had 26 points, and Terry Rozier added 20.
BUCKS 139, MAGIC 117
MILWAUKEE (AP) — Giannis Antetokounmpo scored 31 points and NBA-leading Milwaukee hit a season-high 26 3-pointers to rout Orlando and extend their winning streak to 16 games.
The Bucks' franchise record for consecutive wins came in their 1970-71 championship season, when they won 20 straight.
Orlando's Cole Anthony scored a season-high 28 points. Markelle Fultz added 21.
76ERS 119, HEAT 96
MIAMI (AP) — Tyrese Maxey scored 27 points, James Harden added 23 and Philadelphia took control early on the way to a victory over Miami.
Tobias Harris scored 18 points, while Paul Reed had 16 points, 14 rebounds and was plus-26 in 29 minutes for the 76ers, who played without All-Star center Joel Embiid – out with left foot soreness. The 76ers are 9-4 when Embiid doesn't play this season.
Bam Adebayo scored 20 points for the Heat. They beat Philadelphia on the road Monday but trailed by 25 in the rematch at home.
KNICKS 142, NETS 118
NEW YORK (AP) — Jalen Brunson scored 30 of his 39 points in the first half and New York rolled to its seventh straight victory, routing Brooklyn.
The Knicks made nearly 80% of their shots in a 47-point first quarter and coasted to their second victory over the Nets since their city rivals traded Kevin Durant and Kyrie Irving. Brooklyn had won the previous nine meetings, including the first two this season.
Quentin Grimes scored 22 points and Julius Randle added 21 points, eight rebounds and eight assists as the Knicks opened a two-game lead over the Nets for the No. 5 seed in the Eastern Conference.
Cam Johnson scored a season-high 33 points for the Nets. They have lost four straight.
CELTICS 117, CAVALIERS 113
BOSTON (AP) — Jayson Tatum scored 18 points in a pivotal third quarter and finished with 41 points as Boston held on to beat Cleveland.
Tatum added 11 rebounds and eight assists in Boston's first victory in three games against Cleveland this season. With his 20th career 40-point game, the 24-year-old Tatum surpassed Giannis Antetokounmpo for seventh place on the NBA's scoring list for players under 25.
Cleveland's Donovan Mitchell scored 44 points and sidestepped an injury following a fall in the third quarter.
LAKERS 123, THUNDER 117
OKLAHOMA CITY (AP) — Dennis Schroder scored 26 points and short-handed Los Angeles beat Oklahoma City.
LeBron James and Anthony Davis both were out with right foot injuries and D'Angelo Russell sat out because of a sprained right ankle.
Troy Brown Jr. scored a season-high 19 points and Austin Reaves added 19 for the Lakers. They have won four of five.
Jalen Williams scored 24 points for the Thunder. Oklahoma City is 0-5 since the All-Star break.
PELICANS 121, TRAIL BLAZERS 110
PORTLAND, Ore. (AP) — Brandon Ingram had a season-high 40 points and New Orleans beat Portland in the first showdown between Damian Lillard and former Trail Blazers teammate CJ McCollum.
McCollum added 24 points to help the Pelicans snap a four-game losing streak. Lillard scored 41 points for the Trail Blazers.
The game marked the first time that Lillard and McCollum played against each other after some nine years together in Portland's backcourt.
McCollum was traded to New Orleans at last season's trade deadline. Lillard was injured at the time and did not play in the two meetings between the two teams after the trade. Lillard was also absent for Portland's visit to New Orleans earlier this season because of injury management.
BULLS 117, PISTONS 115
DETROIT (AP) — Zach LaVine scored 41 points and Detroit called one too many timeouts, helping Chicago hold on for a victory.
The Pistons were trailing by two points with 9.7 seconds left when they called a second straight timeout — one more than they had — to trigger a technical foul that gave LaVine a free throw that he made.
DeMar DeRozan scored 21 points, including two at the line on the extra possession the Pistons gave the Bulls to help seal their 14th straight win in the series.
Bojan Bogdanovic scored 34 for the Pistons. They have dropped six straight games for the third time this season.
GRIZZLIES 113, ROCKETS 99
HOUSTON (AP) — Desmond Bane scored 30 points, Ja Morant added 20 and Memphis sent Houston to its 11th straight loss.
Morant also had seven assists and seven rebounds against the Rockets without playing in the fourth quarter to help the Grizzlies to their third straight victory.
Jalen Green scored 20 points and Kenyon Martin Jr. 19 for Houston.
___
More AP NBA: https://apnews.com/NBA and https://twitter.com/AP_Sports