Browns DT Winfrey arrested on misdemeanor assault charge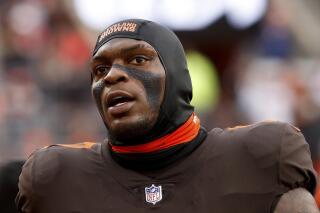 CLEVELAND (AP) — Cleveland Browns second-year defensive tackle Perrion Winfrey was arrested in Texas on a misdemeanor assault charge earlier this week for allegedly causing bodily harm to a woman he was dating.
According to Harris County court records, Winfrey was arrested at 7 p.m. Monday and charged with one count of assault. He was freed on $1,000 bond and told not to have contact with the complainant.
A Browns spokesman said the team "was aware of the situation and gathering more information."
The official complaint said that Winfrey "unlawfully, intentionally and knowingly" caused bodily injury to the woman by grabbing and pulling her with his hand. Due to the relationship, the charge was classified as an "assault of a family member."
A fourth-round draft pick by Cleveland in 2022, Winfrey was disciplined at least twice by the team last season for immature behavior. He played in 13 games, recording 22 tackles.
After sitting out in Week 2 and being held out of practices, Winfrey had said he had turned a corner.
"I just feel like it was something that I needed to mature," Winfrey said. "I feel like I wouldn't be the player that I'm going to be now if it had not happened, so I'm glad that it happened. Everything happens for a reason in my eyes."
Winfrey had been expected to attend the team's voluntary offseason program next week.
___
AP NFL: https://apnews.com/hub/nfl and https://twitter.com/AP_NFL