If Ravens beat Bengals, Baltimore could host playoff game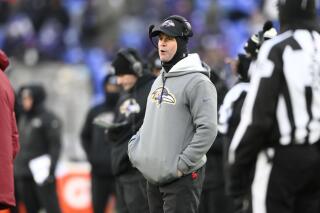 OWINGS MILLS, Md. (AP) — Baltimore's path to a playoff home game is complicated, but it still exists after a few days of uncertainty.
If the Ravens win at Cincinnati this weekend and the Los Angeles Chargers beat Denver, then Baltimore and the Bengals would meet in the first round of the postseason. And in that scenario, a coin flip would determine where that game is played.
That's after the NFL altered the rules for the playoffs after the Bengals-Bills game Monday was canceled following the collapse of Buffalo's Damar Hamlin.
Baltimore had a chance to win the AFC North if Cincinnati lost the Bills game and then lost again to the Ravens (10-6) this Sunday, but since the Buffalo-Cincinnati game wasn't played to completion, the Bengals (11-4) are now assured of a higher winning percentage than Baltimore. The coin flip scenario only applies if the Ravens win this weekend and secure a regular-season sweep of Cincinnati. If Baltimore loses — or if Baltimore wins but still ends up matched with a team other than the Bengals — then the Ravens will be on the road to begin the playoffs.
"The thing I appreciate — and the way I understand it — the No. 1 consideration was Damar Hamlin, his health and his family. That's why the game was originally postponed and then eventually canceled," Baltimore coach John Harbaugh said Friday. "Then, after that, there's 100 considerations, in terms of logistics, competitive fairness, fans, all the partners involved with the league. All those things I'm sure were taken into account. So, I'm just like, 'Well, I can't think about all that. We're thinking about the Bengals and the playoffs.'"
Harbaugh said in terms of lineup decisions this week, the team will have short-term and long-term considerations to make.
"The most important thing is being as prepared as we can for the playoffs," he said. "You really can't sit too many guys out. This is not the preseason. You don't have an unlimited number of guys. So, it's not as big a deal as I think it's sometimes made out to be, but our plan is to go up there and win the football game and do the best we can to win the football game."
One player who is definitely out for the Ravens is quarterback Lamar Jackson. He'll miss a fifth straight game because of a lingering knee injury. Tyler Huntley, who has started the past four games in Jackson's place, is dealing with shoulder and wrist issues and was limited in practice this week.
After Jackson was injured, Harbaugh said it wasn't a season-ending type of issue. On Friday, he began his session with reporters by addressing Jackson's status.
"Injuries are so hard to predict," Harbaugh said. "That's why when I get up here sometimes and I'll refrain from saying how long it will be. You might think it's going to be some number of weeks, or some number of days, or whatever, but you really don't know because they all respond differently. Then later, I feel bad because it didn't turn out to be the number that we originally thought it was going to be."
"I try to say, 'Well, I'm really not going to talk about that,' and kind of sometimes people think, 'Well, he's hiding something,' or whatever. It's really not. I might be hiding something sometimes, but not in this case," Harbaugh added. "The truth is we just really don't know. I know everybody's working as hard as they can. Lamar's working as hard as he can, the trainers are working as hard as they can and (I) can't wait for him to get back, obviously, just like everybody else."
___
Follow Noah Trister at https://twitter.com/noahtrister
___
AP NFL: https://apnews.com/hub/nfl and https://twitter.com/AP_NFL