Bayern gets revenge on Freiburg ahead of Man City game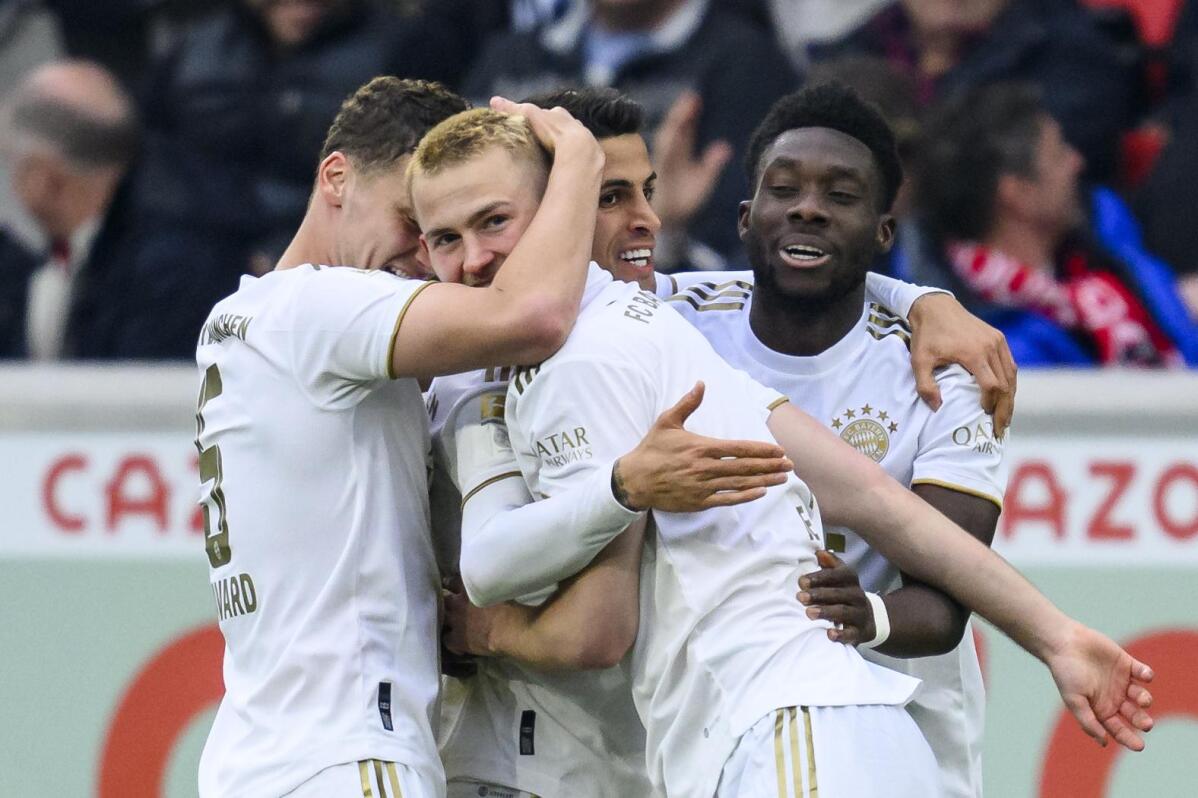 1 of 8

|
Munich's Matthijs de Ligt , second left, celebrates scoring with teammates Benjamin Pavard, left, Joao Pedro Cavaco Cancelo and Alphonso Davies, right, during the Bundesliga soccer match between SC Freiburg and Bayern Munich at Europa-Park Stadion, Freiburg, Germany, Saturday April 8, 2023. (Tom Weller/dpa via AP)
2 of 8

|
Munich's Thomas Muller, left, and Freiburg's Nicolas Hofler battle for the ball during the Bundesliga soccer match between SC Freiburg and Bayern Munich at Europa-Park Stadion, Freiburg, Germany, Saturday April 8, 2023. (Tom Weller/dpa via AP)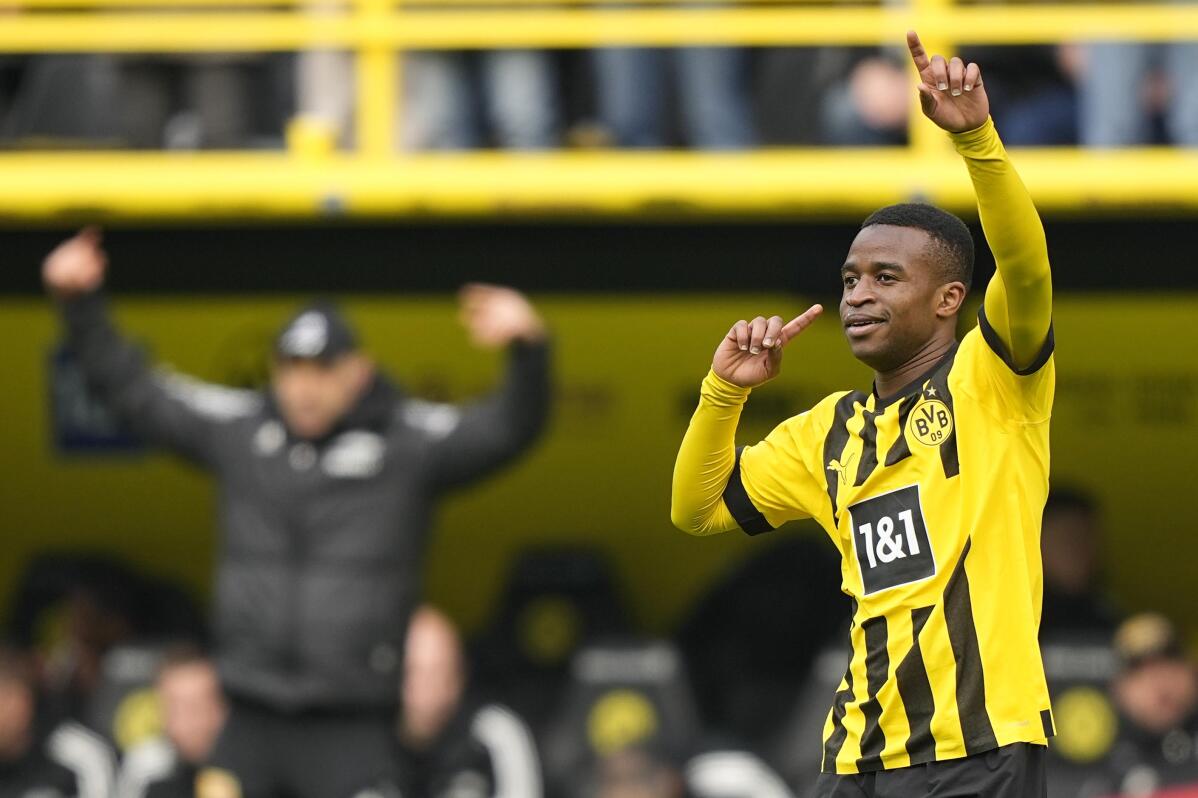 3 of 8

|
Dortmund's Youssoufa Moukoko celebrates after scoring his sides second goal during the German Bundesliga soccer match between Borussia Dortmund and Union Berlin in Dortmund, Germany, Saturday, April 8, 2023. (AP Photo/Martin Meissner)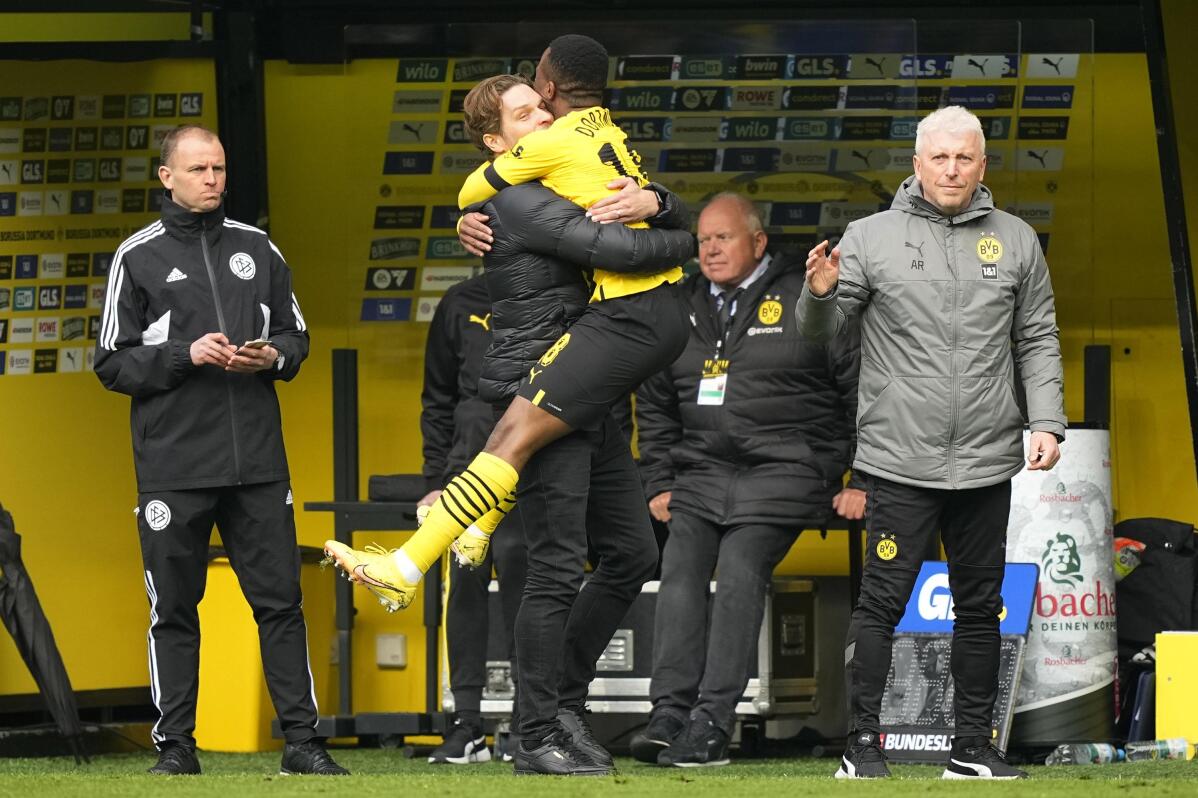 4 of 8

|
Dortmund's Youssoufa Moukoko celebrates with Dortmund's head coach Edin Terzic after scoring his sides second goal during the German Bundesliga soccer match between Borussia Dortmund and Union Berlin in Dortmund, Germany, Saturday, April 8, 2023. (AP Photo/Martin Meissner)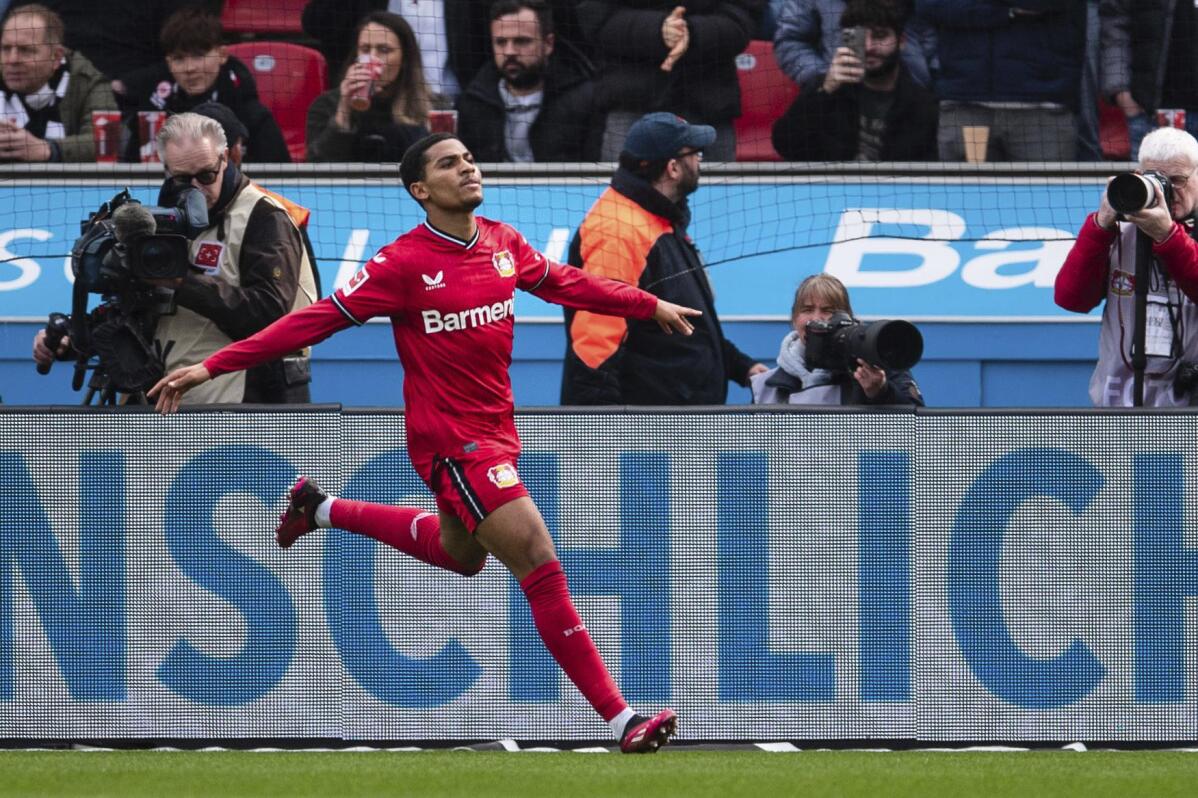 5 of 8

|
Leverkusen's Ayman Azhil celebrates scoring, during the Bundesliga soccer match between Bayer Leverkusen and Eintracht Frankfurt at the Bay Arena, in Leverkusen, Germany, Saturday, April 8, 2023. (Marius Becker/dpa via AP)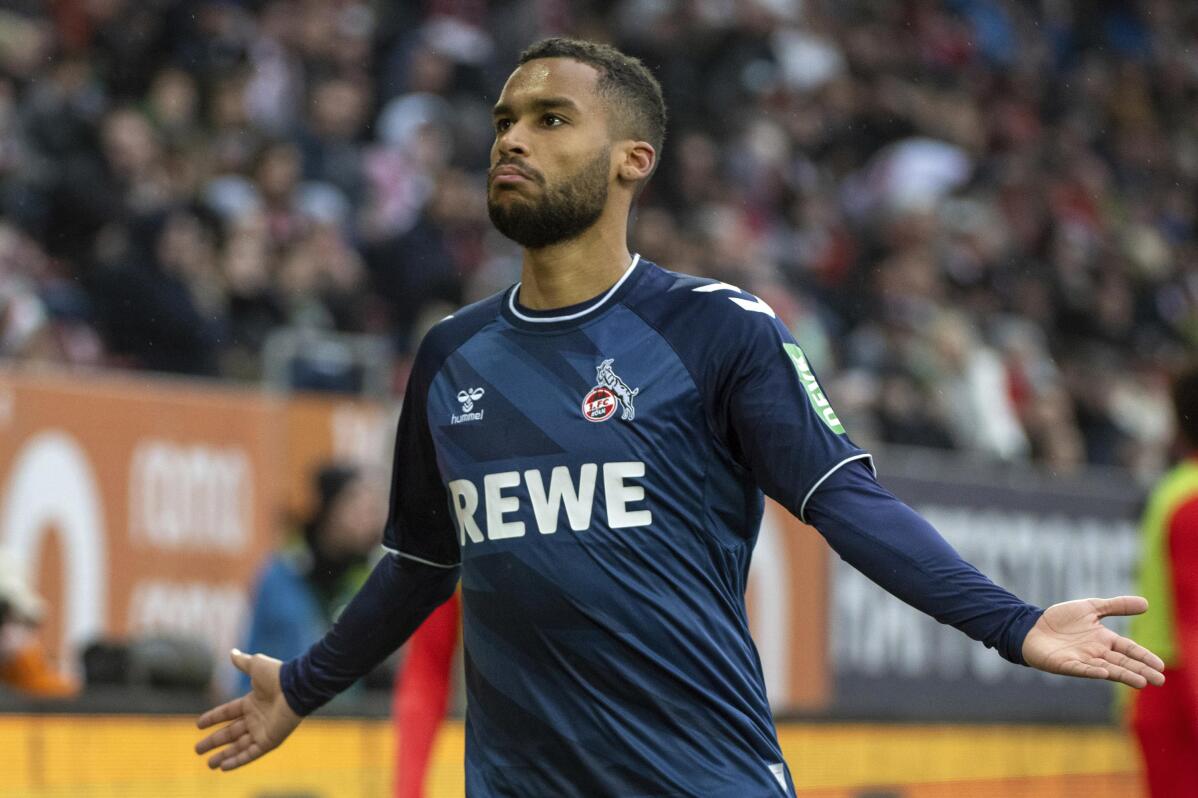 6 of 8

|
Cologne's Linton Maina celebrates scoring during the Bundesliga soccer match between FC Augsburg and FC Koln at WWK Arena, Augsburg, Germany, Saturday April 8, 2023. (Stefan Puchner/dpa via AP)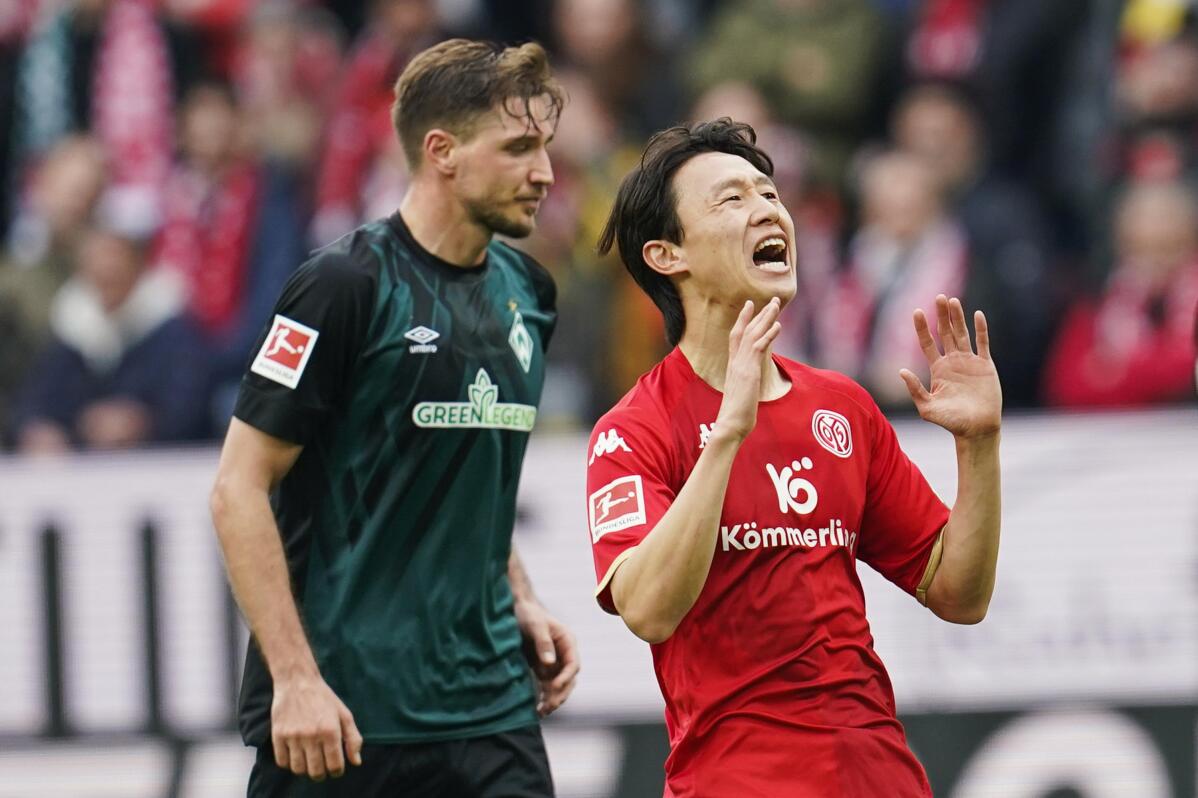 7 of 8

|
Mainz's Jae-Sung Lee, foreground, reacts, during the Bundesliga soccer match between Mainz and Werder Bremen, at the Mewa Arena, in Mainz, Germany, Saturday, April 8, 2023. (Uwe Anspach/dpa via AP)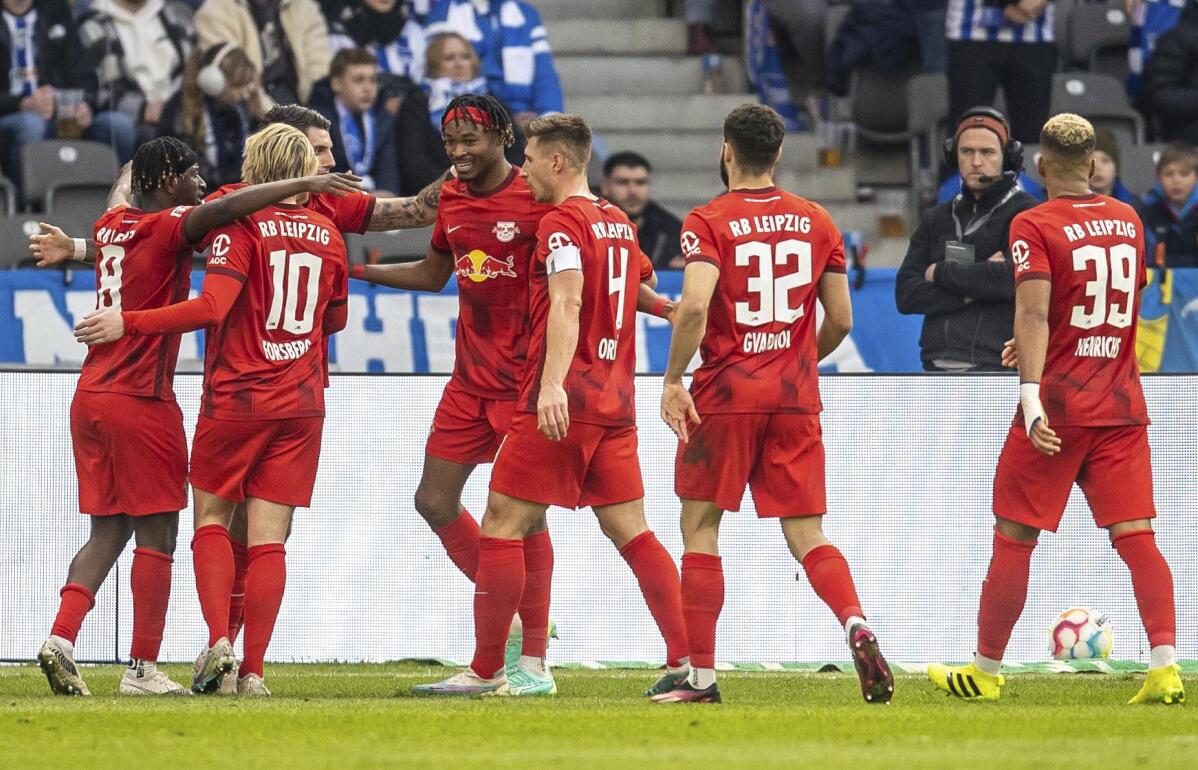 8 of 8

|
RB Leipzig's Mohamed Simakan, 4th right, celebrates scoring with teammates during the Bundesliga soccer match between Hertha BSC and RB Leipzig at Olympiastadion, Berlin, Germany, Saturday April 8, 2023. (Andreas Gora/dpa via AP)
Bayern gets revenge on Freiburg ahead of Man City game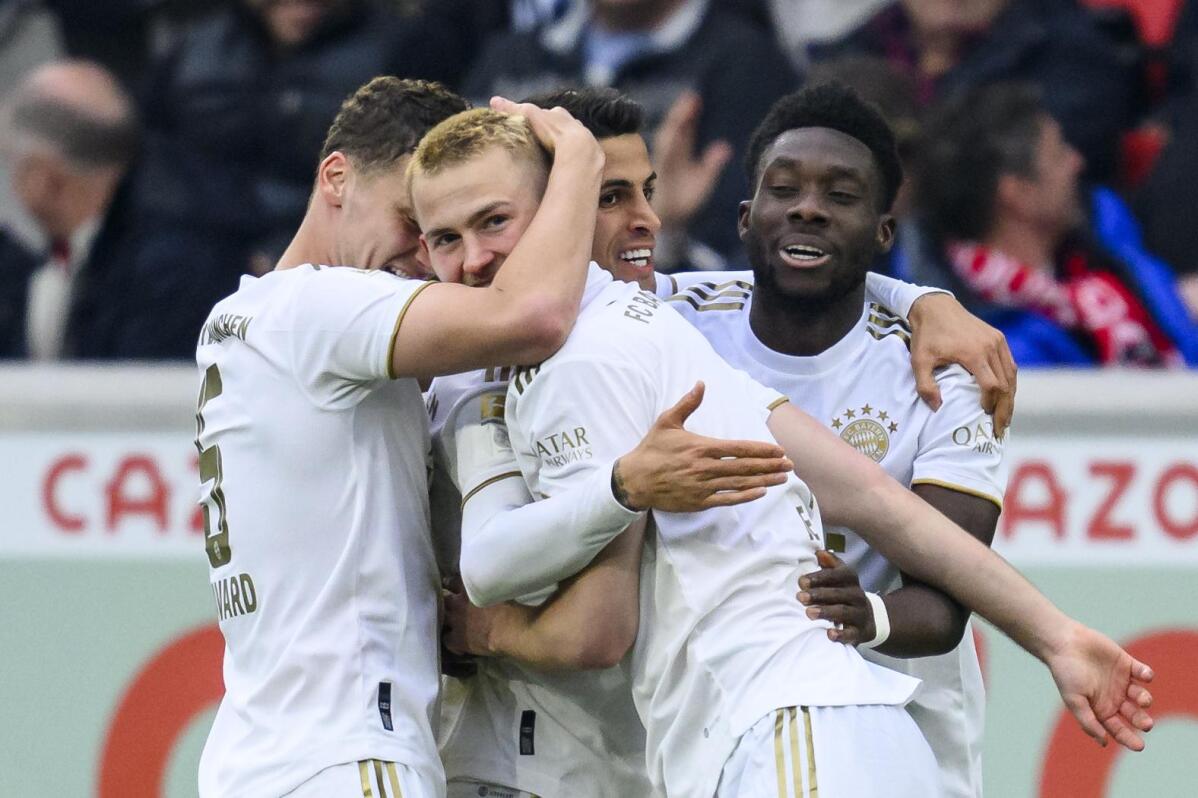 1 of 8

|
Munich's Matthijs de Ligt , second left, celebrates scoring with teammates Benjamin Pavard, left, Joao Pedro Cavaco Cancelo and Alphonso Davies, right, during the Bundesliga soccer match between SC Freiburg and Bayern Munich at Europa-Park Stadion, Freiburg, Germany, Saturday April 8, 2023. (Tom Weller/dpa via AP)
1 of 8
Munich's Matthijs de Ligt , second left, celebrates scoring with teammates Benjamin Pavard, left, Joao Pedro Cavaco Cancelo and Alphonso Davies, right, during the Bundesliga soccer match between SC Freiburg and Bayern Munich at Europa-Park Stadion, Freiburg, Germany, Saturday April 8, 2023. (Tom Weller/dpa via AP)
2 of 8

|
Munich's Thomas Muller, left, and Freiburg's Nicolas Hofler battle for the ball during the Bundesliga soccer match between SC Freiburg and Bayern Munich at Europa-Park Stadion, Freiburg, Germany, Saturday April 8, 2023. (Tom Weller/dpa via AP)
2 of 8
Munich's Thomas Muller, left, and Freiburg's Nicolas Hofler battle for the ball during the Bundesliga soccer match between SC Freiburg and Bayern Munich at Europa-Park Stadion, Freiburg, Germany, Saturday April 8, 2023. (Tom Weller/dpa via AP)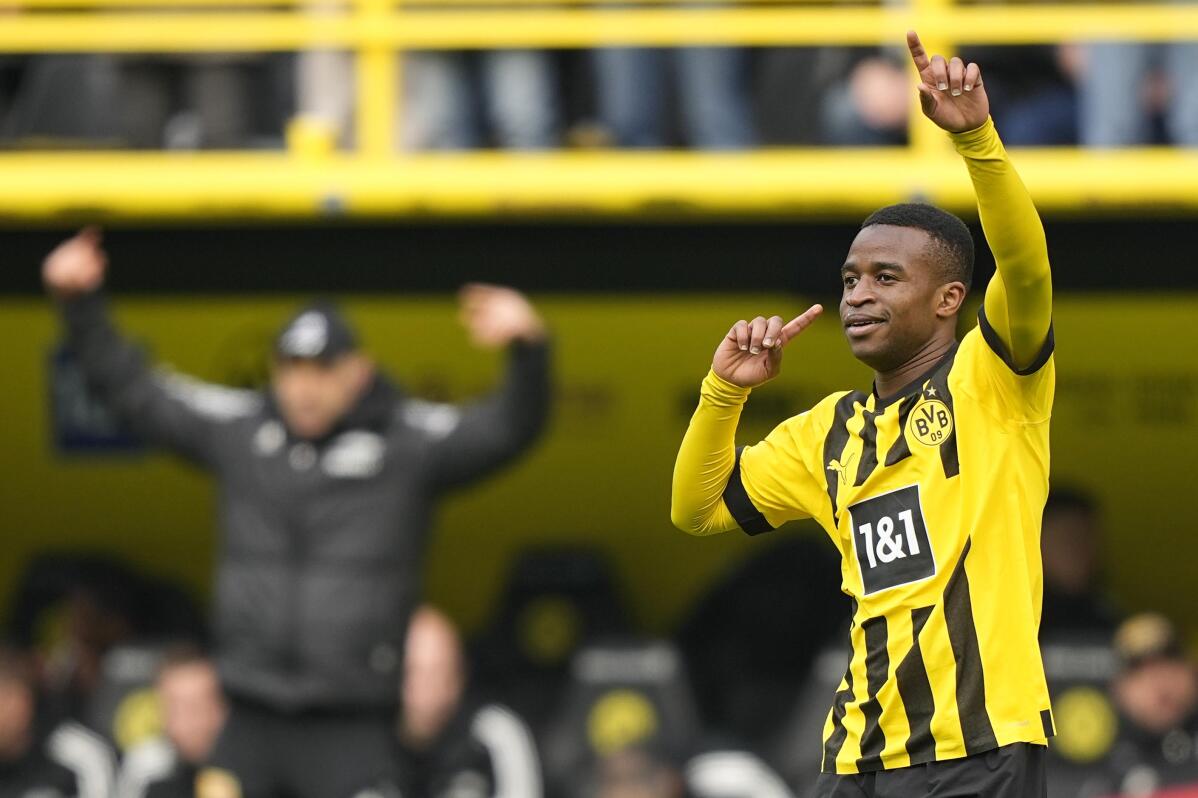 3 of 8

|
Dortmund's Youssoufa Moukoko celebrates after scoring his sides second goal during the German Bundesliga soccer match between Borussia Dortmund and Union Berlin in Dortmund, Germany, Saturday, April 8, 2023. (AP Photo/Martin Meissner)
3 of 8
Dortmund's Youssoufa Moukoko celebrates after scoring his sides second goal during the German Bundesliga soccer match between Borussia Dortmund and Union Berlin in Dortmund, Germany, Saturday, April 8, 2023. (AP Photo/Martin Meissner)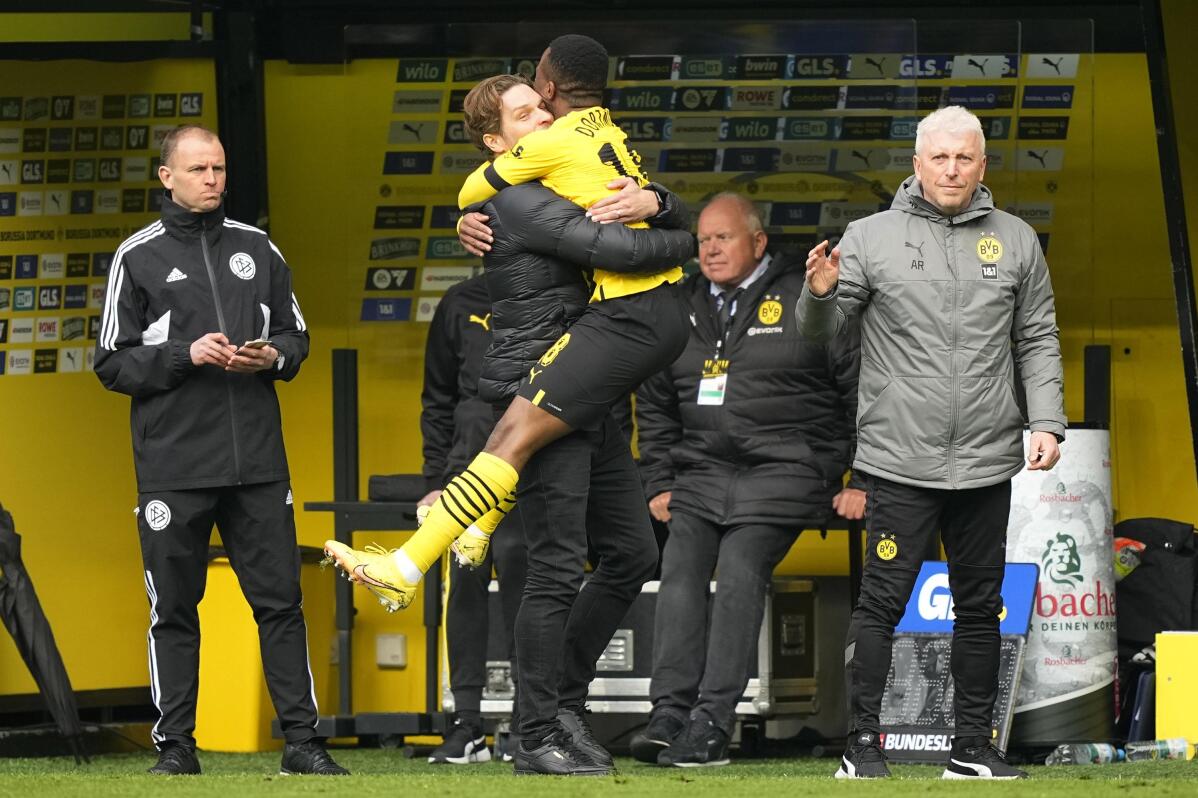 4 of 8

|
Dortmund's Youssoufa Moukoko celebrates with Dortmund's head coach Edin Terzic after scoring his sides second goal during the German Bundesliga soccer match between Borussia Dortmund and Union Berlin in Dortmund, Germany, Saturday, April 8, 2023. (AP Photo/Martin Meissner)
4 of 8
Dortmund's Youssoufa Moukoko celebrates with Dortmund's head coach Edin Terzic after scoring his sides second goal during the German Bundesliga soccer match between Borussia Dortmund and Union Berlin in Dortmund, Germany, Saturday, April 8, 2023. (AP Photo/Martin Meissner)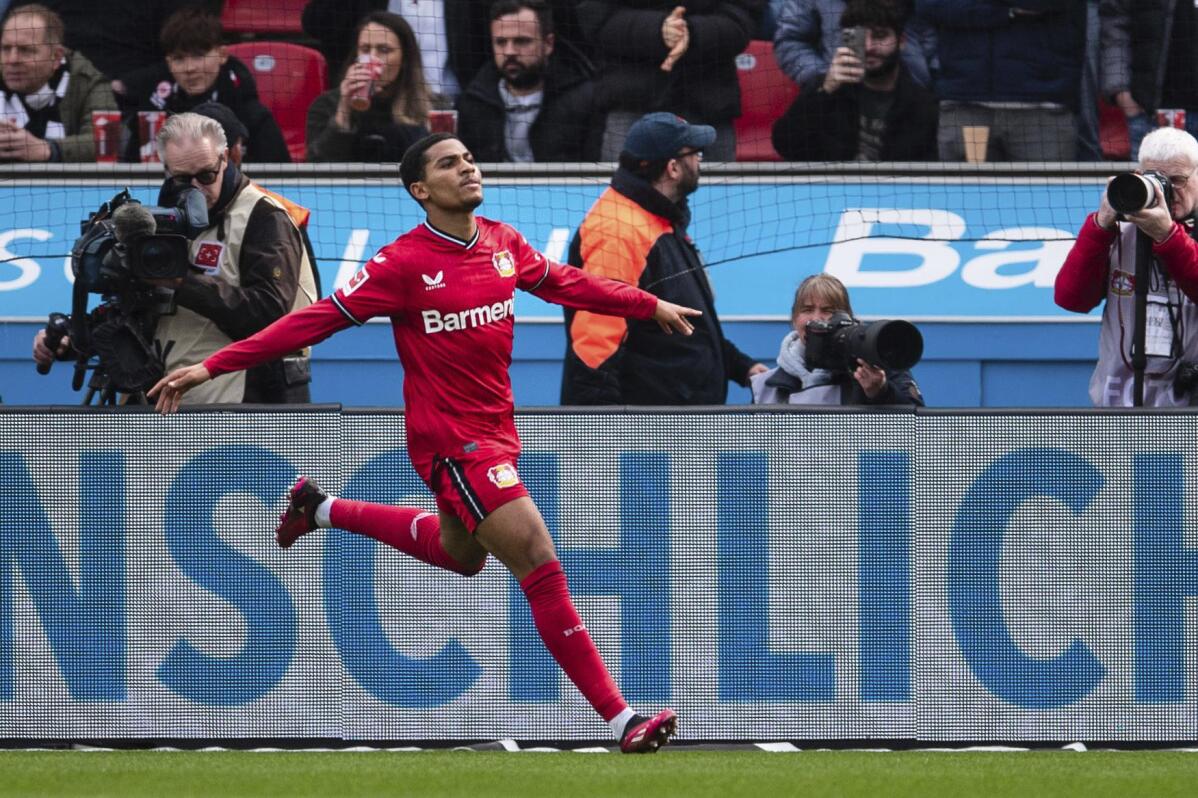 5 of 8

|
Leverkusen's Ayman Azhil celebrates scoring, during the Bundesliga soccer match between Bayer Leverkusen and Eintracht Frankfurt at the Bay Arena, in Leverkusen, Germany, Saturday, April 8, 2023. (Marius Becker/dpa via AP)
5 of 8
Leverkusen's Ayman Azhil celebrates scoring, during the Bundesliga soccer match between Bayer Leverkusen and Eintracht Frankfurt at the Bay Arena, in Leverkusen, Germany, Saturday, April 8, 2023. (Marius Becker/dpa via AP)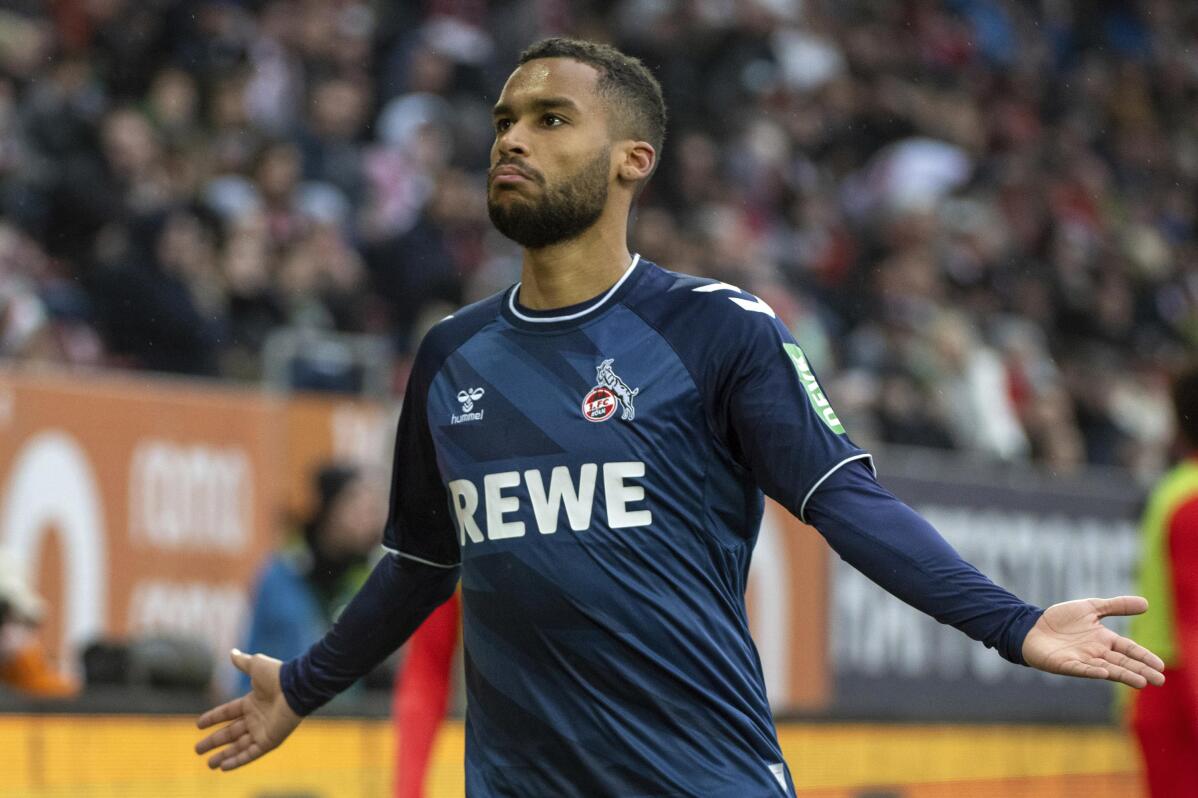 6 of 8

|
Cologne's Linton Maina celebrates scoring during the Bundesliga soccer match between FC Augsburg and FC Koln at WWK Arena, Augsburg, Germany, Saturday April 8, 2023. (Stefan Puchner/dpa via AP)
6 of 8
Cologne's Linton Maina celebrates scoring during the Bundesliga soccer match between FC Augsburg and FC Koln at WWK Arena, Augsburg, Germany, Saturday April 8, 2023. (Stefan Puchner/dpa via AP)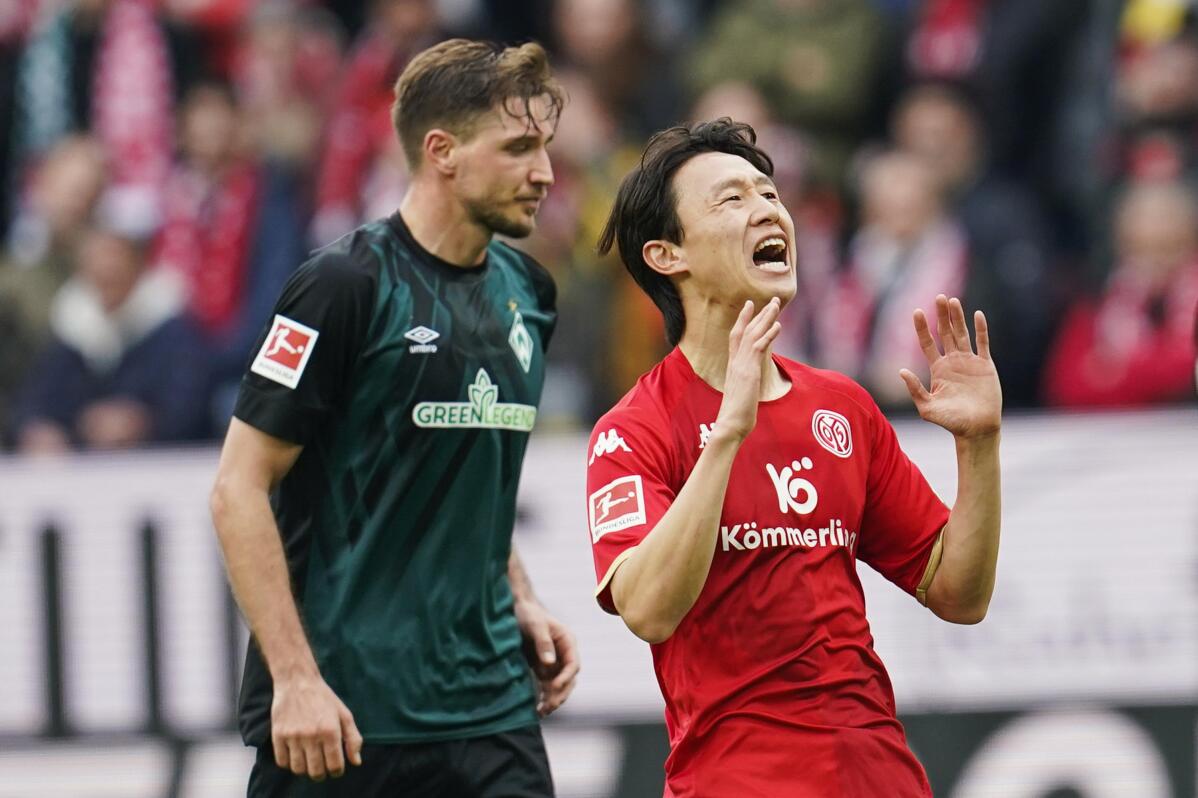 7 of 8

|
Mainz's Jae-Sung Lee, foreground, reacts, during the Bundesliga soccer match between Mainz and Werder Bremen, at the Mewa Arena, in Mainz, Germany, Saturday, April 8, 2023. (Uwe Anspach/dpa via AP)
7 of 8
Mainz's Jae-Sung Lee, foreground, reacts, during the Bundesliga soccer match between Mainz and Werder Bremen, at the Mewa Arena, in Mainz, Germany, Saturday, April 8, 2023. (Uwe Anspach/dpa via AP)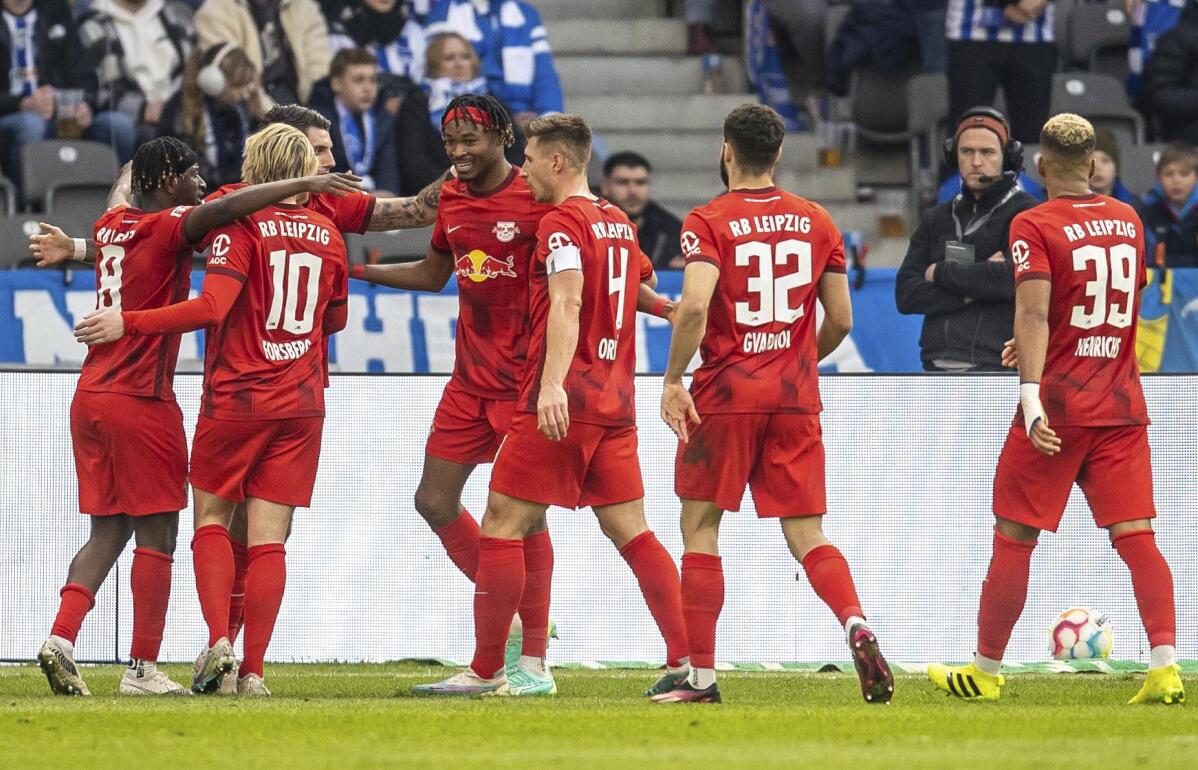 8 of 8

|
RB Leipzig's Mohamed Simakan, 4th right, celebrates scoring with teammates during the Bundesliga soccer match between Hertha BSC and RB Leipzig at Olympiastadion, Berlin, Germany, Saturday April 8, 2023. (Andreas Gora/dpa via AP)
8 of 8
RB Leipzig's Mohamed Simakan, 4th right, celebrates scoring with teammates during the Bundesliga soccer match between Hertha BSC and RB Leipzig at Olympiastadion, Berlin, Germany, Saturday April 8, 2023. (Andreas Gora/dpa via AP)
FREIBURG, Germany (AP) — Bayern Munich partly avenged its elimination from the German Cup by Freiburg midweek by winning their Bundesliga match 1-0 to keep the lead on Saturday.
Bayern stayed two points clear of Borussia Dortmund ahead of a Champions League quarterfinal with Manchester City on Tuesday, but it was hardly a comfortable win.
Just as in the cup quarterfinal loss to Freiburg on Tuesday — and in stark contrast to last week's demolition of Dortmund in the "Klassiker" — Bayern struggled to finish off a determined and defensively well-organized Freiburg.
Matthijs de Ligt's speculative and powerful shot from distance, deflected into the top left corner, made the difference but Freiburg had chances to draw. Ritsu Doan hit the post for Freiburg just before the break and only another strong game from goalkeeper Yann Sommer, in place of the injured Manuel Neuer, kept Bayern's lead intact.
Bayern wanted a penalty when Freiburg's Lucas Höler stopped the ball with his arm after having fallen, but the referee seemed to decide it was a natural movement to steady himself after a video review.
Höler and Bayern midfielder Joshua Kimmich were both booked in a scuffle after the final whistle after Bayern's celebrations seemed to irritate the Freiburg players.
DORTMUND BEATS UNION
Dortmund was on track for a third straight game without a win, and a four-point gap which could have meant the end of the title race, until substitute Youssoufa Moukoko took full advantage of a glaring error from Union to score in a 2-1 win.
Donyell Malen's 28th-minute opening goal was canceled by Kevin Behrens as Union sought valuable points in its quest to qualify for the Champions League for the first time.
That work was undone when Union's Paul Seguin stretched to control a loose ball and accidentally played the perfect pass for the 18-year-old Moukoko to round the goalkeeper and score.
Elimination from the cup by Leipzig on Wednesday and a Champions League exit to Chelsea last month mean Dortmund's only remaining aim this season is to stop Bayern's run of 10 consecutive German titles.
OTHER GAMES
Leipzig overtook Freiburg for fourth place, the last Champions League qualifying spot, with a 1-0 win over relegation-threatened Hertha Berlin.
Leipzig took the lead when Amadou Haidara bundled the ball over the line at a corner after it came off the head and shoulder of his teammate Mohamed Simakan. There was a long delay for video review before the goal was eventually given. Goalkeeper Janis Blaswich made a crucial save in the final minutes to preserve Leipzig's lead.
Hertha fans jeered at the final whistle. Their team is 16th in the 18-team league but could end up last, depending on results on Sunday.
Bayer Leverkusen and coach Xabi Alonso continued their hot form with a seventh consecutive win in all competitions, beating Eintracht Frankfurt 3-1. With forwards Patrik Schick and Adam Hlozek injured, the wingers stepped up for Leverkusen as Amine Adli and Moussa Diaby both scored, before a third goal from Sardar Azmoun deep into stoppage time.
Leverkusen next heads into a Europa League quarterfinal against Belgian club Union Saint-Gilloise on Thursday.
Cologne ended a six-game winless run by beating Augsburg 3-1.
Mainz drew with Werder Bremen 2-2 after a late flurry of goals, with all four scored after the 85th minute as Bremen twice leveled the score.
___
This story has been corrected to show Bayer Leverkusen beat Eintracht Frankfurt 3-1, not 2-1.
___
More AP soccer: https://apnews.com/hub/soccer and https://twitter.com/AP_Sports