Peru court sentences Van der Sloot to 28 years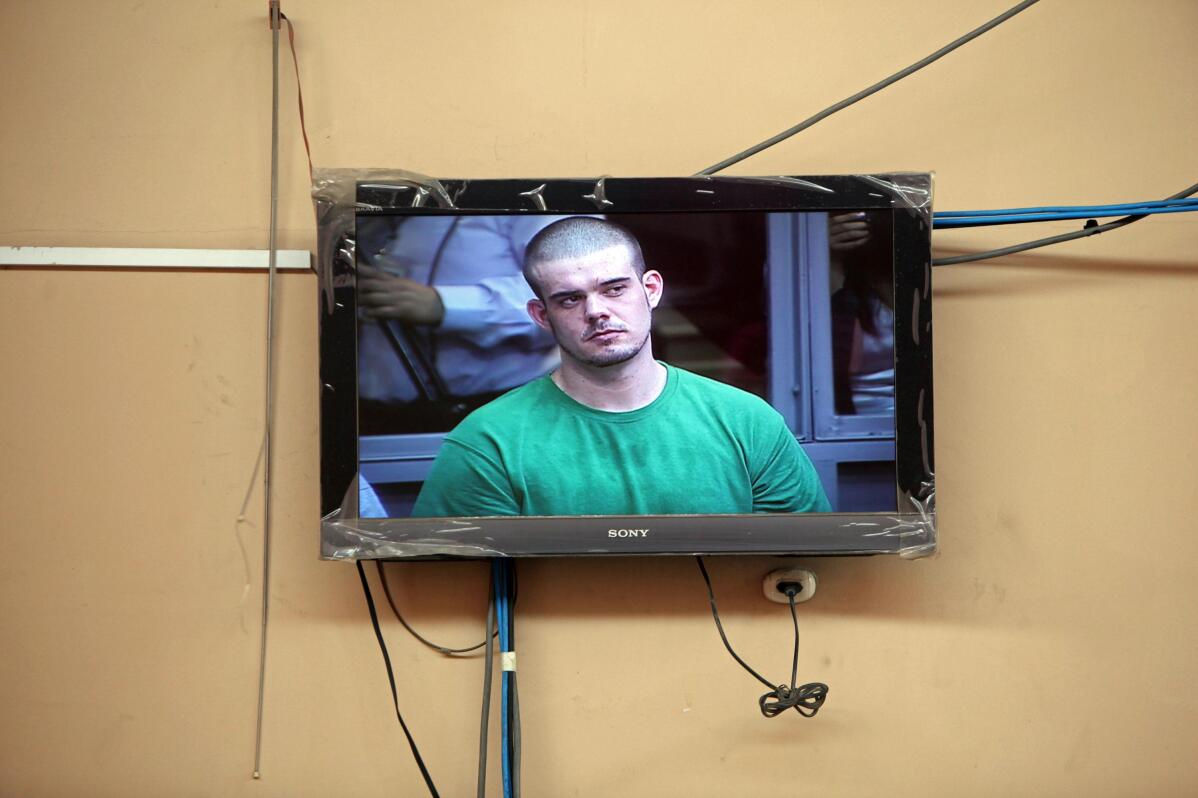 1 of 8

|
A live image of Joran van der Sloot is seen on a monitor outside the court in the press room during the reading of his sentence at San Pedro prison in Lima, Peru, Friday Jan. 13, 2012. The Peruvian court sentenced Joran van der Sloot to 28 years in prison for murder of a young woman he met at a Lima casino, as the family of U.S. teenager Natalee Holloway sought to have him prosecuted in the U.S. over her disappearance in 2005. (AP Photo/Karel Navarro)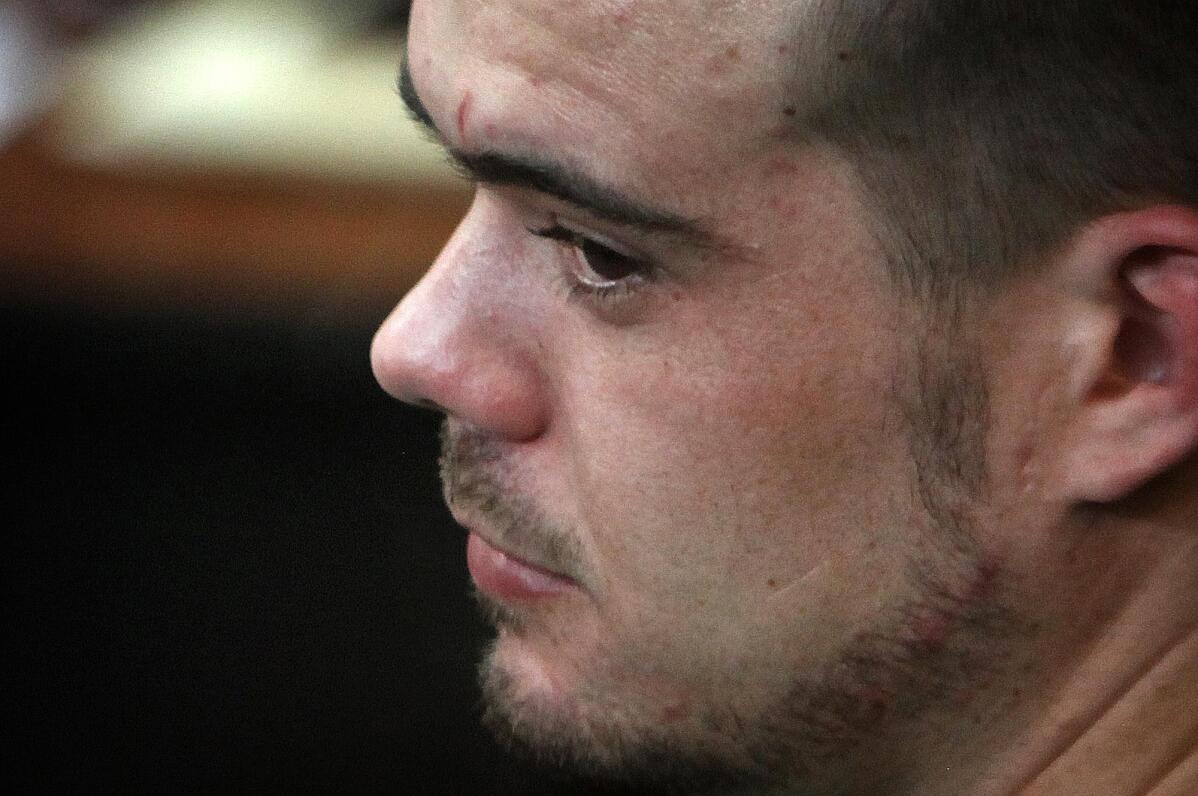 2 of 8

|
Joran van der Sloot sits in the courtroom before his sentencing at San Pedro prison in Lima, Peru, Friday Jan. 13, 2012. Van der Sloot, 24, will be sentenced Friday for the 2010 murder of Stephany Flores, a young woman he met at a Lima casino. Prosecutors have asked for a 30-year sentence for first-degree murder and theft. The Dutchman remains the prime suspect in the case of the unsolved disappearance of U.S. teen Natalee Holloway on the Caribbean island of Aruba and Holloway's parents want him extradited to the United States to be tried on related charges. (AP Photo/Karel Navarro)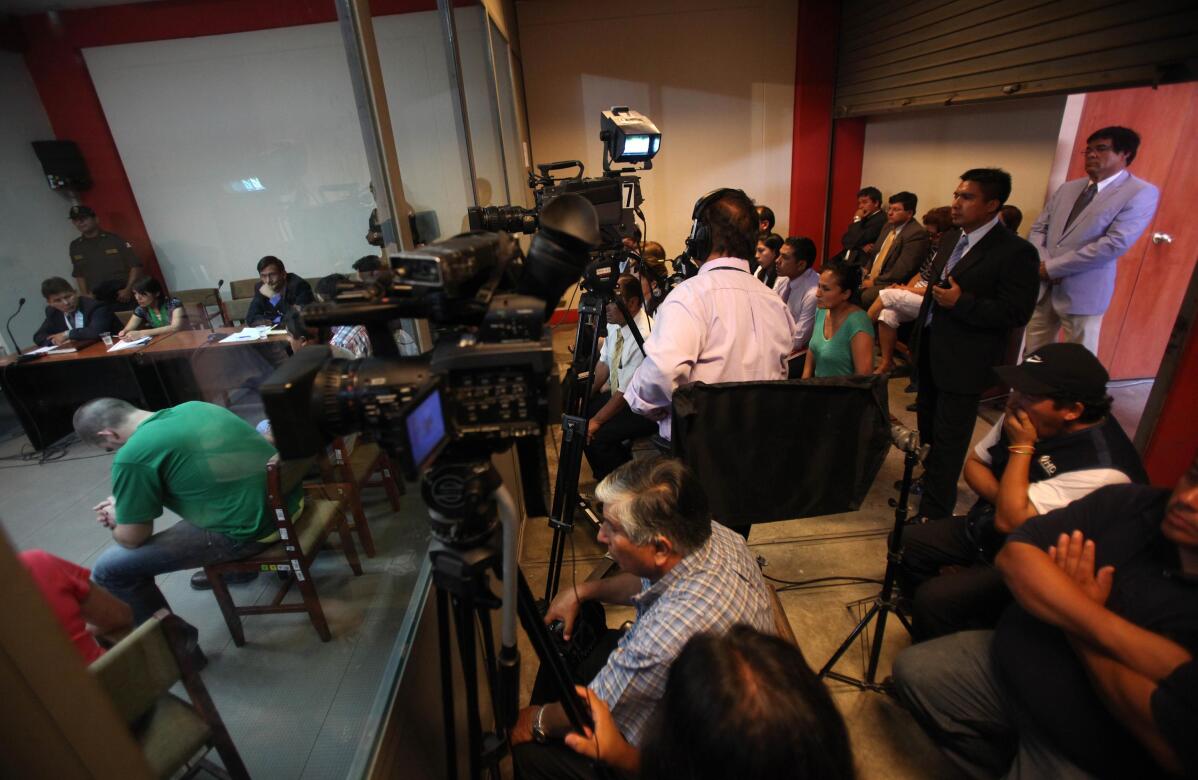 3 of 8

|
Joran van der Sloot, left, looks down in the courtroom as Ricardo Flores, father of Stephany Flores, far right, attends the sentencing for Van der Sloot at San Pedro prison in Lima, Peru, Friday, Jan. 13, 2012. The Peruvian court on Friday sentenced Joran van der Sloot to 28 years in prison for murder of Stephany Flores, a young woman he met at a Lima casino, as the family of U.S. teenager Natalee Holloway sought to have him prosecuted in the U.S. over her disappearance in 2005. (AP Photo/Karel Navarro)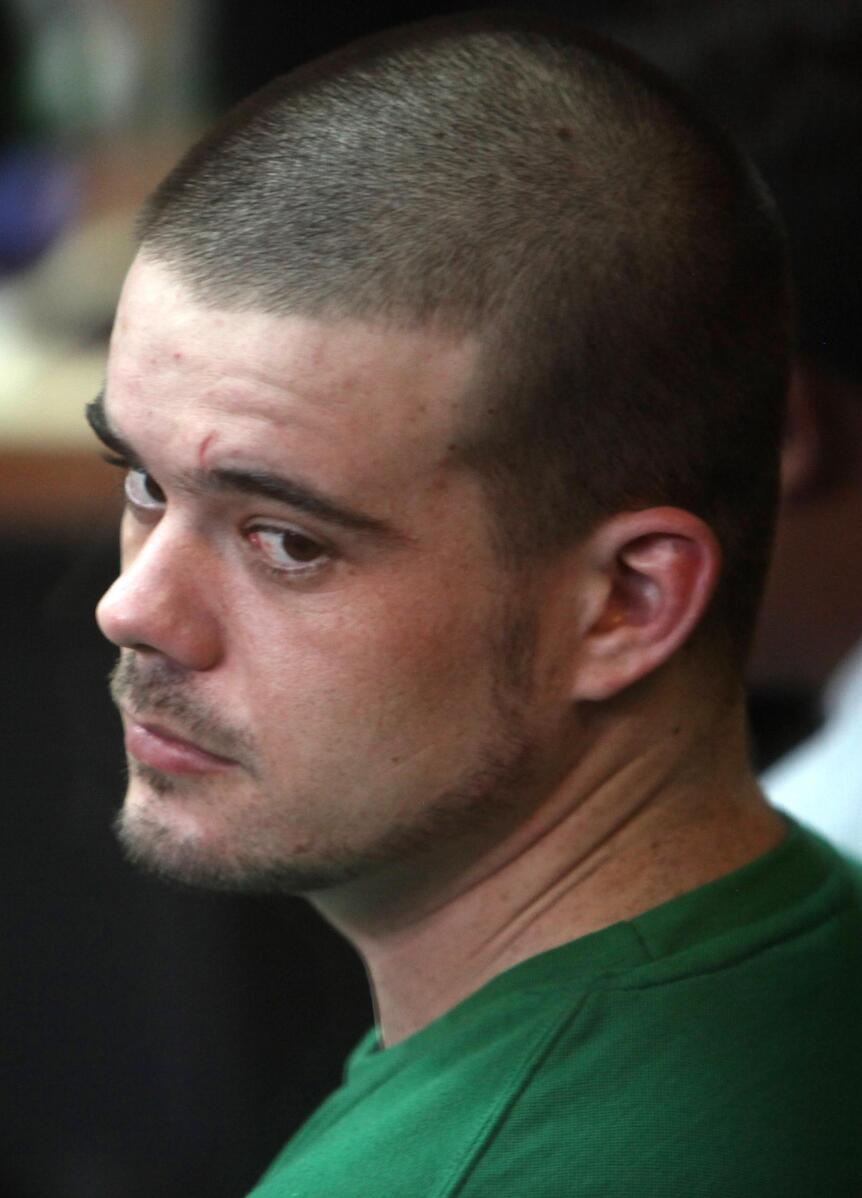 4 of 8

|
Joran van der Sloot looks over his shoulder after entering the courtroom for his sentence at San Pedro prison in Lima, Peru, Friday Jan. 13, 2012. Van der Sloot will be sentenced Friday for the 2010 murder of Stephany Flores, a young woman he met at a Lima casino. Prosecutors have asked for a 30-year sentence for first-degree murder and theft. (AP Photo/Karel Navarro)
5 of 8

|
Joran van der Sloot arrives to the courtroom for his sentence at San Pedro prison in Lima, Peru, Friday Jan. 13, 2012. Van der Sloot will be sentenced Friday for the 2010 murder of Stephany Flores, a young woman he met at a Lima casino. Prosecutors have asked for a 30-year sentence for first-degree murder and theft. (AP Photo/Karel Navarro)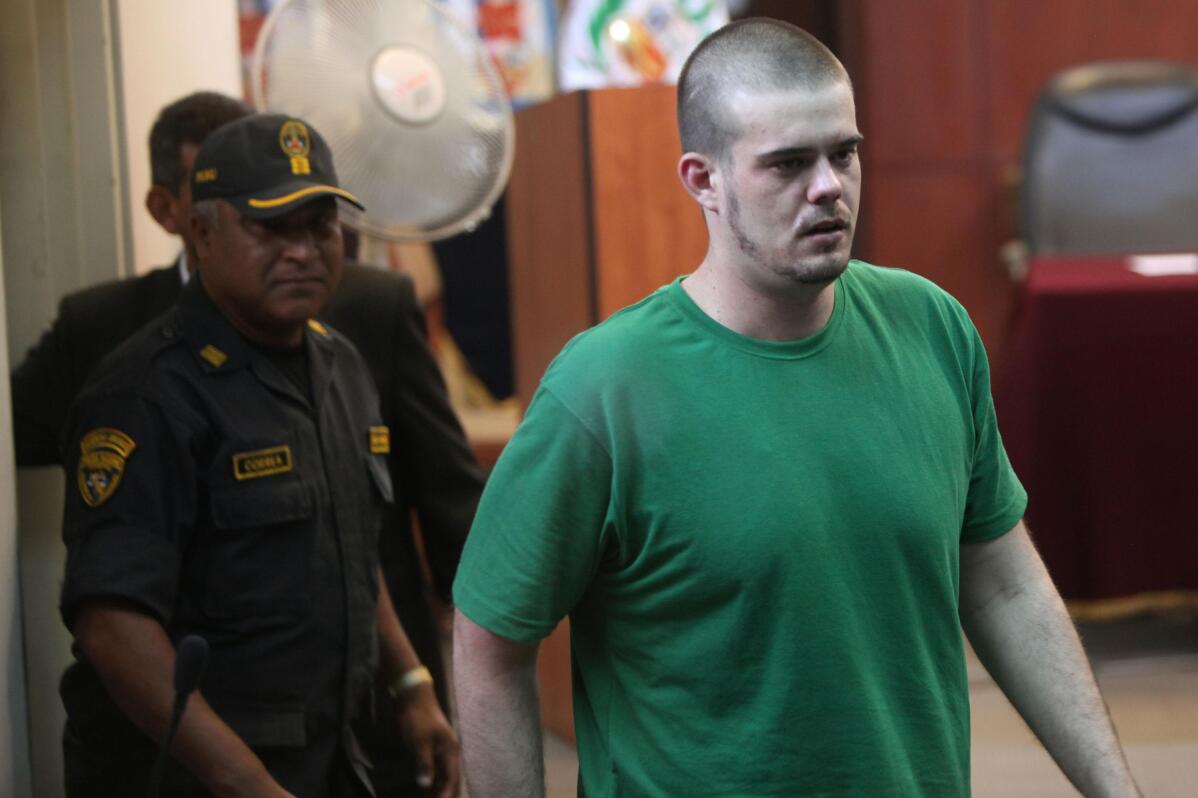 6 of 8

|
Joran van der Sloot, right, arrives to the courtroom for his sentence at San Pedro prison in Lima, Peru, Friday Jan. 13, 2012. Van der Sloot will be sentenced Friday for the 2010 murder of Stephany Flores, a young woman he met at a Lima casino. Prosecutors have asked for a 30-year sentence for first-degree murder and theft. (AP Photo/Karel Navarro)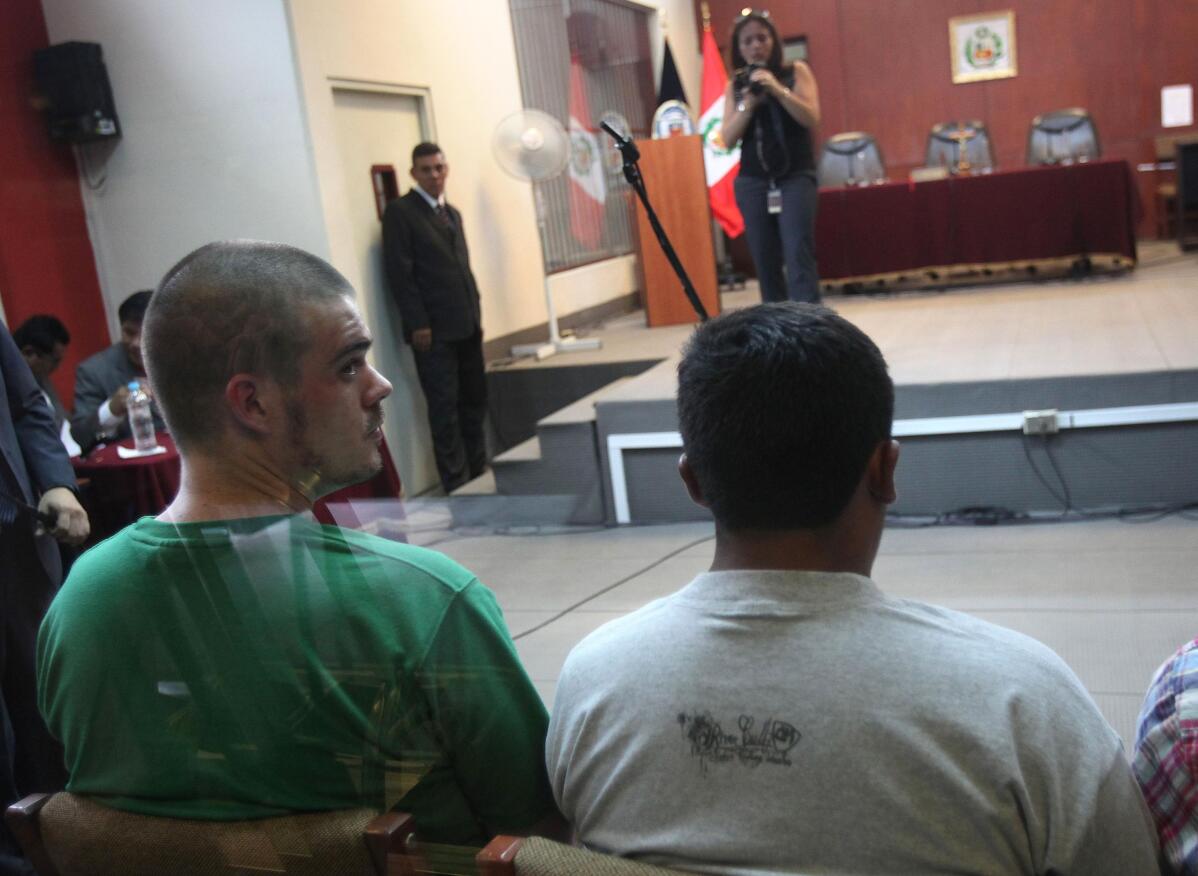 7 of 8

|
Joran van der Sloot, left, sits in the courtroom at San Pedro prison in Lima, Peru, Friday Jan. 13, 2012. Van der Sloot will be sentenced Friday for the 2010 murder of Stephany Flores, a young woman he met at a Lima casino. Prosecutors have asked for a 30-year sentence for first-degree murder and theft. (AP Photo/Karel Navarro)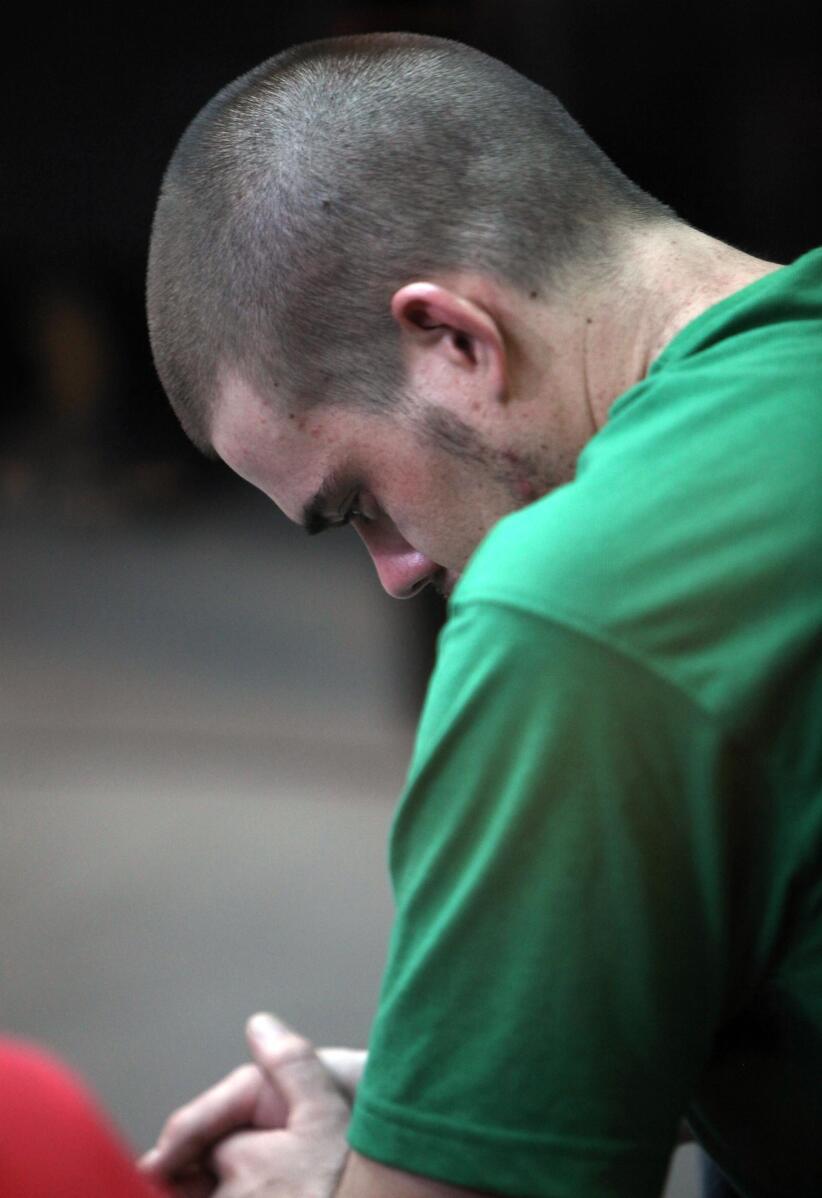 8 of 8

|
Joran van der Sloot sits in court before his sentencing at the San Pedro prison in Lima, Peru, Friday Jan. 13, 2012. The Peruvian court on Friday sentenced Joran van der Sloot to 28 years in prison for murder of a young woman he met at a Lima casino, as the family of U.S. teenager Natalee Holloway sought to have him prosecuted in the U.S. over her disappearance in 2005. (AP Photo/Karel Navarro)
Peru court sentences Van der Sloot to 28 years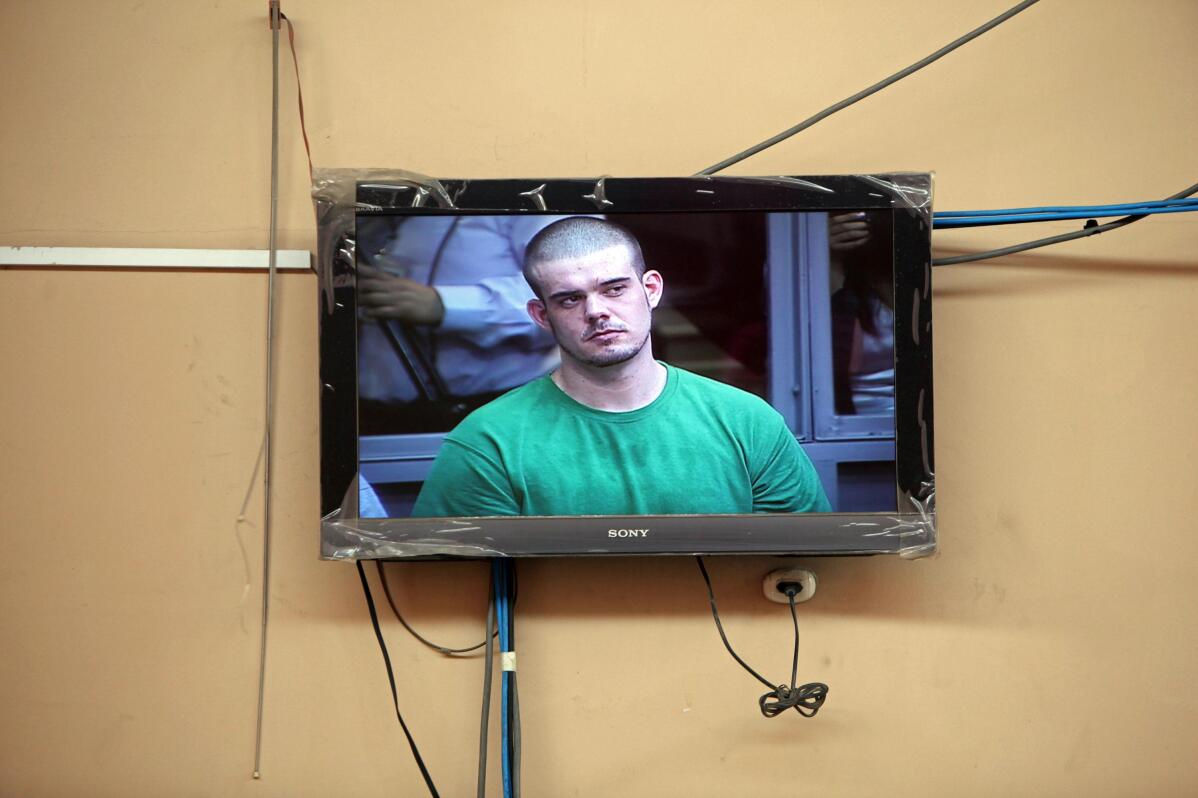 1 of 8

|
A live image of Joran van der Sloot is seen on a monitor outside the court in the press room during the reading of his sentence at San Pedro prison in Lima, Peru, Friday Jan. 13, 2012. The Peruvian court sentenced Joran van der Sloot to 28 years in prison for murder of a young woman he met at a Lima casino, as the family of U.S. teenager Natalee Holloway sought to have him prosecuted in the U.S. over her disappearance in 2005. (AP Photo/Karel Navarro)
1 of 8
A live image of Joran van der Sloot is seen on a monitor outside the court in the press room during the reading of his sentence at San Pedro prison in Lima, Peru, Friday Jan. 13, 2012. The Peruvian court sentenced Joran van der Sloot to 28 years in prison for murder of a young woman he met at a Lima casino, as the family of U.S. teenager Natalee Holloway sought to have him prosecuted in the U.S. over her disappearance in 2005. (AP Photo/Karel Navarro)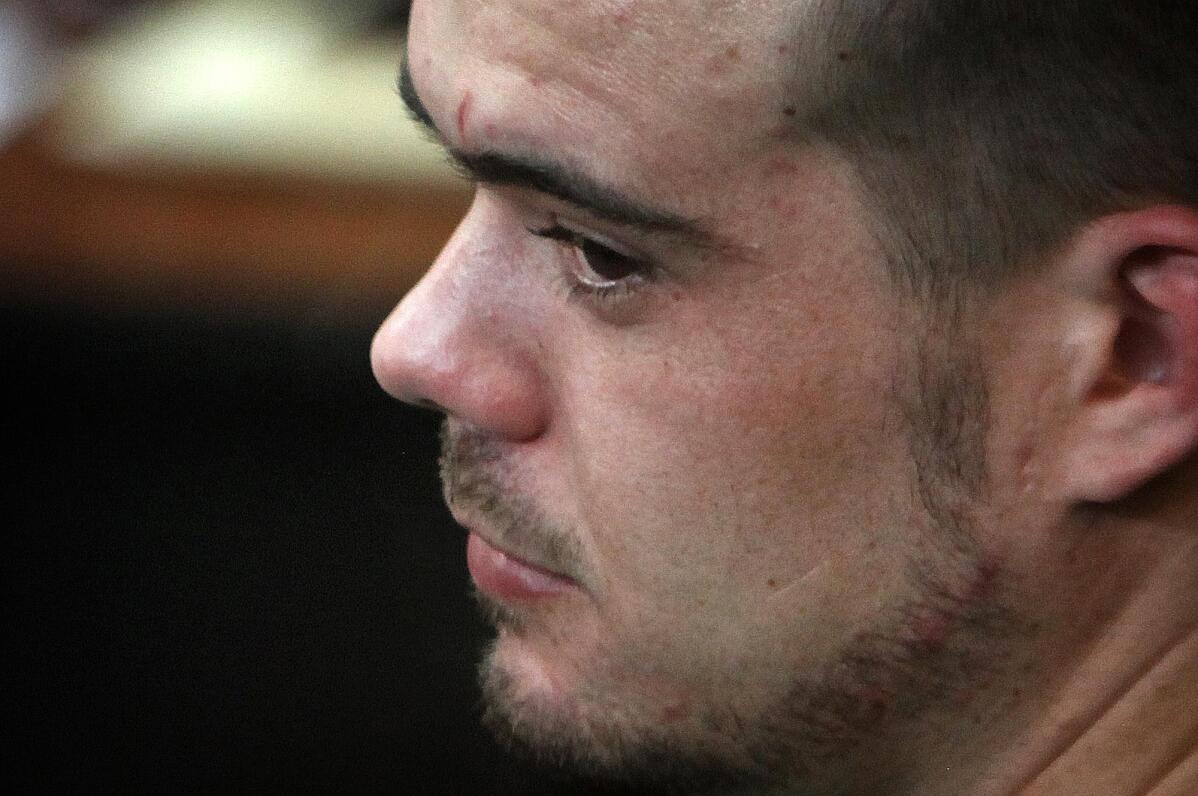 2 of 8

|
Joran van der Sloot sits in the courtroom before his sentencing at San Pedro prison in Lima, Peru, Friday Jan. 13, 2012. Van der Sloot, 24, will be sentenced Friday for the 2010 murder of Stephany Flores, a young woman he met at a Lima casino. Prosecutors have asked for a 30-year sentence for first-degree murder and theft. The Dutchman remains the prime suspect in the case of the unsolved disappearance of U.S. teen Natalee Holloway on the Caribbean island of Aruba and Holloway's parents want him extradited to the United States to be tried on related charges. (AP Photo/Karel Navarro)
2 of 8
Joran van der Sloot sits in the courtroom before his sentencing at San Pedro prison in Lima, Peru, Friday Jan. 13, 2012. Van der Sloot, 24, will be sentenced Friday for the 2010 murder of Stephany Flores, a young woman he met at a Lima casino. Prosecutors have asked for a 30-year sentence for first-degree murder and theft. The Dutchman remains the prime suspect in the case of the unsolved disappearance of U.S. teen Natalee Holloway on the Caribbean island of Aruba and Holloway's parents want him extradited to the United States to be tried on related charges. (AP Photo/Karel Navarro)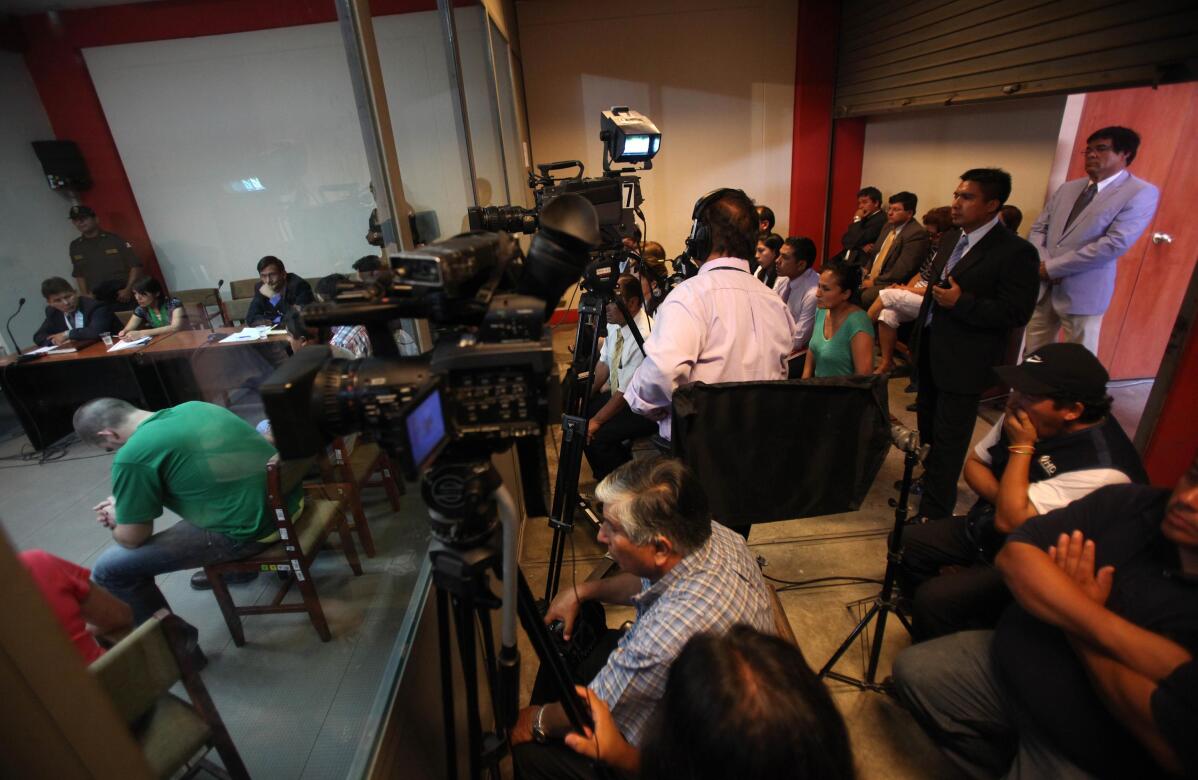 3 of 8

|
Joran van der Sloot, left, looks down in the courtroom as Ricardo Flores, father of Stephany Flores, far right, attends the sentencing for Van der Sloot at San Pedro prison in Lima, Peru, Friday, Jan. 13, 2012. The Peruvian court on Friday sentenced Joran van der Sloot to 28 years in prison for murder of Stephany Flores, a young woman he met at a Lima casino, as the family of U.S. teenager Natalee Holloway sought to have him prosecuted in the U.S. over her disappearance in 2005. (AP Photo/Karel Navarro)
3 of 8
Joran van der Sloot, left, looks down in the courtroom as Ricardo Flores, father of Stephany Flores, far right, attends the sentencing for Van der Sloot at San Pedro prison in Lima, Peru, Friday, Jan. 13, 2012. The Peruvian court on Friday sentenced Joran van der Sloot to 28 years in prison for murder of Stephany Flores, a young woman he met at a Lima casino, as the family of U.S. teenager Natalee Holloway sought to have him prosecuted in the U.S. over her disappearance in 2005. (AP Photo/Karel Navarro)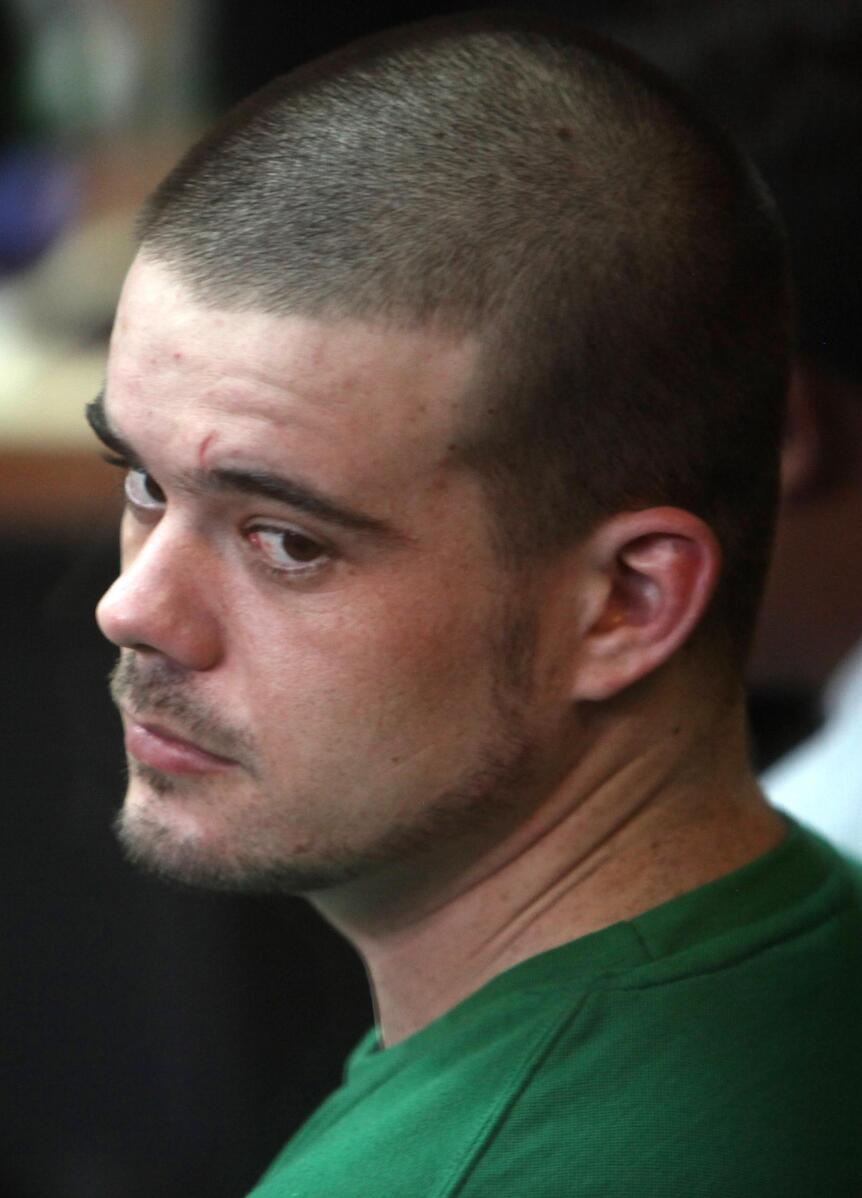 4 of 8

|
Joran van der Sloot looks over his shoulder after entering the courtroom for his sentence at San Pedro prison in Lima, Peru, Friday Jan. 13, 2012. Van der Sloot will be sentenced Friday for the 2010 murder of Stephany Flores, a young woman he met at a Lima casino. Prosecutors have asked for a 30-year sentence for first-degree murder and theft. (AP Photo/Karel Navarro)
4 of 8
Joran van der Sloot looks over his shoulder after entering the courtroom for his sentence at San Pedro prison in Lima, Peru, Friday Jan. 13, 2012. Van der Sloot will be sentenced Friday for the 2010 murder of Stephany Flores, a young woman he met at a Lima casino. Prosecutors have asked for a 30-year sentence for first-degree murder and theft. (AP Photo/Karel Navarro)
5 of 8

|
Joran van der Sloot arrives to the courtroom for his sentence at San Pedro prison in Lima, Peru, Friday Jan. 13, 2012. Van der Sloot will be sentenced Friday for the 2010 murder of Stephany Flores, a young woman he met at a Lima casino. Prosecutors have asked for a 30-year sentence for first-degree murder and theft. (AP Photo/Karel Navarro)
5 of 8
Joran van der Sloot arrives to the courtroom for his sentence at San Pedro prison in Lima, Peru, Friday Jan. 13, 2012. Van der Sloot will be sentenced Friday for the 2010 murder of Stephany Flores, a young woman he met at a Lima casino. Prosecutors have asked for a 30-year sentence for first-degree murder and theft. (AP Photo/Karel Navarro)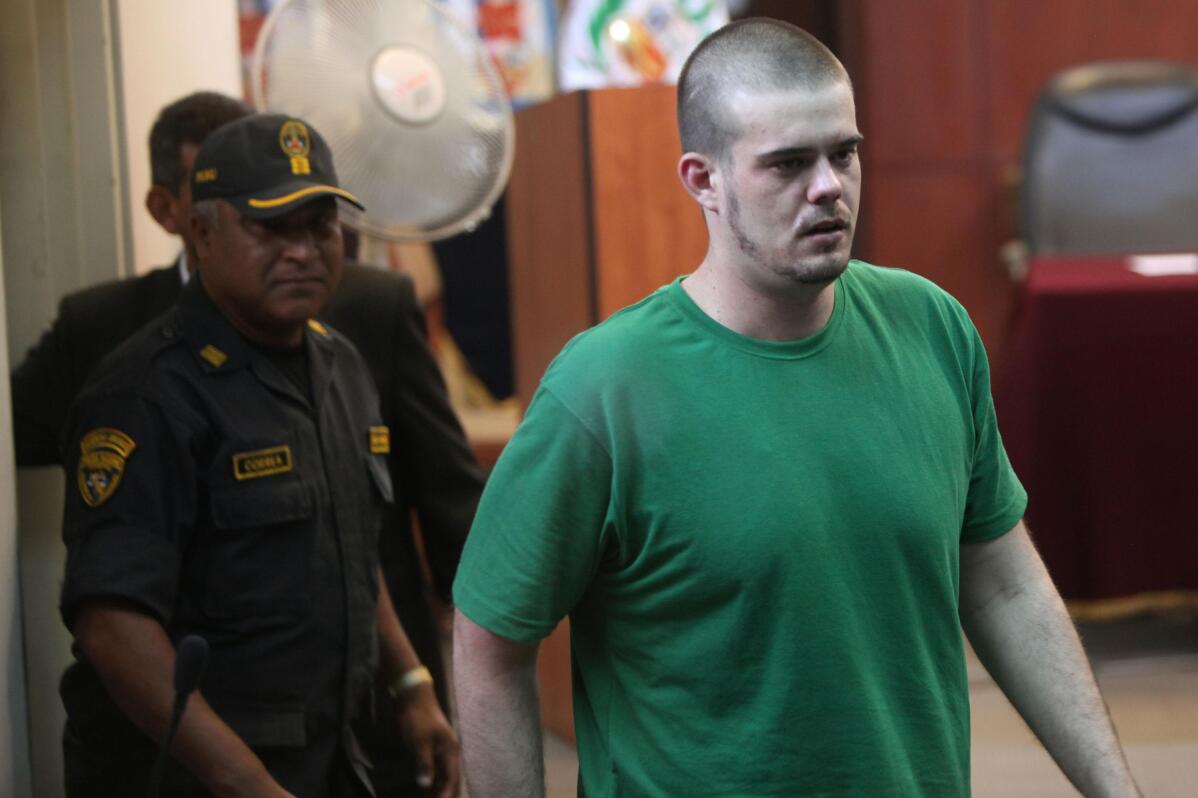 6 of 8

|
Joran van der Sloot, right, arrives to the courtroom for his sentence at San Pedro prison in Lima, Peru, Friday Jan. 13, 2012. Van der Sloot will be sentenced Friday for the 2010 murder of Stephany Flores, a young woman he met at a Lima casino. Prosecutors have asked for a 30-year sentence for first-degree murder and theft. (AP Photo/Karel Navarro)
6 of 8
Joran van der Sloot, right, arrives to the courtroom for his sentence at San Pedro prison in Lima, Peru, Friday Jan. 13, 2012. Van der Sloot will be sentenced Friday for the 2010 murder of Stephany Flores, a young woman he met at a Lima casino. Prosecutors have asked for a 30-year sentence for first-degree murder and theft. (AP Photo/Karel Navarro)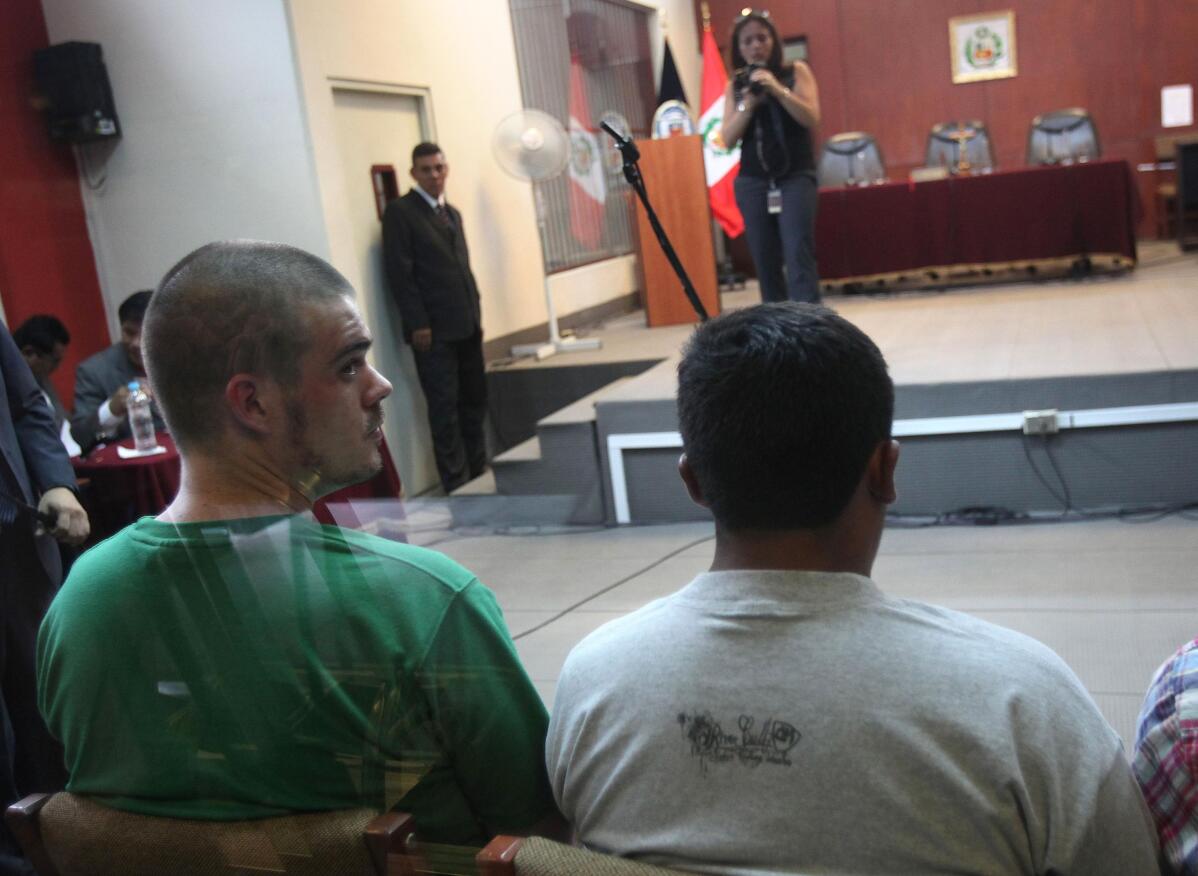 7 of 8

|
Joran van der Sloot, left, sits in the courtroom at San Pedro prison in Lima, Peru, Friday Jan. 13, 2012. Van der Sloot will be sentenced Friday for the 2010 murder of Stephany Flores, a young woman he met at a Lima casino. Prosecutors have asked for a 30-year sentence for first-degree murder and theft. (AP Photo/Karel Navarro)
7 of 8
Joran van der Sloot, left, sits in the courtroom at San Pedro prison in Lima, Peru, Friday Jan. 13, 2012. Van der Sloot will be sentenced Friday for the 2010 murder of Stephany Flores, a young woman he met at a Lima casino. Prosecutors have asked for a 30-year sentence for first-degree murder and theft. (AP Photo/Karel Navarro)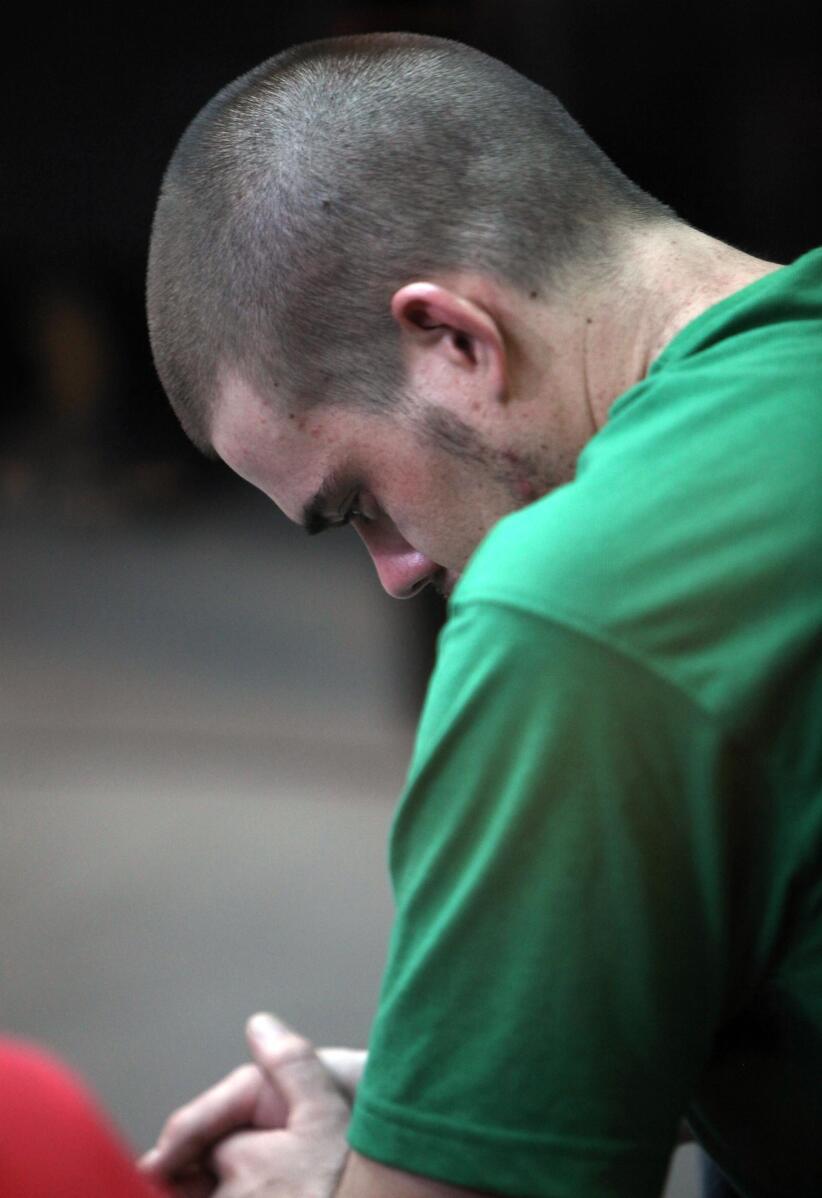 8 of 8

|
Joran van der Sloot sits in court before his sentencing at the San Pedro prison in Lima, Peru, Friday Jan. 13, 2012. The Peruvian court on Friday sentenced Joran van der Sloot to 28 years in prison for murder of a young woman he met at a Lima casino, as the family of U.S. teenager Natalee Holloway sought to have him prosecuted in the U.S. over her disappearance in 2005. (AP Photo/Karel Navarro)
8 of 8
Joran van der Sloot sits in court before his sentencing at the San Pedro prison in Lima, Peru, Friday Jan. 13, 2012. The Peruvian court on Friday sentenced Joran van der Sloot to 28 years in prison for murder of a young woman he met at a Lima casino, as the family of U.S. teenager Natalee Holloway sought to have him prosecuted in the U.S. over her disappearance in 2005. (AP Photo/Karel Navarro)
LIMA, Peru (AP) — Joran van der Sloot knew his guilty plea in the strangulation death of a young woman he met at a Lima casino was a big gamble as he tried to get a reduced sentence. On Friday, the poker-loving Dutchman lost.
A three-judge panel sentenced him to 28 years in prison, discarding his claims of contrition in a killing his lawyer said was triggered by trauma from being the prime suspect in the unsolved 2005 disappearance of U.S. teen Natalee Holloway.
Asked if he accepted the sentence, Van der Sloot, standing in a green T-shirt and faded jeans in a hot Lima courtroom, said he would appeal.
The sentencing marked the latest chapter in the tabloid-sustaining saga and came a day after a judge in Alabama declared Holloway legally dead as her parents try to bring Van der Sloot, 24, to the U.S. for a related crime.
"I believe he is beyond rehabilitation," Dave Holloway in Birmingham, Ala., after that hearing.
The Peruvian judges said Friday that due to time already served, van der Sloot's sentence would end in June 2038.
While the parents of Holloway and Flores want him to experience the greater deprivation of a U.S. prison, they will have to wait for him to serve his time before any extradition on U.S. charges related to his alleged extortion of Holloway's mother, a Peruvian legal expert said.
Late Friday, prison authorities told the AP that Van der Sloot had been transferred to the high-security Piedras Gordas prison in northern Lima in response to reports that he had enjoyed privileges like television, internet access and a cell phone in Castro Castro prison. Piedras Gordas holds local crime bosses and terrorism convicts, including Shining Path guerrillas.
"He will be in an individual cell at Piedras Gordas to give authorities greater control of him and cut off some of the facilities he has had in Castro Castro," said prison service spokeswoman Janeth Sanchez.
Earlier Friday, the three female judges showed no sign of believing his contrition for the May 2010 killing of Stephany Flores. Their sentence, which took a clerk nearly two hours to read as Van der Sloot repeatedly wiped sweat from his brow, said he was guilty of "first-degree murder with aggravating factors of ferocity and great cruelty."
Van der Sloot stood passively as the clerk detailed how he elbowed Flores, a 21-year-old business student, in the face, beat her repeatedly, then strangled her with his bloodied shirt.
Van der Sloot's expression didn't change when the sentence was rendered, including the judges' order to pay $75,000 in reparations to the victim's family. No members of Van der Sloot's family attended the trial.
It is the first sentence ever imposed on Van der Sloot despite repeated efforts to prove he was involved in Holloway's apparent death on the Dutch Caribbean island of Aruba where he grew up. She was last seen leaving a nightclub with him.
The Peruvian victim's father, Ricardo Flores, complained after the sentencing that Van der Sloot was living well in a Lima prison, where he has been segregated from the general population.
"A jail isn't a five-star hotel," Ricardo Flores told reporters. "Since the first day, we've been complaining about the excessive privileges" Van der Sloot allegedly enjoyed in jail.
Unconfirmed news reports, denied by penal authorities, say Van der Sloot has had a cell phone, television, a video gaming console and Internet access in his cell. A Peruvian TV station published a photo Friday it says was taken by Van der Sloot himself of his prison cell that shows a 42-inch LCD television, a Blu-ray player and an Internet modem.
Flores said that "everything they showed on the TV has been proven" but that he would not have documentation of it to present to the news media until Monday.
Van der Sloot's attorney, Jose Jimenez, said he is not familiar with his client's prison cell.
As in many developing nations, foreigners with money can buy superior treatment in Peru's prisons, including decent food, while the vast majority of inmates suffer overcrowding and constant peril from criminal gangs.
Under Peru's penal system, Van der Sloot could become eligible for parole after serving half the sentence with good behavior, including work and study. The judges specified that Van der Sloot, as a foreigner, be expelled from Peru after serving his sentence.
Peruvian criminal law expert Luis Lamas said Peru's legal code specifies that Van der Sloot serve his time before he can be extradited.
But Ken Randall, dean of University of Alabama law school, said he believes Peru's extradition treaty with the United States would allow for Van der Sloot to be extradited to the U.S. to stand trial on the extortion and fraud charges before his sentence ends.
"In this extraordinary case of Natalee Holloway, Peru would be well advised to do so," he said.
There is no indication U.S. officials have moved to seek to extradite Van der Sloot.
Van der Sloot was indicted on those charges in Alabama the same day he was arrested for the Flores murder. He is accused of accepting $25,000 in return for a promise to lead a lawyer for Holloway's mother to her daughter's remains.
Van der Sloot didn't deliver on the offer, and U.S. authorities say he may have used some of the money to fly to Peru two weeks before the Flores murder. After killing the Lima woman, he took nearly $300 in cash from Flores as well as credit cards, and was captured four days later in Chile.
Van der Sloot told police he flew into a rage when she discovered his connection to Holloway while they were playing online poker in his hotel room. He had received an instant message from someone about the case.
Police forensic experts disputed that story, and the judges who sentenced him noted that Van der Sloot later recanted the confession, claiming it was exacted under duress and without an official translator. The victim's family contends Van der Sloot killed Flores so he could rob her.
The imposing young man raised on a tourist island has been a staple of tabloids and true crime TV, as well as the subject of several books about Holloway.
The 18-year-old from a wealthy Birmingham suburb disappeared on May 30, 2005, during a high school graduation trip. Her body was never found and repeated searches turned up nothing even as the case garnered worldwide attention.
Van der Sloot said he was involved in her disappearance in a videotape clandestinely made by a Dutch journalist. He later denied it, however, and has told several interviewers that he is a pathological liar. A homicide investigation into her death remains open in Aruba though there has been no recent activity, officials said.
___
Associated Press Writers Martin Villena, Carla Salazar and Franklin Briceno contributed to this report.
___
Online:
AP interactive: http://hosted.ap.org/interactives/2012/natalee-holloway
___
Frank Bajak on Twitter: http://twitter.com/fbajak