Greek bailout talks to stretch into weekend
1 of 4

|
Greece's Finance Minister Yanis Varoufakis talks with a unionist during a protest by tax office employees outside the Finance ministry in Athens, Greece, Thursday, April 30, 2015. Varoufakis has indicated his country's left-wing government could make concessions on key demands by bailout lenders over the summer after a deal is reached to unlock remaining rescue funds. (AP Photo/Yorgos Karahalis)
2 of 4

|
A tax office employee shouts slogans during a protest over salary issues in his sector outside the Finance ministry in Athens, Greece, Thursday, April 30, 2015. Greek Finance Minister Yanis Varoufakis has indicated his country's left-wing government could make concessions on key demands by bailout lenders over the summer, after a deal is reached to unlock pending rescue funds. (AP Photo/Yorgos Karahalis)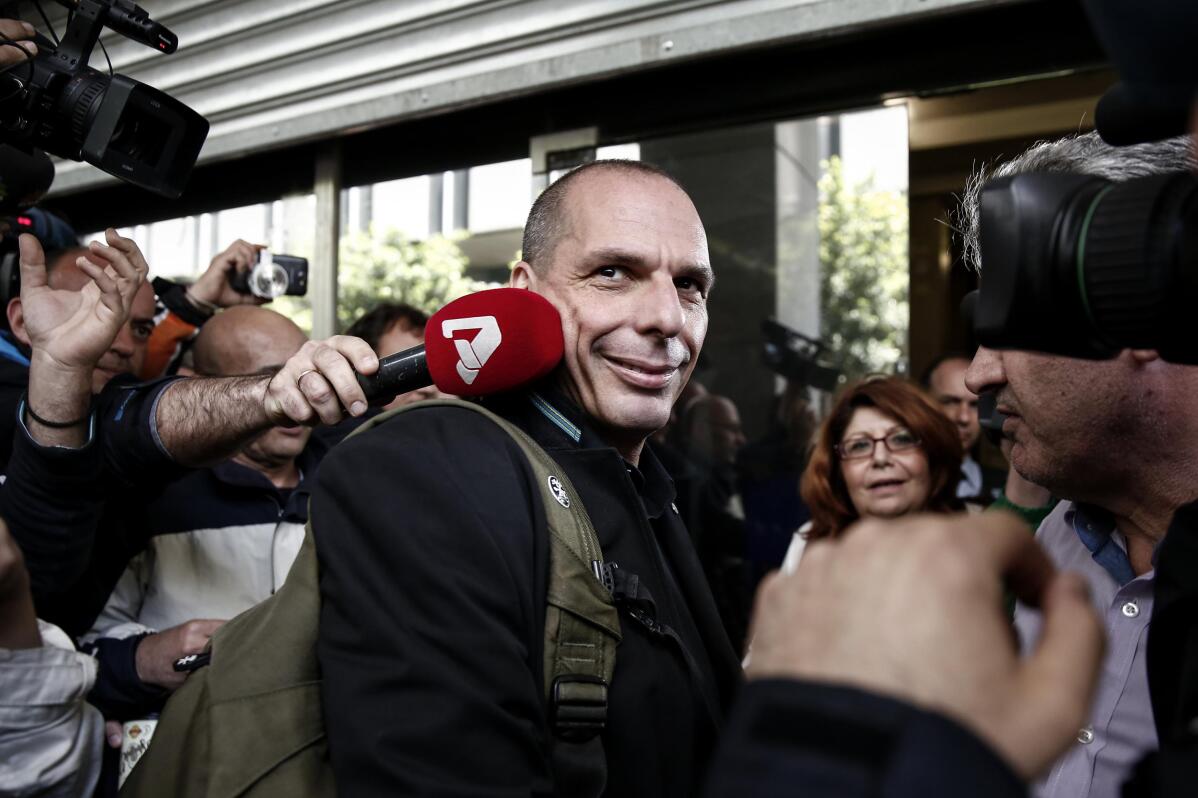 3 of 4

|
Greece's Finance Minister Yanis Varoufakis is surrounded by protesters and media workers as he arrives at the Finance ministry in Athens, Greece, Thursday, April 30, 2015. Varoufakis has indicated his country's left-wing government could make concessions on key demands by bailout lenders over the summer after a deal is reached to unlock remaining rescue funds. (AP Photo/Yorgos Karahalis)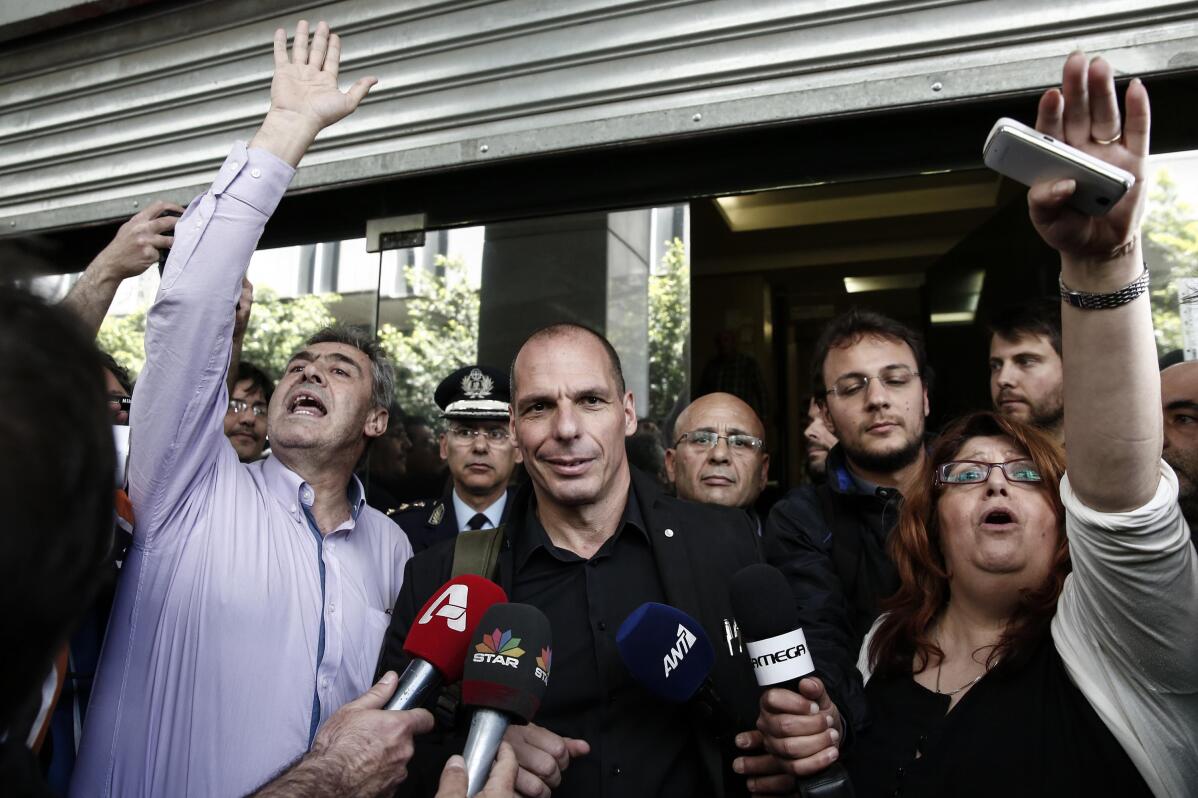 4 of 4

|
Greece's Finance Minister Yanis Varoufakis, center, is surrounded by protesters and media workers outside the Finance ministry in Athens, Greece, Thursday, April 30, 2015. Varoufakis has indicated his country's left-wing government could make concessions on key demands by bailout lenders over the summer after a deal is reached to unlock remaining rescue funds. (AP Photo/Yorgos Karahalis)
Greek bailout talks to stretch into weekend
1 of 4

|
Greece's Finance Minister Yanis Varoufakis talks with a unionist during a protest by tax office employees outside the Finance ministry in Athens, Greece, Thursday, April 30, 2015. Varoufakis has indicated his country's left-wing government could make concessions on key demands by bailout lenders over the summer after a deal is reached to unlock remaining rescue funds. (AP Photo/Yorgos Karahalis)
1 of 4
Greece's Finance Minister Yanis Varoufakis talks with a unionist during a protest by tax office employees outside the Finance ministry in Athens, Greece, Thursday, April 30, 2015. Varoufakis has indicated his country's left-wing government could make concessions on key demands by bailout lenders over the summer after a deal is reached to unlock remaining rescue funds. (AP Photo/Yorgos Karahalis)
2 of 4

|
A tax office employee shouts slogans during a protest over salary issues in his sector outside the Finance ministry in Athens, Greece, Thursday, April 30, 2015. Greek Finance Minister Yanis Varoufakis has indicated his country's left-wing government could make concessions on key demands by bailout lenders over the summer, after a deal is reached to unlock pending rescue funds. (AP Photo/Yorgos Karahalis)
2 of 4
A tax office employee shouts slogans during a protest over salary issues in his sector outside the Finance ministry in Athens, Greece, Thursday, April 30, 2015. Greek Finance Minister Yanis Varoufakis has indicated his country's left-wing government could make concessions on key demands by bailout lenders over the summer, after a deal is reached to unlock pending rescue funds. (AP Photo/Yorgos Karahalis)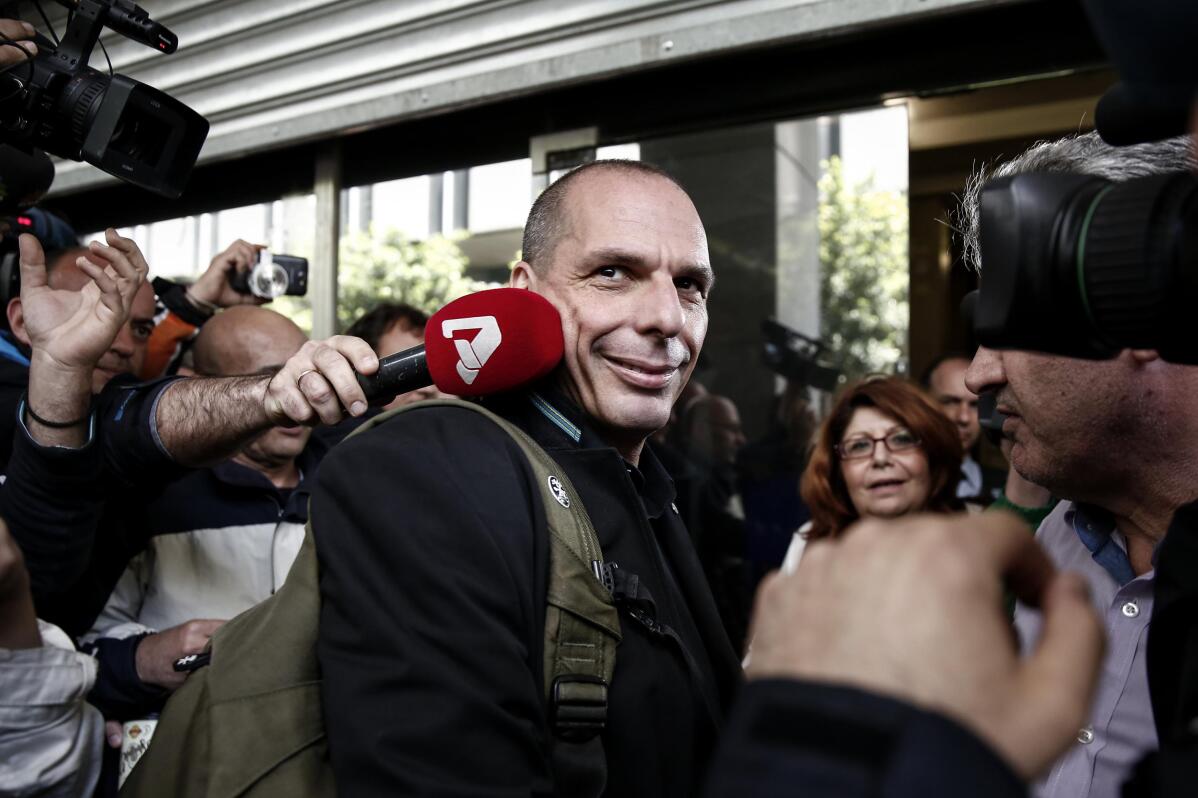 3 of 4

|
Greece's Finance Minister Yanis Varoufakis is surrounded by protesters and media workers as he arrives at the Finance ministry in Athens, Greece, Thursday, April 30, 2015. Varoufakis has indicated his country's left-wing government could make concessions on key demands by bailout lenders over the summer after a deal is reached to unlock remaining rescue funds. (AP Photo/Yorgos Karahalis)
3 of 4
Greece's Finance Minister Yanis Varoufakis is surrounded by protesters and media workers as he arrives at the Finance ministry in Athens, Greece, Thursday, April 30, 2015. Varoufakis has indicated his country's left-wing government could make concessions on key demands by bailout lenders over the summer after a deal is reached to unlock remaining rescue funds. (AP Photo/Yorgos Karahalis)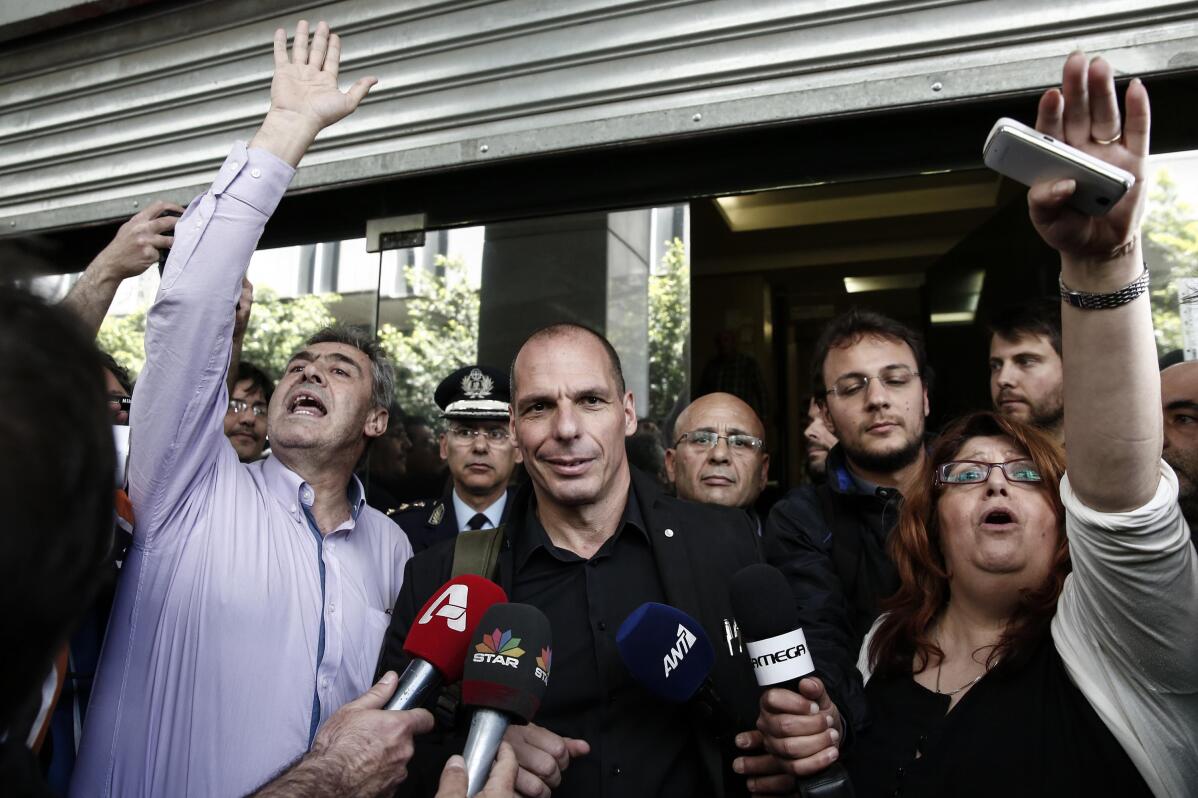 4 of 4

|
Greece's Finance Minister Yanis Varoufakis, center, is surrounded by protesters and media workers outside the Finance ministry in Athens, Greece, Thursday, April 30, 2015. Varoufakis has indicated his country's left-wing government could make concessions on key demands by bailout lenders over the summer after a deal is reached to unlock remaining rescue funds. (AP Photo/Yorgos Karahalis)
4 of 4
Greece's Finance Minister Yanis Varoufakis, center, is surrounded by protesters and media workers outside the Finance ministry in Athens, Greece, Thursday, April 30, 2015. Varoufakis has indicated his country's left-wing government could make concessions on key demands by bailout lenders over the summer after a deal is reached to unlock remaining rescue funds. (AP Photo/Yorgos Karahalis)
ATHENS, Greece (AP) — Greece has entered a new round of bailout talks with creditors that are expected to stretch into the weekend, but insists it is not ready to make key concessions despite facing a major debt repayment soon.
"My answer is simple: No, no, no," Finance Minister Yanis Varoufakis told private Sto Kokkino radio on Thursday, referring to key reforms demanded by bailout lenders.
The creditors have for three months been trying to get Greece to agree to a list of budget measures before they accept to pay it the remaining 7.2 billion euros ($8 billion) installment of its bailout program.
Without the money, Greece is not sure to be able to meet a repayment to the International Monetary Fund on May 12 worth some 750 million euros ($840 million).
Rescue creditors argue the country has fallen behind on long-terms reforms that would allow it to get back on its feet: lowering state funding for pensions, increasing turnover of staff in state jobs, further dismantling job protection rules, and simplifying sales-tax rates.
But Greece's left-wing government argues the reforms cannot continue with the same speed and severity as in previous years, after the country suffered a drastic drop in output and increase in unemployment.
In Brussels, EU Commission spokesman Margaritis Schinas said negotiations involving representatives from eurozone nations, the European Central Bank and the International Monetary Fund had started and would stretch into the weekend.
"They are being held in a constructive spirit," he said.
A eurozone official who asked not to be identified because the talks were ongoing said that if there was a breakthrough at the negotiations a meeting of finance ministers could be convened at short notice, even before the regularly scheduled one of May 11.
Varoufakis indicated his government could make concessions — but only in the summer, after an initial deal is reached to unlock the 7.2 billion euros.
"After June, we are willing to look at many issues," Varoufakis told Sto Kokkino radio in Athens. He signaled, for example, he'd be willing to raise some sales tax rates.
The confrontation between Athens and its creditors has taken its toll on the fragile Greek economy.
Late Wednesday, Moody's ratings agency further downgraded the country's sovereign rating to Caa2 from Caa1, two notches above default.
The main reason, it said, for the action was "the high uncertainty over whether Greece's government will reach an agreement with official creditors in time to meet upcoming repayments on marketable debt."
__
Cook reported from Brussels.