Asia Today: 4th-worst-hit India sees rural virus cases soar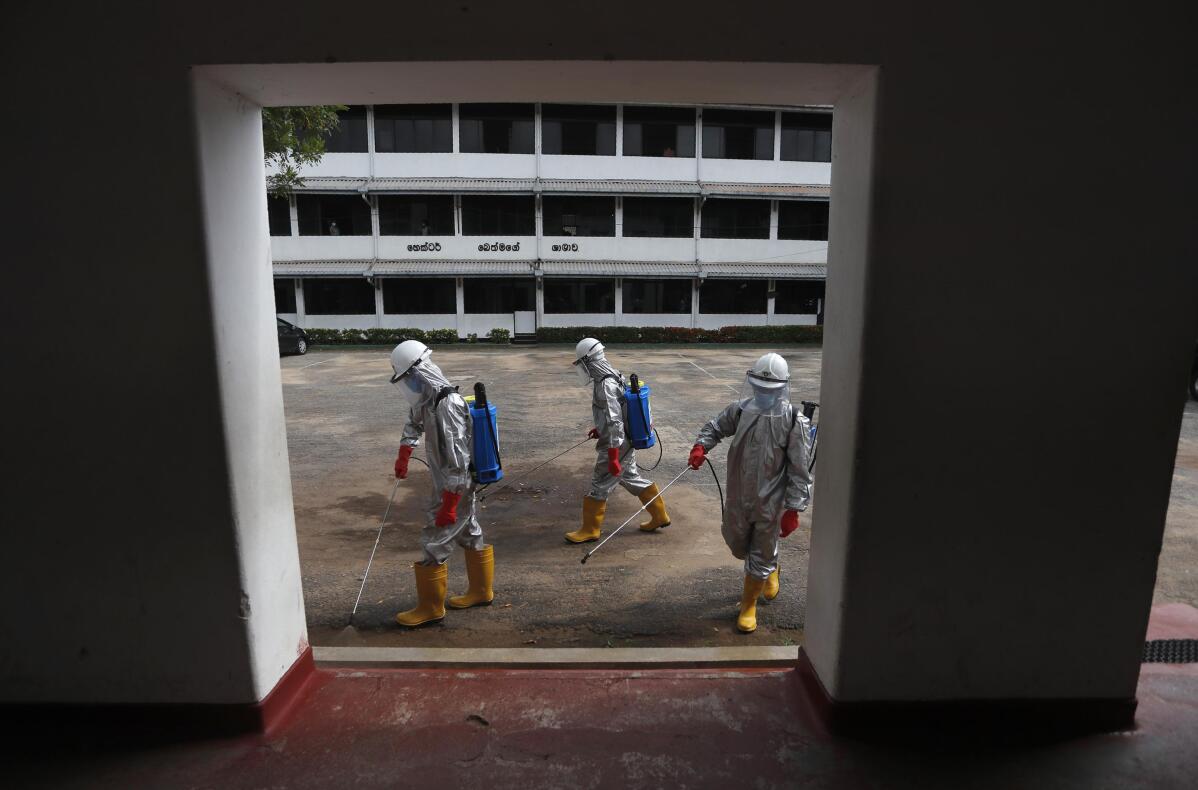 1 of 9

|
Members of Sri Lanka's St John's ambulance service spray disinfectants in a public school to prevent the spread of coronavirus in Colombo, Sri Lanka, Monday, June 22, 2020. (AP Photo/Eranga Jayawardena)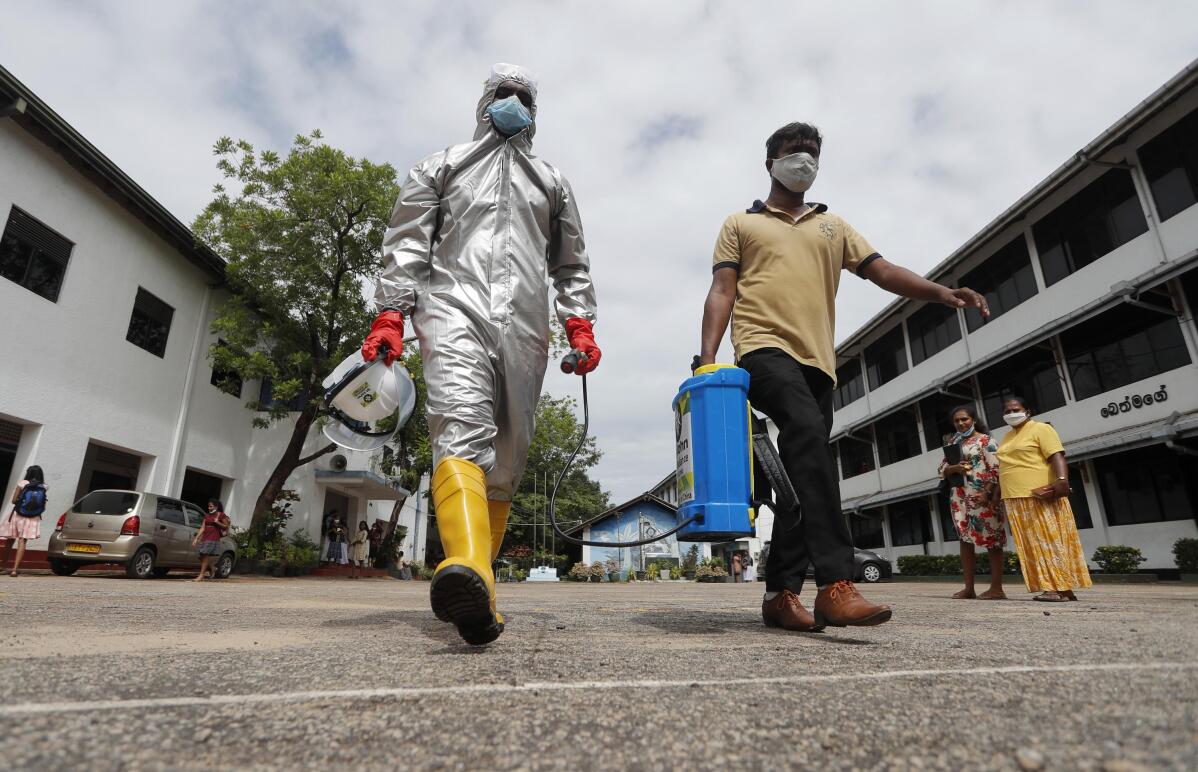 2 of 9

|
Members of Sri Lanka's St John's ambulance service carry a can of disinfectants as they spray them in a public school to prevent the spread of coronavirus in Colombo, Sri Lanka, Monday, June 22, 2020. (AP Photo/Eranga Jayawardena)
3 of 9

|
Commuters wearing protective face masks to help curb the spread of the new coronavirus line up to board a bus at a bus terminal in Beijing, Monday, June 22, 2020. A Beijing government spokesperson said the city has contained the momentum of a recent coronavirus outbreak that has infected a few hundreds of people, after the number of daily new cases fell to single digits. (AP Photo/Andy Wong)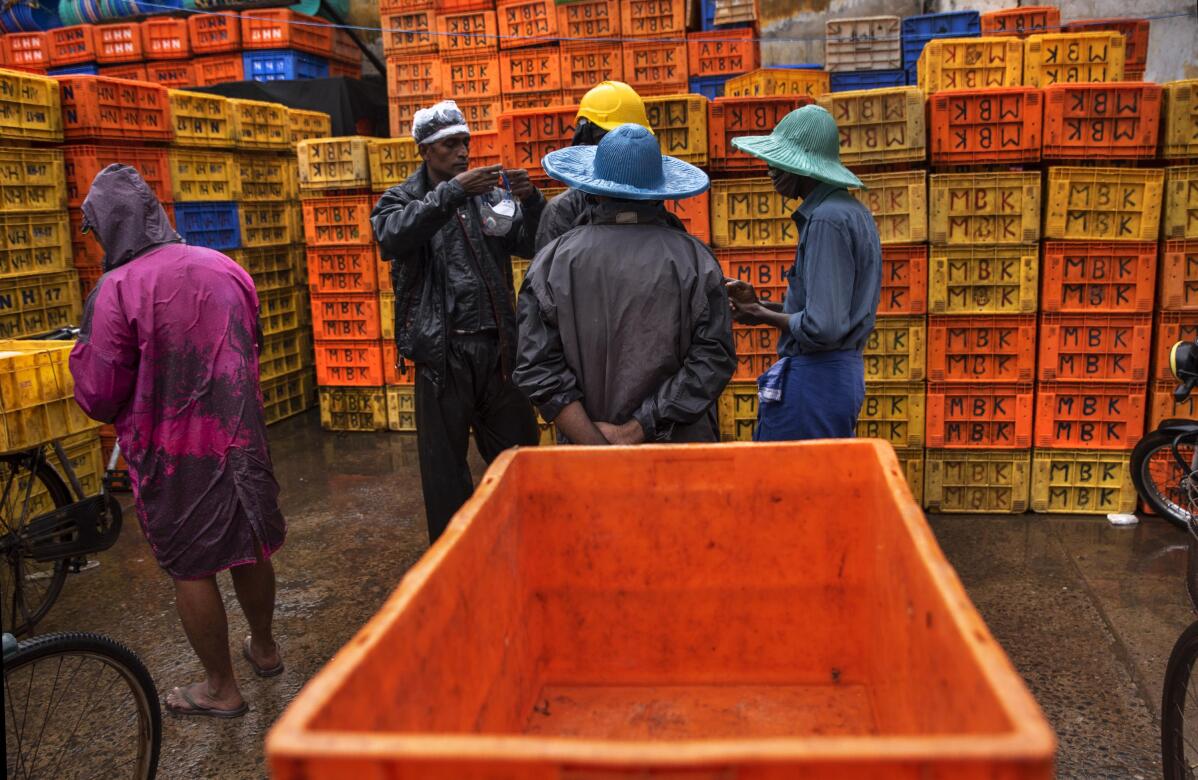 4 of 9

|
A man prepares to wear his mask as fish vendors chat on a rainy day in Kochi, Kerala state, India, Monday, June 22 2020. India is the fourth hardest-hit country by the COVID-19 pandemic in the world after the U.S., Russia and Brazil. (AP Photo/R S Iyer)
5 of 9

|
People wearing face masks to help protect against the spread of the new coronavirus pray during a service at the Chogyesa temple in South Korea, Monday, June 22, 2020. (AP Photo/Ahn Young-joon)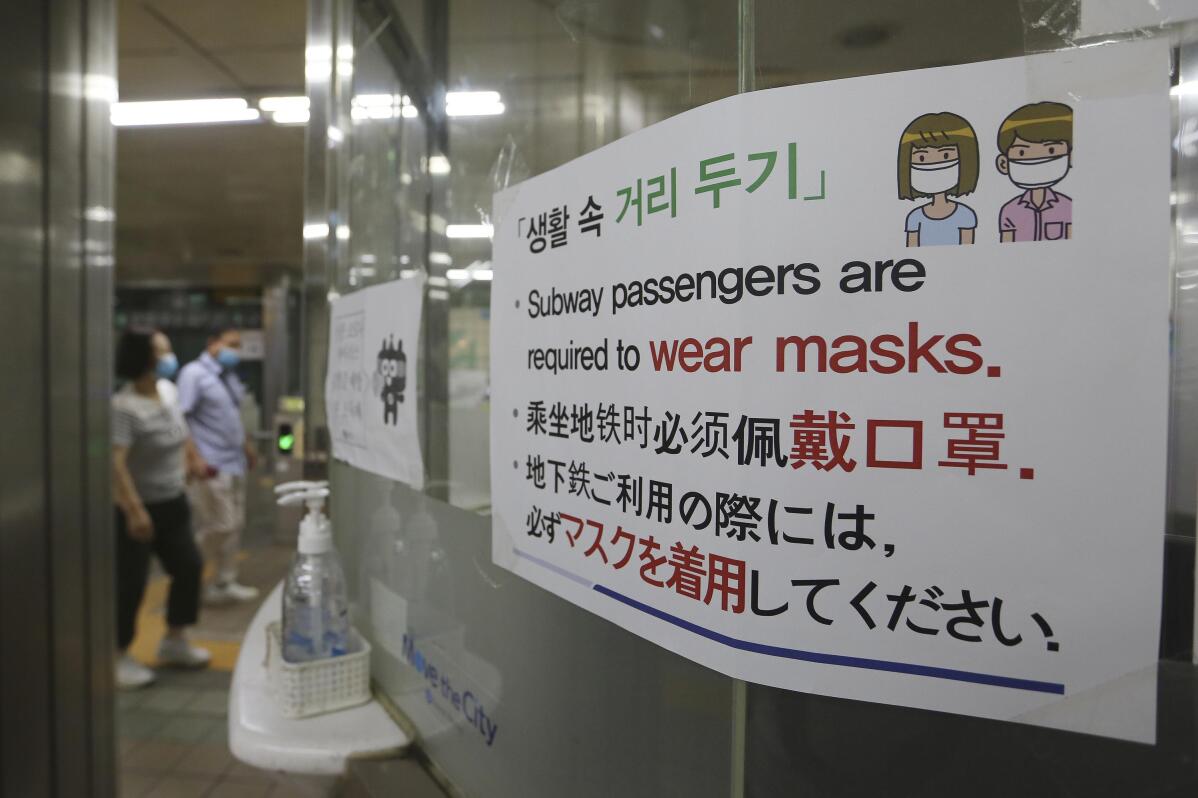 6 of 9

|
A notice on precautions against the new coronavirus is displayed at a subway station in South Korea, Monday, June 22, 2020. The sign at top reads: "Social distance." (AP Photo/Ahn Young-joon)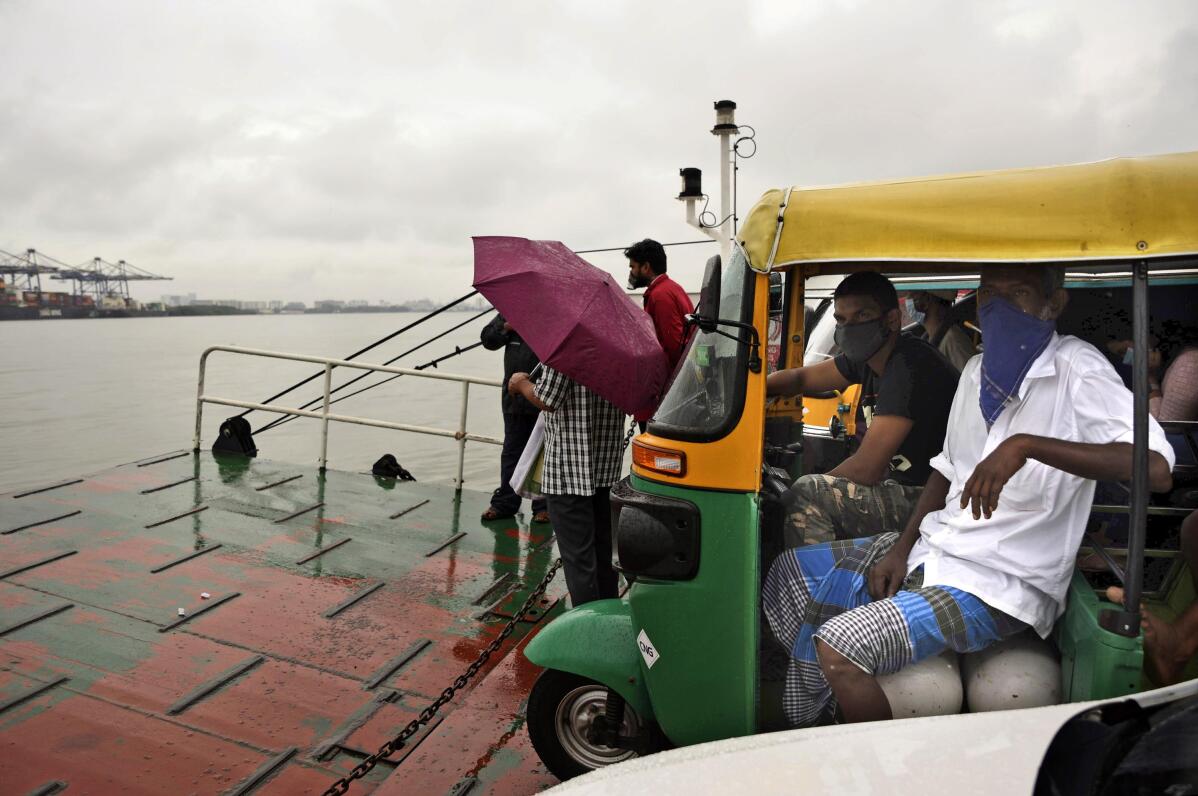 7 of 9

|
Commuters wearing masks as a precaution against the coronavirus travel in a ferry during rain in Kochi, Kerala state, India, Monday, June 22 2020. India is the fourth hardest-hit country by the COVID-19 pandemic in the world after the U.S., Russia and Brazil. (AP Photo/R S Iyer)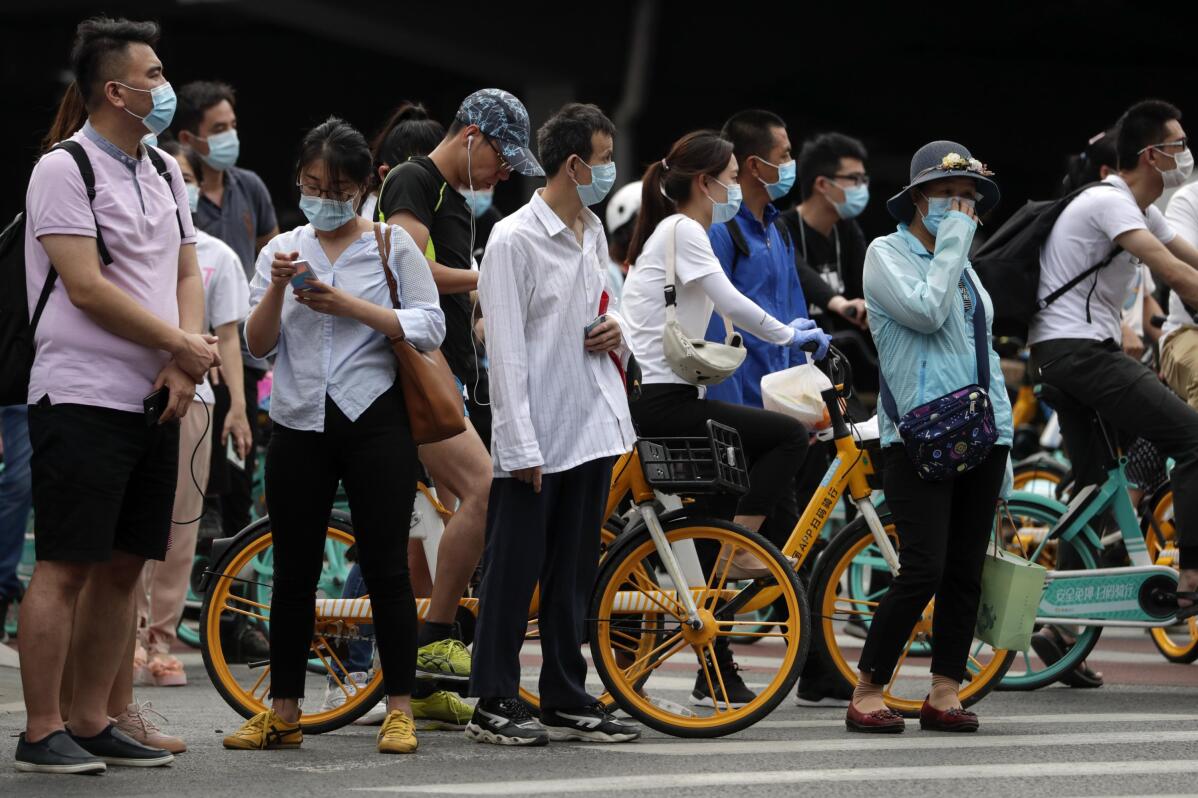 8 of 9

|
People wearing protective face masks to help curb the spread of the new coronavirus wait to cross a street in Beijing, Monday, June 22, 2020. A Beijing government spokesperson said the city has contained the momentum of a recent coronavirus outbreak that has infected a few hundreds of people, after the number of daily new cases fell to single digits. (AP Photo/Andy Wong)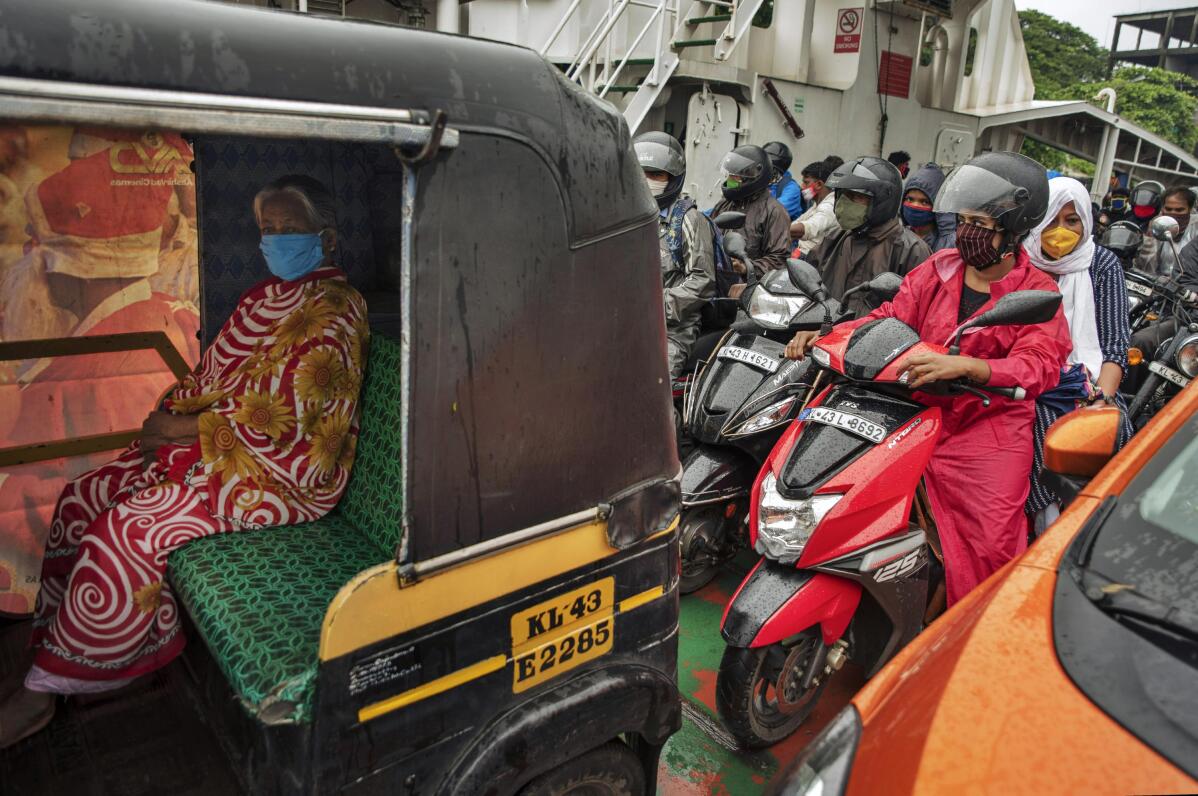 9 of 9

|
Commuters wearing masks as a precaution against the coronavirus travel in a ferry in Kochi, Kerala state, India, Monday, June 22 2020. India is the fourth hardest-hit country by the COVID-19 pandemic in the world after the U.S., Russia and Brazil. (AP Photo/R S Iyer)
Asia Today: 4th-worst-hit India sees rural virus cases soar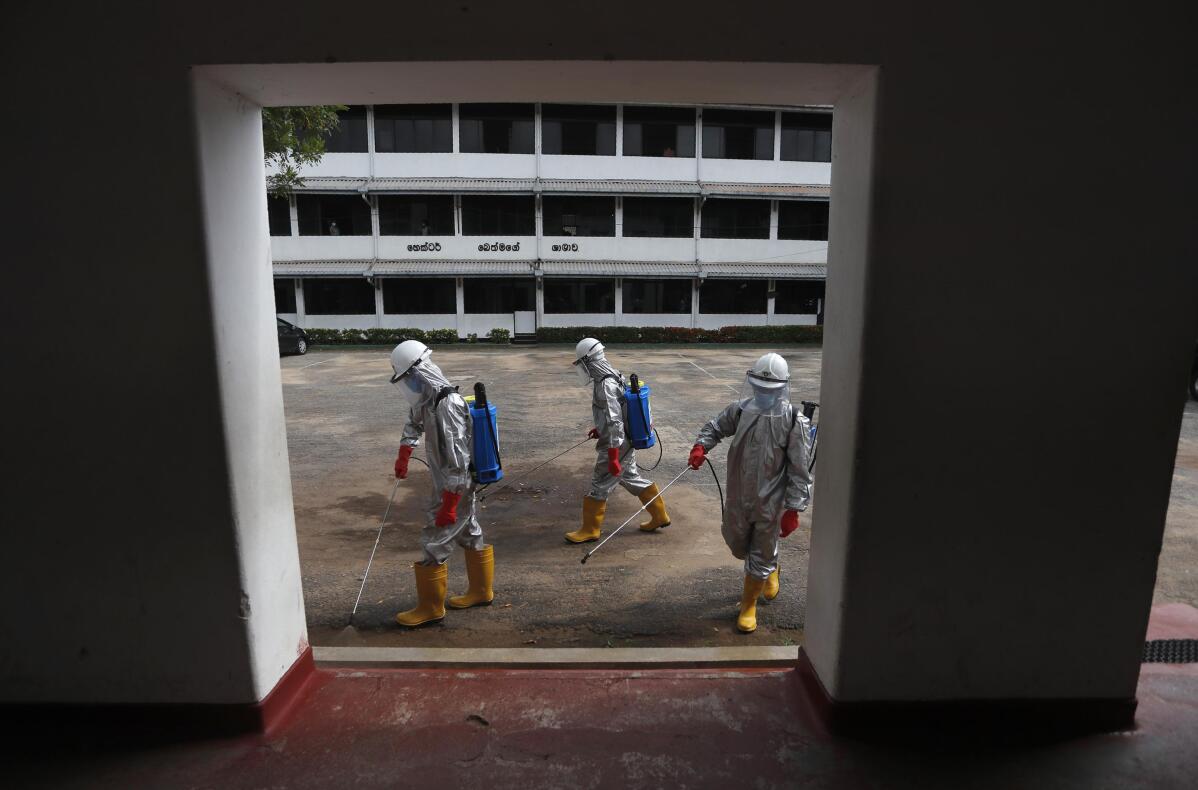 1 of 9

|
Members of Sri Lanka's St John's ambulance service spray disinfectants in a public school to prevent the spread of coronavirus in Colombo, Sri Lanka, Monday, June 22, 2020. (AP Photo/Eranga Jayawardena)
1 of 9
Members of Sri Lanka's St John's ambulance service spray disinfectants in a public school to prevent the spread of coronavirus in Colombo, Sri Lanka, Monday, June 22, 2020. (AP Photo/Eranga Jayawardena)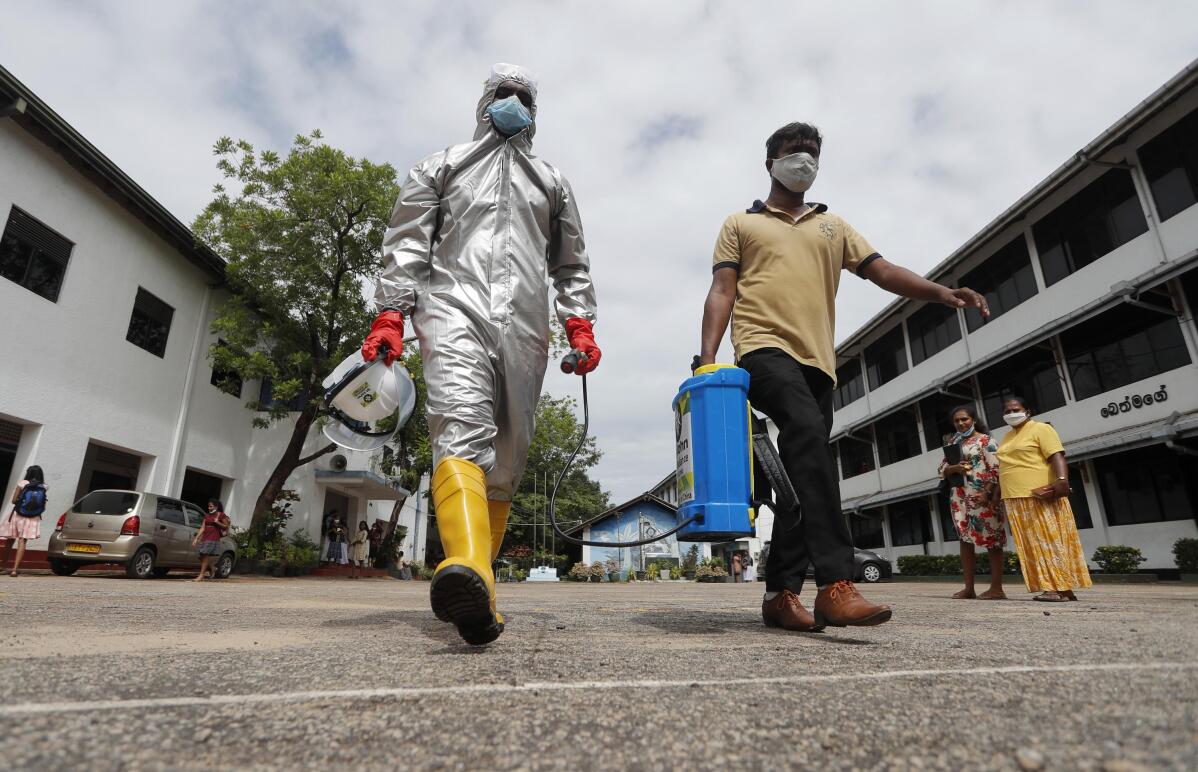 2 of 9

|
Members of Sri Lanka's St John's ambulance service carry a can of disinfectants as they spray them in a public school to prevent the spread of coronavirus in Colombo, Sri Lanka, Monday, June 22, 2020. (AP Photo/Eranga Jayawardena)
2 of 9
Members of Sri Lanka's St John's ambulance service carry a can of disinfectants as they spray them in a public school to prevent the spread of coronavirus in Colombo, Sri Lanka, Monday, June 22, 2020. (AP Photo/Eranga Jayawardena)
3 of 9

|
Commuters wearing protective face masks to help curb the spread of the new coronavirus line up to board a bus at a bus terminal in Beijing, Monday, June 22, 2020. A Beijing government spokesperson said the city has contained the momentum of a recent coronavirus outbreak that has infected a few hundreds of people, after the number of daily new cases fell to single digits. (AP Photo/Andy Wong)
3 of 9
Commuters wearing protective face masks to help curb the spread of the new coronavirus line up to board a bus at a bus terminal in Beijing, Monday, June 22, 2020. A Beijing government spokesperson said the city has contained the momentum of a recent coronavirus outbreak that has infected a few hundreds of people, after the number of daily new cases fell to single digits. (AP Photo/Andy Wong)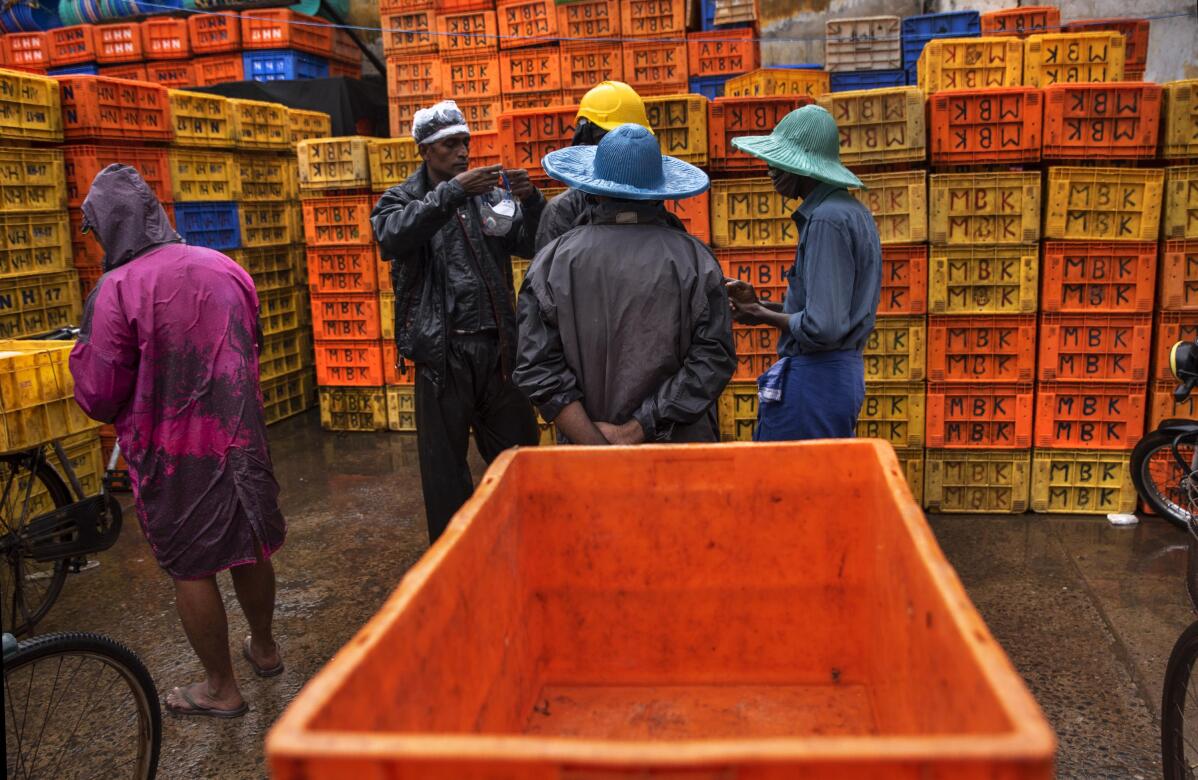 4 of 9

|
A man prepares to wear his mask as fish vendors chat on a rainy day in Kochi, Kerala state, India, Monday, June 22 2020. India is the fourth hardest-hit country by the COVID-19 pandemic in the world after the U.S., Russia and Brazil. (AP Photo/R S Iyer)
4 of 9
A man prepares to wear his mask as fish vendors chat on a rainy day in Kochi, Kerala state, India, Monday, June 22 2020. India is the fourth hardest-hit country by the COVID-19 pandemic in the world after the U.S., Russia and Brazil. (AP Photo/R S Iyer)
5 of 9

|
People wearing face masks to help protect against the spread of the new coronavirus pray during a service at the Chogyesa temple in South Korea, Monday, June 22, 2020. (AP Photo/Ahn Young-joon)
5 of 9
People wearing face masks to help protect against the spread of the new coronavirus pray during a service at the Chogyesa temple in South Korea, Monday, June 22, 2020. (AP Photo/Ahn Young-joon)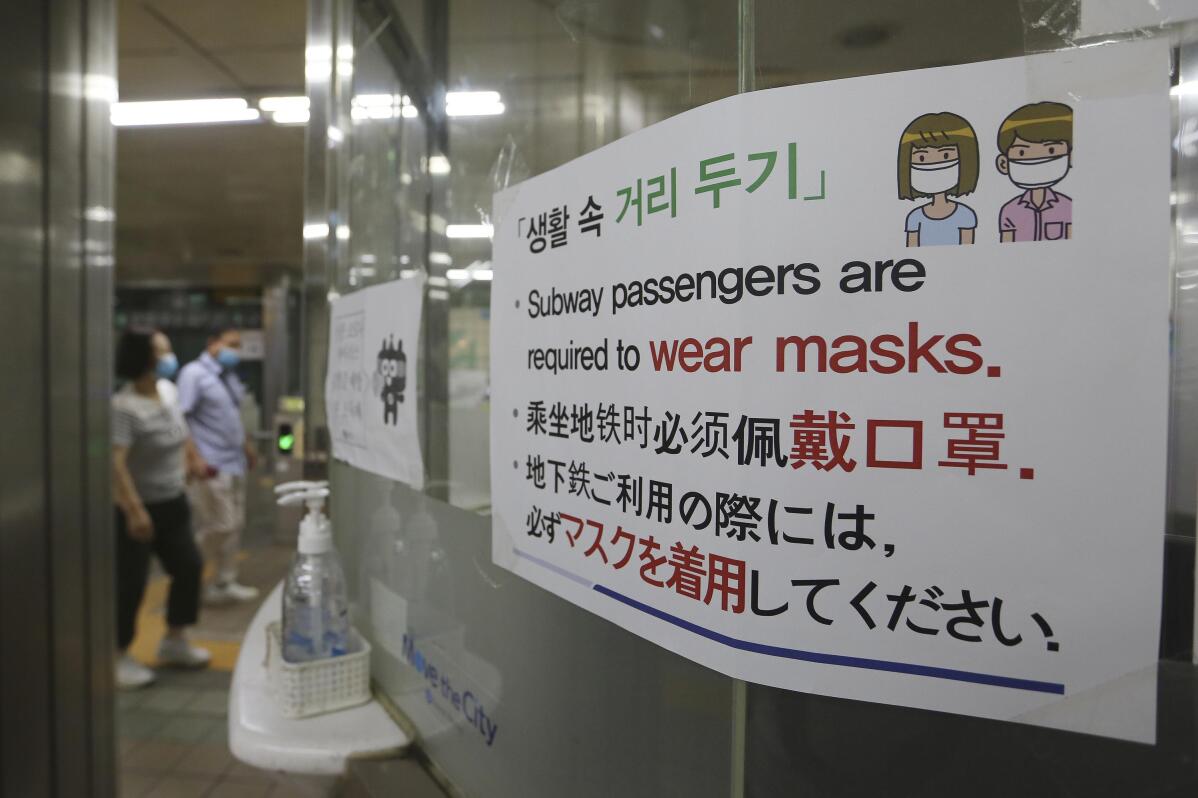 6 of 9

|
A notice on precautions against the new coronavirus is displayed at a subway station in South Korea, Monday, June 22, 2020. The sign at top reads: "Social distance." (AP Photo/Ahn Young-joon)
6 of 9
A notice on precautions against the new coronavirus is displayed at a subway station in South Korea, Monday, June 22, 2020. The sign at top reads: "Social distance." (AP Photo/Ahn Young-joon)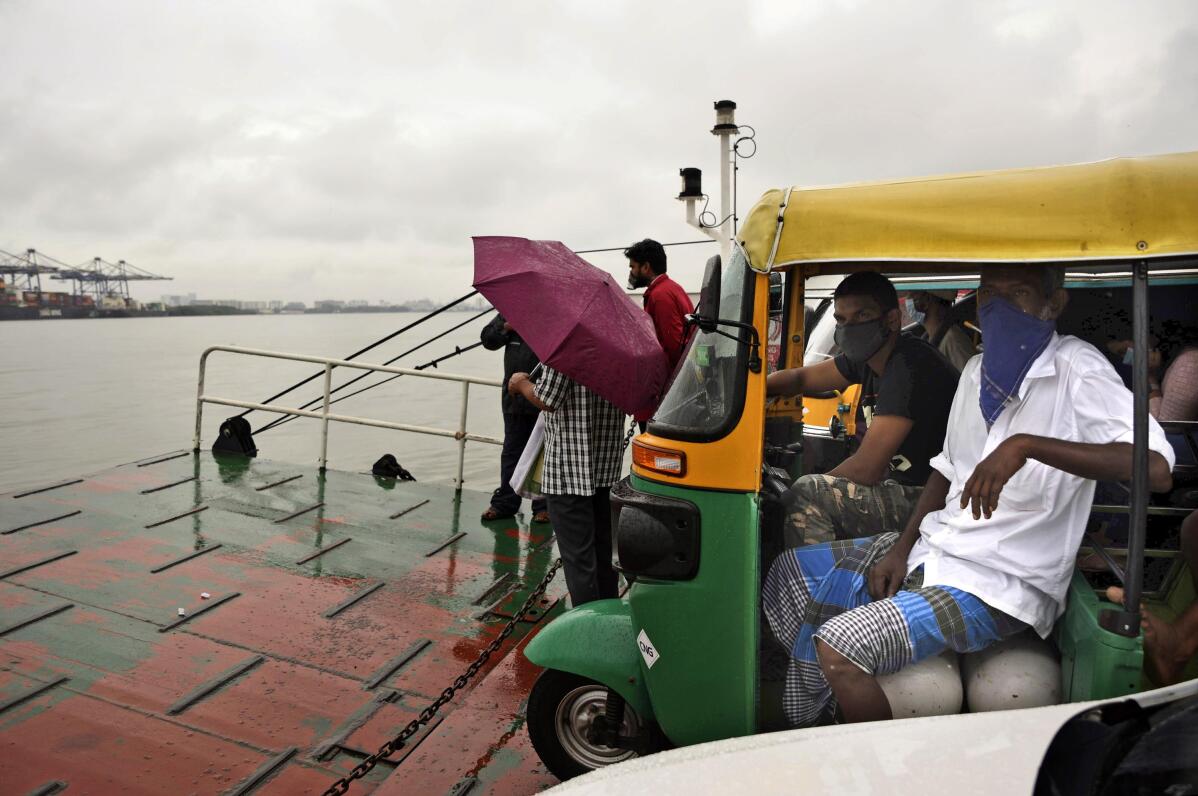 7 of 9

|
Commuters wearing masks as a precaution against the coronavirus travel in a ferry during rain in Kochi, Kerala state, India, Monday, June 22 2020. India is the fourth hardest-hit country by the COVID-19 pandemic in the world after the U.S., Russia and Brazil. (AP Photo/R S Iyer)
7 of 9
Commuters wearing masks as a precaution against the coronavirus travel in a ferry during rain in Kochi, Kerala state, India, Monday, June 22 2020. India is the fourth hardest-hit country by the COVID-19 pandemic in the world after the U.S., Russia and Brazil. (AP Photo/R S Iyer)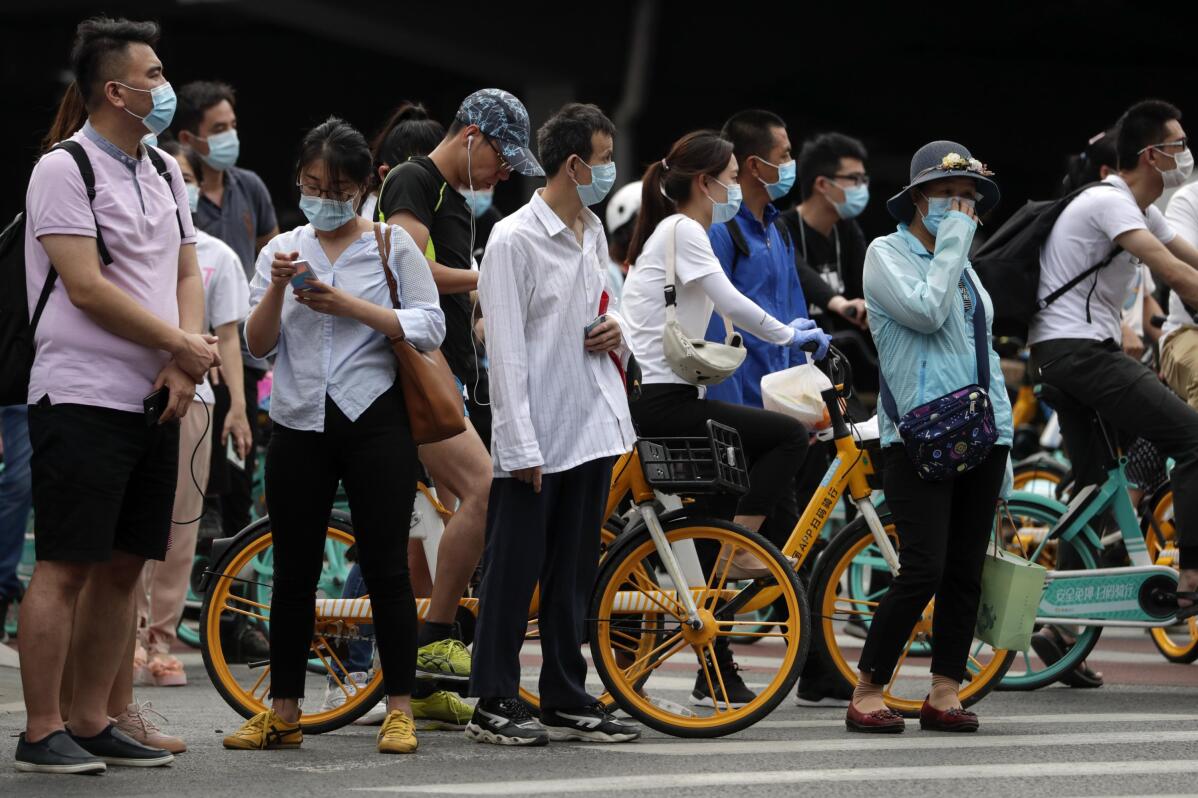 8 of 9

|
People wearing protective face masks to help curb the spread of the new coronavirus wait to cross a street in Beijing, Monday, June 22, 2020. A Beijing government spokesperson said the city has contained the momentum of a recent coronavirus outbreak that has infected a few hundreds of people, after the number of daily new cases fell to single digits. (AP Photo/Andy Wong)
8 of 9
People wearing protective face masks to help curb the spread of the new coronavirus wait to cross a street in Beijing, Monday, June 22, 2020. A Beijing government spokesperson said the city has contained the momentum of a recent coronavirus outbreak that has infected a few hundreds of people, after the number of daily new cases fell to single digits. (AP Photo/Andy Wong)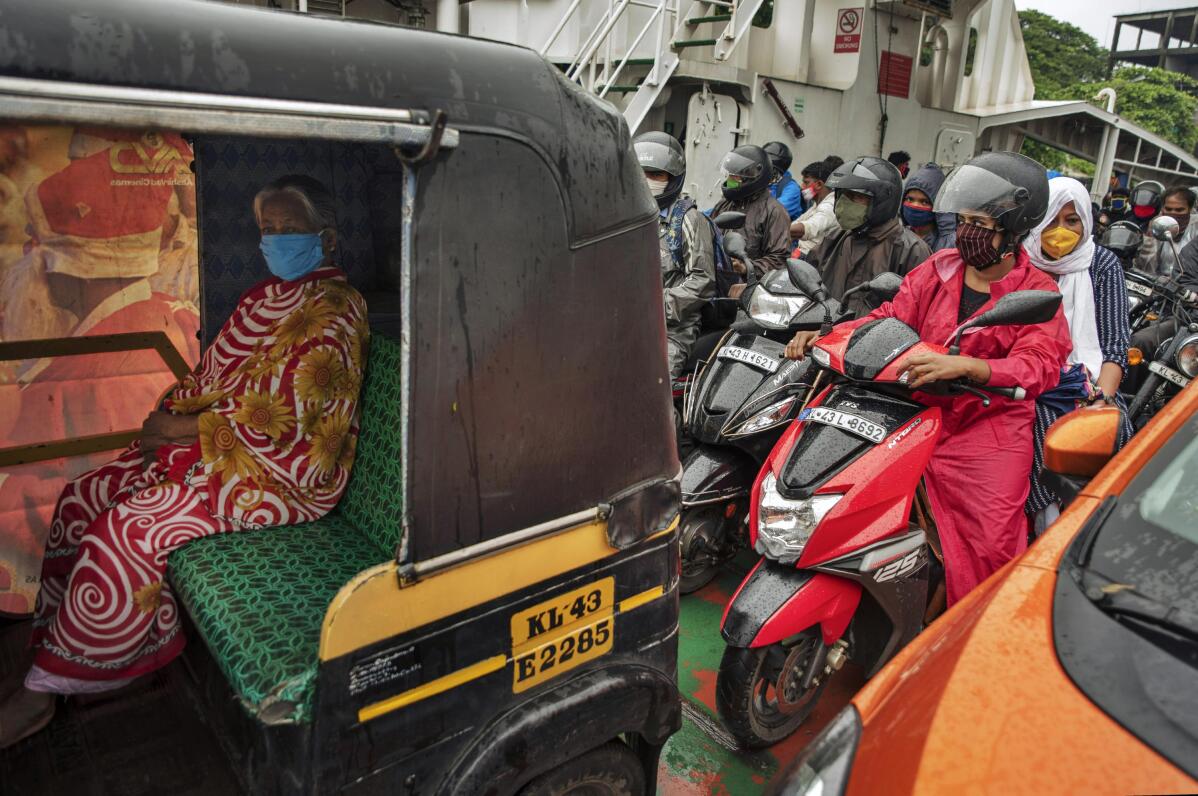 9 of 9

|
Commuters wearing masks as a precaution against the coronavirus travel in a ferry in Kochi, Kerala state, India, Monday, June 22 2020. India is the fourth hardest-hit country by the COVID-19 pandemic in the world after the U.S., Russia and Brazil. (AP Photo/R S Iyer)
9 of 9
Commuters wearing masks as a precaution against the coronavirus travel in a ferry in Kochi, Kerala state, India, Monday, June 22 2020. India is the fourth hardest-hit country by the COVID-19 pandemic in the world after the U.S., Russia and Brazil. (AP Photo/R S Iyer)
NEW DELHI (AP) — India's coronavirus caseload has risen to 425,282 as infections soar in rural areas to which migrant workers fleeing major cities have returned in recent weeks.
India's health ministry on Monday reported 14,821 new cases and about 300 new deaths, bring the toll of fatalities up to more than 13,000. The coastal state of Goa reported its first COVID-19 death.
India is the fourth most-affected country globally after the United States, Brazil and Russia.
India's government planning body Niti Aayog says infections have now emerged in 98 out of 112 of the country's poorest districts.
The Indian government ran special trains to bring thousands of migrant workers back to their ancestral villages in recent weeks.
Still, about 60% of India's cases have been reported in the states of Delhi, which includes the national capital of New Delhi; Maharashtra, home to India's financial capital Mumbai; and Tamil Nadu, where manufacturing hub Chennai is located.
In other developments in the Asia-Pacific region:
— The chairman of a chain of pharmacies in Beijing has been sentenced to 15 years in prison for selling more than 500,000 counterfeit 3M Corp. masks during the coronavirus epidemic, news reports said Monday. Two people who colluded with Li Dong, chairman of Kang Baixin Pharmacy, also were sentenced to prison by the Chaoyang District Court, the Beijing News and other outlets reported, citing unidentified sources. There was no announcement from the court and phone calls to its press office weren't answered. Li and co-defendants Li Yuzhang and Luo Hanyi were convicted of buying fake 3M masks and re-selling them to pharmacies or individuals, the news reports said. They said the defendants all denied the charges and said they would appeal their conviction.
— China reported 18 new cases of the coronavirus, including nine in Beijing and two in neighboring Hebei province. It was the first time in more than a week that the number fell to single digits in an outbreak in the Chinese capital. Previously, the city had reported more than 20 cases every day for eight straight days. The total number of cases since the first one was confirmed on June 11 rose to 236. The fall in numbers comes after China strengthened measures to eradicate the virus in Beijing, including cancelling school classes and public events.
— South Korea has reported 17 new cases of COVID-19, the first time its daily jump came down to the teens in nearly a month. Its 40 to 50 cases per day increases over the past two weeks have occurred as people increased their public activities amid eased attitudes on social distancing. An increase in imported cases has prompted authorities to halt providing new visas for travelers from Pakistan and Bangladesh. Twelve of the new cases reported Monday were from the Seoul metropolitan area. The mayor of South Korea's capital has raised concern that the country could be losing control over the virus and said Seoul will reimpose stronger social distancing measures if the daily jump in infections doesn't fall below an average of 30 over the next three days. Mayor Park Won-soon said Monday the country could have as many as 800 new cases a day a month from now if it fails to control current trends.
— Philippine officials say Saudi Arabia has asked the Manila government to bring home the remains of 282 Filipino workers, a repatriation delayed because of coronavirus restrictions. Labor Secretary Silvestre Bello III says Saudi King Salman made the urgent request himself. The workers died mostly of various illnesses, including COVID-19, in Saudi Arabia, where more than 800,000 Filipinos work. The Philippines asked that the three-day deadline be extended and that the bodies of about 50 Filipinos who died of COVID-19 disease be buried in Saudi Arabia, Bello said. He told The Associated Press the requests would likely be granted.
— New Zealand reported two new cases of the coronavirus on Monday as a trickle of infected people continue to arrive at the border. The country of 5 million people now has nine active cases after having none at all earlier this month. Health officials say all those cases involve people who have recently arrived and are in quarantine, and there's no evidence of community transmission. Still, many remain anxious community transmission could return, especially after health officials admitted making a mistake by allowing two travelers to leave quarantine before they had been tested. Both were positive and are now in isolation.