Already-huge Minnesota budget surplus grows to $9.25 billion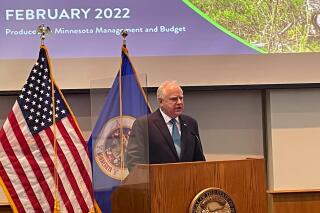 ST. PAUL, Minn. (AP) — Minnesota's already-huge budget surplus has become even more enormous, growing to a projected $9.25 billion, the Walz administration announced Monday as they cautioned that inflation and Russia's invasion of Ukraine pose some significant risks to the optimistic outlook.
The updated forecast was $1.5 billion more than the whopping $7.7 billion surplus that Minnesota Management and Budget projected in December for the current two-year budget period. But it's based on national economic forecasts that were compiled before Russia sent troops into Ukraine last week, and the impacts that the war will have on the world economy are still playing out.
The new forecast added fuel to the intense debate that is already underway at the Minnesota Legislature on how to use the surplus. Democratic Gov. Tim Walz proposed tripling the one-time tax rebate checks he proposed earlier. But Republicans said it strengthens their case for permanent income tax cuts instead. And Democratic lawmakers urged that it be spent on "hero pay" bonuses for frontline pandemic workers and on programs to benefit lower-income families.
The budget agency cited higher incomes, consumer spending and corporate profit forecasts as reasons for the improved forecast. And spending is running slightly lower than expected on E-12 education and health and human services.
While MMB Commissioner Jim Showalter told reporters the state is seeing a "significant improvement" in revenues from the last forecast, "the uncertainty has not stopped." He said the economic fallout from the war "could put a dent in the anticipated forecast improvement."
"It is a challenging time to issue a long-term forecast,' the commissioner continued. "Of course that challenge is nothing compared to the fears an challenges of families — Ukrainian families — here in our community and abroad."
State Economist Laura Kalambokidis said the increased risks to Minnesota's economy fall on top of the risks the state was already facing from inflation, and are impossible to predict with any certainty yet. Oil and other commodity prices could rise even faster, she said, adding to inflationary pressures.
Some Minnesota farmers might benefit, too, but Kalambokidis pointed out that while Russia and Ukraine are major wheat producers, it's not Minnesota's main crop. Corn and soybeans are more important. And she pointed out that higher grain prices mean higher costs for food producers. And Minnesota businesses with direct connections to Ukraine are now seeking to mitigate their risks.
Walz said his proposed one-time tax rebate checks could provide quick relief to Minnesotans who are facing higher fuel and other prices. He proposed tripling them to $500 for individuals and $1,000 for couples.
"That's money right now," the governor said.
Senate Republicans called the giant surplus proof that the state has been collecting too much in taxes from Minnesotans, and that the state should give the money back with permanent tax cuts. GOP senators unveiled a massive tax cut proposal last week that would lower the bottom-tier income tax rate by nearly half and eliminate all taxes on Social Security benefits. The proposal would cost $8.5 billion over three years.
"No election-year gimmicks, nothing like that. Permanent, ongoing tax relief so Minnesotans can have more money in their pockets every single paycheck," said GOP Majority Leader Jeremy Miller, of Winona.
Republicans also want to use some of the money to replenish the state's unemployment insurance trust fund to avert an automatic business tax increase that's coming up in two weeks.
Democratic House Speaker Melissa Hortman, of Brooklyn Park, urged caution on spending, citing the state's ongoing recovery from the pandemic and the geopolitical uncertainty. At the same time, Hortman made the case for programs to assist Minnesotans who struggled during the pandemic, such as paid family and medical leave, affordable health care, and child care. She also highlighted a bill that passed the House last week for $1,500 bonuses for frontline workers.
"Now it is the job of state leaders to address the challenges that people are facing and to ensure that workers and families are benefitting from the economic growth that they are helping to create," Hortman said.
___
Mohamed Ibrahim is a corps member for the Associated Press/Report for America Statehouse News Initiative. Report for America is a nonprofit national service program that places journalists in local newsrooms to report on undercovered issues.