Pierce to pay $1.4M to settle with SEC on crypto violations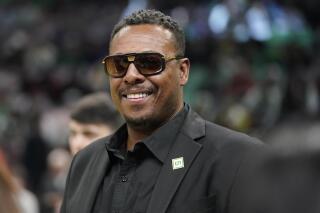 Former NBA player Paul Pierce has agreed to pay about $1.4 million to settle charges that he touted EMAX tokens on social media without disclosing the payment he received for the promotion and for making false and misleading promotional statements about the same crypto asset, the Securities and Exchange Commission said Friday.
EMAX tokens are crypto asset securities offered and sold by EthereumMax. In afternoon trading, each token was down more than 8% to a fraction of a penny.
The SEC's order found that Pierce failed to disclose that he was paid more than $244,000 worth of EMAX tokens to promote the tokens on Twitter. The SEC's order also found that Pierce tweeted misleading statements related to EMAX, including tweeting a screenshot of an account showing large holdings and profits without disclosing that his own personal holdings were in fact much lower than those in the screenshot. In addition, one of Pierce's tweets contained a link to the EthereumMax website, which provided instructions for potential investors to purchase EMAX tokens.
The SEC's order found that Pierce violated the anti-touting and antifraud provisions of the federal securities laws.
Without admitting or denying the SEC's findings, Pierce agreed to pay a $1,115,000 penalty and approximately $240,000 in disgorgement and prejudgment interest. Pierce also agreed to not promote any crypto asset securities for three years.