Butch Jones out as Tennessee's football coach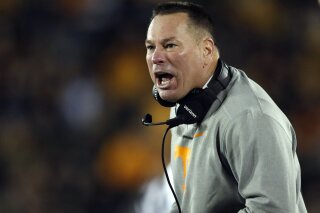 KNOXVILLE, Tenn. (AP) — Tennessee began the season in the Top 25 and is ending it with a coaching change.
The Volunteers fired Butch Jones on Saturday as they enter their final two regular-season games searching for their first Southeastern Conference victory, a stunning fall for a team that had won bowl games each of the last three seasons.
Athletic director John Currie said defensive line coach Brady Hoke would serve as interim head coach for the remainder of the season. Jones' firing comes one day after Tennessee (4-6, 0-6) fell 50-17 at Missouri for its fifth loss in its last six games.
"Late last night it was evident this was probably the direction we needed to go for the best of all concerned," Currie said at a Sunday press conference. "We have two games left to play. We wanted our student-athletes to have the best possible chance for success. We want Coach Jones and his family to be treated with the dignity and respect that they deserve. We want to be able to focus, from my perspective, on the search going forward.
"None of us want to be in this position. But we are in this position, and now we move forward."
Jones went 34-27 overall and 14-24 in the SEC over five seasons. He led the Vols to a Top 25 finish each of the last two years before the program took a giant step backward this fall.
Currie now must begin a coaching search just 7 1/2 months after taking over as Tennessee's athletic director . Currie said he was looking for someone "with the highest integrity and character, with the skills and vision to propel Tennessee to championships."
"We expect our coach to have the dynamics that would enable him to lead us to where we know Tennessee football can and should be," Currie said. "Our coach needs to know what that looks like."
Jones was making $4.1 million annually and has a contract that runs through Feb. 28, 2021. According to the letter of dismissal Currie sent Sunday, the school owes Jones a buyout of $8.26 million. Currie said Sunday that the buyout for the entire staff is in the "$13 million range," though that figure could be mitigated depending on when and where Jones and his assistants are able to find work.
Jones inherited a program that had posted three straight losing seasons under former coach Derek Dooley . The Vols went 5-7 for a fourth straight losing season in Jones' debut year but followed that up by going 7-6 in 2014 and posting consecutive 9-4 records the last two years.
But he couldn't get the Vols an SEC East title even during an era when rivals Florida and Georgia have been in transition.
Tennessee hasn't reached the SEC championship game since 2007 and hasn't won a conference title since its 1998 national championship season. Tennessee was picked to win the East last year but stumbled after a 5-0 start .
Then everything went south this year.
Tennessee, which opened the season ranked 25th, has lost its first six SEC games by an average margin of 21.2 points. That stretch includes a 41-0 loss to Georgia that marked the Vols' most lopsided home defeat since 1905. One month later, Tennessee lost 29-26 at Kentucky , which represented just the second time the Vols had fallen to the Wildcats in their last 33 meetings.
Injuries played a major role in Jones' demise.
Tennessee's top returning receiver (Jauan Jennings), top returning linebacker (Darrin Kirkland Jr.) and top returning tackler (Todd Kelly Jr.) all had suffered season-ending injuries by mid-September. By the end of the Missouri game, Tennessee had only five available scholarship offensive linemen, including two true freshmen and two redshirt freshmen. Injuries to quarterbacks Jarrett Guarantano and Quinten Dormady caused freshman Will McBride to make his first career start Saturday.
As Tennessee's struggles continued, the criticism of Jones mounted.
Fans who loved Jones' constant references to the "Brick by Brick" approach of building a program when he first arrived at Tennessee started to mock his frequent use of clichés and catchphrases .
His most notable misstep in that regard came last year when he referred to his senior class as "champions of life" two days after the Vols were eliminated from East Division championship contention. Tennessee lost at Vanderbilt later that week , and the "champions of life" remark turned into an internet meme .
Jones did enable Tennessee to make some notable advances
Under Jones' watch, Tennessee's football program dramatically improved its Academic Progress Rate, which had been so low at the start of his tenure that the school was at risk of facing penalties. Tennessee's average home attendance climbed from 89,965 the year before Jones' arrival to 100,968 last season. Attendance is at 98,090 so far this year.
"I have tremendous respect for Coach Jones and for (Jones' wife) Barb," Currie said. "They poured everything into making our program better - and our program is better than when they arrived five years ago."
The major off-field issue during Jones' tenure was a Title IX lawsuit filed against the school last year by eight unidentified women accusing Tennessee of having a "hostile sexual environment" through a policy of indifference toward assaults by athletes. The suit was settled for $2.48 million in July 2016.
Jones has an overall record of 84-54. He coached three seasons each at Central Michigan and Cincinnati before coming to Tennessee.
___
More AP college football: http://collegefootball.ap.org and https://twitter.com/AP_Top25
___
Follow Steve Megargee at www.twitter.com/stevemegargee