Koreas open 1st liaison office for better communication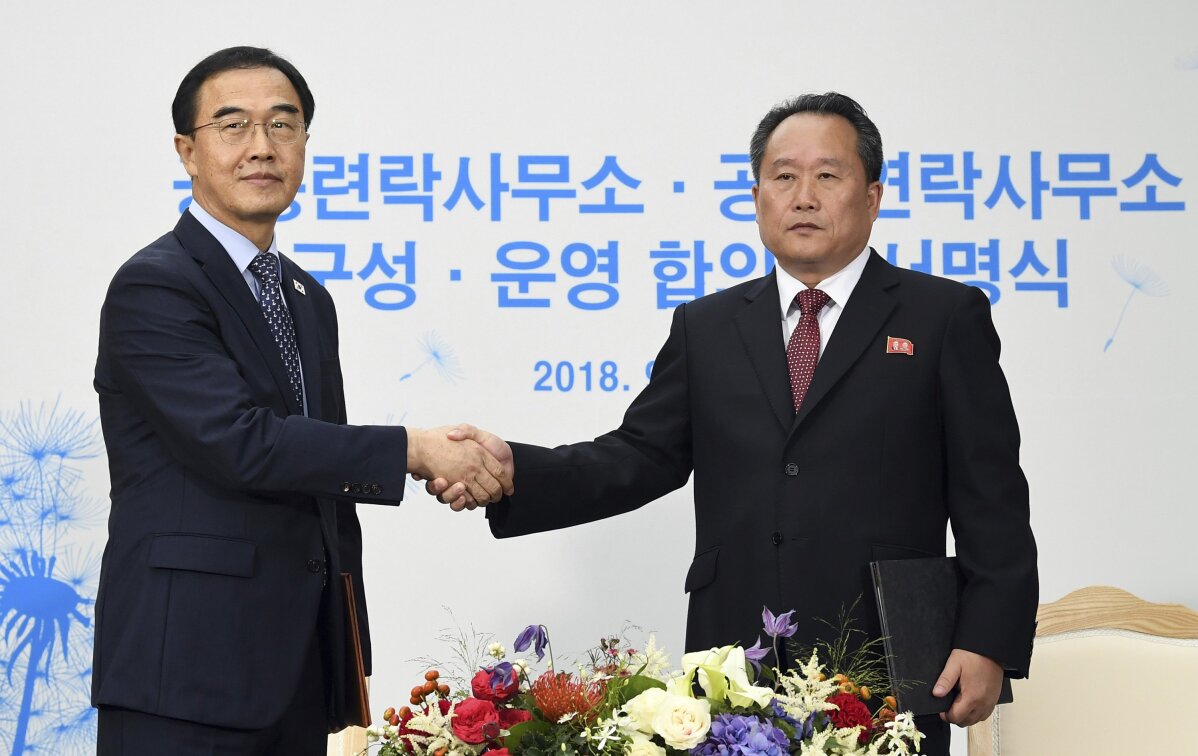 1 of 9

|
South Korea's Unification Minister Cho Myoung-gyon, left, shakes hands with Ri Son Gwon, chairman of the North's Committee for the Peaceful Reunification, right, after signing the document during an opening ceremony for two Koreas' first liaison office in Kaesong, North Korea, Friday Sept. 14, 2018. The rival Koreas on Friday launched their first liaison office near their tense border to facilitate better communication and exchanges ahead of their leaders' summit in Pyongyang next week. (Korea Pool/Yonhap via AP)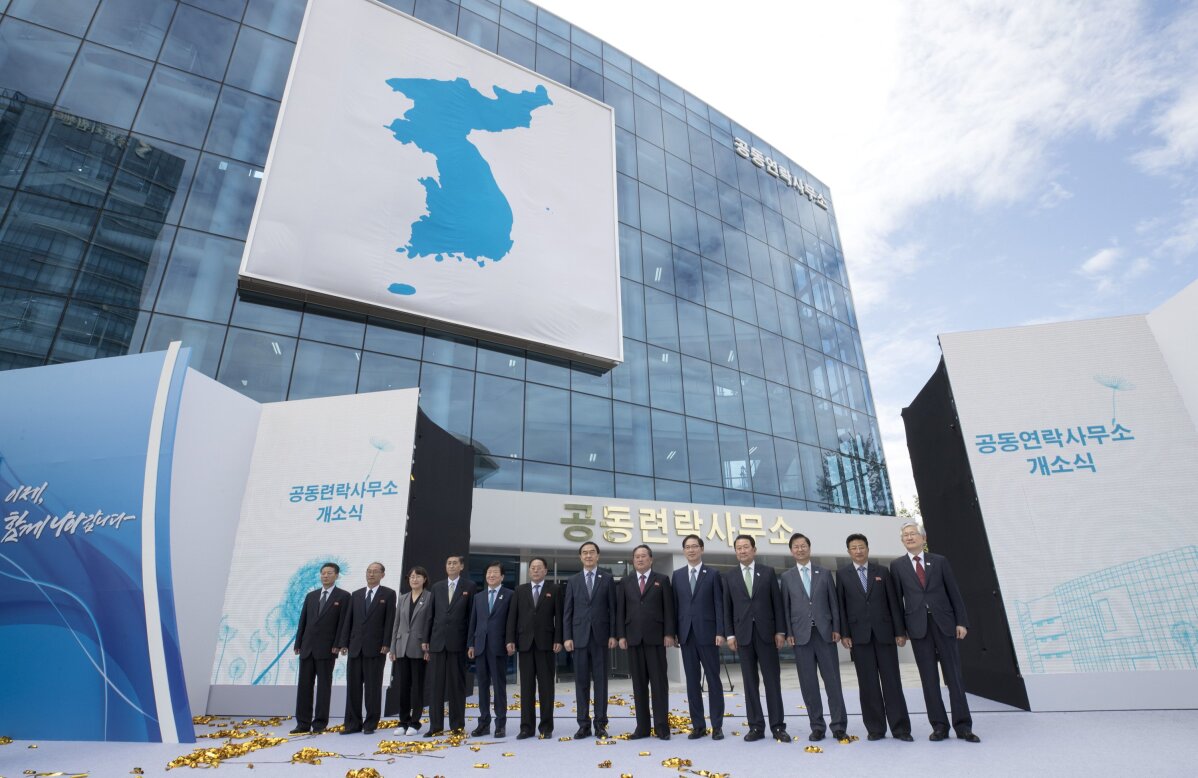 2 of 9

|
South Korea's Unification Minister Cho Myoung-gyon, seventh from left, and Ri Son Gwon, chairman of the North's Committee for the Peaceful Reunification, sixth from right, pose for photograph with other participants during an opening ceremony for two Koreas' first liaison office in Kaesong, North Korea, Friday Sept. 14, 2018. The rival Koreas on Friday launched their first liaison office near their tense border to facilitate better communication and exchanges ahead of their leaders' summit in Pyongyang next week. (Korea Pool/Yonhap via AP)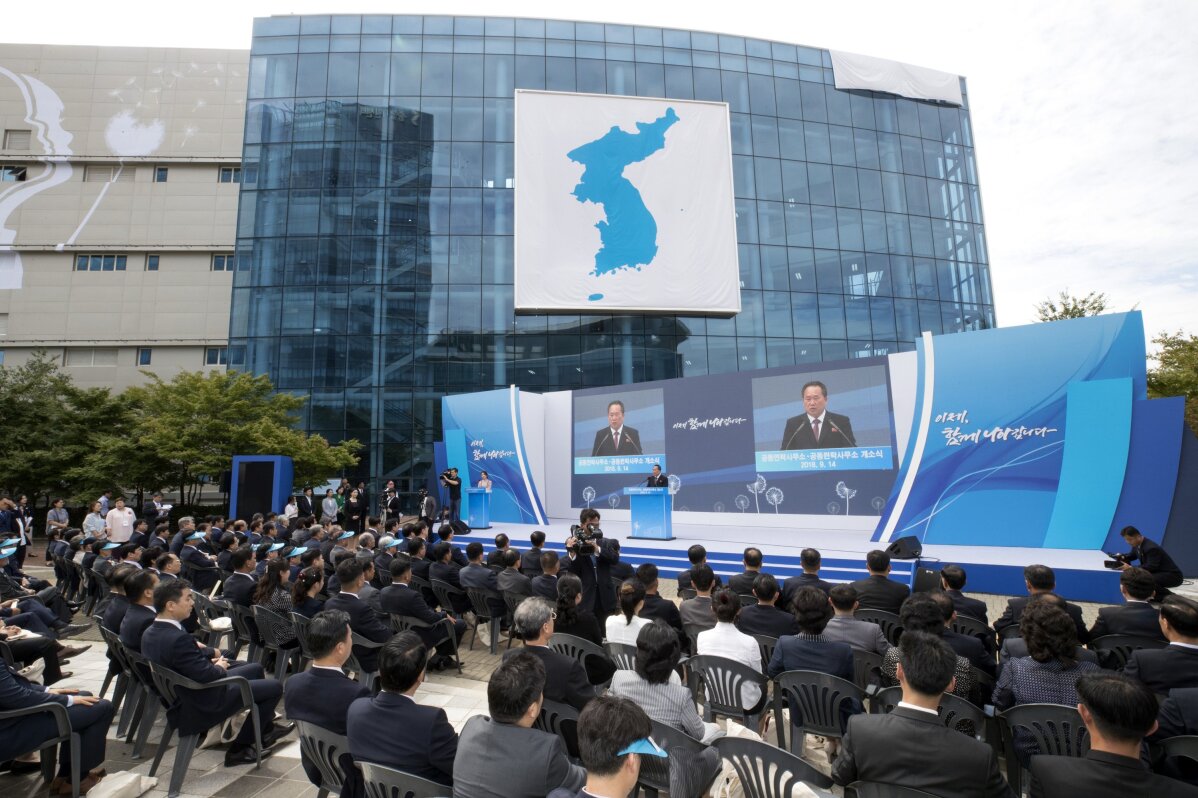 3 of 9

|
Ri Son Gwon, chairman of the North's Committee for the Peaceful Reunification, speaks during an opening ceremony for two Koreas' first liaison office in Kaesong, North Korea, Friday Sept. 14, 2018. The rival Koreas on Friday launched their first liaison office near their tense border to facilitate better communication and exchanges ahead of their leaders' summit in Pyongyang next week. (Korea Pool/Yonhap via AP)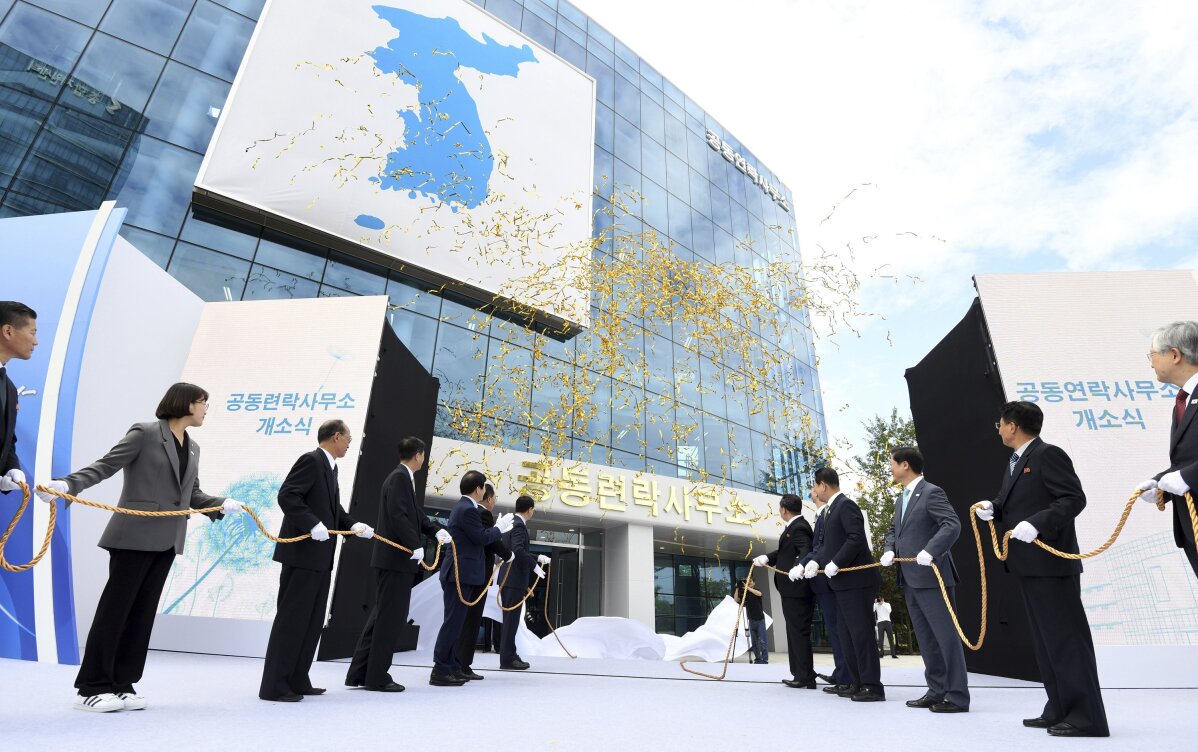 4 of 9

|
South Korea's Unification Minister Cho Myoung-gyon, center left, and Ri Son Gwon, chairman of the North's Committee for the Peaceful Reunification, center right, attend at an opening ceremony for two Koreas' first liaison office in Kaesong, North Korea, Friday Sept. 14, 2018. The rival Koreas on Friday launched their first liaison office near their tense border to facilitate better communication and exchanges ahead of their leaders' summit in Pyongyang next week. (Korea Pool/Yonhap via AP)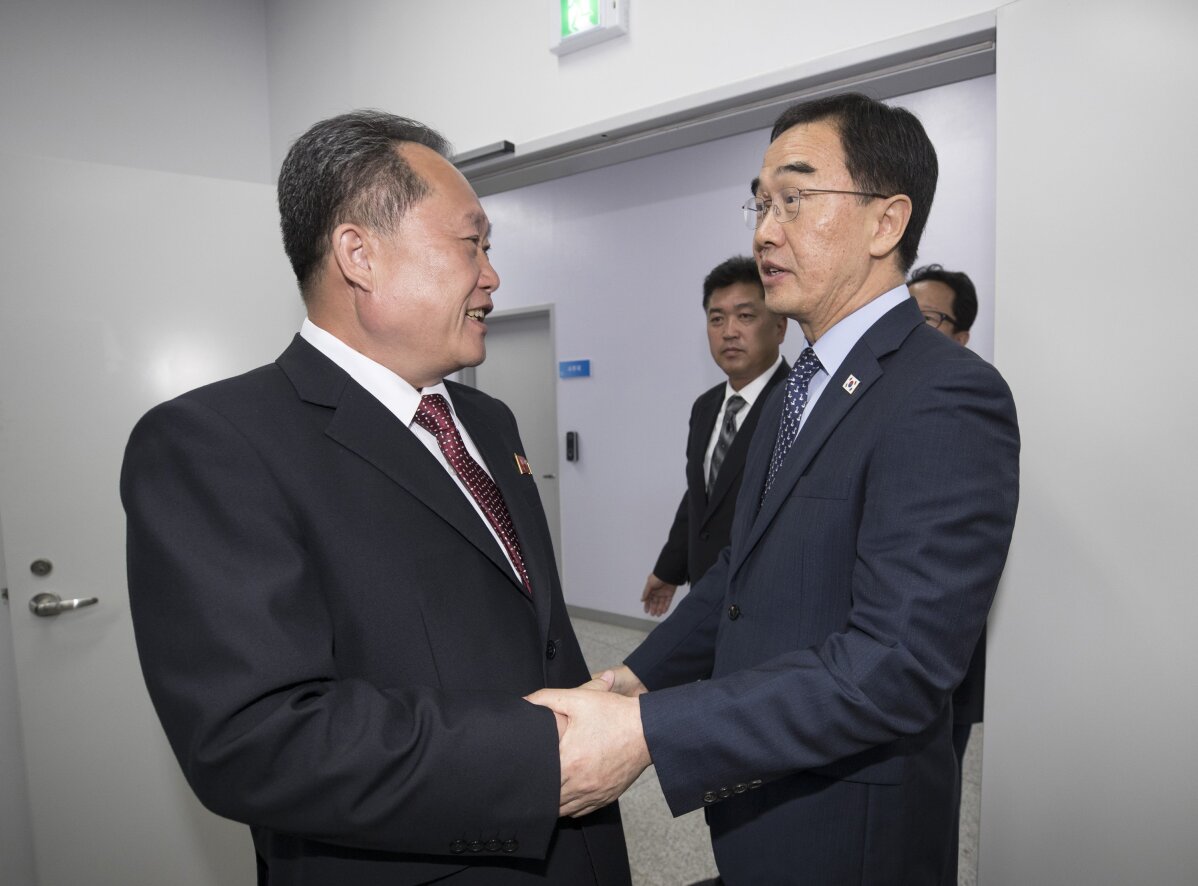 5 of 9

|
South Korea's Unification Minister Cho Myoung-gyon, right, shakes hands with Ri Son Gwon, chairman of the North's Committee for the Peaceful Reunification, during an opening ceremony for two Koreas' first liaison office in Kaesong, North Korea, Friday Sept. 14, 2018. The rival Koreas on Friday launched their first liaison office near their tense border to facilitate better communication and exchanges ahead of their leaders' summit in Pyongyang next week. (Korea Pool/Yonhap via AP)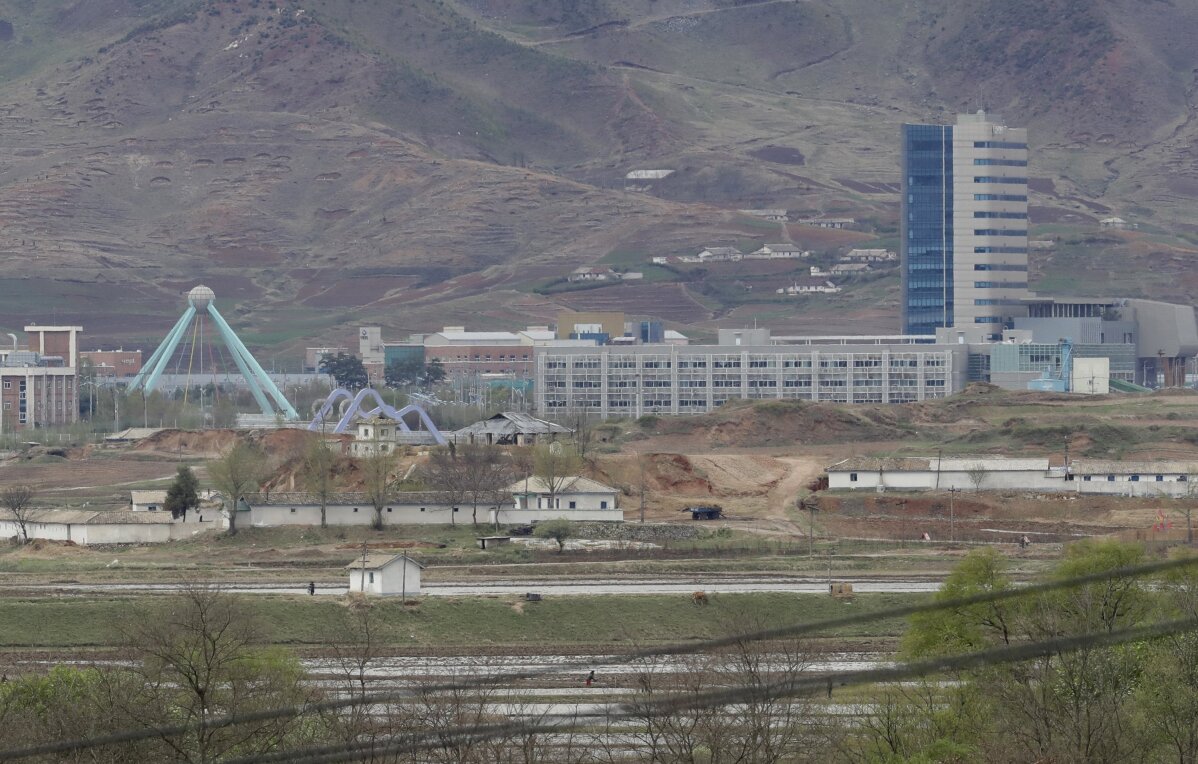 6 of 9

|
FILE - In this April 24, 2018, file photo, the Kaesong industrial complex in North Korea is seen from the Taesungdong freedom village inside the demilitarized zone during a press tour in Paju, South Korea. The rival Koreas on Friday, Sept. 14, 2018, have opened their first liaison office near their tense border to facilitate better communication and exchanges. (AP Photo/Lee Jin-man, File)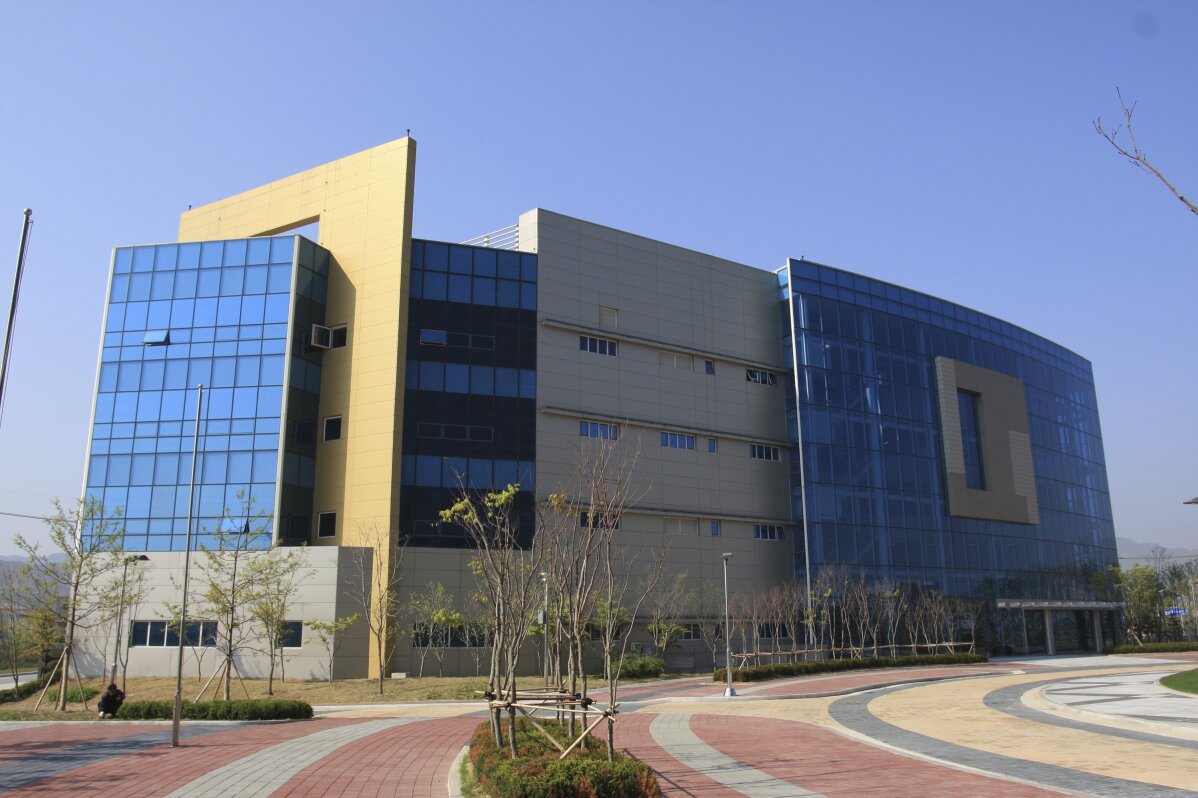 7 of 9

|
This undated photo released on Sept, 12, 2018, from South Korea Unification Ministry via Newsis, shows a liaison office building between South and North Korea in Kaesong, North Korea. The rival Koreas on Friday, Sept. 14, 2018, have opened their first liaison office near their tense border to facilitate better communication and exchanges. (South Korea Unification Ministry/Newsis via AP)
8 of 9

|
South Korea's Unification Minister Cho Myoung-gyon, left, and Chairman of the North's Committee for the Peaceful Reunification Ri Son Gwon, right, sign during an opening ceremony for two Koreas' first liaison office in Kaesong, North Korea, Friday, Sept. 14, 2018. The rival Koreas on Friday launched their first liaison office near their tense border to facilitate better communication and exchanges ahead of their leaders' summit in Pyongyang next week. (Korea Pool/Yonhap via AP)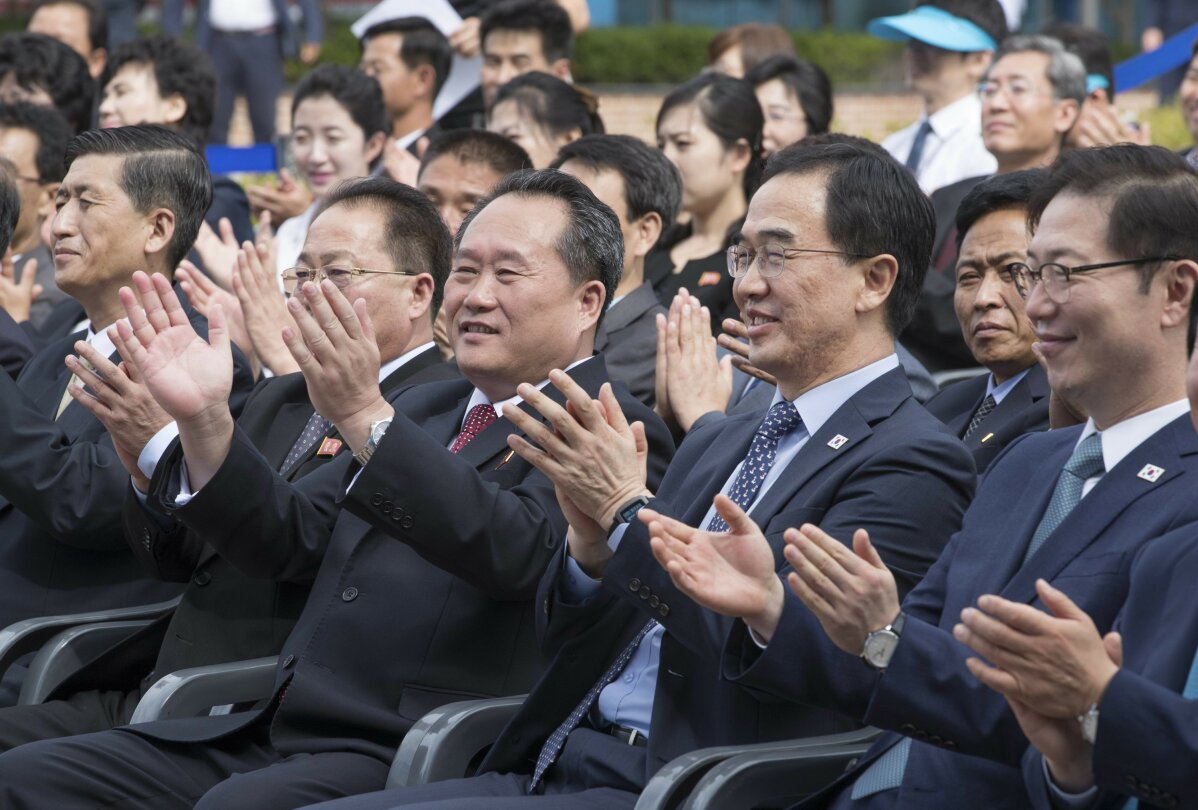 9 of 9

|
South Korea's Unification Minister Cho Myoung-gyon, second from right, Chairman of the North's Committee for the Peaceful Reunification Ri Son Gwon, third from left, applaud during an opening ceremony for two Koreas' first liaison office in Kaesong, North Korea, Friday, Sept. 14, 2018. The rival Koreas on Friday launched their first liaison office near their tense border to facilitate better communication and exchanges ahead of their leaders' summit in Pyongyang next week. (Korea Pool/Yonhap via AP)
Koreas open 1st liaison office for better communication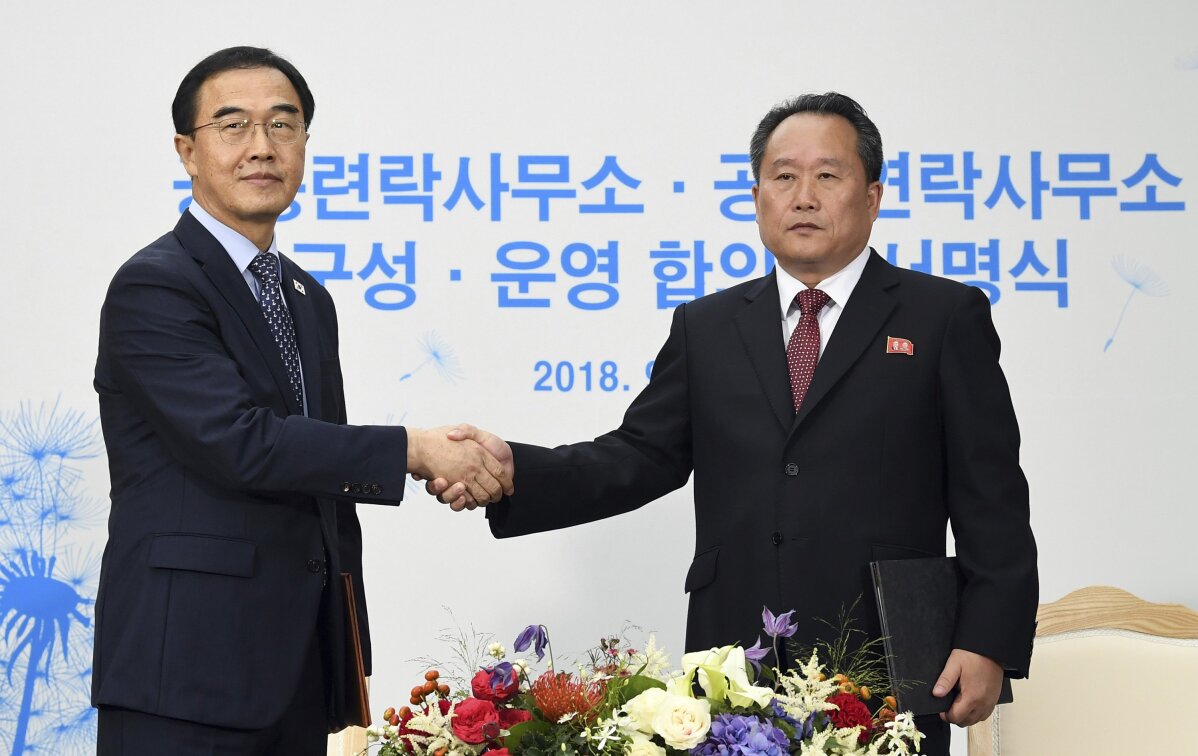 1 of 9

|
South Korea's Unification Minister Cho Myoung-gyon, left, shakes hands with Ri Son Gwon, chairman of the North's Committee for the Peaceful Reunification, right, after signing the document during an opening ceremony for two Koreas' first liaison office in Kaesong, North Korea, Friday Sept. 14, 2018. The rival Koreas on Friday launched their first liaison office near their tense border to facilitate better communication and exchanges ahead of their leaders' summit in Pyongyang next week. (Korea Pool/Yonhap via AP)
1 of 9
South Korea's Unification Minister Cho Myoung-gyon, left, shakes hands with Ri Son Gwon, chairman of the North's Committee for the Peaceful Reunification, right, after signing the document during an opening ceremony for two Koreas' first liaison office in Kaesong, North Korea, Friday Sept. 14, 2018. The rival Koreas on Friday launched their first liaison office near their tense border to facilitate better communication and exchanges ahead of their leaders' summit in Pyongyang next week. (Korea Pool/Yonhap via AP)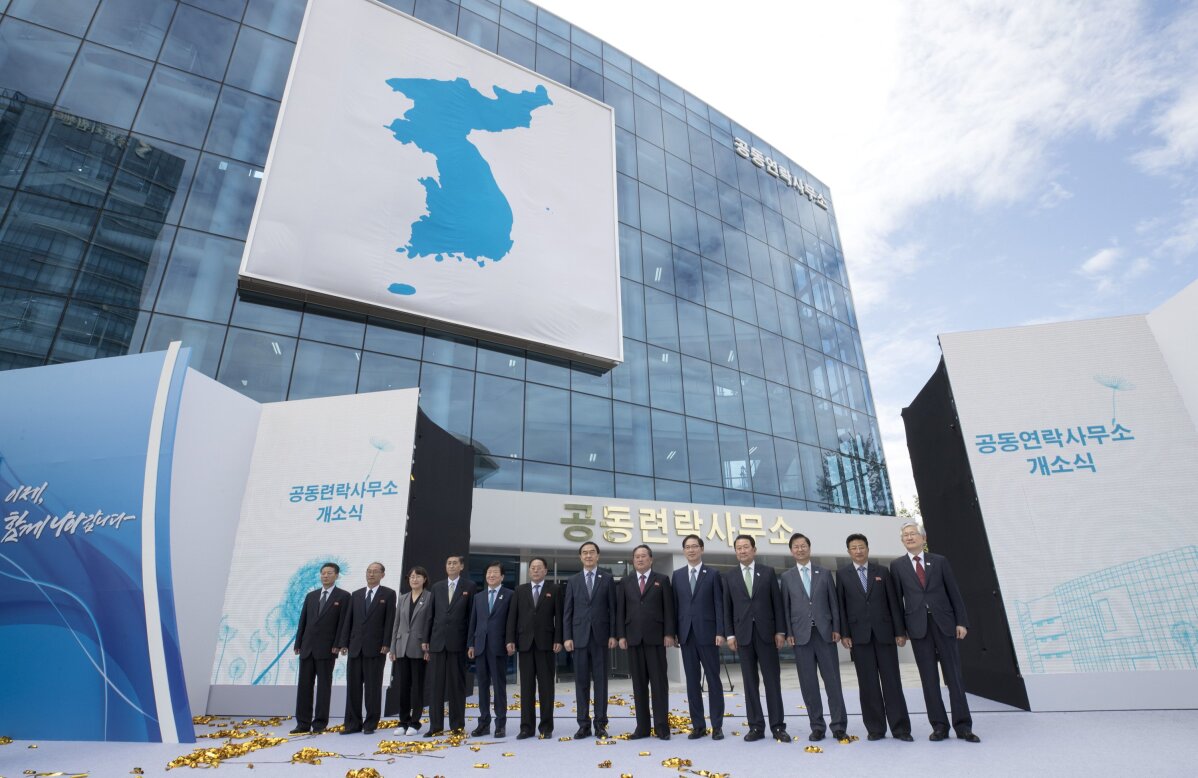 2 of 9

|
South Korea's Unification Minister Cho Myoung-gyon, seventh from left, and Ri Son Gwon, chairman of the North's Committee for the Peaceful Reunification, sixth from right, pose for photograph with other participants during an opening ceremony for two Koreas' first liaison office in Kaesong, North Korea, Friday Sept. 14, 2018. The rival Koreas on Friday launched their first liaison office near their tense border to facilitate better communication and exchanges ahead of their leaders' summit in Pyongyang next week. (Korea Pool/Yonhap via AP)
2 of 9
South Korea's Unification Minister Cho Myoung-gyon, seventh from left, and Ri Son Gwon, chairman of the North's Committee for the Peaceful Reunification, sixth from right, pose for photograph with other participants during an opening ceremony for two Koreas' first liaison office in Kaesong, North Korea, Friday Sept. 14, 2018. The rival Koreas on Friday launched their first liaison office near their tense border to facilitate better communication and exchanges ahead of their leaders' summit in Pyongyang next week. (Korea Pool/Yonhap via AP)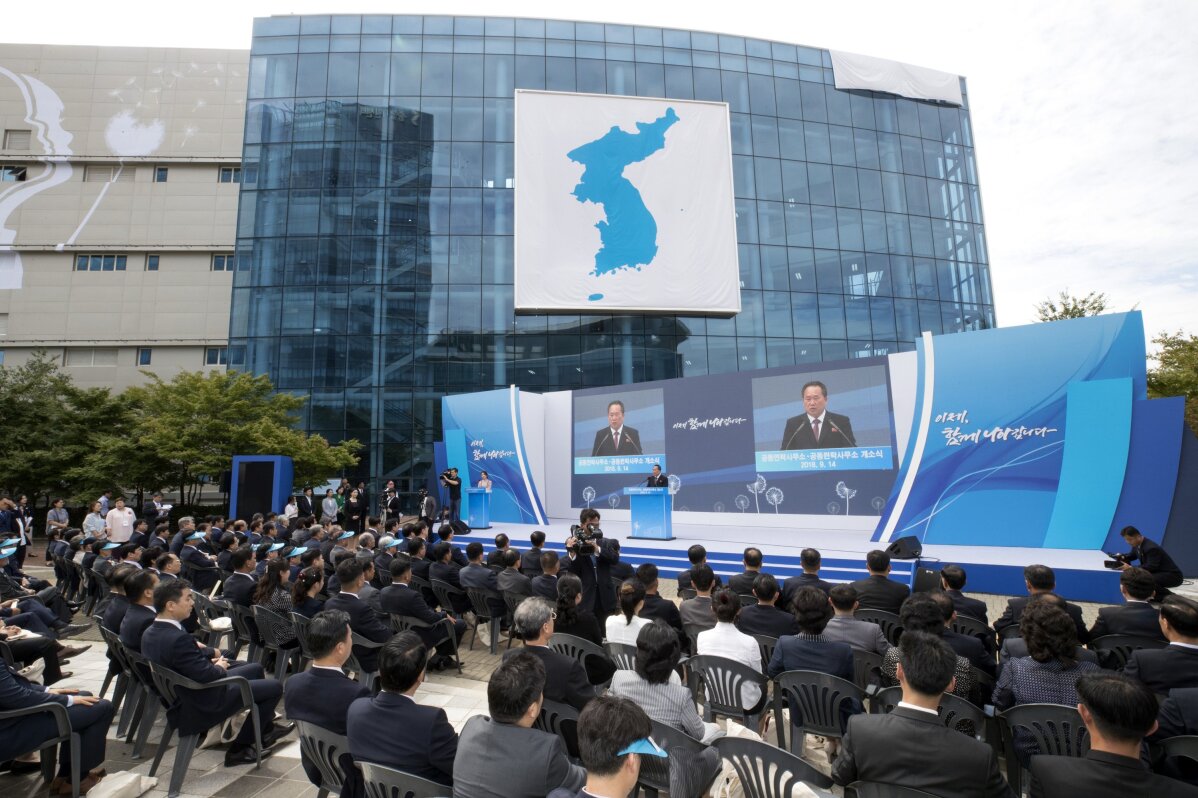 3 of 9

|
Ri Son Gwon, chairman of the North's Committee for the Peaceful Reunification, speaks during an opening ceremony for two Koreas' first liaison office in Kaesong, North Korea, Friday Sept. 14, 2018. The rival Koreas on Friday launched their first liaison office near their tense border to facilitate better communication and exchanges ahead of their leaders' summit in Pyongyang next week. (Korea Pool/Yonhap via AP)
3 of 9
Ri Son Gwon, chairman of the North's Committee for the Peaceful Reunification, speaks during an opening ceremony for two Koreas' first liaison office in Kaesong, North Korea, Friday Sept. 14, 2018. The rival Koreas on Friday launched their first liaison office near their tense border to facilitate better communication and exchanges ahead of their leaders' summit in Pyongyang next week. (Korea Pool/Yonhap via AP)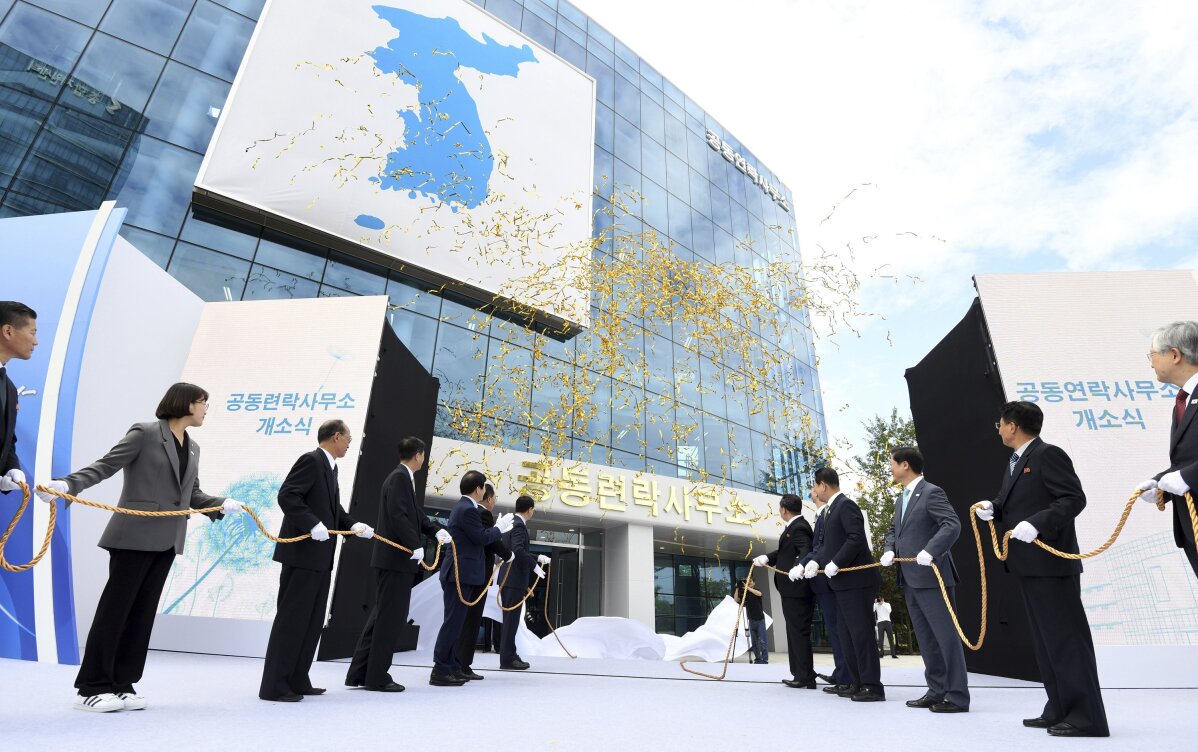 4 of 9

|
South Korea's Unification Minister Cho Myoung-gyon, center left, and Ri Son Gwon, chairman of the North's Committee for the Peaceful Reunification, center right, attend at an opening ceremony for two Koreas' first liaison office in Kaesong, North Korea, Friday Sept. 14, 2018. The rival Koreas on Friday launched their first liaison office near their tense border to facilitate better communication and exchanges ahead of their leaders' summit in Pyongyang next week. (Korea Pool/Yonhap via AP)
4 of 9
South Korea's Unification Minister Cho Myoung-gyon, center left, and Ri Son Gwon, chairman of the North's Committee for the Peaceful Reunification, center right, attend at an opening ceremony for two Koreas' first liaison office in Kaesong, North Korea, Friday Sept. 14, 2018. The rival Koreas on Friday launched their first liaison office near their tense border to facilitate better communication and exchanges ahead of their leaders' summit in Pyongyang next week. (Korea Pool/Yonhap via AP)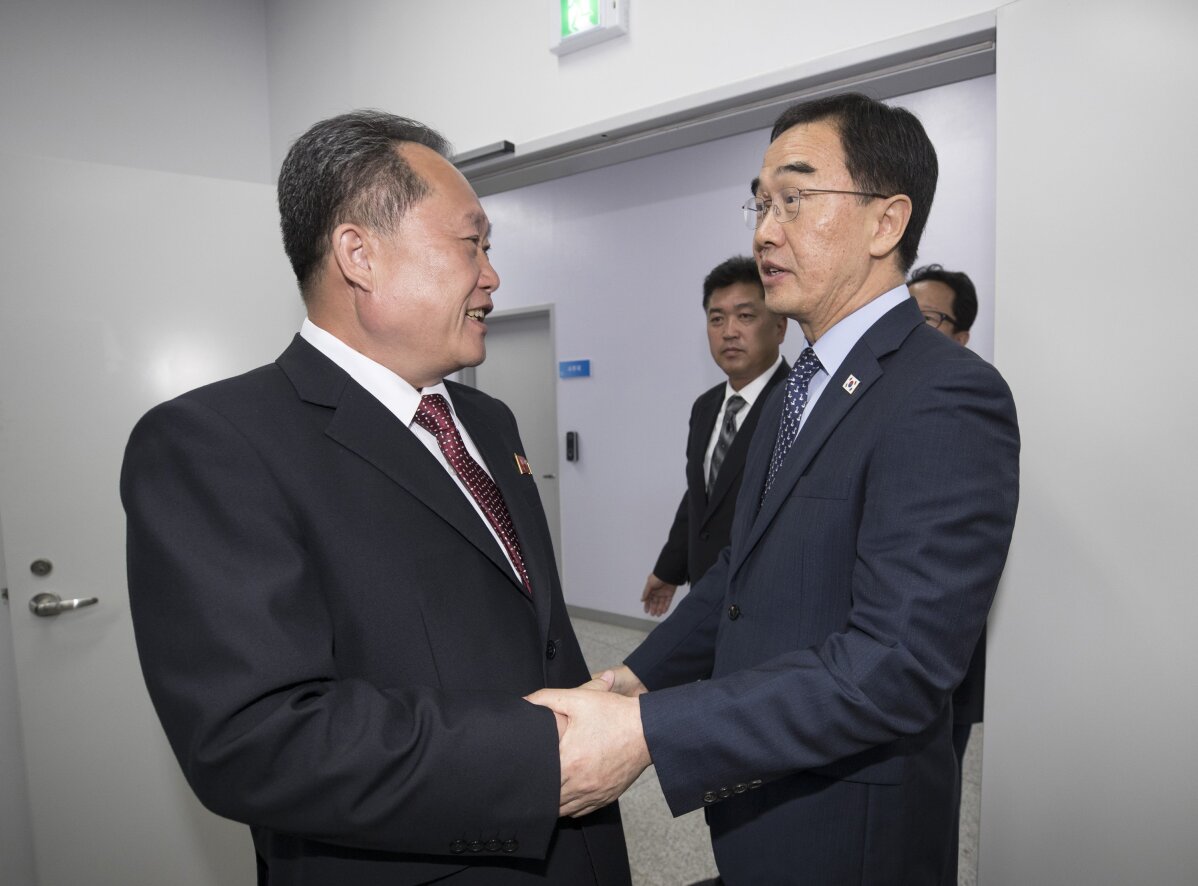 5 of 9

|
South Korea's Unification Minister Cho Myoung-gyon, right, shakes hands with Ri Son Gwon, chairman of the North's Committee for the Peaceful Reunification, during an opening ceremony for two Koreas' first liaison office in Kaesong, North Korea, Friday Sept. 14, 2018. The rival Koreas on Friday launched their first liaison office near their tense border to facilitate better communication and exchanges ahead of their leaders' summit in Pyongyang next week. (Korea Pool/Yonhap via AP)
5 of 9
South Korea's Unification Minister Cho Myoung-gyon, right, shakes hands with Ri Son Gwon, chairman of the North's Committee for the Peaceful Reunification, during an opening ceremony for two Koreas' first liaison office in Kaesong, North Korea, Friday Sept. 14, 2018. The rival Koreas on Friday launched their first liaison office near their tense border to facilitate better communication and exchanges ahead of their leaders' summit in Pyongyang next week. (Korea Pool/Yonhap via AP)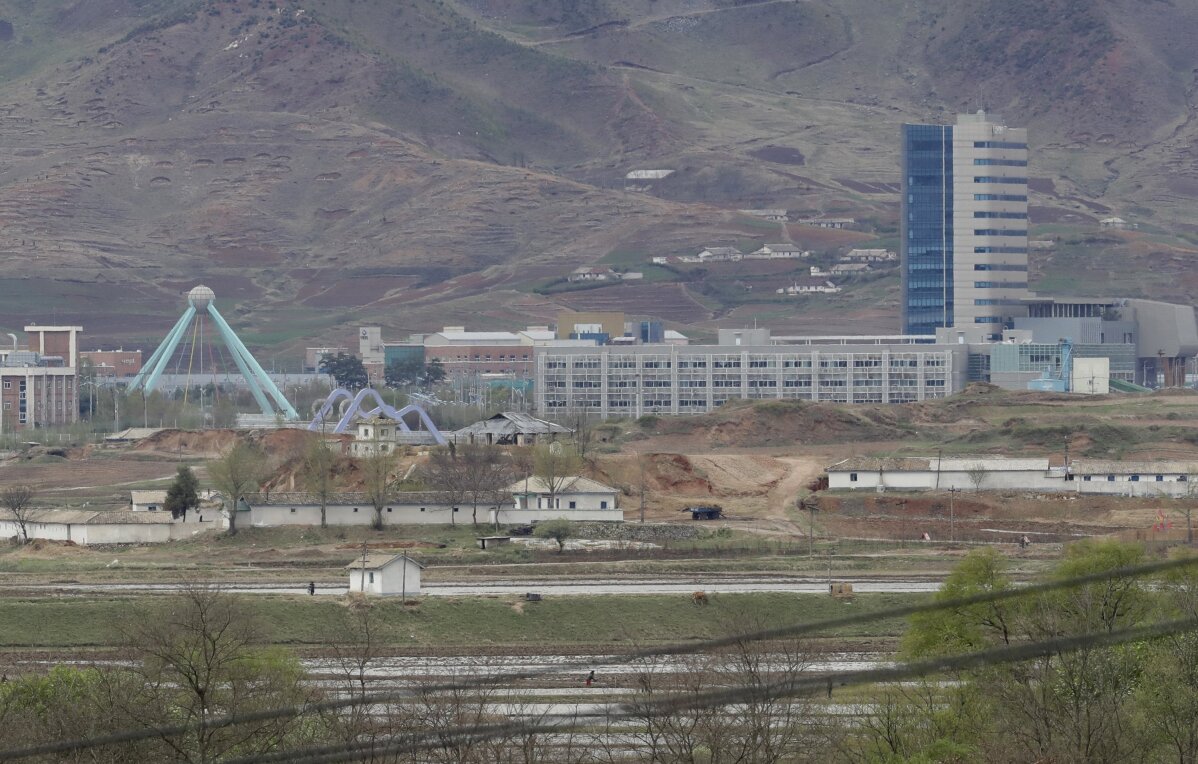 6 of 9

|
FILE - In this April 24, 2018, file photo, the Kaesong industrial complex in North Korea is seen from the Taesungdong freedom village inside the demilitarized zone during a press tour in Paju, South Korea. The rival Koreas on Friday, Sept. 14, 2018, have opened their first liaison office near their tense border to facilitate better communication and exchanges. (AP Photo/Lee Jin-man, File)
6 of 9
FILE - In this April 24, 2018, file photo, the Kaesong industrial complex in North Korea is seen from the Taesungdong freedom village inside the demilitarized zone during a press tour in Paju, South Korea. The rival Koreas on Friday, Sept. 14, 2018, have opened their first liaison office near their tense border to facilitate better communication and exchanges. (AP Photo/Lee Jin-man, File)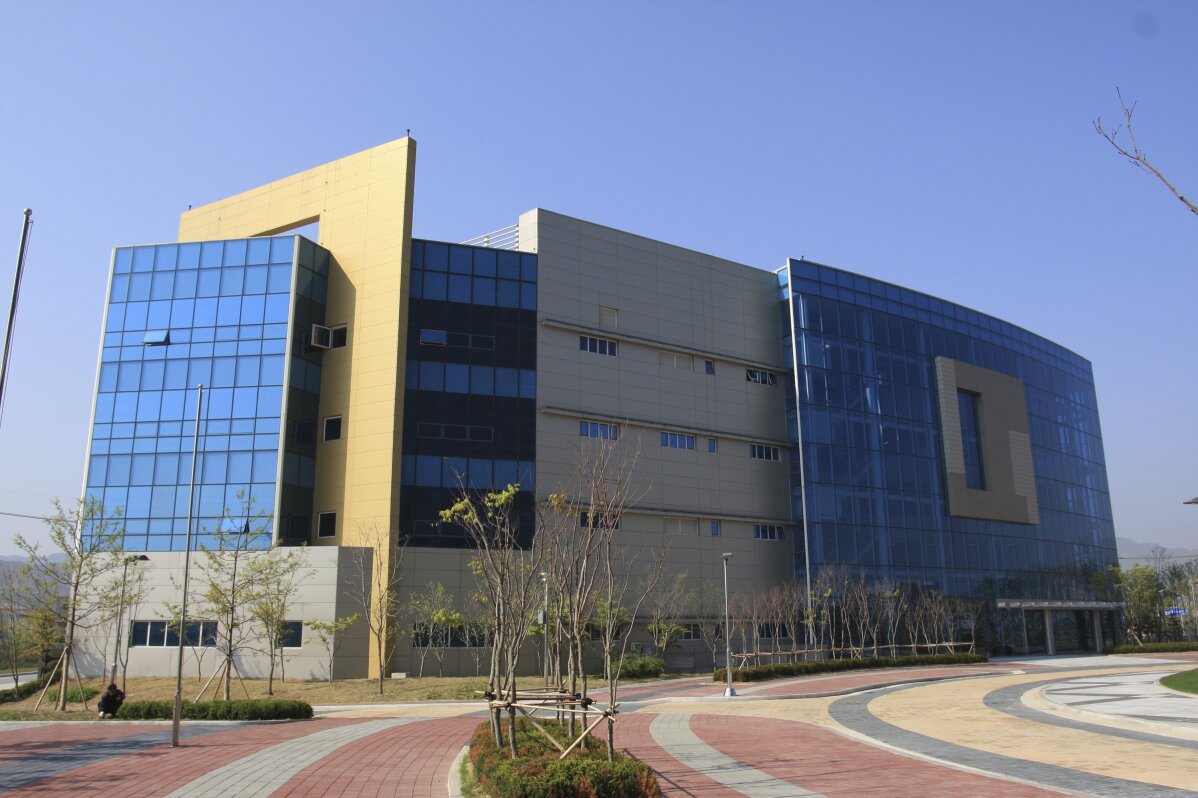 7 of 9

|
This undated photo released on Sept, 12, 2018, from South Korea Unification Ministry via Newsis, shows a liaison office building between South and North Korea in Kaesong, North Korea. The rival Koreas on Friday, Sept. 14, 2018, have opened their first liaison office near their tense border to facilitate better communication and exchanges. (South Korea Unification Ministry/Newsis via AP)
7 of 9
This undated photo released on Sept, 12, 2018, from South Korea Unification Ministry via Newsis, shows a liaison office building between South and North Korea in Kaesong, North Korea. The rival Koreas on Friday, Sept. 14, 2018, have opened their first liaison office near their tense border to facilitate better communication and exchanges. (South Korea Unification Ministry/Newsis via AP)
8 of 9

|
South Korea's Unification Minister Cho Myoung-gyon, left, and Chairman of the North's Committee for the Peaceful Reunification Ri Son Gwon, right, sign during an opening ceremony for two Koreas' first liaison office in Kaesong, North Korea, Friday, Sept. 14, 2018. The rival Koreas on Friday launched their first liaison office near their tense border to facilitate better communication and exchanges ahead of their leaders' summit in Pyongyang next week. (Korea Pool/Yonhap via AP)
8 of 9
South Korea's Unification Minister Cho Myoung-gyon, left, and Chairman of the North's Committee for the Peaceful Reunification Ri Son Gwon, right, sign during an opening ceremony for two Koreas' first liaison office in Kaesong, North Korea, Friday, Sept. 14, 2018. The rival Koreas on Friday launched their first liaison office near their tense border to facilitate better communication and exchanges ahead of their leaders' summit in Pyongyang next week. (Korea Pool/Yonhap via AP)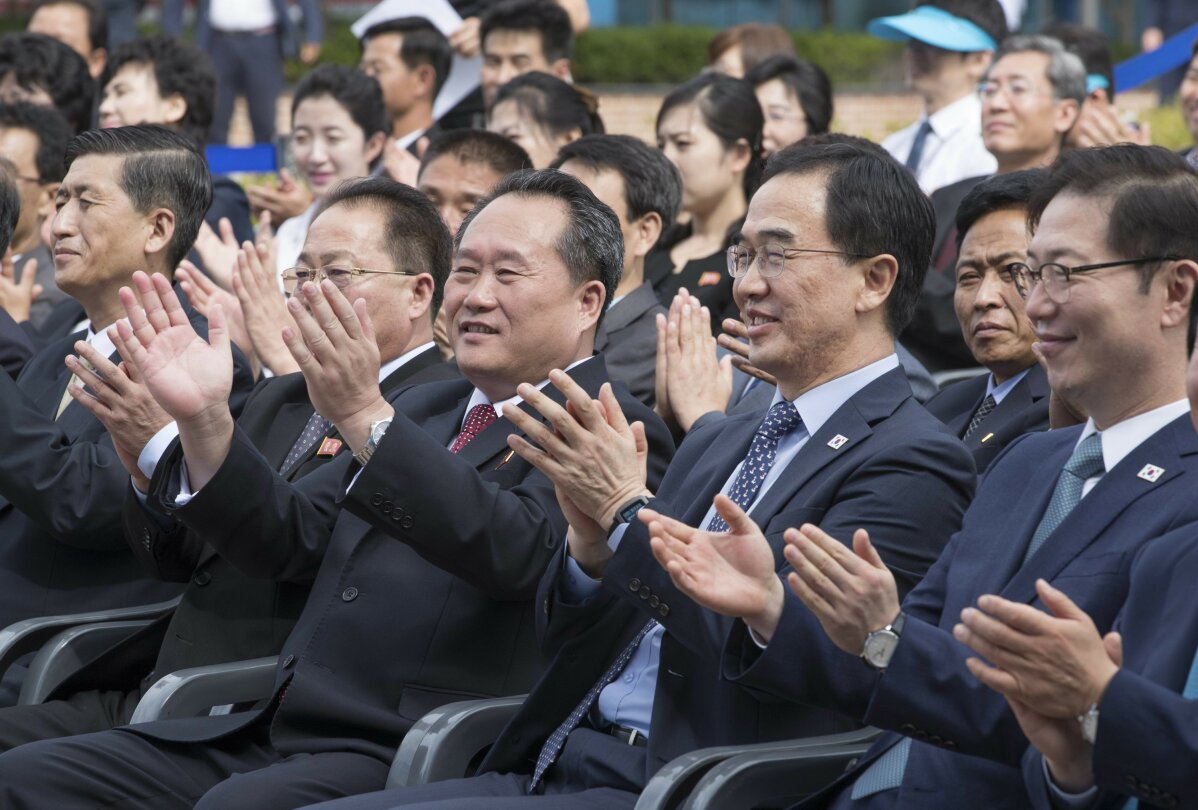 9 of 9

|
South Korea's Unification Minister Cho Myoung-gyon, second from right, Chairman of the North's Committee for the Peaceful Reunification Ri Son Gwon, third from left, applaud during an opening ceremony for two Koreas' first liaison office in Kaesong, North Korea, Friday, Sept. 14, 2018. The rival Koreas on Friday launched their first liaison office near their tense border to facilitate better communication and exchanges ahead of their leaders' summit in Pyongyang next week. (Korea Pool/Yonhap via AP)
9 of 9
South Korea's Unification Minister Cho Myoung-gyon, second from right, Chairman of the North's Committee for the Peaceful Reunification Ri Son Gwon, third from left, applaud during an opening ceremony for two Koreas' first liaison office in Kaesong, North Korea, Friday, Sept. 14, 2018. The rival Koreas on Friday launched their first liaison office near their tense border to facilitate better communication and exchanges ahead of their leaders' summit in Pyongyang next week. (Korea Pool/Yonhap via AP)
SEOUL, South Korea (AP) — The rival Koreas on Friday opened their first liaison office near their tense border to facilitate better communication and exchanges ahead of their leaders' summit in Pyongyang next week.
The office's opening in the North Korean border town of Kaesong is the latest in a series of reconciliatory steps the Koreas have taken this year. The office is the first of its kind since the Koreas were divided at the end of World War II in 1945.
The Koreas so far have been using telephone and fax-like communication channels when they want to arrange talks and exchange messages. But those channels have often been suspended when tensions rose over North Korea's nuclear program.
In an opening ceremony at Kaesong, South Korean Unification Minister Cho Myoung-gyon said the office will become the "cradle of Korean co-prosperity."
"We'll sit face to face, exchange our thoughts fast and accurately and put our heads together to resolve difficult matters," he said in remarks distributed by his office.
Ri Son Gwon, chairman of North Koreas's Committee for Peaceful Reunification, said during the ceremony that the office would help the Koreas have "candid conversations" and further build their ties, according to South Korean media pool reports from the site.
About 15-20 South Korean officials will work at the office from 9 to 5, sleep at nearby lodgings in Kaesong on weekdays and take turns staffing the office on weekends. They will deal with an equal number of North Korean officials stationed at the office to discuss various inter-Korean issues, exchange messages from their capitals and facilitate civilian exchange programs, according to Seoul's Unification Ministry.
The office will be co-headed by Vice South Korean Unification Minister Chun Hae-sung and a deputy head of Ri's committee. They will hold an official meeting once a week, a ministry statement said.
Kaesong is where the Koreas' now-stalled jointly run factory complex is located. The park, which combined South Korean initiatives, capital and technology with North Korea's cheap labor, was seen as a test case for unification of the Koreas. But its operation was suspended in 2016 amid an escalating standoff over North Korea's long-range rocket launches.
The resumption of the Kaesong park and other dormant inter-Korean cooperation projects aren't likely to happen anytime soon because U.S.-led international sanctions on North Korea remain in place. Seoul officials said workers renovated some of the buildings used in the complex to use as the liaison office and the lodging facility.
The liaison office's opening came before South Korean President Moon Jae-in and North Korean leader Kim Jong Un meet next week for the third time this year to discuss denuclearization of the peninsula and other issues.
During the previous meetings with Moon and a separate summit with U.S. President Donald Trump, Kim has expressed a vague commitment to complete denuclearization of the peninsula. He has also dismantled his nuclear and rocket-engine testing sites. But nuclear diplomacy later became stalemated as U.S. officials demanded Kim take more significant steps before receiving concessions such as a joint declaration to end the Korean War.
Moon is to fly to Pyongyang next Tuesday for a three-day trip. He said he will focus on facilitating talks between the United States and North Korea and finding ways to ease the military standoff along the Koreas' heavily fortified border.
In a working-level meeting on Friday, the Koreas agreed to allow live television broadcasts of parts of the summit, Moon's office said. It said the live coverage will include key moments such as when the leaders greet each other in Pyongyang on Tuesday. It did not specify which other parts of the event would be broadcast live.