The Latest: White House responds to higher PR hurricane toll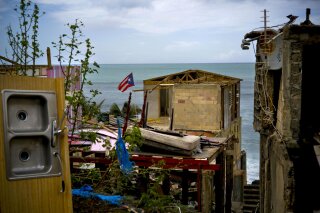 SAN JUAN, Puerto Rico (AP) — The Latest on the death toll from Hurricane Maria in Puerto Rico (all times local):
5:55 p.m.
The White House is responding to a new estimate that dramatically increases the Hurricane Maria death toll in Puerto Rico.
Puerto Rico's governor on Tuesday raised the U.S. territory's official death toll from 64 to 2,975 after an independent study. That's almost twice the government's previous estimate.
White House spokeswoman Sarah Huckabee Sanders says in a statement that the back-to-back hurricanes that hit last year prompted "the largest domestic disaster response mission in history."
She says President Donald Trump "remains proud of all of the work the Federal family undertook to help our fellow citizens in Puerto Rico."
She also says the federal government "will continue to be supportive" of Gov. Ricardo Rossello's accountability efforts and says "the American people, including those grieving the loss of a loved one, deserve no less."
___
3:55 p.m.
Gov. Ricardo Rossello is raising Puerto Rico's official toll from Hurricane Maria from 64 to 2,975 in response to a new, government-commissioned study finding deaths from the storm were severely undercounted.
He's also creating a commission to implement recommendations in the new report, and creating a registry of the people expected to be most vulnerable in a future storm, such as the elderly, bedridden or kidney-dialysis patients.
The new estimate of 2,975 dead in the six months after Maria devastated the island in September 2017 was made by researchers with the Milken Institute School of Public Health at George Washington University. It was released Tuesday.