Worley beats Brignone, Shiffrin to win season-opening GS
1 of 6

|
United States' Mikaela Shiffrin competes during the first run of an alpine ski, women's World Cup giant slalom, in Soelden, Austria Saturday, Oct. 27,2018. (AP Photo/Alessandro Trovati)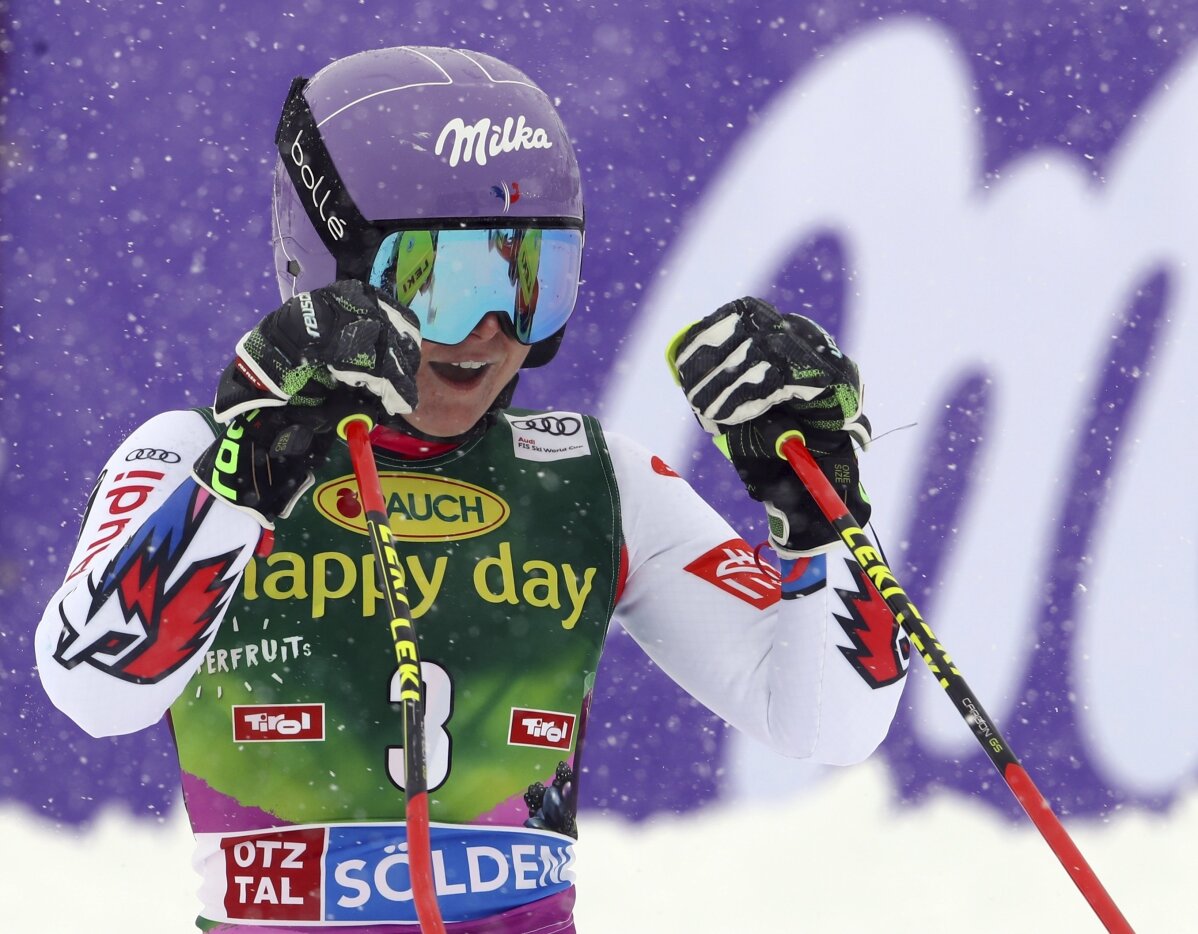 2 of 6

|
France's Tessa Worley celebrates during an alpine ski, women's World Cup giant slalom, in Soelden, Austria Saturday, Oct. 27,2018. (AP Photo/Marco Trovati)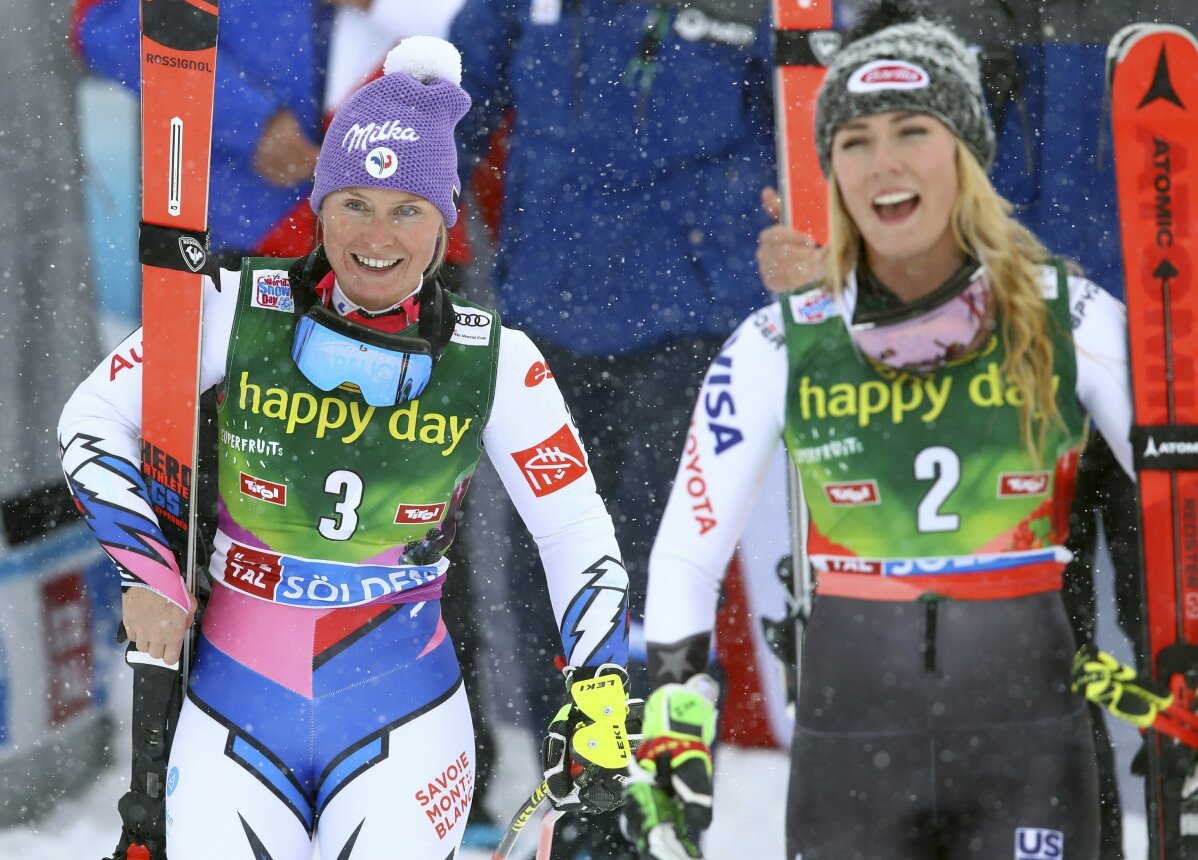 3 of 6

|
France's Tessa Worley, left, celebrates winning an alpine ski, women's World Cup giant slalom, followed by third-placed United States' Mikaela Shiffrin, in Soelden, Austria, Saturday, Oct. 27, 2018. (AP Photo/Alessandro Trovati)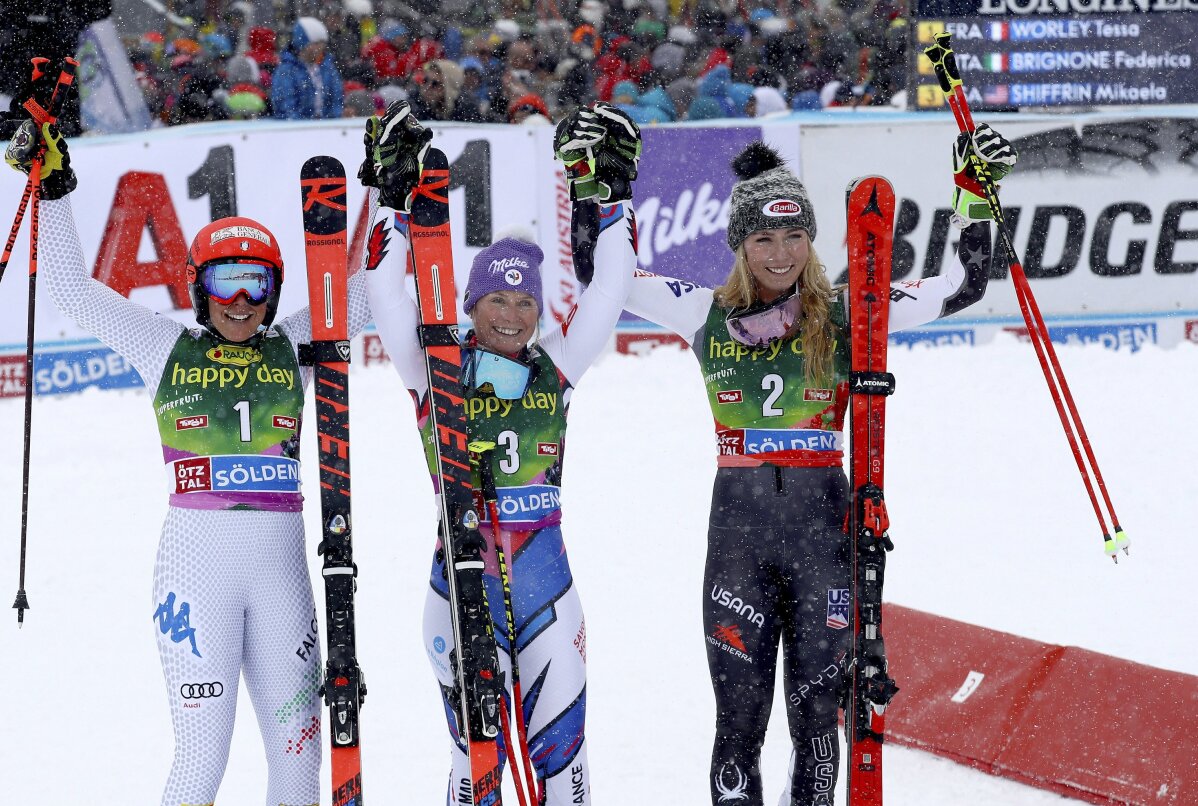 4 of 6

|
France's Tessa Worley, winner of an alpine ski, women's World Cup giant slalom, center, celebrates with second placed Italy's Federica Brignone, left, and third placed United States' Mikaela Shiffrin, in Soelden, Austria Saturday, Oct. 27,2018. (AP Photo/Marco Trovati)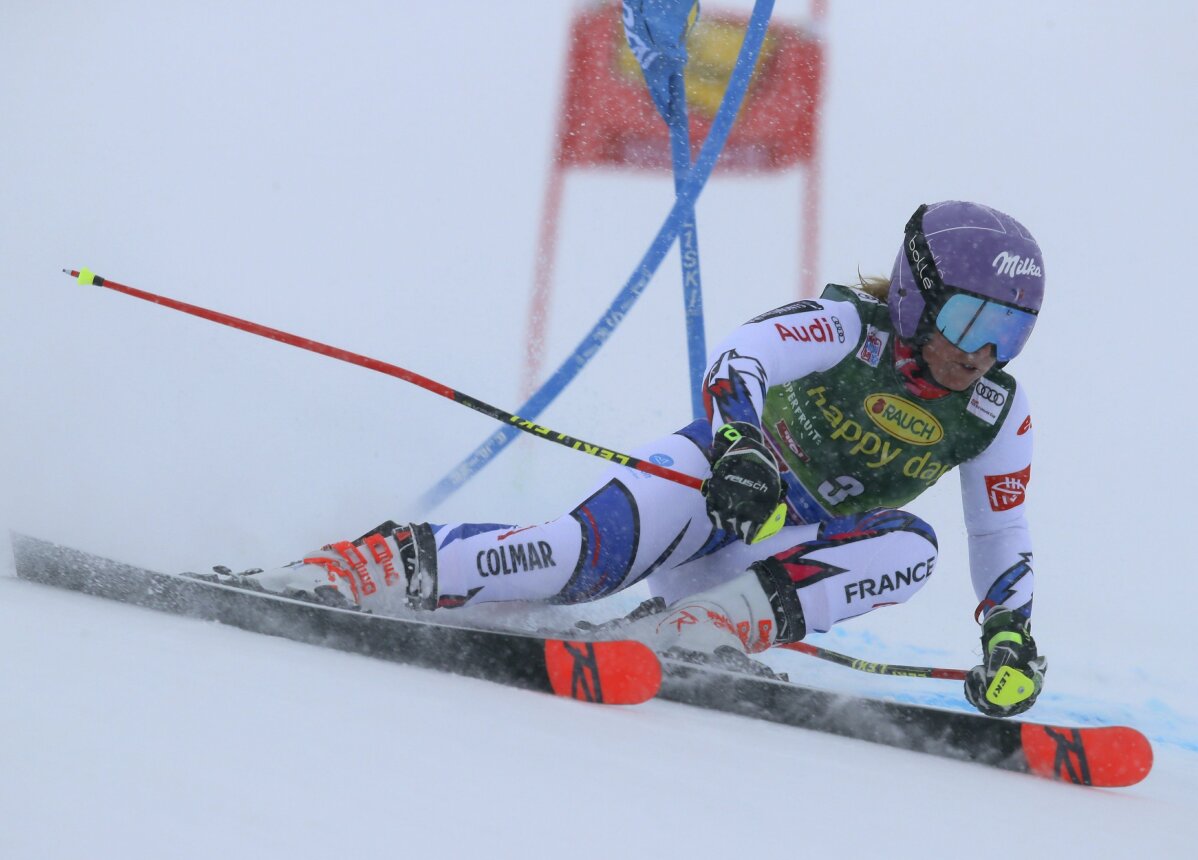 5 of 6

|
France's Tessa Worley competes during the first run of an alpine ski, women's World Cup giant slalom, in Soelden, Austria Saturday, Oct. 27,2018. (AP Photo/Alessandro Trovati)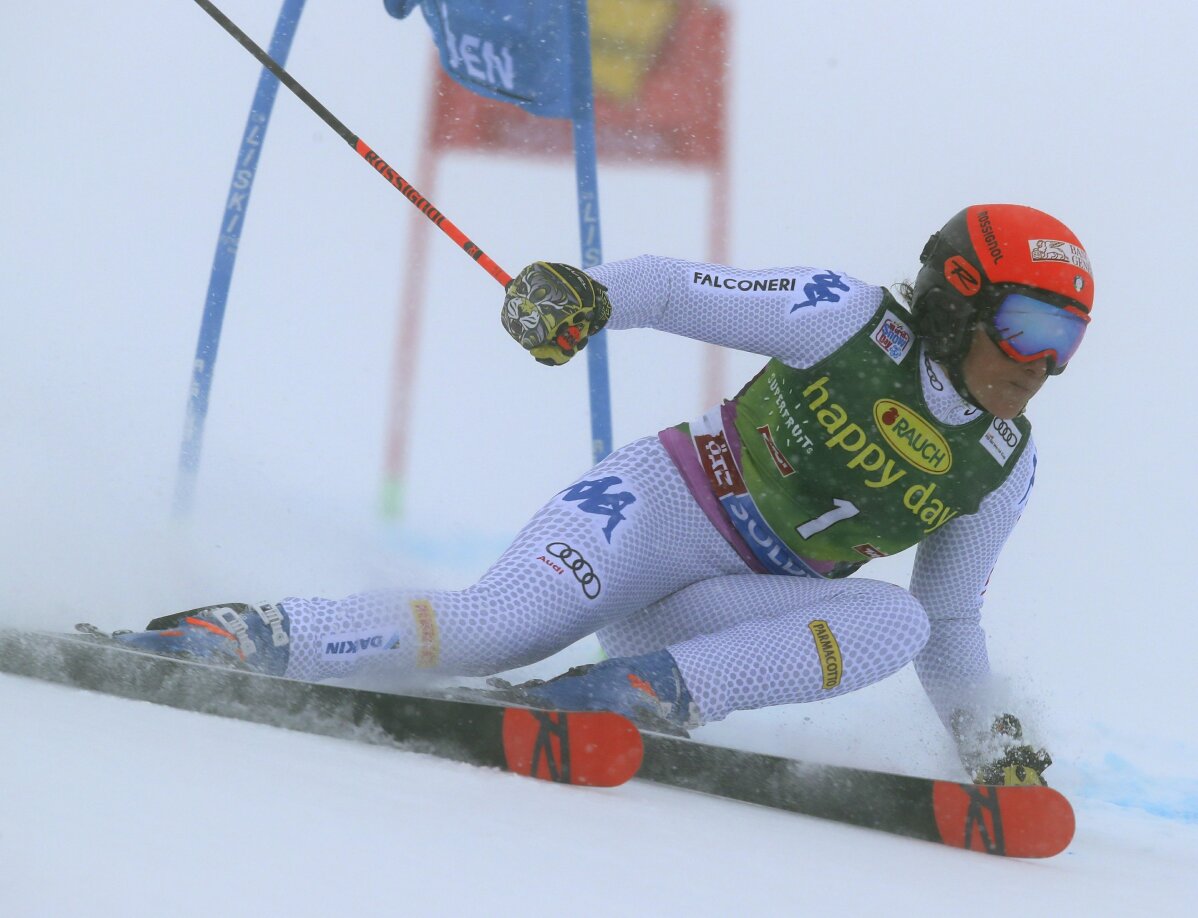 6 of 6

|
Italy's Federica Brignone competes during the first run of an alpine ski, women's World Cup giant slalom, in Soelden, Austria Saturday, Oct. 27,2018. (AP Photo/Alessandro Trovati)
Worley beats Brignone, Shiffrin to win season-opening GS
1 of 6

|
United States' Mikaela Shiffrin competes during the first run of an alpine ski, women's World Cup giant slalom, in Soelden, Austria Saturday, Oct. 27,2018. (AP Photo/Alessandro Trovati)
1 of 6
United States' Mikaela Shiffrin competes during the first run of an alpine ski, women's World Cup giant slalom, in Soelden, Austria Saturday, Oct. 27,2018. (AP Photo/Alessandro Trovati)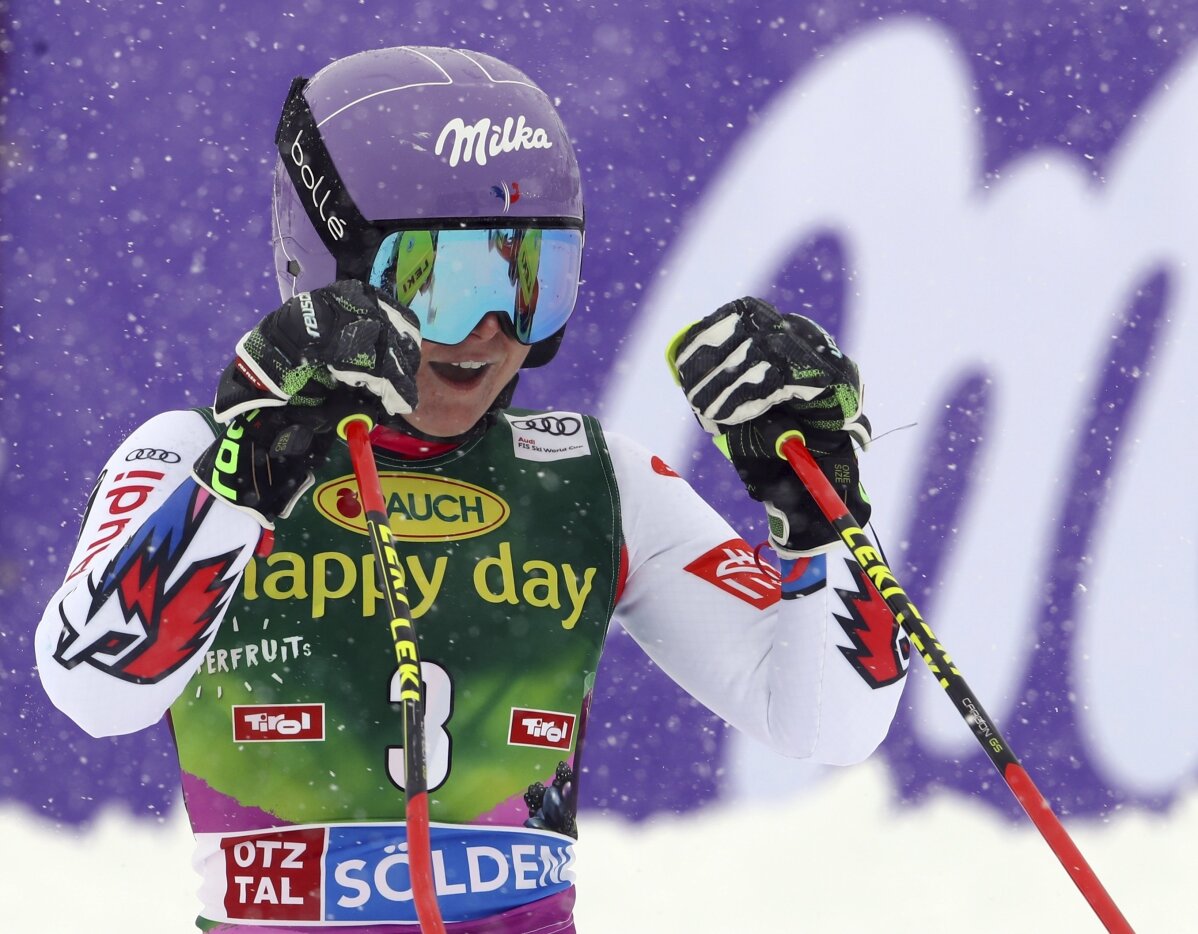 2 of 6

|
France's Tessa Worley celebrates during an alpine ski, women's World Cup giant slalom, in Soelden, Austria Saturday, Oct. 27,2018. (AP Photo/Marco Trovati)
2 of 6
France's Tessa Worley celebrates during an alpine ski, women's World Cup giant slalom, in Soelden, Austria Saturday, Oct. 27,2018. (AP Photo/Marco Trovati)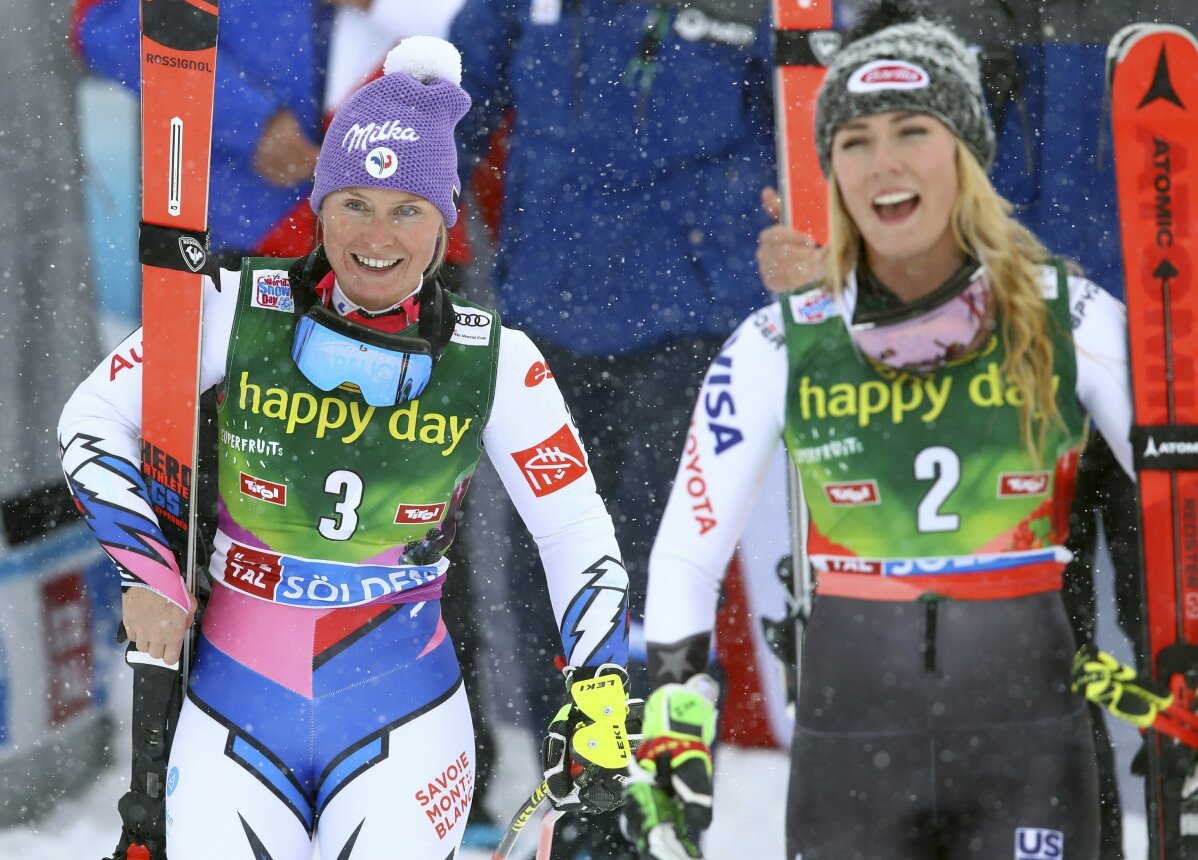 3 of 6

|
France's Tessa Worley, left, celebrates winning an alpine ski, women's World Cup giant slalom, followed by third-placed United States' Mikaela Shiffrin, in Soelden, Austria, Saturday, Oct. 27, 2018. (AP Photo/Alessandro Trovati)
3 of 6
France's Tessa Worley, left, celebrates winning an alpine ski, women's World Cup giant slalom, followed by third-placed United States' Mikaela Shiffrin, in Soelden, Austria, Saturday, Oct. 27, 2018. (AP Photo/Alessandro Trovati)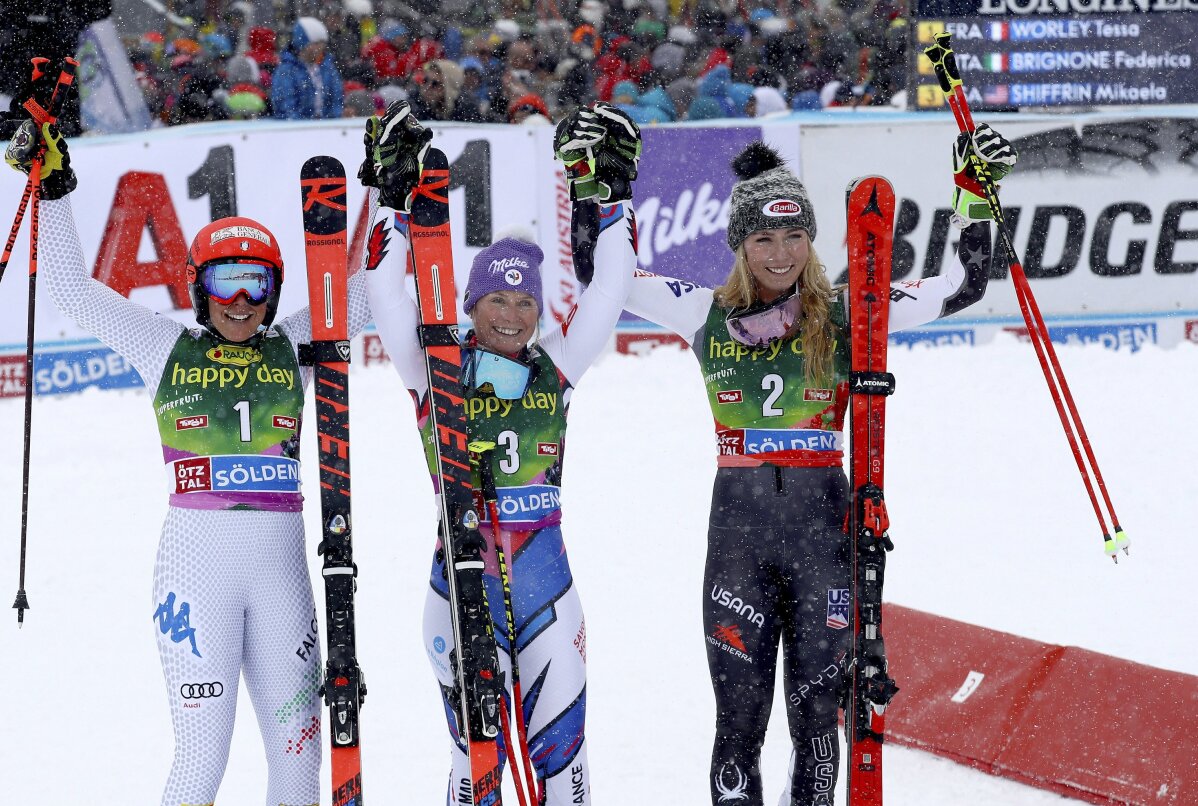 4 of 6

|
France's Tessa Worley, winner of an alpine ski, women's World Cup giant slalom, center, celebrates with second placed Italy's Federica Brignone, left, and third placed United States' Mikaela Shiffrin, in Soelden, Austria Saturday, Oct. 27,2018. (AP Photo/Marco Trovati)
4 of 6
France's Tessa Worley, winner of an alpine ski, women's World Cup giant slalom, center, celebrates with second placed Italy's Federica Brignone, left, and third placed United States' Mikaela Shiffrin, in Soelden, Austria Saturday, Oct. 27,2018. (AP Photo/Marco Trovati)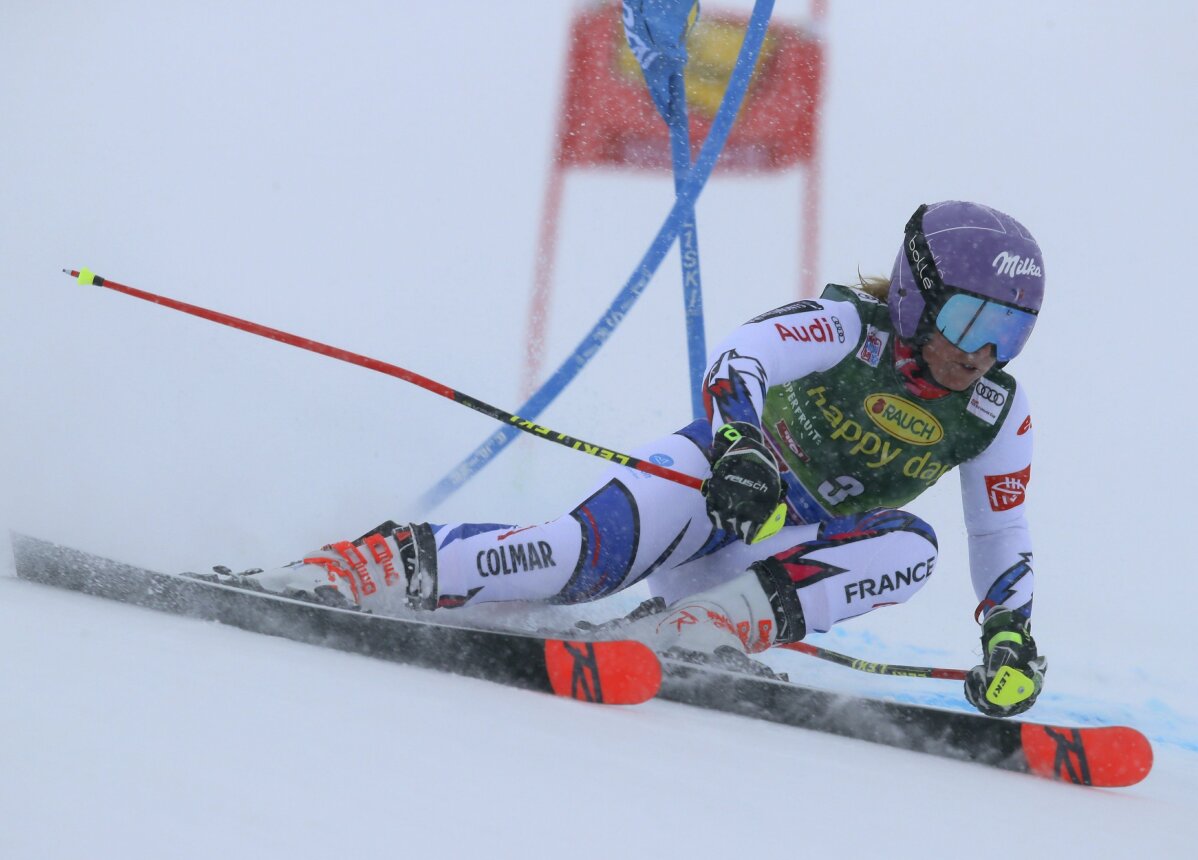 5 of 6

|
France's Tessa Worley competes during the first run of an alpine ski, women's World Cup giant slalom, in Soelden, Austria Saturday, Oct. 27,2018. (AP Photo/Alessandro Trovati)
5 of 6
France's Tessa Worley competes during the first run of an alpine ski, women's World Cup giant slalom, in Soelden, Austria Saturday, Oct. 27,2018. (AP Photo/Alessandro Trovati)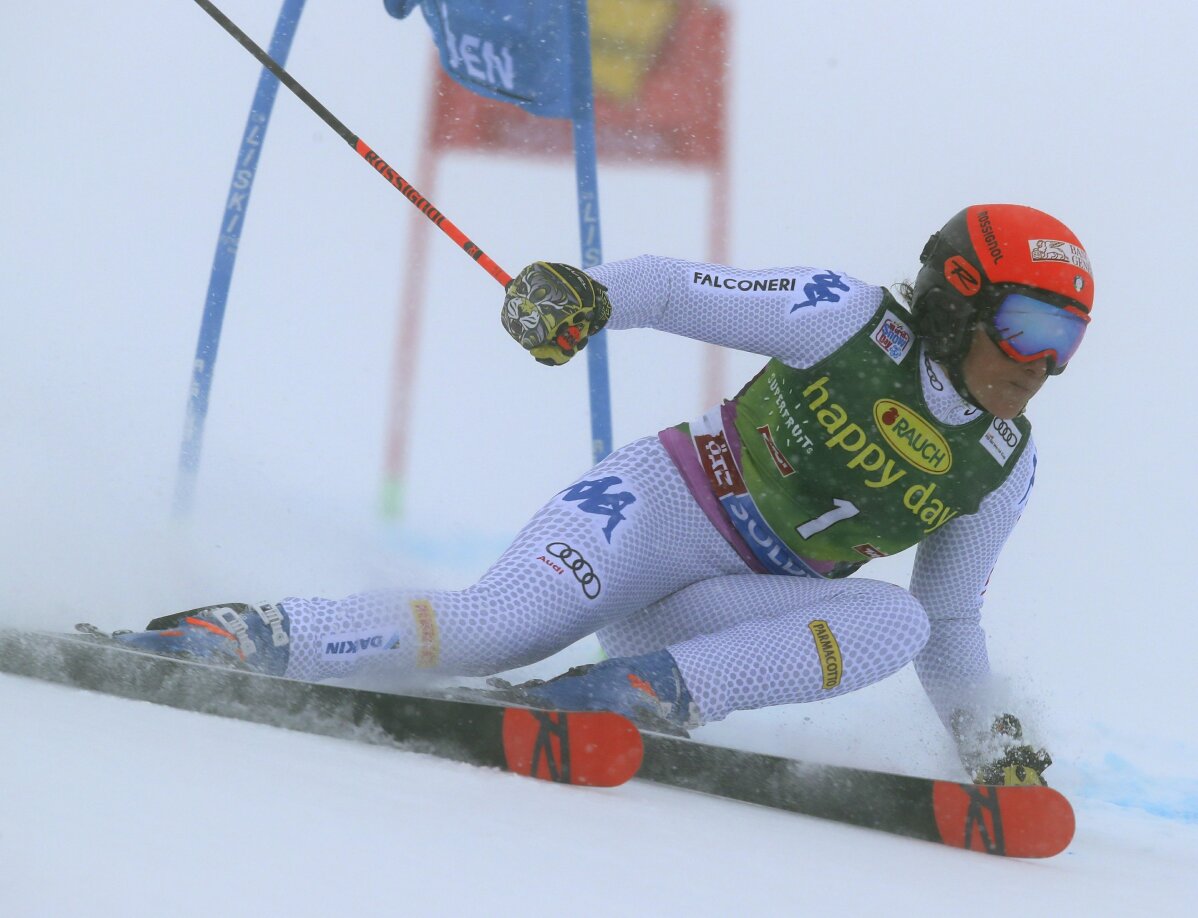 6 of 6

|
Italy's Federica Brignone competes during the first run of an alpine ski, women's World Cup giant slalom, in Soelden, Austria Saturday, Oct. 27,2018. (AP Photo/Alessandro Trovati)
6 of 6
Italy's Federica Brignone competes during the first run of an alpine ski, women's World Cup giant slalom, in Soelden, Austria Saturday, Oct. 27,2018. (AP Photo/Alessandro Trovati)
SOELDEN, Austria (AP) — Tessa Worley mastered tough conditions to win the season-opening women's World Cup giant slalom on Saturday.
While snowfall and low clouds limited visibility, the two-time world champion from France found the fastest way down the Rettenbach glacier in a sparkling final run.
Trailing leader Federica Brignone by four tenths of a second after the first run, Worley posted the fastest time in the final run and beat the Italian by 0.35 for her 13th career win, and first at the Austrian resort.
Olympic GS champion Mikaela Shiffrin finished 0.94 behind in third.
"Soelden is the place where you want to win as a GS skier at least once," Worley said. "It was a pretty tough race. I am proud of this. It was a huge fight. The slope was very bumpy, very difficult, you couldn't see much. I just wanted to charge and have no regrets afterward."
Brignone, who missed 45 days of training in the offseason after picking up a knee injury, was satisfied with her second place, despite losing a solid-looking lead.
"It was the toughest run of my life," said the Italian, who won here three years ago for her first of eight World Cup wins.
The bad weather forced organizers to lower the start gate, reducing run times to about one minute.
Still, the margins separating the racers were huge. In the first run, only 10 skiers managed to stay within two seconds of Brignone's leading time. In the final standings, a deficit of more than three seconds was still enough for a top-10 finish.
The result gave Worley the perfect start to her mission this season: winning back the World Cup title in the discipline.
Worley won the crystal globe for best GS skier in 2017, but lost her title to Viktoria Rebensburg the next year after the last race of the season at the World Cup Finals was canceled.
On Saturday, Rebensburg was second after the opening run but the German dropped to fourth, 0.99 off the lead.
"I put too much pressure on myself last season and I didn't have great Olympics," Worley said. "Now I am trying to enjoy it more. Pressure is always there, but today I wasn't thinking about what could go wrong."
On a course set by her coach Mike Day, Shiffrin placed fourth in the opening run as she lost six tenths of a second on leader Brignone.
"I was a little bit disappointed with my first run, I wasn't really fighting hard enough," the two-time defending overall champion said. "For sure (my second run) was better. It was not like pretty skiing but I was fighting harder. I had fun out there but I also had some turns that were not fun at all."
With the GS season title one of her main goals, Shiffrin was happy to start the season with a podium finish.
"It is a great place to start and I know I have lot more in me," she said. "Last year, Tessa, Vicky and I had a pretty good fight. I was not really consistent enough to be a contender for the globe but this year I hope I can be more consistent."
The bad weather could also affect Sunday's opening race of the men's World Cup, as snowfall was expected to increase and gusts have been forecast.
Citing "the present weather situation," organizers will also lower the start for that race, while the actual setting of gates has been postponed until early Sunday morning.
___
More AP sports: https://apnews.com/tag/apf-sports and https://twitter.com/AP_Sports