AP FACT CHECK: Democratic senator misstates abortion deaths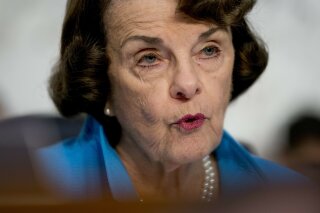 WASHINGTON (AP) — In her questioning of Supreme Court nominee Brett Kavanaugh on Wednesday, a Democratic senator vastly overstated the number of women believed to have died from illegal abortions in the two decades before the procedure was affirmed as a constitutional right.
SEN. DIANNE FEINSTEIN: "In the 1950s and 60s, the two decades before Roe, deaths from illegal abortions in this country ran between 200,000 and 1.2 million. That's according to the Guttmacher Institute."
THE FACTS: Known deaths from illegal abortion were much smaller. The California senator conflated the estimated number of women who had an illegal abortion with the number who died from it, according to the research she cites.
The Guttmacher Institute, which supports abortion rights, cites estimates in a 2003 report that 200,000 to 1.2 million illegal abortions were performed in the 1950s and 1960s in the U.S. The report says the number of deaths from illegal abortion dropped from just under 1,700 in 1940 to just over 300 by 1950 and a little under 200 by 1965. The Supreme Court established a constitutional right to abortion in the 1973 Roe v. Wade decision.
___
Find AP Fact Checks at http://apne.ws/2kbx8bd
Follow @APFactCheck on Twitter: https://twitter.com/APFactCheck
___
Online:
Guttmacher report: https://bit.ly/2JSHHI8