Iowa's Catlin Clark had memorable season, March Madness run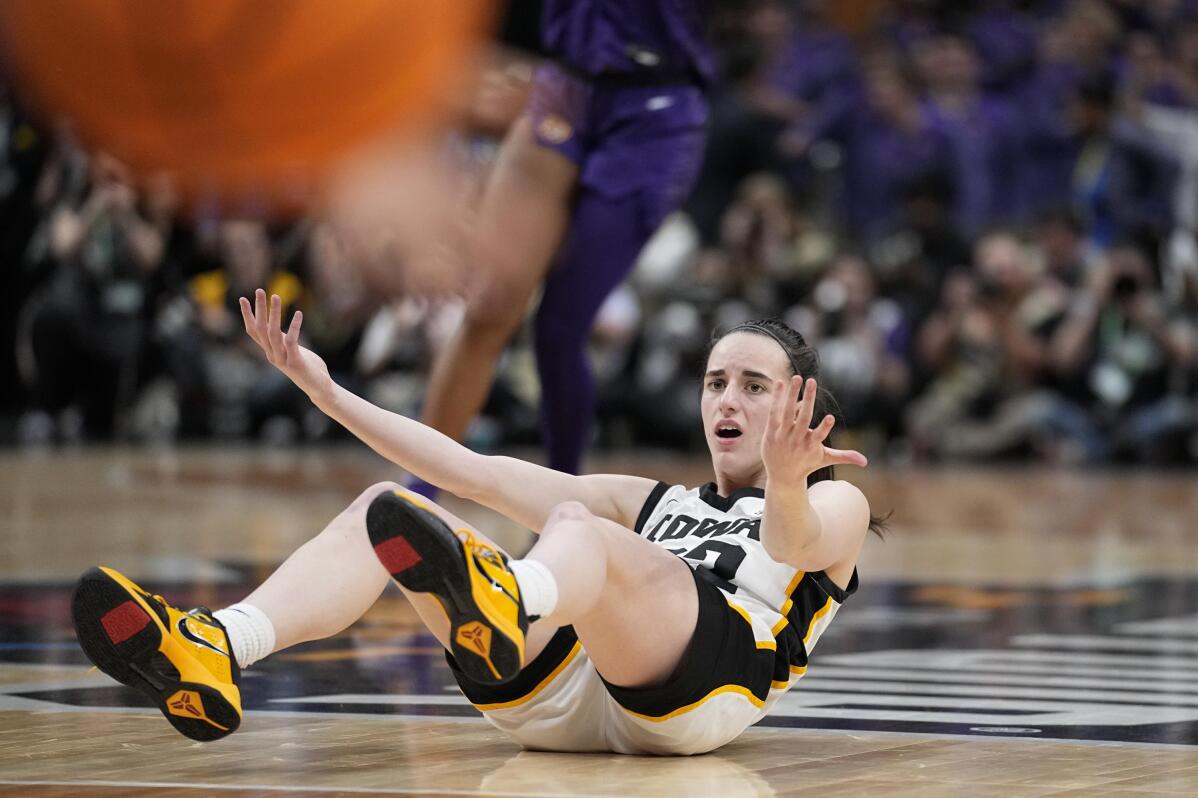 1 of 11

|
Iowa's Caitlin Clark looks for a call during the second half of the NCAA Women's Final Four championship basketball game against LSU Sunday, April 2, 2023, in Dallas. (AP Photo/Tony Gutierrez)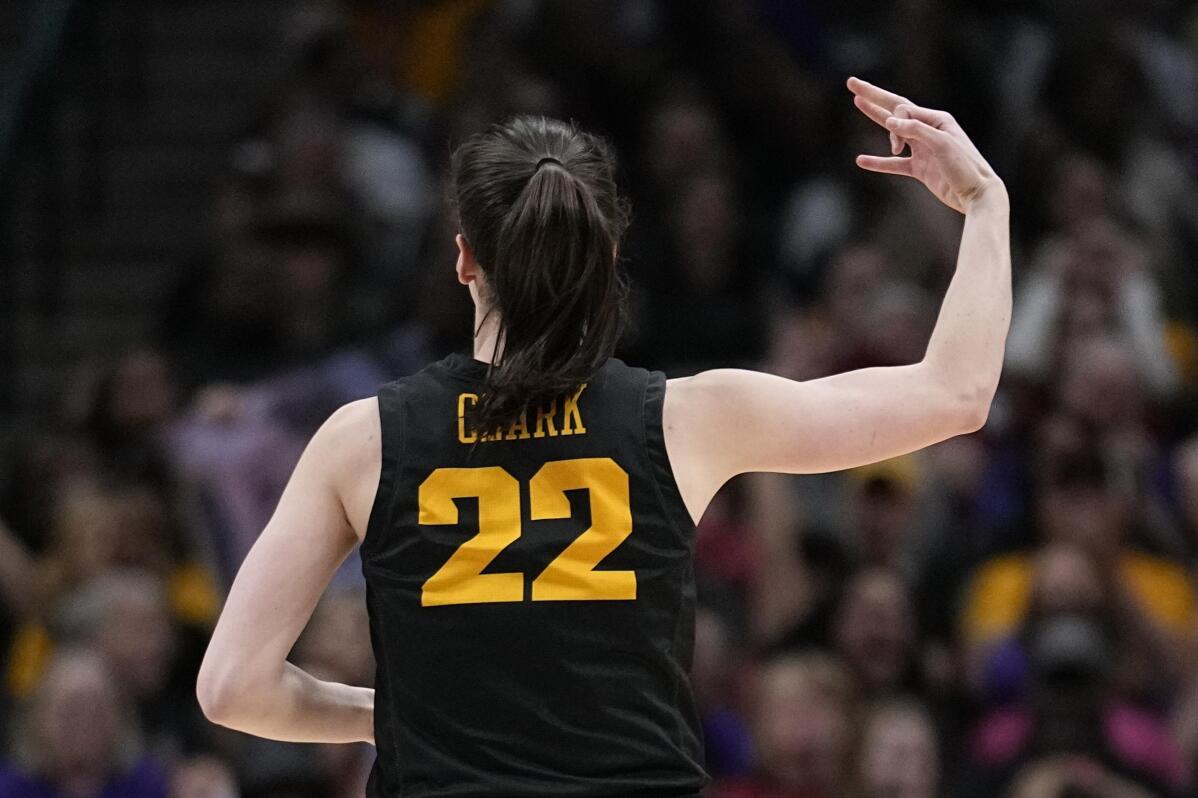 2 of 11

|
Iowa's Caitlin Clark reacts after a three pointer during the second half of an NCAA Women's Final Four semifinals basketball game against South CarolinaFriday, March 31, 2023, in Dallas. (AP Photo/Tony Gutierrez)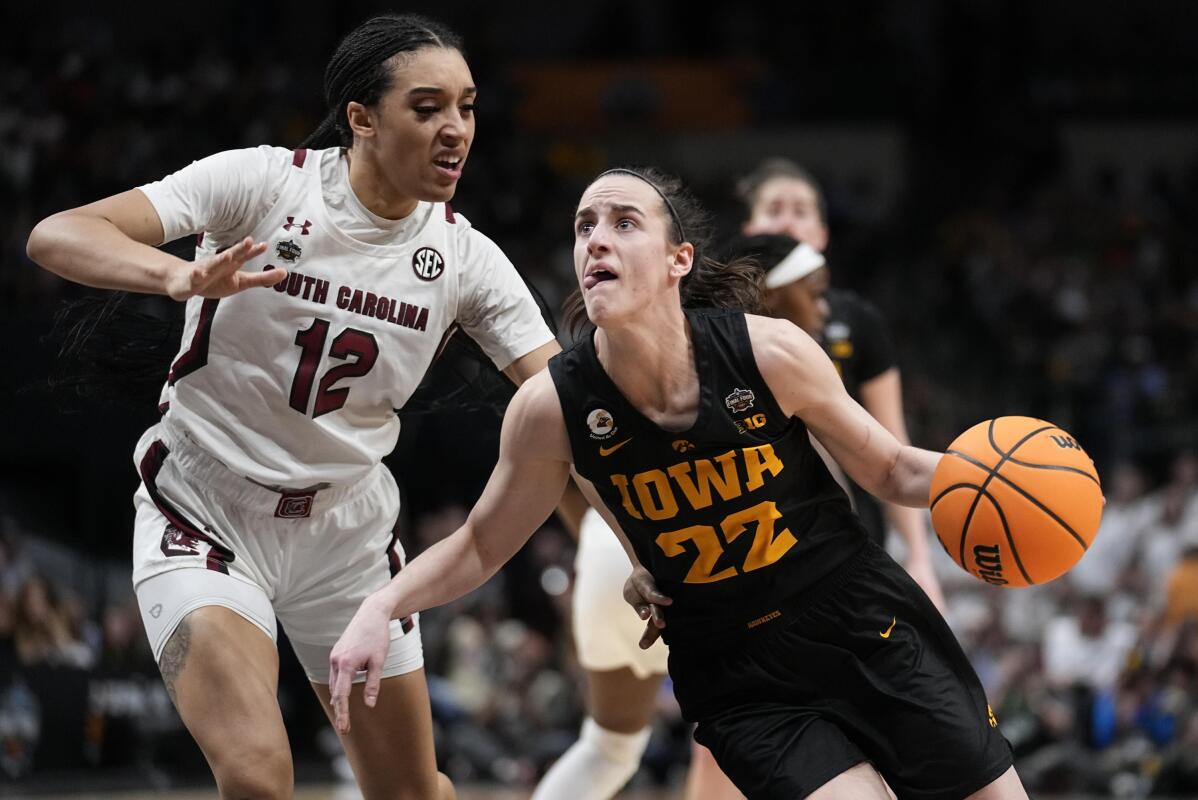 3 of 11

|
Iowa's Caitlin Clark drives past South Carolina's Brea Beal during the second half of an NCAA Women's Final Four semifinals basketball game Friday, March 31, 2023, in Dallas. (AP Photo/Tony Gutierrez)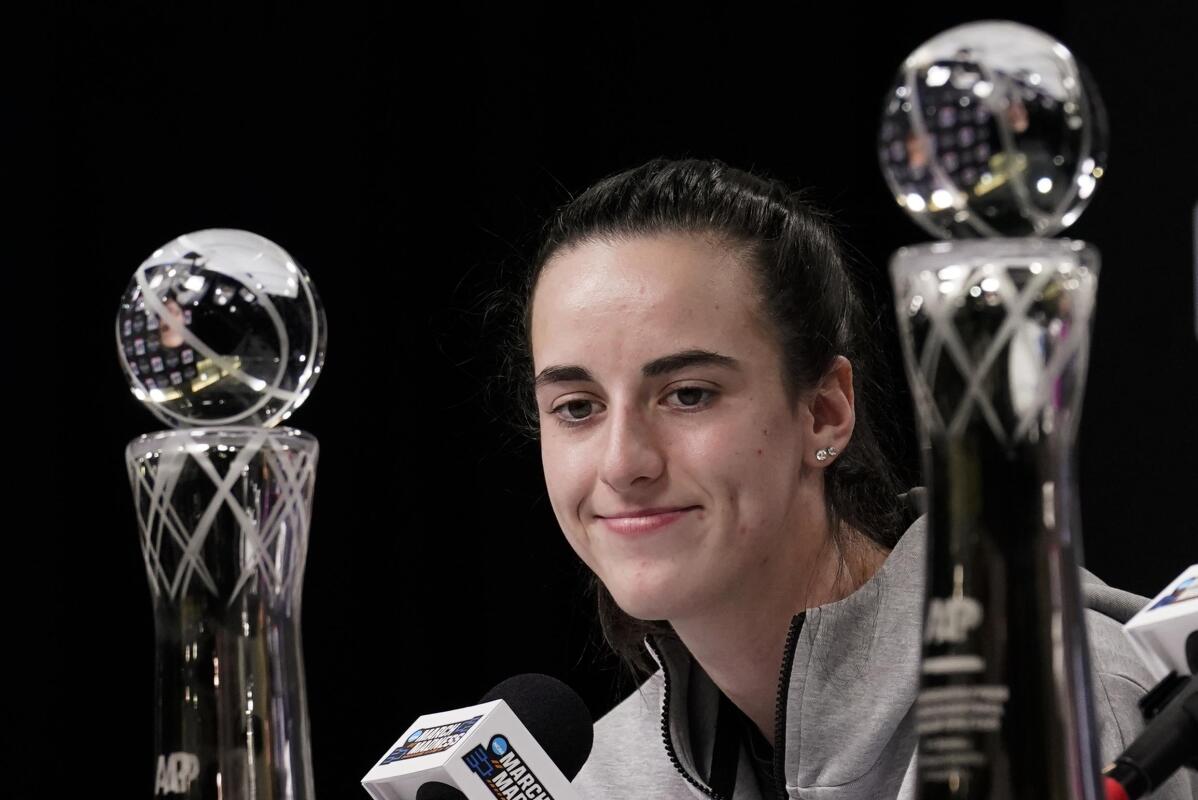 4 of 11

|
Iowa's Caitlin Clark speaks at a press conference after she was introduced as the AP Player of the Year Thursday, March 30, 2023, in Dallas. (AP Photo/Tony Gutierrez)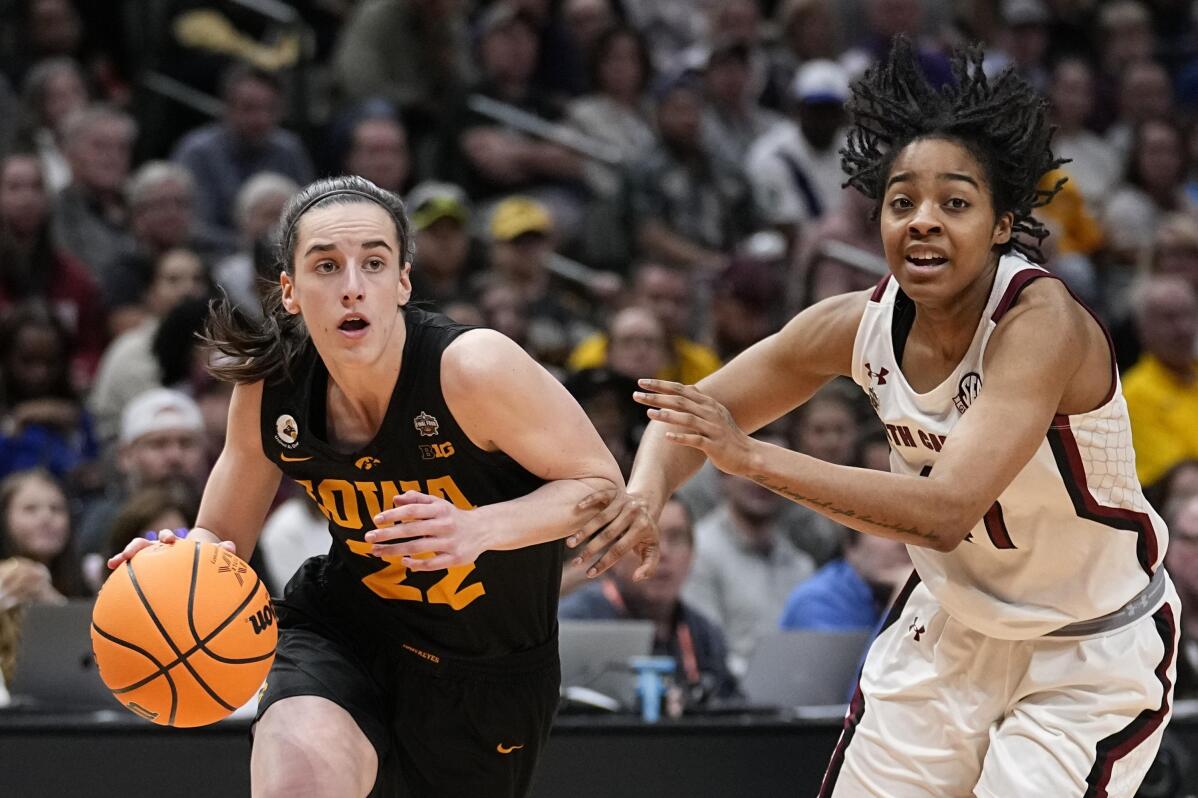 5 of 11

|
Iowa's Caitlin Clark gets past South Carolina's Kierra Fletcher during the second half of an NCAA Women's Final Four semifinals basketball game Friday, March 31, 2023, in Dallas. (AP Photo/Tony Gutierrez)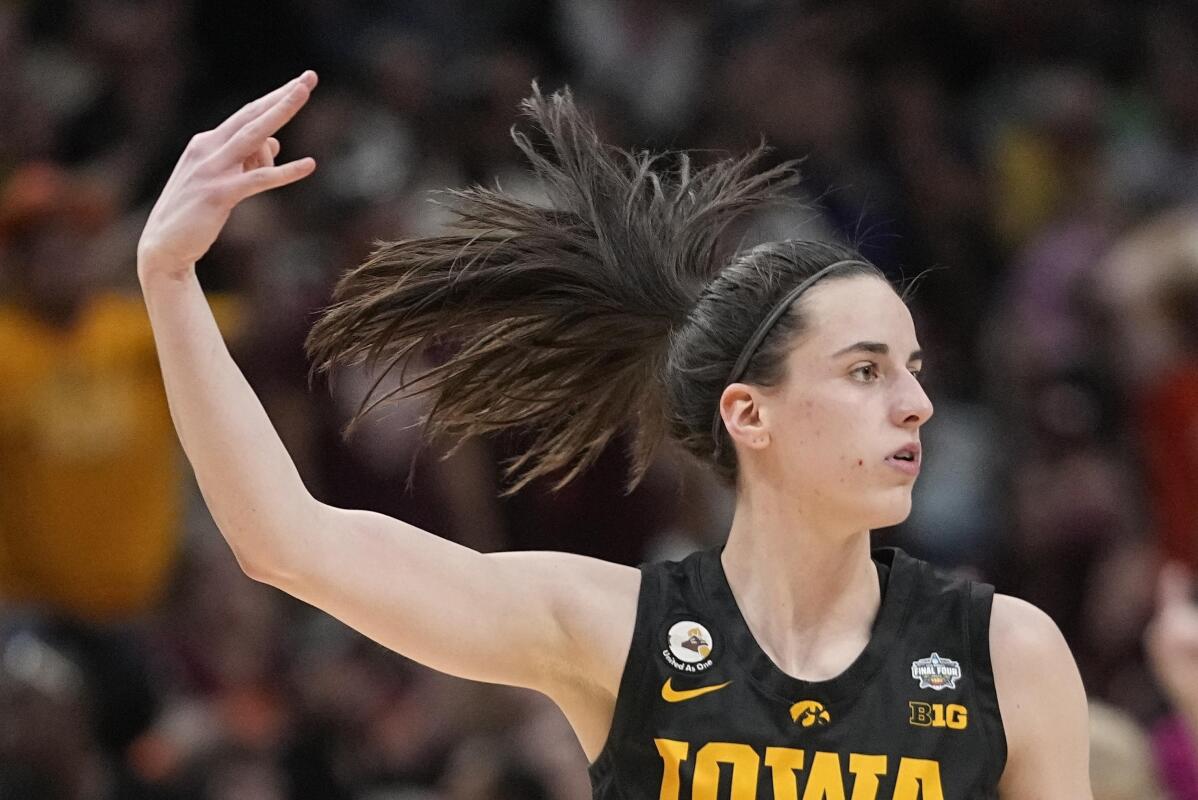 6 of 11

|
Iowa's Caitlin Clark reacts after a three pointer during the second half of an NCAA Women's Final Four semifinals basketball game against South Carolina Friday, March 31, 2023, in Dallas. (AP Photo/Darron Cummings)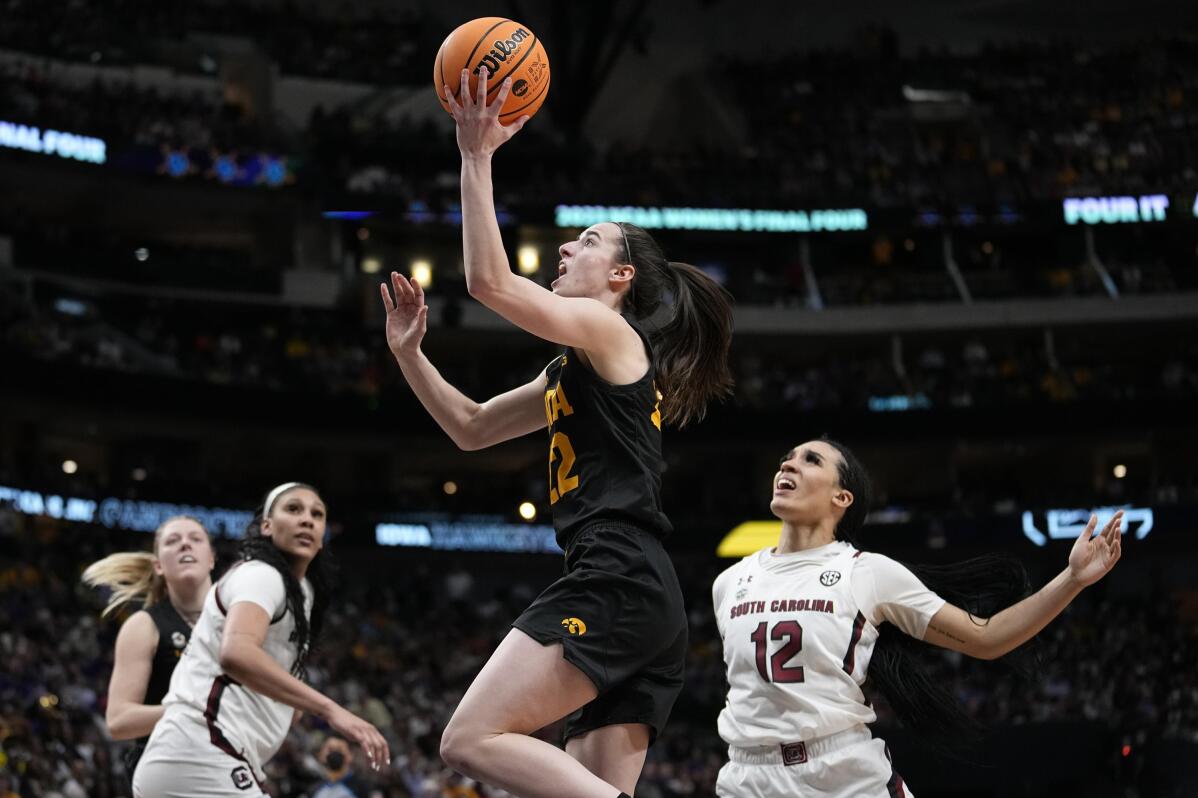 7 of 11

|
Iowa's Caitlin Clark shoots past South Carolina's Brea Beal during the second half of an NCAA Women's Final Four semifinals basketball game Friday, March 31, 2023, in Dallas. (AP Photo/Tony Gutierrez)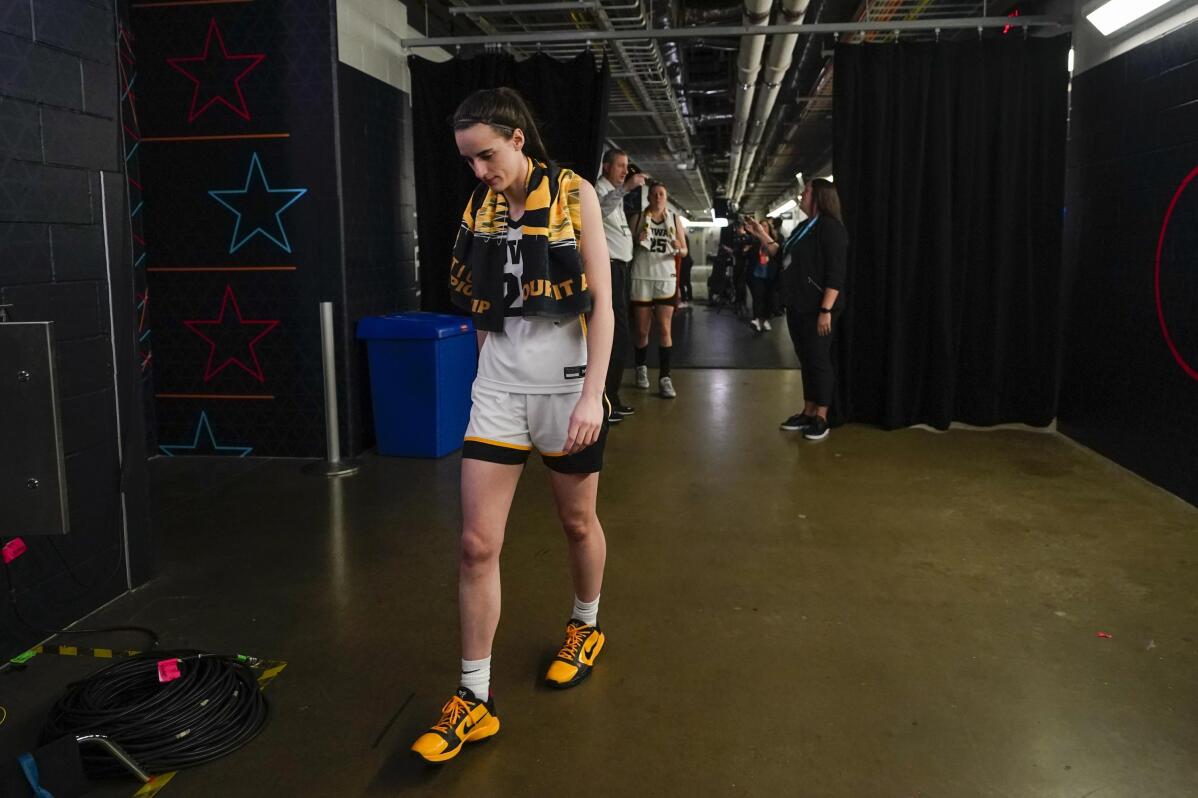 8 of 11

|
Iowa's Caitlin Clark walks to the locker room after the NCAA Women's Final Four championship basketball game against LSU Sunday, April 2, 2023, in Dallas. LSU won 102-85 to win the championship. (AP Photo/Darron Cummings)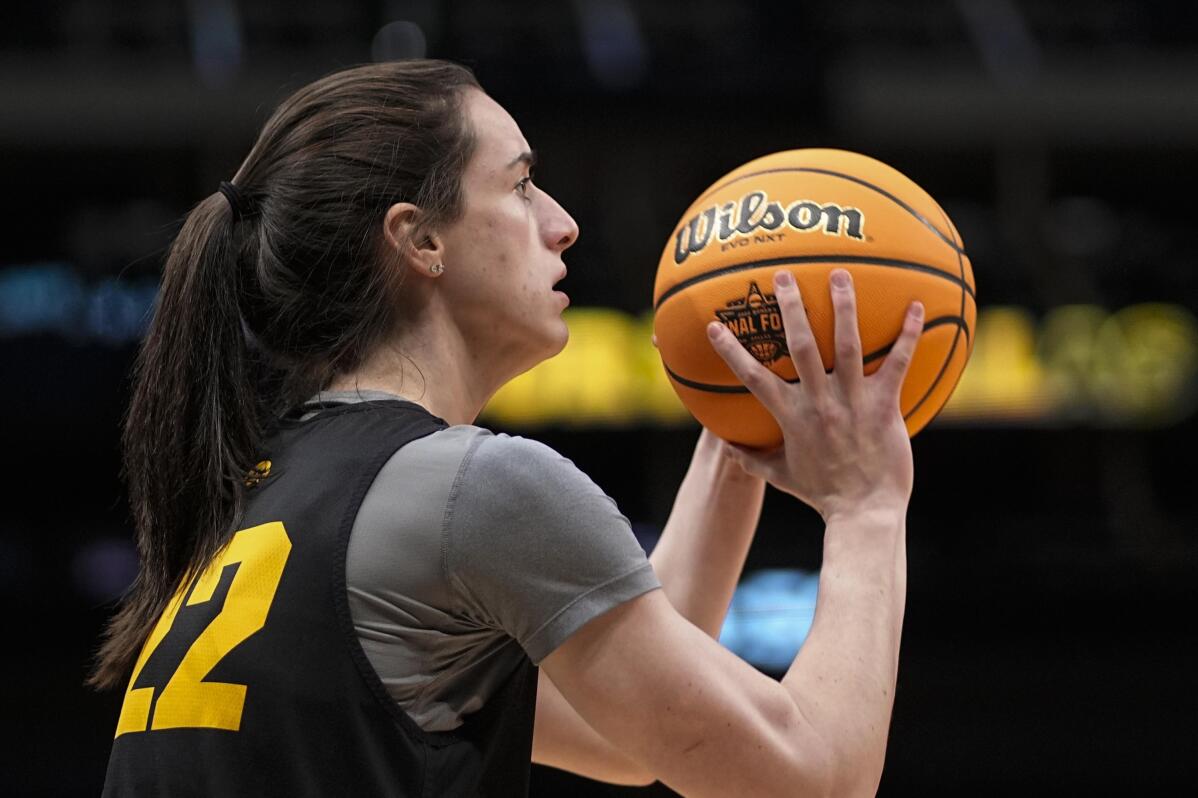 9 of 11

|
Iowa's Caitlin Clark shoots during a practice session for an NCAA Women's Final Four semifinals basketball game Thursday, March 30, 2023, in Dallas. (AP Photo/Darron Cummings)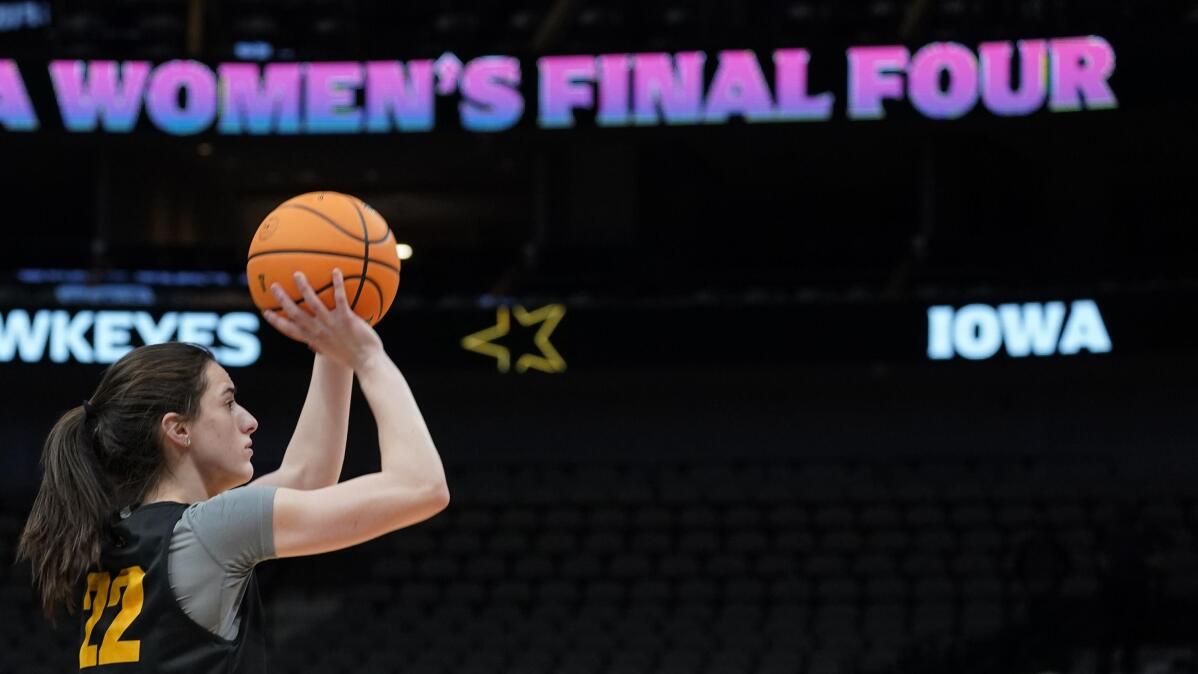 10 of 11

|
Iowa's Caitlin Clark shoots during a practice session for an NCAA Women's Final Four semifinals basketball game Thursday, March 30, 2023, in Dallas. (AP Photo/Tony Gutierrez)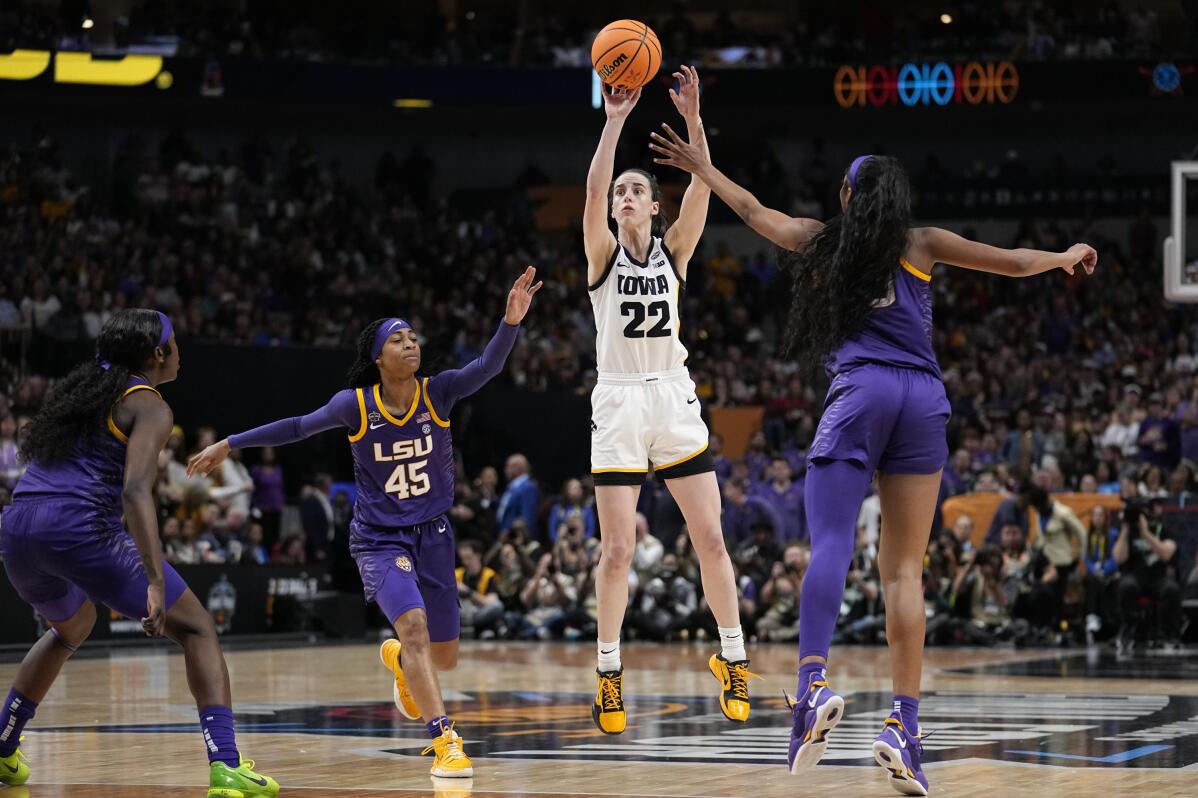 11 of 11

|
Iowa's Caitlin Clark shoots during the second half of the NCAA Women's Final Four championship basketball game against LSU Sunday, April 2, 2023, in Dallas. (AP Photo/Tony Gutierrez)
Iowa's Catlin Clark had memorable season, March Madness run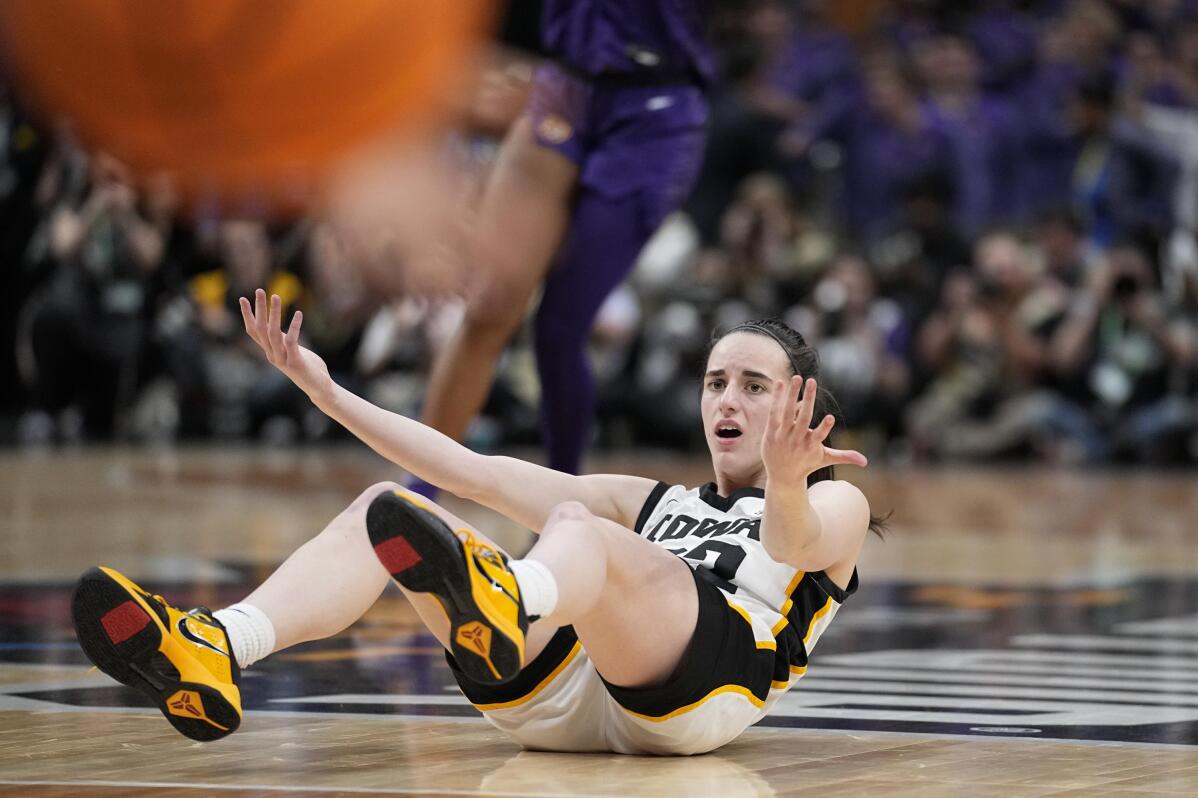 1 of 11

|
Iowa's Caitlin Clark looks for a call during the second half of the NCAA Women's Final Four championship basketball game against LSU Sunday, April 2, 2023, in Dallas. (AP Photo/Tony Gutierrez)
1 of 11
Iowa's Caitlin Clark looks for a call during the second half of the NCAA Women's Final Four championship basketball game against LSU Sunday, April 2, 2023, in Dallas. (AP Photo/Tony Gutierrez)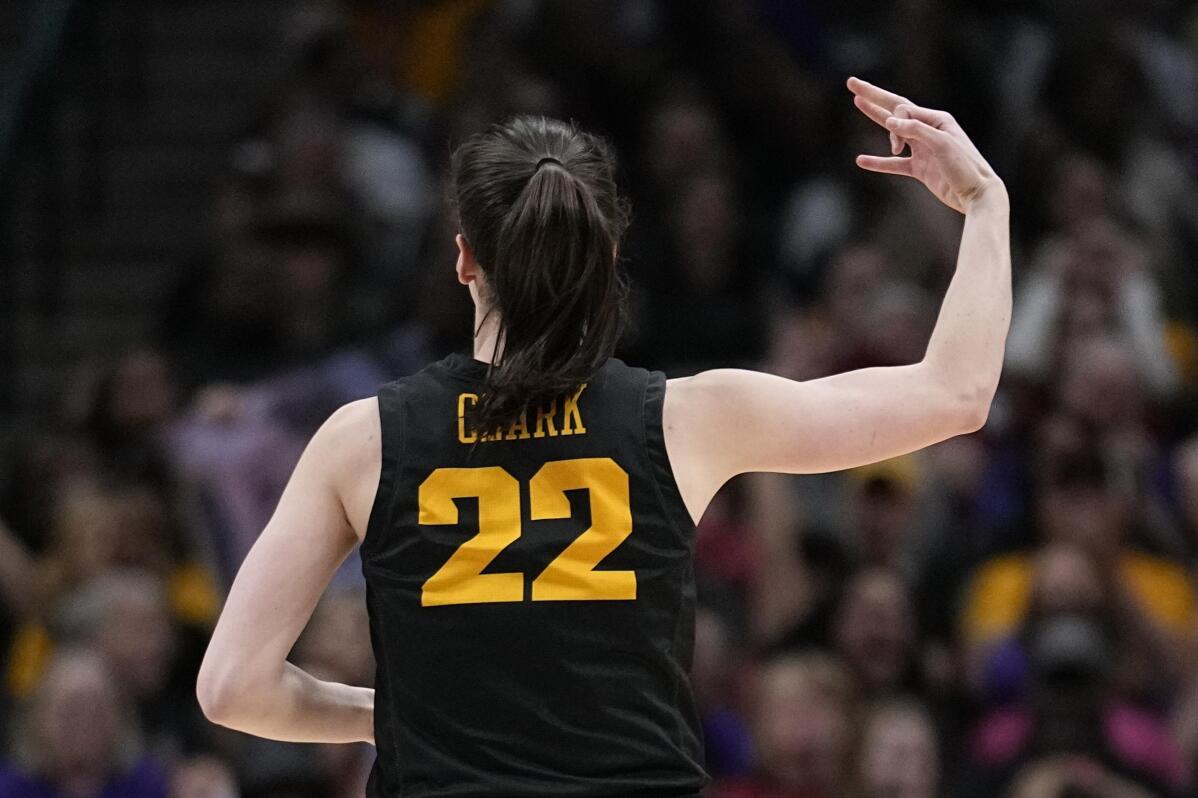 2 of 11

|
Iowa's Caitlin Clark reacts after a three pointer during the second half of an NCAA Women's Final Four semifinals basketball game against South CarolinaFriday, March 31, 2023, in Dallas. (AP Photo/Tony Gutierrez)
2 of 11
Iowa's Caitlin Clark reacts after a three pointer during the second half of an NCAA Women's Final Four semifinals basketball game against South CarolinaFriday, March 31, 2023, in Dallas. (AP Photo/Tony Gutierrez)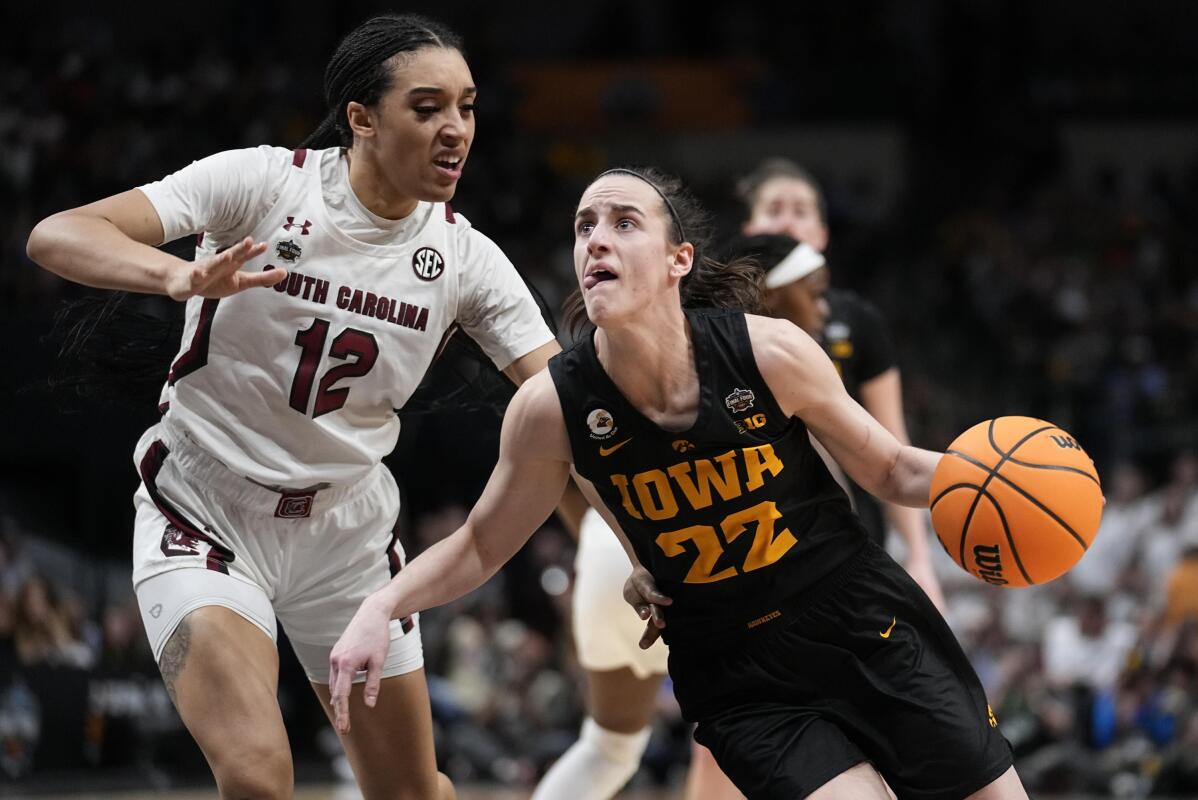 3 of 11

|
Iowa's Caitlin Clark drives past South Carolina's Brea Beal during the second half of an NCAA Women's Final Four semifinals basketball game Friday, March 31, 2023, in Dallas. (AP Photo/Tony Gutierrez)
3 of 11
Iowa's Caitlin Clark drives past South Carolina's Brea Beal during the second half of an NCAA Women's Final Four semifinals basketball game Friday, March 31, 2023, in Dallas. (AP Photo/Tony Gutierrez)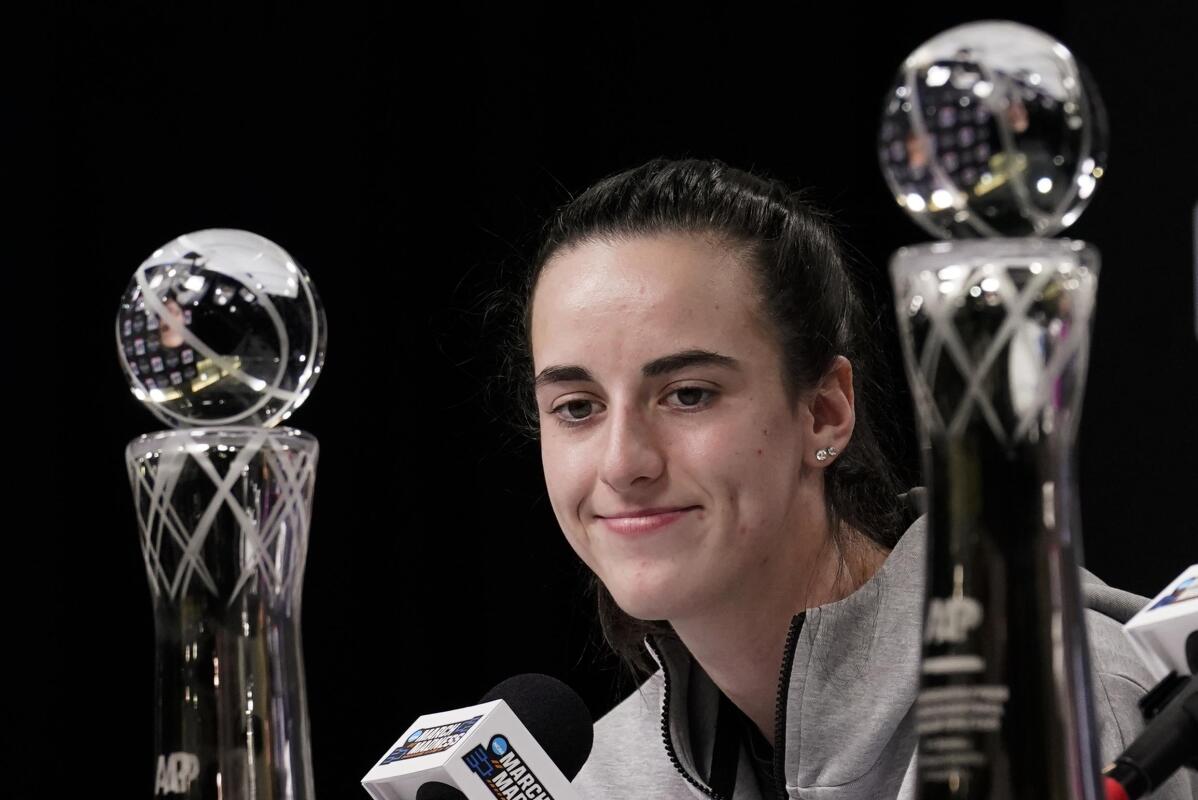 4 of 11

|
Iowa's Caitlin Clark speaks at a press conference after she was introduced as the AP Player of the Year Thursday, March 30, 2023, in Dallas. (AP Photo/Tony Gutierrez)
4 of 11
Iowa's Caitlin Clark speaks at a press conference after she was introduced as the AP Player of the Year Thursday, March 30, 2023, in Dallas. (AP Photo/Tony Gutierrez)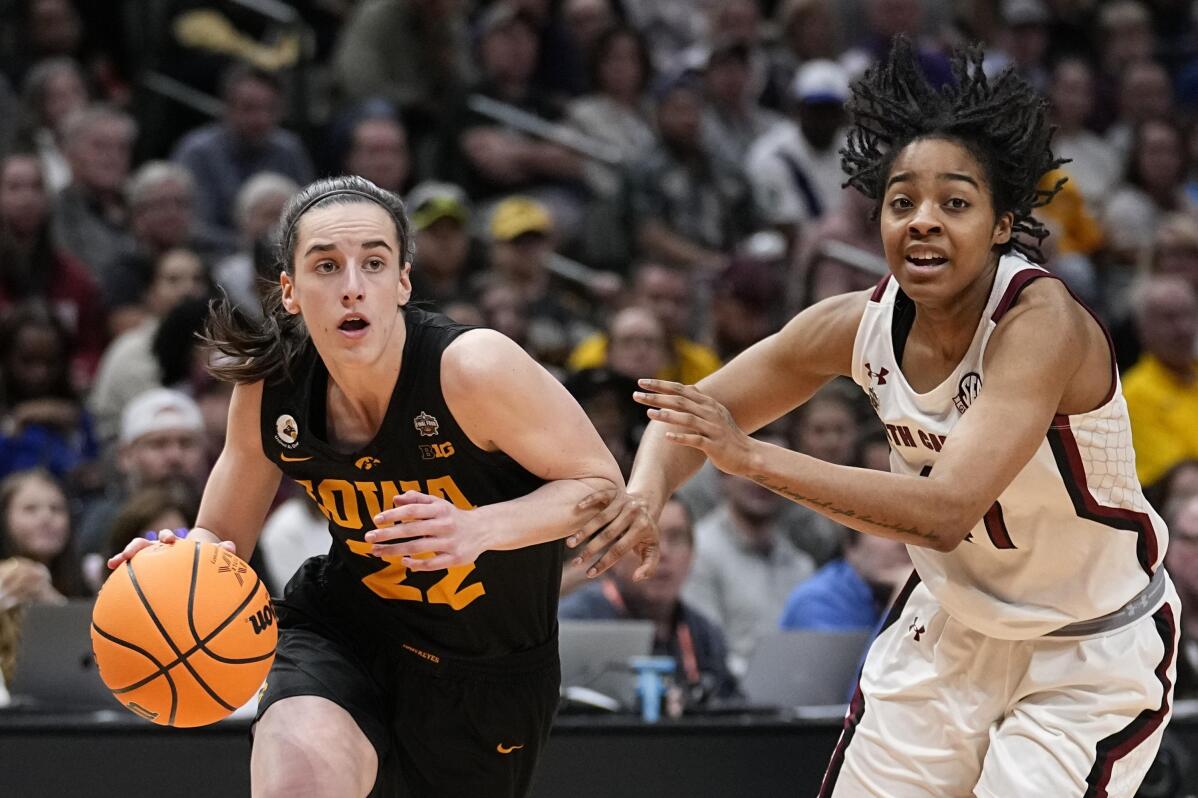 5 of 11

|
Iowa's Caitlin Clark gets past South Carolina's Kierra Fletcher during the second half of an NCAA Women's Final Four semifinals basketball game Friday, March 31, 2023, in Dallas. (AP Photo/Tony Gutierrez)
5 of 11
Iowa's Caitlin Clark gets past South Carolina's Kierra Fletcher during the second half of an NCAA Women's Final Four semifinals basketball game Friday, March 31, 2023, in Dallas. (AP Photo/Tony Gutierrez)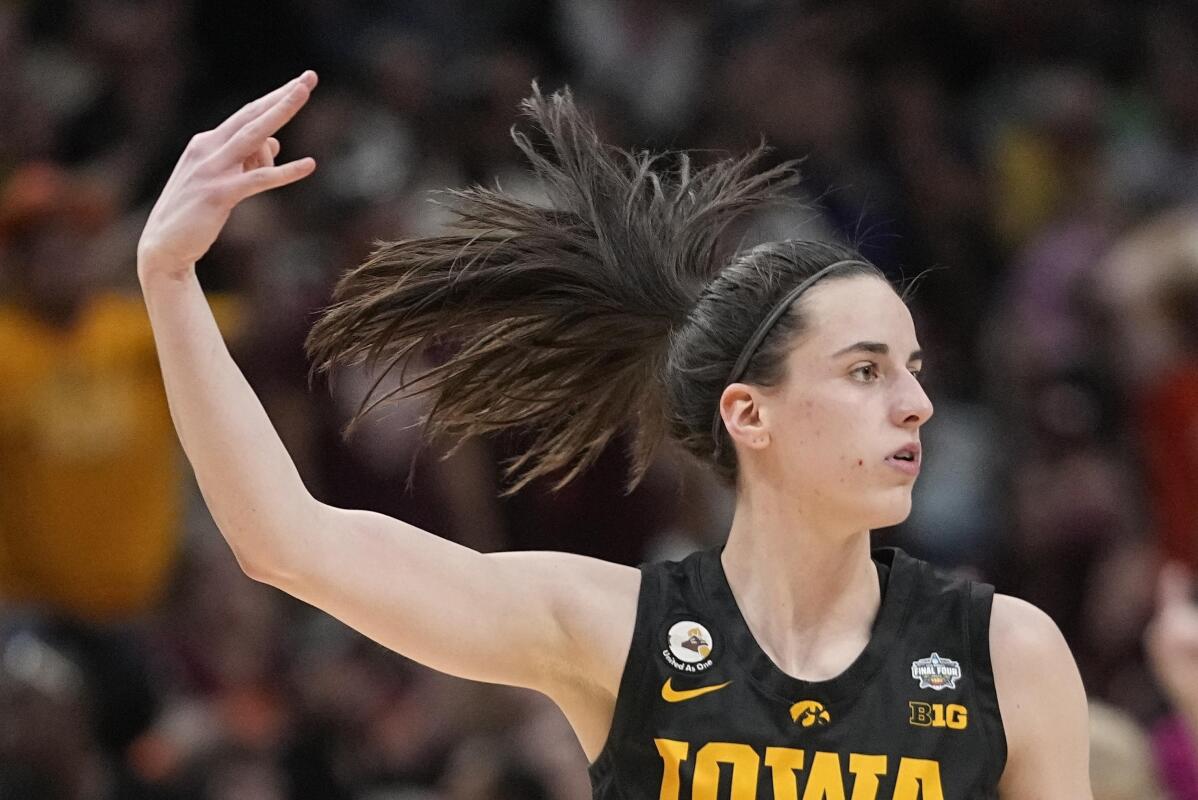 6 of 11

|
Iowa's Caitlin Clark reacts after a three pointer during the second half of an NCAA Women's Final Four semifinals basketball game against South Carolina Friday, March 31, 2023, in Dallas. (AP Photo/Darron Cummings)
6 of 11
Iowa's Caitlin Clark reacts after a three pointer during the second half of an NCAA Women's Final Four semifinals basketball game against South Carolina Friday, March 31, 2023, in Dallas. (AP Photo/Darron Cummings)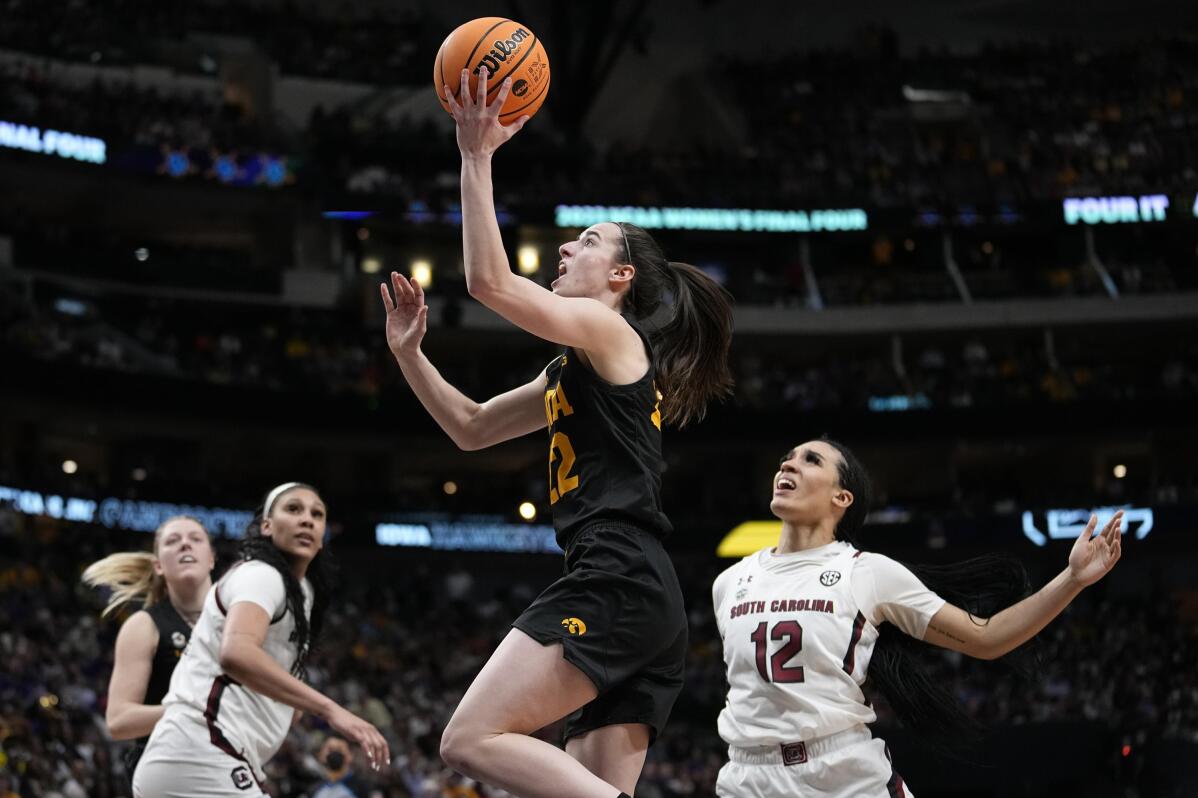 7 of 11

|
Iowa's Caitlin Clark shoots past South Carolina's Brea Beal during the second half of an NCAA Women's Final Four semifinals basketball game Friday, March 31, 2023, in Dallas. (AP Photo/Tony Gutierrez)
7 of 11
Iowa's Caitlin Clark shoots past South Carolina's Brea Beal during the second half of an NCAA Women's Final Four semifinals basketball game Friday, March 31, 2023, in Dallas. (AP Photo/Tony Gutierrez)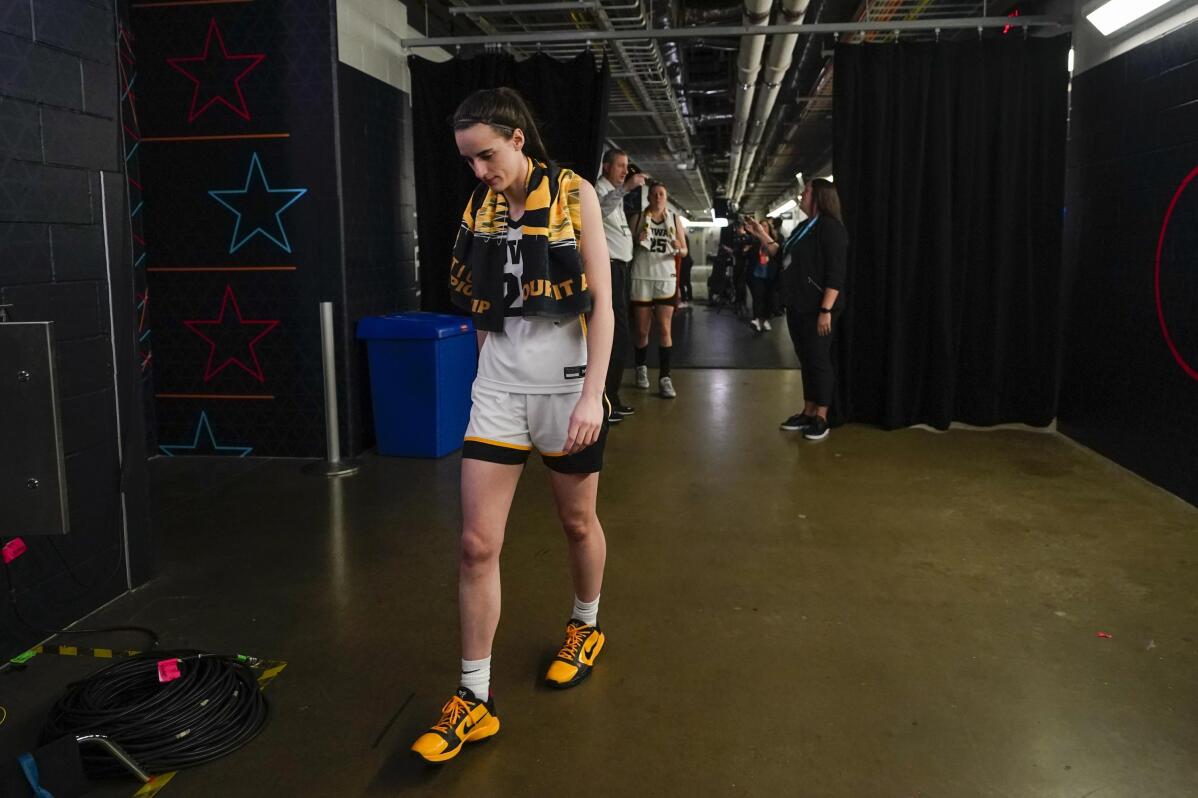 8 of 11

|
Iowa's Caitlin Clark walks to the locker room after the NCAA Women's Final Four championship basketball game against LSU Sunday, April 2, 2023, in Dallas. LSU won 102-85 to win the championship. (AP Photo/Darron Cummings)
8 of 11
Iowa's Caitlin Clark walks to the locker room after the NCAA Women's Final Four championship basketball game against LSU Sunday, April 2, 2023, in Dallas. LSU won 102-85 to win the championship. (AP Photo/Darron Cummings)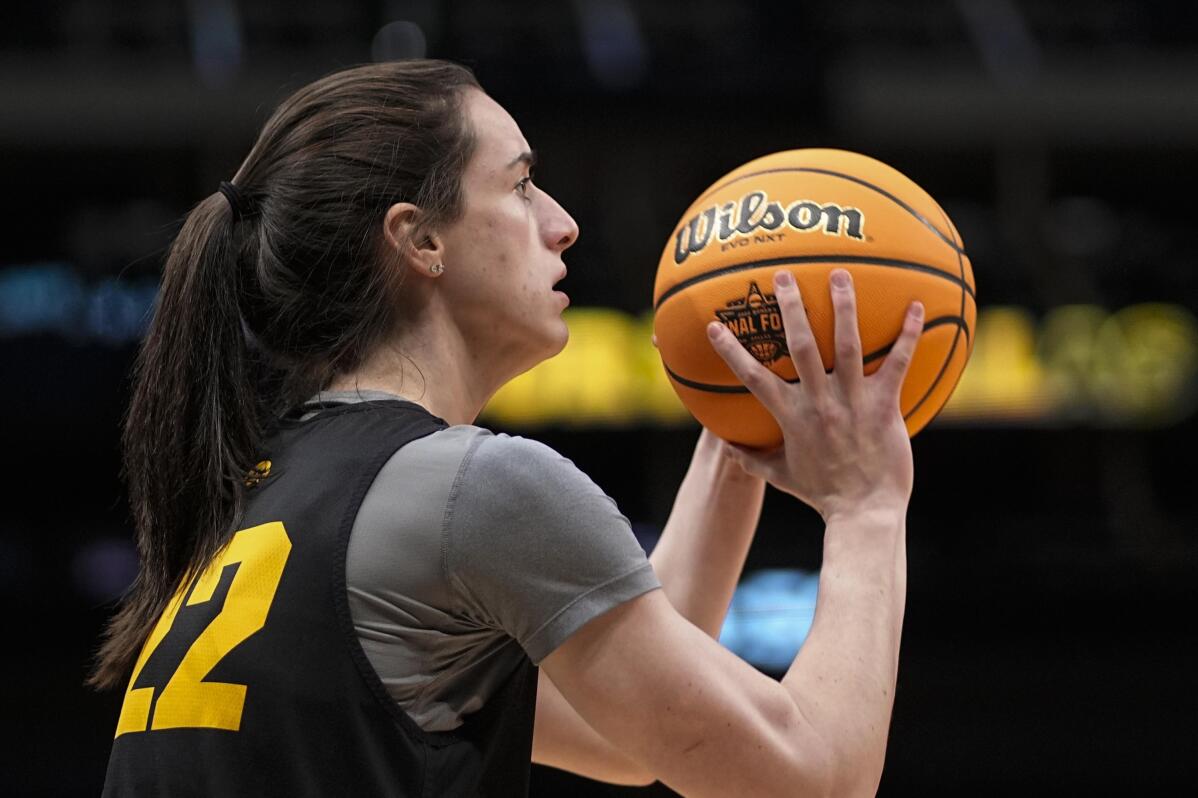 9 of 11

|
Iowa's Caitlin Clark shoots during a practice session for an NCAA Women's Final Four semifinals basketball game Thursday, March 30, 2023, in Dallas. (AP Photo/Darron Cummings)
9 of 11
Iowa's Caitlin Clark shoots during a practice session for an NCAA Women's Final Four semifinals basketball game Thursday, March 30, 2023, in Dallas. (AP Photo/Darron Cummings)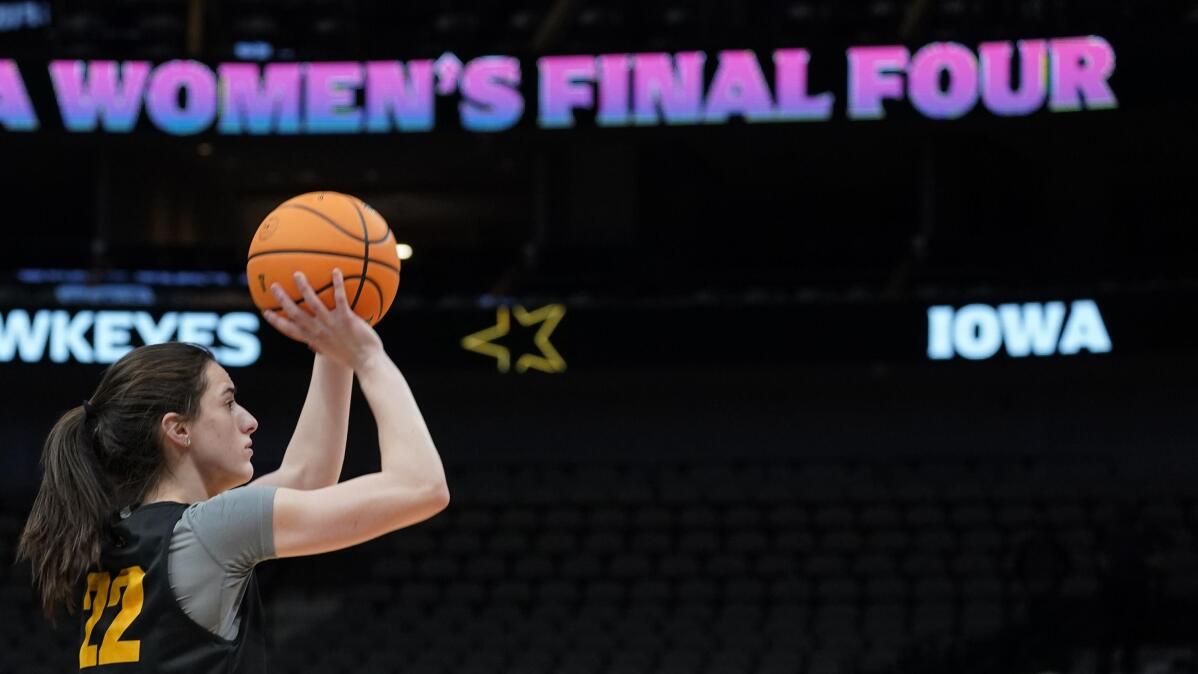 10 of 11

|
Iowa's Caitlin Clark shoots during a practice session for an NCAA Women's Final Four semifinals basketball game Thursday, March 30, 2023, in Dallas. (AP Photo/Tony Gutierrez)
10 of 11
Iowa's Caitlin Clark shoots during a practice session for an NCAA Women's Final Four semifinals basketball game Thursday, March 30, 2023, in Dallas. (AP Photo/Tony Gutierrez)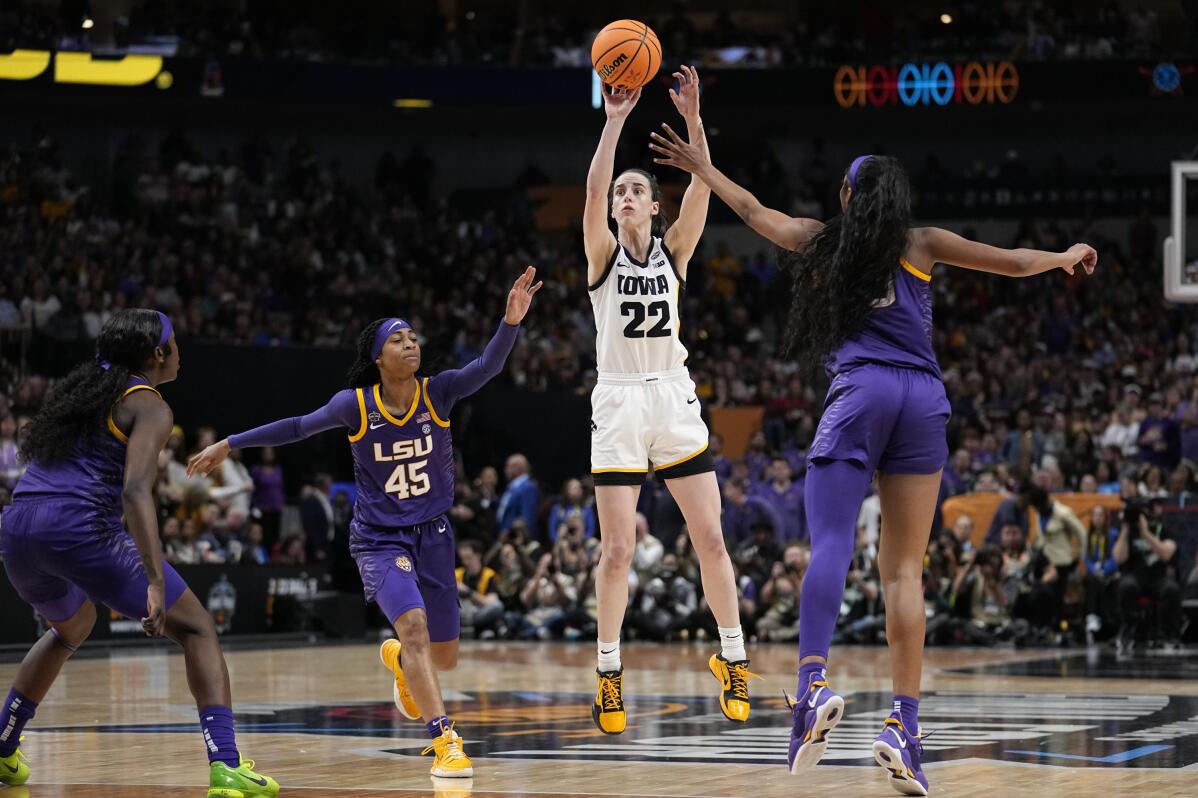 11 of 11

|
Iowa's Caitlin Clark shoots during the second half of the NCAA Women's Final Four championship basketball game against LSU Sunday, April 2, 2023, in Dallas. (AP Photo/Tony Gutierrez)
11 of 11
Iowa's Caitlin Clark shoots during the second half of the NCAA Women's Final Four championship basketball game against LSU Sunday, April 2, 2023, in Dallas. (AP Photo/Tony Gutierrez)
DALLAS (AP) — Caitlin Clark had several memorable moments during her run to the women's NCAA championship game, capturing national attention with 40-point games, triple doubles and her long-range shooting.
Iowa came up short Sunday against LSU, losing 102-85 in the Hawkeyes' quest for their first national title. The Associated Press women's basketball Player of the Year went down shooting, scoring 30 points with eight 3-pointers.
It was Clark's 100th game with the Hawkeyes. She has put up some impressive numbers during her career, averaging 27.2 points, 7.0 rebounds and 8.0 assists per contest. She has 11 career triple-doubles, a Big Ten record and tied for the second-most in NCAA history.
This season Clark became the first player in Division I women's history to record more than 1,000 points and 300 assists in a single year. She already is the only Division I player, woman or man, with at least 2,700 points, 700 rebounds and 700 assists in a career.
Her streak of 90 consecutive games scoring in double figures is the longest active streak in NCAA Division I.
Clark is not done. As a 21-year-old junior she is not eligible for the WNBA draft and will be back for another season of college hoops.
Here is a look at some of the 6-foot guard's highlights during the tournament, the season and her time at Iowa:
MILESTONE MOMENTS:
Sunday: Finished with the most points scored in a single NCAA Tournament (191) after scoring 30 in her first national championship game.
Friday: Became the first player to post back-to-back 40-point performances in the women's NCAA Tournament after her 41-point game lifted the Hawkeyes over previously unbeaten South Carolina in the Final Four.
March 26, 2023:
Had the first 40-point triple-double in NCAA Tournament history, with 41 points, 10 rebounds and 12 assists in a regional final win over Louisville.
March 17-31, 2023:
The first player since 2000 to average at least 30 points and 10 assists over a five-game span while also shooting at least 50% from the field.
Feb. 26, 2023:
Hits buzzer-beating 3-pointer to top Indiana in final regular season game. Clark scored 34 points and added nine rebounds and nine assists. She took the inbound pass from Kate Martin with 1.5 seconds left while coming off a screen from Monika Czinano. Her off-balance shot from the right side rolled in as the horn sounded.
March 4, 2022:
Had 19 points and six assists in a 72-59 win over Northwestern in the Big Ten Tournament opener to finish a streak of 19 games with at least 15 points and five assists. It tied Murray State's Ja Morant for the second-longest such streak in Division I history behind Oklahoma's Trae Young (22).
Feb. 6, 2022:
Scored a career-high 46 points against Michigan.
Jan. 25, 2022:
Broke Iowa's single-game assist record with 18 in a win at Penn State.
Jan. 20, 2022:
Had the second of consecutive 30-point triple-doubles with 35 points, 13 rebounds and 11 assists in a 105-49 win at Minnesota. Clark joined Kobe Bryant, LeBron James, Russell Westbrook, James Harden, Luka Doncic Giannis Antetokounmpo as the only NBA, WNBA, and Division I men's or women's players with back-to-back 30-point triple-doubles since 2000.
Jan. 2, 2022:
First 40-point game, with 44 points against Evansville.
Dec. 22, 2020:
Has first triple-double, with 13 points, 13 rebounds and 10 assists in win over Western Illinois.
Dec. 21, 2022:
Eclipsed 2,000 career points in her 75th career game, matching Elena Delle Donne as the fastest NCAA Division I women's basketball player to reach that mark.
Dec. 2, 2020:
Has first 30-point game, scoring 30 at Drake.
Nov. 25, 2020:
Made her Iowa debut by scoring 27 points with eight rebounds, four assists and three steals in a win over Northern Iowa.
___
More AP coverage of March Madness: https://apnews.com/hub/march-madness and https://apnews.com/hub/womens-college-basketball and https://twitter.com/AP_Top25