Ex-governor general examining allegations of Chinese meddling in Canada steps down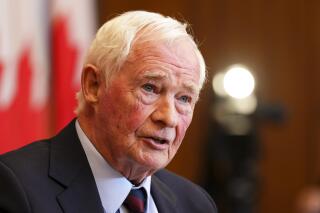 OTTAWA, Ontario (AP) — A Canadian government appointee looking into allegations of Chinese interference in Canada announced Friday that he is stepping down from his role, citing the highly partisan atmosphere around his work.
Former Governor General David Johnston said in a letter to Prime Minister Justin Trudeau that his leadership of the government's probe into purported meddling by China has not helped build trust in democratic institutions because of partisanship.
The appointment of Johnston, who said he would release a brief final report, was contentious, with opposition Conservative Party leader Pierre Poilievre accusing him of being too close to Trudeau's family.
All opposition parties in the House of Commons have called for the government to hold a public inquiry into the allegations of foreign interference, but Johnston recently released a report recommending against that.
Johnston said he encourages Trudeau to appoint a "respected person, with national security experience" to finish the inquiry and to consult with opposition parties on who that should be.
Then Conservative Prime Minister Stephen Harper appointed Johnston as governor general in 2010 and his term was extended under Trudeau until 2017. The governor general is the representative of Britain's monarch as head of state, a mostly ceremonial and symbolic position.
Johnston is also a former member of the Pierre Elliott Trudeau Foundation.
Trudeau has said he had full confidence in Johnston's handling of the inquiry and played down the importance of any family connections.
Earlier this year, Canada expelled a Chinese diplomat alleged by Canada's spy agency to have been involved in a plot to intimidate an opposition Conservative lawmaker and his relatives in Hong Kong. The lawmaker had criticized Beijing's human rights record. China expelled a Canadian diplomat in retaliation this month.
China regularly uses threats against family members to intimidate critics in the Chinese diaspora.
China-Canada relations nosedived after China detained former diplomat Michael Kovrig and entrepreneur Michael Spavor. That came shortly after Canada arrested Meng Wanzhou, chief financial officer of telecoms giant Huawei and the daughter of the company's founder, at the behest of U.S. authorities who accused her of fraud.