Few details in SF stabbing death of Cash App founder Bob Lee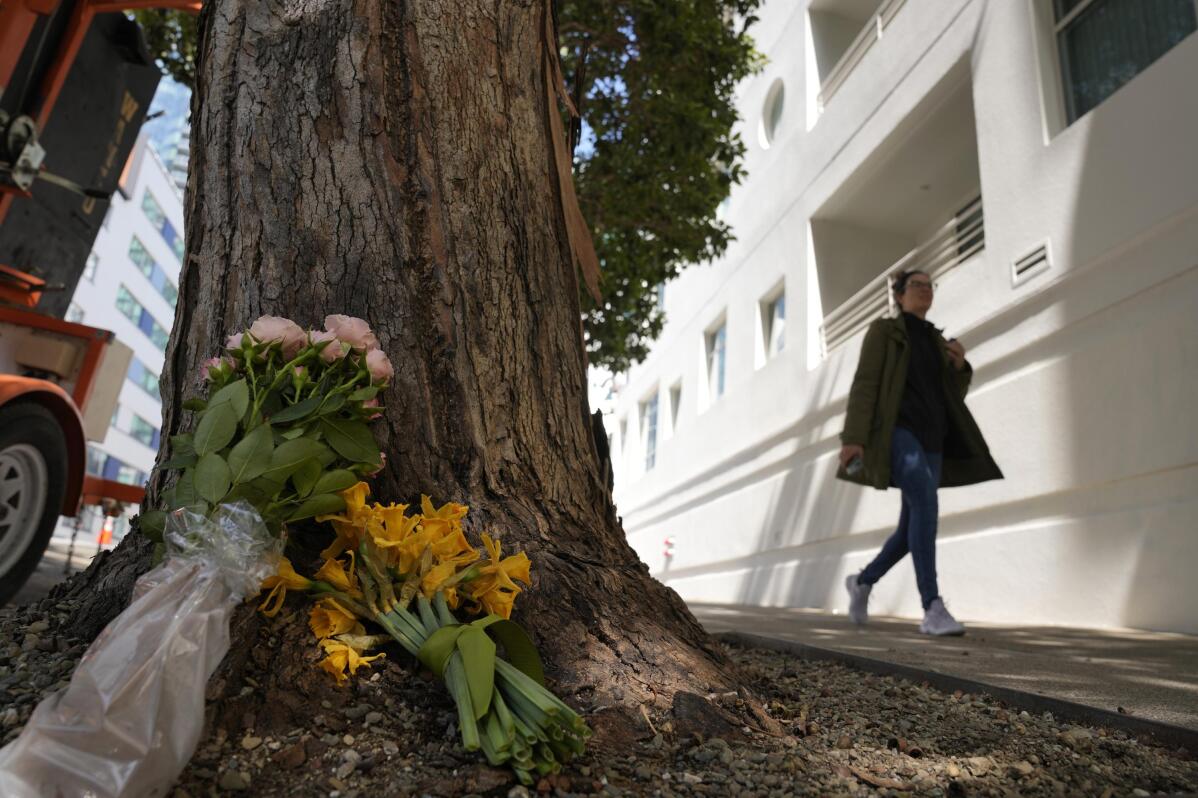 1 of 2

|
A woman walks past flowers left outside an apartment building where a technology executive was fatally stabbed in San Francisco, Wednesday, April 5, 2023. Bob Lee, a technology executive who created Cash App and was currently chief product officer of MobileCoin, was fatally stabbed in San Francisco early Tuesday, April 4, 2023, according to the cryptocurrency platform and police. (AP Photo/Eric Risberg)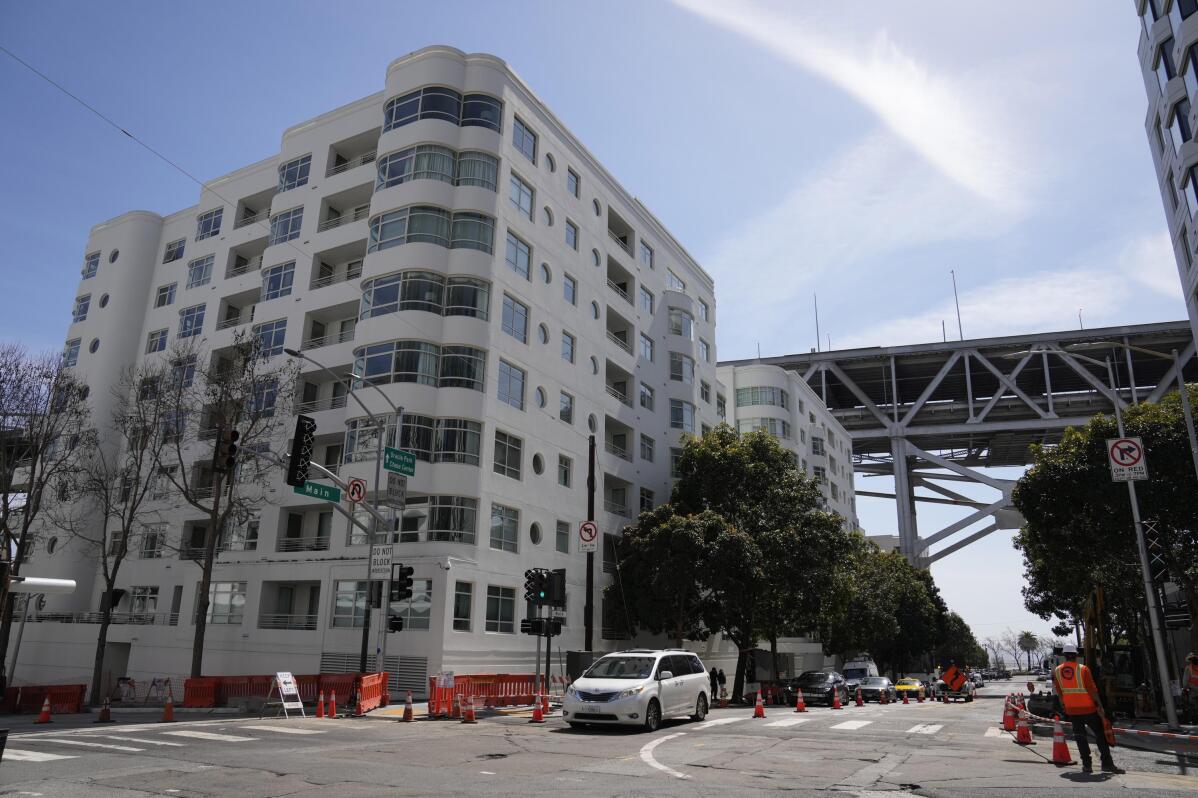 2 of 2

|
Shown is the scene outside an apartment building below the San Francisco-Oakland Bay Bridge where a technology executive was fatally stabbed in San Francisco, Wednesday, April 5, 2023. Bob Lee, a technology executive who created Cash App and was currently chief product officer of MobileCoin, was fatally stabbed in San Francisco early Tuesday, April 4, 2023, according to the cryptocurrency platform and police. (AP Photo/Eric Risberg)
Few details in SF stabbing death of Cash App founder Bob Lee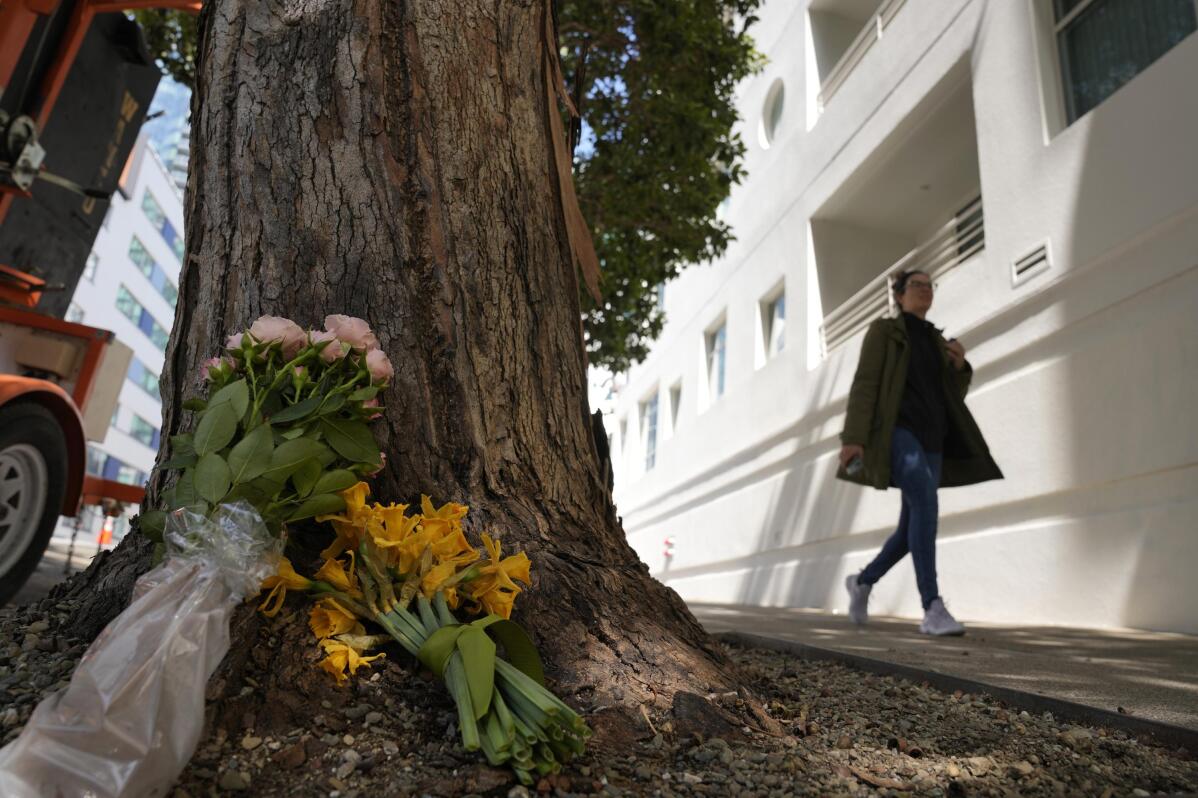 1 of 2

|
A woman walks past flowers left outside an apartment building where a technology executive was fatally stabbed in San Francisco, Wednesday, April 5, 2023. Bob Lee, a technology executive who created Cash App and was currently chief product officer of MobileCoin, was fatally stabbed in San Francisco early Tuesday, April 4, 2023, according to the cryptocurrency platform and police. (AP Photo/Eric Risberg)
1 of 2
A woman walks past flowers left outside an apartment building where a technology executive was fatally stabbed in San Francisco, Wednesday, April 5, 2023. Bob Lee, a technology executive who created Cash App and was currently chief product officer of MobileCoin, was fatally stabbed in San Francisco early Tuesday, April 4, 2023, according to the cryptocurrency platform and police. (AP Photo/Eric Risberg)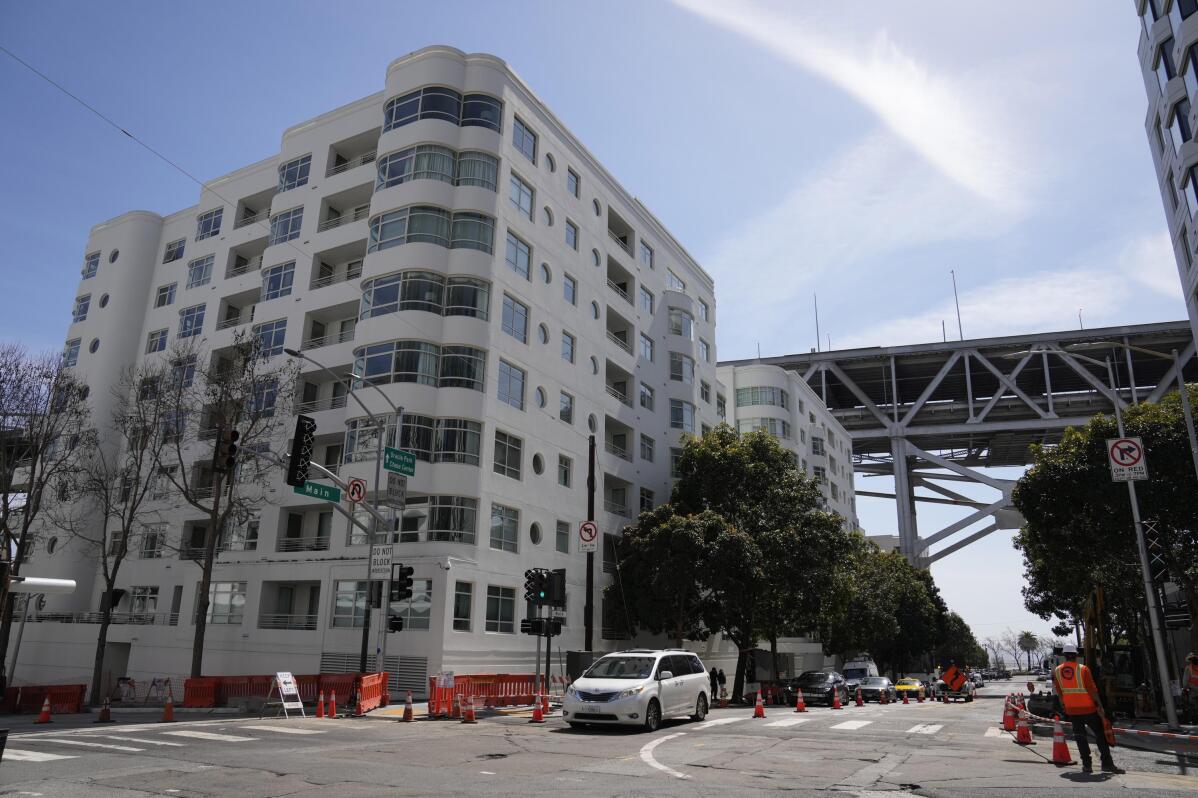 2 of 2

|
Shown is the scene outside an apartment building below the San Francisco-Oakland Bay Bridge where a technology executive was fatally stabbed in San Francisco, Wednesday, April 5, 2023. Bob Lee, a technology executive who created Cash App and was currently chief product officer of MobileCoin, was fatally stabbed in San Francisco early Tuesday, April 4, 2023, according to the cryptocurrency platform and police. (AP Photo/Eric Risberg)
2 of 2
Shown is the scene outside an apartment building below the San Francisco-Oakland Bay Bridge where a technology executive was fatally stabbed in San Francisco, Wednesday, April 5, 2023. Bob Lee, a technology executive who created Cash App and was currently chief product officer of MobileCoin, was fatally stabbed in San Francisco early Tuesday, April 4, 2023, according to the cryptocurrency platform and police. (AP Photo/Eric Risberg)
SAN FRANCISCO (AP) — Details of how tech executive Bob Lee came to be fatally stabbed in downtown San Francisco early Tuesday were scarce as friends and family continued to mourn the man they called brilliant, kind and unlike others in the industry.
San Francisco police found Lee, 43, on the sidewalk in front of a condominium building with stab wounds shortly after 2:35 a.m. Tuesday. He was taken to a hospital, where he died. He leaves behind two children.
The neighborhood where the stabbing occurred is near the Embarcadero waterfront and full of tech offices, towering condominium buildings and not much else late at night.
Lee is known for creating the widely used mobile payment service Cash App while working as chief technology officer of the payment company Square, now known as Block. He was the chief product officer for the cryptocurrency firm MobileCoin at the time of his death.
Lee was back in San Francisco for a visit after moving to Miami in October, his father, Rick Lee, said on social media. The two had been living in the San Francisco suburb of Mill Valley.
"Bob would give you the shirt off his back," Rick Lee wrote. "He would never look down on anyone and adhered to a strict no-judgment philosophy. Bobby worked harder than anyone and was the smartest person I have ever known."
San Francisco Police Sgt. Adam Lobsinger said in a video message Thursday that the investigation is still early and the department would not comment on evidence or speculate on circumstances.
Lee defied the arrogant and self-centered "tech bro" stereotype affixed to certain men in the San Francisco Bay Area tech scene, and instead exuded an "innate kindness," said longtime friend Tommy Sowers.
Sowers and Lee first met at a fundraiser in Washington, D.C., where Sowers, a former Green Beret and Iraq war veteran, was running for Congress. Lee, newly hired at Square, was touting an app that could help his campaign fundraising. Both men were from Missouri.
Lee's two children joined the men on hikes and dinners. It was not unusual for Lee to be out late, said Sowers, and he loved San Francisco.
"I'd want to go to bed at like 9. He talked me into going someplace till midnight, and then he'd be like, 'Well, there's another one,' and you'd go to that. And he's like, 'There's another one.' He just had real boundless energy."
Part of those late-night sessions involved talking about technology, including San Francisco's unique role far away from the political power in Washington and the big money in New York.
"San Francisco is all about the idea, and you're as good as your current or next idea," said Sowers, who, with Lee's counsel, went on to start his own real estate technology company and now works for a North Carolina-based private jet company.
Sowers said he doesn't know the origins of the "Crazy Bob" handle Lee used on Twitter.
"But it fit. Not in a way of being reckless, but, he was kind of up for anything."
Lee was also generous with his time coaching and championing fellow engineers and entrepreneurs, said Wesley Chan, co-founder of FPV Ventures. The two met more than a decade ago when they both worked at Google, where Lee helped to build the Android smartphone operating system before its 2008 release.
Lee's death has further enflamed debate over public safety in San Francisco and its moribund downtown, which has not yet bounced back from the pandemic. Twitter's owner Elon Musk took to the social media site to post that "violent crime in SF is horrific and even if attackers are caught, they are often released immediately." Musk tagged the city's district attorney in the post.
San Francisco suffers from property crime more than violent crime such as murder, rape, robbery and assault. In a statement, San Francisco Mayor London Breed called the homicide "a horrible tragedy" and said that the city is prioritizing public safety.
Sowers said it's hard to picture what led to Lee's violent death.
"I can't imagine a situation where he would instigate a conflict," he said. "That's the tragedy of it."
___
O'Brien contributed from Providence, Rhode Island.