Cavs backing coach J.B. Bickerstaff despite 1st-round flop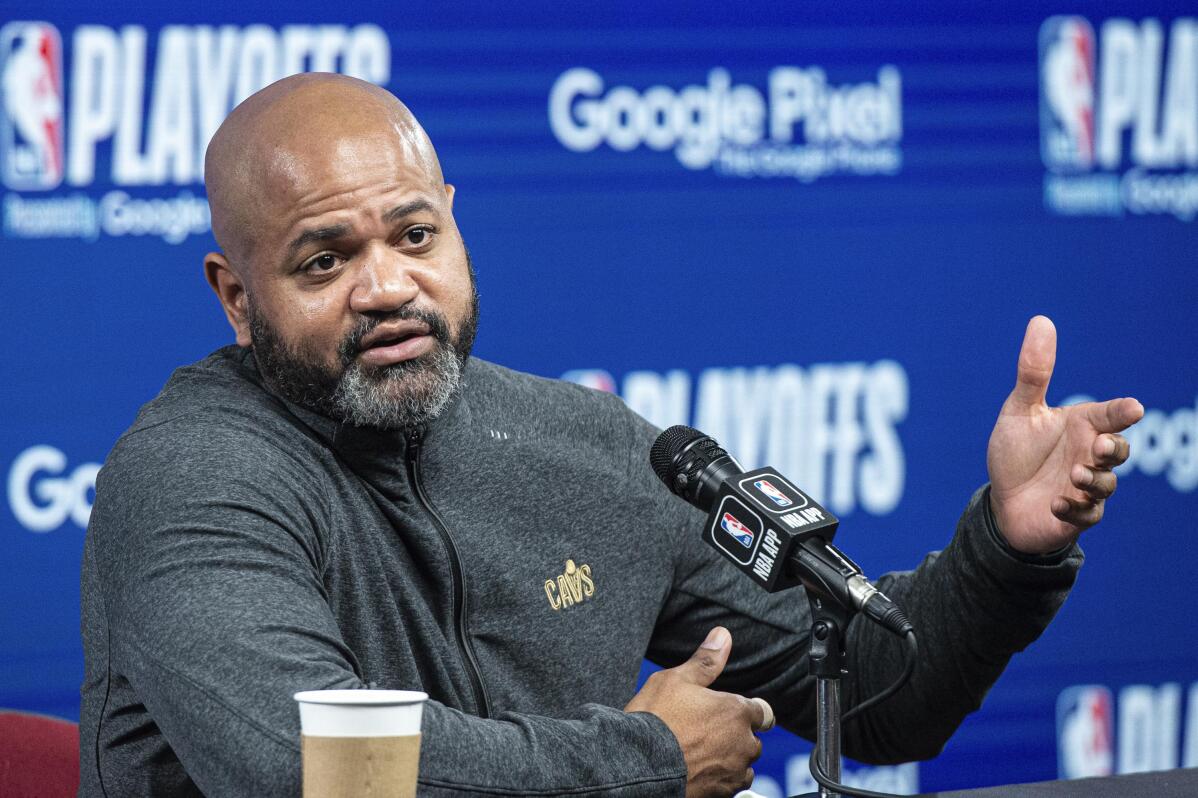 1 of 3

|
Cleveland Cavaliers head coach J.B. Bickerstaff talks with the media before an NBA basketball first-round playoff series game against the New York Knicks, Wednesday, April 26, 2023. (AP Photo/Phil Long)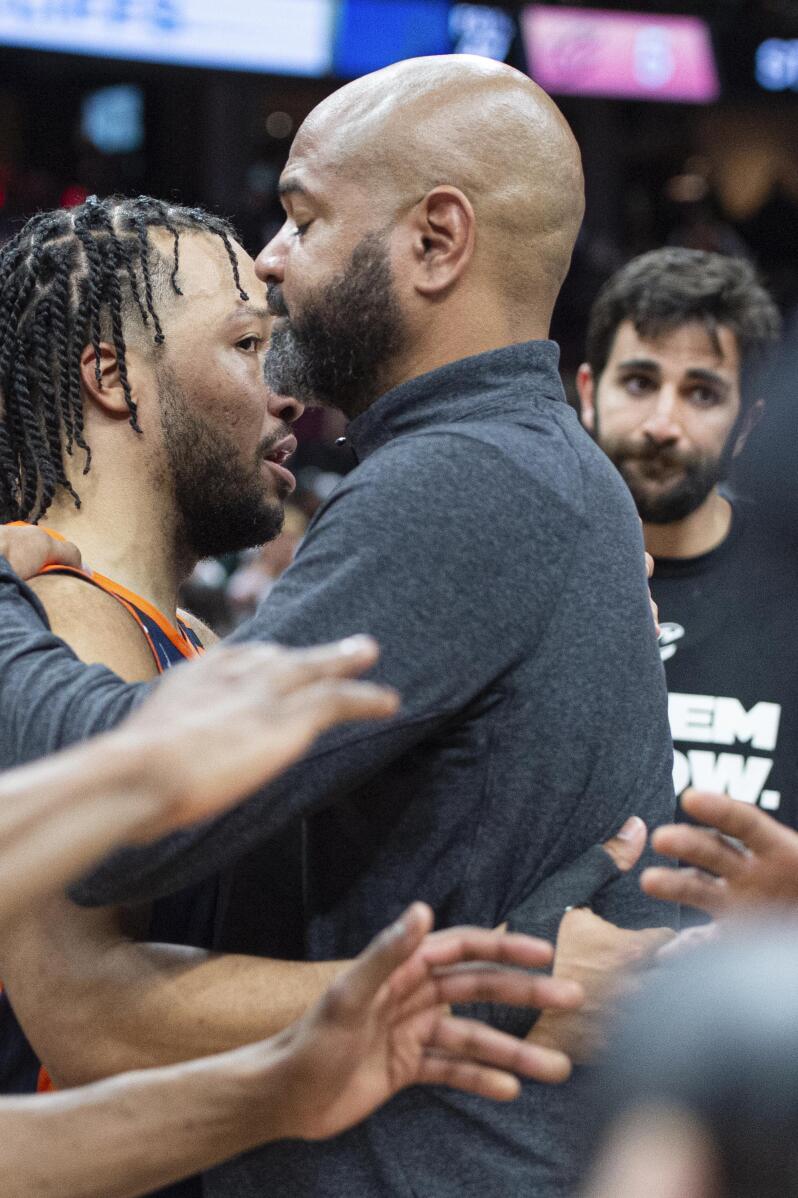 2 of 3

|
Cleveland Cavaliers coach J.B. Bickerstaff congratulates New York Knicks' Jalen Brunson (11) at the end of Game 5 of an NBA basketball first-round playoff series, Wednesday, April 26, 2023, in Cleveland. The Knicks won 106-95 and advanced to the conference semifinals. (AP Photo/Phil Long)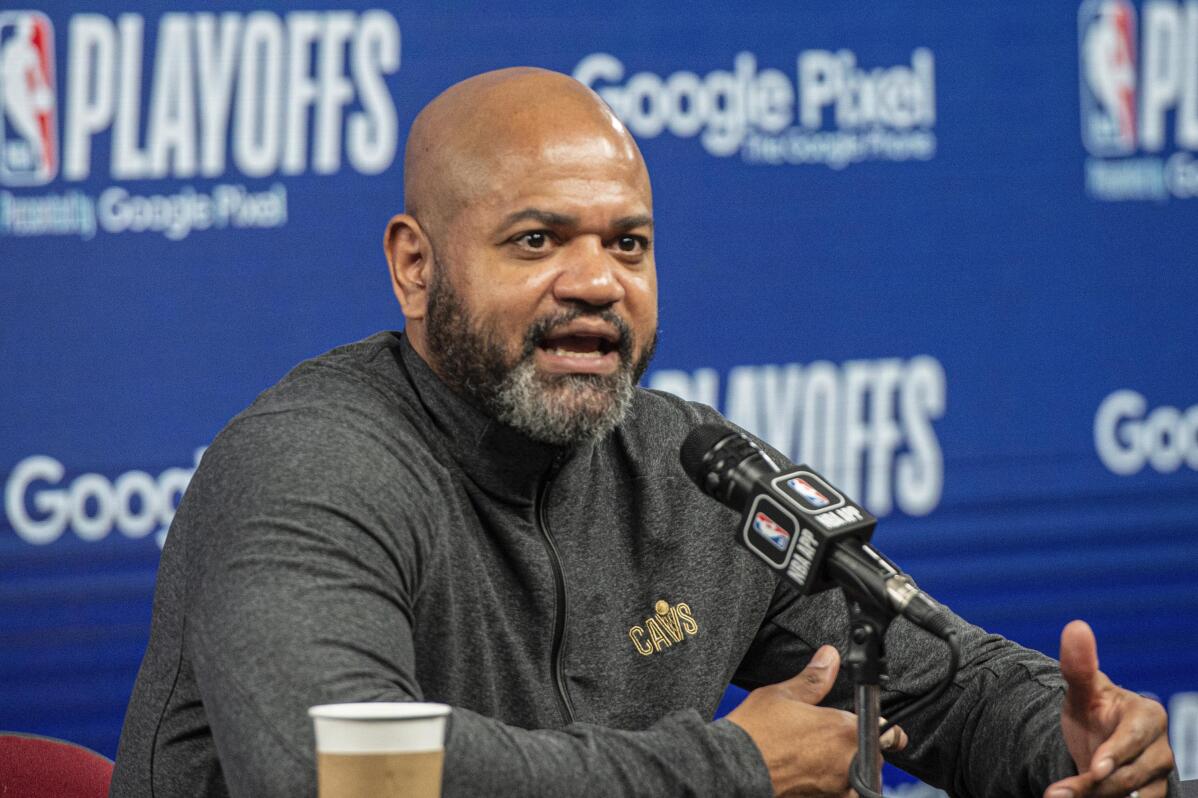 3 of 3

|
Cleveland Cavaliers head coach J.B. Bickerstaff talks with the media before an NBA basketball first-round playoff series game against the New York Knicks, Wednesday, April 26, 2023. (AP Photo/Phil Long)
Cavs backing coach J.B. Bickerstaff despite 1st-round flop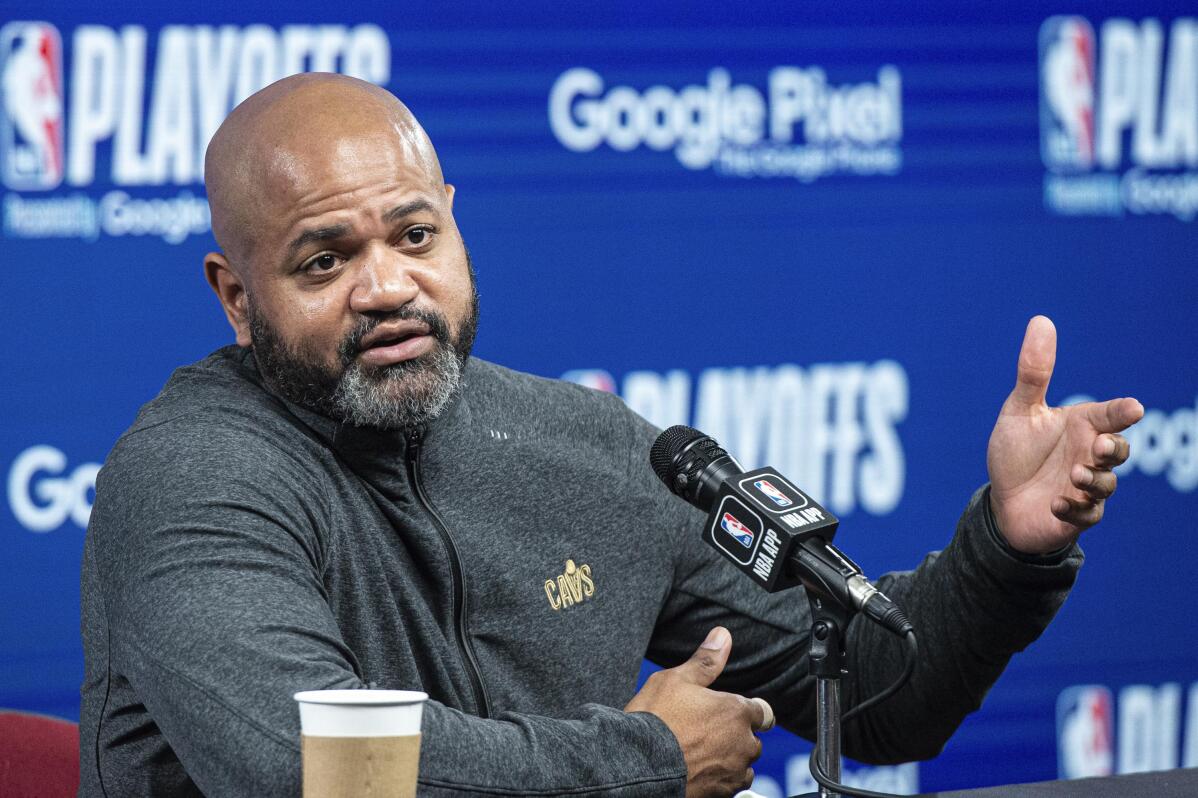 1 of 3

|
Cleveland Cavaliers head coach J.B. Bickerstaff talks with the media before an NBA basketball first-round playoff series game against the New York Knicks, Wednesday, April 26, 2023. (AP Photo/Phil Long)
1 of 3
Cleveland Cavaliers head coach J.B. Bickerstaff talks with the media before an NBA basketball first-round playoff series game against the New York Knicks, Wednesday, April 26, 2023. (AP Photo/Phil Long)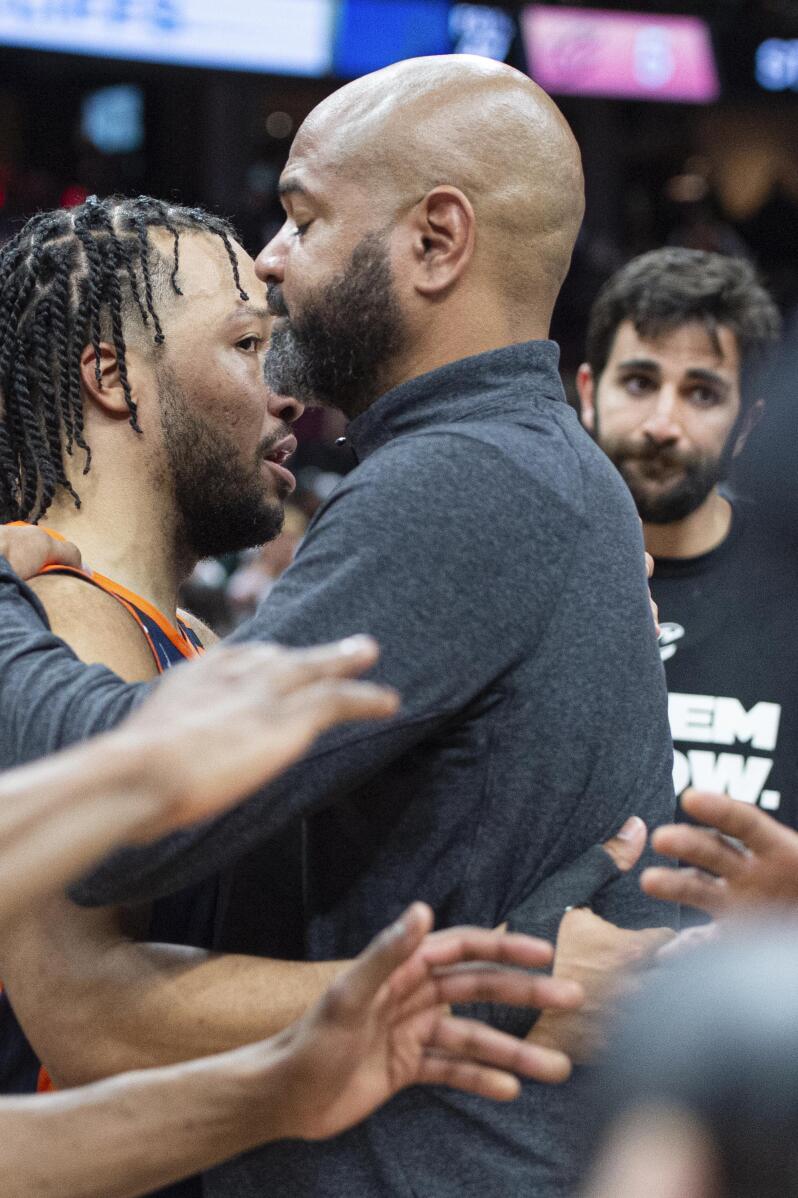 2 of 3

|
Cleveland Cavaliers coach J.B. Bickerstaff congratulates New York Knicks' Jalen Brunson (11) at the end of Game 5 of an NBA basketball first-round playoff series, Wednesday, April 26, 2023, in Cleveland. The Knicks won 106-95 and advanced to the conference semifinals. (AP Photo/Phil Long)
2 of 3
Cleveland Cavaliers coach J.B. Bickerstaff congratulates New York Knicks' Jalen Brunson (11) at the end of Game 5 of an NBA basketball first-round playoff series, Wednesday, April 26, 2023, in Cleveland. The Knicks won 106-95 and advanced to the conference semifinals. (AP Photo/Phil Long)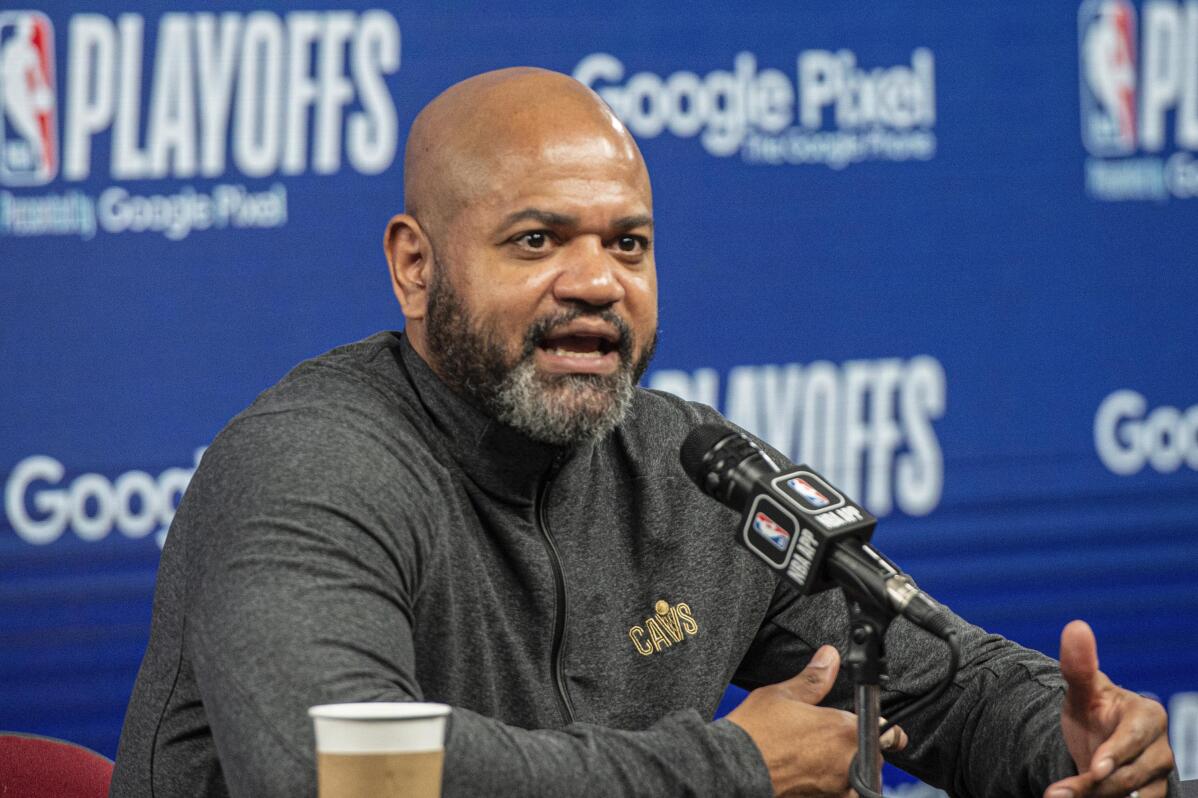 3 of 3

|
Cleveland Cavaliers head coach J.B. Bickerstaff talks with the media before an NBA basketball first-round playoff series game against the New York Knicks, Wednesday, April 26, 2023. (AP Photo/Phil Long)
3 of 3
Cleveland Cavaliers head coach J.B. Bickerstaff talks with the media before an NBA basketball first-round playoff series game against the New York Knicks, Wednesday, April 26, 2023. (AP Photo/Phil Long)
INDEPENDENCE, Ohio (AP) — The Cavaliers got blown out. J.B. Bickerstaff held on.
Cleveland's coach has the organization's backing — and his job appears to be safe for now — despite a swift first-round exit in the NBA playoffs.
Making their first postseason appearance since LeBron James left five years ago, the Cavs were bounced in five games by the New York Knicks.
Bickerstaff was criticized for strategy, along with his team seeming overwhelmed and pushed around by the Knicks. Cleveland's early elimination, plus the team's history of rash moves, triggered conjecture about a coaching switch.
However, after giving a somewhat tepid endorsement of Bickerstaff during an end-of-season news conference on Friday, President of Basketball Operations Koby Altman made it clear the Cavs are moving forward with their coach.
"End that speculation," Altman said in a text message to AP. "He's our head coach and we have a lot of support and respect for the job he's done."
That's not to say the pressure won't intensify for Bickerstaff, who will be expected to take the Cavs further next season.
Cleveland won 51 games during the regular season and was the league's top-rated defensive team before getting bullied by the Knicks, who advanced to the second round for the first time since 2013.
Altman said Bickerstaff has been instrumental in the Cavs' turnaround. Two years ago, they won just 22 games.
"J.B. has been through this rebuild from the ground up and he's done a phenomenal job instilling a culture here of accountability and hard work," Altman said. "You can't fluke your way into 51 wins and you can't fluke your way into the No. 1 defensive rating in the NBA. That's coaching.
"I know we have great defensive personnel, but you have to have buy-in from that and that comes from the head coach. We're extremely happy with J.B. and the job he's done. I think he's going to look back and reflect on what we could have done better, just like the players look back at what they could have done better."
Bickerstaff is 122-125 with the Cavs. He was an assistant in 2019 before taking over when John Beilein stepped down at the All-Star break. Cleveland won 22 games in Bickerstaff's first season, 44 games and qualified for the play-in tournament the next, and made a bigger jump this year as the No. 4 playoff seed.
While the Cavs are disappointed in their postseason performance, Altman said there won't be any "sweeping changes" to the roster this offseason. He's confident Bickerstaff will grow from the experience.
"He's hard on himself," Altman said. "I think he's going to go back and watch a lot of this stuff, but I also know that the players love playing for him. He's created an amazing atmosphere here and there's excitement."
On Thursday, Bickerstaff and Altman held exit interviews with the Cavs players, who offered support for the coach.
Veteran guard Ricky Rubio re-signed with the Cavs last summer, partly due to the culture established by Bickerstaff.
"What he built here is something special," said Rubio. "He's a great locker-room guy. The atmosphere that we come every day in practice, it's smooth. It's not tension wise and that helps to really be consistent and build something for long-term instead of just results for today."
"We take things for granted, but having a coach who really listens to you, who is willing to really say, 'This is my fault.' Of course we want results and we will work hard for that, but it's how we do it. And I think that's the main focus with J.B."
___
AP NBA: https://apnews.com/hub/NBA and https://twitter.com/AP_Sports