Cavaliers enter early offseason after short playoff stay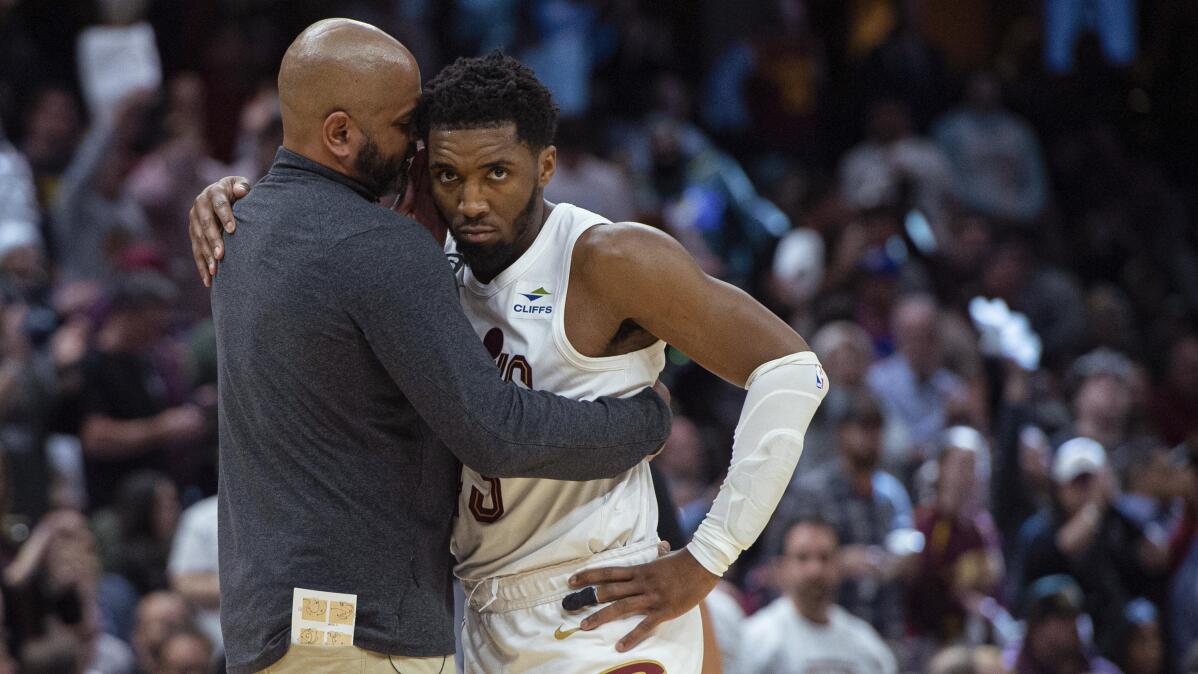 1 of 4

|
Cleveland Cavaliers coach J.B. Bickerstaff gives Donovan Mitchell a hug during the second half of Game 5 of the team's NBA basketball first-round playoff series against the New York Knicks, Wednesday, April 26, 2023, in Cleveland. The Knicks won 106-95 and took the series. (AP Photo/Phil Long)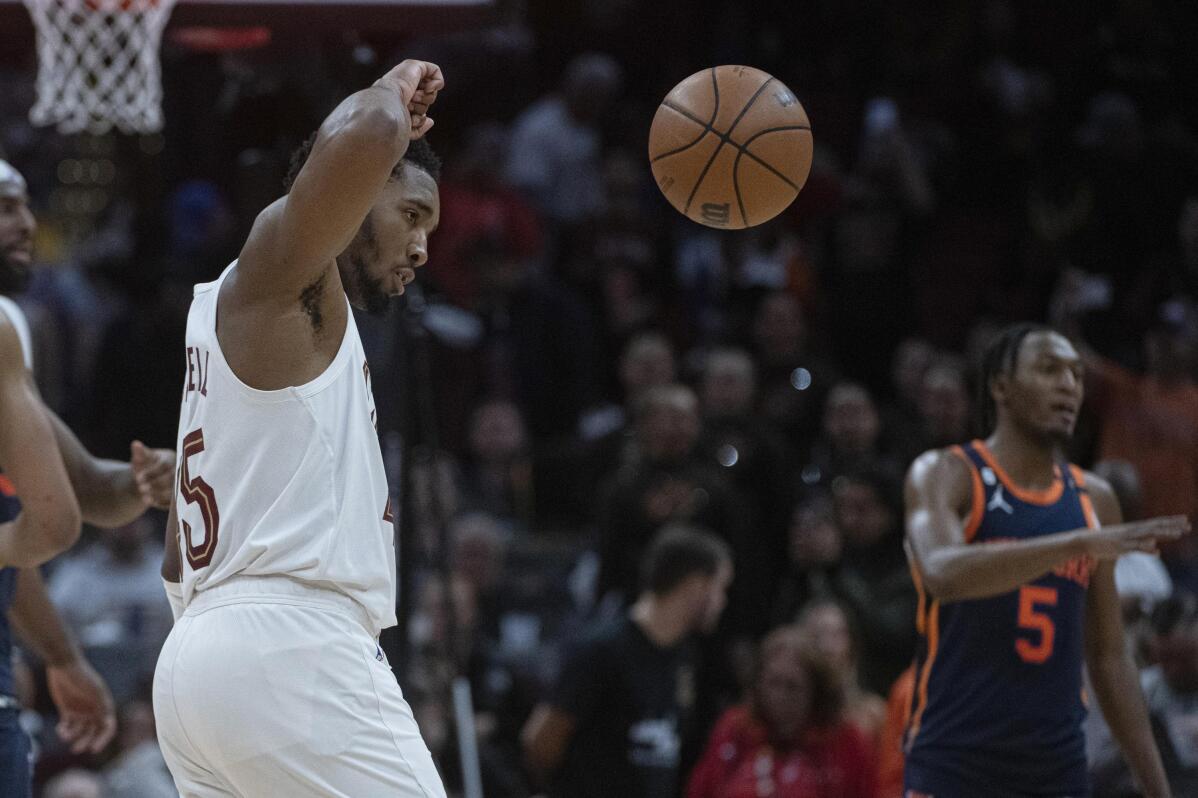 2 of 4

|
Cleveland Cavaliers' Donovan Mitchell (45) lets go of the ball at the end of Game 5 of the team's NBA basketball first-round playoff series against the New York Knicks, Wednesday, April 26, 2023, in Cleveland. The Knicks won 106-95, taking the series. (AP Photo/Phil Long)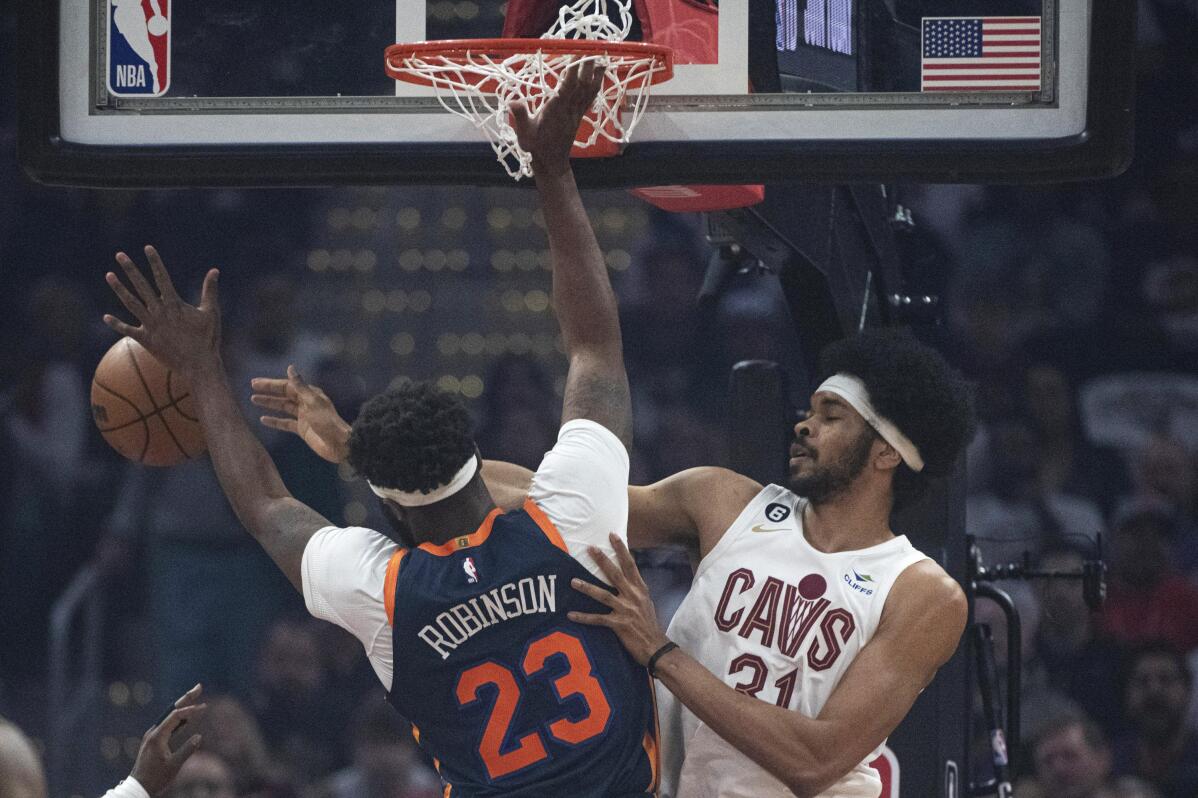 3 of 4

|
Cleveland Cavaliers' Jarrett Allen (31) and New York Knicks' Mitchell Robinson (23) vie for a rebound during the first half of Game 5 in an NBA basketball first-round playoff series Wednesday, April 26, 2023, in Cleveland. (AP Photo/Phil Long)
4 of 4

|
Cleveland Cavaliers' Lamar Stevens, left, and Ricky Rubio stand near the bench as Game 5 of the team's NBA basketball first-round playoff series against the New York Knicks winds down Wednesday, April 26, 2023, in Cleveland. The Knicks won 106-95 and took the series. (AP Photo/Phil Long)
Cavaliers enter early offseason after short playoff stay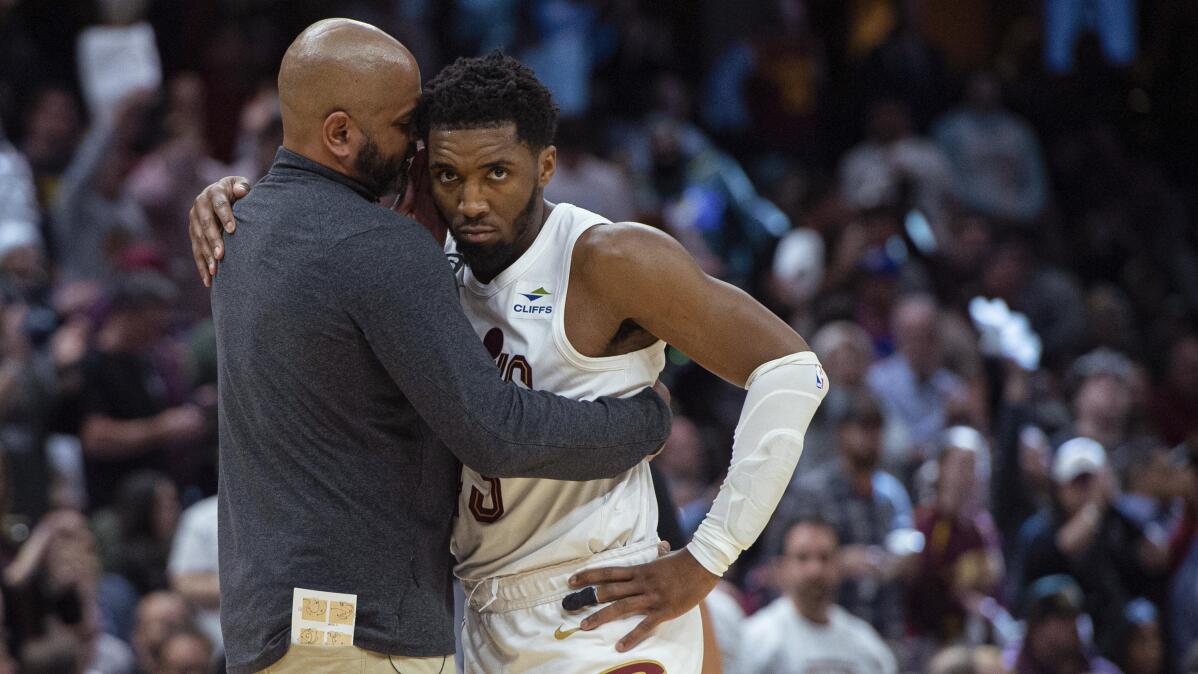 1 of 4

|
Cleveland Cavaliers coach J.B. Bickerstaff gives Donovan Mitchell a hug during the second half of Game 5 of the team's NBA basketball first-round playoff series against the New York Knicks, Wednesday, April 26, 2023, in Cleveland. The Knicks won 106-95 and took the series. (AP Photo/Phil Long)
1 of 4
Cleveland Cavaliers coach J.B. Bickerstaff gives Donovan Mitchell a hug during the second half of Game 5 of the team's NBA basketball first-round playoff series against the New York Knicks, Wednesday, April 26, 2023, in Cleveland. The Knicks won 106-95 and took the series. (AP Photo/Phil Long)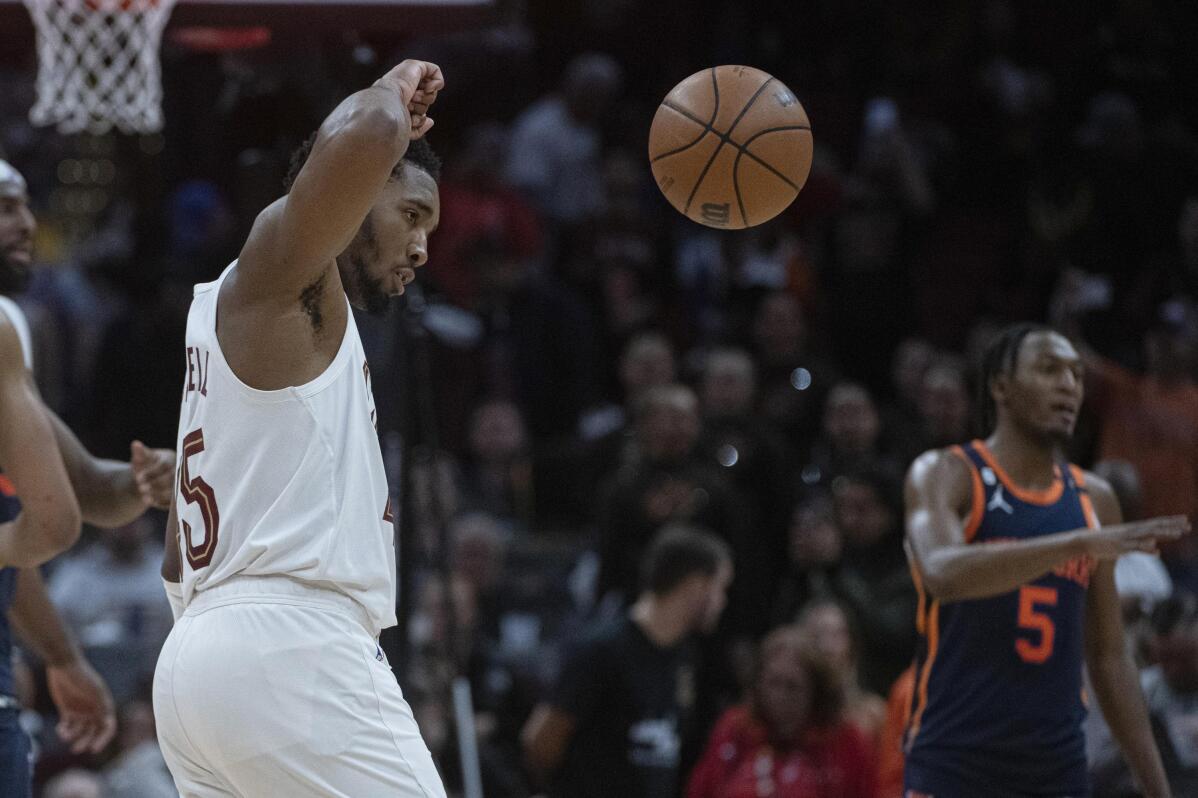 2 of 4

|
Cleveland Cavaliers' Donovan Mitchell (45) lets go of the ball at the end of Game 5 of the team's NBA basketball first-round playoff series against the New York Knicks, Wednesday, April 26, 2023, in Cleveland. The Knicks won 106-95, taking the series. (AP Photo/Phil Long)
2 of 4
Cleveland Cavaliers' Donovan Mitchell (45) lets go of the ball at the end of Game 5 of the team's NBA basketball first-round playoff series against the New York Knicks, Wednesday, April 26, 2023, in Cleveland. The Knicks won 106-95, taking the series. (AP Photo/Phil Long)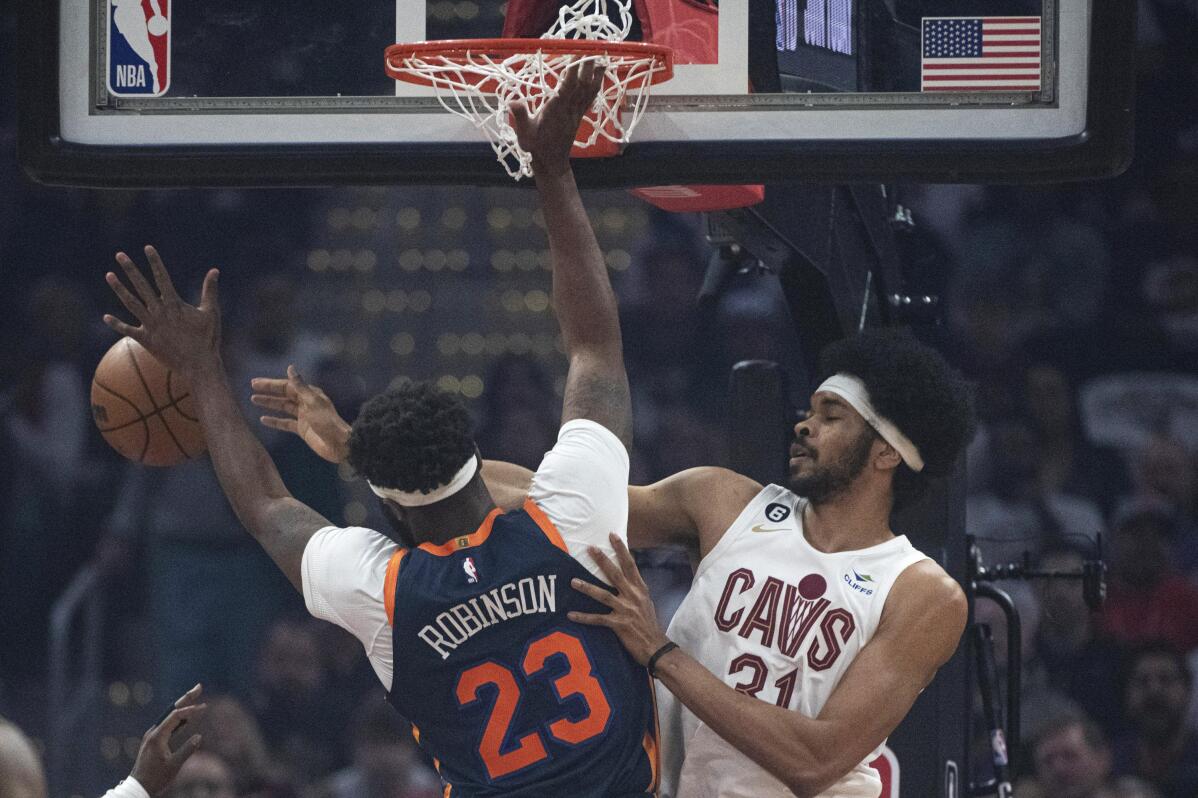 3 of 4

|
Cleveland Cavaliers' Jarrett Allen (31) and New York Knicks' Mitchell Robinson (23) vie for a rebound during the first half of Game 5 in an NBA basketball first-round playoff series Wednesday, April 26, 2023, in Cleveland. (AP Photo/Phil Long)
3 of 4
Cleveland Cavaliers' Jarrett Allen (31) and New York Knicks' Mitchell Robinson (23) vie for a rebound during the first half of Game 5 in an NBA basketball first-round playoff series Wednesday, April 26, 2023, in Cleveland. (AP Photo/Phil Long)
4 of 4

|
Cleveland Cavaliers' Lamar Stevens, left, and Ricky Rubio stand near the bench as Game 5 of the team's NBA basketball first-round playoff series against the New York Knicks winds down Wednesday, April 26, 2023, in Cleveland. The Knicks won 106-95 and took the series. (AP Photo/Phil Long)
4 of 4
Cleveland Cavaliers' Lamar Stevens, left, and Ricky Rubio stand near the bench as Game 5 of the team's NBA basketball first-round playoff series against the New York Knicks winds down Wednesday, April 26, 2023, in Cleveland. The Knicks won 106-95 and took the series. (AP Photo/Phil Long)
INDEPENDENCE, Ohio (AP) — The constant, thumping sound of bouncing basketballs, lively chatter and squeaking sneakers on the floors inside the Cavaliers' training facility were replaced by an eerie stillness and silence on Thursday.
The playoff buzz was gone, snuffed out.
Cleveland's offseason arrived sooner than expected, and it may include more change than anticipated.
After waiting five years to get back into the NBA's postseason, the Cavs' return lasted all of 11 days.
In the end, the team's flaws — postseason inexperience, a top-heavy roster, inferior bench and general lack of toughness — were exposed by the New York Knicks, who dominated the Cavs in five games like an older brother pushing around his younger sibling on the home driveway in a game of 1-on-1.
The stage was too big, too overwhelming, for the young Cavs. So were the Knicks, who destroyed Cleveland on the boards, outhustled them to loose balls and virtually stole their lunch money shortly after tip-off.
Coach J.B. Bickerstaff had spent months preparing his team for the postseason, warning that things would be different, more physical, more intense. It took a pummeling by the Knicks to drive home his point.
The Cavs mistakenly thought they were ready.
"Even for me," said center Jarrett Allen, who was roughed up by New York's Mitchell Robinson, "the lights were brighter than expected."
Allen didn't speak to reporters following Game 5, which ended with some Cleveland fans booing and others muttering under their breaths while bolting from their seats inside Rocket Mortgage FieldHouse.
Allen, though, was was the first Cavs player to meet with the media after his exit meeting with Bickerstaff and general manager Koby Altman.
Always refreshingly candid, the 7-foot Allen acknowledged he needs to work on his game and body in the offseason. He's considered part of Cleveland's core along with Donovan Mitchell, Darius Garland and Evan Mobley, but Allen's inability to keep Robinson from grabbing offensive rebounds — he had 11 alone in Game 5 — is a major concern for the Cavs going forward.
"We all know the elephant in the room — the Tyrannosaurus rex in the room — is the damn offensive rebounds," Allen said. "That's my job, to get rebounds. That's my job to box people out, to make sure that they don't get the rebound, and I feel like I let my team down in that sense."
Same for Mitchell, who after barely getting any sleep, awakened to the harsh reality that his first season in Cleveland ended so painfully.
The All-Star guard shouldered much of the blame for Cleveland's quick exit, the latest for Mitchell, who never got past the second round in five tries with Utah and didn't get through one round with the Cavs.
Over the next few weeks, Mitchell will process what went wrong and work to fix it.
"It hurts. It's terrible. Like, I'm running on 30 minutes of sleep here, but I wouldn't want any other way," he said. "There's beauty in the struggle. There's gonna be a time where we figure this out. It's coming. I'm not gonna let this, and I don't think any of us are gonna let this define us, define me.
"And I'll be better for it, and we'll be better for it."
HOT SEAT?
Bickerstaff's job would appear to be safe, but the Cavs' playoff flop has led to plenty of external criticism and speculation about his future. There's also the franchise's erratic history (see David Blatt, John Beilein) with hiring and firing coaches.
There's no denying Bickerstaff has created a winning environment and culture in Cleveland, but can he take the Cavs another step?
Allen said Bickerstaff strikes the perfect balance between "an X's and O's coach and being the coach that rallies the players behind who he is."
RUBIO'S REGRET
Ricky Rubio never found his rhythm this season after returning from knee surgery.
The 31-year-old guard didn't play until January, was limited to just 33 games and a non-factor in the playoffs. While proud of coming back from his second ACL surgery, Rubio said returning midway through the season and his limited playing time made things more challenging.
"I wasn't the best version of myself because of the injury," he said. "I've got to be better in a lot of areas."
Rubio will focus on strengthening his legs this summer, and said it's possible he'll play for Spain in the FIBA World Cup.
FORWARD THINKING
Caris LeVert has spent most of two seasons looking to fit in with the Cavs. He'd like to make it three — or more.
LeVert is scheduled to be a free agent this summer, but hopes to stay in Cleveland, which acquired the versatile small forward from Indiana at the trade deadline in 2021.
"Absolutely," LeVert said when asked of his interest in returning. "Obviously, that's something that I definitely want to do. I definitely want to be a part of this culture, be a part of this team. This group is a super special group. It's a business, so we'll see what happens this summer, but I would love to come back."
LeVert has been in a variety of roles with the Cavs, and they value him going forward. The trick will be finding a contract that works for both sides.
___
AP NBA: https://apnews.com/hub/NBA and https://twitter.com/AP_Sports