Trump comes to Wisconsin to tout Foxconn amid Harley flap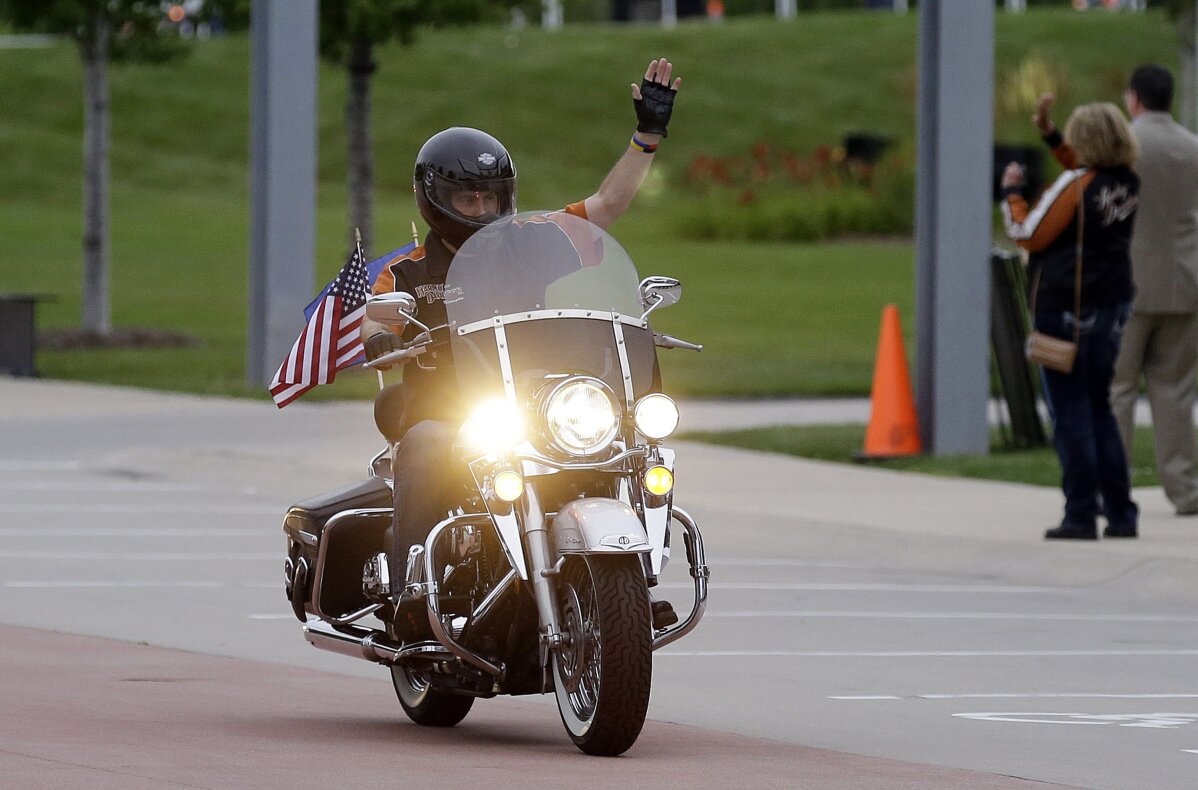 1 of 5

|
FILE - In this Aug. 2, 2013 file photo, Wisconsin Governor Scott Walker rides a Harley Davidson motorcycle to the motorcycle museum in Milwaukee. The ceremonial groundbreaking for a massive $10 billion Foxconn factory complex in Wisconsin was supposed to be evidence that the manufacturing revival fueled by President Donald Trump's "America First" policy is well underway. But an announcement this week by Harley-Davidson that it is moving some production of motorcycles overseas to avoid tariffs is fueling unease among voters in Wisconsin, a state Trump barely won and where fellow Republican Gov. Scott Walker is on the ballot. (AP Photo/Jeffrey Phelps, File)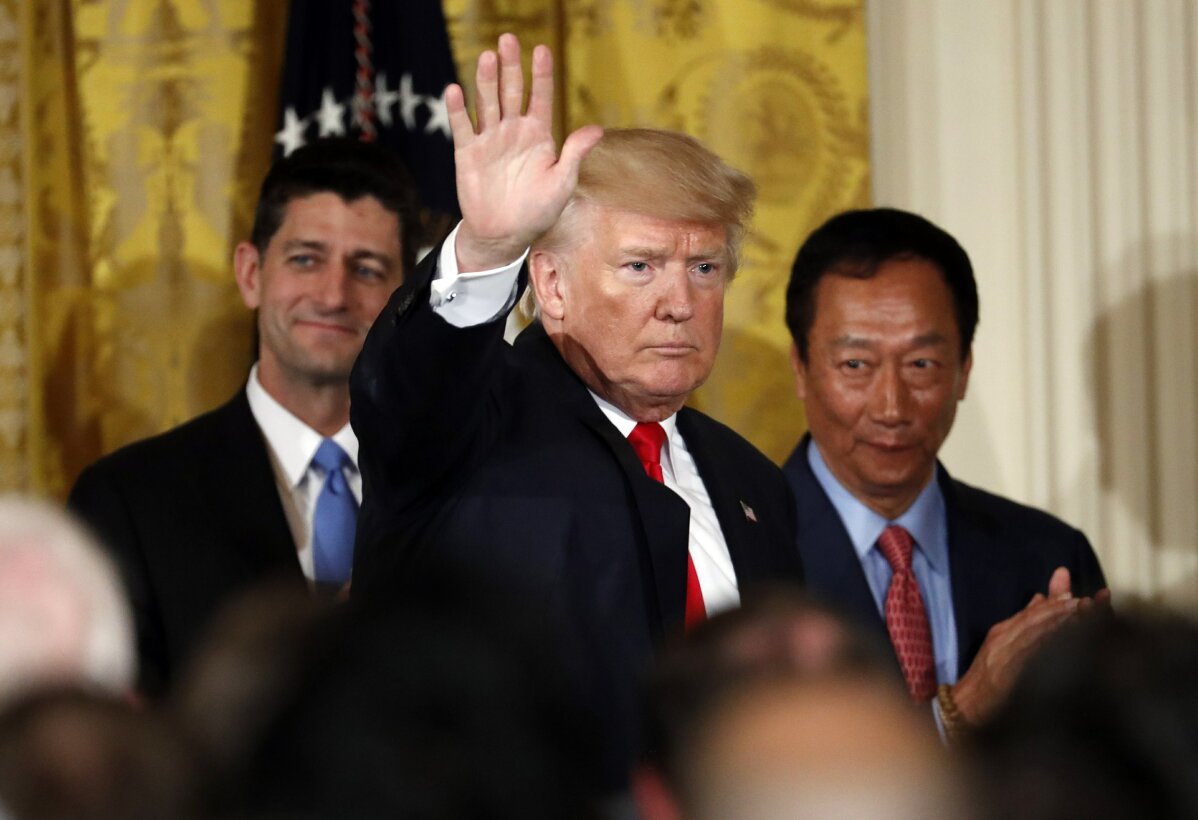 2 of 5

|
FILE - In this July 26, 2017 file photo, President Donald Trump, waves as he departs with House Speaker Paul Ryan of Wis., left, and Terry Gou, president and chief executive officer of Foxconn, after an event in the East Room of the White House in Washington. The ceremonial groundbreaking for a massive $10 billion Foxconn factory complex in Wisconsin was supposed to be evidence that the manufacturing revival fueled by President Donald Trump's "America First" policy is well underway. But an announcement this week by Harley-Davidson that it is moving some production of motorcycles overseas to avoid tariffs is fueling unease among voters in Wisconsin _ a state Trump barely won and where fellow Republican Gov. Scott Walker is on the ballot. (AP Photo/Alex Brandon)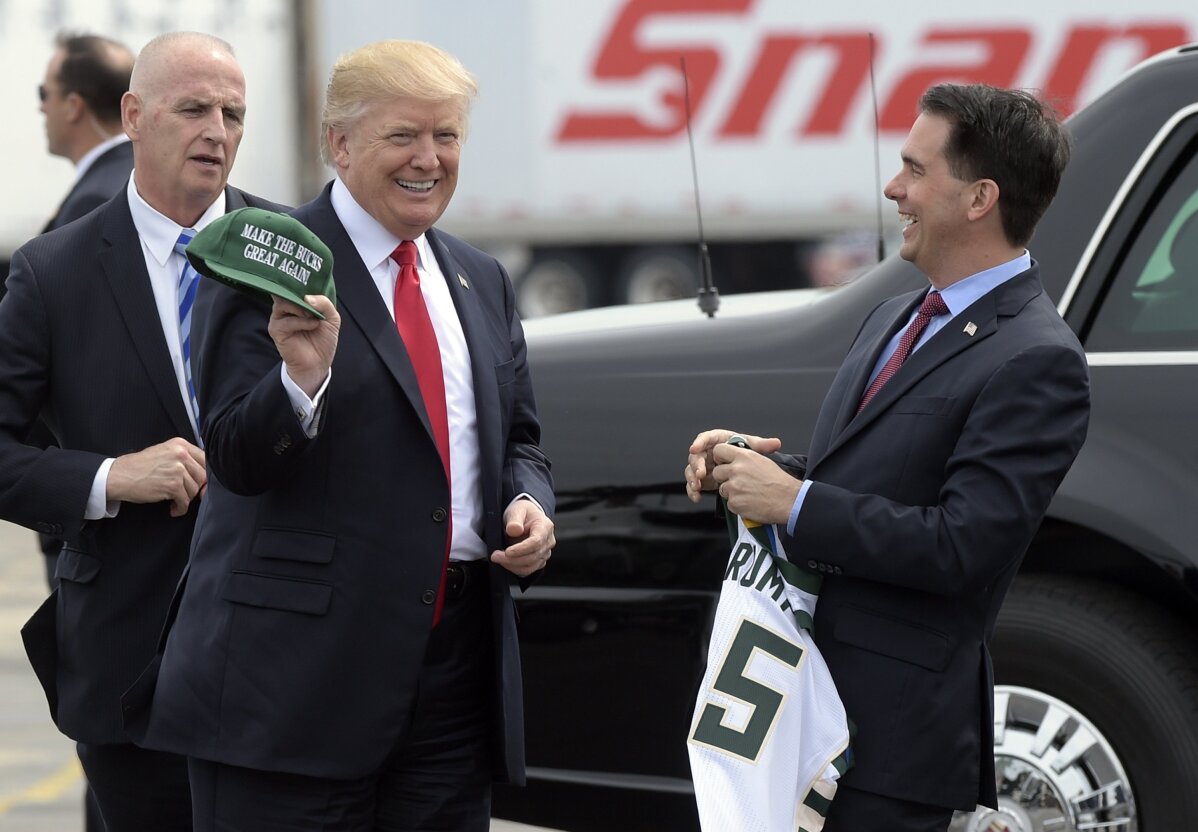 3 of 5

|
FILE - In this April 18, 2017 file photo, Wisconsin Gov. Scott Walker right, presents President Donald Trump with a Milwaukee Buck basketball hat and jersey as he arrives in Kenosha, Wis. The ceremonial groundbreaking for a massive $10 billion Foxconn factory complex in Wisconsin was supposed to be evidence that the manufacturing revival fueled by Trump's "America First" policy is well underway. But an announcement this week by Harley-Davidson that it is moving some production of motorcycles overseas to avoid tariffs is fueling unease among voters in Wisconsin, a state Trump barely won and where fellow Republican Gov. Scott Walker is on the ballot. (AP Photo/Susan Walsh, File)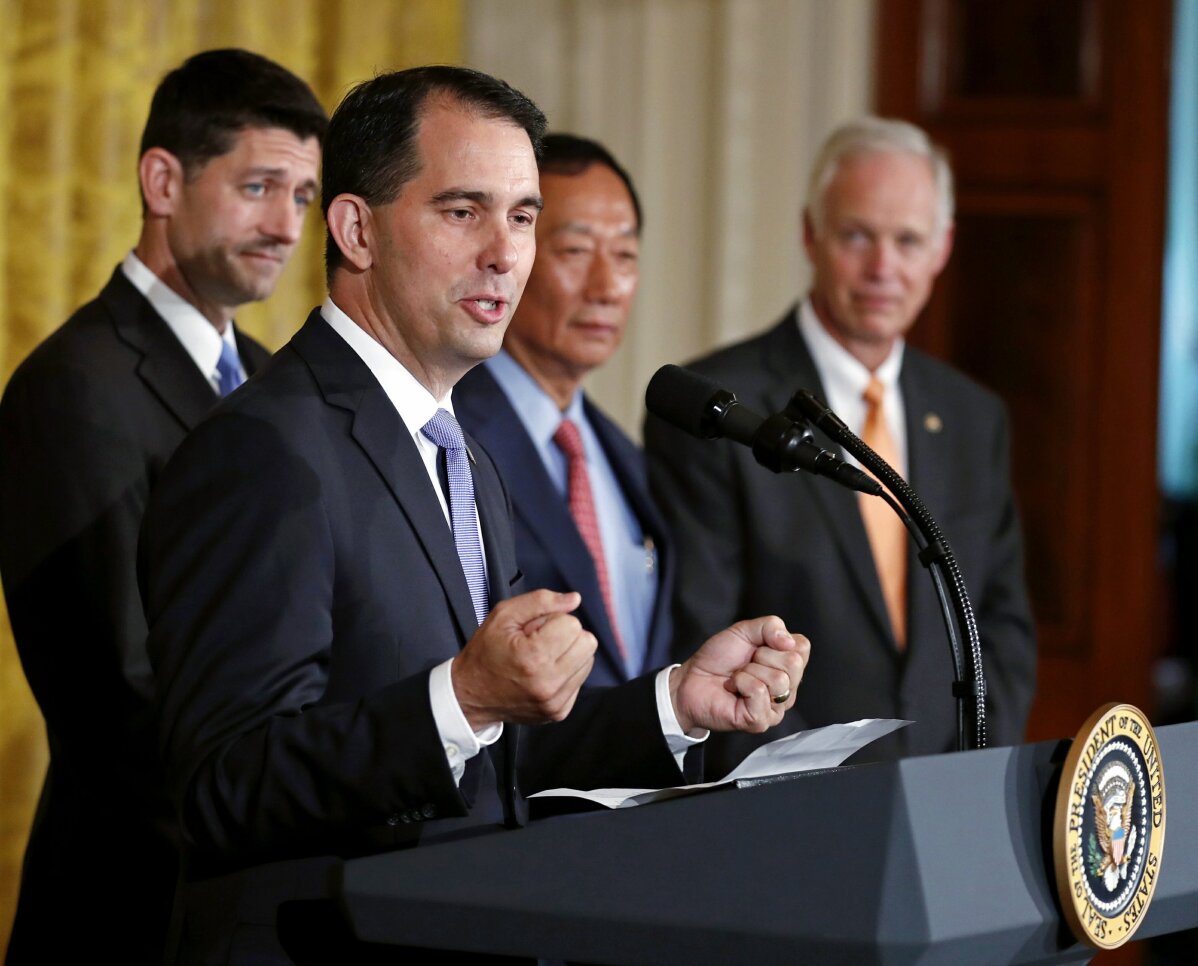 4 of 5

|
FILE - In this July 26, 2017, file photo, Wisconsin Gov. Scott Walker speaks in the East Room accompanied by House Speaker Paul Ryan of Wisconsin, left, Foxconn CEO and founder Terry Gou, and Sen. Ron Johnson, R-Wis., at the White House in Washington. The ceremonial groundbreaking for a massive $10 billion Foxconn factory complex in Wisconsin was supposed to be evidence that the manufacturing revival fueled by President Donald Trump's "America First" policy is well underway. But an announcement this week by Harley-Davidson that it is moving some production of motorcycles overseas to avoid tariffs is fueling unease among voters in Wisconsin, a state Trump barely won and where fellow Republican Gov. Scott Walker is on the ballot. (AP Photo/Carolyn Kaster, File)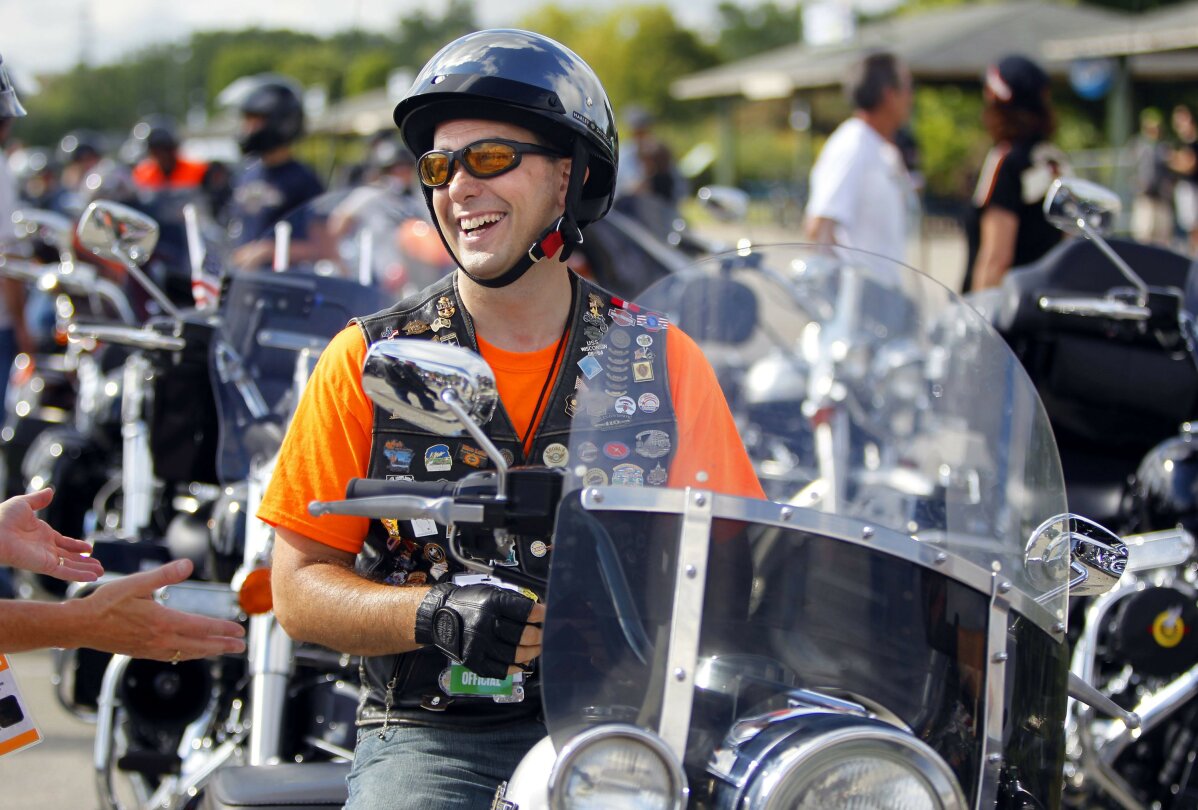 5 of 5

|
FILE - In this Aug. 31, 2013 file photo, Gov. Scott Walker laughs before riding in the Harley-Davidson 110th Anniversary Parade in Milwaukee, Wis. The ceremonial groundbreaking for a massive $10 billion Foxconn factory complex in Wisconsin was supposed to be evidence that the manufacturing revival fueled by President Donald Trump's "America First" policy is well underway. But an announcement this week by Harley-Davidson that it is moving some production of motorcycles overseas to avoid tariffs is fueling unease among voters in Wisconsin _ a state Trump barely won and where fellow Republican Gov. Scott Walker is on the ballot. (Mike De Sisti/Milwaukee Journal-Sentinel via AP, File)
Trump comes to Wisconsin to tout Foxconn amid Harley flap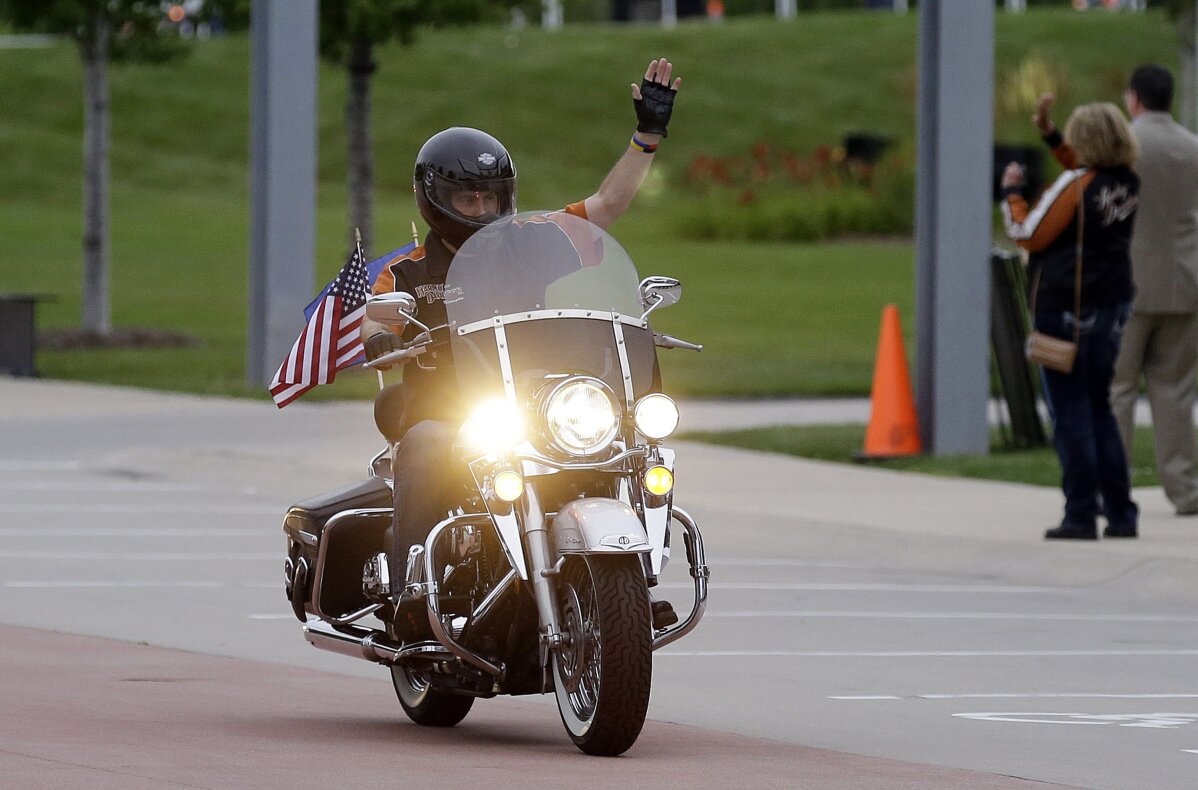 1 of 5

|
FILE - In this Aug. 2, 2013 file photo, Wisconsin Governor Scott Walker rides a Harley Davidson motorcycle to the motorcycle museum in Milwaukee. The ceremonial groundbreaking for a massive $10 billion Foxconn factory complex in Wisconsin was supposed to be evidence that the manufacturing revival fueled by President Donald Trump's "America First" policy is well underway. But an announcement this week by Harley-Davidson that it is moving some production of motorcycles overseas to avoid tariffs is fueling unease among voters in Wisconsin, a state Trump barely won and where fellow Republican Gov. Scott Walker is on the ballot. (AP Photo/Jeffrey Phelps, File)
1 of 5
FILE - In this Aug. 2, 2013 file photo, Wisconsin Governor Scott Walker rides a Harley Davidson motorcycle to the motorcycle museum in Milwaukee. The ceremonial groundbreaking for a massive $10 billion Foxconn factory complex in Wisconsin was supposed to be evidence that the manufacturing revival fueled by President Donald Trump's "America First" policy is well underway. But an announcement this week by Harley-Davidson that it is moving some production of motorcycles overseas to avoid tariffs is fueling unease among voters in Wisconsin, a state Trump barely won and where fellow Republican Gov. Scott Walker is on the ballot. (AP Photo/Jeffrey Phelps, File)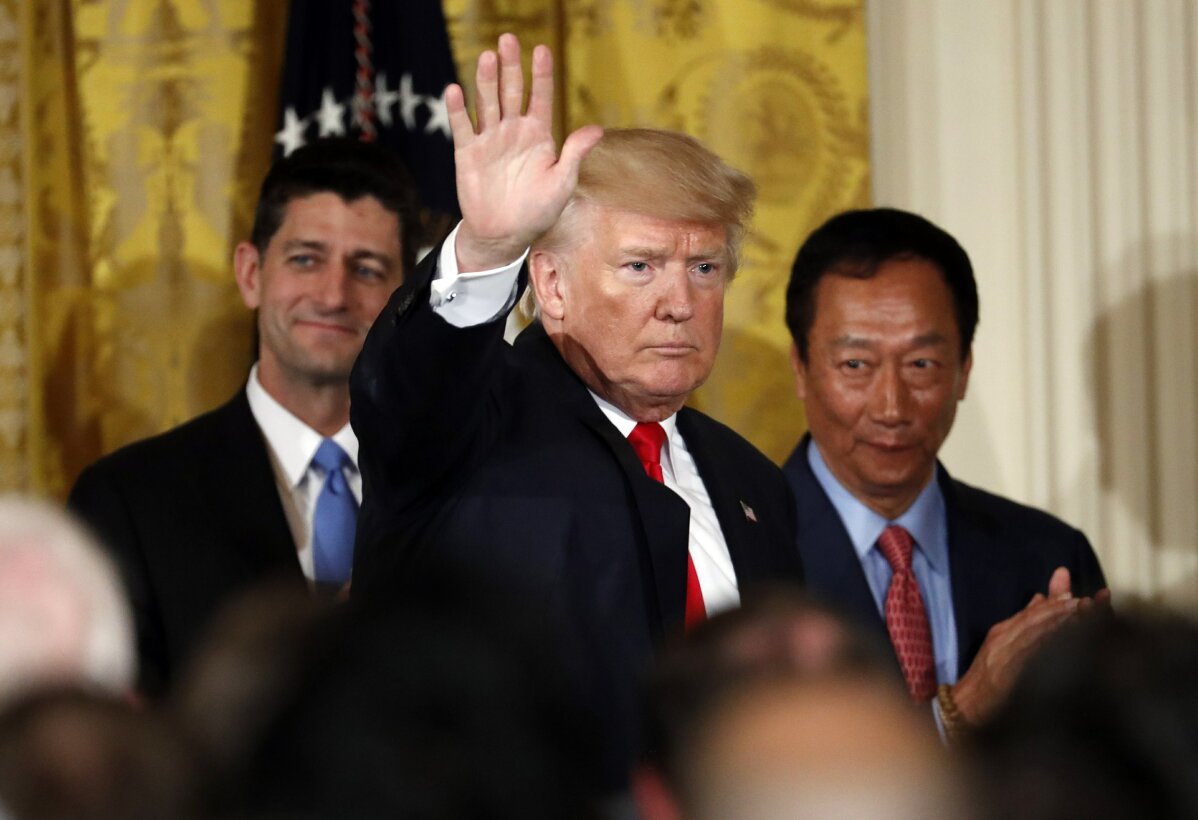 2 of 5

|
FILE - In this July 26, 2017 file photo, President Donald Trump, waves as he departs with House Speaker Paul Ryan of Wis., left, and Terry Gou, president and chief executive officer of Foxconn, after an event in the East Room of the White House in Washington. The ceremonial groundbreaking for a massive $10 billion Foxconn factory complex in Wisconsin was supposed to be evidence that the manufacturing revival fueled by President Donald Trump's "America First" policy is well underway. But an announcement this week by Harley-Davidson that it is moving some production of motorcycles overseas to avoid tariffs is fueling unease among voters in Wisconsin _ a state Trump barely won and where fellow Republican Gov. Scott Walker is on the ballot. (AP Photo/Alex Brandon)
2 of 5
FILE - In this July 26, 2017 file photo, President Donald Trump, waves as he departs with House Speaker Paul Ryan of Wis., left, and Terry Gou, president and chief executive officer of Foxconn, after an event in the East Room of the White House in Washington. The ceremonial groundbreaking for a massive $10 billion Foxconn factory complex in Wisconsin was supposed to be evidence that the manufacturing revival fueled by President Donald Trump's "America First" policy is well underway. But an announcement this week by Harley-Davidson that it is moving some production of motorcycles overseas to avoid tariffs is fueling unease among voters in Wisconsin _ a state Trump barely won and where fellow Republican Gov. Scott Walker is on the ballot. (AP Photo/Alex Brandon)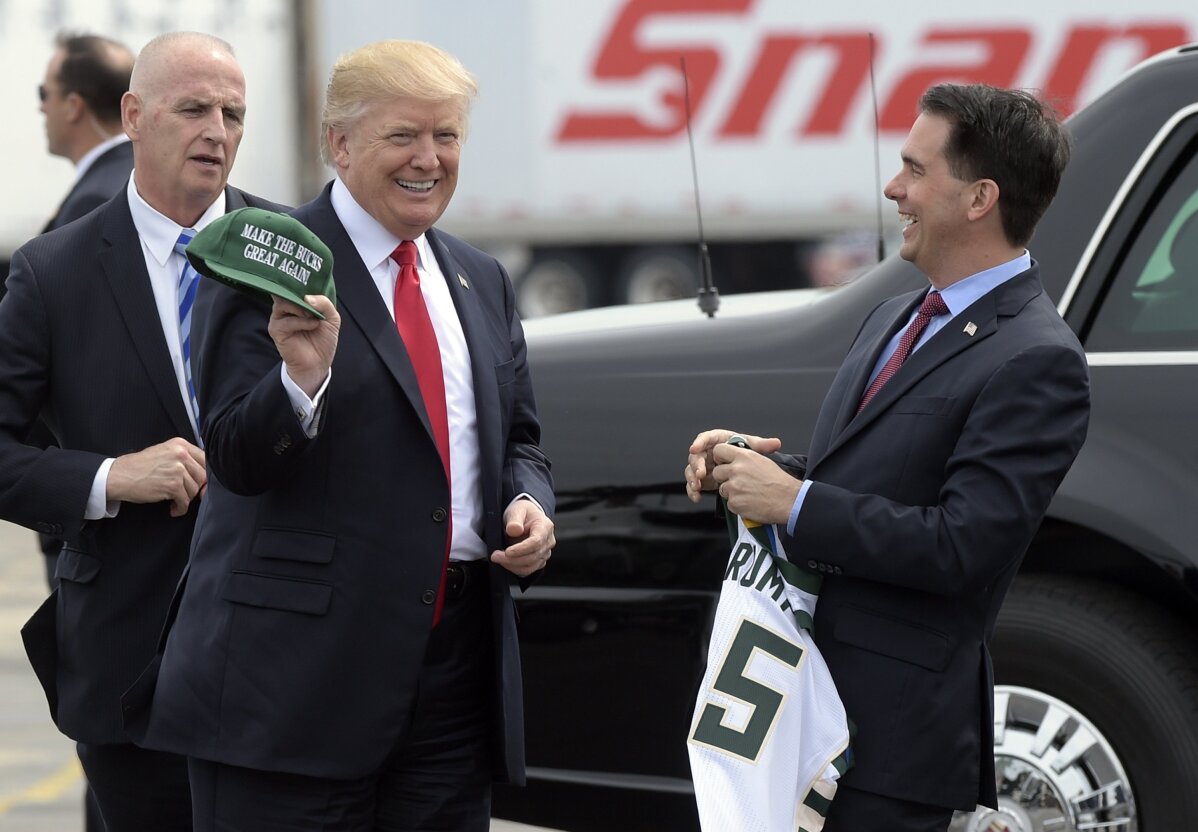 3 of 5

|
FILE - In this April 18, 2017 file photo, Wisconsin Gov. Scott Walker right, presents President Donald Trump with a Milwaukee Buck basketball hat and jersey as he arrives in Kenosha, Wis. The ceremonial groundbreaking for a massive $10 billion Foxconn factory complex in Wisconsin was supposed to be evidence that the manufacturing revival fueled by Trump's "America First" policy is well underway. But an announcement this week by Harley-Davidson that it is moving some production of motorcycles overseas to avoid tariffs is fueling unease among voters in Wisconsin, a state Trump barely won and where fellow Republican Gov. Scott Walker is on the ballot. (AP Photo/Susan Walsh, File)
3 of 5
FILE - In this April 18, 2017 file photo, Wisconsin Gov. Scott Walker right, presents President Donald Trump with a Milwaukee Buck basketball hat and jersey as he arrives in Kenosha, Wis. The ceremonial groundbreaking for a massive $10 billion Foxconn factory complex in Wisconsin was supposed to be evidence that the manufacturing revival fueled by Trump's "America First" policy is well underway. But an announcement this week by Harley-Davidson that it is moving some production of motorcycles overseas to avoid tariffs is fueling unease among voters in Wisconsin, a state Trump barely won and where fellow Republican Gov. Scott Walker is on the ballot. (AP Photo/Susan Walsh, File)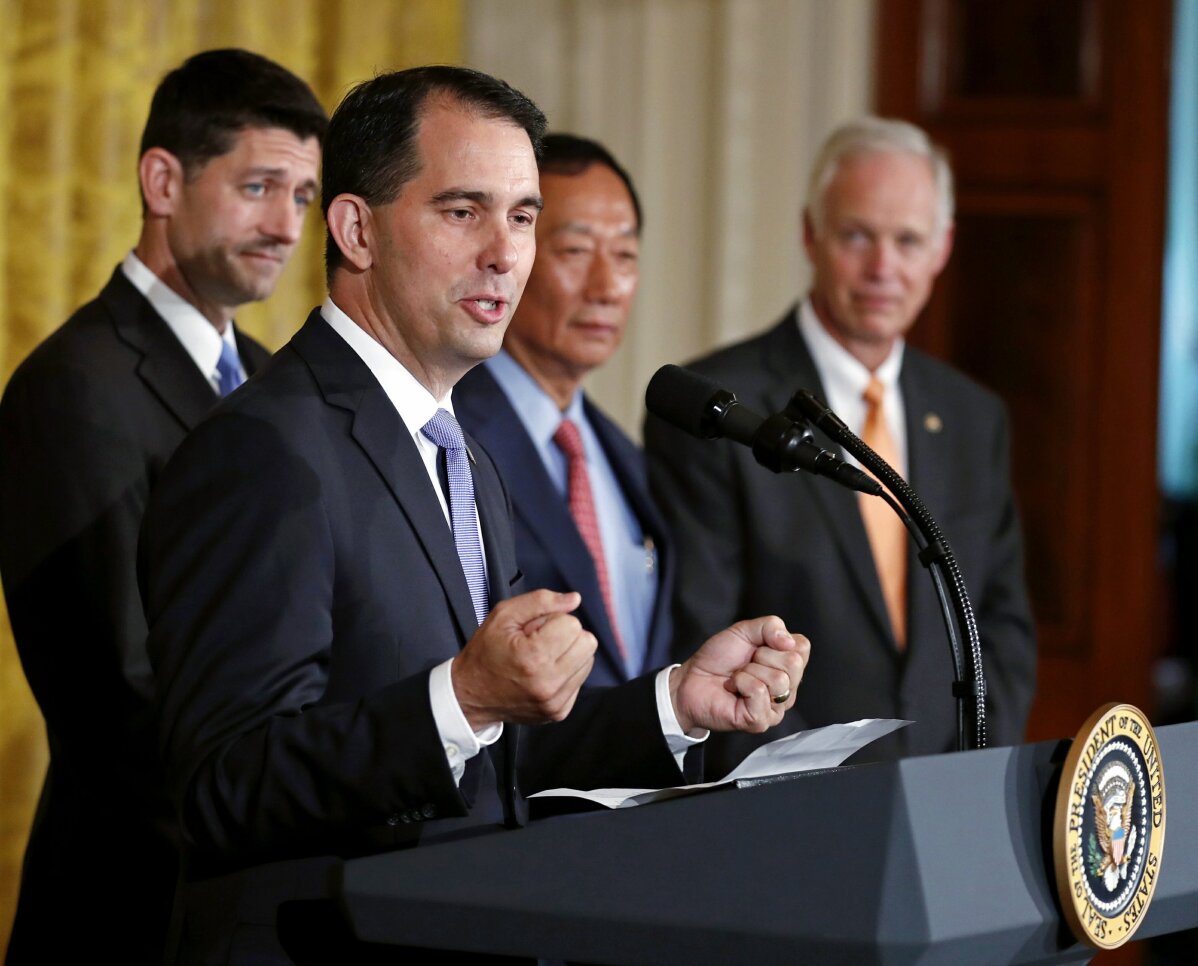 4 of 5

|
FILE - In this July 26, 2017, file photo, Wisconsin Gov. Scott Walker speaks in the East Room accompanied by House Speaker Paul Ryan of Wisconsin, left, Foxconn CEO and founder Terry Gou, and Sen. Ron Johnson, R-Wis., at the White House in Washington. The ceremonial groundbreaking for a massive $10 billion Foxconn factory complex in Wisconsin was supposed to be evidence that the manufacturing revival fueled by President Donald Trump's "America First" policy is well underway. But an announcement this week by Harley-Davidson that it is moving some production of motorcycles overseas to avoid tariffs is fueling unease among voters in Wisconsin, a state Trump barely won and where fellow Republican Gov. Scott Walker is on the ballot. (AP Photo/Carolyn Kaster, File)
4 of 5
FILE - In this July 26, 2017, file photo, Wisconsin Gov. Scott Walker speaks in the East Room accompanied by House Speaker Paul Ryan of Wisconsin, left, Foxconn CEO and founder Terry Gou, and Sen. Ron Johnson, R-Wis., at the White House in Washington. The ceremonial groundbreaking for a massive $10 billion Foxconn factory complex in Wisconsin was supposed to be evidence that the manufacturing revival fueled by President Donald Trump's "America First" policy is well underway. But an announcement this week by Harley-Davidson that it is moving some production of motorcycles overseas to avoid tariffs is fueling unease among voters in Wisconsin, a state Trump barely won and where fellow Republican Gov. Scott Walker is on the ballot. (AP Photo/Carolyn Kaster, File)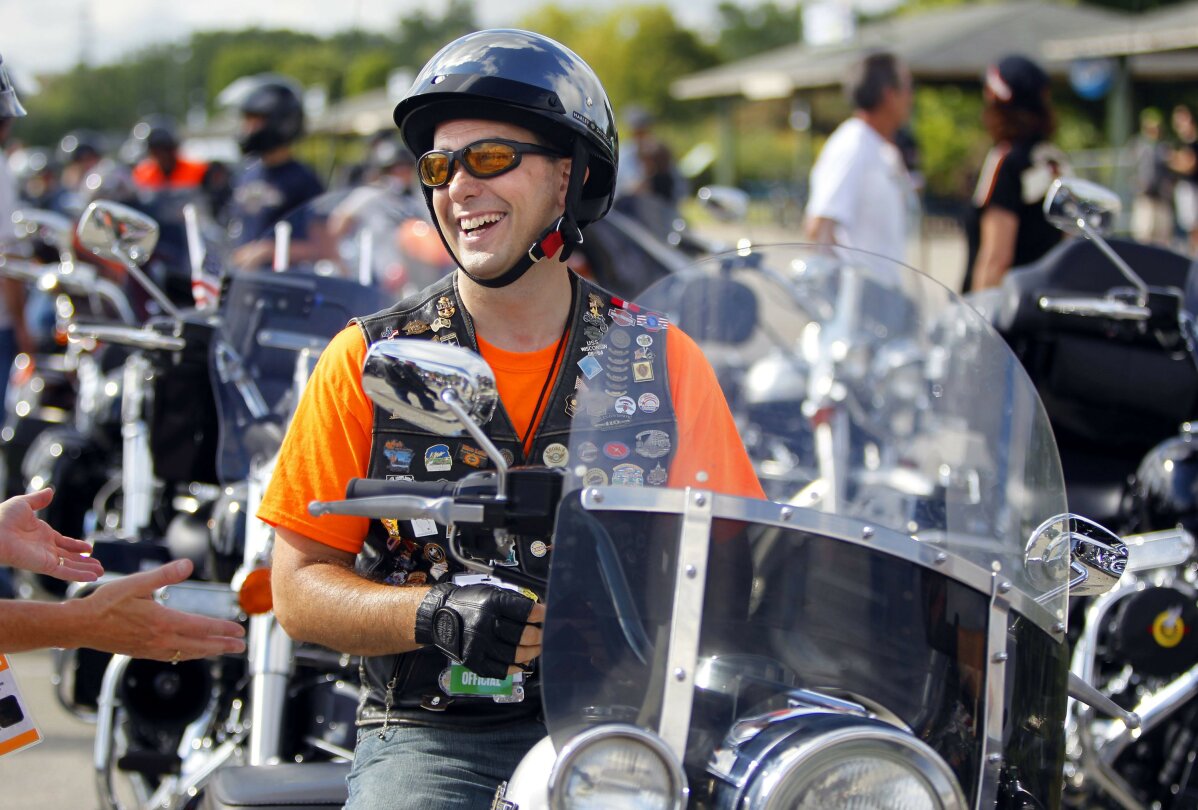 5 of 5

|
FILE - In this Aug. 31, 2013 file photo, Gov. Scott Walker laughs before riding in the Harley-Davidson 110th Anniversary Parade in Milwaukee, Wis. The ceremonial groundbreaking for a massive $10 billion Foxconn factory complex in Wisconsin was supposed to be evidence that the manufacturing revival fueled by President Donald Trump's "America First" policy is well underway. But an announcement this week by Harley-Davidson that it is moving some production of motorcycles overseas to avoid tariffs is fueling unease among voters in Wisconsin _ a state Trump barely won and where fellow Republican Gov. Scott Walker is on the ballot. (Mike De Sisti/Milwaukee Journal-Sentinel via AP, File)
5 of 5
FILE - In this Aug. 31, 2013 file photo, Gov. Scott Walker laughs before riding in the Harley-Davidson 110th Anniversary Parade in Milwaukee, Wis. The ceremonial groundbreaking for a massive $10 billion Foxconn factory complex in Wisconsin was supposed to be evidence that the manufacturing revival fueled by President Donald Trump's "America First" policy is well underway. But an announcement this week by Harley-Davidson that it is moving some production of motorcycles overseas to avoid tariffs is fueling unease among voters in Wisconsin _ a state Trump barely won and where fellow Republican Gov. Scott Walker is on the ballot. (Mike De Sisti/Milwaukee Journal-Sentinel via AP, File)
MADISON, Wis. (AP) — The ceremonial groundbreaking for a massive $10 billion Foxconn factory complex in Wisconsin was supposed to be evidence that the manufacturing revival fueled by President Donald Trump's "America First" policy is well underway.
But an announcement this week by Harley-Davidson that it is moving some production of motorcycles overseas to avoid tariffs is fueling unease in Wisconsin — a state Trump barely won and where fellow Republican Gov. Scott Walker is on the ballot in just over four months.
The contrasting news — Harley is based just 30 miles (48.28 kilometers) north up the interstate in Milwaukee — provides the backdrop for Trump's visit Thursday where he'll speak at the Foxconn site and hold a closed-door fundraiser just a couple miles away from Harley's headquarters.
Walker is counting on a strong economy as part of his case for re-election. Wisconsin's unemployment is at record-low levels and Walker argues that the Foxconn project, the largest economic development deal in state history, shows that Wisconsin is on the right track.
When the deal, reached with the assistance of the Trump White House, was signed last year, Walker said critics could "suck lemons" and "all of us in the state should be smiling, Republican and Democrat, doesn't matter."
A year later, opinion polls show Wisconsin voters are split on the project and the state of the economy.
"I read conflicting reports," said Katherine Wikoff, 58, a professor at the Milwaukee School of Engineering who doesn't align with either political party. "I read many positive things. And, here and there I'll see things that don't look so good."
Wikoff said she has concerns about increasing traffic and environmental impacts of the Foxconn project, including water usage, but also said it could spur more economic development.
"Foxconn could be sort of a catalyst for a lot of really exciting things happening," she said.
Tom Deisinger, a 60-year-old banker who said he's not affiliated with either political party, said he was "fairly bullish" on the economy overall and the Foxconn project.
"What I hear from talking to other business owners, they feel pretty good about the economy too," he said. "Employment is strong. It's actually become an issue for us. You know, finding qualified candidates for not just entry-level jobs, but really any level jobs. It's getting harder and harder."
Trump's visit comes as he is trying to keep Wisconsin and other upper Midwest states in his column. Trump visited Minnesota last week and North Dakota on Wednesday.
Trump carried Wisconsin by less than 1 point — just under 23,000 votes. He's underwater in popularity, with only 44 percent of respondents in last week's Marquette University Law School poll approving of the job he's doing, while 50 percent disapproved.
Republicans were mostly unified in support of Foxconn, saying it is a once-a-generation opportunity to transform the state's economy. But most Democrats — including all eight of those running against Walker — are against it, arguing the potential $4.5 billion in taxpayer subsidies was too rich. If paid out — they're tied to jobs and investment benchmarks — the incentives would be the most paid to a foreign company in U.S. history.
"Scott Walker is part of the Trump-Walker axis that is hurting Wisconsin, hurting America," said Democratic gubernatorial candidate Matt Flynn, who says if elected he will sue to stop the Foxconn project. "He is simply obedient to Trump."
The Marquette poll released last week showed 46 percent think the state is paying more for the plant than it's worth, while 40 percent think it will provide at least as much value as the state is investing.
Deisinger thinks it's worth it.
"I just think in general the employment opportunities and the other offshoot businesses, there's just a lot of opportunity that will come of that," Deisinger said. "It's a big price for the state to pay (incentives), but to make an omelet you've got to break some eggs, right?"
Should Foxconn employ 13,000 workers as envisioned, it would be the largest private-sector employer in Wisconsin.
"Foxconn's state-of-the-art products will be made in the U.S.A. — proudly in the state of Wisconsin!" Walker tweeted Tuesday, as he tried to shift the focus away from Harley-Davidson.
Foxconn is the world's largest electronics contract manufacturer and assembles Apple iPhones and other products for tech companies. Based in Taiwan, Foxconn chose Wisconsin after being prodded by Trump and others, including House Speaker Paul Ryan, whose district will include the plant.
The decision to build its first plant outside of Asia in the United States was viewed by many as a hedge against a possible trade war. Flat-screen liquid crystal display panels will be built on the 20-million-square-foot campus. Those LCD panels will be used for a variety of industries including medicine, security and self-driving vehicles as well as television sets, notebooks and monitors.
___
Associated Press writer Gretchen Ehlke contributed to this report from Milwaukee.
___
Follow Scott Bauer on Twitter: https://twitter.com/sbauerAP Sign up for "Politics in Focus," a weekly newsletter showcasing the AP's best political reporting from around the country leading up to the midterm elections: http://apne.ws/3Gzcraw