Suspended guard Grayson Allen trips up Duke with antics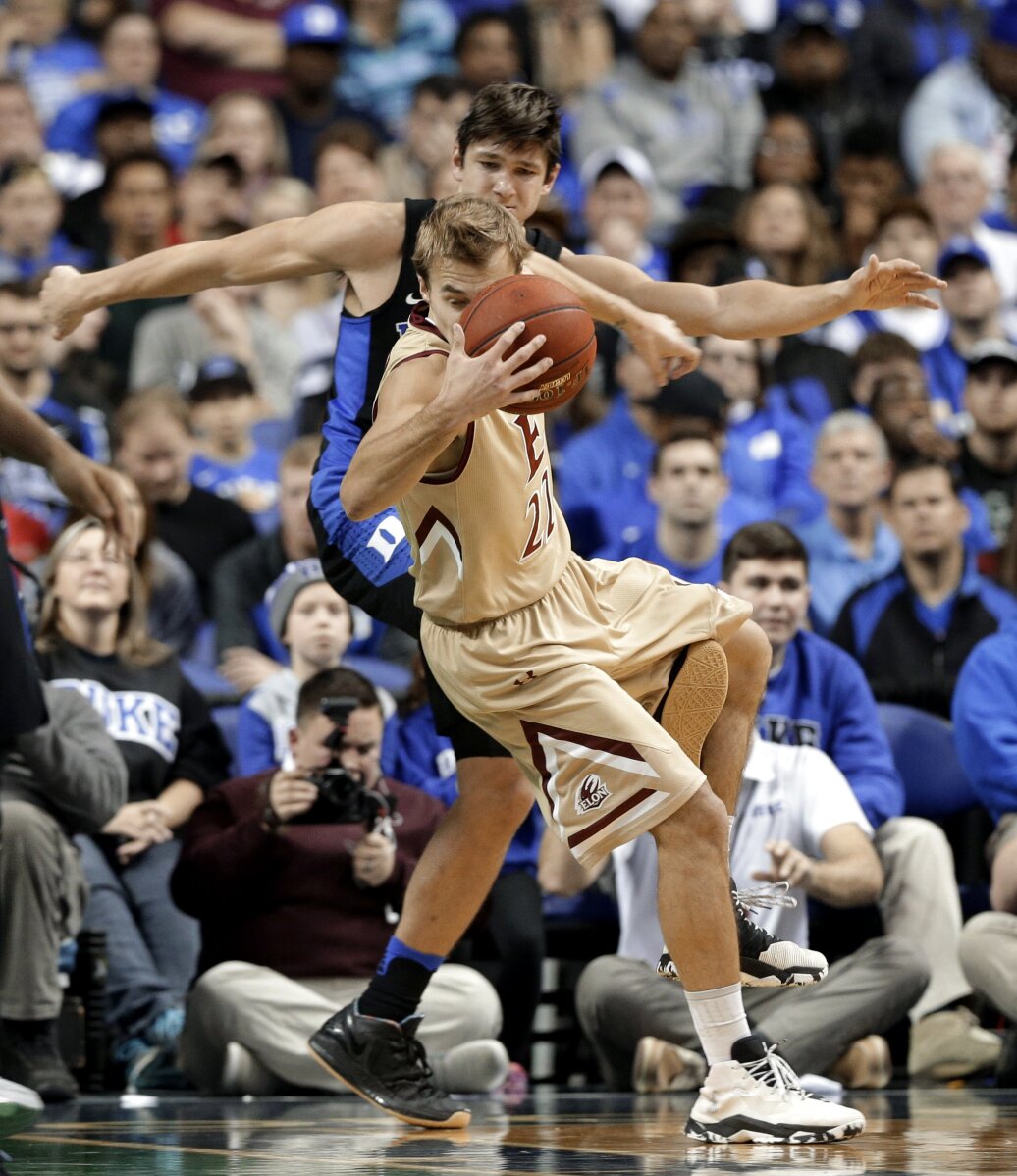 1 of 4

|
Elon's Steven Santa Ana (22) is tripped by Duke's Grayson Allen (3) in the first half of an NCAA college basketball game in Greensboro, N.C., Wednesday, Dec. 21, 2016. Allen was called for a technical foul on the play. (AP Photo/Chuck Burton)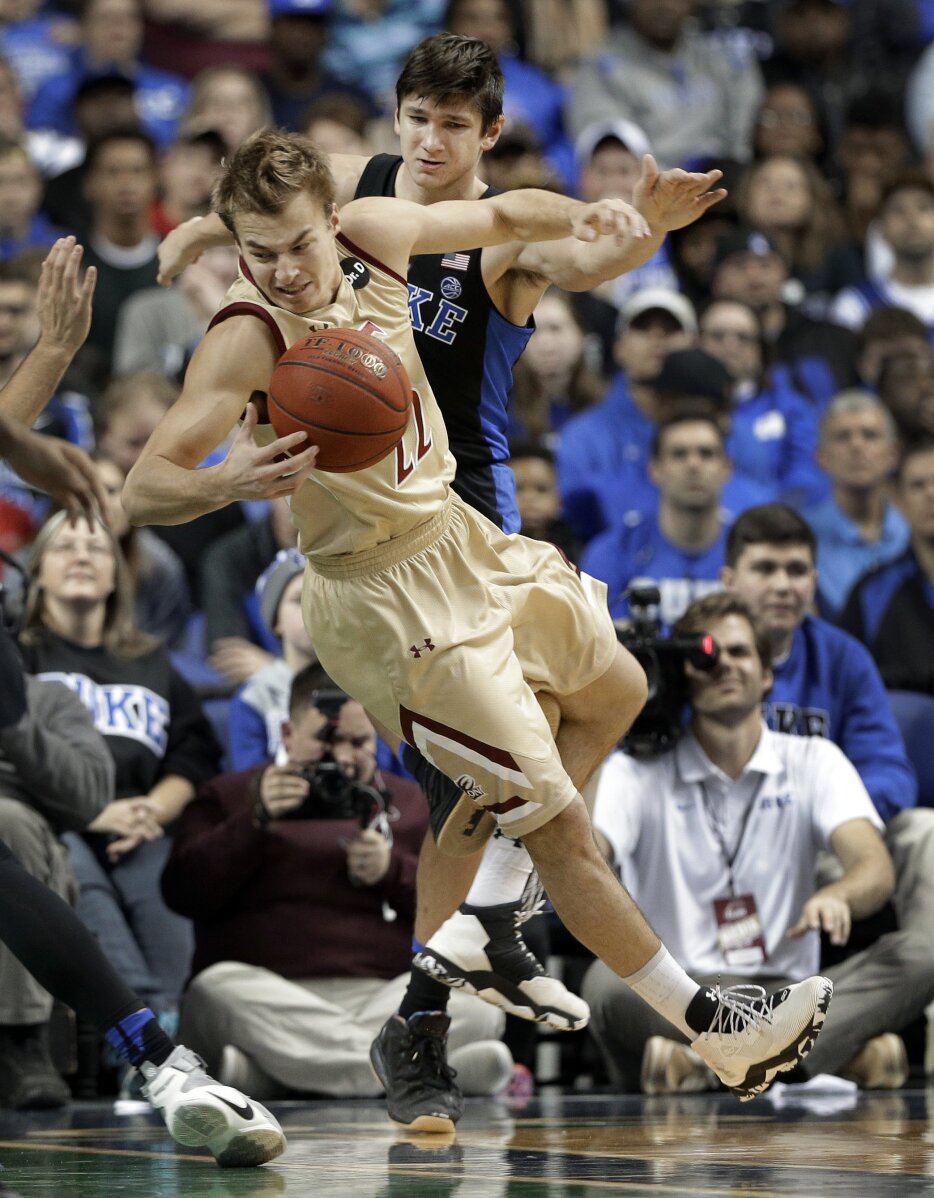 2 of 4

|
Elon's Steven Santa Ana (22) is tripped by Duke's Grayson Allen (3) in the first half of an NCAA college basketball game in Greensboro, N.C., Wednesday, Dec. 21, 2016. Allen was called for a technical foul on the play. (AP Photo/Chuck Burton)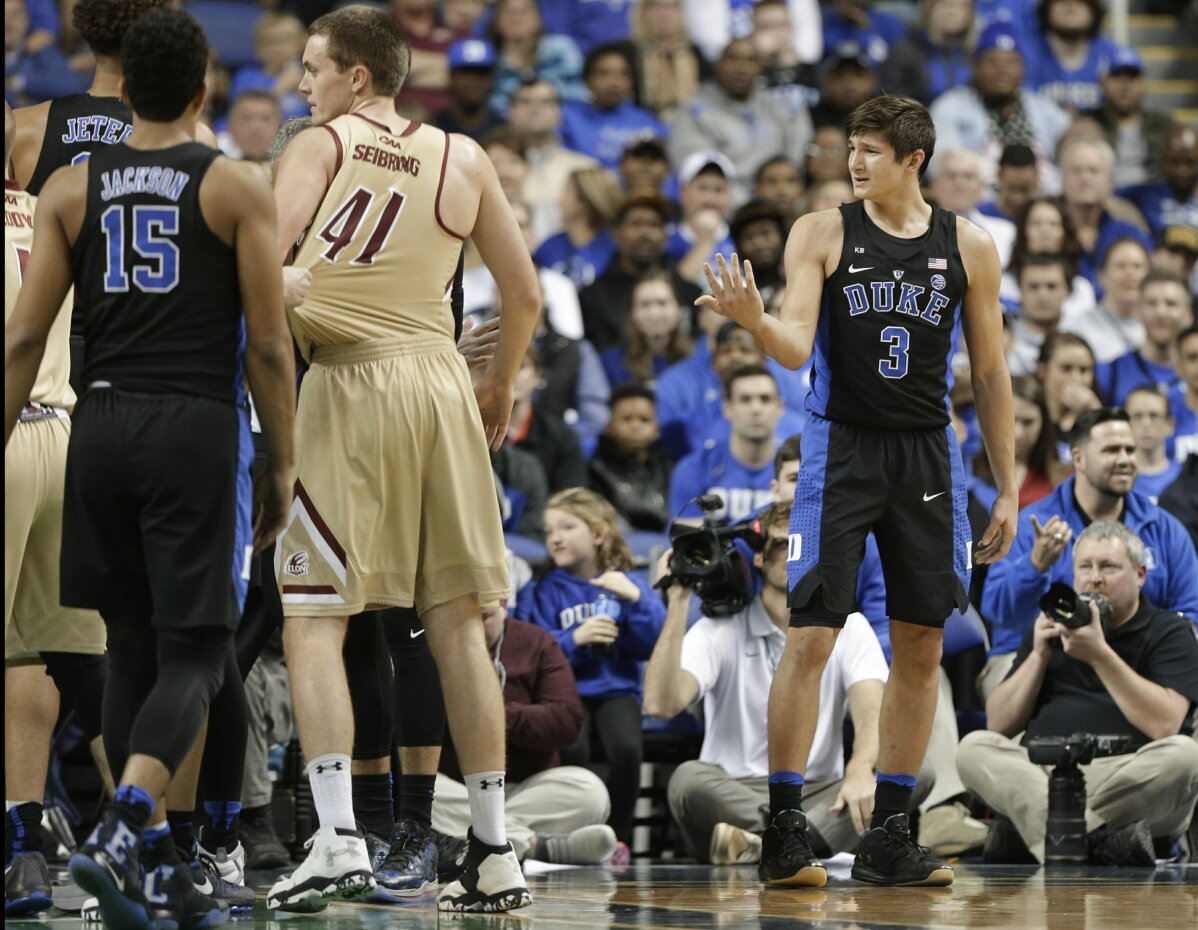 3 of 4

|
Duke's Grayson Allen (3) reacts after being called for a foul from tripping a Elon player in the first half of an NCAA college basketball game in Greensboro, N.C., Wednesday, Dec. 21, 2016. (AP Photo/Chuck Burton)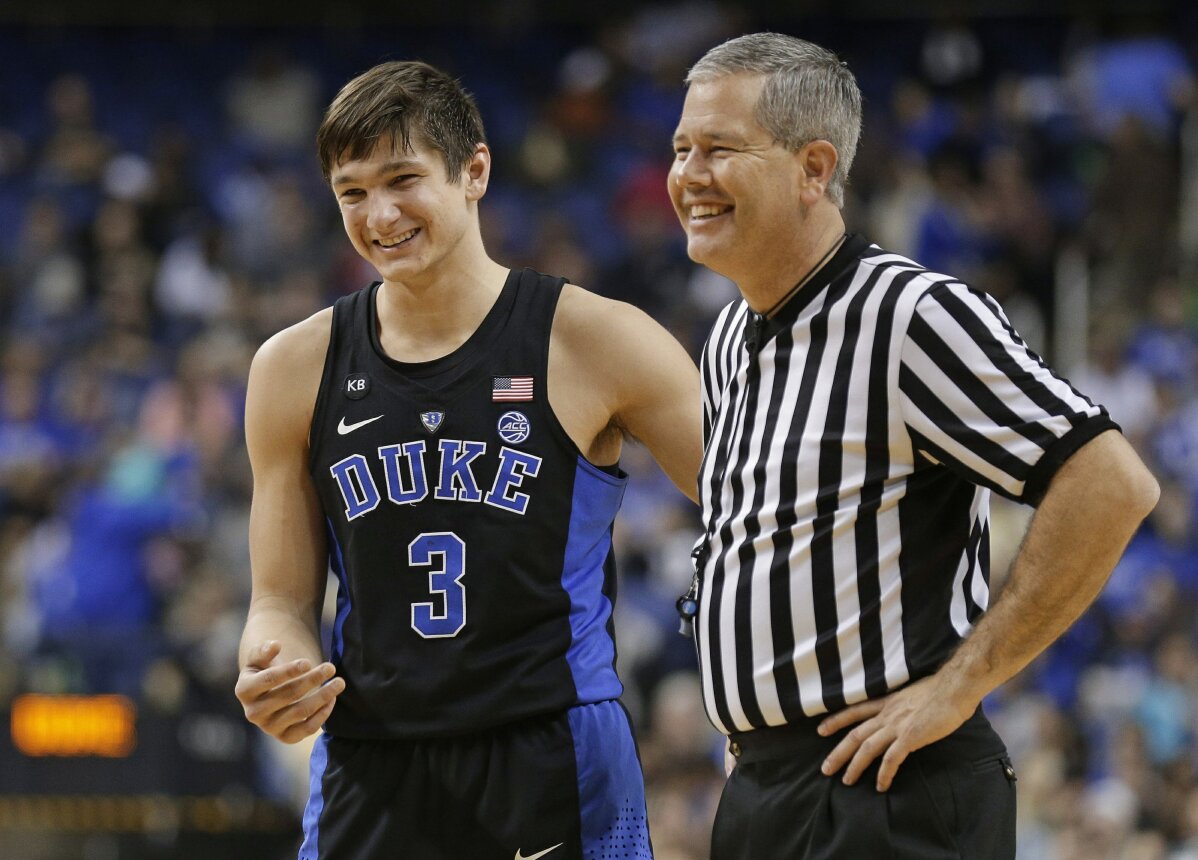 4 of 4

|
Duke's Grayson Allen (3) shares a laugh with an official in the second half of an NCAA college basketball game against Elon in Greensboro, N.C., Wednesday, Dec. 21, 2016. Duke won 72-61. (AP Photo/Chuck Burton)
Suspended guard Grayson Allen trips up Duke with antics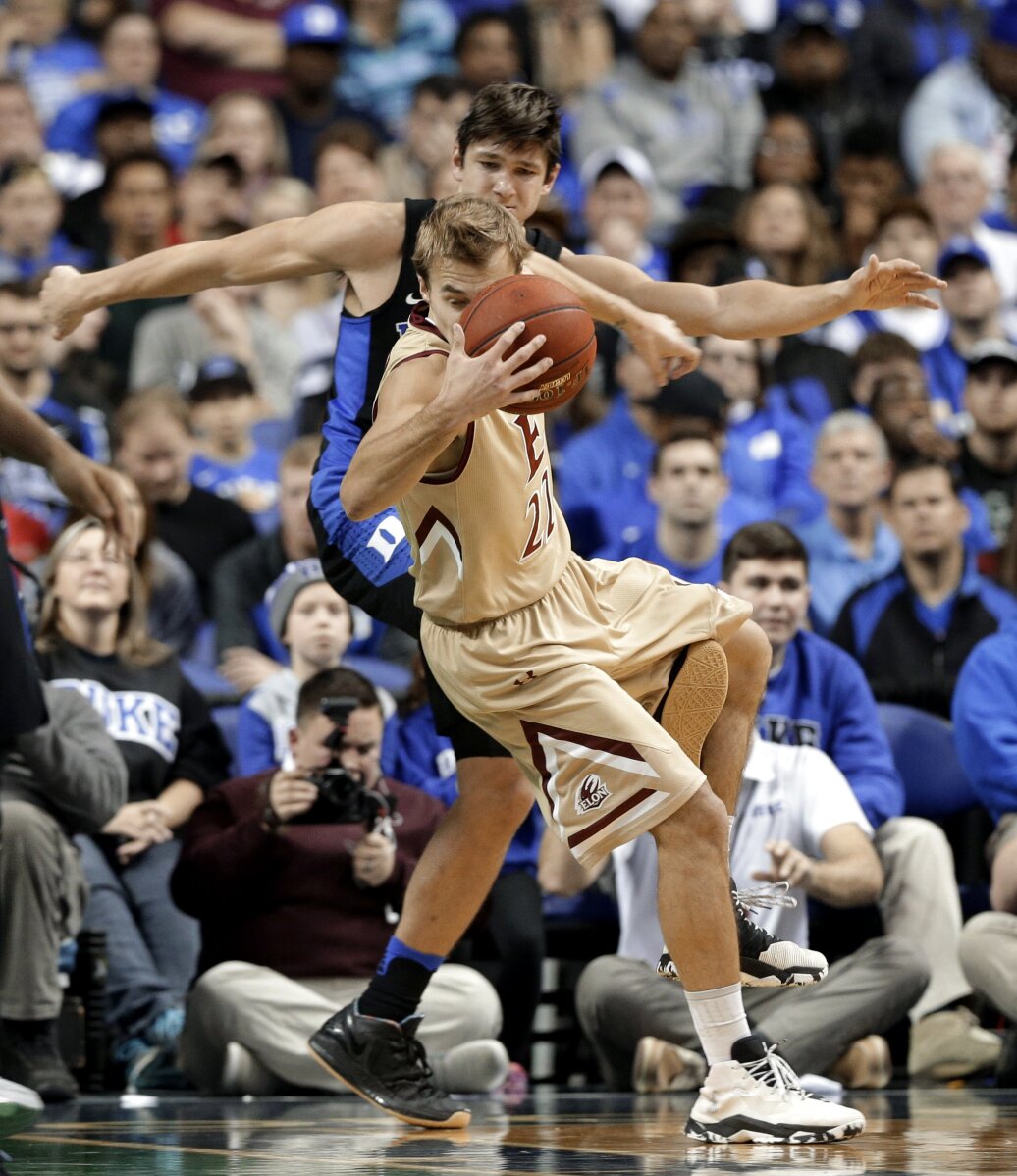 1 of 4

|
Elon's Steven Santa Ana (22) is tripped by Duke's Grayson Allen (3) in the first half of an NCAA college basketball game in Greensboro, N.C., Wednesday, Dec. 21, 2016. Allen was called for a technical foul on the play. (AP Photo/Chuck Burton)
1 of 4
Elon's Steven Santa Ana (22) is tripped by Duke's Grayson Allen (3) in the first half of an NCAA college basketball game in Greensboro, N.C., Wednesday, Dec. 21, 2016. Allen was called for a technical foul on the play. (AP Photo/Chuck Burton)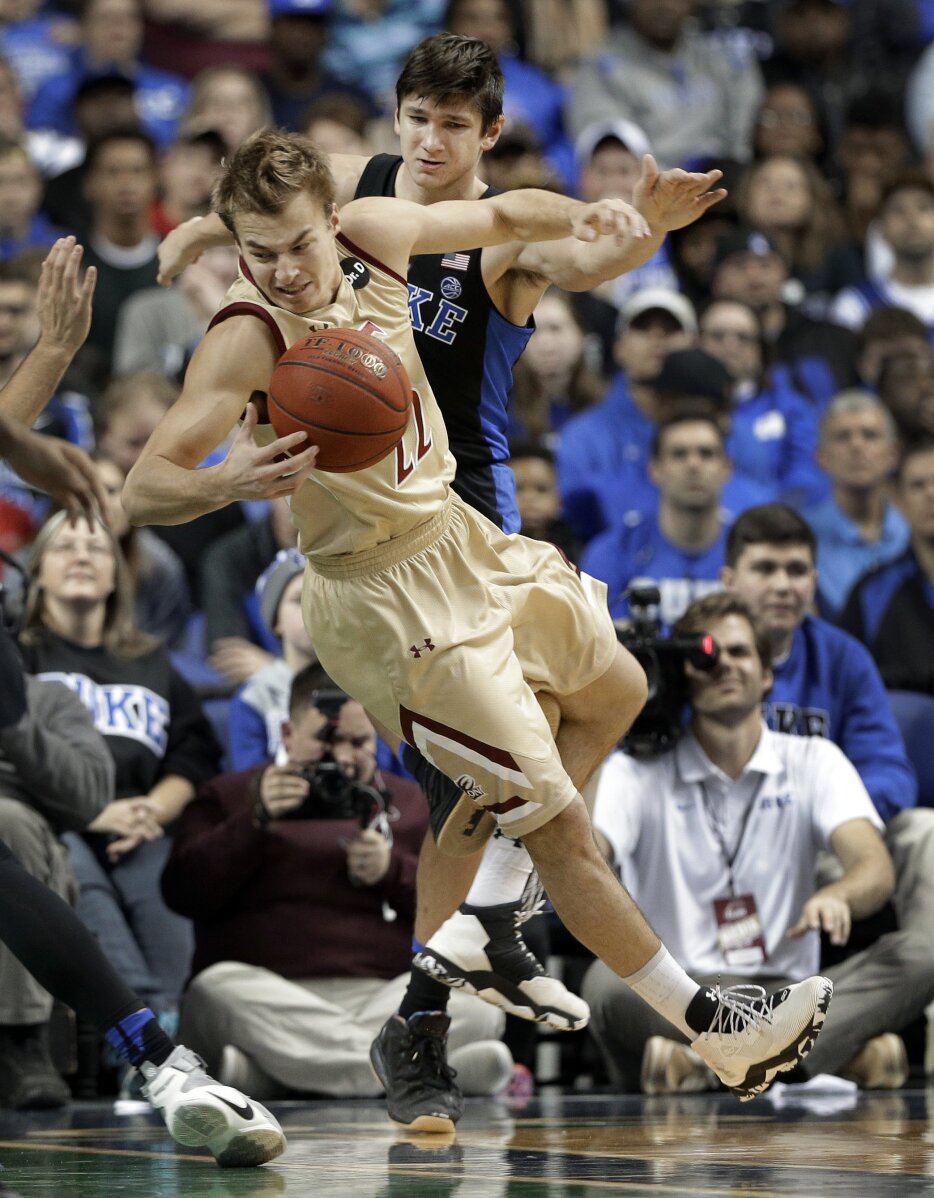 2 of 4

|
Elon's Steven Santa Ana (22) is tripped by Duke's Grayson Allen (3) in the first half of an NCAA college basketball game in Greensboro, N.C., Wednesday, Dec. 21, 2016. Allen was called for a technical foul on the play. (AP Photo/Chuck Burton)
2 of 4
Elon's Steven Santa Ana (22) is tripped by Duke's Grayson Allen (3) in the first half of an NCAA college basketball game in Greensboro, N.C., Wednesday, Dec. 21, 2016. Allen was called for a technical foul on the play. (AP Photo/Chuck Burton)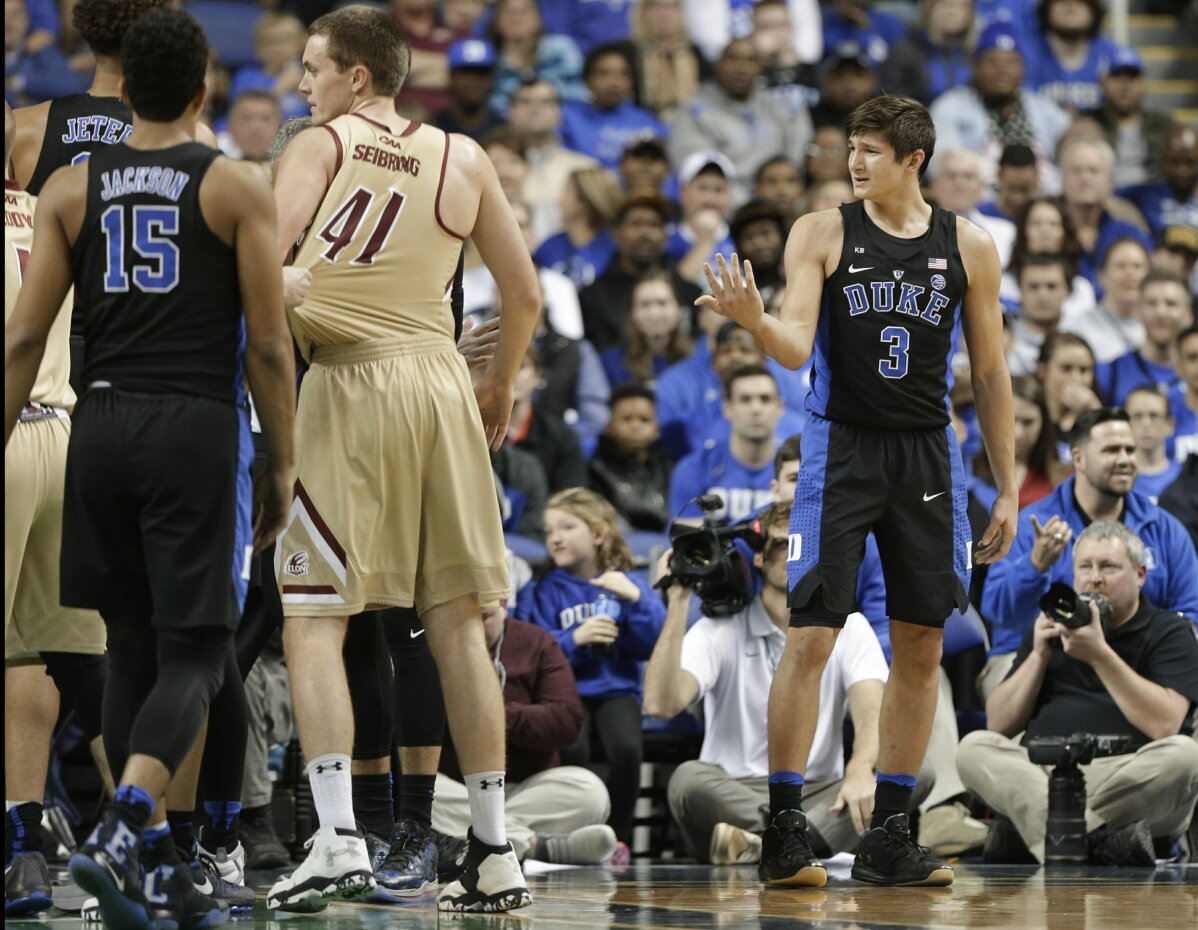 3 of 4

|
Duke's Grayson Allen (3) reacts after being called for a foul from tripping a Elon player in the first half of an NCAA college basketball game in Greensboro, N.C., Wednesday, Dec. 21, 2016. (AP Photo/Chuck Burton)
3 of 4
Duke's Grayson Allen (3) reacts after being called for a foul from tripping a Elon player in the first half of an NCAA college basketball game in Greensboro, N.C., Wednesday, Dec. 21, 2016. (AP Photo/Chuck Burton)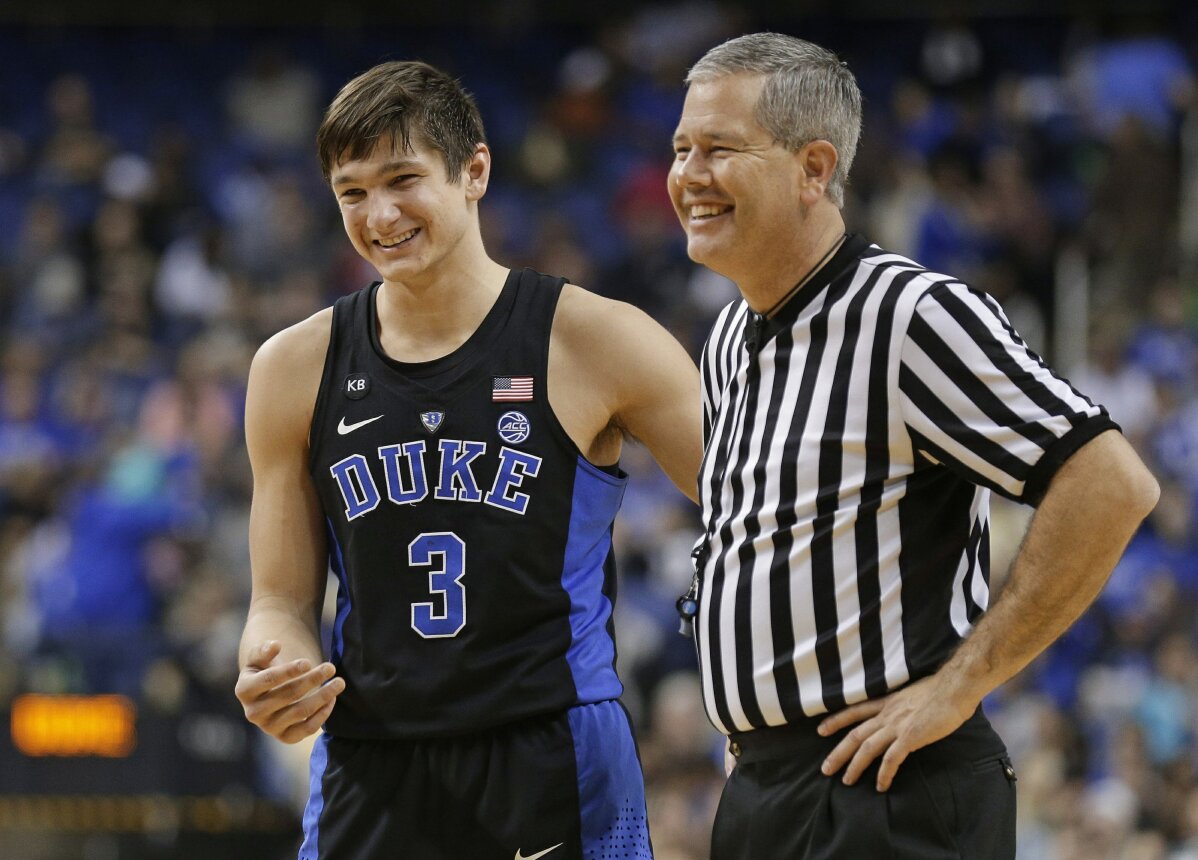 4 of 4

|
Duke's Grayson Allen (3) shares a laugh with an official in the second half of an NCAA college basketball game against Elon in Greensboro, N.C., Wednesday, Dec. 21, 2016. Duke won 72-61. (AP Photo/Chuck Burton)
4 of 4
Duke's Grayson Allen (3) shares a laugh with an official in the second half of an NCAA college basketball game against Elon in Greensboro, N.C., Wednesday, Dec. 21, 2016. Duke won 72-61. (AP Photo/Chuck Burton)
Grayson Allen's latest antics may have once again tripped up No. 5 Duke.
The Blue Devils have had a full roster for about three days this season. And after Allen tripped yet another opponent, it's not clear when they'll have a complete lineup again.
Allen was suspended indefinitely from the team Thursday after the preseason AP All-American tripped an Elon player — the third time he has been involved in a tripping incident this calendar year.
Coach Mike Krzyzewski explained the suspension in a brief statement, saying the program "needed to take further steps regarding his actions that do not meet the standards of Duke basketball."
Atlantic Coast Conference Commissioner John Swofford supports the move, saying in his own statement that sportsmanship is "one of the core values of our league" and that the suspension "demonstrates adherence to this important principle."
The growing concern is that Allen continues to repeat what the school and conference deems unacceptable behavior.
Allen tripped opposing players from Louisville and Florida State last winter.
Allen is competitive player, and ESPN analyst and former Wake Forest coach Dino Gaudio wonders if the tripping incidents are reactionary, but notes the behavior has to stop.
"I really think the kid is genuinely sorry for what he did and he's disappointed in himself," Gaudio said. "I think it's almost, when (Allen) gets frustrated, that's the way he reacts — he lashes out like that with tripping, and maybe Mike completely gets his attention and breaks him of it. ... Hopefully this stops it in the short term."
Krzyzewski has not decided whether Allen will practice during his suspension or how long it will last.
Duke doesn't play again until Dec. 31, when the Blue Devils visit Virginia Tech (10-1) in their ACC opener. After that are home games against two lower-tier ACC teams — Georgia Tech on Jan. 4, Boston College three days later — before a trip to No. 21 Florida State on Jan. 10.
"It's not like you give a suspension and it's all over," Krzyzewski said Thursday on "The Dan Patrick Show." ''It's a learning experience, and I'm going to use it as that and as a teaching moment. A teaching moment does not stop by giving one game. Maybe that's what it is. I don't know that right now.
"Maybe it's three (games), maybe it's two weeks, but he won't play until I feel good about the entire situation where he is at."
Allen's antics are the latest twist in an already drama-filled season for Duke, which was picked No. 1 in the preseason because of a star-packed lineup that was projected to include Allen and four immediate-impact freshmen.
So far they've all been available at the same time for less than a week.
Freshman forwards Jayson Tatum (foot), Marques Bolden (lower leg) and Harry Giles (knee) weren't healthy at the start of the regular season, with Tatum and Bolden finally playing Dec. 3 against Maine and Giles making his long-awaited debut against Tennessee State on Monday night — about 48 hours before Allen's latest tripping incident.
Allen is the team's No. 2 scorer, averaging 16 points, but the Blue Devils have played without him before — he sat out the Maine game with a nagging toe injury. Now with Allen out again, Duke will need sophomore Luke Kennard to continue his impressive play. Kennard has scored at least 20 points in five of his last six games.
"There's no question that it impacts the program," Gaudio said. "There's no question it's a bump in the road, but I think ... with the other guys, everybody was saying, 'How's Mike going to put all these pieces together?' and 'All these kids are so talented.'
"If Mike figured out a way to manage those players (on the U.S. Olympic team) with those egos and won a gold medal, he'll figure out managing these young freshmen coming in."
Allen's situation also is an unusual distraction for the Blue Devils, who must deal with the rare suspension of a teammate. The list of Duke players publicly disciplined by the program is a short one that includes Rasheed Sulaimon, who in 2014-15 became the first player kicked off a Krzyzewski-coached Duke team.
Those Blue Devils regrouped and months later won the program's fifth national title — of course without Sulaimon.
How Duke responds this time is unclear, but whatever happens Gaudio said Krzyzewski "absolutely did the right thing" by waiting a short while before deciding to suspend Allen.
"There's such a rush to judgment, I think the second that it happened, people want Grayson Allen thrown off the team and that's not how it works," Gaudio said. "I trust Mike Krzyzewski. I think he's earned that trust from the people at Duke. ... Let him look at it and make the decision."
___
AP Basketball Writer Aaron Beard in Greensboro, North Carolina, contributed to this report.
___
Follow Joedy McCreary at http://twitter.com/joedyap.
___
More AP college basketball: http://collegebasketball.ap.org and http://www.twitter.com/AP_Top25