Round of talks don't resolve Brexit problems ahead of summit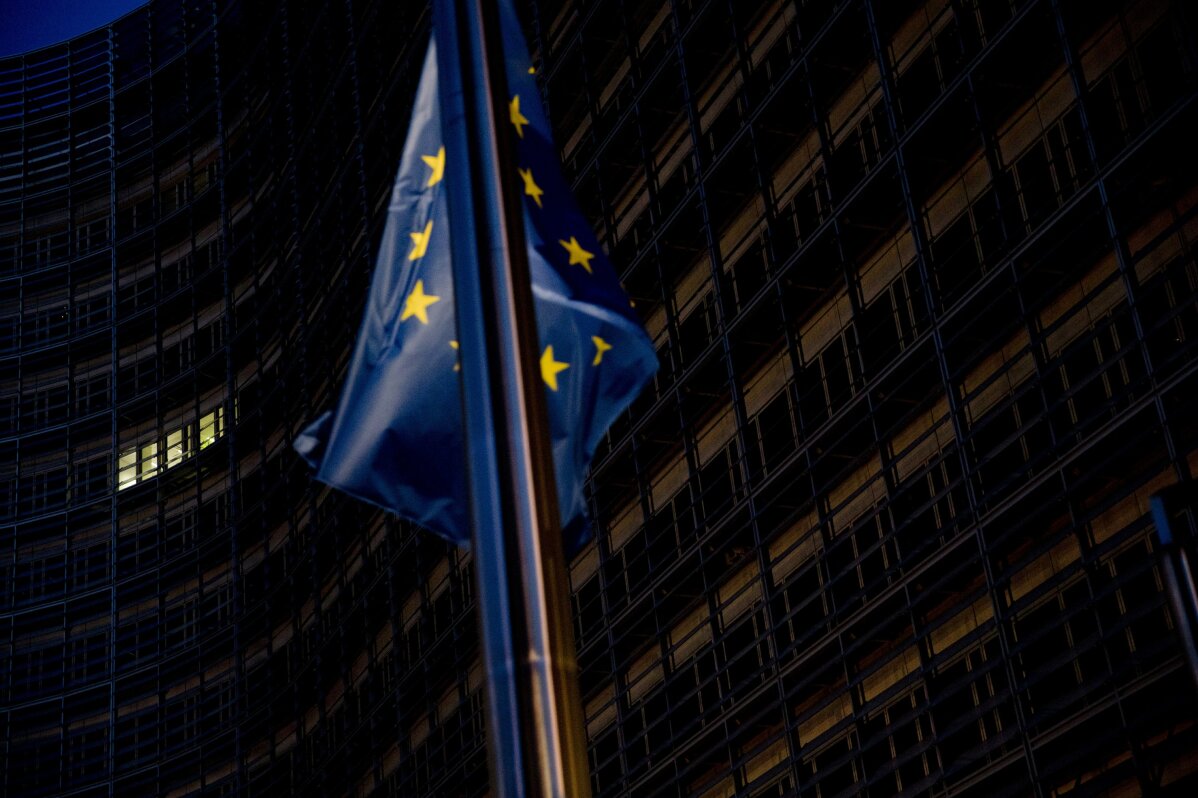 1 of 7

|
A European Union flag flies outside the European Commission headquarters in Brussels, Sunday, Oct. 14, 2018. Britain's Brexit secretary and the top European Union negotiator met for surprise talks Sunday and ambassadors from the 27 remaining EU countries gathered for a hastily scheduled discussion as the push for progress on a divorce deal quickened ahead of a vital summit. (AP Photo/Francisco Seco)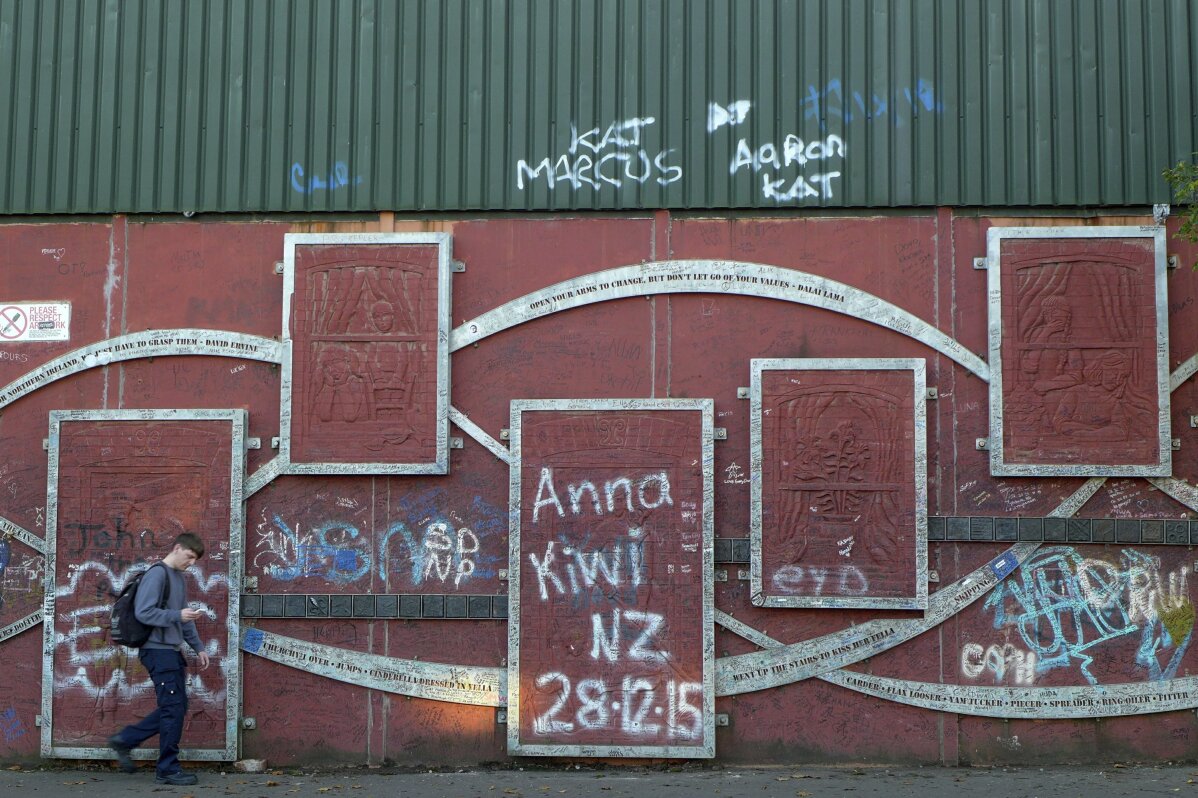 2 of 7

|
In this photo taken on Wednesday, Oct. 10, 2018, a man walk past a section of one of the Northern Ireland "peace walls" in Cupar Way, Belfast, Ireland. The land around the small town of Carrickcarnan, Ireland is the kind of place where Britain's plan to leave the European Union walks right into a wall - an invisible one that is proving insanely difficult to overcome. Somehow, a border of sorts will have to be drawn between Northern Ireland, which is part of the United Kingdom, and EU member country Ireland to allow customs control over goods, produce and livestock once the U.K. has left the bloc. (AP Photo/Lorne Cook)
3 of 7

|
In this photo taken on Wednesday, Oct. 10, 2018, a sign in a parking lot of a cemetery reads: "No EU border in Ireland" near Carrickcarnan, Ireland, just next to the Jonesborough Parish church in Northern Ireland. The land around the small town of Carrickcarnan, Ireland is the kind of place where Britain's plan to leave the European Union walks right into a wall - an invisible one that is proving insanely difficult to overcome. Somehow, a border of sorts will have to be drawn between Northern Ireland, which is part of the United Kingdom, and EU member country Ireland to allow customs control over goods, produce and livestock once the U.K. has left the bloc. (AP Photo/Lorne Cook)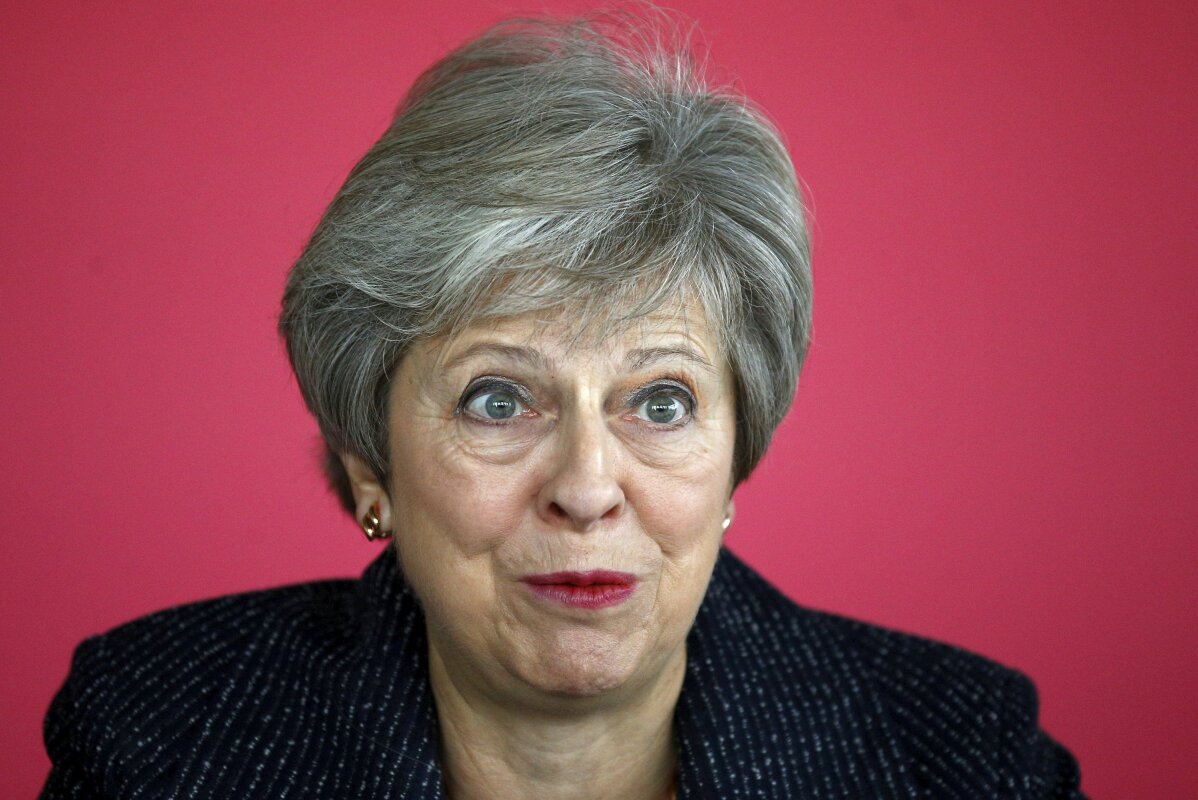 4 of 7

|
Britain's Prime Minister Theresa May attends a roundtable meeting with business leaders whose companies are inaugural signatories of the Race at Work Charter at the Southbank Centre in London, Thursday Oct. 11, 2018. (Henry Nicholls/Pool via AP)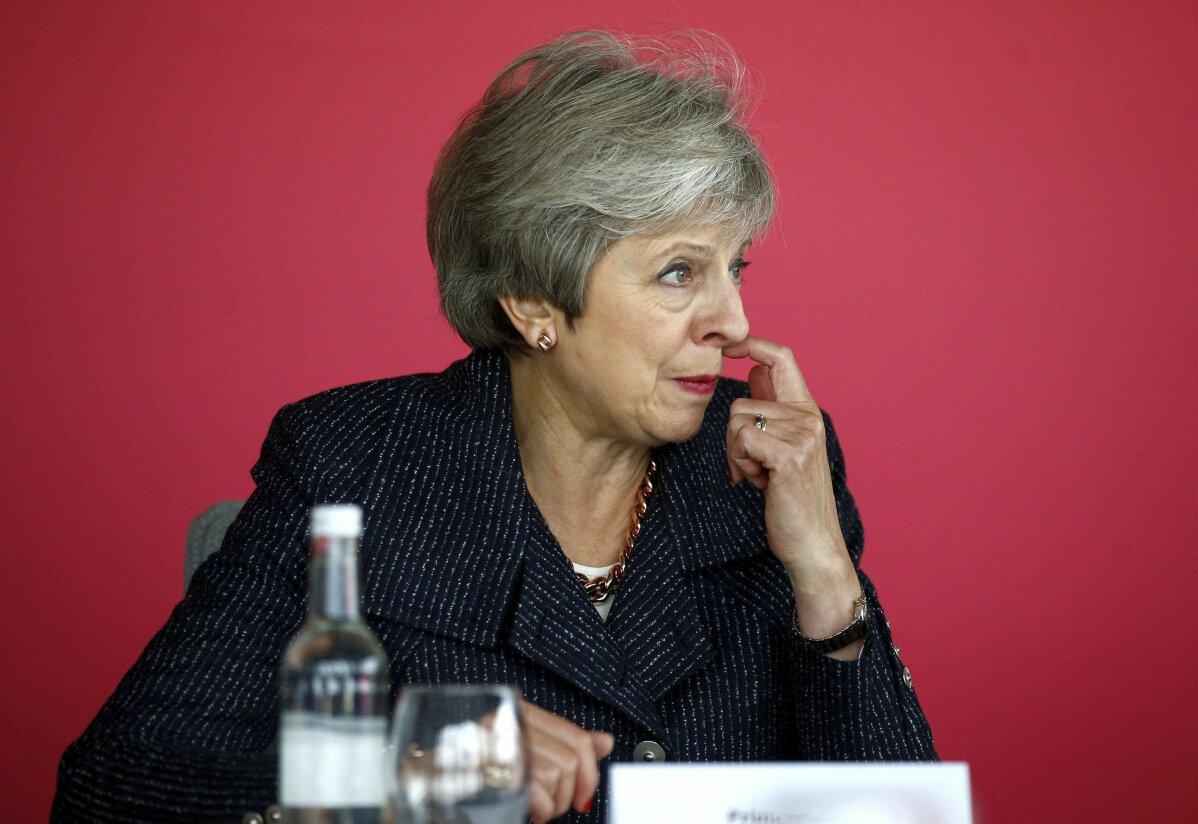 5 of 7

|
Britain's Prime Minister Theresa May attends a roundtable meeting with business leaders whose companies are inaugural signatories of the Race at Work Charter at the Southbank Centre in London, Thursday Oct. 11, 2018. (Henry Nicholls/Pool via AP)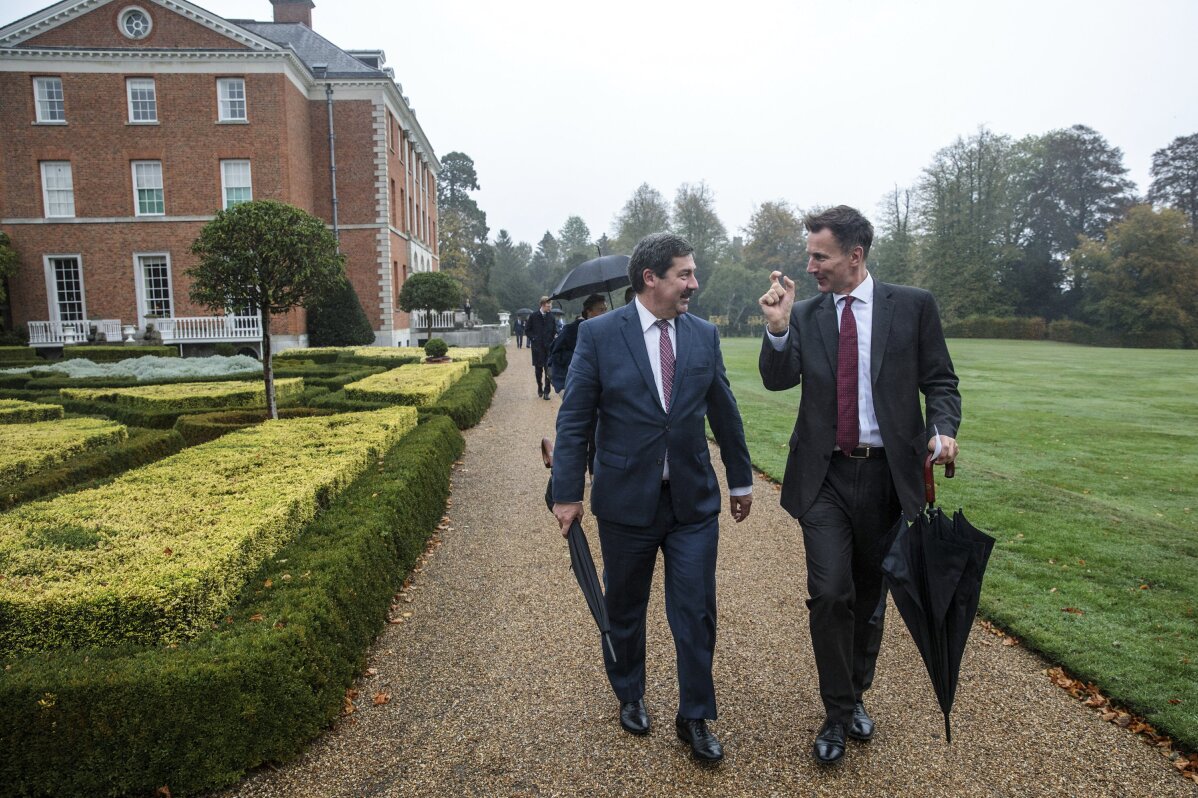 6 of 7

|
Britain's Foreign Secretary Jeremy Hunt walks with Slovakian Europe Minister Frantisek Ruzickas, left, during a walk in the grounds of Chevening House, in Sevenoaks, England, Sunday, Oct. 14, 2018. Hunt played host to Eastern European Foreign Ministers at his official country residence ahead of a meeting on Monday at the Foreign Affairs Council in Luxembourg where chemical weapons sanctions will be formally adopted. (Jack Taylor/Pool Photo via AP)
7 of 7

|
From left, Bulgarian Foreign Minister Ekaterina Zaharieva, Croatian Deputy Prime Minister and Foreign Minister Marija Pejcinovic Buric, Czech Republic Deputy Foreign Minister Lukas Kaucky, Hungarian Foreign Minister Peter Szijjarto, British Foreign Secretary Jeremy Hunt, Polish Foreign Minister Jacek Czaputowicz, Romanian State Secretary Danut Neculaescu, Slovakian Europe Minister Frantisek Ruzicka and Slovenian State Secretary Simona Leskovar pose for a photo in Sevenoaks, England, Sunday, Oct. 14, 2018. Hunt is hosting eastern European Foreign Ministers at the Foreign Secretary's official country residence ahead of tomorrow's meetings at the Foreign Affairs Council in Luxembourg where chemical weapons sanctions will be formally adopted. (Jack Taylor/Pool Photo via AP)
Round of talks don't resolve Brexit problems ahead of summit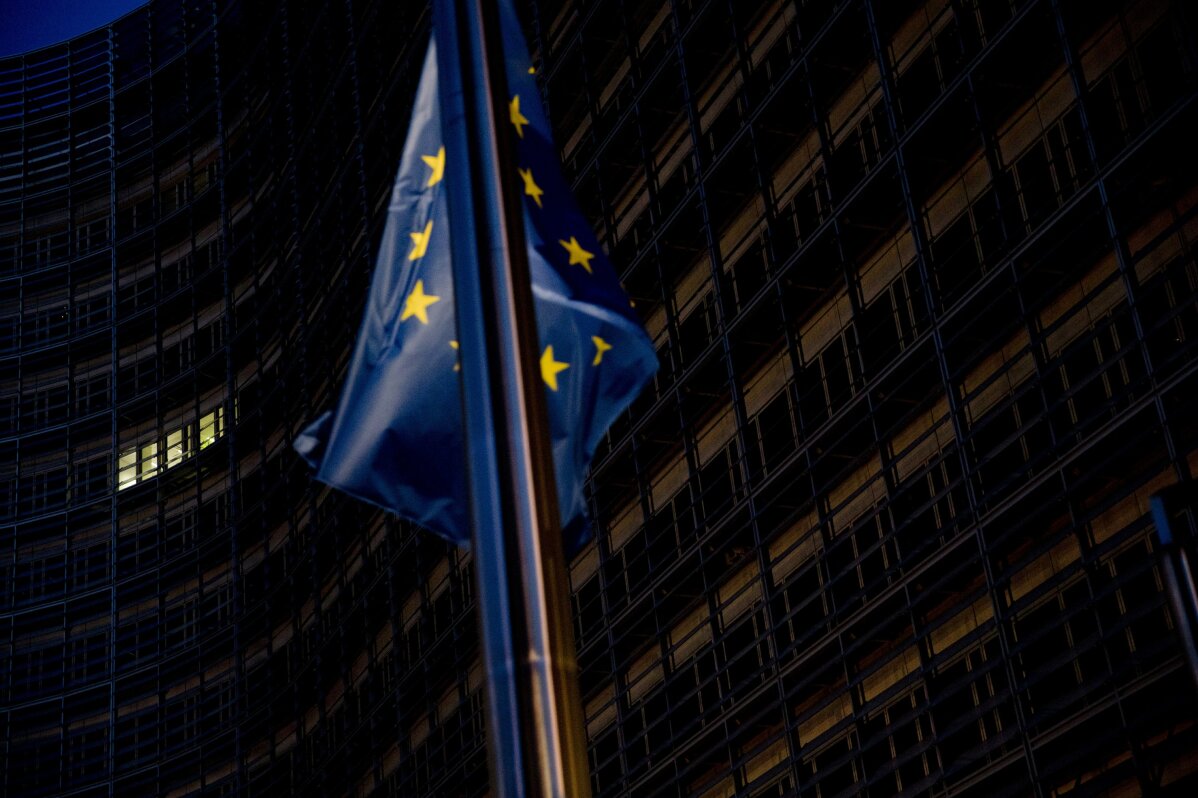 1 of 7

|
A European Union flag flies outside the European Commission headquarters in Brussels, Sunday, Oct. 14, 2018. Britain's Brexit secretary and the top European Union negotiator met for surprise talks Sunday and ambassadors from the 27 remaining EU countries gathered for a hastily scheduled discussion as the push for progress on a divorce deal quickened ahead of a vital summit. (AP Photo/Francisco Seco)
1 of 7
A European Union flag flies outside the European Commission headquarters in Brussels, Sunday, Oct. 14, 2018. Britain's Brexit secretary and the top European Union negotiator met for surprise talks Sunday and ambassadors from the 27 remaining EU countries gathered for a hastily scheduled discussion as the push for progress on a divorce deal quickened ahead of a vital summit. (AP Photo/Francisco Seco)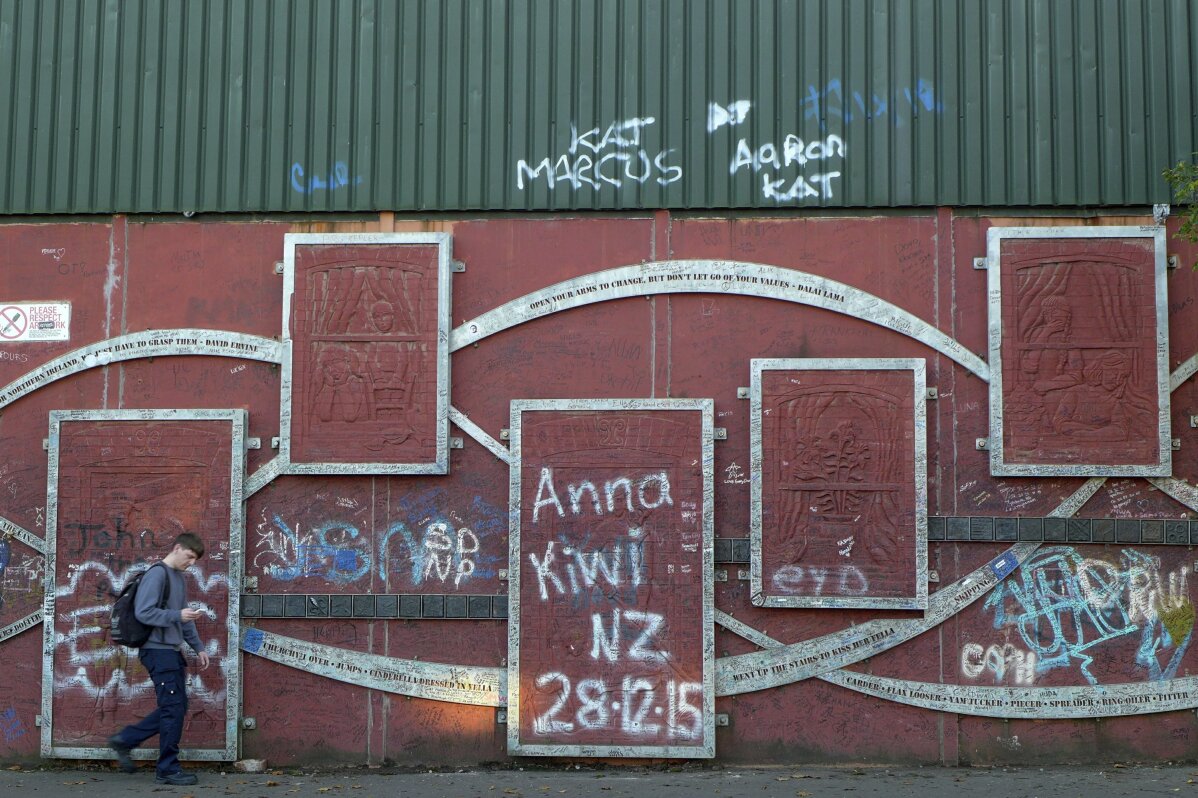 2 of 7

|
In this photo taken on Wednesday, Oct. 10, 2018, a man walk past a section of one of the Northern Ireland "peace walls" in Cupar Way, Belfast, Ireland. The land around the small town of Carrickcarnan, Ireland is the kind of place where Britain's plan to leave the European Union walks right into a wall - an invisible one that is proving insanely difficult to overcome. Somehow, a border of sorts will have to be drawn between Northern Ireland, which is part of the United Kingdom, and EU member country Ireland to allow customs control over goods, produce and livestock once the U.K. has left the bloc. (AP Photo/Lorne Cook)
2 of 7
In this photo taken on Wednesday, Oct. 10, 2018, a man walk past a section of one of the Northern Ireland "peace walls" in Cupar Way, Belfast, Ireland. The land around the small town of Carrickcarnan, Ireland is the kind of place where Britain's plan to leave the European Union walks right into a wall - an invisible one that is proving insanely difficult to overcome. Somehow, a border of sorts will have to be drawn between Northern Ireland, which is part of the United Kingdom, and EU member country Ireland to allow customs control over goods, produce and livestock once the U.K. has left the bloc. (AP Photo/Lorne Cook)
3 of 7

|
In this photo taken on Wednesday, Oct. 10, 2018, a sign in a parking lot of a cemetery reads: "No EU border in Ireland" near Carrickcarnan, Ireland, just next to the Jonesborough Parish church in Northern Ireland. The land around the small town of Carrickcarnan, Ireland is the kind of place where Britain's plan to leave the European Union walks right into a wall - an invisible one that is proving insanely difficult to overcome. Somehow, a border of sorts will have to be drawn between Northern Ireland, which is part of the United Kingdom, and EU member country Ireland to allow customs control over goods, produce and livestock once the U.K. has left the bloc. (AP Photo/Lorne Cook)
3 of 7
In this photo taken on Wednesday, Oct. 10, 2018, a sign in a parking lot of a cemetery reads: "No EU border in Ireland" near Carrickcarnan, Ireland, just next to the Jonesborough Parish church in Northern Ireland. The land around the small town of Carrickcarnan, Ireland is the kind of place where Britain's plan to leave the European Union walks right into a wall - an invisible one that is proving insanely difficult to overcome. Somehow, a border of sorts will have to be drawn between Northern Ireland, which is part of the United Kingdom, and EU member country Ireland to allow customs control over goods, produce and livestock once the U.K. has left the bloc. (AP Photo/Lorne Cook)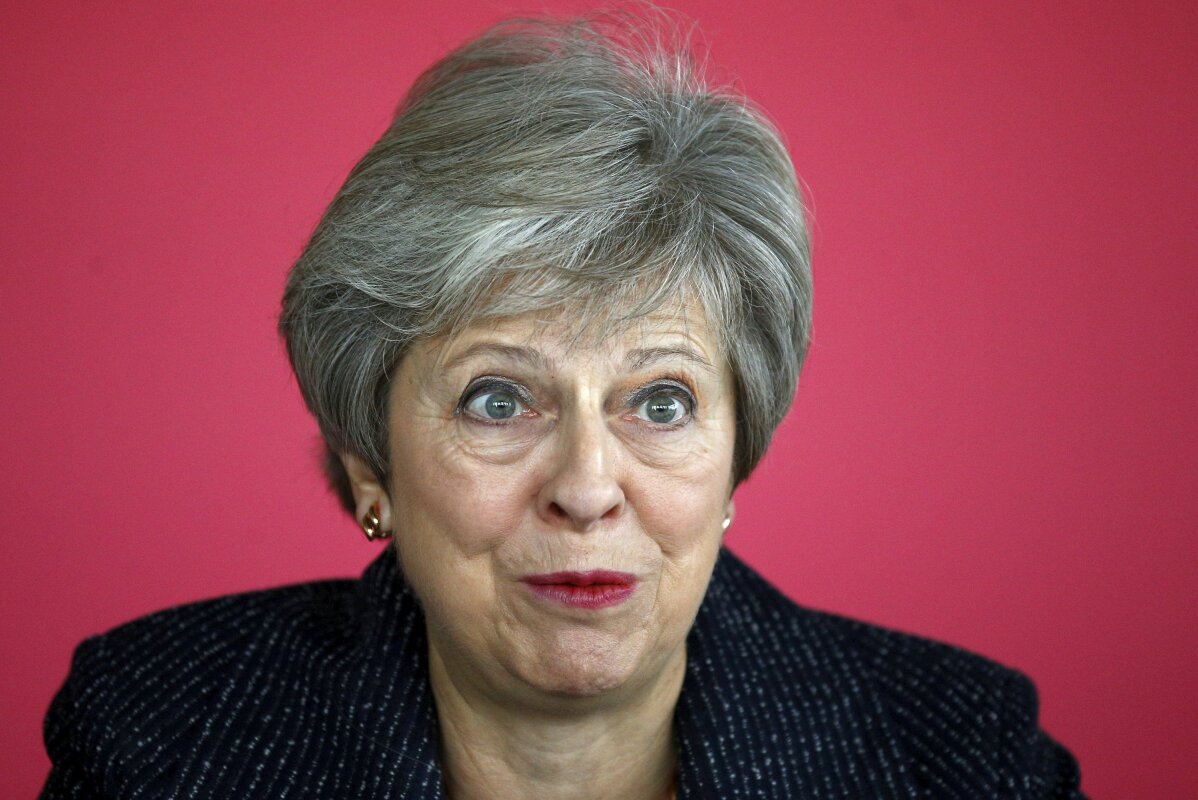 4 of 7

|
Britain's Prime Minister Theresa May attends a roundtable meeting with business leaders whose companies are inaugural signatories of the Race at Work Charter at the Southbank Centre in London, Thursday Oct. 11, 2018. (Henry Nicholls/Pool via AP)
4 of 7
Britain's Prime Minister Theresa May attends a roundtable meeting with business leaders whose companies are inaugural signatories of the Race at Work Charter at the Southbank Centre in London, Thursday Oct. 11, 2018. (Henry Nicholls/Pool via AP)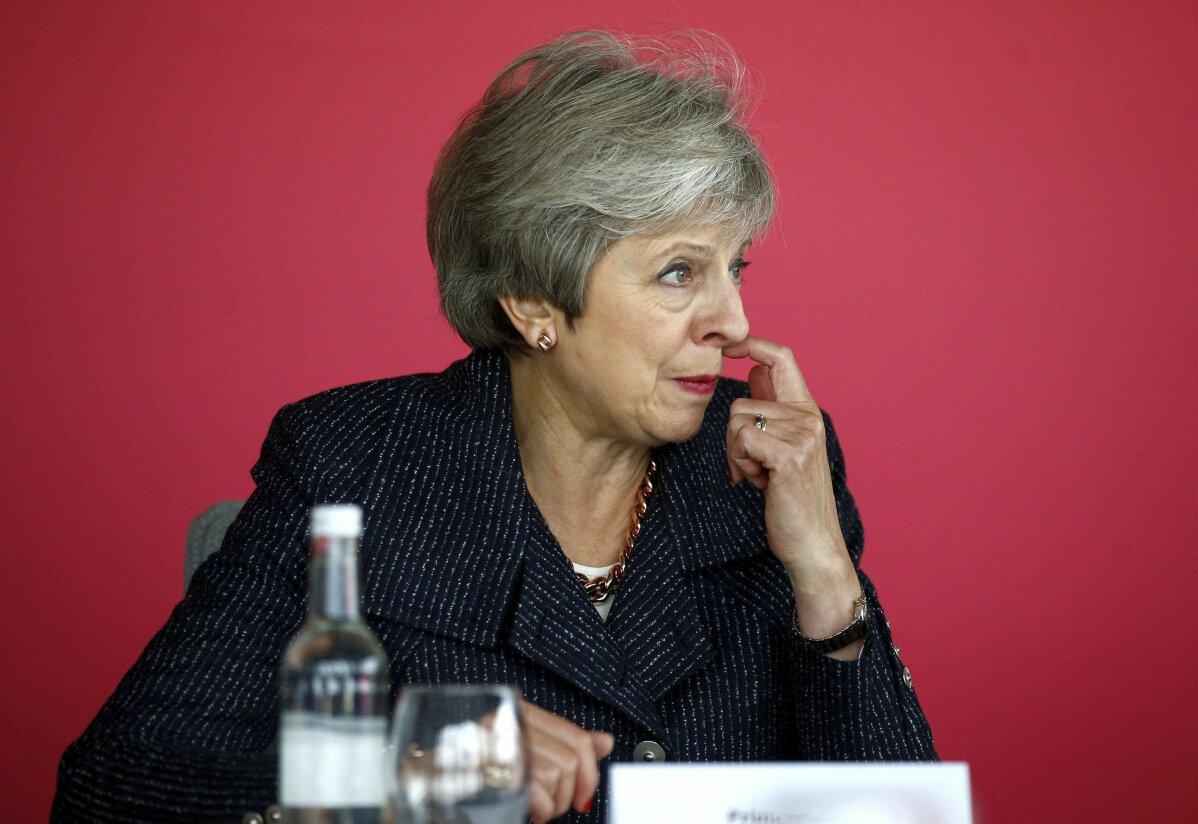 5 of 7

|
Britain's Prime Minister Theresa May attends a roundtable meeting with business leaders whose companies are inaugural signatories of the Race at Work Charter at the Southbank Centre in London, Thursday Oct. 11, 2018. (Henry Nicholls/Pool via AP)
5 of 7
Britain's Prime Minister Theresa May attends a roundtable meeting with business leaders whose companies are inaugural signatories of the Race at Work Charter at the Southbank Centre in London, Thursday Oct. 11, 2018. (Henry Nicholls/Pool via AP)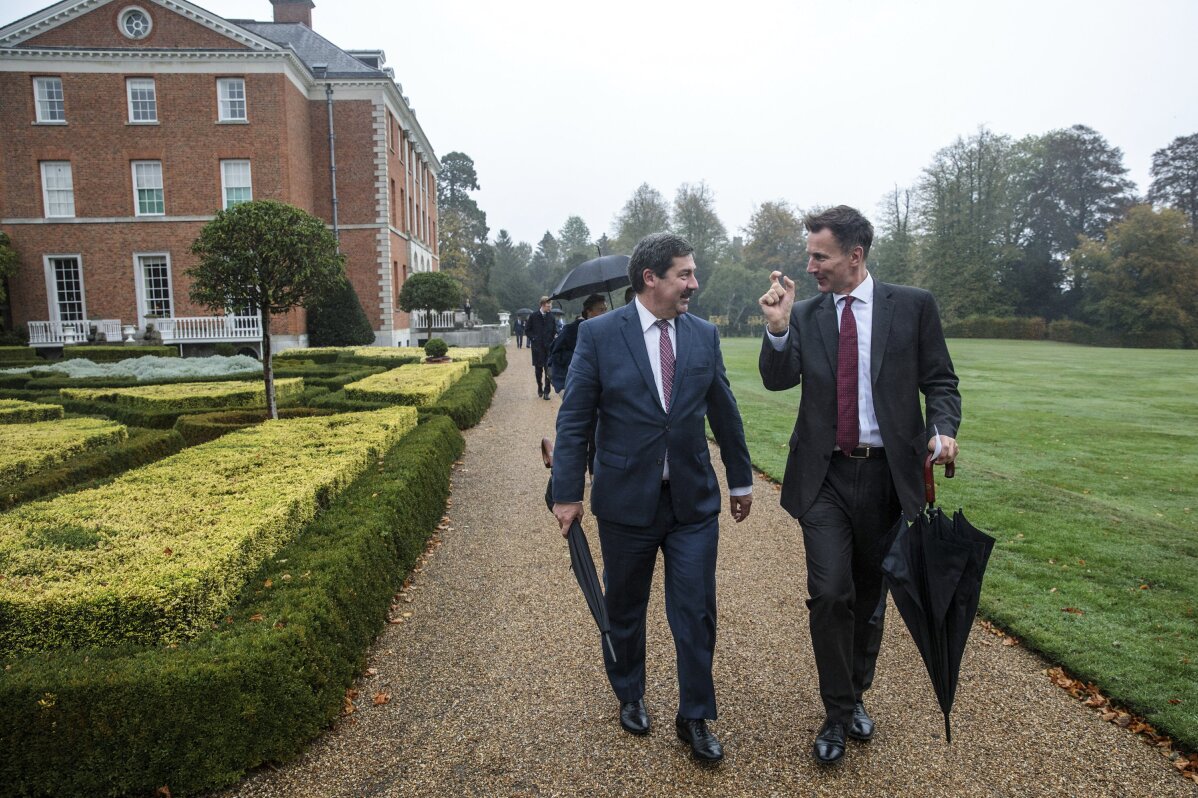 6 of 7

|
Britain's Foreign Secretary Jeremy Hunt walks with Slovakian Europe Minister Frantisek Ruzickas, left, during a walk in the grounds of Chevening House, in Sevenoaks, England, Sunday, Oct. 14, 2018. Hunt played host to Eastern European Foreign Ministers at his official country residence ahead of a meeting on Monday at the Foreign Affairs Council in Luxembourg where chemical weapons sanctions will be formally adopted. (Jack Taylor/Pool Photo via AP)
6 of 7
Britain's Foreign Secretary Jeremy Hunt walks with Slovakian Europe Minister Frantisek Ruzickas, left, during a walk in the grounds of Chevening House, in Sevenoaks, England, Sunday, Oct. 14, 2018. Hunt played host to Eastern European Foreign Ministers at his official country residence ahead of a meeting on Monday at the Foreign Affairs Council in Luxembourg where chemical weapons sanctions will be formally adopted. (Jack Taylor/Pool Photo via AP)
7 of 7

|
From left, Bulgarian Foreign Minister Ekaterina Zaharieva, Croatian Deputy Prime Minister and Foreign Minister Marija Pejcinovic Buric, Czech Republic Deputy Foreign Minister Lukas Kaucky, Hungarian Foreign Minister Peter Szijjarto, British Foreign Secretary Jeremy Hunt, Polish Foreign Minister Jacek Czaputowicz, Romanian State Secretary Danut Neculaescu, Slovakian Europe Minister Frantisek Ruzicka and Slovenian State Secretary Simona Leskovar pose for a photo in Sevenoaks, England, Sunday, Oct. 14, 2018. Hunt is hosting eastern European Foreign Ministers at the Foreign Secretary's official country residence ahead of tomorrow's meetings at the Foreign Affairs Council in Luxembourg where chemical weapons sanctions will be formally adopted. (Jack Taylor/Pool Photo via AP)
7 of 7
From left, Bulgarian Foreign Minister Ekaterina Zaharieva, Croatian Deputy Prime Minister and Foreign Minister Marija Pejcinovic Buric, Czech Republic Deputy Foreign Minister Lukas Kaucky, Hungarian Foreign Minister Peter Szijjarto, British Foreign Secretary Jeremy Hunt, Polish Foreign Minister Jacek Czaputowicz, Romanian State Secretary Danut Neculaescu, Slovakian Europe Minister Frantisek Ruzicka and Slovenian State Secretary Simona Leskovar pose for a photo in Sevenoaks, England, Sunday, Oct. 14, 2018. Hunt is hosting eastern European Foreign Ministers at the Foreign Secretary's official country residence ahead of tomorrow's meetings at the Foreign Affairs Council in Luxembourg where chemical weapons sanctions will be formally adopted. (Jack Taylor/Pool Photo via AP)
BRUSSELS (AP) — A flurry of talks between Britain and the European Union ended Sunday without a Brexit agreement, leaving the two sides three days to close a gap in their positions before a make-or-break summit.
An unscheduled, face-to-face meeting between EU negotiator Michel Barnier and British Brexit Secretary Dominic Raab, and a hastily scheduled meeting of 27 EU ambassadors in Brussels, had sparked speculation that the long-awaited deal was imminent.
Barnier dashed those hopes Sunday evening, writing on Twitter: "Despite intense efforts, some key issues are still open" in the divorce talks. The key stumbling block remains the need "to avoid a hard border" between Ireland and the U.K's Northern Ireland after Brexit, he said.
British Prime Minister Theresa May is under intense pressure from her Conservative Party and its parliamentary allies not to give any more ground in negotiations, especially on the border issue.
The British government said in a statement issued Sunday night there were still "unresolved issues" but insisted negotiators had made "real progress" toward a divorce agreement.
The lack of a breakthrough on the border increased the chances that the Brexit negotiations will fail to produce an agreement spelling out how the EU will interact with its former member and vice versa. EU officials have warned that real progress is needed at the summit starting Wednesday.
The British government said it remained committed to making progress at the summit. An EU official said no further negotiations were planned before the leaders of EU countries convene in Brussels. Both sides previously agreed that a special November meeting — to be called only if there is enough progress this week —would be the deadline for reaching an agreement since Britain is set to leave the EU on March 29.
The EU and the U.K. are seeking an elusive compromise position on the difficult Irish border question ahead of the summit. The "Irish backstop" is the main hurdle to a deal that spells out the terms of Britain's departure from the EU and future relationship with the bloc.
After Brexit, the currently invisible frontier between Northern Ireland and Ireland will be the U.K.'s only land border with an EU nation. Britain and the EU agree there must be no customs checks or other infrastructure on the border, but do not agree on how that can be accomplished.
Raab, Britain's Brexit secretary, was not expected in Brussels on Sunday, but he made a last minute trip for an in-person meeting with Barnier.
"With several big issues still to resolve, including the Northern Ireland backstop, it was jointly agreed that face-to-face talks were necessary," Raab's office said.
The EU's "backstop" solution — to keep Northern Ireland in a customs union with the bloc — has been rejected by Britain because it would require checks between Northern Ireland and the rest of the U.K.
The alternative — to keep the entire U.K. in a customs union until a permanent solution can be found — has outraged pro-Brexit members of May's divided government, who claim that approach would limit the country's ability to strike new trade deals around the world.
The idea is also anathema to the Democratic Unionist Party, a Northern Ireland Protestant party that props up May's minority government.
So even if May strikes a deal with Brussels, she will struggle to get it past her government and Parliament at home.
Raab's predecessor, David Davis, wrote in the Sunday Times that May's plans for continued close economic ties with the EU even after Britain leaves the bloc is "completely unacceptable" and must be stopped by her ministers.
May is struggling to build a consensus behind her Brexit plans ahead of a Cabinet meeting Tuesday that will be followed by Wednesday's EU summit. If Davis' call for a rebellion is effective, the Cabinet meeting is likely to be fractious.
Davis and former Foreign Secretary Boris Johnson resigned from May's Cabinet this summer to protest her Brexit blueprint. While all three are members of the ruling Conservative Party, the two men have become vocal opponents of May's plan, saying it would betray the Brexit vote and leave Britain tied to the EU without any say over its rules.
Johnson, who regularly uses his newspaper column in the Daily Telegraph to excoriate May's Brexit plan, said the EU's border backstop amounted to "a choice between the breakup of this country or the subjugation of this country, between separation or submission."
"It must be rejected, and it must be rejected now," he wrote in Monday's edition.
May's Brexit plan has also been rejected by leaders of the main opposition Labour Party, further dimming the prime minister's hopes of winning parliamentary backing for any Brexit deal she reaches with EU officials.
___
Katz and Lawless reported from London.