Romania court: Same-sex couples should have legal protection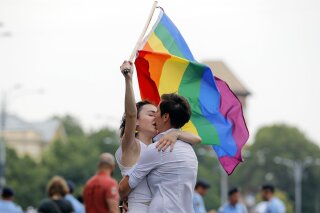 BUCHAREST, Romania (AP) — Romania's top court has ruled that gay couples should have the same family rights as heterosexuals, a judgment that comes before a national referendum seeking to ban same-sex marriage.
The Constitutional Court ruled that same-sex couples had the same rights to a private and family life as heterosexuals and should "benefit from.... legal and juridical recognition of their rights and obligations."
The Oct. 6-7 referendum is seeking to limit the constitutional definition of family to heterosexual, married couples.
Teodora Ion-Rotaru, of the gay rights group Accept, told The Associated Press on Friday the ruling was "extremely important."
"It says same-sex couples should have the same legal rights as heterosexuals," she said. "The court says a same-sex family is worth as much as a heterosexual family."
The vote comes after 3 million Romanians signed a petition demanding that the constitution be changed to explicitly state that marriage is between a man and a woman. The Romanian Constitution currently says marriage is between spouses.
Critics say amending the constitution could violate human rights and amounts to anti-gay discrimination.
In July, the European Court of Justice ruled in the case of a Romanian-American same-sex couple who wanted their marriage legally recognized in Romania.
The EU court ruled that member countries "may not obstruct the freedom of residence" of EU citizens by refusing to grant residence for the same-sex spouse.
EU members Romania, Poland, Slovakia, Bulgaria, Lithuania and Latvia don't recognize same-sex marriage or offer legal protection to same-sex couples.