Ex-Stanford swimmer appeals sexual assault conviction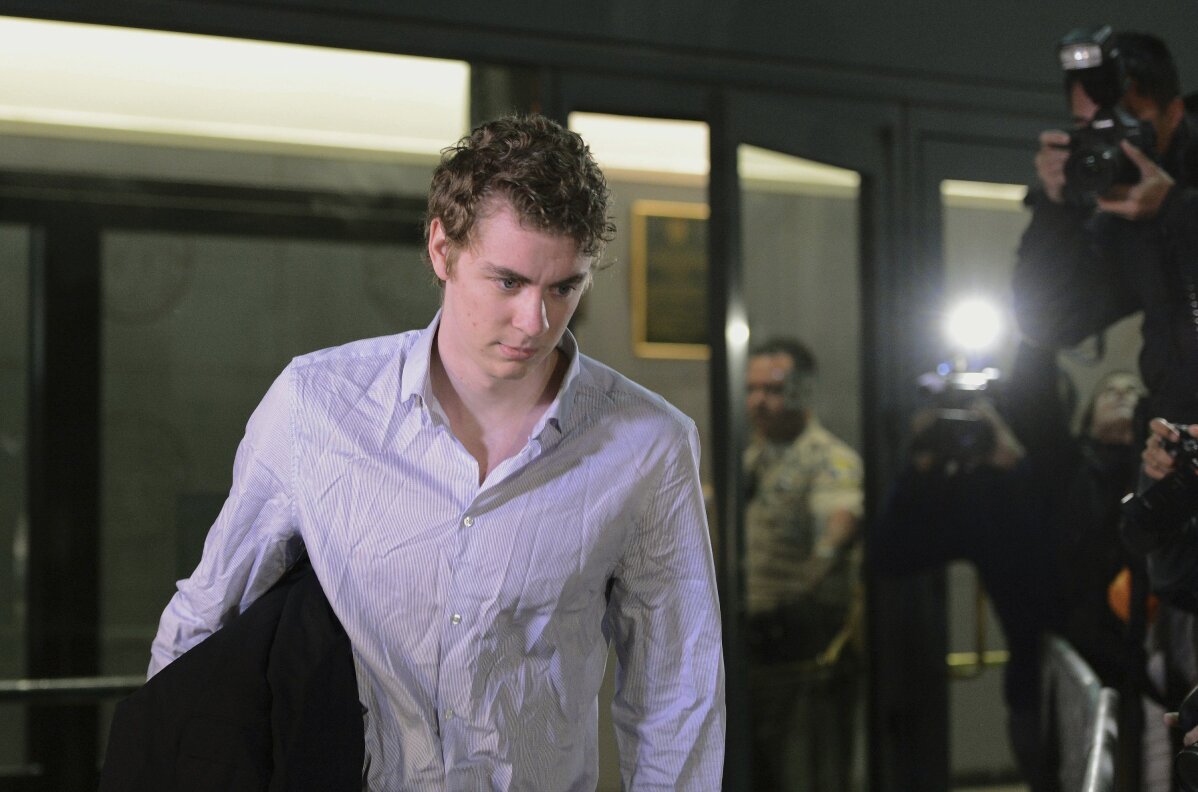 1 of 4

|
FILE - In this Sept. 2, 2016, file photo, Brock Turner leaves the Santa Clara County Main Jail in San Jose, Calif. Turner, whose six-month sentence for sexually assaulting an unconscious woman at Stanford University sparked national outcry, was released from jail after serving half his term. Former Stanford University swimmer Brock Turner's lawyer will argue Tuesday, July 24, 2018, that his client didn't get a fair trial during arguments in a California appeals court. A three-judge panel of the California 6th District Court of Appeal is scheduled to listen to arguments in San Jose. (Dan Honda/Bay Area News Group via AP, File)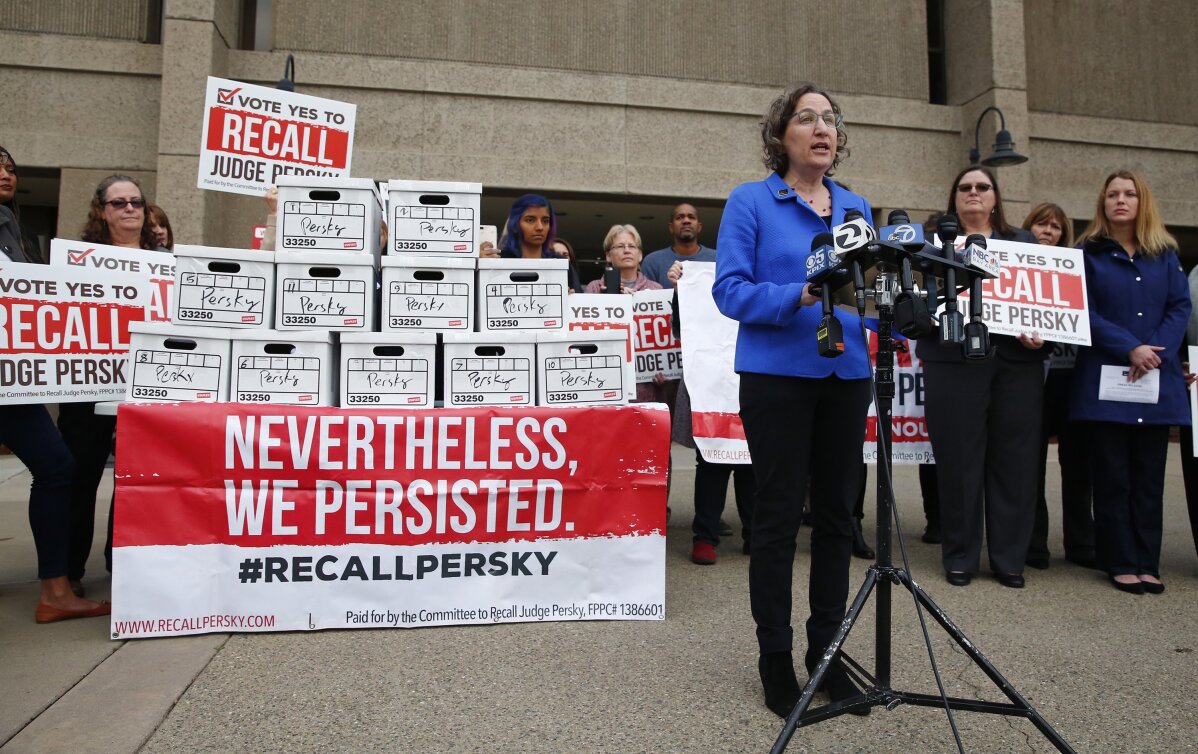 2 of 4

|
FILE - In this Jan. 11, 2018, file photo, Stanford University law professor Michele Dauber leads a rally before handing signed petitions to place the recall of Santa Clara County Judge Aaron Persky on the June ballot at the Santa Clara County Registrar of Voters office in San Jose, Calif. Voters are a big step closer to getting an opportunity to decide whether to oust Persky for his handling of a sexual assault case involving Stanford swimmer Brock Turner. Former Stanford University swimmer Brock Turner's lawyer will argue Tuesday, July 24, 2018, that his client didn't get a fair trial during arguments in a California appeals court. A three-judge panel of the California 6th District Court of Appeal is scheduled to listen to arguments in San Jose. (Gary Reyes/San Jose Mercury News via AP, File)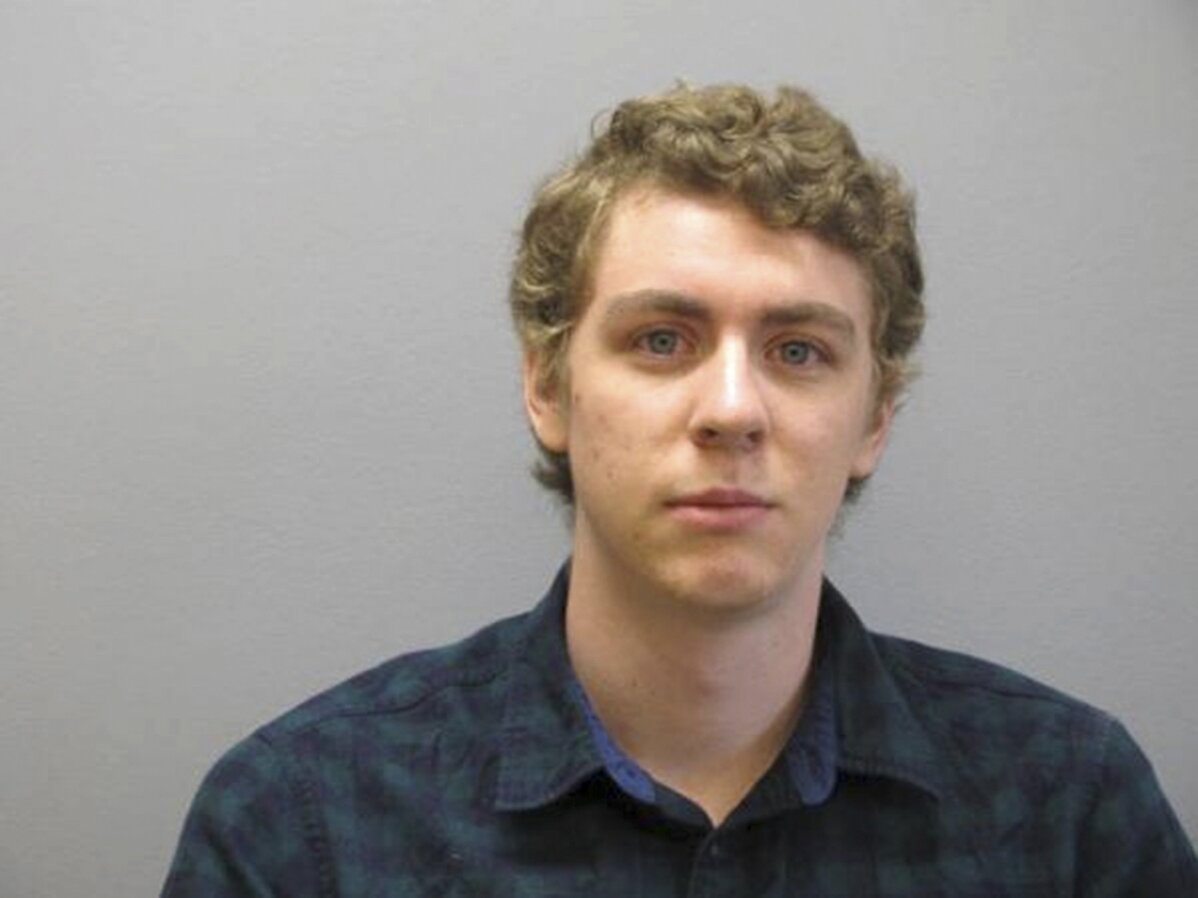 3 of 4

|
FILE - This Sept. 6, 2016 file photo released by the Greene County Sheriff's Office, shows Brock Turner at the Greene County Sheriff's Office in Xenia, Ohio, where he officially registered as a sex offender. A California agency that oversees judicial discipline in the state ruled Monday, Dec. 19, that Santa Clara County Judge Aaron Persky committed no misconduct when he sentenced former Stanford University swimmer Brock Turner to six months in jail for sexually assaulting a young woman on campus. Former Stanford University swimmer Brock Turner's lawyer will argue Tuesday, July 24, 2018, that his client didn't get a fair trial during arguments in a California appeals court. A three-judge panel of the California 6th District Court of Appeal is scheduled to listen to arguments in San Jose. (Greene County Sheriff's Office via AP, File)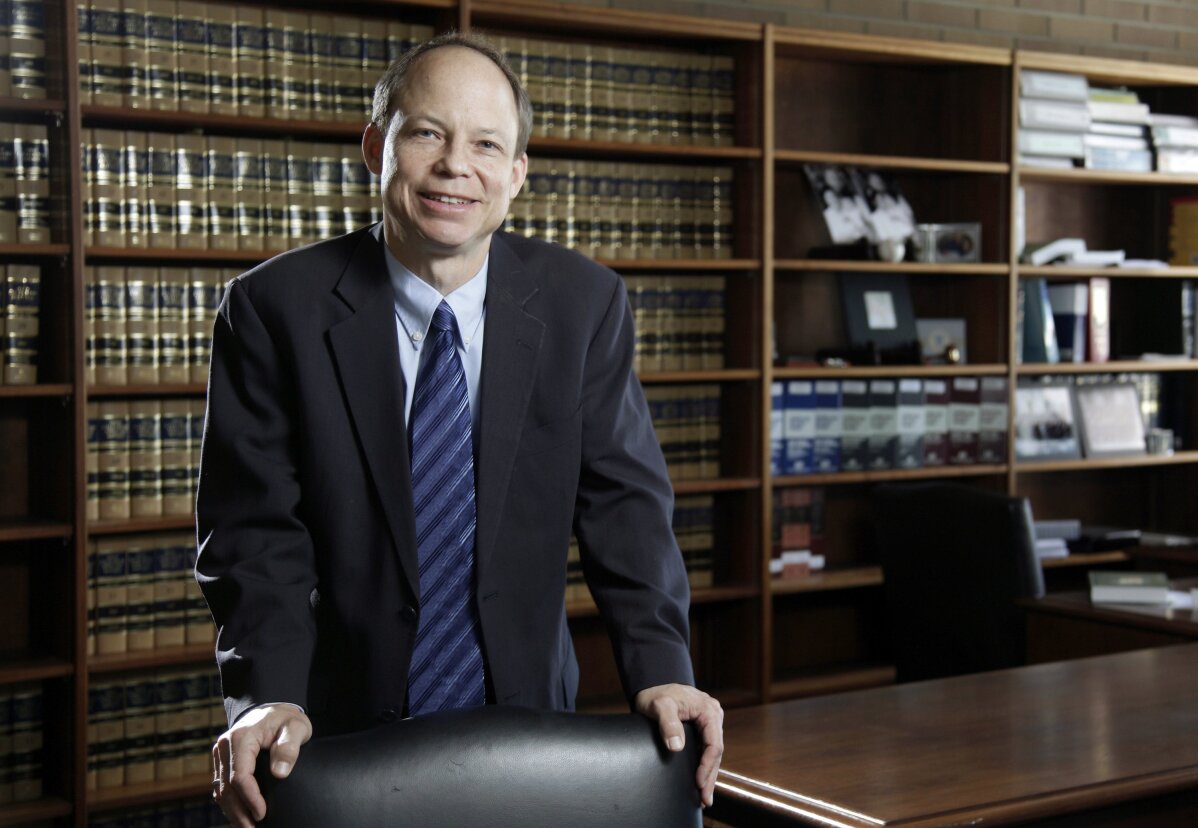 4 of 4

|
FILE - This June 27, 2011, file photo shows Santa Clara County Superior Court Judge Aaron Persky in San Francisco. Former Stanford University swimmer Brock Turner's lawyer will argue Tuesday, July 24, 2018, that his client didn't get a fair trial during arguments in a California appeals court. A three-judge panel of the California 6th District Court of Appeal is scheduled to listen to arguments in San Jose. (Jason Doiy /The Recorder via AP, File)
Ex-Stanford swimmer appeals sexual assault conviction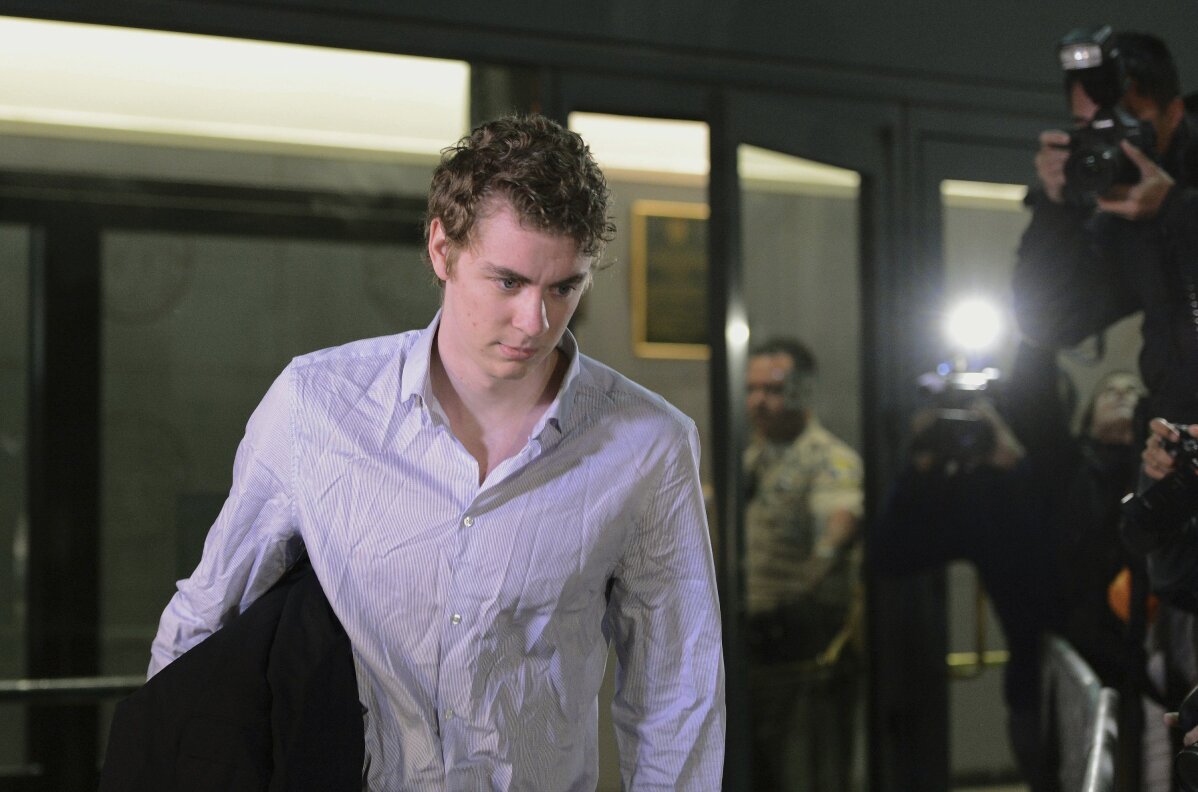 1 of 4

|
FILE - In this Sept. 2, 2016, file photo, Brock Turner leaves the Santa Clara County Main Jail in San Jose, Calif. Turner, whose six-month sentence for sexually assaulting an unconscious woman at Stanford University sparked national outcry, was released from jail after serving half his term. Former Stanford University swimmer Brock Turner's lawyer will argue Tuesday, July 24, 2018, that his client didn't get a fair trial during arguments in a California appeals court. A three-judge panel of the California 6th District Court of Appeal is scheduled to listen to arguments in San Jose. (Dan Honda/Bay Area News Group via AP, File)
1 of 4
FILE - In this Sept. 2, 2016, file photo, Brock Turner leaves the Santa Clara County Main Jail in San Jose, Calif. Turner, whose six-month sentence for sexually assaulting an unconscious woman at Stanford University sparked national outcry, was released from jail after serving half his term. Former Stanford University swimmer Brock Turner's lawyer will argue Tuesday, July 24, 2018, that his client didn't get a fair trial during arguments in a California appeals court. A three-judge panel of the California 6th District Court of Appeal is scheduled to listen to arguments in San Jose. (Dan Honda/Bay Area News Group via AP, File)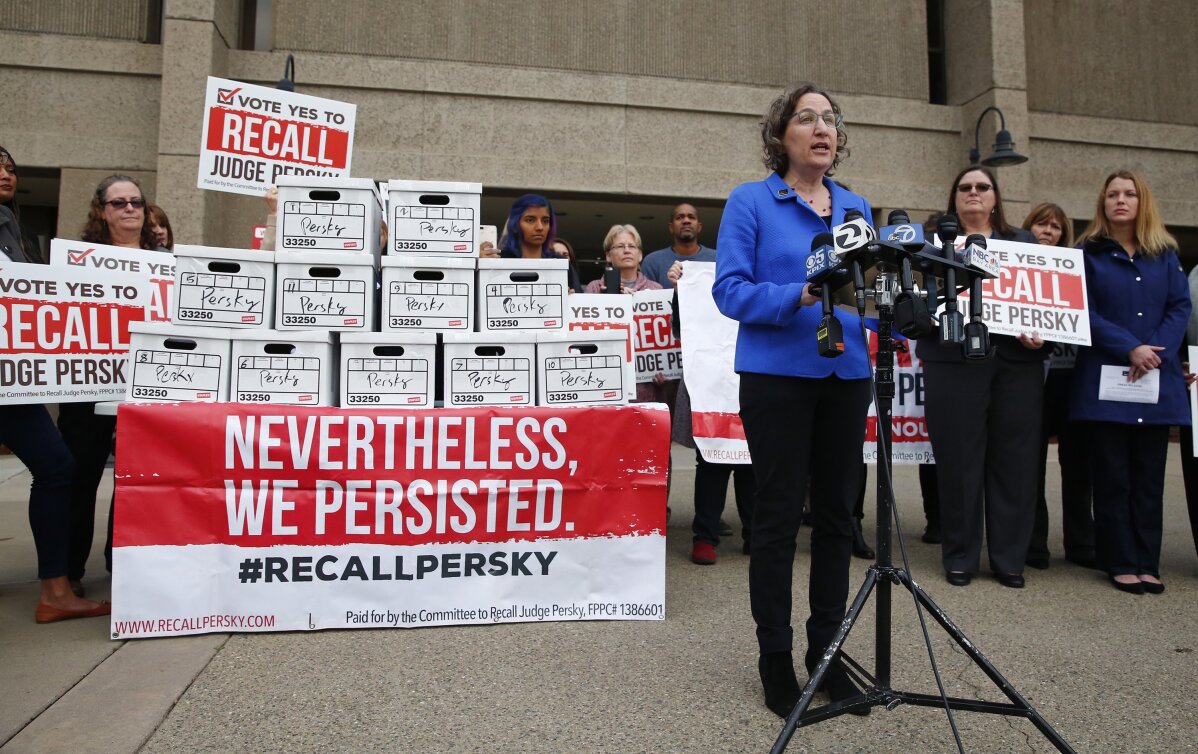 2 of 4

|
FILE - In this Jan. 11, 2018, file photo, Stanford University law professor Michele Dauber leads a rally before handing signed petitions to place the recall of Santa Clara County Judge Aaron Persky on the June ballot at the Santa Clara County Registrar of Voters office in San Jose, Calif. Voters are a big step closer to getting an opportunity to decide whether to oust Persky for his handling of a sexual assault case involving Stanford swimmer Brock Turner. Former Stanford University swimmer Brock Turner's lawyer will argue Tuesday, July 24, 2018, that his client didn't get a fair trial during arguments in a California appeals court. A three-judge panel of the California 6th District Court of Appeal is scheduled to listen to arguments in San Jose. (Gary Reyes/San Jose Mercury News via AP, File)
2 of 4
FILE - In this Jan. 11, 2018, file photo, Stanford University law professor Michele Dauber leads a rally before handing signed petitions to place the recall of Santa Clara County Judge Aaron Persky on the June ballot at the Santa Clara County Registrar of Voters office in San Jose, Calif. Voters are a big step closer to getting an opportunity to decide whether to oust Persky for his handling of a sexual assault case involving Stanford swimmer Brock Turner. Former Stanford University swimmer Brock Turner's lawyer will argue Tuesday, July 24, 2018, that his client didn't get a fair trial during arguments in a California appeals court. A three-judge panel of the California 6th District Court of Appeal is scheduled to listen to arguments in San Jose. (Gary Reyes/San Jose Mercury News via AP, File)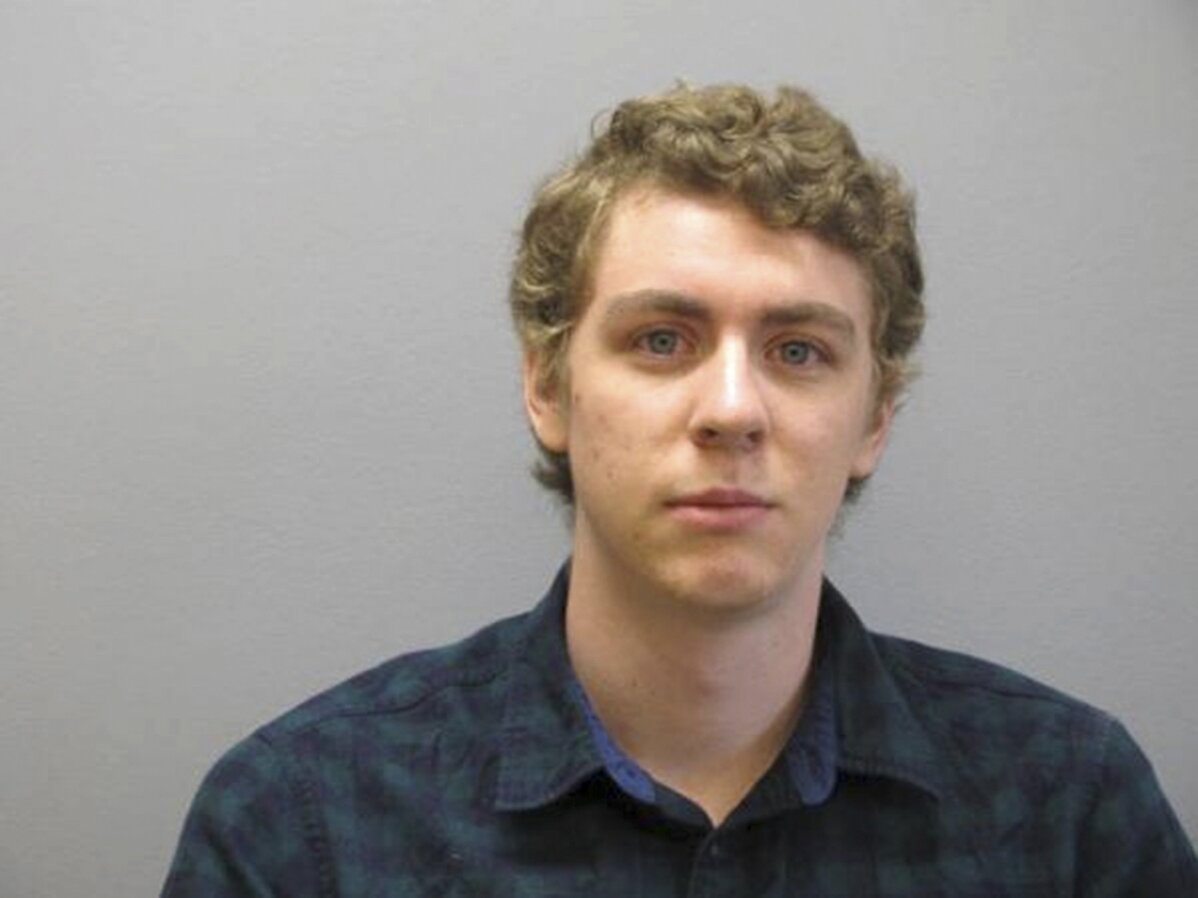 3 of 4

|
FILE - This Sept. 6, 2016 file photo released by the Greene County Sheriff's Office, shows Brock Turner at the Greene County Sheriff's Office in Xenia, Ohio, where he officially registered as a sex offender. A California agency that oversees judicial discipline in the state ruled Monday, Dec. 19, that Santa Clara County Judge Aaron Persky committed no misconduct when he sentenced former Stanford University swimmer Brock Turner to six months in jail for sexually assaulting a young woman on campus. Former Stanford University swimmer Brock Turner's lawyer will argue Tuesday, July 24, 2018, that his client didn't get a fair trial during arguments in a California appeals court. A three-judge panel of the California 6th District Court of Appeal is scheduled to listen to arguments in San Jose. (Greene County Sheriff's Office via AP, File)
3 of 4
FILE - This Sept. 6, 2016 file photo released by the Greene County Sheriff's Office, shows Brock Turner at the Greene County Sheriff's Office in Xenia, Ohio, where he officially registered as a sex offender. A California agency that oversees judicial discipline in the state ruled Monday, Dec. 19, that Santa Clara County Judge Aaron Persky committed no misconduct when he sentenced former Stanford University swimmer Brock Turner to six months in jail for sexually assaulting a young woman on campus. Former Stanford University swimmer Brock Turner's lawyer will argue Tuesday, July 24, 2018, that his client didn't get a fair trial during arguments in a California appeals court. A three-judge panel of the California 6th District Court of Appeal is scheduled to listen to arguments in San Jose. (Greene County Sheriff's Office via AP, File)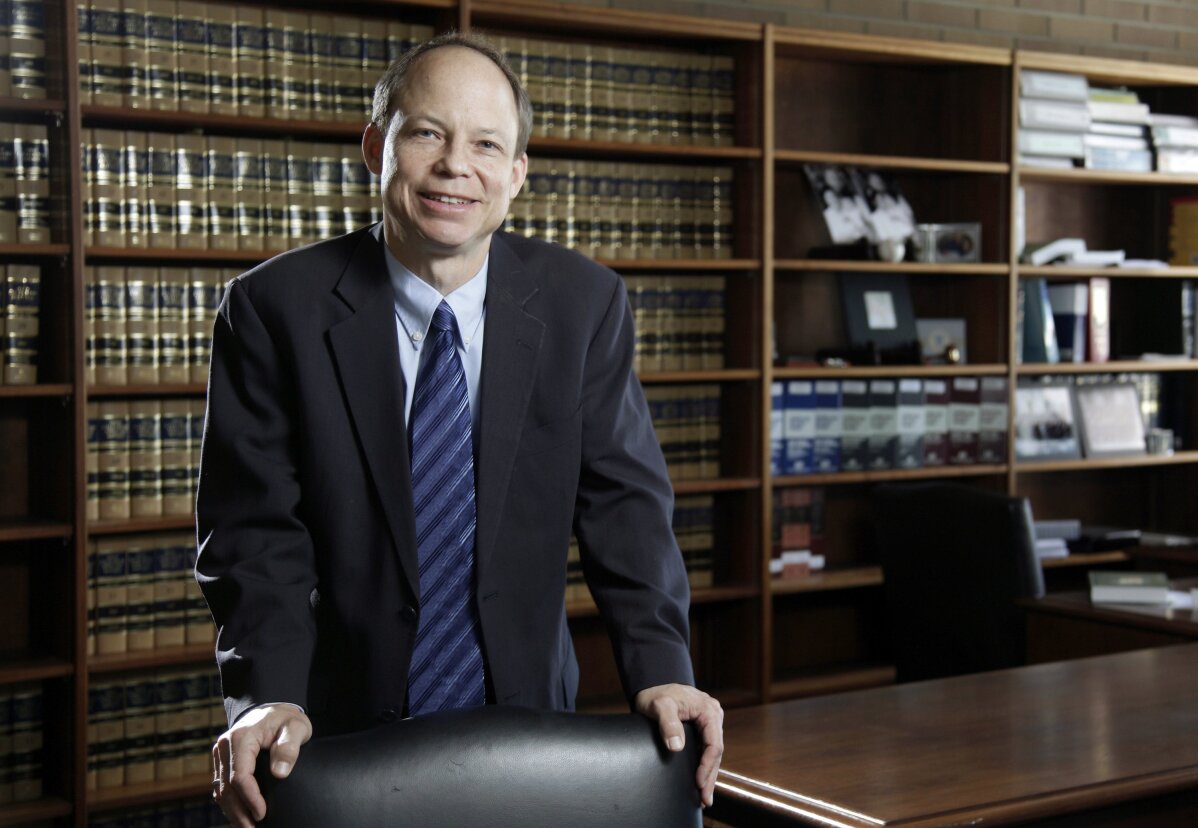 4 of 4

|
FILE - This June 27, 2011, file photo shows Santa Clara County Superior Court Judge Aaron Persky in San Francisco. Former Stanford University swimmer Brock Turner's lawyer will argue Tuesday, July 24, 2018, that his client didn't get a fair trial during arguments in a California appeals court. A three-judge panel of the California 6th District Court of Appeal is scheduled to listen to arguments in San Jose. (Jason Doiy /The Recorder via AP, File)
4 of 4
FILE - This June 27, 2011, file photo shows Santa Clara County Superior Court Judge Aaron Persky in San Francisco. Former Stanford University swimmer Brock Turner's lawyer will argue Tuesday, July 24, 2018, that his client didn't get a fair trial during arguments in a California appeals court. A three-judge panel of the California 6th District Court of Appeal is scheduled to listen to arguments in San Jose. (Jason Doiy /The Recorder via AP, File)
SAN JOSE, Calif. (AP) — A lawyer for former Stanford University swimmer Brock Turner argued Tuesday that his client's attempted rape conviction should be overturned. Turner never intended to rape an unconscious woman, he said.
Eric Malthaup told a California appeals court in San Jose that Turner had his clothes on when he was discovered by two Swedish graduate students on top of a half-naked, intoxicated woman, the Mercury News reported .
But the poker-faced justices appeared skeptical of his argument. The panel has 90 days to issue a ruling.
"I absolutely don't understand what you are talking about," Justice Franklin D. Elia said, adding that the law "requires the jury verdict to be honored."
Assistant Attorney General Alisha Carlile argued that Multhaup had presented a "far-fetched version of events" that didn't support the facts of the case.
Turner was convicted of sexually assaulting an intoxicated woman outside an on-campus fraternity house in 2015. After a trial in June 2016, a jury convicted Turner of sexual assault, and Judge Aaron Persky sentenced him to six months in jail.
The sentence was widely criticized as too lenient.
After the victim's 7,200-word letter to Turner that she read in the courtroom during sentencing was published online, the case drew national outrage. The case exploded on social media and ignited a debate about campus rape and the criminal justice system.
"I want to show people that one night of drinking can ruin two lives," she wrote. "You and me. You are the cause, I am the effect."
Santa Clara County voters recalled Persky in June after a campaign to unseat him raised more than $2 million in nationwide contributions. Critics of the judge and the sentence said Turner's short jail term underscored how law enforcement minimized sexual assault and highlighted how privileged defendants who can afford private attorneys often fare better in court.
Turner, 22, lives outside of Dayton, Ohio, with his parents. He is required to register as a sex offender for life.