Ekeler receives permission from Chargers to seek trade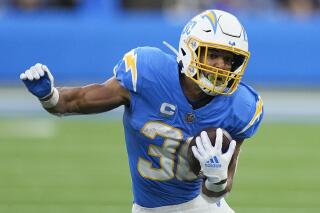 Los Angeles Chargers running back Austin Ekeler could be on his way out.
Ekeler's agent, Cameron Weiss, said on Tuesday that the team has given Ekeler permission to seek a trade after both sides could not agree on a contract extension.
Ekeler, who has scored an NFL-high 38 touchdowns over the past two seasons, is entering the final season of a four-year, $24.5 million extension. He is scheduled to earn $6.25 million in the 2023 season.
He led the league with 18 scrimmage touchdowns last season and became the fifth running back in league history with at least 100 receptions. His 107 catches were tied for second most by a running back in a season.
Ekeler also rushed for 915 yards, including a pair of 100-yard games.
Ekeler emerged as the Chargers lead back in 2019 after Melvin Gordon held out until four weeks into the regular season because of a contract dispute.
Ekeler has spent his entire six-year career with the Chargers after signing as an undrafted free agent in 2017.
If Ekeler is traded, the Chargers must find a new lead back via free agency or the draft. Joshua Kelley and Isaiah Spiller backed up Ekeler last year but have struggled.
The move also comes as coach Brandon Staley is trying to emphasize the running game more after hiring Kellen Moore as his offensive coordinator.
The Chargers had the third-worst rushing attack in the league last season and the second-biggest discrepancy between passing and running plays (65% pass to 35% run).
___
AP NFL: https://apnews.com/hub/nfl nd https://twitter.com/AP_NFL