Hornets won't go 'big-game hunting' even if Jordan sells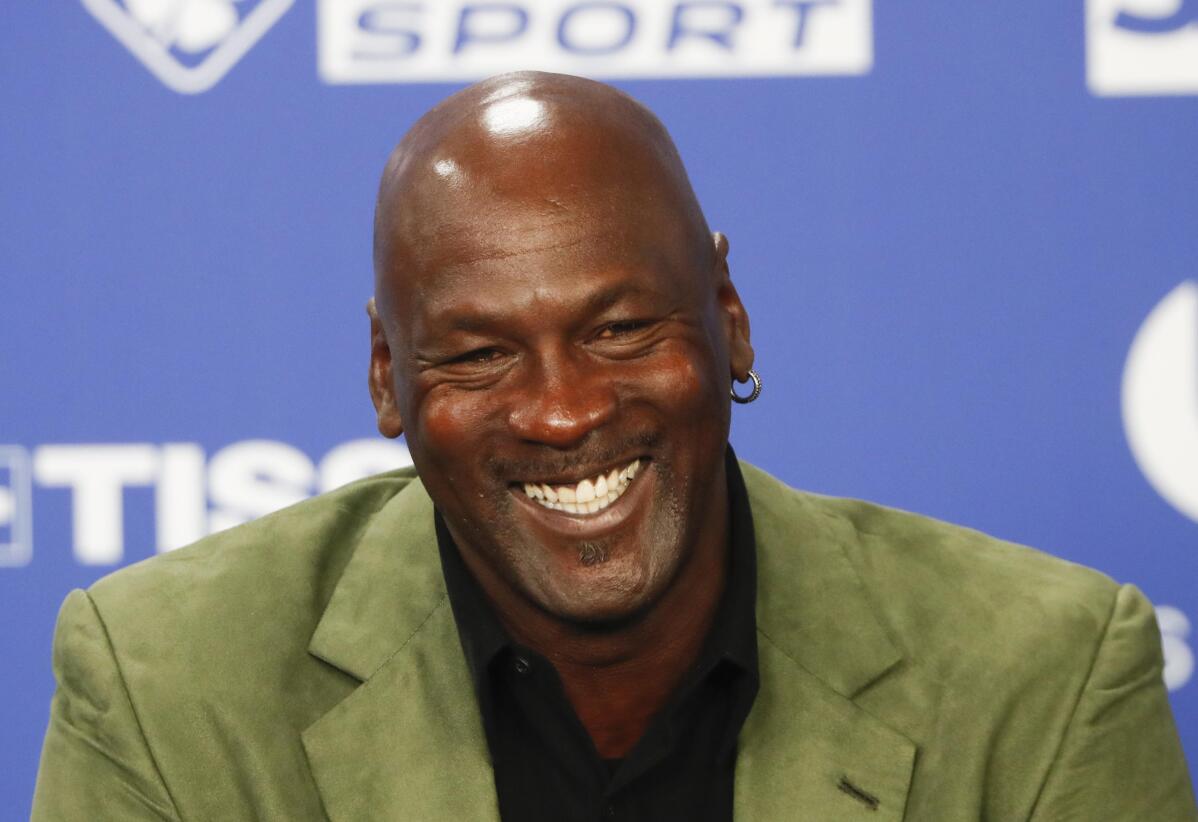 1 of 4

|
FILE - Basketball legend Michael Jordan speaks during a press conference ahead of an NBA basketball game between the Charlotte Hornets and Milwaukee Bucks in Paris, Jan. 24, 2020. Jordan is considering selling the Charlotte Hornets. The six-time NBA champion is in negotiations to sell at least a portion of the franchise to a group that includes Hornets minority owner Gabe Plotkin. (AP Photo/Thibault Camus, File)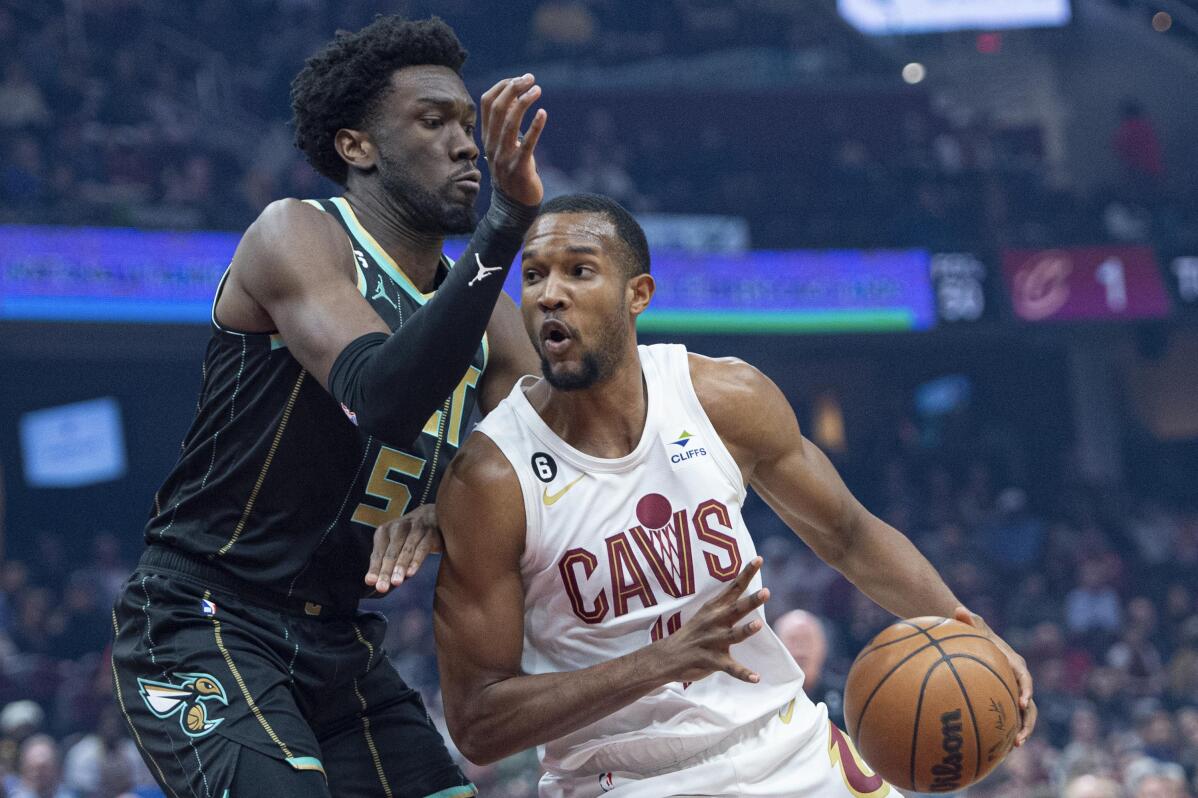 2 of 4

|
Cleveland Cavaliers' Evan Mobley (4) drives against Charlotte Hornets' Mark Williams (5) during the first first half of an NBA basketball game in Cleveland, Sunday, April 9, 2023. (AP Photo/Phil Long)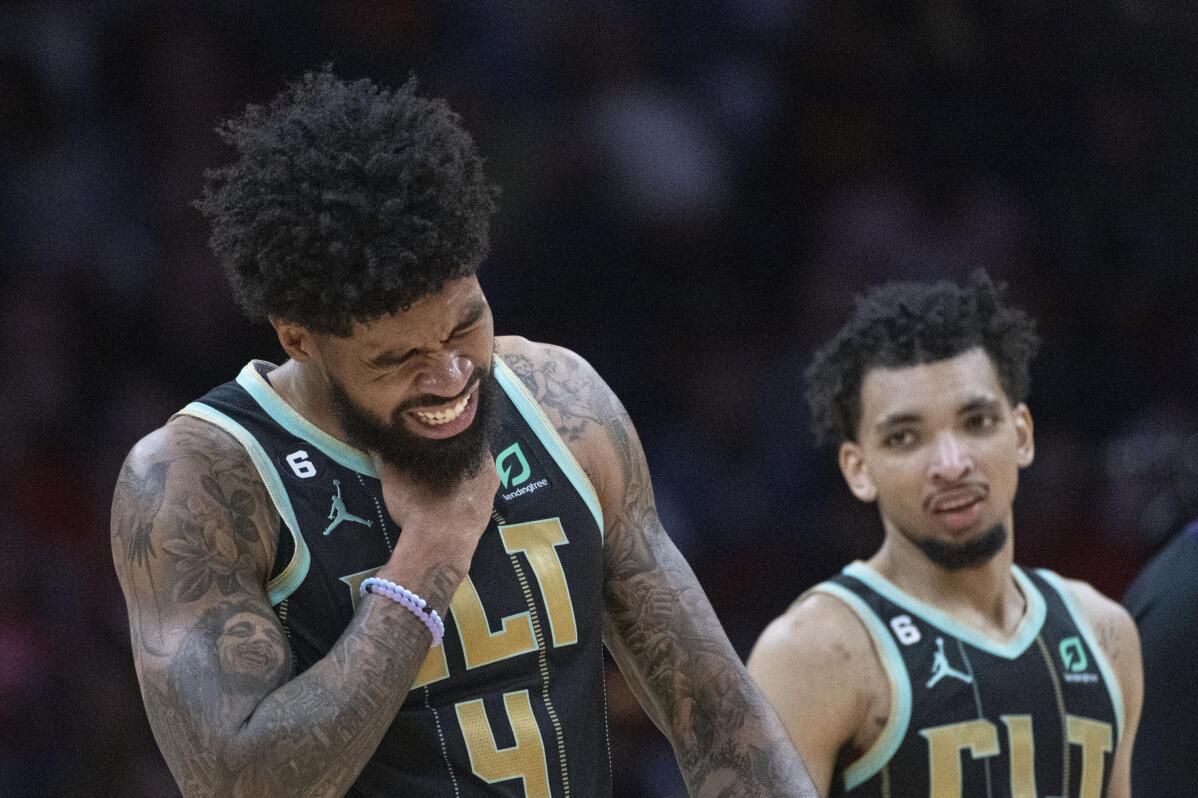 3 of 4

|
Charlotte Hornets' Nick Richards (4) grimaces after an injury as James Bouknight watches during the second half of an NBA basketball game against the Cleveland Cavaliers in Cleveland, Sunday, April 9, 2023. (AP Photo/Phil Long)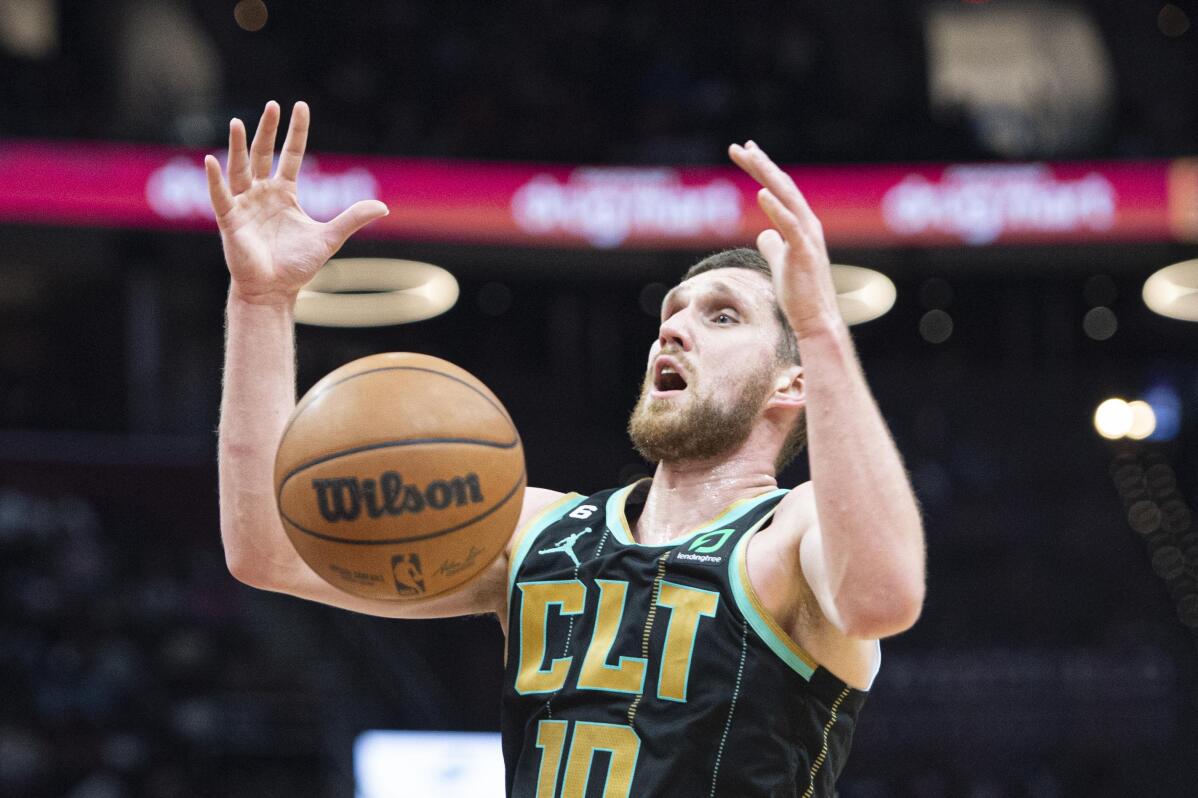 4 of 4

|
Charlotte Hornets' Svi Mykhailiuk (10) bobbles the ball during the second half of an NBA basketball gameagainst the Cleveland Cavaliers in Cleveland, Sunday, April 9, 2023. (AP Photo/Phil Long)
Hornets won't go 'big-game hunting' even if Jordan sells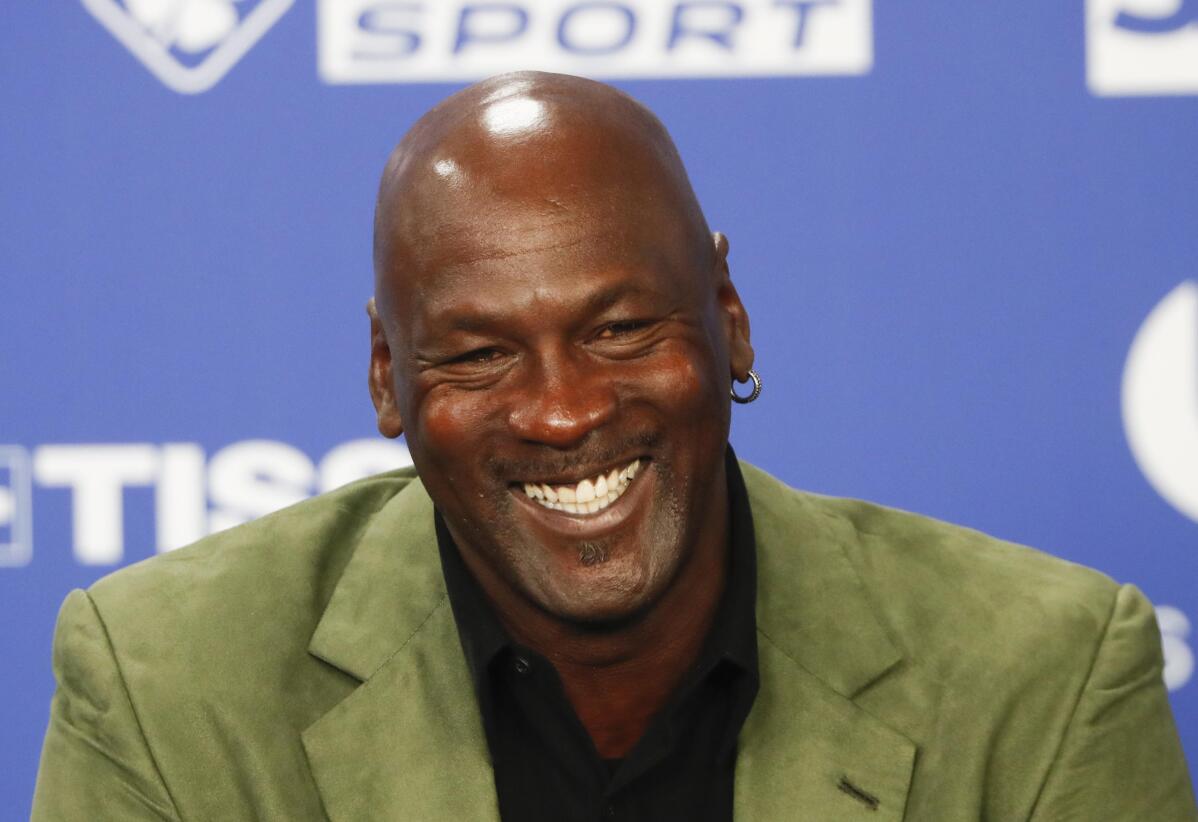 1 of 4

|
FILE - Basketball legend Michael Jordan speaks during a press conference ahead of an NBA basketball game between the Charlotte Hornets and Milwaukee Bucks in Paris, Jan. 24, 2020. Jordan is considering selling the Charlotte Hornets. The six-time NBA champion is in negotiations to sell at least a portion of the franchise to a group that includes Hornets minority owner Gabe Plotkin. (AP Photo/Thibault Camus, File)
1 of 4
FILE - Basketball legend Michael Jordan speaks during a press conference ahead of an NBA basketball game between the Charlotte Hornets and Milwaukee Bucks in Paris, Jan. 24, 2020. Jordan is considering selling the Charlotte Hornets. The six-time NBA champion is in negotiations to sell at least a portion of the franchise to a group that includes Hornets minority owner Gabe Plotkin. (AP Photo/Thibault Camus, File)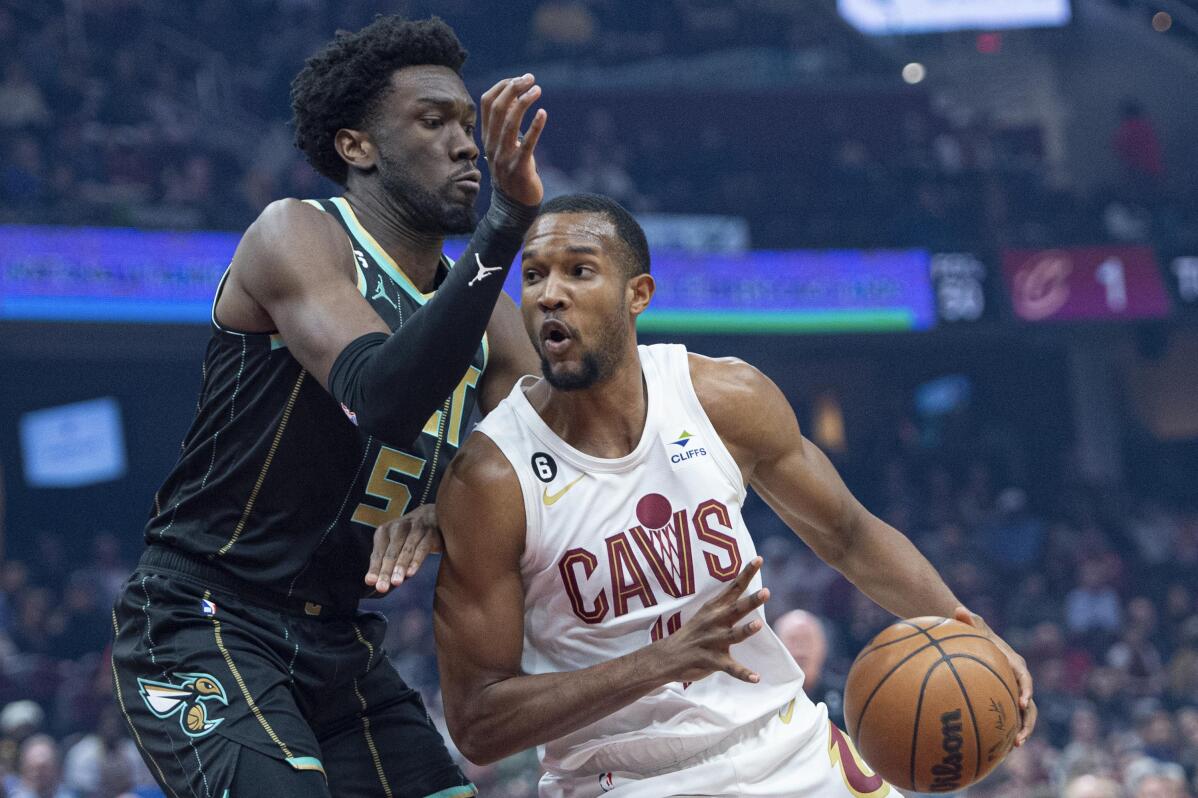 2 of 4

|
Cleveland Cavaliers' Evan Mobley (4) drives against Charlotte Hornets' Mark Williams (5) during the first first half of an NBA basketball game in Cleveland, Sunday, April 9, 2023. (AP Photo/Phil Long)
2 of 4
Cleveland Cavaliers' Evan Mobley (4) drives against Charlotte Hornets' Mark Williams (5) during the first first half of an NBA basketball game in Cleveland, Sunday, April 9, 2023. (AP Photo/Phil Long)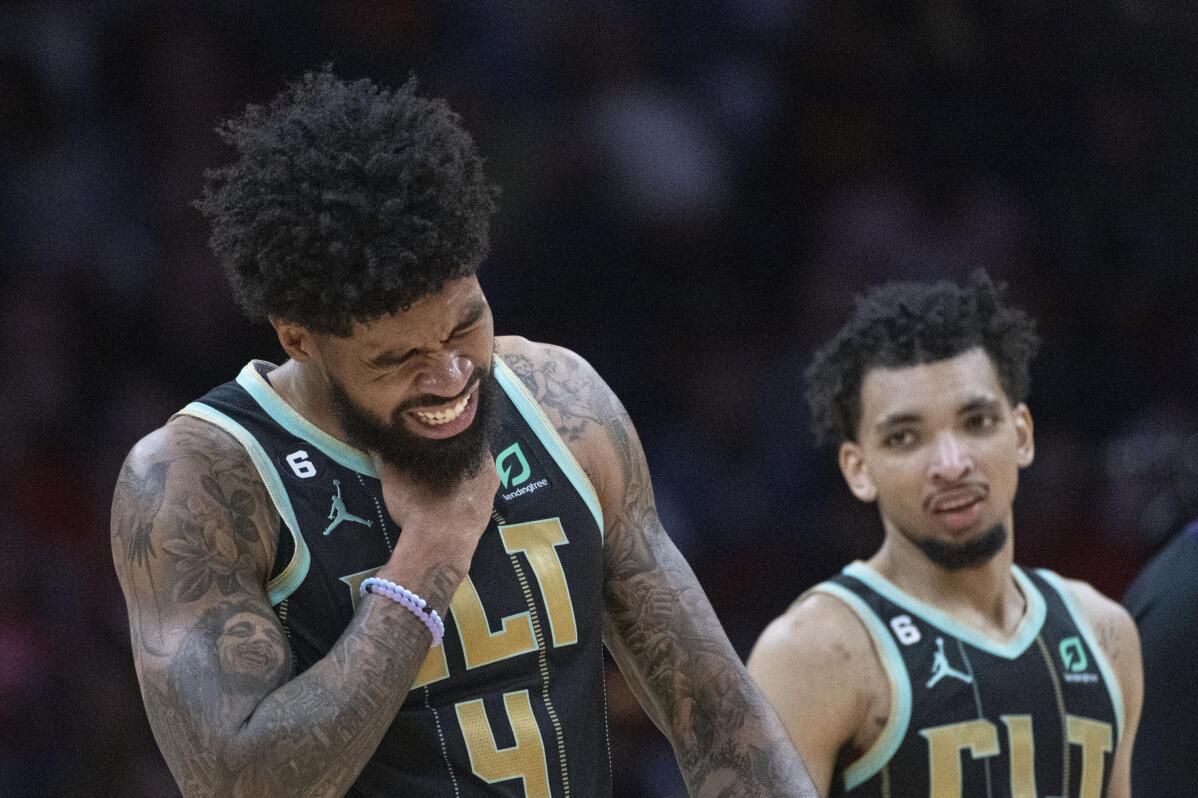 3 of 4

|
Charlotte Hornets' Nick Richards (4) grimaces after an injury as James Bouknight watches during the second half of an NBA basketball game against the Cleveland Cavaliers in Cleveland, Sunday, April 9, 2023. (AP Photo/Phil Long)
3 of 4
Charlotte Hornets' Nick Richards (4) grimaces after an injury as James Bouknight watches during the second half of an NBA basketball game against the Cleveland Cavaliers in Cleveland, Sunday, April 9, 2023. (AP Photo/Phil Long)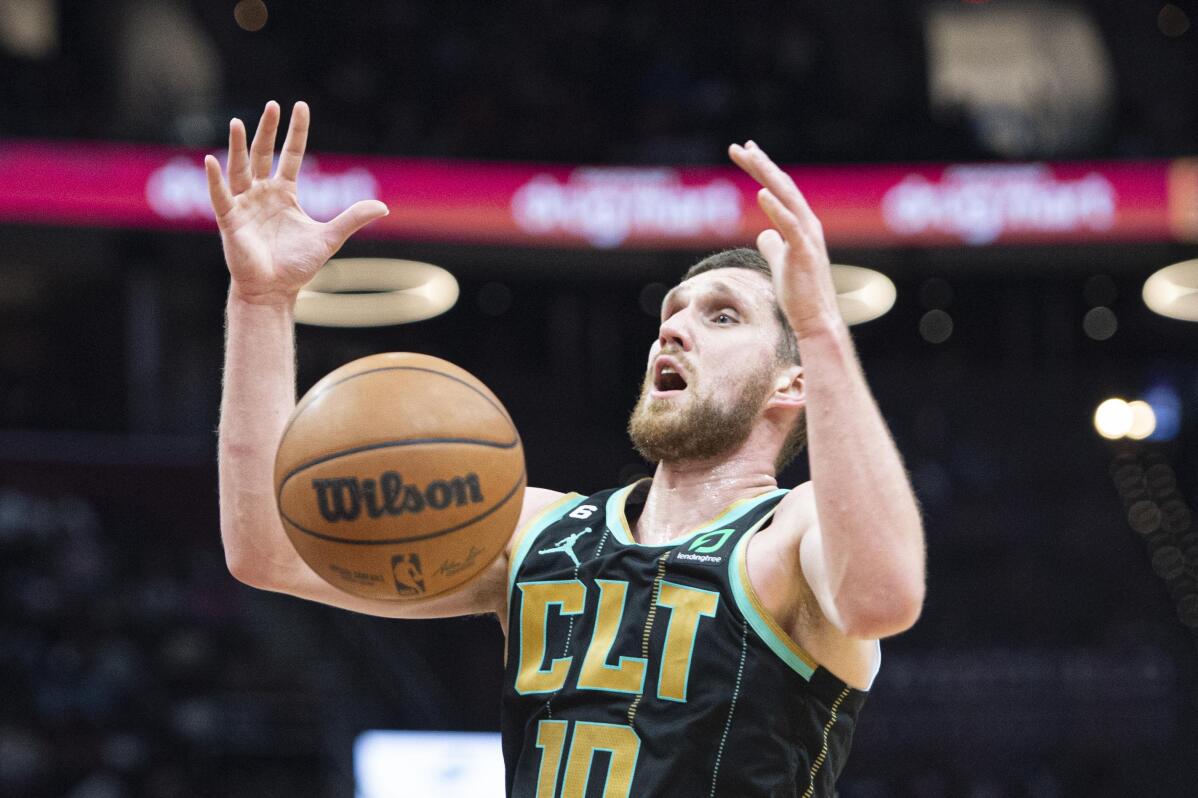 4 of 4

|
Charlotte Hornets' Svi Mykhailiuk (10) bobbles the ball during the second half of an NBA basketball gameagainst the Cleveland Cavaliers in Cleveland, Sunday, April 9, 2023. (AP Photo/Phil Long)
4 of 4
Charlotte Hornets' Svi Mykhailiuk (10) bobbles the ball during the second half of an NBA basketball gameagainst the Cleveland Cavaliers in Cleveland, Sunday, April 9, 2023. (AP Photo/Phil Long)
CHARLOTTE, N.C. (AP) — The Charlotte Hornets aren't expected to be big spenders in free agency this summer even if Michael Jordan sells the team.
The Hornets are a projected $39 million under the NBA salary cap for next season — which ranks in the top 10 in the league in terms of available spending money — but the team plans to focus on re-signing their own players and adding others through the draft and "savvy trades," according to general manager Mitch Kupchak.
"Although we have a lot of financial flexibility, we don't typically go big-game hunting with our free agent money," Kupchak said Tuesday.
He then added, "We're going to use that to sign back players."
The Hornets (27-55) finished with the fourth-worst record in the league, so they're guaranteed to pick somewhere between 1 and 8 depending on the outcome of the May 16 draft lottery. Charlotte has five draft picks in all, including two in the first round, although Kupchak indicated it's unlikely the team will use them all.
The Hornets haven't won a playoff series in more than two decades, and Jordan has been criticized at times by fans for not spending enough money to get big-name free agents.
Last month, Jordan's family office released a statement saying the six-time NBA champion is considering selling another portion of the team to Hornets minority owner Gabe Plotkin. While it's unclear if Jordan will give up his majority stake in the team, Kupchak indicated it is largely irrelevant in terms of the Hornets building process.
"Typically, the basketball operations (such as) players, contracts, who you draft and all that stuff doesn't really get affected by that," Kupchak said of a potential change in ownership.
Kupchak's first priority will be re-signing restricted free agent P.J. Washington, who appears to have nailed down the starting 4 spot after averaging 15.7 points per game.
Whether or not the team makes a move to bring back restricted free agent Miles Bridges remains to be seen.
Bridges was charged with three counts of domestic violence last summer, and although the case has since been settled the league is still looking into the matter and he could face disciplinary action. Kupchak said until the team hears from the league it's not going to act on Bridges, the team's leading scorer and rebounder in the 2021-22 season.
"Even when (the NBA) completes its investigation, there are going to be steps that need to be taken, whether it's from us or other teams," Kupchak said. "It looks like, for certain, that this is going to go over to July first. There was maybe some thought that us or somebody would sign him during the season, well, that's not possible."
The Hornets are coming off a 27-55 season, missing the playoffs for the seventh straight season — the longest such streak in the league.
Bridges' absence and a rash of injuries to key players such as LaMelo Ball, who was limited to 36 games due to ankle issues, was a big reason why the team didn't build on its 43-win season from a year ago. Charlotte finished the season with none of its opening night starters in the lineup.
But Kupchak said the injuries could serve as a "silver lining" because it allowed some of the team's younger players, including rookie center Mark Williams, to gain experience. Williams is expected to start again next season, Kupchak said.
The hope is players like Williams, Nick Richards, Bryce McGowens, JT Thor and James Bouknight develop into starters, and the Hornets begin to build a winning franchise.
It may not be the fastest way to success, but Kuchak is confident it's the best way — for now.
"Maybe one day we will get to the point where a marquee free agent would look at our team and we're winning a bunch of games and he'll say, 'Hey, that's a place I really want to go," Kupchak said. "But right now, I don't think that's realistic. We've got to do it through the draft primarily."
___
AP NBA: https://apnews.com/hub/nba and https://twitter.com/AP_Sports