Clifford: It's critical for Hornets to win to keep Ball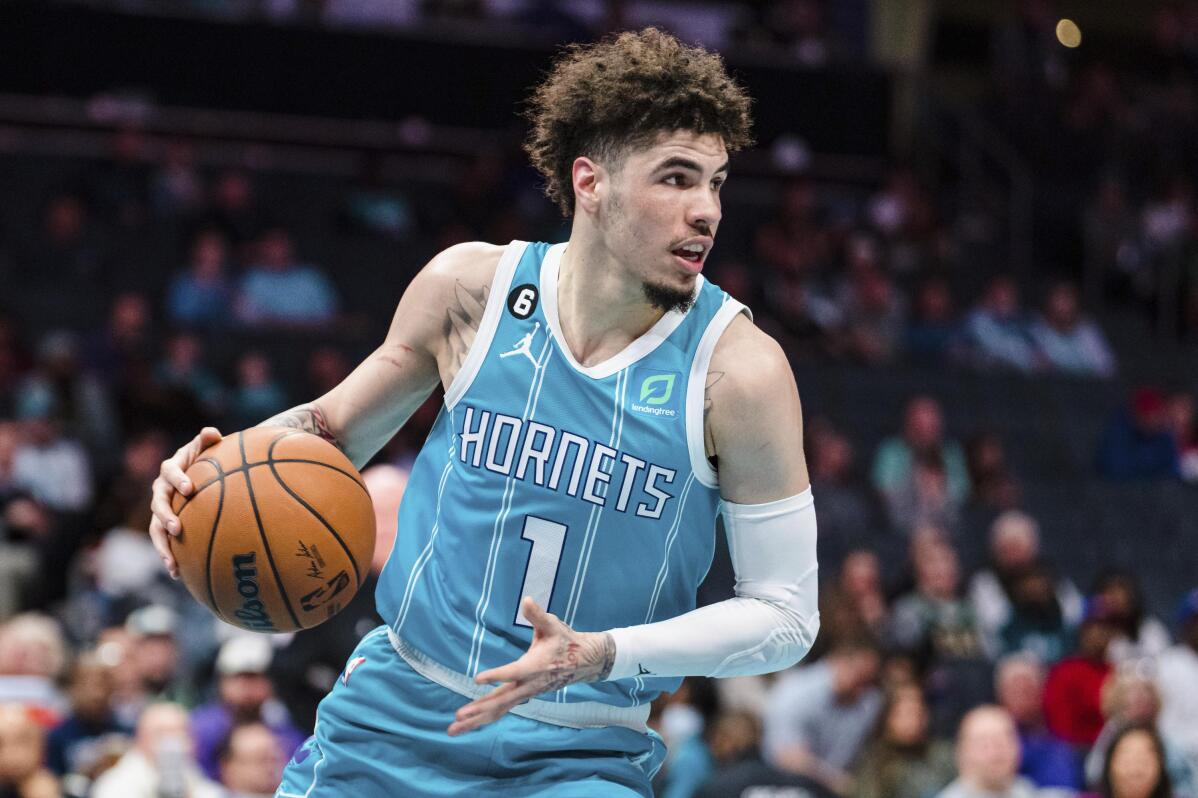 1 of 3

|
FILE - Charlotte Hornets guard LaMelo Ball brings the ball upcourt during the first half of an NBA basketball game against the Detroit Pistons in Charlotte, N.C., Monday, Feb. 27, 2023. Hornets coach Steve Clifford says it's "critical" for the organization to start winning if it wants to keep star point guard LaMelo Ball, who is considered a cornerstone piece of the franchise. (AP Photo/Jacob Kupferman, File)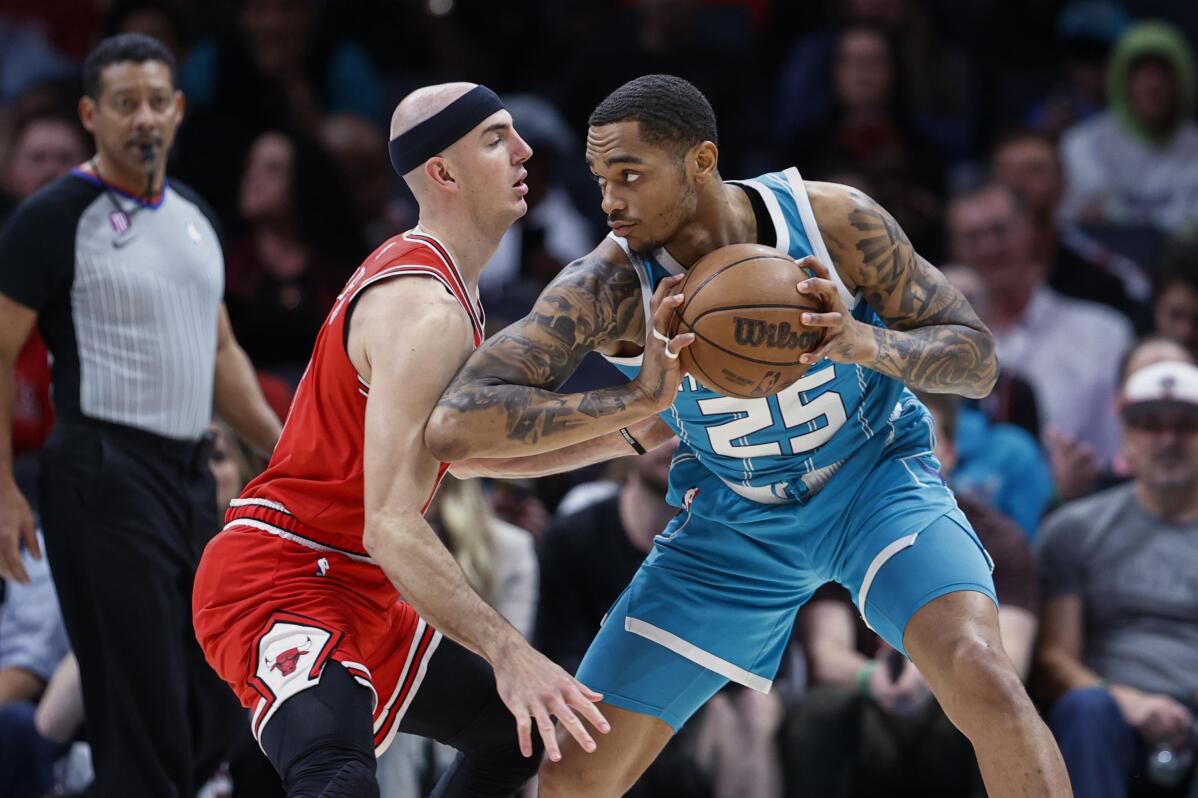 2 of 3

|
Charlotte Hornets forward P.J. Washington (25) looks to drive against Chicago Bulls guard Alex Caruso during the first half of an NBA basketball game in Charlotte, N.C., Friday, March 31, 2023. (AP Photo/Nell Redmond)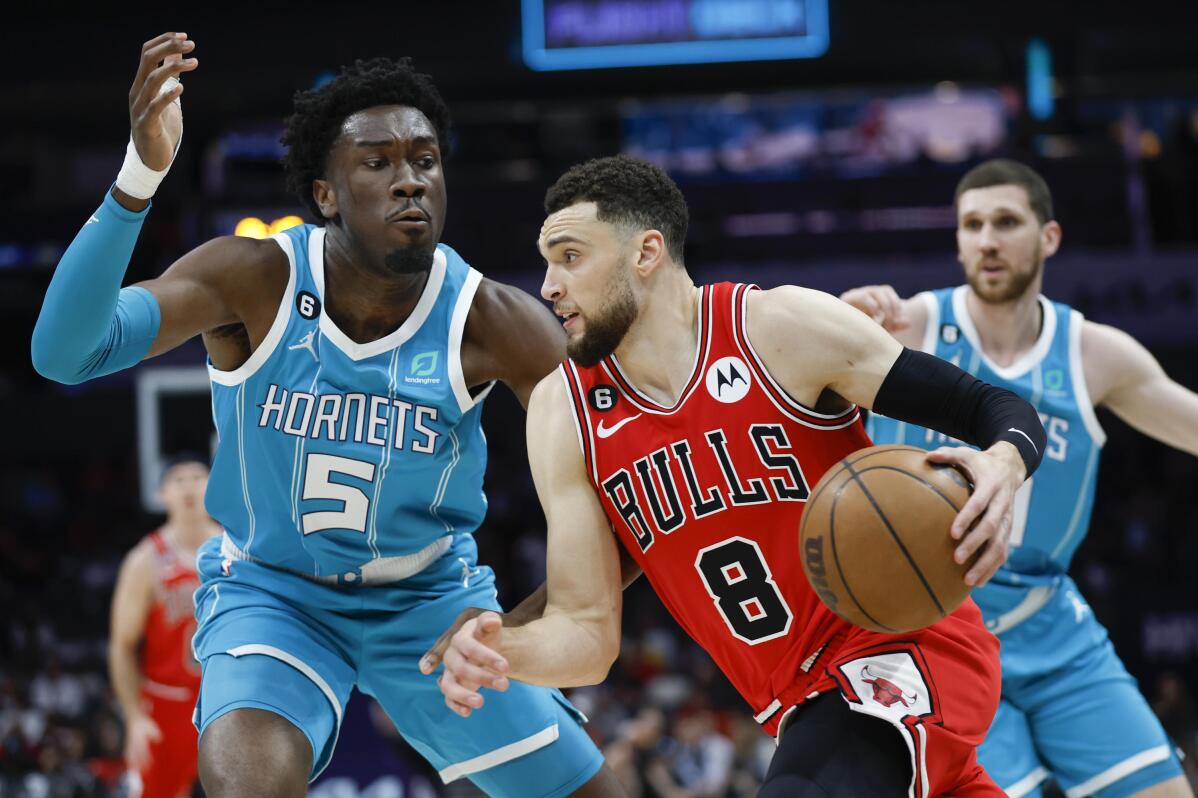 3 of 3

|
Chicago Bulls guard Zach LaVine (8) drives against Charlotte Hornets center Mark Williams (5) during the first half of an NBA basketball game in Charlotte, N.C., Friday, March 31, 2023. (AP Photo/Nell Redmond)
Clifford: It's critical for Hornets to win to keep Ball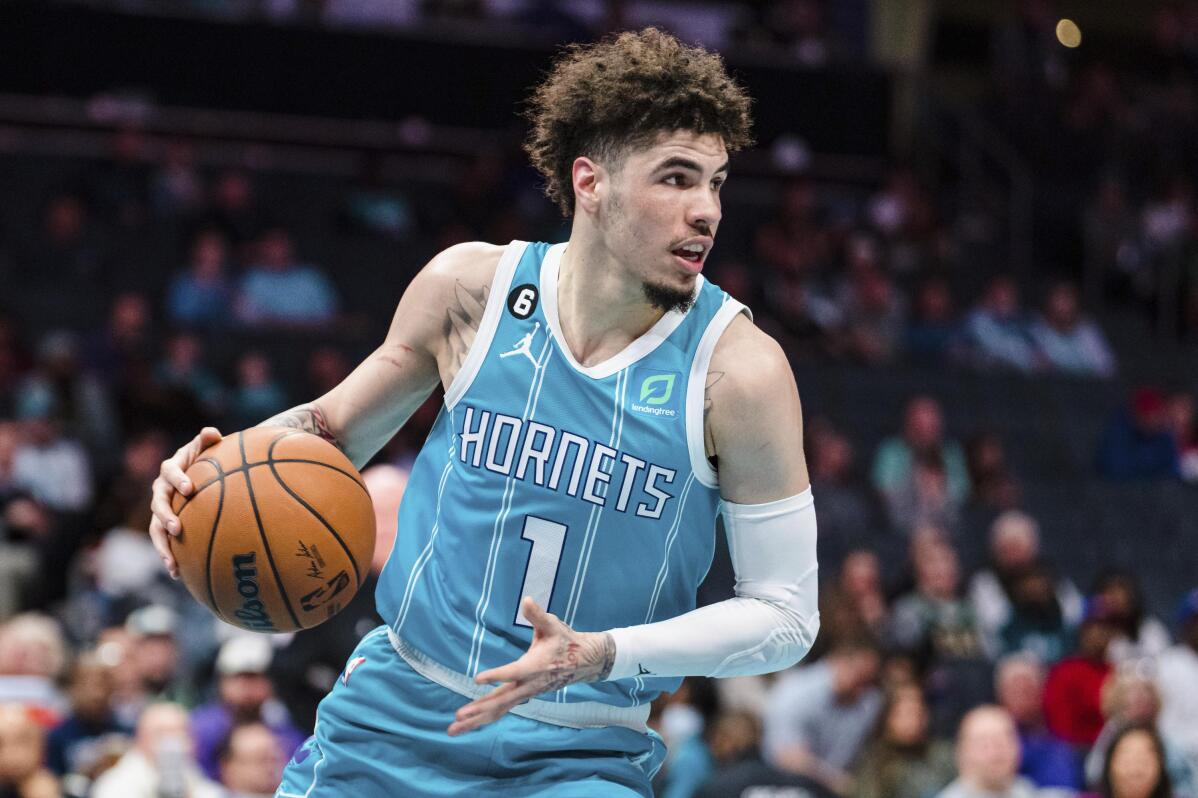 1 of 3

|
FILE - Charlotte Hornets guard LaMelo Ball brings the ball upcourt during the first half of an NBA basketball game against the Detroit Pistons in Charlotte, N.C., Monday, Feb. 27, 2023. Hornets coach Steve Clifford says it's "critical" for the organization to start winning if it wants to keep star point guard LaMelo Ball, who is considered a cornerstone piece of the franchise. (AP Photo/Jacob Kupferman, File)
1 of 3
FILE - Charlotte Hornets guard LaMelo Ball brings the ball upcourt during the first half of an NBA basketball game against the Detroit Pistons in Charlotte, N.C., Monday, Feb. 27, 2023. Hornets coach Steve Clifford says it's "critical" for the organization to start winning if it wants to keep star point guard LaMelo Ball, who is considered a cornerstone piece of the franchise. (AP Photo/Jacob Kupferman, File)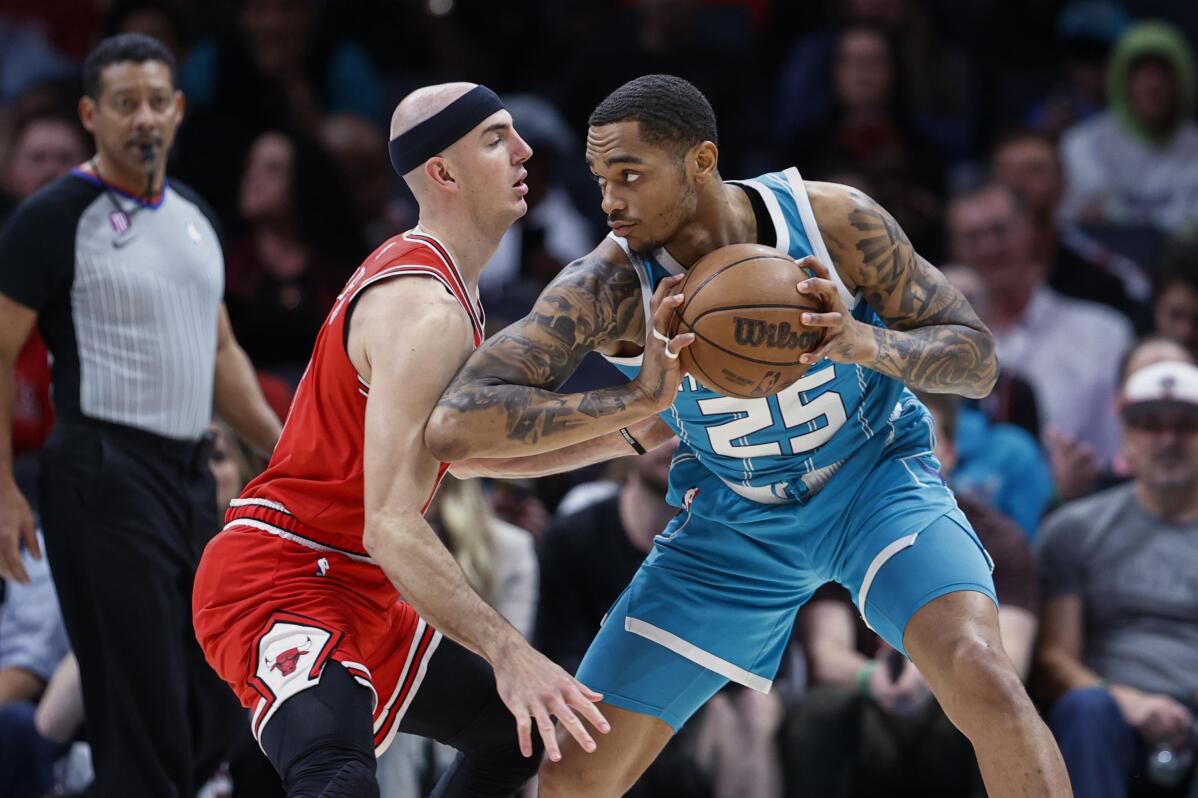 2 of 3

|
Charlotte Hornets forward P.J. Washington (25) looks to drive against Chicago Bulls guard Alex Caruso during the first half of an NBA basketball game in Charlotte, N.C., Friday, March 31, 2023. (AP Photo/Nell Redmond)
2 of 3
Charlotte Hornets forward P.J. Washington (25) looks to drive against Chicago Bulls guard Alex Caruso during the first half of an NBA basketball game in Charlotte, N.C., Friday, March 31, 2023. (AP Photo/Nell Redmond)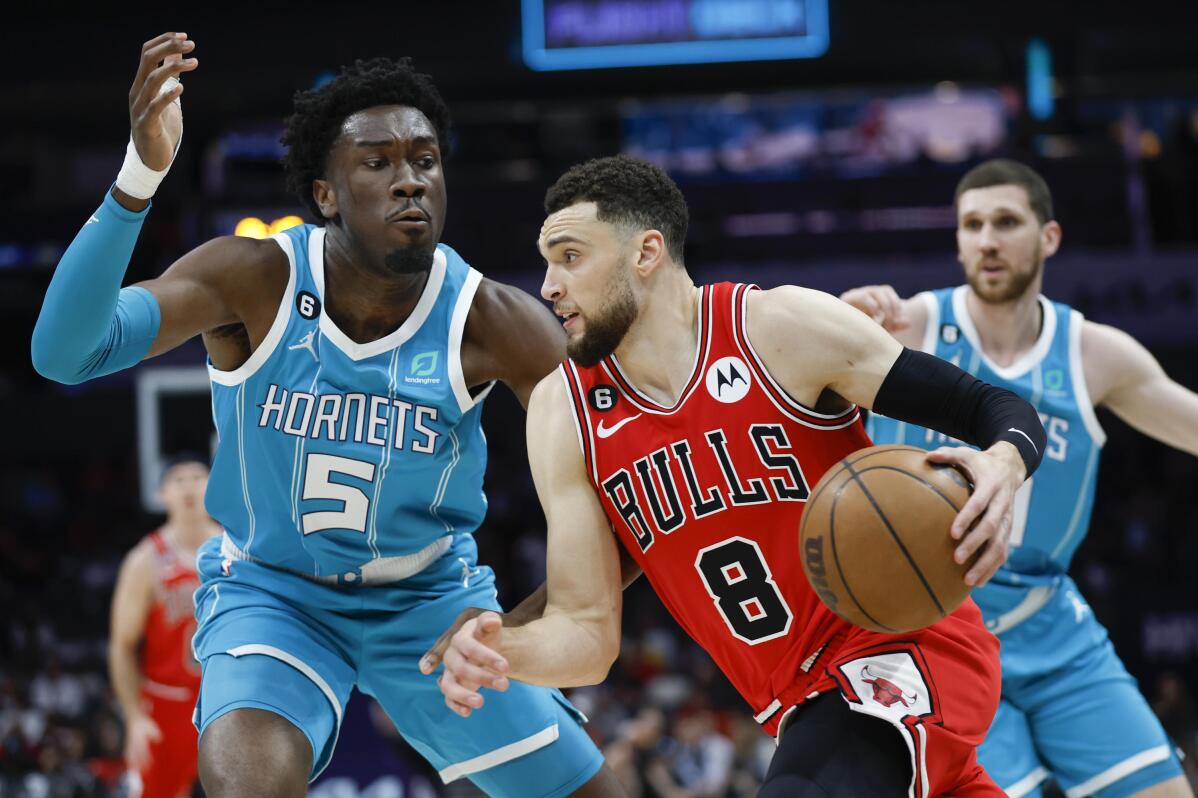 3 of 3

|
Chicago Bulls guard Zach LaVine (8) drives against Charlotte Hornets center Mark Williams (5) during the first half of an NBA basketball game in Charlotte, N.C., Friday, March 31, 2023. (AP Photo/Nell Redmond)
3 of 3
Chicago Bulls guard Zach LaVine (8) drives against Charlotte Hornets center Mark Williams (5) during the first half of an NBA basketball game in Charlotte, N.C., Friday, March 31, 2023. (AP Photo/Nell Redmond)
CHARLOTTE, N.C. (AP) — Charlotte Hornets coach Steve Clifford said it's critical for the team to start winning if it intends to keep star point guard LaMelo Ball, who is considered a cornerstone of the franchise.
Ball, the No. 3 overall draft pick in 2020, never has been in a playoff game. Charlotte hasn't been to the postseason in seven years, the longest streak in the NBA.
"He badly wants to win," Clifford said. "... When you're at his level, there are certain expectations. You're going to be compared to the other point guards his age that have had not incredible playoff success, but have had some.
"It's important to his career."
Clifford said Ball takes losing harder than most players he's been around, and he occasionally has texted him after midnight following a bad game to say: "Hey, my bad. I'm sorry, I should have done better."
When asked Monday about his long-term future in Charlotte, Ball said he "plays it by the day."
"I love it here," said Ball, who is from California. "I can't really tell the future. We'll just see how it goes and go from there."
As for Clifford's comments about it being critical for the Hornets to start winning to keep him here, Ball replied: "For sure. The main thing is winning. Life if better when you win."
General manager Mitch Kupchak has some flexibility to add pieces this offseason.
Charlotte has five draft picks, including two in the first round.
The Hornets have a fighting chance to move up and get either Victor Wembanyama or Scoot Henderson — considered the top two picks in this year's draft — if they get lucky in next month's draft lottery.
They also have a projected $39 million in salary cap space entering free agency, according to Spotrac.
The Hornets could use that money to re-sign restricted free agent Miles Bridges, who sat out this season after being arrested on domestic violence charges last summer. He later pleaded no contest to one felony count of injuring a child's parent in exchange for three years of probation and no jail time.
BALL'S HEALTH
As for Ball, his first order of business is getting healthy.
The 2022 All-Star missed 46 games because of ankle issues, including a fracture in late February that required season-ending surgery. He remains in a walking boot. Barring a setback, Ball is expected to be 100% for the next preseason, Clifford said.
JORDAN'S FUTURE
Clifford, who agreed to return to coach the Hornets last summer after Kenny Atkinson backed out of the job, would love an opportunity to turn things around following an unusually injury-plagued 2022-23 season.
But that might depend on whether Michael Jordan sells the team.
Jordan's family office announced last month that the six-time NBA champion is in negotiations to sell an additional stake in the franchise to George Plotkin, one of the team's minority owners.
If Jordan sells the majority stake, it could dramatically alter the future of the franchise, including Clifford's job status.
"Obviously, I hope nothing happens because I want to coach again next year," Clifford said. "But I've also been around this league long enough to know to not ever be surprised by anything that happens. That's pro sports."
WASHINGTON WANTS TO STAY
With Bridges gone, P.J. Washington moved into a more prominent role as a starter and played well, likely solidifying his future in Charlotte.
"This is really where I want to be, and I haven't thought about being anywhere else," said Washington, who is a restricted free agent. "Everybody is here. My family is here, my kids are here. This is home for me now."
LOTTERY ODDS
By virtue of finishing with the league's fourth-worst record, the Hornets have a 12.5% chance of getting the No. 1 overall pick in the lottery. That is slightly less than the three teams that finished below them — Detroit, Houston and San Antonio — that each have a 14% chance at the top pick.
"The top of the draft this year is potentially game-changing, whether it's one year, two years, whatever," Clifford said. "... At the very least, I think those guys at the top would either start or provide good depth right away."
YOUNG CENTERS
The growth of young centers Mark Williams and Nick Richards was a bright spot for the Hornets.
Both were pressed into larger roles after Kupchak dealt veteran Mason Plumlee at the trade deadline. Williams, a rookie from Duke, appeared in 62 games with 54 starts, averaging 9.7 points, 6.3 rebounds and 2.3 blocks per game. Richards had 18 points and 11 rebounds last week against Toronto.
3-POINT SHOOTING
The Hornets are expected to upgrade their 3-point shooting after finishing 29th in the league at 33%.
___
AP NBA: https://apnews.com/hub/NBA and https://twitter.com/AP_Sports