Davis' 30 points, 22 rebounds lead Lakers past Grizzlies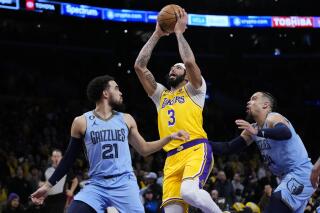 LOS ANGELES (AP) — Anthony Davis had 30 points and 22 rebounds, Dennis Schröder added 17 points and nine assists and the Los Angeles Lakers moved into ninth place in the Western Conference with a 112-103 victory over the Memphis Grizzlies on Tuesday night.
Rui Hachimura and Austin Reaves scored 17 points apiece in the sixth win in eight games for the Lakers, who are surging since the trade deadline despite missing LeBron James and D'Angelo Russell to injury.
Jaren Jackson scored 26 points and Tyus Jones had 16 for the Grizzlies, who dropped to 0-2 without Ja Morant with their third straight loss overall.
Morant missed his second straight game since the Memphis superstar apparently took a gun into a strip club on the road and then flaunted it on social media last weekend. The two-time All-Star and the Grizzlies' leading scorer is the target of two NBA investigations and a reported probe by Denver police.
HORNETS 112, KNICKS 105
NEW YORK (AP) — Kelly Oubre Jr. scored 27 points, Terry Rozier added 25 and Charlotte snapped New York's nine-game winning streak.
Gordon Hayward had 23 points, nine rebounds and eight assists, and made the tiebreaking basket with 1:50 remaining as the Hornets won for the first time in four games since point guard LaMelo Ball's broken ankle that required surgery.
They trailed by 16 at halftime and were still down nine midway through the fourth quarter before surging past a Knicks team that appeared to lack energy, two nights after needing two overtimes to win in Boston.
RJ Barrett scored 27 points for the Knicks, who were trying for their first 10-game winning streak since a 13-game run late in the 2012-13 season. Julius Randle scored 16 points but shot just 5 for 17 from the field.
BUCKS 134, MAGIC 123
ORLANDO, Fla. (AP) — Brook Lopez scored 26 points, Khris Middleton and Jevon Carter each added 24 points and Milwaukee beat Orlando for its 18th win in 19 games.
Bobby Portis Jr. had 16 points and 11 rebounds and Jae Crowder added 15 points for the Bucks, who shot 59% and ran their winning streak against the Magic to 14 games.
The Bucks played without All-Stars Giannis Antetokounmpo (non-COVID-19 illness) and Jrue Holiday (sore neck).
Cole Anthony led the Magic with 23 points. Franz Wagner added 21 points and Paolo Banchero had 20 points and five rebounds.
MAVERICKS 120, JAZZ 116
DALLAS (AP) — Kyrie Irving hit a clutch 3-pointer and scored 17 of his 33 points in the fourth quarter, and Luka Doncic added 29 points as Dallas beat short-handed Utah.
Utah trailed 118-115 with 3.7 seconds to play when Talen Horton-Tucker was fouled and sent to the line for two shots. After sinking the first, his intentional miss slammed directly off the backboard and didn't hit the rim, giving Dallas possession.
Tim Hardaway Jr. added 24 points off the bench, including 7-for-9 shooting from beyond the arc as Dallas finished a season-high six-game homestand 3-3.
Lauri Markkanen returned to the lineup after missing a game with a low-back strain and scored 33 points to lead the Jazz. Horton-Tucker added 21 points.
76ERS 117, TIMBERWOLVES 94
MINNEAPOLIS (AP) — Joel Embiid scored 39 points, Tyrese Maxey added 27 and Philadelphia beat Minnesota despite playing without star James Harden.
Harden, the team's second-leading scorer and NBA assist leader, was held out with left foot soreness.
De'Anthony Melton scored 11 for the 76ers, who wrapped up a five-game trip with a 4-1 record.
Anthony Edwards scored 32 points for Minnesota. The Timberwolves shot a season-low 39.5% from the field and were 11 of 36 from 3-point distance.
NETS 118, ROCKETS 96
HOUSTON (AP) — Mikal Bridges scored 30 points, Spencer Dinwiddie added 23 and Brooklyn had a big third quarter to beat Houston for its third straight victory.
Bridges has scored 30 or more points in three straight games and five times overall since coming over from Phoenix on Feb. 9 in the deal that sent Kevin Durant to the Suns. Bridges also had five assists, two blocks and a steal.
Brooklyn has its longest winning streak since a season-high 12-game run from Dec. 7-Jan. 8. The Nets also had their third double-digit win in a row.
Jalen Green had 25 points for the Western Conference-worst Rockets, who were coming off consecutive wins over San Antonio.
THUNDER 137, WARRIORS 128
OKLAHOMA CITY (AP) — Shai Gilgeous-Alexander scored 33 points, Josh Giddey had the seventh triple-double of his career and third of the season, and Oklahoma City beat Golden State.
Giddey finished with 17 points, a career-high 17 assists and 11 rebounds as the Thunder won their third straight.
Stephen Curry scored 40 points and made a season-high 10 3-pointers, Klay Thompson scored 23 points and Jonathan Kuminga added 21 for the Warriors.
WIZARDS 199, PISTONS 117
DETROIT (AP) — Daniel Gafford converted a putback of Bradley Beal's airball at the buzzer, and Washington handed Detroit its ninth straight loss.
With the score tied, Beal drove to the baseline and shot a fadeaway floater that was too strong and missed everything. Gafford grabbed the weak-side rebound and banked in the winner.
Beal finished with 32 points and Kristaps Porzingis scored 24 before fouling out in the final minute. Washington (32-34) ended a two-game skid and is 10th in the Eastern Conference, in position for the final spot in the play-in tournament.
Jaden Ivey had 26 points and 12 assists for the NBA-worst Pistons. James Wiseman added 21 points.
___
AP NBA: https://apnews.com/hub/NBA and https://twitter.com/AP_Sports