Lampard starts second Chelsea tenure losing at Wolves 1-0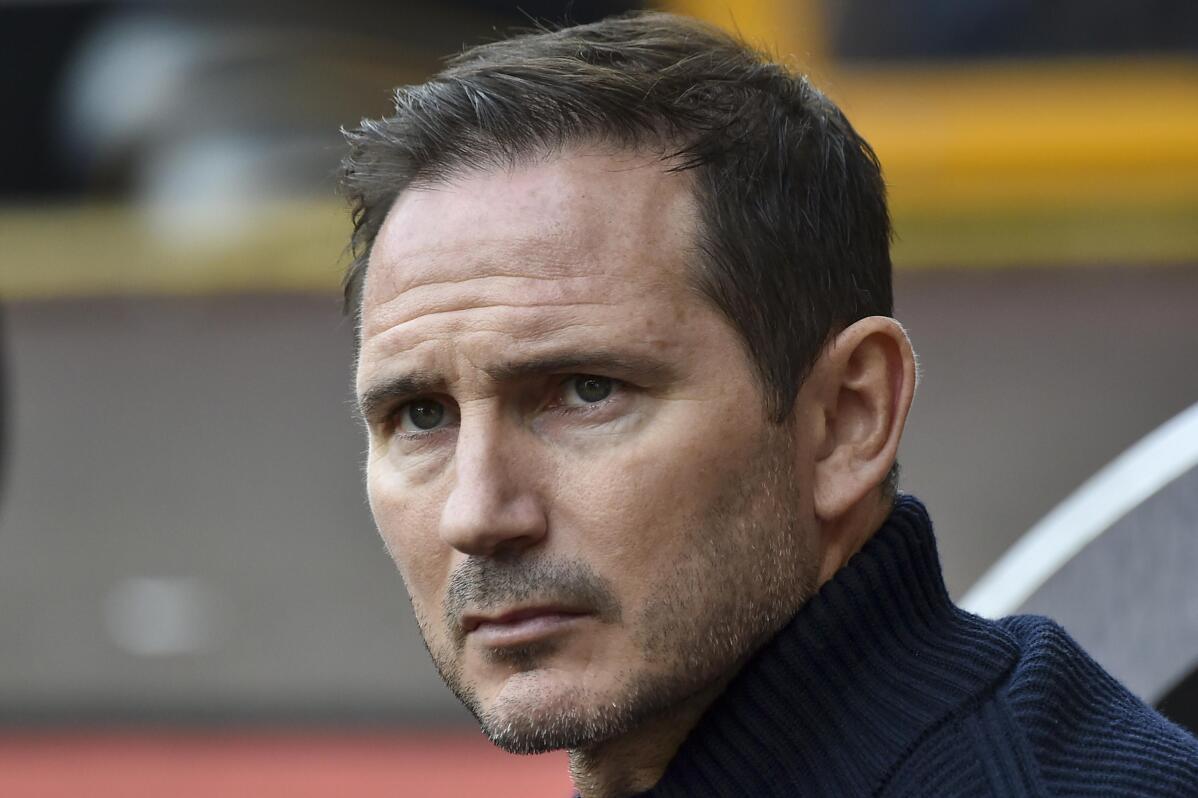 1 of 4

|
Chelsea's caretaker manager Frank Lampard looks out from the bench before the English Premier League soccer match between Wolverhampton Wanderers and Chelsea, at the Molineux Stadium, in Wolverhampton, England, Saturday, April 8, 2023. (AP Photo/Rui Vieira)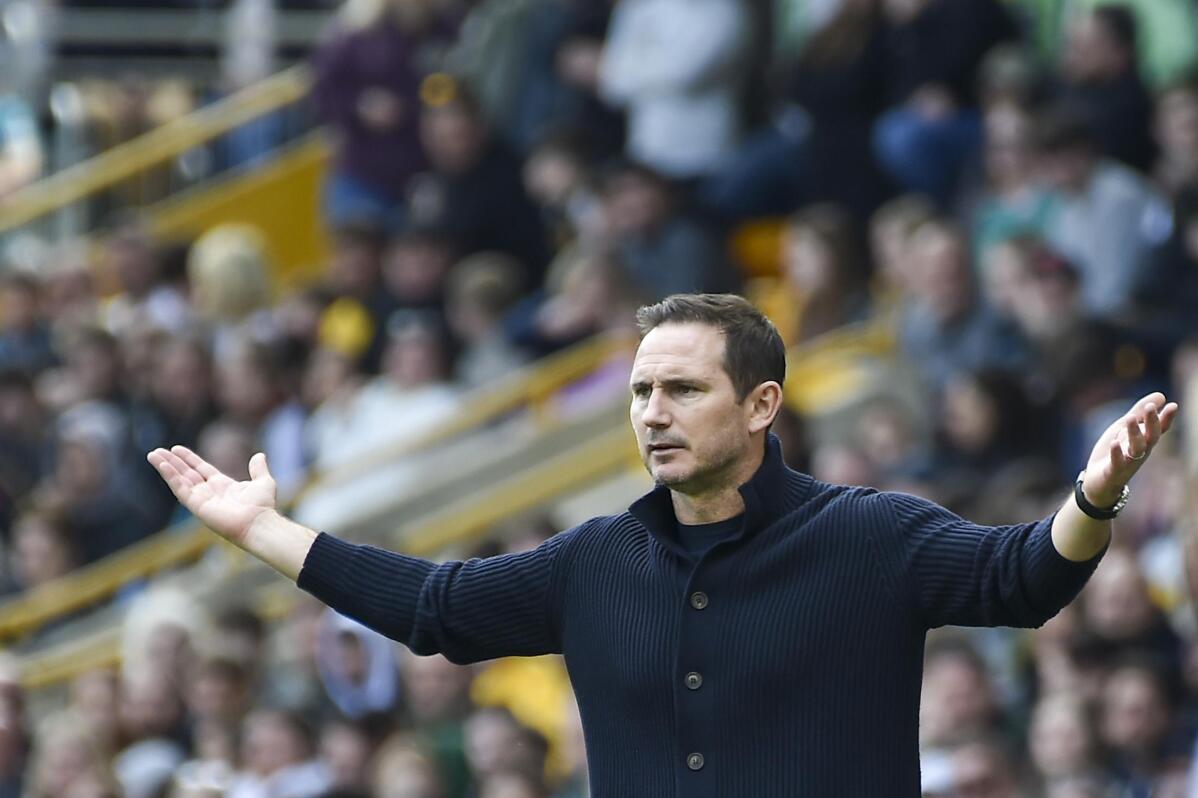 2 of 4

|
Chelsea's caretaker manager Frank Lampard reacts during the English Premier League soccer match between Wolverhampton Wanderers and Chelsea, at the Molineux Stadium, in Wolverhampton, England, Saturday, April 8, 2023. (AP Photo/Rui Vieira)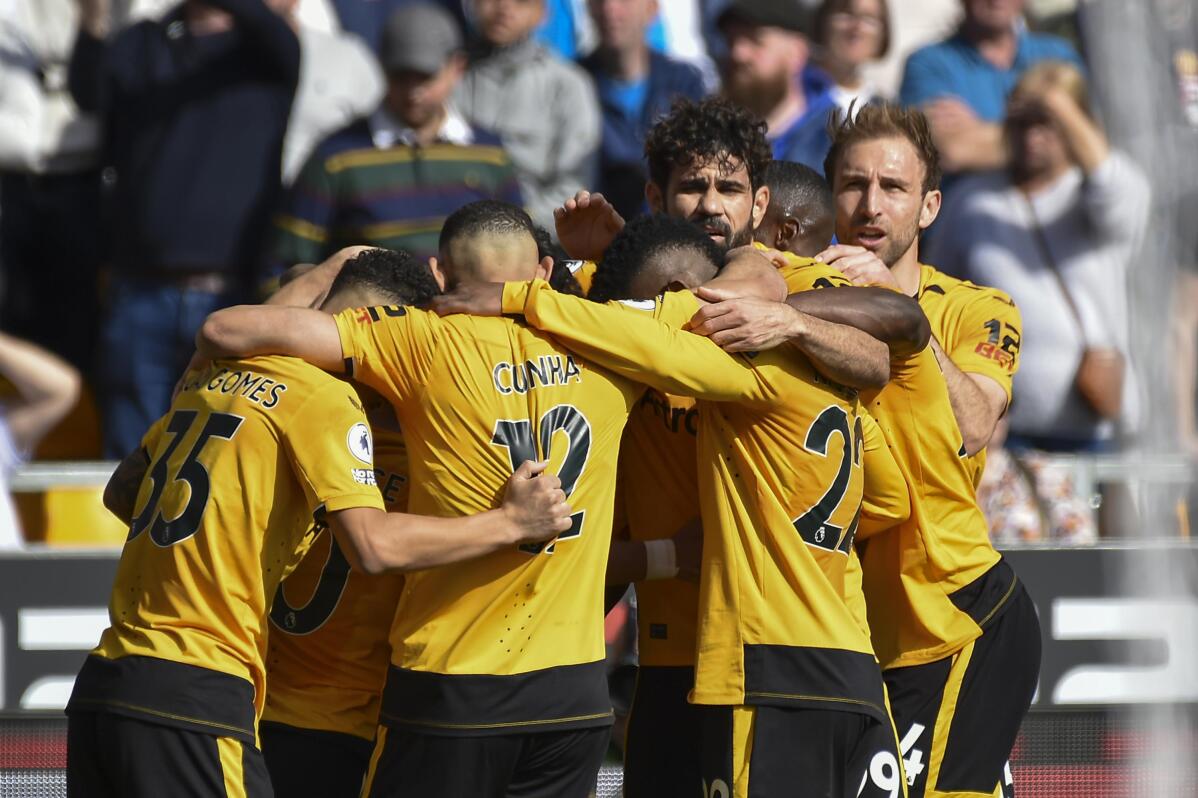 3 of 4

|
Wolverhampton Wanderers' Matheus Nunes celebrates with teammates after scoring his side's opening goal during the English Premier League soccer match between Wolverhampton Wanderers and Chelsea, at the Molineux Stadium, in Wolverhampton, England, Saturday, April 8, 2023. (AP Photo/Rui Vieira)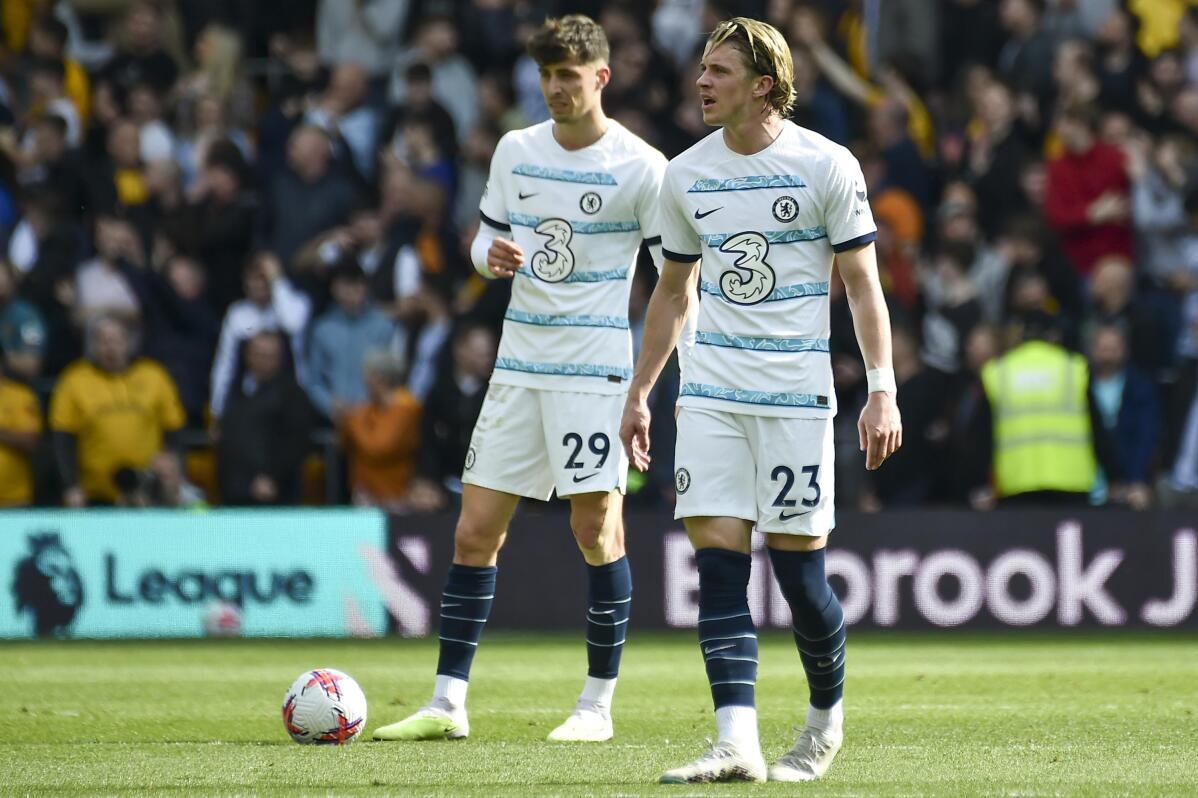 4 of 4

|
Chelsea's Kai Havertz, left, and Wolverhampton Wanderers' Max Kilman react after Wolverhampton Wanderers' Matheus Nunes scoring his side's opening goal during the English Premier League soccer match between Wolverhampton Wanderers and Chelsea, at the Molineux Stadium, in Wolverhampton, England, Saturday, April 8, 2023. (AP Photo/Rui Vieira)
Lampard starts second Chelsea tenure losing at Wolves 1-0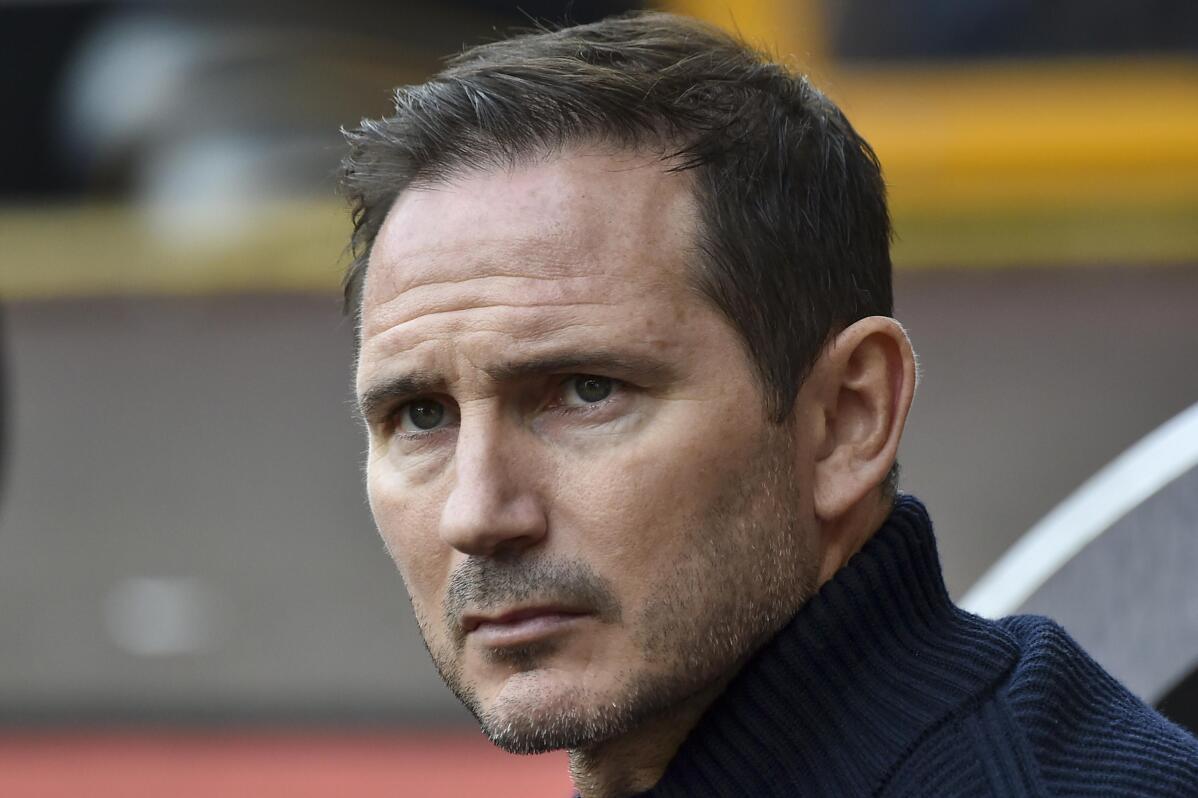 1 of 4

|
Chelsea's caretaker manager Frank Lampard looks out from the bench before the English Premier League soccer match between Wolverhampton Wanderers and Chelsea, at the Molineux Stadium, in Wolverhampton, England, Saturday, April 8, 2023. (AP Photo/Rui Vieira)
1 of 4
Chelsea's caretaker manager Frank Lampard looks out from the bench before the English Premier League soccer match between Wolverhampton Wanderers and Chelsea, at the Molineux Stadium, in Wolverhampton, England, Saturday, April 8, 2023. (AP Photo/Rui Vieira)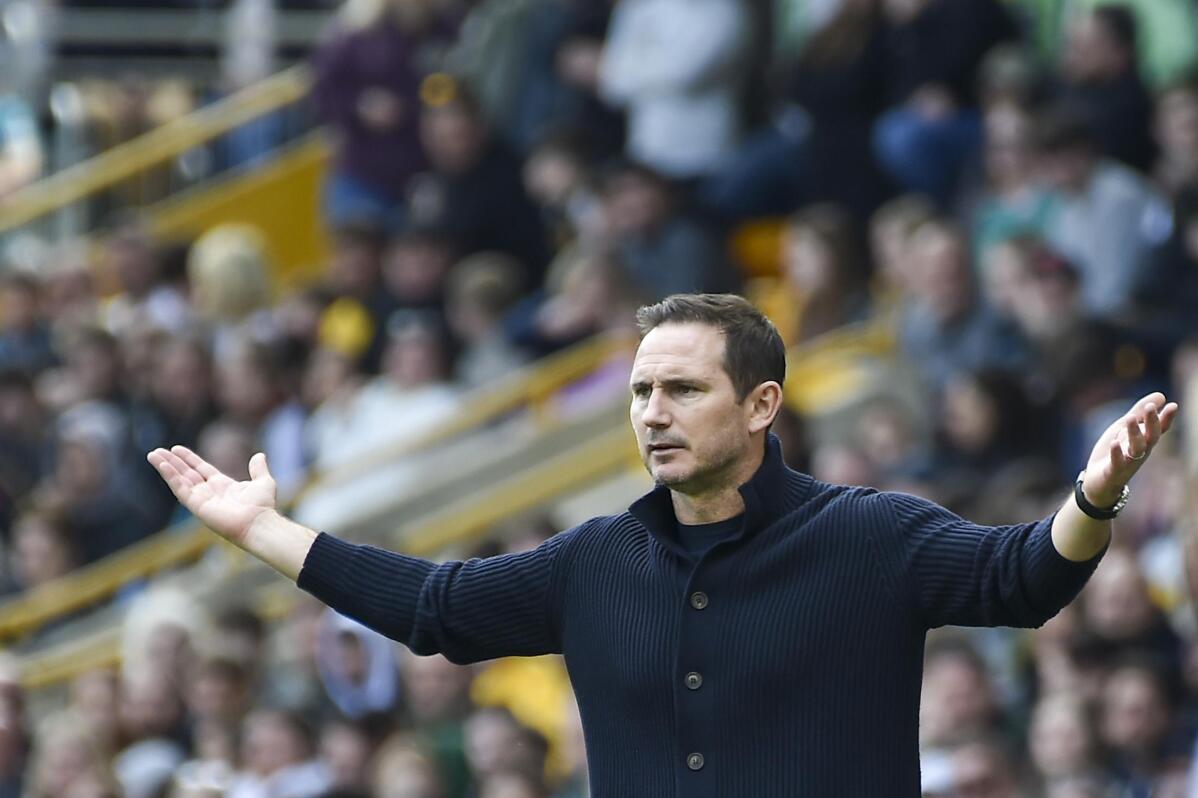 2 of 4

|
Chelsea's caretaker manager Frank Lampard reacts during the English Premier League soccer match between Wolverhampton Wanderers and Chelsea, at the Molineux Stadium, in Wolverhampton, England, Saturday, April 8, 2023. (AP Photo/Rui Vieira)
2 of 4
Chelsea's caretaker manager Frank Lampard reacts during the English Premier League soccer match between Wolverhampton Wanderers and Chelsea, at the Molineux Stadium, in Wolverhampton, England, Saturday, April 8, 2023. (AP Photo/Rui Vieira)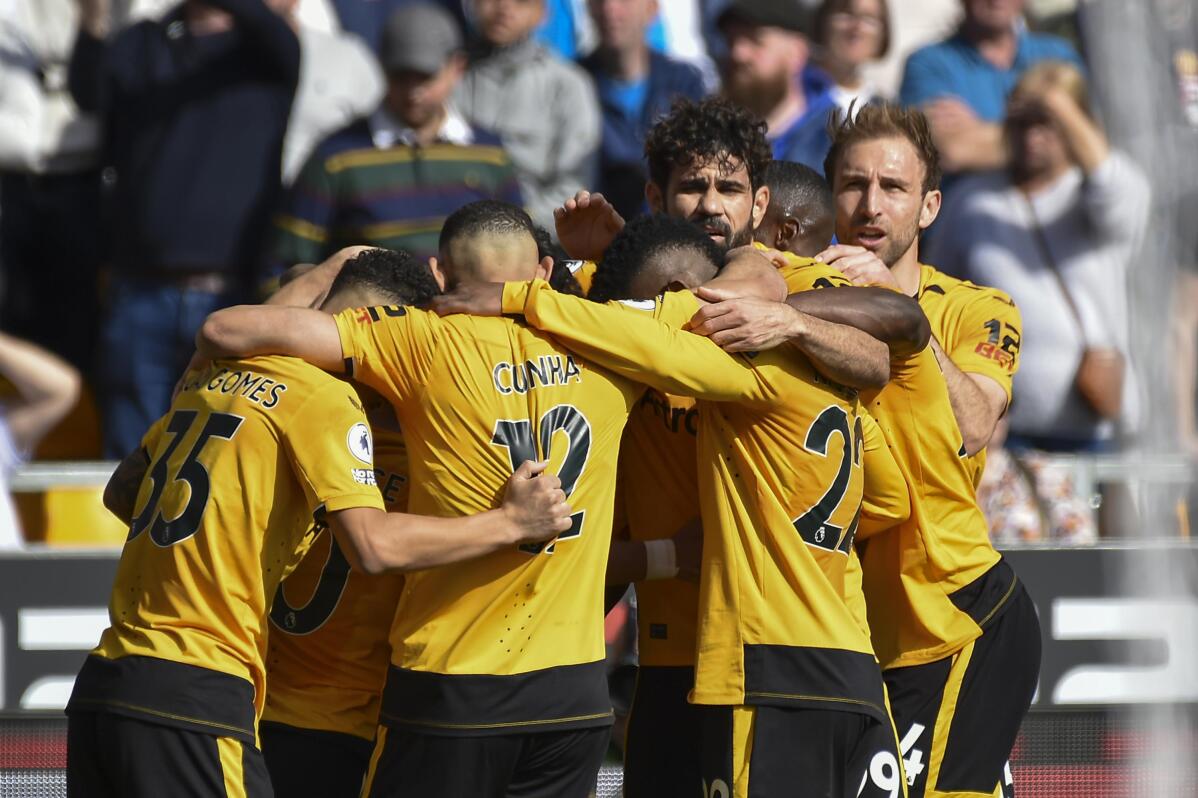 3 of 4

|
Wolverhampton Wanderers' Matheus Nunes celebrates with teammates after scoring his side's opening goal during the English Premier League soccer match between Wolverhampton Wanderers and Chelsea, at the Molineux Stadium, in Wolverhampton, England, Saturday, April 8, 2023. (AP Photo/Rui Vieira)
3 of 4
Wolverhampton Wanderers' Matheus Nunes celebrates with teammates after scoring his side's opening goal during the English Premier League soccer match between Wolverhampton Wanderers and Chelsea, at the Molineux Stadium, in Wolverhampton, England, Saturday, April 8, 2023. (AP Photo/Rui Vieira)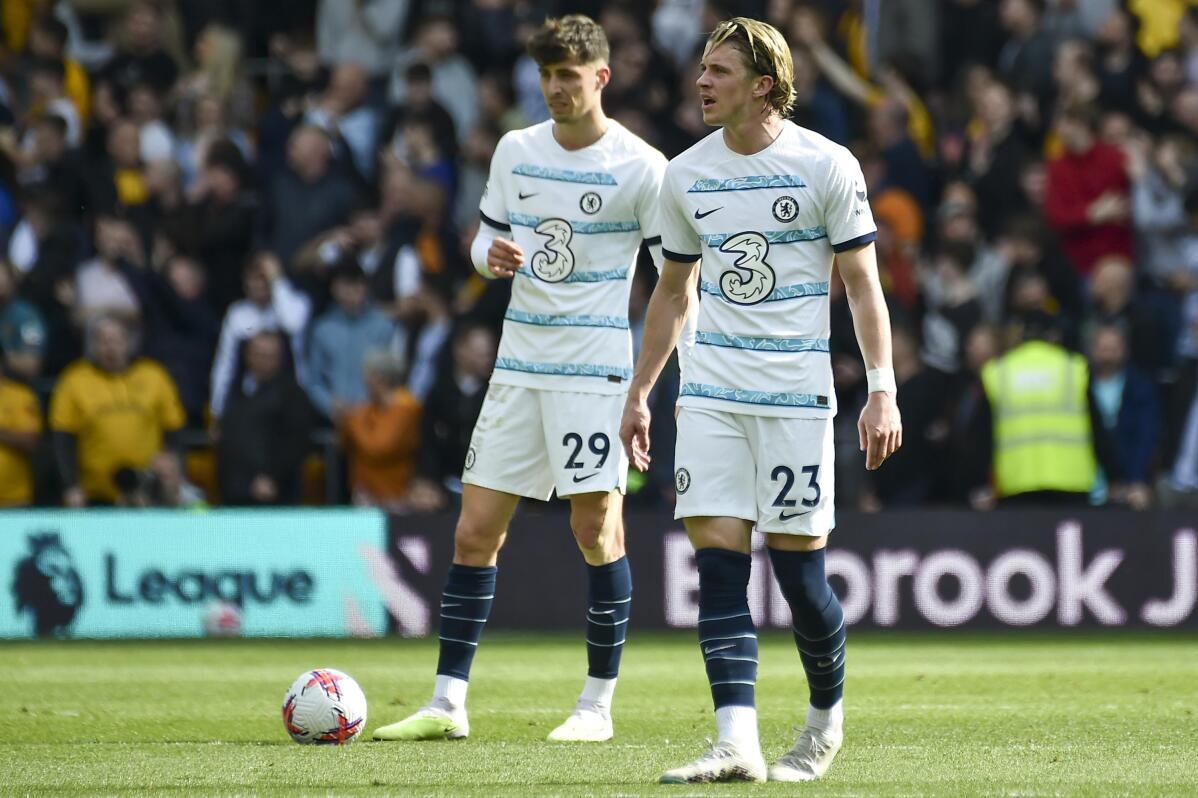 4 of 4

|
Chelsea's Kai Havertz, left, and Wolverhampton Wanderers' Max Kilman react after Wolverhampton Wanderers' Matheus Nunes scoring his side's opening goal during the English Premier League soccer match between Wolverhampton Wanderers and Chelsea, at the Molineux Stadium, in Wolverhampton, England, Saturday, April 8, 2023. (AP Photo/Rui Vieira)
4 of 4
Chelsea's Kai Havertz, left, and Wolverhampton Wanderers' Max Kilman react after Wolverhampton Wanderers' Matheus Nunes scoring his side's opening goal during the English Premier League soccer match between Wolverhampton Wanderers and Chelsea, at the Molineux Stadium, in Wolverhampton, England, Saturday, April 8, 2023. (AP Photo/Rui Vieira)
WOLVERHAMPTON, England (AP) — Frank Lampard made a disappointing start to his second spell in charge of Chelsea when they lost at relegation-threatened Wolverhampton 1-0 in the English Premier League on Saturday.
Matheus Nunes' spectacular angled strike in the 31st minute earned Wolves a win at Molineux that pushed them four points clear of the bottom three.
Lampard, a Chelsea playing great and its manager from 2019-21, was brought in this week on an interim basis in the hope that his knowledge of the club can see it through to a successful end to the season while the board seeks a full-time replacement for the fired Graham Potter.
Chelsea looked no different under Lampard, lacking a threat up front just as it did in the final days of Potter. It's now three straight league games without a goal.
Lampard's priority, though, is the Champions League where Chelsea faces defending champion Real Madrid in the first leg of the quarterfinals on Wednesday.
Chelsea looks to have no chance of qualifying for the Champions League through its placing in the Premier League. The team is in 11th place and 17 points off the top four.
Nunes' goal came after the ball bounced out to him on the right side of the area off the head of a Chelsea defender. The Portugal midfielder hit it first time into the far corner.
The match was marred by homophobic chanting by some Wolves fans, which was condemned by the Premier League and Chelsea.
"Chelsea will continue to work closely with Chelsea Pride and the broader football community to eradicate these vile chants from our game," Chelsea said in a statement.
___
More AP soccer: https://apnews.com/hub/soccer and https://twitter.com/AP_Sports