China's Xi meets Central Asian leaders, calls for trade, energy development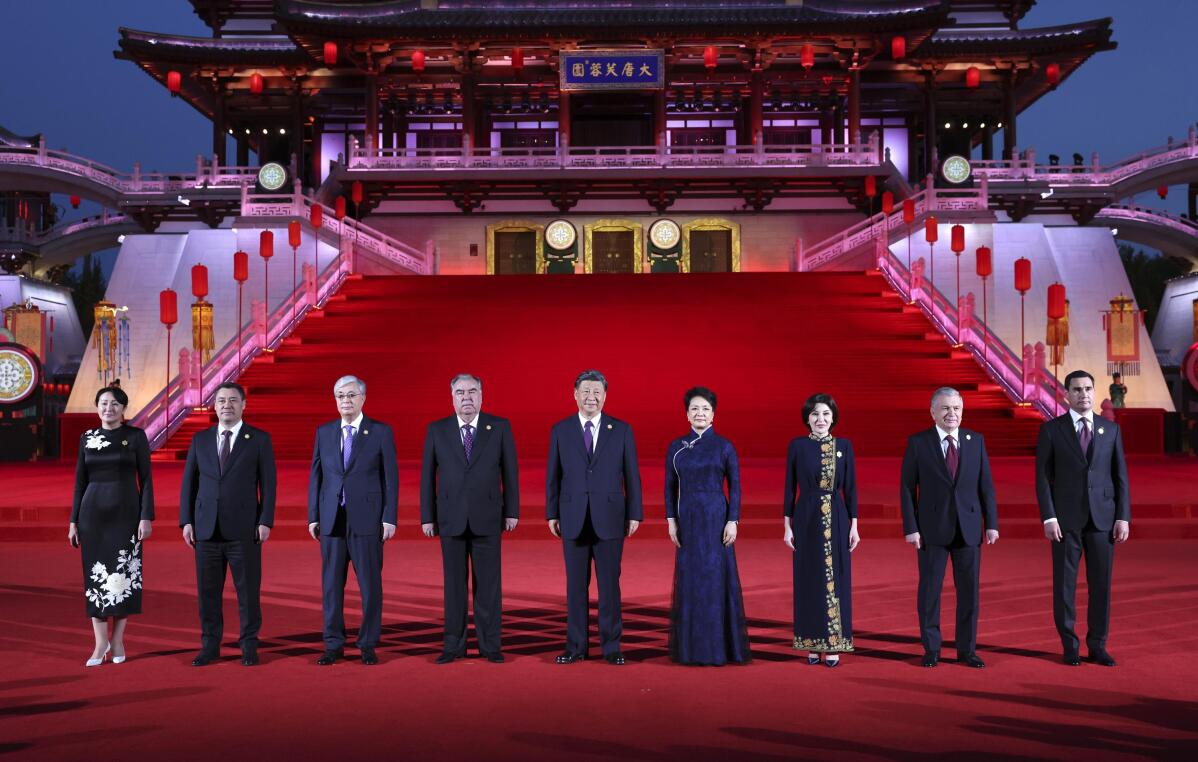 1 of 6

|
In this photo released by China's Xinhua News Agency, Chinese President Xi Jinping, center, and his wife Peng Liyuan, forth right, pose for a photo with Central Asian leaders at the Ziyun Tower in Xi'an in northwester China's Shaanxi Province, Thursday, May 18, 2023. Chinese leader Xi Jinping promised to build more railway and other trade links with Central Asia and proposed jointly developing oil and gas sources at a meeting Friday with the region's leaders that highlighted Beijing's growing influence. (Ding Haitao/Xinhua via AP)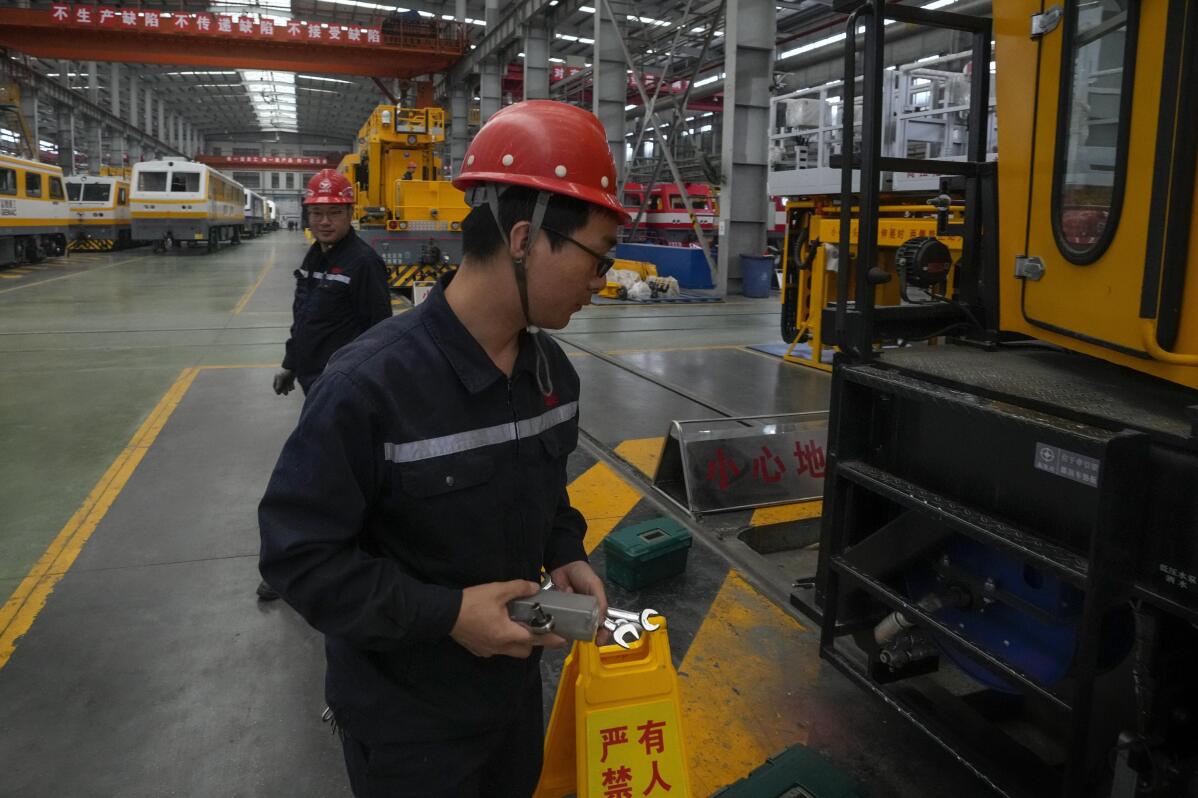 2 of 6

|
Workers assemble cargo train compartment at the GEMAC Engineering Machinery, a China-based company engaged in the research and development and manufacturing of railway construction machinery during a media organized tour in Xiangyang in central China's Hubei Province on May 10, 2023. Chinese leader Xi Jinping promised to build more railway and other trade links with Central Asia and proposed jointly developing oil and gas sources at a meeting Friday, May 19 with the region's leaders that highlighted Beijing's growing influence. (AP Photo/Andy Wong)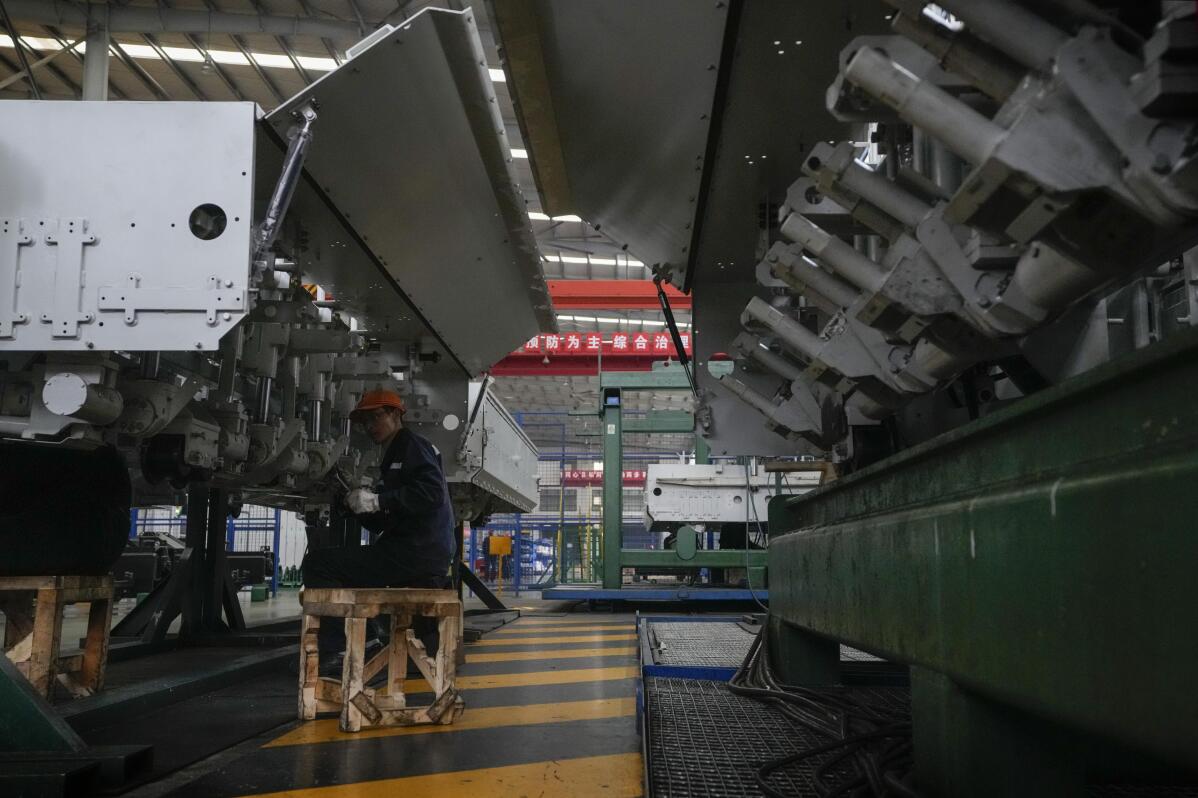 3 of 6

|
A worker assemble a cargo train engine compartment at the GEMAC Engineering Machinery, a China-based company engaged in the research and development and manufacturing of railway construction machinery during a media organized tour in Xiangyang in central China's Hubei Province on May 10, 2023. Chinese leader Xi Jinping promised to build more railway and other trade links with Central Asia and proposed jointly developing oil and gas sources at a meeting Friday, May 19 with the region's leaders that highlighted Beijing's growing influence. (AP Photo/Andy Wong)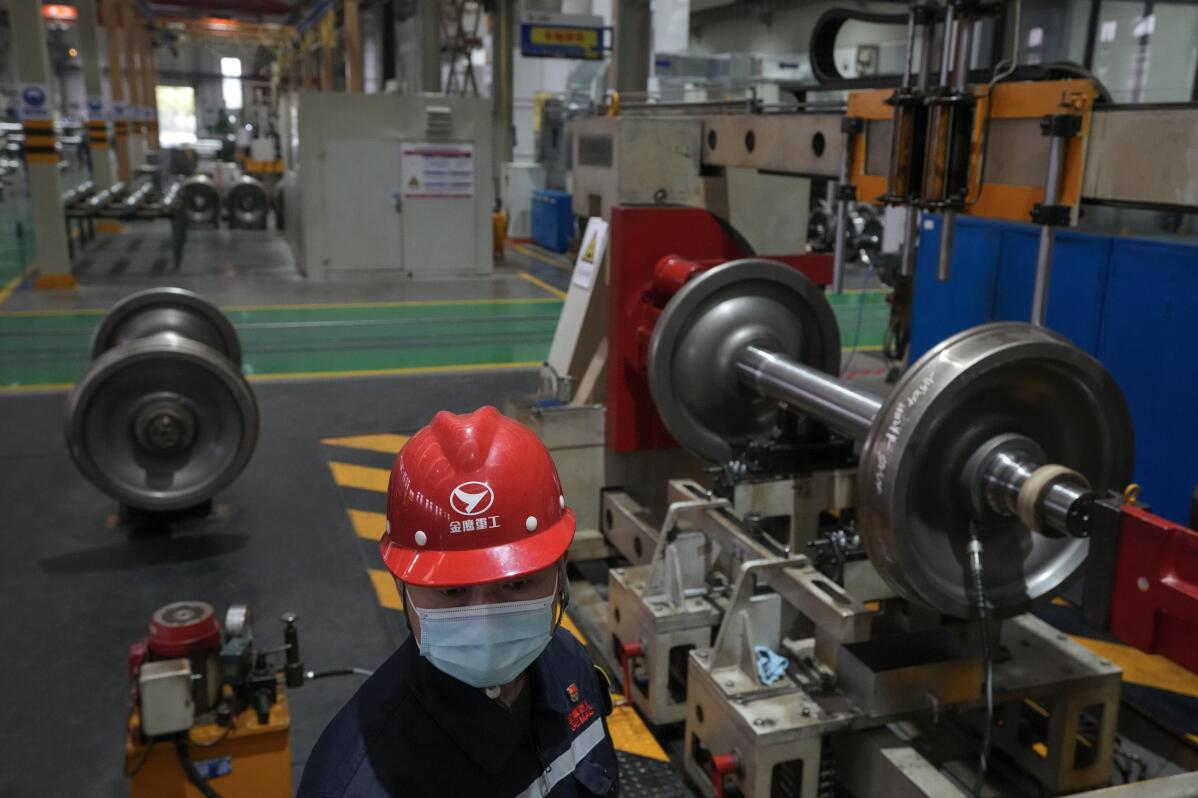 4 of 6

|
A worker checks on a cargo train wheel at the GEMAC Engineering Machinery, a China-based company engaged in the research and development and manufacturing of railway construction machinery during a media organized tour in Xiangyang in central China's Hubei Province on May 10, 2023. Chinese leader Xi Jinping promised to build more railway and other trade links with Central Asia and proposed jointly developing oil and gas sources at a meeting Friday, May 19 with the region's leaders that highlighted Beijing's growing influence. (AP Photo/Andy Wong)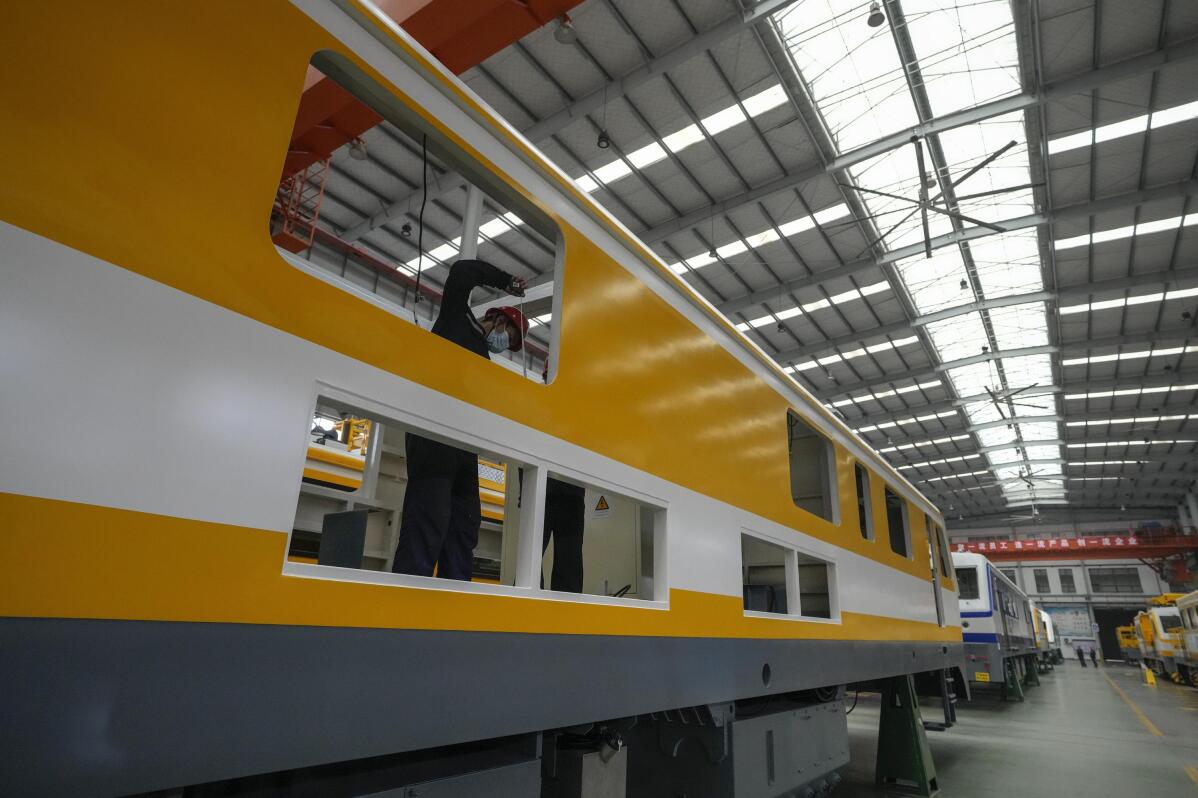 5 of 6

|
A worker measures a cargo train compartment at the GEMAC Engineering Machinery, a China-based company engaged in the research and development and manufacturing of railway construction machinery during a media organized tour in Xiangyang in central China's Hubei Province on May 10, 2023. Chinese leader Xi Jinping promised to build more railway and other trade links with Central Asia and proposed jointly developing oil and gas sources at a meeting Friday, May 19 with the region's leaders that highlighted Beijing's growing influence. (AP Photo/Andy Wong)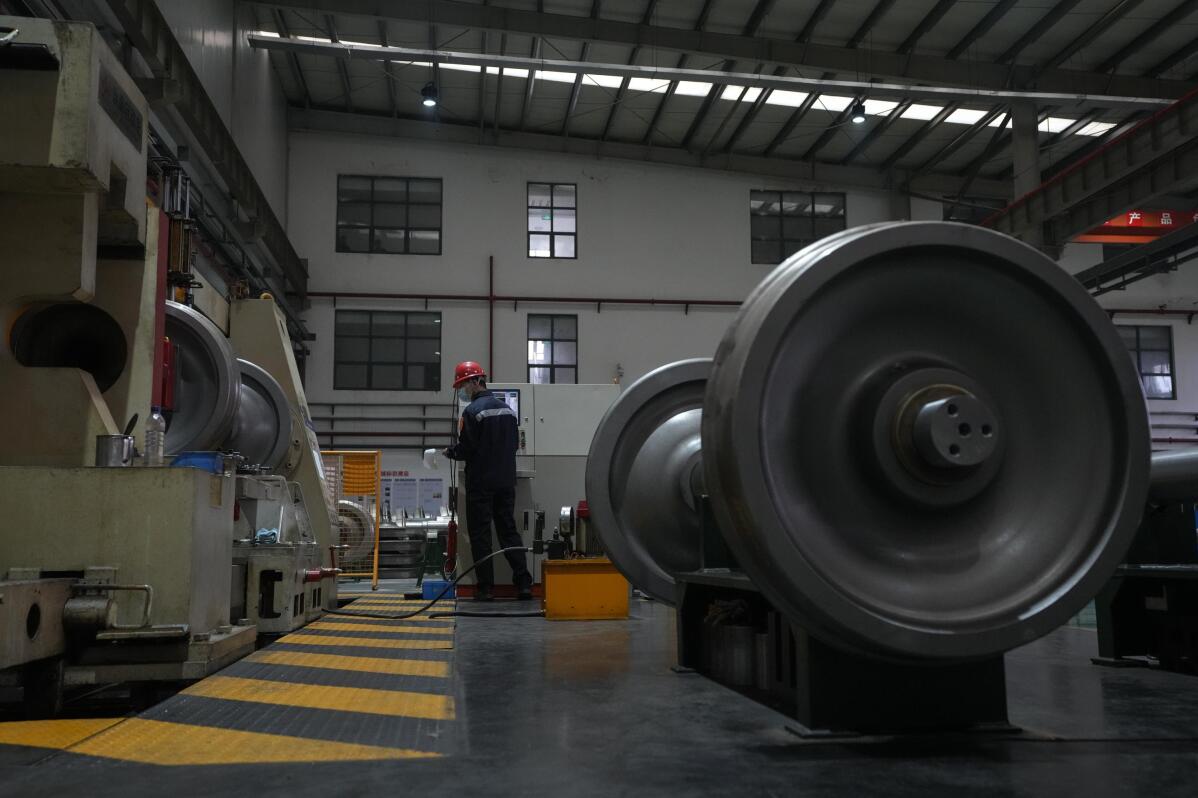 6 of 6

|
A worker checks on a cargo train wheel at the GEMAC Engineering Machinery, a China-based company engaged in the research and development and manufacturing of railway construction machinery during a media organized tour in Xiangyang in central China's Hubei Province on May 10, 2023. Chinese leader Xi Jinping promised to build more railway and other trade links with Central Asia and proposed jointly developing oil and gas sources at a meeting Friday, May 19 with the region's leaders that highlighted Beijing's growing influence. (AP Photo/Andy Wong)
China's Xi meets Central Asian leaders, calls for trade, energy development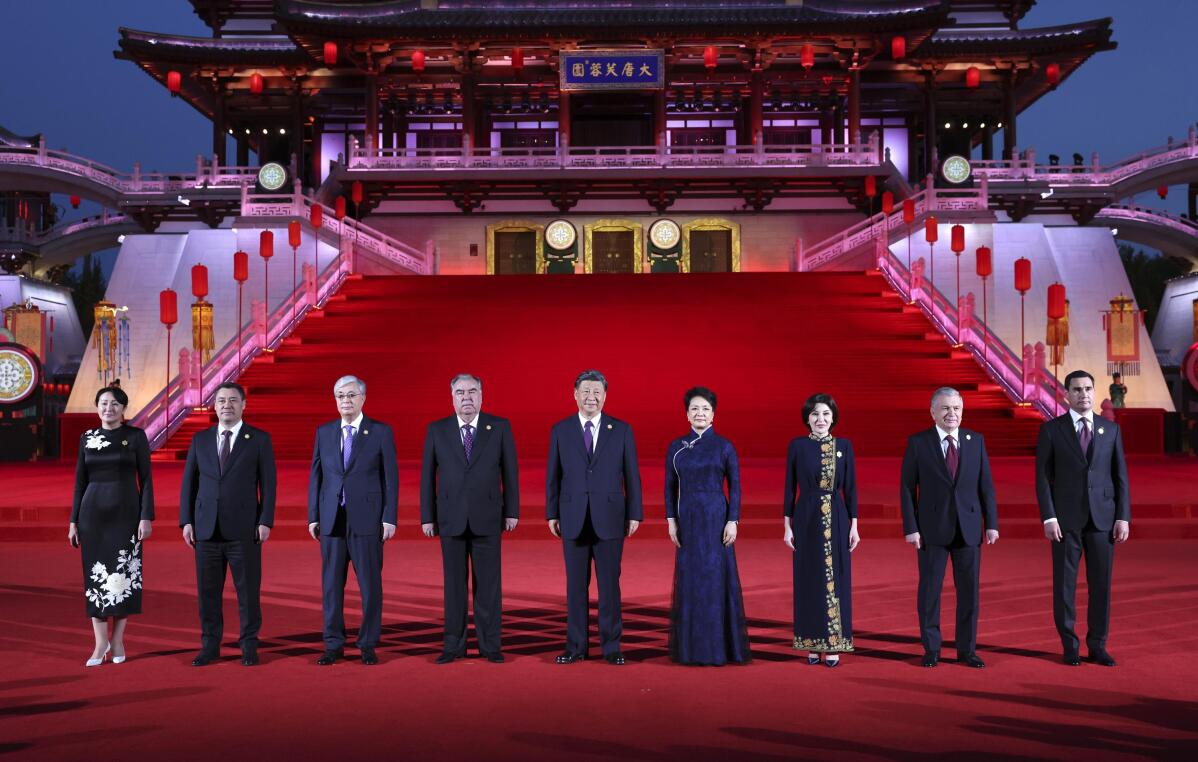 1 of 6

|
In this photo released by China's Xinhua News Agency, Chinese President Xi Jinping, center, and his wife Peng Liyuan, forth right, pose for a photo with Central Asian leaders at the Ziyun Tower in Xi'an in northwester China's Shaanxi Province, Thursday, May 18, 2023. Chinese leader Xi Jinping promised to build more railway and other trade links with Central Asia and proposed jointly developing oil and gas sources at a meeting Friday with the region's leaders that highlighted Beijing's growing influence. (Ding Haitao/Xinhua via AP)
1 of 6
In this photo released by China's Xinhua News Agency, Chinese President Xi Jinping, center, and his wife Peng Liyuan, forth right, pose for a photo with Central Asian leaders at the Ziyun Tower in Xi'an in northwester China's Shaanxi Province, Thursday, May 18, 2023. Chinese leader Xi Jinping promised to build more railway and other trade links with Central Asia and proposed jointly developing oil and gas sources at a meeting Friday with the region's leaders that highlighted Beijing's growing influence. (Ding Haitao/Xinhua via AP)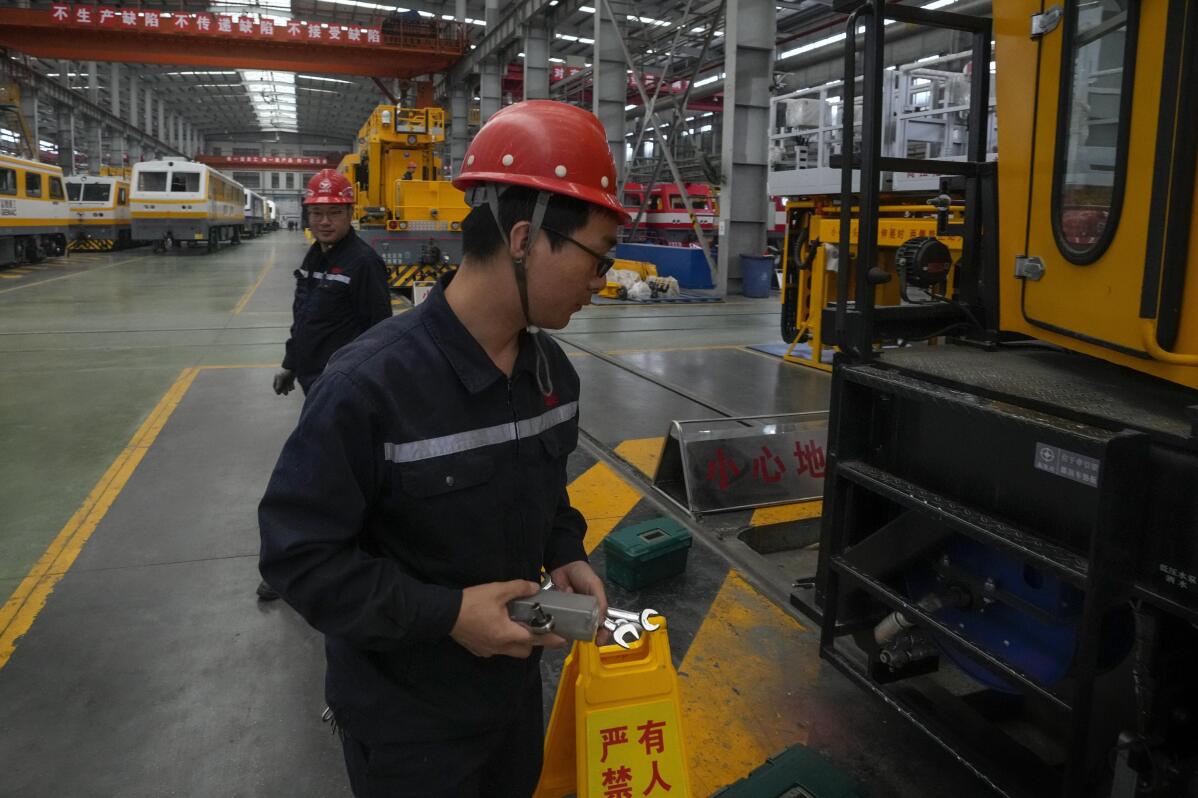 2 of 6

|
Workers assemble cargo train compartment at the GEMAC Engineering Machinery, a China-based company engaged in the research and development and manufacturing of railway construction machinery during a media organized tour in Xiangyang in central China's Hubei Province on May 10, 2023. Chinese leader Xi Jinping promised to build more railway and other trade links with Central Asia and proposed jointly developing oil and gas sources at a meeting Friday, May 19 with the region's leaders that highlighted Beijing's growing influence. (AP Photo/Andy Wong)
2 of 6
Workers assemble cargo train compartment at the GEMAC Engineering Machinery, a China-based company engaged in the research and development and manufacturing of railway construction machinery during a media organized tour in Xiangyang in central China's Hubei Province on May 10, 2023. Chinese leader Xi Jinping promised to build more railway and other trade links with Central Asia and proposed jointly developing oil and gas sources at a meeting Friday, May 19 with the region's leaders that highlighted Beijing's growing influence. (AP Photo/Andy Wong)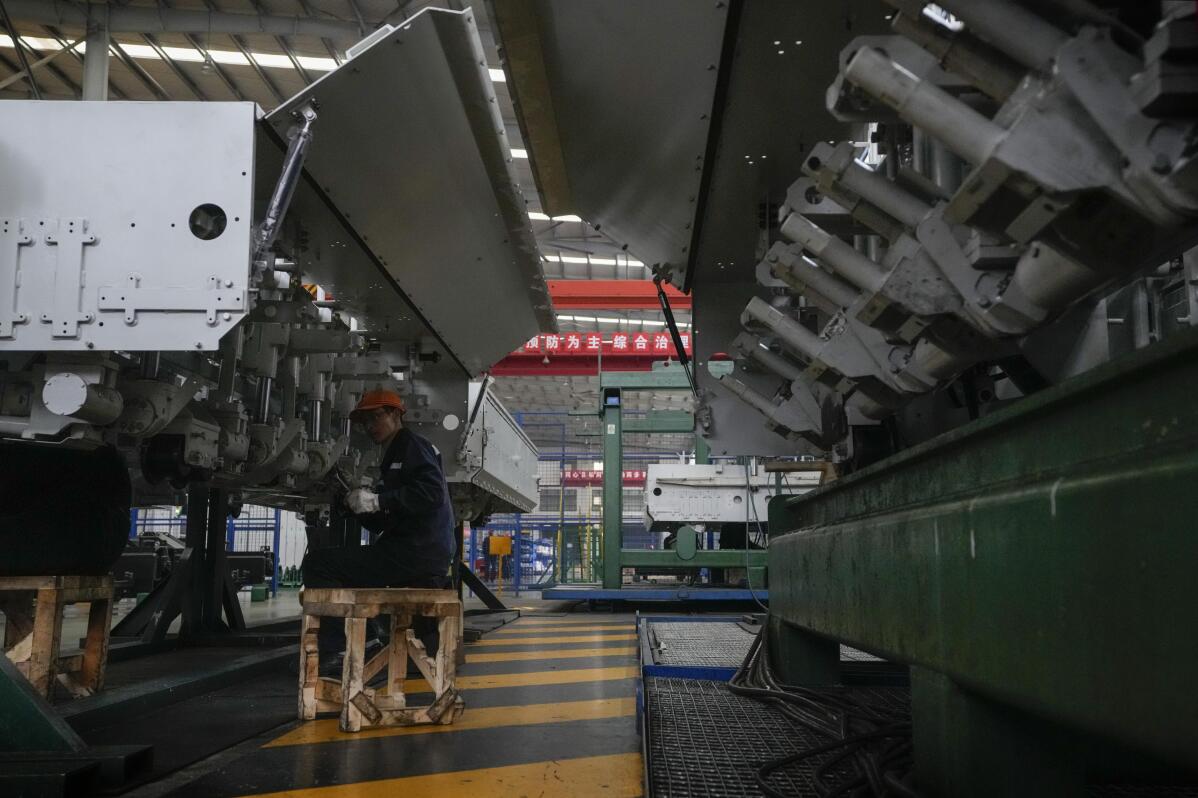 3 of 6

|
A worker assemble a cargo train engine compartment at the GEMAC Engineering Machinery, a China-based company engaged in the research and development and manufacturing of railway construction machinery during a media organized tour in Xiangyang in central China's Hubei Province on May 10, 2023. Chinese leader Xi Jinping promised to build more railway and other trade links with Central Asia and proposed jointly developing oil and gas sources at a meeting Friday, May 19 with the region's leaders that highlighted Beijing's growing influence. (AP Photo/Andy Wong)
3 of 6
A worker assemble a cargo train engine compartment at the GEMAC Engineering Machinery, a China-based company engaged in the research and development and manufacturing of railway construction machinery during a media organized tour in Xiangyang in central China's Hubei Province on May 10, 2023. Chinese leader Xi Jinping promised to build more railway and other trade links with Central Asia and proposed jointly developing oil and gas sources at a meeting Friday, May 19 with the region's leaders that highlighted Beijing's growing influence. (AP Photo/Andy Wong)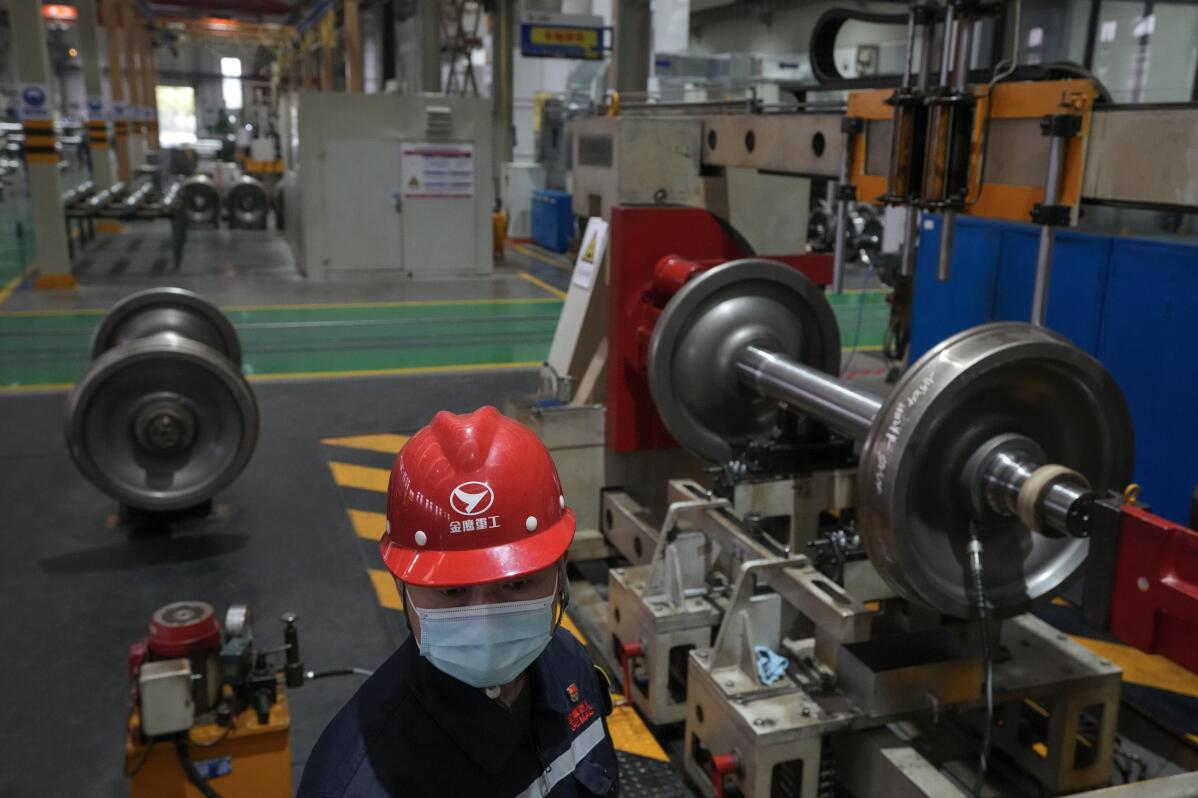 4 of 6

|
A worker checks on a cargo train wheel at the GEMAC Engineering Machinery, a China-based company engaged in the research and development and manufacturing of railway construction machinery during a media organized tour in Xiangyang in central China's Hubei Province on May 10, 2023. Chinese leader Xi Jinping promised to build more railway and other trade links with Central Asia and proposed jointly developing oil and gas sources at a meeting Friday, May 19 with the region's leaders that highlighted Beijing's growing influence. (AP Photo/Andy Wong)
4 of 6
A worker checks on a cargo train wheel at the GEMAC Engineering Machinery, a China-based company engaged in the research and development and manufacturing of railway construction machinery during a media organized tour in Xiangyang in central China's Hubei Province on May 10, 2023. Chinese leader Xi Jinping promised to build more railway and other trade links with Central Asia and proposed jointly developing oil and gas sources at a meeting Friday, May 19 with the region's leaders that highlighted Beijing's growing influence. (AP Photo/Andy Wong)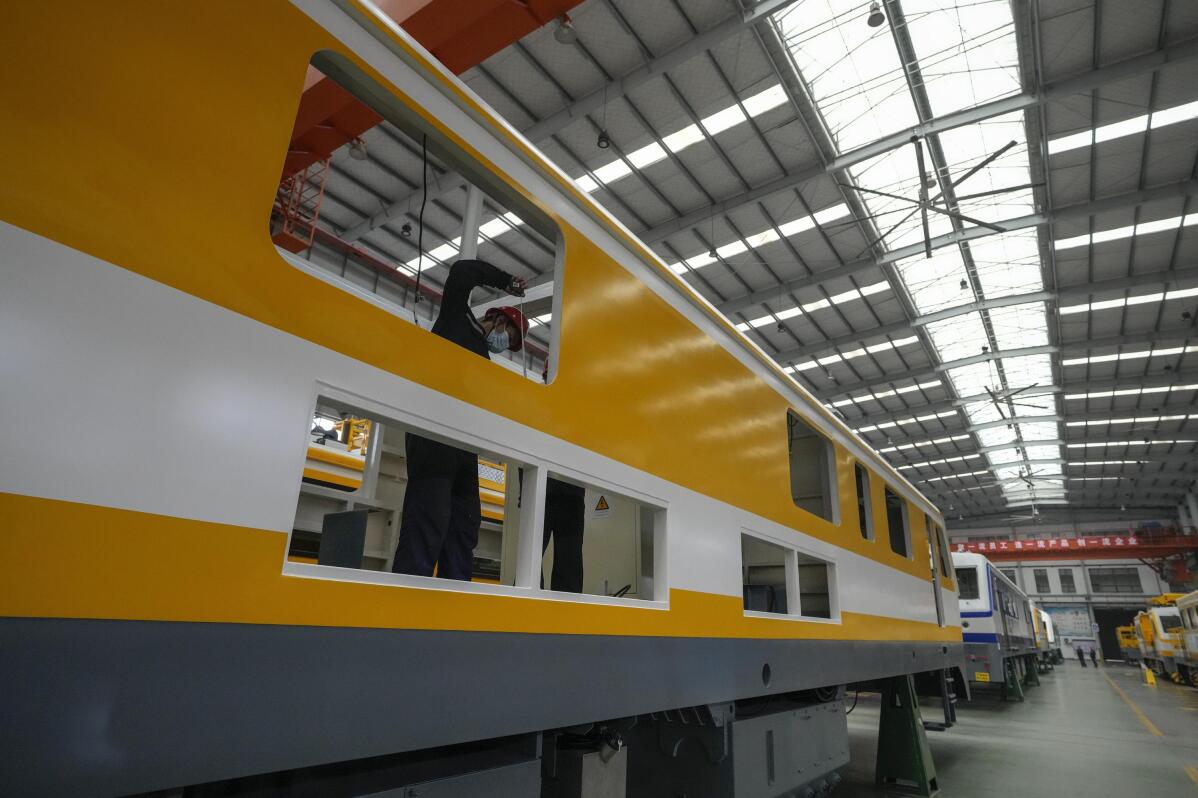 5 of 6

|
A worker measures a cargo train compartment at the GEMAC Engineering Machinery, a China-based company engaged in the research and development and manufacturing of railway construction machinery during a media organized tour in Xiangyang in central China's Hubei Province on May 10, 2023. Chinese leader Xi Jinping promised to build more railway and other trade links with Central Asia and proposed jointly developing oil and gas sources at a meeting Friday, May 19 with the region's leaders that highlighted Beijing's growing influence. (AP Photo/Andy Wong)
5 of 6
A worker measures a cargo train compartment at the GEMAC Engineering Machinery, a China-based company engaged in the research and development and manufacturing of railway construction machinery during a media organized tour in Xiangyang in central China's Hubei Province on May 10, 2023. Chinese leader Xi Jinping promised to build more railway and other trade links with Central Asia and proposed jointly developing oil and gas sources at a meeting Friday, May 19 with the region's leaders that highlighted Beijing's growing influence. (AP Photo/Andy Wong)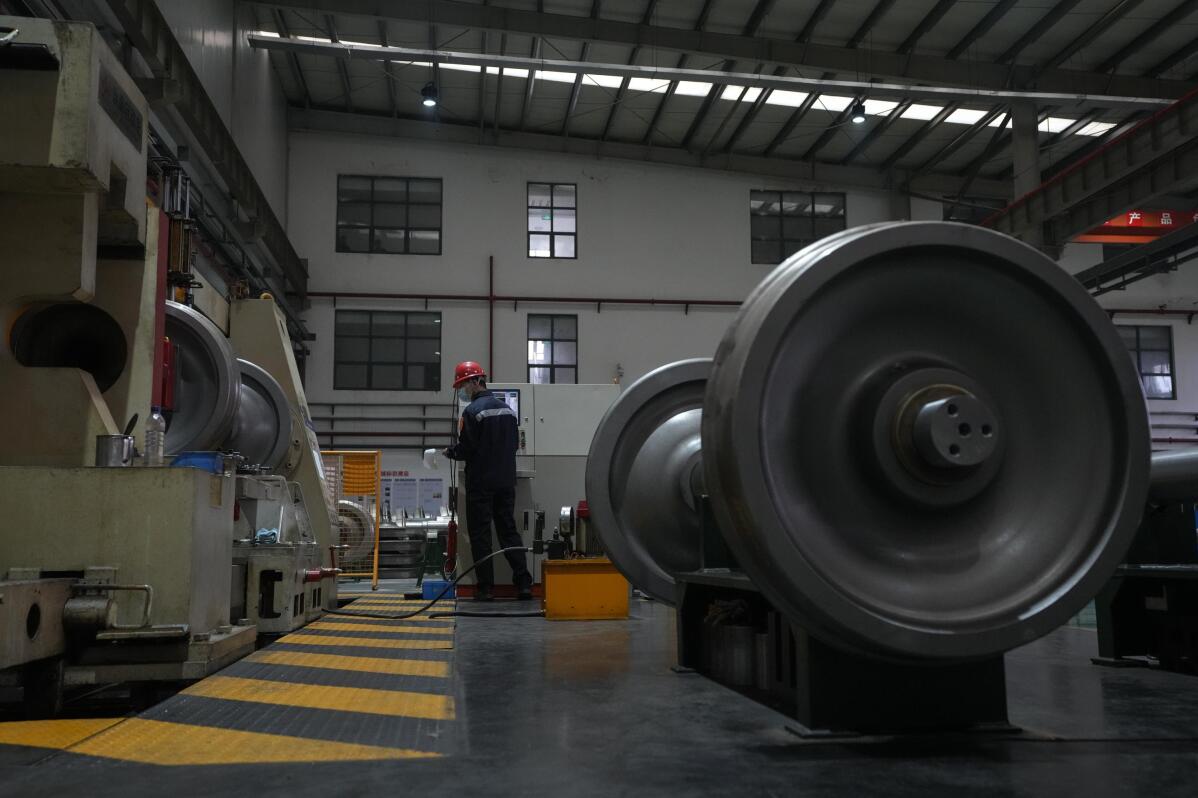 6 of 6

|
A worker checks on a cargo train wheel at the GEMAC Engineering Machinery, a China-based company engaged in the research and development and manufacturing of railway construction machinery during a media organized tour in Xiangyang in central China's Hubei Province on May 10, 2023. Chinese leader Xi Jinping promised to build more railway and other trade links with Central Asia and proposed jointly developing oil and gas sources at a meeting Friday, May 19 with the region's leaders that highlighted Beijing's growing influence. (AP Photo/Andy Wong)
6 of 6
A worker checks on a cargo train wheel at the GEMAC Engineering Machinery, a China-based company engaged in the research and development and manufacturing of railway construction machinery during a media organized tour in Xiangyang in central China's Hubei Province on May 10, 2023. Chinese leader Xi Jinping promised to build more railway and other trade links with Central Asia and proposed jointly developing oil and gas sources at a meeting Friday, May 19 with the region's leaders that highlighted Beijing's growing influence. (AP Photo/Andy Wong)
BEIJING (AP) — Chinese leader Xi Jinping promised to build more railway and other trade links with Central Asia and proposed jointly developing oil and gas sources at a meeting Friday with the region's leaders that highlighted Beijing's growing influence.
The two-day China-Central Asia Summit in the western city of Xi'an came as President Joe Biden and other leaders of the Group of Seven major economies met in Japan. It reflected Beijing's efforts to develop trade and security networks centered on China, which resents U.S. domination of global affairs.
China is making economic inroads into Central Asia, including with its Belt and Road Initiative to build railways and other trade-related infrastructure. That has eroded Russian influence over former Soviet republics that look to the world's second-largest economy as an important market and source of investment.
"We need to expand economic and trade ties," Xi said in a speech to leaders from Kazakhstan, Kyrgyzstan, Tajikistan, Turkmenistan and Uzbekistan.
In a swipe at Western leaders, Xi called for the region to "resolutely oppose external interference" and "attempts to instigate 'color revolutions,'" a reference to movements that overthrew leaders in countries such as Ukraine and Georgia.
China accuses the West of abetting agitation against the ruling Communist Party in the western region of Xinjiang, home to predominantly Muslim ethnic minority groups that have ties to Central Asia.
The Chinese leader promised to increase cross-border trade by developing highways and rail lines and encouraging China's trading companies to set up warehouses in Central Asia. He promised to simplify import procedures.
Xi proposed establishment of a China-Central Asia partnership to develop oil and gas sources. He said Beijing wants to speed up construction of an additional pipeline to supply Central Asian gas to China's energy-hungry economy and to promote nuclear power.
Xi promised Chinese help for Central Asian governments to strengthen security and defense and to fight terrorism. He promised to "jointly promote peace" in Afghanistan.
Beijing earlier announced plans for a regional anti-terrorism center to train Central Asian security forces.
Xi's government sees political Islam as a threat and is accused of detaining some 1 million people in Xinjiang in what Beijing says is a campaign to stop extremism.
"We should remain zero-tolerant to the three forces of terrorism, separatism and extremism," Xi said.