China says deadly 2022 plane crash still being investigated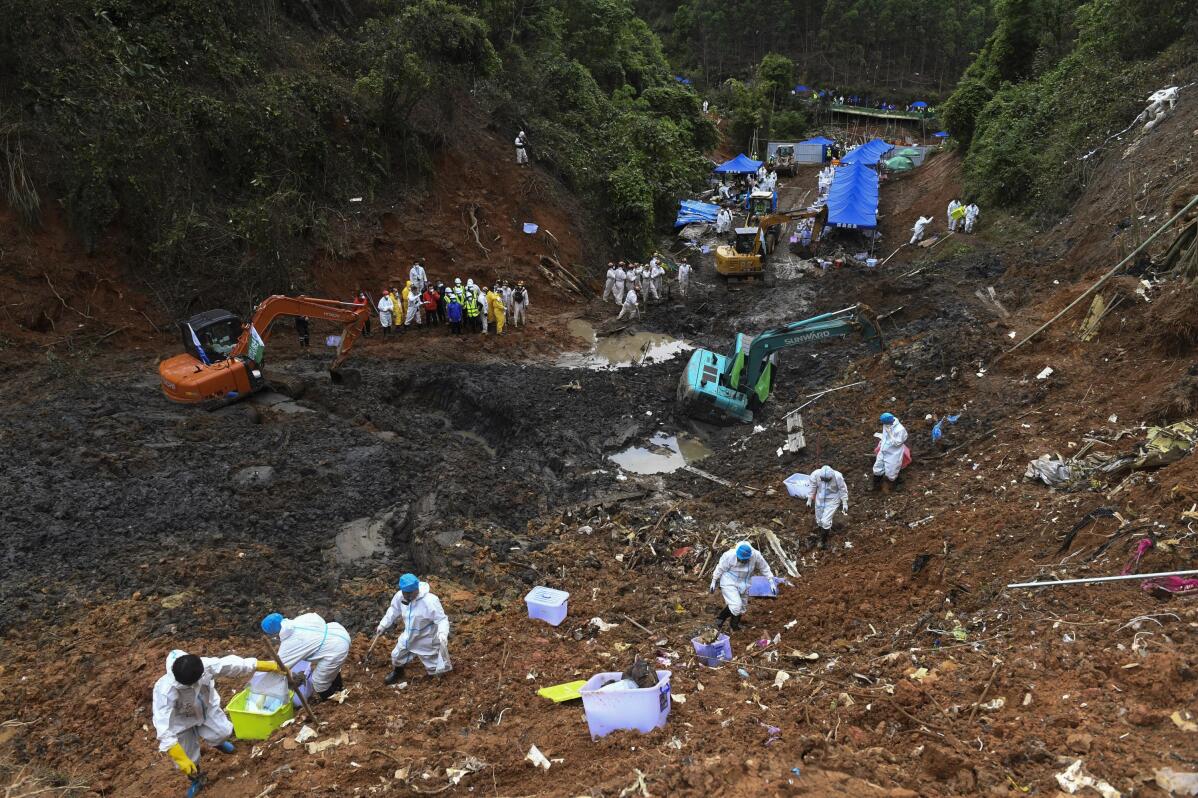 1 of 3

|
FILE - In this photo released by Xinhua News Agency, search and rescuer workers conduct search operations at the China Eastern flight crash site in Tengxian County on March 26, 2022, in southern China's Guangxi Zhuang Autonomous Region. Experts still are investigating the cause of the crash of a China Eastern Airlines jetliner that plunged into a mountainside one year ago, killing more than hundred people aboard, the government said on Monday, March 20, 2023. (Lu Boan/Xinhua via AP, File)
2 of 3

|
FILE - In this photo released by Xinhua News Agency, search and rescue workers search through debris at the China Eastern flight crash site in Tengxian County in southern China's Guangxi Zhuang Autonomous Region on March 24, 2022. Experts still are investigating the cause of the crash of a China Eastern Airlines jetliner that plunged into a mountainside one year ago, killing more than hundred people aboard, the government said on Monday, March 20, 2023. (Lu Boan/Xinhua via AP, File)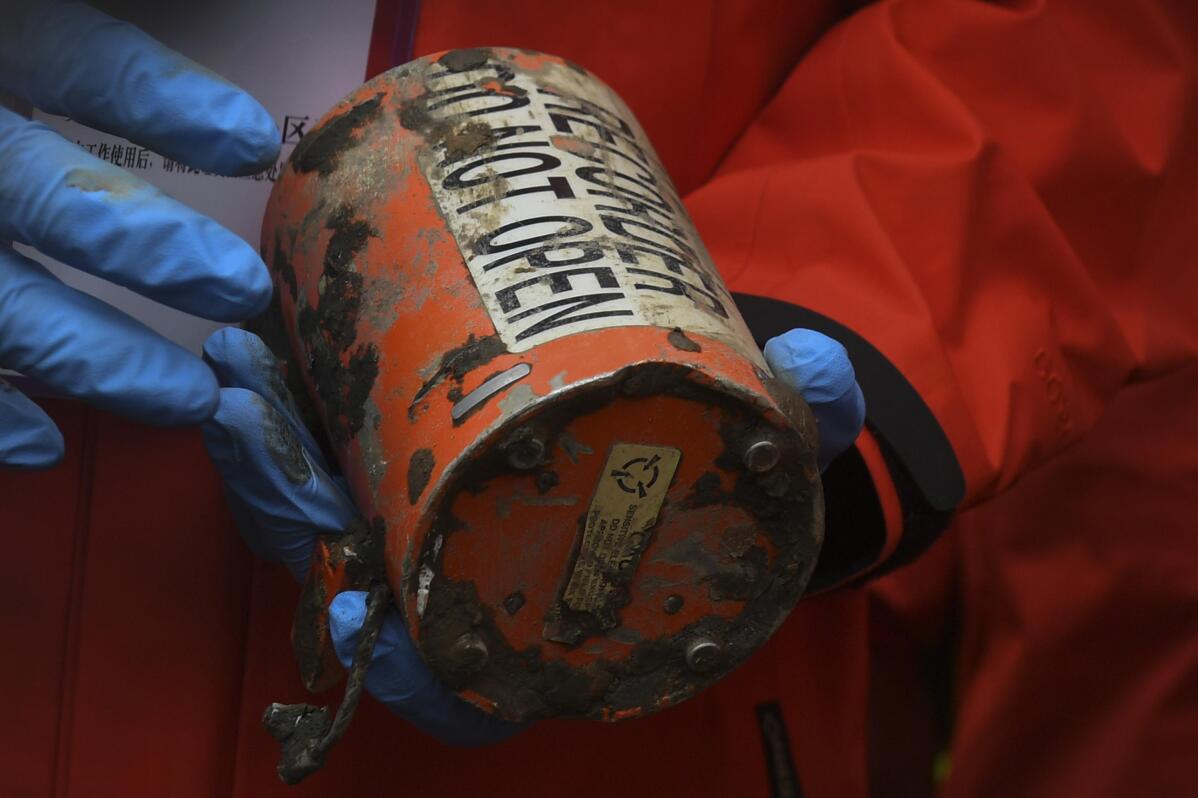 3 of 3

|
FILE - In this photo released by Xinhua News Agency, a search and rescue worker holds the second orange-colored "black box" recorder which recovered at the China Eastern flight crash site in Tengxian County in southern China's Guangxi Zhuang Autonomous Region on March 27, 2022. Experts still are investigating the cause of the crash of a China Eastern Airlines jetliner that plunged into a mountainside one year ago, killing more than hundred people aboard, the government said on Monday, March 20, 2023. (Lu Boan/Xinhua via AP, File)
China says deadly 2022 plane crash still being investigated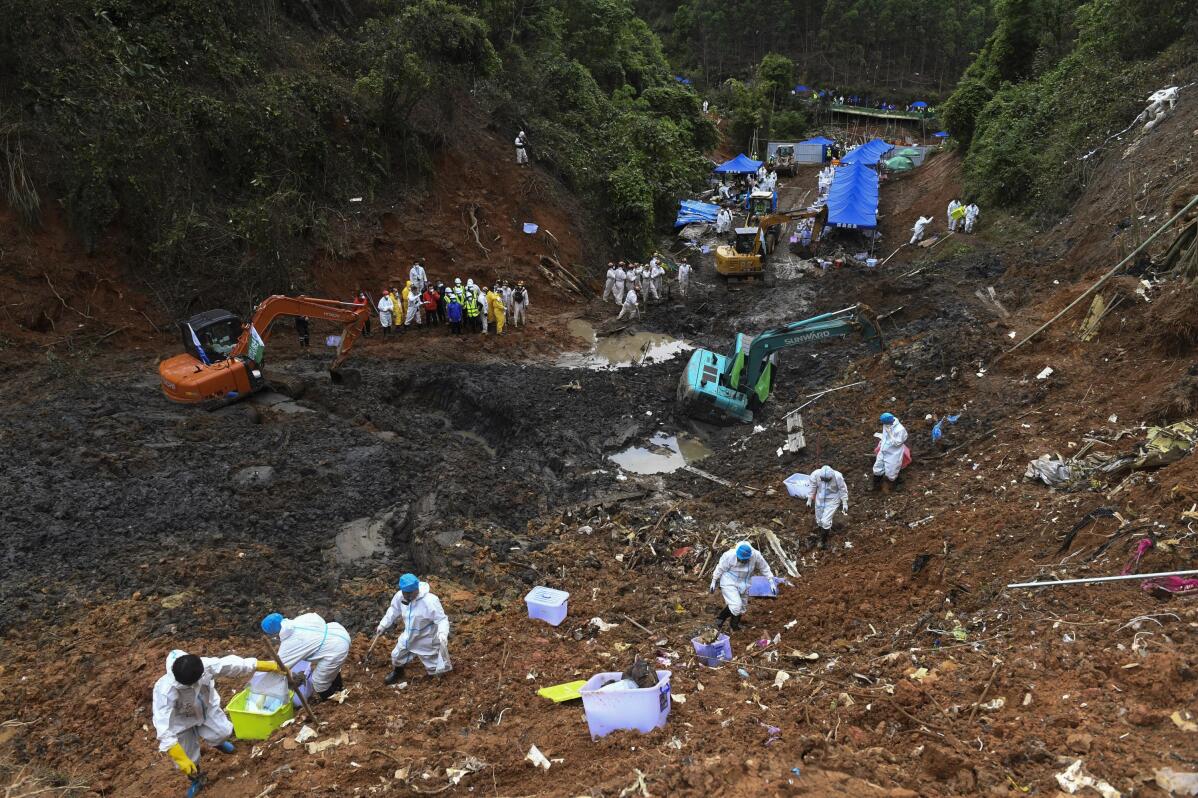 1 of 3

|
FILE - In this photo released by Xinhua News Agency, search and rescuer workers conduct search operations at the China Eastern flight crash site in Tengxian County on March 26, 2022, in southern China's Guangxi Zhuang Autonomous Region. Experts still are investigating the cause of the crash of a China Eastern Airlines jetliner that plunged into a mountainside one year ago, killing more than hundred people aboard, the government said on Monday, March 20, 2023. (Lu Boan/Xinhua via AP, File)
1 of 3
FILE - In this photo released by Xinhua News Agency, search and rescuer workers conduct search operations at the China Eastern flight crash site in Tengxian County on March 26, 2022, in southern China's Guangxi Zhuang Autonomous Region. Experts still are investigating the cause of the crash of a China Eastern Airlines jetliner that plunged into a mountainside one year ago, killing more than hundred people aboard, the government said on Monday, March 20, 2023. (Lu Boan/Xinhua via AP, File)
2 of 3

|
FILE - In this photo released by Xinhua News Agency, search and rescue workers search through debris at the China Eastern flight crash site in Tengxian County in southern China's Guangxi Zhuang Autonomous Region on March 24, 2022. Experts still are investigating the cause of the crash of a China Eastern Airlines jetliner that plunged into a mountainside one year ago, killing more than hundred people aboard, the government said on Monday, March 20, 2023. (Lu Boan/Xinhua via AP, File)
2 of 3
FILE - In this photo released by Xinhua News Agency, search and rescue workers search through debris at the China Eastern flight crash site in Tengxian County in southern China's Guangxi Zhuang Autonomous Region on March 24, 2022. Experts still are investigating the cause of the crash of a China Eastern Airlines jetliner that plunged into a mountainside one year ago, killing more than hundred people aboard, the government said on Monday, March 20, 2023. (Lu Boan/Xinhua via AP, File)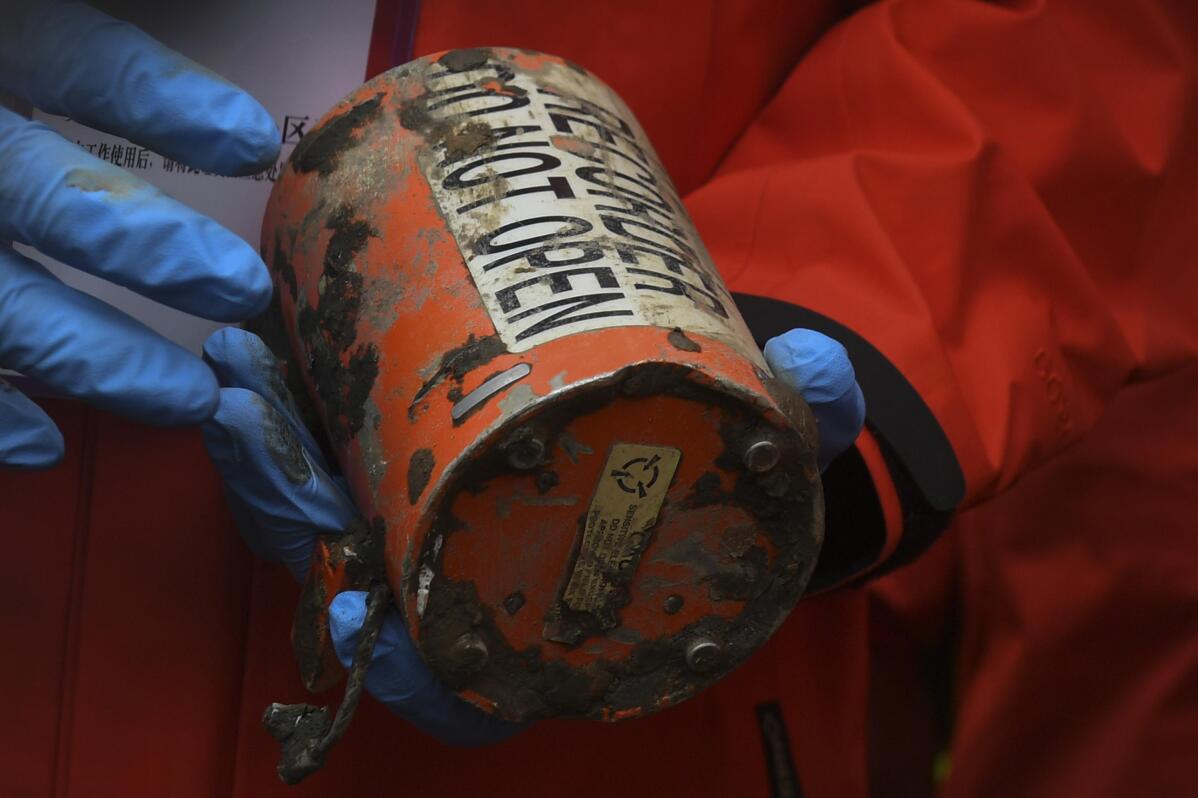 3 of 3

|
FILE - In this photo released by Xinhua News Agency, a search and rescue worker holds the second orange-colored "black box" recorder which recovered at the China Eastern flight crash site in Tengxian County in southern China's Guangxi Zhuang Autonomous Region on March 27, 2022. Experts still are investigating the cause of the crash of a China Eastern Airlines jetliner that plunged into a mountainside one year ago, killing more than hundred people aboard, the government said on Monday, March 20, 2023. (Lu Boan/Xinhua via AP, File)
3 of 3
FILE - In this photo released by Xinhua News Agency, a search and rescue worker holds the second orange-colored "black box" recorder which recovered at the China Eastern flight crash site in Tengxian County in southern China's Guangxi Zhuang Autonomous Region on March 27, 2022. Experts still are investigating the cause of the crash of a China Eastern Airlines jetliner that plunged into a mountainside one year ago, killing more than hundred people aboard, the government said on Monday, March 20, 2023. (Lu Boan/Xinhua via AP, File)
BEIJING (AP) — Experts are still investigating the cause of the crash of a China Eastern Airlines jetliner that killed 132 people one year ago, China's government said Monday.
The March 21, 2022, disaster was a rare failure for a Chinese airline industry that dramatically improved safety following deadly crashes in the 1990s.
The Boeing 737-800 en route from Kunming in the southwest to Guangzhou, near Hong Kong, went into a nosedive from 8,800 meters (29,000 feet), appeared to recover and then slammed into a mountainside. Everyone aboard was killed.
The Civil Aviation Administration of China said investigators were reviewing the plane's controls and other debris but gave no details of what they might have found.
"Due to the complexity and rarity of this accident, the investigation is still being carried out," said a six-sentence statement on the CAAC website. "The investigation team will continue to carry out analysis."
The China Eastern crew reported no problems before losing contact with air traffic control. The CAAC said one month after the crash that no abnormalities had been found in the plane, crew or outside elements such as bad weather.
The "black box" flight data and voice recorders were given to the U.S. National Transportation Safety Board for analysis. No information has been released about what might have been found.
The crash left a 20-meter- (65-foot-) deep crater in a mountainside and set the forest on fire.
Authorities reported they recovered more than 49,000 pieces of debris. The crash was so violent that the flight data recorder was found driven 5 feet (1.5 meters) into the ground.
China Eastern, one of four major state-owned Chinese airlines, and its subsidiaries grounded all their Boeing 737-800s, more than 200 planes, but later returned them to service. The airline said that was a precaution, not a sign of any problem with the planes, which are among the most widely used models worldwide.