China's Xi invites Spanish PM on state visit next week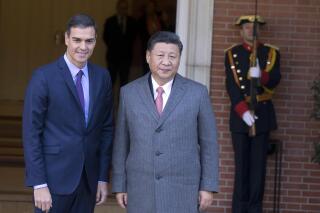 MADRID (AP) — Spanish Prime Minister Pedro Sánchez has accepted an invitation from Chinese President Xi Jinping to make a state visit to Beijing as Xi tries to galvanize support for China's peace proposal for Ukraine.
Sánchez plans to be in China on March 30-31, Spain's minister for the presidency, Félix Bolaños, said late Wednesday, citing Xi's "possible mediation in the war in Ukraine" as a key reason for the visit.
Spain takes over the European Union's rotating presidency in July, and Sánchez has portrayed his nation on the world stage as a staunch NATO ally of Ukraine.
Sánchez told reporters in Brussels, where he was attending an EU summit on Thursday, that he would "find out first hand what (China's) position is for peace in Ukraine, and transmit the message that the Ukrainians will be the ones who establish the conditions for peace."
He plans to hold commercially focused meetings during the Boao Forum for Asia on the Chinese island of Hainan on March 30 before traveling to Beijing to meet with Xi on March 31, Sánchez's office said.
"China and Spain enjoy sustained, sound and stable development of relations," Chinese Foreign Ministry spokesperson Wang Wenbin said Thursday when asked about the prime minister's visit. "The two leaders maintain good communication," he added, without providing further details.
Xi met in Moscow with Russian President Vladimir Putin this week to promote Beijing's peace plan for Ukraine, which Western nations have all but dismissed as unviable. Putin said it could be a basis for ending the fighting when the West is ready but added that Ukraine's Western allies have not shown interest.
___
Follow AP's coverage of the war in Ukraine: https://apnews.com/hub/russia-ukraine