Police start clearing German village condemned for coal mine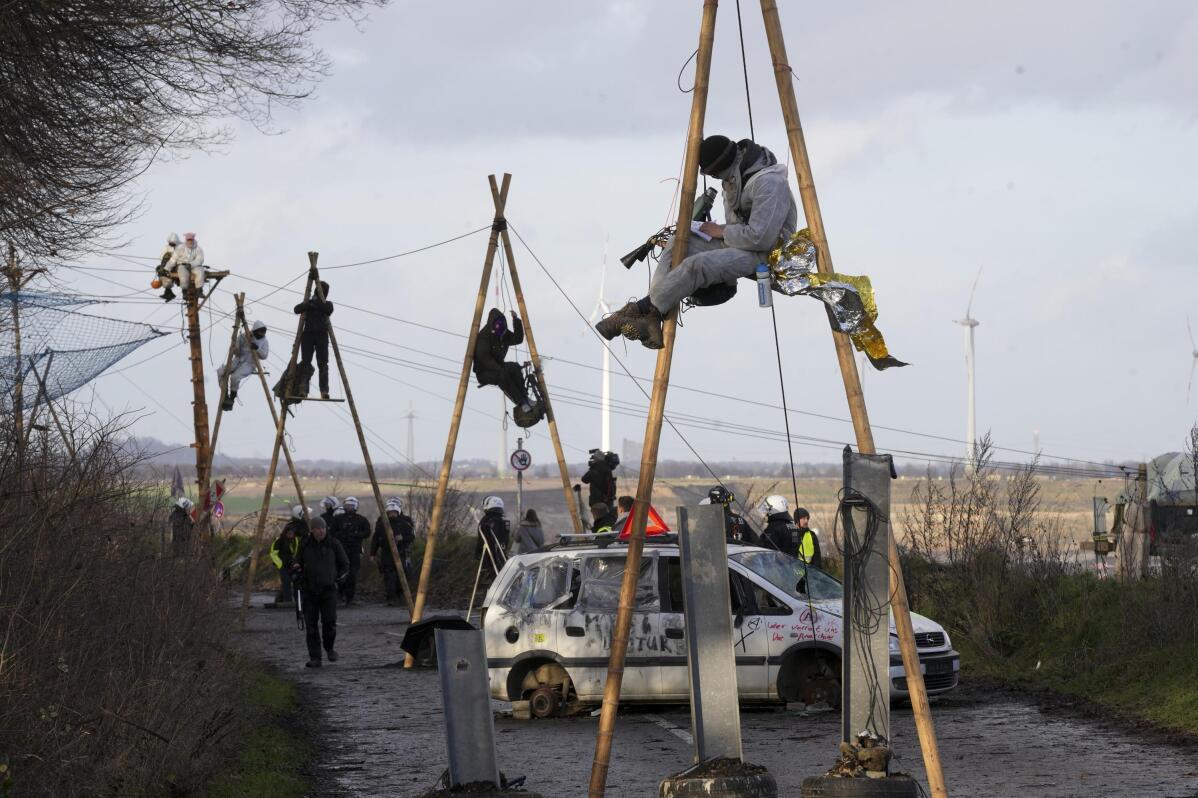 1 of 15

|
Climate activists sit in so-called tripos and block a road at the village Luetzerath near Erkelenz, Germany, Wednesday, Jan. 11, 2023. Police have entered the condemned village in launching an effort to evict activists holed up at the site in an effort to prevent its demolition to make way for the expansion of a coal mine. (AP Photo/Michael Probst)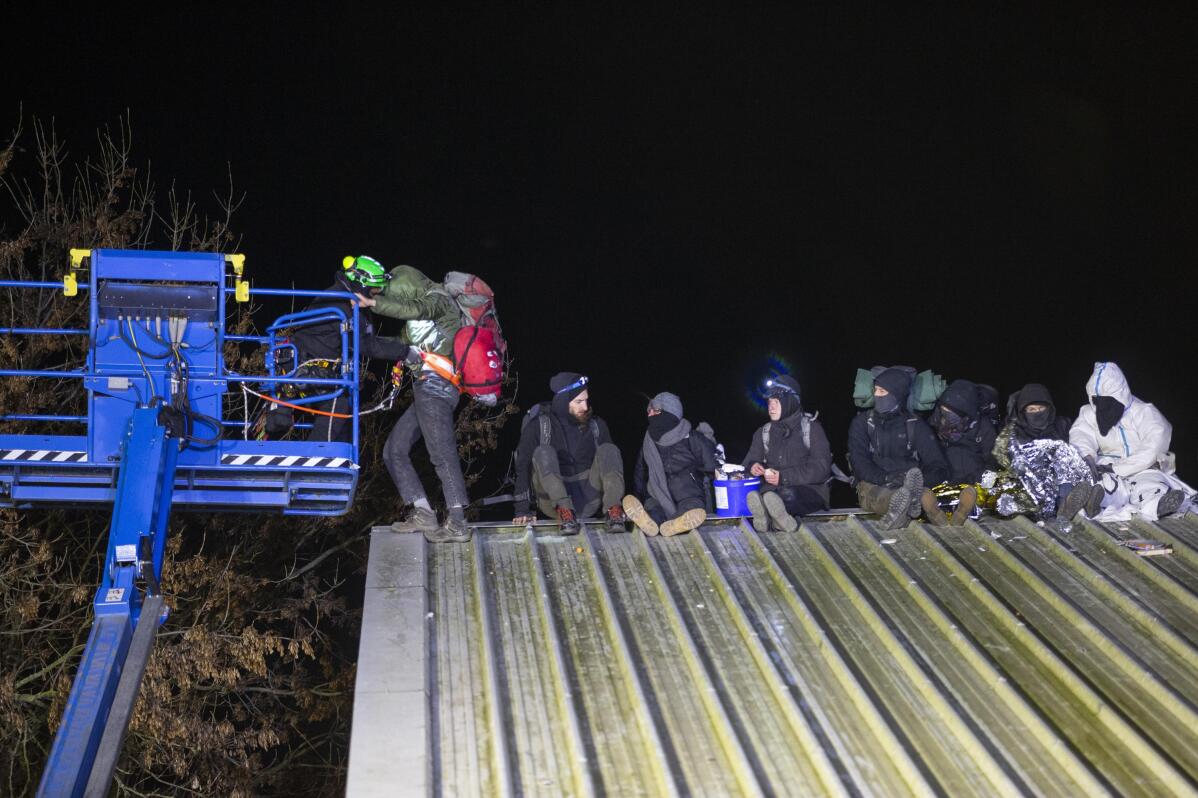 2 of 15

|
Climate activists sit on a barn roof and are brought down by height climbers of the police, in Luetzerath, Germany, Wednesday, Jan. 11, 2023. Police in riot gear began evicting climate activists Wednesday from the condemned village in western Germany that is due to be demolished for the expansion of a coal mine. Environmentalists say bulldozing the village to expand the nearby Garzweiler coal mine would result in huge amounts of greenhouse gas emissions. (Thomas Banneyer/dpa via AP)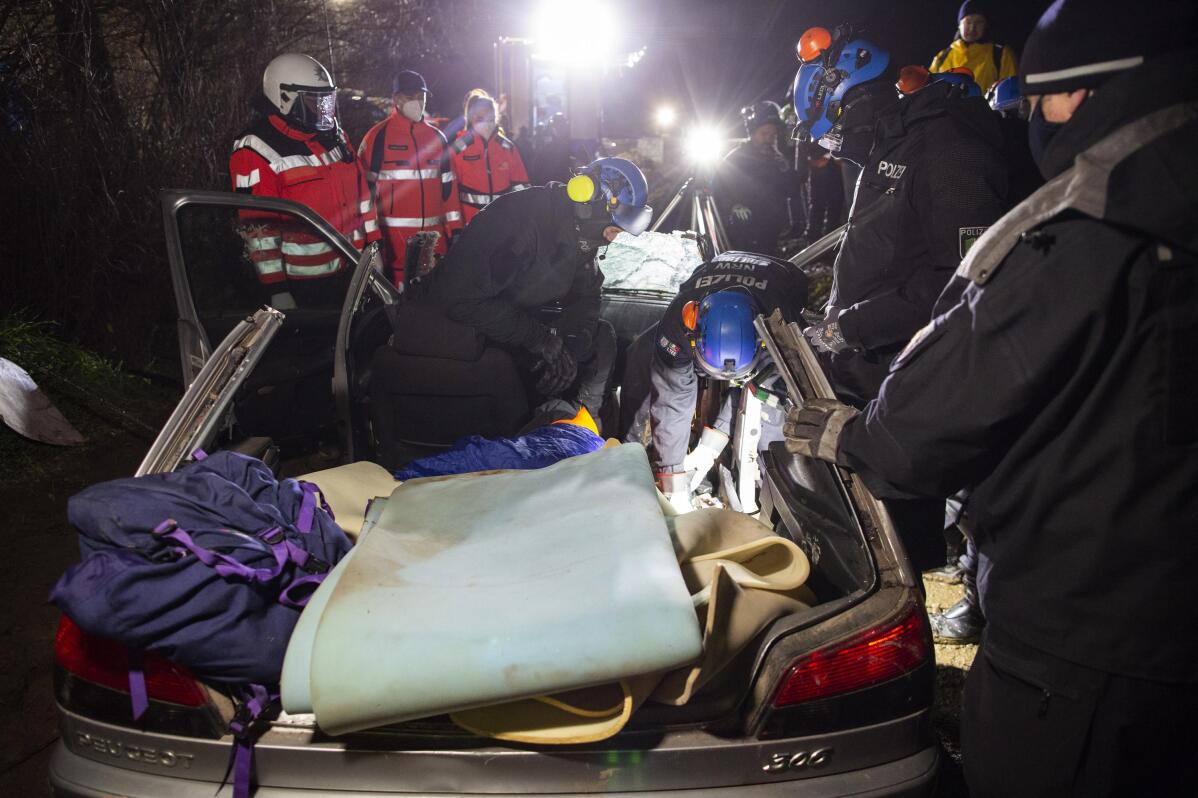 3 of 15

|
A climate activist has entrenched himself in a car, presumably chained, and is freed by police forces using a hydraulic spreader and a flex, in Luetzerath, Germany, Wednesday, Jan. 11, 2023. Environmental activists have been locked in a standoff with police who started eviction operations on Wednesday in the hamlet of Luetzerath, west of Cologne, that's due to be bulldozed for the expansion of a nearby lignite mine. (Thomas Banneyer/dpa via AP)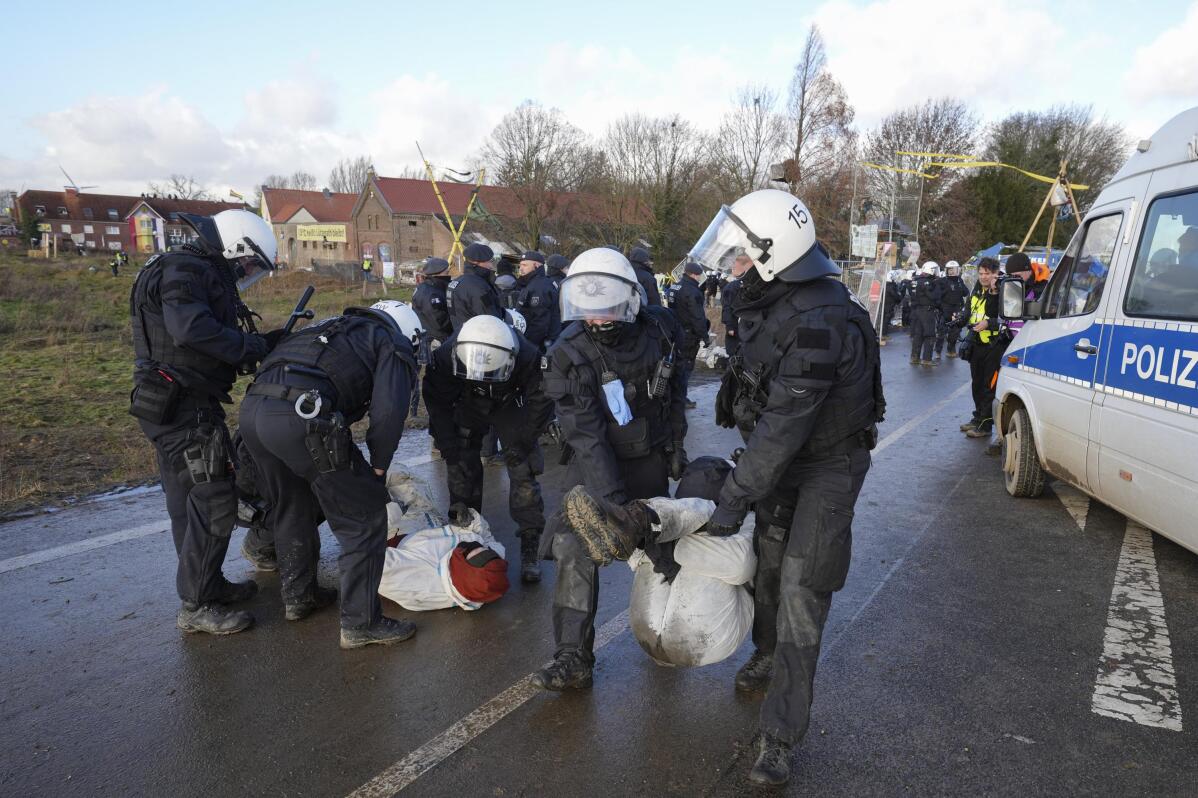 4 of 15

|
A police officers clear a blocked road at the village Luetzerath near Erkelenz, Germany, Wednesday, Jan. 11, 2023. Police have entered the condemned village in, launching an effort to evict activists holed up at the site in an effort to prevent its demolition to make way for the expansion of a coal mine. (AP Photo/Michael Probst)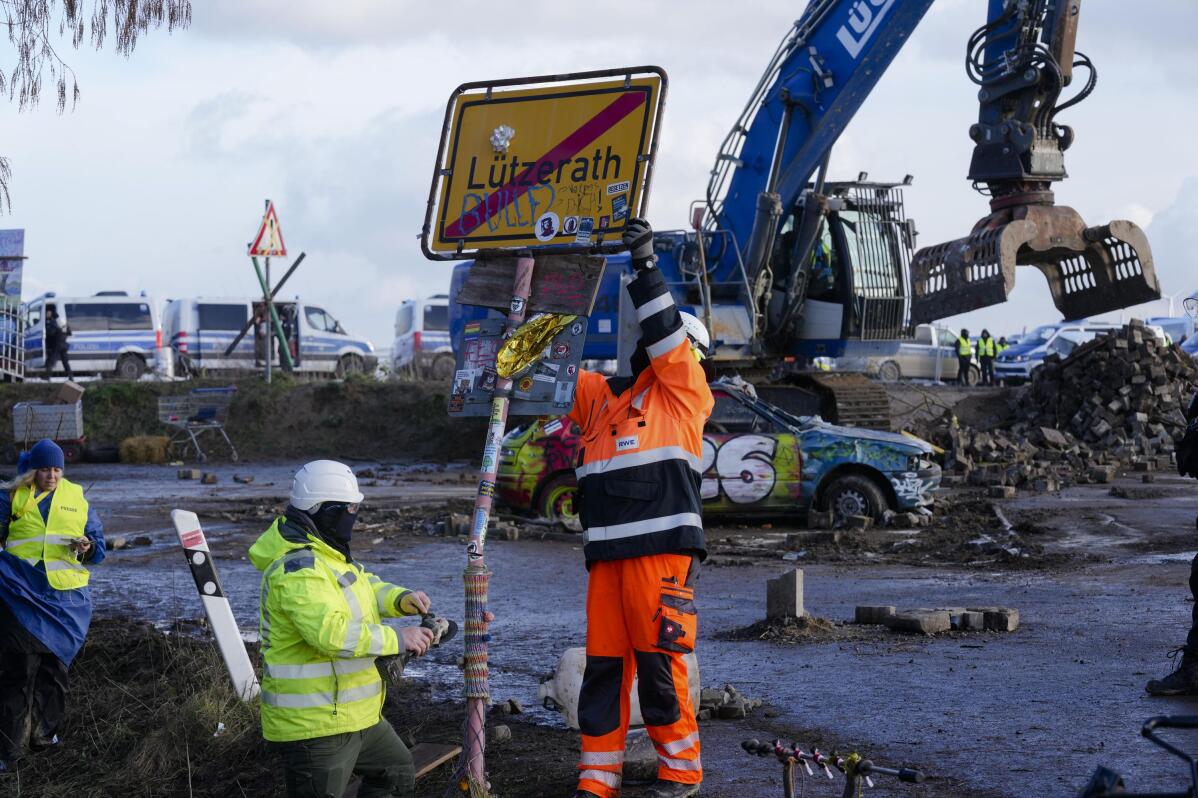 5 of 15

|
Workers of the German energy company RWE take down the place sign at the village Luetzerath near Erkelenz, Germany, Wednesday, Jan. 11, 2023. Police have entered the condemned village in, launching an effort to evict activists holed up at the site in an effort to prevent its demolition to make way for the expansion of a coal mine. (AP Photo/Michael Probst)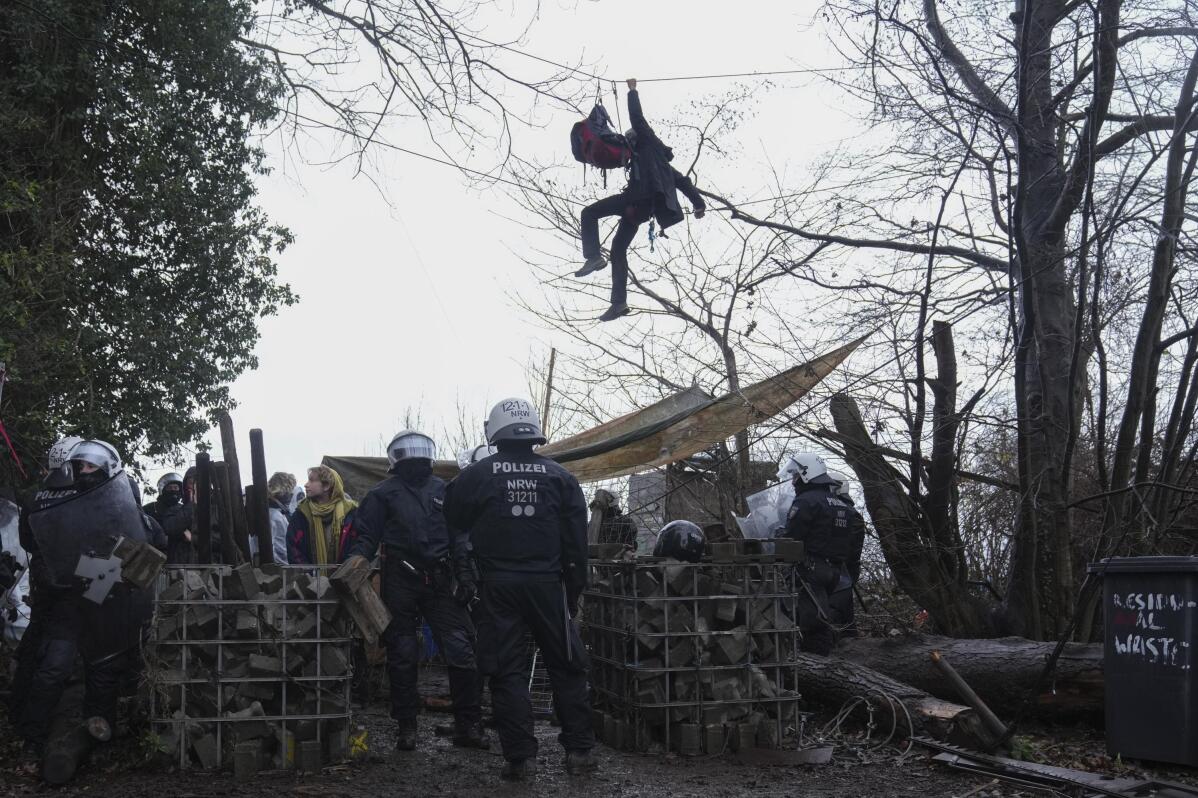 6 of 15

|
Police officers enters a camp of climate activists at the village Luetzerath near Erkelenz, Germany, Wednesday, Jan. 11, 2023.The village of Luetzerath is occupied by climate activists fighting against the demolishing of the village to expand the Garzweiler lignite coal mine near the Dutch border. (AP Photo/Michael Probst)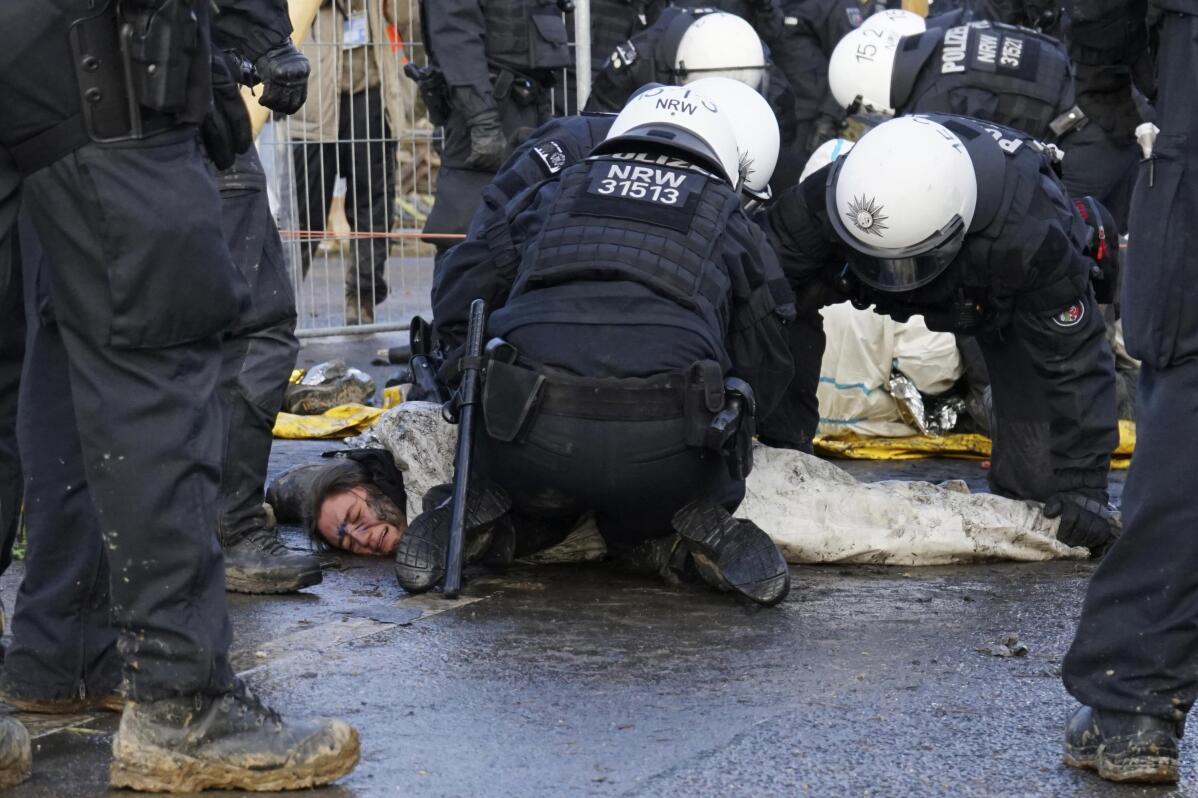 7 of 15

|
A protester writhes in pain as she's pinned down by police officers trying to clear a blocked road at the Luetzerath village near Erkelenz, Germany, Wednesday, Jan. 11, 2023. Police in riot gear began evicting climate activists Wednesday from the condemned village that is due to be demolished for the expansion of a coal mine. (AP Photo/Frank Jordans)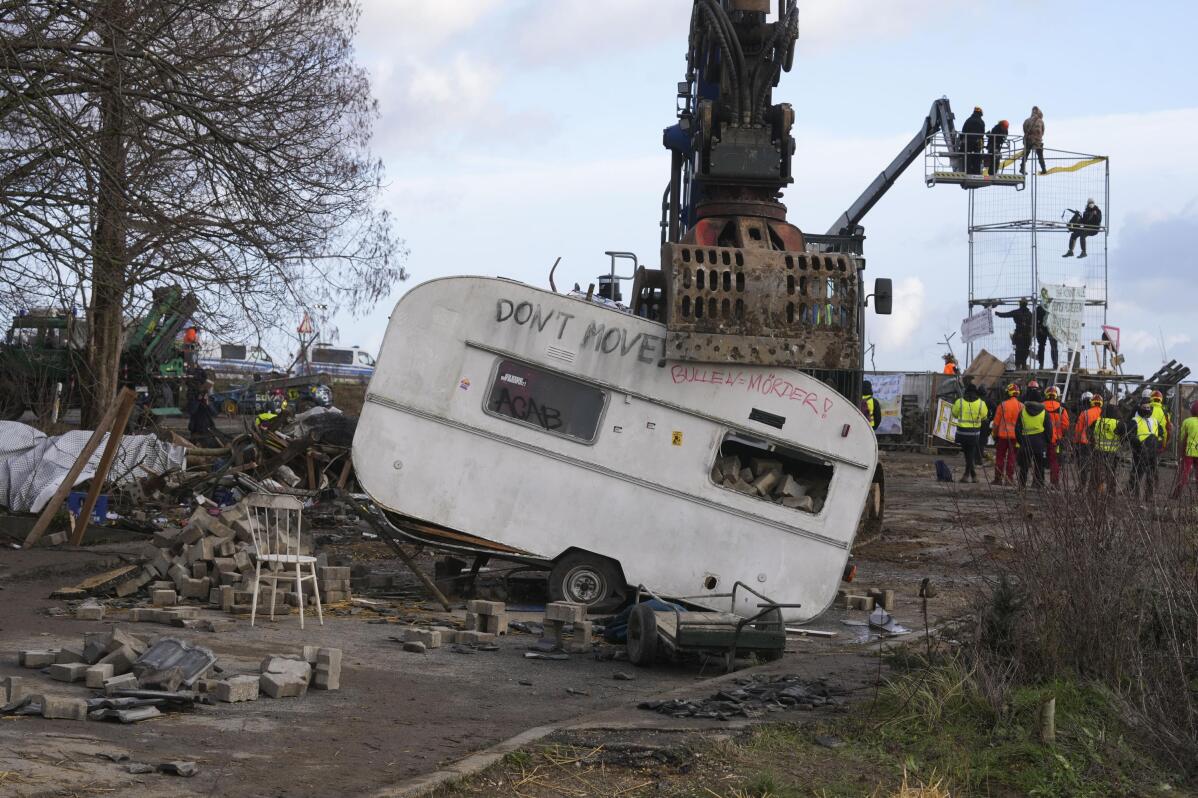 8 of 15

|
A caravan is taken from a road at the village Luetzerath, near Erkelenz, Germany, Wednesday, Jan. 11, 2023. Police have entered the condemned village in, launching an effort to evict activists holed up at the site in an effort to prevent its demolition to make way for the expansion of a coal mine. (AP Photo/Michael Probst)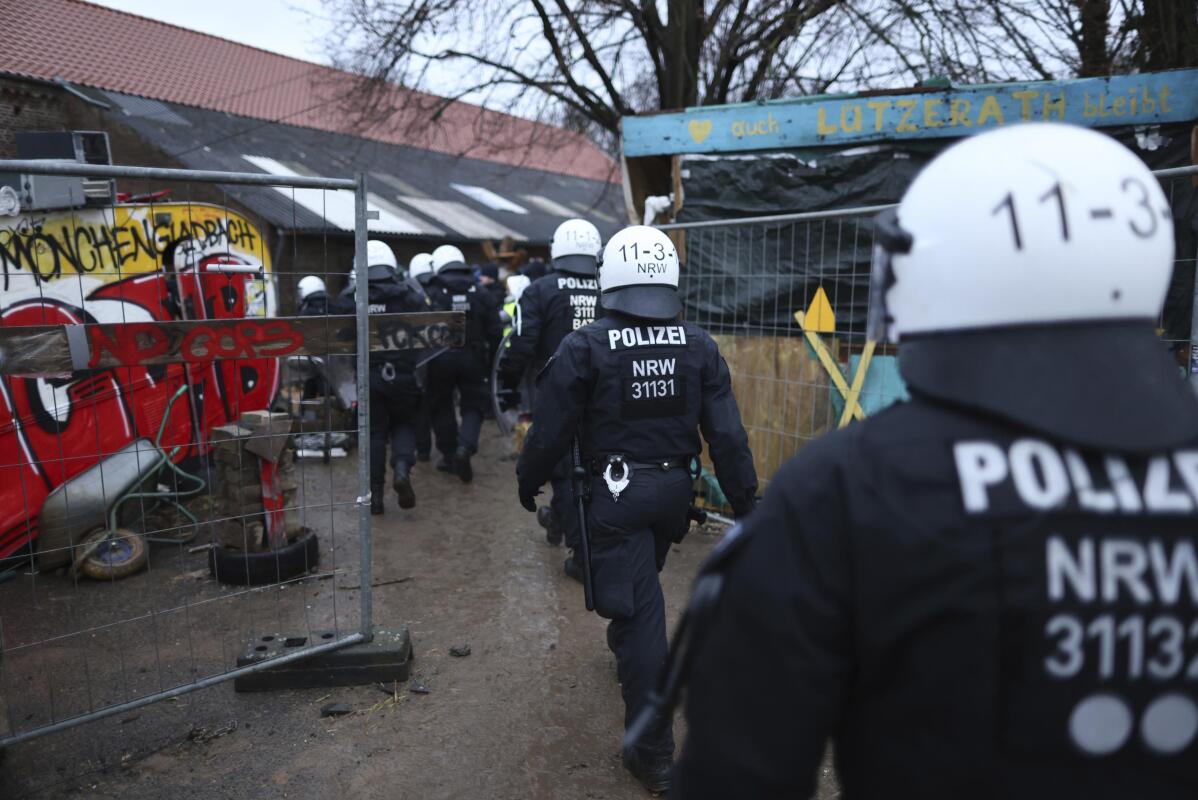 9 of 15

|
Police officers enter a camp of climate protestors at the village Luetzerath near Erkelenz, Germany, Wednesday, Jan. 11, 2023. Police have entered the condemned village in, launching an effort to evict activists holed up at the site in an effort to prevent its demolition to make way for the expansion of a coal mine. (Rolf Vennenbernd/dpa via AP)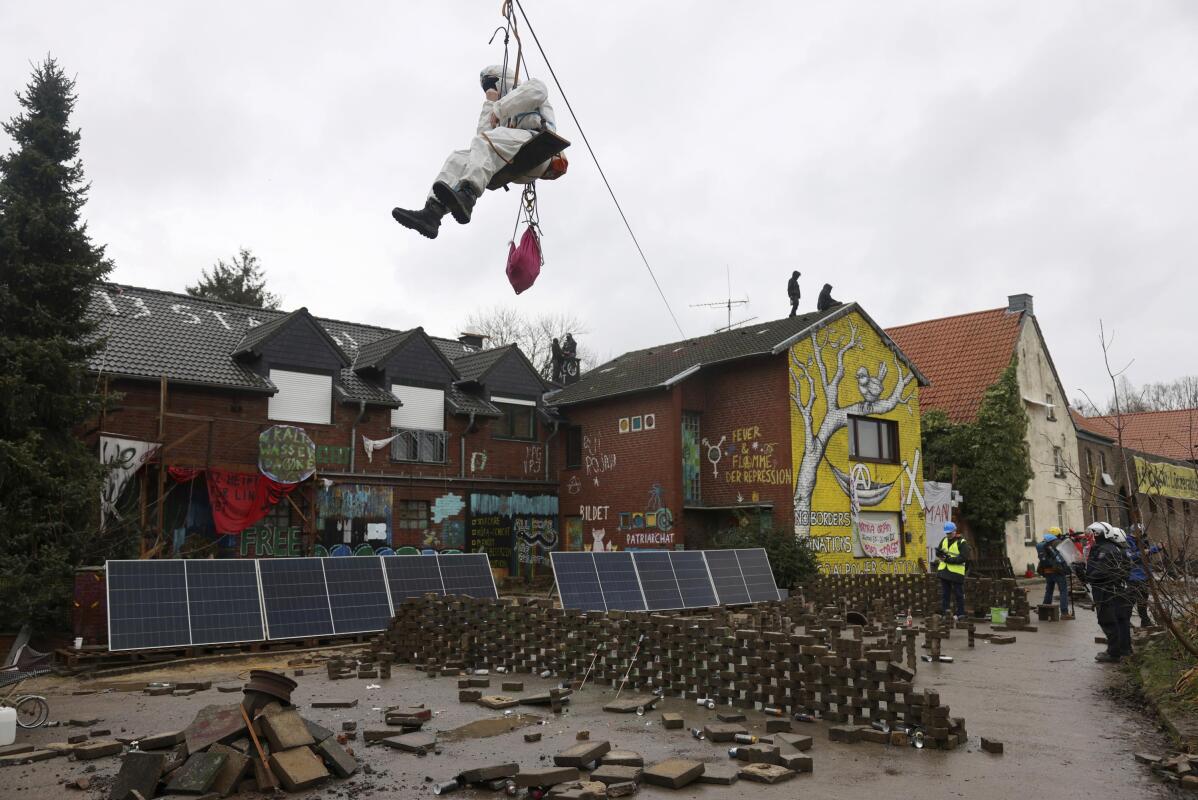 10 of 15

|
A climate activist hangs from a wire as police officers stand by, right, in a camp of climate protesters in the village Luetzerath near Erkelenz, Germany, Wednesday, Jan. 11, 2023. Police have entered the condemned village, launching an effort to evict activists holed up at the site in an effort to prevent its demolition to make way for the expansion of a coal mine. (Oliver Berg/dpa via AP)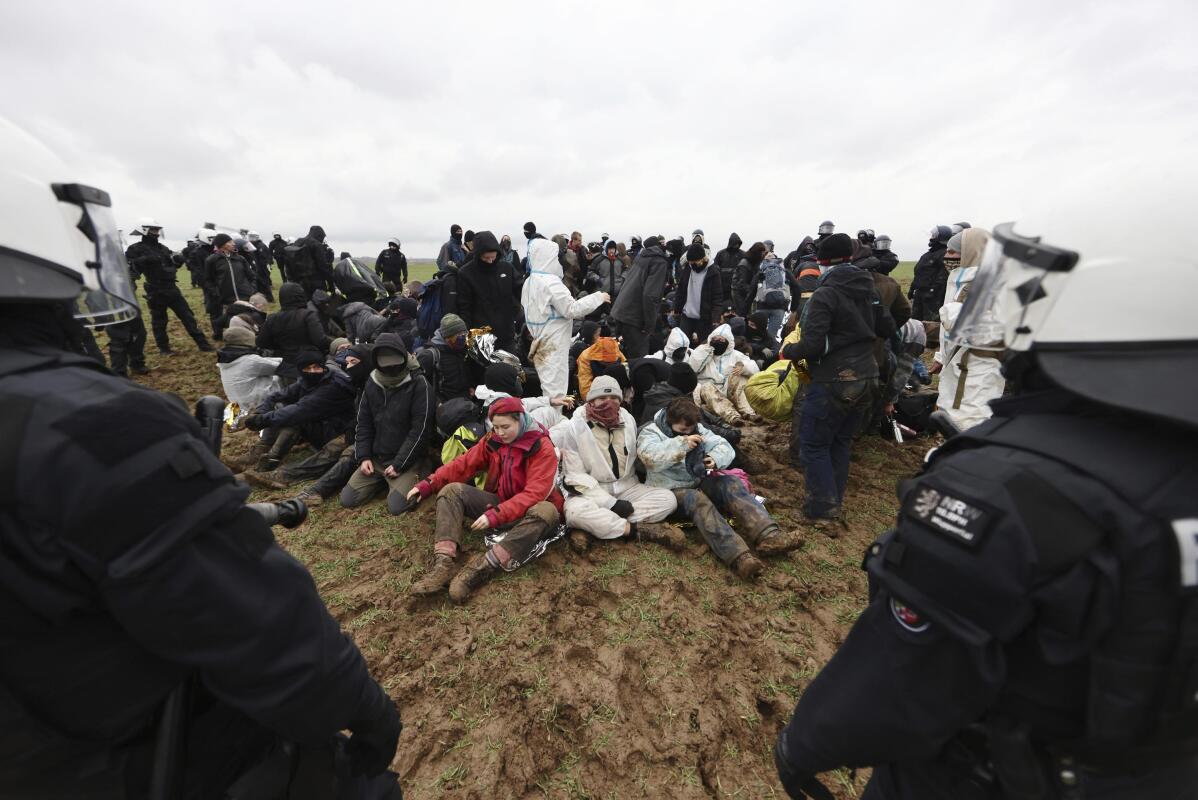 11 of 15

|
Police officers surround climate protesters sitting on the ground at the village Luetzerath near Erkelenz, Germany, Wednesday, Jan. 11, 2023. Police on Wednesday moved into a condemned village in western Germany, launching an effort to evict activists holed up at the site in an effort to prevent its demolition to make way for the expansion of a coal mine. (Rolf Vennenbernd/dpa via AP)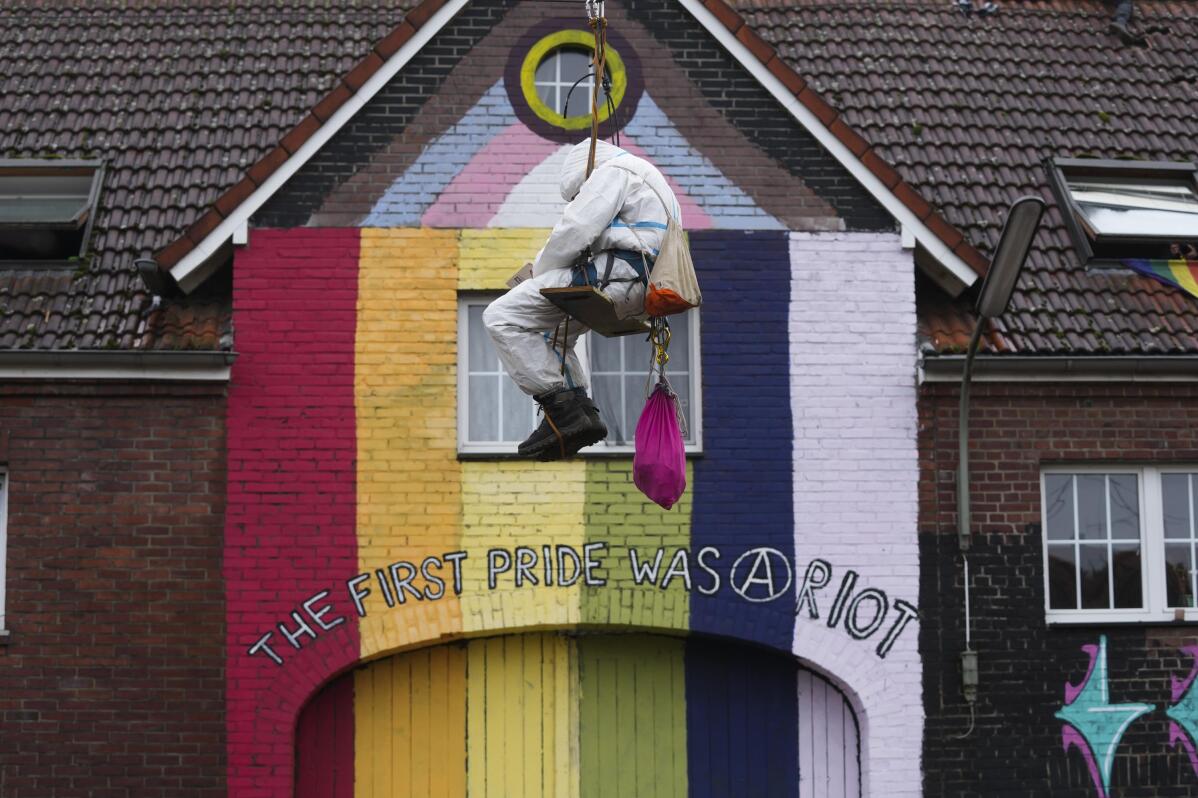 12 of 15

|
A climate activist hangs at a rope at the village Luetzerath near Erkelenz, Germany, Wednesday, Jan. 11, 2023. Police have entered the condemned village in, launching an effort to evict activists holed up at the site in an effort to prevent its demolition to make way for the expansion of a coal mine. (AP Photo/Michael Probst)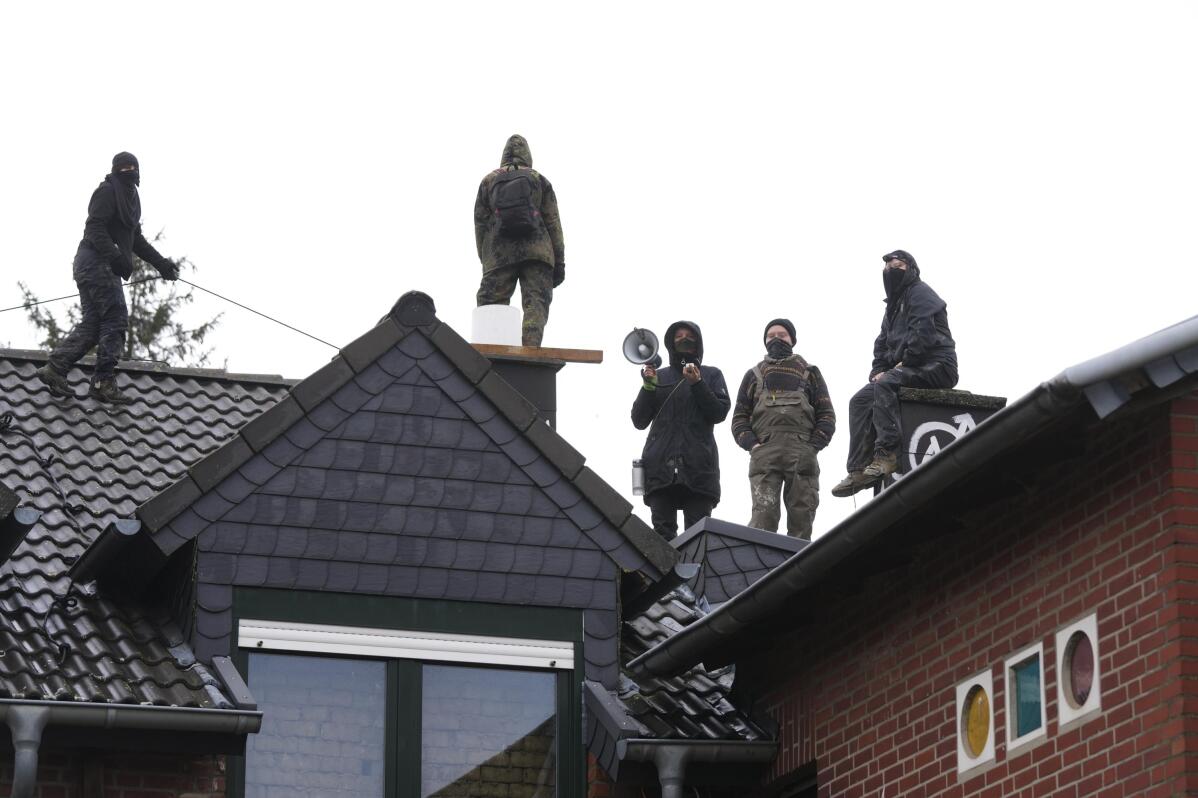 13 of 15

|
A climate activists stand of a roof top at the village Luetzerath near Erkelenz, Germany, Wednesday, Jan. 11, 2023. Police have entered the condemned village in, launching an effort to evict activists holed up at the site in an effort to prevent its demolition to make way for the expansion of a coal mine. (AP Photo/Michael Probst)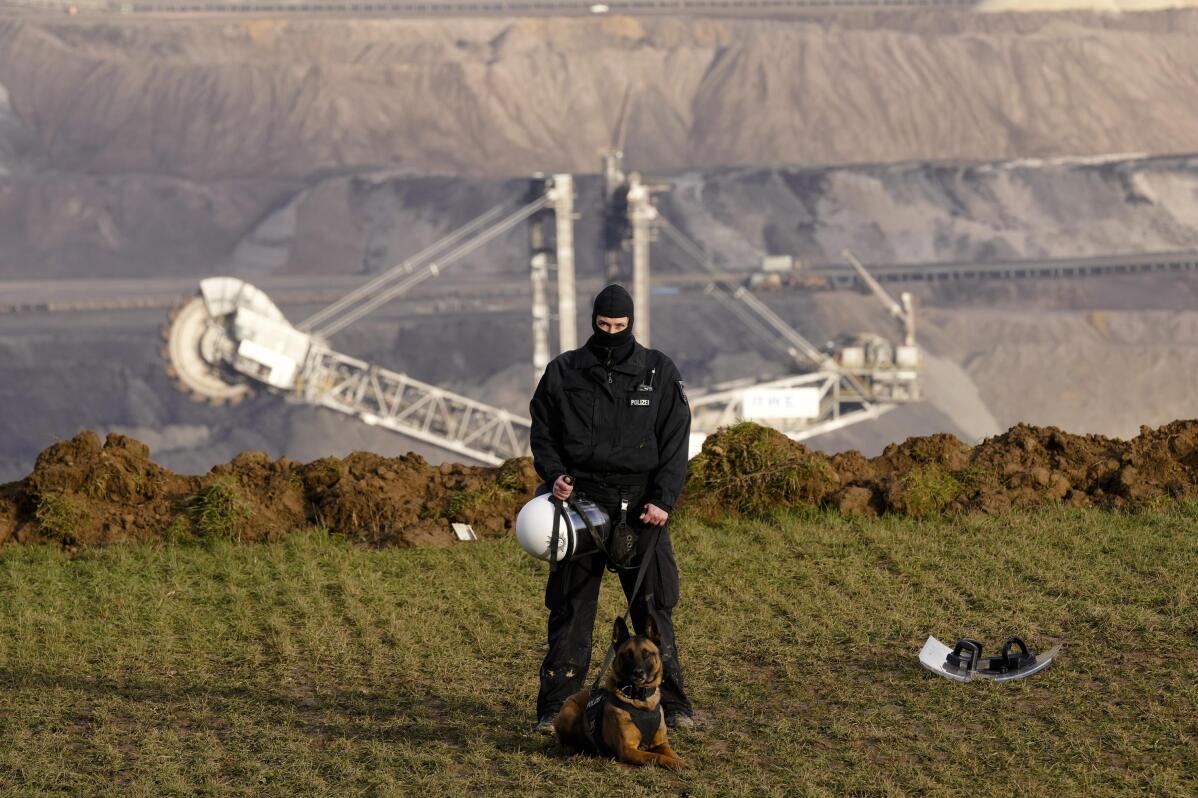 14 of 15

|
A police officer guards the demolition edge of the open pit mine Garzweiler at the village Luetzerath near Erkelenz, Germany, Wednesday, Jan. 11, 2023. Police have entered the condemned village in launching an effort to evict activists holed up at the site in an effort to prevent its demolition to make way for the expansion of a coal mine. (AP Photo/Michael Probst)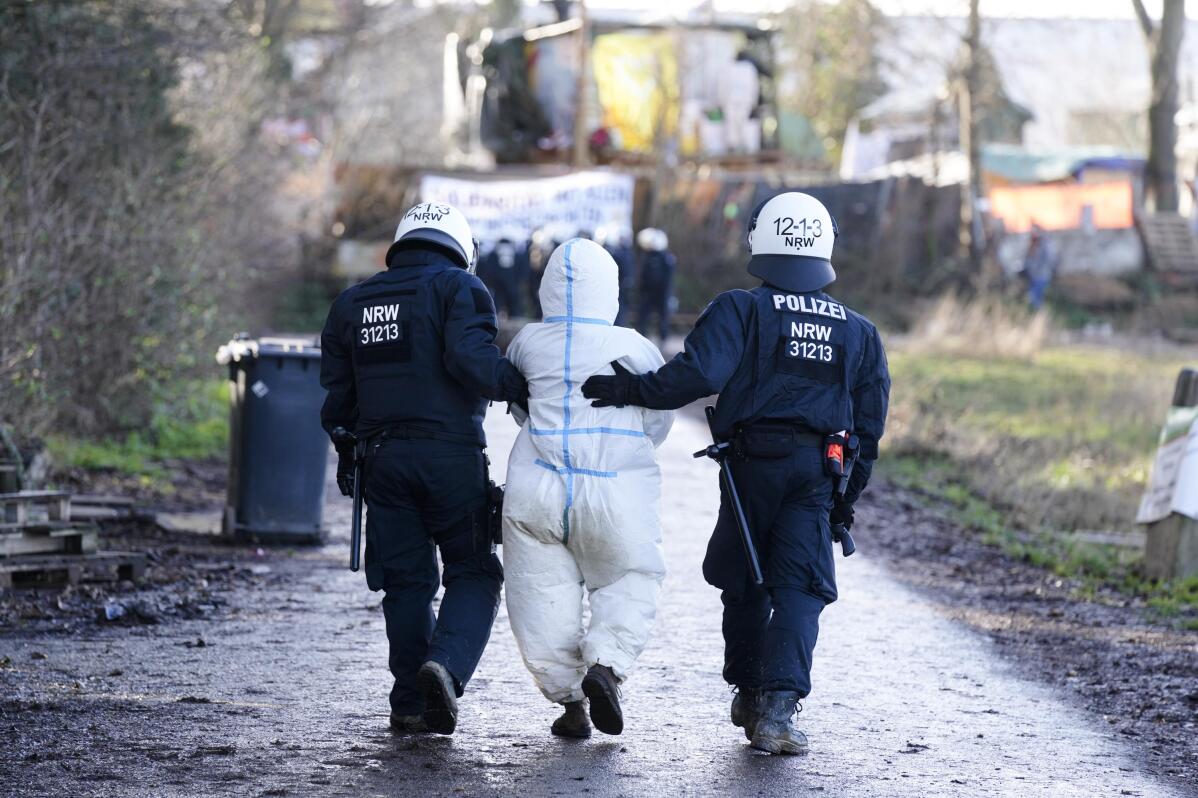 15 of 15

|
Police officers lead away a protestor at the village Luetzerath, near Erkelenz, Germany, Wednesday, Jan. 11, 2023. Police have entered the condemned village in, launching an effort to evict activists holed up at the site in an effort to prevent its demolition to make way for the expansion of a coal mine. (AP Photo/Michael Probst)
Police start clearing German village condemned for coal mine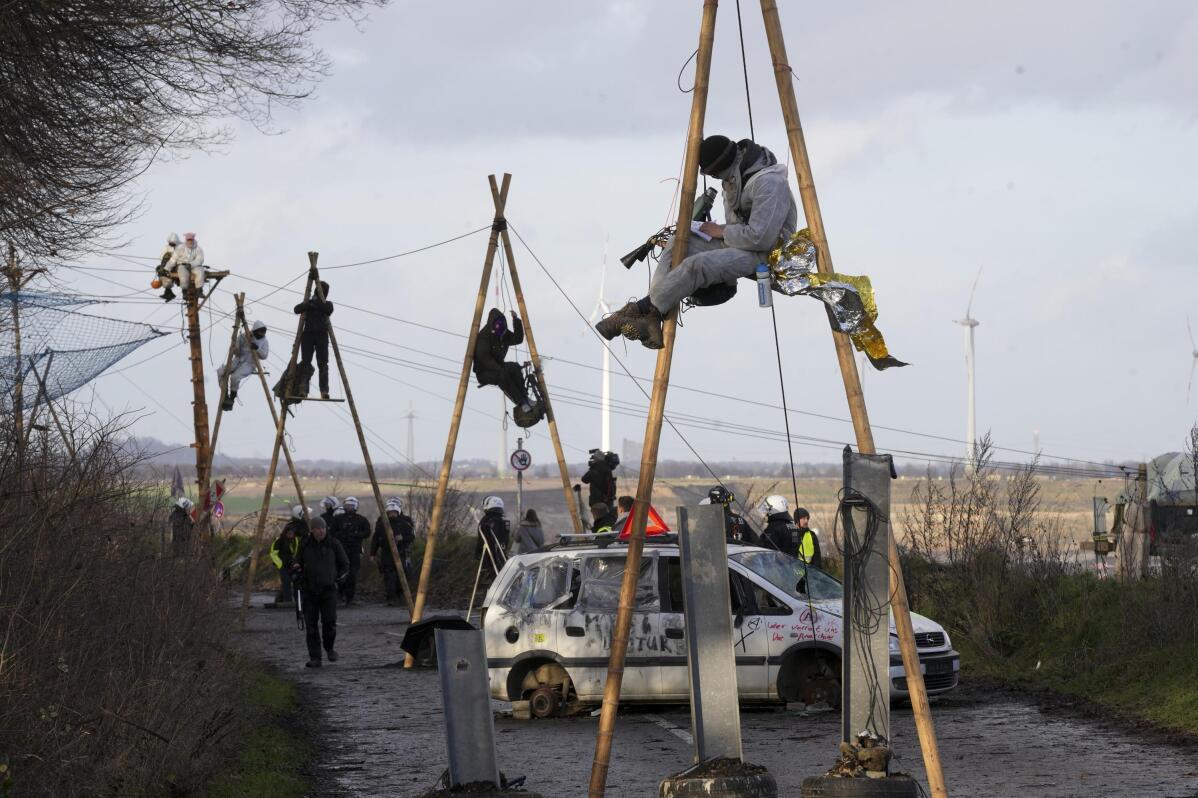 1 of 15

|
Climate activists sit in so-called tripos and block a road at the village Luetzerath near Erkelenz, Germany, Wednesday, Jan. 11, 2023. Police have entered the condemned village in launching an effort to evict activists holed up at the site in an effort to prevent its demolition to make way for the expansion of a coal mine. (AP Photo/Michael Probst)
1 of 15
Climate activists sit in so-called tripos and block a road at the village Luetzerath near Erkelenz, Germany, Wednesday, Jan. 11, 2023. Police have entered the condemned village in launching an effort to evict activists holed up at the site in an effort to prevent its demolition to make way for the expansion of a coal mine. (AP Photo/Michael Probst)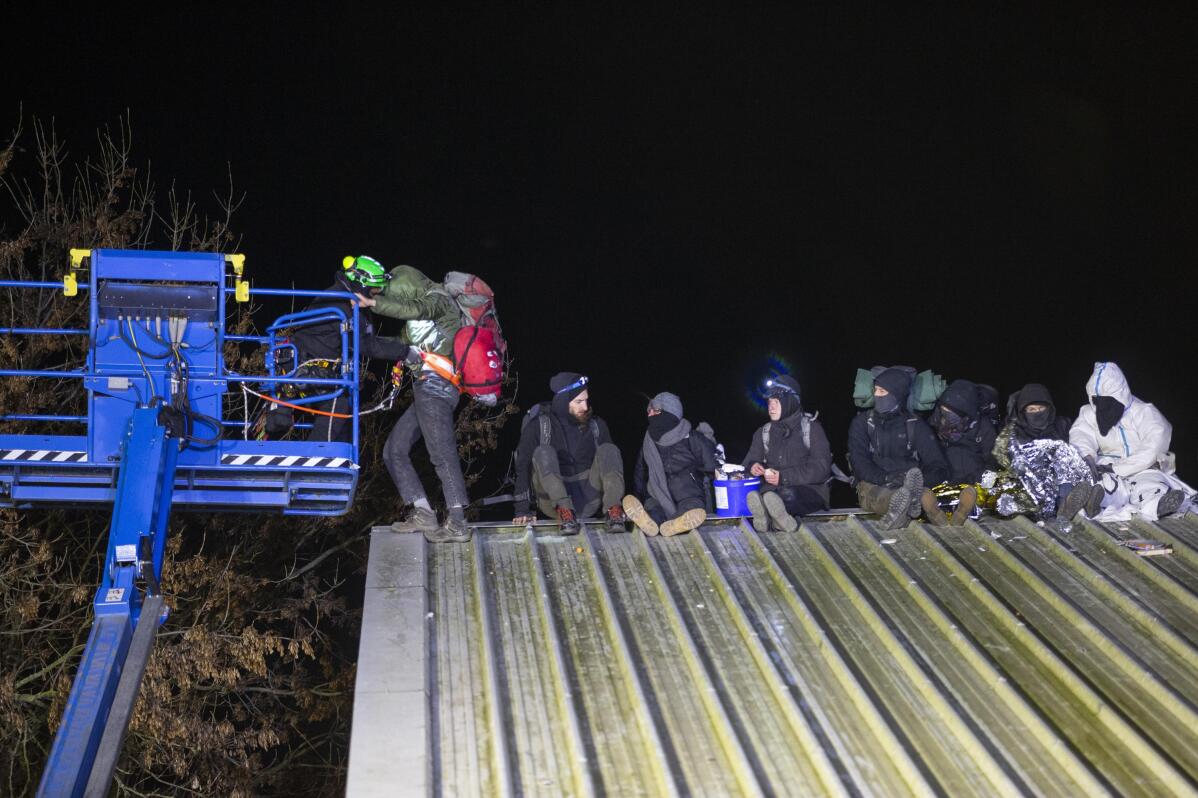 2 of 15

|
Climate activists sit on a barn roof and are brought down by height climbers of the police, in Luetzerath, Germany, Wednesday, Jan. 11, 2023. Police in riot gear began evicting climate activists Wednesday from the condemned village in western Germany that is due to be demolished for the expansion of a coal mine. Environmentalists say bulldozing the village to expand the nearby Garzweiler coal mine would result in huge amounts of greenhouse gas emissions. (Thomas Banneyer/dpa via AP)
2 of 15
Climate activists sit on a barn roof and are brought down by height climbers of the police, in Luetzerath, Germany, Wednesday, Jan. 11, 2023. Police in riot gear began evicting climate activists Wednesday from the condemned village in western Germany that is due to be demolished for the expansion of a coal mine. Environmentalists say bulldozing the village to expand the nearby Garzweiler coal mine would result in huge amounts of greenhouse gas emissions. (Thomas Banneyer/dpa via AP)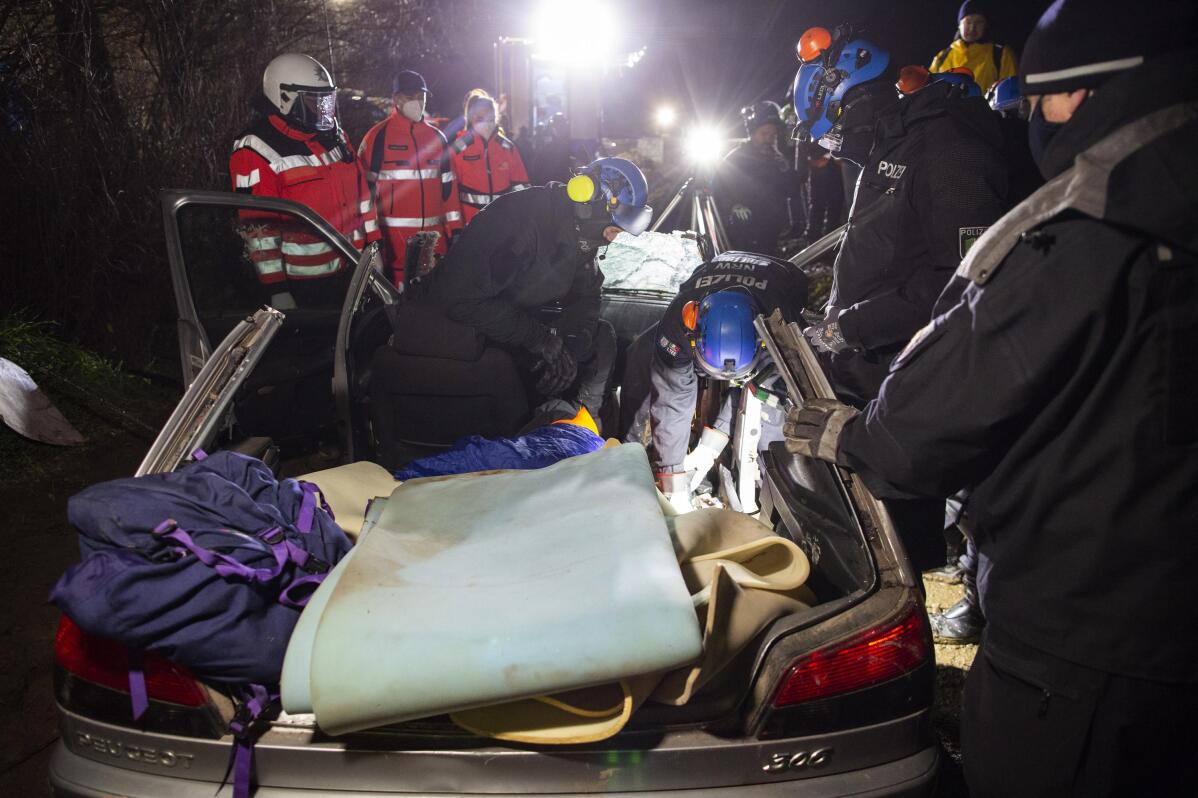 3 of 15

|
A climate activist has entrenched himself in a car, presumably chained, and is freed by police forces using a hydraulic spreader and a flex, in Luetzerath, Germany, Wednesday, Jan. 11, 2023. Environmental activists have been locked in a standoff with police who started eviction operations on Wednesday in the hamlet of Luetzerath, west of Cologne, that's due to be bulldozed for the expansion of a nearby lignite mine. (Thomas Banneyer/dpa via AP)
3 of 15
A climate activist has entrenched himself in a car, presumably chained, and is freed by police forces using a hydraulic spreader and a flex, in Luetzerath, Germany, Wednesday, Jan. 11, 2023. Environmental activists have been locked in a standoff with police who started eviction operations on Wednesday in the hamlet of Luetzerath, west of Cologne, that's due to be bulldozed for the expansion of a nearby lignite mine. (Thomas Banneyer/dpa via AP)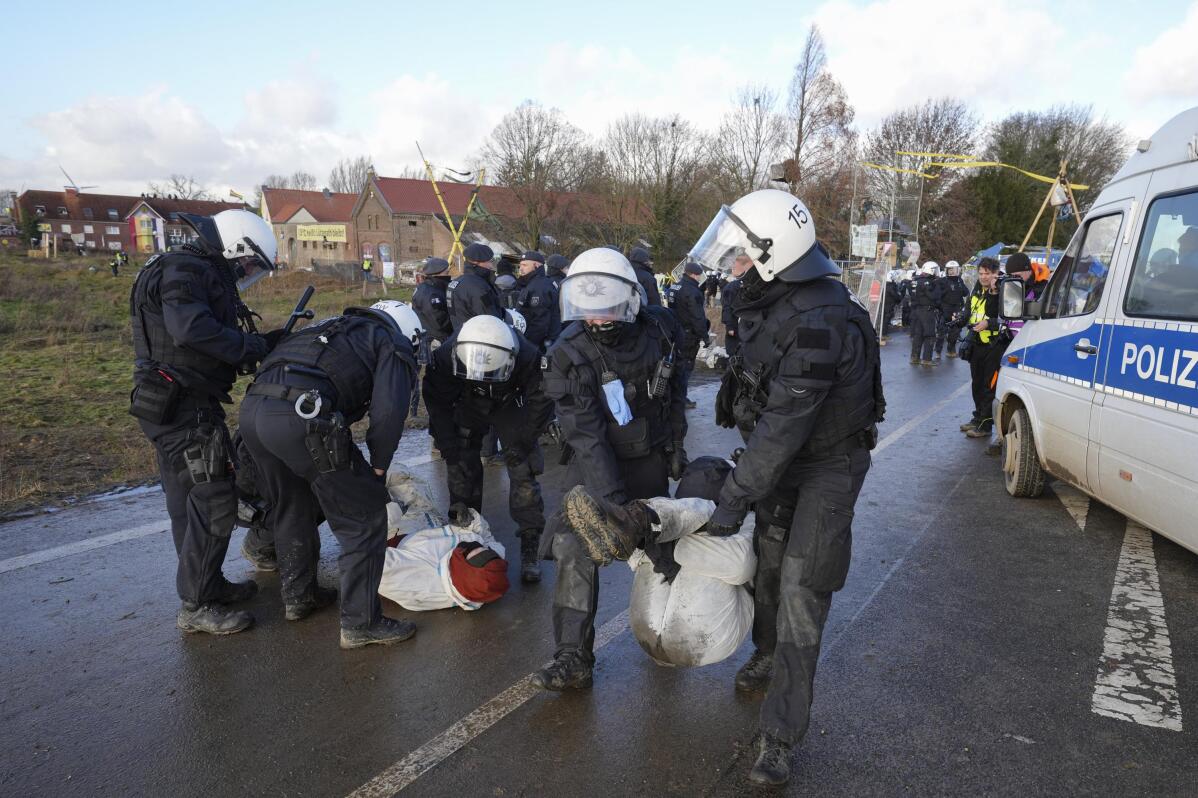 4 of 15

|
A police officers clear a blocked road at the village Luetzerath near Erkelenz, Germany, Wednesday, Jan. 11, 2023. Police have entered the condemned village in, launching an effort to evict activists holed up at the site in an effort to prevent its demolition to make way for the expansion of a coal mine. (AP Photo/Michael Probst)
4 of 15
A police officers clear a blocked road at the village Luetzerath near Erkelenz, Germany, Wednesday, Jan. 11, 2023. Police have entered the condemned village in, launching an effort to evict activists holed up at the site in an effort to prevent its demolition to make way for the expansion of a coal mine. (AP Photo/Michael Probst)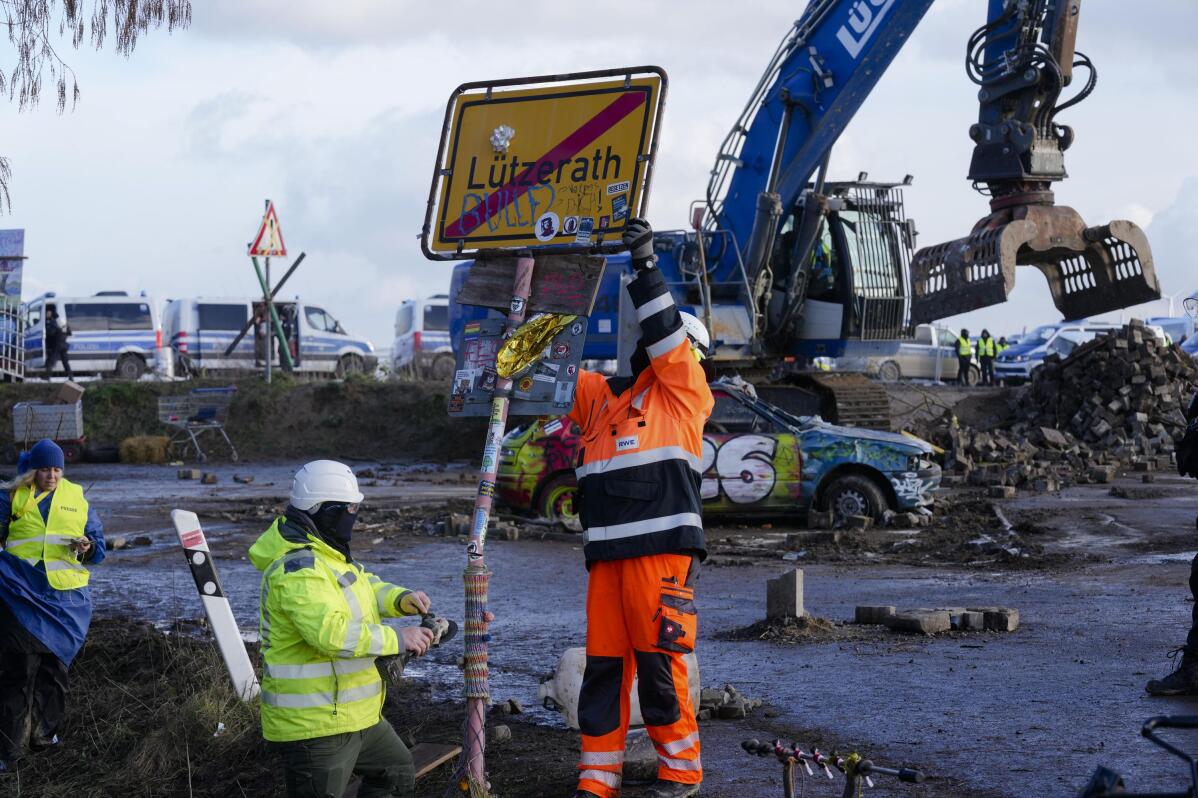 5 of 15

|
Workers of the German energy company RWE take down the place sign at the village Luetzerath near Erkelenz, Germany, Wednesday, Jan. 11, 2023. Police have entered the condemned village in, launching an effort to evict activists holed up at the site in an effort to prevent its demolition to make way for the expansion of a coal mine. (AP Photo/Michael Probst)
5 of 15
Workers of the German energy company RWE take down the place sign at the village Luetzerath near Erkelenz, Germany, Wednesday, Jan. 11, 2023. Police have entered the condemned village in, launching an effort to evict activists holed up at the site in an effort to prevent its demolition to make way for the expansion of a coal mine. (AP Photo/Michael Probst)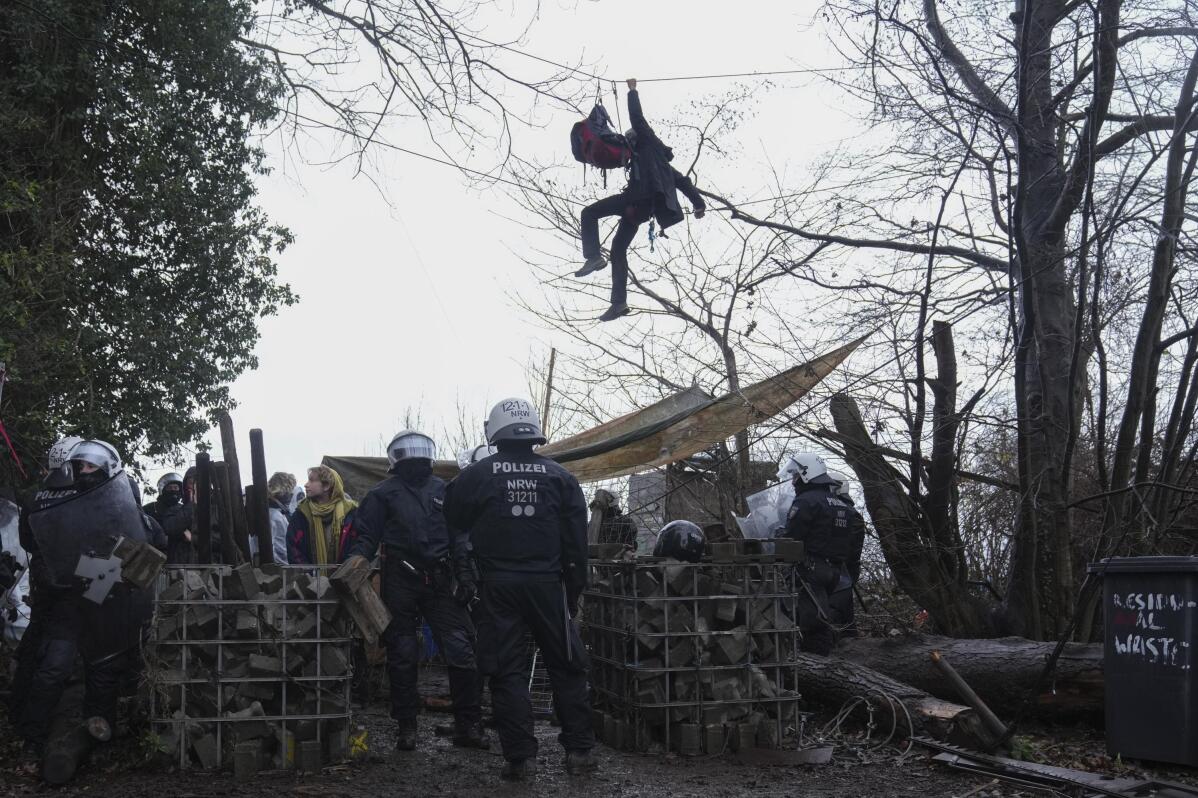 6 of 15

|
Police officers enters a camp of climate activists at the village Luetzerath near Erkelenz, Germany, Wednesday, Jan. 11, 2023.The village of Luetzerath is occupied by climate activists fighting against the demolishing of the village to expand the Garzweiler lignite coal mine near the Dutch border. (AP Photo/Michael Probst)
6 of 15
Police officers enters a camp of climate activists at the village Luetzerath near Erkelenz, Germany, Wednesday, Jan. 11, 2023.The village of Luetzerath is occupied by climate activists fighting against the demolishing of the village to expand the Garzweiler lignite coal mine near the Dutch border. (AP Photo/Michael Probst)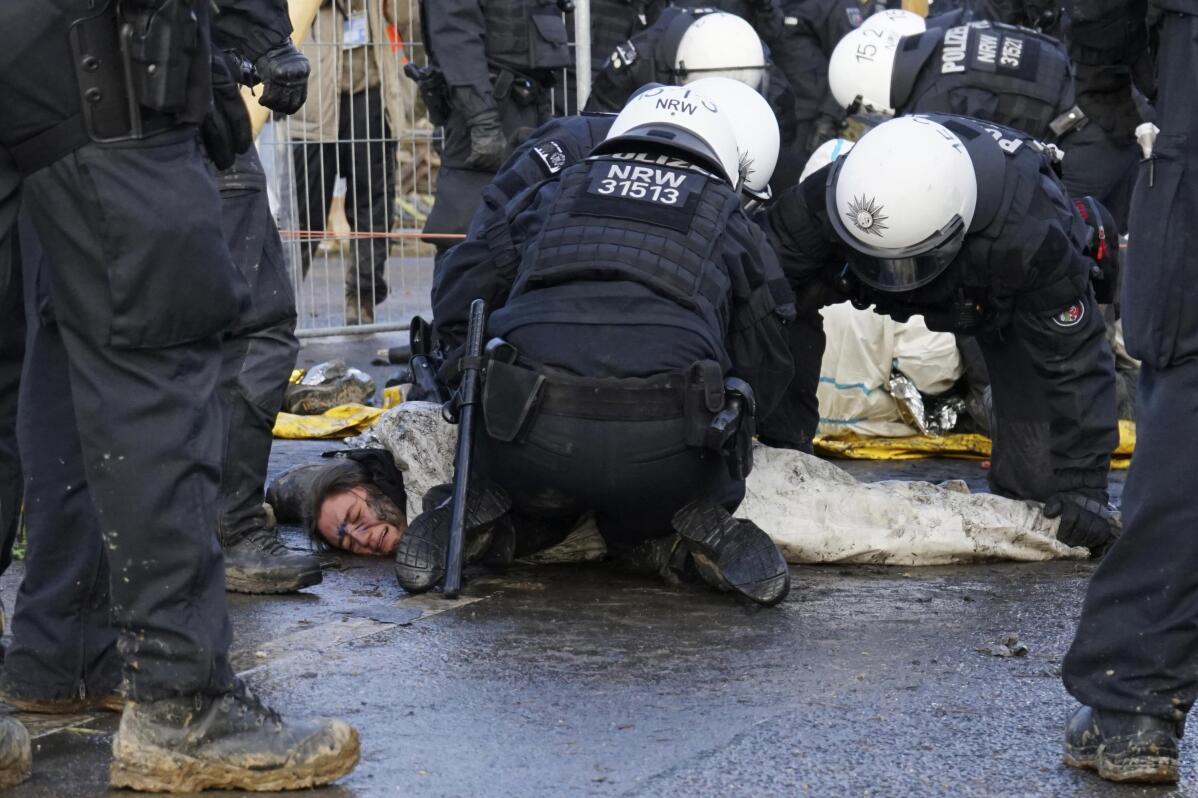 7 of 15

|
A protester writhes in pain as she's pinned down by police officers trying to clear a blocked road at the Luetzerath village near Erkelenz, Germany, Wednesday, Jan. 11, 2023. Police in riot gear began evicting climate activists Wednesday from the condemned village that is due to be demolished for the expansion of a coal mine. (AP Photo/Frank Jordans)
7 of 15
A protester writhes in pain as she's pinned down by police officers trying to clear a blocked road at the Luetzerath village near Erkelenz, Germany, Wednesday, Jan. 11, 2023. Police in riot gear began evicting climate activists Wednesday from the condemned village that is due to be demolished for the expansion of a coal mine. (AP Photo/Frank Jordans)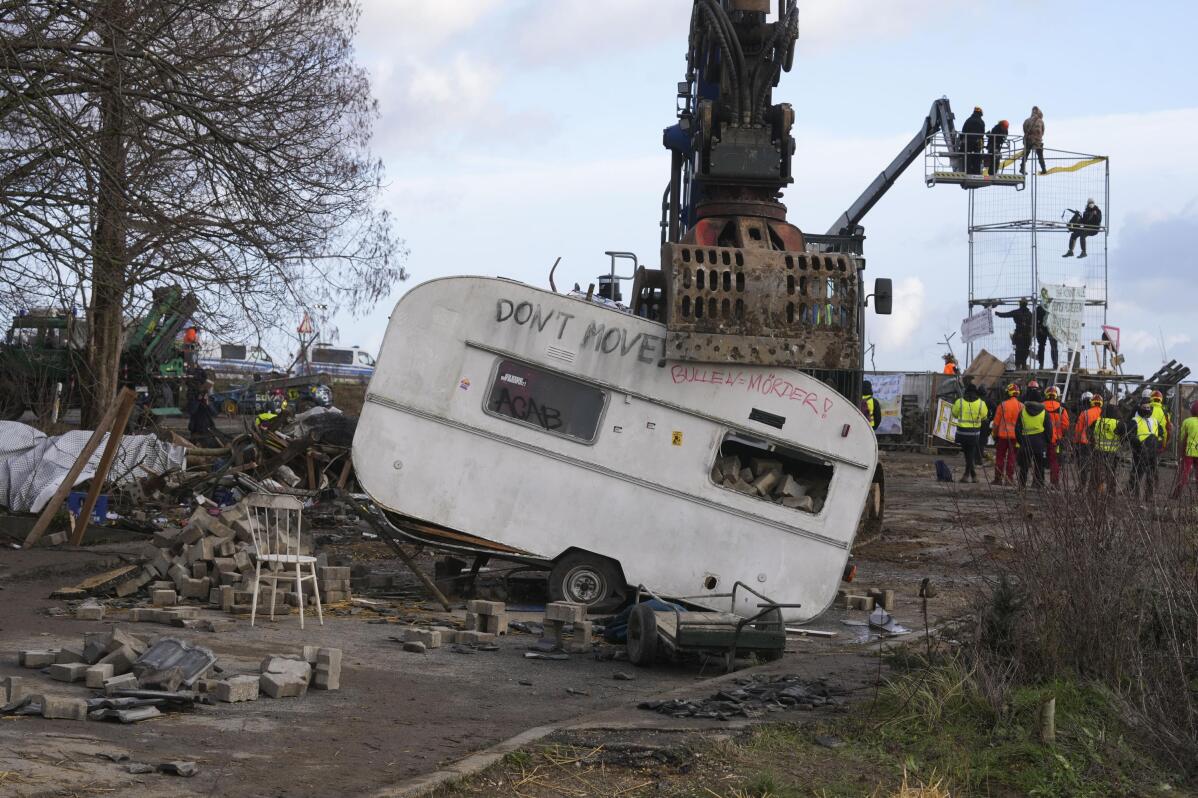 8 of 15

|
A caravan is taken from a road at the village Luetzerath, near Erkelenz, Germany, Wednesday, Jan. 11, 2023. Police have entered the condemned village in, launching an effort to evict activists holed up at the site in an effort to prevent its demolition to make way for the expansion of a coal mine. (AP Photo/Michael Probst)
8 of 15
A caravan is taken from a road at the village Luetzerath, near Erkelenz, Germany, Wednesday, Jan. 11, 2023. Police have entered the condemned village in, launching an effort to evict activists holed up at the site in an effort to prevent its demolition to make way for the expansion of a coal mine. (AP Photo/Michael Probst)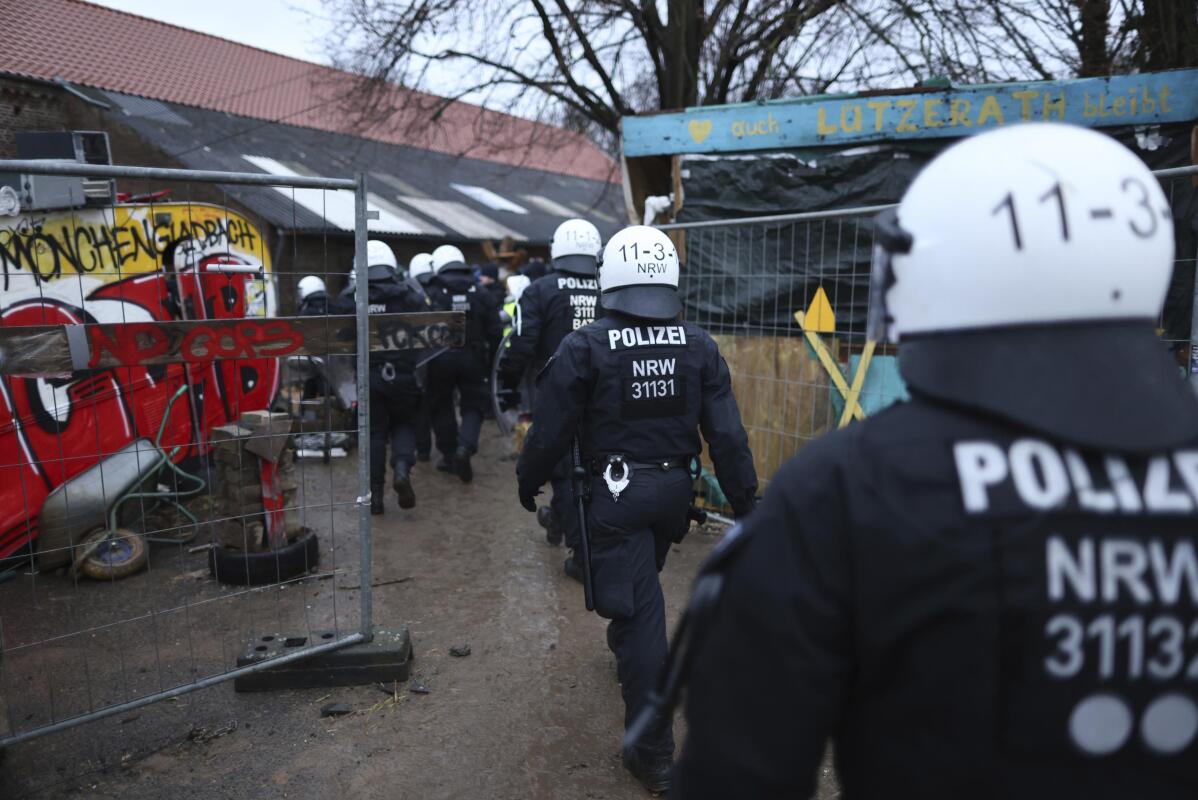 9 of 15

|
Police officers enter a camp of climate protestors at the village Luetzerath near Erkelenz, Germany, Wednesday, Jan. 11, 2023. Police have entered the condemned village in, launching an effort to evict activists holed up at the site in an effort to prevent its demolition to make way for the expansion of a coal mine. (Rolf Vennenbernd/dpa via AP)
9 of 15
Police officers enter a camp of climate protestors at the village Luetzerath near Erkelenz, Germany, Wednesday, Jan. 11, 2023. Police have entered the condemned village in, launching an effort to evict activists holed up at the site in an effort to prevent its demolition to make way for the expansion of a coal mine. (Rolf Vennenbernd/dpa via AP)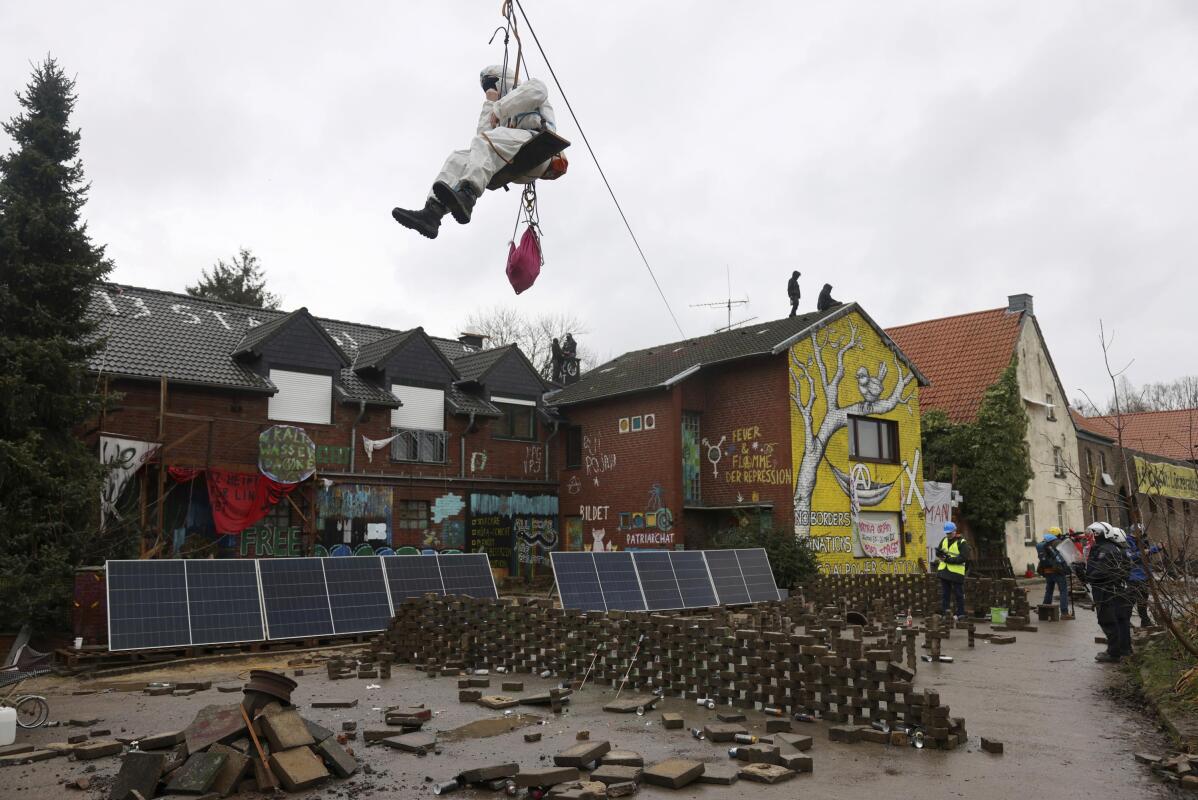 10 of 15

|
A climate activist hangs from a wire as police officers stand by, right, in a camp of climate protesters in the village Luetzerath near Erkelenz, Germany, Wednesday, Jan. 11, 2023. Police have entered the condemned village, launching an effort to evict activists holed up at the site in an effort to prevent its demolition to make way for the expansion of a coal mine. (Oliver Berg/dpa via AP)
10 of 15
A climate activist hangs from a wire as police officers stand by, right, in a camp of climate protesters in the village Luetzerath near Erkelenz, Germany, Wednesday, Jan. 11, 2023. Police have entered the condemned village, launching an effort to evict activists holed up at the site in an effort to prevent its demolition to make way for the expansion of a coal mine. (Oliver Berg/dpa via AP)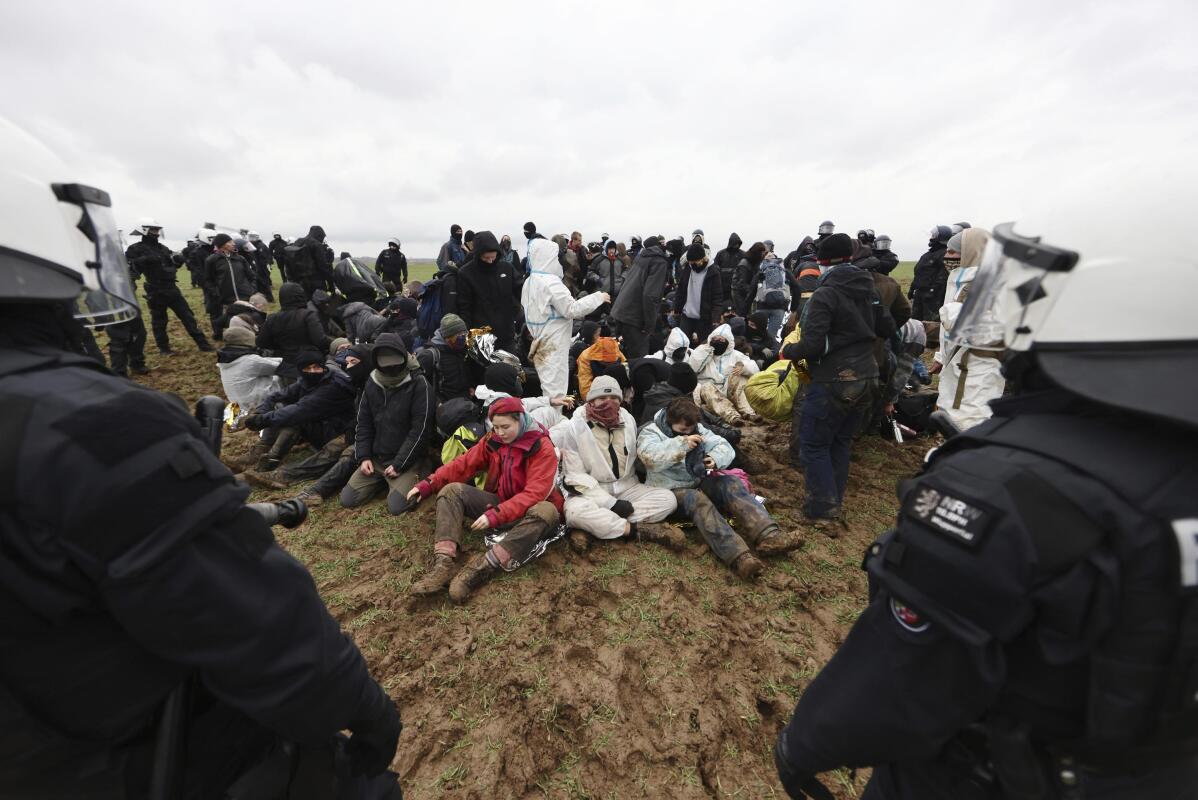 11 of 15

|
Police officers surround climate protesters sitting on the ground at the village Luetzerath near Erkelenz, Germany, Wednesday, Jan. 11, 2023. Police on Wednesday moved into a condemned village in western Germany, launching an effort to evict activists holed up at the site in an effort to prevent its demolition to make way for the expansion of a coal mine. (Rolf Vennenbernd/dpa via AP)
11 of 15
Police officers surround climate protesters sitting on the ground at the village Luetzerath near Erkelenz, Germany, Wednesday, Jan. 11, 2023. Police on Wednesday moved into a condemned village in western Germany, launching an effort to evict activists holed up at the site in an effort to prevent its demolition to make way for the expansion of a coal mine. (Rolf Vennenbernd/dpa via AP)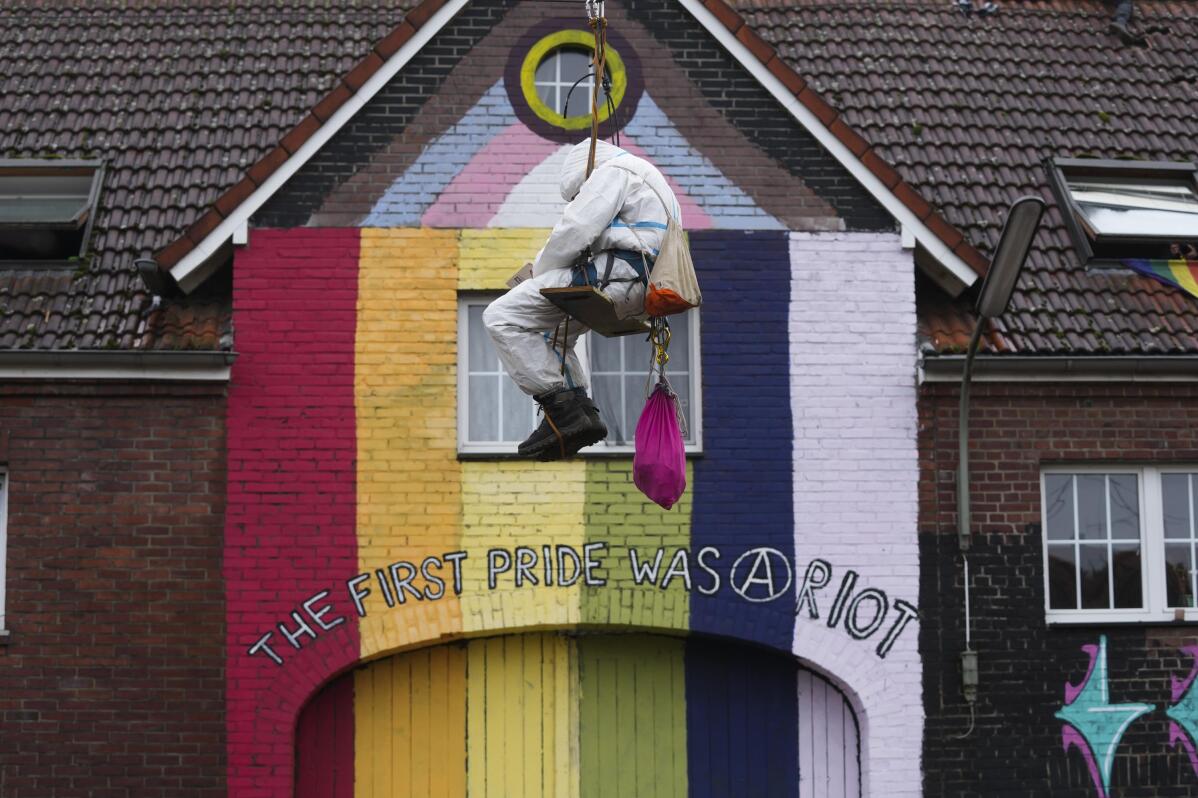 12 of 15

|
A climate activist hangs at a rope at the village Luetzerath near Erkelenz, Germany, Wednesday, Jan. 11, 2023. Police have entered the condemned village in, launching an effort to evict activists holed up at the site in an effort to prevent its demolition to make way for the expansion of a coal mine. (AP Photo/Michael Probst)
12 of 15
A climate activist hangs at a rope at the village Luetzerath near Erkelenz, Germany, Wednesday, Jan. 11, 2023. Police have entered the condemned village in, launching an effort to evict activists holed up at the site in an effort to prevent its demolition to make way for the expansion of a coal mine. (AP Photo/Michael Probst)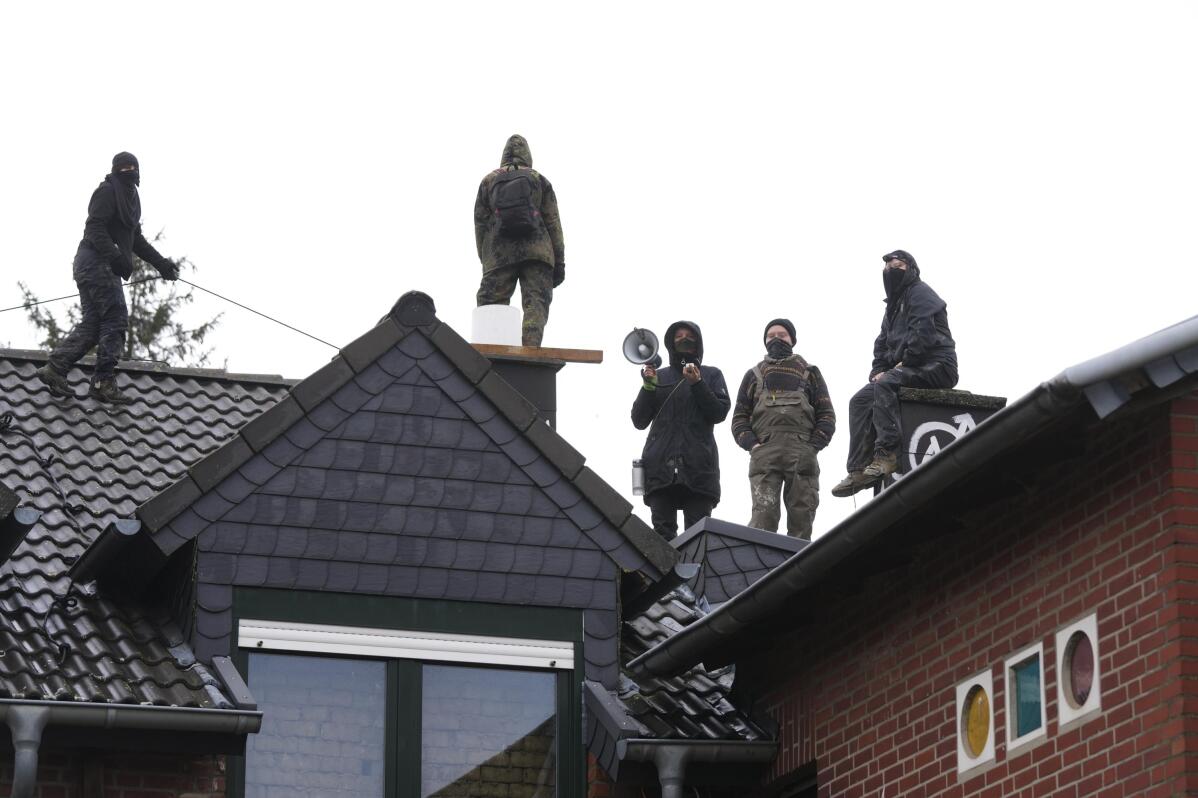 13 of 15

|
A climate activists stand of a roof top at the village Luetzerath near Erkelenz, Germany, Wednesday, Jan. 11, 2023. Police have entered the condemned village in, launching an effort to evict activists holed up at the site in an effort to prevent its demolition to make way for the expansion of a coal mine. (AP Photo/Michael Probst)
13 of 15
A climate activists stand of a roof top at the village Luetzerath near Erkelenz, Germany, Wednesday, Jan. 11, 2023. Police have entered the condemned village in, launching an effort to evict activists holed up at the site in an effort to prevent its demolition to make way for the expansion of a coal mine. (AP Photo/Michael Probst)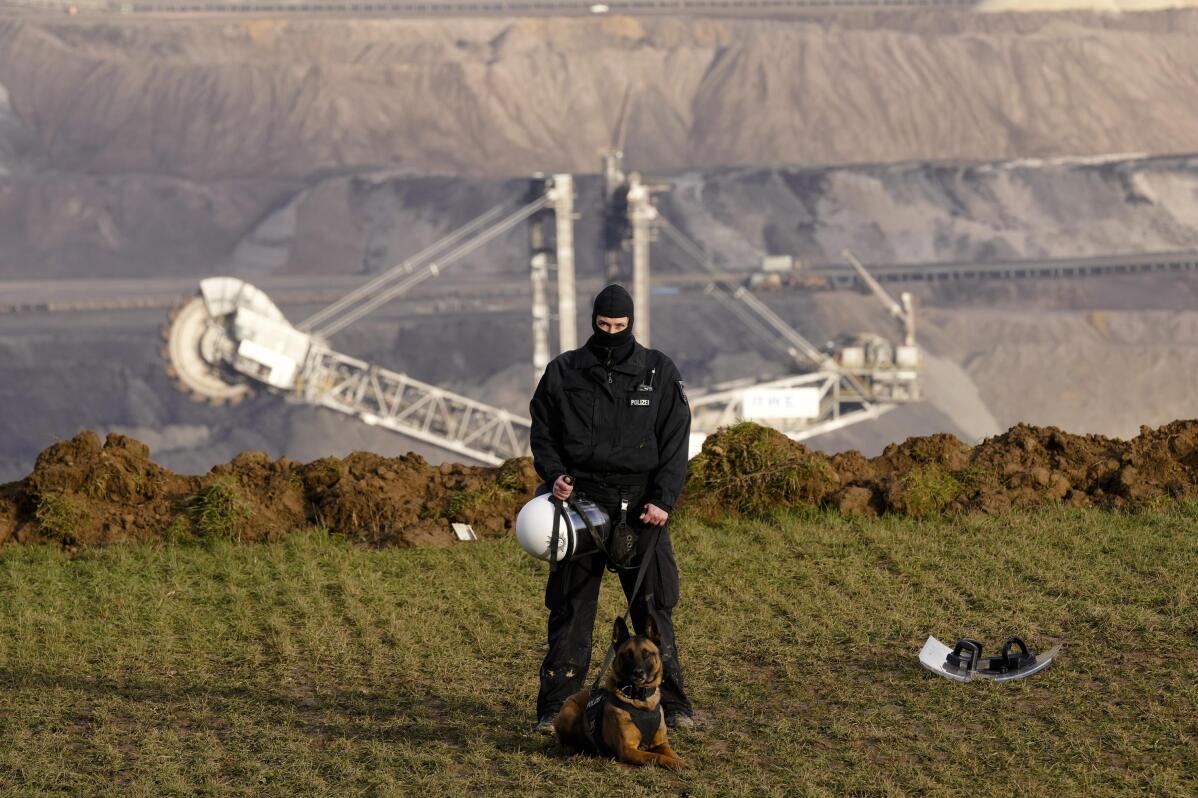 14 of 15

|
A police officer guards the demolition edge of the open pit mine Garzweiler at the village Luetzerath near Erkelenz, Germany, Wednesday, Jan. 11, 2023. Police have entered the condemned village in launching an effort to evict activists holed up at the site in an effort to prevent its demolition to make way for the expansion of a coal mine. (AP Photo/Michael Probst)
14 of 15
A police officer guards the demolition edge of the open pit mine Garzweiler at the village Luetzerath near Erkelenz, Germany, Wednesday, Jan. 11, 2023. Police have entered the condemned village in launching an effort to evict activists holed up at the site in an effort to prevent its demolition to make way for the expansion of a coal mine. (AP Photo/Michael Probst)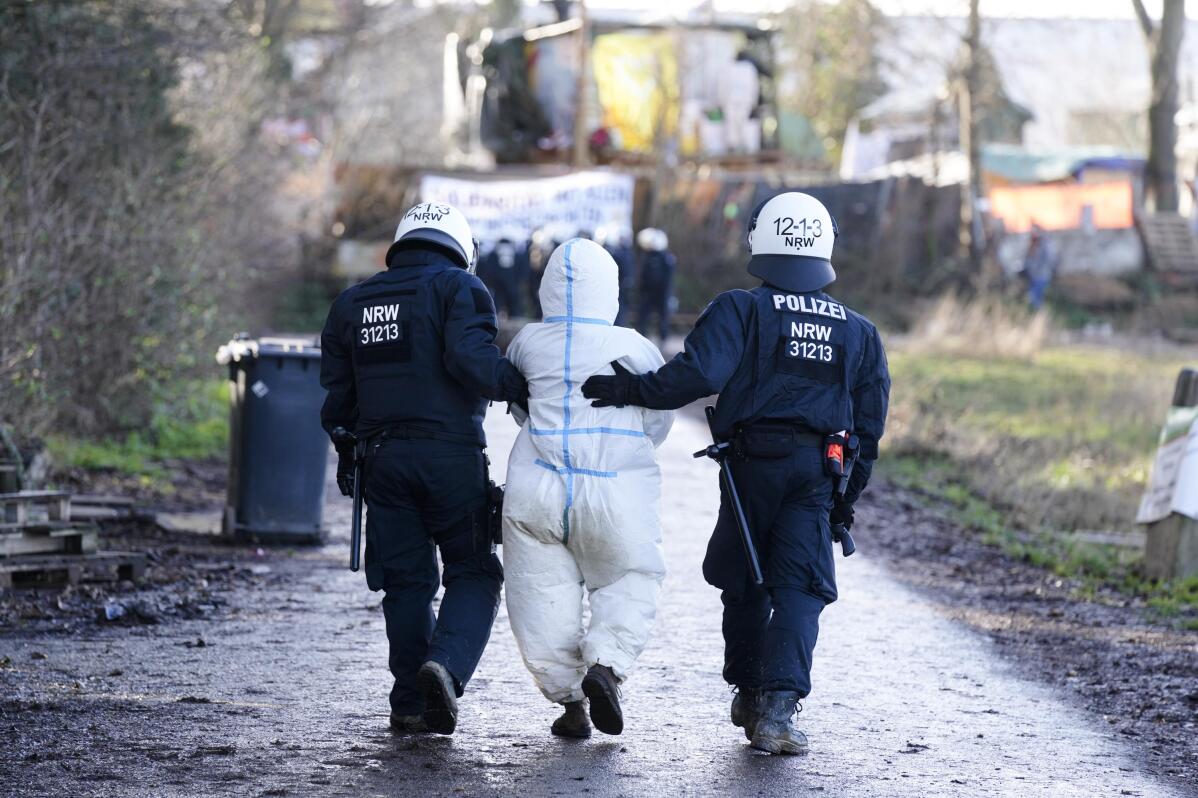 15 of 15

|
Police officers lead away a protestor at the village Luetzerath, near Erkelenz, Germany, Wednesday, Jan. 11, 2023. Police have entered the condemned village in, launching an effort to evict activists holed up at the site in an effort to prevent its demolition to make way for the expansion of a coal mine. (AP Photo/Michael Probst)
15 of 15
Police officers lead away a protestor at the village Luetzerath, near Erkelenz, Germany, Wednesday, Jan. 11, 2023. Police have entered the condemned village in, launching an effort to evict activists holed up at the site in an effort to prevent its demolition to make way for the expansion of a coal mine. (AP Photo/Michael Probst)
LUETZERATH, Germany (AP) — Police in riot gear began evicting climate activists Wednesday from a condemned village in western Germany that is due to be demolished for the expansion of a coal mine.
Some stones and fireworks were thrown as officers entered the tiny hamlet of Luetzerath, which has become a flashpoint of debate over the country's climate efforts, on Wednesday morning.
Police spokesman Andreas Mueller said the attacks on officers were "not nice" but noted that most of the protest so far had been peaceful.
He said police would stick to their tactic of trying to avoid any escalation by offering to let any activists who leave on their own accord to do so without facing further police measures or prosecution.
Still, some protesters complained of undue force by police and others said the scale of the police response — with officers brought in from across the country and water cannons on standby — was itself a form of escalation not justified by the peaceful protest. At least one woman screamed in apparent pain as officers used force to remove her from a roadblock outside the village.
By Wednesday afternoon dozens of activists remained camped out in Luetzerath, some in elaborate tree houses, as police slowly moved through the village clearing barricades and a communal soup kitchen.
Some activists read books or played accordion while perched atop 10-foot (3-meter) tripods. A few sat or stood on the roofs of Luetzerath's remaining buildings despite the chilly wind.
"I'm really afraid today," Petra Schumann, a 53-year-old local who had been at the site for several days, said from a top-floor window of one of the few remaining houses. Schumann said she still held out hope of preserving what's left of Luetzerath "until nothing is left standing; hope dies last."
Environmentalists say bulldozing the village to expand the nearby Garzweiler coal mine would result in huge amounts of greenhouse gas emissions. The government and utility company RWE argue the coal is needed to ensure Germany's energy security.
However, a study by the German Institute for Economic Research calls into question the government's stance. Its authors found other existing coal fields could be used instead, though the cost to RWE would be greater.
Another alternative would be for Germany to increase production of renewable power, cut demand through energy efficiency measures, or import more coal or gas from abroad, the study found.
Citing the study and the urgent need to curb global carbon emissions, protesters refused to heed a court ruling Monday that effectively banned them from the area.
Some activists expressed particular anger at the environmentalist Green party, which is part of both the regional and national governments that reached a deal with RWE last year allowing it to destroy the village in return for ending coal use by 2030, rather than 2038.
Vice Chancellor Robert Habeck, a Green who is Germany's economy and climate minister, defended the agreement as "a good decision for climate protection" that fulfills many of the environmentalists' demands and saves five other villages from demolition.
"I think climate protection and protests need symbols but the empty hamlet of Luetzerath, where no one lives any more, is the wrong symbol from my point of view," Habeck told reporters in Berlin.
Climate campaigners counter that expanding a massive open-cast coal mine goes against Germany's international commitments to reduce emissions of planet-warming greenhouse gases. The country is expected to miss its ambitious targets for the second year in a row.
Luetzerath "is now the European place of crystallization for the climate movement," said Lakshmi Thevasagayam, a spokeswoman for the Luetzerath Lives activist group. "We know that the coal under Luetzerath isn't needed for energy security — it must remain in the ground so that we can achieve climate justice."
"Now we can do something against the climate catastrophe, but at some point we won't be able to any more," Thevasagayam said. She accused that police of engaging in "a complete escalation" by moving ahead with the eviction Wednesday.
RWE said in a statement that a 1.5-kilometer (nearly one-mile) fence will be built around the site. It appealed to activists to peacefully "end the illegal occupation" of the site it legally owns.
Andreas Mueller, the police spokesman, said authorities were prepared for the eviction operation to last weeks, if necessary.
The heads of several environmental organizations planned to visit Luetzerath on Thursday to express solidarity with the activists there. A large protest was also scheduled near the site Saturday, attended by prominent Swedish climate campaigner Greta Thunberg.
___
Geir Moulson in Berlin contributed to this report.
___
This version has corrected the surname of a protester to Schumann, sted Mueller.