Germany cracks down on climate activists after Scholz brands protest group's tactics 'nutty'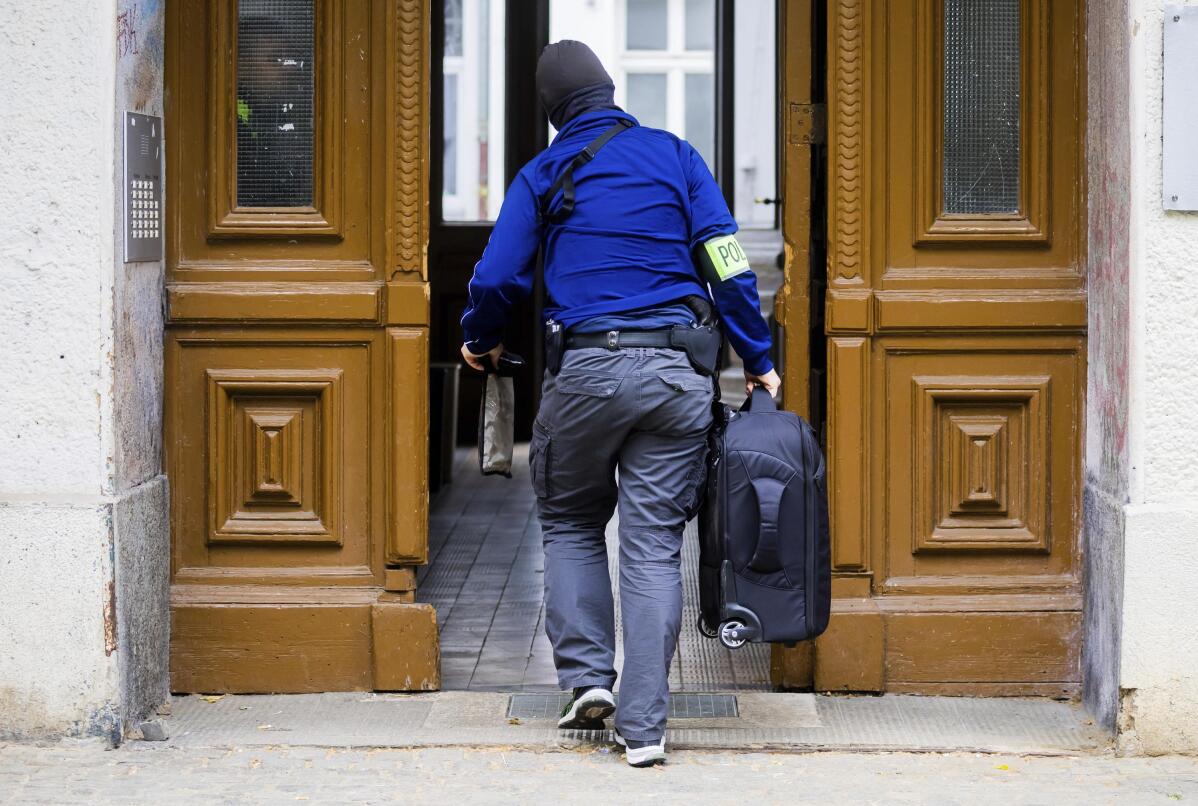 1 of 15

|
A police officer enters a house during a raid in Berlin, Germany, Wednesday, May 24, 2023. Prosecutors in Germany say authorities have raided 15 properties across the country and seized assets in an investigation into the financing of protests by the Last Generation climate activist group. (Christoph Soeder/dpa via AP)
2 of 15

|
Police officers carry a cardboard box to a vehicle during a raid in Berlin, Germany, Wednesday, May 24, 2023. Prosecutors in Germany say authorities have raided 15 properties across the country and seized assets in an investigation into the financing of protests by the Last Generation climate activist group. (Christoph Soeder/dpa via AP)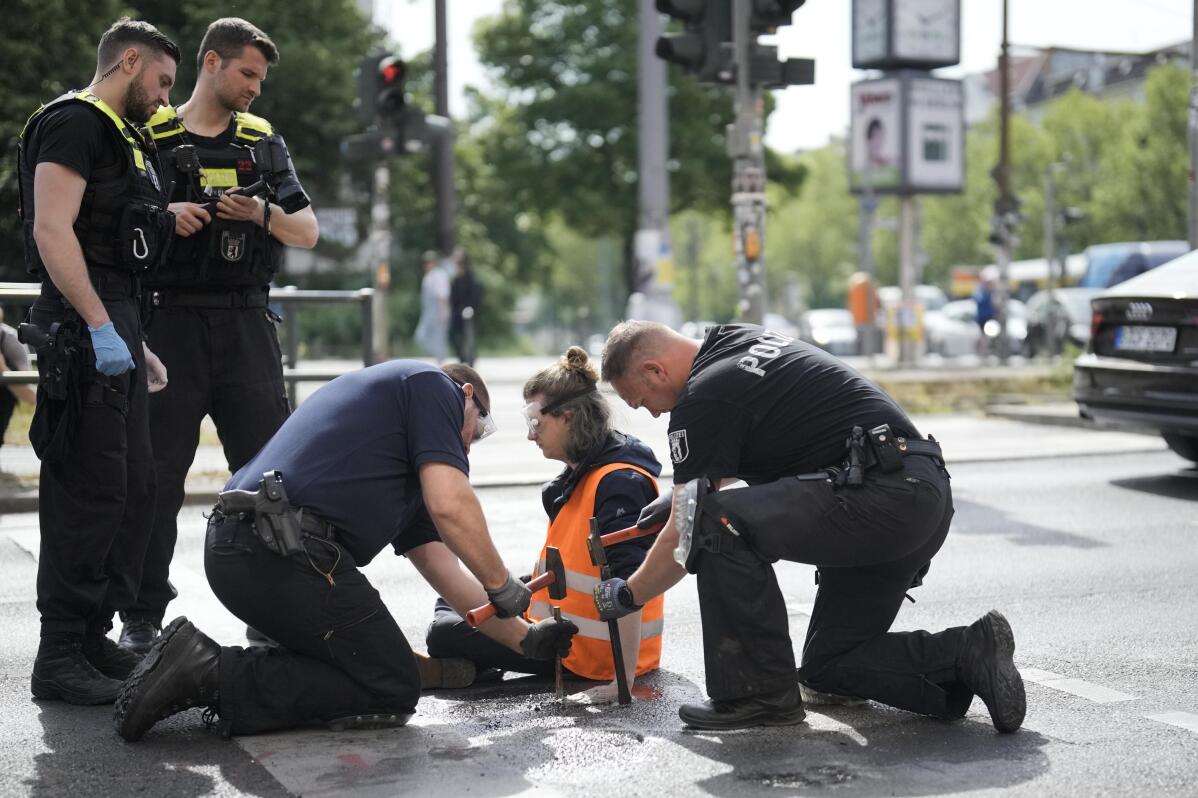 3 of 15

|
Police officers use hammers and chisels to remove a climate activist who has glued himself to a road during a climate protest in Berlin, Germany, Monday, May 22, 2023. (AP Photo/Markus Schreiber)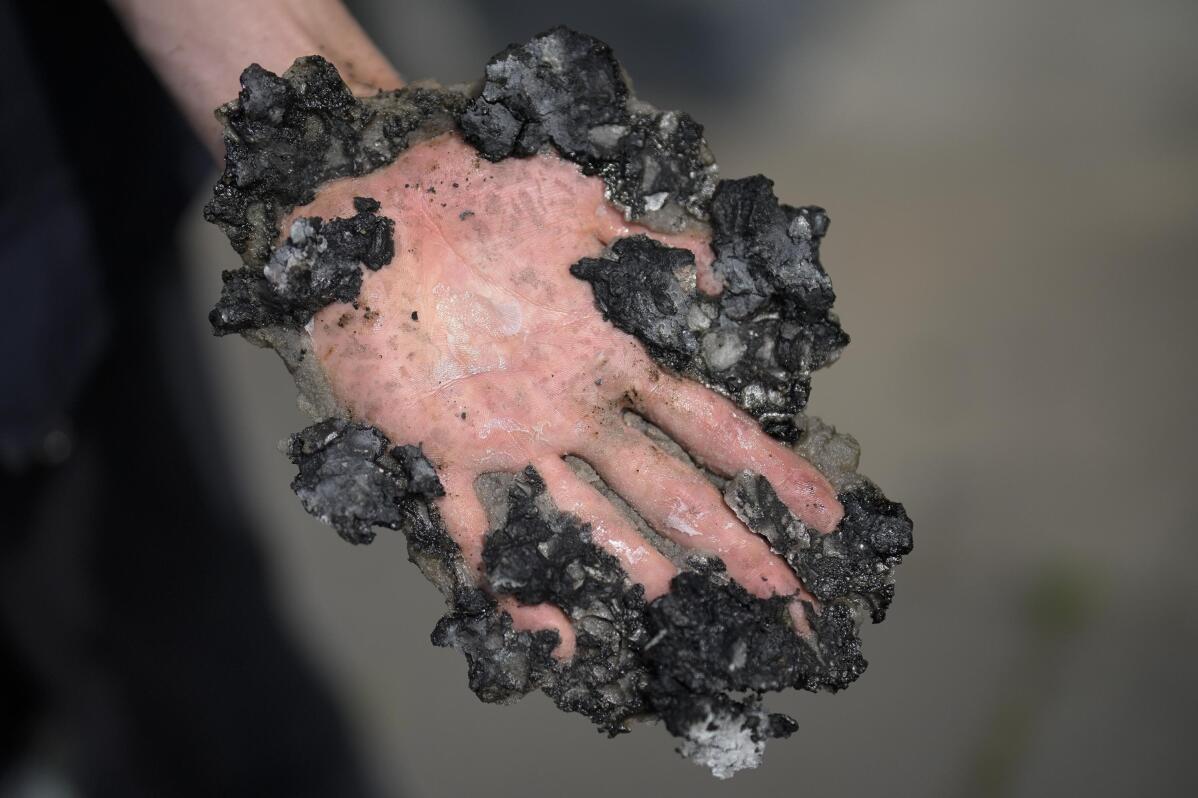 4 of 15

|
A climate activist shows his hand, covered with asphalt, after policers remove is hand with hammer and chisel from a road in Berlin, Germany, Monday, May 22, 2023. (AP Photo/Markus Schreiber)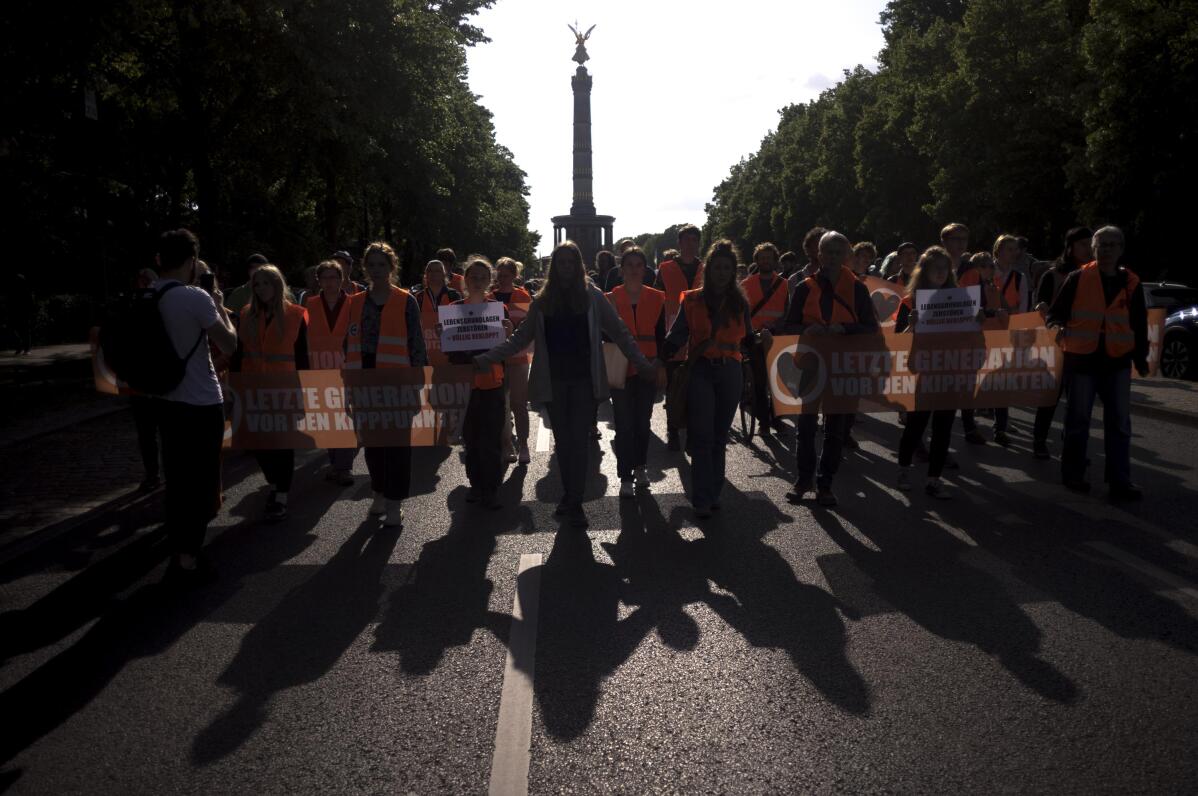 5 of 15

|
Protestors attend a demonstration of the climate protest group 'Letzte Generation', 'Last Generation' in Berlin, Germany, Wednesday, May 24, 2023. Posters read: 'Last generation at the tipping point' and 'Destroy livelihoods - completely crazy.' (AP Photo/Markus Schreiber)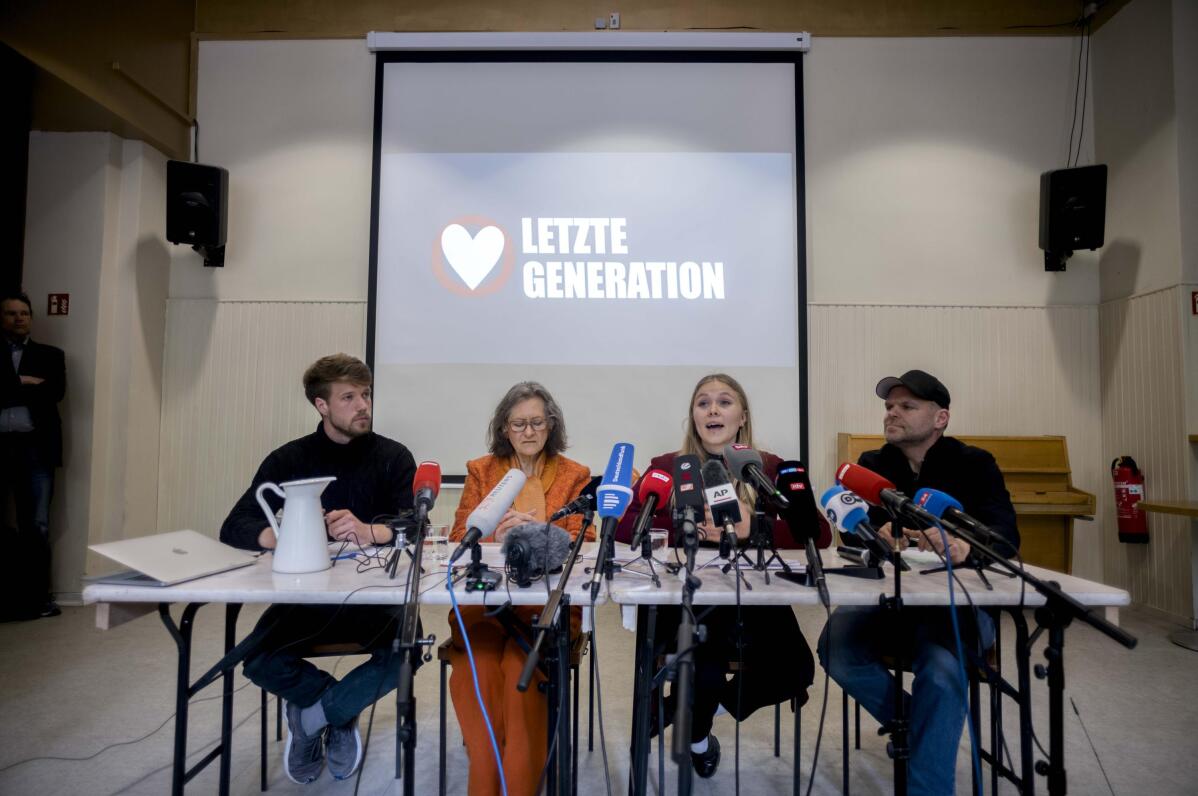 6 of 15

|
From right, Steve Rauhut, Aimee van Baalen, Marion Fabian and Joel Schmitt attend a news conference of the climate protest organization 'Letzte Generation' (Last Generation) in Berlin, Germany, Wednesday, May 24, 2023. (AP Photo/Markus Schreiber)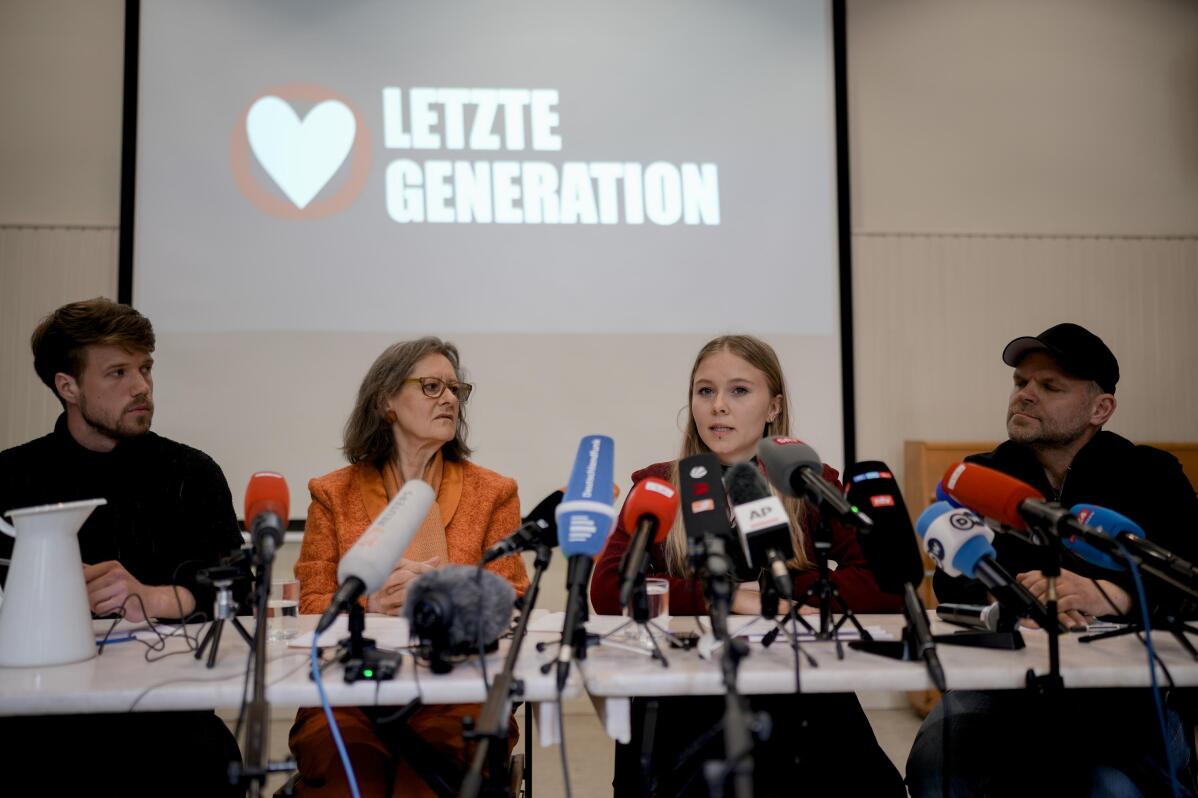 7 of 15

|
From right, Steve Rauhut, Aimee van Baalen, Marion Fabian and Joel Schmitt attend a news conference of the climate protest organization 'Letzte Generation' (Last Generation) in Berlin, Germany, Wednesday, May 24, 2023. (AP Photo/Markus Schreiber)
8 of 15

|
Aimee van Baalen poses for a photo after a news conference of the climate protest organzization 'Letzte Generation' (Last Generation) in Berlin, Germany, Wednesday, May 24, 2023. (AP Photo/Markus Schreiber)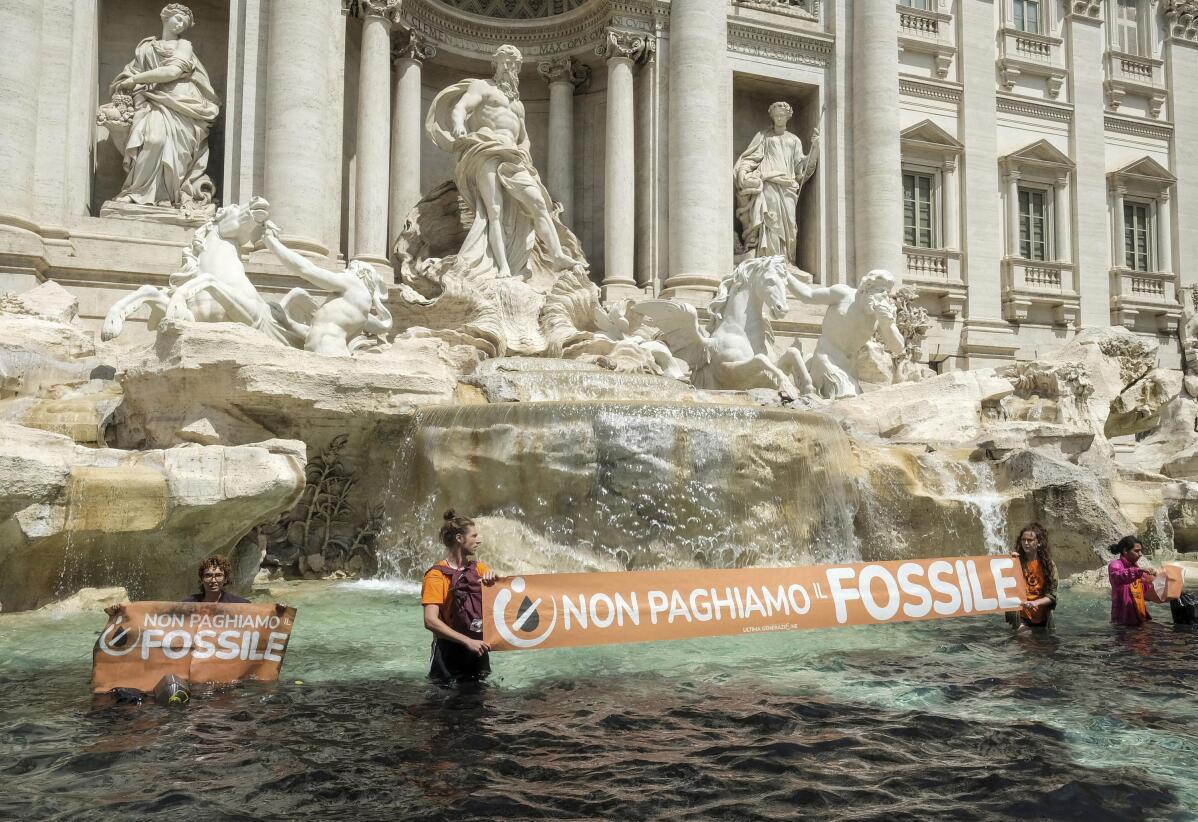 9 of 15

|
FILE - Last Generation activists display a banner against the use of fossil fuels as they stage a demonstration inside the Trevi Fountain, in Rome, Sunday, May 21, 2023. Authorities raided 15 properties across Germany on Wednesday, May 24, 2023 and seized assets in an investigation into the financing of protests by the Last Generation climate activist group, prosecutors said — a move that comes as impatience with the organization's tactics mounts. (Mauro Scrobogna/LaPresse via AP, File)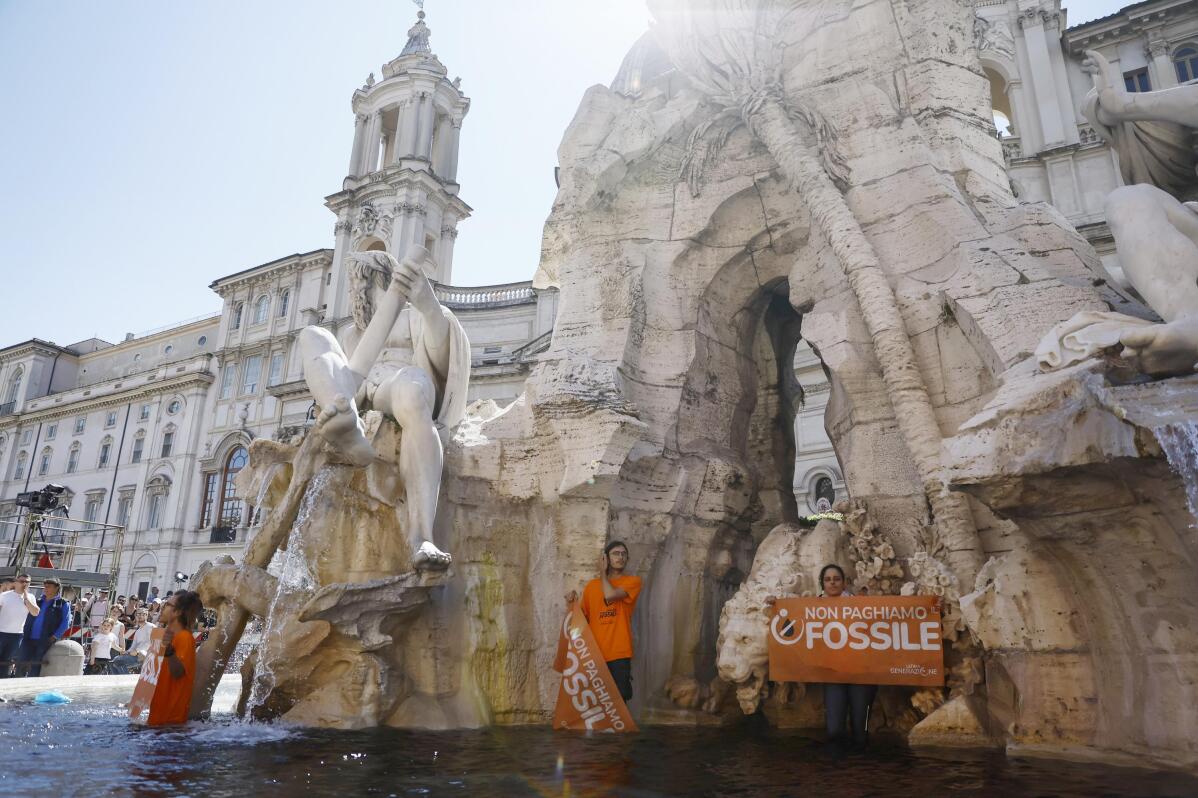 10 of 15

|
FILE - Last Generation activists stage a demonstration inside the Quattro Fiumi fountain, in Rome, Saturday, May 6, 2023. Authorities raided 15 properties across Germany on Wednesday, May 24, 2023 and seized assets in an investigation into the financing of protests by the Last Generation climate activist group, prosecutors said — a move that comes as impatience with the organization's tactics mounts. (Cecilia Fabiano/LaPresse via AP, File)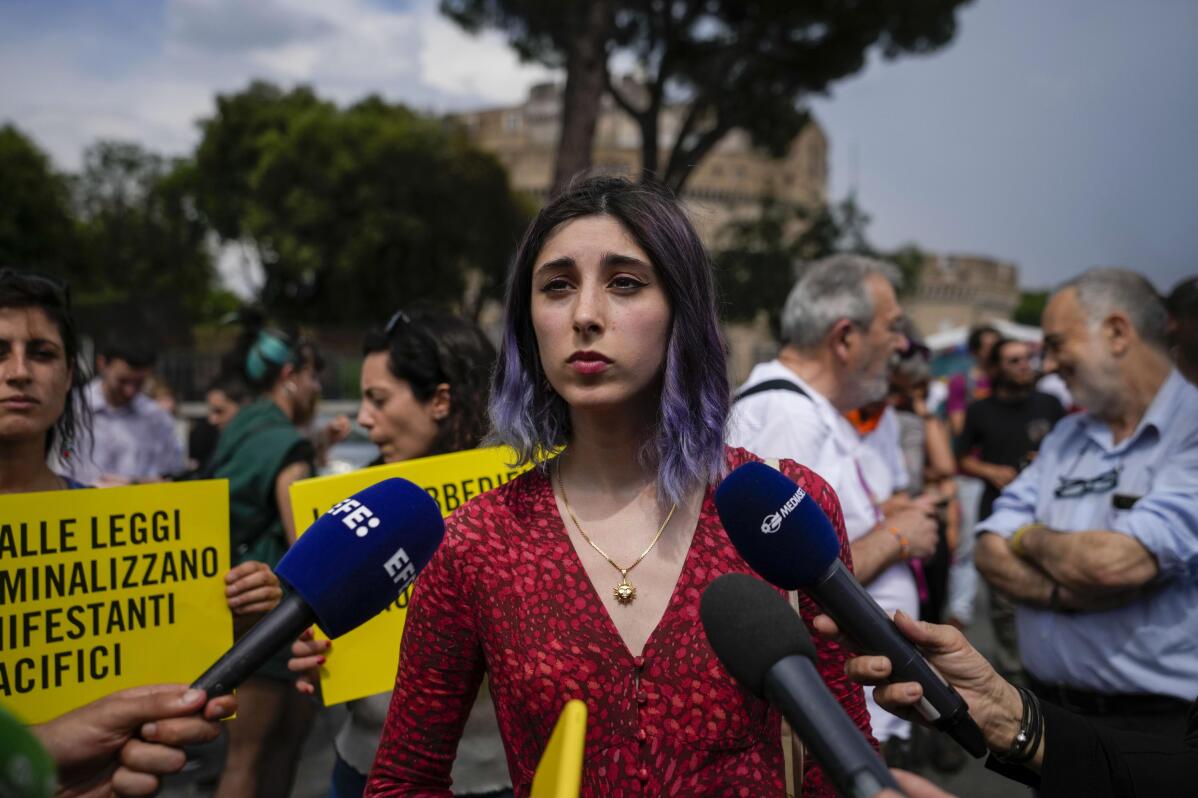 11 of 15

|
Ultima Generazione (Last Generation) activist Ester Goffi arrives at The Vatican, Wednesday, May 24, 2023, where she is on trial with other two activists for having staged a protest in August inside the Vatican Museums during which they glued their hands to the base of one of the ancient sculpture, the Laocoon, and face up to three years and 3,000 euros in fines, according to Ultima Generazione. Authorities raided 15 properties across Germany on Wednesday, May 24, 2023 and seized assets in an investigation into the financing of protests by the Last Generation climate activist group, prosecutors said. (AP Photo/Alessandra Tarantino)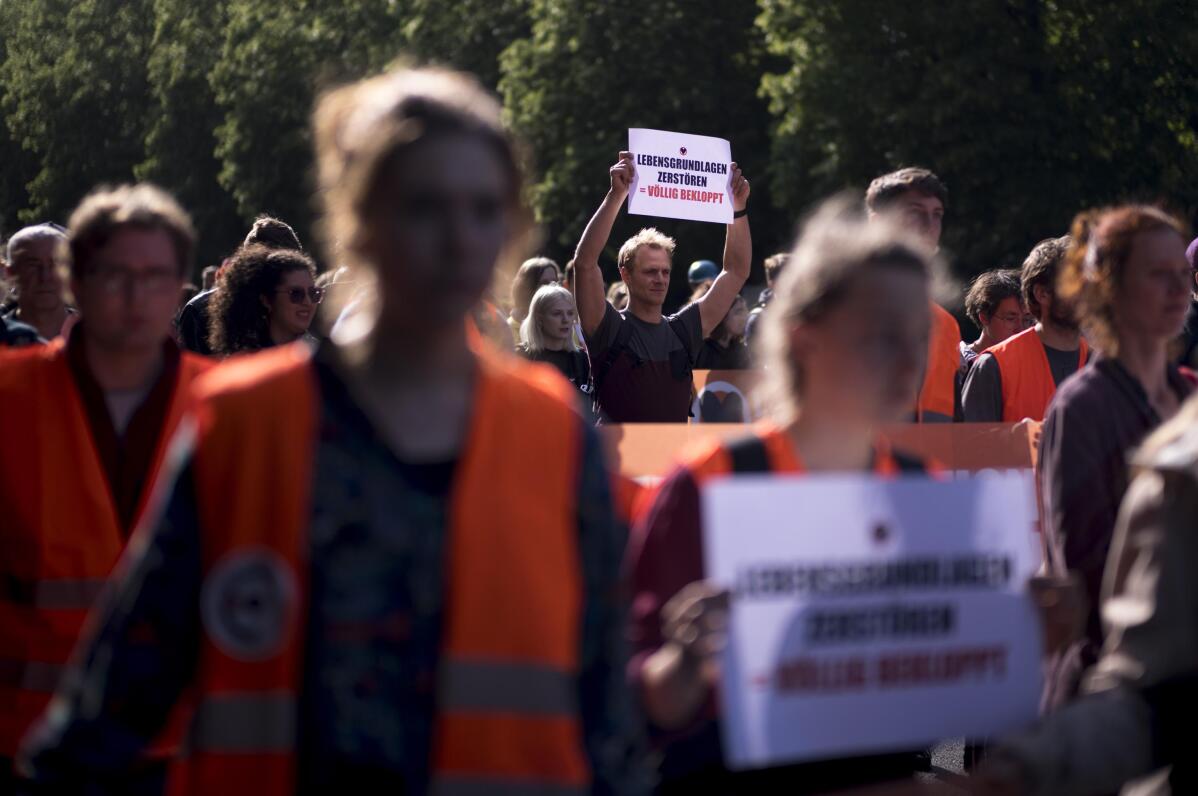 12 of 15

|
Protestors attend a demonstration of the climate protest group 'Letzte Generation', 'Last Generation' in Berlin, Germany, Wednesday, May 24, 2023. Posters read: 'Destroy livelihoods - completely crazy.' (AP Photo/Markus Schreiber)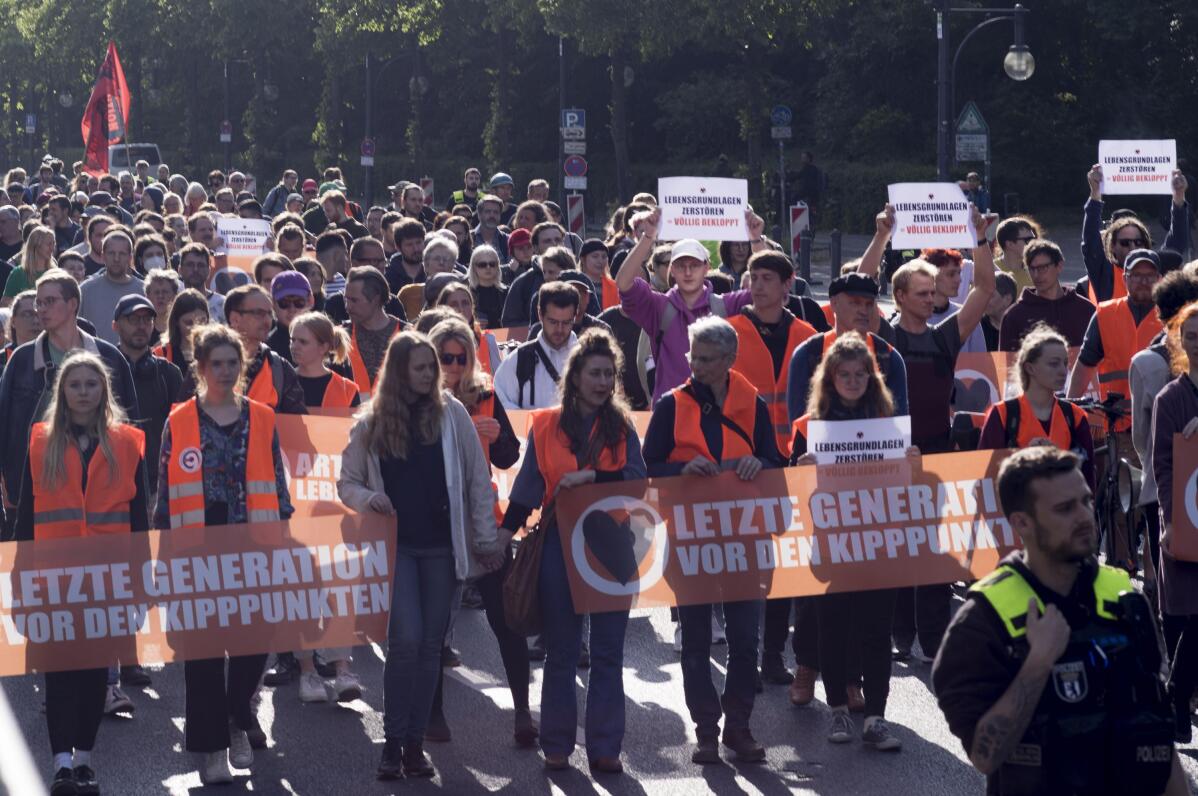 13 of 15

|
Protestors attend a demonstration of the climate protest group "Letzte Generation" (Last Generation) in Berlin, Germany, Wednesday, May 24, 2023. Posters read: 'Last generation at the tipping point' and 'Destroy livelihoods - completely crazy'. (AP Photo/Markus Schreiber)
14 of 15

|
Protestors attend a demonstration of the climate protest group 'Letzte Generation', 'Last Generation' in Berlin, Germany, Wednesday, May 24, 2023. Posters read: 'Last generation at the tipping point' and 'Destroy livelihoods - completely crazy.' (AP Photo/Markus Schreiber)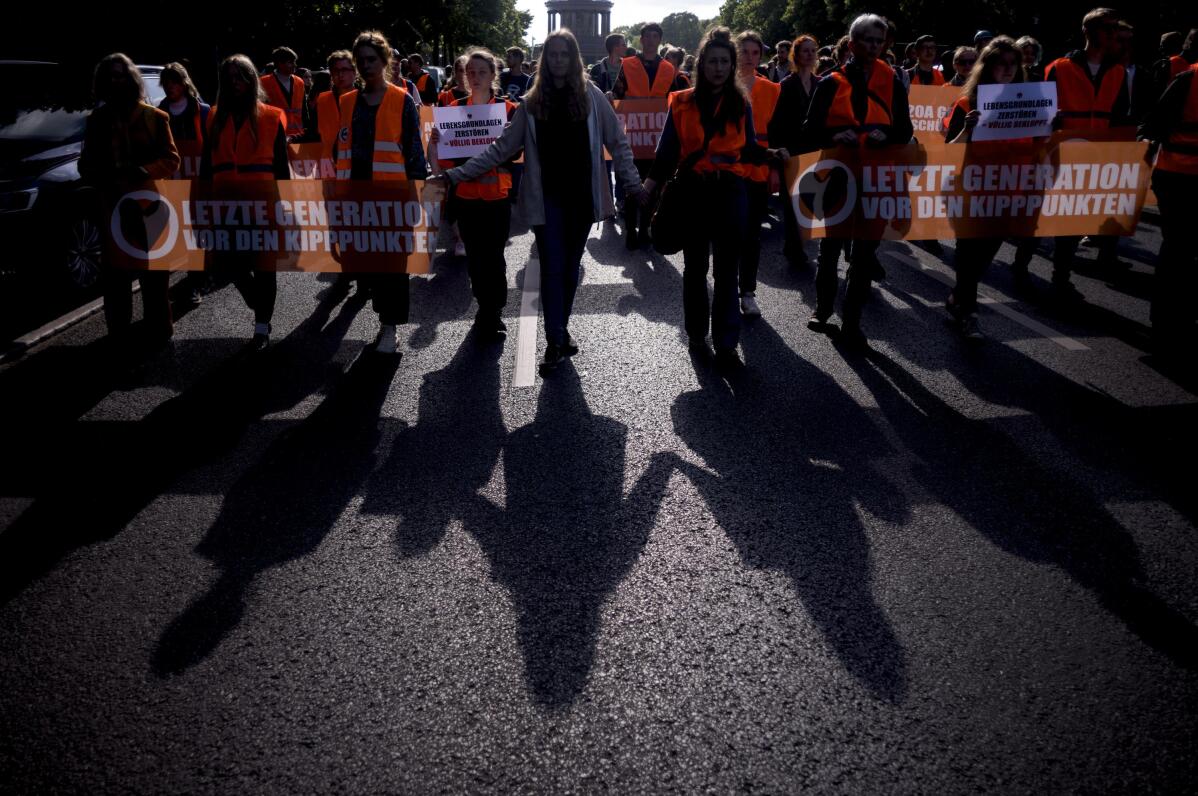 15 of 15

|
Protestors attend a demonstration of the climate protest group 'Letzte Generation', 'Last Generation' in Berlin, Germany, Wednesday, May 24, 2023. Posters read: 'Last generation at the tipping point' and 'Destroy livelihoods - completely crazy.' (AP Photo/Markus Schreiber)
Germany cracks down on climate activists after Scholz brands protest group's tactics 'nutty'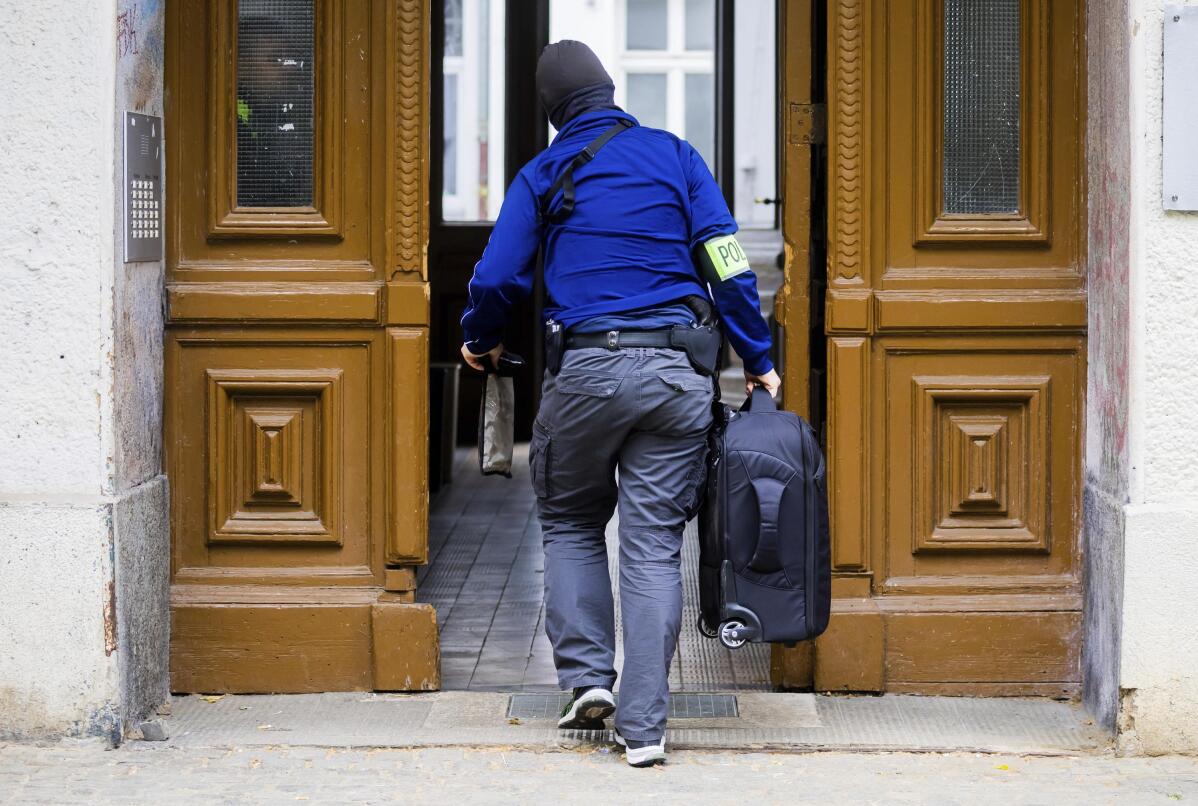 1 of 15

|
A police officer enters a house during a raid in Berlin, Germany, Wednesday, May 24, 2023. Prosecutors in Germany say authorities have raided 15 properties across the country and seized assets in an investigation into the financing of protests by the Last Generation climate activist group. (Christoph Soeder/dpa via AP)
1 of 15
A police officer enters a house during a raid in Berlin, Germany, Wednesday, May 24, 2023. Prosecutors in Germany say authorities have raided 15 properties across the country and seized assets in an investigation into the financing of protests by the Last Generation climate activist group. (Christoph Soeder/dpa via AP)
2 of 15

|
Police officers carry a cardboard box to a vehicle during a raid in Berlin, Germany, Wednesday, May 24, 2023. Prosecutors in Germany say authorities have raided 15 properties across the country and seized assets in an investigation into the financing of protests by the Last Generation climate activist group. (Christoph Soeder/dpa via AP)
2 of 15
Police officers carry a cardboard box to a vehicle during a raid in Berlin, Germany, Wednesday, May 24, 2023. Prosecutors in Germany say authorities have raided 15 properties across the country and seized assets in an investigation into the financing of protests by the Last Generation climate activist group. (Christoph Soeder/dpa via AP)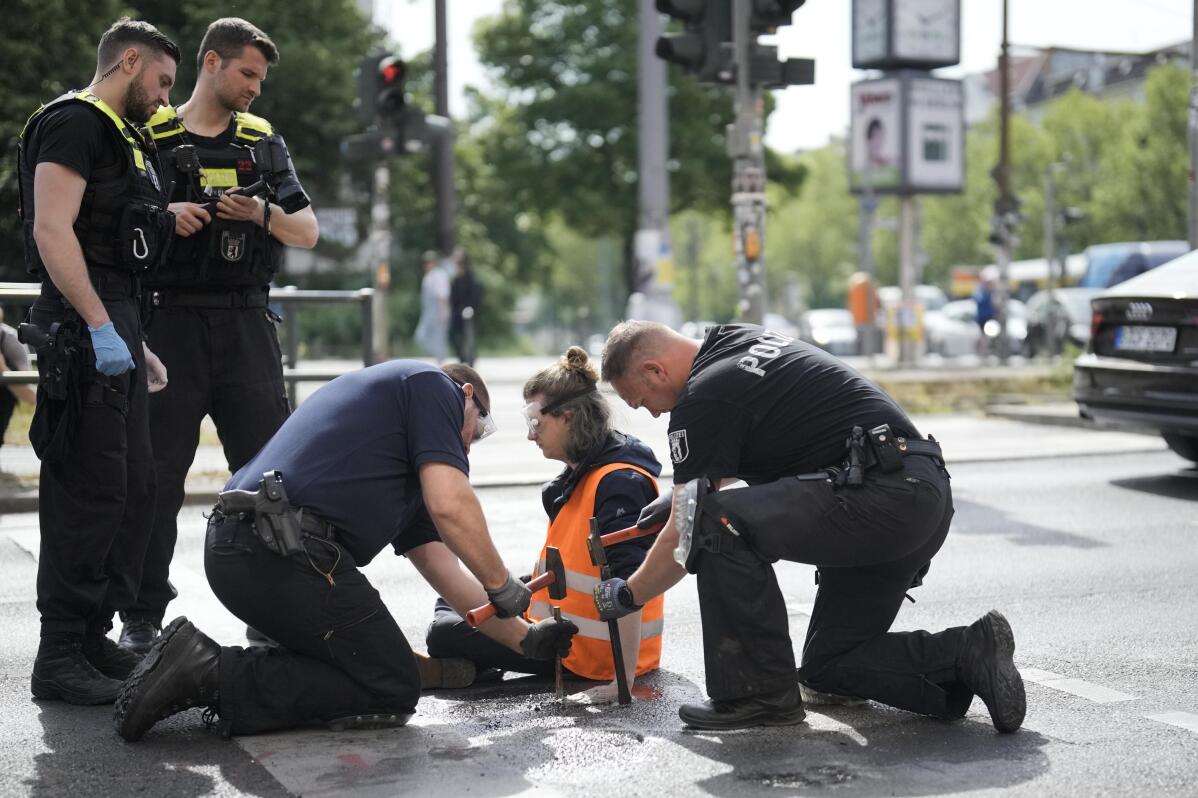 3 of 15

|
Police officers use hammers and chisels to remove a climate activist who has glued himself to a road during a climate protest in Berlin, Germany, Monday, May 22, 2023. (AP Photo/Markus Schreiber)
3 of 15
Police officers use hammers and chisels to remove a climate activist who has glued himself to a road during a climate protest in Berlin, Germany, Monday, May 22, 2023. (AP Photo/Markus Schreiber)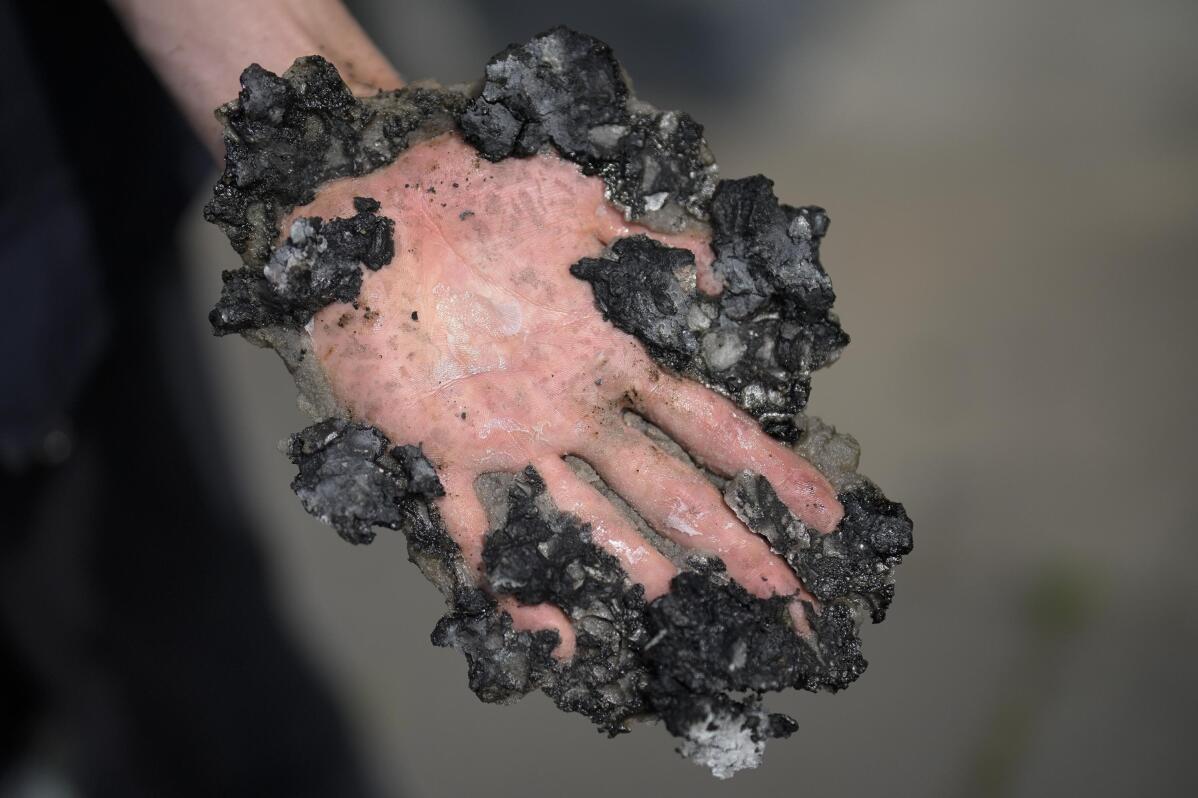 4 of 15

|
A climate activist shows his hand, covered with asphalt, after policers remove is hand with hammer and chisel from a road in Berlin, Germany, Monday, May 22, 2023. (AP Photo/Markus Schreiber)
4 of 15
A climate activist shows his hand, covered with asphalt, after policers remove is hand with hammer and chisel from a road in Berlin, Germany, Monday, May 22, 2023. (AP Photo/Markus Schreiber)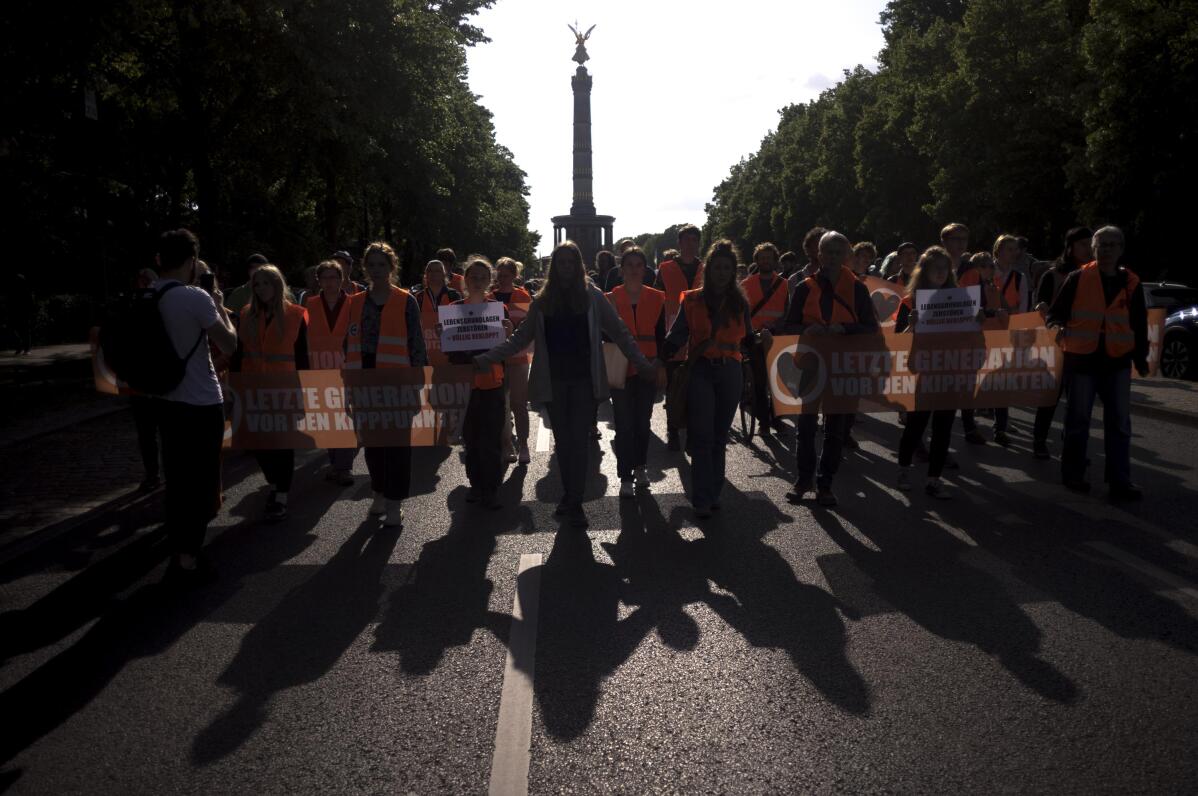 5 of 15

|
Protestors attend a demonstration of the climate protest group 'Letzte Generation', 'Last Generation' in Berlin, Germany, Wednesday, May 24, 2023. Posters read: 'Last generation at the tipping point' and 'Destroy livelihoods - completely crazy.' (AP Photo/Markus Schreiber)
5 of 15
Protestors attend a demonstration of the climate protest group 'Letzte Generation', 'Last Generation' in Berlin, Germany, Wednesday, May 24, 2023. Posters read: 'Last generation at the tipping point' and 'Destroy livelihoods - completely crazy.' (AP Photo/Markus Schreiber)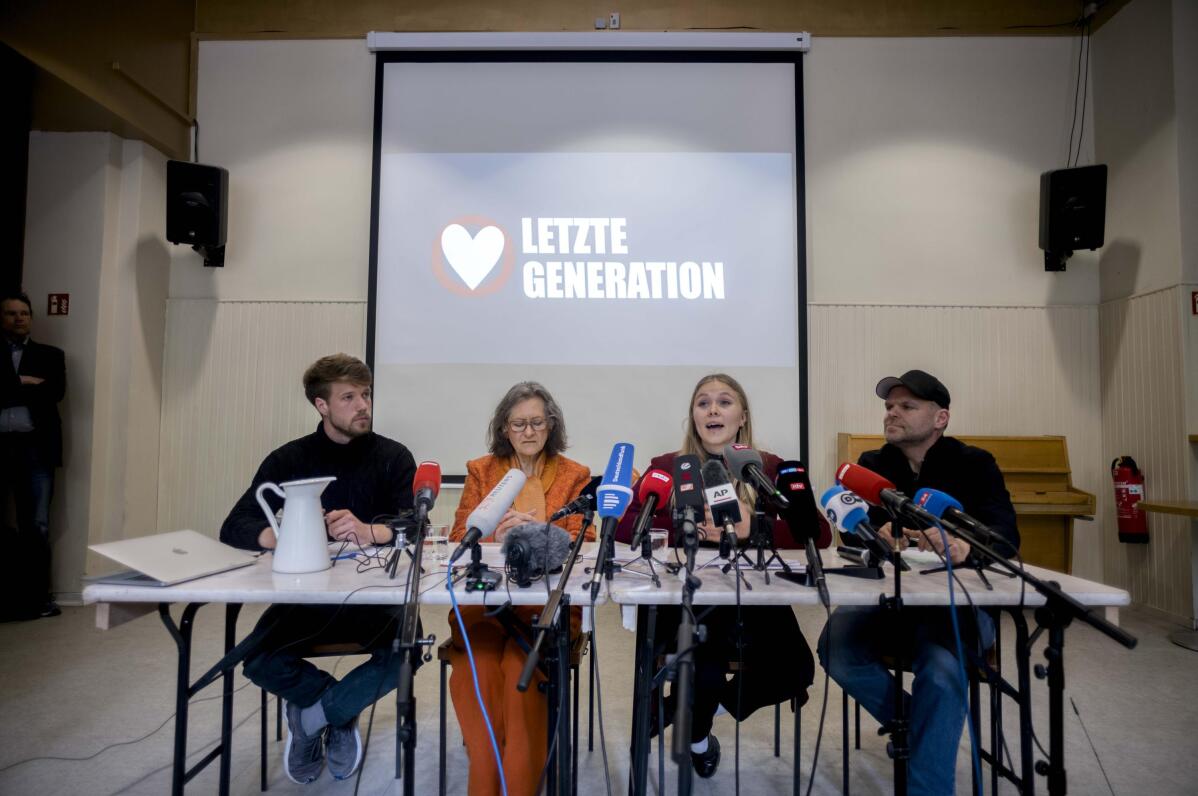 6 of 15

|
From right, Steve Rauhut, Aimee van Baalen, Marion Fabian and Joel Schmitt attend a news conference of the climate protest organization 'Letzte Generation' (Last Generation) in Berlin, Germany, Wednesday, May 24, 2023. (AP Photo/Markus Schreiber)
6 of 15
From right, Steve Rauhut, Aimee van Baalen, Marion Fabian and Joel Schmitt attend a news conference of the climate protest organization 'Letzte Generation' (Last Generation) in Berlin, Germany, Wednesday, May 24, 2023. (AP Photo/Markus Schreiber)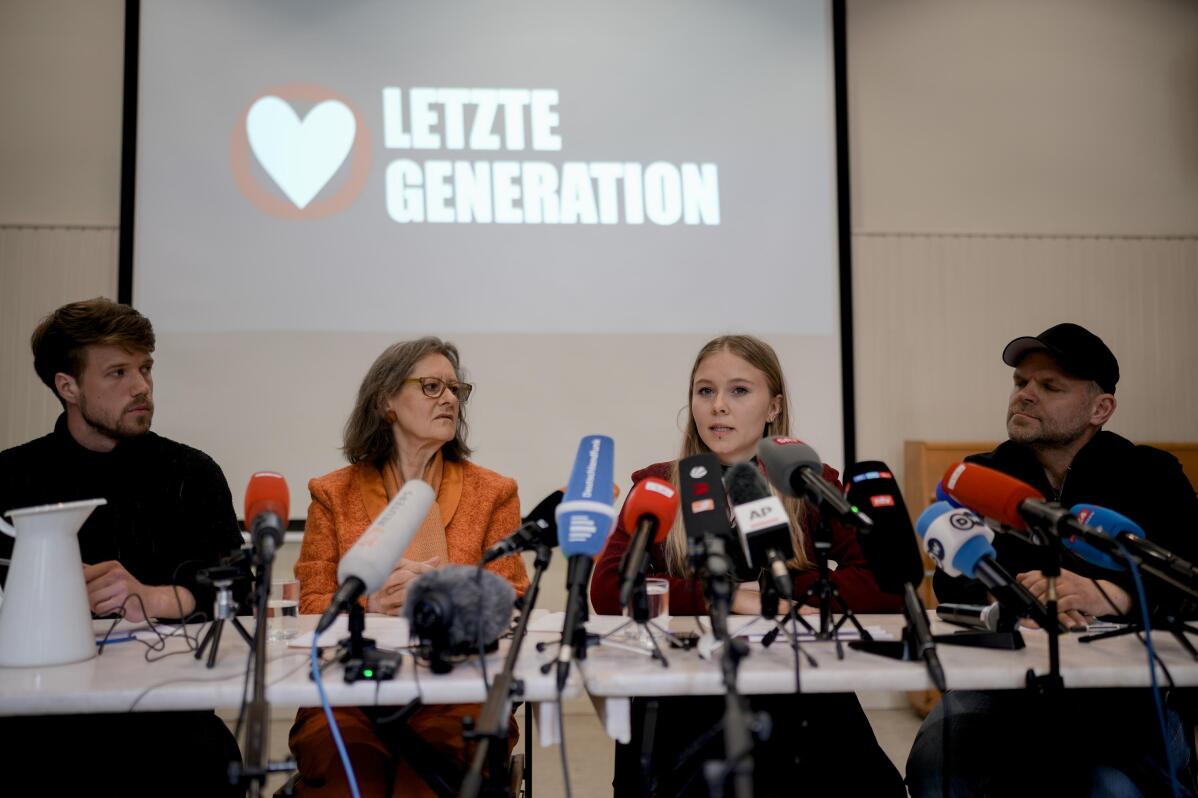 7 of 15

|
From right, Steve Rauhut, Aimee van Baalen, Marion Fabian and Joel Schmitt attend a news conference of the climate protest organization 'Letzte Generation' (Last Generation) in Berlin, Germany, Wednesday, May 24, 2023. (AP Photo/Markus Schreiber)
7 of 15
From right, Steve Rauhut, Aimee van Baalen, Marion Fabian and Joel Schmitt attend a news conference of the climate protest organization 'Letzte Generation' (Last Generation) in Berlin, Germany, Wednesday, May 24, 2023. (AP Photo/Markus Schreiber)
8 of 15

|
Aimee van Baalen poses for a photo after a news conference of the climate protest organzization 'Letzte Generation' (Last Generation) in Berlin, Germany, Wednesday, May 24, 2023. (AP Photo/Markus Schreiber)
8 of 15
Aimee van Baalen poses for a photo after a news conference of the climate protest organzization 'Letzte Generation' (Last Generation) in Berlin, Germany, Wednesday, May 24, 2023. (AP Photo/Markus Schreiber)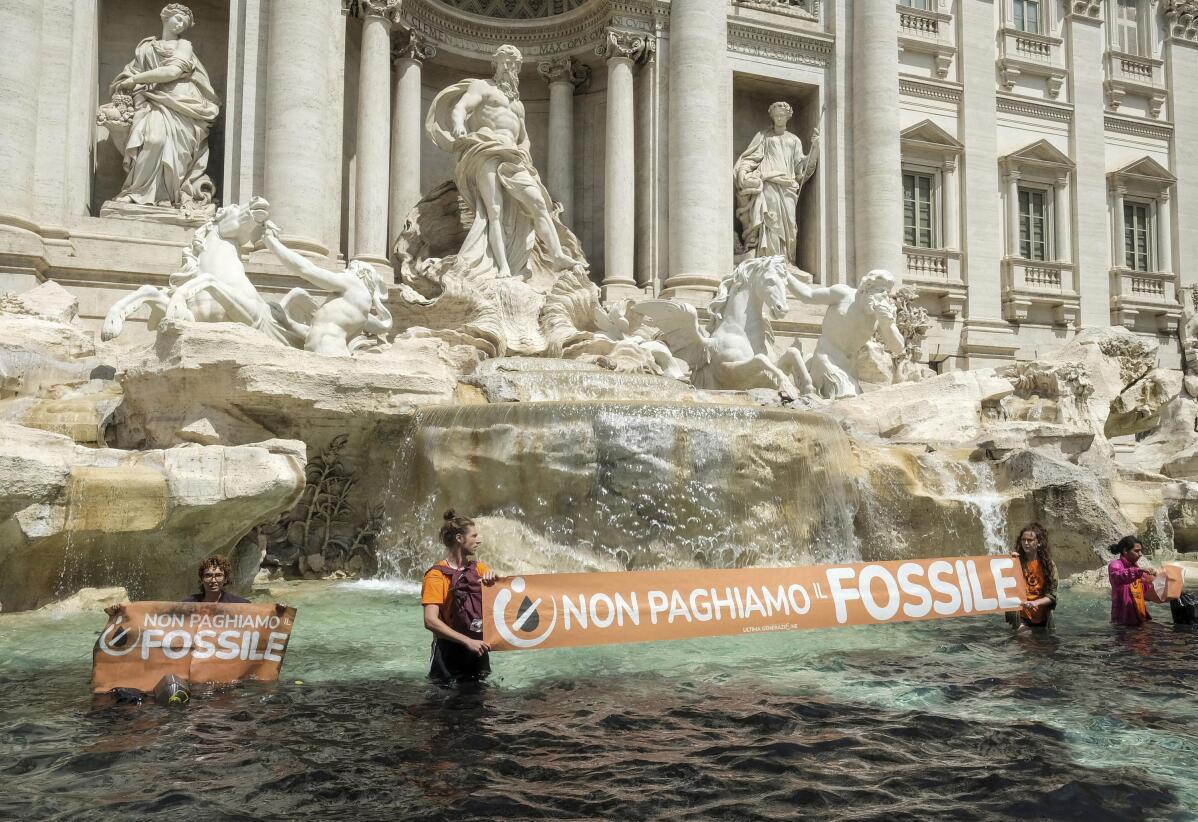 9 of 15

|
FILE - Last Generation activists display a banner against the use of fossil fuels as they stage a demonstration inside the Trevi Fountain, in Rome, Sunday, May 21, 2023. Authorities raided 15 properties across Germany on Wednesday, May 24, 2023 and seized assets in an investigation into the financing of protests by the Last Generation climate activist group, prosecutors said — a move that comes as impatience with the organization's tactics mounts. (Mauro Scrobogna/LaPresse via AP, File)
9 of 15
FILE - Last Generation activists display a banner against the use of fossil fuels as they stage a demonstration inside the Trevi Fountain, in Rome, Sunday, May 21, 2023. Authorities raided 15 properties across Germany on Wednesday, May 24, 2023 and seized assets in an investigation into the financing of protests by the Last Generation climate activist group, prosecutors said — a move that comes as impatience with the organization's tactics mounts. (Mauro Scrobogna/LaPresse via AP, File)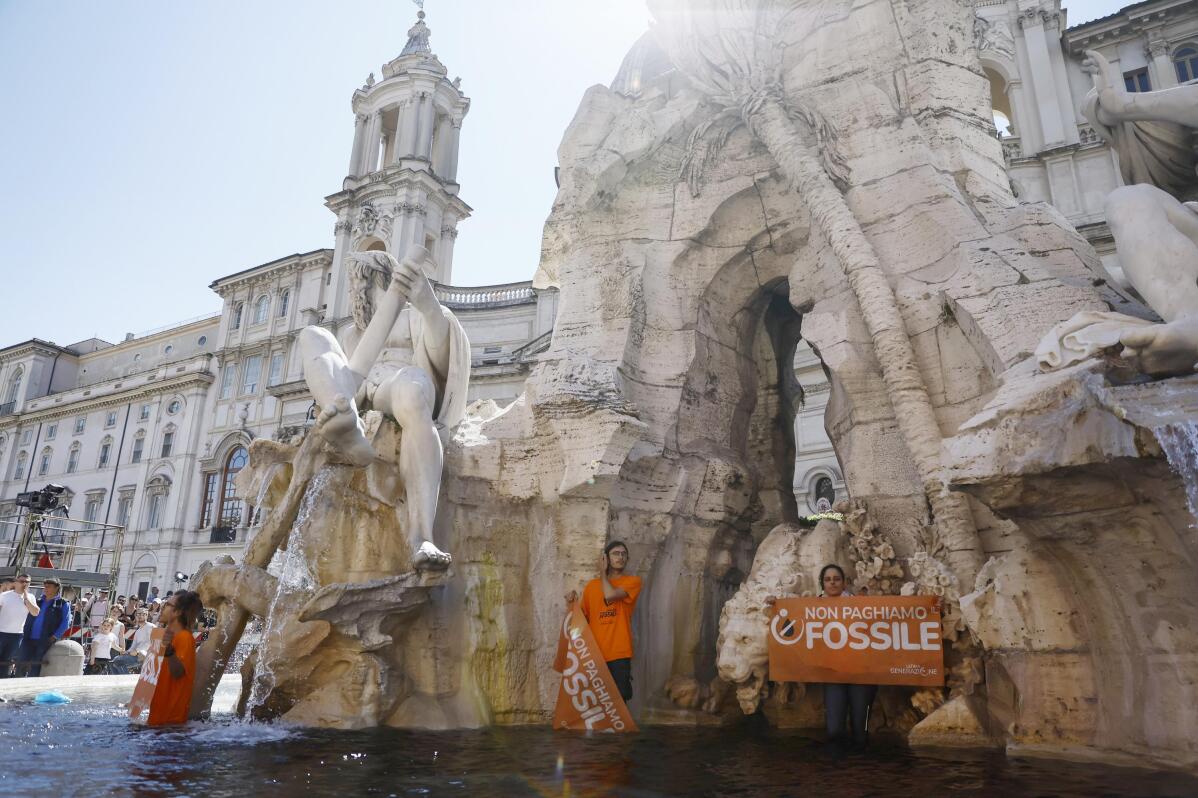 10 of 15

|
FILE - Last Generation activists stage a demonstration inside the Quattro Fiumi fountain, in Rome, Saturday, May 6, 2023. Authorities raided 15 properties across Germany on Wednesday, May 24, 2023 and seized assets in an investigation into the financing of protests by the Last Generation climate activist group, prosecutors said — a move that comes as impatience with the organization's tactics mounts. (Cecilia Fabiano/LaPresse via AP, File)
10 of 15
FILE - Last Generation activists stage a demonstration inside the Quattro Fiumi fountain, in Rome, Saturday, May 6, 2023. Authorities raided 15 properties across Germany on Wednesday, May 24, 2023 and seized assets in an investigation into the financing of protests by the Last Generation climate activist group, prosecutors said — a move that comes as impatience with the organization's tactics mounts. (Cecilia Fabiano/LaPresse via AP, File)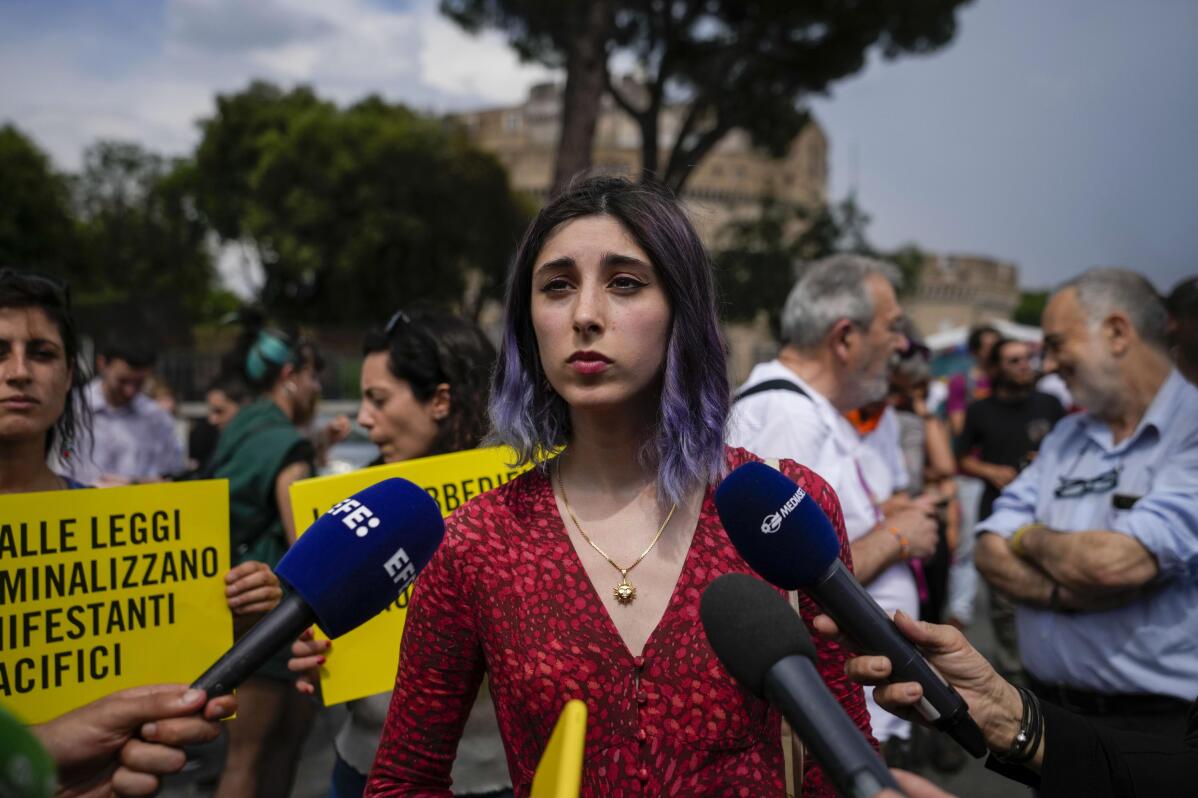 11 of 15

|
Ultima Generazione (Last Generation) activist Ester Goffi arrives at The Vatican, Wednesday, May 24, 2023, where she is on trial with other two activists for having staged a protest in August inside the Vatican Museums during which they glued their hands to the base of one of the ancient sculpture, the Laocoon, and face up to three years and 3,000 euros in fines, according to Ultima Generazione. Authorities raided 15 properties across Germany on Wednesday, May 24, 2023 and seized assets in an investigation into the financing of protests by the Last Generation climate activist group, prosecutors said. (AP Photo/Alessandra Tarantino)
11 of 15
Ultima Generazione (Last Generation) activist Ester Goffi arrives at The Vatican, Wednesday, May 24, 2023, where she is on trial with other two activists for having staged a protest in August inside the Vatican Museums during which they glued their hands to the base of one of the ancient sculpture, the Laocoon, and face up to three years and 3,000 euros in fines, according to Ultima Generazione. Authorities raided 15 properties across Germany on Wednesday, May 24, 2023 and seized assets in an investigation into the financing of protests by the Last Generation climate activist group, prosecutors said. (AP Photo/Alessandra Tarantino)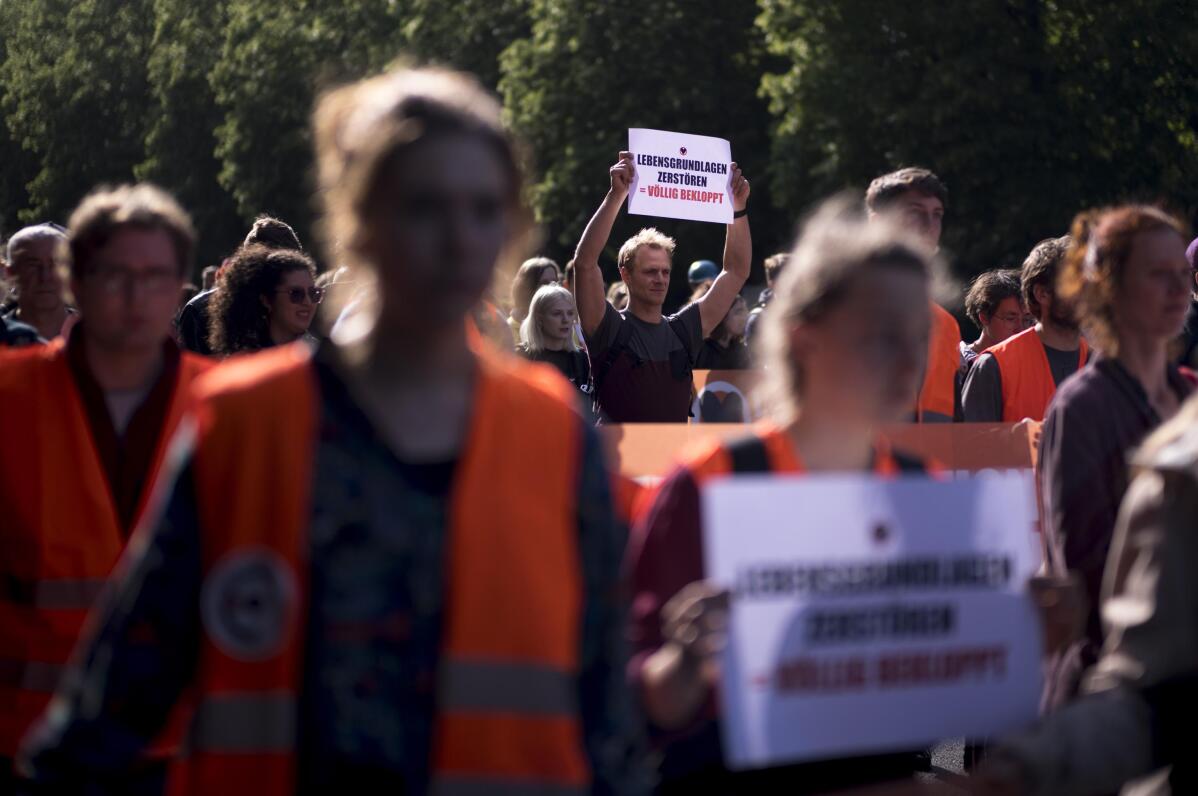 12 of 15

|
Protestors attend a demonstration of the climate protest group 'Letzte Generation', 'Last Generation' in Berlin, Germany, Wednesday, May 24, 2023. Posters read: 'Destroy livelihoods - completely crazy.' (AP Photo/Markus Schreiber)
12 of 15
Protestors attend a demonstration of the climate protest group 'Letzte Generation', 'Last Generation' in Berlin, Germany, Wednesday, May 24, 2023. Posters read: 'Destroy livelihoods - completely crazy.' (AP Photo/Markus Schreiber)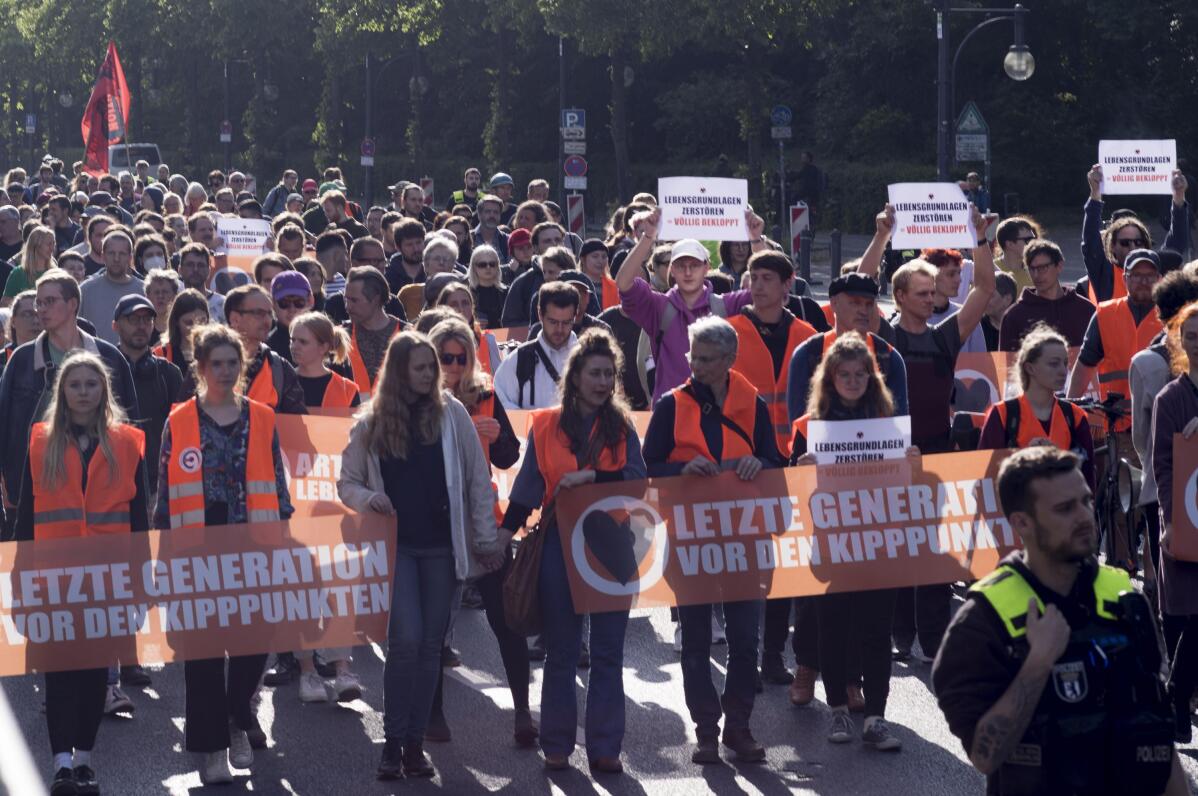 13 of 15

|
Protestors attend a demonstration of the climate protest group "Letzte Generation" (Last Generation) in Berlin, Germany, Wednesday, May 24, 2023. Posters read: 'Last generation at the tipping point' and 'Destroy livelihoods - completely crazy'. (AP Photo/Markus Schreiber)
13 of 15
Protestors attend a demonstration of the climate protest group "Letzte Generation" (Last Generation) in Berlin, Germany, Wednesday, May 24, 2023. Posters read: 'Last generation at the tipping point' and 'Destroy livelihoods - completely crazy'. (AP Photo/Markus Schreiber)
14 of 15

|
Protestors attend a demonstration of the climate protest group 'Letzte Generation', 'Last Generation' in Berlin, Germany, Wednesday, May 24, 2023. Posters read: 'Last generation at the tipping point' and 'Destroy livelihoods - completely crazy.' (AP Photo/Markus Schreiber)
14 of 15
Protestors attend a demonstration of the climate protest group 'Letzte Generation', 'Last Generation' in Berlin, Germany, Wednesday, May 24, 2023. Posters read: 'Last generation at the tipping point' and 'Destroy livelihoods - completely crazy.' (AP Photo/Markus Schreiber)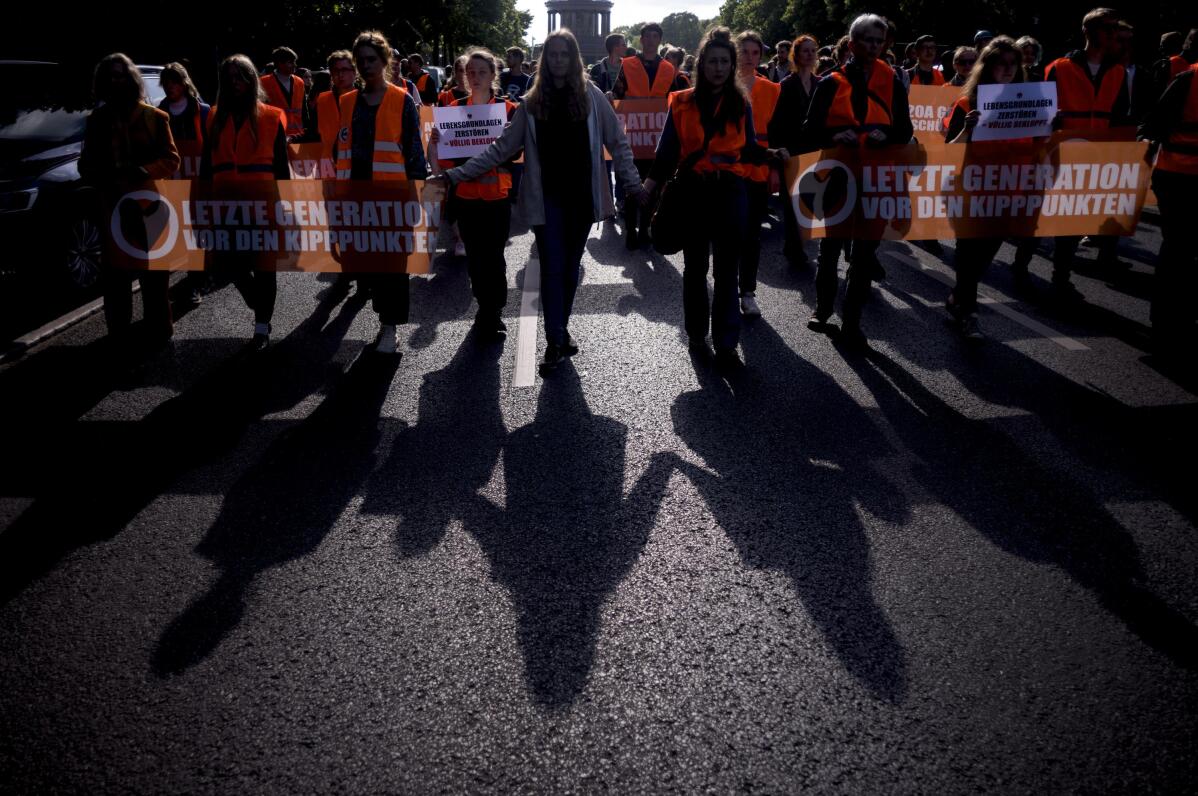 15 of 15

|
Protestors attend a demonstration of the climate protest group 'Letzte Generation', 'Last Generation' in Berlin, Germany, Wednesday, May 24, 2023. Posters read: 'Last generation at the tipping point' and 'Destroy livelihoods - completely crazy.' (AP Photo/Markus Schreiber)
15 of 15
Protestors attend a demonstration of the climate protest group 'Letzte Generation', 'Last Generation' in Berlin, Germany, Wednesday, May 24, 2023. Posters read: 'Last generation at the tipping point' and 'Destroy livelihoods - completely crazy.' (AP Photo/Markus Schreiber)
BERLIN (AP) — German police raided 15 properties linked to the Last Generation climate activist group Wednesday, seizing assets as part of an investigation into its finances in a sign of growing impatience with disruptive protest tactics also seen in other European countries.
Members of the group have repeatedly blocked roads across Germany in an effort to pressure the government to take more drastic action against climate change. In recent weeks, they have brought traffic to a halt on an almost daily basis in Berlin, gluing themselves to busy intersections and highways. Over the past year, they have also targeted various artworks and exhibits.
The raids, ordered by Munich prosecutors, come days after Chancellor Olaf Scholz said that he thought it was "completely nutty to somehow stick yourself to a painting or on the street." Leading figures with the environmentalist Green party, part of his governing coalition, have also said the group's actions are counterproductive.
A spokesperson for Last Generation said that the police searches had hit the group and its supporters hard, but that it wouldn't let up its activities.
"They make us afraid, but we must not be frozen by fear," Aimee van Baalen told reporters in Berlin.
"The German government is right now driving us toward climate hell with its eyes wide open. It is even stepping on the gas pedal," she said. "We must continue to resist now, because we need to loudly demand that lives be protected."
Hundreds of people joined a protest march in Berlin against the raids and further rallies were planned in other German cities.
One protester, Chaim, who declined to give his last name for fear of legal repercussions, said he felt the crackdown against climate activists was politically motivated. "It's wrong and dangerous," he said.
Last Generation has acknowledged in the past that its protests are provocative, but argues that by stirring friction it can encourage debate about climate change and the policies necessary to stop it.
Germany's top court ruled two years ago that the previous government was placing too much of the burden from global warming on young people, prompting then-Chancellor Angela Merkel to sharpen climate targets. Experts say that while Germany now has some of the most ambitious targets for cutting emissions of planet-heating greenhouse gas, the country isn't on track to meet them.
The investigation by Munich prosecutors is focused on seven people, ranging in age from 22 to 38, who are suspected of forming or supporting a criminal organization. The investigation was launched following numerous criminal complaints from the public over the past year, prosecutors said.
The Bavarian inquiry adds to an investigation launched last year by prosecutors in Neuruppin, outside Berlin, over actions against an oil refinery in eastern Germany. That investigation is also considering suspicions that Last Generation activists formed a criminal organization, a label that some conservative-leaning regional officials have backed.
Munich prosecutors said that the people under investigation are accused of organizing and promoting a campaign to "finance further criminal offenses" by the group, and collecting at least 1.4 million euros ($1.5 million). Two of them also are suspected of trying to sabotage an oil pipeline that connects the Bavarian city of Ingolstadt with the Italian port of Trieste in April 2022.
Wednesday's searches, accompanied by orders to seize two bank accounts and other assets, aimed to secure evidence on the membership structure of Last Generation and on its financing. There were no arrests.
Other environmental groups such as Extinction Rebellion and Greenpeace criticized the raids and accused the government of trying to criminalize peaceful climate protesters.
Carla Hinrich, a prominent member of Last Generation who has taken part in numerous televised debates with German politicians, said she was woken by police who entered her apartment with guns drawn. Prosecutors confirmed that her flat was raided but declined to comment on police tactics.
Germany's top security official insisted that the raids were necessary.
"Legitimate protest always ends where crimes are committed and the rights of others are infringed," Interior Minister Nancy Faeser said, noting that police registered 1,600 criminal complaints in connection with climate protests in 2022, many of them during road blockades conducted by Last Generation.
Climate activists have received support from various corners, including some Christian groups. A Jesuit priest was fined earlier this month for taking part in road blockades, and Wednesday's news conference by Last Generation was hosted by the Protestant Reformation Church in Berlin.
A representative of the congregation, Steve Rauhut, praised Last Generation for keeping its protests peaceful.
"The climate disaster and environmental destruction not only justify civil disobedience, they make it an imperative," he said.
Similar nonviolent climate protests elsewhere in Europe have also met with crackdowns recently.
The U.K. government gave police in England and Wales new powers earlier this month to respond to the disruptive tactics used by climate activists. Protesters who lock themselves together or to buildings or objects can face up to six months in prison. Interfering with railways, airports and refineries could lead to a year behind bars.
Punishments of climate protesters in the U.K. have varied widely to date.
Activists from the group Just Stop Oil who stormed the racetrack at last year's British Grand Prix Formula 1 race were spared jail sentences. But two men who scaled a highway bridge over the River Thames east of London and unfurled a huge banner, causing the bridge to close for more than 40 hours, were each sentenced to more than two and a half years in prison.
In Italy, three members of the group Ultima Generazione face up to three years' imprisonment and fines for gluing their hands to the base of a sculpture in the Vatican Museums and ignoring gendarmes' orders to leave last year. This week the group staged other protests, including in front of the Italian Senate where two topless women poured mud over themselves in reference to the devastating recent floods in the country.
The Italian group is part of the international A22 activist network, which includes Last Generation in Germany and Britain's Just Stop Oil, and which receives support from the U.S.-based Climate Emergency Fund.
The fund, which counts oil heiress Aileen Getty and 'Don't Look Up' filmmaker Adam McKay on its board, says on its website that it gave more than $5.1 million to 44 organizations last year "that are leading the way, galvanizing progress on climate through disruptive nonviolent activism around the world."
___
Nicole Winfield in Rome, Brian Melley in London and Pietro De Cristofaro in Berlin, contributed to this report.